Since the pandemic began, the tablet and laptop markets have seen meteoric growth. If you've shopped for a tablet in the past few years, then you are aware of how messy the Android tablet space is. Furthermore, Apple has consistently chopped the competition for the past decade with its iPad lineup. All thanks to the easy-to-use iPadOS, and ever-improving seamless integration with popular products like iPhones & Macs, iPads have always been the leaders when it comes to the tablet space. However, in the past two years, Samsung has managed to catch up and take a bite of Apple's tablet market share. Well, Samsung's 2022 tablet releases might actually make a big dent. Let's find out.
The Galaxy Tab S8 Plus is the middle child in Samsung's 2022 lineup of flagship tablets. The South Korean giant launched the tablets back in early 2022 in February. The lineup consists of the regular 11-inch Galaxy Tab S8 and 12.4-inch Galaxy Tab S8 Plus. This year, Samsung also dropped the curtains on an entirely new flagship tablet, the Galaxy Tab S8 Ultra. It has a monstrous 14.6-inch 120Hz AMOLED display for a tablet and that humongous display comes with an equivalent price tag.
Today, I'm here to talk about the middle child, the Galaxy Tab S8 Plus. I've been testing it for over a month now and here's my long-term review of the Samsung Galaxy Tab S8 Plus.
Galaxy Tab S8 Plus Review: Design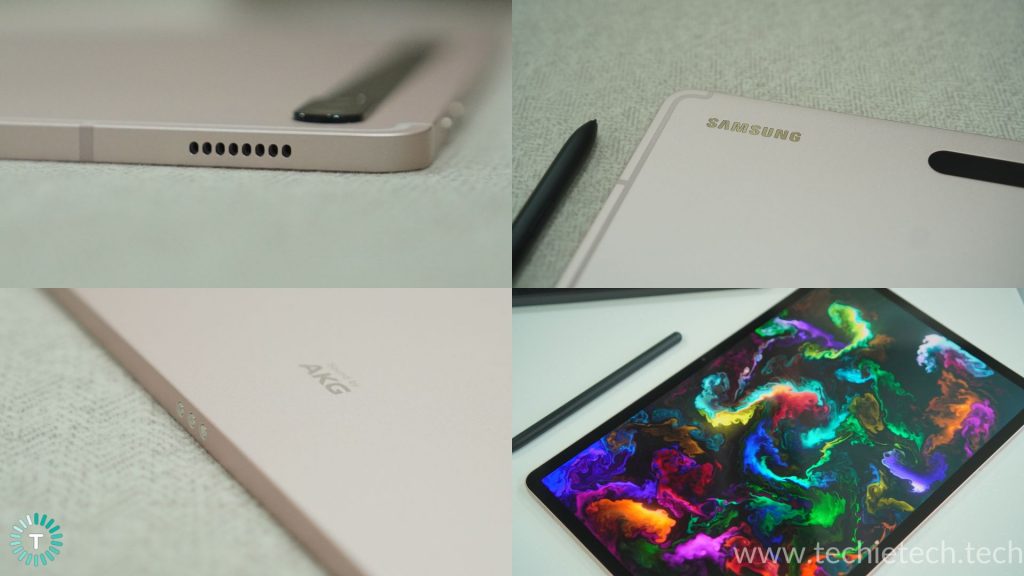 The Galaxy Tab S8 Plus inherits the same design as the Galaxy Tab S7/S7 FE series with minor tweaks. The list of changes includes an all-new Armour Aluminum casing which is said to be 33% harder than the one in older models. Earlier this year, I spent a respectable amount testing the Galaxy Tab S7 FE and the difference in built quality is fairly noticeable.
Just like last year, the Galaxy Tab S8 Plus has a 12.4-inch AMOLED 120Hz display with some thick bezels. Even with a 12.4-inch display, the Samsung Tab S8 Plus weighs only 572 grams (1.2 lbs).
For reference, the
12.9-inch iPad Pro
weighs 640 grams (1.5 lbs).
Moving on, it has a 12MP f2.4 ultrawide front camera on its horizontal side. Frequent video callers will appreciate this camera placement.
There's also a dual camera on the back with support for 4K video recording. Right under the cameras, there's a black strip made of Gorilla Glass Victus+. It is there to hold and charge the mighty S-Pen. Honestly, it does add to the premium looks of the Galaxy Tab S8 Plus. My only worry is that the strip or the S-Pen can get scratched easily when using the tab without a case.
On the bottom, we have a USB 3.2 Gen 1 Type-C port that offers up to 5Gbps bandwidth. I know, it is not even close to the 40Gbps offered by
Thunderbolt ports (in new iPads)
. The majority of users will find it good enough.
Moving on to my favorite things, the display and the speakers. The Galaxy Tab S8 Plus tablet sports quad stereo speakers with support for Dolby Atmos. The AKG-tuned speakers get pretty loud and the Dolby Atmos experience is amazing for a tablet this size.
Unfortunately, Samsung has removed the 3.5mm headphone jack this year. Yes, that's right even though it's an almost 13-inch tablet, there's no headphone jack.
There's an in-display fingerprint sensor on the bottom of the display. It does what it's supposed to do very well. I had no issues unlocking the tablet in any instance.
The Tab S8 Plus is equipped with a Pogo pin connector on the left side. You can easily connect keyboard covers without taking up the USB-C port. I have some more thoughts about the keyboard in the user experience section.
The Galaxy Tab S8 Plus is available in three colors i.e. Graphite, Silver, and Pink Gold. I have the Pink Gold version. To be honest, it is actually a very light shade of rose gold and I love it. It is neither as boring as Silver nor a fingerprint magnet like the Graphite version.
Overall, the Galaxy Tab S8 Plus has a premium build which is worthy of a premium price tag.
My two issues are the lack of a headphone jack and the glass strip on the back.
The glass strip can get scratched if you're not using a case. I haven't tried it using without a case for a long time and I don't want to. I love the premium scratchless look. Fortunately, I found a value-for-money case for the Galaxy Tab that lets me store the S-Pen right beside the display for easy access. There's no scratching the S-Pen or the glass strip.
Galaxy Tab S8 Plus Review: Specs
Here's a quick rundown of the Galaxy Tab S8 Plus specs and my favorite features.
Processor

Snapdragon 8 Gen 1

Rear Camera

13 MP, f/2.0 (Primary)

6 MP, f/2.0 (Ultrawide)

Support for

4K@30/60fps & 1080p@30fps

Selfie Camera

12 MP, f/2.4

Support for

4K@30/60fps & 1080p@30fps

Storage

8GB RAM, 128GB/256GB Storage

12GB/16GB RAM, 256GB/512GB Storage

Support for microSD card up to 1TB

Display

12.4-inch 120Hz AMOLED Display

1752 x 2800 pixels with 16:10 Aspect Ratio

Battery

10090mAh

Fast Charging up to 45W
Wi-Fi 6E support is another one of my favorite features. At the beginning of this year, I upgraded from the regular routers provided by ISPs to a
Wi-Fi 6
smart home mesh router
. I tested the internet capabilities with both routers. There's a phenomenal difference in browsing, downloading multiple files, and all internet-based multitasking apps. Since Wi-Fi 6E has an extended band with 6GHz support, if you have a
Wi-Fi 6E router
, the experience will be stellar.
Even though the Galaxy Tab S8 Plus I reviewed has only 8GB RAM, the virtual RAM support gives plenty of headroom for power users like me to push the device as hard as possible. Virtual RAM or RAM Plus as Samsung calls it, allows users to use the in-built storage space as RAM. It's really fun if you're a power user. Most casual users would not need this feature since 8GB of RAM can handle almost everything seamlessly.
Galaxy Tab S8 Plus Review: What comes in the box
The Galaxy Tab S8 Plus comes in a slim white box. The box includes the following items:
Galaxy Tab S8 Plus

USB-C to USB-C cable

S-Pen

SIM Ejection tool

Getting started manuals
In case you're wondering if I forgot to include the charger in the above list. Nope, that's all you get. Samsung pulled an Apple with us here. It's a $900 flagship tablet and does not come with a charger. Even the budget-friendly Galaxy Tab S7 FE ship with a charger! I know almost everything is USB-C now or
will be in the next few years.
Nonetheless, this was a shameful act. If you're planning to get a new one, I
recommend this one
. It is futureproof and you can charge multiple devices at a time.
Galaxy Tab S8 Plus Review: User Experience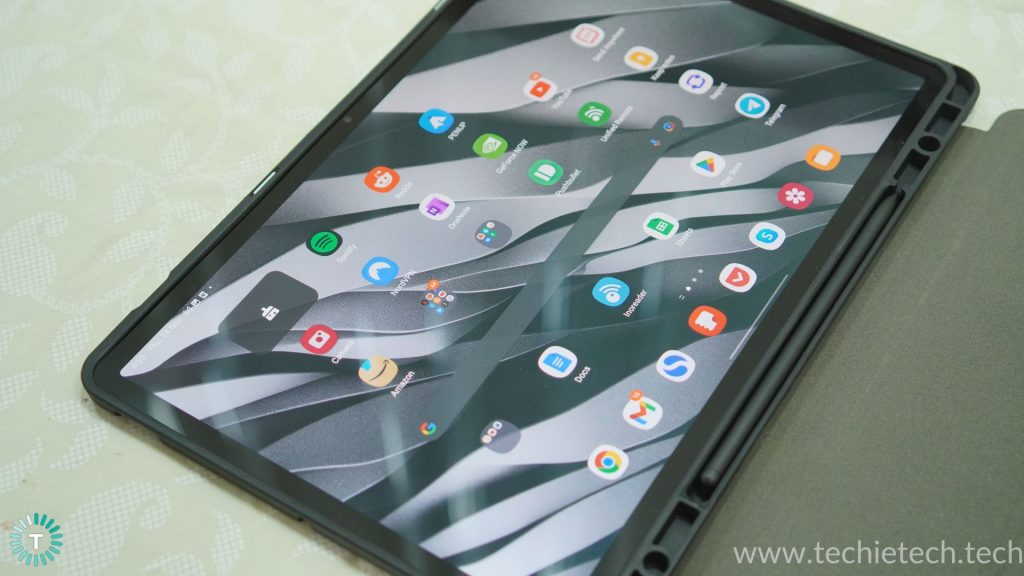 OneUI
The Galaxy Tab S8 Plus runs Android 12 out of the box. Just like other Galaxy devices, the Tab S8 Plus runs OneUI. It comes preloaded with a lot of apps and features like Bixby, Galaxy Store, and Samsung Knox (Samsung's proprietary security system). OneUI offers tons of customizability features ranging from changing system icons' color palettes to entire themes and adding widgets to lock screen.
Even with all the bloatware and pre-installed apps, features offered by OneUI are actually useful. Here's a quick list of features you can tinker with:
Battery management

Notification management

Customizability Options

Built-in EQ

Sound adapt system
Samsung's own apps are feature-rich and work across multiple devices especially if you pair them with a Galaxy smartphone. In my case, I've been using the Galaxy S21 Ultra. Features like Call, Messaging, QuickShare, and Notes app, etc. work seamlessly on both devices. The effortless syncing of apps and data reminds me of the Apple ecosystem of products. This is where Samsung has the upper hand here. It offers more features and more room to wiggle.
One of my favorite apps to use on the Galaxy Tab S8 Plus has been the Notes app by Samsung. I've
shared my experience in the S-Pen section
.
If you're an Android user, you can separately download the Files app by Samsung. It is by far the best file management app on Android I've ever used. It is fast and offers plenty of useful features. I can manage my home server and network storage devices right from Galaxy Tab S8 Plus without turning on my laptop. I tested ChromeOS Flex on a Mac mini recently and had to transfer a fairly large amount of video files. I downloaded and shared over 10GB of files via Nearby Share (wirelessly) from the tab to the Mac mini with zero hiccups. The transfer speeds were terribly fast. I had to double-check whether I got the entire folder or not.
Other useful features of OneUI include the auto-framing support in the new front camera. If you're on a video call, the new front camera on the side will automatically reframe the video to ensure you're always in the center of the frame. It's just like
Center Stage
but for Samsung devices. If you're a
Windows
user, you can use the Tab S8 Plus as a secondary display with just one tap.
Since the Galaxy Tab S8 Plus runs OneUI, you can use any of the Samsung Galaxy accessories and they will work seamlessly with zero pairing issues. I used the Galaxy Buds Plus while it was actively paired with my phone to listen to a call on this Android tablet. Even though the buds were paired with the phone, just tapping on the active call screen on the S8 Plus allowed me to use the Buds with it. There's a long list of similar features that make the user experience of the Galaxy Tab S8 Plus surreal in the Android landscape.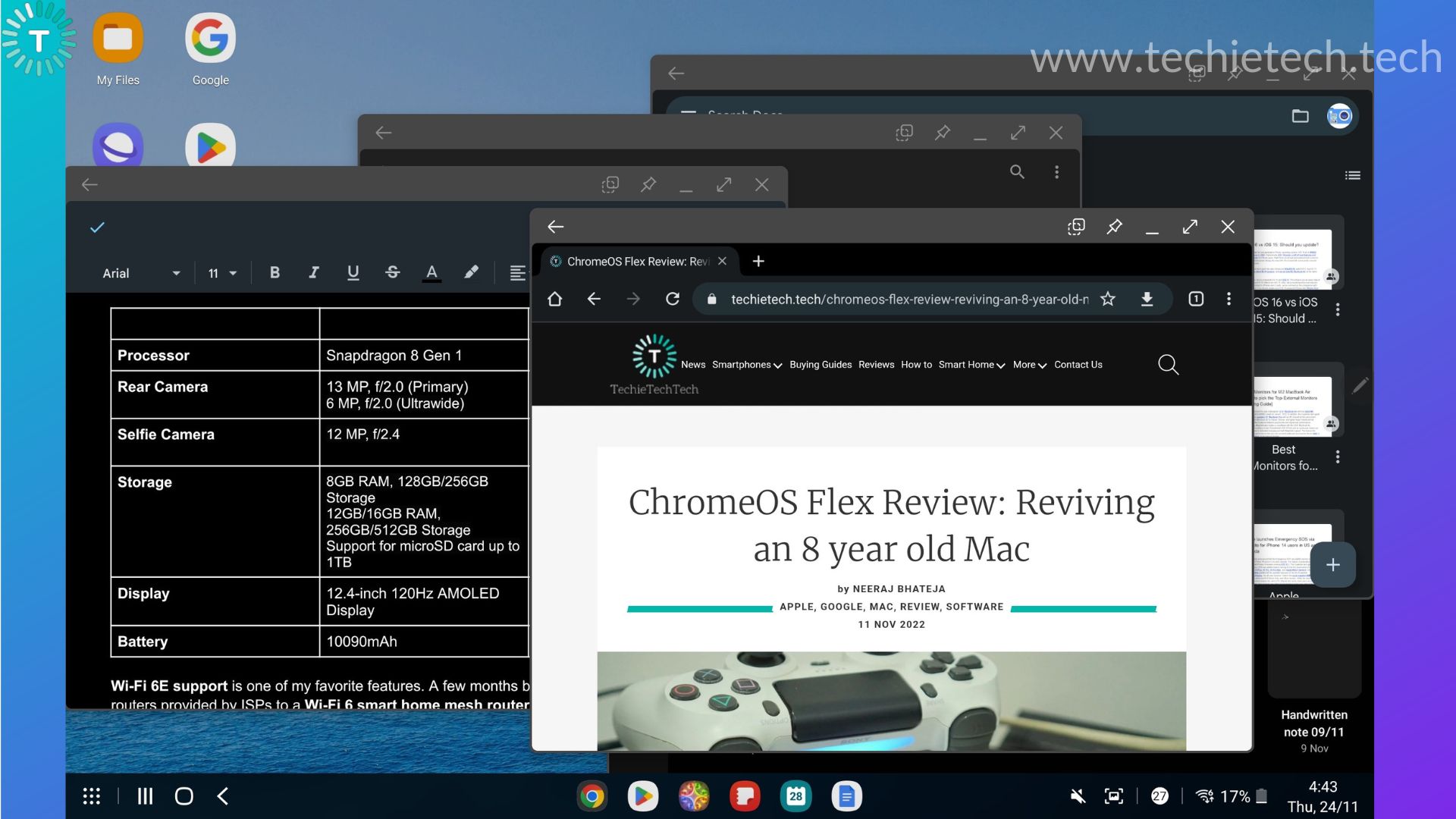 The multi-window experience is better than iPadOS. There, I've said it. I've used both and Samsung is clearly ahead in this department. I can confirm that it's more mature and bug-free than Stage Manager.
You can open multiple apps and in different window configurations too. There is no lag, no matter whether you've opened a dozen
Chrome
tabs while
running a VPN
or
editing RAW pictures in Lightroom
.
Although, I do have a problem when it comes to Android apps for larger displays like tablets or monitors. Lots of Android apps lag behind in the user experience department when compared to iPadOS. Most Android apps for tablets are just scaled-up versions of mobile apps which sometimes don't have even the basic features. Hence, I prefer to use web apps in such cases.
To be fair, app optimizations for Android tablets have never seen better days and Samsung has been pushing the line. With foldable getting more common and more Android 12L updates right around the corner, I hope to see better multi-window support, scaling, and optimization for larger displays from 3rd party app developers.
Software Update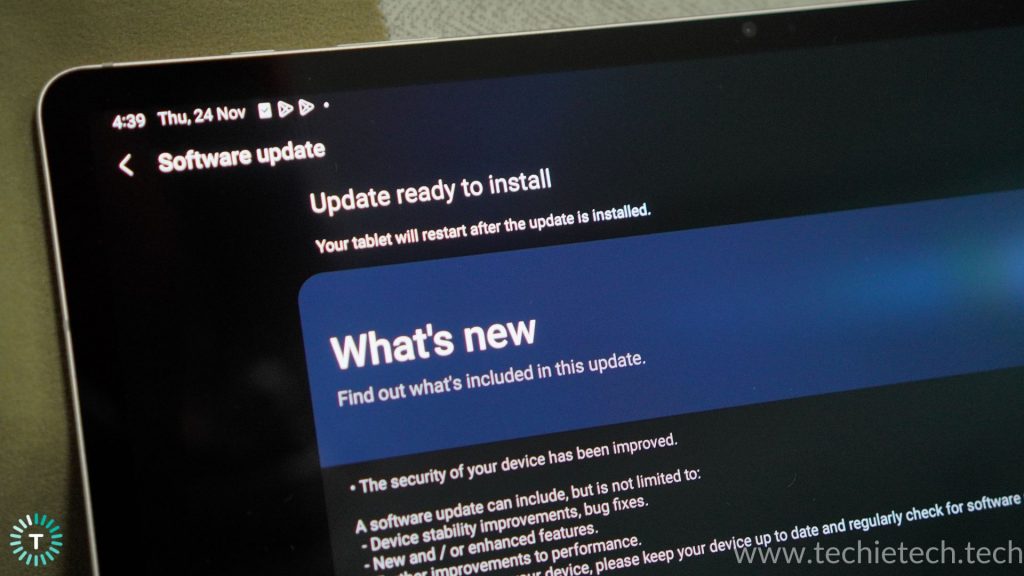 When it comes to software updates for Android devices, no one does it better than Samsung. Samsung is the only one that has been delivering on its promise of 4 years of Operating system updates and 5 years of security updates. The South Korean tech giant has been pushing OTA software updates faster than any other Android device manufacturer.
Apple is still ahead of everyone here. The 5th Generation iPad launched in 2017 got the iPadOS 16 update last month along with all other iPads. Nonetheless, Samsung still gets points for being the only one reliable software support provider in the Android camp.
DeX Experience & Connectivity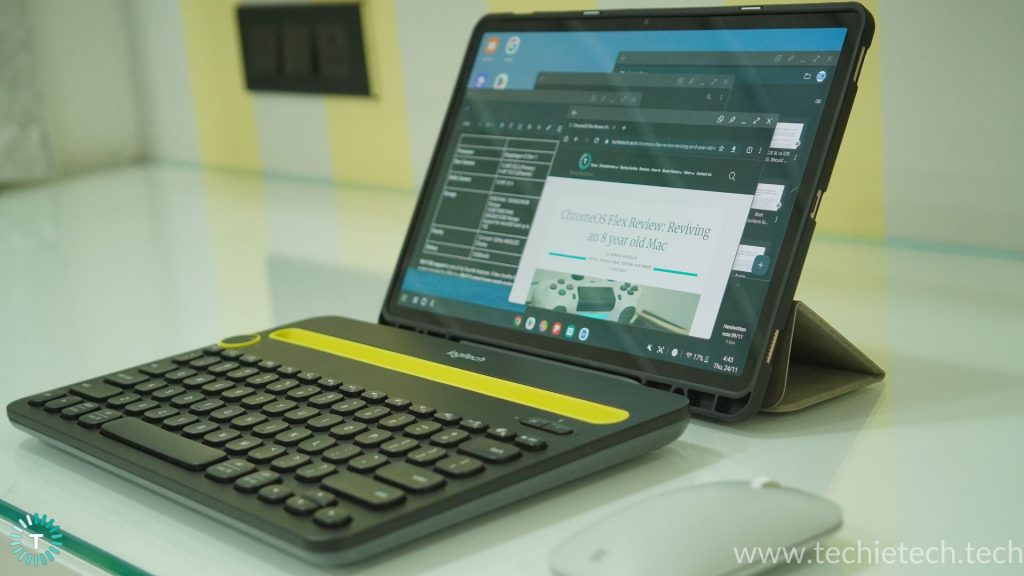 Samsung's DeX mode works extremely well on larger displays. DeX mode basically gives you a desktop-like experience with a taste of Android. You can open multiple apps at once in smaller or full screen windows. You can overlap app windows. It is just like a Windows experience but with Android apps.
Samsung offers a long list of features that you can take advantage of with DeX mode. I prefer to use it on a larger display like a monitor or when i"m using the Tab S8 Plus with a keyboard and mouse.
Talking about the keyboard and other accessories, Samsung sells a keyboard cover for the Tab S8 Plus for $160 (it goes on sale quite frequently) and $230 USD. These are very expensive prices considering the former keyboard does not even have a trackpad. It is just a foldable cover for Galaxy Tab S8 Plus with a keyboard. The latter keyboard cover looks good but the $230 price tag is not justified considering the fact there's no backlight and you can find more value for money alternatives.
I personally use a more affordable and functional case for my Galaxy Tab S8 Plus. I pair it with my daily driver Bluetooth mouse and use this Logitech Bluetooth keyboard. I can use this accessory combo with my MacBook or any other Bluetooth device. Paired with the DeX mode, this accessory combo can easily replace my laptop for a few days of web app use.
Thanks to the USB-C 3.2 Gen 1 port on the Tab S8 Plus, I can effortlessly plug in a bunch of accessories. I always carry
a USB-C adapter
whenever I travel. All thanks to
devices going USB-C soon,
It's part of my
essential travel accessories kit now.
Camera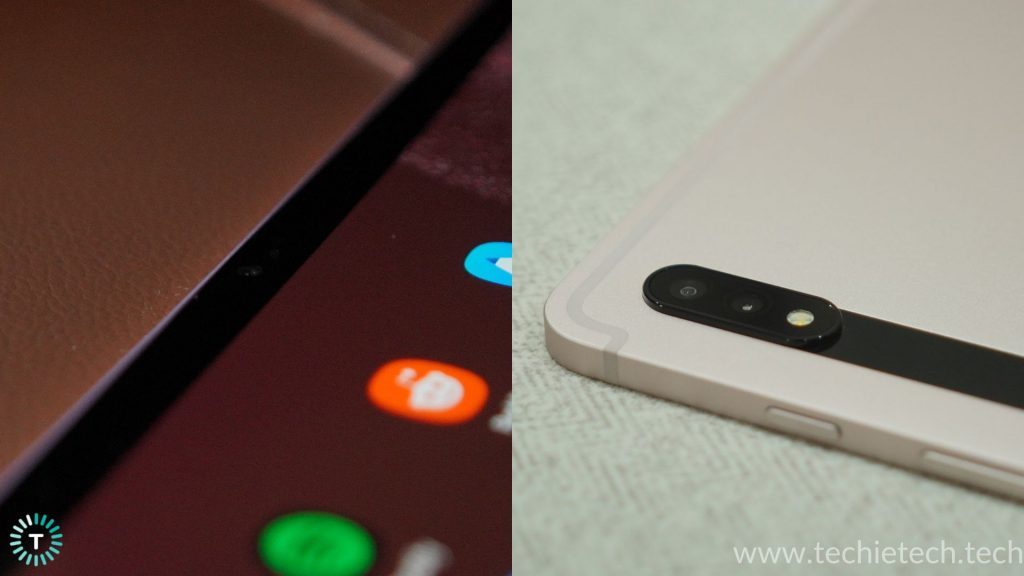 The dual cameras on the Galaxy Tab S8 Plus are fine in terms of casual use like scanning documents or video calls. Just don't expect anything more from them. The only interesting camera feature apart from the plethora of camera app features is Samsung's Auto-framing.
The camera basically follows you around the frame and zooms in and out accordingly. It's like Center Stage but for Android. It comes in handy if you take a lot of video calls on Zoom.
Speakers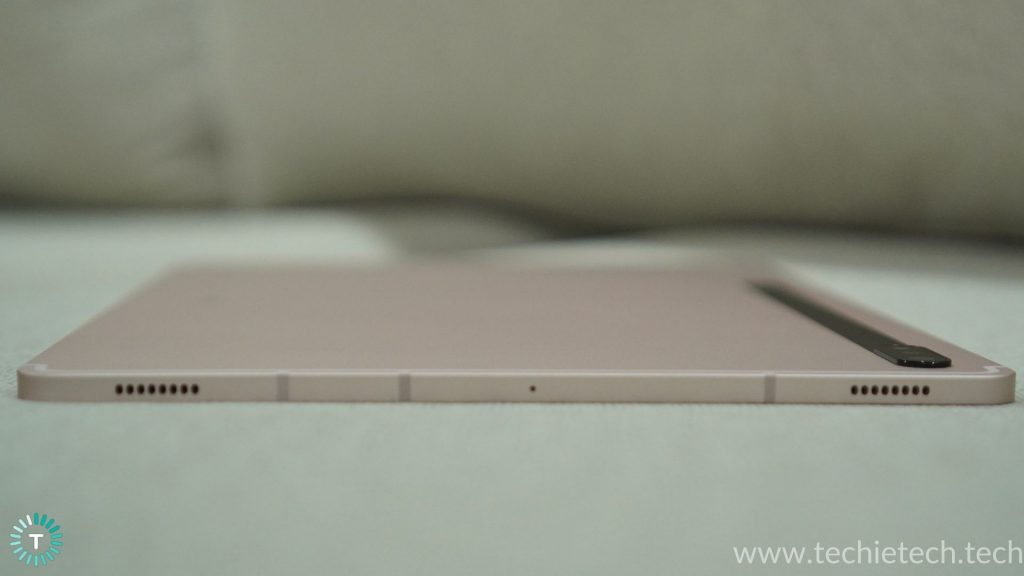 The speakers on the Galaxy Tab S8 Plus are some of the best ones out there. It sports quad-stereo speakers that are tuned by AKG. Dolby Atmos support and built-in EQ add the cherry on top of the cake. Listening to different kinds of music and watching YouTube videos or movies is fun on the Galaxy Tab S8 Plus.
Galaxy Tab S8 Plus Review: Display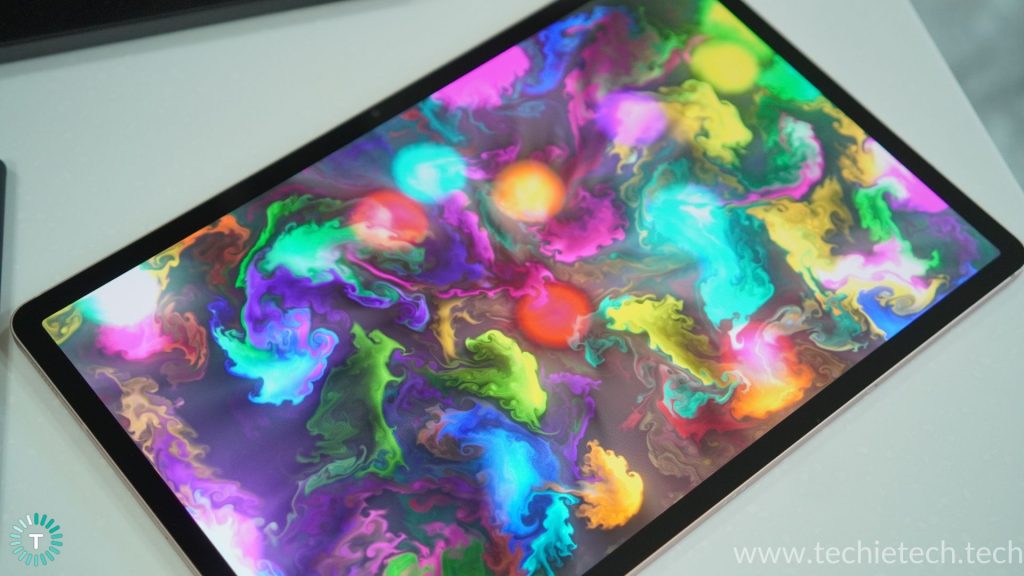 Complementing those quad speakers is this gorgeous 12.4-inch AMOLED Display. The 120Hz refresh rate, 240Hz touch sampling rate, and 1752 x 2800 pixel resolution make it a very incredible display to look at. The Tab S8 Plus has a 16:10 aspect ratio compared to the regular 16:9 ratio. Therefore, there are smaller or no
black bars visible while watching anything
on this tab. Since it is an AMOLED panel, the colors look well saturated with impressive contrast levels. Be it
Netflix's Money Heist
or Amazon Prime's Rings of Power everything looks gorgeous on this display.
I've tested this display in lots of different lighting conditions and it has managed to look impressive everywhere. Although, some people might not find the 500 nits display bright enough on a sunny day. I recommend taking a look at the display in person at a nearby store. I've watched and played over 25 hours of God of War Ragnarök gameplay and Witcher 3 on this and the display still looks gorgeous every time.
The one major caveat I found with the Galaxy Tab S8 Plus's display is that it always runs at 120Hz. You can change it to 60Hz in the settings but there's no in-between. Unlike, Samsung's other
displays like smartphones
, the Tab S8 Plus does not have LTPO. It means the display cannot change its refresh rate on the go. Smartphones like
Galaxy S22 Ultra,
or
iPhone 14 Pro Max
can lower the refresh rate of the display when they detect less movement on the screen to save battery. iPad's ProMotion display has the upper hand when it comes to power efficiency. I've seen both displays side-by-side and I personally prefer the Galaxy Tab S8 Plus's display. Please note, I'm talking about the $799 11-inch iPad which sports the Liquid Retina display with 600 nits of max brightness.
In case you're looking for a tab with mostly outdoor use, the $1100 12.4-inch M1/M2iPad Pro's display tops at 1000 nits of brightness and with up to 1600 nits of peak brightness. Now, that is lit.
In a nutshell, the Galaxy Tab S8 Plus has one of the best Android tablet displays out there. It is good enough for
gaming, productivity
and offers an immersive experience for consuming media.
Galaxy Tab S8 Plus Review: S-Pen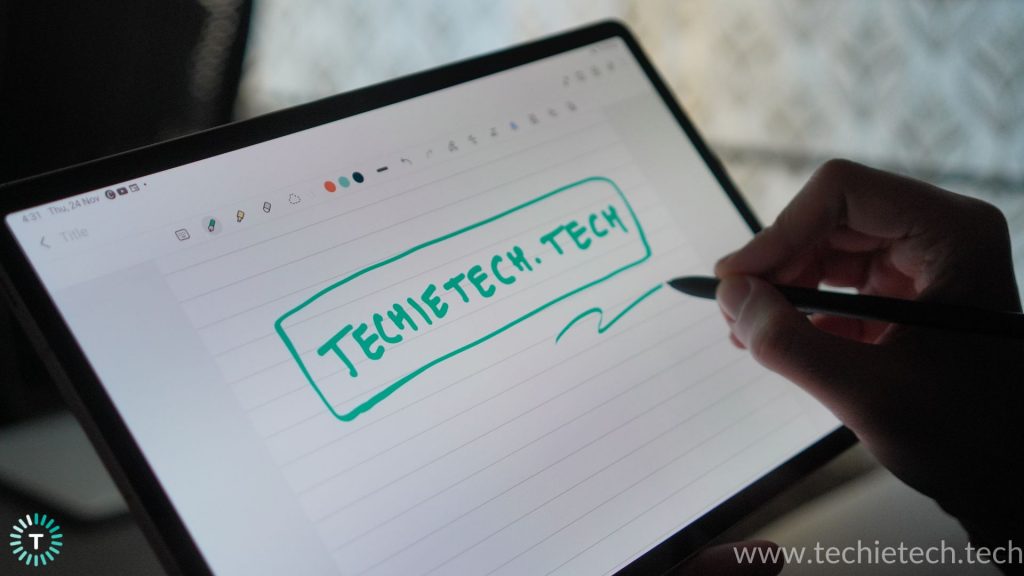 Thankfully, Samsung includes the S-Pen in the box with the tablet. You don't need to spend an extra $99 to make the most of your tab. Samsung upgraded the S-Pen this year with new features like better Bluetooth support, lower latency, more customizability for the function button, and improved gestures support.
You can stick the S-Pen on the back of the tablet onto the glass strip. It is the only way to charge the S-Pen. You can also stick it to the side of the tab if you don't want to scratch it from the bottom. That right there is a very serious concern if you put your tablet on uneven surfaces. I keep mine in the side pocket of the case. It's safe that way. The S-Pen does not get scratched, has easy access, and does not get in the way while holding the tablet from the sides.
Furthermore, I've tested the older versions of the S-Pen and other offerings by Android tablets. The S-Pen is in a different league entirely. It works seamlessly across the entire screen that too at various angles. The writing and drawing experience is just immaculate. The soft tip feels like you're writing on a stacked notepad. This adds to the realistic writing experience. Apple Pencil on the other hand feels like you're writing on a single sheet of paper on a table. The stylus experience on both devices is very different. I'd prefer the S-Pen experience over Apple Pencil any day.
Pair the S-Pen with Samsung's Notes app and you've got yourself an Android tablet with the perfect stylus. Wait, there's more to this. The new S-Pen offers a plethora of gestures and function button customizability like using it as a shutter for a camera or music app. You can also use this S-Pen on other supported Galaxy devices. I tested it on my Galaxy S21 Ultra and it works fine with zero issues.
Samsung has significantly improved its S-Pen in the past few years. This year, they even surpassed the signal latency of Apple Pencil. The S-Pen that comes with the S8 Plus tab has a 2.8ms latency compared to 9ms on the 2nd Gen Apple Pencil. In case you're wondering, the difference in real life is noticeable but only if you look for it. A casual user won't be able to differentiate.
Galaxy Tab S8 Plus Review: Performance
Let's talk about the performance review of the Galaxy Tab S8 Plus. It just works no matter whatever you throw at it. The Galaxy Tab S8 Plus is powered by Qualcomm's Snapdragon 8 Gen 1 chipset. If you're unaware, the SD 8 Gen 1 is not the most heat-efficient processor out there. But that's the case with smartphones. Smartphones are small with even smaller thermal and heat management systems. We are talking about a tablet with a 13-inch chassis here. The larger chassis of the tablet allows the Snapdragon chipset to spread its wings. It performs very well in all kinds of situations. I tested it with many multiple-window apps and dozens of Chrome tabs. The multi-window experience as mentioned in the DeX experience section was amazing. Since you can easily connect this to a larger display via a USB-C adapter or HDMI cable, it can essentially replace your PC on the go. No matter what I threw at this thing, it chopped its way through with zero lag.
Another great thing about this is the support for the exFAT file system. This means I can work with files larger than 4GB. I was able to watch entire uncompressed
H.265 4K
movies on this with no dropped frames. We are talking about a 25GB 4K movie with Dolby Atmos. If you've ever tried H.265 video playback, chances are you know how tough it is to implement it on any device.
The Tab S8 Plus has 8GB of RAM with virtual RAM support. This means, even if you somehow manage to make full use of the memory, you can double it by using the storage space as RAM. The process to allocate virtual RAM takes seconds to ensure your work never stops.
To sum this up, I'm a power user and I like to tinker with things. I pushed this tablet very hard and I'm glad to say, the Galaxy Tab S8 Plus delivered a great experience under all tests. This is what a powerful Android tablet should be like.
Galaxy Tab S8 Plus Review: Gaming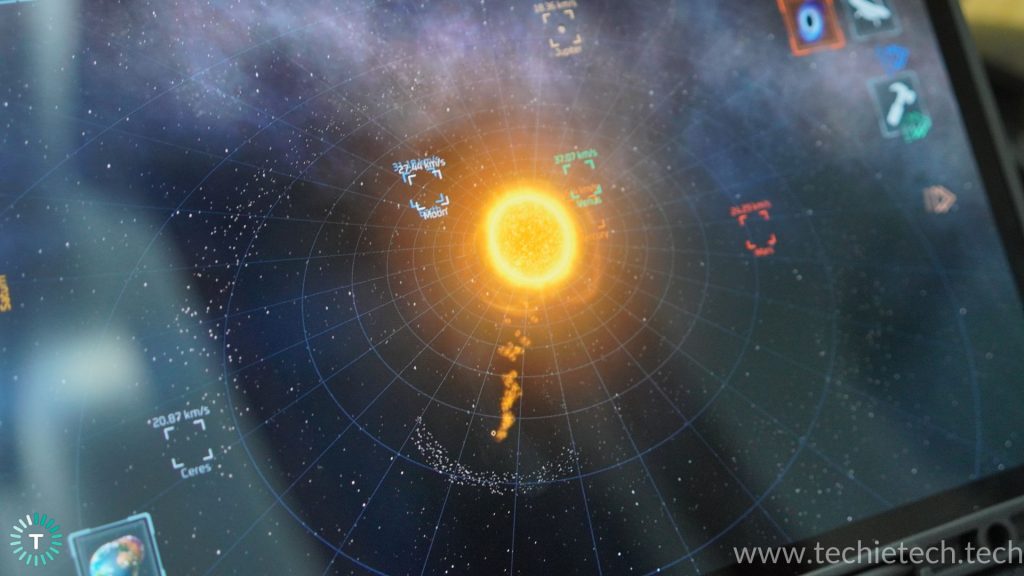 The gaming experience on the Galaxy Tab S8 Plus deserves its own section. I played a bunch of games and had a pretty good experience except for multitasking.
I played Call Of Duty: Mobile on both, the tab's own display and on an external display with no issues.
I pushed a bunch of resource-intensive simulation games like Solar Smash to see how far it will go without throttling. I was surprised to find out that HDR graphics support with high frame rate worked fine in PUBG Mobile.
In the end, it was just a little warm, with no throttling or anything. Cloud gaming worked even better. After playing for around an hour, I had a 9% battery drop and no overheating. I believe it was worth the drain as I was also using a VPN to connect to Nvidia GeForce Now with a bunch of apps open in the background.
My beef is with multi-tasking support for some games. They would not stay open in the background or would just refuse to work properly in multi-window or DeX mode. It is annoying at the very least. To be fair, this is more of an Android game developers' problem than Samsung's. On the flip side, iPadOS sorted out all issues like this a long time ago. If you're purely after gaming, I recommend you take a raincheck on that. The iPad Pro has the upper hand when it comes to gaming, all because of its impeccable app optimizations.
Galaxy Tab S8 Plus Review: Battery Life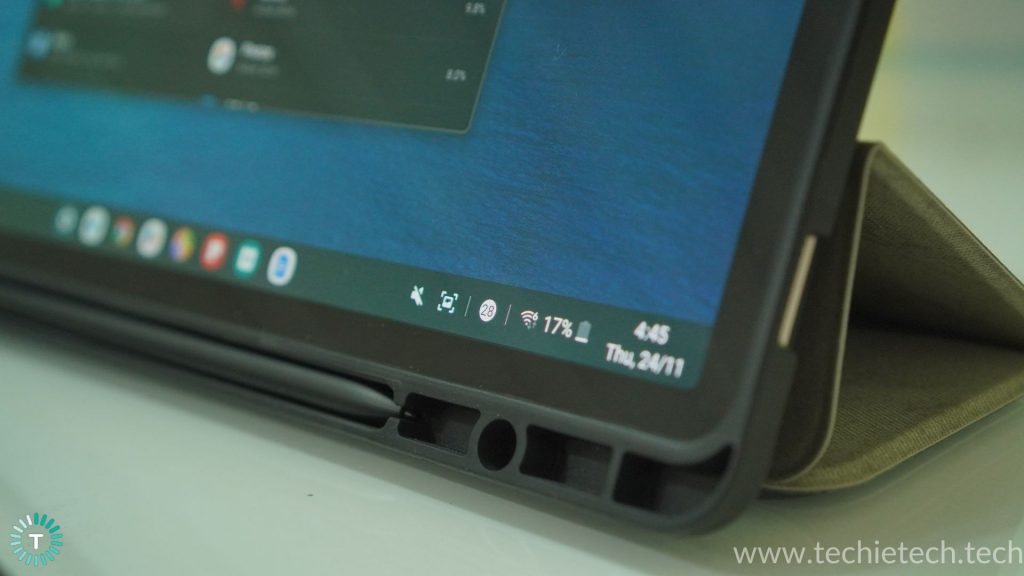 The Galaxy Tab S8 Plus has a 10,090mAh battery. It translates to somewhere between 7-10 hours of screen time or maybe more depending on your use. I was getting 8 hours easily with my regular usage of streaming 4K videos and reading. I should add that I've installed lots of apps that keep running in the background. Thanks to OneUI, I can tweak those apps and easily squeeze out more screen time without losing out on anything.
One thing to keep in mind is that the display always runs at 120Hz instead of changing its refresh rate according to whatever is being displayed on the panel. Smartphones like Galaxy S22 Ultra, and iPhone 14 Pro Max can change their display's refresh rate on the fly to reduce battery drain. This also takes a toll on the battery life. So, if you want to increase the battery life of the Galaxy Tab S8 Plus significantly, shifting to 60Hz makes sense. I personally prefer to keep the display panel at 120Hz all the time. The extra battery life at 60Hz display is not worth missing out on enjoying this gorgeous display at 120Hz.
In the Android realm, it is above average to get this kind of battery life with an impressive AMOLED display powered by this kind of performance. In case you're wondering, the iPad Pro can last somewhat longer depending on your usage. Again, all thanks to Apple's app optimization and ProMotion display.
Talking about the charging, since Samsung did not provide any chargers in the box, I have been using my USB-C 25W PPS fast charger. It manages to charge the Galaxy Tab S8 Plus in almost 2 hours. You can make the most of the super-fast charging support on the Tab S8 Plus by using a 45W (or more) fast charger with PPS support.
Galaxy Tab S8 Plus Review: Alternatives
Here are some of the best alternatives to the Samsung Galaxy Tab S8 Plus:
When talking about the alternatives of the Samsung Galaxy Tab S8 Plus, I just can't skip the iPad Pro. The M1 iPad Pro (now M2) packs industry-leading firepower when it comes to tablets. It can easily match a modern laptop when it comes to raw power. Furthermore, the 11-inch Apple tablet is equipped with
FaceID
, a
USB-C port with Thunderbolt support
& many more features. Furthermore, it is also $100 cheaper than the Tab S8 Plus. The iPad Pro makes a lot more sense if you are already a part of the Apple ecosystem.
A 12.6-inch Android tablet alternative to the Galaxy Tab S8 Plus which offers similar features like stylus support, almost the same design & more. And all these features at a cheaper price tag.
It is basically a Galaxy Tab S8 Plus but with a 14.6-inch AMOLED display and a larger battery. Of course, all this is accompanied by a hefty price tag.
Verdict: Should you buy the Samsung Galaxy Tab S8 Plus?
Android tablets have mostly lagged behind in one or other departments when compared to the offerings by Apple. This one does not. The Galaxy Tab S8 Plus is one of the best Android tablets you can buy right now. If you're part of the Samsung ecosystem, then you don't need to give it a second thought. Just go for it.
If you're wondering, if it can replace your laptop, then I recommend testing it out first to see your workflow app compatibility. If your workflow is optimized for Android then you can easily replace your laptop with this tablet. Just add a reliable Bluetooth keyboard & mouse, and you're good to go. It is the perfect blend of screen size, power, and user experience. If you're not looking for a laptop replacement then this is a glorious tablet for entertainment and media consumption. Thanks to
Wi-Fi 6E
and
5G support
, you can take this on the go and enjoy cloud gaming. Furthermore, you can easily store entire TV shows with the microSD card.
To sum up my review of the Samsung Galaxy Tab S8 Plus, the combination of Samsung DeX and its powerful processor, open up plenty of use cases for a variety of users. You can get this purely for media consumption or you can get this to explore the artist in you or you can get this as a leisure machine when you're enjoying hot cocoa during the holiday season. The list goes on.
Check Galaxy Tab S8 Plus Price on Amazon