The latest generation of mobile network technology, 5G, is expanding globally. Right from the advanced services and technologies, including Augmented Reality(AR), Virtual Reality(VR), and the Internet Of Things(IoT), the transfer speeds & capacity benefits of 5G have been strong pillars. While 5G is readily available in many regions across the globe, it was primarily used for data transfers and not voice calls. This is a thing of the past now. We recently got the world's first set of smartphones that support Vo5G. Yes, you've heard it right! Some smartphones allow you to enjoy all the benefits of 5G, including data transfers and voice calling. 
In this article, we've mentioned the Vo5G/VoNR-supported phones that are currently available in the markets. 
Before we jump to the list of smartphones that offer Vo5G calling, let's understand what Voice over 5G is and what are its advantages. 
What is Vo5G?
Voice over 5G (Vo5G) or Voice over New Radio (VoNR) is a service where voice calls are handled by 5G mobile technology. It's a successor of the widely used VoLTE technology that allows you to make voice calls over 4G networks. Interestingly, VoNR or Vo5G offers various advantages to its users. We all know that voice/video services play an important role in mobile communication systems. The world survived using those digital tools during the peak of the pandemic. The latest Vo5G offers clearer and high-quality calls over the internet. 
What are the benefits of Vo5G/VoNR? 
As we've mentioned, the Vo5G technology offers various benefits over its predecessor VoLTE. We've summed up the advantages of Vo5G-supported smartphones. Let's have a look. 
Vo5G allows its users to take advantage of the low latency of 5G networks. As a result, you'll be able to enjoy high-quality voice &

video calls

over the 5G network with minimum lag. We all know how lag during a voice or video call can be frustrating to deal with.

Next, with VoNR technology, users can expect faster calling and enhanced voice clarity. Additionally, it will remove indoor coverage issues that they might face during a normal call. 

VoNR can also offer high-speed data activities simultaneously that you would need during your

video conferences

, presentations, seminars, and more. 

Since the Vo5G calls will fall back to LTE when 5G isn't available, this dual connectivity will improve voice coverage. It means your call won't disconnect when

5G isn't working on your phone

as your calls will automatically be switched to LTE/4G networks. 
Vo5G/VoNR Supported Smartphone List
1. Samsung Galaxy S22 Series
Release date: February 9, 2022
Price: Galaxy S22 5G- $799, S22 Plus 5G- $999, S22 Ultra- $1,199
Vo5G Network carrier: Zain Kuwait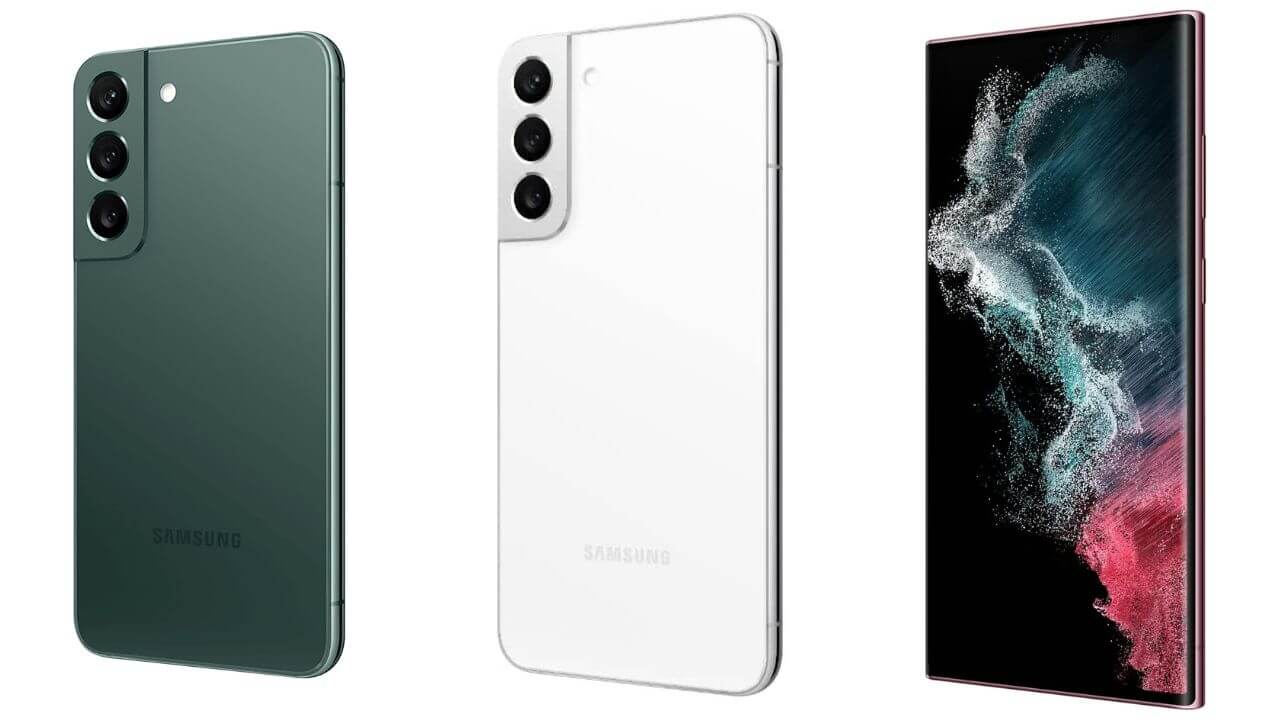 While many network operators are trying to incorporate Vo5G services, Zain Kuwait (a Middle East telecommunication company) has sculpted its name as the world's first carrier to provide support for Voice over 5G with nationwide coverage. Samsung marked its entry into the world of 5G smartphones with the Samsung Galaxy S10 5G. Being an early adopter of new technologies & features, the Korean tech giant is ready with the world's first set of phones with Vo5G support, and the Galaxy S22 Series is at the top position. 
The most popular and best Android phones of 2022, the Galaxy S22, S22+, and S22 Ultra boast another world record now. These smartphones will now allow you to experience the best of Vo5G with clearer calls with efficient encoding, improved battery life, simultaneous voice & video call support, and more. In addition to VoNR services, the Galaxy S22 series is loaded with a raft of impressive features.
The Galaxy S22 is a Vo5G-supported smartphone that sports a Dynamic 6.1" AMOLED display with HDR10+ support, a super-smooth 120Hz refresh rate, and 1500 nits peak brightness. This feature-packed
Wi-Fi 6 smartphone sports a triple rear camera setup with a 50MP primary snapper. The bigger Galaxy S22 Plus flaunts a 6.6-inch 120Hz HDR10+ display with a higher, 1750 nits of brightness. This Vo5G phone also lets you enjoy the improved wireless network speeds with Wi-Fi 6e compatibility. 
The maxed-out 2022 Galaxy flagship, the S22 Ultra is the most premium Vo5G device that's available today. Largely inspired by the Note 20 Ultra, the Galaxy S22 Ultra rocks the classic Note shape and built-in S-Pen support with a dedicated stylus slot. The screen looks absolutely stunning with a 6.8-inch Dynamic AMOLED 2X LTPO 2 display, an Adaptive 120Hz refresh rate paired with Vision Booster, a 240Hz Touch Sampling rate, and 1750 nits of peak brightness. Additionally, this Vo5G smartphone boasts Wi-Fi 6e compatibility, a Quad rear camera setup with a 108MP main shooter, and a nice 5,000mAh battery with 45W fast charging support. 
Check Galaxy S22 5G on Amazon (US/UK)
Check Galaxy S22 5G on Amazon (India)
Check S22 Plus 5G on Amazon (US/UK)
Check S22 Plus 5G on Amazon (India)
Check S22 Ultra 5G on Amazon (US/UK)
Check S22 Ultra 5G on Amazon (India)
Don't forget to check our roundups on the best S22 Ultra cases, S22 Ultra screen protectors, S22 Ultra Fast chargers, and accessories for the 2022 Samsung flagship smartphone. 
We've also handpicked the best S22 Cases, S22 Plus Cases, and accessories for Galaxy S22/S22+ 5G in our detailed roundups.
2. Samsung Galaxy S21 Series
Release date: January 14, 2021
Price: S21- starts at $799, S21 Plus-$999, S21 Ultra- $1,199
Vo5G Network carrier: T-Mobile US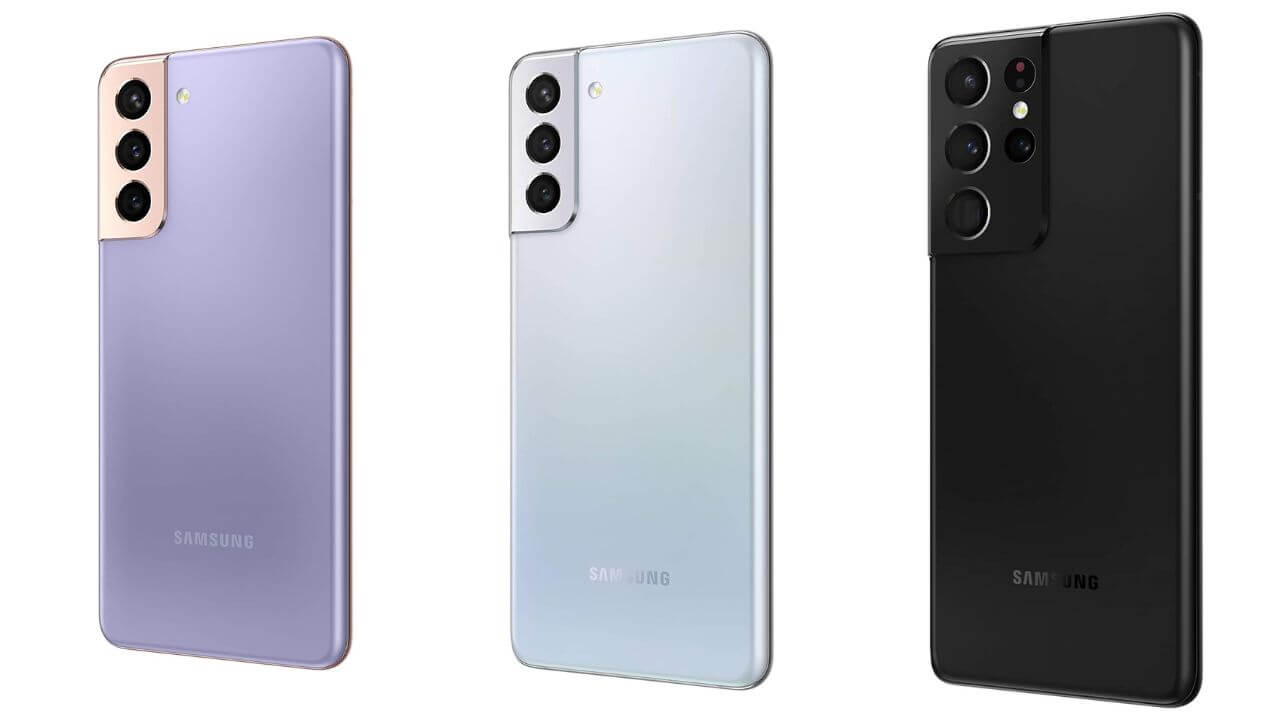 Following the footsteps of the S22 Series, Galaxy S21 Series secures a spot in the Vo5G compatible smartphones list. Back in June 2022, T-Mobile announced its Voice over New Radio or Voice over 5G in selected regions of the United States. Earlier, only Galaxy S21 was supported by T-Mobile. Interestingly, the network carrier has also extended its Vo5G services to S21 Plus and S21 Ultra smartphones. It's worth mentioning that T-Mobile has also partnered with Qualcomm and Nokia, so we can expect Nokia and other brands to come up with
5G smartphones that support Vo5G. 
The Galaxy S21 Ultra offers you a pretty big 6.8" Dynamic AMOLED 2x display with HDR10+, 1500nits peak brightness, and a 120Hz refresh rate. This Vo5G Samsung smartphone makes a statement with the smooth Gorilla Glass back and revamped Contour Camera design that screams premium. With Wi-Fi 6e compatibility, Vo5G support, a quad rear camera with a 108MP shooter, and a big 5,000mAh battery, Galaxy S21 Ultra is among the most solid Android phones that you can buy today. 
Talking about the Galaxy S21 and S21 Plus smartphones, they'll please you with an eye-catching flat AMOLED 2x FHD+ display with a 120Hz refresh rate, the Exynos 2100 processor, and a great battery life. These phones will make you stand out with an innovative Contour Cut Camera block. Additionally, the Wi-Fi 6 compatibility, triple rear camera systems, and beautiful color options give you all the reasons to buy this Vo5G smartphone by Samsung.
Check S21 Ultra on Amazon(US/UK)
Check S21 Ultra on Amazon(India)
Here are our recommendations on the best S21 Ultra accessories and fast chargers for S21/S21+/S21 Ultra.
Right now, only the Galaxy S21 and S22 Series have made it to the list of Vo5G-supported smartphones in 2022. Soon, we'll be seeing more network carriers and smartphones offering Voice over 5G services. We'll update our list as soon as any other smartphone gets VoNR support. So, we urge you to bookmark this article and keep yourself updated with the latest Vo5G devices.
Also Read: S22 Ultra vs iPhone 13 Pro Max
Do you own a smartphone with Vo5G support? Is it going to be an important factor in your next smartphone purchase? Do share your thoughts with us in the comments section below!