Netflix is an ultra-popular streaming service that's available in almost every country. Right from the Oscar-winning titles to all-time cult classics, Netflix has stolen the spotlight in almost every region across the globe. Having said that, no country has access to the entire Netflix catalog. Your geographic location will determine which shows and movies are available for you to watch. And, in some countries, Netflix's content library is very limited. This is where a VPN service comes into play. 
What's the need for a Netflix VPN?
There are many reasons to use a Virtual Private Network for Netflix. There can be instances when you're in a mood to watch an ultra-popular show or movie, but you just can't find it on Netflix in your region. Or, let's say you're a US resident and you're traveling to somewhere where Netflix is unavailable. A reliable and secure solution in such situations is using a good Netflix VPN. If you want to watch content that's restricted or unavailable in your region, you can use a reliable VPN to change your region and watch your favorite content. One of the major advantages of using a VPN service is that it encrypts your data to safeguard your online privacy. 
That means even if Netflix has some distribution rights agreements with movie and TV studios under which it can show certain content in specific locations, you can always watch whatever you want to. Having said that, you must know how to do it.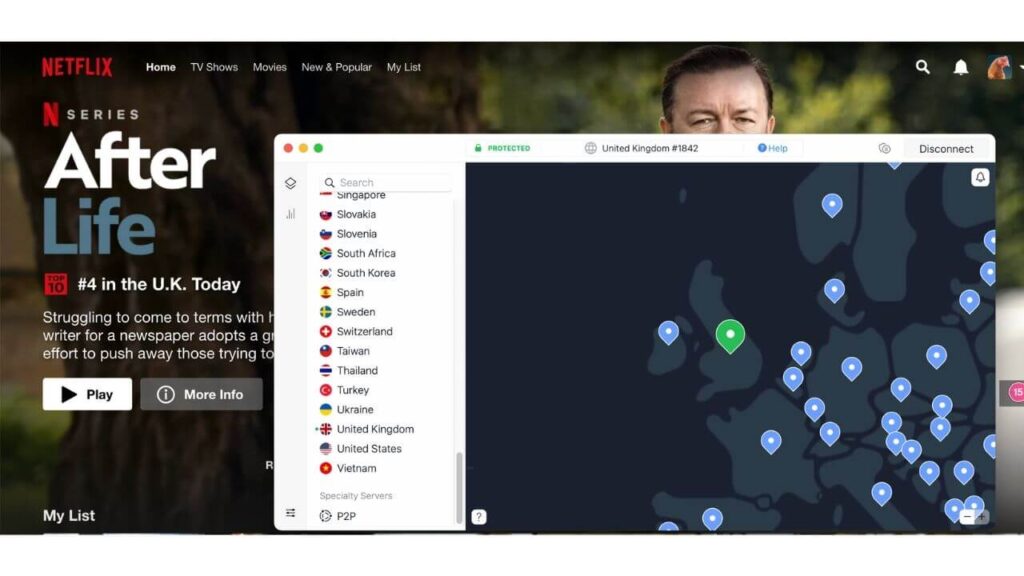 You don't need to scratch your head as we're here to help you. In this step-by-step guide, we've mentioned everything that you should know about watching Netflix with a VPN. Whether you want to change your Netflix region, are in search of the best Netflix VPN, looking for ways to fix Netflix not working on VPN problems, you can easily do that by following this guide. 
Is it legal to use a VPN for Netflix?
Before we proceed any further, we know that many users must be wondering if it's legal to use VPN to watch Netflix. Fortunately, in most countries, it's completely legal to use a VPN to watch Netflix or access other services. However, some countries like China, Iran, and Russia have restricted the usage of VPNs. When we're talking about using a VPN for Netflix, it's worth knowing that if Netflix detects a VPN, it might display a message informing you that you can't watch content, until you disconnect the VPN. Now, it doesn't mean that you'll have to face serious consequences or Netflix will block your account. 
What do you need to know before selecting a VPN to watch Netflix?
With so many options to choose from, it can be quite difficult to choose the best VPN for Netflix. Firstly, it's worth knowing that not all VPNs work with Netflix. In addition, Netflix regularly updates its VPN-detection measures, therefore, some VPNs may not be able to deliver secure and fast access to streaming from other regions of the world. Furthermore, not all VPNs are created equal. There are various factors that a user must consider before selecting a VPN for Netflix. We would recommend you to pick the one that best satisfies all of the criteria mentioned below.
1. Speed and Performance
Unarguably, speed and performance are amongst the top factors that you need to consider while selecting a VPN for Netflix. It's worth mentioning that VPNs have some sort of slowdown in internet speeds, which may affect your streaming experience. Having said that, not all VPNs cause a major change in the connection speeds. 
A good VPN must offer a reliable and fast internet connection to let you enjoy consistent streaming without any buffering issues. Netflix recommends at least a 25Mbps connection speed for streaming 4K content. Therefore, make sure to go for a VPN that offers good internet connection speed.
 2. Multi-device and Multi-platform support 
Secondly, the VPN must be optimized for streaming. This includes multi-device and multi-platform support. Your VPN should have support for multiple devices and operating systems so that you can easily watch your favorite shows & movies across various devices like smartphones, tablets, laptops, and computers. Also, the VPN should work with other streaming services like HBO Max, Hulu, and more.
3. Netflix libraries
Now, when we're talking about the best VPN to watch Netflix, it must consistently work with several regional Netflix libraries. This will allow you to watch varied content that's available in different regions across the globe. 
4. Server selection
Moving further, a good VPN for Netflix must have thousands of servers across the world. This will help you find the best connection for a reliable and lag-free streaming experience.
 5. Encrypted connection 
The VPN that you're selecting to watch Netflix must offer an uncrackable encrypted connection and other essential security features like kill switch and leak protection. This will ensure better user security.
6. No-logs policy
A good VPN for Netflix should have a no-logs policy for better user privacy. The network should not log any information which could identify the user.
7. Customer support
Lastly, a reliable VPN service for Netflix streaming should offer quick and satisfactory customer support. This will help you fix any issues that you might face while using VPN to watch Netflix. 
Now that you know all the important factors that will help you select the best VPN for Netflix, make sure to consider them while buying one for yourself. 
NordVPN (Our Recommended VPN for Netflix)
Our all-time favorite VPN for Netflix is NordVPN because it's fast, secure, and offers lag-free access to apps, websites, entertainment, gaming, and more. The reason why we prefer NordVPN is that it satisfies all the factors that we've mentioned above. Also, NordVPN is backed by hundreds of tests and thousands of user reviews. It's one of the most popular and widely used VPNs that are available in the markets. With a fast & encrypted connection, unlimited bandwidth, strict no-logs policy, uninterrupted streaming, ease of use, built-in ad & malware blocker, and 24/7 customer support, NordVPN offers a reliable and faster way to watch Netflix. More importantly, it allows you to add up to 6 devices in one account and it has a large network with over 5,200 servers in 60 countries. Therefore, you'll get plenty of choices if you're looking to change your Netflix region to access different libraries and watch your favorite content anytime and anywhere. Fortunately, there are no data caps or bandwidth limitations. It means you can watch Netflix for as long as you like.
Furthermore, with 256-bit encryption and no data leaks, NordVPN will keep you and your data protected. You can also use NordVPN to access other streaming services like Amazon Prime Video, HBO Max, and more. Even better, in addition to lightweight browser extensions for
Chrome, Firefox, and Edge, NordVPN has user-friendly apps for Windows, macOS, Android, iOS, and Linux. 
Grab a 2-year NordVPN now 68% off.
How does watching Netflix via VPN work?
Before we get started with how to use Netflix with a VPN, first, let's know how a Virtual Private Network works. Basically, a VPN is a secure, private, and encrypted connection between two machines. When you're using a VPN on your PC/ tablet/ smartphone, your device will connect to another computer that's called a server. 
With a VPN service, you can select a server from any country and obtain a region-specific IP address. You'll then be able to use the server's information rather than your true network info to browse through the internet. 
For example, if you're in the UK, you can use a Netflix VPN to access the US Netflix library by connecting to a US server and using its IP address. If a website is tracking user data, it will see the VPN servers, and not your device's information. That means with a Netflix VPN, you can make your laptop, smartphone, TV, or any other device appear in a completely different region from where you actually are.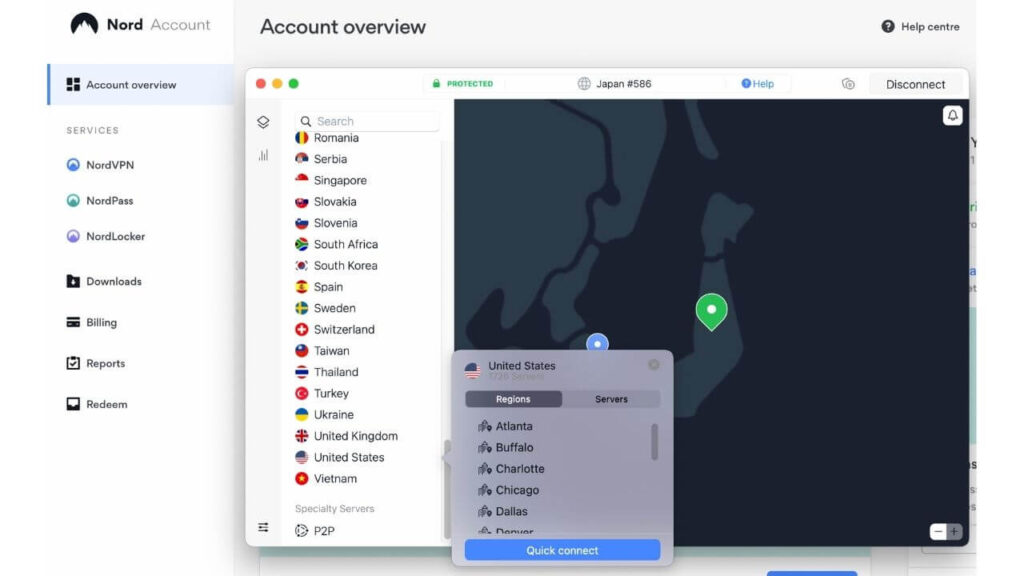 Now, when we're talking about a Netflix VPN, it's important to understand a few things. Netflix relies on your IP address to determine your location and show the available content. When you're connected to a VPN, you can easily obtain an IP address of a different region. Netflix will then use that IP address to determine your location. Therefore, if you want to enjoy the American Netflix library, you must connect to a nice US server. Netflix will then show all the movies and shows that are available in the US. 
How to use Netflix with a VPN?
Before we move to the steps on how to watch Netflix using a VPN, let's take a moment and talk about the best Netflix libraries that are available to watch. No single country has access to the entire Netflix catalog. Having said that, some countries have a big and amazing collection of Netflix shows and movies that you can enjoy. When you're using a VPN to watch Netflix, it's a great idea to know about the content libraries of different regions. Based on research and findings, here are the countries that have the best, most varied, and award-winning Netflix catalogs. You can take inspiration from the below facts and easily decide which Netflix catalog is worth exploring. 
The United States

boasts the largest Netflix library in the world.

South Korea

is known to have one of the best Netflix catalogs with over 109 Oscar-winning films. 

Canada

has the biggest movie catalog with over 4043 films. 

India

is known to have the most balanced Netflix library in terms of quality and quantity. It has the highest average IMDb rating (7.2 out of 10) and a pretty big catalog with 5,591 titles.  

Switzerland

also has one of the best Netflix catalogs with 85 Oscar-winning and 34 Emmy-winning titles.

Japan

also has a big and varied content library with some amazing shows & movies that you won't find anywhere else.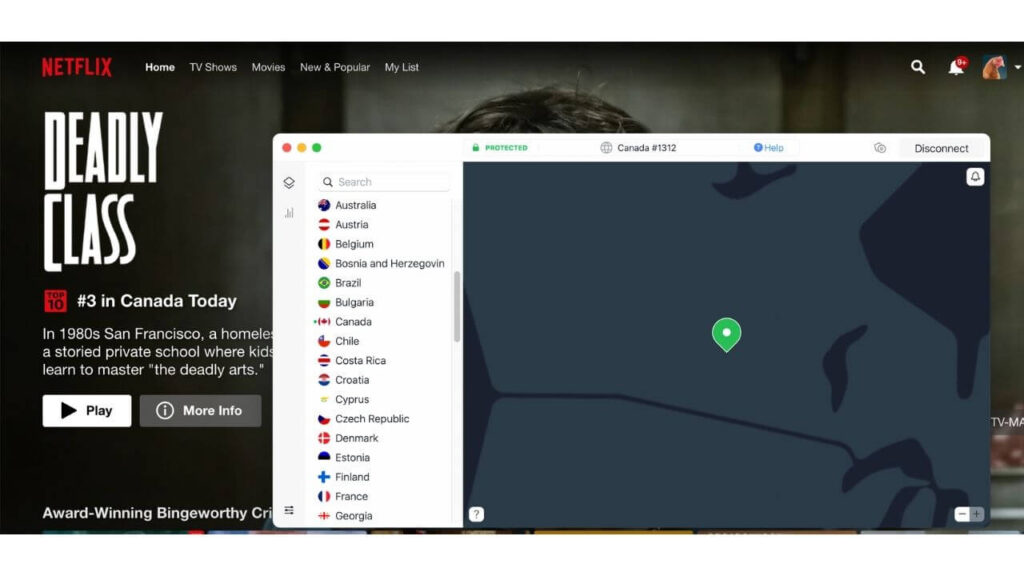 Now that you know which countries have the huge and exciting Netflix catalogs, you're all set to stream your favorite shows & movies via VPN. Here's how to do that.
Steps to use Netflix with a VPN:
Firstly, we need to sign in to a good VPN. We

recommend NordVPN

. (

Grab a 2-year NordVPN now 68% off

) 

Then, download and install the correct version of the VPN app or extension on your device.

Open the app and select a secure VPN server in a country whose Netflix library you want to access. For example, if the series/movie that you want to watch is available in the US region, you'll need to connect to a US server to access American Netflix. 

Finally, open Netflix, grab a tub of popcorn, and play your favorite content.

The video should start playing instantly. In case, you're unable to watch Netflix via VPN, move to the next section of this guide.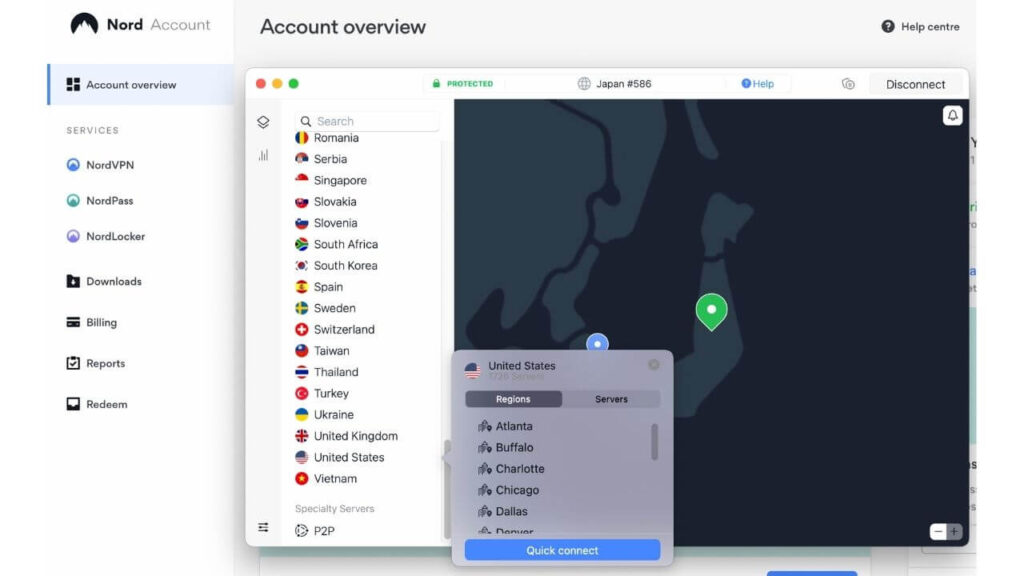 How to watch Netflix via NordVPN?
If you're using NordVPN, follow the steps mentioned below to watch Netflix on your device.
Download and open the NordVPN app or extension on your device. 

From the left-hand side pane, select the country whose Netflix library you want to access. If you're not sure in which region a show or movie is available, just Google it. Let's say you want to see a movie that's available on Netflix Canada. In such a case, you'll select Canada from the list of available regions. 

When you're here, it's a good idea to make sure that you've got the right protocol. To be on the safer side, open Settings and select the General tab. Now, under the VPN protocol option, verify it if you've selected NordLynx. 

Now, scroll to the map on the right side and zoom in to find a Canadian server.

Once you've done this, open Netflix, sit back, and enjoy your movie. If Netflix was already open on your device, just refresh it.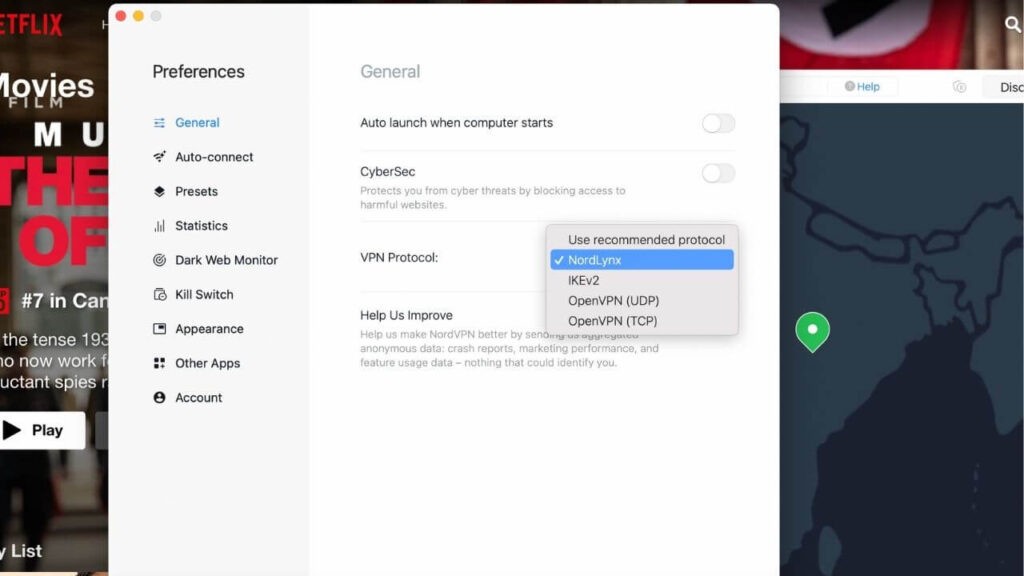 How to fix Netflix not working with VPN?
There can be instances when Netflix isn't working with VPN on your iPhone, Android devices, or laptop. Sometimes, you might face minor software bugs or in-app errors that are stopping you to enjoy your Netflix and VPN combo. You might get stuck at a screen with an error message saying "You seem to be using an unblocker or proxy. Please turn off any of these services and try again."
Fortunately, such errors can be easily resolved by switching to a different server or clearing the browser cache. Here's how to do that.
How to fix Netflix not working on VPN problems 
1. Check your internet connection 
When your VPN isn't working with Netflix, you must check and verify that you've got a stable internet connection. If the internet speed is slow, you might have problems connecting to the servers. 
2. Connect to a different server 
It's worth mentioning that some servers are identified as proxies and are blocked by Netflix. If you can't watch Netflix with a VPN, it can be possible that Netflix has banned the IP address of the server that you're connected to. In such cases, the best is to get a new IP address by connecting to a different server in the same region. Fortunately, NordVPN offers more than 5,200 servers in over 60 countries, therefore, you can easily switch to a different VPN server and check if Netflix is working for you.
3. Clear your browser's cache 
If Netflix is throwing errors when you're using a VPN, you must clear your browser's cache and cookies. Many websites collect your location data through cookies and cache files. Netflix can use this data to identify your true location. To be on the safer side, it's a good idea to clear your browser's cache before connecting to a VPN server in a different country. 
How to clear cache and cookies in Google Chrome:
Open Google Chrome and click three vertical dots at the top right of the window.

Select

More Tools

>

Clear browsing data

, 

You'll see a drop-down menu. Select

All time

.

Tick

Cookies and other site data

and

Cached images and files

.

Select Clear data.

Relaunch Google Chrome.

Now, Try Netflix.
How to clear cache and cookies in Safari
Open

Safari

. Head to the menu then click

Preferences

.

Select the

Privacy

tab >

Manage Website Data

.

In the search bar, type

Netflix

, select it, then click Remove.

Relaunch Safari.

Open and try Netflix
4. Restart your web browser and the VPN app
One of the easiest and quickest ways to fix Netflix not working on VPN problem is to restart your web browser. You must close the browser and reconnect to VPN. If you're using the VPN app, close it, and launch it again to fix minor in-app glitches. Also, make sure that you're using the latest version of the app. 
5. Switch to a different device
If you're using an iPhone and you just can't watch Netflix using your VPN, you can switch to another device like an iPad, PC, or laptop. Your device could have some software bugs or minor glitches that are preventing you from using Netflix or the VPN. To wipe any complications, switch to a different device and see if it works for you. 
6. Check your protocol settings
Sometimes, protocol settings can interfere with the normal functioning of your VPN. And, that's the reason why you're facing Netflix not working on VPN problems. It's worth knowing that each protocol uses different encryption and tunneling methods. Some protocols are better and smarter at bypassing Netflix's VPN detection methods.
If you're using NordVPN, we would recommend you to use the NordLynx protocol.
If you're using some other VPN for Netflix, you can try each option until you find one that works. Switching to a different protocol can help you access any library of Netflix. You can change your VPN protocol in the app's settings.
7. Contact VPN Customer Support 
If nothing works for you, you can contact the VPN customer support and ask them which server to use. Sometimes, when Netflix upgrades or changes its VPN detection measures, VPN companies can take a while to catch up with the changes. Having said that, whichever VPN service you're using, there's at least one up-to-date server that's working perfectly even in high-traffic areas. You can contact your VPN provider to get help on the list of up-to-date servers. In our experience, NordVPN has proven to be consistently excellent when it comes to customer service and satisfaction. We've never had issues with them through the years.
That was all from our side on how to watch Netflix using VPN. We hope you enjoyed this guide and it has given you a clear understanding of how you can stream Netflix using VPN and what to do if you face VPN-related issues on Netflix. Also, don't forget to check out all the factors before selecting a good VPN for Netflix.
Which VPN are you using to watch Netflix? Share your views in the comments section below.
Grab a 2-year NordVPN subscription now. Click here to get 68% off.