The second annual Galaxy Unpacked event took place on August 10, 2022, where Samsung pulled the curtain off its next-generation foldable smartphones, two amazing smartwatches, and a new pair of wireless buds. The event was a star-studded affair that did justice to the fans' expectations. It was just a few years ago when anyone could even think of a smartphone that could fold, and here's Samsung with its fourth iteration of foldable smartphones. It's just amazing to see how Samsung has redefined what technology can do.
Here's everything that's announced at the Galaxy Unpacked August event. These products will go officially on sale from August 26 and are available to preorder starting from today. 
Galaxy Z Fold 4 and Galaxy Z Flip 4 
First, let's have a brief look at the next-gen foldable smartphones. Claimed to be the most durable and powerful foldable ever launched, Galaxy Z Fold 4 and Z Flip 4 bring some nice and impressive improvements over their predecessors. That said, the overall look and design of these foldable smartphones remain the same.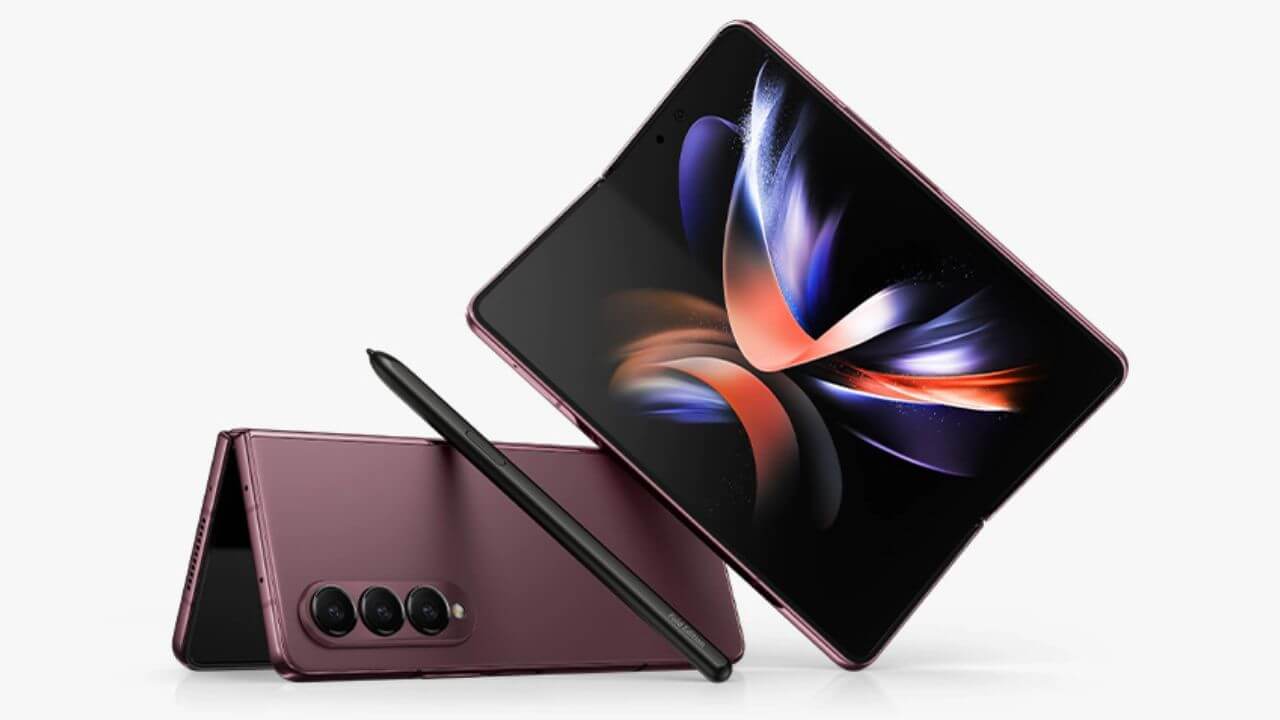 The successor of the Z Fold 3, Galaxy Z Fold 4 looks ultra-premium with a lighter & sleek design, thinner bezels, and a wider cover screen. The inner 7.6 inches Dynamic AMOLED Infinity Flex display has a 2176 x 1812 resolution and an adaptive refresh rate of 120Hz. The front 6.2" display has a wider aspect ratio of 23.1:9 and feels a little better than what we've seen on Fold 3. Additionally, Samsung said they've made a layer-by-layer improvement on the Fold 4 display to make it more refined. Moving further, the hinge on the new Fold 4 has a slim and improved design that offers a better experience, without making any compromises in durability. By removing the metal layer, adding sponges for more display vibrations, and sliming down the hinge, Samsung claims the Galaxy Z Fold 4 is the lightest and strongest Z Fold ever. 
The Fold 4 features the same rear camera system as the Galaxy S22 and S22 Plus smartphones. There's a 12MP ultra-wide, a 10MP Telephoto, and a 50MP wide-angle sensor. Impressively, the Z Fold 4 will be the first smartphone to ship with Android 12L. Also, it's powered by the most advanced Qualcomm chip around, the Snapdragon 8 Plus Gen 1. Just like Fold 3, the latest foldable pack a 4,400mAh battery, but with a powerful& power-efficient SoC, we could see improved battery life. Galaxy Z Fold 4 starts at $1799 and will be available in Graygreen, Beige, and Phantom Black finishes.
Also Read: Best Accessories for Galaxy Z Fold 4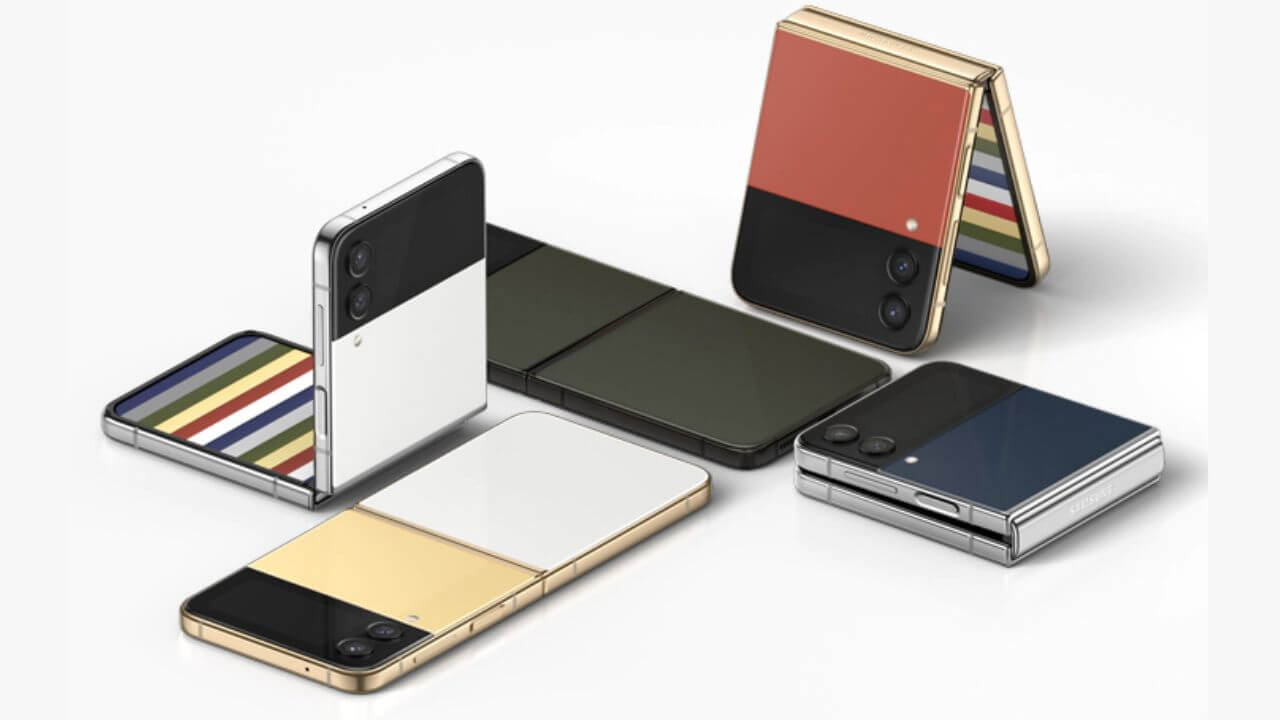 Talking about the successor of Samsung's most popular foldable, the Galaxy Z Flip 4 features similar specifications as Fold 4, while reflecting differences in the design and camera front. It sports a 6.7" AMOLED main display, a dual rear camera housing a 12MP main and a 12MP ultrawide sensor, and a powerful Snapdragon 8 Plus Gen 1 chipset. Additionally, upgraded Flex mode and cover screen features are some impressive improvements on this Clamshell-style foldable smartphone. The Galaxy Z Flip 4 starts at $999 and is available in Graphite, Blue, Pink-Gold, and Bora-Purple color options. Also, with some new, gorgeous color options, you can mix and match to create your Bespoke Flip 4. If you want to explore the specs of this compact foldable smartphone, make sure to read our news article about Galaxy Z Flip 4. 
Check Galaxy Z Fold 4 on Amazon
Check Galaxy Z Flip 4 on Amazon
Also Read: Best Accessories for Galaxy Z Flip 4
Galaxy Buds Pro 2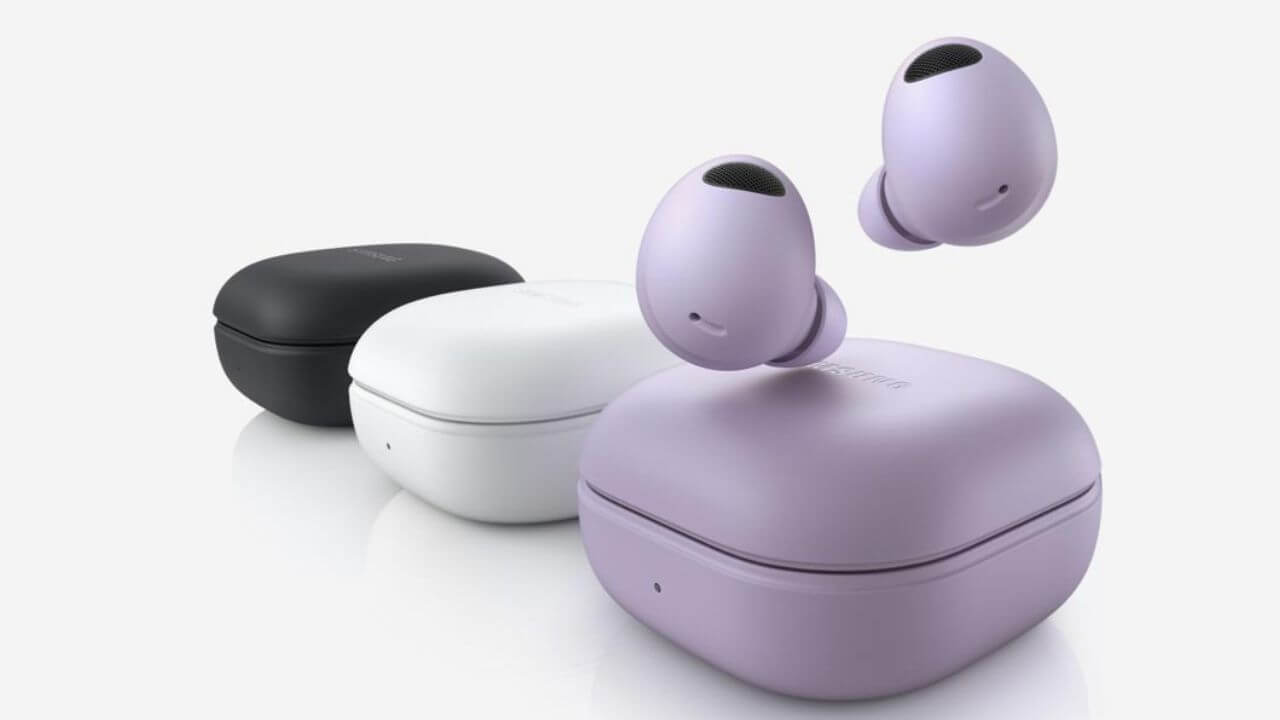 Samsung has launched its next-generation of wireless earbuds with the Galaxy Buds Pro 2. These are the successor of Galaxy Buds Pro which was launched in January 2021. The new version brings a smaller & more comfortable design, some impressive audio upgrades, and some fresh color options.
Galaxy Buds Pro 2 Specs & Features
While the design of the Galaxy Buds Pro 2 is almost similar to the Buds Pro, they are said to be almost 15% smaller and offer a more comfortable fit. Unlike Buds Pro and those awkward-looking Buds Live, the latest Galaxy wireless earbuds feature a non-glossy finish. Now, that means, there's less room for those dirty fingermarks. Additionally, like many other Galaxy buds, the new model is rated for IPX7 for water resistance so you can always take them to your workout sessions. One of the prime highlights of Galaxy Buds Pro 2 is that it promises to offer improved sound quality. These wireless earbuds feature a new 2-way coaxial speaker driver that can deliver a rich and crisp audio experience. Moreover, with Samsung's latest SSC HiFi audio codec and 24-bit audio support, Buds Pro 2 claims to deliver an improved listening experience with apps that can play high-res music. 
Galaxy Buds Pro 2 Battery Life
The Galaxy Buds Pro 2 claims to deliver a playback time of 5 hours with ANC ON and 8 hours when you turn it OFF. Additionally, when paired with the case, Buds Pro 2 should provide 20 hours of battery life with the ANC mode and up to 30 hours in the standard mode.
Galaxy Buds Pro 2 Price & Availability
Starting at $229, the Galaxy Buds Pro 2 is priced slightly higher than the original Buds Pro. These updated wireless buds will come in Graphite, White, and Bora Purple finishes. The pre-order of Galaxy Buds Pro 2 began on Samsung's official website right after the launch event and they will go on sale starting on August 26, 2022. On early pre-orders, Samsung will offer a wireless charger for free. 
Check Galaxy Buds Pro 2 on Amazon
Also Read: Best Chargers for Galaxy Z Flip 4
Galaxy Watch 5 and Galaxy Watch 5 Pro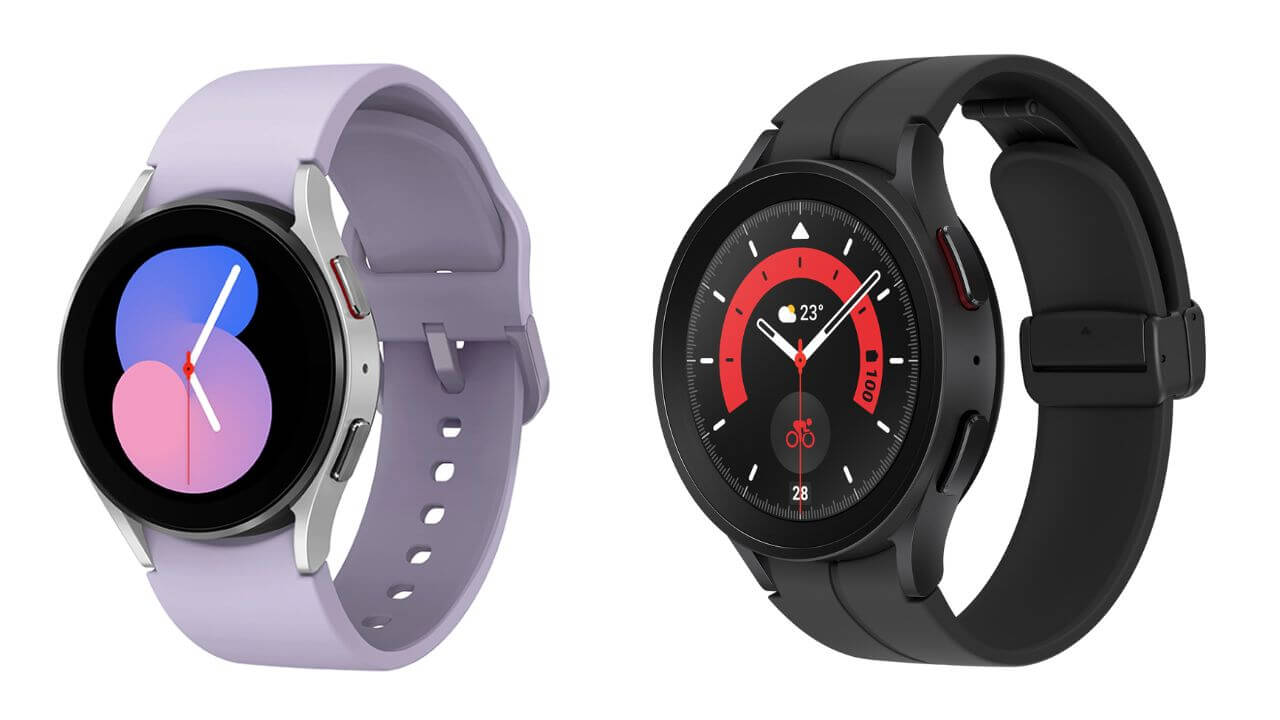 Samsung has come up with the latest Wear OS smartwatches, Galaxy Watch 5, and Watch 5 Pro which bring premium designs and improvements to health features. 
Galaxy Watch 5 and Galaxy Watch 5 Pro Features
Starting at $279, Galaxy Watch 5 is a flagship smartwatch that brings some impressive upgrades to the Galaxy Watch 4. It comes in 40mm and 44mm size options, and the LTE variant of the Galaxy Watch 5 is priced at $330. Both the models of the latest Galaxy Watch have a round face with a Saphire crystal display and two side buttons, but you'll notice that the Pro model has an elevated edge around the screen. The Pro model rocks a more premium and ultra-durable design with 80-hour battery life, and some fantastic features for outdoor sports. It's worth mentioning that these perks come at a starting price of $449.
Both, Galaxy Watch 5 and Watch 5 Pro are equipped with the 3-in-1 BioActive heath sensor that can monitor SpO2, heart rate, and stress levels. Additionally, they are fused with a new skin-temperature sensor that can tell your body temperature even if the temperature of your surrounding change. Furthermore, both the Galaxy Smartwatches support dozens of workout types, and the Watch 5 Pro takes outdoor tracking to a whole new level. It lets you keep a reliable track of your routes and there's a Track Back feature that helps you go back to your starting point, in case you get lost on your way. 
Also Read: Best Cases for Galaxy Z Flip 4
Galaxy Watch 5 and Watch 5 Pro Price and Availability 
The Galaxy Watch 5 is available in Silver, Graphite, Pink Gold (40mm only), and Sapphire (44mm only) options. On the other hand, Watch 5 Pro comes in Black Titanium and Gray Titanium finishes. The 40mm model of Watch 5 starts at $279 for Bluetooth and $329 for the LTE variants. Talking about the 44mm model, it's priced at $299 and $349 for Bluetooth and LTE, respectively. The Galaxy Watch 5 Pro comes only in a 45mm model and is priced at $449 for Bluetooth and $499 for LTE variants. For golf lovers, Samsung is also offering an exclusive "Golf Edition" in each model of the Galaxy Watch 5 Series, starting at $329.
All the models are available for pre-order with the sale starting from August 26, 2022. 
Check Galaxy Watch 5 on Amazon
Check Galaxy Watch 5 Pro on Amazon
Also Read:Best Chargers for Galaxy Z Fold 4
That's all for now. What are your thoughts on the foldable smartphones, smartwatches, and wireless earbuds launched at Galaxy Unpacked August 2022 event? Did Samsung live up to your expectations? We would love to hear from you in the comments section below.