Samsung Galaxy Tab S7 was launched in August last year. It is one of the best tablets Samsung has launched until today. The Galaxy S7 Tab features an 11-inch TFT display with a refresh rate of 120Hz and a resolution of 1600 x 2560 pixels. Apart from that, it also comes with HDR10+ certification. As far as performance is concerned, Samsung ships the Galaxy S7 tablet with the Qualcomm Snapdragon 865 5G+ chipset, while it runs on Android 10 (when launched). Worth mentioning, this tablet comes with 5G and Wi-Fi 6 support. 
No doubt it is a great device, but finding reliable compatible accessories for such a device is always tough, so we are here to help you out. We have carried out hours of research based on thousands of user reviews to curate a full-fledged list of the best accessories for the Samsung Galaxy Tab S7. Whether you need the best cases for Galaxy S7 tablets or the best screen protectors, we have got you covered with all your requirements. We have also added some of the must-buy accessories for the flagship Samsung tablet.
Without wasting further time, let's get going with your roundup of the best Galaxy S7 tablet accessories to buy in 2022. 
Note: We update our article from time to time to cover the latest products available in the market.
Detailed list of the Best Accessories for Samsung Galaxy Tab S7 in 2022
Best Cases for Samsung Galaxy Tab S7 in 2022
1. Spigen Rugged Armor Pro Case (Best Overall)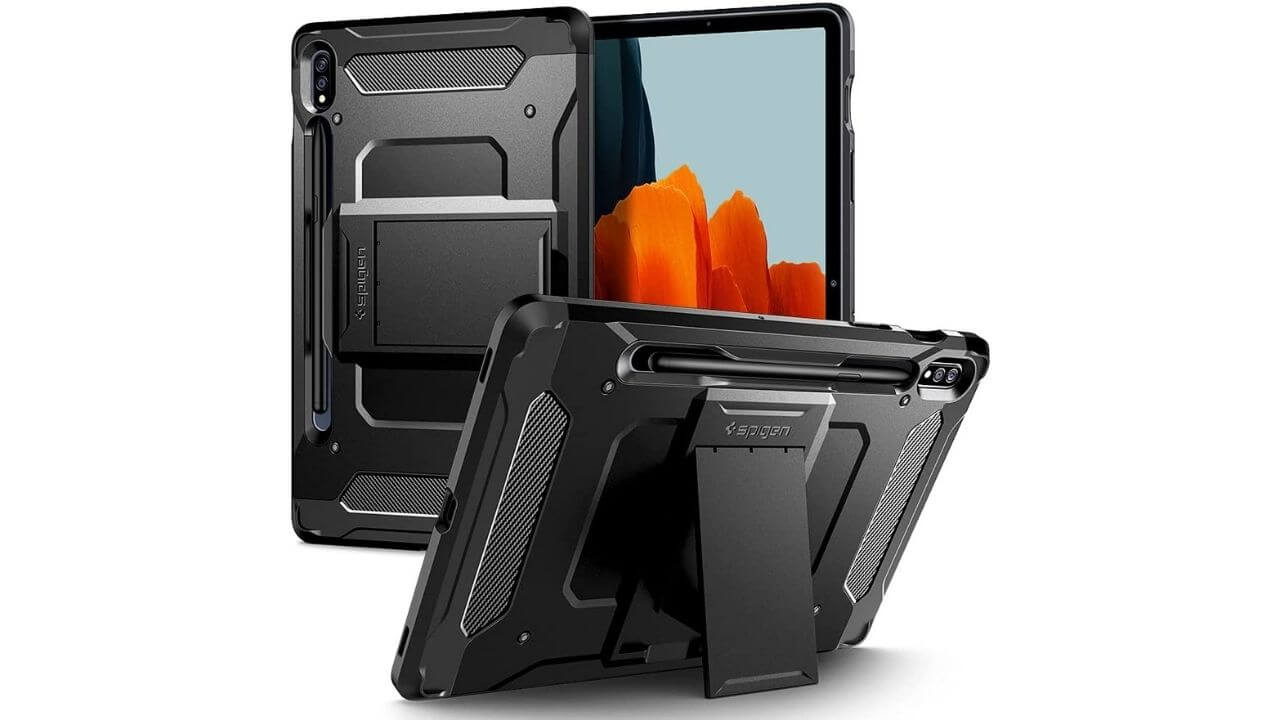 If you are looking for a rugged protective case for Galaxy Tab S7, you need to get this one from Spigen. Spigen has been at the forefront of mobile protection accessories for so long now, and I can assure you nothing can beat it in the first place. This heavy-duty Galaxy Tab S7 case features a shock-absorbent dual-layer build that can safeguard your flagship tablet from any kind of accidental drops. We urge you to get this protective rugged case for Galaxy Tab S7 especially if you hand over your devices to your kids to watch their favorite cartoons or attend Zoom classes. 
Further, the Air Cushion Technology integrated into this rugged Spigen Tab S7 case offers an extra bit of protection from accidental damages caused by roughest drops, bumps, and shocks. The raised edges around the screen setup and camera protect it from annoying scratches by lifting them above the surface. All thanks to the in-built kickstand, you can enjoy your favorite Netflix movies and safe video calling sessions with your loved ones or colleagues, hands-free. Spigen also offers a dedicated slot to keep your S Pen, simply slide out when you require it and slide it back in when the work is done. That's not all, you can choose this rugged Galaxy Tab S7 case from two mesmerizing colors: Black and Gunmetal. Also, it offers enough space for a screen protector installation.
2. OtterBox Defender Series for Galaxy Tab S7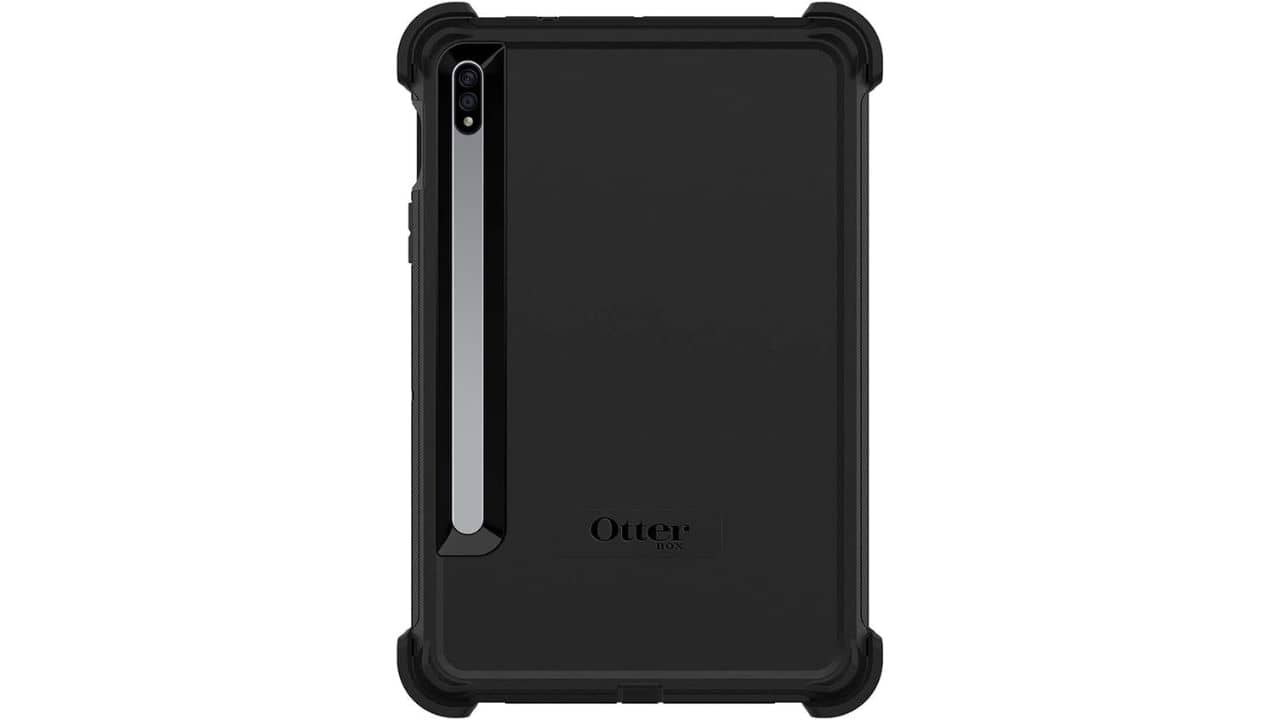 OtterBox is one of the best and most durable protective cases for the Galaxy Tab S7. Although it is expensive, the protection it offers is mindblowing. Be it a harsh drop in a subway, or heavy shocks at a warehouse, the OtterBox defender series can take massive blows and still will be able to keep your Android tablet in one piece. This Samsung Tab S7 rugged case comes with a military-grade certification that ensures extreme durability and solid protection. For your reference, if your device violently hugs the floor when you bumped into your colleague in the office hallway, it'll just be fine. 
Further, you'll find a built-in screen protector for additional protection of the gorgeous screen of Tab S7 from scratches and dents. You don't have to worry about the touch response with the built-in screen protector, it's flawless as it should be. The back panel of this rugged Galaxy Tab S7 case can be clipped off to convert into a kickstand, it can be useful when you're watching your favorite shows or talking to your loved ones on a video call. Besides, the port covering keeps all the ports protected from dust and debris from getting inside. Lastly, this durable protective case for Samsung Tab S7 is backed by OtterBox's limited lifetime warranty. In short, this rugged Tab S7 case is a must have for anyone who fears kids or pets throwing things around in the house.
Also read: Best Accessories for Galaxy Tab S8 in 2022
3.
Poetic Revolution Series Heavy-duty Case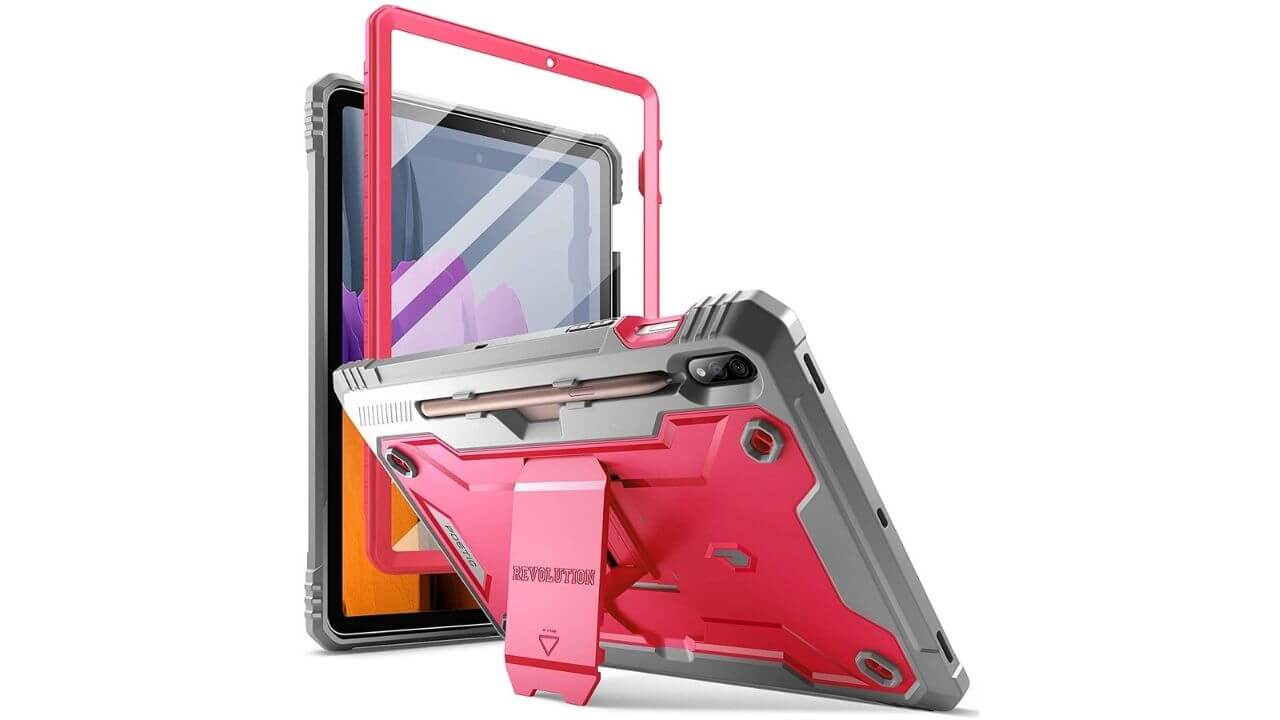 Next, we have a budget-friendly heavy-duty case option for Galaxy Tab S7 users who are looking to protect their devices from heavy accidental damages. All thanks to the rugged polycarbonate back and screen protectors, your device gets 360-degree protection. That's not all, shock-absorbing bumpers at the corners ease your headache by preventing any damages caused by shocks generated from a drop on concrete floors, etc. The Poetic Revolution series heavy duty case is built to protect the tablet as well as the S Pen that gets attached to the back of the case. You can use the in-built kickstand on this heavy-duty Galaxy Tab S7 case to enjoy video calls or movies. Moreover, the three beautiful colors of this case allow you to match your vibe. 
If you are looking for better build quality and durability, we urge you to go with Herize Rugged Protective Case. It is one of the best rugged protective cases for the Galaxy Tablet S7 that you can buy right now. Apart from the features we mentioned above, this one comes with a hand strap that ensures solid handling of your device when you're taking notes at an official meeting or an online class using the S Pen. 
4. Ztotop Leather Case for Galaxy Tab S7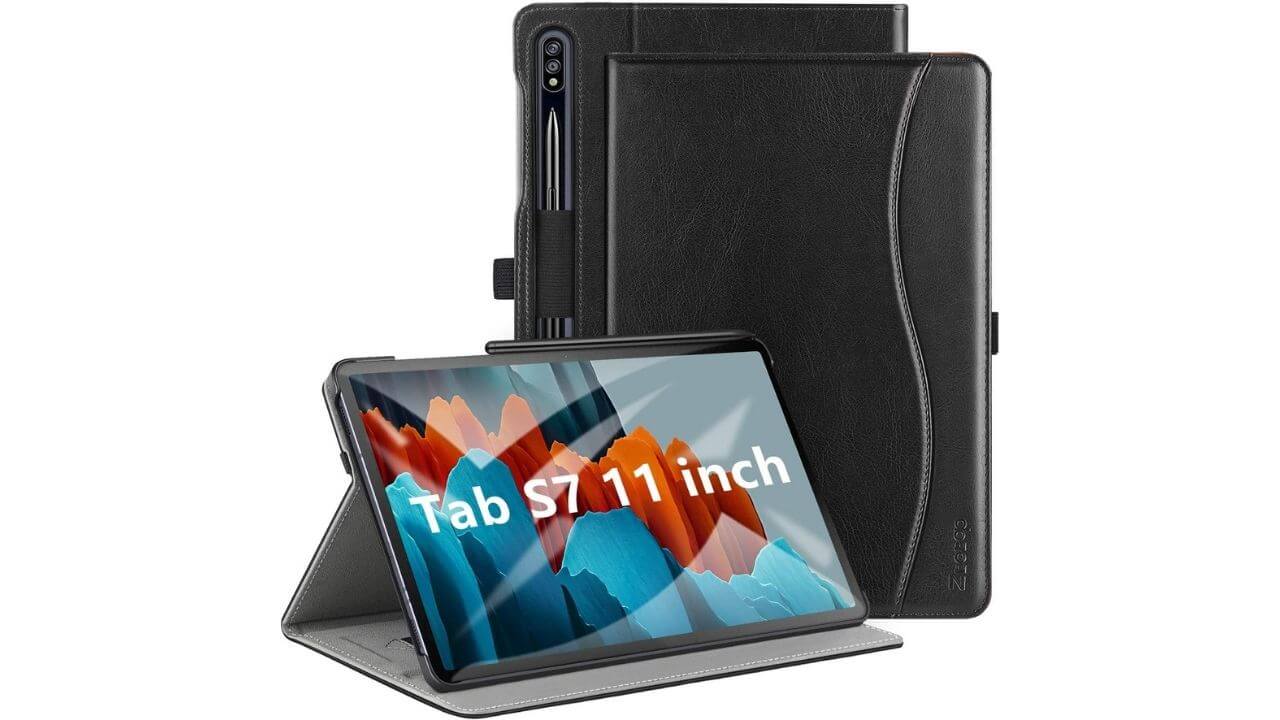 For all the minimalist geeks, here we have a Ztotop leather case that goes well with the office look you carry. This protective case for the Galaxy S7 tablet is made from premium synthetic leather and soft microfiber lining to offer a good amount of protection against scratches, heavy impacts, dust, or any other damages caused by mishandling the device. You'll also find a slot for the S Pen at the back of this leather case that helps it attach magnetically and supports wireless charging of the same. The S Pen slot also offers protection from daily scratches that may take away its beauty. Moreover, this hybrid leather case for Samsung Tab S7 supports auto wake and sleep function. Furthermore, the foldable case can be used as a kickstand that allows you to watch videos or attend Zoom or Skype calls, hands-free (in different screen orientations). You'd be glad to know that Ztotop offers this case in three beautiful colors that go well with your corporate look. 
We also want you to check the INFILAND Galaxy Tab S7 Case that is offered with similar features and plenty of color options.
5. Speck Balance Series Folio Case for Samsung Galaxy Tab S7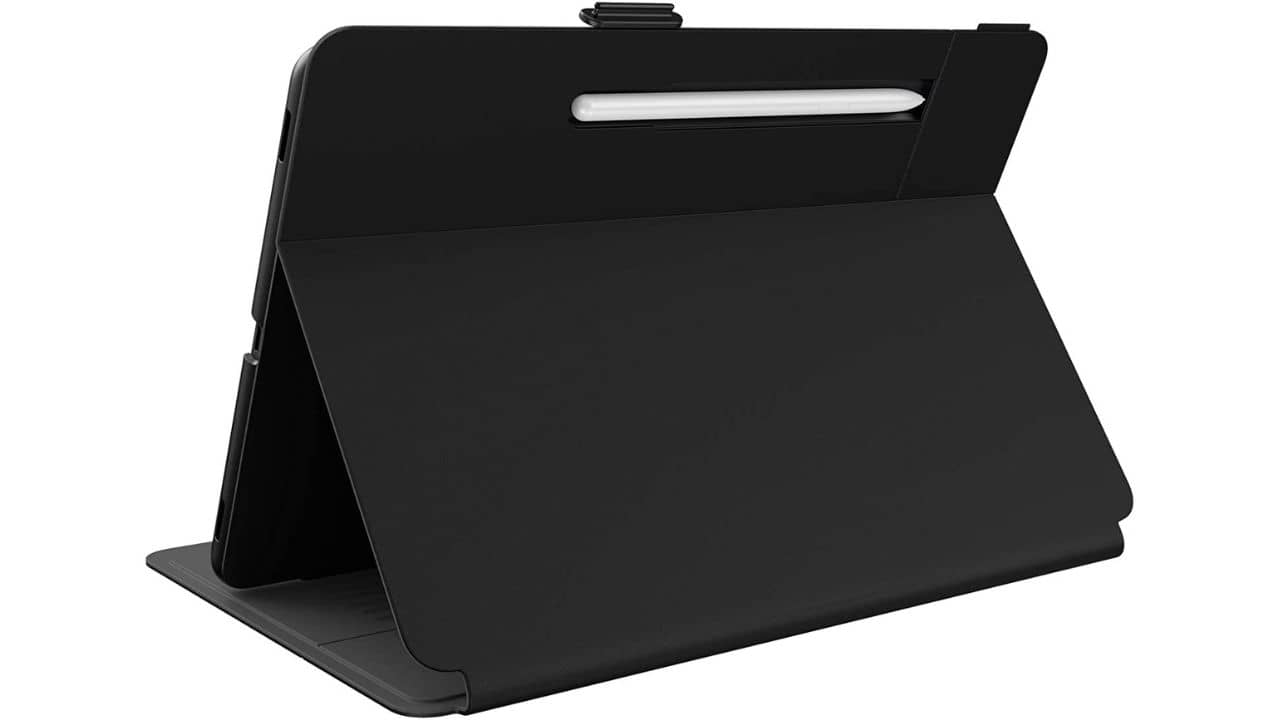 Next, we bring to you the Speck Balance Folio case that offers the ultimate fusion of good looks and reliable protection for your Galaxy Tab S7. This must-have slim case for Samsung Tab S7 features a soft inner lining which is useful in protecting the Tab S7's display from scratches & scuffs. Whereas the durable exterior delivers top-notch protection in case your baby suddenly drops your tablet from bed. The attached folio case beautifully folds as a stand that offers convenient viewing/typing. Plus, there's a dedicated slot to store your S-pen. Thanks to the auto sleep/wake feature, the Speck Balance Folio Case also helps you save battery. In short, it's an amazing accessory for Galaxy Tab S7 that's uniquely designed to keep your Android tablet in its original look over the years. Did we mention it is backed by a year of post-purchase warranty? 
Also read: Best Galaxy Tab S8 Plus Accessories to Buy in 2022
6. Soke Samsung Tab S7 Shockproof Stand Folio Case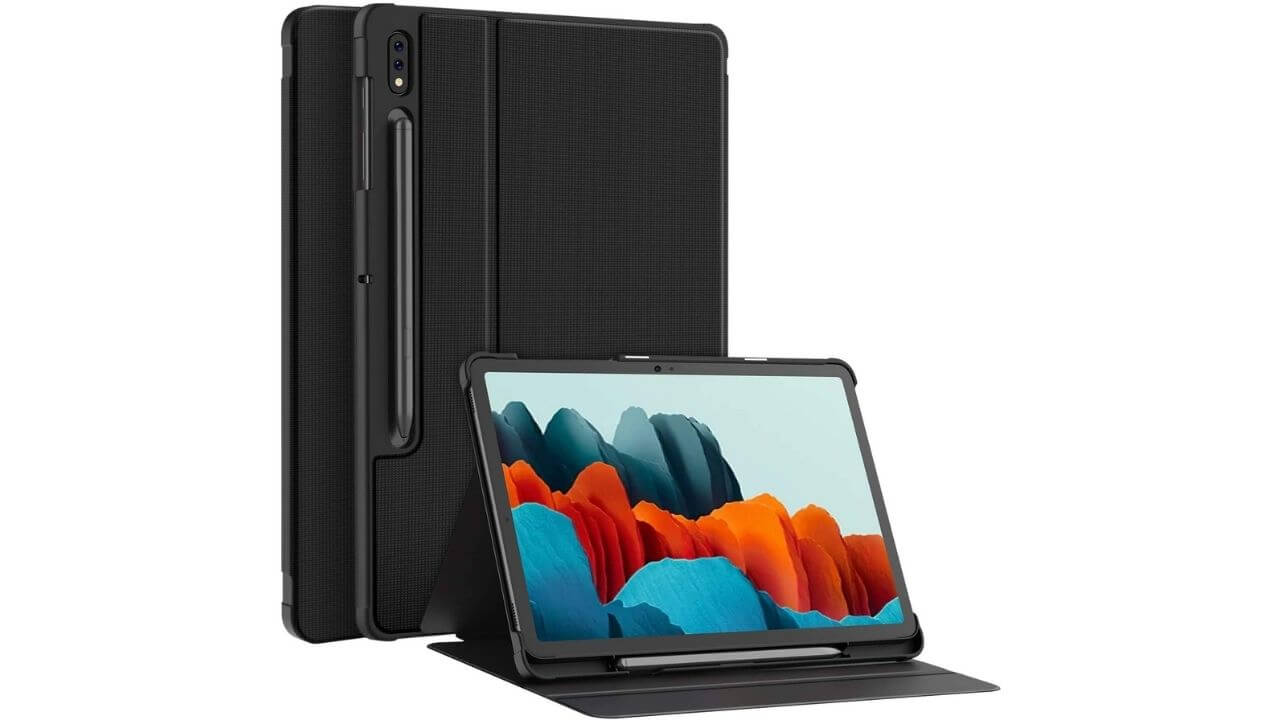 At the third position, we bring to you a shockproof case for Galaxy Tab S7 that features a stand folio case. The folio stand design can be handy for the standing position of the tablet while you're binge watching Netflix or making video calls. Talking about the build material, you'll get to see the exteriors protected by hard Thermoplastic polyurethane (TPU) material which ensures solid protection against drops and shocks that may damage your beloved Galaxy Tab S7. On top of that, the magnetic secure closure keeps the device securely attached to the case and prevents it from falling due to poor handling. Besides, this Samsung tablet case comes with accurate cutouts across the ports and buttons to ensure accessibility when you're making the most of the Samsung tab. Moreover, this protective case for Galaxy Tab S7 is available in 12 amazing colors. 
7. Fintie Slim Case for 11-inch Galaxy Tab S7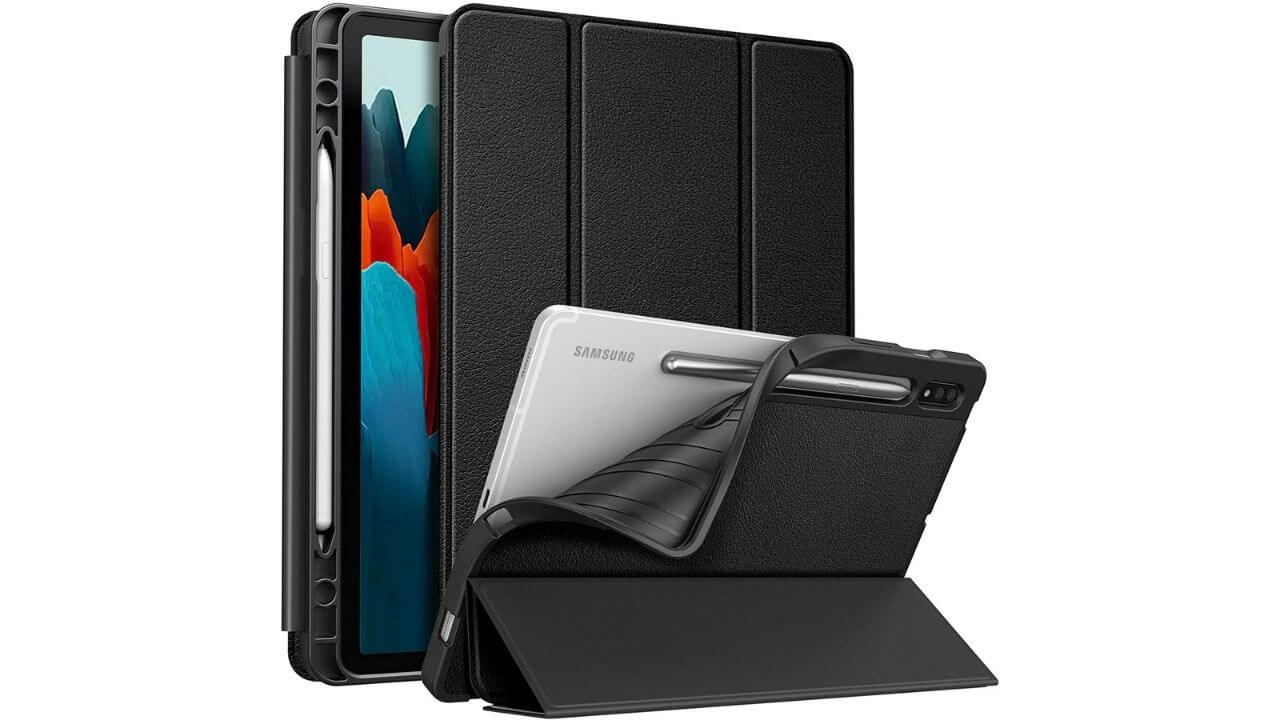 If you are looking for a slim and lightweight case for the Galaxy Tab S7, then  make sure to grab the Fintie Slim case. This thin case is made from a soft TPU back shell that offers decent protection against shocks and drops that might shatter the screen of the Samsung Galaxy tab. Besides, the soft inner microfiber lining combined with PU leather on the exterior part prevents your tablet from getting scratches that might appear due to daily wear and tear. That's not all, the tri-fold flip cover on the front acts as a kickstand to offer you the best viewing angle while working on your Galaxy S7 tablet. Last but not the least, the built-in magnetic strip provides a sleep and wake feature which automatically wakes or puts your device to sleep whenever the lid is open or closed, respectively. Overall, it is a good investment option for someone who doesn't like bulky cases. 
Best Screen Protectors for Samsung Galaxy S7 Tablet in 2022
8. Spigen Screen Protector (Best Overall)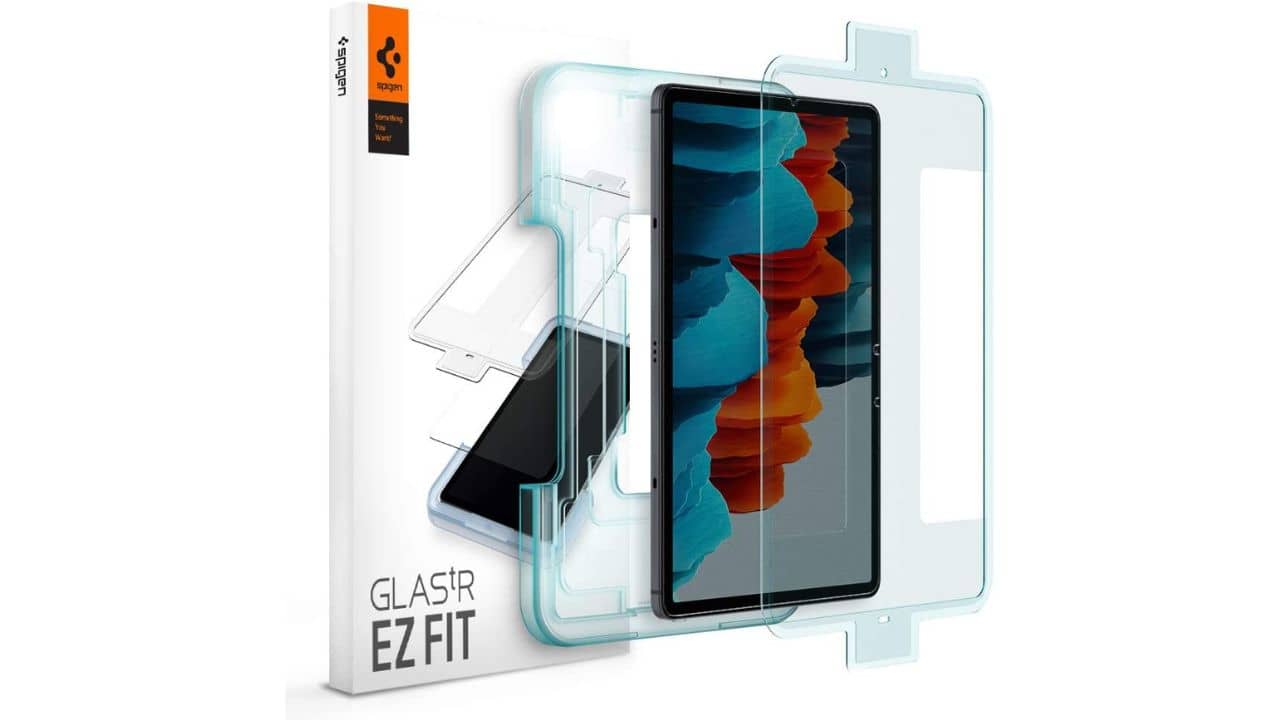 A good screen protector is a must-have accessory for your Galaxy S7 Tablet that effectively protects its gorgeous display from scratches, dents, or cracks. When we talk about top screen protectors for Galaxy Tab S7, we never forget to mention the Spigen Glas.tR EZ Fit. It is one of the best glass screen protectors that checks all the boxes, be it durability, quick touch response, or flawless installation, Spigen Glas.tR EZ Fit has it all. It is a durable tempered glass for the Galaxy S7 Tablet that offers complete protection to the AMOLED display. Let's not forget that it is topped with an oleophobic coating that prevents a fudgy look by preventing everyday fingerprints and smudges. What's best about this screen protector is that it comes with an auto-alignment tool for flawless installation, even if you're a beginner.
9. Benazcap Screen Protector Glass for Galaxy S7 Tablet (Best Overall)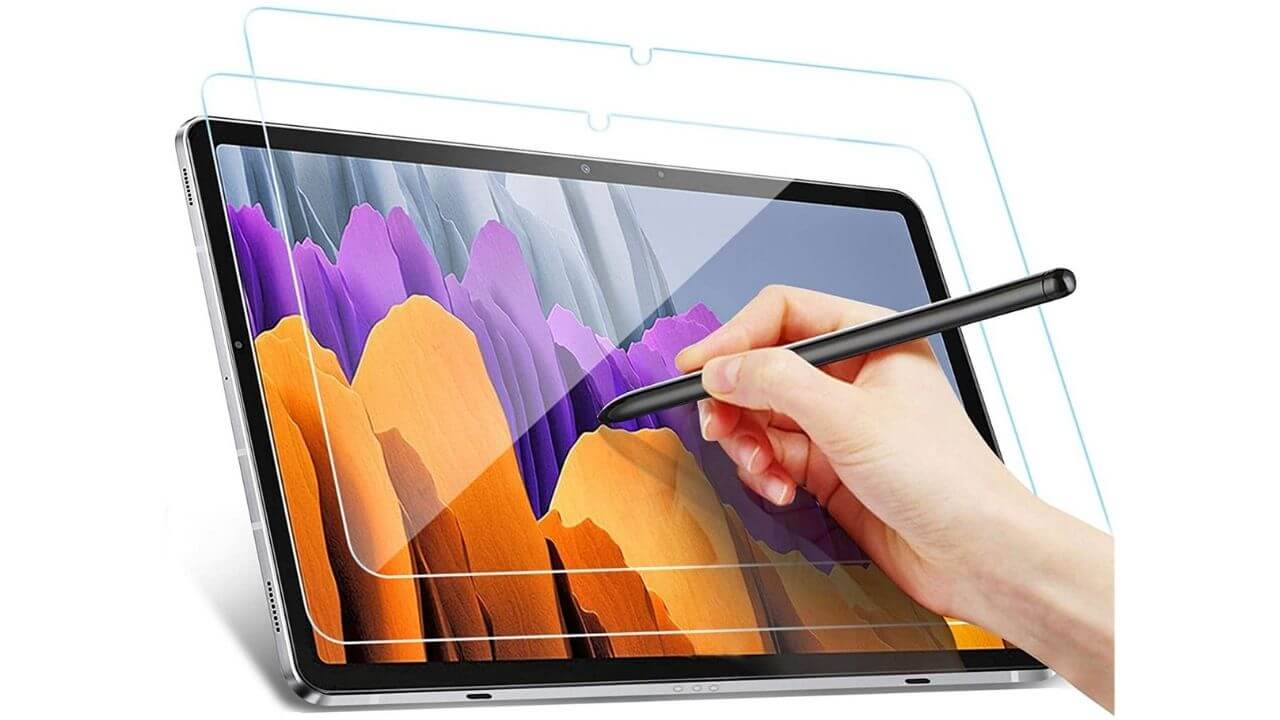 First, we have the most popular and highly rated Benazcap screen protector for your Galaxy S7 Tablet. This tempered glass screen protector comes with a 9H hardness property which ensures solid protection to the big display of the Samsung Galaxy Tab S7 (2020). The case-friendly display protector glass's design doesn't interfere with the Galaxy S7 tablet protective case to offer scratch and shatterproof protection. The precise cutouts on the LK screen protector fit perfectly against the front-facing camera, effortlessly. The ultra-transparent and thin design gives you the privilege to enjoy ultra-clear pictures and true colors combined with the best responsiveness when you're using your tablet. 
Also read: Best Accessories for Galaxy Tab S8 Ultra in 2022
10. ProCase Galaxy Tab S7 11-Inch Screen Protector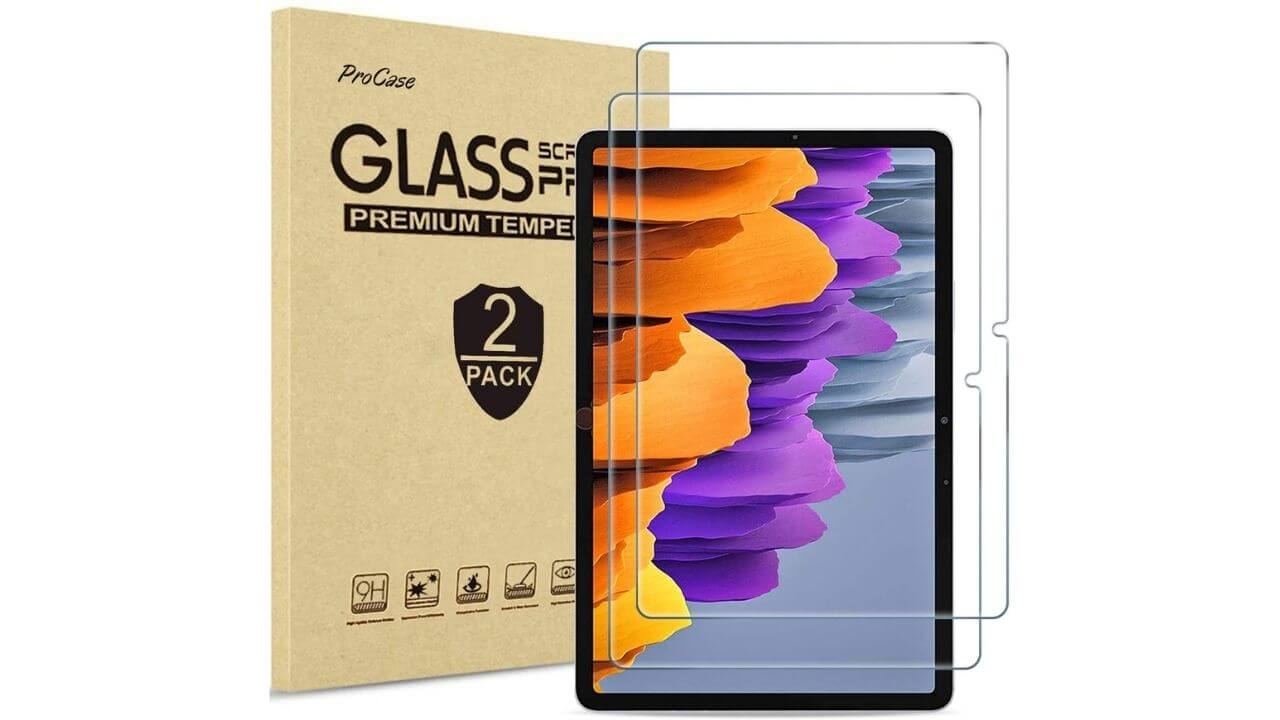 If you are looking for a budget-friendly option, we suggest grabbing this screen protector to shield the 11-inch display of the Galaxy Tablet S7. All thanks to the 9H hardness, this tempered glass screen protector shields the 11-inch display of the Samsung S7 Tablet. The ultra-thin design ensures that every touch is responsive within the screen and the use of the S-pen is flawless. That's not all, the advanced adhesive ensures that you get a bubble-free installation every time you apply this screen protector. Just in case you fumble and damage one, you have another one left with you. Yes, ProCase ships two screen protectors under $10. Additionally, this screen protector glass comes with anti-oil and anti-fingerprint features. Overall, it is a reliable screen protection accessory for Galaxy S7 Tablet owners out there. 
11. SPARIN Screen Protector for 11-inch Galaxy Tab S7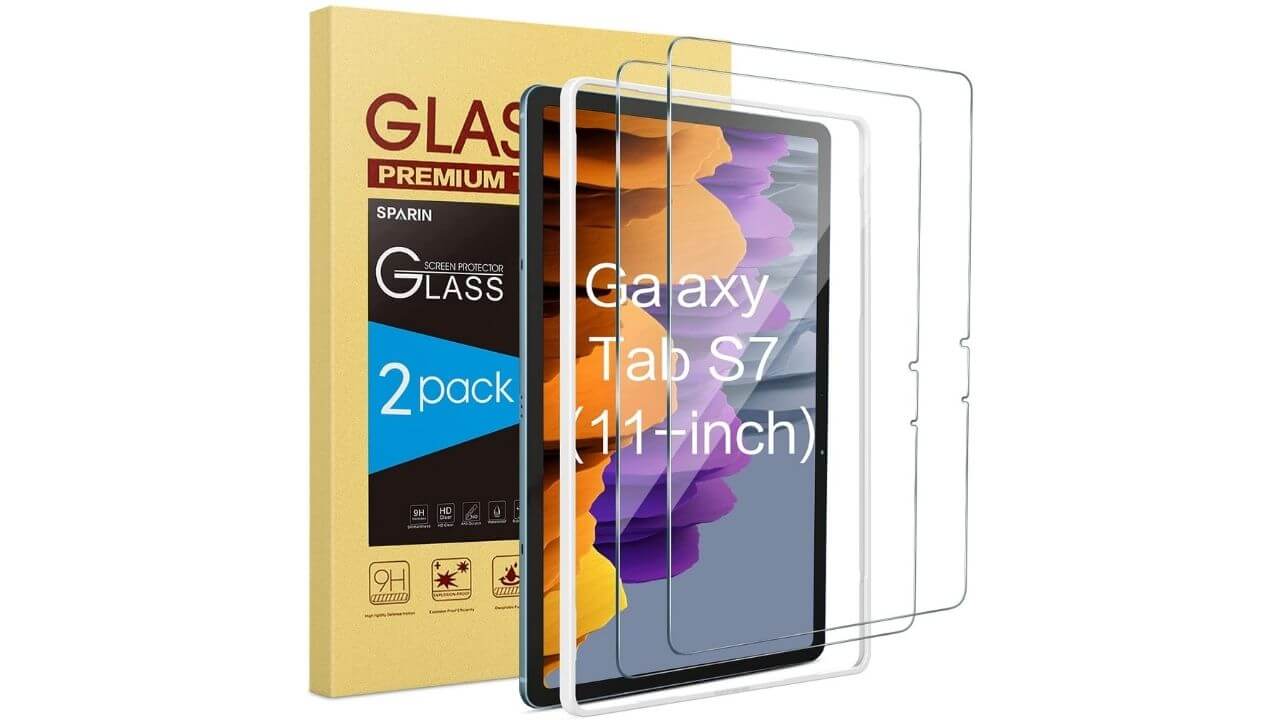 Here we have another contender for the most popular and one of the best Galaxy Tablet S7 screen protector glass from SPARIN. This tempered glass protector is shipped with an alignment frame that ensures that it is easy for everyone to install this protective shield. All thanks to the 0.3mm thickness, you can use the S-pen flawlessly and enjoy your favorite Netflix movies and web series without compromising the picture and color quality. Similar to the above mentioned screen protector, this one also features the 9H hardness property to ensure the best protection against shocks, scratches, and more. All in all, it is a great screen protection accessory for the 11-inch Galaxy S7 Tablet. 
If you're looking to buy a much more affordable screen protector with similar features but from another brand, we urge you to check the
Ailun Screen Protector For Galaxy Tab S7. It should be noted that this one is thinner than that we have discussed above. So, please choose accordingly. 
12. Ailun Screen Protector for Samsung Galaxy Tab S7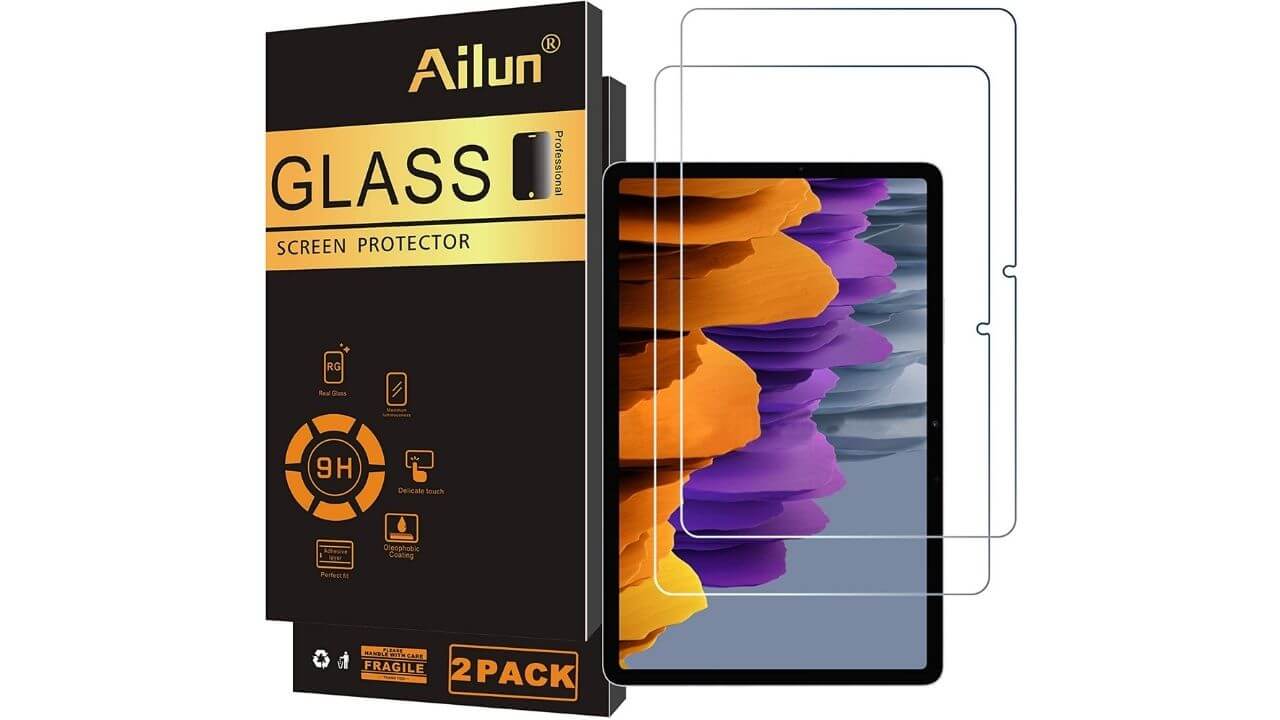 Are you looking for a pair of Galaxy S7 tab screen protectors under $10? Grab this one from Ailun. It is one of the best screen protector glasses for the Galaxy Tab S7 that offers crystal clear transparency without compromising the colors displayed on the screen while you're watching your favorite movies/series. This case-friendly Galaxy Tab S7 tempered glass comes with a precision laser cut design to offer edge-to-edge protection, while the and 9H hardness property ensures utmost protection when the device encounters any kind of accidental damages including heavy drops or shocks. Plus, this screen protector prevents annoying scratches that may ruin the looks of your favorite Samsung Tab S7. Besides, the oleophobic coating on this display protector ensures that dirty fingerprint stains don't bother your browsing experience.
For S22 Ultra Users: Best Accessories for Samsung Galaxy S22 Ultra in 2022
Best Fast Charger for Samsung Galaxy Tab S7 in 2022
13. Samsung 45W USB-C Super Fast Galaxy Tab S7 Charger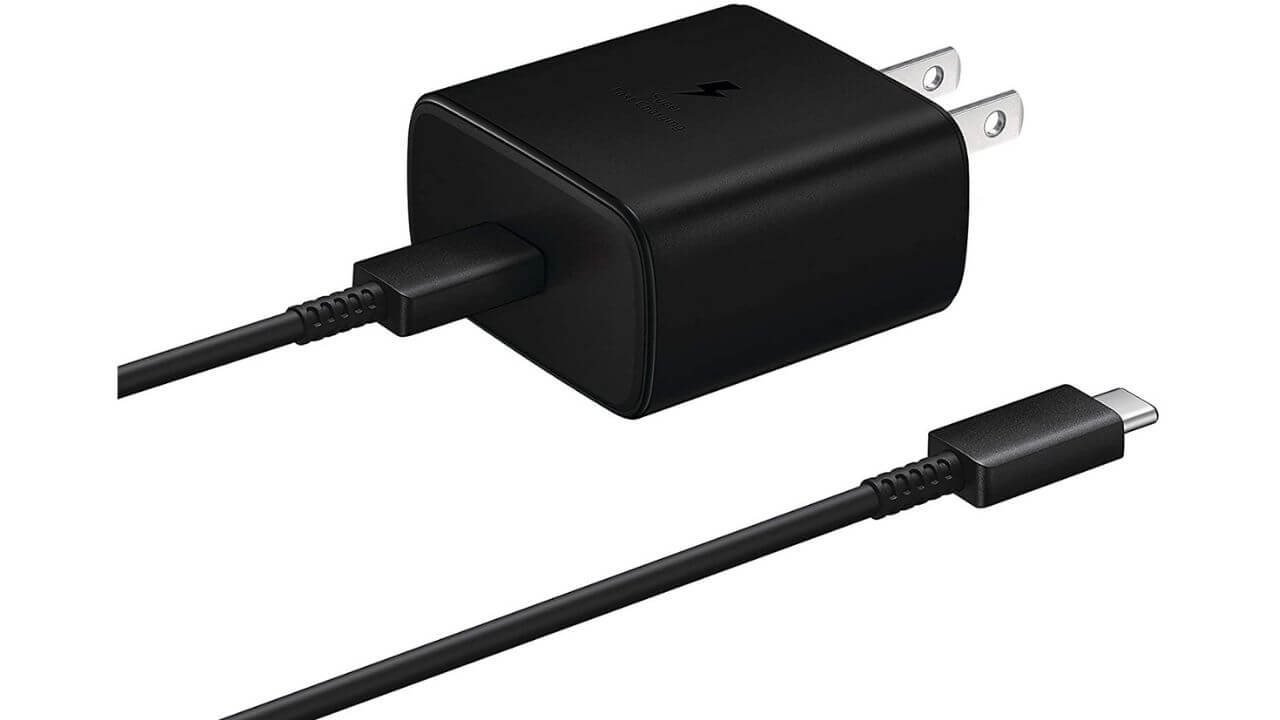 For all those who are searching for a reliable fast charger for Galaxy Tab S7, here's a 45W official wall charger from Samsung. Please note that the Tab S7 ships with a 15W charger in the box.  This 45W fast USB-C Galaxy Tab S7 charger rapidly charges the device with the help of 3A power which is way faster than the standard 1A or 700mA chargers. Not only this, but you can use this fast charger to charge the
Samsung Galaxy S21 Ultra at a maximum speed of 25W, whereas the Galaxy S20 Ultra can be charged at the max speed of 45W. Besides, you can use this fast charger to re-energize Chromebooks from Samsung and other USB-C-enabled devices. Moreover, you'll also get a USB-C to USB-C charging cable which can also be used to transfer data at a considerably faster speed and use Samsung DeX. 
14. Spigen GaN 45W Super Fast Charger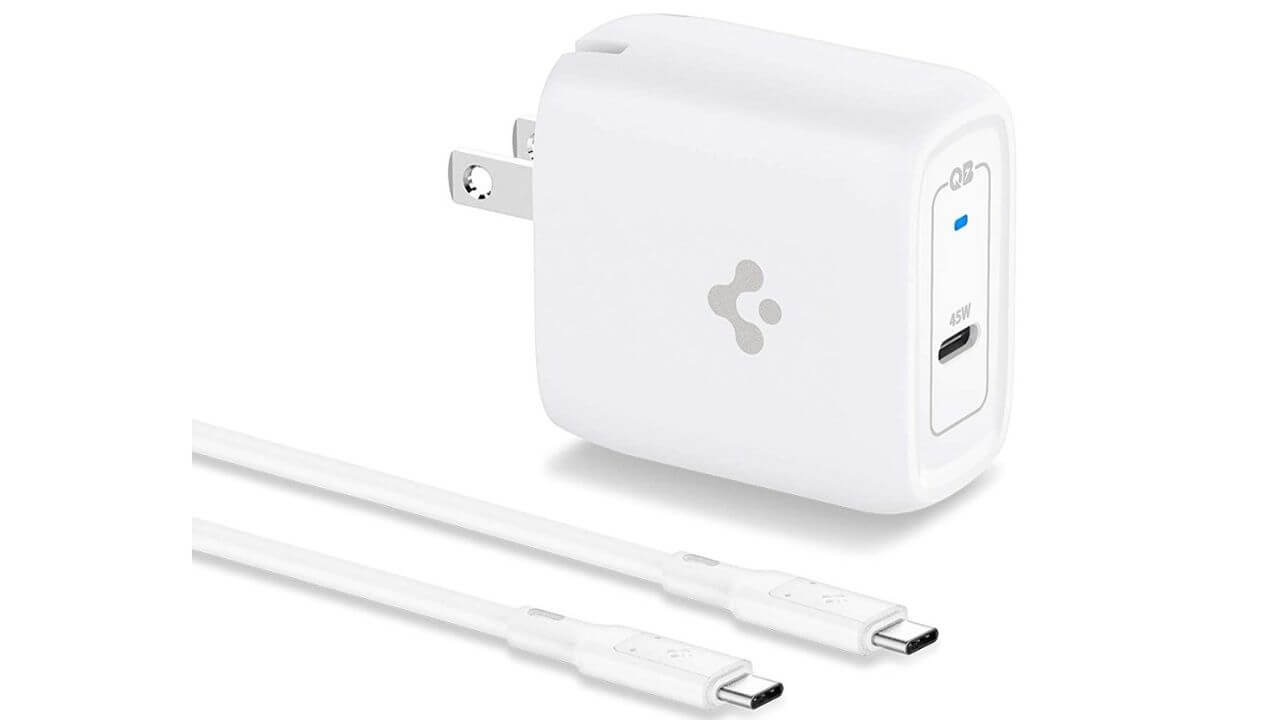 Next, we have got a 45W fast USB-C charger from Spigen that is powered by GaN technology to offer an optimum charging experience on Galaxy Tablet S7. This USB-C charger offers super-fast charging at a maximum speed of 45W on your Galaxy Tab S7. All thanks to the GaN technology, this fast charger offers optimum charging without releasing too much heat. In addition to that, this GaN fast charger is shipped with Intelligent Safety Technology which ensures the safety of our users and their devices by managing 15 points safety standards and ensures to prevent overheating problems, as well as prevention of short-circuits issues, and more. That's not all, you will also get a USB Type-C to Type-C charging cable when you purchase this charging accessory for Galaxy S7 Tablet. Best of all, the Spigen ArcStation fast charger is backed by a 24-month warranty. 
Also read: Best Fast Chargers for Galaxy S22 Ultra in 2022
15.
Anker 65W PPS USB-C Fast Charger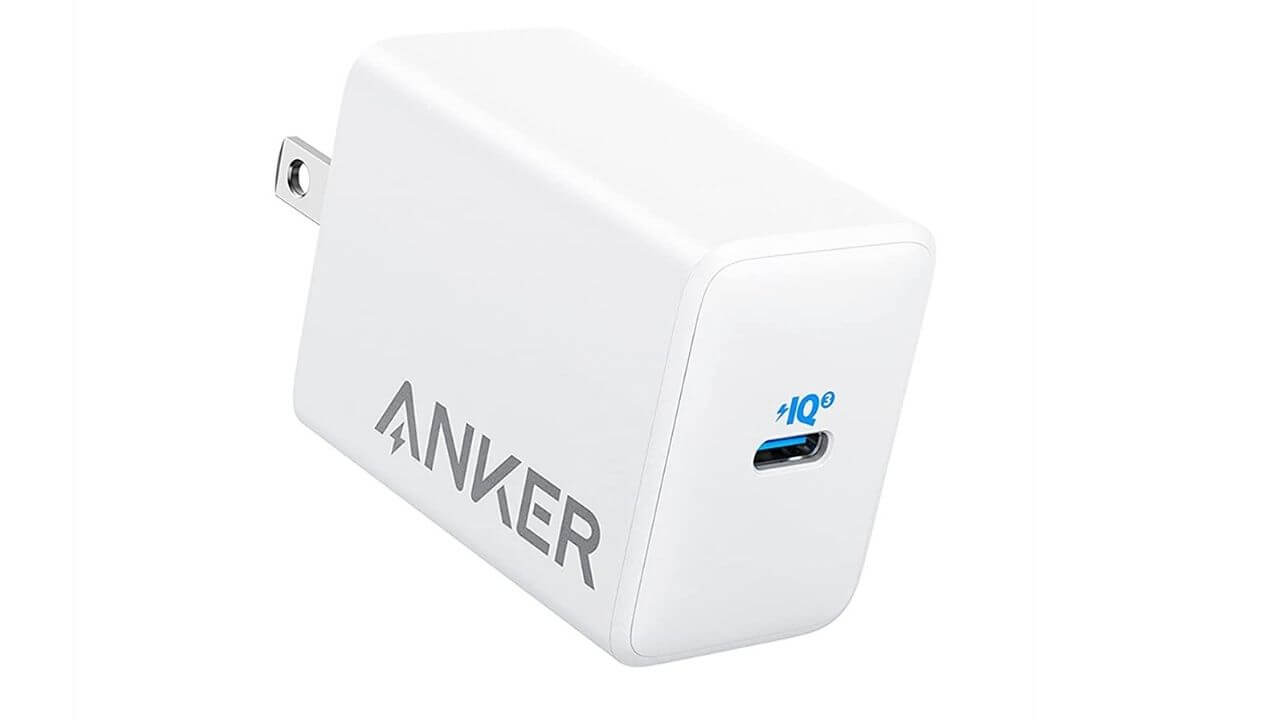 This one from Anker is probably the best third-party fast charger for Samsung Galaxy Tab S7. This 65W USB-C power adapter for Samsung tablet supports Programmable Power Supply (PPS) technology to ensure super-fast charging for your Galaxy S7 tablet. The ultra-compact and lightweight design make it one of the best travel chargers that one could get. You can easily keep it in a pocket and move around, it's that tiny. The MiniFuel technology integrated into this fast charger ensures that your device is charged efficiently irrespective of the size of the charger. Last but not the least, this Galaxy S7 Tablet fast USB-C charger comes with an 18-month warranty and superb customer support service. 
Since this USB-C fast charger is not shipped with a USB Type-C charging cable, we recommend getting Anker New Nylon USB-C to USB-C Cable for the best charging experience. This would make the perfect combo for your backup or workplace charger. 
16. Anker Premium 60W 5-Port Charger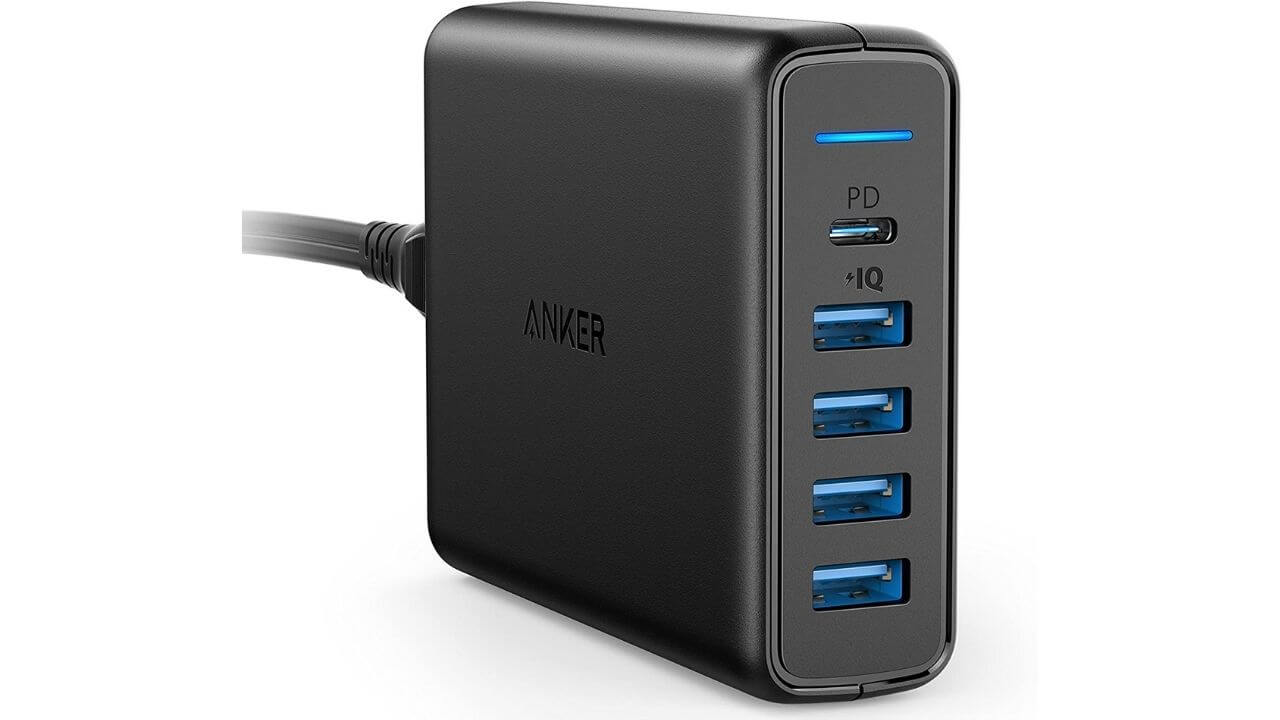 Are you looking to charge multiple devices at one go? Get yourself the Anker 60W multi-port Galaxy Tab S7 charger. This five-port Anker charger is equipped with a 1 x 30W Power Delivery port, and 4 x IQ ports, that intelligently recognizes your device and boosts the charging speed up to 2.4A on each port. Talking about safety, this multi-port charger for Samsung Galaxy Tablet S7 comes with advanced safety features which include surge protection, temperature control, and more. As far as build is concerned, this durable fast charger is shipped with a scratch-resistant and smudge-proof exterior body combined with extreme drop protection. Moreover, this fast USB-C wall charger is backed by Anker's 18-month warranty. 
Also read: Best Fast Chargers for Samsung Galaxy S22 in 2022
17. Hussell Fast Car Charger for Galaxy Tab S7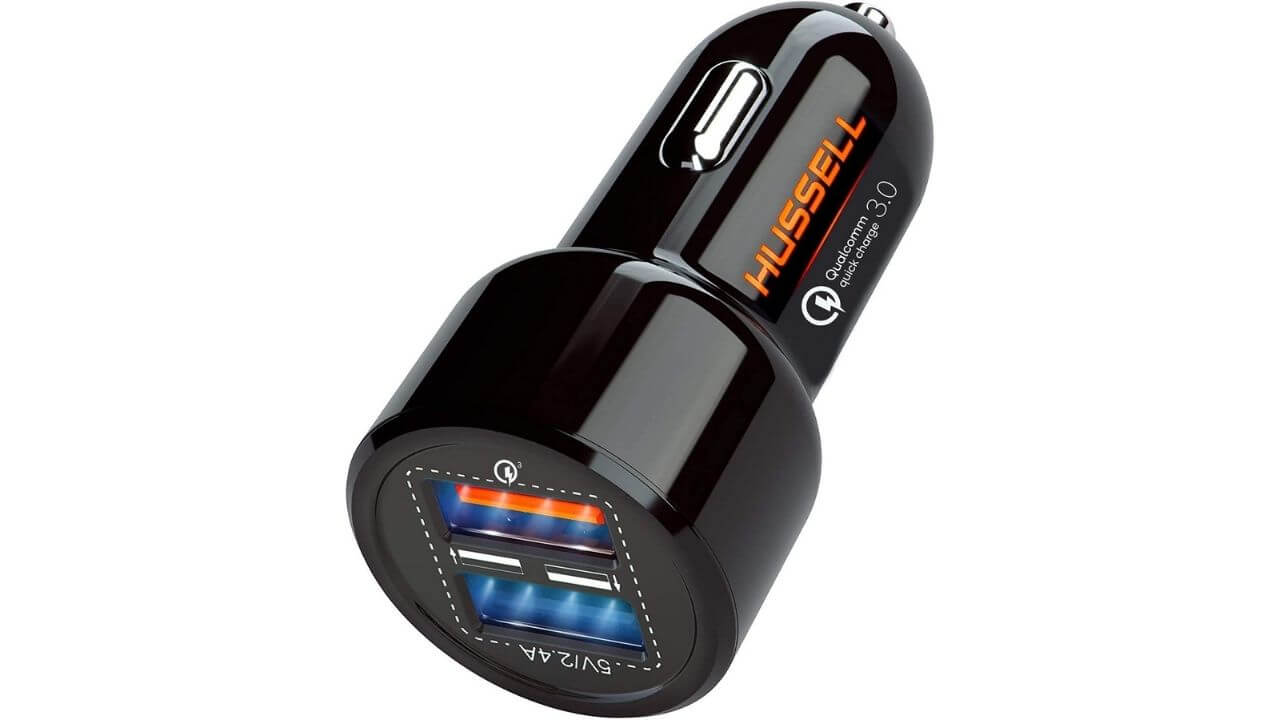 At last, we bring to you one of the most-rated and reviewed Galaxy Tab S7 fast car chargers on Amazon from Hussell. This fast car charger is equipped with two USB-A ports (one is equipped with Qualcomm Quick Charge 3.0 Technology, while the other one offers 2.4A charging output). All thanks to the dual-port design, users can simultaneously charge Galaxy Tab S7 and other compatible devices. The built-in multi-protect system integrated into this fast USB-A car charger prevents overcurrent, overcharging, short-circuit, and overheating issues on Galaxy Tab S7 and compatible devices. Moreover, this slim and lightweight car charger is shipped with Smart IC Intelligent Technology that automatically identifies the device and offers optimum charging when connected to this fast USB-A tablet charger. All in all, it is a great charging option for anyone who is always on the go. Did we mention the color in which this fast charger is offered goes pretty well with the interiors of your car?
Best Music Accessories for Galaxy Tab S7 in 2022
18. Galaxy Buds2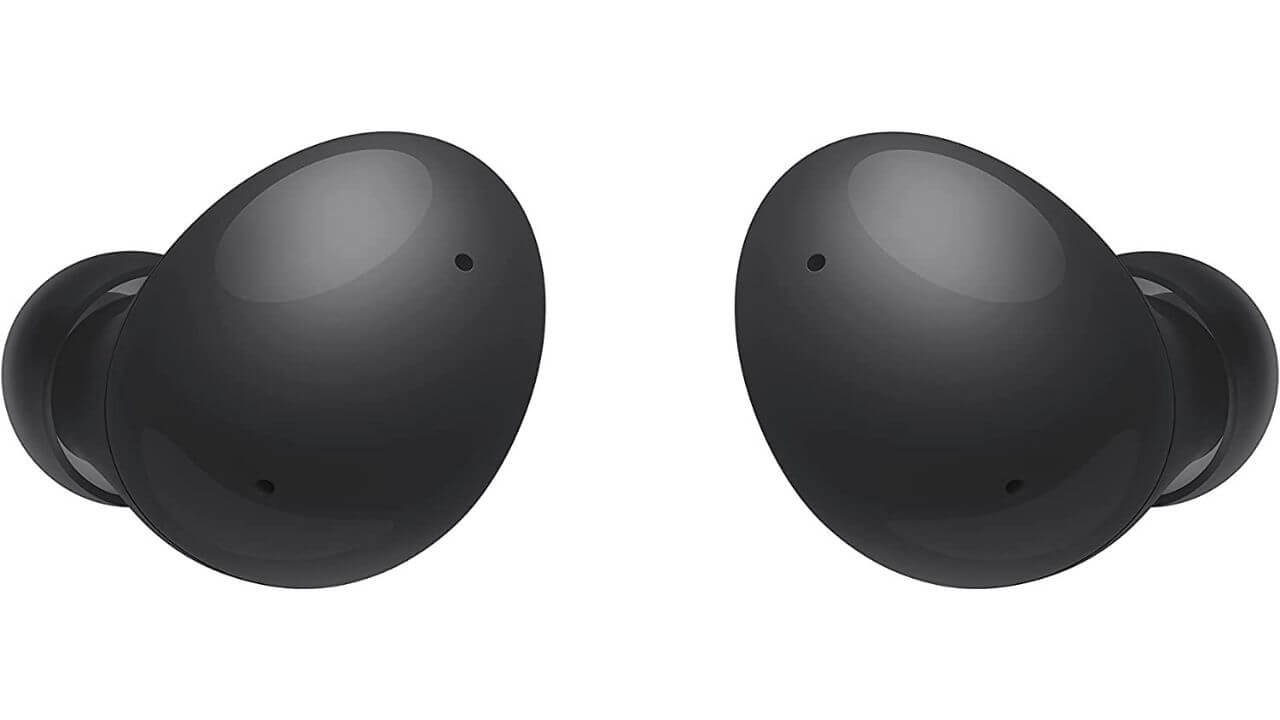 The Galaxy Buds2 is one of the best music accessories for the Samsung Tab S7 that a musichead must-have. This wireless earphone was launched at the Galaxy Unpacked August event and it was the talk of the town for a while. The newest TWS stereo buds from Samsung are compatible with Android, iOS, iPadOS, and Windows 11. Samsung ships this earphone with a dual-driver setup which we earlier saw on the Buds Pro. These wireless earphones for Galaxy S7 Tablet feature active noise cancellation features which ensure noise-free music and call experience when you're on a busy street or crowded transport. Whereas, the Ambient mode ensures that you are aware of the outside surroundings by letting you hear a little bit of sound. The IPX2 rating indicates that this wireless earphone is sweatproof. Talking about the playback time, the Galaxy Buds2 can last up to 5 hours and 7.5 hours, when the ANC is ON and OFF, respectively. Moreover, this Galaxy Tab S7 accessory is equipped with a Type-C USB for flawless charging. You'd be happy to know that it is compatible with Qi Wireless Charging. 
If you are looking for an affordable alternative to the one we mentioned above, please make sure to grab the Galaxy Buds Live wireless earphones for Galaxy Tab S7. You can choose this music accessory from four magnificent colors: Mystic Bronze, Mystic Red, Mystic White, and Mystic Black.  
19.
Soundcore Life P2 True Wireless Earbuds
Last but not the least, we have for you one of the best budget-friendly wireless earphones for the Samsung Galaxy Tab S7 from Soundcore. It is one of the budget-friendly earbuds that you can get for under $50. These wireless earphones come with BassUp technology, these earbuds enhance the audio bass by up to 43%. Also, the aptX audio and a big battery life of 40 hours. With just 10 minutes of charging, you get an hour of playback time. Furthermore, the Soundcore Life P2 earphones for Galaxy Tab S7 offers beamforming noise reduction and cVc 8.0 technology for superb noise suppression and audio quality. This helps to listen to your favorite music even in a crowded place like public transport or streets. Best of all, these wireless earphones are shipped with IPX7-rated certification to ensure top-notch waterproof protection. If you are fond of colorful accessories, three beautiful colors of these wireless earbuds will make you fall in love with them. 
20. TOZO T6 True Wireless Earbuds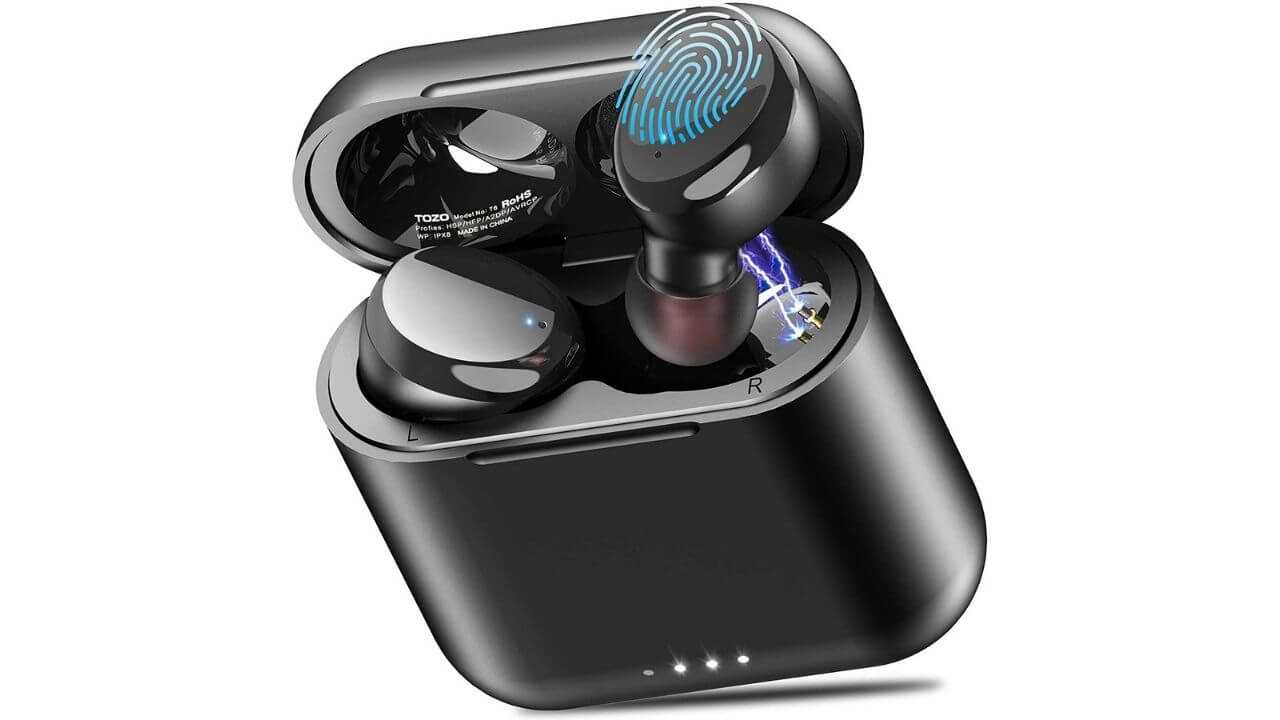 In the second position, we have the most rated and budget-friendly true wireless earphones for Galaxy Tab S7. Be it answering calls, playing/pausing your favorite music, or adjusting volumes, the TOZO T6 TWS earphones do all of it without having to touch your tablet. TOZO T6 wireless earphones are shipped with Bluetooth 5.0 technology, HSP, HFP, A2DP, AVRCP (Bluetooth Profiles) which ensures superb transmission speed and at the same time offers a low-latency listening experience. Besides, the IPX8 waterproofing certification allows the earphones to survive underwater for about 30 minutes up to 1 meter of depth. The brand also claims that you can easily wash the cover and earbuds with the help of soap and water. That's no joke, they claim it and users have tested this. Although, we don't recommend washing your earbuds. 
As far as battery backup is concerned, these wireless earphones offer you 6 hours on a single charge and a total of 30 hours of playback time when it is combined with the charging case. You can fully charge these music accessories for Galaxy Tab S7 in just 55 minutes with the help of wired chargers, whereas it takes 2 hours or less to fully charge this earphone using a wireless charger. If price is the factor that influences your purchase decision, this has to be on the top of your buying list. 
Also read: Best Accessories for Galaxy S22/S22+ in 2022
21. Skullcandy Dime True Wireless In-Ear Earbuds for Galaxy Tab S7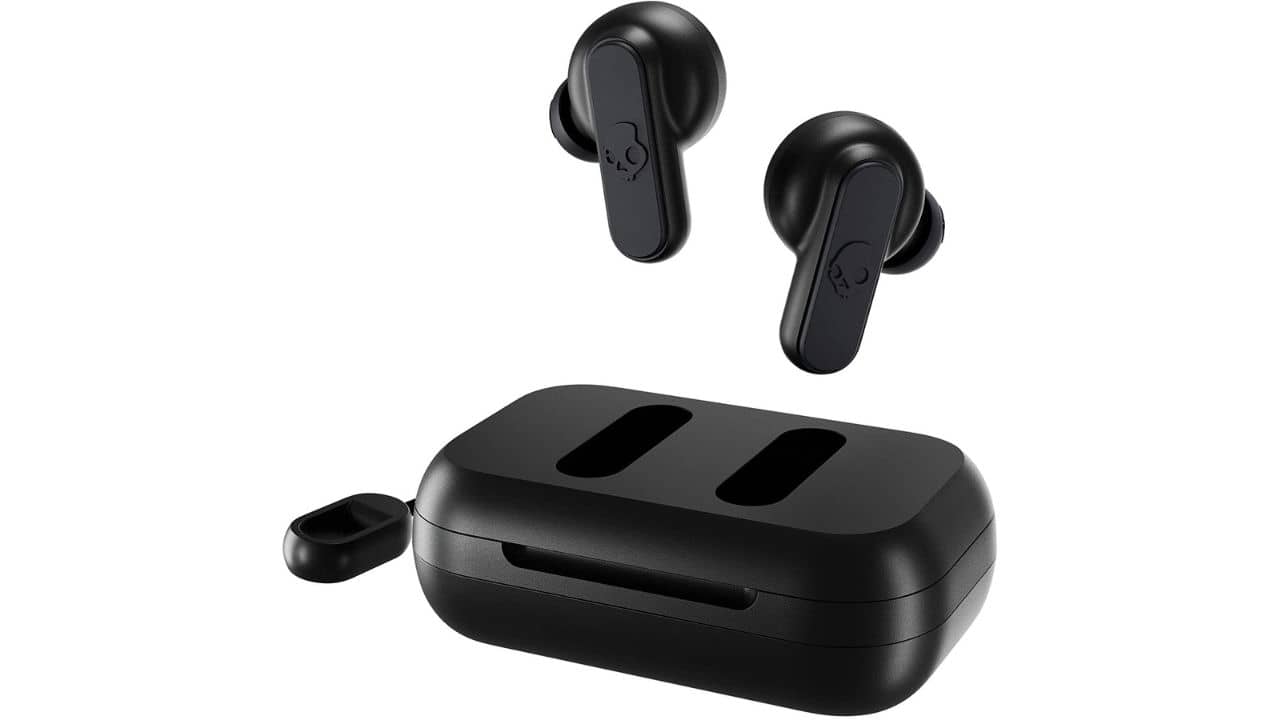 Are you looking for budget-friendly wireless earbuds for your Galaxy Tab S7? We recommend taking a look at the SkullCandy Dime TWS earbuds. It comes with a unique charging case with a loop attached to it. The auto-connect feature is handy when you are in hurry, you need to have paired the earbuds prior to using this feature. Other features include volume adjustment, and receiving calls with just a tap. Did we mention these earbuds come with IPX4 sweat and water-resistant certification? Yes, you can use it while you are sweating out in the gym, or when you are out in light drizzle. As far as battery life is concerned, the earbuds work for almost 3.5 hours on a single charge, which increases substantially to 12 hours when paired with a charging case. So, if you are someone who can compromise with battery life to save a few dollars, this one is just perfect for you. Let's not forget that it comes in several color options: Dark Blue/Green, True Black, Golden Red, Golden Orange, Light Grey/Blue, and Chill Grey. 
Also, we want you to check the some of the best wireless earphones/headphones that works perfectly with the Samsung Galaxy S7 tablet:
Best Accessories for Samsung DeX support in 2022
22. Samsung Galaxy Tab S7 Keyboard
 
If you are working on Samsung DeX, the official Samsung keyboard is what you need in the first place. This slim and lightweight keyboard folio easily attaches to the Galaxy S7 tablet magnetically giving you a PC-like working experience. Besides, the intuitive pogo pin allows firm attachment of this keyboard with your tablet. The keyboard comes with an expanded trackpad that eases the movement of the cursor throughout the screen. All in all, it is a must-have Samsung DeX accessory to enhance your productivity and skills. 
We also want you to check the third-party keyboards for Galaxy S7 tablet that are listed below:
Also read: Best Keyboards for Writers
23. OMOTON Galaxy S7 Tablet Stand Holder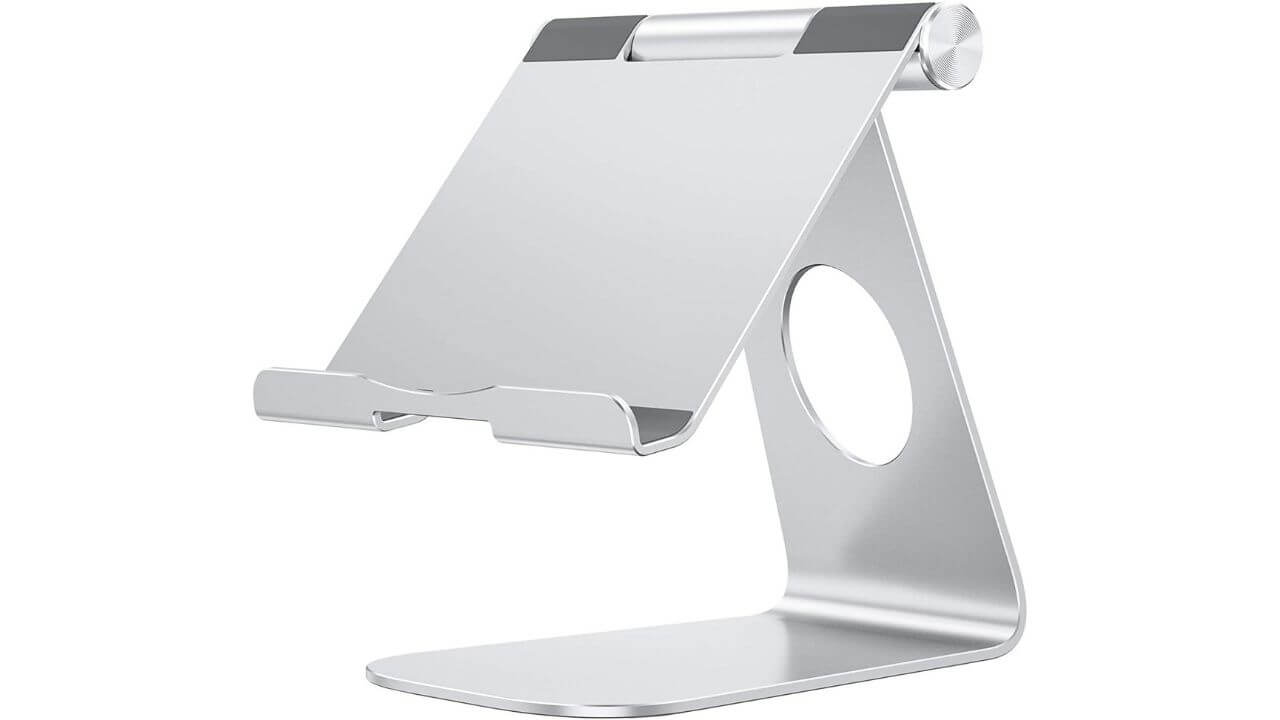 Want to securely attach the Samsung Galaxy S7 tablet while you are using the Samsung DeX mode? Get yourself the OMOTON table stand holder. This metal stand holder comes in a durable design that prevents your device from wobbling while you're typing on your keyboard. The anti-slip and scratch-proof silicone pads give additional security to keep the beauty of the Samsung tablet alive for years to come. Besides, the rotatable hinge gives you the freedom to adjust angles at your convenience. Moreover, there's a cutout hole where you are supposed to place the tablet for a hassle-free wired charging experience. 
24. RREAKA USB C Adapter Hub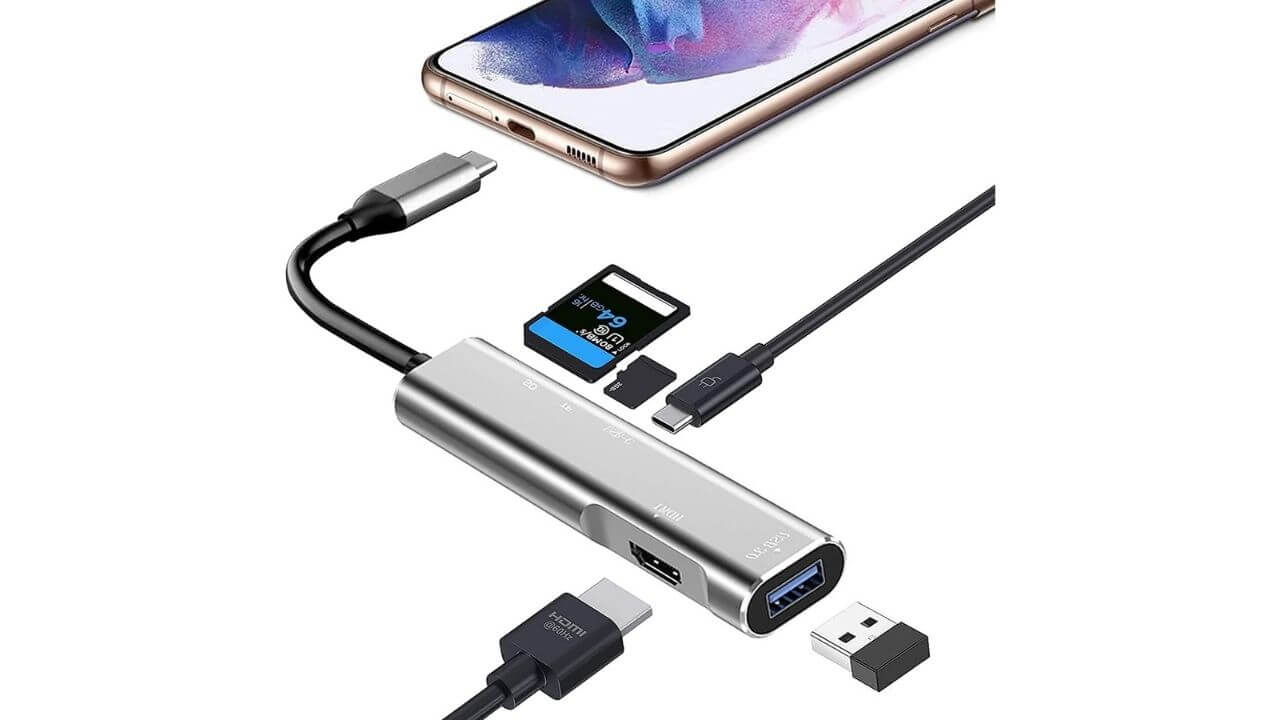 Are you not looking to invest more in a USB hub? Don't worry, we have found one that would be suitable for you. This USB-C Hub consists of five different ports: 4K HDMI Port, USB 3.0 Port, SD & TF Cards Reader, USB Type C PD Charging Port. You can use the 4K HDMI port to project the small screen to a larger screen and enjoy videos or movies. Besides, the USB 3.0 Port offers file transferring speeds of up to 5Gbps to transfer images, files, and videos in seconds. Whereas the USB-C PD charging port delivers power at a maximum speed of 60W. Best of all, you get a worry-free 1 year+6months warranty. 
Also read: Best USB-C Hubs & Adapters for M2 MacBook Air
Best Health and Fitness Accessories for Samsung Galaxy Tab S7 in 2022
25. Galaxy Watch4 Classic (Best Smartwatch for Galaxy Tab S7)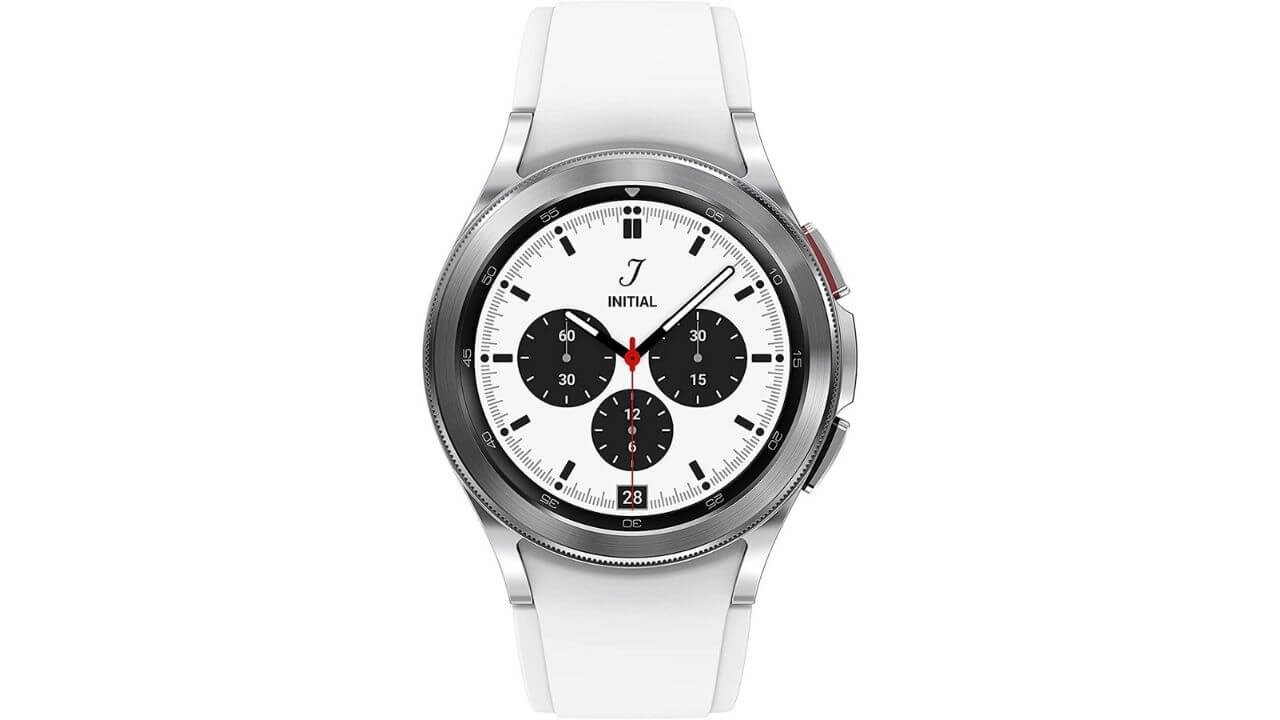 Are you looking to match the official health and fitness accessory with your Galaxy S7 Tablet? We recommend going with the Galaxy Watch4 Classic smartwatch. It is the latest and most advanced addition to the family of Samsung smartwatches. The Watch4 Classic was announced back at the
Samsung Unpacked August event and grabbed the eyeballs of many. This smartwatch for Samsung Tab S7 is loaded with features that include a sleep tracker, SpO2 monitoring, and ECG monitoring. Samsung also offers six different workout modes in the Galaxy Watch4 Classic, it surely is good news for all the fitness freaks out there. That's not all, the latest official smartwatch allows you to access all the messages, notifications, calls, and allows controlling your music right from the wrist of your hand. Furthermore, the lightweight and exquisite design of this smartwatch complements your office look, gym look, party look, and whatnot. It surely is an all-rounder. You can choose from two different models of this smartwatch: 42mm and 46mm sizes with LTE or Bluetooth compatibility. 
If you are looking to grab the base variant of this smartwatch, please make sure to get the Galaxy Watch4. It is available in 40mmm and 44 mm sizes with LTE or Bluetooth compatibility.
26. Samsung Galaxy Watch 3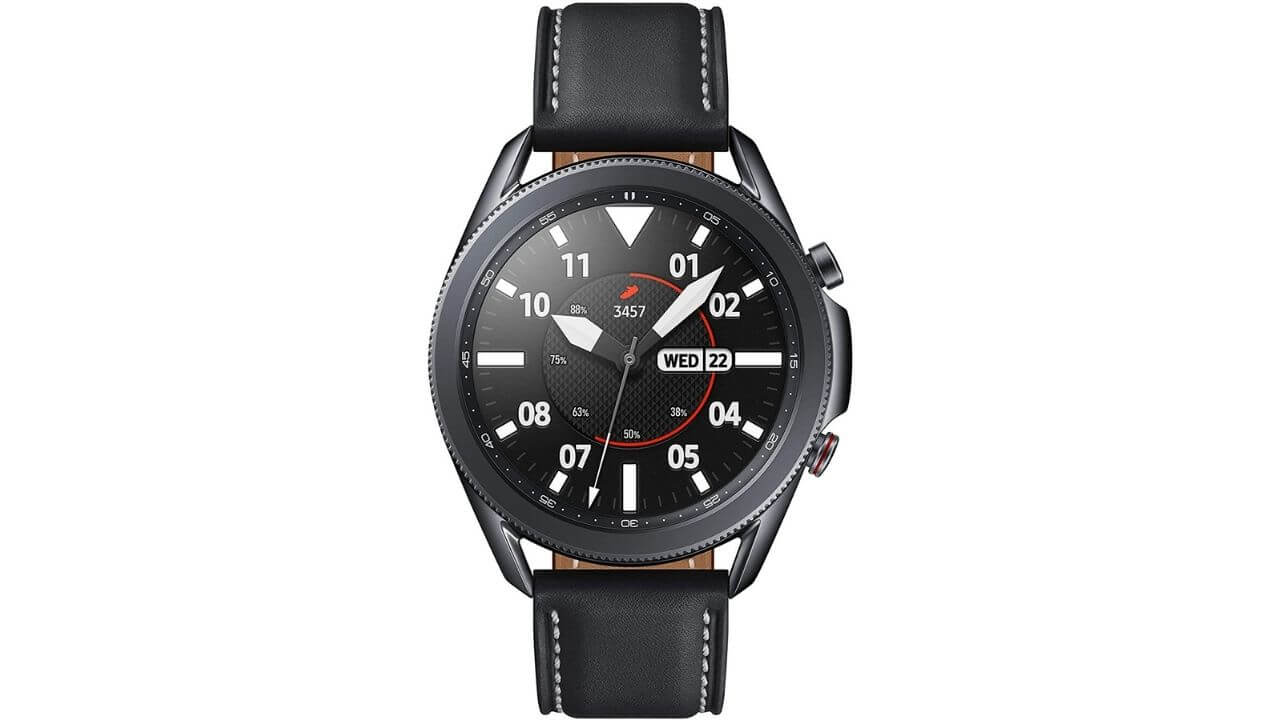 The Samsung Galaxy Watch 3 is another must-have Galaxy Tab S7 accessory useful for all the fitness enthusiasts out there. This impressive wearable device gives you a better insight into your workouts to help you maintain a healthy lifestyle with ease. Coming to the design of Galaxy Watch 3, you get to see a sleek and lightweight look that feels comfortable when you tie it around your wrist. Aesthetically, it is quite handy, you can match it with a formal office look or casual traveling/trekking look. In short, it's for all the occasions. There are two different designs available: 41mm and 45mm available. Similar to the Galaxy Watch4 Classic, it also comes in Bluetooth and LTE models. With Galaxy Watch 3, you can easily track your sleep, heart rate, and other metrics that help maintain a healthy lifestyle. On top of that, Samsung offers over 50,000 watch faces to give your smartwatch a personal touch. 
Best Gaming Accessories for Samsung Galaxy Tab S7
27. SteelSeries Stratus Duo (Best Wireless Gaming Controller for Galaxy Tab S7)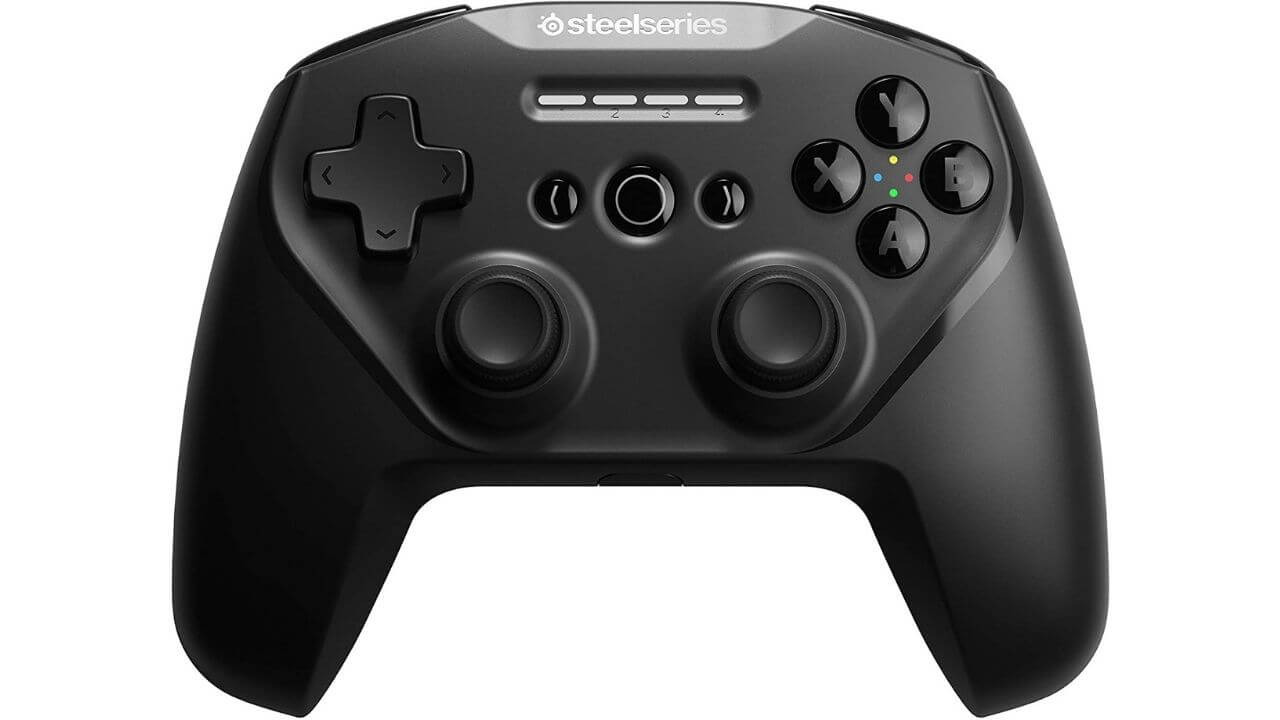 Here we have one of the most sought gaming accessories for the Samsung Galaxy Tablet S7 from SteelSeries. The Stratus Duo series is one of the best wireless gaming controllers that you can buy to enjoy gaming on your Galaxy S7 Tablet. Not only does it work on small screens but allows enjoying gameplay experience on large screens such as TVs, PCs, laptops, and more. Talking about the design, this gaming accessory for Galaxy Tab S7 2020 offers a comfortable grip that lets you play your favorite PUBG, COD, and other multiplayer games without any issues. If you are a gaming nerd, the rechargeable battery can be handy as it offers a gameplay time of up to 20 hours straight. Plus, you can enjoy gaming on your S7 tablet while charging too, awesome, isn't it? For better gameplay controls, you get shoulder buttons with subtle textures and grooves are there for the best in-hand feel. Best of all, you can easily pair this gaming controller with your Galaxy S7 Tablet, iPhone, iPad, gaming rig and start gaming immediately, no drivers, no software, nothing is further required. In case you're searching for a reliable wireless gaming controller for Galaxy Tab S7, this has to be the one. 
Also read: MSI has announced new Mini LED & OLED Gaming monitors
28. Xbox Game Pass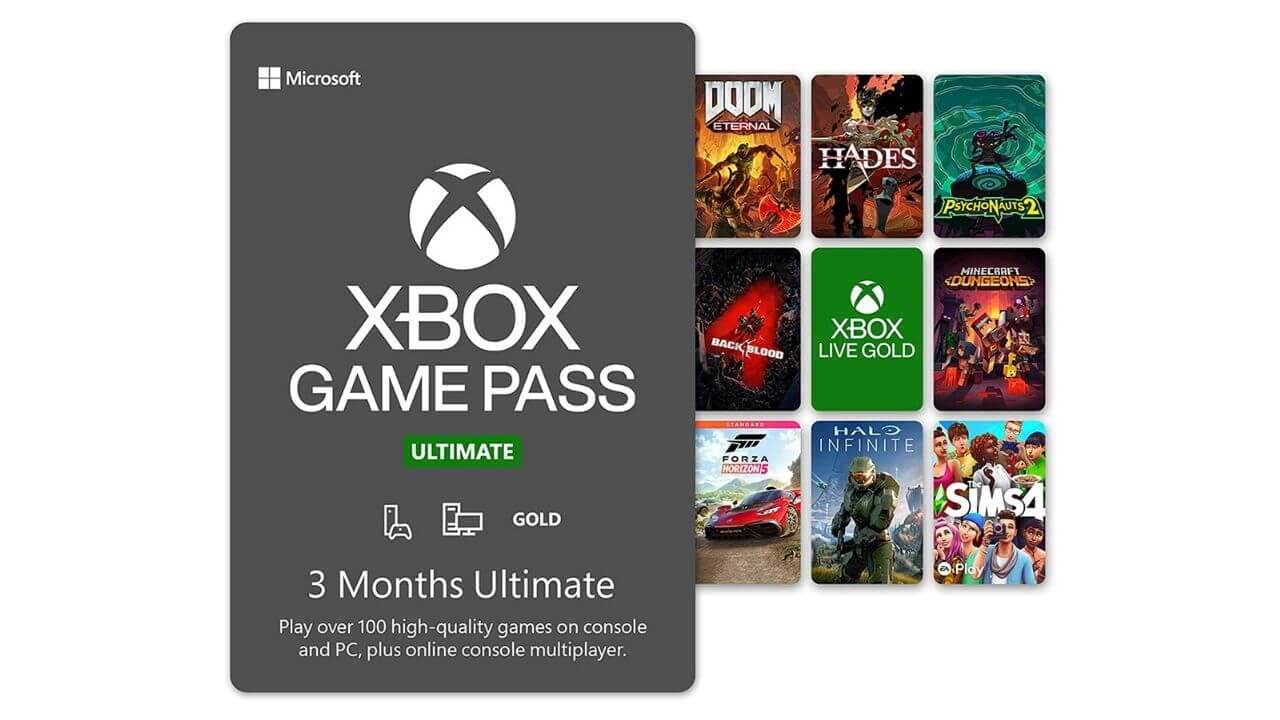 Xbox Game Pass is a must-have gaming accessory for Galaxy Tab S7 owners who are into hardcore Xbox gaming. This game pass from Xbox includes access to over 100 games and Xbox Live Gold to enjoy a gaming experience on devices like PC, Console, tablet, smartphones, etc. The best part of grabbing this game pass is that you get an EA play membership that offers you access to some of the most popular gaming series including Battlefield and STAR WARS. On top of that, you can join a community of million Xbox gamers around the globe and enjoy gaming with them without any hassle. Moreover, you get freebies including exclusive game rewards, in-game content, and more. All in all, it is a wise choice for Xbox gamers to invest in this gaming accessory for Galaxy Tablet S7 (2020).  
Also read: Best HDMI Cable for Gaming on PC, PS4, Xbox
FAQs related to best accessories for Galaxy Tab S7
a) Can you use a Bluetooth keyboard with Galaxy Tab S7?
Yes, you can use Bluetooth keyboards with Galaxy Tab S7. Below are a few options you can choose from:
b) Does the Samsung Tab S7 have a good screen?
The Galaxy Tab S7 features an 11-inch LCD display with a 120Hz refresh rate. Don't worry if it's LCD, it is also an excellent display that is bright enough for outdoor use and has punchy colors like the Tab S7 Plus. 
c) Can I use a mouse with my Tab S7?
Absolutely, you can use a wireless Bluetooth mouse to work on your Tab S7. We recommend choosing a combo of keyboard and mouse as it can help you save a few bucks as compared to a standalone purchase.
With that, we have come to the end of this roundup on the best accessories for Samsung Galaxy Tab S7. If you've got Microsoft Surface 8, please make sure to check our roundup on
the best accessories for Microsoft Surface 8.