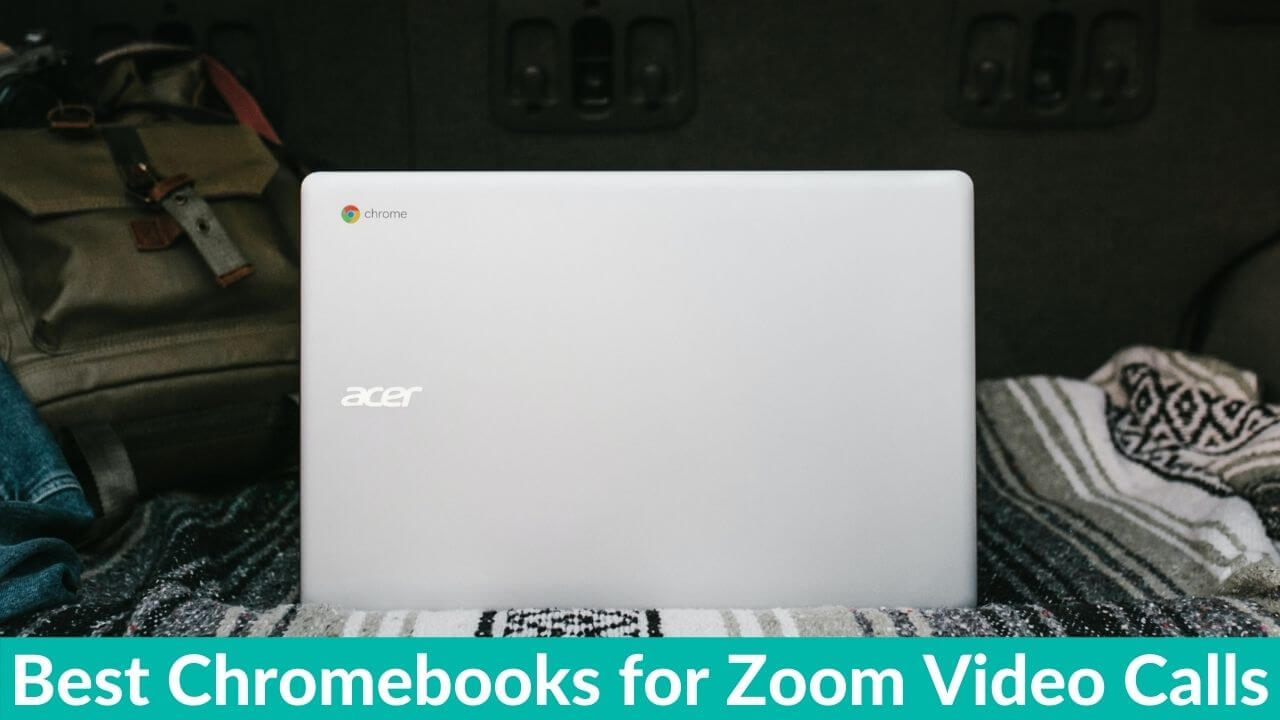 Zoom emerged as one of the best, fastest-growing, and safest video calling apps during the initial wave of COVID, it allows 100 participants on a video call (up to 1,000 with a Large Meeting add-on). With this feature, it is easy to hold a virtual meeting or conduct online classes with hundreds of students attending lectures at the same time. 
If you're to attend such meetings or classes on Zoom on a lightweight laptop, it is best that you use Chromebooks. The major difference between a Chromebook and a laptop is the operating system they run on. Remember, Chromebooks run on Chrome OS, while laptops run on Windows, Linux, macOS, etc. Chromebooks are not made for high-end tasks like gaming, coding etc. They deliver a fast and smooth experience with a full suite of Google Apps that run with internet connectivity. As far as design is concerned, these are lightweight, sleek, and highly portable in nature as compared to laptops. Chromebooks are the best option for those who want a device solely for work or educational purposes. 
Again, it is not made for multitaskers and gamers out there. In case you're a gamer, we urge you to check our round-up on
the best curved monitors for gaming.
If you're looking to buy a dedicated Chromebook for attending video calls on Zoom, this write-up is just for you. Here, we will walk you through various things to consider while buying a Chromebook. And, we will also list some of the best Chromebooks for Zoom video calls in 2022. Don't miss out on any of them, read till the very end. 
Note: We update our article regularly to cover the latest product available in the market.  
What to look for when buying a Chromebook
Here are things that you should consider before buying a Chromebook for Zoom video calls. Have a look!
Display
If you want to have a good video calling experience on Zoom, you should consider buying a Chromebook with a display size between 11 to 15-inch. Chromebooks with this screen size are good enough for a Zoom meeting experience. Also, you should look for at least an HD display. A full-HD display would seriously improve the quality of visual output especially in a 11-13inch display size. Although, it would offer an incredible user experience with a 2K or a 4K display. 
Battery Life
The average battery life of Chromebooks ranges somewhere around 9 to 10 hours. It is important to always look for Chromebooks with more than 10 hours of battery life for a non-stop video calling experience. Remember, a Chromebook with longer battery life can be helpful for people who aren't near any electric outlet, it can be a park, beach or a cafe, etc. 
Webcam
In order to enjoy better video calling on Zoom, you should look for Chromebooks with better webcam. If you ask me, I'd say a 720p HD quality camera would be the minimum requirement. Most of the Chromebooks have a 720P webcam but a 1080p webcam is recommended as the video quality difference is noticeable. 
Speakers and Microphone  
It's pretty obvious that you'd need better quality speakers and microphones to receive and send audio during video calls on Zoom. So, you should always go for Chromebooks with better speakers and microphones. Also, Chromebooks with front firing speakers are recommended. 
RAM Capacity & Processing Power
Chromebooks with at least 4GB RAM are enough to offer decent Zoom video calling. However, we recommend the 6GB/8GB RAM variants as they are suitable for recording Zoom calls on your Chromebooks as well. As far as processors are concerned, the Intel chipsets are best known for offering optimum performance in Chromebooks. So, it'd be a wise choice to choose the Intel-powered Chromebooks. You can also go with offerings from Qualcomm if you have a limited budget.
Storage
Well, it is a subjective point because the requirements of every individual can be different from one another. If you're willing to buy a Chromebook for Zoom calls only, the 32GB variant would do for you. But, in most cases, you'd find brands offering a standard 64GB variant. So, please make sure to stick with that. Because the extra storage always comes in handy.
Portability
In most cases, Chromebooks are supposed to travel with you. Whether you board a plane or train, Chromebooks are beneficial to work around. That's why you should buy one that has a sleek build and lightweight build to it.
Pricing
At present, Chromebooks start from a price range of $200 with and go above $1000. We advise you to choose Chromebooks according to your budget and requirements. However, if you are looking for something powerful and portable, you might want to invest more which could be around $500-600 USD. 
Now that you know the things you need to consider while buying a Chromebook for video calls, we can move to the list. 
Top 10 Chromebooks for Zoom Meetings in 2022
1. Google Pixelbook Go (Premium Chromebook for Zoom)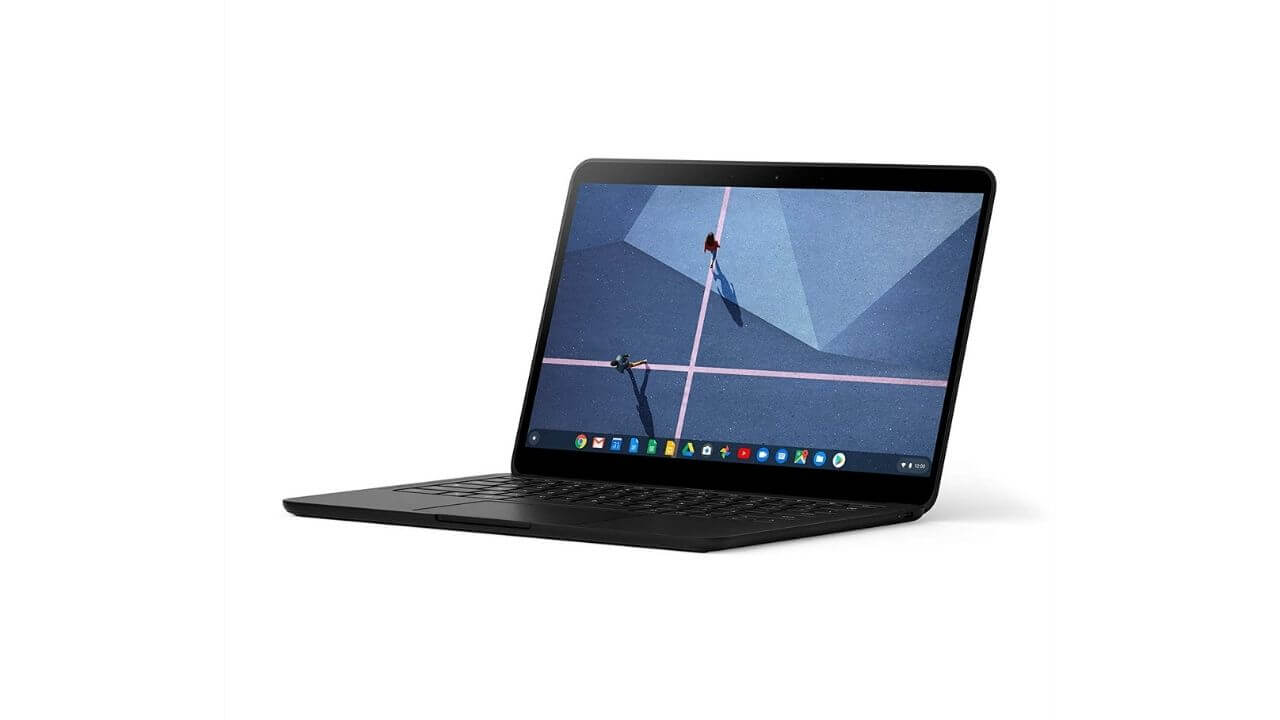 Here comes one the most premium and expensive Chromebook in the lot. Yes, the Google Pixelbook Go is the perfect option for people who are willing to pay more for attending Zoom video calls on their Chromebook and do much more with it. The Pixelbook Go comes with massive 12-hour battery life on a single charge with fast charging support. Also, Google suggests that 20 minutes of charging is enough to give you a 2-hour battery backup. This Chromebook from Google comes with a 13.3-inch HD touchscreen screen display and dual 1080p webcam for crisp picture and video quality. As far as design is concerned, the Google Pixelbook Go has a lightweight graspable design with a thickness of 13mm. 
The 8th gen Intel i5 or M3 chipset and 8GB/16GB RAM ensure the best possible performance while you're at a Zoom meeting or attending your college lectures. Apart from calls, the HD touchscreen display is great for watching your favorite Netflix shows and movies. Let's not forget that it is a touch screen Chromebook. You will find backlit silent keys in this Chromebook so that you can easily work in an environment with low-lighting conditions with no typing sound.  Best of all, the Google Pixelbook Go is one of those Chromebooks for Zoom calls that comes with EPEAT certification known for eco-friendliness and a Titan C security chip to keep your data and passwords safe. Just in case you're looking for higher storage, you can also choose the 256GB variant. 
Even though it is expensive as compared to other Chromebooks, it has everything that you want in a premium Chromebook.
Also read: Best Curved Monitors for Gaming [Buying Guide]
2. SAMSUNG Galaxy Chromebook 4 (Best Value for Money)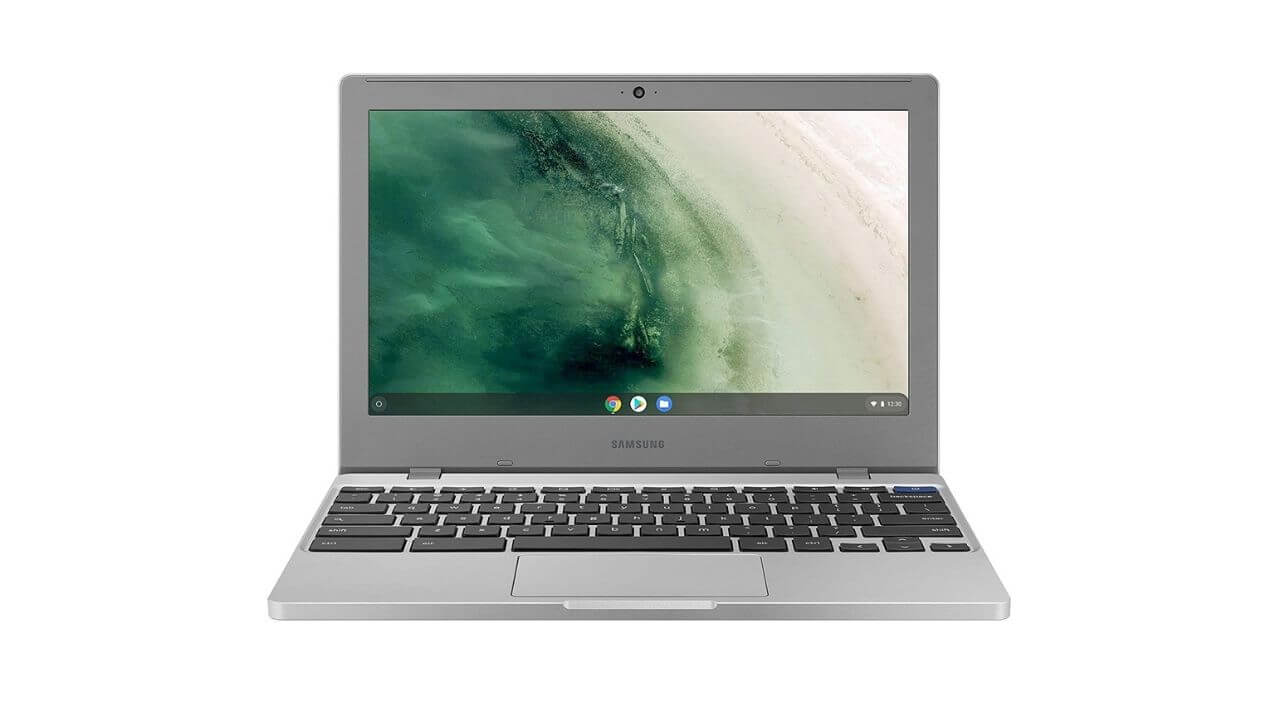 If you're in search of a compact, lightweight design Chromebook for Zoom meetings, the Galaxy Chromebook 4 from Samsung is just made for you. As far as performance is concerned, Samsung has packed the Intel Celeron Processor N4000 for offering decent performance. This Chromebook features an 11.6-inch display and comes with military-grade protection ensuring that it can withstand bumps and drops. There are multiple layers of built-in virus protection to keep you safe from any security breach. 
The Galaxy Chromebook 4 comes with 12.5 hours of battery life (depending on usage) to make sure that you never run out of juice while in a meeting or attending online lectures. Remember, the battery life of this Chromebook can help you survive anywhere as power outage is pretty common. You'll find an in-built 720p webcam and a speaker on the bottom that offers clear audio output. This Chromebook from Samsung features Google Assistant. The listed variant is offered with 4GB RAM and 64GB storage. However, there is a beefier variant available with 6GB RAM. Moreover, it is affordable and probably the best Chromebooks that you'd find in the market for a seamless Zoom meeting experience. 
Also read: Best Ultrawide Monitors for Productivity in 2021 [Buying Guide]
3. ASUS C202 Chromebook (Best Rugged Chromebooks for Zoom Calls)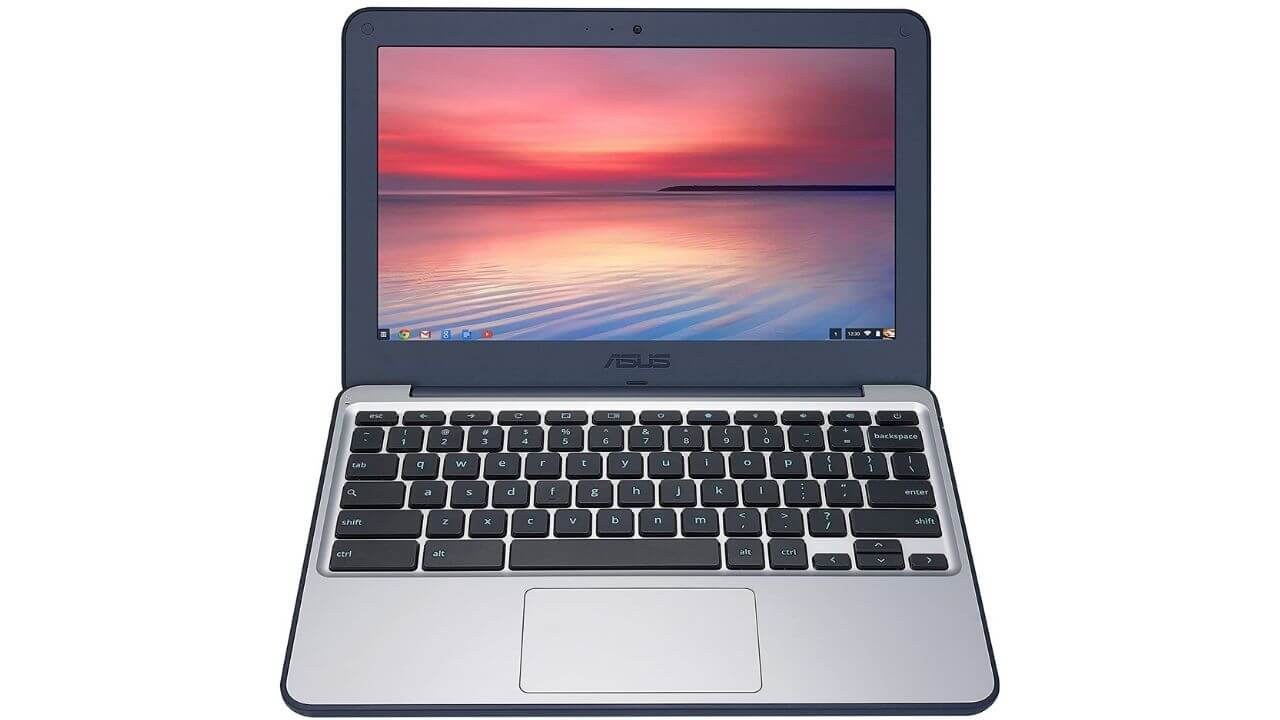 The Asus C202 Chromebook is ideal for anyone who needs durable devices that can be used to attend hours on Zoom meetings without bothering much about the performance. These rugged Chromebooks for Zoom calls come with military-grade certification to ensure that they can survive drops and bumps. The spill-resistant keyboard is handy for anyone who likes to blend their work with coffee, leaving behind all the fear of owning a cat with the Asus C202 Chromebook. Talking about the display, you'll see an 11.6 inches HD anti-glare display with a resolution of 1366×768 pixels and a 180-degree rotatable design for the best viewing experience. The integration of the Intel Celeron N3060 Processor in this mid-range rugged Chromebook for Zoom video calls ensures a respectable performance. This Chromebook is available in 4GB RAM and 16GB SSD storage. As far as connectivity options are concerned, this Chromebook features
Wi-Fi 802.11AC, Bluetooth V4.2, 1 x Audio jack, 2 x USB 3.0 port, 1 x HDMI, 1 x SD card reader. Plus, you will also get an additional 100GB of Google Drive storage. Did we mention the availability of an in-built web camera, touch screen feature, and 6 hours long battery life?
4. SAMSUNG Galaxy 13.3" Chromebook (Best Chromebook with 4K Display)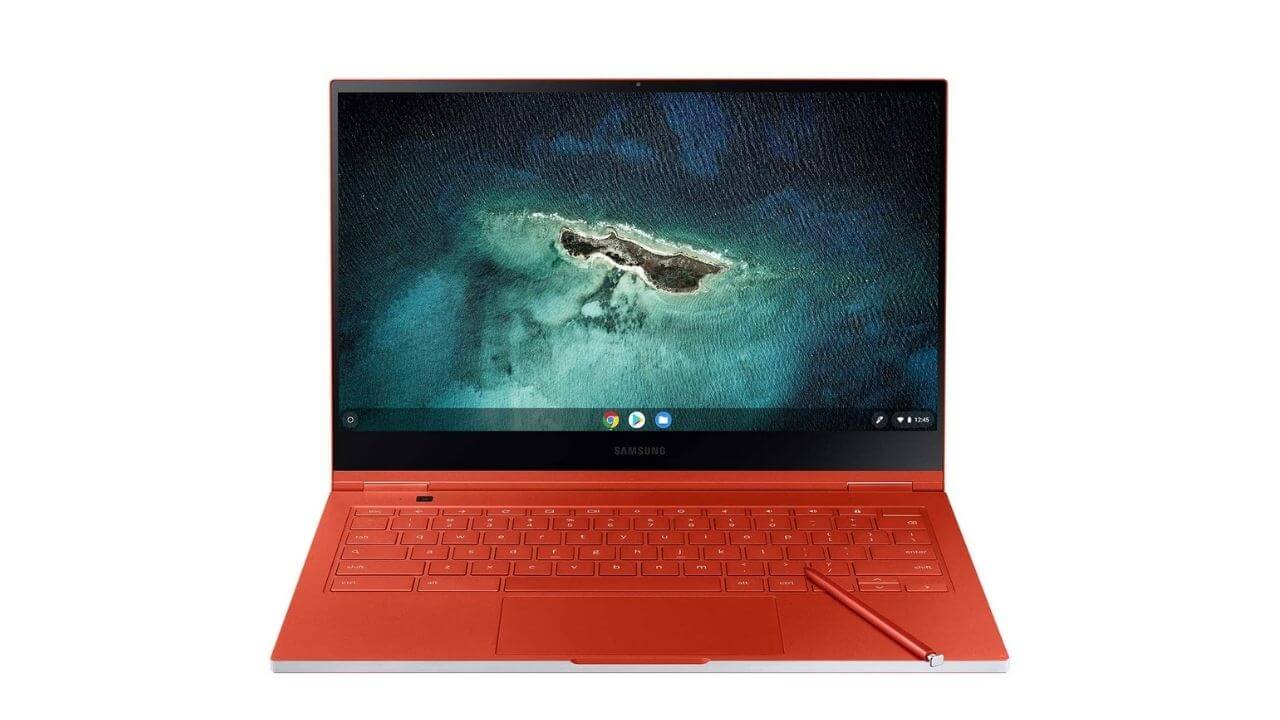 The Fiesta Red color of the Galaxy Chromebook is one of the most aesthetically brilliant pieces I've ever come across. Currently, Samsung is offering these Chromebooks in three different colors: Grey, Red, and Mercury Grey (Enterprise Edition). This brilliant Chromebook from Samsung comes with a 13.3-inch 4K AMOLED touch screen. Samsung is already the leader when it comes to smartphone displays and this Chromebook proves it why.
It comes in a slim, lightweight, and shockproof design to protect it from any kind of damage. There are a couple of cameras in this Chromebook: 1MP camera (front), 8MP camera (on keyboard deck) and two stereo speakers along with an Internal Digital Dual Array Mic. This eventually helps in elevating the Zoom video conferencing experience. Let's not forget that the folding design allows you to write on it directly as you do in an iPad. Also, you'll find a fingerprint sensor on the keyboard layout to unlock the Chromebook. 
The Samsung Galaxy Chromebook comes in a single 8GB RAM and 256GB SSD storage variant. As far as speed and performance are concerned, the Intel i5 10th Gen processor does the tasks pretty well to offer you a smooth and flawless user experience. You'd be surprised to know that this Chromebook is compatible with Wi-Fi 6 (80211.ax) for fast and smooth connectivity. You'll find a built-in Google Assistant that helps you control smart devices and the Chromebook just by your voice. The brand claims that it can offer up to
18 hours of battery backup based on usage. 
Moreover, you'll also get 200GB of cloud storage on Google One for 12 months (Offer valid till 31/01/2022). Also, this Chromebook is also suitable for Zoom video calls as it offers Samsung's ecosystem of apps and continuity features. Did we mention, it has an in-built stylus for better note taking experience? 
5. Dell Inspiron 2-in-1 Touch-Screen Chromebook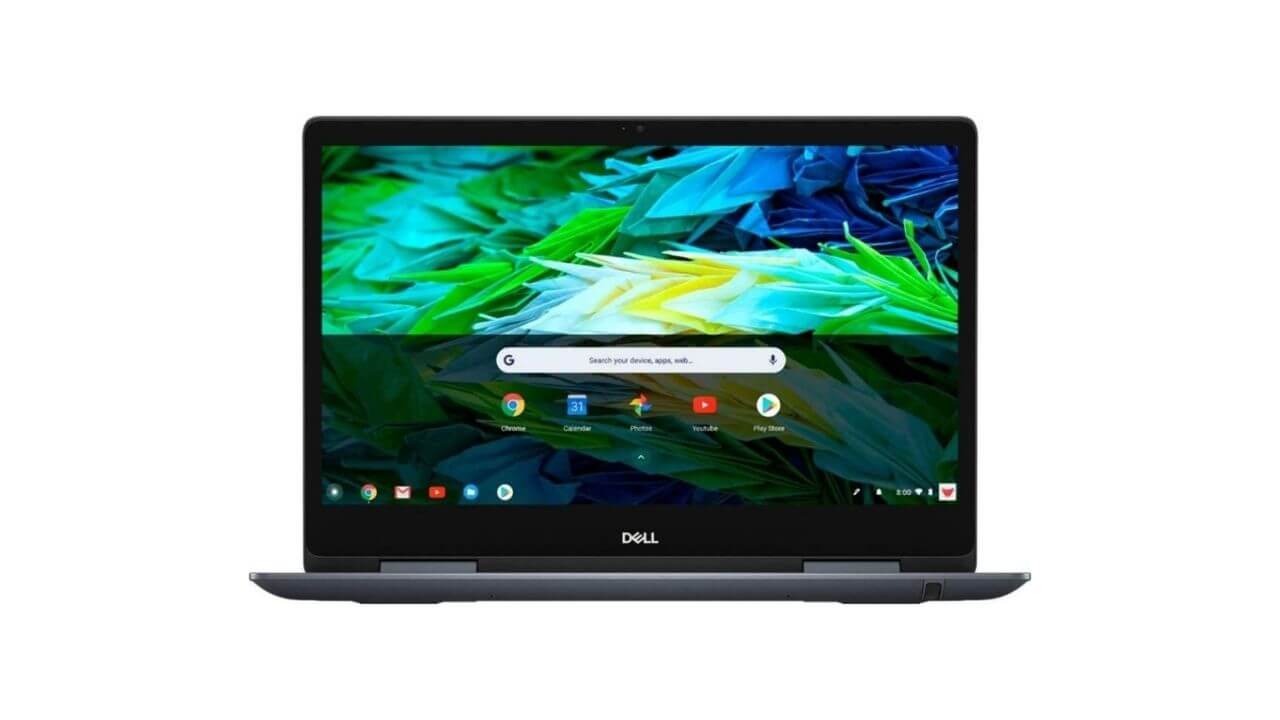 Here we have a mid-range Chromebook from Dell that comes with a 14" FHD TrueLife LED-backlit touch IPS display with EMR pen support. It packs an i3 8th Gen processor to offer optimum user experience and smooth Zoom calling. Dell is offering this Chromebook in a single variant with 4GB RAM and 128GB eMMC flash memory, as of now. The 360-fold design is convenient for using a digital pen to demonstrate something to your team during Zoom calls. 
There is a built-in Full HD webcam that offers better picture and video quality. While the microphone-in/headphone-out combo jack is there for connecting an external headphone with mic. Also, the Inspiron 2-in-1 Chromebook is fully compatible with Wi-Fi 5 connectivity. This Chromebook is specially crafted and designed for all the corporate employees and students attending classes from the comfort of their homes. 
If you feel the price is too much for a Chromebook with 4GB RAM, we have many more listed here, please keep reading.  
Also read: Best HDMI Cables for Soundbars in 2021 [Buying Guide]
6. Lenovo Chromebook Flex 5 (Mid-range King)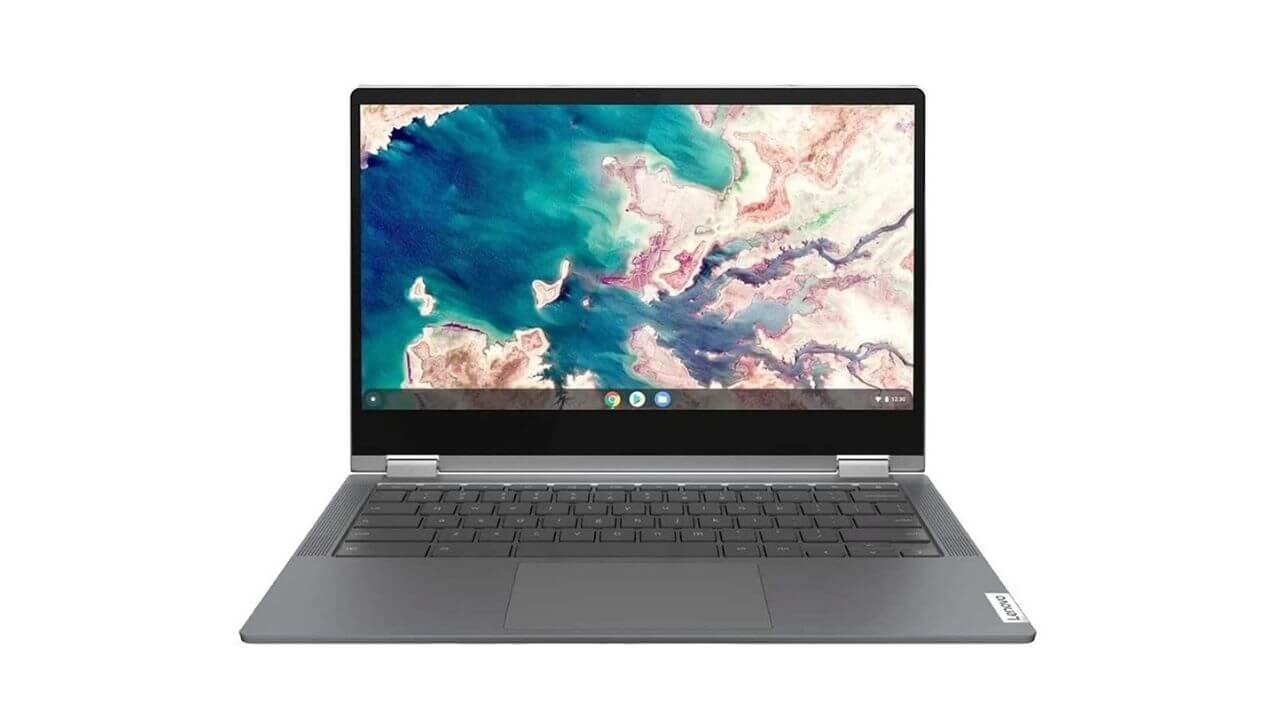 Last but not the least, the Lenovo Flex 5 is another most reviewed mid-range Chromebook. The convertible design makes it easier for you to work with smart pens. It features a 13" FHD display which is slim and lightweight in design and offers maximum portability while you're traveling. There is an in-built webcam, 2 USB Type-C ports, and the latest Wi-Fi 6 technology. Speakers and mic are of the best quality to offer better audio output during Zoom calls. It is powered by an Intel i3 10th Gen Processor to offer better performance and user experience. 
Overall, this is the best Chromebooks for video calls that you can find in the mid-range budget. Please check the product from the link mentioned as under. 
7. Lenovo Chromebook C330 (Budget-King)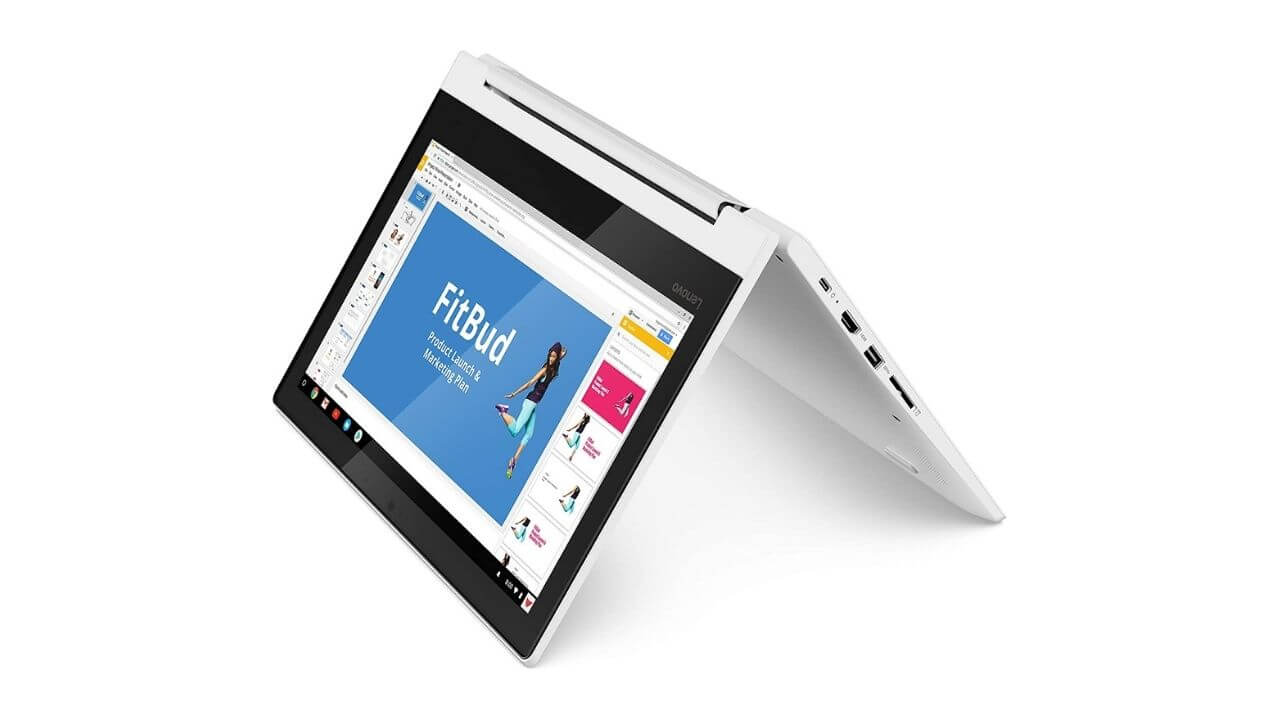 Here we have another convertible Chromebook from Lenovo that can help you attend your official and educational Zoom meetings. With more than 7500 reviews, this one remains one of the most popular Chromebooks on our list. This 11.6-inch Chromebook from Lenovo has everything you'd want in a basic Chromebook under $300. 
The sleek and stylish design of this product is surely going to amaze you. It is easy to use and affordable than most of the Chromebooks for Zoom video calls available in the market. There's a built-in with a 720p webcam and two 2 watt speaker systems for decent video calling experience.  Also the virus protection, and many other features are there to enhance the user experience to the fullest. Moreover, it comes with Bluetooth 4.2 and is offered in a single 4GB RAM and 64GB variant. 
Also read: Best DisplayPort Monitors for Gaming [Buying Guide]
8. Acer Chromebook Spin 13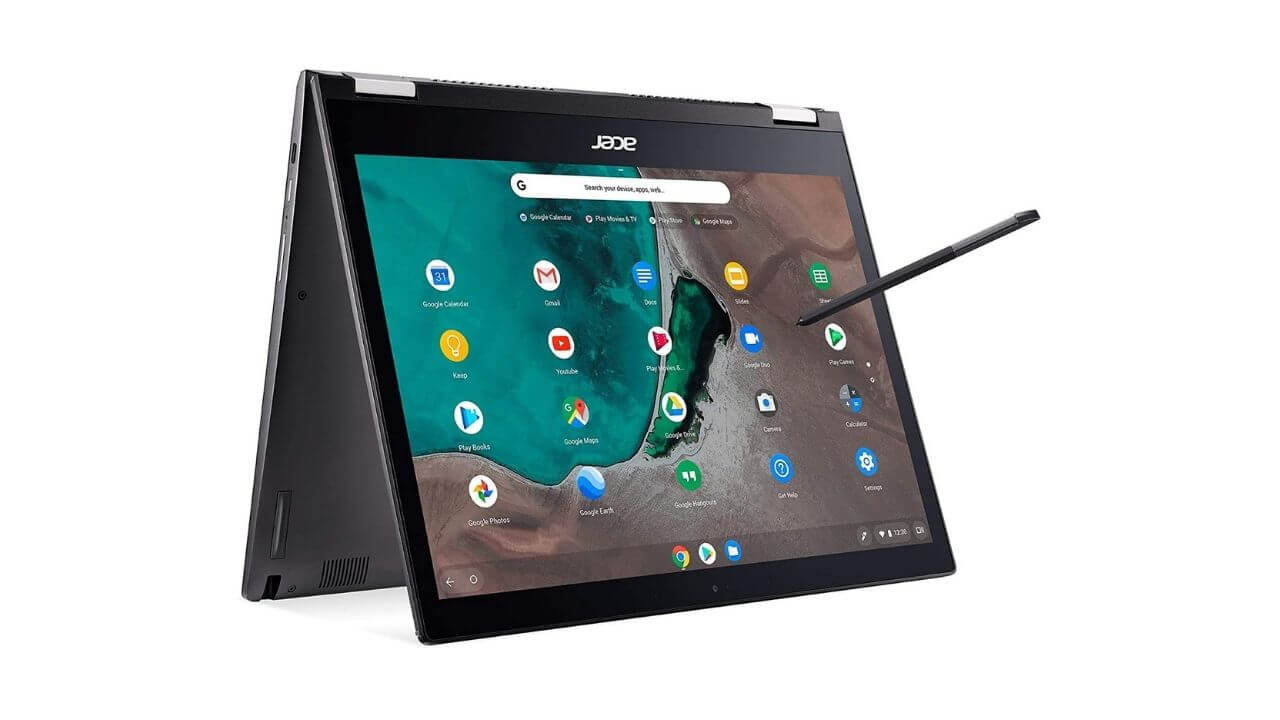 If you're looking for a convertible Chromebook for Zoom calls, we suggest going with this one from Acer. The Acer Chromebook Spin 13 has a 13.5"
2K touchscreen display with security assurance from Gorilla Glass. This Chromebook from Acer packs an i5 8th Gen processor to offer optimum performance suitable for multitasking. You'll find in-built virus protection to safeguard you from security breaches and malware. Let's not forget the 720p webcam and downward facing speakers that gives you a better Zoom video calling experience. As per the brand, this Chromebook can offer a battery life of up to 10 hours on a single charge. 
The Aluminum chassis is durable enough to fold it as many times as you'd want. This Chromebook is offered with 8GB RAM and 128 GB storage. That's not all, you will also get a reversible USB 3.1 type-C port that can offer faster data transfer, better video streaming, and much more. Overall, it is a good Chromebook that will allow you to have a smooth Zoom video calling with excellent video watching experience. 
9. HP Chromebook 11a (Best Chromebooks for Zoom Calls Under $200)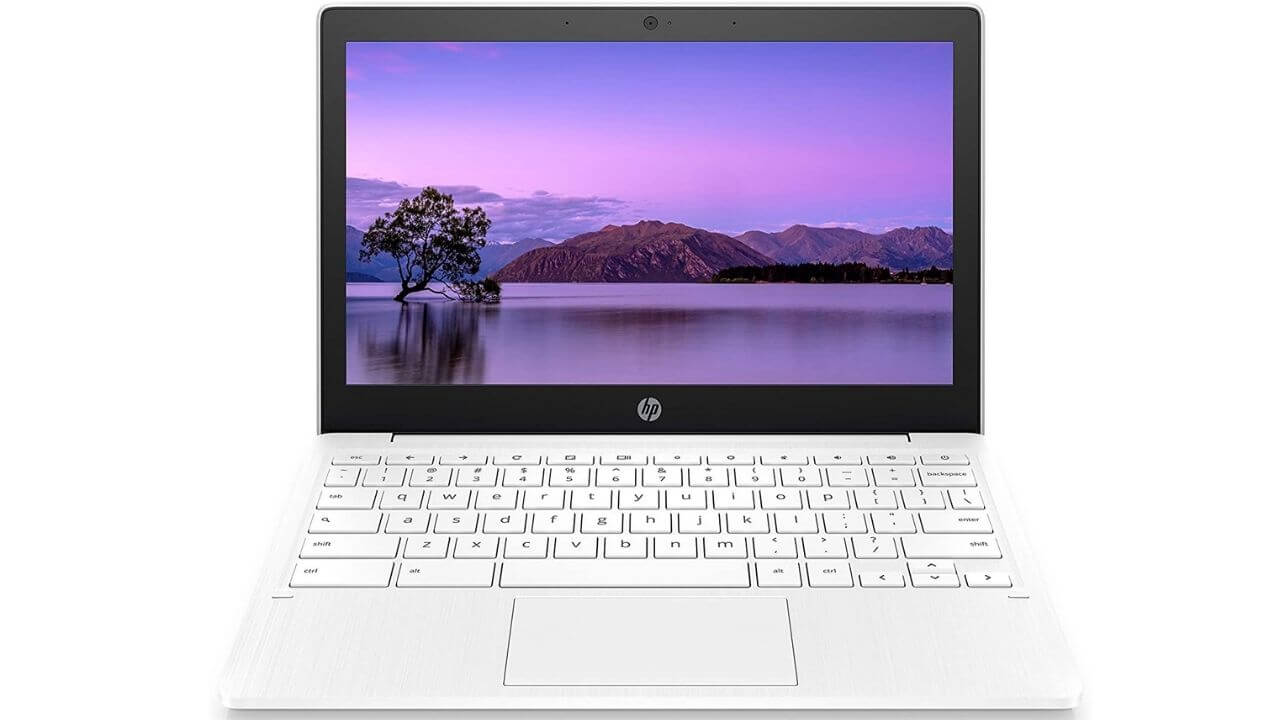 If you are looking for a budget-friendly Chromebooks for Zoom meeting under $200, we recommend getting the HP Chromebook 11a. It is slim and lightweight in design that gives you the freedom of attending your Zoom meeting whenever and wherever you'd like. As far as performance is concerned, the HP 11a Chromebook packs the
MediaTek – MT8183 chipset which combines an octa-core CPU, an integrated GPU, and a multimedia engine to offer solid performance without draining too much battery. The tech-giant boasts a battery life of 15 hours and 45 minutes, which is quite handy for long video call sessions or enjoying movies being on a group call. The 11-inch display and full-sized keyboards deliver a flawless typing experience. The anti-glare display prevents eye strain by offering the best visuals when you are continuously watching movies or attending meetings over Zoom calls for long hours. Further, you can find an HP True Vision camera, integrated dual array digital microphones, and dual audio stereo speakers for the best Zoom calling experience. Talking about the connectivity, this HP Chromebook for Zoom meetings comes with the Wi-Fi 5 WLAN adapter and Bluetooth 4.2, USB 2.0 Type-A, and Type-C ports. The best part of buying this Chromebook is that it is backed by a 1-year limited hardware warranty.
10. Acer Chromebook Spin 311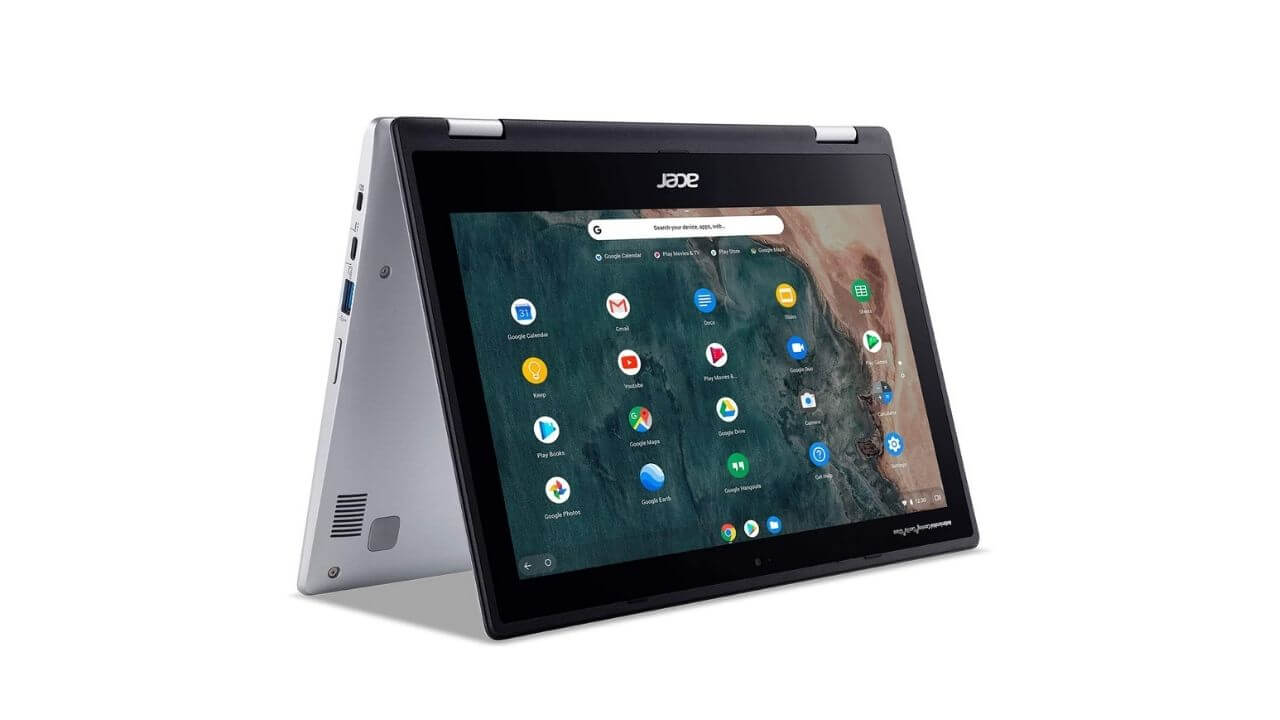 If you're looking for something similar to a Lenovo Chromebook with low storage space, the Acer Spin 311 would be suitable for you. It is a convertible Chromebook powered by
an Intel Celeron N4020 processor. As far as connectivity is considered, the Acer Chromebook Spin 311 is equipped with Gigabit Wi-Fi 5, and Bluetooth 5.0. It has an 11.6" HD Touch IPS display. You'll get 10-hour battery life if you fully charge this device. There is a HD webcam for better video quality during Zoom calls and a downward-firing stereo speaker with decent volume. It should be noted that this Chromebook is available in 4GB RAM and 32GB storage variants. 
You can additionally choose to buy this Chromebook with a headset and mouse as well. Just in case you're searching for something that can fit your budget, don't hesitate to go with this one. If you're looking for a bigger display, we suggest you choose the 14" variant which features a Full HD Widescreen IPS LED multi-touch display. 
Well, that's the end of our buying guide on some best Chromebooks for Zoom video calls in 2022. Also, make sure to read our detailed list of the most secure video calling tools.