The Galaxy S22 Ultra is the successor to both the excellent Galaxy S21 Ultra and the Note 20 Ultra released a couple of years ago. As you can tell, it has big shoes to fill. But does it? I have been using the Galaxy S22 Ultra for around a month now. Here's my experience with it! 
Galaxy S22 Ultra Design Review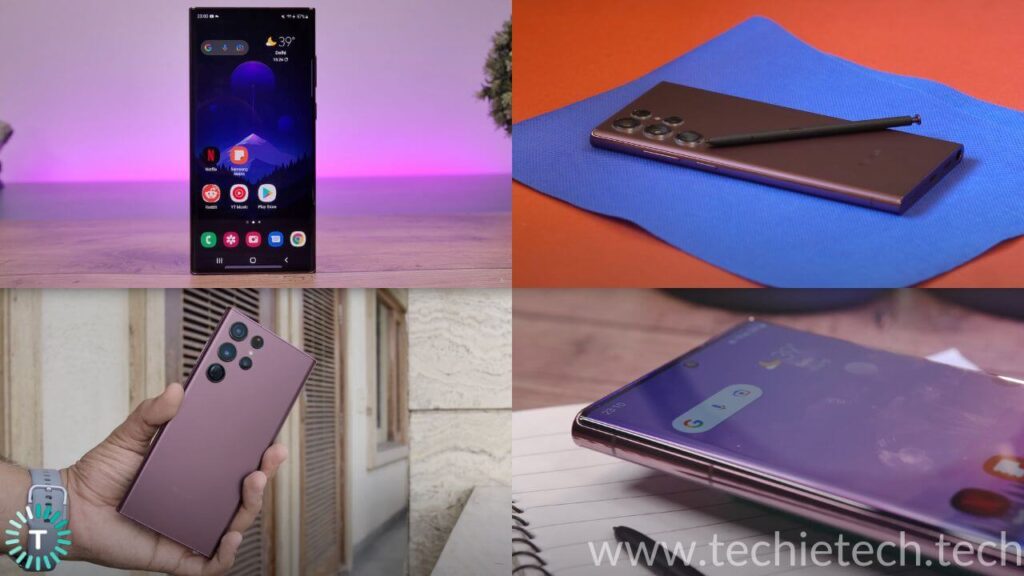 One look at the Galaxy S22 Ultra and you can tell that this is more of a Galaxy Note than a Galaxy S phone. In addition to the S Pen integrated in the body of the phone, the boxy, industrial design is reminiscent of the Galaxy Note lineup. While it is a good thing for Galaxy Note fans, I feel that the S21 Ultra released last year was more ergonomic and comfortable to hold in hand. 
Flip over to the back, and you see a very interesting execution of the camera module design. Instead of a single, large camera island which houses all the cameras, Samsung has decided to just let each camera protrude out of the back glass of the phone individually. While it looks unique and very elegant, I think I still prefer the S21 Ultra's design over this. A problem that I have been facing with this new design is that all the camera rings tend to accumulate dust and pocket lint which means you'll either have to wipe your phone clean twice a day or just learn to ignore it.

But overall, the Galaxy S22 Ultra feels and looks like a luxurious piece of tech with its satin-textured back glass, curved front display and unique camera layout. It is thick, it is heavy but the heft and large size bring with it a sense of durability and premium-ness. A definite overall win in terms of the aesthetic and design language.

Also read: Best Cases for your Galaxy S22 Ultra
Galaxy S22 Ultra Display Review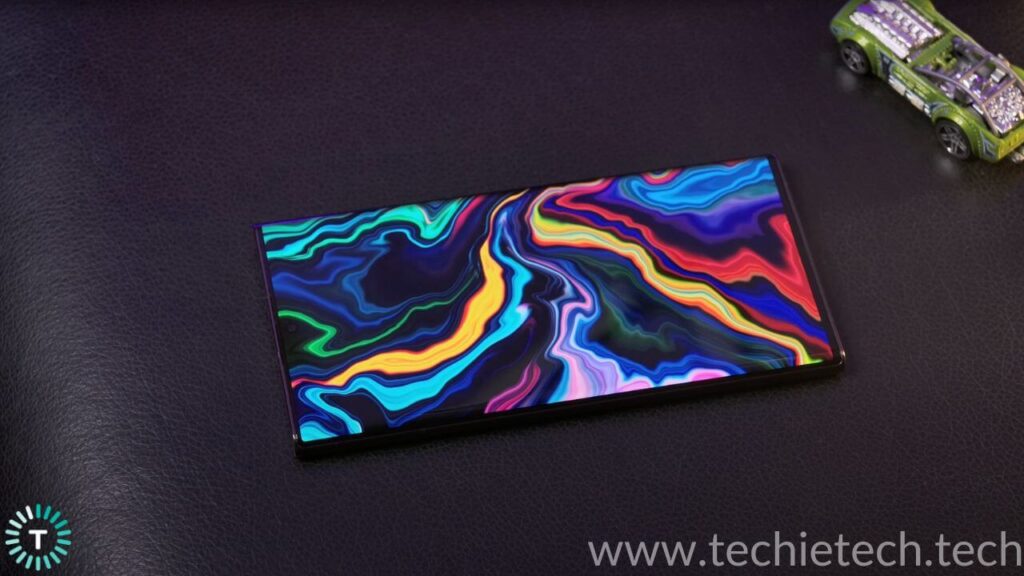 The display on the Galaxy S22 Ultra, as you would expect, is excellent. It is curved on both the edges which some people love and some hate. I think it robs away some of the functionality but does make the phone stand out and look more premium. I did face some accidental touches because of the curved edges but they were few and far between. The bigger problem for me was finding a proper screen protector since Samsung does not install one from the factory anymore. Make sure to check out our roundup of the best screen protectors for the Galaxy S22 Ultra. 
Talking about the display quality, it is a QHD, 120 Hz panel with stunning colours, excellent clarity and crisp details. It is an LTPO panel which means it varies the refresh rate based on your usage to preserve battery life. Samsung has been the industry leader in smartphone displays for quite some time and it shows. I have no complaints when it comes to display and if I was forced to change something, I would just pick a flat panel over the curved one. But all in all, this is the best smartphone display you will find in the market right now. It is an absolute delight.
Don't miss: Top Clear cases you can buy for Galaxy S22 Ultra
Galaxy S22 Ultra Performance Review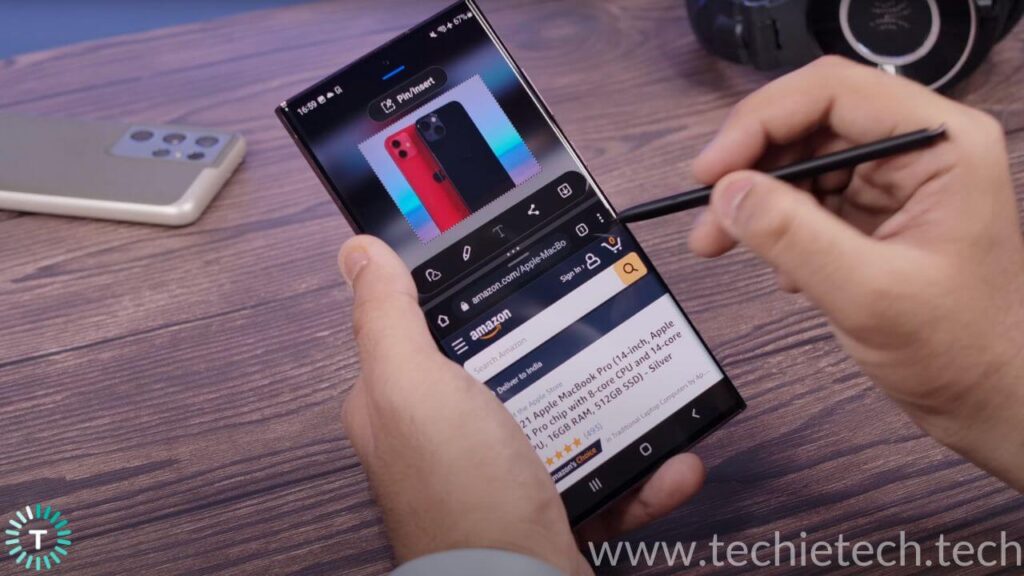 Let's talk about the performance now. The Galaxy S22 Ultra, being the maxed out Samsung flagship packs top tier components like the latest Snapdragon 8 Gen 1 chipset. For your everyday stuff like texting, social media, and browsing the web, this phone is more than sufficient and almost always breezes through everything you throw at it. I have even used the split-screen functionality to use multiple apps simultaneously and faced no problems. But, there are a few problems.
There are times when the phone just freezes up and lags horribly for just 3-4 seconds before going back to normal again. I have had multiple tiny instances where the phone just lags randomly when scrolling or during an animation, only to regain composure quickly. I have also had 2 incidents where I was texting on WhatsApp and the phone just started to drop frames and freeze up. I had to restart the phone to solve this issue. Heat management is also a topic of concern as I have often felt this phone warming up after simple, continuous usage for 20 minutes or so. I am not too worried though, because I faced very similar problems with Snapdragon 888 phones last year and they were all ironed out with software updates. I am optimistic that Samsung will solve most of these issues in the next few software updates.
Don't miss: Best Accessories for Galaxy S22 Ultra
Galaxy S22 Ultra Gaming Review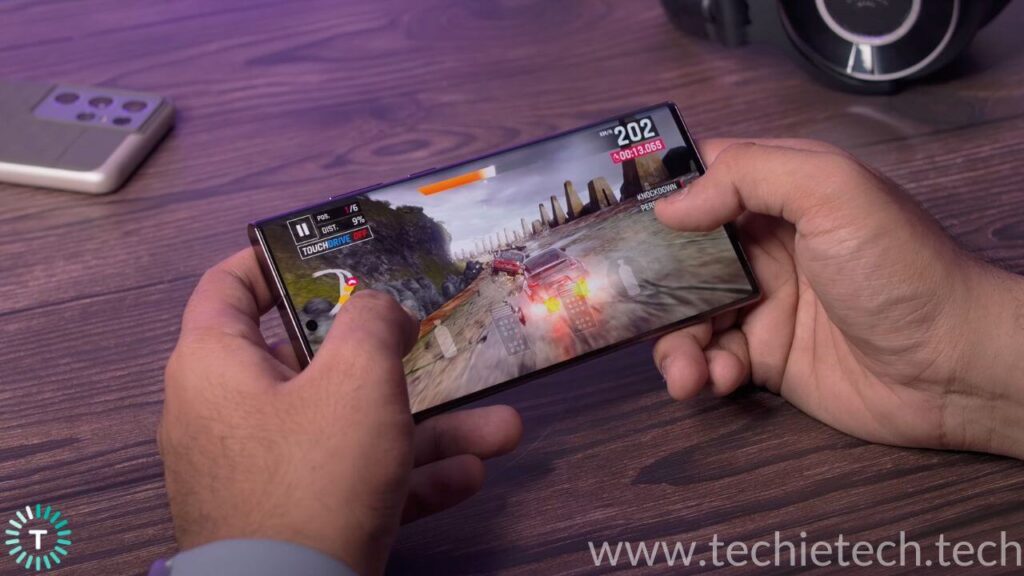 Let's also talk a bit about the gaming experience now. I am a casual smartphone gamer at best and I faced absolutely no problems while gaming on this phone. Heavy, graphic intensive games like Wordle and Candy Crush ran just fine with no throttling and frame drops. But jokes apart, for a casual gamer like me, this phone performs as expected. For hardcore gamers, however, the story is a bit different. See, I tried graphic intensive games like PUBG and Asphalt 9 Legends. While the games ran great, I did feel that they had not been optimized for this newer chipset yet because the experience felt no different from one or even two-year-old flagships. With more optimisation in the future, I am confident that the performance and graphics will improve on newer, more powerful phones like this one.
Also read: Best Car Racing Games for Android
Galaxy S22 Ultra OneUI Review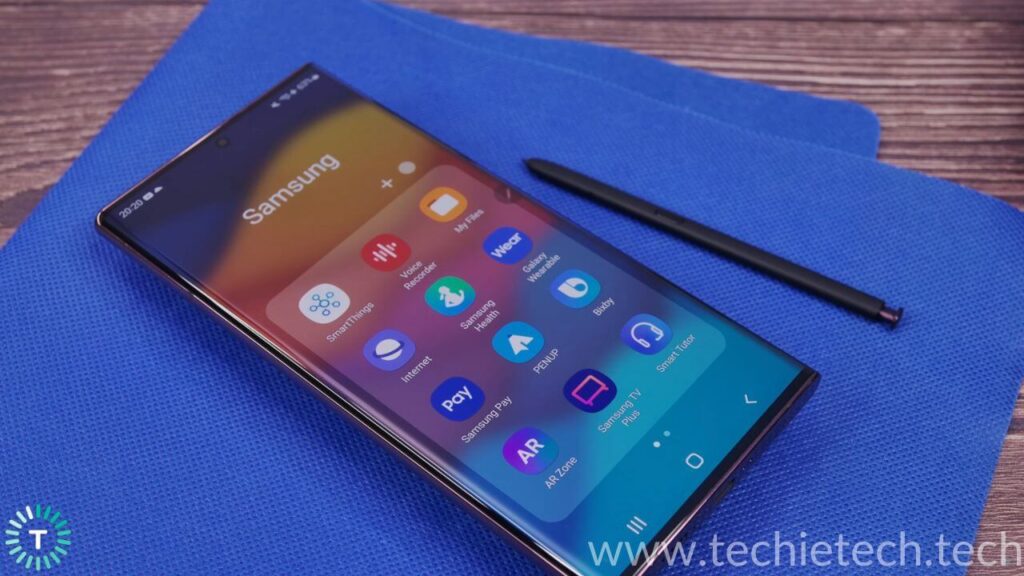 Talking about the software, the Galaxy S22 Ultra comes with Android 12 out of the box with Samsung's OneUI 4.1 overlay on top. Even though the phone comes with a lot of preloaded stuff, most of what you don't need can be uninstalled or disabled. Overall, OneUI 4.1 provides a very polished and refined software experience. It takes its time with all the transitions and animation moving at a relaxed pace. Apart from the few glitches and slowdowns I discussed here, I have had no problems with OneUI and it remains my Android skin of choice.
Another significant win with Samsung flagships is future software support. Samsung has promised 5 years of security updates and 4 years of software updates for their flagship devices. This means that the Galaxy S22 Ultra has the best future software support of any Android smartphone, including Google's own Pixel 6 Pro. A huge win for longevity in my opinion. 
Also read: Best Galaxy S22 Ultra Protective Cases to Buy
Galaxy S22 Ultra Camera Review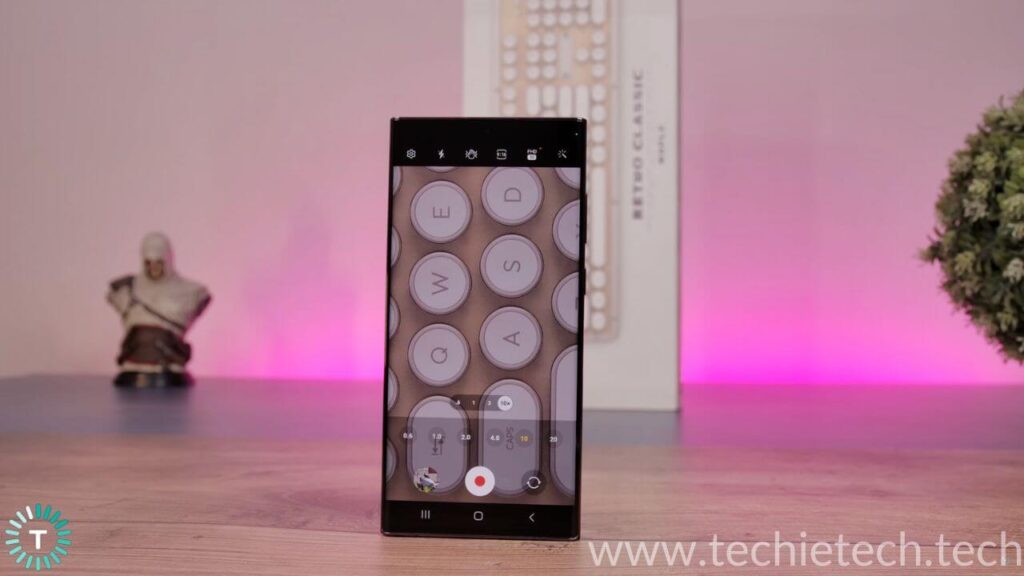 Moving on, let's talk about the cameras. In terms of specs, the Galaxy S22 Ultra packs some serious hardware. On the back, you'll find a quad-camera setup without the camera bump. The camera setup includes a 108MP f1.8 primary camera, a 12MP f2.2 ultrawide from last year's S21 Ultra and two 10MP telephoto cameras with a 3x and 10x optical zoom. The telephoto lenses are optically the same as the S21 Ultra except for the new sensors. The quad-ring setup is complemented with a laser AF and a LED module, giving a resemblance to that of a Celestial.
On the front, we've got a 40MP f2.2 punch-hole selfie camera which is also the same as the S21 Ultra. 
You must be wondering that most of the hardware in the S22 Ultra is the same as that from last year's S21 Ultra. So, what's the difference? Here's what makes the S22 Ultra a better smartphone camera. It is the new Snapdragon 8 Gen 1's next-gen Image Signal Processor (ISP), called Snapdragon Sight. It is the piece of hardware in a phone that takes care of photo and video capture & processing operations. Most of the new features like Nightography are results of AI processing on the next-gen chipset. Enough about the specs, let's find out how the 2022 Samsung flagship performs in real life.  
Photos:
The Primary camera performance is what you'd expect from a flagship camera. The pictures are sharp, well-exposed and vibrant with lots of details even in challenging environments.

Even though the Ultrawide camera is the same as that on the Galaxy S21 Ultra, the images shot on the S22 Ultra are sharper, and have more details. 

Both the 3x and 10x telephoto lenses have larger sensors this year. This delivers pictures with lots of details and a wider dynamic range. The pictures also match well with snaps from other lenses.  

There's also a Macro mode, called Focus Enhancer. It usually turns on automatically and delivers crisp portraits with low noise.

The Selfie camera captures accurate skin tones with a wide dynamic range and lots of details. We tested it during the brightest days and the results were simply amazing.

The Portraits shot on the S22 Ultra have best-in-class subject separation and good bokeh even in challenging situations.

Night Mode or Nightography as Samsung likes to call it, basically uses AI in the new chipset to blend multiple pictures of different exposures to deliver bright photos. As a result, the pictures have optimal highlights and well-developed shadows with less noise.

Samsung also offers a dedicated app for professional photographers or enthusiasts, called the Expert RAW. It's got built-in support for capturing RAW DNG files across all cameras. It also offers features like histogram, multi-frame HDR, Adobe Lightroom preset support and more. 
Videos:
In terms of specs, the S22 Ultra can shoot videos in 4k@60fps from all 5 cameras. Yes, all five of them. Apart from this, it can also shoot videos in 8K@24fps (not 30) from the main camera. 

The video quality is very good. The videos are sharp, have plenty of details and have excellent colour reproduction across different lenses.

The S22 Ultra also offers HDR10+ support and video tracking focus and stabilization.
The Galaxy S22 Ultra offers everything you need in a smartphone camera. It's got best-in-class hardware backed by a feature-rich app. The only caveat is that the S22 Ultra is that the camera app needs optimization. It is riddled with bugs like overheating, artefacts, shutter lag and focus issues. Based on Samsungs past record, these bugs will get ironed out pretty soon for sure. However, it is still annoying that so many bugs exist in the first place on an expensive flagship like the S22 Ultra. Overall from a hardware standpoint, the camera is one of the most capable ones you could buy in an Android smartphone today.
To conclude, if you're a casual user who just wants to capture memories or if you're a professional/enthusiast who wants to pixel peep 8K videos or 100MP pictures, the Galaxy S22 Ultra will nicely fit the bill for all kinds of users.  
Also read: How to fix camera app issues on Samsung Galaxy Smartphones
Galaxy S22 Ultra Battery Life Review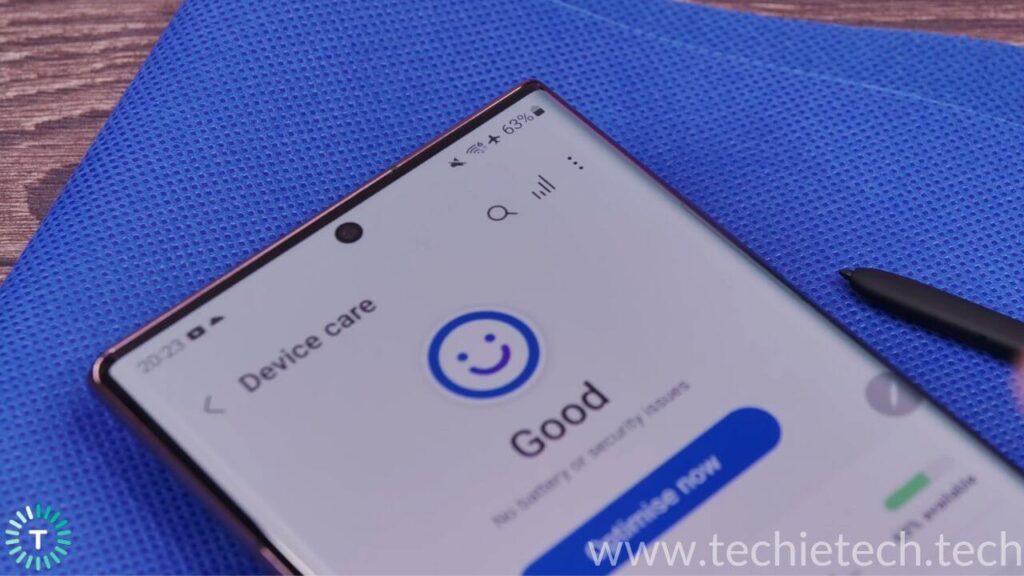 Battery life is a mixed bag on the Galaxy S22 Ultra. It was plain bad when I initially got the phone but it got better with time as it slowly learned my usage patterns. Right now, I get around 6 to 6 and a half hours of screen time with my moderate to heavy usage. While this is very, very good in a vacuum, it is still nowhere near the iPhone 13 Pro Max or even the 13 Pro. Heck, even the Galaxy S21 Ultra has objectively better battery life. So overall, while the S22 Ultra has sufficient battery life to last you a day or day and a half, it is no endurance champ.
There is also no adapter in the box, something that we're used to at this point. You'll have to buy an adapter separately. Samsung claims that this phone supports 45W charging although numerous reports around the web have pretty much rubbished that claim. 
Don't miss: Best Fast Chargers for Galaxy S22 Ultra
Galaxy S22 Ultra Speakers & Haptics Review 
Moving on, the fingerprint sensor on this phone is in-screen ultrasonic, very reliable and very fast. The speakers are good although the ones on the iPhone 13 Pro Max are noticeably better. Call quality is great with excellent signal holding and retention capacity. Haptics are superb, hands down the best on any Android phone right now. 
Galaxy S22 Ultra S-Pen Review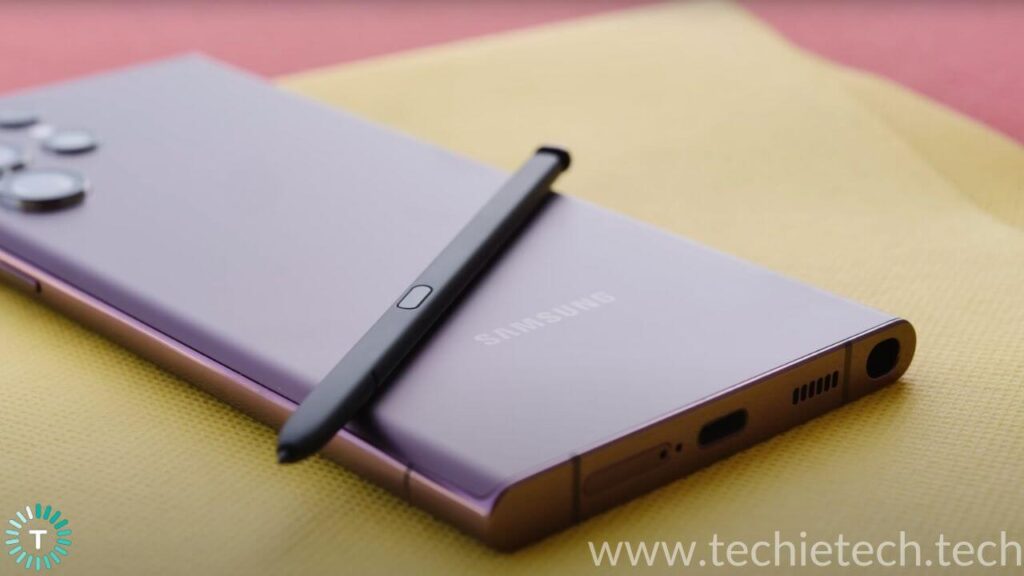 I'll also like to talk quickly about the S-Pen before we conclude. See, an S Pen for me personally is nothing more than a fun and neat gimmick, like a toy. Yes, I scribble around from time to time and sometimes use it to just navigate through the phone but that's about it. Despite all the features that Samsung has put in for the S-Pen, it won't ever become the reason I buy a phone. Your experience could vary completely depending on the kind of user you are. Maybe you'd enjoy the stylus a lot and it becomes a must-have for you.
Also read: It does what? Top 25 Android Secret Codes You Should Know
Galaxy S22 Ultra Review: Should you buy it?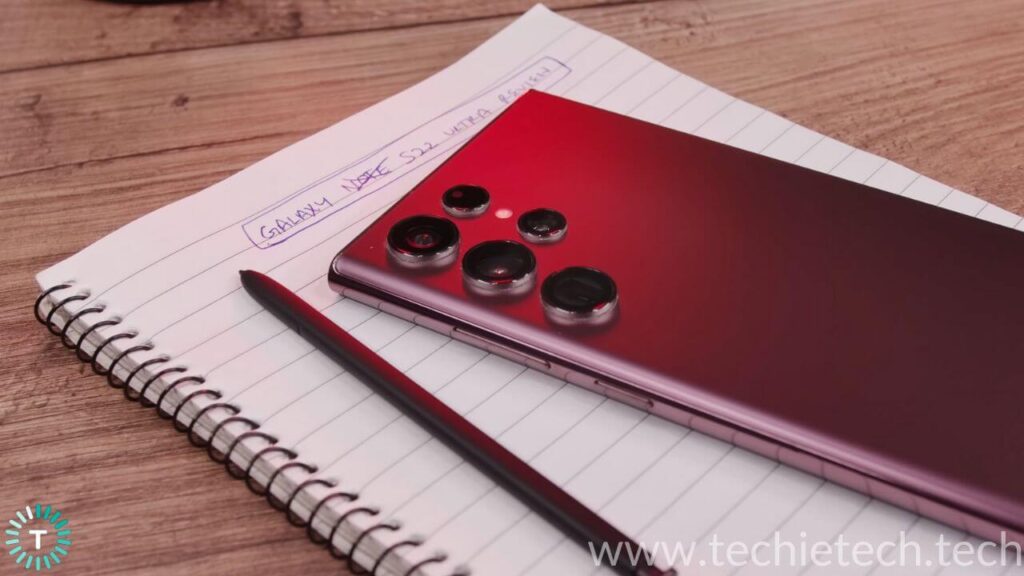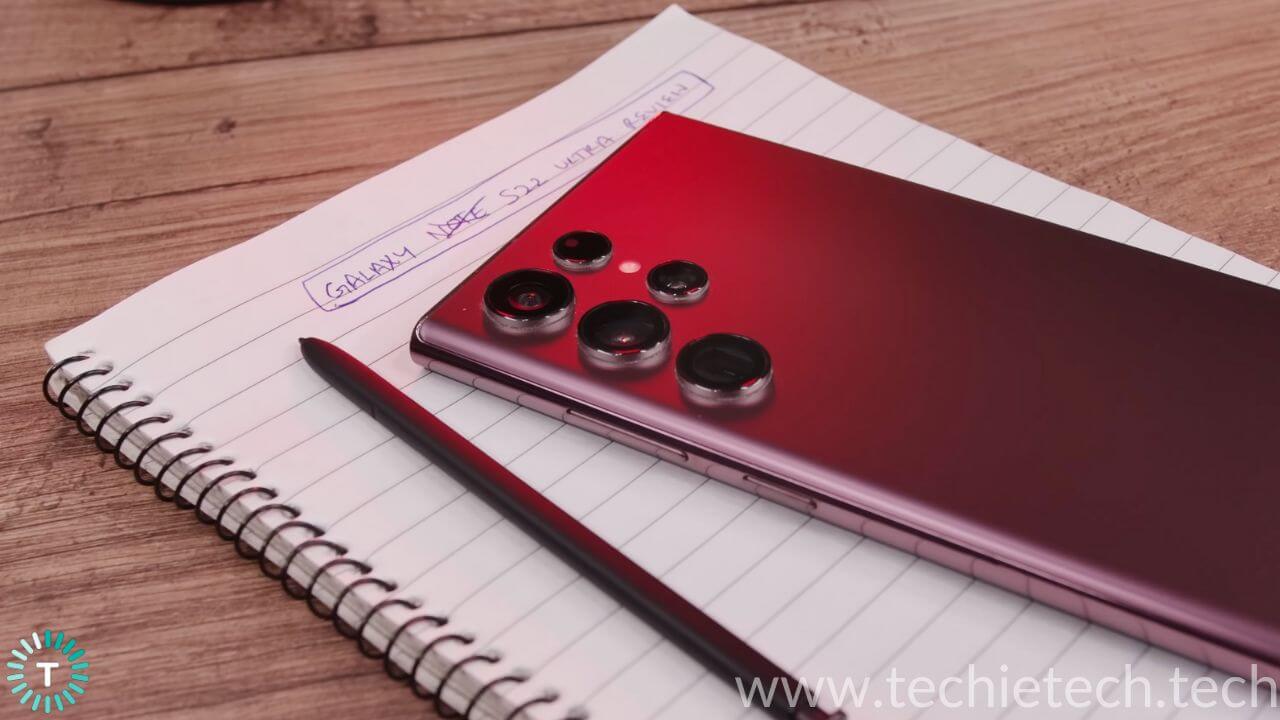 Let's conclude now. The Galaxy S22 Ultra is an extremely capable smartphone at a time when capable smartphones are quite common and somewhat boring. Simply put, while the Galaxy S22 Ultra is an amazing phone with all the right bells and whistles, it does not bring anything new or exciting to the table like its foldable cousins. There can only be so much innovation, and we have to accept that we are not going to see big real-life changes in year on year smartphone upgrades anymore. 
While there were some hiccups in my usage experience, using the Galaxy S22 Ultra has been a very smooth, reliable experience and I would recommend this phone to all buyers looking for a maxed-out Android flagship. Especially to Galaxy Note fans who have been patiently waiting for the right upgrade. 
Check Price on Amazon (US): https://amzn.to/37iolxX
Check Price on Amazon (UK): https://amzn.to/3ry7CgQ
Check Price on Amazon (India): https://amzn.to/37nCY2R