The world's most popular mobile OS is getting its next major update. Google has announced Android 12 at its virtual I/O 2021 developer conference. This latest mobile OS includes a host of new features and improvements, including a refresh UI, a new privacy dashboard, revamped widgets, Car Key, and much more. Right now, Android 12 is available to download as a  public Beta version on some selected smartphones. If you've got a Google Pixel phone, including Pixel 4a, Pixel 5, and others, you can download the Beta version right now. The fully polished, stable release is expected to arrive later this year, sometime around September or October.
Although Android 12 will be modified and tweaked until its final release, we've got a pretty good idea of how the final version would look like. Here's everything you should know about Android 12, right from the release date, compatible devices, to the best Android 12 features.
Android 12 Release Date
Right now, Android 12 is in Beta state, and the final version is expected to land sometime in September or October. The new Google Pixel phones will definitely ship with Android 12 right out of the box. After Pixel phones, third-party Android smartphones will get the latest Google's OS 2021 slowly over time.
Android 12 Compatibility 
We can expect that every Android phone released in the last year or two will be compatible with Android 12. Some may get Google's 2021 OS earlier and some devices might have to wait for a little longer. The newer Pixel phones will come with Android 12 right out of the box. It will be interesting to see which non-Google smartphones will be the first ones to ship with Android 12 this year. 
Talking about the Beta version, here's a list of the compatible devices:
Google Pixel 3 and newer models 

Xiaomi Mi 11, 11 Ultra, 11I, 11X

ASUS Zenfone 8

Tecno Camon 17

Oppo Find X3 Pro

Sharp AQUOS Sense 5G

TCL 20 Pro 5G

Vivo iQOO 7 Legend

ZTE Axon 30 Ultra 5G

Realme GT

Nokia X20
List of the Best Android 12 Features
1. Refreshed UI of Android 12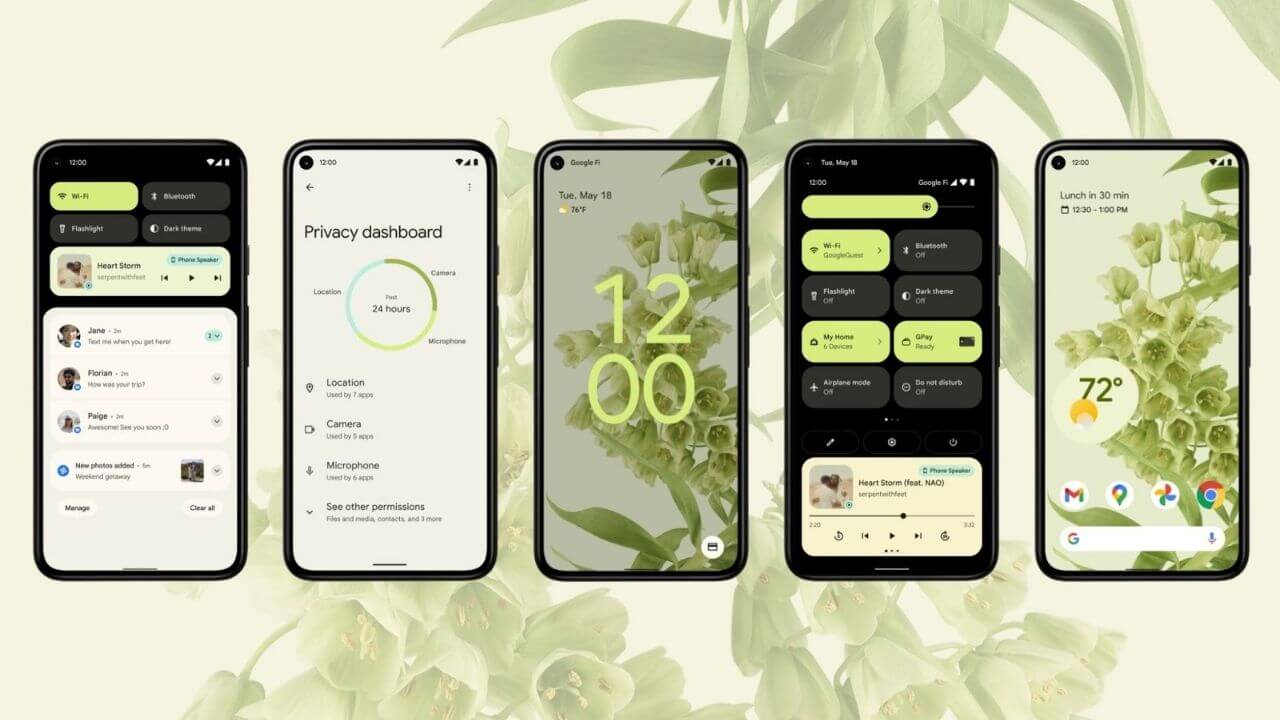 One of the splashiest changes in the latest version of Android is the revamped UI. Android 12 brings an entirely new experience with redesigned colors, shapes, light, and motion. Android 12 has more color variations, smoother animations and motion, and rounded icons. Google has integrated its software and hardware ecosystems under a single design language called Material YOU. This has made Android 12 more personal and more expressive. Also, apps will get these design upgrades automatically.
2. Color Extraction
Color Extraction is an amazing feature of Android 12 where you can pick a wallpaper and the system will automatically apply complimentary, most striking colors from it to the rest of the user interface. This includes everything from the notifications shade, volume controls, widgets, settings, apps, and lock screen. The color extraction process uses an algorithm to identify colors in a photo, and will then offer you a palette of related colors to choose from, across your entire system. In this way, everything will seem to be in more tune, giving a uniform and attractive look to wallpaper and UI elements.
3. One-Handed mode
Android 12 brings the much-awaited, One-Handed mode to its users. With this mode, you can easily use your Android phone with one hand. The One-Handed mode will bring some of the UI elements (including the Search Bar) towards the bottom of the display. In this way, you can easily reach icons, buttons, options, and other features with one hand. With phones getting bigger and bigger, the one-handed mode is definitely a welcome feature for Android users. To enable One-handed mode on Android 12, head to Settings > System > Gestures > One-Handed mode.
4. New Android 12 Quick Tiles
Until Android 12, you would see the round icons whenever you pull down the notifications shade. Now, those round icons are replaced by rounded rectangles. You can tap the icon to turn that particular feature ON or OFF. Also, a long press on the tile will take you to the Settings page. These new quick tiles can now accommodate more information. Also, Alarm is now a tile in the Quick Settings. You'll also be able to change the color and themes of the quick tiles with the help of the color extraction feature. On your first full, you'll be able to see 4 quick tiles.
5. Redesigned Widgets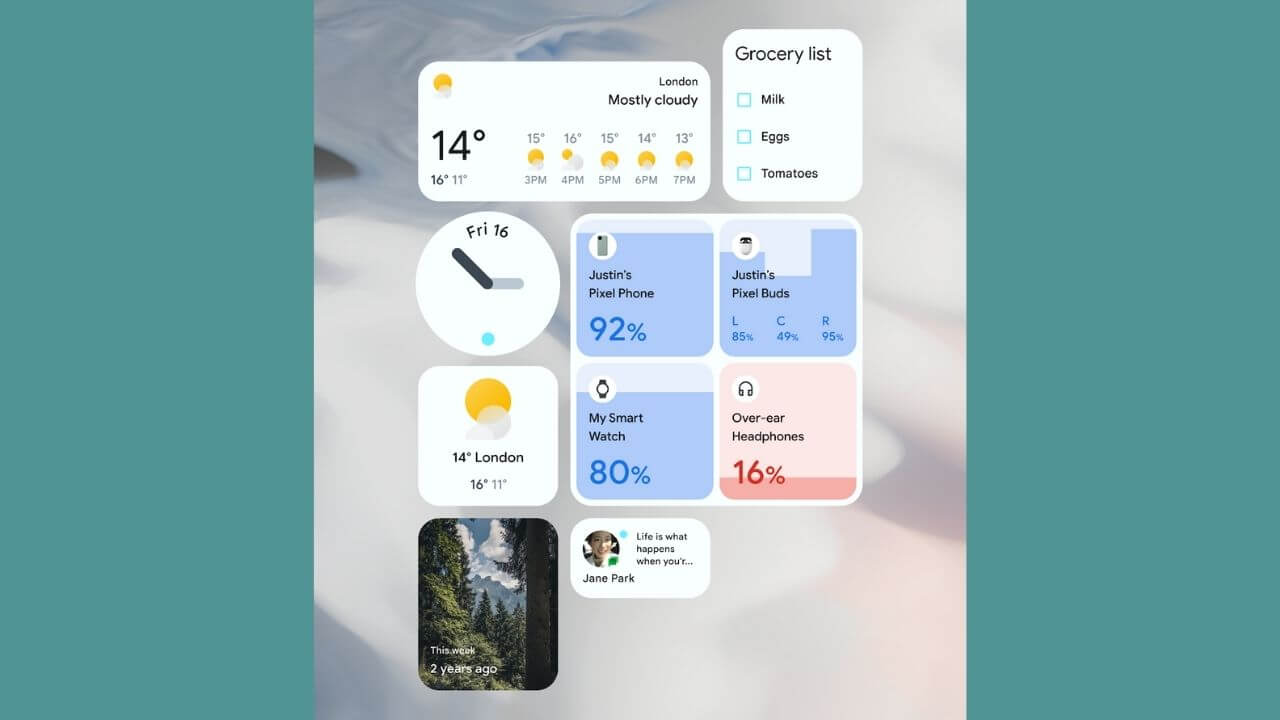 Widgets, too have been redesigned with Android 12. The refreshed app widgets are now more beautiful, useful, and discoverable. Interactive controls like radio buttons, checkboxes, and switches are added to give a more personal and useful touch to widgets. Also, the Android 12 Widgets are much more rounded and good great with system UI & themes. When you'll add a widget to the Home Screen, you'll see more widgets categories at once. Also, widgets are now easier to discover through an improved widget picker and Google Assistant integration. Widgets will also match the color extraction you've selected.  
6. Car Key
With Android 12, Google has introduced a smart feature called "Car Key" that will allow you to lock and unlock a compatible car using your phone. Not only that, you'll be able to start the car engine as well. Android 12 supports the UWB or ultra-wideband technology. You just need to walk up to your car with an Android 12 phone in your hand or pocket and lock/unlock your car, even without having to take out the phone from your pocket. 
On top of this, you can also lend your car to a friend or family member without giving them a physical key. With Android 12, you'll be able to share digital access to your car with others and allow them access for a period of time. Beyond the specified time, the car won't respond to their commands and all the controls will be automatically transferred to your smartphone.
7. Privacy and Security improvements
Google has mentioned that privacy is the center of Android 12. The tech giant has added new privacy features to offer more control and transparency to its users. There's a privacy dashboard that gives you can an overview of apps that are using your phone's location, mic, camera, contacts, and more. A user can prevent apps from collecting unwanted information by turning off your location, camera, or microphone for a specific or all apps on your phone. If you don't want to tell your exact location, you can also provide an approximate location to an app. Apart from these, a bulk of privacy and security improvements are coming up with Android 12.
8. New Lock Screen 
When you'll power up an Android 12 smartphone, the first thing that you would probably notice is the new lock screen. When you don't have notifications, a large and nice digital clock will take up space at the front and center of the screen. Just like on Android 11 you'll also see small icons of the notifications. When you've got notifications, the clock will still appear big enough. If we talk about the Always-on Display, the information is now moved to the top of the screen, rather than in the middle.
9. Refreshed Animations
Google has also refreshed animations with Android 12. You'll see revamped animations right from when you'll unlock your Android 12 phone.
Animations and transitions have been freshened up and they will appear a lot more smooth. You'll see waves of color and light across the screen from a button you pressed, or swipe you performed. When you put your phone to charge (using wired chargers only), you'll notice waves of color on the lock screen. You'll also see new animations in the quick settings, which will sparkle across the button as you press them. This will make the entire interface a lot more interactive. 
10. Easy access to third-party app stores
With Android 12, users will be able to easily access third-party app stores like the Amazon App Store, Samsung Galaxy Apps, and more, without compromising safety measures. Until Android 12, third-party app stores require direct user permissions to manage and update apps on their devices. But now, with the introduction of this feature, Android 12 will allow third-party stores to directly manage and update apps.
Obviously, the user still has to allow the third-party app store to manage internal storage. However, it would be one-time permission and won't ask again in the future, just like the default Google Play Store.
11. Dedicated Gaming Mode 
If you love playing games on your Android phone, you'll be super-excited to know that Android 12 has got a dedicated Gaming Mode as well. When turned ON, your phone will automatically do a few things like enable Do not disturb mode, as soon as you start playing games. It's worth mentioning that this feature is buried deep in the settings. To enable Game mode on Android 12, head to Settings > Notifications > Do Not Disturb > Schedules. Now, check the box next to Game mode to turn it ON. 
Besides, there are various options included in this mode like live streaming on YouTube, display your current FPS and more.
12. Better performance and battery life
Google has made significant improvements in performance to make the system and apps faster and smoother on Android 12. The CPU time needed for core services has reduced by 22%. As a result, devices will be more fast and responsive. Apps will load much faster and the overall system performance is greatly improved. Besides, Android 12 has made more power-efficient efficient by reducing the use of big cores by the system server by 15%. This will help Android 12 devices to run longer before there's a need to charge them again.
13. AVIF image support
Android 12 will also support the new AVIF image format. They will have the same compression feature as JPEG but will offer improved image quality. The AVIF image format makes use of the open-source video codec AV1, which was introduced back in Android 10.
14. Redesigned Notifications
When Google has revamped the entire UI to make it more responsive and good-looking, it is also changing the design of notifications, giving it a more modern and interactive look. When a user taps on a notification, rather than opening the intermediary service/settings, it will directly take you to the app or action you want to take. This would enhance the user experience and make everything faster.
15. App hibernation
Android 12 has got a new feature called App Hibernation that will put unused apps to the "hibernate" state. Hibernation will
force-stop the app, reclaims memory, storage, and other resources, and also revoke the user permissions that were granted previously. Those apps won't run in the background or receive push notifications. If a user doesn't want the unused or inactive apps to go into hibernation mode, he can quickly turn this feature OFF. If you want to get an app out of hibernation, just run it normally. 
16. Smooth Audio transitions
In addition to visuals, Google has also improved audio transition and made it a lot more smooth. Now, when an app requests audio focus while another app has got the focus and is playing, the playing app will lose audio focus, and its audio will fade out automatically. This offers a smoother transition between apps that play audio, and also prevents apps from playing over each other. This is particularly relevant in cases that involve foldable and multi-screen Android environments.
17. Updates via Google Play Store
Google has got plans to add Android Runtime (ART) as a Mainline module in Android 12. Therefore, rather than sending the OS updates over the air, they will be pushed through Google Play Store. With this, we can expect more frequent updates and fewer hangups from third-party phone makers.
18. Built-in remote 
Android 12 will come with a built-in remote. Therefore, if you're got a TV that runs on Android, you'll be able to control it using your Android 12 smartphone. For example, you can browse through your favorite shows or movies. This feature will improve the overall experience for Android users.
19. A quick way to launch Google Assistant 
With Android 12, Google is taking a page out of Apple's book by allowing you to access Google Assistant with the Power key. When your Android 12 phone is faced down, the power button will bring up Google Assistant. That means, with Android 12, users will get quicker access to Google Assistant. Google Pay and smart home controls (which were previously accessible through the Power button) will eventually be moved to Quick Settings. Right now, this is not the case with Beta 1, but it should be fixed in the later version of Beta.
20. Easier Wi-Fi sharing
Android 12 has got a handy feature that quickly allows you to share your Wi-Fi network details with others. With Android 11, you could easily create a QR code to share your current Wi-Fi connection. The latest Android update has made it more convenient by avoiding barcode scanning. Now, you just need to hit the "Nearby" button beneath the QR code. Therefore, you can easily share the Wi-Fi connection info with multiple people without having to hold your phone and move around so that they can scan the code.
Rumored Android 12 Features
1. Scrolling Screenshot support 
It is rumored that Android 12 will have built-in support for scrolling screenshots. This will enable you to capture more information, without having to capture multiple screenshots. Right now, Android users can definitely take scrolling screenshots via third-party apps, but the integrated support will be a welcome addition. 
2. Restricted Network mode
Android 12 is expected to come with a Restricted Network mode, which when turned ON will allow only the permitted apps to use the internet. That means, only the privileged system apps and the ones that are signed by the OEM will be given internet access. For all the other apps that have been installed by the user, network access will be blocked.
3. API for connected Bluetooth controllers
It's said that Google is planning to add a new Bluetooth API into Android 12 so that games can detect the battery level of connected Bluetooth controllers. As a result, the game will inform you beforehand, when you need to recharge your controller so that you don't lose a game, just because your controller didn't have enough power. If this comes out to be true, it's definitely a treat for all the gamers. 
Besides the features mentioned above, there are a host of rumored features for Android 12. This list includes new emojis, Pixel Double-tap actions, Letterbox feature, and more. It will be interesting to see which features will make it to the stable version of Android 12.
How to get Android 12?
You can download Android 12 Beta right now on some compatible devices. We've mentioned the complete list of compatible devices in the above section. As Android 12 is available in the Beta version right now, it's not recommended to download it on your daily driver. It can have some bugs and glitches, and you may not find it perfect for your primary device at present. Therefore, you can wait till the OS is closer to its final release. However, if you're an early adopter and want to get your hands on the amazing features offered by Android 12, you can download it on a secondary/testing device.
Click here to download Android 12 Beta on your devices. 
That was all for the best Android 12 features right now. When compared with Android 11, which is the biggest or most impressive change in this latest OS? Also, is there any other feature that you would like to see in the stable version of Android 12? Do share your thoughts on the same in the comment section below.