This was an inevitable comparison. The Galaxy S21 Ultra and the OnePlus 9 Pro are two of the most feature loaded, powerful and maxed out phones on the Android camp. If you're looking to buy a flagship Android phone, these are bound to be on top of your list. But which one should make the cut?
Build Quality & Design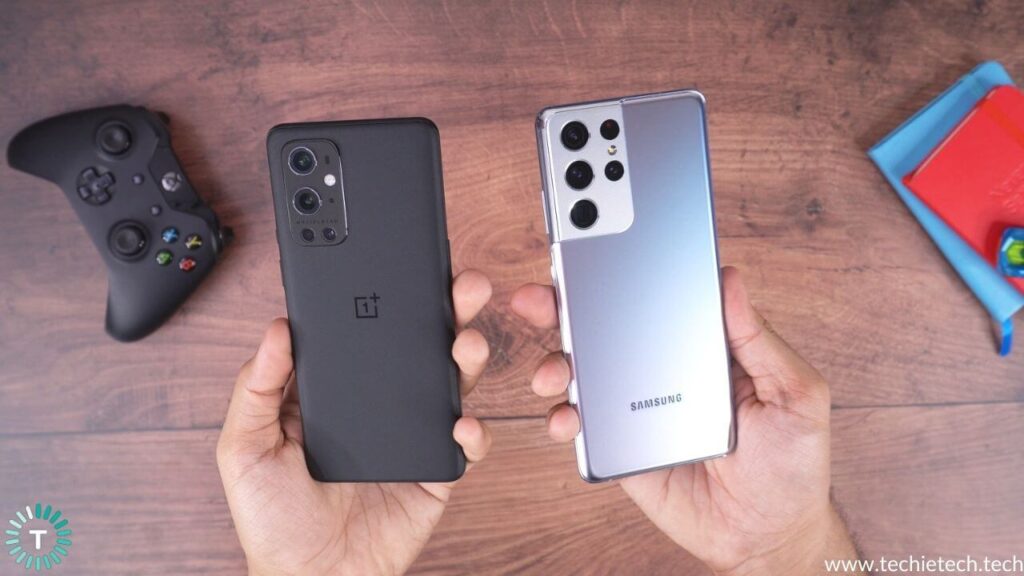 When it comes to the build quality and design, things are actually quite similar here. Both these phones have camera islands with multiple rear cameras. These cameras are located in the top left on both these phones. In fact, even though I have the S21 in silver and OnePlus 9 Pro in black here, when you compare the same colours on both these phones, they look almost identical from the back.

That story changes a bit when you actually pick the phones up. First up, the S21 Ultra is larger in every way possible, taller, wider, thicker and heavier. It does make a difference. In my extended usage, I found the OnePlus 9 Pro to be more comfortable to hold for long phone usage sessions. Let's talk a bit about the glass here since that will make a difference. See, on the S21, you can pick silver or black and both these options have a matte, satin texture on the back glass which looks brilliant and is great at hiding fingerprints but is a bit slippery. On the OnePlus 9 Pro, you will get a similar glass finish on the Pine Green colour option. On the silver option, you get a glossy finish which is not my cup of tea. Then, on this Stellar Black variant, you get this nice, rough, kind of rubbery texture which enhances grip, looks beautiful and hides fingerprints too. So, at least with the OnePlus 9 Pro, the colour you pick will go beyond just looks.
Another thing about the glass that I like is that both phones have a very minimal and subtle curve on the glass panels which makes it easier to grip and use the phones without a case. 
Also read: Best OnePlus 9 Pro Cases You Can Buy Right Now
Display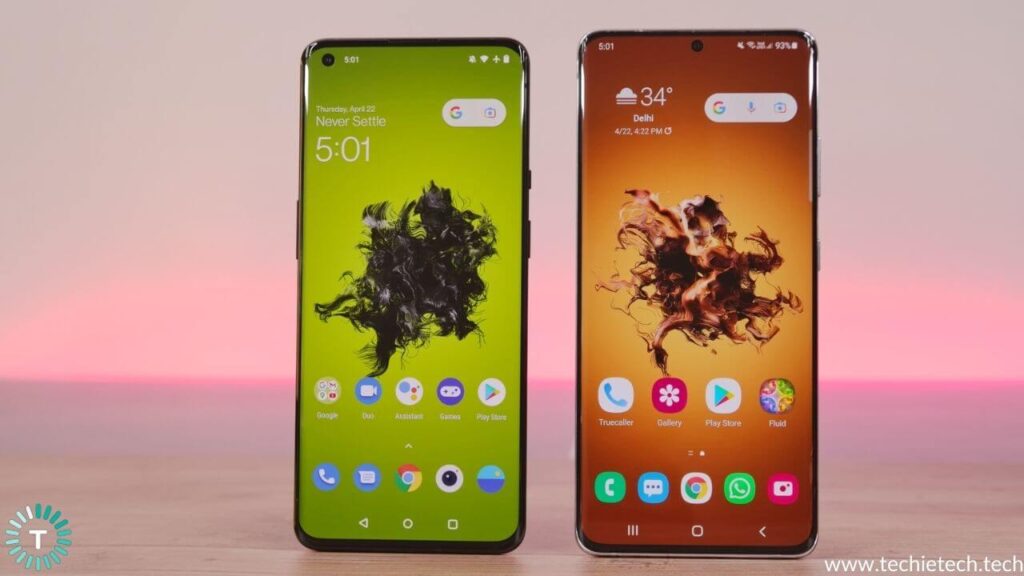 Enough about the glass, let's talk about what's under that glass now. The display. Samsung has been and still is the king of the pack in the Display Quality segment for quite some time now. The Galaxy S21 Ultra packs a beautiful Super AMOLED 120 Hz display which just looks stunning, unlike anything present in the market today. That is, until the OnePlus 9 Pro came along. The OnePlus 9 Pro is perhaps the first non-Samsung smartphone that manages to compete with a flagship Samsung display and does not end up losing. I mean, the colours are just as vibrant, the text is just as sharp and the overall saturation is just as rich. Sure, you might have to spend some time calibrating the display according to your needs but after that is done, I can honestly not objectively pick one display over the other. They're both that good!
Also read: Best Screen Protectors for Galaxy S21 Ultra
Software: OxygenOS vs OneUI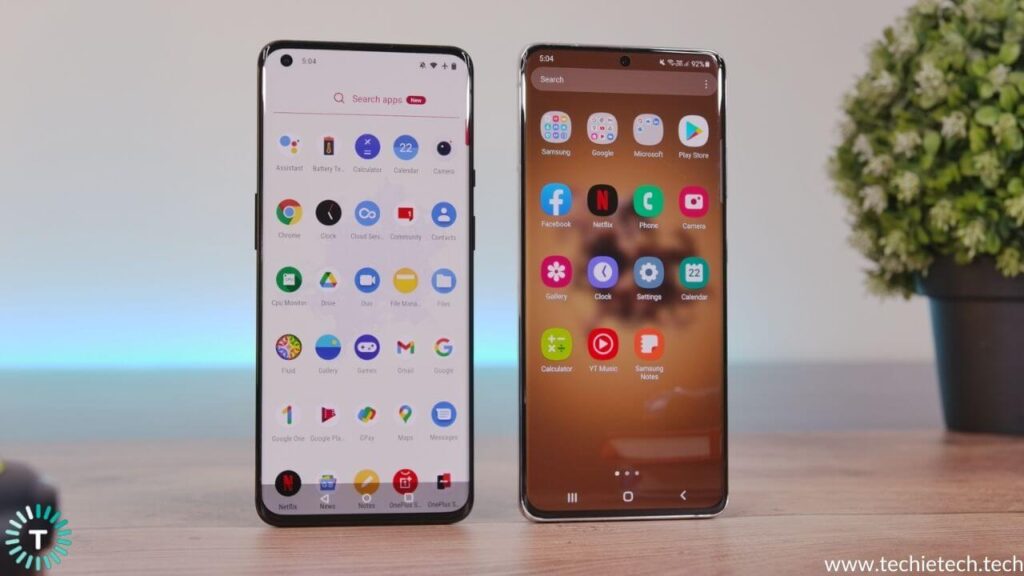 Moving on, let's talk software. Both these phones are the latest flagships from their respective manufacturers so of course, they run the latest version of their Android software skin which would be OneUI 3.1 on the Galaxy S21 Ultra and Oxygen OS 11 on the OnePlus 9 Pro. I use them both interchangeably and they are both more similar than different. Let me highlight the differences. 
Firstly, there is Less bloatware on Oxygen OS, which means it feels lighter and smoother. When you use the OnePlus 9 Pro you get a software experience that seems to absolutely sprint for everything. The Galaxy S21 Ultra, with its more relaxed animations, moves in a more dignified manner. I would like to state for the record that no phone out of the two feels slow or laggy or anything like that. 
Secondly, OneUI is a more mature software platform. There is a catch here, you might or might not use these features but if you are to get in an ecosystem, the Samsung ecosystem is far more mature with it's own suite of tried and tested services and devices like the Galaxy Watch and Samsung Pay. OnePlus is getting there slowly but is still a few levels below Samsung. 
Also read: Best Accessories for OnePlus 9 Pro
Software Updates
Now, when it comes to Software Updates, I think Samsung clearly takes the win here because while Samsung has actually improved their track record in the past few months, OnePlus has totally ruined theirs. Older Samsung flagships have been getting timely software updates roughly a month later than the newer flagships. With OnePlus, the older flagships are often forced to wait for months before a software update. The
OnePlus 7 Pro or the OnePlus 7T, both extremely capable phones, had to wait for 6 months for the Android 11 update and even that was full of bugs when it finally arrived. I think OnePlus really needs to step up and improve here. 
Also read: Best Galaxy S21 Ultra Accessories
Performance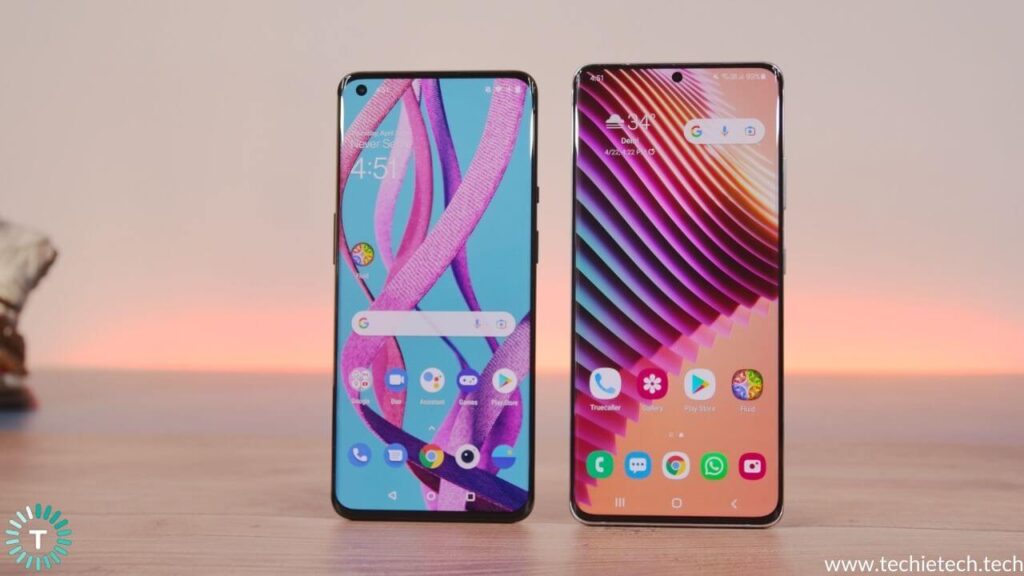 Where OnePlus does not need to improve though, is the performance. With top shelf internals like the Snapdragon 888 CPU, the OnePlus 9 Pro flies through absolutely everything and anything you throw at it. It does warm up quite easily, but OnePlus should fine tune that with a future software patch. To put it briefly, you basically cannot get a more powerful Android smartphone than the OnePlus 9 Pro at this time.

That's true for the Galaxy S21 Ultra too, if you live in a region where the Snapdragon version is sold. In other regions, the Galaxy S21 comes with Samsung's in-house Exynos 2100 CPU and it is honestly great. It blazes through everyday tasks and is amazing for gaming too. The difference between the Exynos and the Snapdragon CPUs is negligible this year which is great for those of us who do not have access to a Snapdragon Galaxy phone. The differences that might arise will be because of optimisation, as more devices feature the Snapdragon 888 so developers will put more effort into optimising their games and apps for that CPU. 
But even then, I can guarantee that 99% of the users would be very satisfied with the performance of both the versions of the S21 Ultra. Only for the remaining 1% who are very serious about their benchmarks scores and have to have the best possible gaming performance, the OnePlus 9 Pro will edge out, thanks to its Snapdragon processor.
Also read: Best Cases for Galaxy S21 Ultra
Camera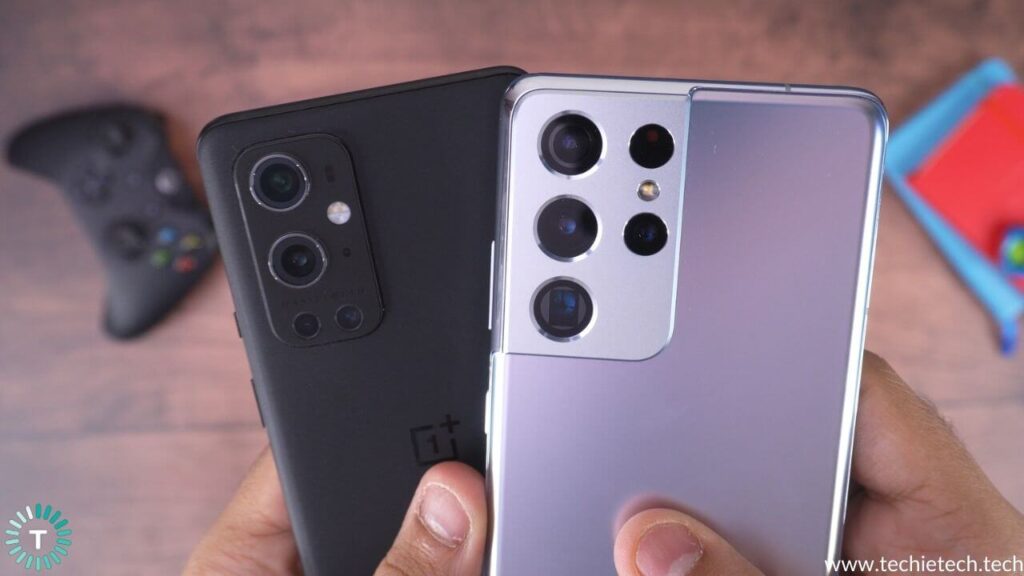 Let's talk about cameras now. In terms of optics, both smartphones sport a quad-camera setup. The OnePlus 9 Pro sports a 48MP f1.8 primary camera, an all new 50MP f2.2 ultrawide, an 8MP f2.4 telephoto with 3.3x optical zoom and a 2MP Monochrome camera. On the other hand, the Galaxy S21 Ultra sports a massive 108MP f1.8 primary sensor, 12MP f2.2 ultrawide, and two 12MP telephoto cameras which offer 3x and 10x optical zoom. This year along with the all new hardware, OnePlus has partnered with Hasselblad, a leading manufacturer of Medium format cameras. Let's find out how the 2021 flagships perform in real life.    
Photos:
Apart from minor tonal & contrast differences, both devices shoot excellent pictures in all shooting conditions. Samsung tends to pop out the colors while OnePlus shoots stills with neutral colors with slight contrast and sharpness.

The Galaxy S21 Ultra also offers higher dynamic range and takes better macro pictures with more details. 

OnePlus sports an all new ultrawide sensor with great optics and shoots pictures with more accurate colors. On the other hand, Pictures shot on the Galaxy S21 Ultra have a wider FOV, low noise and high dynamic range.

The Galaxy S21 Ultra is the clear winner when it comes to telephoto cameras. The 9 Pro has an 8MP telephoto camera which offers 3.3x optical zoom and takes respectable pictures. But, the Galaxy S21 Ultra has two 12MP telephoto cameras with a 3x and an amazing 10x optical zoom which take sharper pictures with industry leading stabilization. 

Both devices shoot beautiful portraits with their respective looks. Although, Samsung is slightly ahead when it comes to subject separation and dynamic range.

We see similar performance when it comes to shooting selfies. OnePlus shoots more neutral and accurate skin tones while the S21 Ultra takes selfies with more details and high dynamic range. 

Low light performance is excellent on both flagships. The 9 Pro takes brighter and sharper stills with both the Ultrawide and primary cameras. On the other hand, The S21 Ultra offers Night Mode support on all cameras including front and telephoto cameras. 
View this post on Instagram