Widgets have been our savior for a long time now, it is one of the important features that make Android better than iOS, at least for me. Widgets are tiny applets that can be placed on your home screen for fetching quick information from a certain mobile app. Some of the widgets might feature play buttons for playing your favorite music, while some come with weather updates that can be seen without opening the app, just from your home screen. 
No doubt, widgets come with various usability and are a useful tool to ease your mobile experience. If you're not aware there are thousands of Android apps that come with useful home screen widgets. However, it is tough to find out which app comes with widgets and which doesn't. So, to ease your hunt, we decided to toss up a roundup on some of the best widgets that you can place on the home screen of your Android phone in 2022. Make sure you check all of them.
Note: We will be updating this article from time to time to cover the latest app widgets available in the Google Play Store. 
List of Best Android Home Screen Widgets in 2022
Best Widgets for Productivity
1. Gmail
Everybody knows Gmail! But, only some of you might know that it comes with a cool home screen widget for your Android phone. Yes, you heard me right. The Gmail home screen widget comes with a unique feature that lets you browse through the list of your recent email after you choose which folder you want to view. Suppose you have to view the primary emails, then you're required to select from various categories available in Gmail. 
 Without a doubt, it is one of the most demanding widgets for all the professionals out there. At present, Gmail is primarily offered on every Android phone. Just in case your phone doesn't have Gmail, click on the link below to download it and add its useful widget. 
2. Google News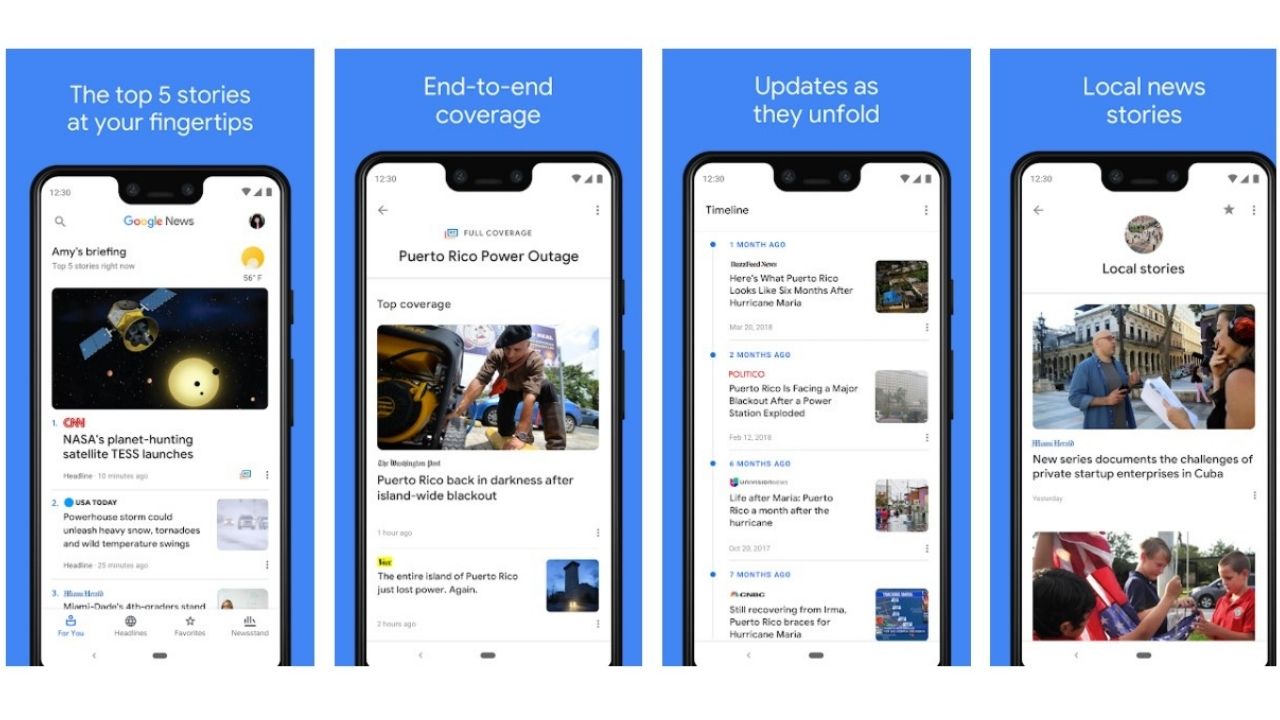 If you're a busy professional and don't have time to read/watch the news, Google News is the best app for you. With this widget,  you can take a glance at what's happening around the world. This widget shows only news headlines from all around the globe. There's an option to read the full story while two buttons are there that help you go backward and forward through the headlines. Just in case you have to read the full story of a headline, just tap the full coverage buttons. 
Also, you'll be able to know what the weather is like at your location, all thanks to the short and sweet weather forecast icon placed at the top right of the said widget for Android smartphones.
3. Google Keep
Are you a strict follower of your daily routine/activities? If so you need to have the Google Keep app on your Android phone. Its cool widget lets you view all the notes you have in your Google Keep app. Not only text, but it also shows you all the voice notes, image notes, etc. Let's not forget, the Google Keep widget for your Android home screen can come in handy for all the working individuals with allotted tasks and is an essential tool for all those individuals working from home. Check out the app and its widgets from the link below.
4. Microsoft To Do
Here's another to-do list widget that comes with the Microsoft To-Do app. It is not as sophisticated as the Google Keep app but is surely useful to keep track of daily activities. There's a feature to mark the activity complete right from the home screen of your phone. As far as the app is considered, there's an alarm feature to remind you about your to-do's. No doubt it is a useful tool, but the simple appearance didn't please me personally. However, you may like it depending on your choices. 
5. TripIt (Best Travel Planner Widget)
Here we have one of the best travel planner widgets for all the vagabonds out there. The TripIt planner app has this awesome widget that shows everything you've planned. It may include flight details of your next trip or details regarding your hotel stay. You need to add this widget and start planning things from within the app, it automatically reflects in place on your Android home screen. If you'd ask me, this is by far the best Android widget for all the travelers out there. 
6. TickTick (Best To-do-list Widget for Android)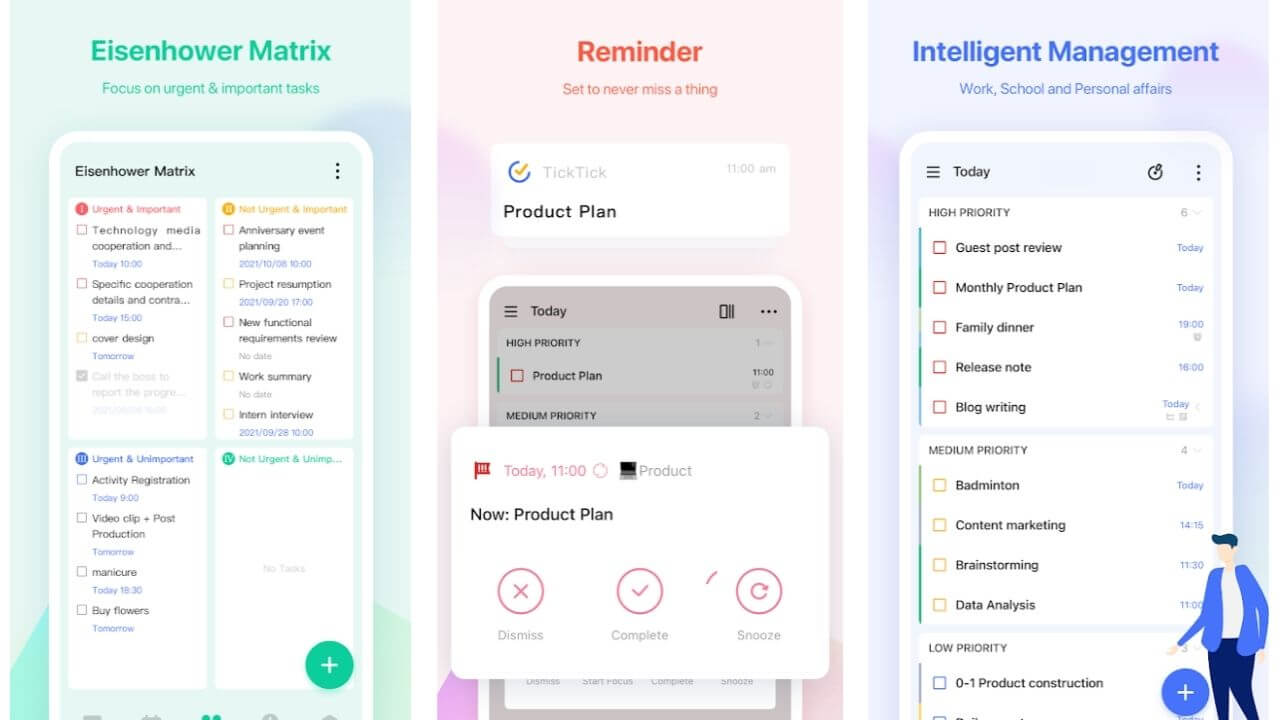 TickTick is one of the best to-do list apps for Android smartphones. It features a simple UI, a lot of personalization, and organization options that are completely free to use. You can use this app to make a to-do list and remember when your tasks are due, what breakfast you're gonna eat according to your diet plan, and so on. The reminder tool gives you a reminder for each task up to two times, just like your alarm wakes you up in the morning. TickTick is that flexible. Besides, there are a bunch of widgets for the Android home screen that you can take advantage of any time you'd like. Please note that the premium version of this app allows in-app purchases of anywhere between $0.67 to $18.59, which isn't very necessary unless you require more than two reminders for any event on your to-do list. 
Best Android Weather Widget
1. 1Weather
1Weather is by far the best weather app available in the Google Play store and its Android widget is simply awesome. You can choose from more than 10 designs to view temperature, time, and next day's weather forecasts on your home screen. 1Weather has optimized things for all the users, when you tap on the clock section you're directed to the alarm settings. Whereas, the weather portion directs you to the daily, weekly, and monthly summary of your area. The Good news is that this widget is free to use. If you're eager to get the paid version, you should know that it only removes ads and nothing else. 
2. Accuweather
If 1Weather is not doing for you, we have got Accuweather's widget. More or less, it resembles similar features to the 1Weather Android widget. However, designs to show temperature and time are limited as compared to the above widget. Surprisingly, it gives the accurate temperature its name suggests (Accu=Accurate). You can view time, date, upcoming days forecasts, and whatnot. It would be wrong if we don't talk about the UI of the app, it's quite good as compared to most of the weather apps available in the Google Play Store. Make sure to try it yourself.
3. Weawow
If you're looking for an ad-free weather app widget, Weawow is made just for you. As far as features are concerned, Weawow features a radar map, accurate weather details, daily notifications, and an interactive dashboard. Let's not forget that there are customizable widgets available with this app that allows accessing most of the information just from the home screen. Another thing that impressed me the most is the layout and overall look of this weather app. If you're willing to add a widget to this app, make sure to download it from the link below.
4. Weather & Radar UK/Ireland
This weather app brings in additional weather news features as compared to all of the above-listed apps. More or less, you will see similar features in most of the apps, but accuracy reminds the primary factor for more downloads when it comes to weather apps. This app comes with weather widgets that display weather information about your location. You can choose from four different widget formats. Best of all you can scale it up/down as per your choice.
Download Weather & Radar UK/Ireland
5. YoWindow (Best Weather Widget with Animated Wallpapers)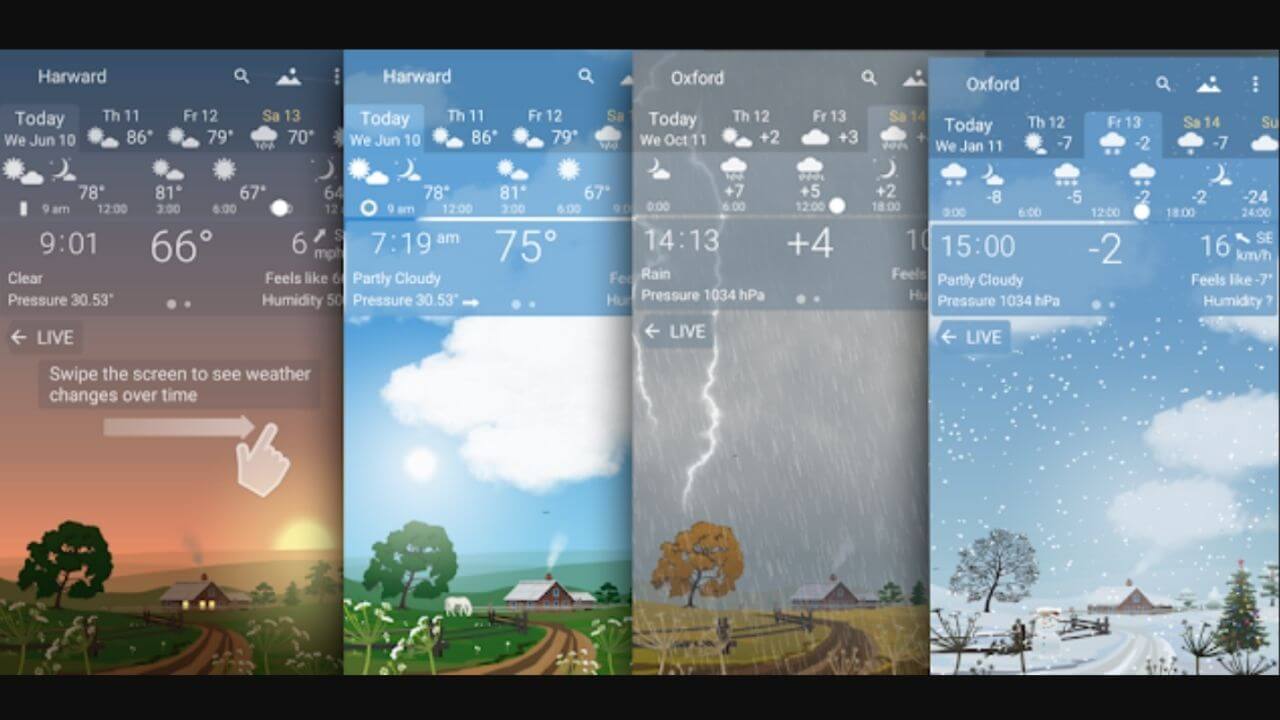 YoWindow Weather is one of the best weather apps that you can download on your Android smartphone. Plus, it comes with decent widgets that add more to the usability of the app. This app shows you weather forecasts for 14-days and a weather widget that offers a weekly weather report, a clock, and a widget is there specially to showcase today's weather. However, it's not customizable as some of the ones we have mentioned in this roundup, but the cool weather animations on your home screen will make the download worth it. The weather information from this Android weather app is accurate and provides a good user experience. You can try your hands by downloading this app and get the advantage of useful widgets it has to offer.
Must-have Widget for Power Users
1. KWGT Kustom Widget Maker
Gone are the days with the boring home screen, all thanks to the KWGT Kustom Widget Maker. With this app, you can create customized watches (Digital/Analog) to display on your Android home screen. There are a bunch of widgets available in this pack, have a close look at it:
Weather widget

Text widget

Detailed battery/memory meters

Randomly changing images 

Music players

World clocks

Astronomy widgets and much more. 
Moreover, there's a pro/paid version available that will remove any ads appearing on the app. In my view, this is a must-try widget to decorate the home screen of your Android smartphone. 
Download KWGT Kustom Widget Maker
Best Calendar Widget for Android Home Screen
1. Google Calendar
If you're using some other calendar app, I'd recommend an immediate shift to this one. Yes, Google Calendar is a wholesome calendar app that lets you manage and schedule everything that you can think of. You can easily switch to monthly, weekly, and daily views as per your preference. If any event is connected to your Google account it will automatically pop up in the calendar app. Best of all, this app widget displays a whole month's calendar with events and important dates marked by you on the home screen of your Android device.
2. Event Flow Calendar Widget
This widget comes with a clean and interactive layout that displays a chart-like calendar on the home screen of your phone. It should be noted that there are lots of features and customization options available in the app. You can list events, important meetings in the app that reflect on the home screen with the help of the app widget. The customization features available in this app allow you to change the widget background and fonts. If you opt for the premium/paid version, you can get a 5 days weather forecast in the agenda widget. 
Download Event Flow Calendar Widget
3. DigiCal Calendar
The DigiCal calendar widget is customizable and easy to use. You can view a monthly calendar as well as the schedules you've created within the app. There are plenty of pre-set themes that are available for the lists, grid, and month widgets. You can customize the colors that you'd like. Moreover, there's a premium version available for this app that includes hourly weather forecasts, interactive precipitation, and temperature graphs to get a good idea of the weather at your location. Without a doubt, it is one of the most interactive calendar apps and widget options.
Best Clock and Alarm Widgets
1. Clock by Google
Google packs everything you'd ask for in a clock app. There's a stopwatch, world clock, and alarm feature available in this app. It is a simple app without any sophisticated functionality. You'll get an alarm clock widget with this app that can direct you to the alarm section just by a simple tap. It is worth mentioning that you can see alarm time and data with its name on the home screen with the help of this widget.  
2. Chronus Information Widgets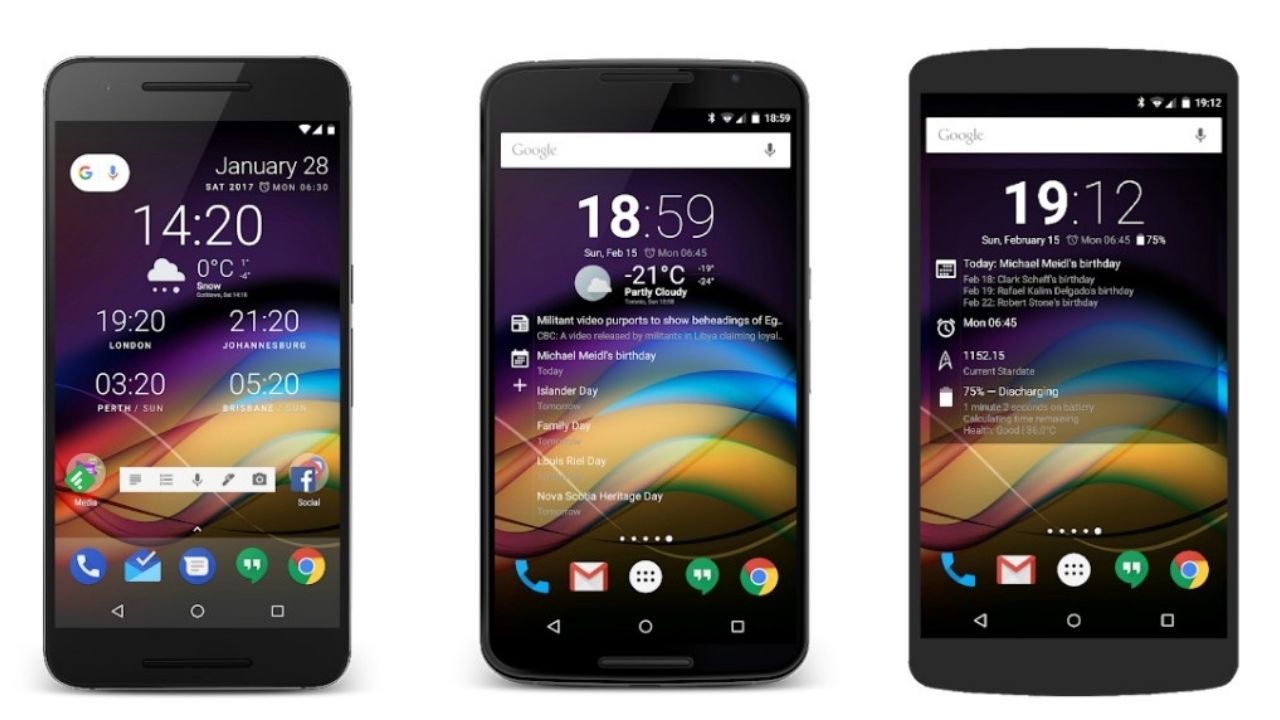 Chronus is an application package for various stylish clocks, weather, stocks, tasks, fitness, calendar, as well as news widgets. As per the claim by the brand, this widget ensures that it uses less battery and CPU but provides rich information. It should be noted that there is a pro version for this app. Overall, it is a well-built widget pack for your Android device. Try it from the link below.
Download Chronus Information Widgets
Best Music Widgets for Android
1. Spotify
For all the music lovers out there, here we bring to you the Spotify app. It is probably the biggest music platform that offers millions of songs to listen to, upload, and download. You can submit your playlists to Spotify and make them public for everyone to listen to. The Android widget offered by Spotify allows you to pause, play, and change the song right from your phone's home screen. Being a music lover myself, I have this on my home screen as well. Best of all, you can control Spotify PC right away from your mobile home screen. Make sure to have this on your phone. 
2. Audio Widget Pack
In some instances, you might come across such music players that don't have an interactive widget, so to compensate for it, here we have the Audio Widget Pact. This Android widget pack allows controlling music players right from your home screen. As far as the UI is concerned, you are likely to see a sleek design. Different designs display a list of tracks, albums, and folders (in case it is supported by the player). Don't let bad widgets ruin the music listening experience. Get Audio Widget Pack from the link below.
Best Health and Fitness Widgets
1. Google Fit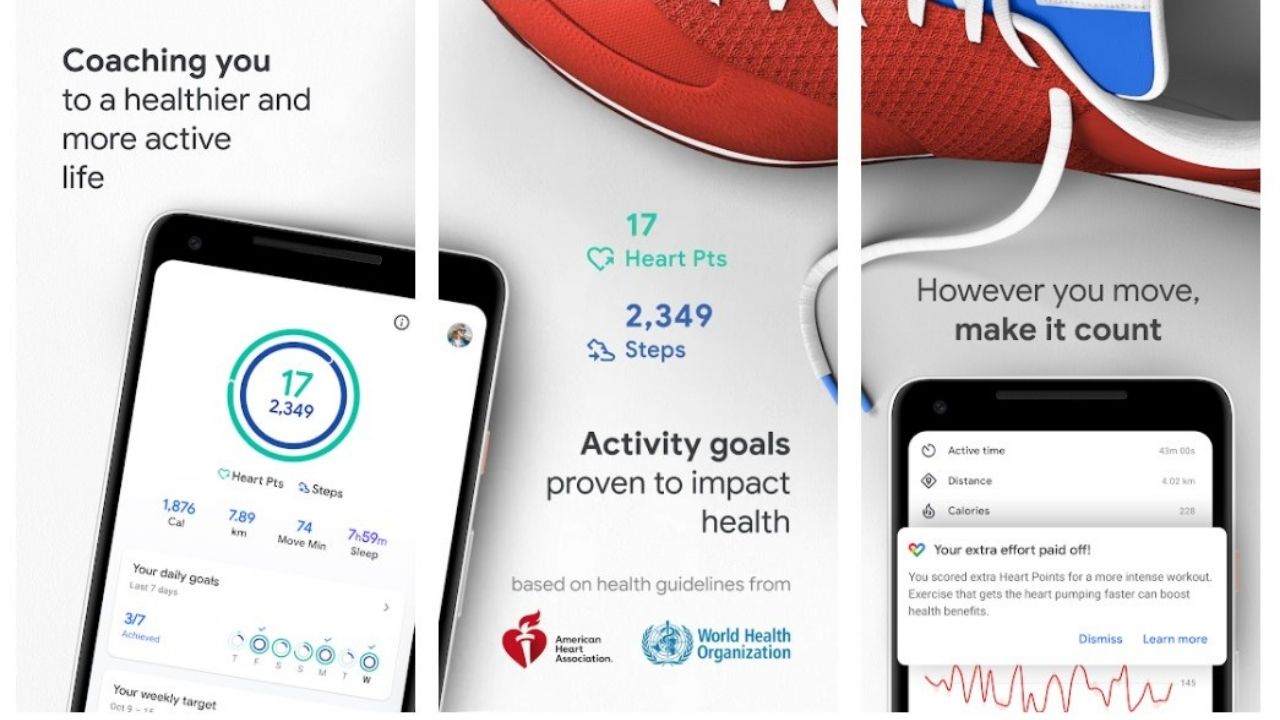 Google Fit is a perfect app for all the fitness freaks out there. It is a well-made and sophisticated app that helps in maintaining a healthy lifestyle. However, the Google Fit widgets are simple and easy to manage. This fitness widget from Google offers three different options to track your activity goals, multiple stats that includes calories meter, distance walked, and more. If you want to see detailed stats, you need to tap on the widget and it will direct you to the Google Fit app. If you'd ask me, Google fit is probably the best Android fitness tracker app with widget features. 
2. Samsung Health
The Samsung health widget offers nothing but a feature that displays your steps on the home screen. However, you can customize it by long-pressing the widget and tap on the Settings option. From the widget settings, you are allowed to adjust the transparency and choose from the light and dark theme. Just in case, you've dark mode enabled on your phone, the Samsung health widget will adjust the colors and lighting automatically for the same.
3. Step Tracker
Here's another app that offers a widget identical to that of Samsung health. The step tracker app is primarily for tracking your steps and measuring various metrics related to it, such as calories burnt, distance walked/run, and much more. The Step tracker widget displays nothing but step count on the home screen of your Android device. 
That's all for now in this roundup on the best widgets for the home screen of your Android phone in 2022. Let us know by commenting below about the widget you're currently using on your phone. Also, make sure to read our roundup on some of the best minimalist launchers for Android phones.