Flagship smartphone buyers in the market today are bound to look at just 2 options- the iPhone 13 Pro Max and the new Galaxy S22 Ultra. It's a classic iOS vs Android, Apple vs Samsung, and ecosystem vs ecosystem battle so let's get started.
Galaxy S22 Ultra vs iPhone 13 Pro Max: Design Comparison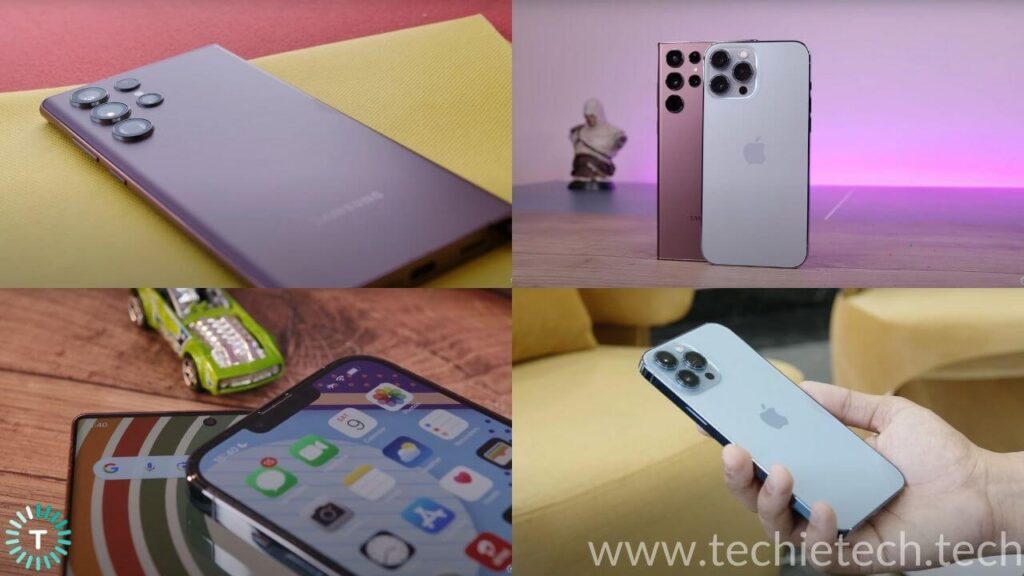 In a nutshell, both these phones are glass and metal, slab sandwiches, bringing nothing new to the table design-wise. The iPhone 13 Pro Max sports the same design as the iPhone 12 Pro Max before it, with the glossy, stainless steel flat edges sandwiched by a 100% flat front and back glass. It feels dense and heavy in the hand, inspiring confidence about its ruggedness and durability.

On the flip side, the Galaxy S22 Ultra has a more curvy design language. It has a curved glass display at the front and a curved glass back sandwiching a glossy aluminum frame. Now, I have to admit that while the curved glass looks premium, it comes with its host of drawbacks. It makes the phone slippery to hold, it will shatter more easily if dropped and there's the constant struggle of finding and applying a proper screen guard. This might be a person to person preference but I would take a flat display panel any day over a curved one.


Overall though, both these phones feel hefty, premium, and well designed in hand. While the Galaxy S22 Ultra does look more unique with its individual camera holes at the back, I think the iPhone 13 Pro Max would be more rugged because of the stainless steel frame and flat glass panels.
Also read: Best Accessories for iPhone 13 Pro Max
Galaxy S22 Ultra vs iPhone 13 Pro Max: Display Comparison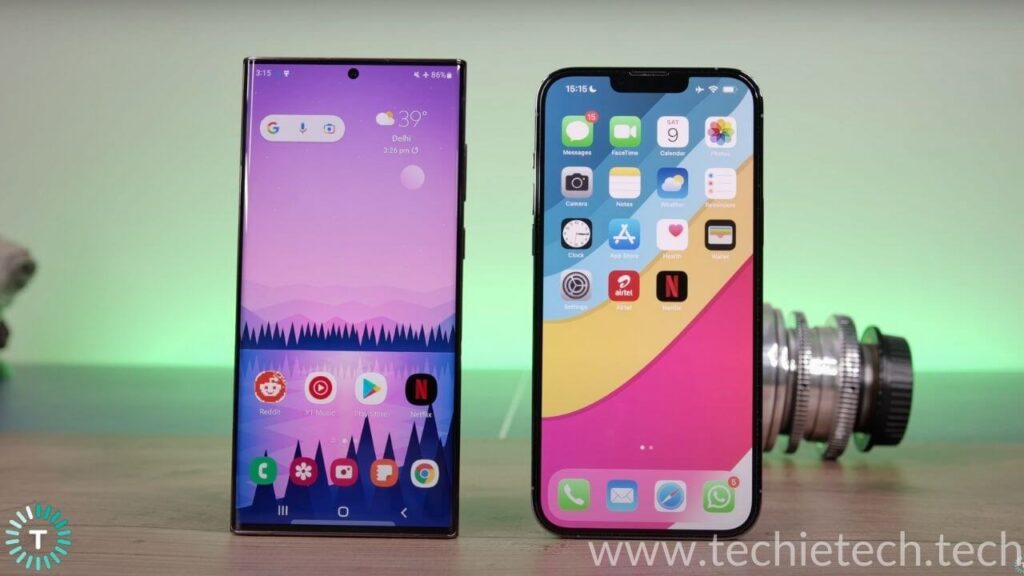 When we talk about the displays though, things tend to get very heated. Both phones have beautiful displays with 120 Hz refresh rates and the same OLED technology. Where the iPhone loses, is with its notch. It's smaller than last year's iPhone 12 but still very large and cumbersome when compared to the clean hole punch on the S22 Ultra. The iPhone's display is also slightly lower resolution although I did not notice any difference in my usage. Where the S22 loses is with the curved edges. It brings in daily use problems like accidental touches and unwanted glare which can be irritating. But overall, both these phones provide an amazing display experience and I don't think any user would complain about the display experience on either of these two phones. 
Also read: Best Accessories for Galaxy S22 Ultra
Galaxy S22 Ultra vs iPhone 13 Pro Max: Performance Comparison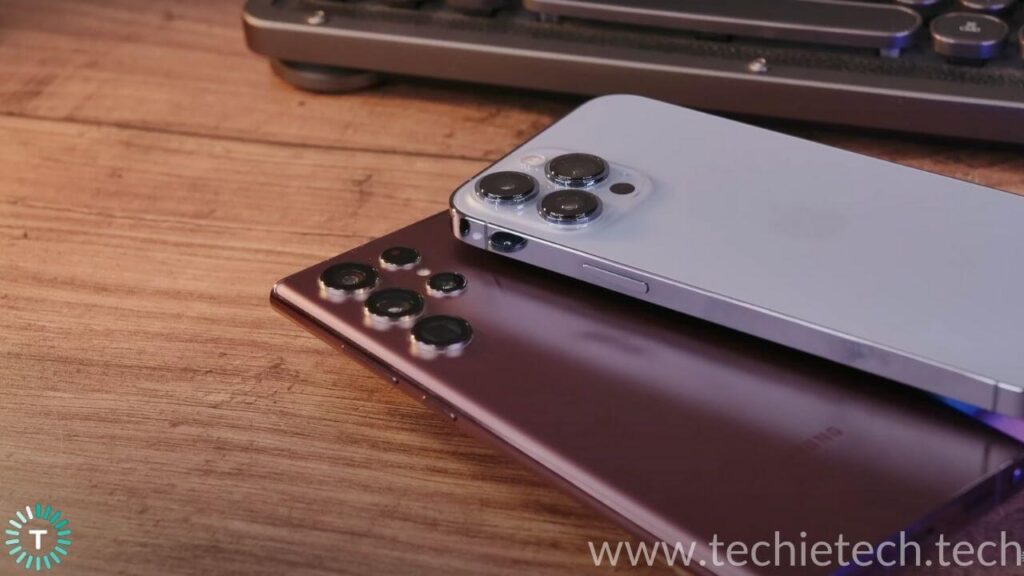 Where a user might complain though, is the performance. I have been using a Snapdragon 8 Gen 1 S22 Ultra and the performance, while adequate, leaves a lot to be desired. It runs everything really well, from lightweight social media apps to intense games but has this tendency to drop a few frames here and there or just completely freeze for a few seconds. I have also noticed overheating after something like say, 15 minutes of scrolling Instagram. It is not a dealbreaker but leaves a bad taste, especially because the iPhone 13 Pro Max faces no such issues whatsoever. I am very hopeful that Samsung will iron out these bugs in future updates and the performance will be level.


If you are a hardcore smartphone gamer, I would have to recommend you to buy the iPhone. Games are just better optimized so that they run smoother with better graphics and lower battery use. The Galaxy S22 Ultra is a fine phone for gaming but for someone who must have the best gaming experience possible, the iPhone is the easy winner. 
Also read: Best AR Games for iPhone & iPad
Galaxy S22 Ultra vs iPhone 13 Pro Max: Software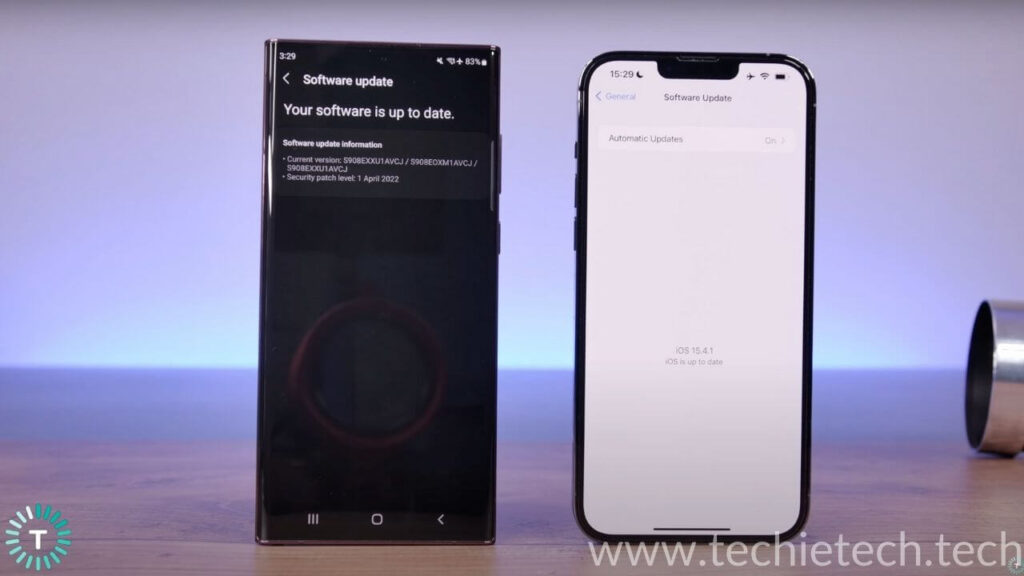 Let's talk a bit about software now. I won't go in-depth because there are thousands of differences between Android and iOS. I'll just cover the major differences instead. See, iOS is clearly the more reliable of the two. I shared before how I faced random dropped frames and system freeze situations on OneUI. I have faced nothing of the sort on my iPhone or even the Galaxy S21 Ultra that I used last year. But if you like tinkering or customizability, Android clearly wins. It has way more options and levels that you can take control of and tweak as per your requirements. Customizability on iOS has taken a step forward in the past few software updates but is still not at par with Android.

When it comes to software updates, Apple promises and delivers 5 years of major software updates to all their iPhone models. Samsung recently promised 4 years of software updates and 5 years of security updates for the S22, which is the best you can get on Android. All in all, I think both these phones will fare very well when it comes to long-term software support. 
Also read: Best Apps for iPhone 13 Pro Max
Galaxy S22 Ultra vs iPhone 13 Pro Max: Camera Comparison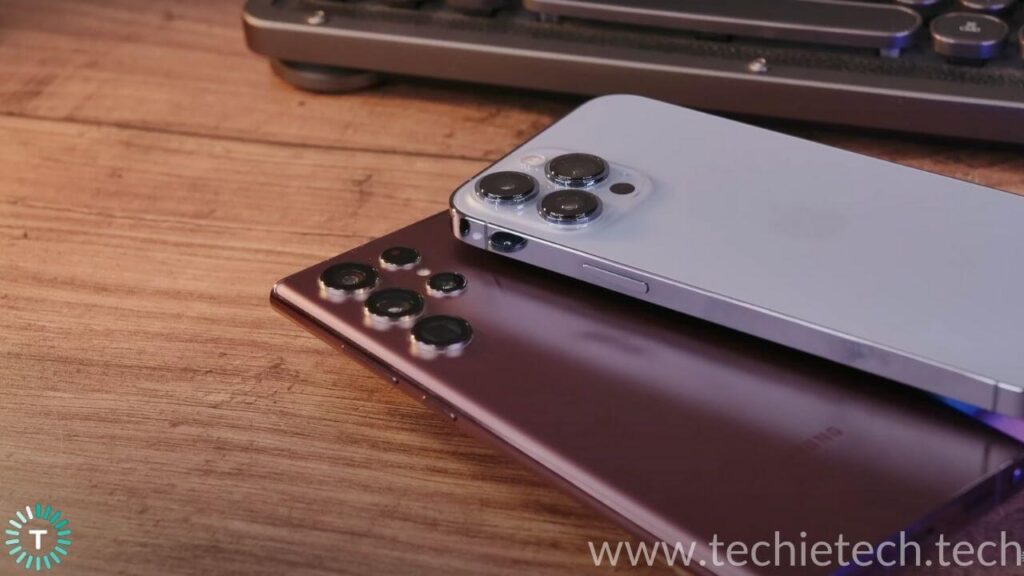 Let's talk about the cameras now! In terms of specs, both smartphones offer some of the best mobile camera hardware on the planet. The Galaxy S22 Ultra sports a quad-camera setup that includes a 108MP f1.8 primary camera with improved OIS, a 12MP f2.2 ultrawide, and two 10MP telephoto cameras with a 3x and 10x optical zoom. The quad-ring setup is complemented with a LED module and a laser AF module for faster focusing. On the front, the Samsung flagship has a 40MP f2.2 punch-hole selfie camera.
On the other hand, the iPhone 13 Pro Max sports a triple-camera setup that includes a 12MP f1.6 primary camera with sensor-shift stabilization, a 12MP f1.8 ultrawide, and a 12MP f2.8 telephoto camera with 3x optical zoom. On the front, we've got a 12MP f2.2 selfie camera. Please note, that S22 Ultra's cameras are wider than iPhone 13 Pro Max so the pictures shot on the latter will appear to be slightly zoomed in because of the difference in focal lengths. Enough about the specs, let's see how these flagships perform in real life. 
Galaxy S22 Ultra vs iPhone 13 Pro Max Photo Comparisons:
The overall performance of the primary cameras of both smartphones is excellent. The images are vibrant, have a high dynamic range, and look good in all lighting environments. The Galaxy S22 Ultra shoots poppy and contrasty pictures with more details in shadows & noise processing. On the other hand, the iPhone 13 Pro Max shoots bright pictures with different color temperatures and better highlight retention. These image or look differences are seen across different lenses and camera modes. If you're a fan of such a contrasty or vibrant look, the iPhone 13 Pro Max does offer Photographic styles to get that custom look for your pictures.

Pictures shot with the Ultrawide camera on both devices have an amazing dynamic range. Although, in our testing, the S22 Ultra produced brighter pictures with more details and less noise.

The 3x telephoto camera performance is pretty good on both devices. There is a noticeable amount of color differences present in different lenses on both smartphones.  The Galaxy S22 Ultra clearly has the upper hand in this department because of the 10x optically zoomed-in camera.

When it comes to portraits, the Galaxy S22 Ultra uses stereo depth mapping technology which drastically improves the subject separation. On the other hand, the iPhone 13 Pro Max uses a LiDAR Scanner to shoot portraits. The difference in subject separation is clearly noticeable. The S22 Ultra shoots sharper portraits with precise subject separation. On the other hand, the iPhone 13 Pro Max shoots brighter portraits and vibrant colors with fairly good subject separation.

Both smartphones shoot selfies with good skin tones. The S22 Ultra shoots sharper and more contrasty selfies in different environments. On the other hand, the iPhone shoots brighter selfies with neutral tones and well-managed highlights.

The low light performance is where things get interesting. The iPhone 13 Pro Max delivers good pictures with lots of details and cooler colors. All thanks to the new sensor and processor, the Galaxy S22 Ultra takes that a step ahead and captures noticeably brighter and sharper pictures even in challenging shooting conditions.

Both devices also have Macro mode. The S22 Ultra shoots crispier and sharp macro photos. On the flip side, the iPhone is able to get closer to the subject capturing far more realistic macro photos.
Galaxy S22 Ultra vs iPhone 13 Pro Max Video Comparisons:
In terms of videos, both smartphones can shoot videos in 4K@60fps from both the front as well as the rear cameras. Thanks to the 108MP sensor, the S22 Ultra can shoot videos in 8K@24fps from its primary camera. 

In terms of video quality, the videos shot on the S22 Ultra are sharp, have plenty of details, and have excellent color reproduction across different lenses. Samsung has come a long way in capturing excellent smartphone videos but the iPhone is still the king of smartphone videography. The videos shot on iPhone have better stabilization, look bright, and have a high dynamic range. In short, they just look pleasing to the eye.

Both devices offer a feature-rich camera app that includes portrait video mode and HDR10+ support on S22 Ultra and Cinematic mode and Dolby Vision HDR support on iPhone 13 Pro Max. Moreover, the iPhone offers Macro video and native ProRes capture support which also makes it a reliable tool for video professionals. 
Please note, as of testing these smartphones, we found the S22 Ultra's camera app to be buggy compared to the buttery-smooth camera app on the iPhone 13 Pro Max. 
To conclude, the Galaxy S22 Ultra and the iPhone 13 Pro Max offer some of the best smartphone camera experiences right now. For a casual user, both smartphones have more than enough firepower to be your daily camera phone. On the other hand, if you're an enthusiast or a professional, then the equation changes. If you love capturing pictures and want to make the most out of your photos, then the Galaxy S22 Ultra with its 108MP sensor will be the right choice for you. If you're more of a video person, then the iPhone 13 Pro Max with its industry-leading stabilization, HDR, and ProRes support will be more your speed. 
Galaxy S22 Ultra vs iPhone 13 Pro Max: Battery Life & Charging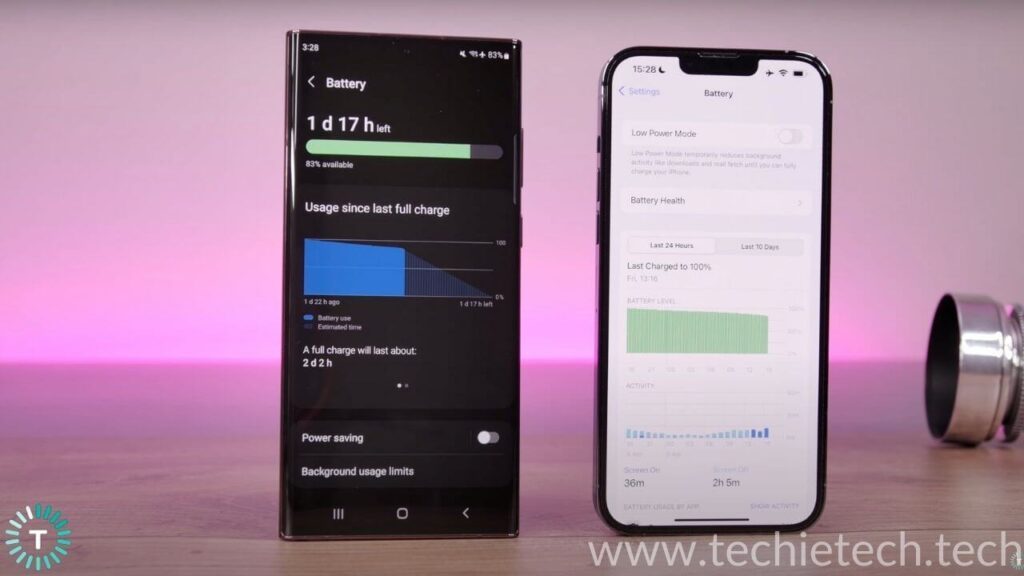 There's a clear winner when we talk about battery life. The iPhone 13 Pro Max. This phone probably has the best battery life I have ever used on any smartphone. In my usage, I have never managed to kill it within a day with my medium to heavy usage. It is an easy 2-days on a single charge phone for me. The S22 Ultra on the other hand comfortably lasts a day and you can stretch it to a day and a half if you are careful but that's about it. It is decent in a vacuum but a league below the iPhone. 
Related:
Galaxy S22 Ultra vs iPhone 13 Pro Max: S-Pen, Speakers, & Call Quality Comparison
But Samsung has a trick up its sleeve that the iPhone simply cannot compete with. The S Pen. Just like the Galaxy Note, the S22 Ultra has an S Pen tucked inside its body. You can always pull it out of the phone to scribble, jot down notes or even act as a Bluetooth remote. For users who love having a stylus, this makes the S22 Ultra a clear winner because there is nothing like this on the iPhone or pretty much any other phone.

Moving on, speakers are better on the iPhone 13 Pro Max with better clarity. Haptic feedback is largely the same on both devices although no haptic feedback on the keyboard is a miss for iOS. Call quality and signal holding capacity are equally good on both phones. The S22 Ultra has an in-display fingerprint sensor and face unlock while the iPhone has face unlock only although with way better precision and security.

Also read: Top 25 Android Secret Security Codes You Should Know
Galaxy S22 Ultra vs iPhone 13 Pro Max: Which one is better?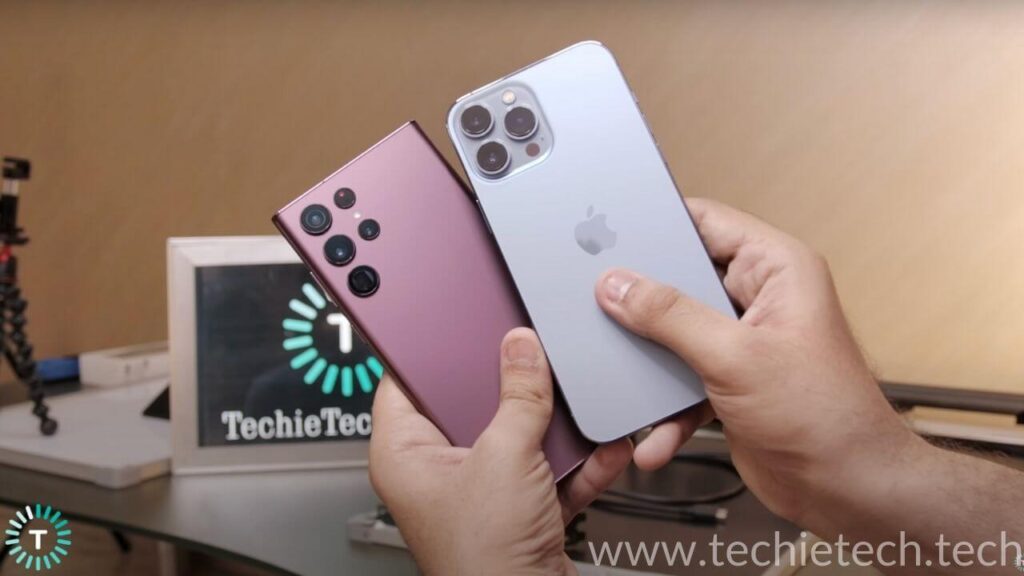 And now, to conclude. If you have a preference between Android or iOS, the decision is quite simple for you. If you don't, there's a lot to think about. The iPhone has better gaming, battery life, more reliable software, and a flat display. The S22 has a curved display, more customizability options, an excellent stylus, and perhaps a more unique design. It is very hard to pick an objective winner but if I were to buy one for myself, it would have to be the iPhone 13 Pro Max.
Check Galaxy S22 Ultra Price on:
Amazon (US): https://amzn.to/37iolxX 
Amazon (UK): https://amzn.to/3ry7CgQ 
Amazon (India): https://amzn.to/37nCY2R 
Check iPhone 13 Pro Max Price on:
Amazon (US): https://amzn.to/3EJ3zDM 
Amazon (UK): https://amzn.to/3rL8oY4 
Amazon (India): https://amzn.to/38e0kbf