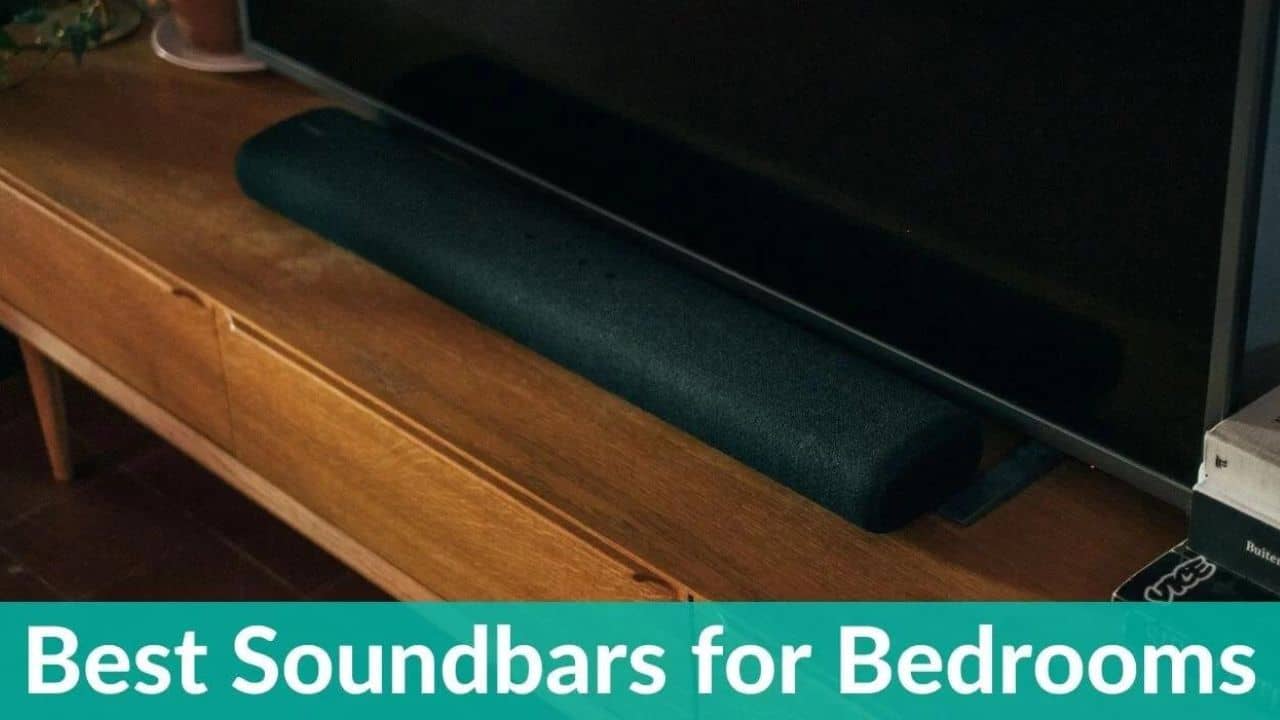 If you're here in search of the best soundbars to install in your bedrooms, you're exactly in the right place. As with any other product, the right soundbars for your bedrooms are always tough to find. However, we assure you top help you throughout your hunt with our buying guide. Whether you're looking to build the home theater system of your dreams or want to accompany your TV with a high-quality audio system; soundbars will definitely do the work for you. You'd be happy to know that built-in drivers, external subwoofers, and rear surround systems that come with a soundbar can drastically change your movie-watching experience from the comfort of your bedroom. A good soundbar can make a huge difference to your movie-watching experience.
Design-wise, soundbars are more compact, easier to set up, and more affordable than any dedicated home theater system available in the market. Generally, these audio devices are wider than taller. You can also mount them on the wall above or below the device you're planning to enjoy your movie. Since manufacturers are cutting down the weight of TVs and focusing on offering slimmer ones as time passes by, there's always less room to add more speakers into it. So, it's best that you invest in a good soundbar available in the market which suits your bedroom as well as your pockets. As far as price is concerned, you can choose from a wide variety ranging from affordable to more premium options. But, the million-dollar question is: what to choose and how? 
Don't worry, to help you make better choices and get the bang for your buck, we will guide you through the vital buying factors and a list of the best soundbars for bedrooms to buy right now. Here, you'll find from best budget to most premium Bluetooth soundbars which are perfect for bedrooms of different sizes (small, medium, and large). 
Before moving onto the list of best soundbars for the bedroom TV, it's important to discuss factors to consider before buying them. So, let's not waste further time and jump right into the buying guide of the best soundbar for bedrooms to buy in 2023. 
Factors to Consider Before Buying a Soundbar for your bedroom
Size of the soundbar
If you are planning to buy a soundbar for your bedroom TV, let me tell you there's nothing called the ideal size for the same. That's because soundbars available in the market are offered in different sizes, shapes, and form factors. The general thumb rule of choosing an ideal size of the soundbar is the availability of the space in your bedroom. So, if your bedroom has confined space, the small-sized soundbars should do the trick for you, whereas the bigger rooms require bigger soundbars with more channels and external subwoofers as well as rear speakers to offer the best movie-watching experience. If the aesthetic look of your home entertainment setup is what you're looking for then, we recommend choosing a soundbar similar to the width of your bedroom TV. Having said all this, the preference of size of the soundbar is all about personal choice which may vary from user to user. So, please choose accordingly. 
Placement 
The placement of a soundbar is another vital factor that you should take into consideration while buying a soundbar for your bedroom TV, as it vastly affects your movie-watching experience. So, if you have your TV placed on a table or TV stand, your soundbar should be placed at the bottom of the TV. On the flip side, you can also mount the soundbar on a wall in case your bedroom TV is mounted. Remember, several soundbars are offered with mounting brackets or are compatible with universal mounts, while some come without mounting brackets, so you need to buy a separate mounting bracket from the respective manufacturers. 
So, when you're planning to buy a good soundbar for the bedroom, it's important to consider mounting options and available space around your TV. Let's not forget, soundbars with a considerably bigger height can block the TV's IR (Infrared) sensor which can get troublesome while controlling the TV through a remote. Although modern TVs use a Bluetooth connection, if you've got a non-smart TV, you need to take care of this beforehand. While this is applicable for TVs of older generations, it's important to mention that some soundbars for bedrooms are tall enough to block the base of the television; so, it's best to place your TV slightly above the soundbar. You can use a block or even some LEGOs to temporarily lift the TV until you figure out a more permanent setup like upgrading your TV stand or mount.
Number of Channels in a soundbar 
When you come across listings of best soundbars for TVs on shopping platforms, you may have seen many of them labeled as 2.0, 3.1, 5.1, 5.1.2, and so on. So, what is the significance of these numbers you may ask, right?  
Remember, the very first digit indicates the number of channels and the second digit represents whether (or how many) the subwoofer does the soundbar have or doesn't have. 
Nowadays, you can spot soundbars with 3,5, 7, and even 9 channels that come with support for Dolby Atmos as well as DTS:X. But the question is – how many channels are required for a good soundbar for bedrooms?


If you're simply looking to enhance the TV sound and nothing much, a basic 2.1 channel soundbars should do the trick for you. Although, we recommend a 3.1 because the third channel is meant for processing dialogues and that makes the overall experience a lot better. However, if surround sound is what you're looking for, I must mention that you should look for a soundbar with support for an external subwoofer and rear speakers (wireless, if possible) for enjoying the true home theater in a box experience. External subwoofers are a great addition to the overall home theater system because most of the soundbars in an audio or home theater system are not fully capable of reproducing all the frequencies that an audio source sends to them. Without an external subwoofer, you might miss out on some of the sounds. Just in case you're worried about the wiring and all, please note that there are plenty of external subwoofers in the market that come with wireless connectivity so you can connect to the soundbar wirelessly. 
Now, there are some soundbars that are labeled as 5.1.2 or 7.1.4. So, what does the third digit mean?
The third digit after the second decimal represents the number of Dolby Atmos speakers/drivers. Dolby Atmos is a proprietary audio format that's designed to bring that same immersive, 3D sound that you get in a movie theater to your living room or mobile device. It can realistically reproduce the sound making it spatially accurate. Because the Dolby Atmos offers a 360-degree sound experience, it is being widely adopted by major OTT platforms such as Netflix, Amazon Prime video, etc. to bring a theater-like experience to your bedrooms.  
If your pocket allows, you can go with some of the best Dolby Atmos soundbars as they offer a 3D audio experience when you're watching your favorite shows/movies from the comfort of your bedroom.
With all that said, multichannel soundbars with subwoofers and drivers are comparatively more expensive than the ones with lesser channels. Thanks to modern technology, they are getting cheaper and you can easily find Dolby Atmos-supported soundbars without burning a hole in your pocket.
Expandability
If you are planning to get the best soundbar for your bedroom, we recommend checking its expandability. That's because some soundbars allow you to expand the audio output by adding external surround speakers or subwoofers. The expandability feature of a soundbar is generally useful in case you want to move your audio setup from a smaller room to a large room accompanied by more speakers and subwoofers. So, if you are not planning to buy one right now, make sure to go with a soundbar for the bedroom with support for wireless rear speakers and subwoofers which can be purchased later on.
Connectivity options (HDMI)
Thanks to the advancement in technology, soundbars come with a variety of connectivity options to help you connect a variety of devices. If you're looking for the best soundbars for the bedroom, please ensure that the soundbar is compatible with your current home entertainment setup. We recommend choosing soundbars with an
HDMI ARC port as it is the best way to connect a soundbar to a TV and eARC (if you'd like to future proof your investment). It is a must-have port for any soundbar you're planning to buy for your bedroom. It is worth mentioning that an HDMI interface is one of the most reliable connectivity options. On the other hand, you can also connect your soundbar to a TV via an optical audio cable as it is also one of the good old reliable connections. But you won't be able to experience the next-gen features like Dolby Atmos or DTS:X. 
This year TVs from LG and Samsung are expected to receive software or hardware upgrades that will simply eliminate wires and make the connection between your TV and soundbar totally wireless. Of course, they will require power to run but there won't be any bad looking cables running between the TV and soundbars. These wireless connections will also support Dolby Atmos and surround sound so we will finally be able to enjoy a totally wireless home theater experience without any messy wires.
Also, most modern soundbars come with Bluetooth and Wi-Fi connectivity features to ensure that you can connect your smartphone to the soundbar and enjoy your favorite playlist or watch movies. Also, premium soundbars for bedroom TVs also support digital assistants such as Alexa and Google Assistant, and AirPlay. If you're part of any of these smart home ecosystems, make sure to check their respective compatibility with the bedroom soundbar you're planning to buy.
Usage (casual users and enthusiasts)
For any casual user who is looking to improve their TV's stereo sound, we recommend investing in any decent soundbar that offers plug & play features with preset sound profiles. These soundbars allow hassle-free connection with the TV and that's it, you're ready to enjoy the best movie-watching experience right from your bedroom. 
Just in case you're an audiophile who wants to control every aspect of home theater, you can choose from soundbars that offer EQ adjustments, expandability, and a personalized audio experience to enhance the viewing experience. 
Budget
As always, the budget remains the important factor as it's one of the most important factors while choosing the best soundbars for master bedrooms. The general thumb rule with the budget is that if your pocket allows, make sure to choose the best and premium soundbars. Else, go with the reliable yet affordable options in your budget. All in all, money matters and you shouldn't stress your pocket much if it doesn't allow you to do so. You can also go with expandable soundbars that can be upgraded later on with an external subwoofer or surround speakers. Since they are all wireless now, you can just grab them on a sale to make the most out of your bedroom home theater.
List of Best Soundbars for Bedrooms to Buy Right Now
1. Bose Smart Soundbar 900 Dolby Atmos (Best Premium Soundbar with Plug n Play support)
Size: 41-inches
Dolby Atmos: Yes
Connectivity options: HDMI eARC, Optical input, Wi-Fi, Bluetooth
Warranty: 1 year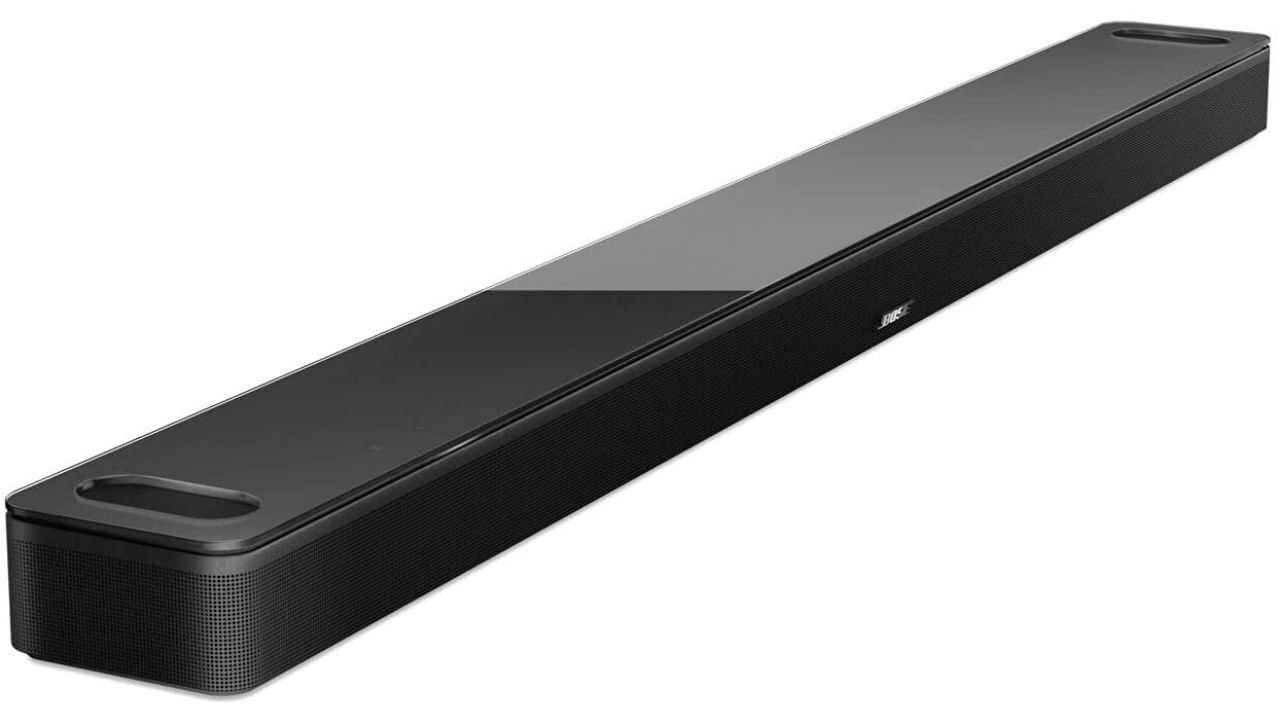 For anyone looking for a premium soundbar for the bedroom should grab the Bose 900 series without any ifs and buts. This smart TV soundbar comes with a stylish design that offers a best-in-class cinema experience right at your home. As far as specs are concerned, this soundbar features a width of 41-inches, while the sleek look blends well with the modern TVs and home theaters setups. 
All thanks to the custom-engineered up-firing dipole speakers and Bose's latest Phaseguide technologies, this Dolby Atmos soundbar for bedroom TV fills your bedroom with top-notch sound in every direction. Additionally, there is a center tweeter and six transducers that allow this Bose soundbar to deliver the best sound experience when you're enjoying your favorite movies with your loved ones. If you're looking for a soundbar which delivers top of the class audio experience without the hassle of dealing with technical mumbo-jumbo, annoying setups, the Bose Soundbar 900 offers a simple easy-to-use setup & listening experience.
On top of that, the premium bedroom soundbar comes with noise-rejecting microphones, built-in voice assistants, and Bose exclusive Voice4Video technology to control the soundbar and your TV just using voice commands. You can use the Bose app to control this soundbar from anywhere. Further, multiple connectivity features give you the freedom of connecting a variety of devices such as your bedroom TVs, smartphones, and tablets.
Moreover, it is the best Bluetooth soundbar for your bedrooms that comes with Plug and Play features. Let's not forget that the Bose bedroom soundbar can be used with wireless rear surround speakers and a wireless subwoofer. Please note that both of them are sold separately. Much like the Sonos ecosystem of products, Bose products come at a premium price tag because of the excellent build and sound quality. Therefore, you can also plan to expand your bedroom's soundbar home theater system down the line as well. 
2. Sony HT-A5000 5.1.2ch Dolby Atmos Sound Bar (Flagship)
Size: 37-inches
Dolby Atmos: Yes
Connectivity options: HDMI, Bluetooth, Wi-Fi
Warranty: 1 year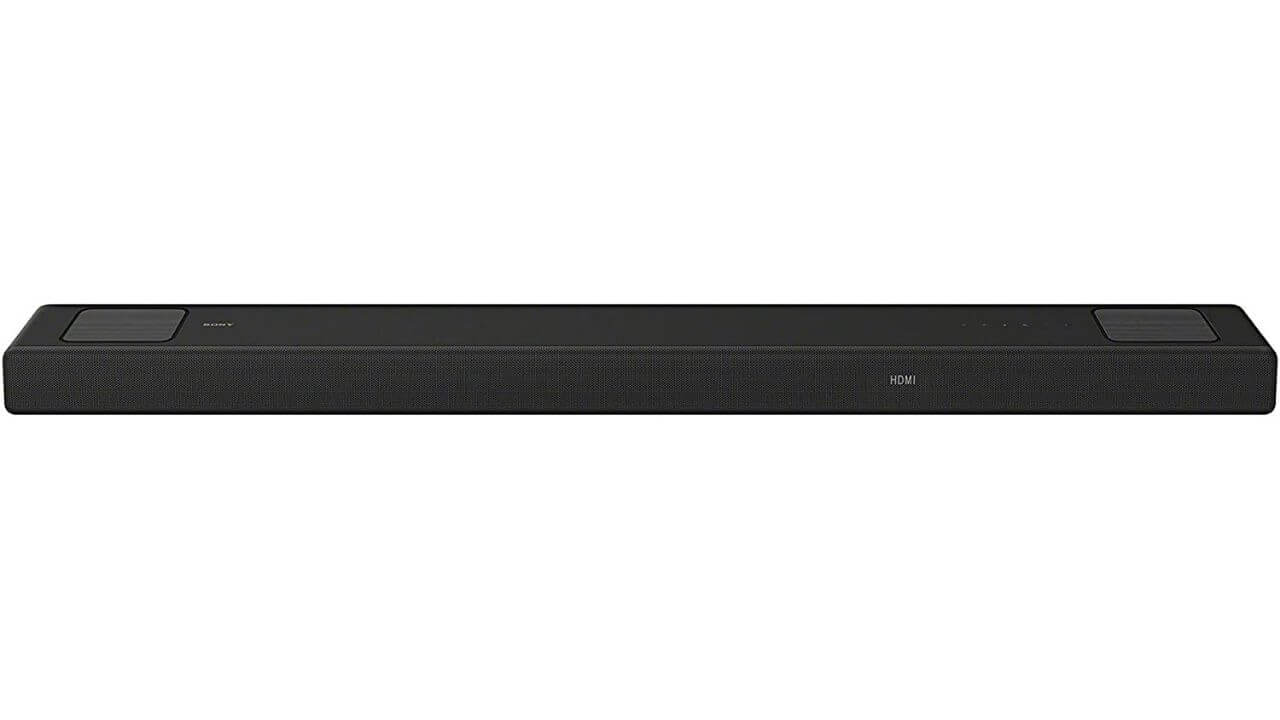 The Sony HT-A5000 is a reliable and extremely well-built soundbar for bedrooms. This 5.1.2 channel Dolby Atmos bedroom soundbar is shipped with two up-firing speakers, two side beam tweeters, X-balanced speakers, and built-in subwoofers for clear dialogue and deep bass.
Thanks to the Dolby Atmos, 8K HDR, and 4K 120Hz pass-through support, you can easily enjoy content and play multiplayer games on your next-gen gaming consoles with a realistic feel right from your bedroom. 
This Dolby Atmos soundbar for bedrooms allows customizing the home theater setup by adding wireless subwoofers and rear speaker systems. Further, the Sony HT-A5000 soundbar uses Sound Field Optimization to calibrate the sound best suited for your bedroom. This means if you move your soundbar to a larger living room from a considerably smaller room, it will automatically adapt the sound to deliver the best audio experience. 
All in all, if your hunt is for the best bedroom TV soundbar with expandability and auto-calibration, the Sony HT-A5000 is surely the best soundbar you can get right now. Since it is a Sony soundbar it works seamlessly with the best OLED TVs for Apple TV & PS5. 
If your pocket allows, you can also go for the high-end model of this soundbar, the Sony HT-A7000 7.1.2ch that offers Dolby Atmos as well as DTS:X support. Moreover, you will have the freedom of expanding this premium soundbar for the bedroom with a 300W wireless subwoofer and rear speakers to enjoy surround sound, especially for larger spaces and bedrooms.
3. SAMSUNG HW-Q950T 9.1.4ch Soundbar with Dolby Atmos/ DTS:X
Size: 48-inches
Dolby Atmos: Yes
Connectivity options: HDMI eARC, Optical input, Bluetooth, Wi-Fi
Warranty: 1 year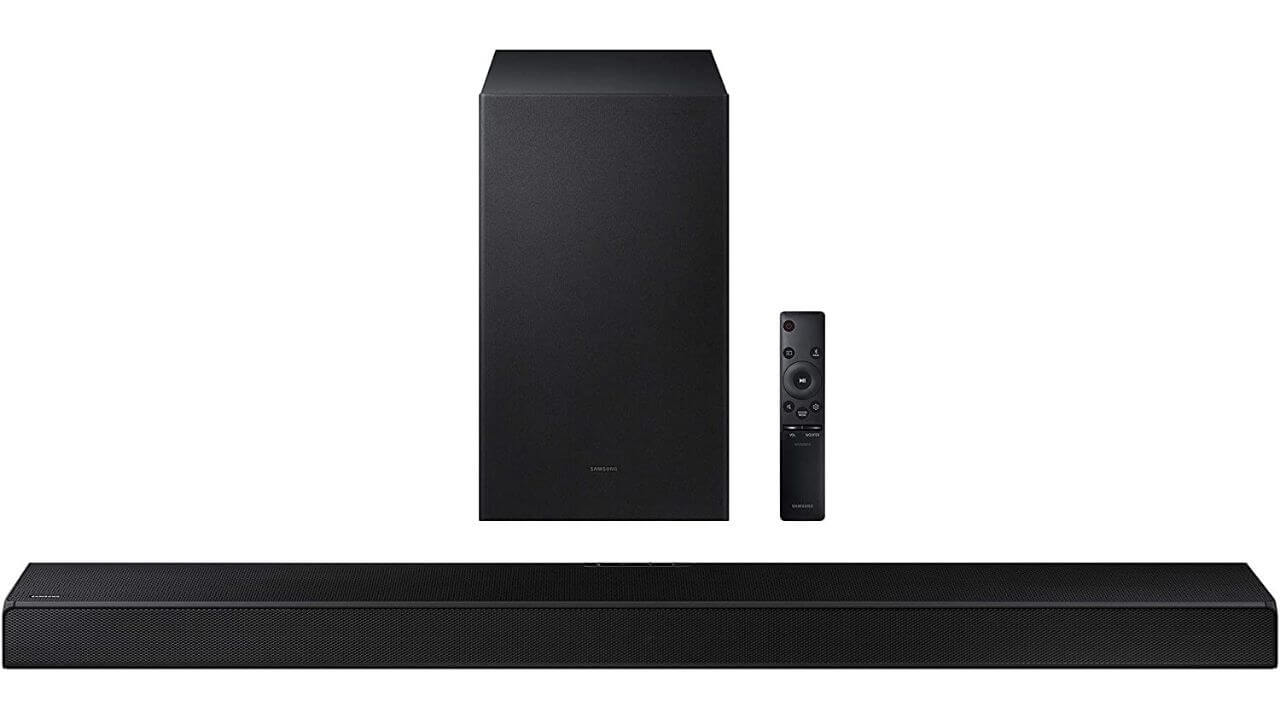 Here comes one of the premium soundbars for bedrooms that you can get for under $1000. Although the Samsung HW-Q950T is an older version launched back in 2020, it still tops as one of the contenders for the list of best bedroom soundbar speakers that flawlessly work with next-gen TVs. Despite being offered in a slim form factor, this system comes with Dolby Atmos / DTS: X-friendly 9.1.4 support, accompanied by extremely useful and smart features. Talking about the audio, the Samsung Dolby Atmos soundbar is shipped with a total of 20 speakers that deliver a top-notch overhead audio experience to elevate the movie-watching experience by large. This premium Dolby Atmos soundbar uses Wi-Fi and Bluetooth technology to stream audios, which also includes Hi-Rez (Resolution) Audio file formats. Interestingly, you can connect compatible smartphones just by tapping them against the soundbar's body. The wired connection includes two HDMI 2.1 inputs, one HDMI output (with eARC support), and optical digital audio input. Overall, it is one of the best and premium soundbars for bedrooms that you can buy in 2023. 
If you're looking for the newer 2021 model with 11.1.4-channel configuration, Dolby Atmos, DTS:X, Q-Symphony, SpaceFit Sound+, Built-in Voice Assistant as well as some extra features, we recommend checking the
Samsung HW-Q950T soundbar which is priced slightly over $1500. Please note, if you're planning to choose this soundbar specifically to enjoy the Q-symphony feature, please make sure you have the 2020 QLED TVs and not the older ones.
4. Sonos Beam Gen 2 (Best mid-range soundbar for bedroom TV)
Size: 23.4-inches
Dolby Atmos: Yes
Connectivity options: HDMI eARC, Optical, Bluetooth, Wi-Fi, Apple AirPlay 2
Warranty: 1 year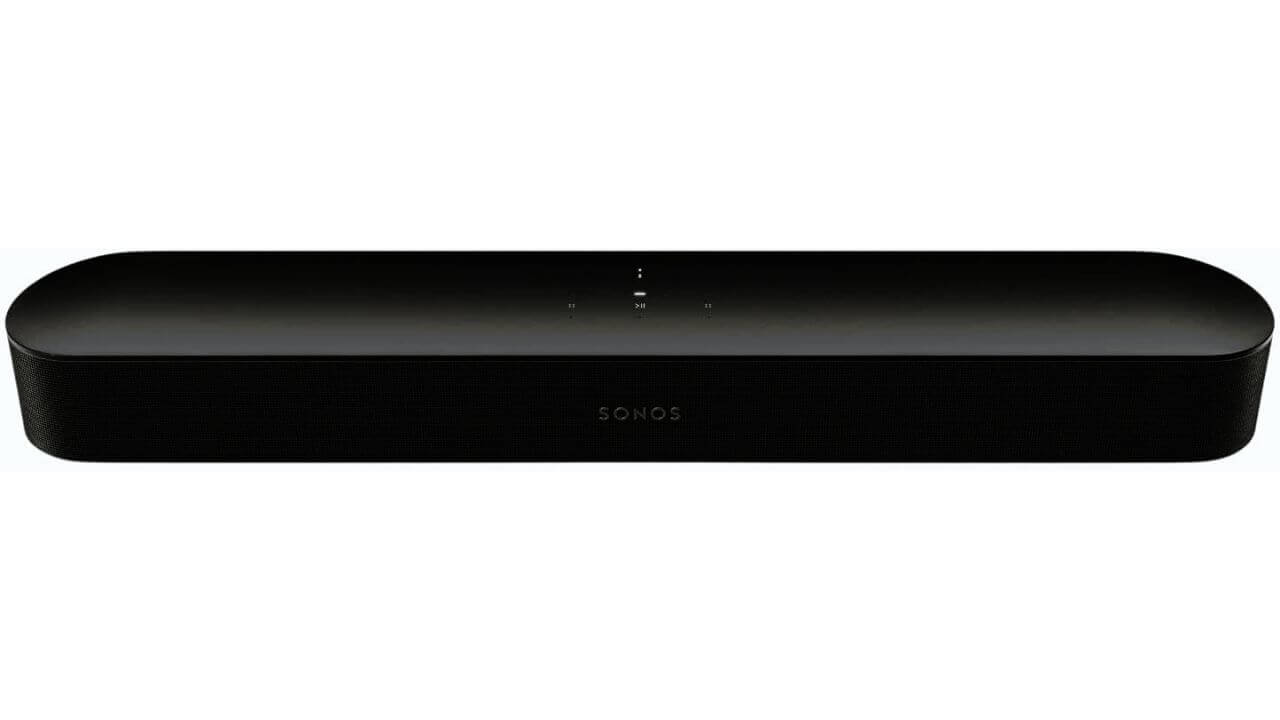 If you need a smaller and more affordable soundbar than the premium Sono Arc, we recommend checking the Sonos Beam Gen 2. This mid-range Sonos Beam soundbar for the bedroom comes with a premium look and a solid build. This soundbar ensures experiencing the panoramic sound and crystal clear dialogue from your favorite movies, web series, and sports. You can simply control this bedroom tv soundbar with the help of the Sonos app using your voice, and Apple AirPlay 2. If you need more sound, make sure to add external wireless speakers to create a wireless surround sound system and enjoy multi-room listening. Remember, you can connect all the external subwoofers and speakers using Wi-Fi, while it can be controlled via voice commands using Alexa and Google Assistant. Let's not forget, the Dolby Atmos support maps the sounds in space for a 3D surround sound effect. If you love watching movies, then this is certainly a game changer. Of course, expanding a premium home theater will be an expensive affair but thanks to wireless you can plan it over a long period of time.
5. Vizio M Series M512a-H6: Most Affordable Dolby Atmos soundbar for bedroom
Size: 40-inches
Dolby Atmos: Yes
Connectivity options: HDMI (eARC), Optical, analog (3.5 mm input jack), Bluetooth
Warranty: 1 year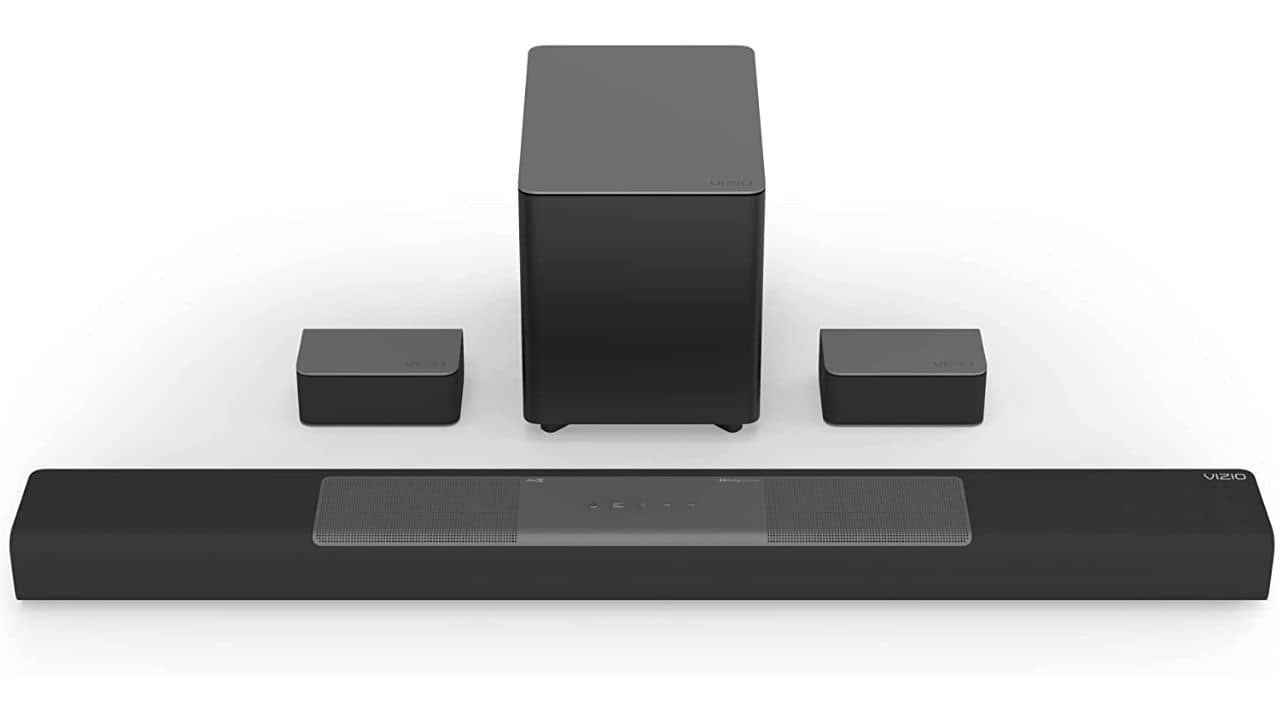 Next, on our list of top soundbars for your bedroom is the Vizio M-series. It is one of many budget-friendly bedroom soundbars that is priced at under $500. This soundbar comes with a 5.1.2 setup that offers versatile performance as compared to other soundbars in a similar price range. Therefore, it is one of the affordable picks for watching your favorite movie or listening to soulful music in your bedroom. To make your TV-watching experience even more exciting, Vizio offers a dedicated subwoofer and two rear speakers that kicks in an immersive surround sound experience. Besides, it delivers superb sound quality, and clear audio to understand everything that's being played on your smart TV. On top of that, you'll also get similar sound enhancement features as the Vizio Elevate. You can make adjustments for the bass and treble for better sound. 
It is worth mentioning that this soundbar also comes with support for different audio formats. With this soundbar for bedrooms, you can always enjoy 5.1 surround sound formats including Dolby Digital, and object-oriented formats such as Dolby Atmos without burning a hole in your pocket. To remind you, these formats are very common among top streaming services such as
Netflix, and more. 
No doubt, the surround sound experience is obviously good, but it isn't as cinematic as the Vizio Elevate. For example, Elevate comes with four up-firing drivers whereas the M-series feature two. Overall, the Vizio M-series does the job for the price and stands tall as one of the most affordable Dolby Atmos soundbars for bedrooms you can get this holiday season.
6. Yamaha ATS-2090 Wireless Bluetooth Soundbar (Budget-friendly option with wireless subwoofer)
Size: 36.6-inches
Dolby Atmos: No
Connectivity options: HDMI, Optical, Bluetooth, Wi-Fi
Warranty: 2 year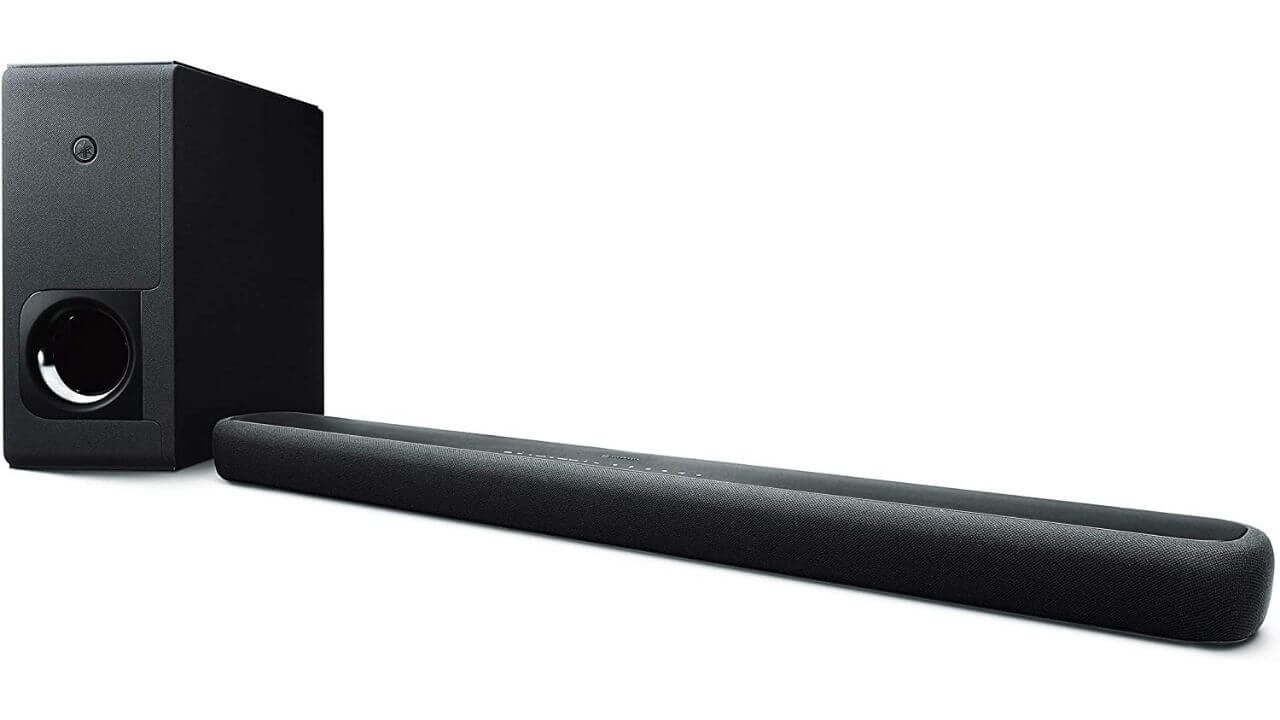 The Yamaha ATS-2090 is a compact soundbar for the bedroom that comes with round corners and a wireless subwoofer that can be placed beneath the TV setup. You will get Wi-Fi connectivity and voice control features with Alexa, however, it doesn't support Google Assistant and Siri. 
As far as audio is concerned, the Yamaha ATS-2090 wireless Bluetooth soundbar for the bedroom comes with DTS Virtual: X support to offer sound a sense of multi-dimensional space or of sound moving around you within an environment. The Yamaha ATS-2090 TV soundbar comes with an audio return channel (ARC) on the HDMI output for hassle-free connection with your bedroom TV. Whereas, the additional HDMI input can be used to enjoy high-definition uncompressed audio from Blu-ray or a
Moreover, Spotify connect allows you to play your favorite music using Spotify directly from this Yamaha soundbar right from your mobile. Whereas, other streaming services use Bluetooth connections to let you enjoy your favorite media content. All in all, Yamaha ATS-2090 is a good soundbar for the bedroom that delivers reasonably powerful sound and crystal clear dialogues from your favorite artists. 
7. Samsung HW-A450/ZA 2.1ch Soundbar with Dolby Audio (Best Value for Money)
Size: 33.9-inches
Dolby Atmos: No
Connectivity options: Optical input, USB port, Bluetooth, Wi-Fi
Warranty: 1 year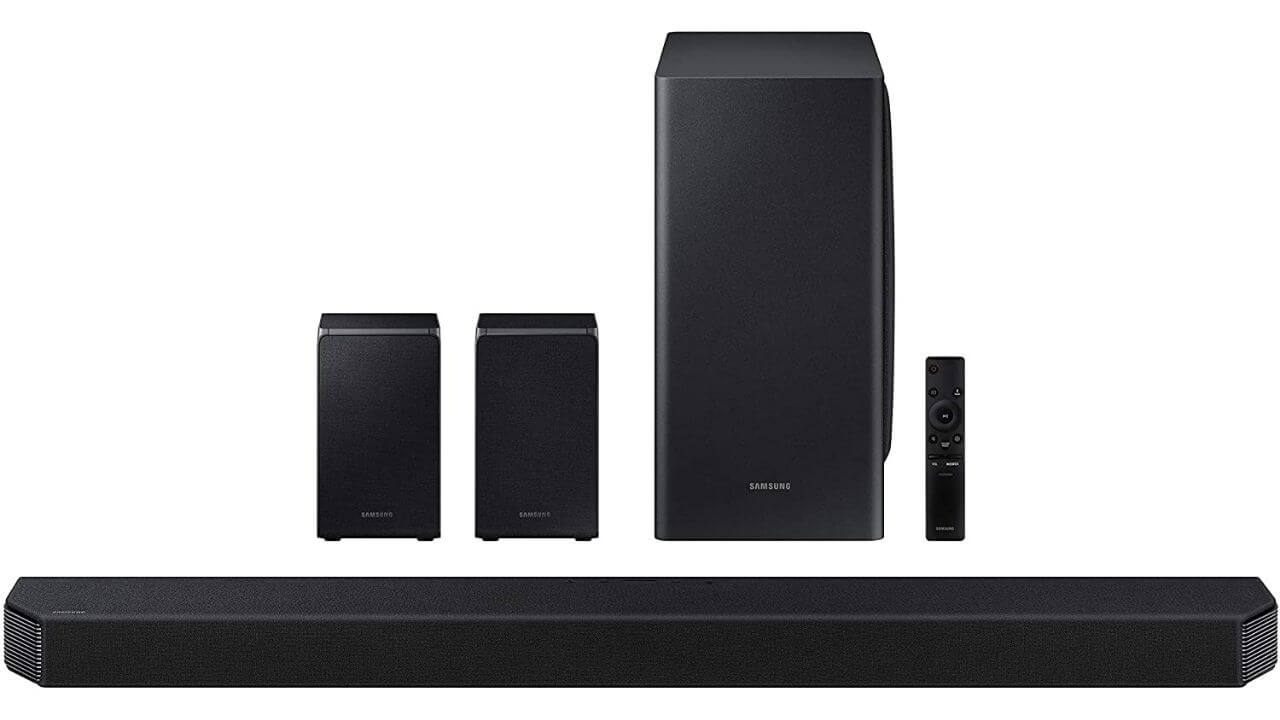 If you're planning to get one of the most-affordable Dolby Audio soundbars for the bedroom, the Samsung HW-A450 is the perfect plug and play soundbars  for you. Talking about the design, this soundbar looks identical to the Samsung HW-T450 and has a rectangular design with its front and top sides covered in a thin, slightly shiny fabric. You'll also find a subwoofer that is made from wood and a front face wrapped with fabric which can get dusty if you live in a dusty environment. 
This budget soundbar for bedroom TV comes with 2.1 setup i.e. 2 channels and a wireless subwoofer, whereas the neutral sound profile is complemented with an instant bass boost that can be enabled right from a button on the soundbar. The Samsung A450 soundbar is shipped with a few audio enhancement features such as a graphic EQ and presets. However, this soundbar still lacks low bass. With that said, this Samsung bedroom soundbar can get loud at times when you're watching action movies or enjoying loud music videos on your TV which should be plenty for if you've got a relatively small bedroom in an apartment. As far as connectivity is concerned, this soundbar comes with an optical input and USB port, whereas Bluetooth support gives you the privilege of wireless streaming using your mobile devices/tablets. 
Please note that this soundbar doesn't come with an HDMI port to connect your TV.  It also supports Bluetooth for wireless streaming from your mobile device. 
If you are looking for a newer model that comes with Dolby 5.1/ DTS Virtual: X and an HDMI port for a vivid sound experience, grab the Samsung HW-A550 A Series soundbar priced at $177 (at the time of writing this). Also, this soundbar for the bedroom includes a wireless subwoofer, similar to the one offered with the Samsung HW-A450 soundbar mentioned above. 
8. Bose TV Speaker (Best budget-friendly soundbar for bedroom)
Size: 23.4-inches
Dolby Atmos: No
Connectivity options: Bluetooth version: 4.2 / HDMI ARC (Audio Return Channel) / Optical in / AUX in / USB (for service only)
Warranty: 1 year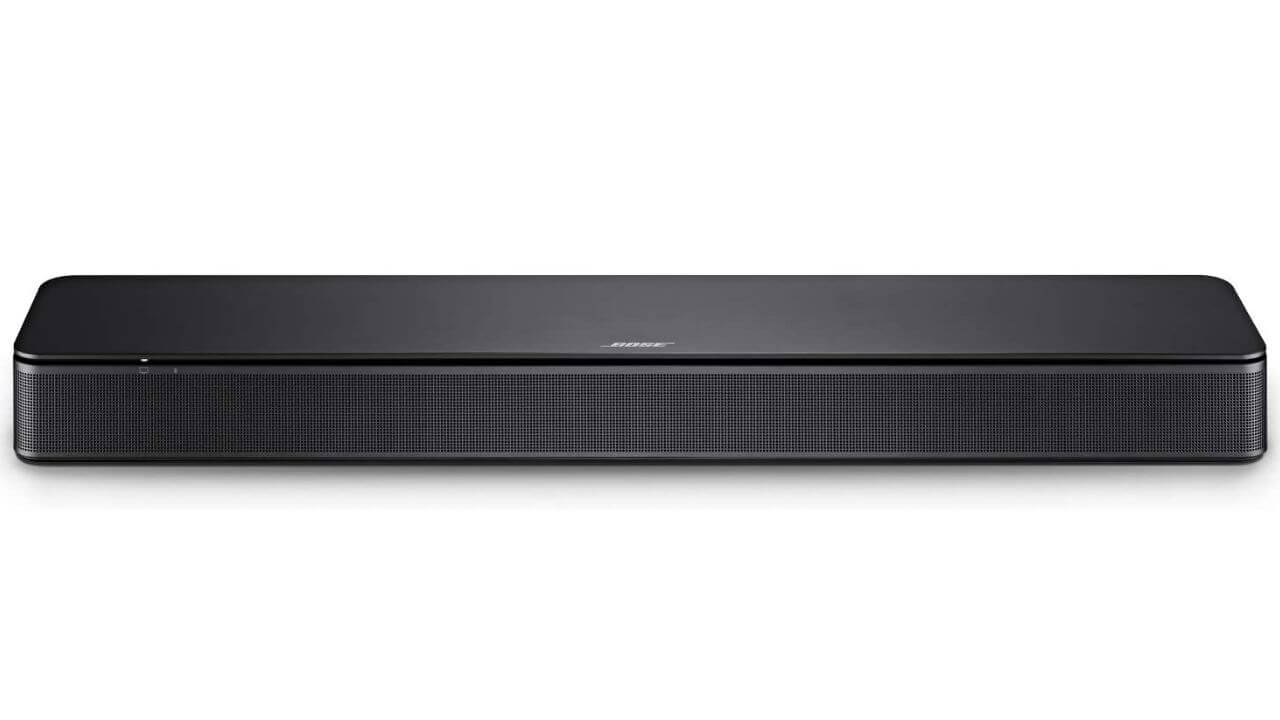 If you're looking to pair your bedroom TV with a reliable plug & play soundbar, choose the Bose TV soundbar without any doubts. As far as size is concerned, it is not much wider as compared to other soundbars we have listed in this guide, but thanks to its Optical and HDMI ARC ports, this budget soundbar for the bedroom is designed to work flawlessly with your TV. Please note that this Bose Soundbar for bedroom TV is equipped with 2-angled full-range drivers that offer a more realistic and spatial audio experience when you're enjoying your favorite movies using this considerably smaller soundbar for the bedroom.  
If your TV struggles to get the dialogues delivered in your favorite movie, simply enable the "dialogue mode" with the help of Bose remote and the speaker will do its best to analyze what you're watching and elevate the vocals and pronunciations offering the best movie experience. You can use an optical audio cable that is included in the pack or an HDMI cable (sold separately) to connect this soundbar with your bedroom TVs. Whereas, the Bluetooth connection allows connecting your smartphones or tablets to this soundbar. Despite lacking many features (as on the premium options like Bose soundbar 500, 900, etc), the low-profile, perforated metal grill and the smooth top surface give this bedroom TV soundbar a sophisticated and premium look. 
All in all, it's a budget-friendly soundbar for the bedroom that enhances your TV experience by offering crisp and clear audio. However, it lacks premium features like Dolby Digital, Dolby Atmos, or DTS:X. 
If you have a larger living space or a bedroom, we recommend checking out the Bose Soundbar 300, 500, 700 and the flagship 900 series. These come with Dolby Digital DTS and even Dolby Atmos support to offer an impressive sound experience. Moreover, it also supports a
wireless external subwoofer and wireless rear surround speakers.
9. Klipsch Cinema 600 3.1ch Soundbar
Size: 45-inches
Dolby Atmos: No
Connectivity: HDMI-ARC, Bluetooth, 3.5mm AUX, Optical Digital 
Warranty: Limited Warranty and Free 90-Day Return Guarantee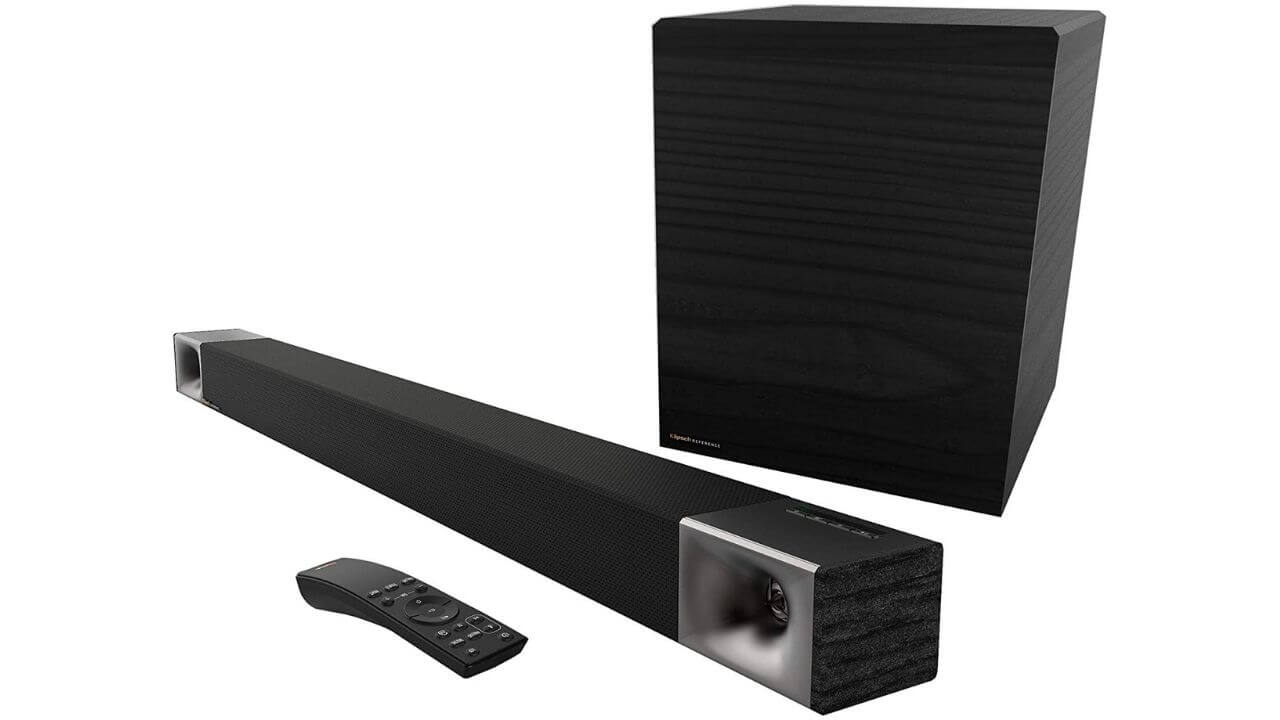 The Klipsch soundbar features a wooden enclosure and a cloth-lined grille covering almost every visible surface area. There are seven total drivers in this higher mid-range soundbar to offer the best audio experience while you're watching your favorite movies/shows on your bedroom TV. Similar to some of the other bedroom TV soundbars, this one can also be mounted to the wall. The cherry on the top is the fact that there are two wall mount screws and brackets and all of them come included in the pack. Talking about the connectivity this soundbar offers, there are inputs for HDMI ARC (cable included in the pack), optical input (cable included in the pack), and 3.5mm AUX. Also, the wireless connectivity features allow this soundbar to be placed anywhere in the room without thinking too much about the wiring. It has four wooden legs, which help lift the base off the floor. 
There's a Pair button on the subwoofer for manually pairing this bedroom TV soundbar, just in case, it doesn't connect automatically. The Klipsch Cinema 600 offers Dolby Digital audio, giving a more theater-like experience. You can also connect audio devices to this bedroom TV soundbar via Bluetooth. Also, the Klipsch Cinema 600 soundbar delivers a theater-like sound and excellent clarity for movies and music at a relatively affordable price. Moreover, this budget-friendly soundbar for bedrooms can be expanded using rear speakers and surround sound speakers to elevate the overall audio experience. 
10. Polk Audio MagniFi Mini (Best soundbar for small bedrooms with surround sound system)
Size: 13.4-inches
Dolby Atmos: No
Connectivity options: HDMI (ARC), Optical, analog (3.5 mm input jack), Bluetooth, and WiFi 
Warranty: 1 year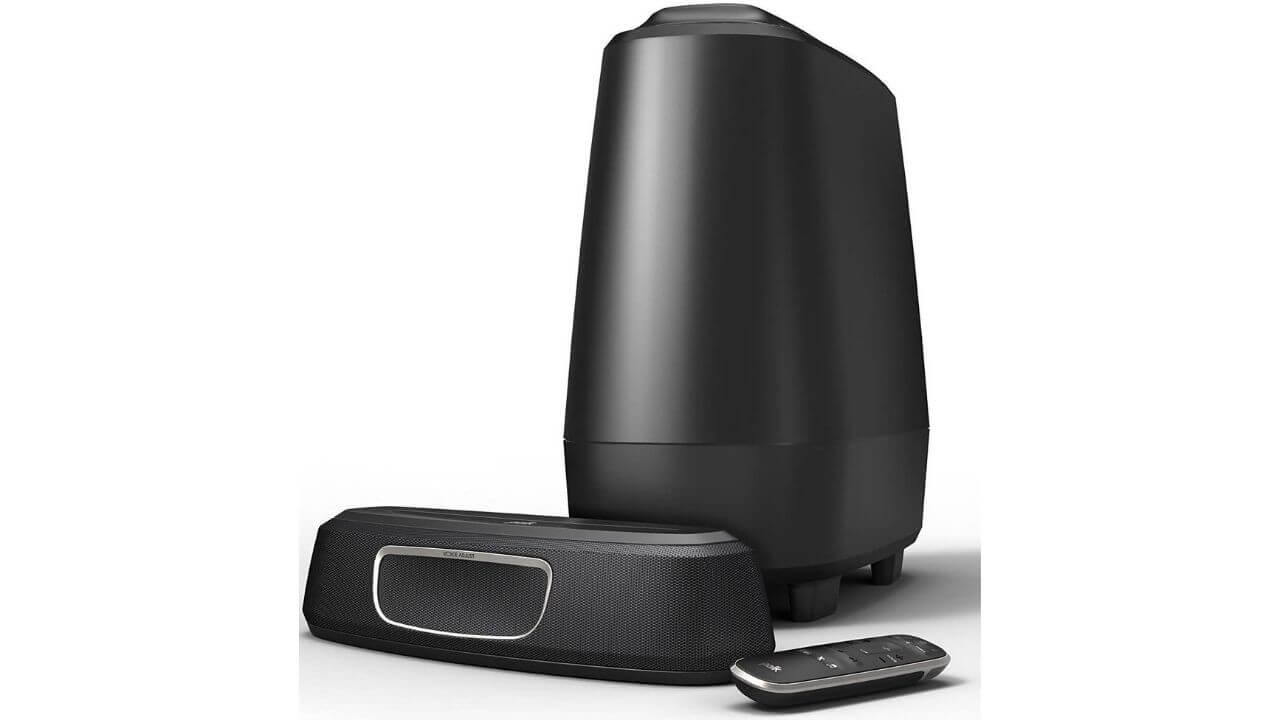 Do you have a small bedroom or stay in a confined space? Grab yourself the Polk Audio MagniFi mini soundbar for your bedroom TV. The Polk MagniFi Mini is just 13.4 inches wide and three-inches in height, which is considerably smaller in comparison to other soundbars available at the given price point. Despite it being offered with the plastic and cloth build, it looks pretty attractive. Unlike other soundbars, this one sits upright and can't be wall-mounted. 
As far as audio is concerned, this compact soundbar for TV is equipped with 6 powerful drivers and tweeters that can deliver extremely good audio for all the cinephiles. Plus, the SDA audio technology, 5.1 Dolby Digital coding, and wireless subwoofer do the trick by delivering an immersive surround sound experience. To help you enjoy the best audio experience, this soundbar is equipped with independent modes to stream your favorite movies, sports, and music. Also, the night mode allows watching without disturbing the neighbors. But, the question arises is that how is that possible? This night mode function of this bedroom TV soundbar allows you to retain a theater-like environment at low volume levels. That means when you're watching movies late at night, you can clearly hear all the dialogues even at a very low level, without disturbing your neighbors.
Moreover, Bluetooth connectivity helps stream music directly from your smartphone, tablet, or another compatible device. The included HDMI (ARC) and optical cables let you plug the soundbar directly into the TV, and you're ready to go. Overall, it's one of the best mini soundbars for small bedrooms that you can buy without compromising the audio quality. 
If an affordable and wider bedroom soundbar is your priority, don't forget to choose the Polk Audio Signa S2. It is one of the slimmest bedroom TV soundbars that is offered with a wireless subwoofer and connectivity support with HDMI ARC, optical input & AUX within a tight budget.
Also, there's also a newer model –  Polk Audio Signa S4 that flawlessly works with 8K, 4K, and HD TVs that you may have in your bedroom. This mid-range soundbar comes with exclusive voice and bass adjust technology to offer crystal clear sound and dialogues when you're watching your favorite movies/shows/sports. 
Also, consider checking some best soundbars for bedrooms with good reviews and ratings on the internet:
FAQs related to Best Soundbars for Bedroom in 2023
1. What are some best upcoming soundbars of 2023?
At the CES 2023, we saw some of the latest and best soundbars for your bedroom TV. Leading TV & soundbar manufacturers like Samsung, LG, and Sony showcased a full range of soundbars that will accompany their new TVs. To answer your query, we have listed some of the top picks of the best soundbars of 2023. Please check them out.
JBL Bar 1300X Pro

– Best JBL sounbar of 2023 

Samsung HW-Q990C

 

LG SC9

– Premium soundbar for bedroom with dedicated storage slot
2. What is a good soundbar for a small room?
If you are looking for some of the best soundbars for small bedrooms in 2023, here are some of our recommendation that is worth checking out.
3. Where should a soundbar be placed in a bedroom?
If you are planning to get a soundbar for your bedroom TV, make sure to consider the following factors:
Always ensure that the bedroom soundbar is placed just below the TV. 

Also, make sure that the speaker grille is always facing the listening area  (in your direction) for a better audio experience. 

It is advised not to place the soundbar on an enclosed shelf or cabinet. Therefore, ensures there's plenty of space behind. above and around the soundbar. Otherwise, the soundbar sounds tinny and muddy.
4. Is it okay to place the soundbar behind the TV?
Well, you can do that, but it's not ideal and will hinder the audio experience. If you place a soundbar behind the TV, it is likely to obstruct the soundwaves, as a result, the sound quality and volume are reduced. Remember, soundbars are designed to be placed just under the TV, not on the sides or behind it.
With that, we have come to the end of this buying guide on the best soundbars for bedrooms that you can buy in 2023. In case you own Apple TV 4K, please make sure to check our dedicated buying guide on the best soundbars for Apple TV 4K.