Since ancient times, puzzles have been a constant source of entertainment. Puzzle games, among the many games we've played, have been a part of our childhood, and we've all enjoyed the way they act as brain teasers and help stimulate our nervous systems. Almost everyone has played a plethora of brain-teasing and amusing Puzzle games in our lives, which is why finding that same magic through an app can be a God sent. However, because there are thousands of puzzle games available on the Play Store, finding truly exciting and top puzzle games for Android devices can be difficult. That is why we have compiled a list for you that will assist you in determining some of the best free puzzle games for Android.
Best Free Word Puzzle Games for Android
1.
Bonza Word Puzzle
Bonza's challenge lies in clues that give players an idea of possible words to look for based on the format and number of letter boxes available. These clues cover a wide range of topics, from pop culture references to global events to simple everyday 'things.' 'Things that have buttons,' 'things that can be thrown away,' and so on. The many challenging clues presented include one word clues and one word clues with only the first letter of the word shown. The Starter pack provides players with ten relatively simple and easy clues to get them started, which contain 30 or more clue levels. After solving each puzzle, players are rewarded with a variety of coins, which can be exchanged for hints that reveal a solution. Bonza appears to be an interesting puzzle game for Android that anyone can pick up and play. The simple controls are a great welcome for the casual audience, and the beautifully subtle, colourful user interface is genius. Bonza is simple to pick up, but it's difficult to master, as is the case with most brain-teasing puzzle games. The more letter boxes on the field, the more difficult it will be to decipher words with simple, seemingly plausible clues like 'Scuba.'. Finding the first words is usually the starting point for the train; once you've arranged the boxes to find the first word, you'll eventually find all of them. Wordsmiths and crossword aficionados may not notice, but anyone who isn't good at making words out of random letters will find their patience tested.
2. Wordle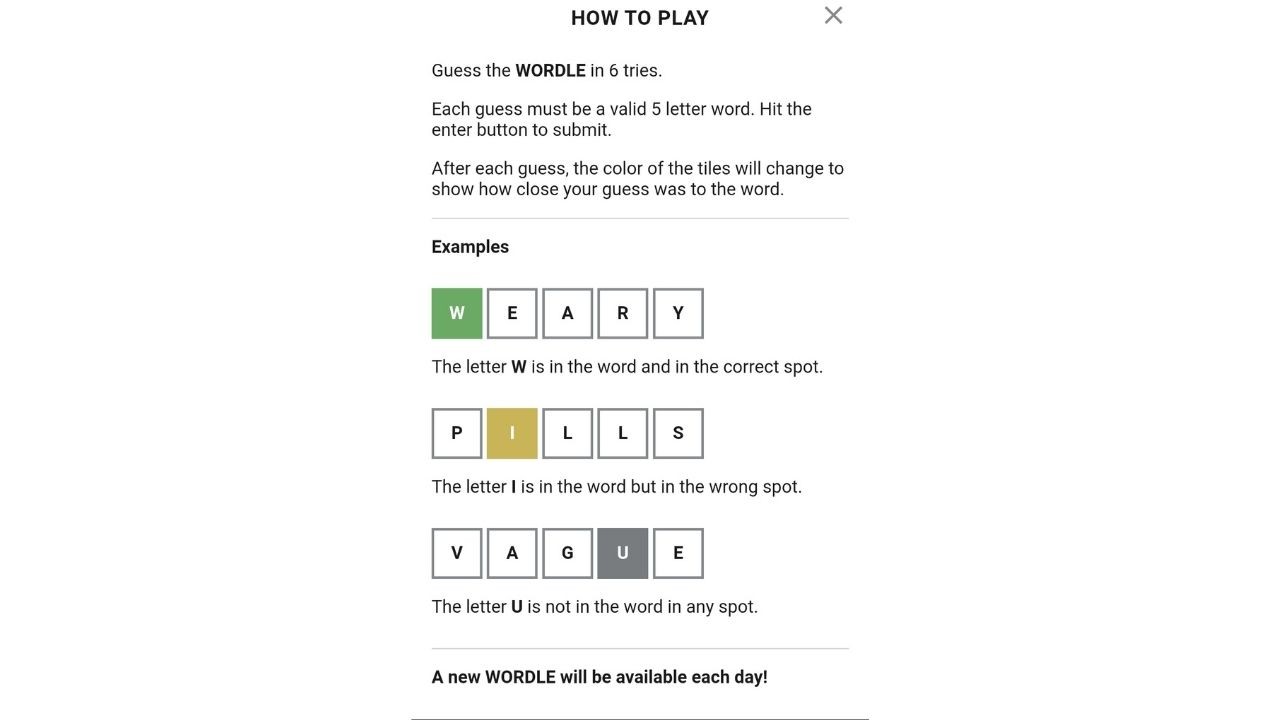 The game has the beauty of a daily newspaper puzzle — it's a five-minute task that fits nicely into even the busiest schedule: guess the five-letter word. There are six chances for you to succeed. Your guess is recorded after each attempt. Green letters occur in the target word and are correctly positioned, yellow letters appear in the target word but are erroneously placed, and grey letters do not appear at all. You can use this limited information to better your next guess and come closer to the goal word. We admit, you may wonder what's so special about this puzzle game? Well, for starters because there is just one problem per day, the stakes are raised. At Wordle, you only get one shot. You'll have to wait till tomorrow to acquire a new puzzle if you make a mistake. The best thing about this free puzzle game for Android is that you never suffer alone since the specific Wordle for the day is common for everyone around the world. You should absolutely try it if you haven't already. If you've already tried it, try Wordle in a different language to see how far you can go. There are Wordle clones in French, Spanish, Italian, and a slew of other languages, so make sure you check them out too. Its old-school charm, innovation, and simplicity make it one of the best free word puzzle games for Android.
Also Read: Best eBook Reader Apps for Android
3. Kitty Letter
The game comes from the same studio as Exploding Kittens and includes plenty of exploding kittens, among other things. You're defending your house from a swarm of cats by creating words out of a series of letters. These kitties travel down a series of lanes, each of which is represented by a different letter. Is there a litter of kittens in the P lane? Then you'll have to come up with a P word to get rid of them. The higher your word's score, the more kitties you can release. There are also deer. They float around the level, leaving gifts for you to collect and use. Axes, food, forks, pug spiders, and hot sauce bottles You'll gain an advantage if you throw them into the fray. The best part of this free puzzle game for Android is the unconventional and dark humour it offers which truly makes it such a delight to play. You can play in arcade mode against an endless wave of kittens, or go online and compete against strangers and friends in quick-fire battles to the death. The winning house is the last one standing. Kitty Letter has a wonderful sense of joy about it that's difficult to get rid of. Even just thinking about it will bring a smile to your face. It's quick, maybe even dumb, and smart all at the same time. This is a word game that will make you laugh out loud.
4. Sticky Terms
The goal is to make words out of fragments. Early examples are straightforward: if you can't put together the first puzzle from its two parts, you should seek assistance. However, the puzzles quickly become more difficult, resembling abstract art at first. There's a twist in the fact that the words are strange. Most of them cannot be translated into other languages, despite the fact that you may be familiar with (and use) some of them. As a result, you must usually rely on letterform recognition and patching together. When you finish a puzzle, you'll be told where the word came from and what it means. (Yes, gaming can be educational.) It's fantastic – a simple concept executed flawlessly. This free puzzle Android game is visually appealing, with beautiful typography on a virtual paper surface. The controls and audio are equally enjoyable: dragged elements pop apart, rotate with a tap, and click together when properly merged. Everything has an engaging, hand-crafted feel to it.
Also Read: Safest Video Calling Apps (End-to-End Encryption)
5. Jumbline 2
Jumbline 2 is a free puzzle game for Android that consists of three minigames, each of which is a variation of the same anagram game. In Jumbline 2, all three minigames are variations of the same thing. Every game requires you to pound out anagrams with as many words as possible at speeds slightly faster than your brain can think. What's even better is that once you've decided that regular anagrams aren't for you, you can move on to the "expert words." Jumbline 2 is one of the fun word puzzle games for Android that any fan of the genre will enjoy. Sure, you'll stumble across the way but that's exactly what makes this game such a delight!
Best Free Jigsaw Puzzle Games for Android
1. Jigsaw Puzzles Epic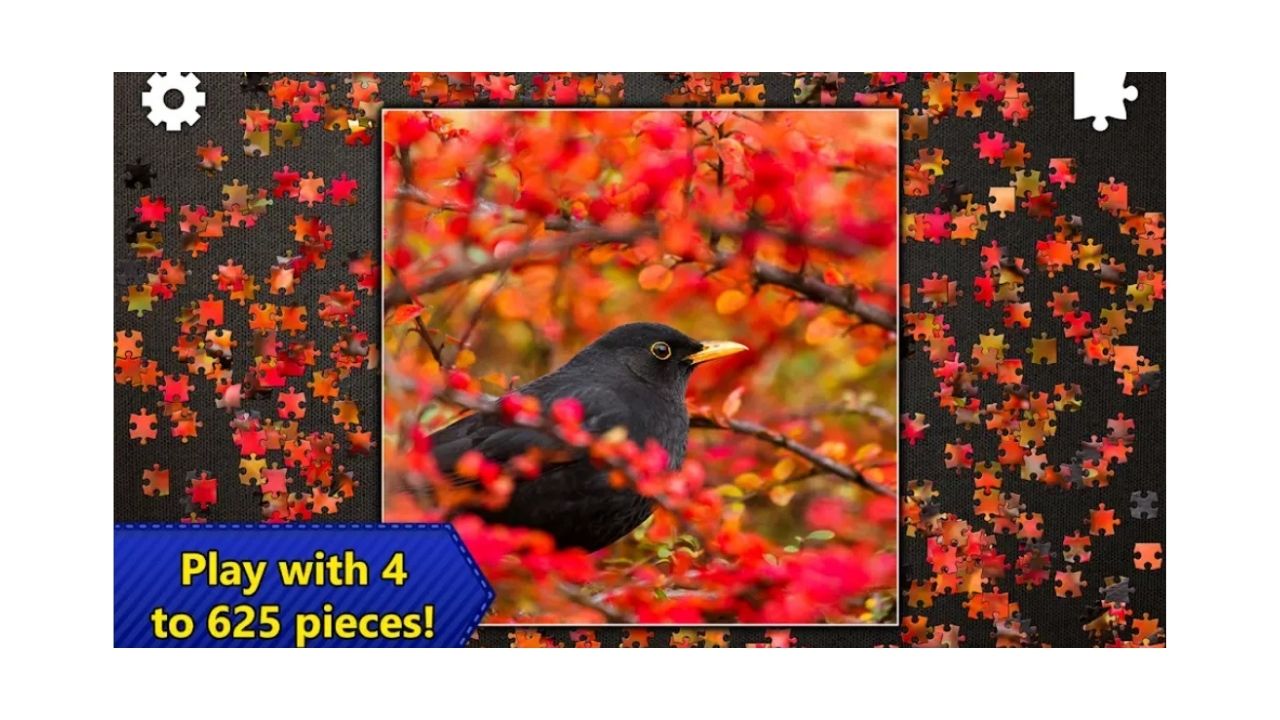 If you like to see all of your puzzle pieces at once, Jigsaw Puzzles Epic is probably the best puzzle app for you. When you first start a new puzzle, all of the pieces are neatly arranged around the puzzle frame. With a large, usable area surrounding the puzzle outline, you can easily see everything and group together similar pieces. This free puzzle app for Android includes soothing music that you can turn off or adjust the volume of. You can also customise a variety of other features, such as showing piece outlines, changing the background, showing your time, and more. Furthermore, there are numerous objectives to achieve, ensuring the app's longevity. Every day, there's a new free puzzle to work on, as well as a variety of free puzzle collections and puzzle packs to purchase. With all of the available collections and the ability to upload photos to create your own custom puzzles, you won't need to buy any packs for a while.
2. Magic Jigsaw Puzzles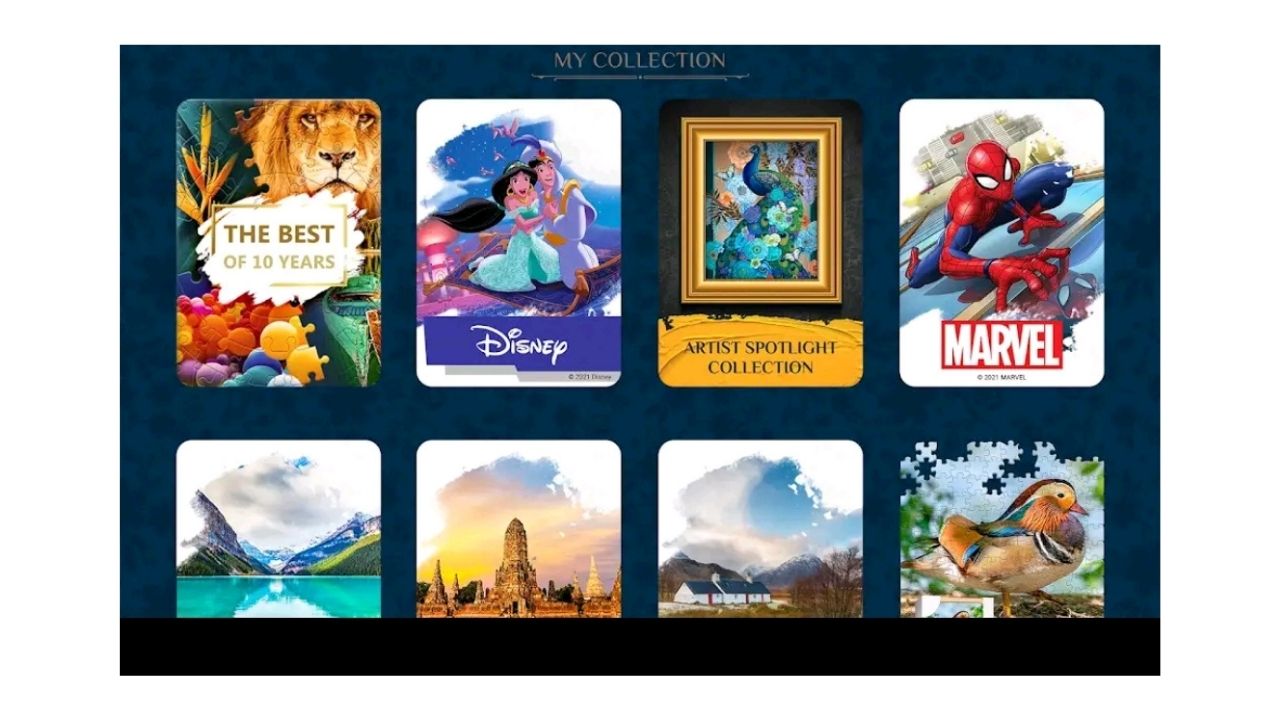 Magic Jigsaw Puzzles is another Android puzzle game for those who enjoy putting together beautiful HD jigsaw puzzles. There are 20,000 free jigsaw puzzles here, with the option to sign up for and pay for many, many more that arrive each month for puzzle nerds. Players can even make their own puzzles in this free jigsaw puzzle game for Android using photos and images they have on hand. There are a variety of categories to choose from, ranging from Architecture to Animals, and everything in between. Magic Jigsaw Puzzles is probably one of   the best puzzle games on Android. With over 50 million installs it offers four different difficulty levels that change the number of pieces included, a rotation mode, and much more. There are some ads here and there because this is a free puzzle Android app, but paying for more puzzles and such will unlock these (more on that later). The first step is to decide on the type of puzzle you want to work on. Over 20,000 high-quality HD puzzles are available for free, and they're all neatly organised into the appropriate categories. Your puzzle will begin to take shape after a short time – depending on how many pieces you've chosen, of course. The white border around corners and edges makes it easy to find them, and the faded background of the preview feature can make completing your puzzle a little easier. When you finish a puzzle, you'll be rewarded with coins and other goodies. Magic Jigsaw Puzzles will provide players with a free puzzle every day, and there are already a lot of free puzzles available for those who don't want to pay for a puzzle!
Also Read: Best Reddit Apps for Android in 2022
3. Art Puzzle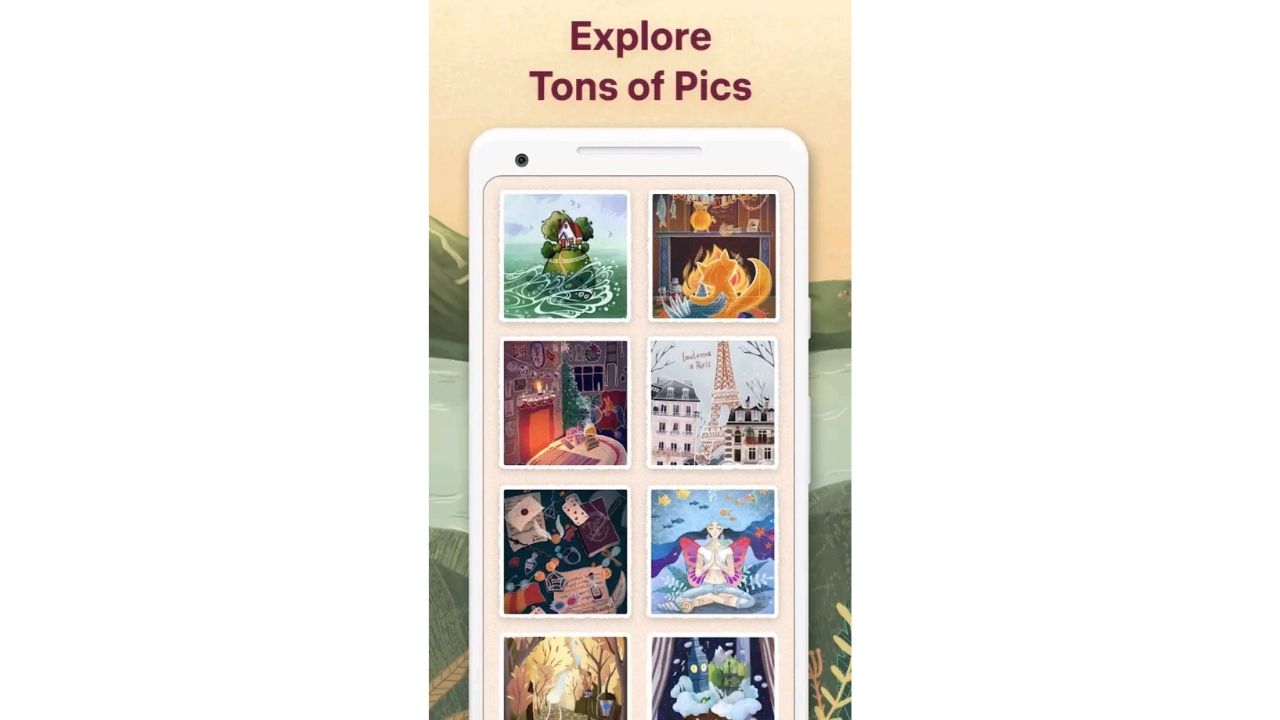 Art Puzzle is a fun twist on the traditional jigsaw puzzle. Although each piece has its own home, the puzzle does not resemble a traditional jigsaw puzzle. Instead, the puzzle has an artistic, almost coloring-book feel to it. Because there are so many different pieces, the art puzzle must be completed in stages. On the first screen, for example, there may only be room for seven pieces. You'll see an animation that overlays the next set of pieces you need to find once you've found and placed all seven pieces in their proper locations. You'll see a cute animation after you've placed all of your puzzle pieces. There are various collections to complete as well as daily challenges to take on. What makes it one of the best jigsaw puzzle apps for Android is that you can also finish any previous daily challenges.
4. Jigsaw Puzzles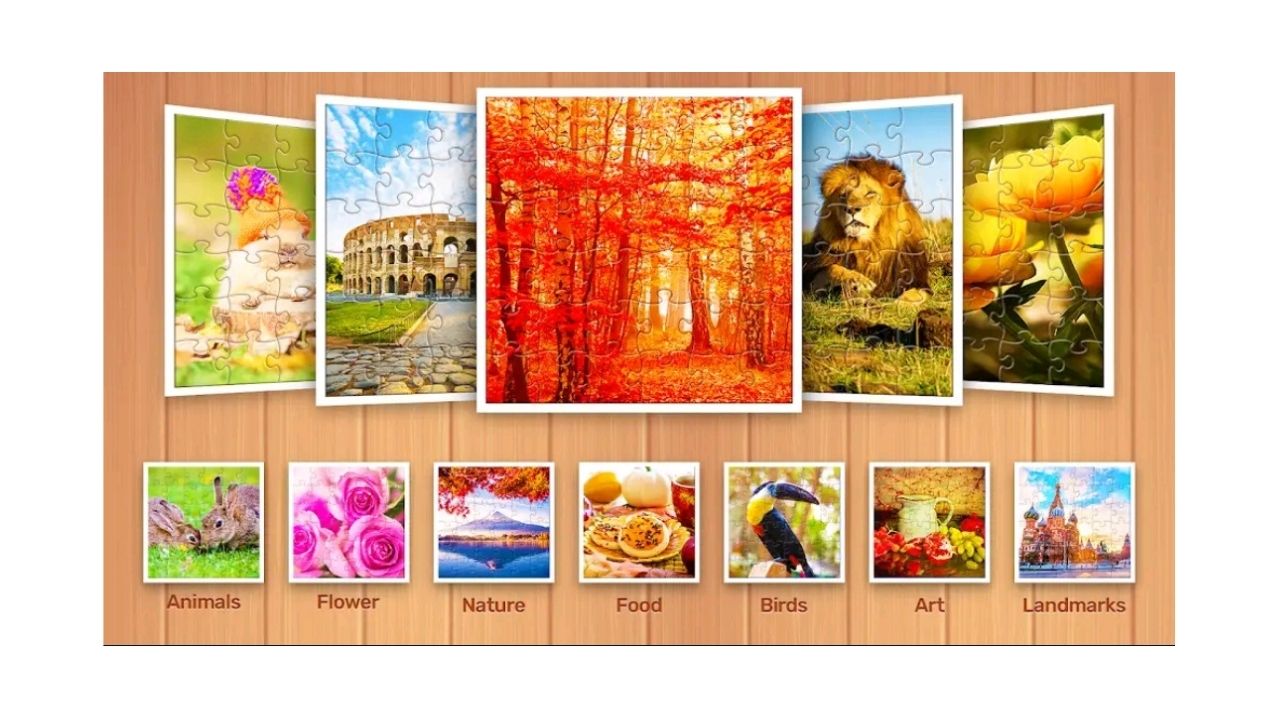 The Jigsaw Puzzles app has a simple and intuitive interface. On the home screen, you can quickly see which puzzles are free and which are locked; puzzles can be unlocked by paying real-world money or earning stars to spend in this free Android jigsaw puzzle app. At the very top, there's always a free puzzle of the day waiting for you! You can access the Daily Puzzles tab if you've missed a daily puzzle or if you've just downloaded the app and want to take advantage of all the free puzzles. You can also sort puzzles by themes, such as Food, Animals, Landmarks, or Flowers, using the Collections tab.
5. I'm a Puzzle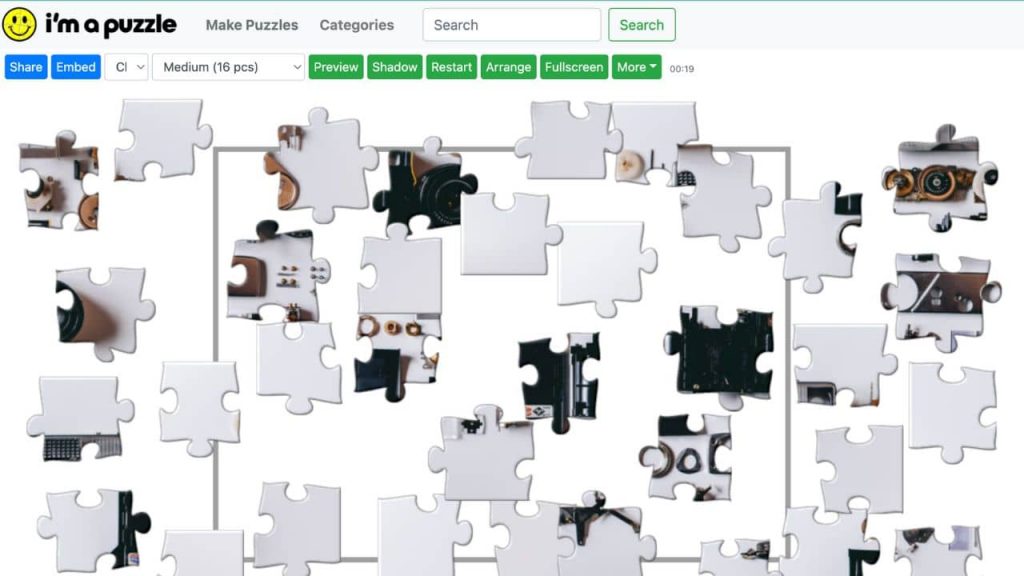 If you're looking for a puzzle game that allows you to solve and even create jigsaw puzzles, then Im-a-puzzle.com is one of our top picks.
With thousands of puzzles organized by categories, I'm a Puzzle has customizable shapes and players can choose the exact number of pieces for their next jigsaw puzzle. There's also a quiz mode that allows you to answer questions that can unlock different puzzle pieces.
Best Ad-free Puzzle Games for Android
1. ULTRAFLOW
Nowadays, keeping one's mind entertained is a difficult task. With hectic schedules, sticking to a full-length game can be difficult. However, it's a good thing that there are ad-free puzzle apps for Android that gladly provide people with the quick, satisfying, and entertaining mind challenge games they require.
Thibaud Troalen of Ultrateam created Ultraflow, a minimalist puzzle game. What makes this one of the best puzzle games on Android is the fact there are no microtransactions or advertisements in this game. Because this is a minimalist game, there isn't much to look at. The object of the game is to get the ball into the goal circle. Sounds pretty simple? Well, not for long. As you progress, the levels become increasingly difficult. You simply fling your ball in the general direction of the goal at first. Later on, however, you'd have to strategically bounce it around. The obstacles will become more complex as you progress through the levels. Some of these take the form of moving terrain, speed boosts that propel you in the general direction of the arrows, areas that drastically reduce your speed once passed, and areas that have their own gravitational pull that repels or pulls you in. The further you progress in the game, the more types of obstacles you'll encounter. You can simply fling the ball as fast as you can at the start of the game. Later on, the speed with which you throw it becomes important. Slower areas, for example, where you must fling really hard to get through them with enough velocity to keep going after you pass them, or perhaps needing to fling slowly at just the right speed to get through some obstacles, are a good example of this. Although there are a few puzzles in the game that can be completed by brute force. If you decide to brute-force your way through them and not finish them as intended, that is your loss. Using brute force, on the other hand, won't work at the higher levels because they sometimes only offer a few bounces, severely limiting your chances of success by simply throwing the ball around in this Android puzzle game with no ads.
Also Read: Best Language Learning apps for iOS and Android 
2. 0h h1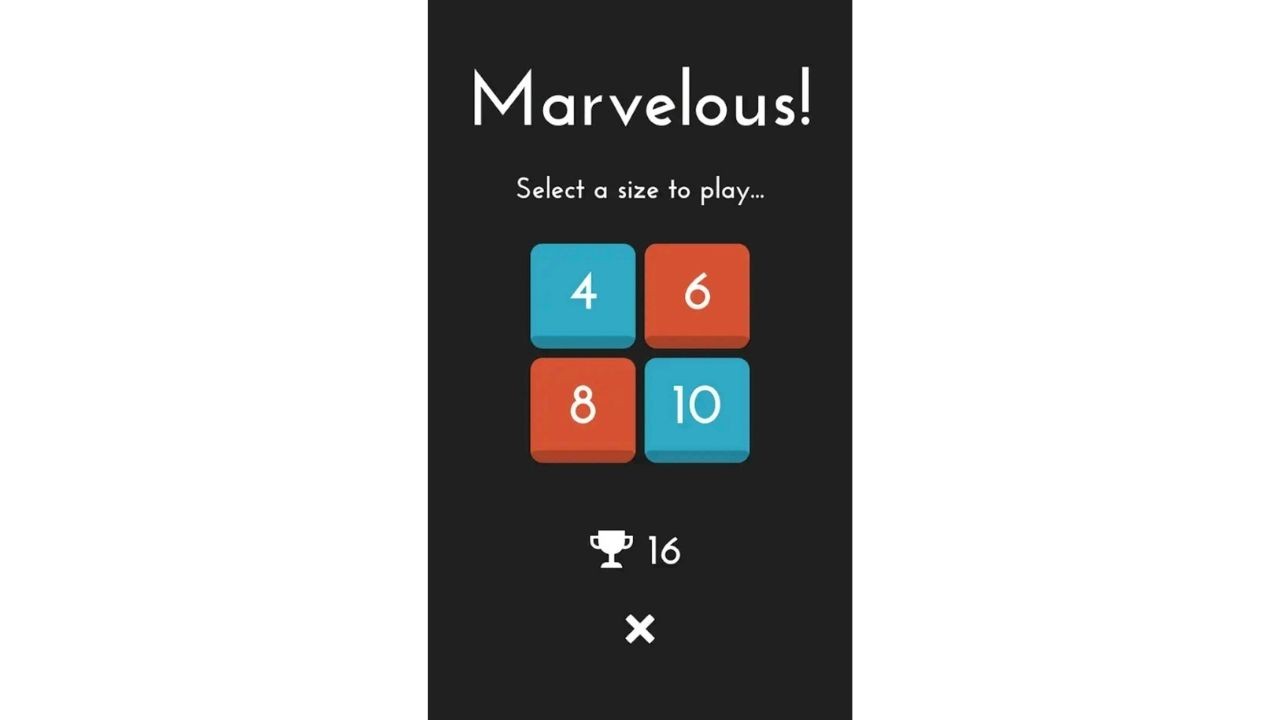 In the simplest words– 0h h1 for Android is a difficult puzzle game in which you must tap tiles into a red and blue pattern while adhering to a set of strict rules. There can't be three consecutive tiles of the same colour, no two rows or columns can be the same, and each row and column must contain the same number of red and blue tiles. You'll have to plan ahead of time on how to change all of the tiles in order to meet all of these requirements. It generates a score based on how long it took you and how many steps you took, so you can try to beat it. The ultimate challenge in this adfree puzzle game for Android would be to correctly fill the empty spaces the first time around. 0h h1 is a logical Android game that can be scaled to any level of difficulty. Unlike other level-based puzzle games, you can customise the difficulty and each game is based on your choices, which is a truly unique concept. We strongly advise you to try this one of the best free Android puzzle games out the next time you have a few minutes to spare.
3. 2048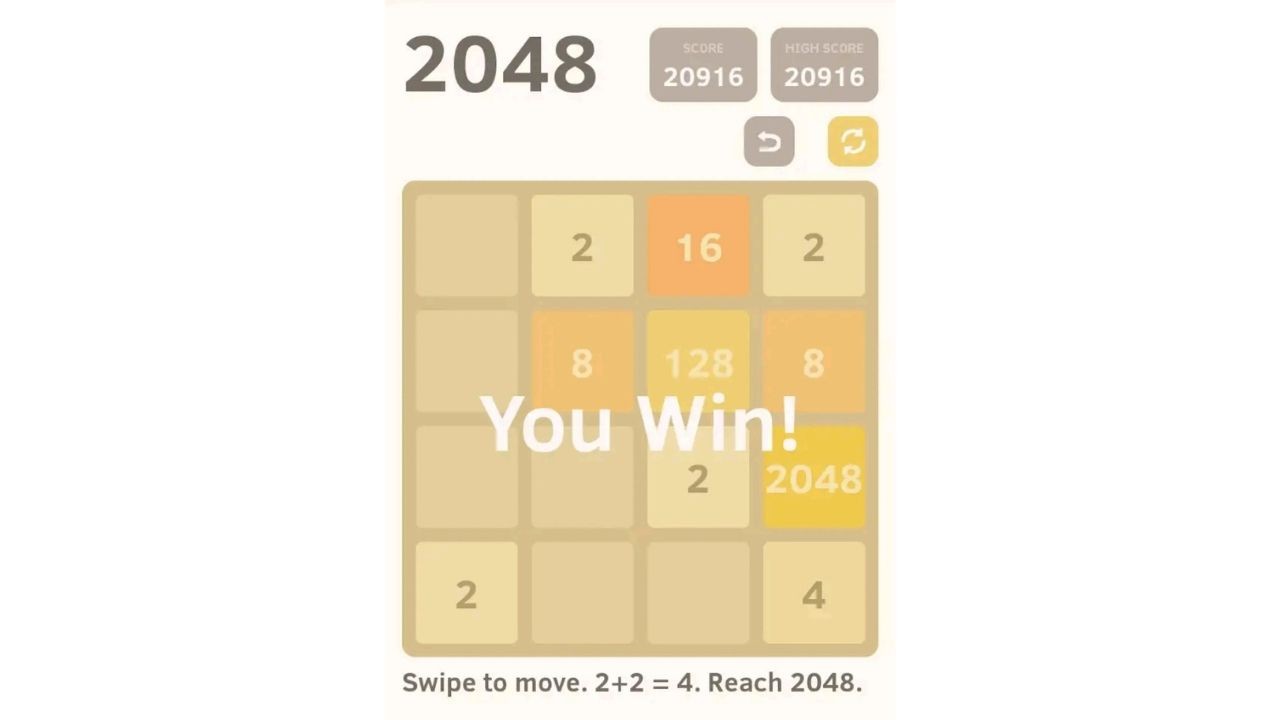 As simple as the name sounds, it is equally difficult to play this free mobile game with no ads. This app's gameplay is difficult to describe. You will be given a tile with a number 2 or 4 that you must combine. When two tiles of twos are added together, they make four, and when two tiles of fours are added together, they make eight. This keeps repeating itself. This may appear to be a simple task, but keep in mind that wherever you place the new tile, the entire board will move in the same direction. This could indicate that you've blocked off some crucial low numbers and are no longer able to win. The trick is to keep combining your highest numbers, which is more difficult than it appears. The simplicity of this free Android game without ads is what makes it so appealing. Not only in terms of gameplay, but also in terms of the overall design of the app. The app is stunning in its simplicity, and there is no need to worry about a startup screen. And you know what the best part is? It is completely free! This is certainly one of the best free puzzle games for Android which may look easy but is certainly hard to master. So, if you're up for a challenge, here's one for you!
Best Free Puzzle Games to Play on Mobile
1. Samorost
Samorost is a charming point-and-click adventure game for Android devices. The premium title Samorost 3 was the first to arrive, and it is still one of the best games of its kind on Android. The original Samorost, however, is worth checking out for Amanita Design fans and newcomers alike to see where it all began.
A space-faring gnome discovers his tiny world is about to be obliterated by an asteroid in this game. As a result, he launches himself into space in a tiny rocket, only to land in a fantastical world of surreal collage-like locations. You'll be done in half an hour if you solve the puzzles on each of the half-dozen screens. So take your time with one of the best free puzzle games on mobile, and be grateful that a bite-sized PC classic was so meticulously remastered for your phone.
Also Read: Best Stress Relief Apps for iPhone & Android
2. Empty.
Empty. is a free Android puzzle game that asks you to change your perspective. The basic concept is straightforward: rotate your view of the room to blend objects into the background. Rooms with solid coloured objects and walls make up levels in Empty. Your objective is to eliminate all objects by making them "disappear" against a wall. A green floor lamp, for example, might easily blend in with a tall and thin green block painted on a wall across the room. To achieve this, simply swipe on the screen to rotate your view so that the lamp is in the foreground of a similar-colored wall, giving the impression that it has vanished. Then Empty. will do the work of actually making it vanish. You repeat this process for each object in the room until you're left with nothing, which is how the game gets its name. Item removal becomes trickier as you progress in Empty. because some objects may obscure the walls you need to make other items disappear. In some rare cases, the order in which you remove items may be important, as some objects have the ability to change the colour of walls when they are removed. There are also some very light text-based puzzles that appear between rooms along the way. The goal appears to be to provide a narrative reflection on people's relationships with things. The key to success is figuring out how to dispose of items in the right order, and it's satisfying to empty a room and advance to the next stage. The creators of this free mobile puzzle game want you to unwind while playing, so it has generous object placement, no ads or IAPs, and no timers. The perfect way to unwind – and learn a little about the importance of simplicity in your life. It is also one of the best minimalist puzzle games for Android in our roundup.
3. Turn it On! Free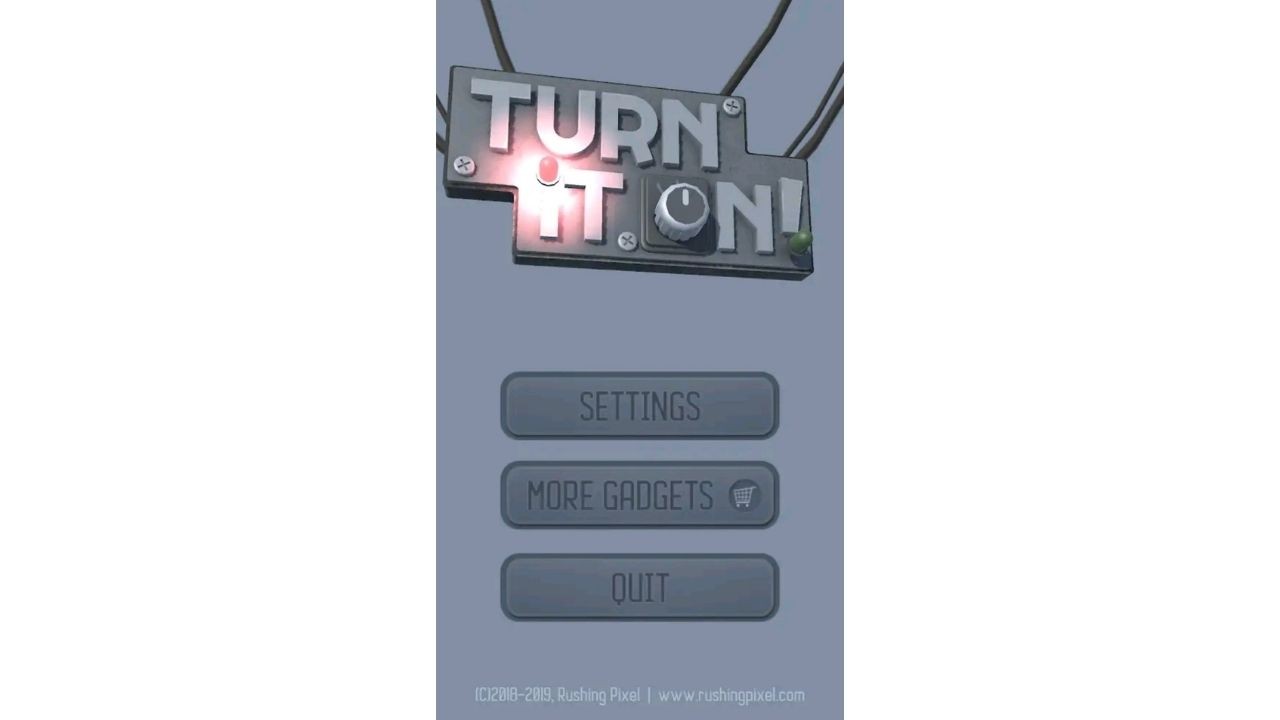 Turn it on! Free is an excellent response to all those people who complain about how difficult it is to turn on a new piece of equipment they purchase. At the very least, those items aren't as insane as the game's black boxes, which take powering things up to absurd levels. Initially, you twiddle a dial or flick a switch. This brain puzzle game for Android, on the other hand, keeps ramping up the craziness. You're confronted with an entire board of switches early on, and you have no idea what they're for. Cranks and cogs, meters, and displays eventually appear, along with your quiet sobbing voice when you realise you're 15 minutes into a level and still have no idea how to finish it. So that's the mark of a good puzzler.
4. Flipflop Solitaire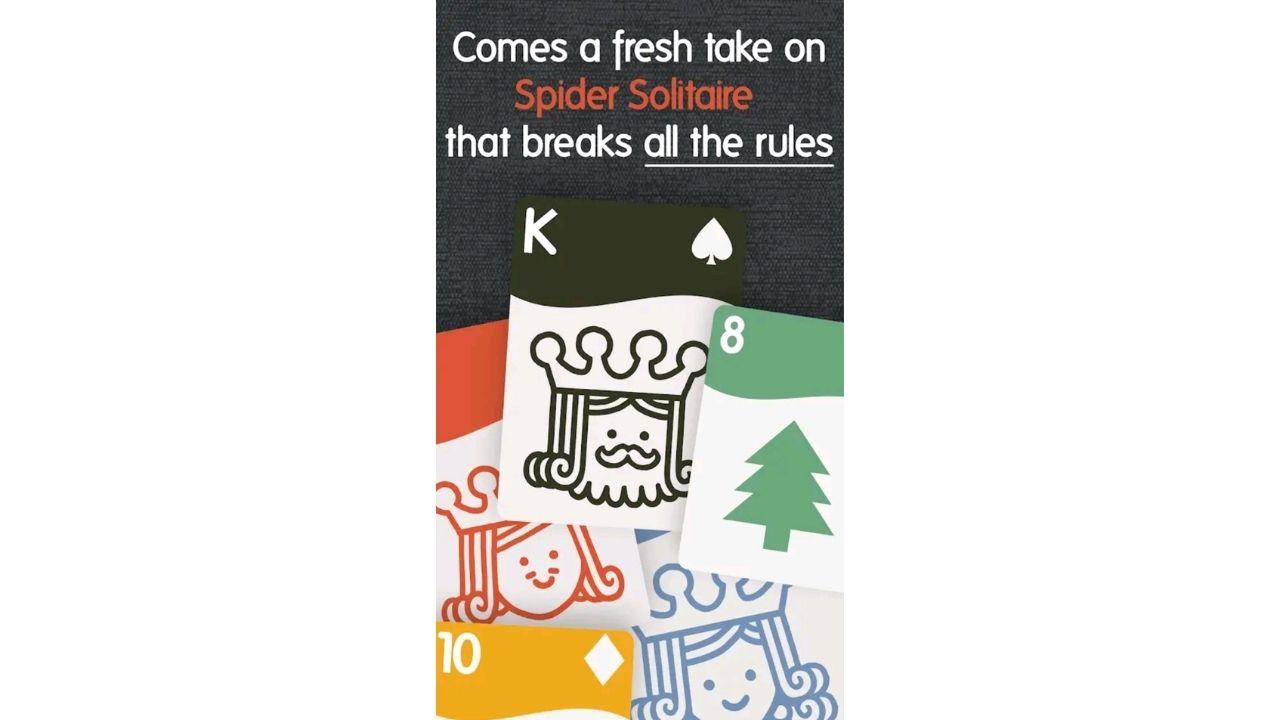 Flipflop Solitaire gives your beloved classic game a twist and makes it a rollercoaster ride. Flipflop Solitaire stays much closer to the host game's original form. You're still sequentially flipping and stacking cards across columns, steadily syphoning them off into four neat piles based on suit. However, there are a few seemingly minor changes that help to elevate Solitaire to a new level, starting with the fact that there are only five columns instead of seven or ten. The main difference is that stacks can be sorted in both descending and ascending order. For example, if the top card on a pile is a four, you could play a three (as is typical) or a five on top of it. This proves to be a two-edged sword. On the plus side, it means that (nearly) every deal can be solved, which isn't always the case with traditional Solitaire. However, if you don't keep your card piles organised, it's much easier to tie yourself up in knots. You'll also notice that you can choose between a single suit and five suits to play with. Increasing the suit count is a fun way to make the game more difficult, but it also changes the puzzle Android game's dynamics. Although there is only one style of play, the addition of extra suits adds enough variety to make it feel like there are more. With more suits, you can't move runs of cards from one pile to the next unless they're all of the same suit. If you've been playing a lot of the default single-suit mode, this will throw you off because it forces you to think a lot more before you move. In contrast, you can put any card – not just a King – in a blank slot, which can help relieve pressure in certain situations. All of these subtle rule changes add up to a compelling twist on the classic Solitaire game. It's tougher and more complex than standard Solitaire outside of the single-suit mode, but the increased number of permutations makes each game much more of a mental workout than before. If you're tired of playing classic Solitaire and want a new challenging puzzle & card game for Android, try Flipflop Solitaire. Its friendly exterior conceals a whole new level of solo card arranging.
Also Read: Best Widgets for Android Home Screen in 2022
5. Sky: Children of the Light
This is how we would describe Sky as a game: Sky is a game about discovery in more ways than just its world, with tutorials showing you how to move around with the floaty and sometimes obtuse on-screen virtual joystick controls, jump by tapping your right thumb, and soar through the clouds by holding it down. Although this is a Role-playing game (RPG), it is also a fantastic free puzzle game for Android. You can pick up on nuances in movement, for example, as you play. You can pick up speed while skipping across fields and meadows if you time your jumps just right to hop immediately after landing the previous jump. If you land a jump on the downhill side of a hill, you'll skate faster across the ground. Even though you're not mechanically unlocking new abilities, learning those unnecessary but useful techniques gives it a sense of progression. Because of its simplicity, the sky provides an almost unrivalled sense of freedom. Because exploring the open and inviting worlds and intuitively finding things on your own is basically the entire game. Detailed guidance on where to go or what to do isn't usually required, but it can be a little unclear where to go at times. If only the subtle storytelling was as entertaining to watch. Large creatures appear in between worlds to give everything an emotional weight akin to Shadow of the Colossus. They make desperate and painful sounds, whereas your character and the spirits you meet have more melodic and upbeat tones. The catch is that there are a lot of other people playing at the same time. To succeed, you often have to work together, which is easier said than done when communication is limited to parps and gestures. It can be aggravating, but there are times when someone will grab your hand and lift you into the air as a group. Moments like these are rare in mobile gaming.
Best Puzzle Games for Adults (Android)
1. A Way to Slay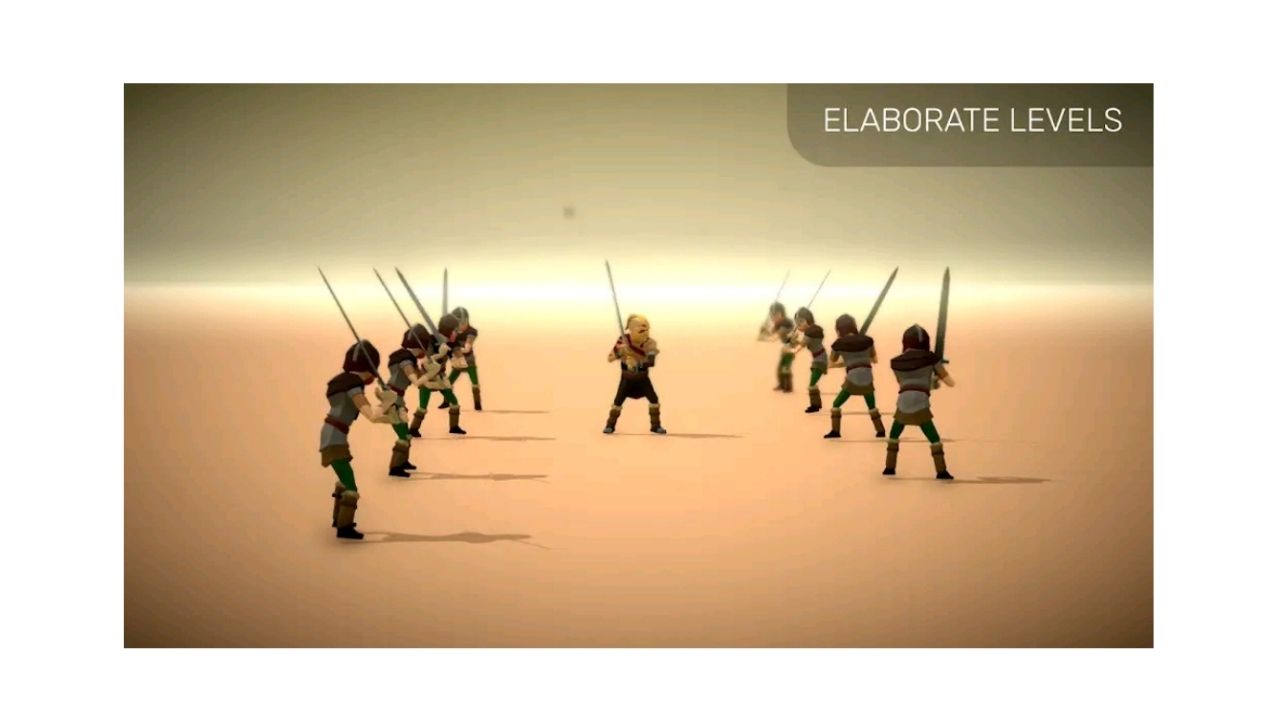 Looking for a great escape to tackle the same mundane tasks of your life? Well, a Way to Slay is the perfect escape! In this challenging Android puzzle game for adults, you're a warrior who's up against seemingly insurmountable odds. It's up to you to overcome those challenges. Essentially, you must choose which of your assailants you will kill each turn. You'll be able to execute your attack by double- tapping on them. However, if any other foes are too close to the one you're attacking, they'll seize the opportunity to kill you after you've dealt with their friend. As a result, you must choose wisely, determining which targets are safe to hack. The other warriors, on the other hand, do not remain motionless. Instead, they'll follow you around, chasing the sword-wielding blur cutting through their ranks. What makes it one of the best puzzle games for adults  is that it combines a puzzle and an action game, drenches it in thick red blood, and tops it off with some of the most pleasing, as well as brutal, murdering animations you'll see in a long time. For some, it may not be without flaws, but when it works, it provides a unique, tactical, time-chasing experience replete with swords and slaughter. Also, it has in-app ads which might hinder your user experience but you can always get rid of them with an in-app purchase.
2. Aquavias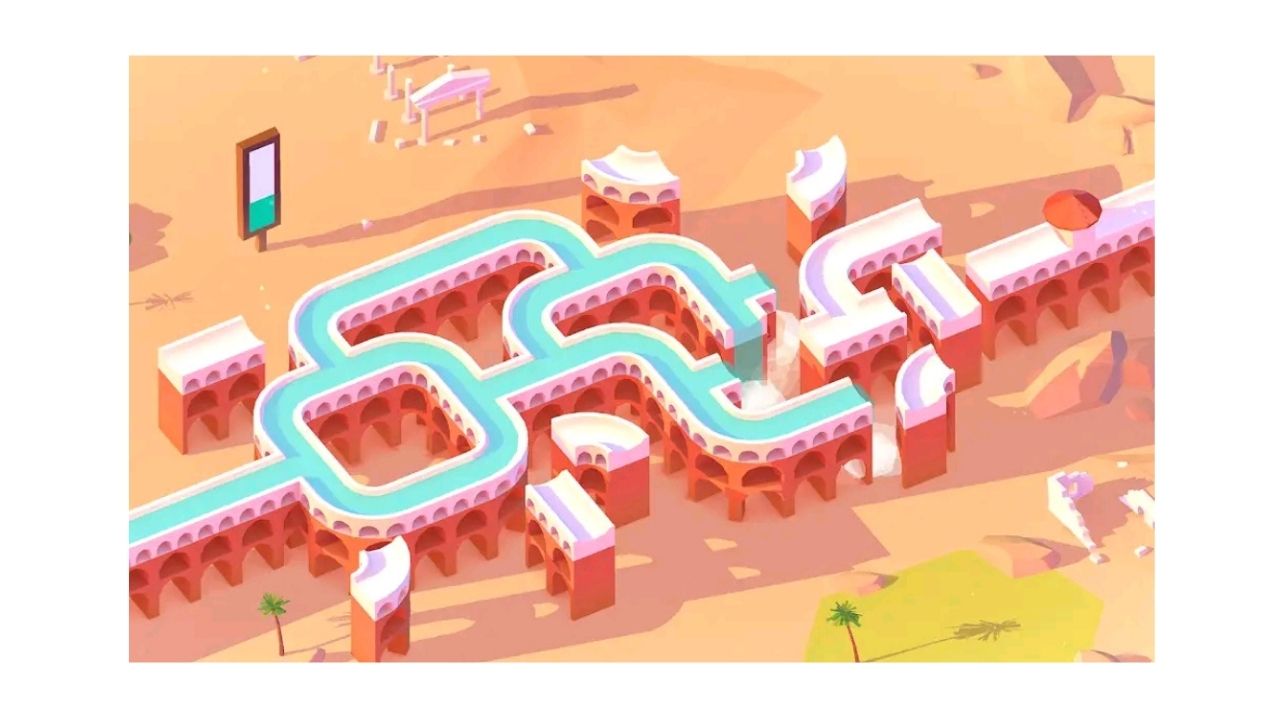 Here's how this amazing challenging puzzle game for Android works– players in Aquavias have a grid of aqueduct pieces to work with, straight, elbow, or T-intersections with multiple placement possibilities. These pieces can be rotated to form connections and transport water from one location to another. Levels can be divided into two categories: those with a limited number of moves and those with a timer. In timer levels, the player can sometimes create a loop in which the water stops spilling and the timer stops, allowing them to work on other aspects of the puzzle at their own pace. In limited-movement puzzles, the puzzle can usually be solved in fewer moves than the limit. The undo button can be used to undo a move as well as restore the move count. But the best part about Aquavias is its atmosphere. It has very pleasing visuals, with a soft, warm colour palette splashed with the refreshing blue of the waters. It has very relaxing water-flowing sound effects that give it a tropical feel. The player progresses through 12 worlds, each with 5 to 12 levels, as they complete levels. The water reaches a final monument at the end of each world, which usually has a brief animation of beautiful blooming plants. But don't end up thinking that this free Android puzzle game can be taken lightly, even though the puzzle has a very relaxing environment, all the puzzles are timed which gives you a sense of urgency to finish the puzzle and win. We definitely recommend Aquavias to players looking for a simple relaxing puzzle Android game to play on the go, particularly if they're looking for a quick break from their responsibilities as an adult.
Also Read: Best Minimalist Launchers for Android
3. Orbit
With an average rating of 4.5 on the Play Store and with over 100,000 reviews, Orbit is one for the books. Despite the fact that you play games, few of them are about playing in the sense of experimenting with a setup or situation to see what happens. While Orbit presents itself as a puzzle game, it is more of a minimalist sandbox in which you can immerse yourself in the joys of creating miniature solar systems. Slingshotting celestial bodies around black holes is how this free Android puzzle game is played. Then, as gravity takes its course, they leave coloured trails in their wake. Planets will soon cluster together, wheeling around one or more black holes and producing minimalist modern art in the process. It's all quite lovely and hypnotic. It has an endless list of features, including 45 free levels with new mechanics added over time — such as repulsive black holes and planets with their own gravity that attract each other — as well as community-created levels with virtually limitless content created by other players, all for free. You can launch as many planets as you want and observe the fascinating orbital mechanics in action. Furthermore, Planets leave coloured traces, resulting in a beautiful work of art at the end of each level. You can also see a planet's future trajectory before launching it. Most importantly, aside from challenging your brain with one of the best puzzle games for Android, you'll be playing in a relaxing environment with smooth, minimalist graphics and relaxing classical piano music.
4. Tiny Bubbles
When we talk about the best free puzzle games for Android, this game deserves to be on the list. Tiny Bubbles is a match-four puzzle game in which the objective is to get four or more bubbles of the same colour to touch and pop. Filling blank, adjacent bubbles with the correct colour, with your next available colour indicated in a queue off to the side, is how you do it. Colors can be injected into coloured bubbles (for example, adding blue to a yellow bubble to complete a green chain) or the border of a bubble can be cut, either to pop it or to combine it with a connecting bubble. It all depends on the colours and tools available at each level. As more colours and objectives are introduced, the difficulty increases exponentially, and your queue gets tighter and tighter, but mastering the physics of the bubbles is the real trick. Tiny Bubbles is based on a "custom molecular dynamics physics engine," according to developer Pine Street Codeworks. But don't let this confuse you or else you'll end up thinking that this challenging puzzle game for adults is easy! Its physics and colour wheel have a wonderful sense of underlying logic. You can overfill bubbles just to expand them and push other bubbles together, and some levels require you to pop enough bubbles that the remaining cluster fits within a small circle. It's a clever game that makes excellent use of its simple premise, with no levels that repeat themselves. There's also a neat 'infinity mode,' which is separate but connects to the puzzle levels in an interesting way: clearing certain bubbles in infinity mode earns you tickets, which you can use to purchase hints and bonus turns. For $10 (in-app purchases) you can get a lot out of this puzzle and can test your wits, too. Although this is nothing surprising since the app is pretty much a goldmine, winning over a dozen awards for its unique gameplay and amazing visuals. Try it, we are sure you'll like it.
Also Read: Best Racing Games for Android
5. Not Not – A Brain-Buster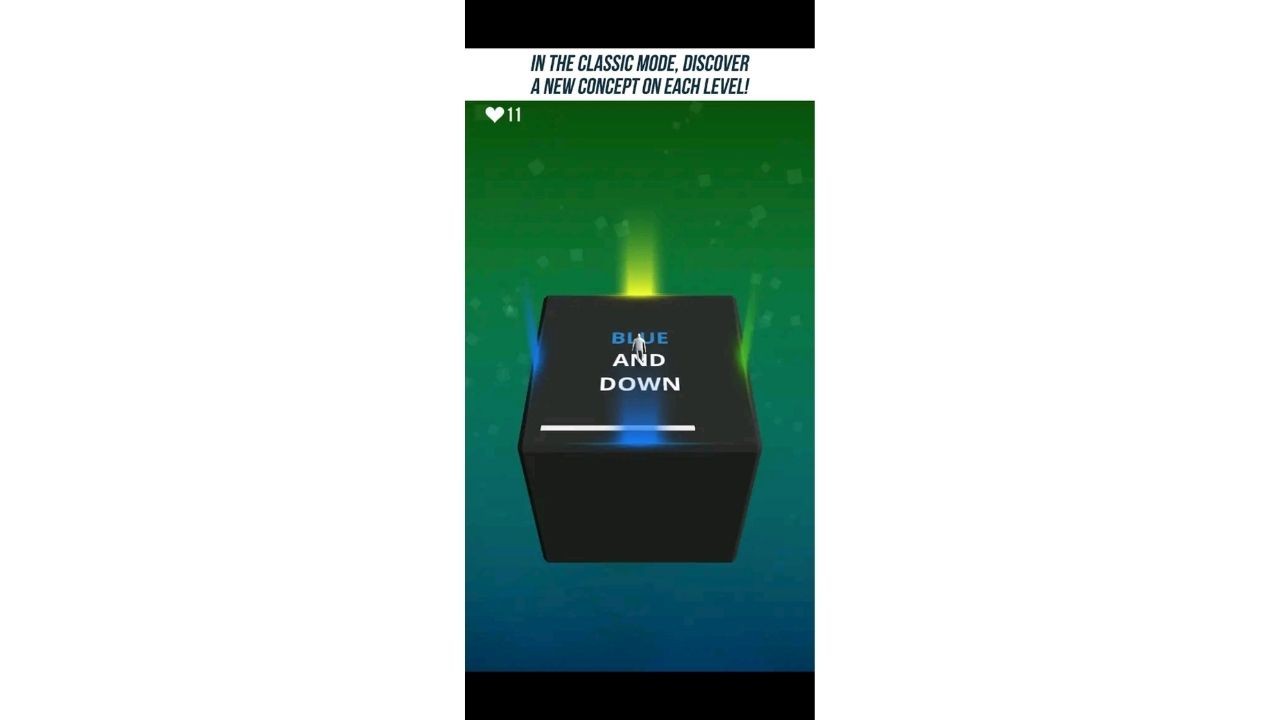 If you think that the name of this game is confusing, wait till you actually start playing it. Not Not puts you in charge of a character on a cube, but you only have to worry about the square facing you. The game features sets of levels with varying degrees of difficulty that are multiples of ten in length, with each set containing three different numbers of steps that each address a different theme. The puzzle goes like this: a command will appear on the face of the cube facing the camera, telling you to go right, up, stay where you are, or whatever, and then a countdown timer will flash by, prompting you to act. If you follow the instructions correctly, the cube's face will shift to the next instruction, and the countdown will begin again. But be warned, this is a very simplified version of the challenge posed by this Android puzzle game. Rather than simply directing you in the right direction, you'll soon notice levels that illuminate the sides of the square facing you in a specific colour, and the instruction will direct you to that colour. It gets more complicated: 'not' levels tell you not to go in a certain direction or colour, but the brain registers the noun first, so you'll be caught off guard quickly. There are 'not not' levels as well as 'not not not' – getting your brain to work fast enough to figure out the instructions before moving is a real challenge. 'And/or' instructions blend combinations, but some are simply impossible, implying that you should just stay put, which punishes you harshly for simply following your instincts.
Here's the thing with one of the best free puzzle apps for adults– the difficulty comes from reading the instructions quickly, processing the information, and reacting appropriately before the countdown timer splatters your character into a million pieces. But it's a satisfying challenge in that regard. There's also a Challenge Mode section, which features an Endless game that pushes for high scores while rapidly increasing the pace every few levels, and it's available in Normal, Hard, and Extreme difficulties. In our opinion, Not Not is a terrific puzzle game that tests the limits of your brain power which truly makes it one of the best puzzle games available for Android devices!
Best Free Puzzle Games for Android Tablets
1. Tiny Room Stories: Town Mystery
Tiny Room Stories: Town Mystery's offer of simple, well-made puzzles you can actually solve – or at least attempt to solve – becomes quite appealing as the world continues to throw one overwhelming event after another at us. What it lacks in a compelling story or flashy voice-overs, it more than makes up for with these perplexing challenges and the sense of accomplishment that comes with completing them. While one of the game's solutions has the potential to be so cryptic that even a walkthrough won't help, the majority of them are logical and entertaining to solve. You play as a private detective whose father has sent you a letter demanding that you visit him right away – but without providing any explanation. When you go to Redcliff, you'll notice that something strange is going on. The road leading in is closed, and when you get past it and to your father's house, there's no one there. In fact, there is no one in town at all. It's a fascinating premise that lays the groundwork for one of the best Android puzzle game's basic mechanics. Each new location you visit in your quest to learn more about what's really going on in Redcliff, whether it's a church, a laboratory, or a mansion, represents a new chapter in your investigation. Because the game's design is isometric, you can see each room in each new area from a birds-eye perspective and move from room to room by clicking the corresponding door or ladder in the next room. The plot itself is full of twists and turns involving crystals, scientists, and nefarious plans for humanity. The ending, which will take you at least thirteen hours to complete even if you have a walkthrough, is particularly bizarre. It's a strange, entertaining game on the surface, but there are plenty of tricky yet engaging brain-teasers that any puzzle fan would enjoy solving.
2. Pink
Pink, true to its name, is jam-packed with 50 levels of stylish flair and self-assurance, making it a worthwhile purchase. It's an Android puzzle game with levels and challenges based on a specific colour. Most of the time, this means that all of the puzzles are some shade of the colour in question (pink in this case), but it can also mean using the color's name or manipulating objects that are commonly associated with said colour to arrive at solutions. Most levels have their own gimmick, but some concepts are revisited with new quirks or challenges to keep things interesting. The majority of the puzzles rely on novelty to keep your attention, but there are always a few that are a little more involved strewn about. Neon lights, flamingos, and even an 80s-tinged synthwave soundtrack are all touchpoints for evoking such a vibrant and bold colour in the case of Pink. The puzzles themselves have a goofy quality to them, whether it's the way you can tap to make a flamingo fly off-screen or control eyes as you sweep them around to collect collectibles. 
Also Read: Best Offline Arcade Games for Android
3. Two Dots
A wise man once said that puzzles take a lot of patience and believe us this puzzle game for Android proves why. To start off, on the menu screen, the game is divided into different worlds, each with its own theme. When you enter a new world, the game displays an illustrated postcard that describes the new environment. You begin in the first world, which consists of a wall of tools and trophies. Then you'll move on to an undersea theme, where you'll have to sink anchor dots in your levels. There is an icy tundra, then a volcano, a fiery forest, a desert, and so on. The fact that these worlds in this Android tablet puzzle game have their own characters and whimsical animations on the screen is what makes them so appealing. A sunglasses-wearing Yeti, for example, lives in the tundra and moves its arms in time with the music that plays throughout the game. The objectives and obstacles are what make the game challenging. Each level has a specific goal, which usually involves removing a certain number of coloured dots and/or obstacles. You must complete the level in the number of moves allotted to you, or you will fail the level and lose a life. Each level's goal is stated at the outset, and you can track your progress at the top of the screen while playing. There are new challenges that alter the way you play. There are anchor dots on the board that you must clear by getting them to fall off the bottom row in the underwater world. Later levels introduce frozen areas on the playing field that require three hits to clear, as well as fire dots that spread fire to nearby dots after each move. The fire dots are particularly aggravating because, if you're not careful, they can quickly take over the entire playing field. The number of obstacles varies by level, with some of the later levels having up to four obstacles, making gameplay particularly challenging. If this challenge sounds like something you are keen to take up, then go ahead and do so right now!
4. Puralax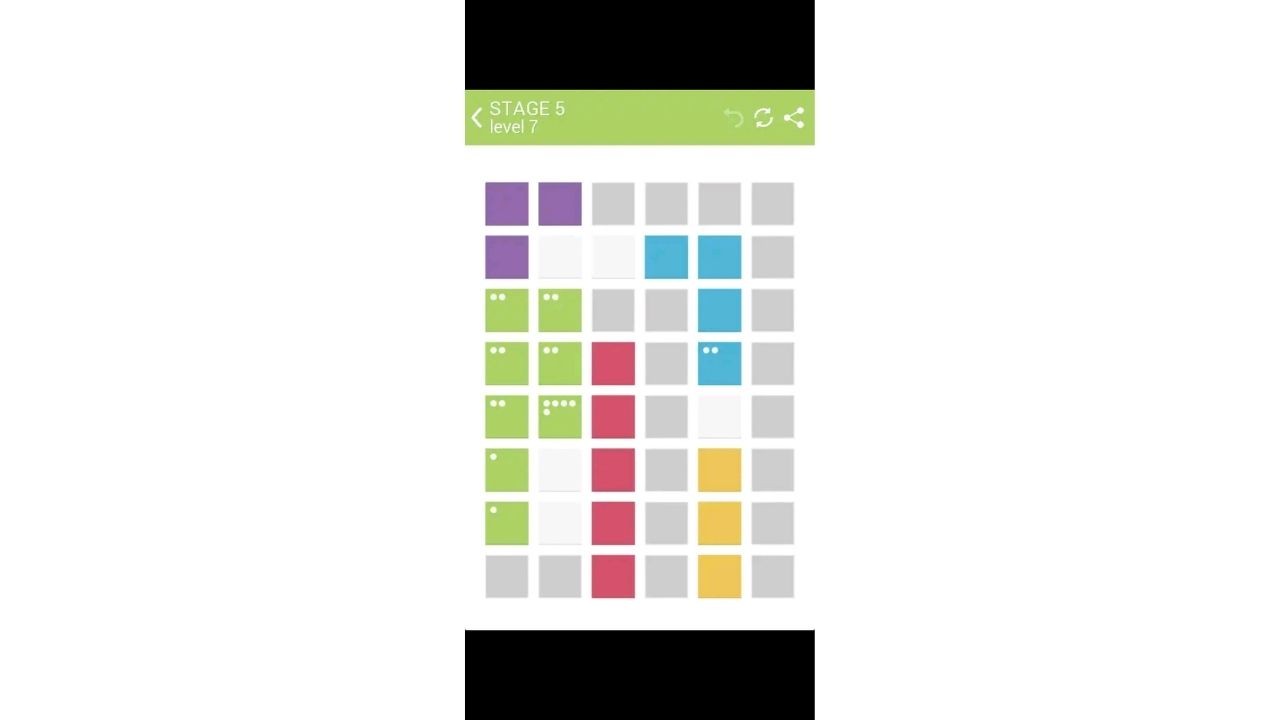 Puralax is a simple puzzle game for Android tabs in which you must paint every coloured tile the same colour in order to complete each level. The colour of the top bar on the screen indicates the target colour for each level. The rules are straightforward: Colored tiles can be moved vertically or horizontally (one cell at a time) between white empty cells, or you can paint a neighbour tile by dragging one tile into another. Each tile has a limited number of moves, which are indicated by small white dots inside it. When you paint one tile, a chain reaction occurs, causing all adjacent tiles to be painted in the same colour. The first six levels include an assistant who will remind you of the rules and indicate which tiles move where. So, what do you have to lose? Begin painting, and keep in mind that colours are alive!
Also Read: Best Free Video Editing Apps for Android
5. Evergarden
Evergarden borrows ideas from a variety of places, then adds plenty of its own to keep things fresh and keep you guessing about what's coming next. Basically, it's about putting plants together in the titular garden. You're playing on a grid, and there will be a few small saplings scattered about at the start of the first turn. But things begin to shift as you get into the rhythm of the game. You'll be given shapes to complete, and the more you complete them, the more points you'll earn. However, as you gain a better understanding of what this Android tablet puzzle game requires of you, these shapes begin to take on greater significance. It's nearly impossible to discuss Evergarden's deeper mechanics without giving anything away, as this is a game that thrives on player discovery. There's exploration to be had even within the gridded borders of the puzzles. There is no hand-holding in this free Android puzzle game, but it isn't necessary. You feel like a stranger in a world that was built just for you as you figure out what you're supposed to be doing and learn new and interesting ways to do things. And it's a sensation worth savouring and pursuing!
So, there you have it! These are the 27 best free puzzle games for Android in 2022. If you're all set to download these games, make sure you let us know which ones you choose! Until then, check out our article on the Best Apps for Android TV