Samsung has recently unveiled the Galaxy S22 lineup on 9th Feb 2022. The first Android flagship series of 2022 includes the Galaxy S22, Galaxy S22 Plus, and Galaxy S22 Ultra. The base models of the Galaxy S22 series (S22 and S22 Plus) look identical to the Galaxy S21 and S21 Plus launched last year. However, you'd see a complete makeover in the design part with the Galaxy S22 Ultra as there's no camera bump that you'd have seen in the Galaxy S21 Ultra. The S22 and S22+ have a more refined design with glass backs and aluminum body. The beefiest phone of the Galaxy S22 lineup features a flat back design with a punch-hole rear camera setup, surprisingly, camera bumps are gone now. All this along with a commitment of offering four Android OS upgrades and five years of security patches for all the devices under the S22 series and previous year's flagship smartphones (Galaxy S21 Series, Z Fold 3 5G, and Z Flip 3 5G). Samsung previously promised 3 OS upgrades. Despite offering various features, a relatively faster Snapdragon 8 Gen 1 chipset and stable Android 12, Samsung has again come out miser when it comes to charging.
The base model of the Galaxy S22 series, the Galaxy S22, has a maximum charging speed of 25W, whereas the Galaxy S22 Plus and Galaxy S22 Ultra comes with 45W of max charging speed.   
As we all know, Samsung has pulled out from offering in-box chargers since the launch of the Galaxy S21 series, it continues the tradition with the Galaxy S22 lineup as well. Sad to say, but you need to invest a few more bucks to get some of the best chargers for Galaxy S22. But, the good news is that you're in the right place to hunt one. With hours of research and backed by hundreds if not thousands of reviews, we have come up with this roundup on the best Galaxy S22 chargers you could buy in 2023. So, without wasting further time, let's jump right into the list. Please read until the very end. 
Note: We update our article from time to time to cover the latest products available in the market.  
Disclaimer: Our list includes fast chargers of different power outputs, you can use the 25W fast chargers to power the Galaxy S22 at full speed. Whereas the ones with higher power supply can be used to recharge the Galaxy S22 Plus, Galaxy S22 Ultra, and other devices such as iPads, iPhones, or even laptops like Dell XPS or MacBook Pro. 
List of Best Fast Chargers for Galaxy S22 in 2023
1. Samsung Official 25W Super Fast Charger (Recommended)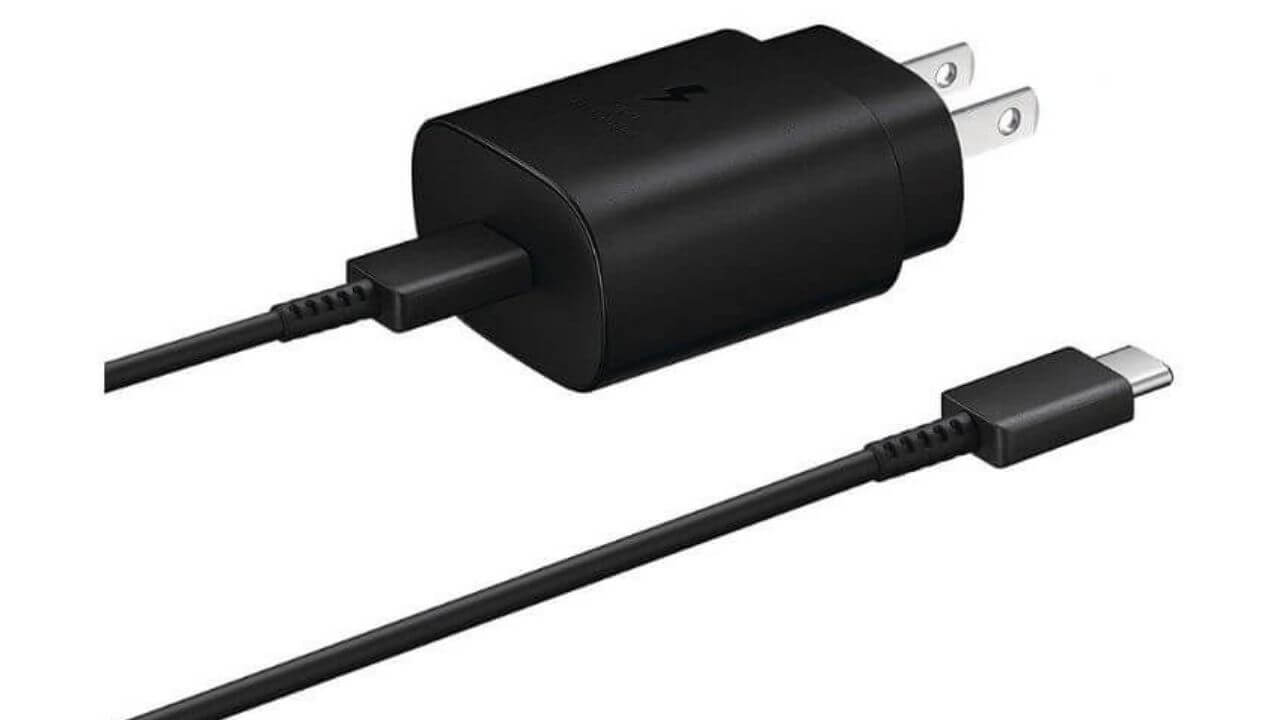 To begin with, we have the official Samsung fast charger for Galaxy S22 that lets you charge your device at a maximum speed of 25W. This superfast Galaxy S22 charger comes with a USB-C adapter and type-C charging cable that can be also used as a data transmission accessory for fast media transfer. This fast Type-C charger for Galaxy S22 can deliver up to 3 amps to power your smartphone at a much faster rate than your standard 1a or 700mA charger. The US version of this fast USB-C S22 charger is backed by a 1-year post-purchase warranty. Moreover, you can choose this fast Samsung charger from two color options and different charging outputs (15W, 35W Duo, 45W) as per your requirements. However, we recommend sticking with the 25W power as it is the maximum charging speed of Galaxy S22, so there's no point in going at higher power output unless you own a device like a tablet that supports it. Since there's no in-box charger, this is the most feasible option if you're looking for an official charging accessory for Samsung Galaxy S22 in 2023.  
2. Anker 547 120W Multi-Port Fast charger (Best Multi-device charger)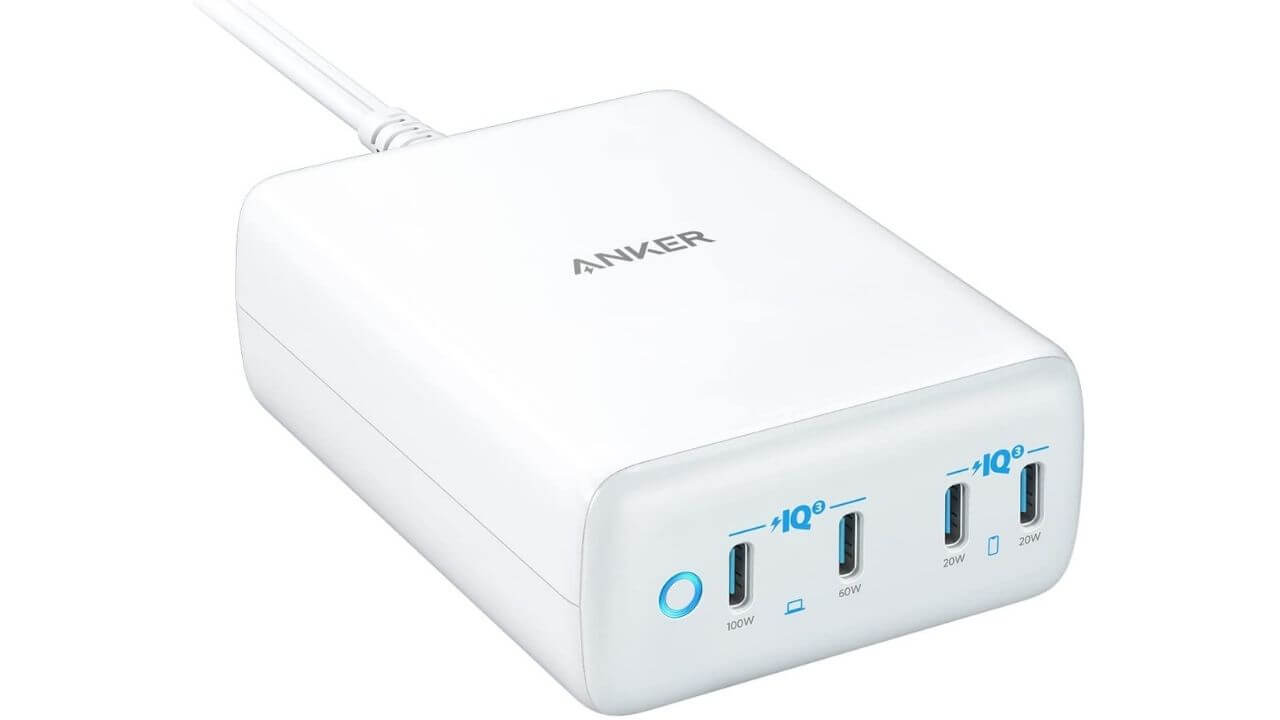 The Anker 547 multi-port charger is for anyone who is looking to charge various devices including a laptop, tablet, an accessory, and the latest Samsung Galaxy S22, all at once. This powerful multi-port USB-C fast charger features 4 USB-C ports to deliver a cumulative power of 120W, which is more than enough to charge all the USB-C devices along with the Galaxy S22 lineup. Also, we need to mention that the PD (Power Delivery) ports can be used to charge the latest 14-inch MacBook Pro, iPhone 13 series, iPad Pro, etc. Anker has integrated the PowerIQ 3.0 technology to deliver optimized fast charging for devices connected to this fast multi-port S22 charger. Let's not forget that the 547 Anker fast USB-C charger comes with various safety features that include temperature control, over-current protection, etc. Moreover, you'll get an almost 5 feet long power cord which can be very useful for data transferring and charging multiple devices on the go. Further, this multiport charger for Galaxy S22 5G is backed by an 18-month after-sales warranty. 
3. Belkin 25W USB-C PD 3.0 Fast Charger (Works with iPhones & iPads)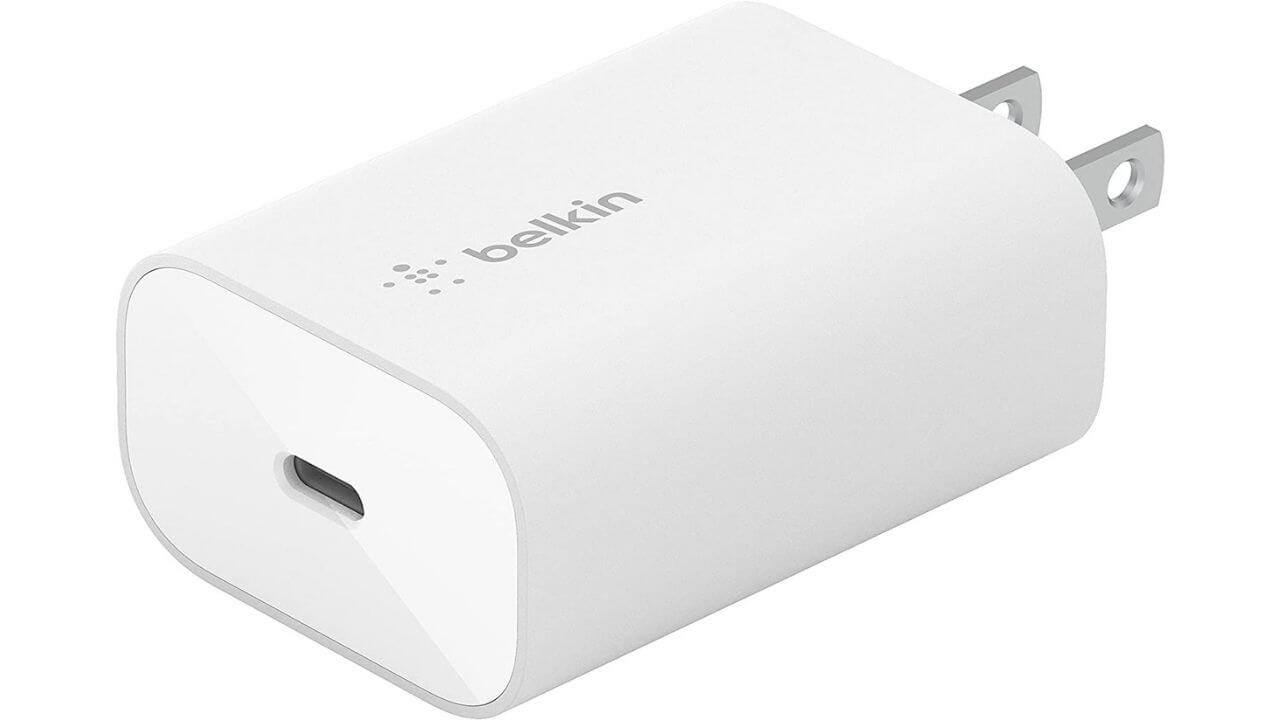 Another reliable and functional charger that made it to our list is the Belkin 25W PPS wall charger. We all know the reputation of Belkin products in the mobile market, and the fact that they are sold by the official Apple Store makes it furthermore reliable. Coming back to the charger, this Galaxy S22  fast charger is compatible with PPS and Power Delivery (PD) technology to deliver a 25W fast charging experience. It supports both Programmable Power Supply (PPS), which is advanced charging technology that allows modifying real-time voltage and current by delivering max power based on charging status) and Power Delivery (PD) (it is a technology that enables your device to take on more power in a shorter amount of time delivering superfast charging). If you'd ask me, this type-C fast S22 fast charger is identical to the official charger, whereas the price of both chargers also remains the same. As far as compatibility is concerned, it works perfectly with the iPhones or an iPad that your family members or guests may have. In short, it is a good investment option for anyone looking for a fast charger for Samsung Galaxy S22 5G. 
4. Anker 25W USB-C Super Fast Charger (Best secondary charger for Galaxy S22 owners)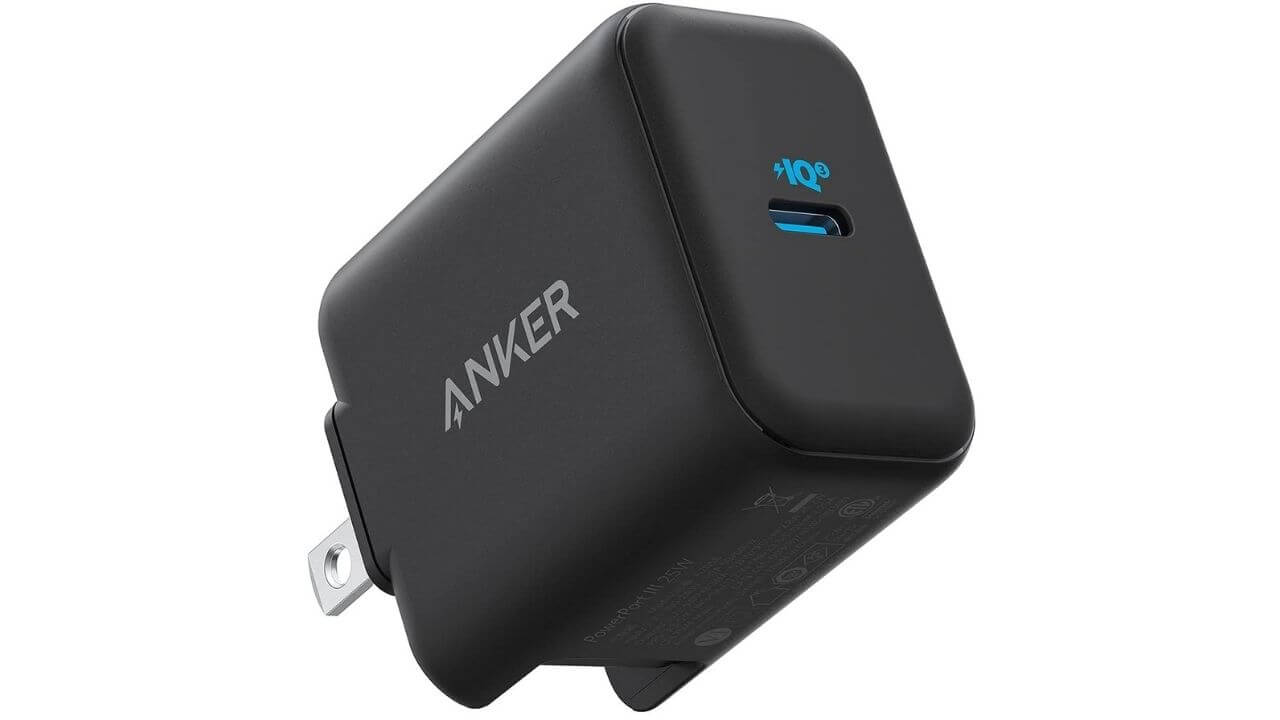 If you're looking for the best budget-friendly fast USB-C charger for Galaxy S22 5G, the Anker 25W Super Fast Charger is the best option for you. It is lightweight and compact in design which makes it easy to carry when you're traveling. Besides, the foldable prongs do their bit to contribute towards its portability without any hassle. This type-C Galaxy S22 fast charger can power your device from 50%-100% in just 25 minutes, isn't that fast? As far as safety is concerned, this PD wall charger for Galaxy S22 incorporates an exclusive MultiProtect safety system that can help prevent over-current, overheating, over-voltage issues. Moreover, Anker has backed the Galaxy S22 super fast charger with an 18-month warranty, just in case you face any trouble with the product, you'll get it fixed without paying any additional fee.  
5. Earldom 25W Type-C Fast Charger (Budget-friendly)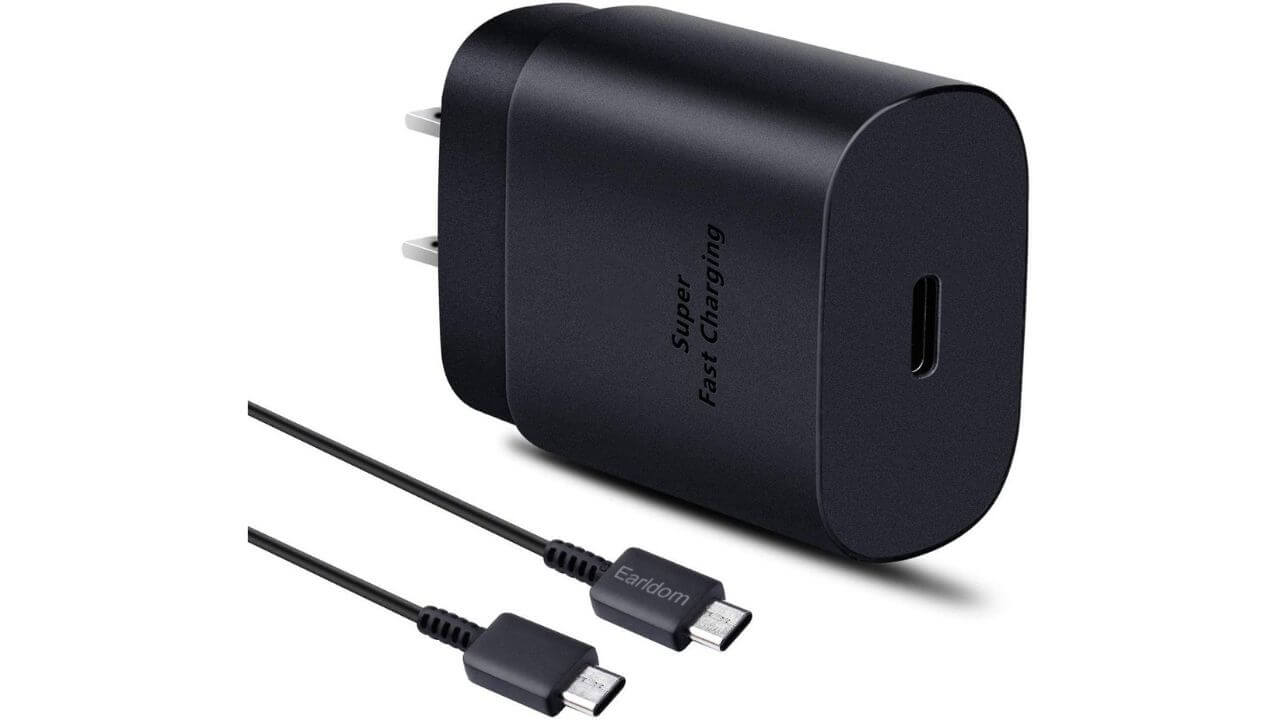 If you're looking for a budget-friendly super-fast charger for your Galaxy S22, then this one should surely come in handy for you. This fast USB-C charger for Galaxy S22 is shipped with a lightweight and compact design that makes it easier for you to carry it anywhere you go. Besides, there's a 5 feet type-C to type-C charging cord included in this pack that you can use to transfer files and media at USB 3 speeds. As far as safety features are concerned the Galaxy S22 fast charger comes with numerous safety features to keep your phone safe and secure from any kind of mishaps like overcurrent, short circuit, and overheating problems. Best of all, you can get your hands on this charger for under $14, which is cheaper than the price of the official 25W charger (without cable). 
6. UGREEN AceCube 30W PPS Charger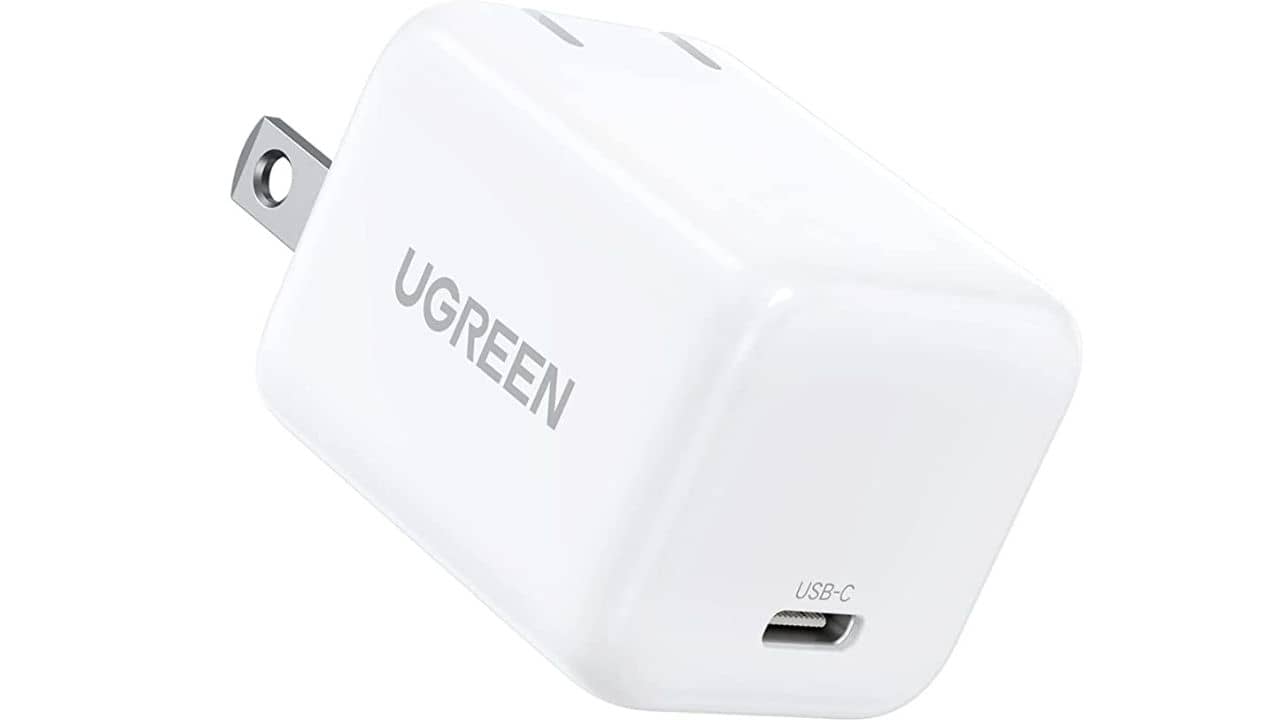 Next, on our list of the top Galaxy S22 chargers, we have the UGREEN AceCube 30W adapter. Like the most known charging accessories brand, UGREEN also offers several options. You can choose from a multi-port high-power adapter to a single-port adapter like the AceCube. This Samsung S22 charger is the perfect replacement for the official 25W adapter from Samsung which we have mentioned above.
As far as design is concerned, this fast charger for Galaxy S22 5G comes in an ultra-compact form factor which makes it an ideal option for travelers out there. Plus, the foldable prongs in this charger ensure that it can be even carried in a pocket without any hassle. It surely is a game-changer for users who are always on the go.
The standalone USB-C port delivers a maximum of 30 watts of power to revive your Galaxy smartphone efficiently. On top of that, the brand also claims that this fast S22 charger can deliver super-fast charging on PPS-certified phones like Samsung Galaxy S20, Samsung Galaxy Note 10, and more.
Since Samsung S22 is among many PPS-certified smartphones, you can expect this fast charger to deliver super-fast charging. 
That's not all, the universal compatibility ensures that this super fast charger for Galaxy S22 can juice up iPhones, iPad, Android, tablets, and even USB-C laptops out there. Therefore, if your sibling has a
Pixel phone or your dad has got the latest iPhone 14 Pro Max, you can also lend them this fast charger. 
What's more? This fast PPS charger is backed by an intelligent GaN chip that ensures comprehensive protection for the connected devices. If you are wondering why a GaN charger is a reliable option? We have an answer. GaN chargers use Gallium Nitride instead of the more common silicon in their construction. This helps such chargers to maintain an ultra-compact design, still being more energy-efficient than most of the traditional chargers for Galaxy S22. 
The only concern we have with this charger is that it is not shipped with a USB-C charging cable, therefore you'll need to grab it yourself. 
Having all that said, it still stands out as one of the most efficient S22 chargers you can get right now in 2023.
7. Anker Nano 3 Fast PPS Charger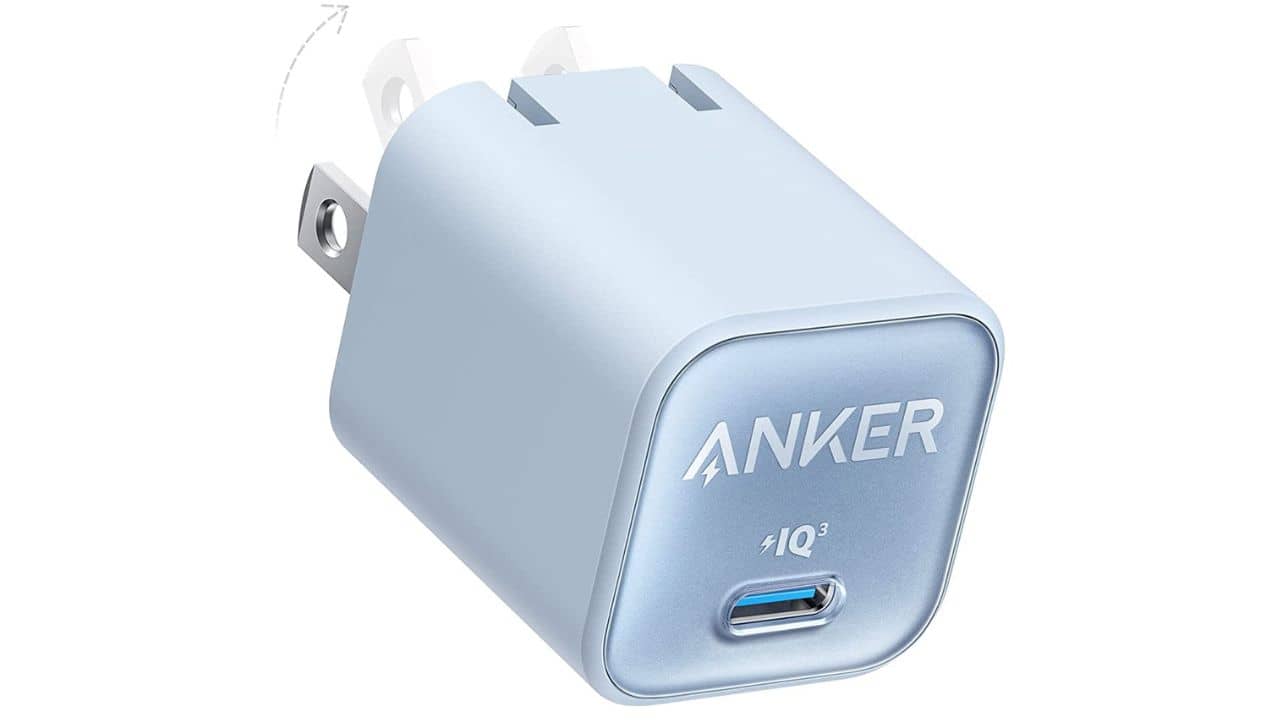 The official Samsung charger is definitely the ideal choice for anyone out there looking to charge the new Galaxy S22. But, we can't stop ourselves from mentioning the latest S22 charger launched by Anker. The Anker Nano 3 USB-C charger flaunts a cute design topped with lovely shades of color that are likely to please you. This PPS charger for Galaxy S22 features a compact and lightweight design which makes it an ideal choice for travelers and remains the best alternative to Samsung's 25W official charger.
If you'd ask what exactly we like about this cute little charger. The first thing that comes to our mind is the extremely compact design, which is way better than Samsung's chunky look. Whereas, the foldable prongs also grab a few stars as it makes carrying this charger easy in your pocket. If you carry your laptop around in a sleeve bag, it can easily fit in that too. That's why we recommend this 30W fast PPS charger for Galaxy S22 5G for anyone who is always on the go. 
In addition, the wide compatibility ensures that this fast Samsung Galaxy S22 charger can deliver power to Galaxy Buds, iPhones, Pixel phones, etc. Therefore, it makes it easier for you to receive tech gadgets that you use on daily basis. All thanks to the ActiveShield 2.0 technology and other built-in protection features, you don't have to worry about overheating, overcurrent, and other issues while you are using this PPS charger for Galaxy S22. Moreover, it comes with a wide range of color options that can give it a competitive edge over the official charger with just black and white options. In short, this fast USB-C charger can be also a suitable option for S22 users fond of colorful accessories. 
You can also grab a similar Anker charger in 45W and 65W variants in a similar form factor. But, these chargers have a standalone port, therefore you can only charge one device at a time. 
8. AOHi 40W Dual-port Fast Charger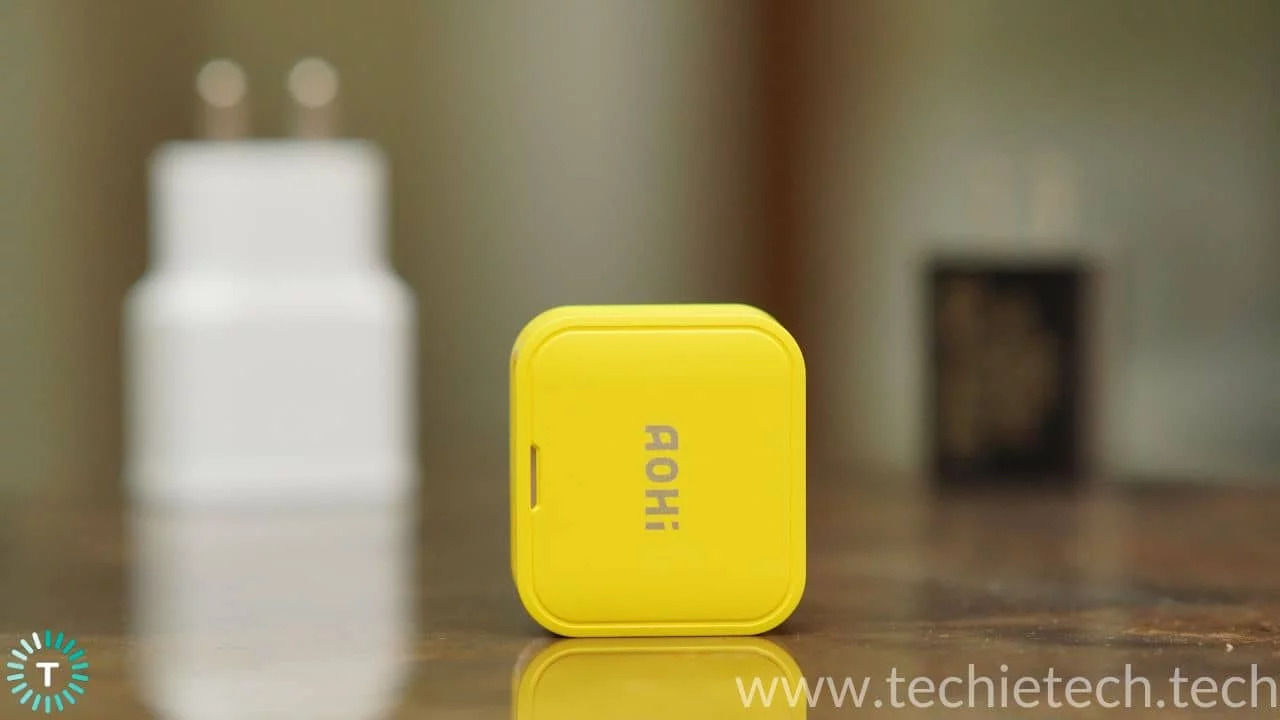 If you need a travel-friendly and budget-friendly fast charger for Galaxy S22 5G, make sure to grab the AOHi 40W charger now. This dual USB-C charger features two type-C ports which ease the tension of carrying separate adapters to charge two different devices.
Recently, we tested this dual-port USB-C fast charger and really liked the form factor and overall charging performance. In order to test the charging efficiency, we paired Galaxy S21 Ultra with MacBook Air and different USB-C gadgets by taking turns, and we were quite happy with the charger. Although we witnessed devices getting lukewarm while connected to this charger, it wasn't too hot. Therefore you can be assured that you don't have to face overheating problems when you charge your Galaxy S22 using this fast charger. Further, we also liked the compact and foldable plug design which makes this dual-port charger a handy option for travelers. 
Did we mention that this Samsung S22 charger comes with intelligent power allocation technology? You might wonder what's that. Well, this feature allows the charger to automatically detect it and delivers adequate power requirements when two devices are connected. Further, there is an LED indicator that indicates three-stage charging by showing different colors (yellow/amber denotes fast charging). What's more? The universal compatibility gives you the freedom to charge different smartphones and gadgets across various brands. You can even charge laptops, iPads, and tablets using this fast Samsung S22 charger. Let's not forget that there are two color shades available for this fast charger.     
In short, it is one of the top value-for-money fast chargers for Galaxy S22 5G that can be bought without any second thoughts. 
9. Spigen 45W USB-C GaN Fast Charger for Galaxy S22 Series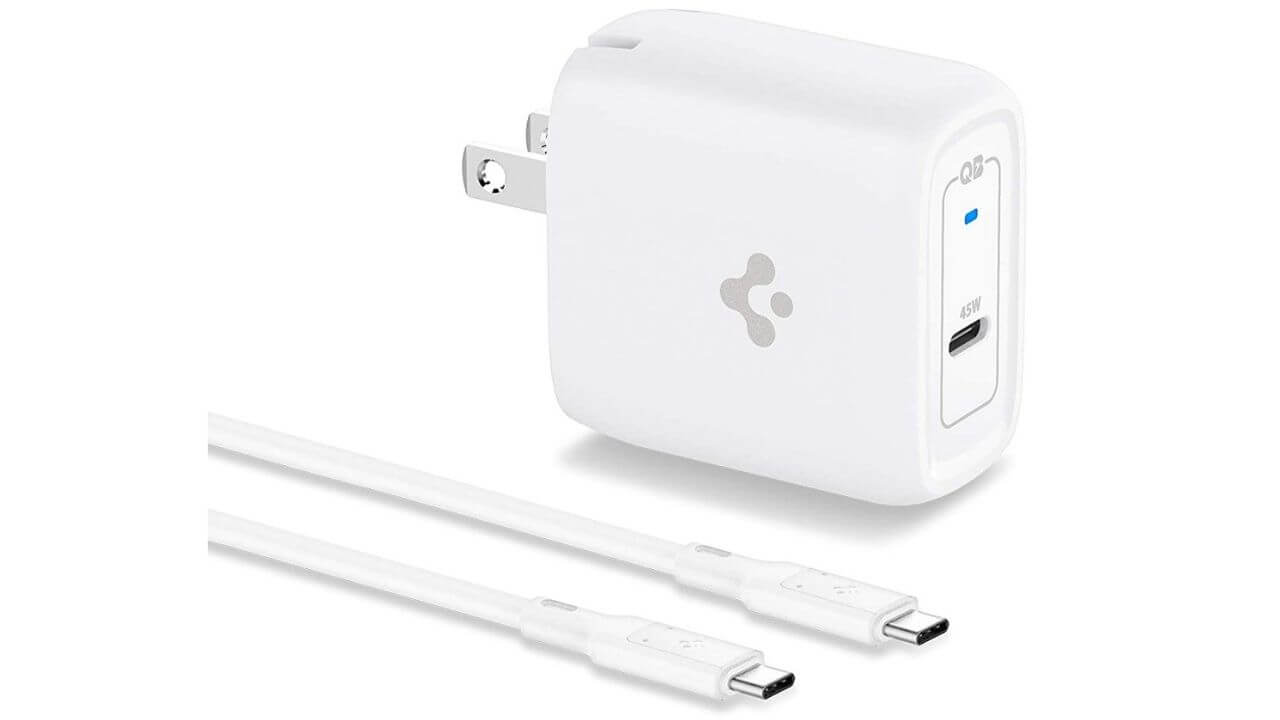 Next, we have a 45W fast USB-C charger for Galaxy S22 which is powered by the GaN technology ensuring an optimum charging experience without overheating. The Galaxy S22 users can utilize the 25W super-fast charging experience, whereas the Galaxy S22 Plus and Galaxy S22 Ultra users can utilize the maximum charging output of 45W to get their phone recharged. All thanks to the GaN technology, this type-C charger for Samsung Galaxy S22  series delivers optimum power without releasing too much heat. Whereas, the intelligent safety technology integrated into this fast S22 charger prevents your device from overcurrent, overcharging, short-circuit, and overheating problems. Well, that's not all, you'll also get a type-C to type-C charging cable that allows charging your device rapidly, and at the same time ensures blazing-fast data transfer speeds. You can also charge other devices like iPads, Dell XPS laptops & more with this charger. Did we mention that this fast charger for Galaxy S22 is backed by a 24-month post-purchase warranty?
10. UGREEN 4-Port Fast Charging Station (Affordable multi-port chargers for Galaxy S22 Series)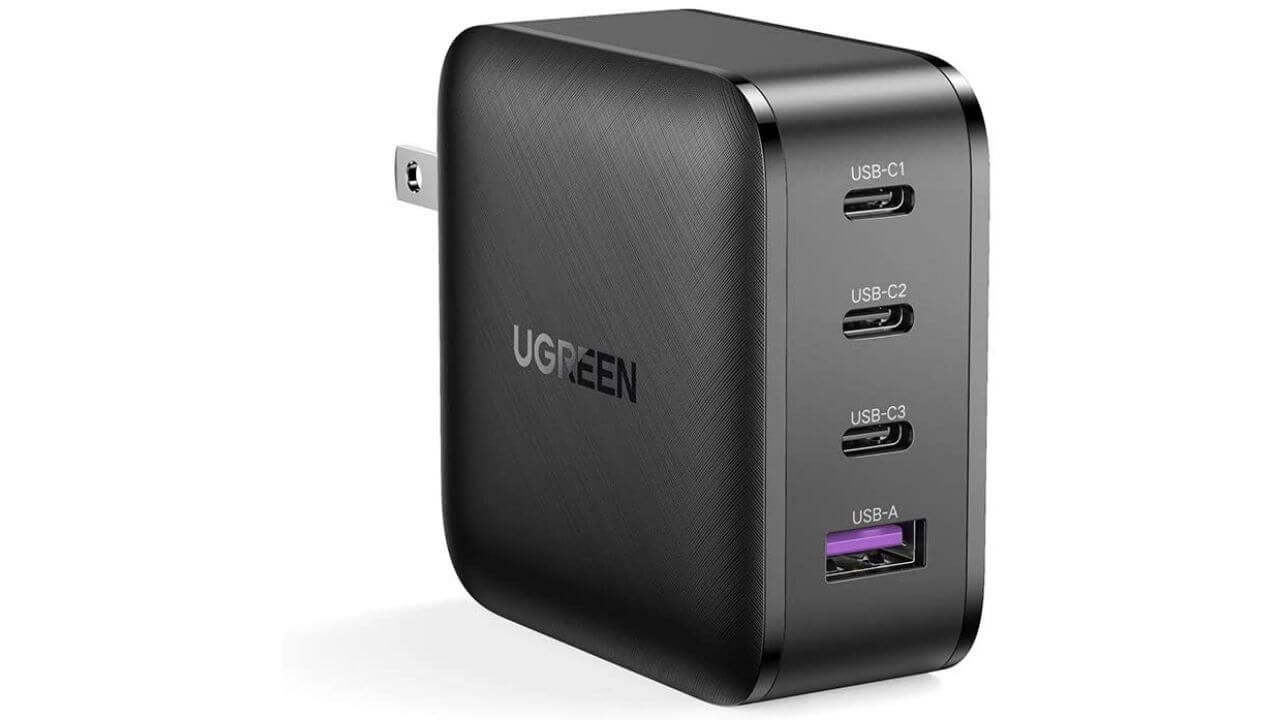 For all the Galaxy S22 users out there who're looking for the best budget-friendly charging station, bring home the UGREEN 65W Charger. It is one of the most useful and affordable charging accessories for Galaxy S22 that lets you charge the Samsung 2022 smartphone along with 3 additional devices. Also, the universal compatibility and three extra USB-C charging ports let you charge different devices like Galaxy S22 Plus, S22 Ultra, various Apple products, Ultrabooks, Chromebooks & more. Additionally, the USB-A port can be used to charge different gadgets including cameras, etc. Remember, when all the ports are occupied this fast USB-C charging station efficiently distributes the charging to recharge your device at an optimum speed. All in all, it is a great multi-port charger for Galaxy S22 that can be used as a power source for multiple devices at once when you're on the go. 
11. AINOPE 48W USB-C Mini Car Charger (Best Fast Car Charger for Galaxy S22 Series)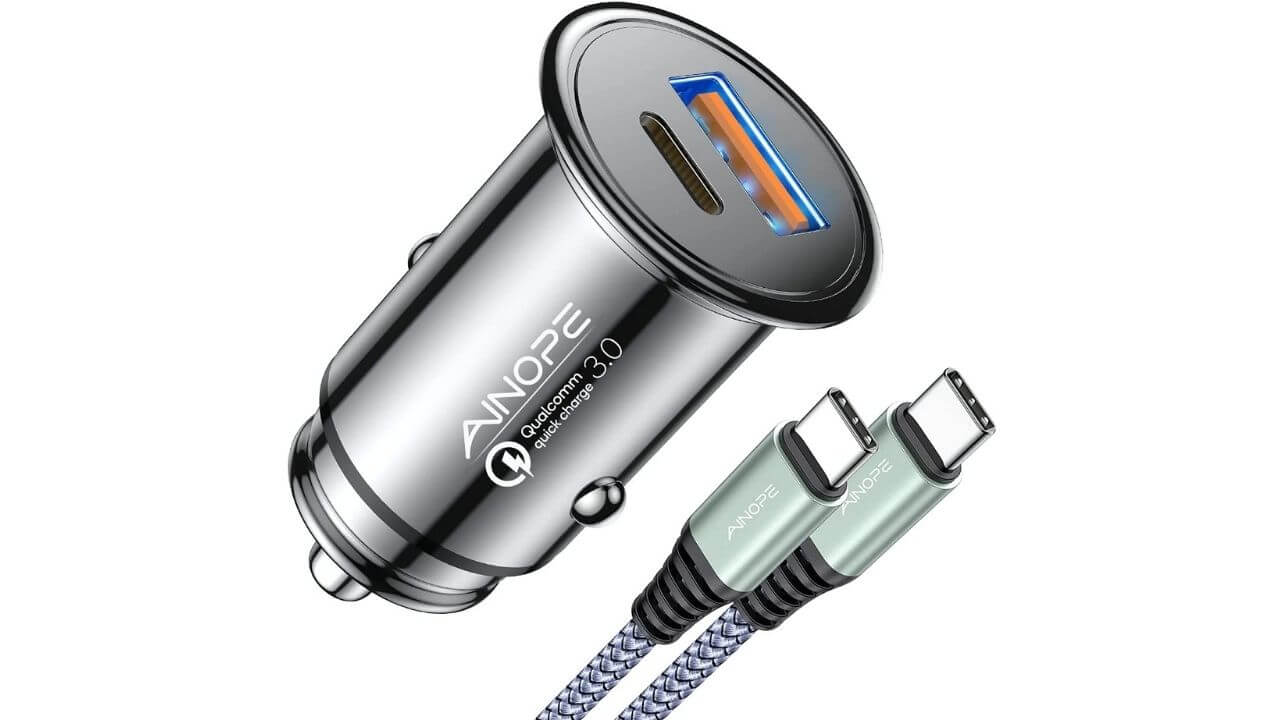 If you're willing to buy an affordable fast car charger for Galaxy S22 5G, we recommend choosing this one from AINOPE. The AINOPE USB-C Mini charger features an aluminum body that ensures solid durability and a longer life span. On top of that, the overall design and sleek look go well with the interiors of any car. Despite being thumb-sized, it remains the most powerful and highly rated fast car charger for Galaxy S22 on Amazon and other online market space. This Galaxy S22 car charger is shipped with two ports, 1 x USB-C PD (Power Delivery) port that offers a maximum of 30W charging which is enough to fast charge a Samsung Galaxy S22. Plus there is one USB-A port that offers a max 18W QC 3.0 charging which can offer decent charging speeds for various gadgets and smartphones across various brands. That's not all, you'll get to choose this fast USB-C car charger in three amazing colors: Black, Red, and Silver. Moreover,  3.3 feet Nylon braided type-C to type-C cable is included in the pack. 
If you are looking to explore more options, below are some of the reliable fast car chargers for Galaxy S22 that we think you'd invest in right now. 
That's all for now in this roundup on the best fast chargers for Galaxy S22 that you can buy right now. Please note that we'll be updating this piece soon, so bookmark our website to check out similar products that will enhance the charging experience on the latest Samsung flagship lineup. Also, don't forget to check out our roundup on the best accessories for Galaxy S22 Ultra.
Also read: Samsung Galaxy Tab S8 Series Launched at Galaxy Unpacked 2022