The Problem
One fine evening, I got an update for an early morning video call that had been rescheduled multiple times in the past. At that point, I didn't have my daily driver. I just had access to a monitor with USB-C support with a keyboard and mouse. Scrolling through the email thread, I had my Eureka moment. I had a retired Mac Mini sitting in the closet for years.
Maybe I could use that. It's just a video call and some casual browsing. How bad could it possibly be?
The call was due the next morning and I only had a few hours to get this 8-year-old piece of hardware, up and running. I took out the old Mac mini (late 2014). After some thorough cleaning with alcohol, it was ready to go. Before I continue with my story, let this be a lesson for you. I believe most of us have very old PCs that are just unusable and selling them for cents on a dollar wouldn't do justice to all the nostalgia. So, we decide to keep them in the rarely visited realms of our houses.
Similarly, mine had been sitting in the cupboard until I recently had to take a video call and my daily driver laptop (M1 Macbook Pro) was not around. So, I whipped out the old Mac mini, thinking how good this machine used to be and that this will be a nice trip down memory lane.
Narrator: No, it was not good.
After making all the necessary connections like the power cable, HDMI, and a bunch of accessories, I gently pressed the power button with hope. Boy was I glad to see the power LED turn on. 
It took almost a full minute to boot. I thought maybe It was plugged in after years. So, that was understandable. A series of similar nightmares followed this.
Before we begin, let me give you a brief overview of the specs. 
Mac mini 2014: Specs
This was the second generation of the redesigned "slimmer" Mac mini. I have an entry-level Mac mini with a dual-core Intel i5-4278U processor. With 8GB of DDR3 1600Mhz RAM and 256GB storage. 
For reference and benchmarks sake, the 2020 M1 Mac mini scored three times more than mine in single-core and six times more in multi-core score in GeekBench. Even the iPhone 11 released 4 years ago scored more in the benchmarks. I know this is just a synthetic benchmark but the difference in real life is phenomenal. 
| | | |
| --- | --- | --- |
| Model | Single-core | Multi-core |
| Mac mini (late 2014) | 600 | 1231 |
| Apple iPhone 11 (2019) | 1321 | 3250 |
| M1 Mac mini (2020) | 1714 | 7439 |
After installing some necessary app updates for Chrome and Safari. I browsed a little to see what data was there and cleaned up the drive. I had already cleaned up most of it so I just did a factory reset and ended up installing
macOS Monterey. I left it to index and optimize stuff for almost an hour.
After indexing, I set up the webcam and logged in to my accounts. There was some noticeable lag but I just wanted to go through the call without any dropouts and complete my prep for the next day.
But then, I needed to open some more tabs and use a VPN for some research. I installed NordVPN and opened a few more tabs and a 720p YouTube video.
At this point, the Mac mini just stopped responding. I already knew it was bad and lagging. This was on a whole new level. I was about to take notes after finally finding the right websites. It just crashed, leaving me with a blank notebook. I touched the top of the Mac mini to see whether it was overheating. It was hot to the touch but not enough to make it throttle and crash. I tried to continue my work after the crash but it kept lagging no matter what I did. At one point, it became unusable and I left it to grab some dinner.
I thought I might have to go out at night to get a USB-C to USB-C cable from my mate and use DeX on my phone. 
I booted up the machine again and patiently lurked on Reddit to find a way to bring this Mac mini back to life. Then I read that the 2014 Mac mini got a stable bug-free release for the ChromeOS Flex. I was aware of Google acquiring Neverware to let users get a few more years of usage out of their old hardware. I even thought of giving it a try but it was too early as bug reports were pouring all around the internet.
I came across some recent posts from users who installed a stable version of ChromeOS Flex on their old devices and they were able to use those devices again. Since I could just boot this from a USB drive for testing, it seemed there was some hope of bringing this thing back to life without putting in too much effort. 
Also read: How to use iPhone as a Webcam on Mac With Continuity Camera
The Solution: ChromeOS Flex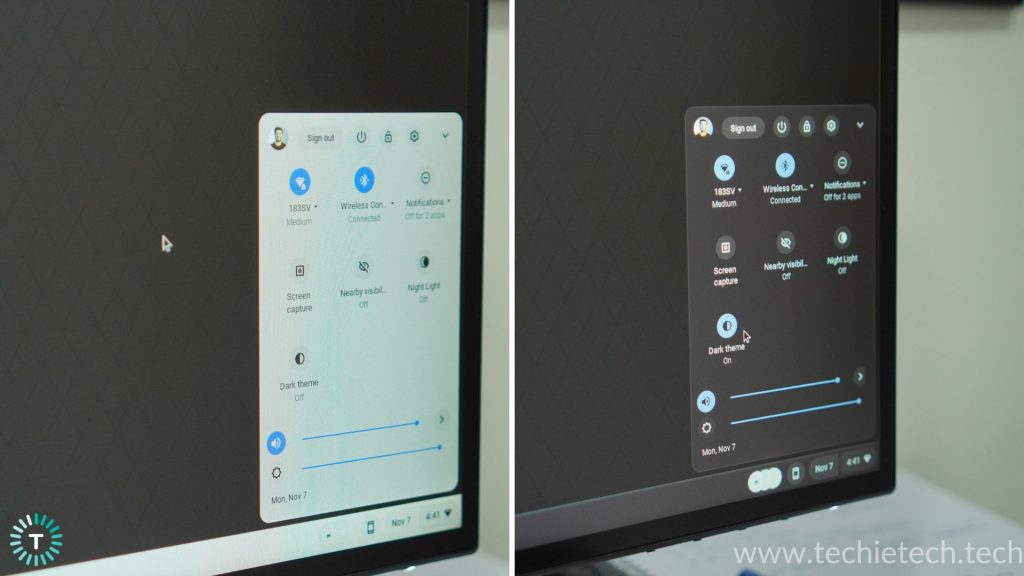 ChromeOS has been around for quite some time and I was following the launch of ChromeOS Flex as well. So, when I heard it was available for the public, I checked compatibility with the Mac mini and other older devices I had. All of them were reported to be super buggy. In fact, some people just straight-up said no to ChromeOS Flex in their reviews. So, I had almost left the installing ChromeOS Flex on the Mac mini train altogether until I saw the ChromeOS Flex subreddit.
It was interesting to see people's experiences with 2022 updates. What made me finally jump ship from macOS to ChromeOS Flex was the stable release and positive reviews from long-time users. 
It was time to prepare for the rites of booting another OS on a Mac. I looked at the installation process and it is very simple. Heck, it took less than 30 minutes to download, make a bootable USB drive and install ChromeOS Flex on my Mac mini. 
How to install ChromeOS Flex on Mac mini
ChromeOS Flex is hands-down the easiest operating system I've ever installed on any machine. Here's what you need to install ChromeOS Flex on a Mac:
A USB Drive with at least 8GB of available space (Anything with 16GB storage capacity or above works) 

Another drive to backup your Mac (Optional)
That's all. You're ready to start the first step. Let's go through the installation steps quickly:
You need to download Chromebook Recovery Utility from

here

. You can do that on any machine as long as it has Google Chrome installed. This Google Chrome extension will allow you to create a bootable USB disk with a ChromeOS Flex installation file.

On the

Identify Your Chromebook

page, make sure to select Google ChromeOS Flex in the Manufacturer dropdown and ChromeOS Flex in the product dropdown menu.

Then follow the on-screen instructions to insert and confirm the USB drive.

After a few minutes of downloading and installing, the USB will be ready to go.
Once you have the USB drive ready, you just need to shut down the Mac mini and insert the drive. In order to install ChromeOS Flex or any other OS on an Intel Mac, you need to hold the option key while the device boots up. This will lead you to a menu where you can choose which OS to use. You need to select the second bootable USB drive and hit enter. 
You'll see the ChromeOS Flex boot screen. After that, it will ask whether you want to install ChromeOS Flex or you want to try it out by booting it from the USB drive. This option does not install the operating system on your drive and just runs it live from the USB drive.
I tried the latter option to see if it is as good as people claim it to be. After a few more steps, I was on the home screen and I gotta say. Even though it has almost everything to be a minimalist OS, it is not as elegant as macOS. I browsed around a little bit by opening a few tabs. It was exciting to see my old machine so responsive to clicks and commands and that too when it was running ChromeOS Flex from a USB drive. It was working without any lag. Websites and web apps were opening instantly. I opened a few tabs and tinkered with the settings a bit. It was truly a new experience. 
I quickly restarted the machine and installed the OS.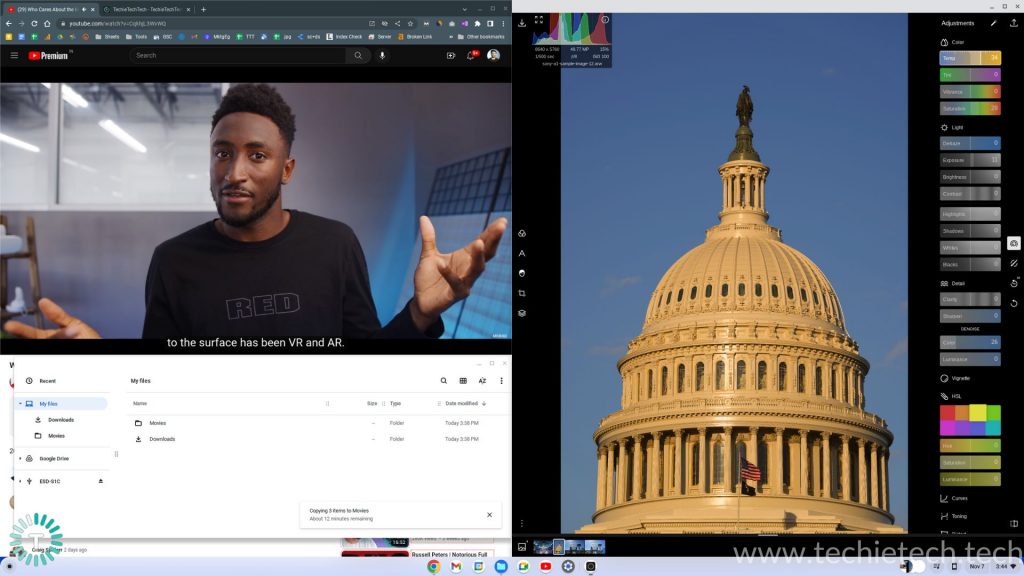 Please note: I recommend taking a backup of your data before installing ChromeOS Flex or any other operating system. In my case, I had already wiped the drive on my Mac mini so I had nothing to worry about. 
Another thing to take note of during installation is that you need to add your Gmail account and the first account that you add to the system will be your primary account.  
ChromeOS Flex on Mac mini: User Experience & Setting up
After the final installation, you boot directly to the home screen and that happens very quickly in comparison to macOS or Windows 11. The whole installation process took somewhere around 7-8 minutes. That is mind-boggling fast.
Since I logged in using my primary Gmail account, once I opened up Chrome, all my bookmarks and pinned tabs were there, ready to use. It automatically started to install my plugin-ins and log me in with already saved credentials. I just booted in and it had done half of my job already. Here's the best part, there was no lag. Everything was just so responsive.
Moving on to the logins part, since I had already saved most of the regularly used app credentials in Google Chrome, it was pretty seamless. What caught me off guard was how responsive my Mac mini got with ChromeOS Flex.

By this time, I had opened one YouTube tab with a FullHD video playing in the background and a few more research tabs. 
I had opened almost a dozen more tabs and was working normally when it hit, this is the same machine that was lagging and freezing with half the workload a few hours ago. Now, it was loading everything instantly with no lag. I plugged in my Microsoft webcam and connected my external NVME SSD to check compatibility. To my surprise, everything just worked as it would on a regular Windows or macOS machine. I worked for some time for notes and hit the shutdown button hoping it would work without any hiccups the next morning. I was relieved to find out I wouldn't have to go for a scavenger hunt in the middle of the night for a
The meeting went fine the next day. Zero issues at all. I was amazed at how snappy my 8-year-old Mac mini had become. So, I decided to try and use it as my main machine for a few days and see whether ChromeOS Flex is really as good as those Redditors and reviewers are saying. Will I be able to reanimate one of my favorite pieces of hardware? Let's find out.
ChromeOS Flex on Mac mini Review: Features and Daily Usage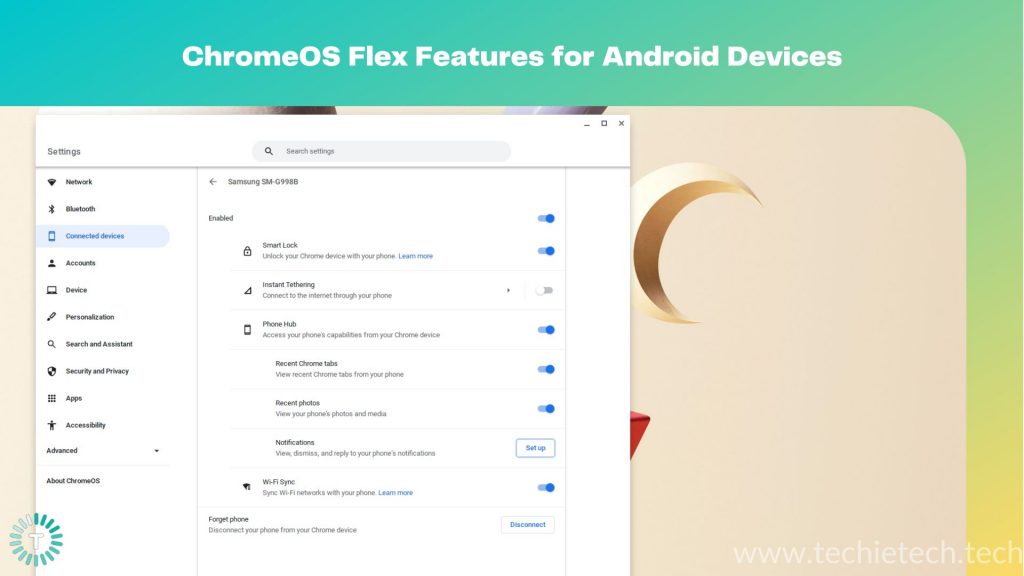 In order to make it my main machine for the next week, I installed a bunch of stuff and decided to push it to its limit over the next few days.
Starting off with installing more extensions and adding more web apps. One thing to note is that you can't install apps like you can on a regular Chromebook or macOS device. As a result, you're limited to web apps. On the flip side, almost all major service providers have a very good web app experience. Be it
Spotify, Polarr Image Editor, Photopea, Canva, etc most of the stuff works fine. 
Since there's no Play Store for apps, you're limited to the apps and extensions available on Chrome Web Extensions Store. It's got quite an expansive set of extensions. I still feel it is very limited.
As I said earlier, ChromeOS Flex's major limitation is the absence of Google Play Store support. I don't think the official support will be out for a few more years. Although, users can side-load apps via Chromebrew or the in-built Linux development environment. There are a bunch of tutorials available on YouTube and other websites. I managed to install VLC and a few more apps. They were a bit glitchy but they got the job done.
ChromeOS Flex on Mac mini Review: Features
Moving on to the features, the ChromeOS Flex packs some super useful features under the belt.
Nearby Share
One of the most useful features of ChromeOS Flex is NearBy Share. If you're an Android user, it's likely you're already aware of this. For all our iPhone users, Nearby Share is just like AirDrop but for Android. Setting up and using Nearby Share is very easy. Just select the file and share it via Nearby Share. I was able to transfer a 2GB video file from my Galaxy S21 Ultra to the Mac mini wirelessly in under 2 minutes. 
Here's a quick recap of my favorite features on ChromeOS Flex:
Built-in Google Assistant Support

to help you with your search queries and

smart home accessories.
Smark Unlock

: This allows you to unlock your machine by unlocking your phone. 

Built-in screen recorder allows you to record whatever is on the display along with yourself (using the webcam)

Access to the developer

and upcoming features using Flags. It allows you to access upcoming and developer tools like smoother animation scrolling, hardcore troubleshooting, experimental VPN & more

You can also

run Linux Shell

in a container for taking things to the next level like side-loading apps & more

The in-built

PDF Annotation

feature is useful for lots of users.
Power Efficient (Long Battery Life)
Unlike other mature operating systems, ChromeOS is very lightweight both in terms of storage and resource consumption. As a result, it does not consume much power. In simple terms, it does not overheat your Mac (device) under load. As a result, the device's battery last longer both in terms of daily usage and its age.  
You can browse the entire features list here. 
ChromeOS Flex on Mac mini Review: Performance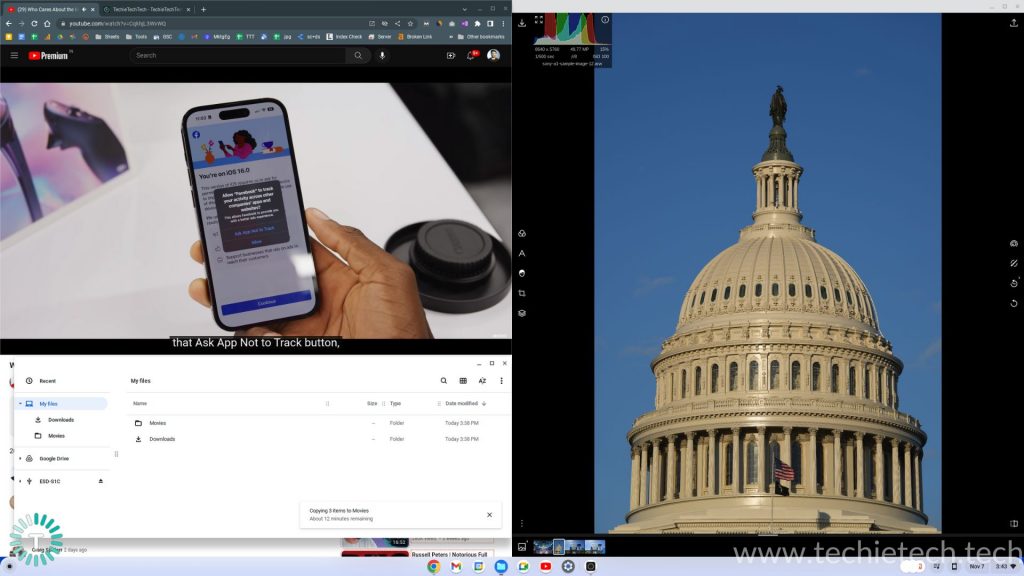 After what I had experienced in my initial testing days, I was quite excited to test ChromeOS Flex on an eight-year-old piece of entry-level hardware. I did have my doubts regarding the extent to which I can use this machine. After all, I can't just work with web apps all the time. I love using native apps. In case, you're not familiar with the terminologies,
Here's a quick look at the differences, web apps run in web browsers, and native apps are installed via setup files or downloaded from Play Store or App Store. 
After installing a few more plugins like Grammarly, MS Quick Note, etc, I worked through my day and it was fine. There were no crashes, no lags or cursor freezing, or anything of that sort. 
After my casual usage test saw no lags or crashes, it was finally time to push this thing to its limits. I downloaded some 50MP jpegs and RAW pictures for editing. With a bunch of open tabs and a 1080p YouTube video playing in the background, I opened
Polarr. It is a web-based photo editor with RAW file editing support. It has been my go-to web-based image editor for years.
I loaded up a few files and it was quick. After tinkering with the editing sliders and not noticing any lag I tried to push my luck and load the four RAW images and started editing. There was a sight hiccup during the load but after that, it was a smooth sail. Even exporting the RAW images felt normal without any freezes or lags.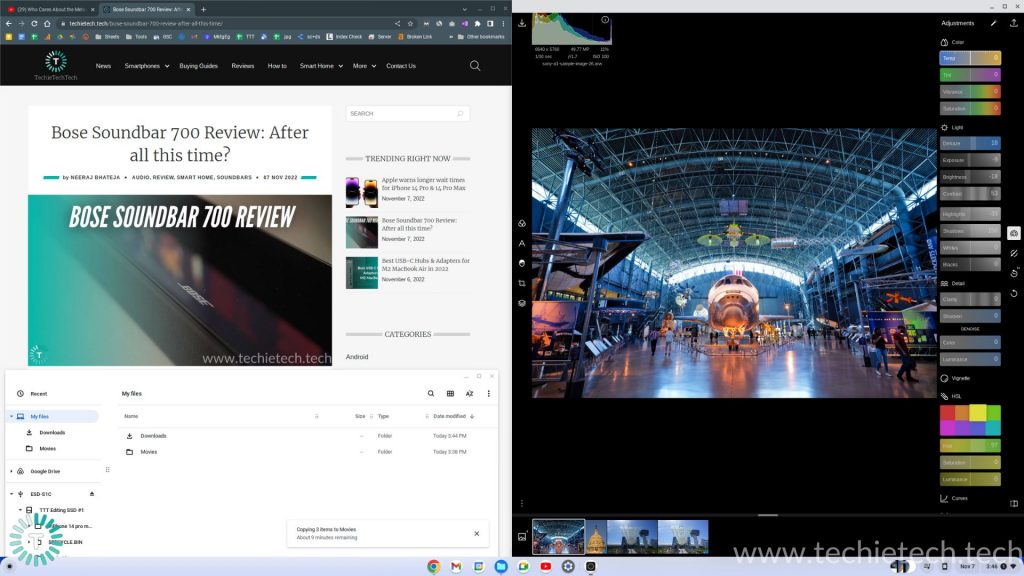 At this point, I was actually amazed at how well this is going. I opened up a few more tabs in another window and connected my
NVME SSD. I copied a 22GB folder and continued to push the Mac mini with its revived operating system. To my surprise, it kept going even with a new Chrome window and 5 new tabs! Honestly, it did not feel like I was using an 8-year-old machine at all. It felt like I'm using my M1 Mac. I touched the Mac mini to check for overheating and it was just warm. No overheating at all. If you're wondering the room temperature was normal. 
It finally started to show its real age when I switched the background video from 1080p to 4K@30fps. I knew I hit its ceiling then.
Nonetheless, I was dumbfounded at how good this experience was. I will finally be able to reuse this old piece of hardware that has been sitting in my closet for years!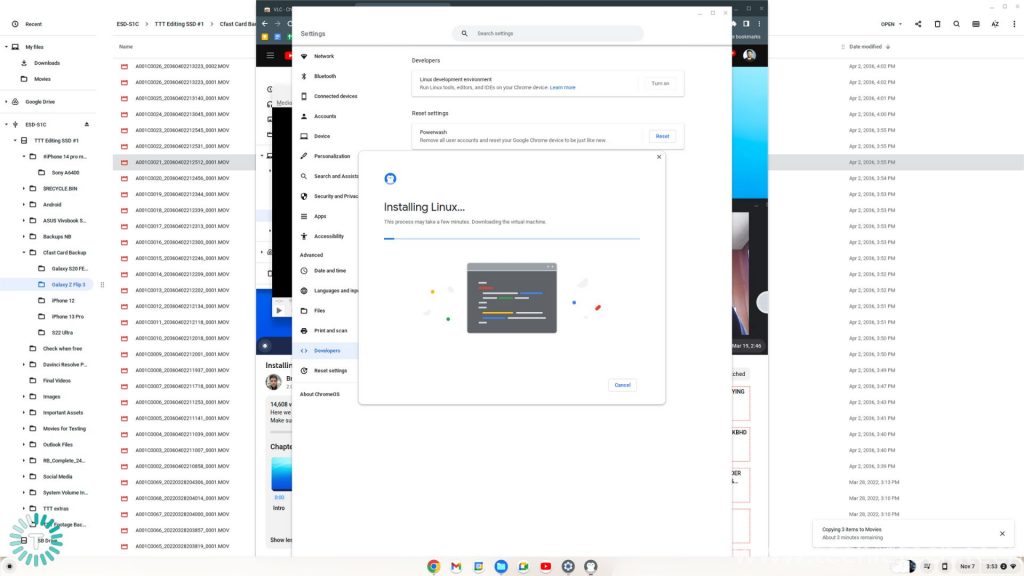 The next day, I tried a few more things like installing a Linux development environment in a container. I also checked the playback of different video and image formats to see what more I can get out of this 8-year-old Mac mini.  
One thing I forgot to emphasize is the boot time went from 25 seconds on macOS to 11 seconds on ChromeOS Flex.
ChromeOS Flex Review: Cloud Gaming
For the past month, I've been playing The Witcher 3 on my M1 MacBook Pro via Cloud Gaming and it has been a very good experience so far. I tried my luck with Nvidia's GeForce Now web app and
NordVPN's Chrome extension. My companion in this quest was my old PS4 Bluetooth controller and the Sony XM4 Bluetooth headphones. Pairing the controller and my headphones gave me zero issues. Both devices were discovered and paired within seconds.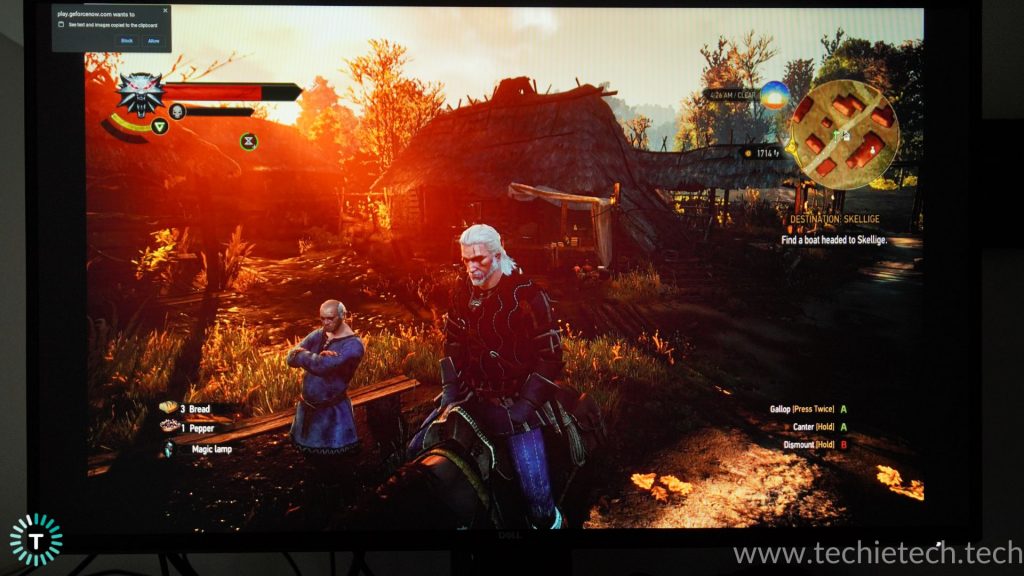 Right after hitting the play button, I had very little hope for this. Even though Chromebooks are used for Cloud gaming, this was almost a decade-old hardware. I was quite sure it would run into some sort of compatibility issues. The game finally loaded and lo and behold! It worked with zero issues! I was able to play Witcher 3: Wild Hunt in 1080p@60fps on a 2014 Mac mini running ChromeOS Flex. No connection drops. No Bluetooth lag or even stuttering. It was a magical experience slaying Drowners and ​​Noonwraiths on entry-level hardware that came years before the game itself. 
ChromeOS Flex on Mac mini review: Testing the limits
I once again fired up a dozen tabs and copied some files to the drive along with an active photo editing tab. I changed the YouTube playback from 1080p to 4K@30fps and I finally started getting glitches and playback delays. It was clear the machine was struggling with the 4K playback. I delved deeper into this problem and found a workaround in the developer options to ensure smoother 4K playback at 30fps.
So, this was also sorted. All-in-all, 4K playback has been an issue with lots of devices so I was not surprised. Another limitation is the lack of H.265 video playback. The file browser that comes with ChromeOS Flex is fine but it cannot playback modern video formats. This also applies to previewing or opening RAW or HEIC images like the ones shot on an iPhone 14 Pro Max or a mirrorless camera. I believe a workaround is in the works. 
ChromeOS Flex: Limitations
Port Limitations
If your hardware has some old ports like mine does (Thunderbolt 2), chances are it won't work the way it is supposed to. ChromeOS Flex supports the most commonly used ports like USB-A, HDMI, DisplayPorts, and USB-C ports with limited DP compatibility. USB accessories like
external Hard drives, SSDs, and webcams worked fine with zero issues or drops. I'm quite positive that some curious developers will find a way to make them work.
Google Play Store Support
As I mentioned earlier, the major limitation of ChromeOS Flex is the absence of the Google Play Store. Meaning you can't download Android apps like you can with regular ChromeOS. Had it been there, ChromeOS Flex would have been the perfect operating system for retired hardware. My take on this is if you're waiting for official Google Play Store support for ChromeOS Flex, then it will take a few more years. However, you can still sideload apps using Linux and Chromebrew. 
VPN Support
A decent chunk of my recent project involves using VPN. The native VPN options are limited to IPSec, LT2P, OpenVPN, and Wireguard while I've been majorly an ExpressVPN and NordVPN user. Fortunately, NordVPN has a Chrome Extension that works very well. So, for the moment I've got that problem fixed. 
ChromeOS Flex for Mac Review: Should you install it?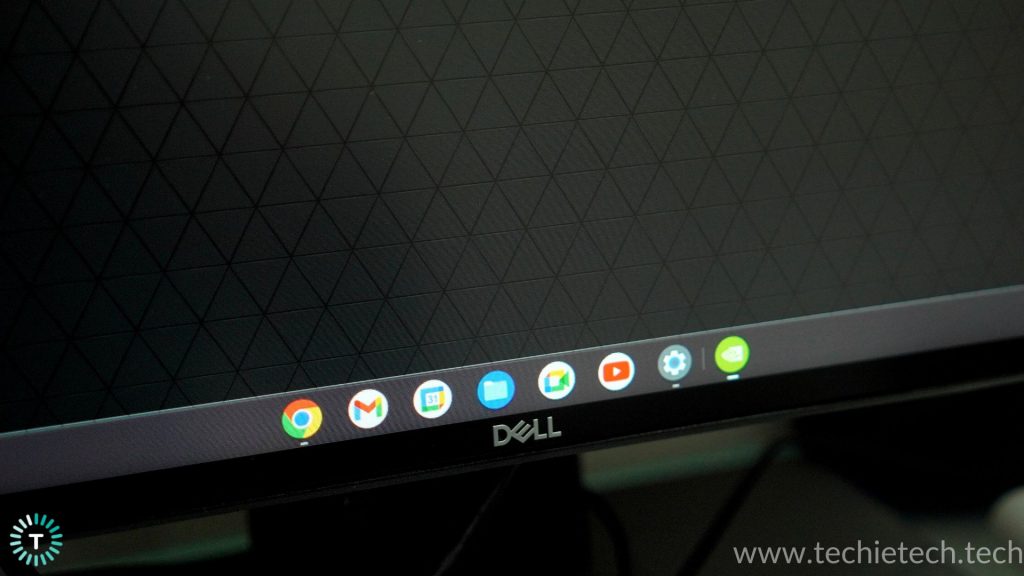 Summing up my review of the ChromeOS Flex, I am impressed with what Google has done with it. To be fair, it is somewhat of a compromise in some aspects. You lose out on native app support and some legacy port support. In terms of looks alone, you lose the elegance of a mature operating system. On the other hand, your retired machine gets a new life. You get a smoother user experience and at least two more years of usage out of your old device. 
So, should you install it on your old device? If your workflow involves working with web applications and you could use a backup machine, then go for it. In fact, I recommend trying it out with a USB boot if you have an old PC. It could definitely reanimate it into a brand-new machine.