Introduction
Back at NAB 2018, a Chinese company called, ZCAM showcased the second iteration of their Kickstarter funded Micro-Four-Thirds video camera, the ZCAM E2. The $2000 priced 4k cinema camera caught a lot of attention because of its promising specs. The camera started shipping in October 2018 and has been selling like hotcakes since then.
But is it really worth getting a $2000 Micro-Four-Thirds camera? I've been using mine for almost a year now and here's my detailed review of the ZCAM E2. 
Table of Content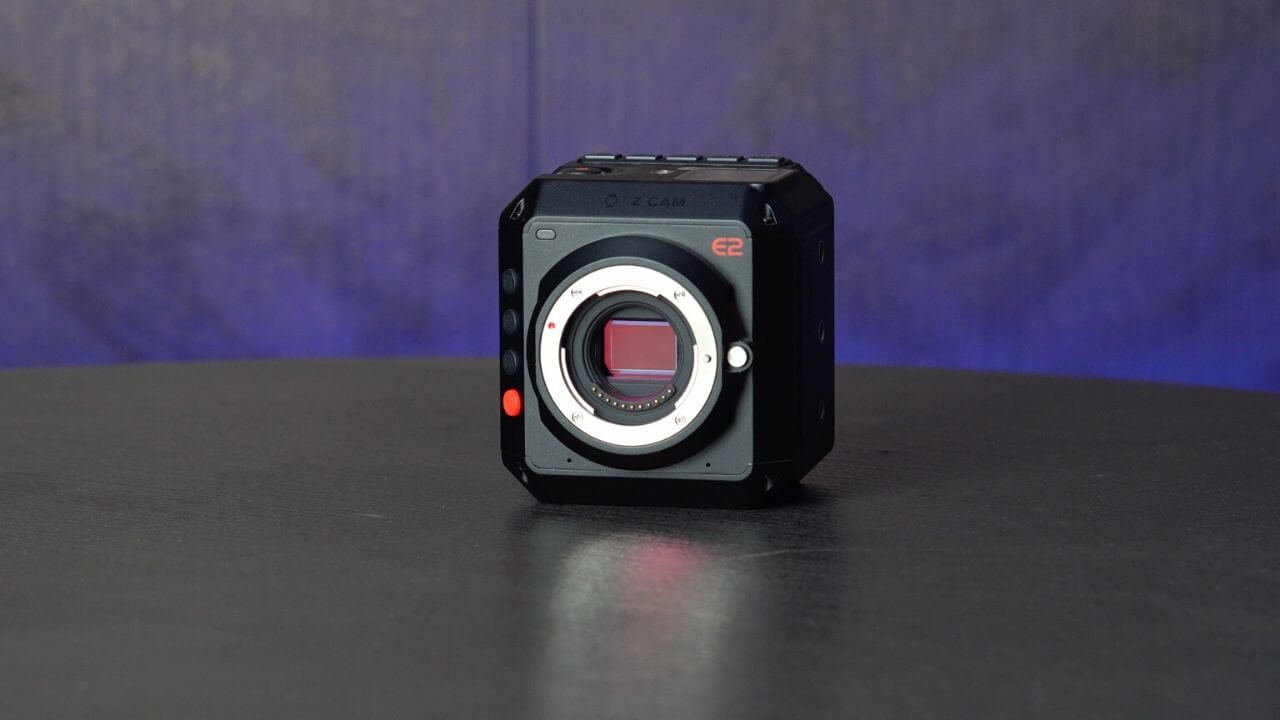 The ZCAM E2 is a small but dense camera and weighs 757g/1.67lb. At first glance, it looks a bit weird if you're coming from DSLRs and Mirrorless line of cameras. But if you've seen REDs and ARRIs, you'll get used to it in no time. 
For size comparison, here's a size comparison of the E2 with the Amazon Echo Speaker and Sony A7S.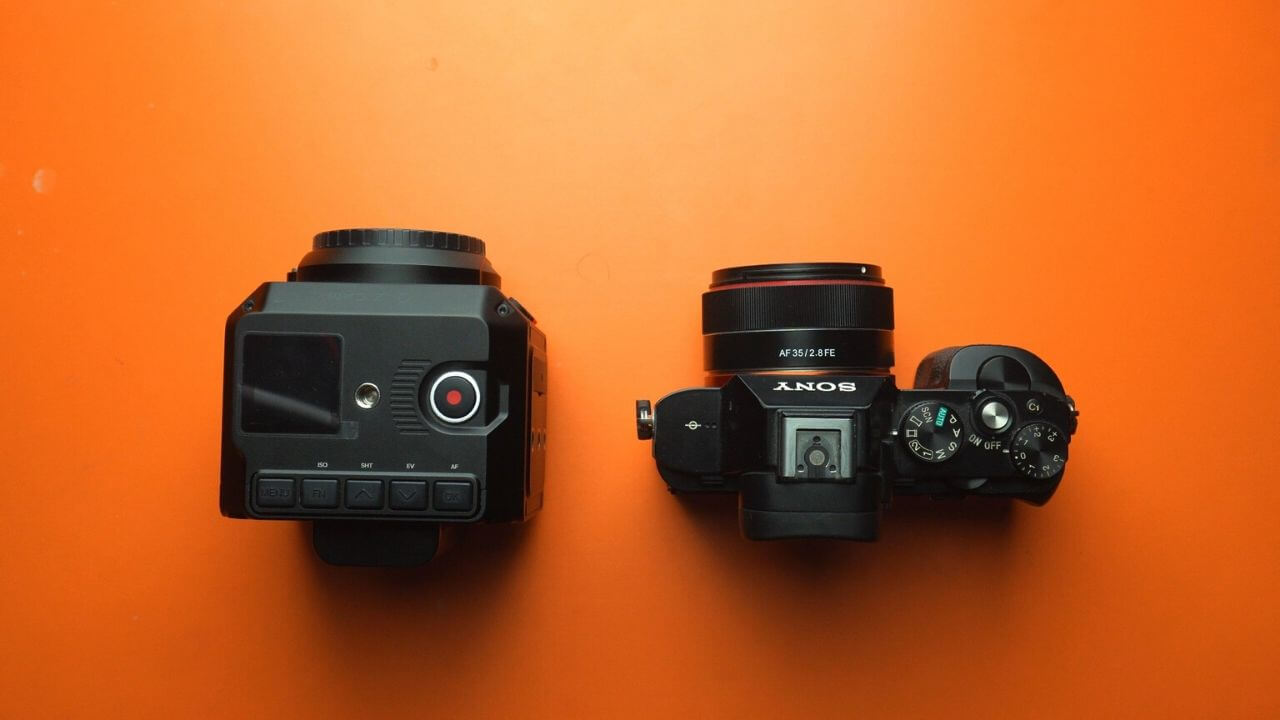 Initially, I was kind of amazed at how small the camera was in real life and that too without a cooling fan. Yes, that's right the ZCAM E2 does not have a cooling fan. We'll find out why in the Chip & processor section. 
Here are the exact dimensions of the E2:  3.59 x 3.91 x 3.51″ / 91.2 x 99.2 x 89.1 mm
The ZCAM E2 is made out of aluminium except for the audio and storage plastic flaps. So, the in-hand feel of the camera is remarkable, it feels like a premium camera. Moreover, the dimensions are something that takes a little time to get used to especially if you're used to the regular DSLRs and mirrorless cameras. But I personally love the way it fits into my hands. 
Let's talk about those ¼ inch thread mounts on the E2. There are 9 thread mounts on the camera which gives plenty of real estate for rigging the camera without a cage. 
Although a cage is recommended if you're a run and gun shooter. I don't use a cage because most of my shoots are indoors and in controlled environments.
Sensor
The ZCAM E2 features a 4/3″ WDR CMOS Sensor with a sensor size of 19.0 x 13.0 mm.
You might think that the sensor size is a bit small to be called a cinema camera.
But things have certainly changed in the past few years considering the fact that brands like Panasonic and Blackmagic have released MFT sensor cameras with incredible image quality. 
Processing Chips
We talked about the ZCAM E2 not having any cooling fan or even fan grills for airflow. So, how does it manage to shoot in such high resolutions and high frame rates without getting hot as a tungsten light?
Well, the secret lies in the processing chips used by the company. I'll try my best not to get too technical about this. There are basically two types of chips that are used in modern camera systems (or modern devices), the ASIC and FPGA. 
The FPGA (Field Programmable Gate Array) are integrated circuits that can be field programmed to work as per the intended design. Basically, it can be programmed to work as a microprocessor, a graphics processor or as an encryption unit or all these three at once. It's like that one guy in the team that's an all-rounder. 
The other kind of chips are the Application Specific Integrated Circuits (ASIC). As the name suggests they're designed for one sole purpose and they perform the same function throughout their whole operating life. The most common example is the CPU on our phones. Remember that one guy in accounts who's really good with numbers? Yeah, that's the ASIC chip in this case. 
So, the ZCAM E2 uses ASIC chips, unlike other cameras that use FPGA. The primary reason being the high power consumption of the FPGA chips. More power consumption generates more heat and that's why E2 features ASIC chips.
Also, the devices powered by FPGA chips functionalities can be upgraded significantly as compared to the ASIC Chips, which can only be upgraded by software but only to a certain extent. In simple terms, the hardware is locked but can only be upgraded with software to a certain extent. 
In case you want to learn more about these chips, head over here. Or have a quick look at this comparison image here. 
Shooting Capabilities
The ZCAM E2 can shoot in a bunch of widely used frame rates and resolutions and that too in different encoders ranging from H.264 to ProRes and even RAW.
To sum things up, here are some of the supported resolutions and frame rates:
You can always refer to this detailed doc where the company updates the numbers every once in a while.
Frame Rates & Codecs Supported
The ZCAM E2 supports the following codes:
ProRes 422 HQ / ProRes 422 / ProRes 422 LT / ProRes 422

ZRAW (partial debayer) 

Proxy 

H265

H264
The mini cinema camera supports the following frame rates in the above-mentioned codecs:
4096 x 2160 @ 59.94 / 50 / 29.97 / 25 / 24 / 23.98 fps 

3840 x 2160 @ 59.94 / 50 / 29.97 / 25 / 24 / 23.98 fps 

3696 x 2772 @ 59.94 / 50 / 29.97 / 25 / 24 / 23.98 fps 

1920 x 1080 @ 59.94 / 50 / 29.97 / 25 / 24 fps / 23.98
Here's the variable frame rate breakdown with respective supported codecs:
120 fps for 4096 x 2160 (H.265 only)

120 fps for 3840 x 2160 (H.265 only)

150 fps for 4096 x 1728 (H.265 only)

160 fps for 3840 x 1620 (H.265 only)

160 fps for 2704 x 1600 (H.265 only)

59.94 fps for 3696 x 2772 (Apple ProRes & H.265)

59.94 fps for 3312 x 2760 (Apple ProRes & H.265)

240 fps for 1920 x 1080 (H.265 only)
After a recent firmware update, following resolutions were added to the E2:
Low Noise 4k and Super 16 resolutions 
The file sizes are as big as you'd expect on the ProRes codec but the H.265 files are amazing in terms of image quality and efficiency. A quick note here, while shooting in high frame rates, you're locked onto the H.265 format only and I haven't had any issues with it especially in 4k.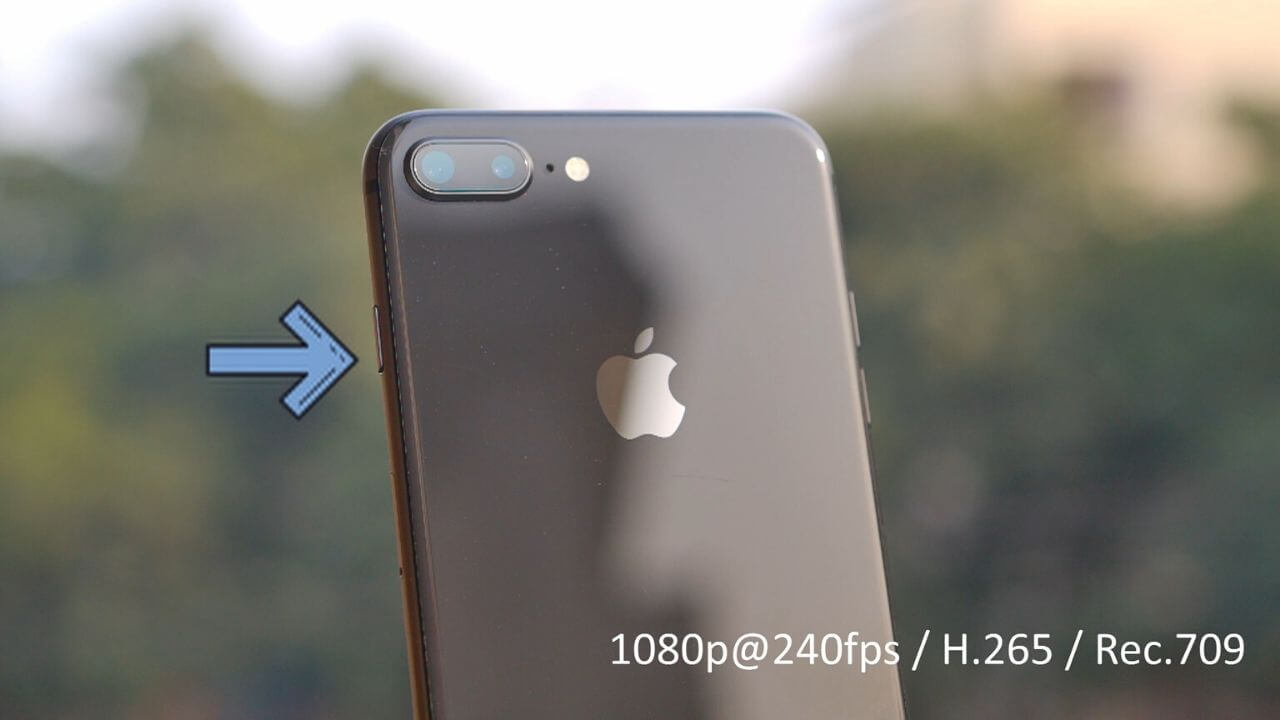 But the 240fps and 200fps in 1080p do have a minimal amount of moire present in the footage. And when you're shooting in 1080p in slow motion,  there's a fair amount of line skipping happening in the footage as well. I guess that's just a caveat of the full sensor readout.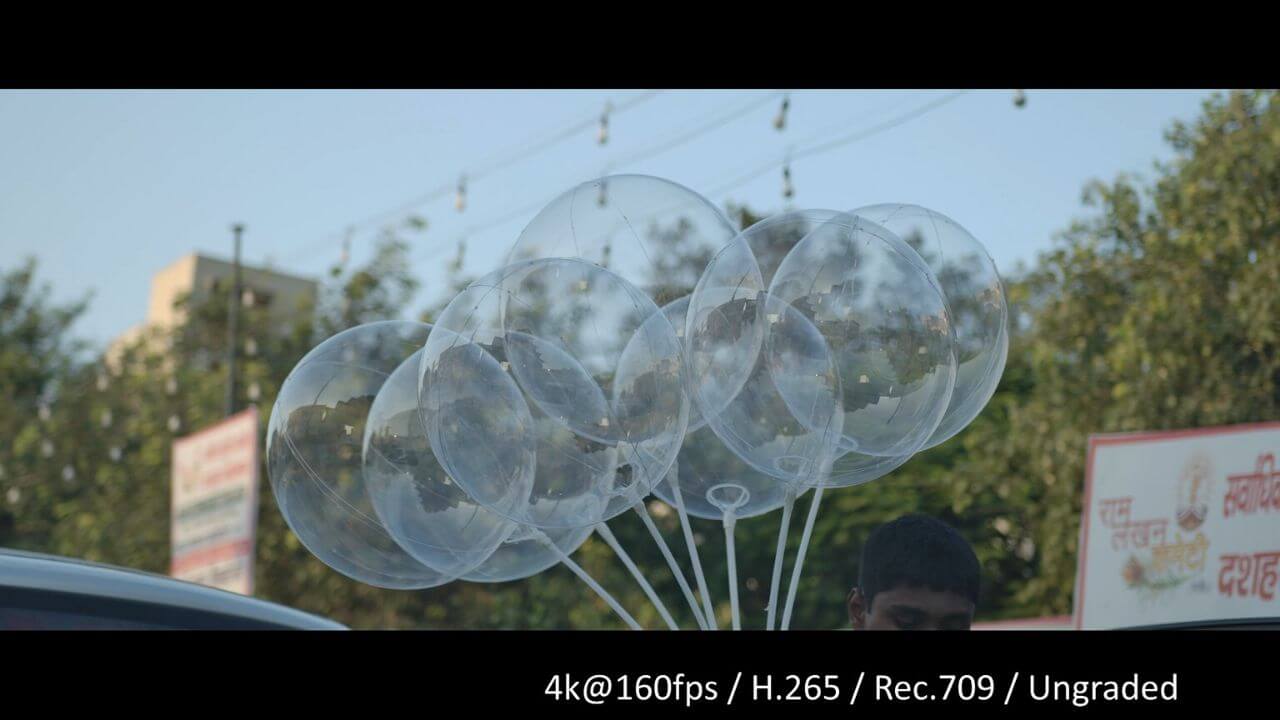 But, this doesn't happen when you're shooting at 4k@120fps or even 160fps. The result is clean footage with wonderful skin tones. I personally prefer to shoot in 4k@120fps because of the full sensor readout and premium image quality. Honestly, it's mind-blowing at this price point. 
Also, when you're shooting in 4k@160fps, you're limited to the 2.4:1 aspect ratio. You're getting an extra 40 frames but you won't be able to shoot in 16:9 aspect ratio.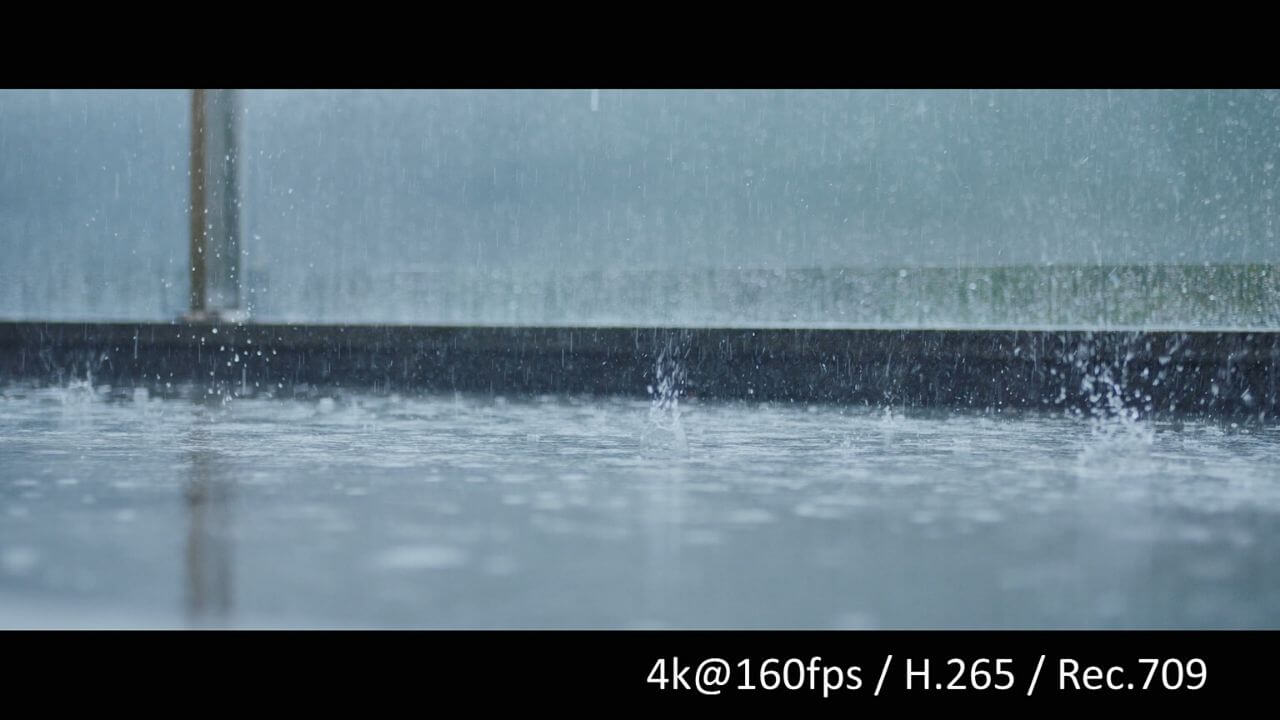 Pro tip – Before shooting always plan out your storage according to the codec and frame rates you'll be shooting in. The ProRes and ZRAW file sizes are really big and it's highly likely that you will run out of storage way before then you planned for. 
Dynamic Range
The ZCAM team claims 15 stops of dynamic range with WDR mode turned on and 13 stops in ZLOG and flat profiles. I mean that's a lot for a MFT sensor at this price point.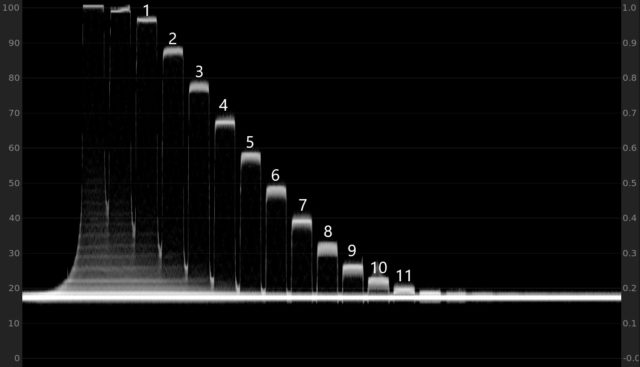 If you want to see a more detailed test of the dynamic range of ZCAM E2, I'd suggest that you have a look at this thorough test where they used DSC labs Xyla 21 backlit transmissive chart (it's a  purely mathematic way to check the dynamic range of cameras). 
Let's have a look at the different picture profiles and I'd let you be the judge of that. 
Image Quality
The ZCAM E2 can shoot in a bunch of different picture profiles and the image quality out of all those profiles is brilliant. I mostly shoot in Rec.709 because of the soft and not so contrasty look that I get. One thing a user needs to keep in mind is to expose the footage properly for each of these profiles. If you're coming from Canon, Sony, Nikon then there's a slight learning curve to get the perfect exposure on this camera. I've found that overexposing by a stop or two resulted in better footage. But it's highly recommended that you use the in monitor scopes and false colors to get the best exposure. 
ZCAM also has a bunch of different plug-ins and software to help you get the most out of your footage. Here's a quick look:
ZCAM Color Correction Plug-in (Really useful when you're shooting in ZLOG)

ZCAM Denoiser Plug-in 
Let's dive deep into the different color profiles by ZCAM E2. Just a quick note, all these footages are available for download from the link in the description in our YouTube review: 
Profiles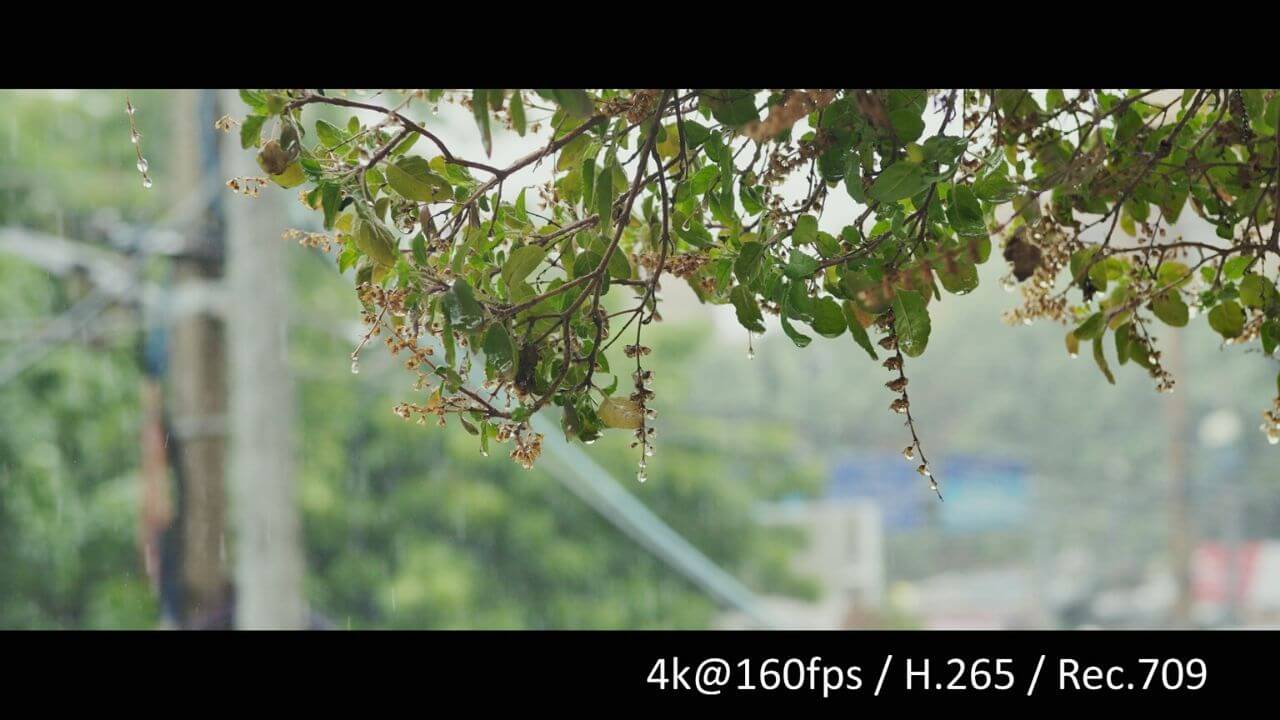 Rec.709
As mentioned earlier, I shoot most of my videos in Rec.709. Primarily because of the good skin tones and neutral colors. It's really fun to grade and the details are remarkably good. If exposed properly, the footage straight out of the camera is fairly usable. Moreover, the Rec.709 footage requires a very minimal amount of grading too. 
The color science of this MFT sensor is really good considering the brand's age. 
Here's a look at some of the graded screengrabs: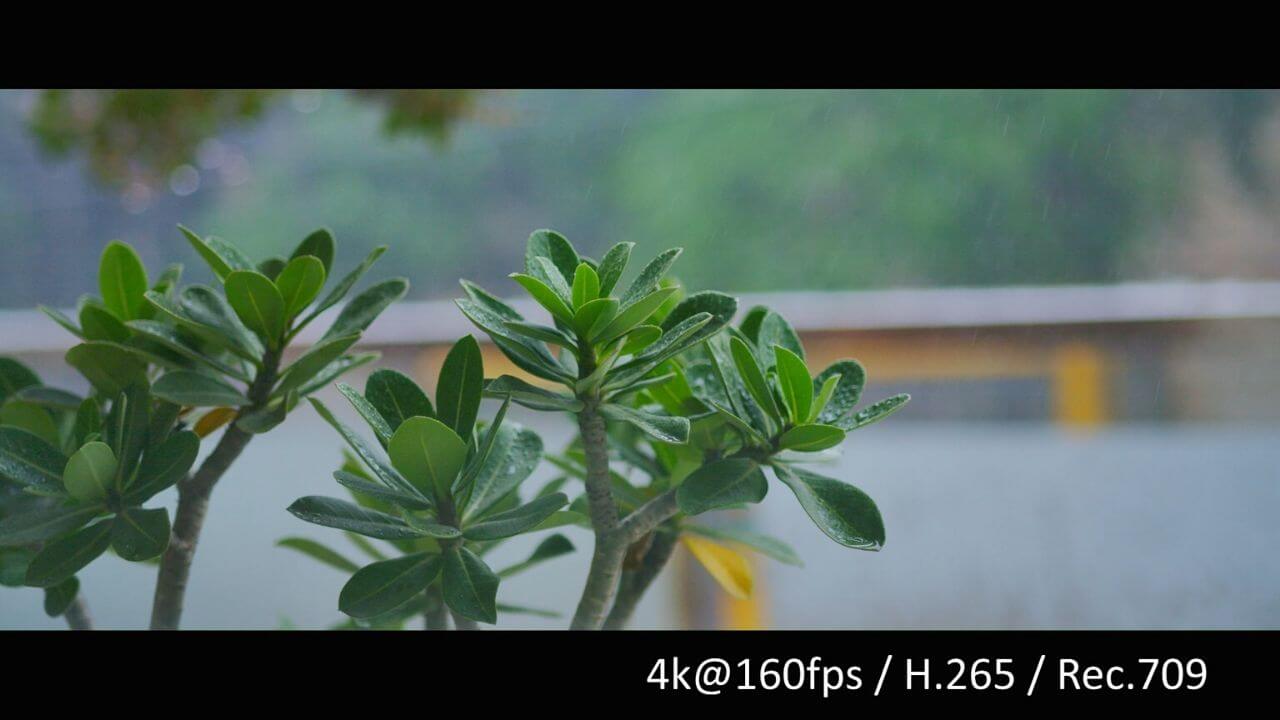 ZLOG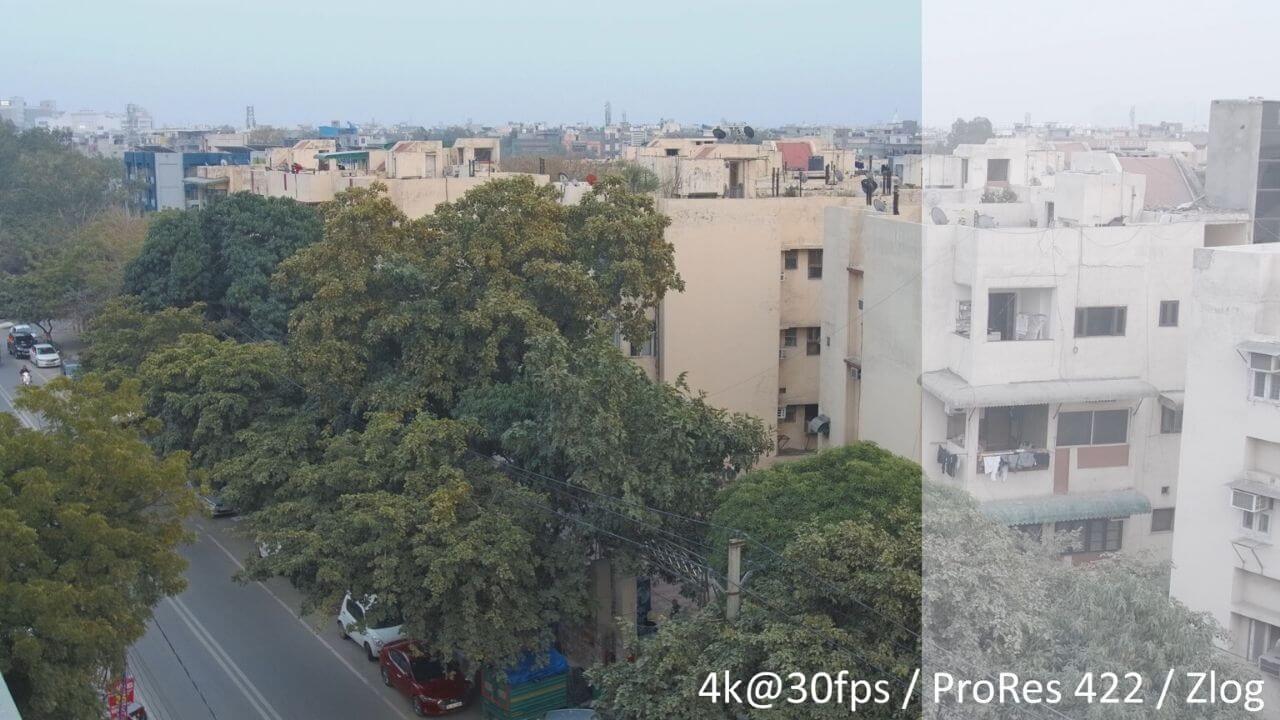 ZLOG (or ZLOG2) gives you more space to capture those highlights & shadows with up to 13 stops of dynamic range. The image quality is pretty good and grading log footage has always been exciting. But the key to getting the best out of ZCAM E2 while shooting in ZLOG2 is to overexpose your footage. ZLOG has been designed to incorporate highlight rollover. Since the sensor uses analog gain for processing noise, you get a very minimal amount of noise even at high ISO levels. In simple terms, overexpose your footage but don't clip your highlights.
Flat
In the flat profile, the camera applies a Rec.709 LUT on your ZLOG2 footage but the noise performance is better. It's fun to experiment with but I would recommend shooting in ZLOG and then grading it in post. 
WDR (Wide Dynamic Range)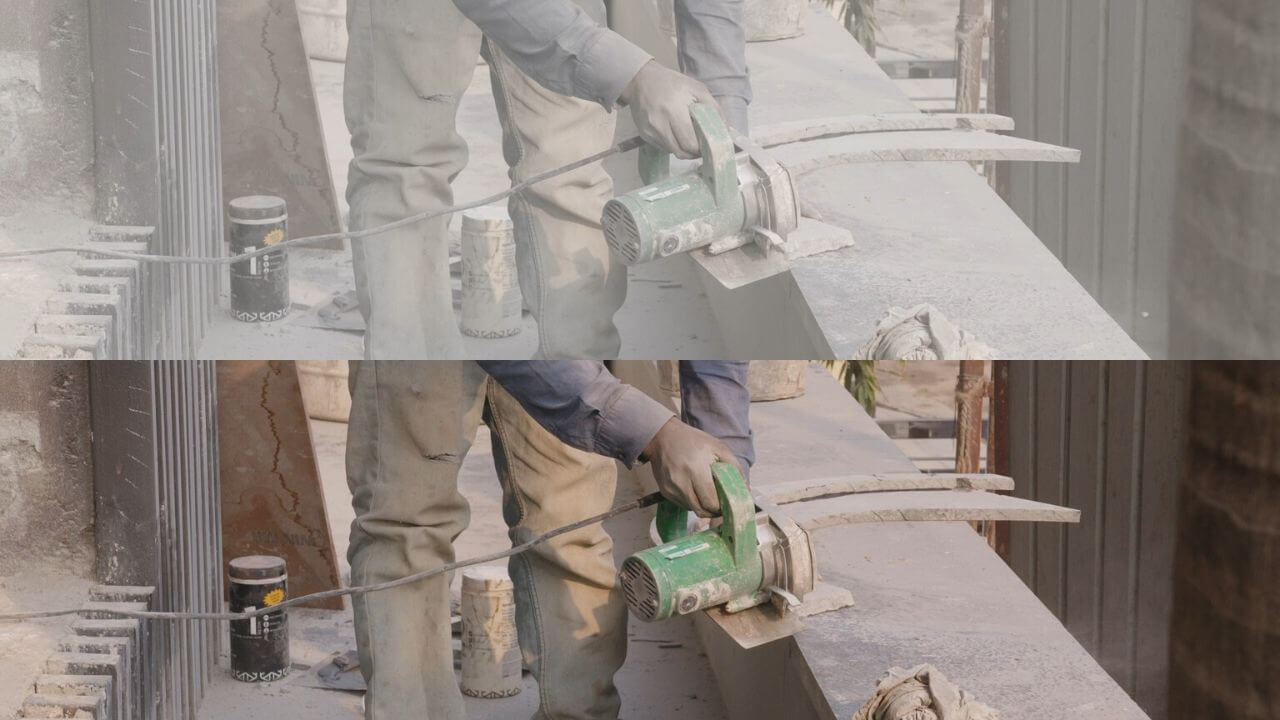 WDR mode basically lets you achieve even more dynamic range by letting you squeeze out the most number of stops. This mode requires you to overexpose your footage by an extra 2-3 stops by either increasing the ISO or going with wider f-stops.
The ZCAM E2 uses QBC-HDR or Quad Bayer Coding which basically, shoots the footage at two different shutter speeds to get highlights and shadows right in one frame. This method is one of the most efficient methods to shoot HDR footage which has motion with minimal amount of ghosting 
In simple terms, the E2 uses two different shutter speeds, slower shutter speed in the shadows and a higher shutter speed in the highlights. Just a heads up, when a fast-moving object gets into the highlights as well as the shadows zone at the same time, you'll notice video artifacts.
So, it's recommended to use a shutter speed of 1/200 or more to avoid getting video artifacts.
HLG
The HLG image quality out of ZCAM E2 is fairly good and it does provide you a bit more dynamic range than Rec.709. Also, the low light performance is better.  I personally don't shoot in the HLG profile though. 
Skin Tones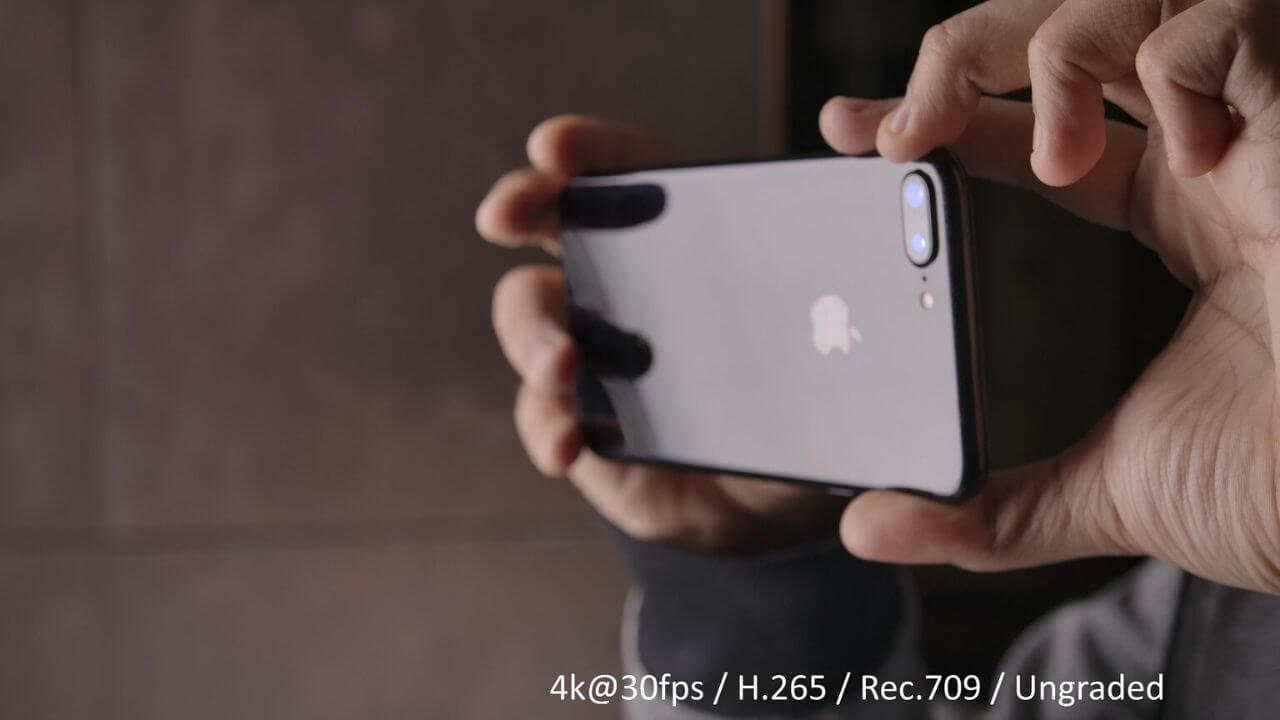 Skin tones are one of the most important aspects of a camera especially if it's being called a "cinema" camera. But luckily, the skin tones out of Rec.709 footage are remarkably good. The skin tones are soft and lightly contrasted which are a bit on the warmer side. The highlight roll-off is also smooth and the overall skin looks breath-taking in certain lighting conditions. 
A lot of users have reported that the skin tones are somewhat similar to ARRIs. 
Color Bit Depth
The ZCAM E2 can shoot in 10-bit (H.265 & ProRes) & 8-bit (H.264) without any issues. But I've got to say the 4k footage in 10-bit is mind-blowing. It feels like a Panasonic GH5S on steroids. 
I've used the GH5 for a few months and the 10-bit footage was impressive enough for an MFT camera for me. But the ZCAM E2 took it even further with 4k@120fps in 10-bit and ProRes support. 
This is one of those things that you can only experience while editing. It has really made my editing workflow better and more enjoyable.
If you're good with color grading then I highly recommend the ZCAM's color correction plugin for FCP, Premiere Pro and DaVinci Resolve. It really makes the grading process easier and enjoyable. 
ISO & Noise Performance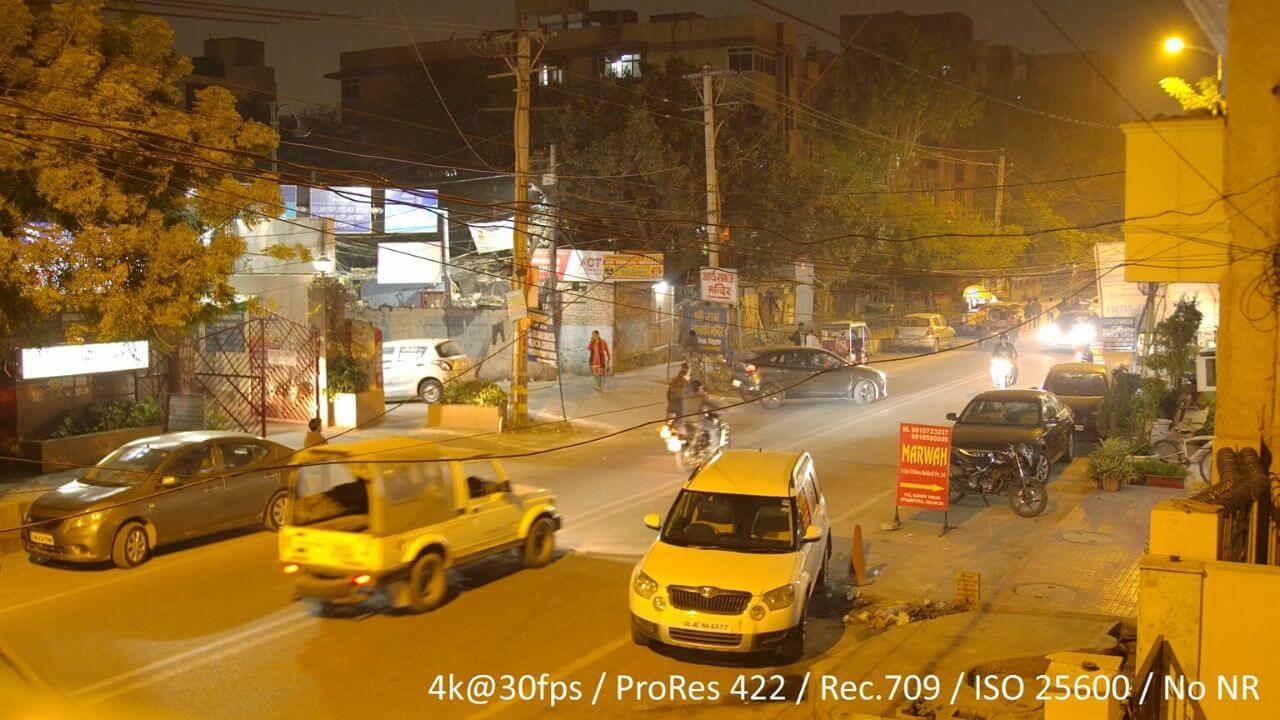 The ZCAM E2 features a Micro Four Thirds CMOS sensor with 10.2 MP resolution. It features a dual native ISO sensor with 3 different settings of Auto, High, and Low. 
Here's a quick look at the ISO ranges with respective profiles:
DUAL NATIVE ISO
Rec 709

Z-log2

Flat

HLG

Auto

500 – 102,400 /

Low

500 – 2500 /

High

2500 – 102,400

Low 500 – 2500 / High 2500 – 102,400

Low 500 – 2500 / High 2500 – 102,400

Low 500 – 2500 / High 2500 – 102,400

WDR
Auto

250 – 51,200

Low 250 – 1250

High 1250- 51,200
Before the 0.86 firmware update, the native ISOs were 160 and 800 but after the update, it was upgraded to 800 and 2500 respectively. 
Although, the difference was quite effective to be honest.
During my testing, I noticed that the noise performance at ISO 2500 with the high end was far better as compared to any other ISO levels. As mentioned earlier, it is advised to overexpose your footage by a few stops while shooting in ZLOG, WDR profiles. Just make sure to not clip your highlights. 
The ZCAM E2 works on ETTR and it's advised to use false color instead of just relying on scopes.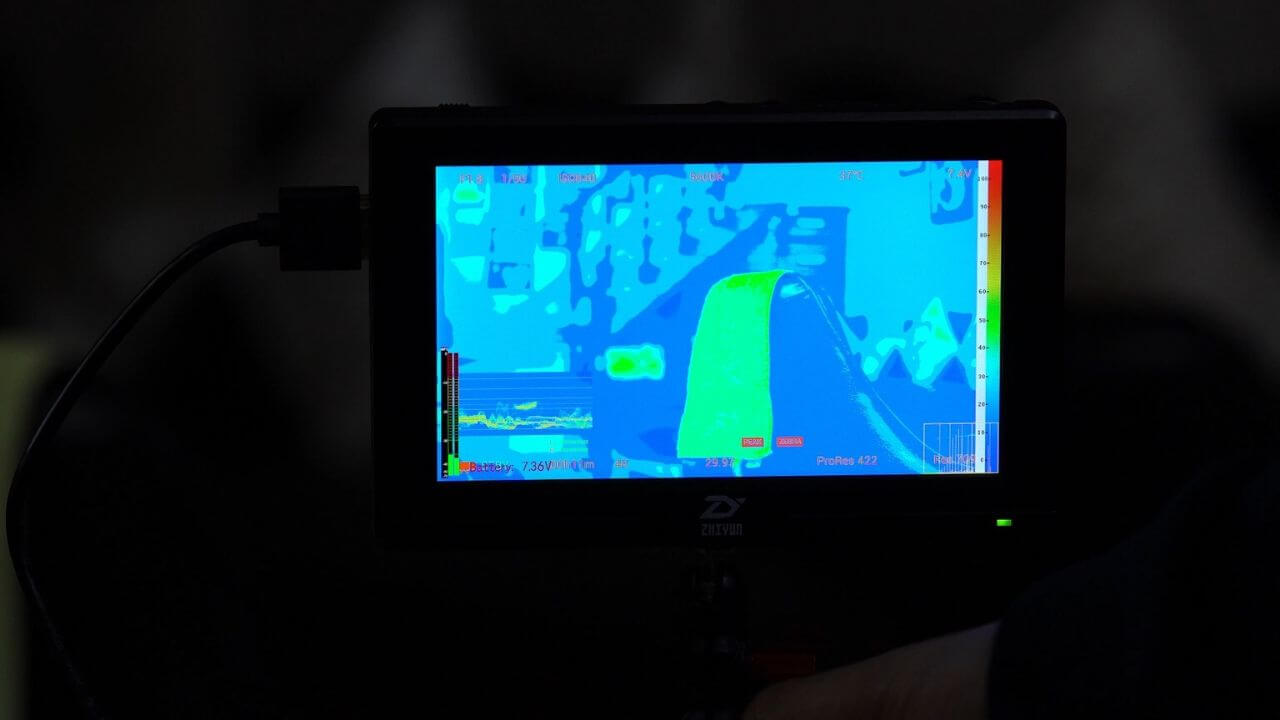 In short, the ISO and noise performance of the ZCAM E2 sensor is exceptionally good.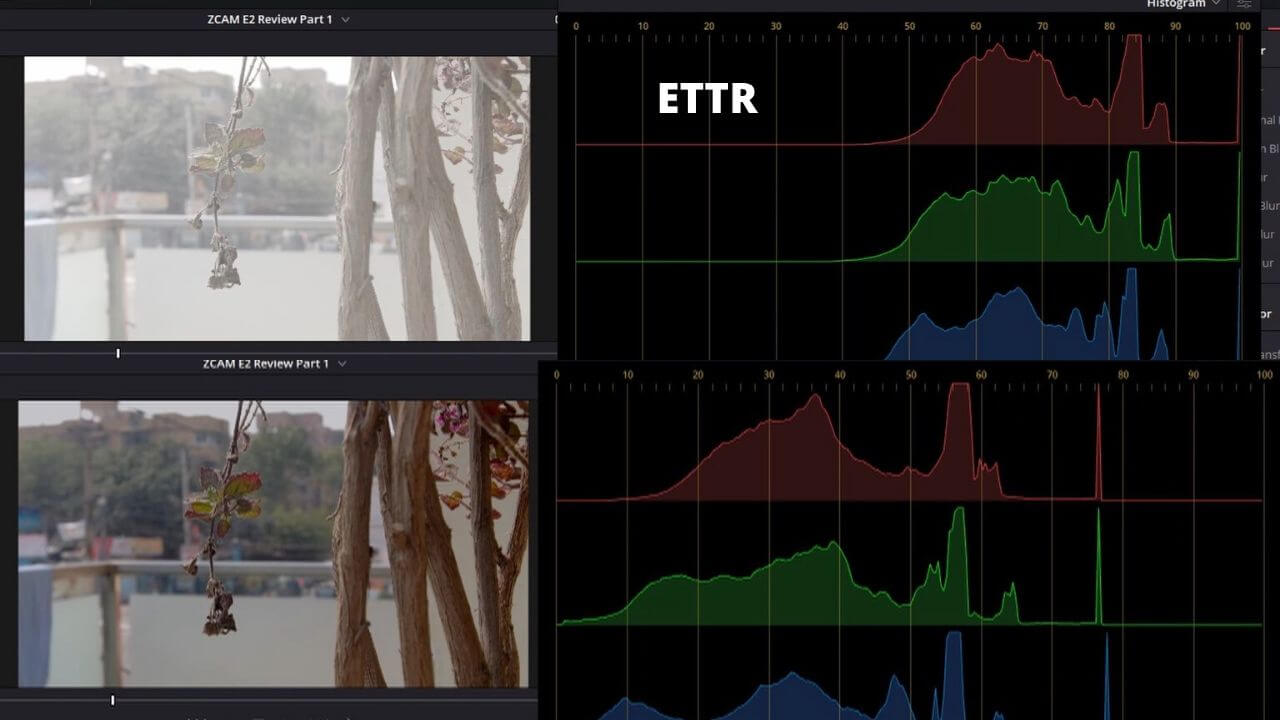 The low light performance of the ZCAM E2 is clearly better than other MFT cameras including GH5 and some Olympus cameras. In case you're wondering, you can shoot in log in low light but I recommend sticking to Rec.709 or HLG for low light shoots. 
I prefer to use the ZCAM noise reduction plug-in for this thing. Here's a quick guide on how to reduce noise in ZCAM E2 footage. The DaVinci Resolve's Studio version noise reduction feature works very well too.
Rolling Shutter
The rolling shutter in the ZCAM E2 is fairly noticeable and one might say that it's quite similar to the one seen on the Panasonic GH5. It's not good but it's definitely not worse than the rolling shutter effect on other common MFT CMOS sensors. 
---
I/O Interface
This is probably one of the most interesting aspects of ZCAM E2, especially for run and gun filmmakers. The camera features more than a dozen input ports for different hardware. If you're into rigging your camera, then look no further than the E2 in this budget. 
Here's a quick rundown of the ports:
1 x HDMI (HDMI 2.0) Output (

It is an HDMI 2.0 port and outputs video up to C4K @60fps. I love the fact that ZCAM went with the full-sized HDMI port)
1 x 1/8″ / 3.5 mm Stereo Mic Level Input

1 x 1/8″ / 3.5 mm Stereo Output

1 x 5-Pin LEMO Mic Level Input

1 x USB Type-C 

1 x 10-Pin LEMO Sync 

1 x 9-Pin D-Sub RS-232 

1 x 2.5 mm LANC Control 

1 x RJ45 LAN 

Wireless Interface -2.4 GHz Wi-Fi (Comes with an antenna)

1 x 4-Pin LEMO (12 VDC at5 A) Input for power 

Supports Sony L series NPF batteries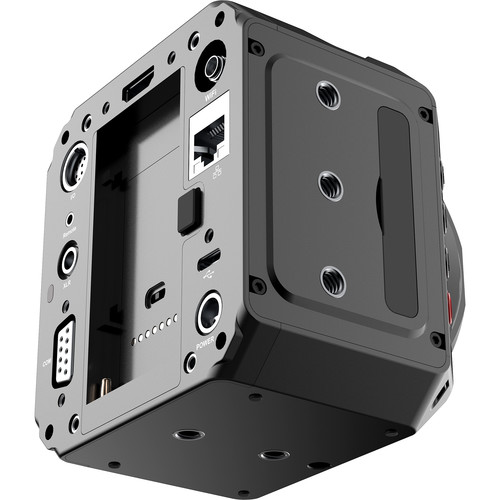 Function Buttons 
The E2 features a total of 10 rubber buttons that are sturdy to interact with. The top has 6 buttons out of which 4 are labeled Menu, Shutter, ISO, Exposure & AF respectively. There's a giant record button right besides a quarter-inch thread mount on the top along with the screen. 
For those wondering, no it's not a digital screen, it's a legit LCD Screen as you can see here.
There are 4 buttons on the right side in front of the camera, 3 of those buttons are called the function buttons and can be customized according to your preferences from the camera settings.
The 4th button is basically the gallery/power button which lets you access & see older media files.
All these are rubber buttons so for some users it can be annoying to deal with. In fact, a lot of users have reported that this was making the camera hard to operate. But I personally loved those buttons probably because I like hard and tactile buttons.
Menu & Software Interface
The Z-CAM E2 features a 1.2" LCD screen which can be used to access the menu and monitor the footage, Although, I wouldn't recommend it because of the small size and color accuracy. We'll discuss this in the video monitoring section.
The menu is quite simple and has 9 primary options where you can tinker with the different resolutions, codecs, frame rates, audio, image quality, white balance, focus, and some accessibility settings.
Storage Slots
The ZCAM E2 has two options for storage, you can either use CFast cards for recording or use the Type-C USB port on the back. 
You can record directly to an external SSD and I highly recommend that primarily because of the following 2 reasons:
SSDs are cheaper as compared to CFast cards, and 

SSDs make for a great editing workflow as you can edit directly off the external SSD after recording on it. 
Since most of my shoots don't last very long, I prefer to shoot on the CFast card and then edit them in external SSDs. I use the Lexar 128GB CFast card and the Lexar SL1000 Pro for recording & editing long videos. The whole editing workflow is really efficient.
Here's a list of recommended external SSDs for ZCAM E2 based on users experiences:
Do not go for Samsung T5 SSDs as they don't work very well with the ZCAM ecosystem
Make sure to format the SSD on your PC/Mac and then again format in camera.
Audio Interface
The camera features a stereo mic but we all know nobody uses that. Just to clear this out, the on-camera mic quality is fairly clean and usable except in windy situations. This was a big issue earlier. Back in 2019, after one of the major firmware updates, the camera got new features for monitoring audio and changing audio gain levels.
I tested a bunch of different microphones ranging from shotgun to wireless lavs and had no issues at all after the update. 
Here's the list of microphones that I used with ZCAM E2:
There's also the headphone jack placed right beside the 3.5mm audio input port. Also, the ZCAM E2 records audio in 24-bit 48 kHz format. 
Coming to the mini XLR port on the back, it's the same port found on ARRI Alexa mini but this one's missing a locking module. 
Using the mini XLR port is not recommended if you're running and gunning in the wild as it can result in the port being damaged. Can't really blame anybody here because mini XLR ports are sensitive and do not have a proper locking module.
The following setups are considered the best if you want to record professional audio with the ZCAM E2:
Video Monitoring Interface
There are basically two ways to monitor your video through the mini cinema camera. There's the external monitor and you can also use your smartphone/tablet to monitor and control the camera. 
We'll take a look at some of the most suitable monitors for the ZCAM E2:
Portkeys BM5: (Recommended) – (Amazon)
Very well built

Supports camera's control functions like zoom, focus, changing settings, etc through the touchscreen monitor. 

Usable in bright lighting conditions 

The ports are well built 

Good overall performance (including scopes, LUTs, etc.)
Atomos Monitors: (Recommended) – Ninja V (Amazon)
Atomos Monitors need no introduction 

ZCAM is working with Atomos to better the compatibility and performance of the ZCAM E2s with Atomos monitors.

Also, ProRes RAW might be coming for the ZCAM E2!
ZCAM App 
This is my favorite feature of the budget MFT camera. The ZCAM smartphone app is very similar to other cameras' smartphone apps but this one's on steroids. 
You can not only monitor and hit record videos via your smartphone but also:
Monitor wirelessly using the Wi-Fi connection feature,

Change almost all the camera settings including frame rates, picture profile, codecs, autofocus, A/B focus, storage settings, etc.

Load, preview, and compare multiple LUTs

Live stream to YouTube & other RMTP platforms via the app

Move files from the camera to the smartphone 

Record proxy files directly to the phone while shooting in ProRes
The app comes for both iOS and Android devices. That means you can also your iPads and Android tablets to operate and monitor the camera footage.
I'd highly recommend that you get yourself a durable lightning cable to run with this setup if you're an iOS user. Two more reasons why you should use lighting to USB type-C cable with your iOS device are: 
Your iOS device will get charged when plugged into the E2,

There's a very minimal amount of lag while monitoring 
Software Updates
ZCAM team has been known for pushing major software updates almost every 2 months. The ZCAM E2 model received over 6 major updates in 2019! It's also being called the OnePlus of cameras because of the community support and how much the ZCAM team listens to the users' feedback. The Facebook group of the ZCAM E2 made all this possible. We'll talk about that in the community section. 
The ZCAM E2 was initially released with 4k@120fps and some basic specs. Most of the interesting features were added later via firmware updates like the 4k@160fps, ProRes support, and ZRAW recording, etc.
Software Support
ZCAM also provides a bunch of different softwares that work with the ZCAM cameras to make the editing and shooting workflow efficient. 
Here's a list of softwares by ZCAM: 
ZRAW VideoSuite – For processing, coloring RAW videos,

Color Correction Plug-ins for editing software like FCP, Davinci Resolve etc.

Z CAM DeNoiser

Z CAM StreamConverter
I use the color correction plug-in with Davinci Resolve and it's way better than fiddling with native primary color correction wheels.
Customer & Community Support 
Customer support is one of the reasons what makes the ZCAM E2 worth purchasing. This whole thing revolves around the Facebook Group of the E2 users where the users and ZCAM team members are very active. 
The two prime members of the group are Kinson Loo (CEO of ZCAM) and Jason Zhang (the tech guy) who actively resolve users' queries and share tips to get the best of the camera.
Almost 80% of the product issues get solved in the group itself. And for the hardware issues which require technical expertise, the team tries to fix the issues remotely by connecting the camera via Ethernet cable. Here's an example: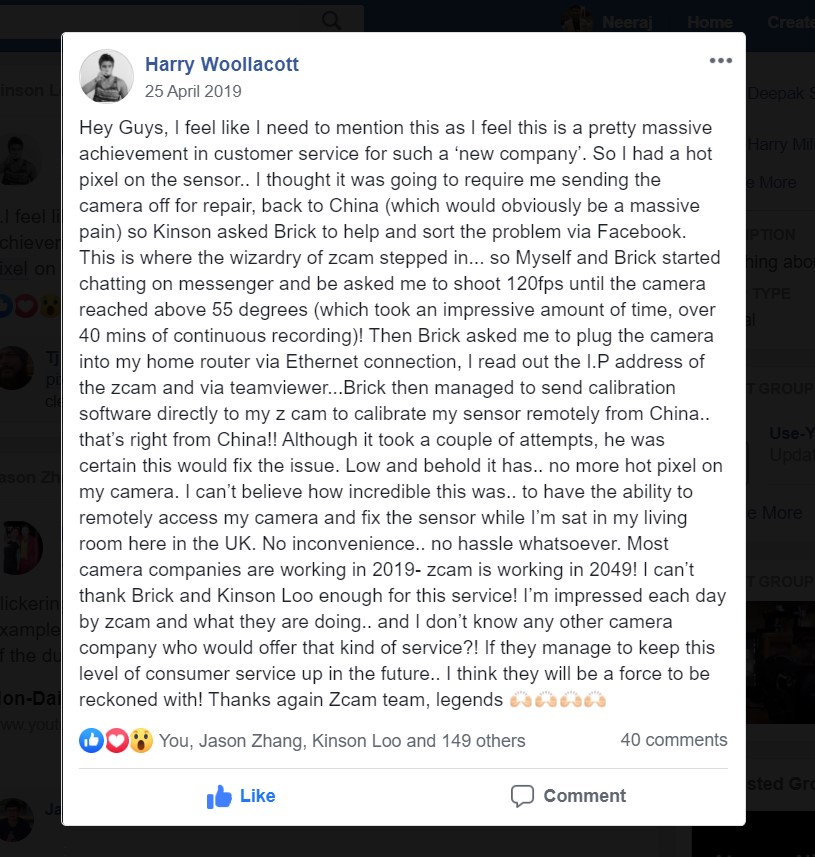 Also, the community has been very helpful in sorting out users' doubts and troubleshooting issues themselves. 
Third-Party Accessories Support 
Let's talk about accessories! Back when the camera was launched very few cage manufacturing companies started making cages for the E2 but as of now, there are dozens of brands and individuals that make accessories for the E2. This included hand made handles, cables, 3D-printed mounts, etc.
Big brands like Zhiyun has also updated their gimbal firmwares to enable compatibility with the E2. 
Other compatible accessories include a remote handle, underwater housing, and different cables made specifically for the ZCAM E2 series.
ZCAM E2 C & ZCAM E2 G?
ZCAM E2 has two siblings with a similar body called the ZCAM E2C and E2 G.
The E2C is the compact version of the ZCAM E2. It features a slightly smaller sensor and is less buffed up than the regular E2 in terms of technical specs. 
Here's a quick glance at the specs of the ZCAM E2C
But the E2C is a lot cheaper than the regular E2 as well.
Moving to the ZCAM E2 G where the G stands for Global shutter. That's the primary reason why it's more expensive than the regular E2. It does not shoot in higher frame rates but you do get rid of the rolling shutter effect. 
Here's a quick glance at the specs of the ZCAM E2G:
Last year 3 more variants of the E2 were announced featuring Super 35 and Full-frame sensors which could shoot up to 6K and 8K respectively.
The initial feedback of the new flagships E2 cameras has been great and we'll be testing them out later down the line. But at the time of writing, they're scarcely available and out of stock on almost all stores.
Here's a quick look at the pricing of the variants of the ZCAM E2:
ZCAM E2 C – $799

ZCAM E2 G – $2,499

ZCAM E2 – S6 – $2,995

ZCAM E2 – F6

 – $4,995

ZCAM E2 – F8 – $5,995
Competition Landscape 
BMPCC 4K vs ZCAM E2
Blackmagic Design Pocket Cinema Camera 4K is the primary competitor of the ZCAM E2. The former does have the upper hand when it comes to pricing, screen size, community support, and editing workflow. I mean, it's Blackmagic after all. But the design and shooting capabilities are two of the major audience driving factors for the E2.  
Price: Amazon (US)
Sigma fp vs ZCAM E2
Sigma fp is another budget mini cinema camera that threatened the BMPCC as well as the E2. It's available in very limited places at the time of writing this and honestly, I haven't tested that full-frame cinema camera yet. But based on the specs and initial user reviews it's a developing camera with promising features. Much like the E2, where it's receiving regular software updates to fix bugs and improve usability. But that 14-bit CinemaDNG is definitely something to watch out for.
Here's a quick look at the specs
Price: Amazon (US)
Conclusion
I've used this camera for a year and have enjoyed my time with it. Initially, I was excited to try out the 4k@120fps and other small features but there were a lot of things missing at that time. But the way this camera and the community have grown made owning & using the camera an incredible experience. 
At the end of the day, a good camera does not make you a good filmmaker but it definitely makes things easier in some situations. So, to conclude, I'd say if you're looking for a cinema camera at a budget which can shoot in high frame rates then ZCAM E2 is definitely a good purchase. 
I hope this review helped out with your queries. Feel free to ask anything in the comments. 
Price – (Amazon US)