A good keyboard is an effective and inevitable tool for a writer, that can help improve the overall quality and productivity of the work. Whether you're someone who spends hours typing documents for daily office work or looking for ways to boost your daily word count limit, a good keyboard can make all the difference to your overall computing experience.  
There are many options for choosing the best keyboard for writing, including mechanical switches to noiseless models and backlit to wireless variants. A good keyboard is accurate, super-fast, responsive, feature-rich, and has a comfortable design. With hundreds of options vying for your attention, we've hand-picked the best options from premium, feature-packed to budget keyboards. So, let's start with our roundup for the best keyboards for writers in 2020. 
Also, it's very important to pay attention to a few things, so you don't end up investing in a bad keyboard. After all, a bad keyboard can ruin your writing experience and can even cause pain in your wrists. 
Things to consider in a good keyboard
1. Comfort and Ergonomics
You should focus on the overall design of the keyboard, what's the size, how wide the keys are spaced apart, and the angle of the keys. You must also consider the space available on the desk and the portability.
There are three basic types of keyboards:
Standard, full-size keyboards
These keyboards have the arrow/navigation keys, function keys, a Numpad, and they can even have some additional programmable keys.
TenKeyless keyboards
These keyboards do not have a Numpad. They are also known as 80% keyboards.
Compact keyboards
They do not have the Numpad, arrow/navigation keys, and function keys. There are multiple versions of the compact keyboards that come with arrow keys or a combination of arrow and function keys.
2. Connectivity
The keyboards come with different methods to connect with your laptop, PC, smartphones, or tablets.
USB
This is the most classic approach, where the keyboard is plugged into a computer. You need not worry about the battery life of the keyboard, as it will draw power from your computer.
Wireless USB
You'll have to plug a little dongle to your computer's USB drive. It will quickly sync up with the keyboard and you can start writing. The keyboard will be charged separately.
Bluetooth
This is the most suitable option these days. You need not mess with any additional cables or cords.  
3. Battery Life
There are various methods to power a keyboard, including batteries, USB, and even solar power. Some keyboards can also be equipped with all three. In the case of battery-powered keyboards, make sure they're rechargeable or have long-lasting replaceable batteries. 
4. Key Feedback
It's very important to have a check on how the keys feel. Apart from the texture of the keys, you must also consider how the key presses and the key travel. For example, the keys of a mechanical keyboard are thick and require more weight to press them down. On the other hand, the membrane-based keys are thinner, softer, and quieter. 
5. Backlit
If you prefer to work during the night or in some low-light areas, it's very important to have a keyboard with the backlit feature. I personally like keyboards with backlit as I am a night-owl and they help me to work comfortably at night. Moreover, they look gorgeous with those LED lights. 
Therefore, note the points that matter the most for you, and then pick the best keyboard for writing. 
List of the best keyboards for Writers
1. Apple Magic Keyboard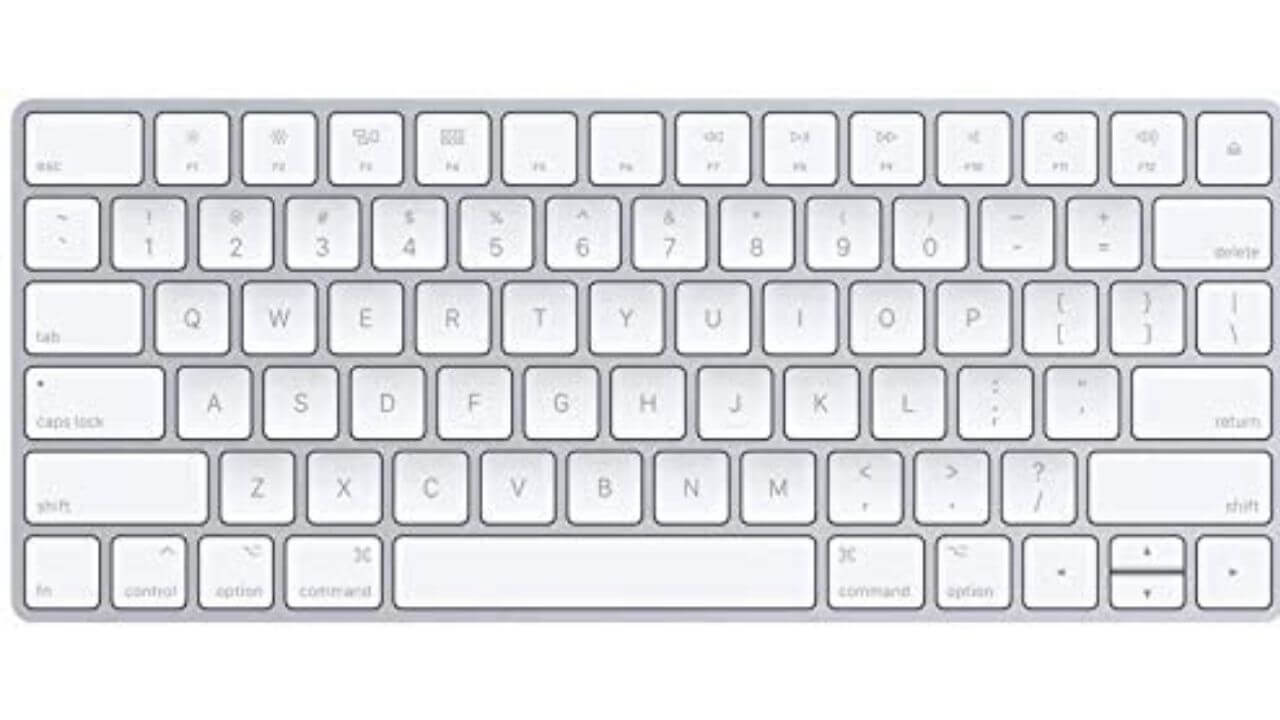 If you're looking for the best keyboard for a Macbook or an iPad, look no further than the Apple Magic Keyboard. Moreover, if you've always used an Apple keyboard, you won't even want to change up. This keyboard looks aesthetically beautiful with a simple design, which makes it difficult to get your eyes-off. Apple Magic Keyboard features a sleek design and an in-built rechargeable battery, that improves the angle of the keyboard and makes your writing editing experience more comfortable. 
You can easily connect this keyboard with your laptop via Bluetooth. Apple Magic Keyboard comes with a stable scissor mechanism beneath each key, along with optimized key travel, that provides a remarkable and precise typing experience. Talking about the battery, Apple Magic gives one-month battery life, between the charges.
For someone, who's inclined towards Apple products, the Apple Magic keyboard is the clear winner when it comes to the best keyboards for writing.
If having a numeric keypad adds more comfort to your writing, you can also go for the Apple Magic Keyboard with Numeric Keypad.
Buy for:
Apple Craftsmanship

Simple and sleek design
2. Quirkywriter S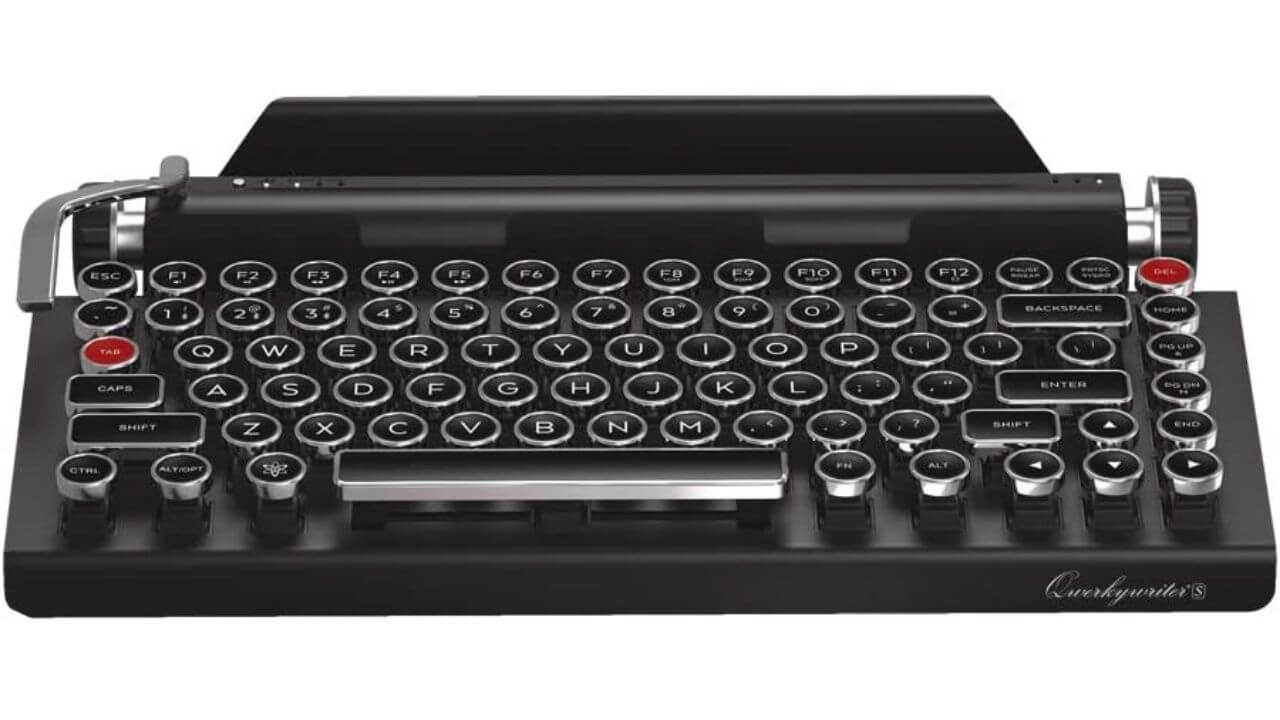 If you're looking for the best typewriter-inspired mechanical keyboard, Quirkywriter S is sure to impress you with its design. The build of this keyboard features scratch-resistant aluminum chassis and the typewriter-inspired round keycaps with automotive-grade electroplating. It has the German-engineered Cherry MX clicky switches that offer unmatched tactile feedback and performance. 
The keyboard has an integrated stand that easily holds a tablet with a size of up to 12 inches, including the latest iPad Pro. Quirkywriter S features an all-metal programmable Return bar that defaults to the Enter key, but it can be easily programmed with up to 15 characters to generate signatures, cut, copy, and paste commands. Also, the keyboard features dual function scroll knobs that control volume and page scrolls. 
The keyboard can connect to a device via Bluetooth connection or wired USB mode with NKRO. You can connect a smartphone, a tablet, and a laptop at a time using the wireless connectivity. Therefore, if you tend to use multiple devices to get your work done, Quirkywriter is the best typewriter-style keyboard for the writers. 
Buy for:
Typewriter inspired design and keycaps

Good tactile feedback
3. Logitech Craft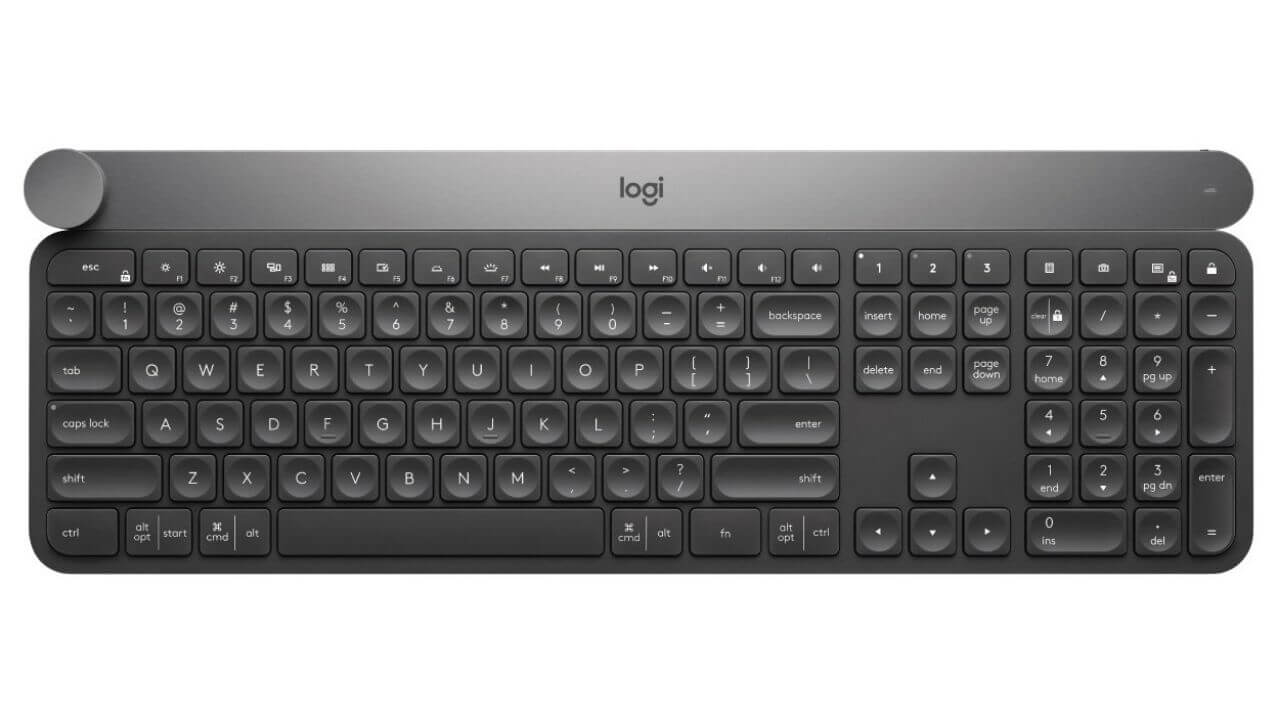 Logitech Craft is an amazing option for everyone who's searching for the best keyboard for creators. It's a tactile and attractive keyboard, which features a unique dial on the top-left corner that will help content creators to accelerate their workflow. The dial can be utilized to do different context-specific functions, from controlling the volume to changing levels in different tools in Photoshop & Premiere Pro. 
The keyboard can connect to a Windows or macOS device via Logitech unifying USB dongle or low energy Bluetooth connection. At a time, Logitech Craft can pair with up to three devices, where you can easily type and switch between these devices with the touch of a button.  This keyboard has been crafted for precise and efficient writing with the backlit feature. 
LogitechCraft is the best keyboard for content creators and writers, whose daily work includes spending hours creating content on a computer. 
Buy for:
Unique dial for context-specific functions

Sleek and sturdy design
4. Microsoft Foldable Bluetooth keyboard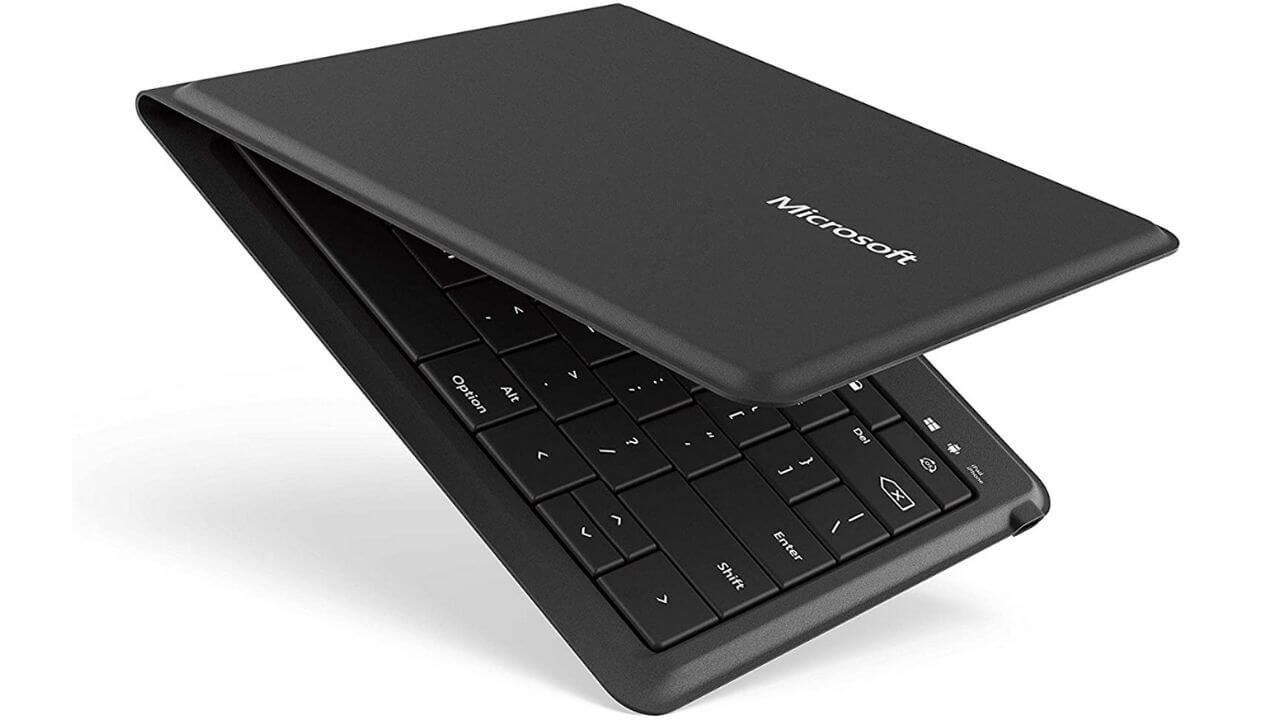 Microsoft Foldable is the best keyboard for travel that we have on our list. Thanks to its ultra-thin, lightweight, and portable design, this keyboard fits easily in a bag or a purse. It is compatible with iPhones, iPads, Android devices, Windows tablets, and phones. In short, you can easily work on any device that you have, without buying a dedicated keyboard for each one of them. 
Despite having a super-portable design, the keyboard offers a full-size keyset for accurate and fast typing. Microsoft Foldable offers a clutter-free and smart connection using Bluetooth 4.0 technology. It also supports the Easy on/off feature, where you just have to close the keyboard to shut it down. 
All in all, if you love to work while you're traveling, Microsoft Foldable is the best portable keyboard you can get for yourself. 
Buy for:
Portable design

Multiple devices compatibility
5.  Logitech K780 Wireless keyboard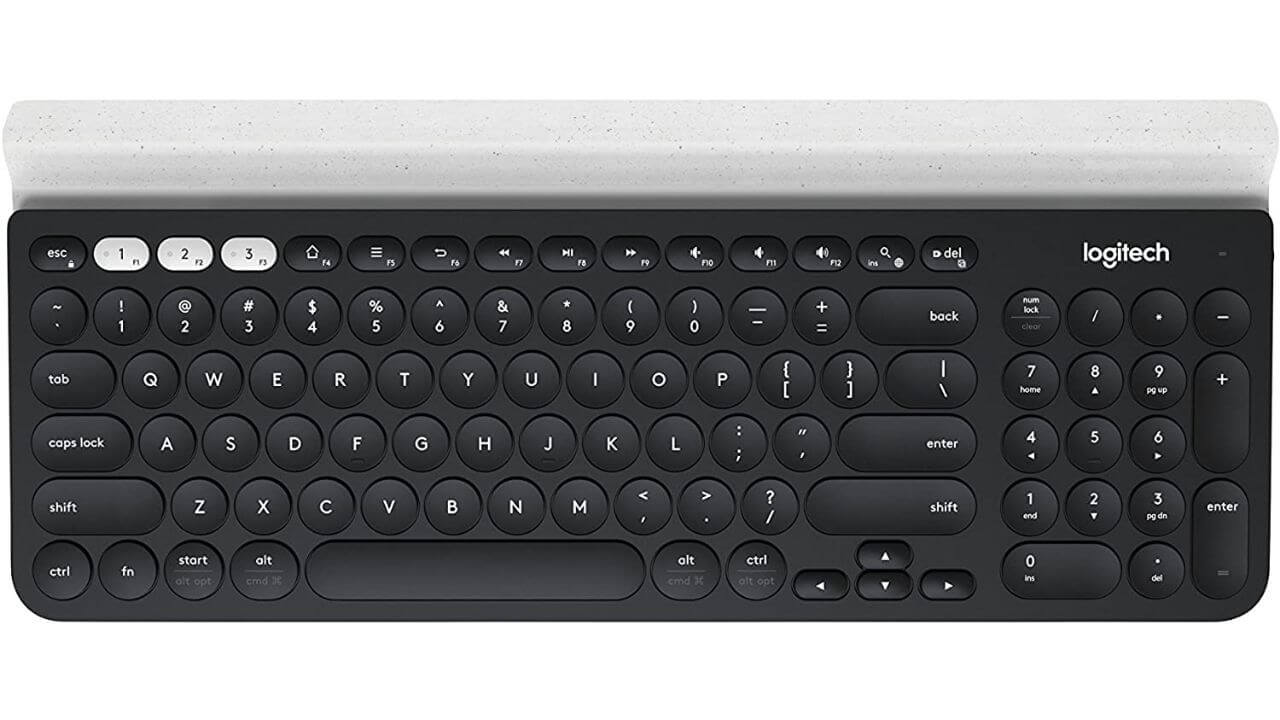 Logitech K780 is the best wireless keyboard with multi-device support and comfortable writing. This keyboard offers the classic USB and Bluetooth connection mode to connect with up to three devices, including laptops, PC, tablets, and smartphones. There are easy switch keys on the top-left corner to enable a user to quickly switch between the connected devices. There's an integrated phone and tablet stand that allows a user to work more efficiently. 
Logitech K780 features a full-sized keypad with large and quiet keys that offer an ultimate noiseless typing experience. There's no backlit support, but the keyboard is very comfortable to use and offers a battery life of two years with two AAA batteries.  
Buy for:
Wide device compatibility

Good battery life
6. Smart Keyboard Folio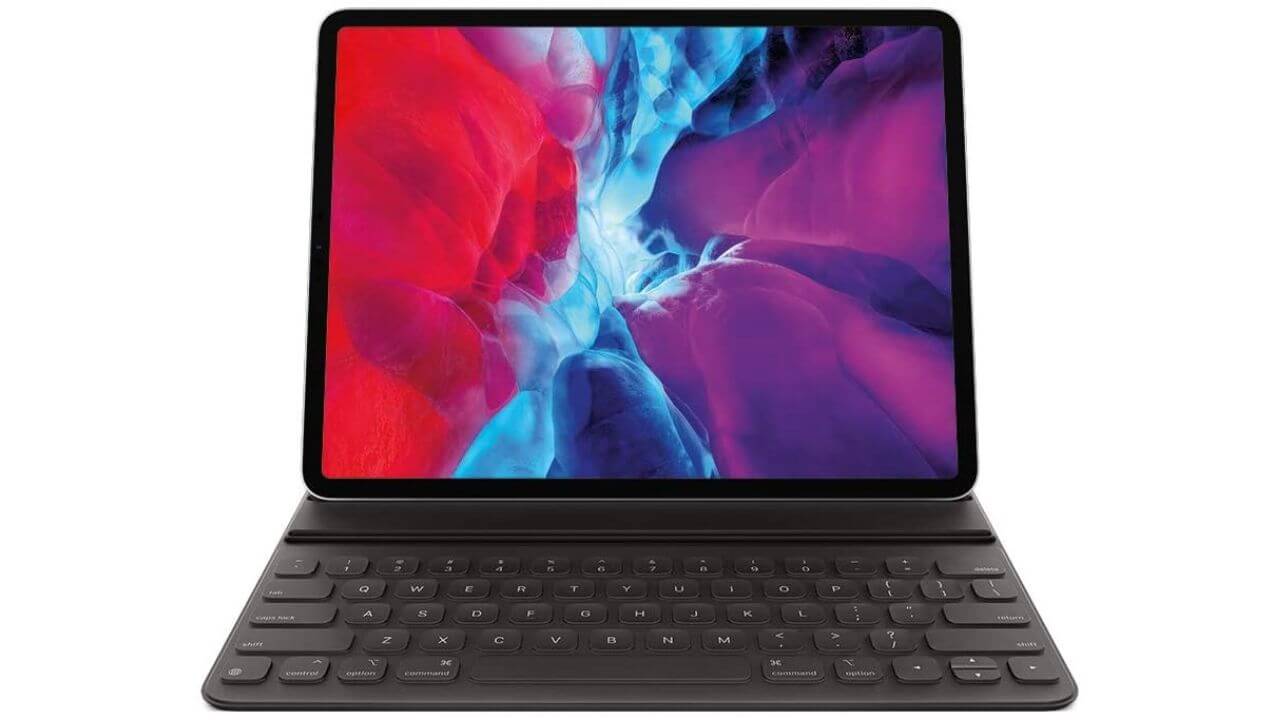 If you're looking for the best lightweight keyboards for writing on iPad Pro, Smart Keyboard Folio is sure to make it to the list of your favorites. After all, it's difficult to beat Apple products designed especially for its hardware, in terms of engineering and compatibility. This keyboard is available in different variants to support the iPad Pro 12.9 inch and 11-inch models. The Smart Keyboard Folio attaches magnetically to protect the back as well as the front of the iPad Pro. It offers great writing experience with its full-sized keyboard. 
The Smart Folio can be easily folded at different angles for reading, writing, viewing, or making Facetime calls. The best part about this keyboard is that it doesn't require any charging or pairing, just attach the keyboard and you're good to go. 
Buy for:
Apple engineering

Overall protection of your iPad Pro
Check out Smart Folio For iPad Pro 12.9 inch on Amazon
Check out Smart Folio for iPad Pro 11-inch on Amazon
If you're looking for a good keyboard for the iPad Air 3, make sure to check out the Apple Smart Keyboard. 
7. Das Keyboard 4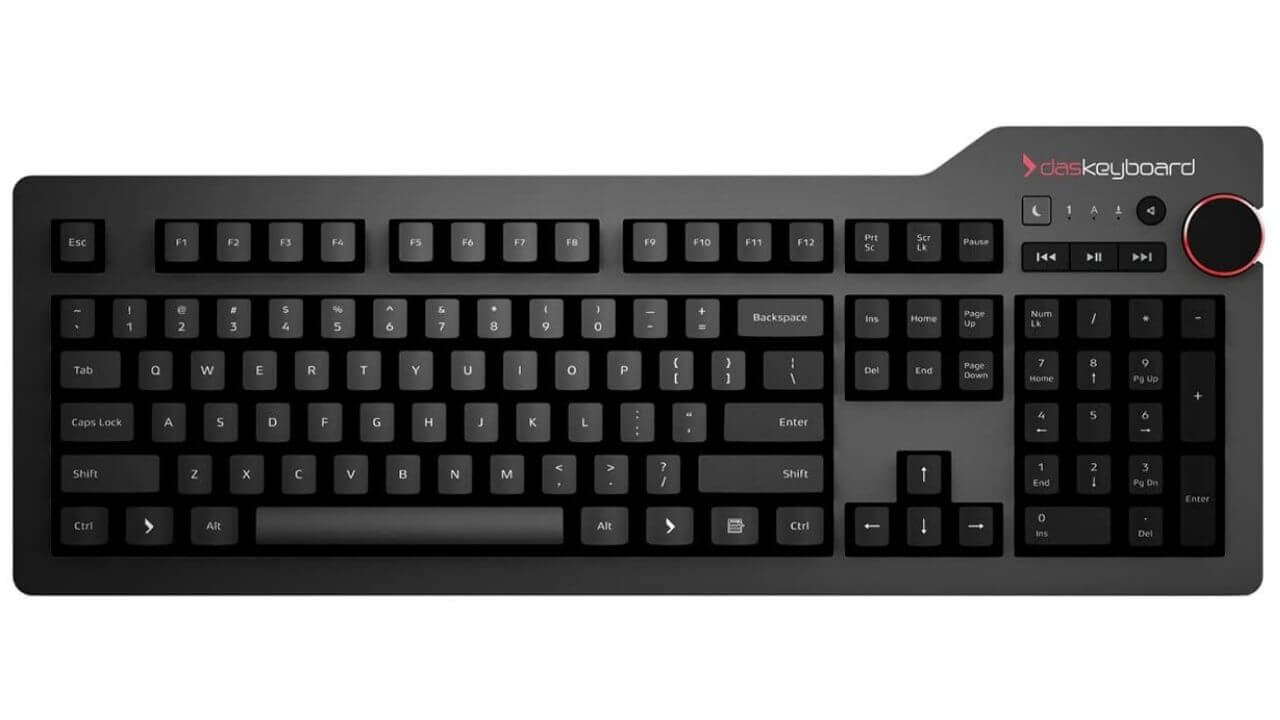 Das Keyboard 4 is a sturdy and high-quality keyboard for writers that features a sleek design and offers high performance and feedback. The keyboard features tactile Cherry MX Brown mechanical key switches with gold contacts, which are soft to press and offer unmatched typing experience. Whenever you press a key, you'll get audio and tactile feedback. There's an oversized volume knob that offers dedicated media controls, and the keyboard is elevated 1.2-inches for better writing comfort and ergonomics. Despite being a wired USB keyboard with no backlit support, Das Keyboard 4 is one of the most advanced mechanical keyboards for writers available in the market.
Buy for:
In-built volume control

Long USB cable
8.  Arteck Universal Bluetooth keyboard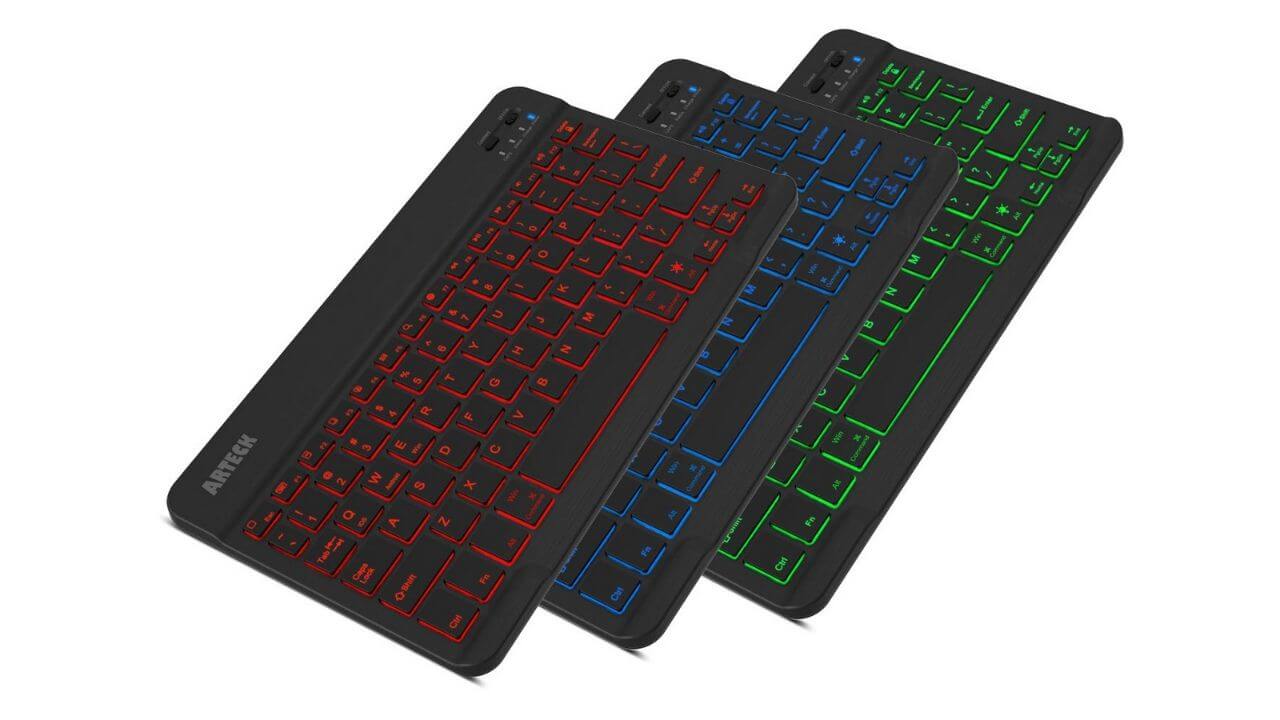 For someone who's looking for the best-backlit budget keyboard for writers, Arteck will definitely make it to the list of your favorites. If you get bored with the regular backlit color, with the Arteck keyboard, you get to choose from different backlit colors. The HB030B offers you seven backlighting hues- cyan, light green, dark green, soft blue, deep blue, purple, and red.
Now, coming to the other specifications. The layout of Arteck's keyboard replicates your laptop's keyboard, with a complete set of alphanumeric keys, system-specific keys, and a MacOS command key. You can easily pair this keyboard with your iPad, iPhone, laptop, tablet, or any other Android device. Just press the connect button, next to the on/off switch, and then select Bluetooth keyboard 3.0 from the Bluetooth menu on your device. And, you're good to go.
The Arteck HB030B weighs less than half a pound, which makes it a perfect keyboard for writers on-the-go. It comes with a rechargeable battery and Arteck claims the keyboard offers you up to 6-months of battery on a single charge, provided you use it for a couple of hours daily, with the backlight turned off. 
Buy for:
Solid design

Unique backlighting

Multi-device compatibility

Budget-friendly
9. Microsoft Sculpt Ergonomic Keyboard for Business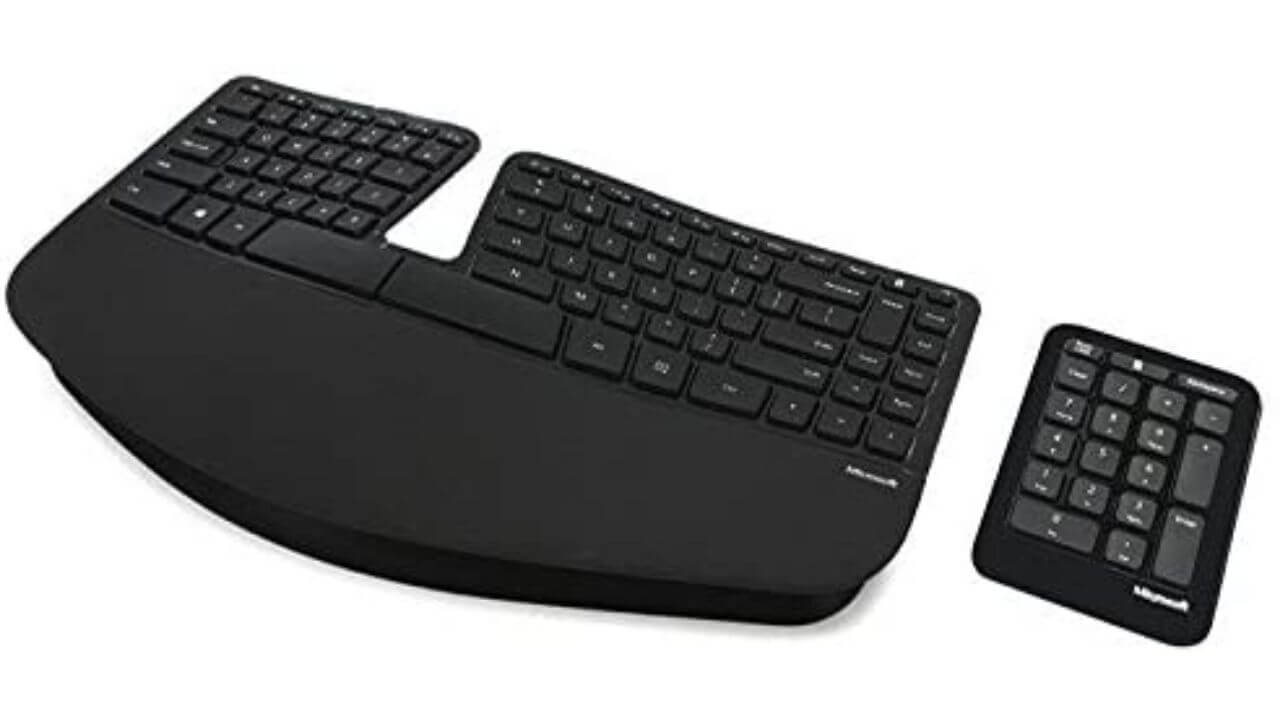 If you're inclined towards ergonomics keyboards, Microsoft Sculpt is the best ergonomic keyboard that's worth investing in. The keyboard features a Split keyset design that helps to place your wrists and forearms in a comfortable and relaxed position. Moreover, the natural arc key layout replicates the curved shape of the fingertips and adds an extra layer of comfort. Microsoft Sculpt is equipped with a cushioned palm rest for comfortable writing and helps to maintain the overall long-term health of your wrists. In short, all the checkboxes have been ticked when it comes to the best ergonomic keyboard for comfortable writing. 
There's a separate numeric keypad with an in-built Windows button to power up the start menu. The keyboard connects to a device via wireless USB mode and features membrane keys for noiseless typing. Sadly, there's no backlit option.
Buy for:
Ergonomic design

Comfortable and noiseless typing
10. Logitech K350 Wireless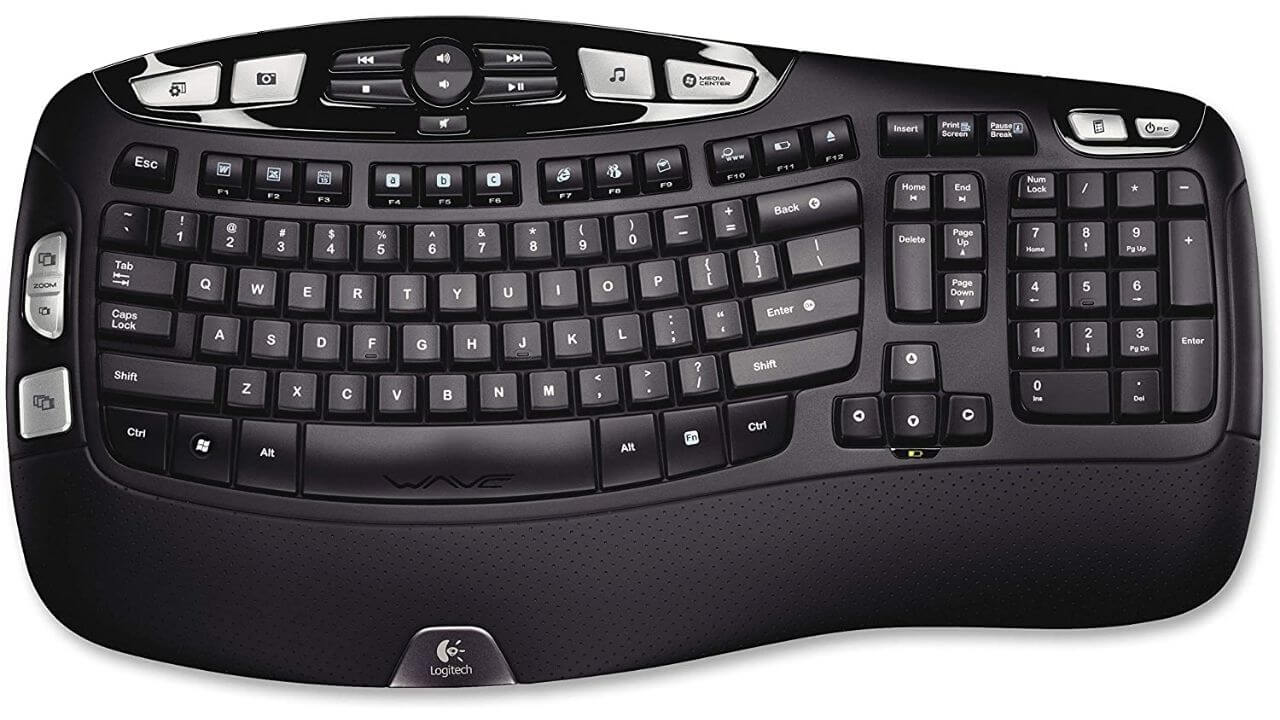 Here comes another wireless keyboard from Logitech that features an ergonomic wave-shaped design and cushioned palm rest that adds more comfortability to those long writing sessions. Apart from the usual keys, this keyboard offers a massive collection of large buttons on the top, along with the customizable multimedia keys that allow a user to play, pause, adjust volume levels, open a music app or browser. 
The keyboard connects wirelessly with any Windows-based PC and the battery lasts up to three years with regular usage. There's a unifying receiver in this keyboard that also works with other wireless peripherals from Logitech. 
Logitech K350 is one of the best non-mechanical keyboards for writers. 
Buy for:
A host of extra customizable keys

Comfortable writing experience
11.  Microsoft Modern Keyboard with fingerprint ID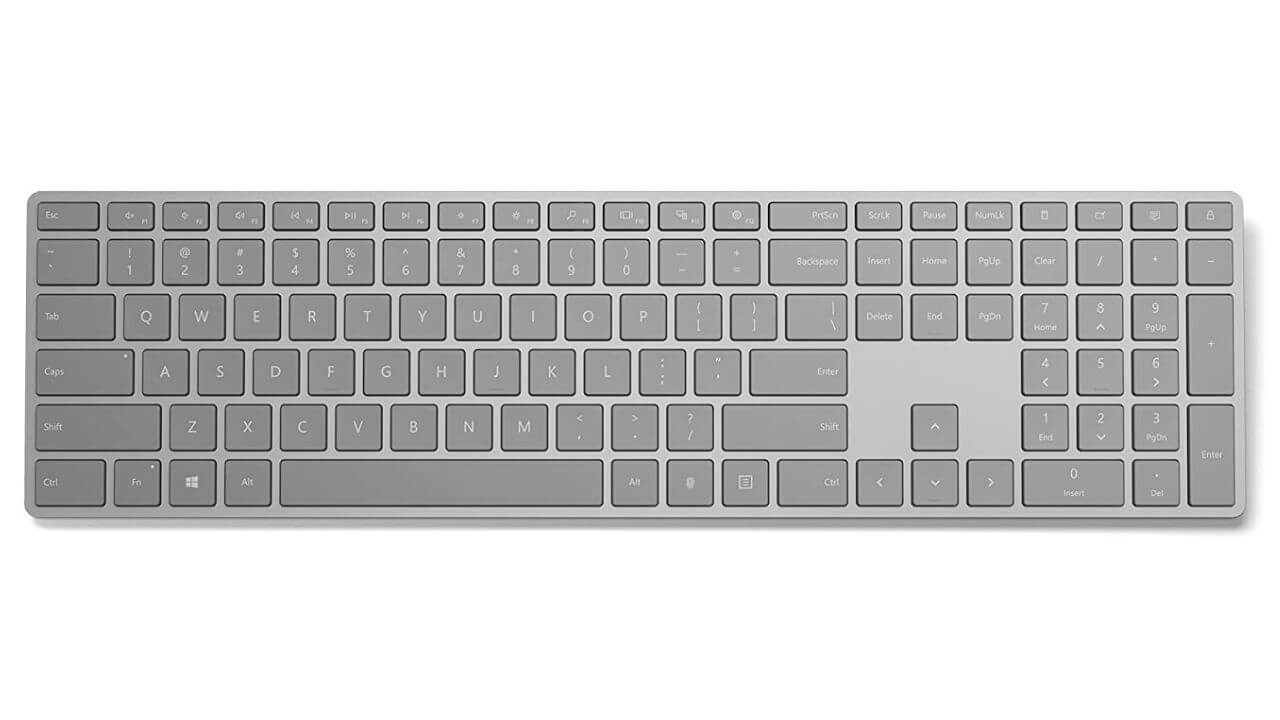 Microsoft makes some amazing Surface devices with its beautiful and sophisticated designs. If you're into Surface aesthetic or looking for the best keyboard for Microsoft Surface devices, you must have a look at the Microsoft Modern Keyboard to take things to a whole new level. This full-size keyboard looks aesthetically beautiful and offers premium features such as a fingerprint scanner, placed next to the Alt key. You can say goodbye to the passwords and unlock your device and apps with the biometric scanner. 
The initial Bluetooth pairing requires the keyboard to be connected with the device via USB cable. Once the keyboard has fully charged, unplug it, and the keyboard will pair automatically with the device. Coming to the battery life, Microsoft Modern comes with a rechargeable battery that lasts up to 4 months between charges. 
Buy for:
Fingerprint security

Flawless design
12. Dygma Raise Keyboard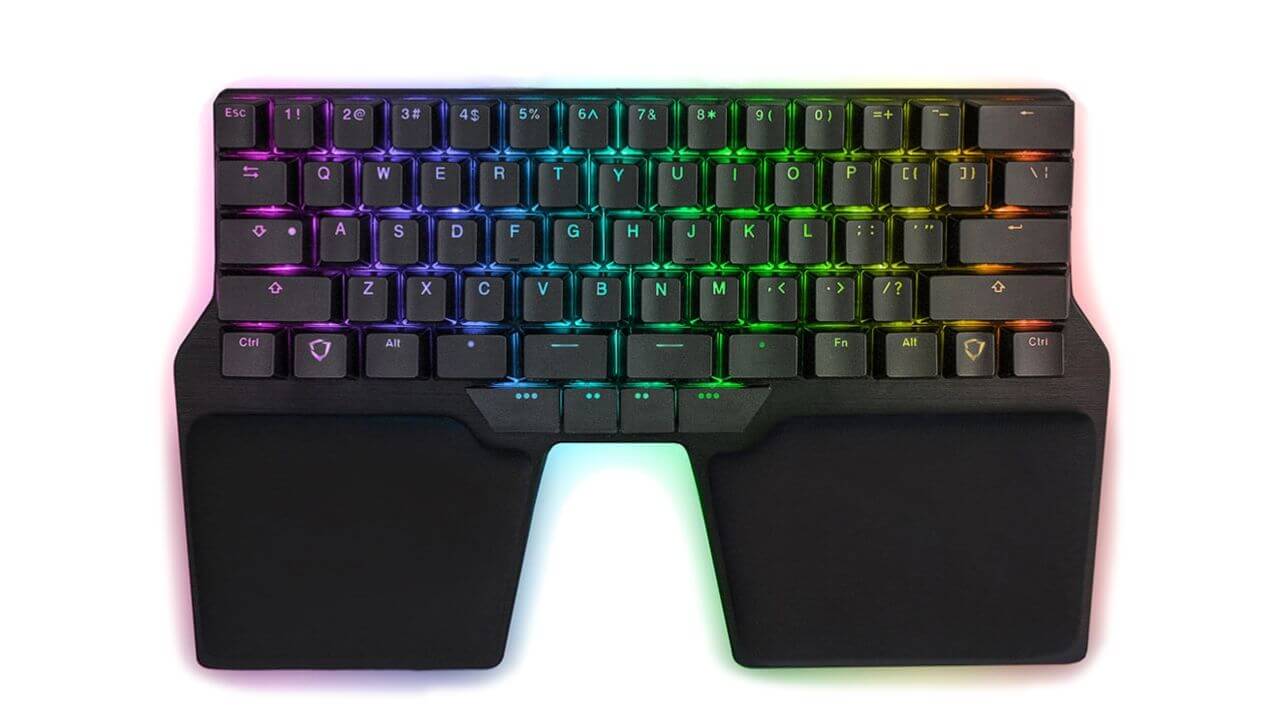 For all the techno savvies, who love customizing their peripherals, Dygma Raise is sure to please them. Dygma Raise is a wired ergonomic keyboard with split design and hot-swappable mechanical switches. The keyboard can be separated into two halves and placed just the way you like it. Moreover, you can choose your preferred types of switches and even mix and match them on the same keyboard. 
Each key can be reprogrammed and has an RGB backlit along with underglow LED strips.  You can apply mouse commands to the keyboard or set multiple commands to a single key by binding them to a specific key pattern like the single, double, and long presses. All the customizations and adjustments can be done through the Bazecor software. 
Also, typing quality is pretty good and does not cause any fatigue during long sessions. If you're into writing and love playing games too, Dygma Raise is the best customizable keyboard that you can get for yourself.
Buy for:
Good customization options

Strong Build
13. Lofree Retro Wireless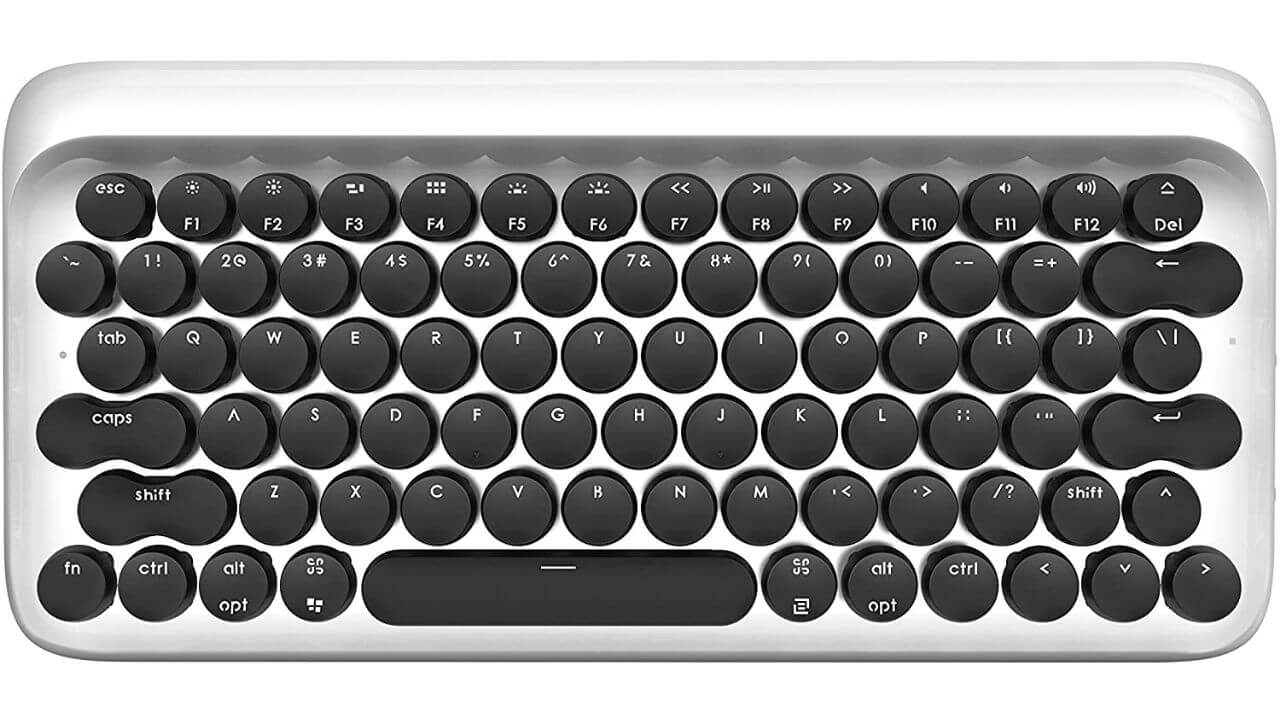 Lofree Retro Wireless is the best mechanical keyboard with backlit and multi-device support. This keyboard offers a comfortable 6-degree angle design that provides more precision and stability. Lofree Retro Wireless comes with dynamic backlit keys and offers four different levels to configure the brightness. It also features an auto-sleep mode that automatically turns this keyboard to sleep mode when you don't use it for 10-minutes. This is done to optimize the battery. 
Lofree Wireless has support for Bluetooth as well as USB connectivity. Also, a user can wirelessly connect and switch between three devices, using the quick switch present on the keyboard. It offers a battery life of 3-months when you use this keyboard for 8 hours with backlit turned off. 
Buy for:
Windows, Mac, Android, and iOS compatibility

Backlit keys
14. HP Wireless Elite Keyboard v2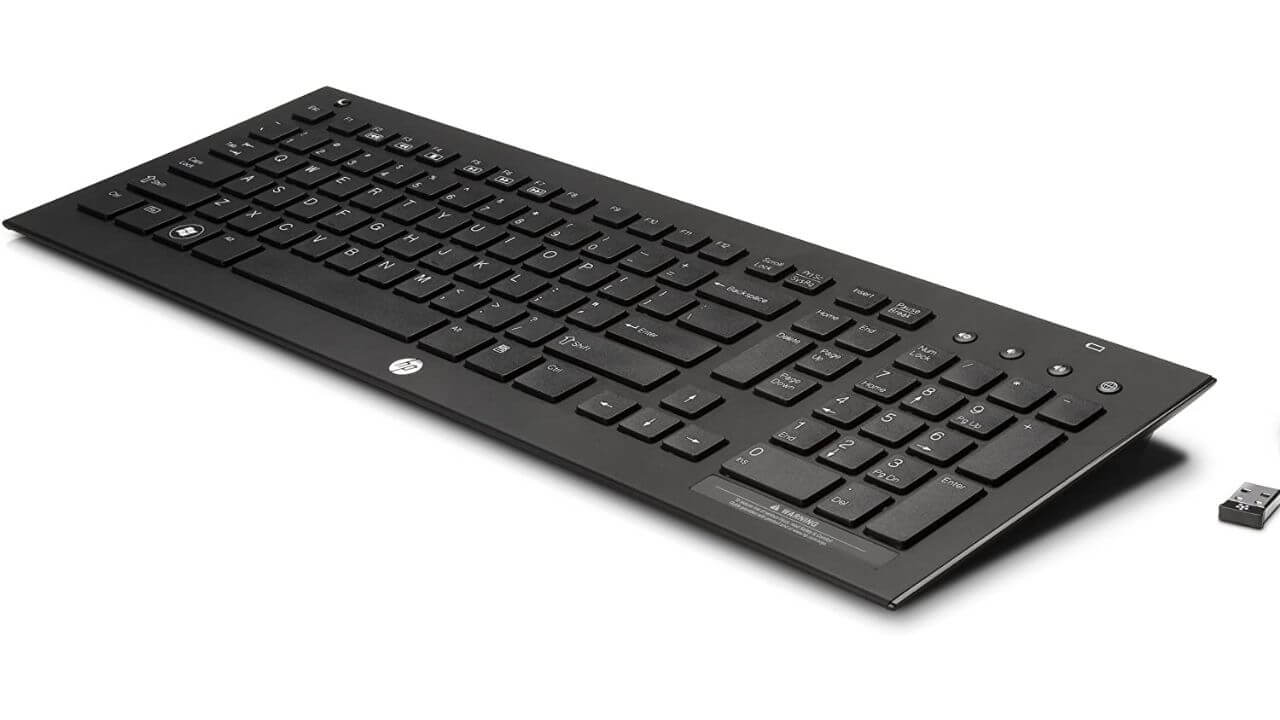 HP Wireless Elite is a high-end, sleek, and ultra-slim keyboard for Windows users. It's a full-size keyboard with fast-access hotkeys, function keys, and numeric pad.  It offers a smooth and quiet typing experience with its low-profile keys and scissor-style keycaps. Therefore, if you want a laptop-like typing experience then this is one of the best keyboards out there. You can easily connect the device wirelessly from up to 30 feet away, and find a comfortable wrist posture for yourself with the help of the adjustable legs.
Buy for:
15. AmazonBasics Wireless Keyboard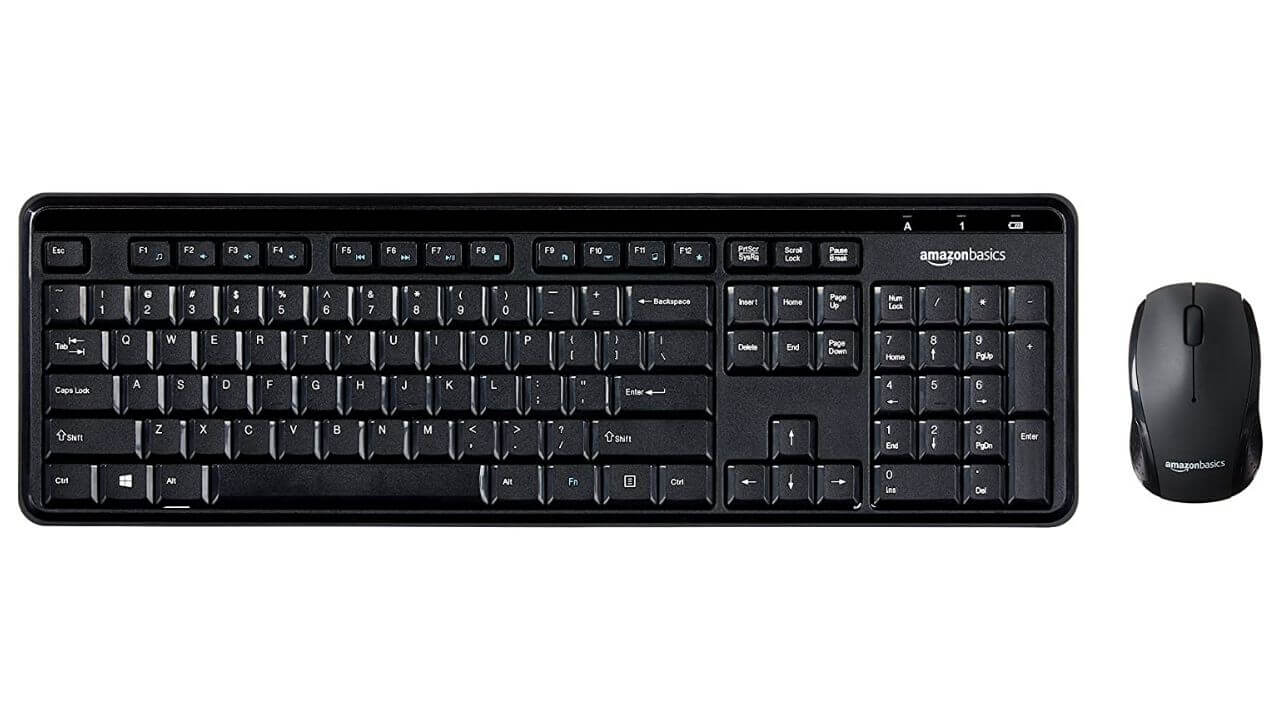 Here we have another option for budget keyboards for writers working on Windows-based laptops and desktops. AmazonBasics offers an ultra-quiet, fully-functional, and compact keyboard with wireless connectivity. Also, it comes with 12 multimedia hotkeys, a numeric pad, and an additional mouse with comfortable and textured rubber grips. Both the keyboard and the mouse run on two AA batteries and pair effortlessly with a small USB adapter. 
Buy for:
Ultra-quiet typing

Additional mouse
That's all for our roundup for the best keyboards for writers in 2020. Do let us know your favorite from the list above and don't forget to share this article with all the writers you know. 
Don't miss our list of the best keyboards for iPad Air 2.