I recently tested a bunch of NVME PCIe SSDs from Silicon Power. Not only do they have very similar naming, but the SSDs look and weigh the same. At a quick glance, the only differences you would be able to make are the price tags and PCB colors.
As a content creator, I'm mostly out of storage because of the large project files or the frequent need to access archives for new projects. This is a workflow problem that can only be solved by setting up a seamless storage setup workflow. Unfortunately, not everyone can set up a huge NAS with hundreds of Terabytes connected to the system all the time. It is an expensive and complex affair. This is where faster SSDs step in. With the rise of modern tech, not only have SSDs gotten cheaper, but they've also stepped up their transfer speeds significantly. Whether you're a professional photographer or filmmaker, you need reliable storage all the time. Silicon Power has pushed some great PCIe NVME SSDS to the market and I have been using them for quite some time now. It may sound silly at first but there's a lot of factors you need to consider before choosing the right SSD for your next editing rig upgrade.
So, let's compare Silicon Power's US70, P34A80, and the P34A60 NVME SSDs from the perspective of a content creator. Let's find out which SSD is more suitable for your content creation workflow.
I shoot a lot of pictures and videos from all sorts of cameras ranging from my daily driver smartphone (OnePlus 7T) to a cinema camera (ZCAM E2). The file size and compression vary significantly, and you need to know which SSD is the right choice for your needs. So, let's take a quick look at which Silicon Power NVME PCIe SSD is the right choice for you.
What to look for in an SSD?
Before we move on to the comparison, let's find out what are the factors you need to compare to make a fair comparison and make the right buying decision. There are a lot of factors a content creator needs to consider but most of them can be summed up into 3 major factors. Here's a quick look at them:
Compatibility & Interface
First, you need to find out whether your current or future hardware, be it a desktop editing rig or a laptop supports these SSDs. Since most modern laptops and motherboards come with PCIe NVME SSDs slots, they usually support these SSDs by default. But if you own an older laptop or desktop, just have a quick look at the specs sheet and see if you've got the right NVME M2 slots.
Another underlying factor is the interface. Some SSDs use PCIe Gen3x4 interface which is quite fast and is very common even in mid-range laptops and all modern motherboards. The Silicon Power US70 (review) uses the latest PCIe Gen4x4 interface which offers almost double the performance and endurance of Gen3 SSDs. As of writing this article, the Gen4 interface isn't as widely supported as the Gen3 interface. Although, new laptops and motherboards with compatibility are being announced every month.
Storage Capacity
Secondly, the storage capacity is the biggest decision-maker of a storage device purchase. Since the price of the SSD goes up with the storage capacity, you need to figure out the amount of storage you need. The general rule of thumb is to get the variant that offers extra capacity than you actually need. Extra storage not only keeps the system processes running smoothly but offers better-sustained performance. In short, if you're a photographer, 1TB is usually the sweet spot (depending on your workflow like whether you shoot RAW or not). On the other hand, if you're a video person, 2TB is the right amount of storage capacity for most of your needs. You could also add an extra 2TB SSD if you've got a spare slot on your motherboard or laptop.
Endurance
Endurance is basically how long the flash drive will last if a certain amount of data is being written to it daily. It is measured in TBW i.e. Terabytes Written. You'd need an SSD with higher endurance if you write large files which is very common while video editing. On the flip side, a decent endurance-rated SSD will do fine for photo editing work.
Now that we've covered the most important factors to consider before purchasing an SSD, let's have a quick look at a comparison table comparing the most important features and benchmark tests.
US70 vs P34A80 vs P34A60: Which one should you buy?
US70 (2TB)
P34A80 (2TB)
P34A60 (1TB)
Capacity

1TB, 2TB

256GB, 512GB, 1TB, 2TB

128GB, 256GB, 512GB, 1TB, 2TB

Dimensions

22.0mm x 80.0mm x 3.5mm

22.0 x 80.0 x 3.5mm

22.0 x 80.0 x 3.5mm

Interface

PCIe Gen4x4

PCIe Gen3x4

PCIe Gen3x4

Weight

8g

8g

8g

Performance Read(max.)

up to 5,000 MB/s

up to 3,400 MB/s

up to 2,200 MB/s

Performance Write(max.)

up to 4,400 MB/s

up to 3,000 MB/s

up to 1,600 MB/s

Warranty

5 Years

5 Years

5 Years

Controller

Phison E16

Phison E12

Silicon Motion SM2263XT

Random Read

750,000 IOPS

390,000 IOPS

240,000 IOPS

Random Write

750,000 IOPS

450,000 IOPS

240,000 IOPS

Endurance (TBW)

3,600 TB

1665 TBW

600 TB

Average Copy/Paste Speeds (50GB)

1089 MB/s

865 MB/s

564 MB/s

ATTO 2.47

ATTO 2.47 (Read) 1GB

5553 MB/s

3108 MB/s

2079 MB/s

ATTO 2.47 (Write) 1GB

4209 MB/s

3110 MB/s

1720 MB/s

Crystal Disk Mark 3.04 x64

512K Write

3620 MB/s

2240 MB/s

1530 MB/s

512K Read

2986 MB/s

2020 MB/s

1281 MB/s

Write Seq

3876 MB/s

2901 MB/s

1702 MB/s

Read Seq

4333 MB/s

2454 MB/s

1901 MB/s

SLC (Sustained Performance)

333GB@4.2GBps

62GB@3.1GBps

64GB@1.6GBps
Silicon Power P34A60 PCIe Gen3 NVME SSD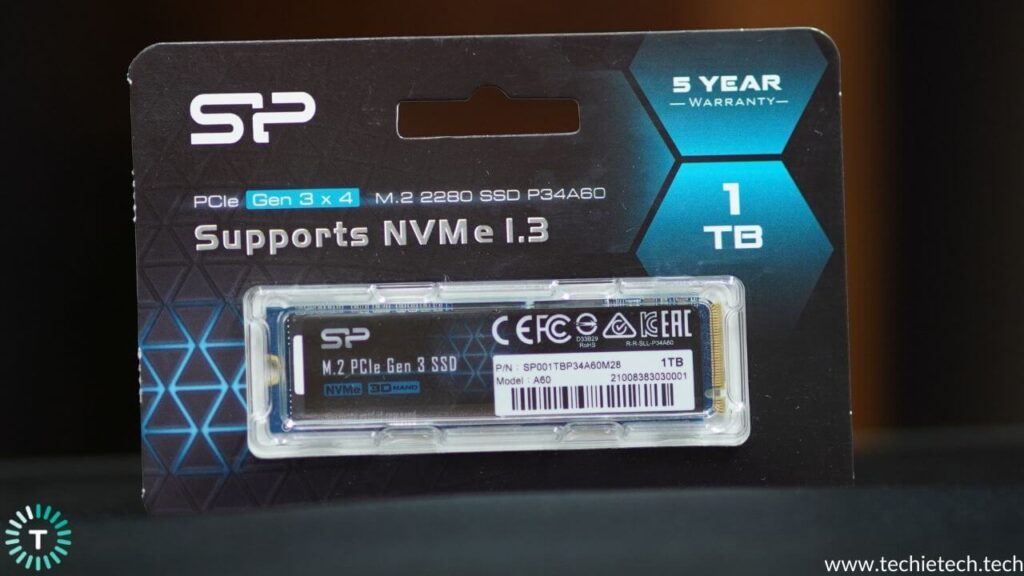 Let's start off with the P34A60. As the number in the name suggests, it is the entry-level PCIe NVME SSD by Silicon Power. It comes in multiple storage capacities ranging from 128GB to 2TB, making it suitable for a plethora of tasks. Moreover, the A60 SSD weighs only 8gm, which means it is suitable for laptop upgrades as well.
It offers transfer speeds of up to 2,200 MB/s (read) and 1,600 MB/s (write) if paired with the right hardware.
Since it supports the PCIe Gen3x4 interface, it is more than enough for basic productivity tasks like web browsing, project management, or media consumption.
Considering its sustained performance figures and transfer speeds, it should just do fine for some entry-level photo and video editing. It's the best value for money for basic editing tasks which include creating content for social media platforms like Instagram, TikTok, etc.
If you're looking for an entry-level NVME SSD to upgrade your old SATA SSD or HDD, the P34A60 will offer noticeable performance boosts with minimal investment costs. Silicon Power also offers a hassle-free 5 years warranty with the A60.
Check Price on:
Amazon (US): https://amzn.to/3j7LxlI 
Amazon (UK): https://amzn.to/2SUe6ss 
Amazon (India): https://amzn.to/3zMSHSm 
Also read: Silicon Power Ace A55 SATA SSD Review (1TB)
Silicon Power P34A80 PCIe Gen3 NVME SSD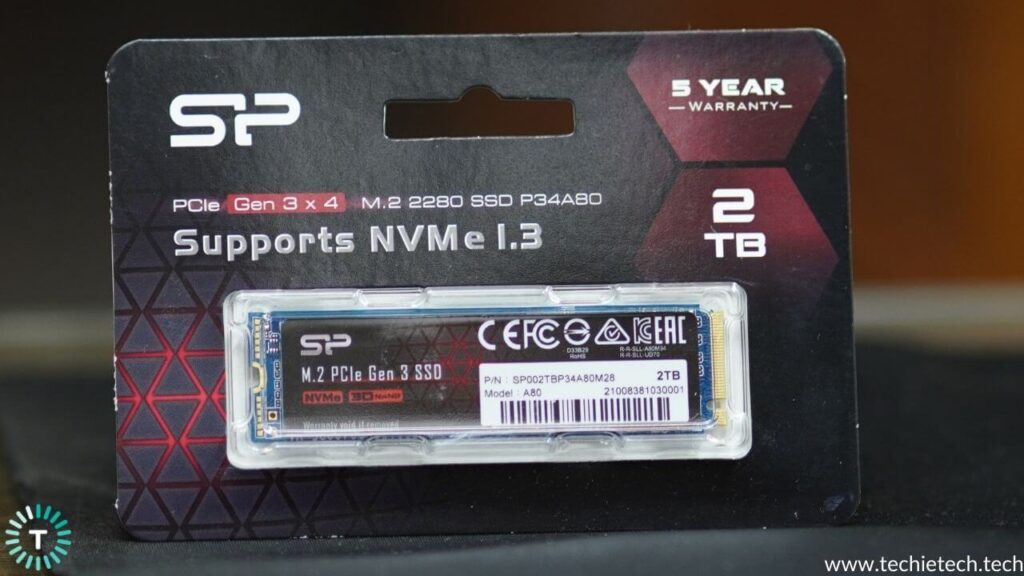 As the difference in name highlights, the A80 is the improved version of the A60 SSD mentioned above. It features a better controller with DRAM support. This means faster transfer speeds and better-sustained performance. Hence, making it suitable for storage-intensive tasks like photo and video editing.
The A80 offers amazing transfer speeds of up to 3,400 MB/s (read) and 3,000 MB/s (write). It also has the PCIe Gen3x4 interface, making it compatible with most modern laptops.
If you're a photographer who shoots RAW, then the Silicon Power P34A80 is an ideal choice. It offers high-end performance with an endurance rating of 1665TBW. Hence, editing FullHD videos for YouTube on this SSD will be smooth. What makes it more interesting is the fact, you can easily play intensive games without any lags or frame drops.
Check Price on:
Amazon (US): https://amzn.to/2SphX0j 
Amazon (UK): https://amzn.to/3gSx4bX 
Amazon (India): https://amzn.to/2UCXTbD 
Silicon Power US70 PCIe Gen4 NVME SSD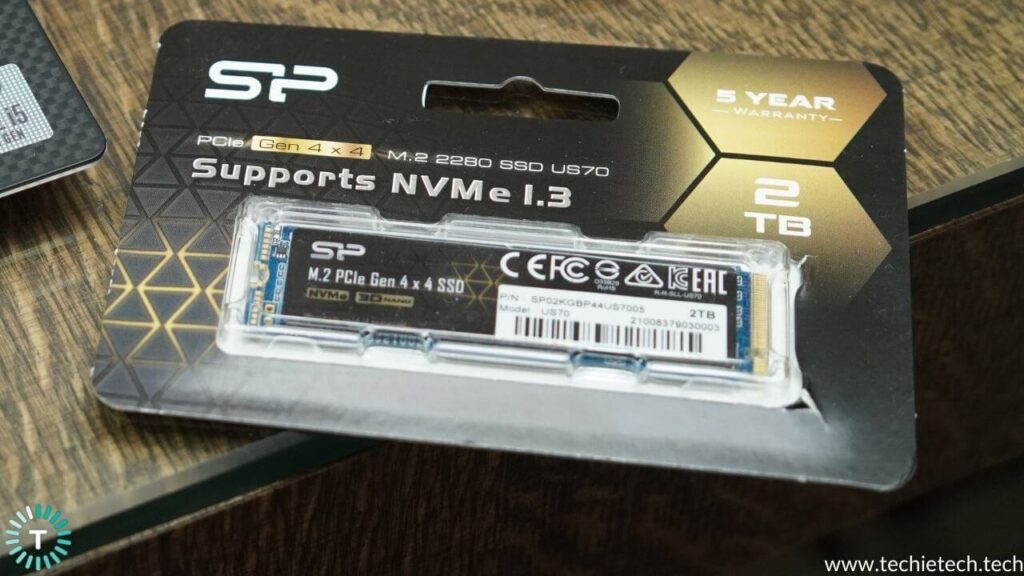 The US70 is the latest NVME SSD offering from Silicon Power. It features the PCIe Gen4x4 interface which makes it faster than the rest of Gen3 SSDs. We've actually done an in-depth review of the Silicon Power US70 NVME SSD. I've been using it as my primary storage device for editing high frame rate 4K videos (4K@120fps).
Let's talk about the transfer speeds, the US70 is rated for read speeds of up to 5,000 MB/s and write speeds of 4,400 MB/s. Even though it's an entry-level Gen4 NVME SSD, it will easily process all sorts of your media needs without any performance drops. Be it editing high-resolution RAW pictures or editing 4K or even 6K footage, the Silicon Power US70 PCIe Gen4 NVME SSD will do just fine.
Another major feature is that the US70 has an endurance rating of 3600TBW backed by a 5-year warranty. As mentioned in our review, "you can completely fill the 2TB drive daily for 5 years and Silicon Power will still have you covered at the end of the day with their 5 years warranty."
So, this is the best choice if you want a future-proof NVME SSD without burning a hole in your pocket.
Check Price on:
Amazon (US): https://amzn.to/3zW95jJ 
Amazon (UK): https://amzn.to/3qo0iT7 
Amazon (India): https://amzn.to/3dsnBWT