Silicon Power has been known for their budget-friendly memory products like internal and external SSDs, HDDs and memory cards. So, we recently got our hands on their PCIe Gen 4 NVME SSD, the Silicon Power US70. Read our detailed review to find out whether this is the right SSD for your content creation setup.
Before we proceed with the testing and benchmarking, I just want to clear a few things up. In this review, we'll not be focusing on synthetic benchmarks. Instead we'll be talking about real world usage and review of the Silicon Power US70 NVME SSD from the perspective of a content creator. Therefore, we'll be testing it for editing photos and videos in different resolutions, codecs & frame rates in order to find out whether it's worth upgrading to PCIe Gen 4.0 or not. 
Features & Specifications
Form Factor, Features, & Storage Capacities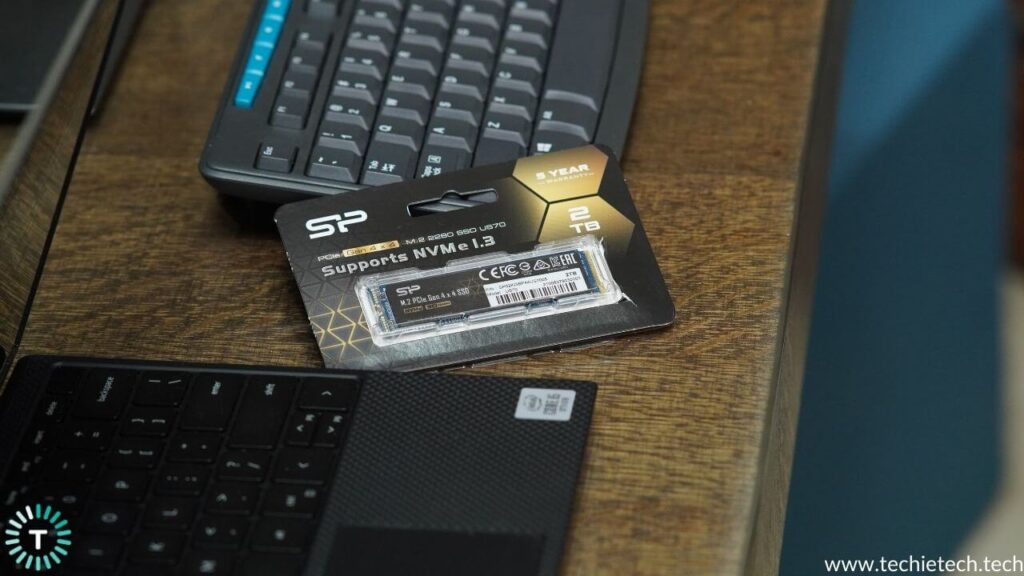 The US70 NVME SSD comes in a 2280 form factor and uses a M2 connector. It is compatible with almost all modern motherboards and laptops with supported M2 PCIe NVME SSD slots. In order to take full advantage of the PCIe 4.0, you have to make sure your system supports it. With the launch of new Intel laptops and Ryzen 3000/5000 series desktop chips, PICe Gen 4 compatible devices (
motherboards and laptops) have become more common and affordable these days. 
It is available in two storage options with the following pricing and differences:
| | | |
| --- | --- | --- |
| Product | Silicon Power US70 1TB | Silicon Power US70 2TB |
| Pricing | $174.99 | $319.99 |
| Capacity (User / Raw) | 1000GB / 1024GB | 2000GB / 2048GB |
| Form Factor | M.2 2280 | M.2 2280 |
| Interface / Protocol | PCIe 4.0 x4 / NVMe 1.3 | PCIe 4.0 x4 / NVMe 1.3 |
| Controller | Phison E16 | Phison E16 |
| Memory | Kioxia 96L TLC | Kioxia 96L TLC |
| Sequential Read | 5,000 MBps | 5,000 MBps |
| Sequential Write | 4,400 MBps | 4,400 MBps |
| Random Read | 750,000 IOPS | 750,000 IOPS |
| Random Write | 750,000 IOPS | 750,000 IOPS |
| Endurance (TBW) | 1,800 TB | 3,600 TB |
| Part Number | SP01KGBP44US7005 | SP02KGBP44US7005 |
| Warranty | 5-year | 5-year |
Here are a few things, you should know before deciding which storage capacity to get:
The 1TB model has 1GB of DRAM and it doubles with the 2TB. Similarly, TBW or TeraBytes Written over the life of the drive gives double the endurance to the 2TB variant which is around 3600TB.  So, if you deal with large files like raw or uncompressed video files, then the 2TB storage capacity is recommended. In short, you can completely fill the 2TB drive daily for 5 years and Silicon Power will still have you covered at the end of day with their 5 years warranty.
The Silicon Power US70 SSD sports the Phison E16 controller which was the world's first PCIe Gen 4×4 SSD controller. Therefore, it promises a sequential read speed of 5GB/s and sequential read speeds of 4.4GB/s. This is particularly useful for users who work with large datasets (like ML & AI) or VFX artists & content creators. 
The US70 NVME SSD has a blue PCB and weighs only 8gm which makes it an attractive option for users looking to upgrade or add an additional SSD to their mobile working stations. 
It also comes with a link to download Silicon Power's SSD toolbox software. It's a basic software and offers features to monitor the storage device's temperature, health and run some basic diagnostics. It's not something you need to check daily but taking a look at it occasionally would help you get the most out of your SSD.
Apart from this, the Silicon Power US70 has NVME 1.3 support, backward-compatibility with PCIe 3.0, low latency and low power consumption backed by a 3D NAND flash and a promising 5 years warranty. At this price point, this is one of the best PCIe 4.0 NVME SSDs at this price point. Enough with the features, let's jump into some real world testing and find out whether it's really the budget endurance champ.
Benchmarks
As mentioned earlier, we'll primarily be looking at real world use cases and reviews, instead of the benchmarks. Synthetic benchmarks like CrystalMark, ATTO, and iometer are accurate but don't reflect real world testing conditions. We have tested this SSD in a workflow of a content creator to see how it performs in real life. Therefore, there won't be any synthetic benchmarks as there are plenty of them out there and have already proved how it stacks against other mid and premium tier PCIe 4.0 NVME SSDs.
Real world testing & review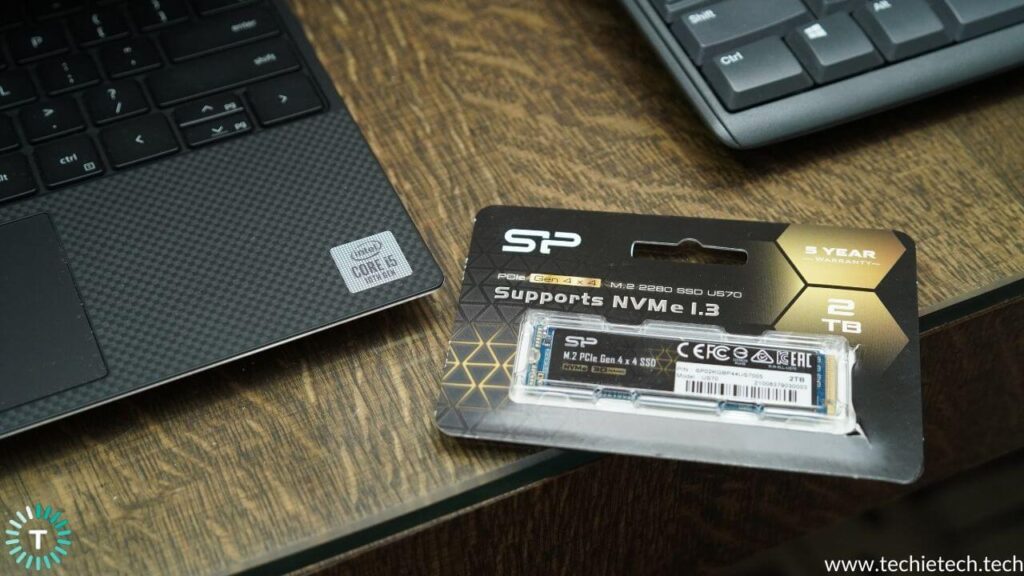 Applications tested
So, we tested the Silicon Power US70 with the following applications:
Adobe After Effects,

Adobe Premiere Pro,

Adobe Photoshop,

ZCAM Video Transcoder & Denoiser,

Davinci Resolve Studio, and

Final Cut Pro X
If you're a content creator then you already know how resource intensive these applications are and what kind of hardware is needed to make your renders perfect.
Apart from this, we stored all the data including videos, proxies, application cache, pre-renders  and final renders right on the US70 NVME SSD to see how well it performs under stress testing.
The video files that we used were shot in 4K@30,60,120, and even 160fps (slow motion) in different codecs including the ones with a really high bit-rate. We used the
ZCAM E2 cine camera to shoot 4K RAW videos, the Samsung Galaxy S21 Ultra & the OnePlus 9 Pro for high bit-rate 8K video clips.
As for the 4K clips they were shot in different frame rates and codecs. To make things more clear, here's what 1 minute of these clips amount to in different codecs:
4K@30fps H.255 Codec (Compressed): 1.2GB

4K@30fps DNxHR Codec (Uncompressed): 7GB

4K@30fps ProRes 422 Codec: 4GB

4K@30fps ProRes 4:2:2 HQ: 7GB
Performance Testing
When it comes to basic productivity apps for everyday use, the app launches and data accessing tasks are fast and smooth with no drops in data retention. Thanks to the next gen PCIe 4.0, the sequential throughput is a lot faster compared to last gen (PCIe 3.0 Gen SSDs). Although, there are very low real life scenarios when you actually hit such thresholds but it's always good to have a future-proof storage device.
We also transcoded over 500GB of video files using the ZCAM video transcoding tool. In this test, we made sure that both the source and destination locations were the same i.e. the Silicon Power US70 SSD. This was to test the sequential and random read and write speeds of the NVME SSD.  
We were also able to easily edit multiple high bandwidth 4K clips without any frame drops or media loss during editing and rendering stages. This makes it an appealing option for video editors looking for a budget-friendly future proof SSD.
Apart from this the photo editing experience was also smooth without any data loss or difficulties while transferring, editing and exporting large files such as 108MP pictures & 14-bit RAW image files from our Sony A6400. 
There's one major thing you need to consider while performing performance intensive tasks. This SSD runs hot. The idle temperatures are good enough which circle around 37-39° Celsius. But, the peak temperatures run over 65 degrees Celsius. Hence, a heatsink or a better airflow for your setup is recommended to get the most out of your PCIe 4 NVME SSD. If you plan to use this SSD in a laptop, then make sure to use thermal pads and optimize the thermals of your laptops to avoid throttling of the SSD during long editing sessions. 
Buffer & Sustained Performance
This is where things get really interesting. The optimum use of SLC and DRAM combination delivers best value for money sustained performance. What happens is when the SSDs try to push sustained high speeds, it can end up with low speeds after its workload spills outside the SLC into the TLC flash. In simple terms, an NVME SSD cannot always deliver high speeds for long periods of time. The speeds will drop once its buffer fills up. Hence, significantly affecting your workflow. These speeds will also be affected by how much storage is used in the SSD. 
Do note, that the Silicon Power US70 is an endurance king with the best-in-class TBW ratings of over 3.6 Petabytes.

To test the sustained performance of this SSD, we edited a 4K video with transcoded raw media in DNxHR codec. The total amount of RAW video files were over 655GB. Counting the caching, grade imports, editing resources, and pre-renders, the total editing folder was over 1TB.
Sustained testing is sort of like stress testing especially in this case as the video editing softwares randomly accesses large chunks of data from different folder locations. Moreover, since the editing sessions were longer than 2 hours with no lag in playback, pre-renders or even in final rendering times. 
Of course all these tests are subject to multiple factors like your system's performance metrics and specs like the CPU and GPU especially.
Apart from this we also used the SSD externally in an enclosure. We used this USB 3 Gen 3.2 Type C adapter by Sabrent. The Silicon Power US70 drive performed successfully in our basic editing workflow consisting of three uncompressed 4K video timelines. 
One thing you need to keep in mind is that this drive runs hot. Especially when you're using it in a laptop or an external enclosure like we did. When used for long periods of time, you can run into thermal throttling issues as well. The drive successfully completed our 2 hour editing tests without any throttling. 
Conclusion & Alternatives
To conclude, the Silicon Power US70 offers good value for money for a PCIe 4.0 NVME SSD. Check Price here
The high read and write speeds, endurance rating of 3600TB and the 5 year warranty support, makes it an appealing choice for budget-friendly prosumers. In order to keep the price tag more appealing, the device lags in the extras department, like you won't be getting a heatsink, thermal pads or an advanced device monitoring software to make the most out of your SSD. 
In short, it's an NVME drive that ticks all the right boxes at an affordable price tag. So, if you're a content creator looking to upgrade or add additional storage for editing 4K videos and high resolution photos, the US70 is a good choice.  
Check Silicon Power US70 NVME SSD price on:
Amazon (US): https://amzn.to/3zKFc5w
Amazon (UK): https://amzn.to/3cYdsAO
If you're looking for PCIe 4.0 alternatives, I suggest that you check out the following SSDs: