Social media and instant messaging apps rise and fall in popularity from time to time. But emails have been there for so long and will continue to grow. On average, 319 million emails were sent and received in 2021. It is by far the most used form of formal communication. People use email inside and outside an organization to communicate, students use emails to submit assignments, job seekers apply to different companies with emails, and eCommerce websites use emails to communicate better with their consumers. These are just a few of the many examples for which emails are used. All thanks to our smartphones, now we always have access to our emails right from our pocket.
There are thousands of email apps out there and Microsoft Outlook for Android has been one of the most trusted apps by users, with over 500 million+ downloads on Play Store. If you are an Outlook for Android user and are already bored with the user interface and looking for an email app with additional features, you've landed at the right place. We have tested apps and analyzed user reviews for all the mentioned apps to help you find out the best alternatives to the Outlook for Android app. Furthermore, you will also learn about what makes these apps stand out and where they fall
s short so you can download the right email app.
Rather than using the pre-installed email apps, here are some interesting and feature-packed apps for Android users. Like every other app, Microsoft Outlook also comes with limitations, like lacking task management features and the complex password recovery process. So, we have collated the list of top Microsoft Outlook alternatives for Android to help you figure out which one of these apps will suit best for your needs. The list contains both free and paid email app alternatives to Microsoft Outlook for Android.
1. Blue Mail
Pricing: Free Plan Available; $5.90/month
Best for: Lightweight app with a clean user interface that easily manages multiple accounts & calendars.
Ratings: 4.5★
Blue Mail is one of the best alternatives for Microsoft Outlook for Android, which is significantly lightweight, fast, and easy to use. With its "Magic Sync" feature you can easily sync accounts between different devices without the hassle of setting them manually. You can easily access multiple email accounts from one. Though many pre-installed apps like Gmail provide the same feature, Blue Mail is a fast app with a clean user interface. You can easily handle your Gmail, Yahoo Mail, AOL, Outlook, and Microsoft accounts with this one app. For easy identification, you can easily change titles to each account. You can easily send mass emails to groups as well as customize your notifications. It also supports syncing contacts and calendar details for hassle-free management of your event emails. Blue Mail features many customization features, you can easily change menus, quick actions toolbar, interface color, size, style, etc.
Reasons to download:
Easy to navigate user interface with different email filters.

The app has a preview feature that allows you to mark any mail as read or delete without opening the app.

The app assigns avatars to every service provider for easy identification

Easily segregates spam mails of all accounts and you can easily block senders or the whole domain for better spam prevention.

Mark emails ‌you want to work on later so it does not get lost in your inbox.
Where it falls short:
You can only manage up to 10 email accounts at one time.
Download Blue Mail from Play Store
2. Yahoo Mail
Pricing: Free
Best for: Beginner-friendly app that does the job comes with free 1TB storage.
Ratings: 4.6★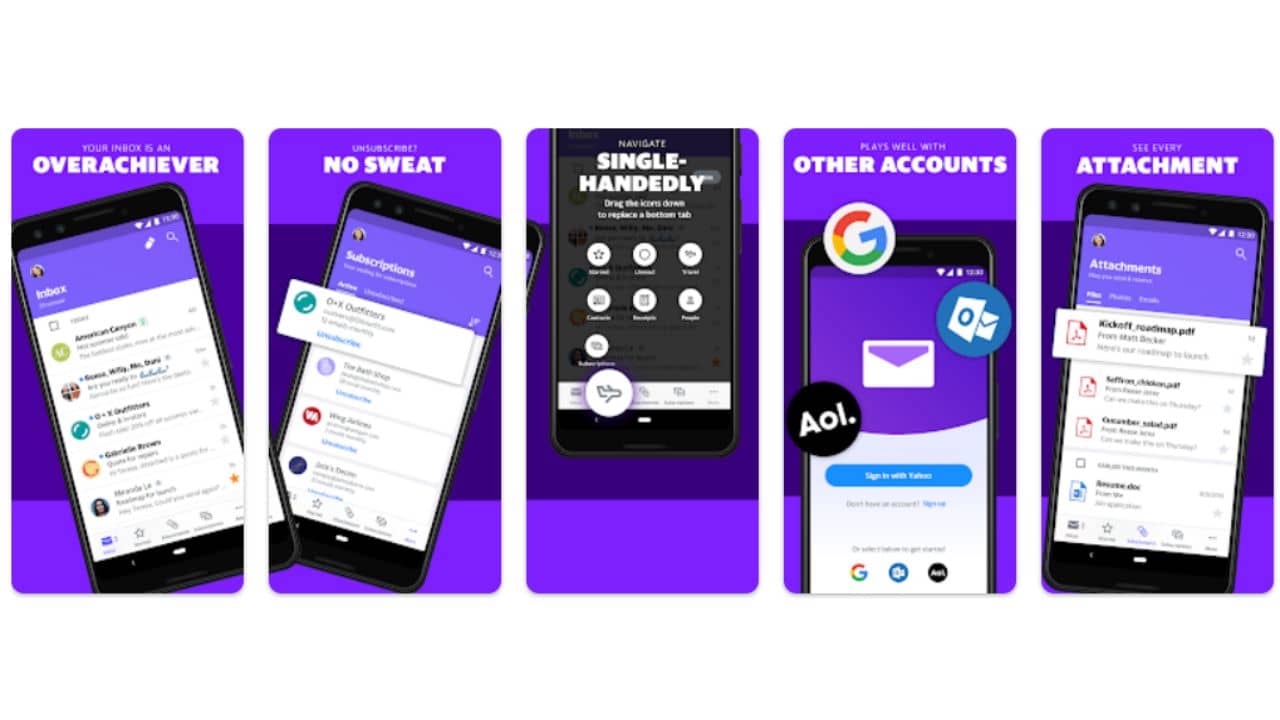 Yahoo Mail is one of the oldest and most downloaded email apps on the Play Store. And today, it is one of the best Outlook alternatives for Android. The app looks very simple and offers theme customizable options right from the start. You can easily assign colors to your accounts, which makes it easier to segregate different accounts. You can easily customize gestures to read, archive, and delete emails. However, this app is not as strong and feature-packed as Proton Mail but students or people with fewer email accounts will find this app effective and easy to use.
Reasons to download:
Easy sorting of different categories of emails.

Trusted mail app with robust security.

Manage many emails effortlessly.

The vacation response feature will allow you to auto-reply emails with pre-stored details.

Allows users to easily import your entire address book.
Where it falls short:
There are ads but to remove that, you have to buy a subscription

It doesn't filter out scam emails that well
Download Yahoo Mail from Play Store
Also read: Outlook not working on Android? Here are the Top 21 ways to fix 
3. Edison Mail 
Pricing: Free App Available; $14.99/month and $99.99/year for Edison Mail+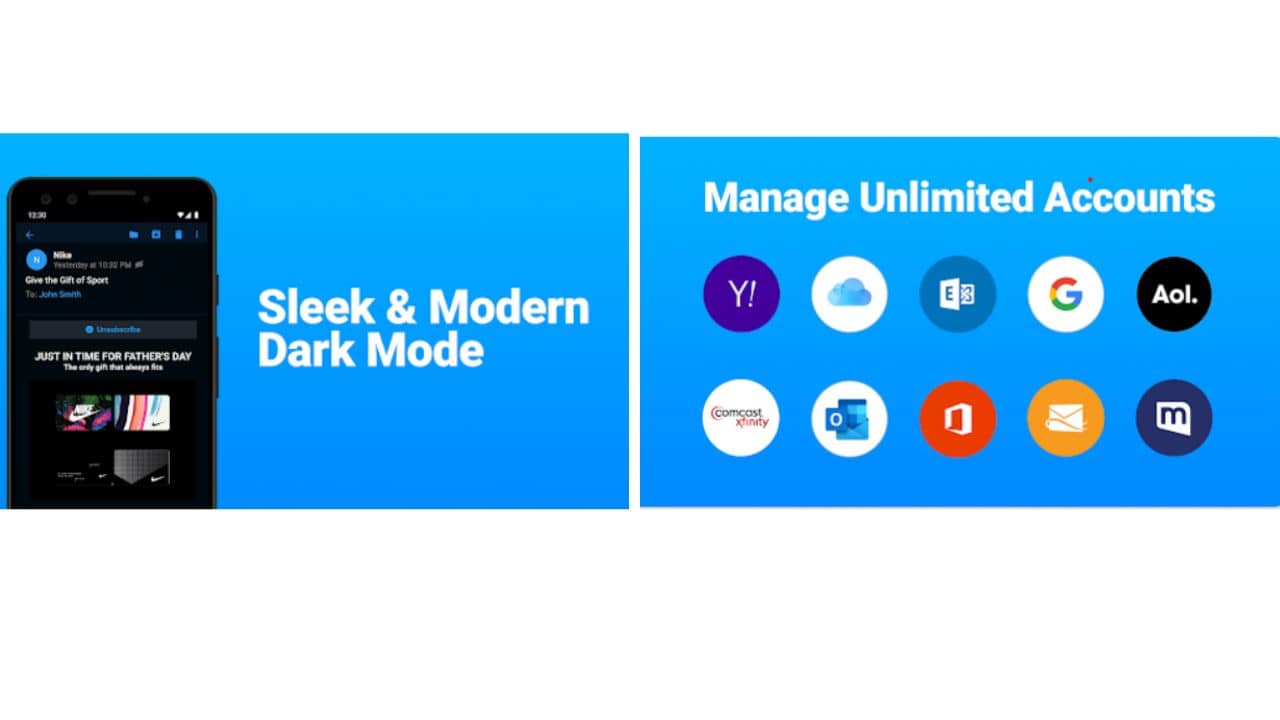 Best for: Easy tracking of all the subscriptions and orders directly from the email.
Ratings: 4.6★
The Email (Edison Mail) app is one of the feature-rich apps that can easily replace Outlook for Android any day. You can use this email app with as many accounts as you want across all popular services like Gmail, Yahoo Mail, AOL, Hotmail, Outlook, etc. This app allows personalized notifications, so you will get alerts for important emails. It also features a dark mode so you can easily work at night. The standout feature of this app is the intelligent personal assistant that manages your inbox and highlights important emails. Just like Gmail, this alternative app for Outlook offers a one-tap feature to unsubscribe, block, and bulk delete emails in a few seconds. You can also upgrade to the paid version known as Edison Mail+ which offers multiple advance AI features.
Reasons to download:
Focus Inbox filters out the important emails for you.

The price alert feature sends you notifications of recent purchases that dropped in price.

Easily identifies junk emails and unsubscribes with one tap.

Supports 6 languages.
Where it falls short:
The icons are small

Doesn't work well on foldable phones.
Download Edison Email from Play Store
4. Proton Mail
Pricing: Free App Available; $5/month for Plus, $8/month for Professional, and $30/month for Visionary plan.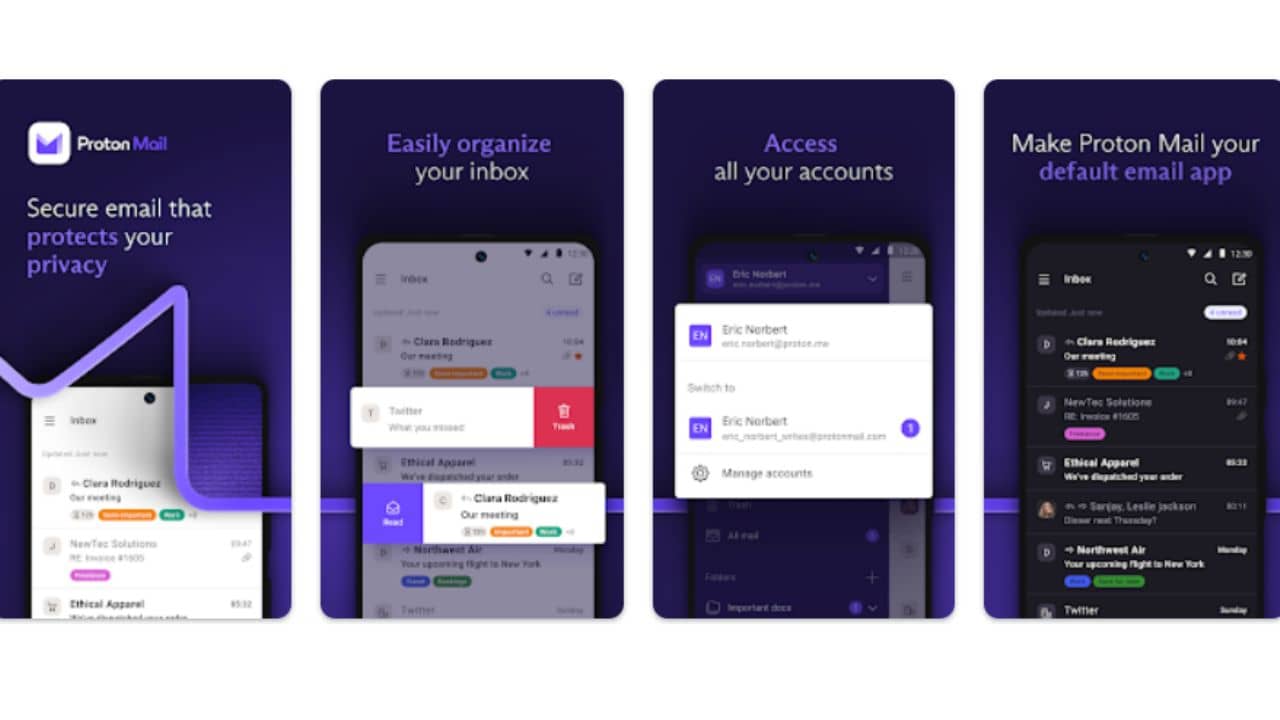 Best for: Hands down the best email app in terms of security and encryption.
Ratings: 4.2★
ProtonMail is one of the robust alternative apps for Microsoft Outlook for security. It is a secure email app developed by MIT scientists and CERN. The layout of this app is very minimal but feature-packed. The app has 'zero access encryption', which means even Proton servers do not have access to your emails or log-in details. You have to create a ProtonMail email address to integrate your different email accounts into the app. The app also features OpenPGP support, temporary emails, and basic stuff like organization and labeling features. This app also features its VPN and cloud drive for better security and privacy for its users. ProtonMail also features a calendar app just like every other email app but in this app, it is end-to-end encrypted. We can easily say that this is the most secure email alternative to Microsoft Outlook on this list.
Reasons to download:
Ad-free.

You can send encrypted emails to anyone and auto-encrypted mails to other ProtonMail users.

Expiring emails with a timer for the safety of sensitive information.

Customizable swipe features.

App regularly asks for feedback and works on it in updates.
Where it falls short:
POP3 is not supported.

The free plan only allows you to send 150 emails a day.
Download Proton Mail Play Store
Also read: Best Meditation Apps to Help Reduce Anxiety [iOS & Android]
5. Spark
Pricing: Free App Available; $6.39/month
Best for: Easy collaborative features with Smart Inbox for automatic easy sorting of emails.
Ratings: 4.3★
Spark is another ‌powerful and clean looking Outlook alternative email app for Android. The app learns as you ‌use it and sorts incoming emails into different categories. You can use an unlimited number of email accounts from various apps and view them in one unified inbox. It includes basic features like pinning and snoozing emails and setting reminders to send emails later. The app is fast and uncluttered, which makes it very simple to use. The standout feature of this app is the support for
teams. If you're working in an organization that requires you to collaborate on emails, this might be a better alternative than Outlook. You can easily collaborate on emails with your team, share emails privately, as well as share responsibility for emails with different team members. The Smart Inbox on Spark mail neatly categorizes your emails in different categories like personal, newsletter, pins, seen, etc. This is sorely missing from Outlook's Android app.
Reasons to download:
The Smart Inbox automatically prioritizes important mail and segregates spam.

You can create templates of your most used emails and formats.

Easy managing of multiple calendars.

Seamless collaboration features to work together on emails

The search tool works flawlessly and lets you find an email even if you don't know the exact keywords.

Seamless multiple-device configuration with one user account
Where it falls short:
If you're handling many emails at one time, the app might lag in reply all or delete all emails actions.

Only 5GB of shared storage on the free plan.
Download Spark from Play Store
6. Spike
Pricing: Free Plan Available; $12/month for business accounts
Best for: Spike makes emails into a fun single-chat conversation with a built-in to-do list & video call features.
Ratings: 4.6★
Spike is an interesting Outlook alternative for Android because at first glance it will look like any instant messaging app. This is a feature-rich email app for people who manage their emails, chats & notes on the go. As a competitor to Outlook, Spike has a more modern feel, which makes it very easy to use for anyone. The free plan enables you to connect unlimited personal accounts which is a premium feature in some email apps. Sending emails on Spike is as easy as sending a WhatsApp message and for that, you have to just log in with your email account and password. Spike is a more modern alternative for Outlook which allows you to use all your email accounts, to-do lists, and notes seamlessly all in one place.
Reasons to download:
You can work collaboratively on projects with the built-in note-taking feature.

Collaborative checklist for no missed tasks.

You can easily do a video call with your team without leaving the app.

You can easily tag people in emails, notes, and checklists.

Customizable swipe actions.
Where it falls short:
Customization for text is not available.

The searching tool is not accurate enough.
Download Spike from Play Store
Also read: Best Language Learning Apps for Android and iOS 
7. Gmail
Pricing: Free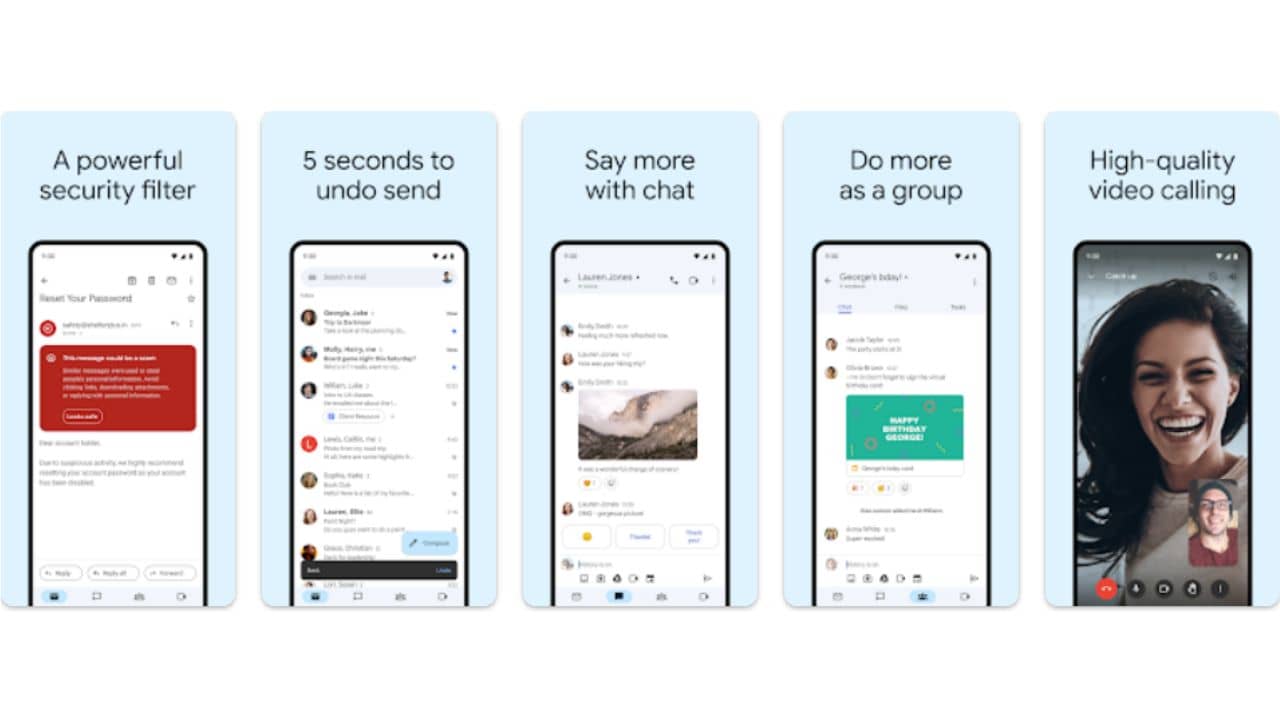 Best for: Seamless integration with third-party apps and Google Suite ecosystem
Ratings: 4.3★
Gmail is not a new name to any Android user, it is the first choice for Android owners because it comes pre-installed on all phones. With over 10B+ downloads, and Google's trust makes this a preferable alternative email app to Outlook. The app supports multiple email inbox settings, and accounts. Thanks to Google's search capabilities you get an excellent search feature on Gmail. You can easily integrate it with third-party apps and add-ons for a more smooth experience. If you use Google Workspace Gmail easily connects with it and gives you a more smooth experience. The major difference between Outlook and Gmail is that Outlook is a feature-rich app that offers all the things in one app only while Gmail easily integrates with other apps by Google which creates a more unique emailing and collaboration experience. 
Reasons to download:
Absolutely free app with no in-app subscriptions

Seamless integration with third-party tools and apps

Accurate handling of spam & scammy emails

15GB of free storage
Where it falls short:
Notifications are somewhat delayed

Sends you ads and promotional emails in the inbox
Download Gmail from Play Store
Just like Gmail, there is also a pre-installed email app for Samsung Galaxy smartphone users called, Samsung Email. This app provides the same basic features as Gmail and it comes pre-installed on all Samsung phones. This is a ‌powerful email app for Android which can be your perfect alternative to Outlook. Samsung Email usually works flawlessly with Samsung Galaxy users though you can download it from Play Store if you're a non-Samsung user.
Download Samsung Email from Play Store
8. Aqua Mail
Pricing: Free Plan Available; $19.99/month for Aqua Mail Pro
Best for: Amazing customization with over 300 settings and a refreshing user interface.
Ratings: 4.4★
Aqua Mail is a respectable Microsoft Outlook alternative for Android which works well with all email accounts. You can use your Gmail, Yahoo, AOL, Exchange, and Microsoft 365 account with this app. The app features a rich text editor which allows you to write professional emails on the ‌swipe gestures, make it easy to perform actions easily. You can easily connect your cloud storage like Dropbox,
One Drive, or Google Drive to back up your emails. The app offers great customization features like different gestures, themes, templates, and super useful widgets. In contrast to Android Outlook app, you can even add different signatures (like images, HTML, and links) to different emails in Aqua Mail.
Reasons to download:
Support for 20 languages.

Multiple widgets and customizations for a better personal experience.

You can get interactive notifications on your Android smartwatch.

You can easily synchronize multiple inboxes from all providers.

Integrated calendar with support to add multiple Android apps.
Where it falls short:
It sends a promotional signature to the receiver like 'sent by Aqua Mail' in the free version.

The free version has ads.

The use of Exchange servers is limited in free version.
Download Aqua Mail from Play Store
Also read: Best eBook Reader Apps for Android  
9. Zoho Mail
Pricing: Free Plan Available; $6/user
Best for: Best email app designed for businesses and comes with plenty of collaborative features
Ratings: 4.3★
Zoho Mail is a feature-rich email solution for small enterprises and individuals. It features a full range of organizing capabilities, such as a calendar, storage drive, tasks, contacts, and bookmarks, making it one of the best Outlook alternatives for Android. The app has a simple interface that you may arrange neatly using the Streams feature. Streams allow you to add comments to email threads, share files, and assign tasks, which is important if you plan on using the site professionally.
Both organizations and individuals will benefit from Zoho Mail's calendar, contacts, and tasks, which help keep your inbox managed and smooth the transfer from Gmail to Zoho. Those who are concerned about Outlook's privacy problems should also relax as Zoho Mail offers end-to-end encryption.
Reasons to download:
End-to-End encryption

Access 24/7 customer support.

Provides dedicated Docs and Cloud for better accessibility.

Advance management with Zoho Streams.

Different Spam settings like block list, spam filters, etc.

5GB storage per user in the free plan

Works with SOHO enterprise apps
Where it falls short:
It will take time to get used to the user interface.

The app slows down when you receive many emails.
Download Zoho Mail from Play Store 
10. Temp Mail
Pricing: Free Plan Available; $7.99/month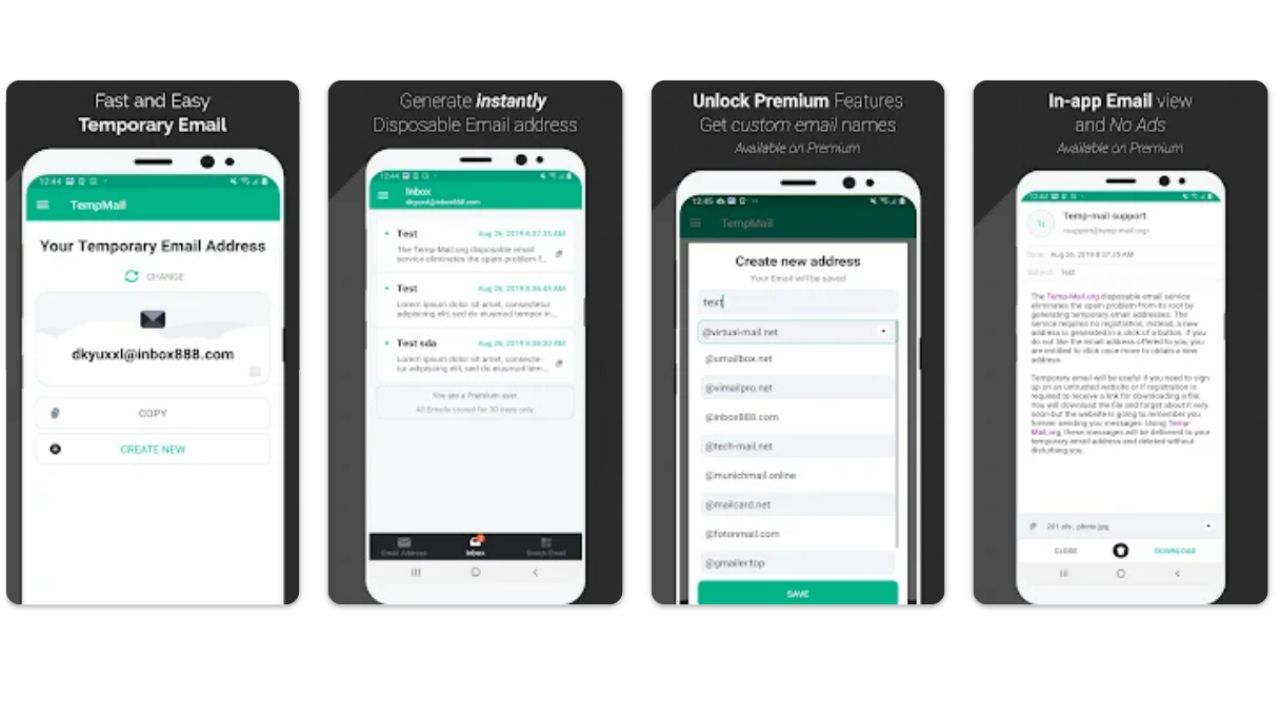 Best for: Best app for sending temporary emails with multi-language support
Ratings: 4.3★
This is the only temporary mail app on this list. The idea behind temporary emails is that if you want to send/receive any email but don't want to use your permanent/primary email accounts you can use this app. The app lets you create temporary and disposable email addresses for one or two uses. Temp Mail supports multiple languages, QR scan support, as well as custom email names. This is not a direct alternative to Outlook but you can use this app as a secondary email app for disposable emails which is not possible with Outlook. The best part is you don't need a permanent email to log in or register. Furthermore, this will keep your primary inbox clean. 
Reasons to download:
Clean user interface with easy-to-use features.

Easier for Discord users to create temporary emails and channels.

The premium version contains lots of advanced features at a minimal cost.
Where it falls short:
Spam you with many push notifications and ads.

No chat support 

Not a credible app for safety reasons.
Download Temp Mail from Play Store
11. K-9 Mail
Pricing: Free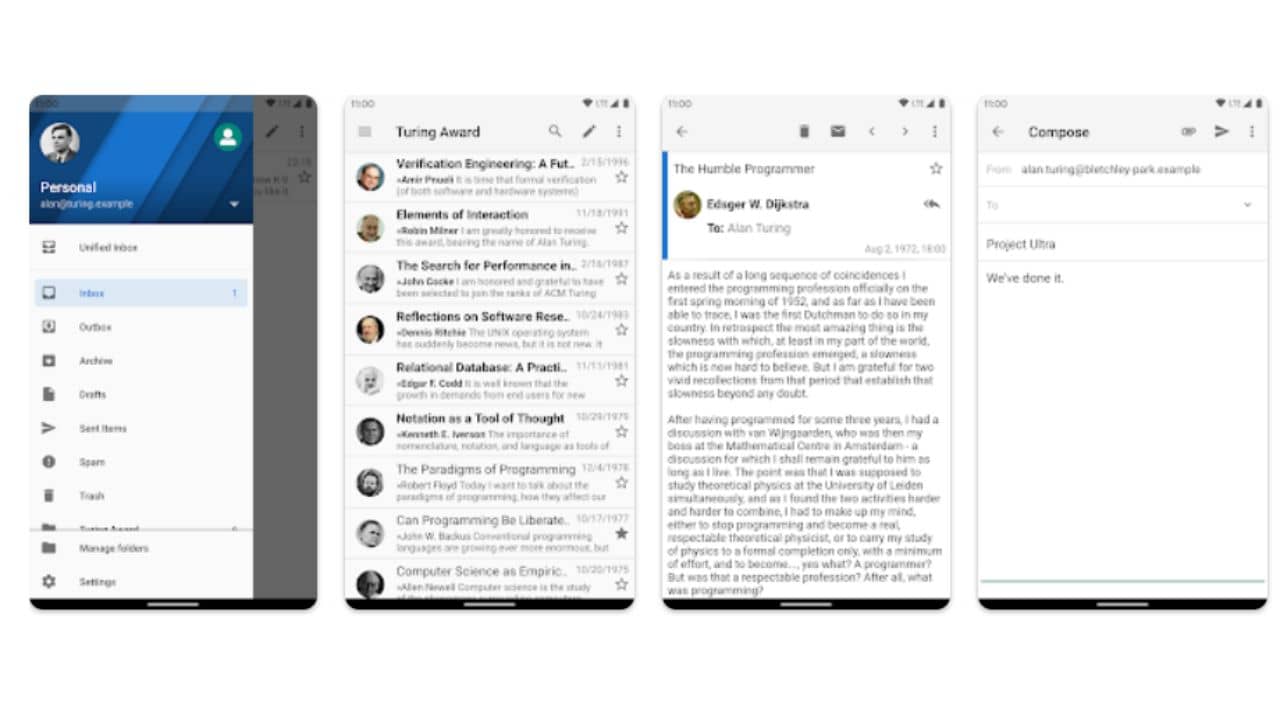 Best for: Free app that does the job without ads and promotional emails
Ratings: 4.0★
K-9 Mail is one of the best free 
alternatives to Microsoft Outlook for Android users. It is a lightweight and simple app that is packed with many useful features. The user interface is ‌clunky but comes with all the basic features that you would expect from a free email app. It is a community-driven project but despite that; it provides better support for IMAP, and POP3 than some apps. It does the job right in providing the basic features like per-account notifications, unified inbox, OpenPGP encryption,
dark theme, and much more. Because it is an open-source email app you can use multiple accounts without worrying about the security of your emails. 
Reasons to download:
Very easy to use with basic features.

Uses

OAuth 2.0

for better encryption.

No advertisements and promotional emails.
Where it falls short:
Very basic and outdated user interface.

Doesn't provide premium features.

The search feature doesn't work properly.
Download K-9 Mail from Play Store
Just like K-9 email MailDroid is also one of the first email apps that launched on the Play Store. This app is also a decent freemium Android alternative for Microsoft Outlook. The only difference between K-9 and MailDroid is that this app has a modern user interface.
Download MailDroid from Play Store
Also read: Unable to update apps in Play Store? Here are 14 ways to fix it
12. myMail
Pricing: Free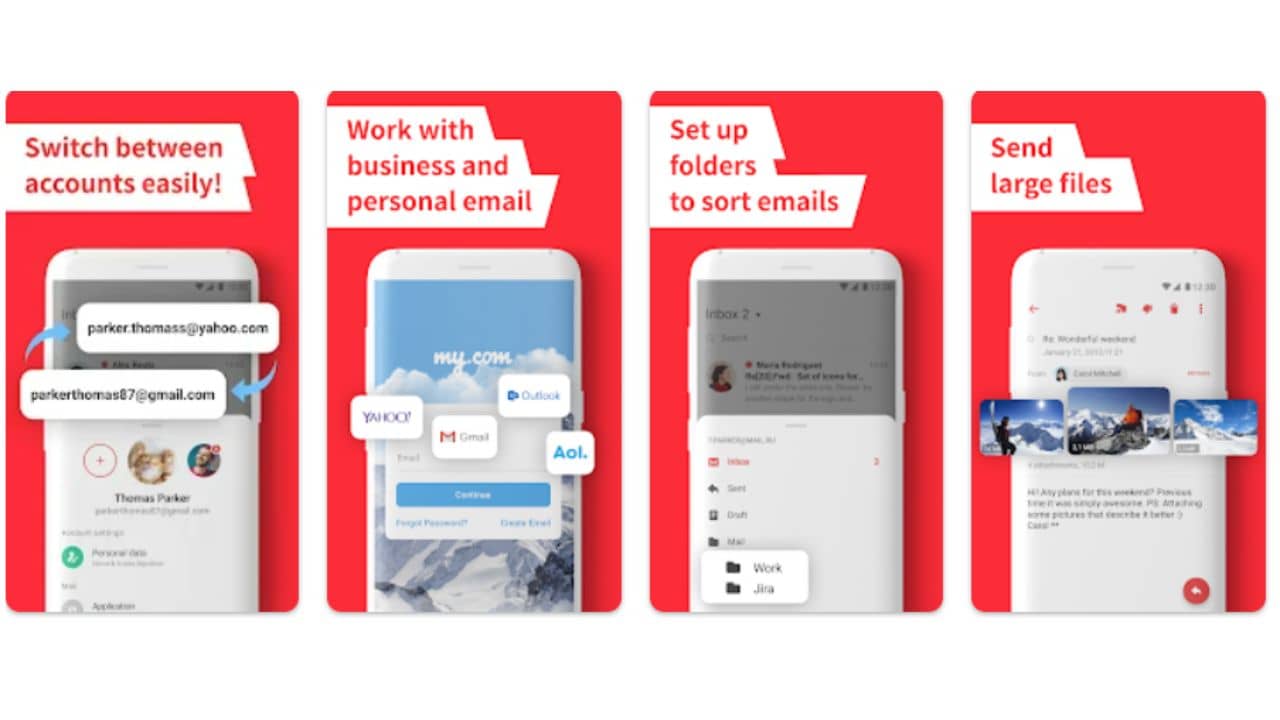 Best for: Top Outlook alternatives with a clean user interface that comes with limitless storage.
Ratings: 4.4★
myMail is one of the best free Android alternatives for Microsoft Outlook which supports multiple email accounts. You can easily manage email providers such as Gmail, Yahoo mail, Outlook, and other mailboxes accessible through IMAP or POP3. It is also said to feature a sleek and clean, clutter-free user interface that offers several benefits.
It offers much appreciated limitless storage, making it a highly useful software for business users and others alike. The virtual mailbox and contacts within your work group features are natural and pleasant to use. Other features of the app include the ability to send and receive real-time alerts without any delay. It has the capability of compressing data when sending or receiving emails. It also offers a clever search tool that allows you to quickly find messages or data.
Reasons to download:
Easily manage multiple accounts.

Supports fingerprint authentication.

The user interface is simple and easy to use.
Where it falls short:
Sometimes the interface feels slow.

The app doesn't have a unified inbox.
Download myMail from Play Store
13. Type App mail
Pricing: Free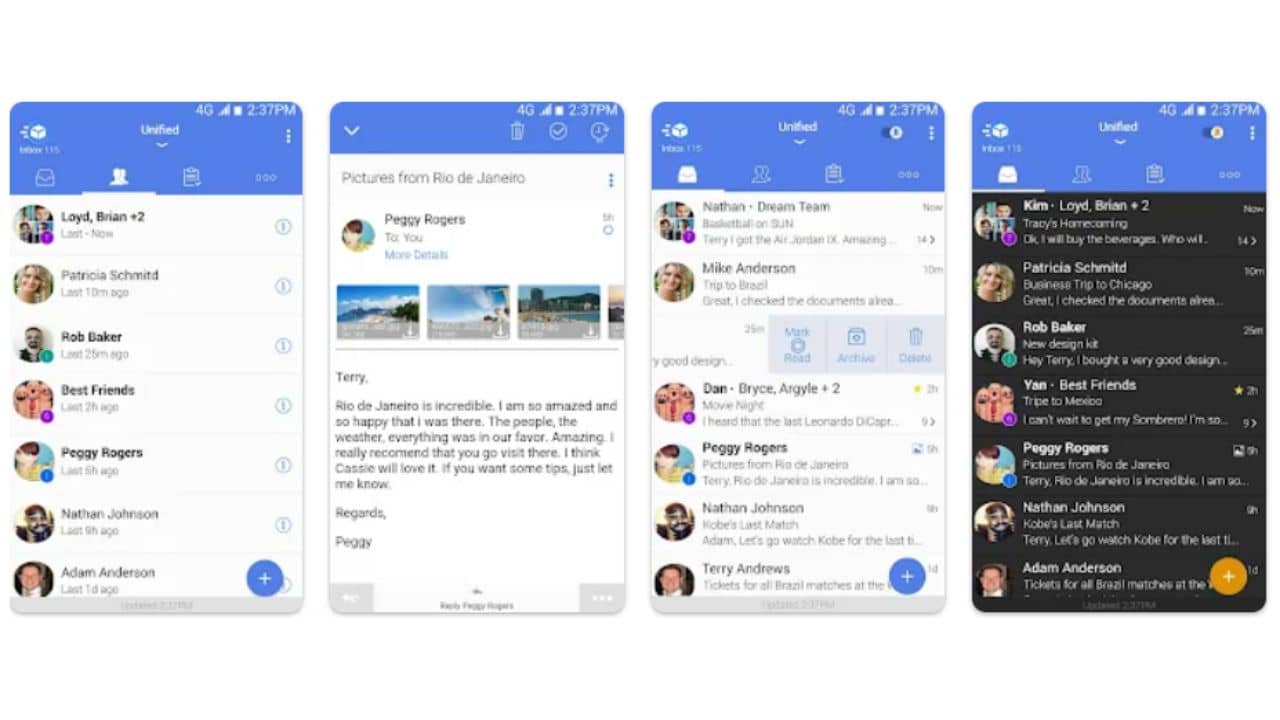 Best for: Free Email App with support for wearables.
Ratings: 4.3★
TypeApp is an attractive alternative Android app for Microsoft Outlook. It is free to download and has no in-app purchases or advertisements. It employs an 'Automatic cluster' function, which allows your contacts' and friends' photos and names to aid in the speedier processing of emails in the unified inbox.
To improve the security, the app is end-to-end encrypted using accessible as well as double passcode protection. It also allows you to lock the email app, making it unavailable to everyone. As a result, your communication is secure from prying eyes. It includes a basic user interface and a straightforward method of switching accounts. Wear OS, formerly known as Android Wear, is a software version of Google's Android OS that delivers all the wonderful features of Android phones to smartwatches and other wearables. It also supports wireless printing and a variety of email providers such as Gmail, Yahoo, and Hotmail, as well as other services like as iCloud, Outlook
, and others.
Reasons to download:
Free app with built-in security features.

Many premium features are available that are easy to use.
Where it falls short:
Sometimes unread emails are also visible in the unified folder.
Download Type App from PlayStore
Also read: 14 Ways to fix if Google Drive is not working
14. Nine
Pricing: 14 days Free Trial; $14.99/month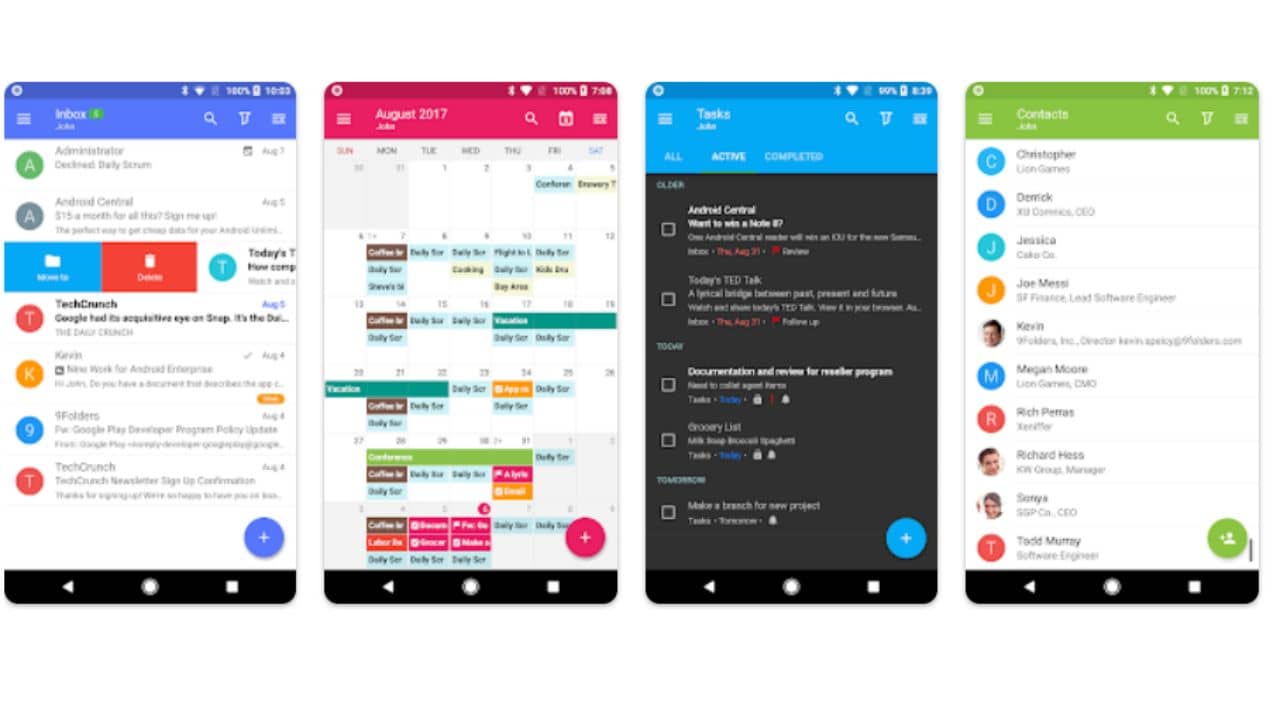 Best for: Best secure email app that comes with contacts, calendar, tasks and note-taking feature.
Ratings: 4.2★
Nine is another app after ProtonMail that focuses more on the security and privacy of the users, which makes it the best Outlook option for Android users. This app uses Microsoft Exchange Server to secure and store all your emails. You can also use other cloud services like Microsoft 365, Yahoo, Google Drive and to create a backup of your emails. The standout feature of this Android Outlook app alternative is that it integrates emails, tasks, notes, calendar, and contacts all in one app which saves a lot of time while you're working. The user interface of Nine is a fresh breather as compared to Outlook for Android, as the colors are bright and light which looks beautiful to look at. 
Reasons to download:
More focused on security.

Gives you fingerprints and password encryption features.

Gives you a preview of the received email.

The Favorites label marks important emails of all your accounts in one place.

Not marking emails as 'read'.
Where it falls short:
Some users reported battery draining problems.

Uses lots of internal storage space by default.
15. Tutanota
Pricing: Free Plan Available; $27/month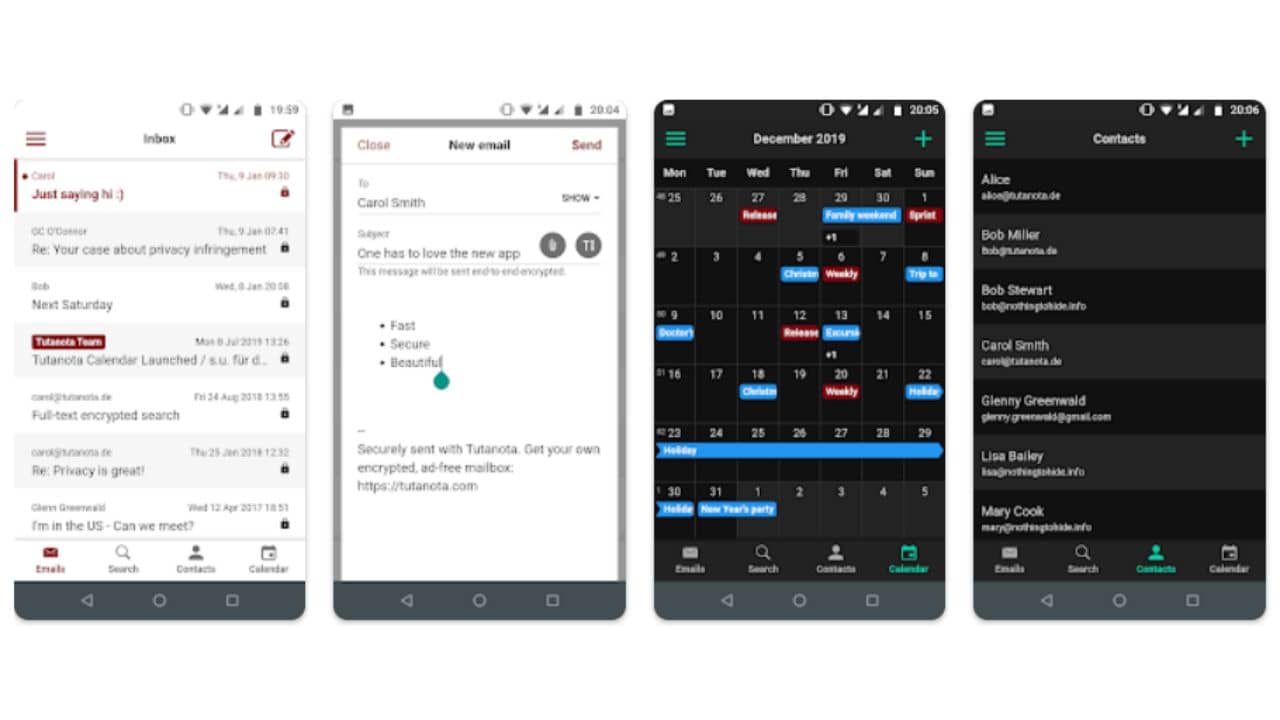 Best for: Best email app in terms of security and encryption. 
Ratings: 4.3★
Tutanota (Latin for "secure message") is an excellent Android alternative for Microsoft Outlook, for those who are concerned about privacy. The app offers a free account and an end-to-end encrypted open-source email app. The calendar in this app is encrypted so you don't have to worry about who can snoop in on your tasks and meetings as well as emails. The app has all the basic features with a focus on the security of the user data. The inbox uses encrypted search features. You can easily search the body of an email without compromising their security or privacy. While the only difference between Proton Mail and Tutanota is that this app will manually check the credibility of your email account which can take up to 48 hours.
Reasons to download:
Incredibly secure and easy to use.

Support for custom domains.

Options for alias email addresses.

Encrypted Contacts and Calendar for security.
Where it falls short:
48 hours verification process.

Cannot access Calendar offline.
Download Tutanota from Play Store
Also read: Best Augmented Reality Apps for Android in 2023
16. Samsung Email
Price: Free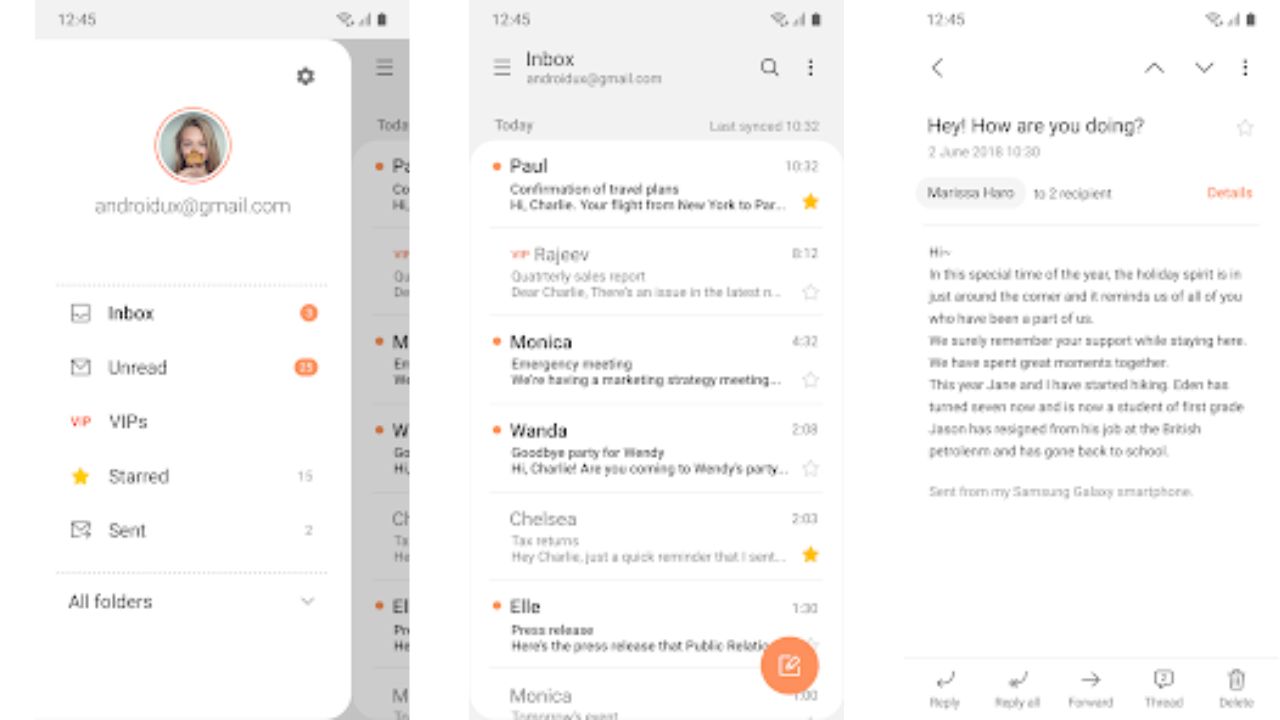 Samsung's Android apps are pretty hit or miss, but when they hit, they knock it way out of the park. Just as Samsung Internet Browser is one of the best free browsers for Android, Samsung Email is one of the best free email apps for Android. The best thing about Samsung Email is its purity of aesthetic, which is shared across all Samsung apps. Not only does your Samsung account get you access to unique apps such as SmartThings and Samsung Pay, but it also allows you to back up, recover, and sync your data across numerous devices, among other things. This will also come in handy if you lose your ID or password. Some functions may differ depending on the device and country, so keep your information and apps up to date.
Other notable features include Exchange ActiveSync for business email accounts, encryption for security and privacy, custom notifications, schedule synchronization, and spam management.
Best for: Handling multiple personal and business email accounts.
Rating: 4.4★
Reasons to download:
Personalized user experience with customizable email notifications.

Better management of email folders and spam addresses.

Support for IMAP and POP3 personal email accounts.

Thread and conversation view for emails.
Where it falls short:
Battery usage might be an issue on some devices
Download Samsung Email from Play Store 
17. Missive 
Price: 15-day free after that $10/month per user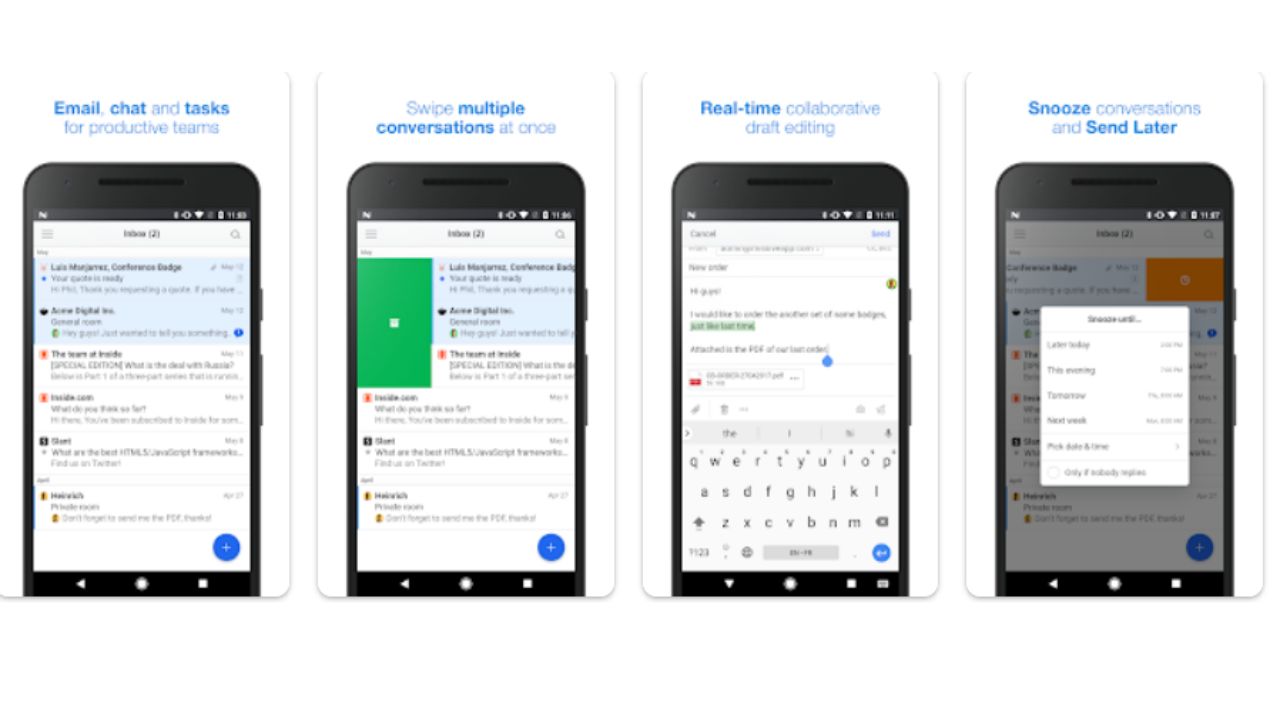 Missive is made with small businesses in mind. If you have a team that needs access to the same inbox, then Missive is a great alternative for Outlook to organize your inbox in order to avoid confusion within teams. For example, if you have a customer service team working on emails in one shared inbox, you can ensure that everyone knows the status of each email so that things don't get answered twice or so that messages don't fall through the cracks. Other features that make this one of the best email apps for Android include the ability to chat with your team within each email message if you have a question for a colleague before replying to an external email.
It's also simple to work with on mobile where you can easily add files, assign emails, close them, tag your coworkers, merge email threads by topic or by the sender, and more. On the paid plans, you'll be able to add more members, keep your internal commenting and messaging history for longer, and add more accounts.
Best for: Teams to easily collaborate on emails. 
Rating: 3.5 ★
Reasons to download:
Minimalistic and easy-to-use design. 

Collaborative writing space and team inbox.

Comes with several third-party-integration to include more tools.
Where it falls short:
Spam email doesn't work seamlessly.
Download Missive from Play Store 
Conclusion
Microsoft Outlook is one of the best email apps for Android users but it's not for everyone. So we hope this list of Outlook for Android alternatives might help you out. All the apps mentioned in the list are trusted by billions of users and have ratings on 4.0 and more on the Play Store.
Let us know in the comments which app you will download as an alternative to Outlook! 
Also read: Top 25 Android Secret Security Codes You Should Know