The Google Home compatible devices can be handy as they use Google Assistant to interact with smart accessories installed at your house, apartment, or any other living space to offer a smart living experience. If you use any smart home devices, be it Google Nest Mini, Google Nest Hub Max, or Google Nest Audio, you can easily communicate with any of the devices on the list we have mentioned below and easily pair them with your smart home. All the devices we have listed here pair with the Google Home seamlessly within minutes and with just a few clicks. 
Further, Google Home compatible devices can also set up routines so that a device action can trigger the action of another device and so on. For example, if you have set up a Wi-Fi door lock, it should automatically trigger to light up the smart bulbs as soon as you enter the house and turn on the HVAC. This way you don't have to fumble around finding switches in the darkroom. There are thousands and thousands of different automation combinations. Now that you know what we are going to talk about in this roundup, it's time to jump right into the list of best Google Home compatible devices or accessories you should buy in 2023.  
Note: Our roundups are updated on regular basis to mention newly launched gadgets and accessories. 
List of the Best Google Home Compatible Devices & Accessories to get in 2023
1. Ecobee Thermostat (5th Gen)
Even though the Ecobee comes with built-in Alexa support, it is also one of the best Google Home compatible smart devices on our list. Thanks to the Ecobee's improved remote sensors, you can use the Ecobee Thermostat 5th Gen to keep all the rooms of your hi-tech home at the right temperature. This smart thermostat for bedrooms tracks the temperature and occupancy automatically and sets the right temperature required for that room. In simple words, it means that if your room is hot, it makes sure to drop the temperature to an adequate level, based on how many people are there. The latest Ecobee also features a much better
smart speaker for the bedroom as compared to its predecessor. Did we mention it comes with Spotify support? Yes, with this smart Google Home compatible thermostat for home, you can enjoy your favourite tracks while resting in your bed just by giving commands to the speaker using your voice. It works flawlessly with smart home assistants of major smart home ecosystems such as Google Assistant, Amazon Alexa, etc. Moreover, it can also turn off your AC when a window or door is left open? Not only is this friendly for the environment but also it helps you save up to 26% off on your electricity bill. 
2. PHILIPS Hue Ambiance Smart Bulbs & More
Are you looking for a smart bulb or smart lights to set the mood while watching your favourite Netflix movies? Get yourself the PHILIPS Hue Ambiance Smart bulb. This 10.5W smart LED bulb for the living room is equivalent to a 60W bulb. This smart bulb for bedrooms fits with most of the lamps, overhead lights, and more allowing you to control and play around with a maximum of 50 hue lights at once without troubling your Wi-Fi system. You can trigger the smart ambiance bulb from Philips via smart assistants such as Google Assistant, Amazon Alexa, and more. Thanks to the easy wiring-free installation, this smart home lighting accessory can be placed in multiple locations without much hassle. What's more? You can use the Philips Hue app to create a schedule of the routines to turn the light on and off. On top of that, this smart bulb turns on the light as soon as you get home and power off the lights when you head to bed. This feature is very beneficial as it leaves behind the worry of fumbling around to find switches to turn on the lights in a dark room. All in all, it is a must-have Google home compatible lights for anyone who wants to automate the lighting of your home. 
Note: Philips Hue collection features work across the full lineup which consists of multiple types of products. 
Must-check these alternatives:
Also Read: Best Tech Gifts Under $500
3. Chromecast with Google TV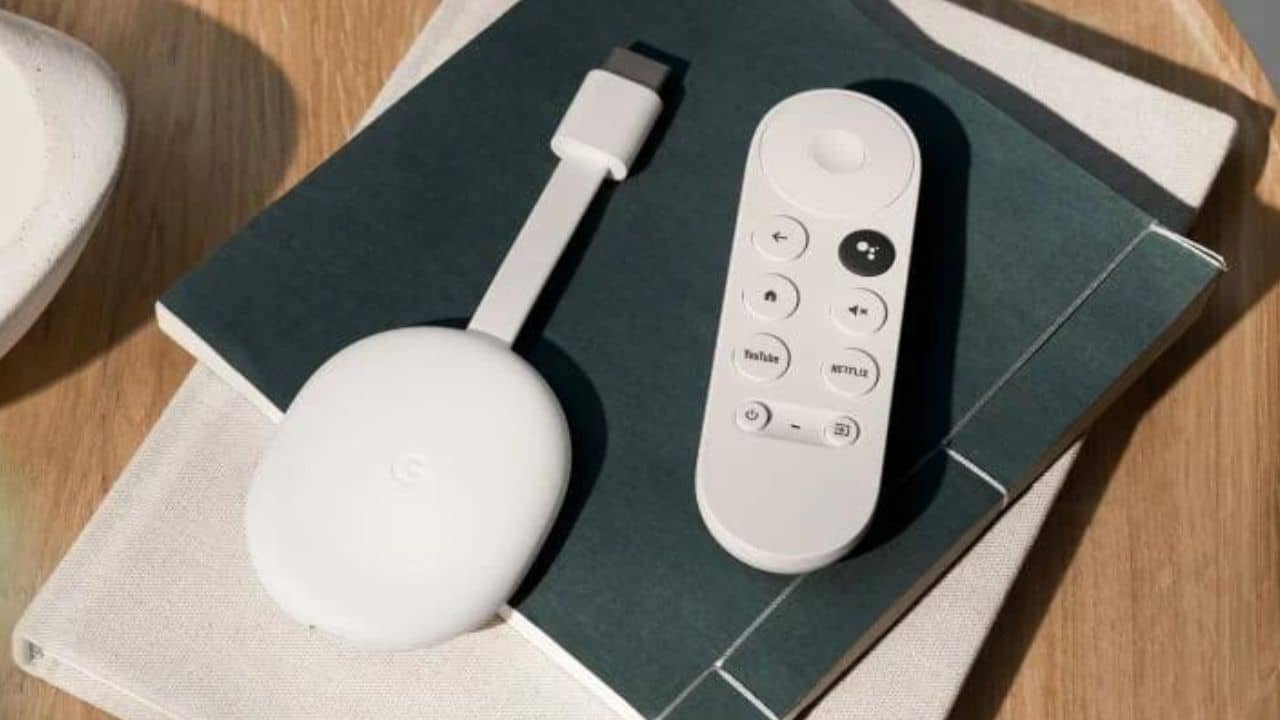 For anyone looking to enjoy multiple streaming services, from Netflix and YouTube to Google Play, the Google Chromecast device is a perfect treat for you. It is one of the best smart home gadgets for people who want to upgrade to a smart tv without buying a whole new tv or people who use their ultrawide monitor as an entertainment device. What's best about this smart gadget is that you can expand screens leaving behind the connection of messy wires. This smart streaming device connects to almost any TV that comes with an HDMI port. You can flawlessly stream, pause, play, or adjust the volume right from your smartphone with just a tap without keeping your phone aside, you can use the phone normally. Plus it works with 2000 streaming apps including your beloved Amazon Prime, Netflix, Disney + Hotstar, and over 2000 apps. Thanks to the compact design, it can be fit on the back of the TV easily. That's not all, you can keep an eye on what's happening around your home by checking your outdoor camera, and more using the Chromecast and Google Home app.
4. August Wi-Fi Smart Lock
If you often forget to close your main door of the house or tend to forget your keys inside the house, the August Smart Lock is surely a handy smart home gadget compatible with Google Home that you should go with. The August Smart Lock comes to your rescue to keep away rookies by tracking your doors and notifying you if it is locked or not. On top of that, this smart Wi-Fi lock is a Google Home compatible smart device that allows you to open the door remotely when you have visitors. The installation is very easy and takes a few minutes, you just need to install this smart lock for home on the inside of your door over your existing deadbolt.  What's best about this Google Home compatible smart accessory is that it comes with Wi-Fi built in, so you don't need a bridge-like accessory to connect it to the rest of the ecosystem. The auto-lock feature ensures that your front door is automatically locked if it is closed for selected minutes. Whereas, the"geo-fencing" (auto-sensing) technology integrated with this smart lock for home automatically unlocks the door when it detects you're home. While it can be controlled via Android and iOS apps, you can also use voice assistants such as Google Assistant, Amazon Alexa, Apple Homekit, and more for the same. All in all, it is one of the best smart home security devices compatible with Google Home that you should get right now. 
Note:  Please ensure to carry your smartphone or smartwatch every time, else you might lock yourself out if you forget your device inside.
Also Read: Best Smart Home Device Upgrades
5. Google Nest Hub (2nd Gen)
The Google Nest Hub is one of the best Google Home speakers that comes with an attached display giving you the freedom of enjoying your favorite music or YouTube videos. It works as a display for all your Google Assistant needs. You can even track your sleep or use it to look up to anyone who is knocking on your door using the videos recorded by the Google Nest Camera doorbell. This Google Home compatible smart speaker comes with a stand to place it securely beside your bed table or kitchen cabinet while you're trying some new recipes from YouTube or the internet. What's more? You can use Quick Gestures to control many Nest Hub features like playing or pausing songs or YouTube videos. You can even snooze your alarm and stop a timer all that is possible because of the Motion Sensor integrated with this Google Smart Home device. Apart from all these features, this Google smart home speaker acts as a hub for all connected smart devices. You can use it to control all smart devices.
6. Wemo WiFi Smart Plug
Want to turn a regular appliance into a smart one? Do you want to add automation to your existing appliances without replacing them? Then you should look for compatible smart plugs. The Wemo WiFi Smart Plug is what we recommend going with in the first place. It is one of the best and more compact smart plugs for the home than many alternate options available in the market. It even beats its predecessor Wemo Mini smart plug, when it comes to compactness. This smart home automation device requires a power outlet, while it uses the Wi-Fi at your home to control smart home appliances such as fans, coffee makers, TV, and air purifiers via smart assistants including Google Assistant, Amazon Alexa, Siri, etc. This smart plug comes with a physical switch, so when you're not using an app or voice command to turn it on or off, you can simply click the switch on the Wemo smart plugs. What's good about this smart plug is that you can easily schedule the timings to turn a specific appliance on/off using the Wemo app. Are you on a trip and want to keep the bad guys away from your home by keeping the lights on during the night? No worries, you can do that using the Wemo app from anywhere in the world.
Also Read: Best Streaming Devices for your TV 
7. Nest Doorbell (battery)
If you want to keep your home safe from rookies, the best Google Home compatible smart security device you could get is the Nest Doorbell. It is a doorbell cum outdoor security camera that keeps an eye on your door and informs you by showing the actual footage via Google Nest Hub or similar devices if anyone rings the bell. As far as design and build are concerned, the Nest Doorbell is a simple-looking doorbell that has an HD recording camera that monitors any possible intruders trying to enter your house. With this Google Home compatible smart doorbell, you will have a full view of the person ringing the doorbell. Also, the Nest Doorbell automatically detects any motion outside your door and informs you about the same. All thanks to the in-built battery, this smart doorbell for home leaves behind all the worries of cable management. Also, this Google Home accessory is battery powered so there's no need to mess with your existing wiring. It gets fully charged in 5 hours with a 7.5W charger which you can buy separately. Moreover, the four colour options allow you to match this smart Google Home compatible device with the exterior and interiors of your hi-tech home. 
You can also go for a wired Google Home compatible doorbell which offers 24×7 recording and HDR video. Learn more about it here.
Honorary mentions of some of the best smart doorbells that are compatible with Google Home: 
8. Rachio 3 Smart Sprinkler Controller
If you are mostly away from home but worry about all the flora in the garden and your beautiful green yard, the Rachio 3 smart sprinkler controller is the perfect solution for you. It is one of the top useful Google Home compatible devices that help water your backyard and the front lawn without any hassle. This smart sprinkler controller home kit can be controlled from anywhere you'd like, thanks to the company's super intuitive mobile app. This smart home device is backed by an exclusive Weather Intelligence Plus technology that can skip watering when it is not required, such as during rainfall or snowfall. that automatically skips unnecessary watering during rainfall or snowfall. You can easily create schedules to water your garden or lawn using this smart sprinkler to keep the greenery all year long allowing you to cut down the water wastage and head-scratching high water bills. With this awesome smart water sprinkler home kit, it is easy for you to keep track of the upcoming watering schedule and usage. What's more? This Google Assistant smart water sprinkler controller requires the hassle-free installation and is very easy to use. So, if you are planning for a long vacation with your family while you want to keep your garden and lawn green and fresh as ever, this Google Home smart device is what you should look for.  
9. Dreo Smart Oscillating Tower Fan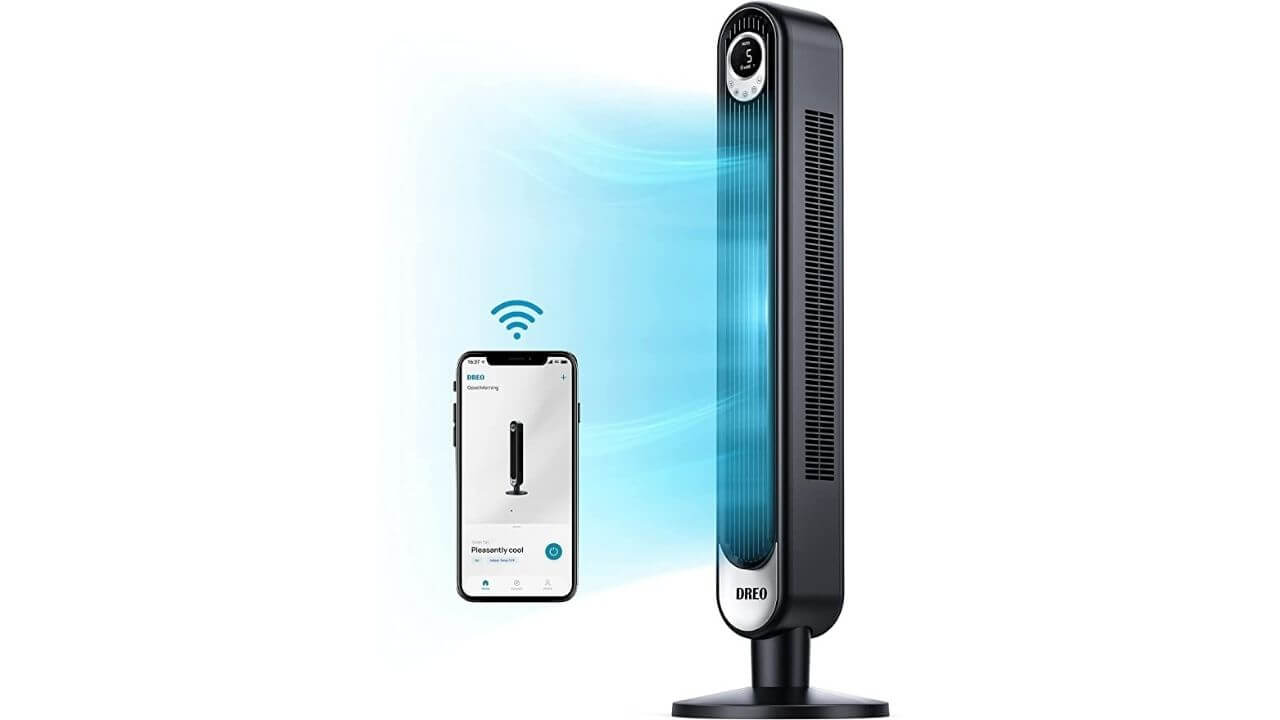 Here we have for you a portable smart tower fan from Dreo. It's not like the traditional fans with blades that you hang on the ceiling, it is an oscillating floor fan that can be placed on any stable surface around your home or office. This smart fan for the bedroom is compatible with the Google Home ecosystem and can be controlled via voice control using Amazon Alexa as well. Don't worry if you lose the remote, you can also control this smart oscillating fan via the Dreo app. On top of that, the powerful motor and the unique air propeller design move air with a rapid speed of 24 ft/s and ensure your room stays cool even in the sweaty summer. Thanks to the integrated sleep mode, you will get all the breeze with less noise for your sound and uninterrupted sleep. That's not all, the Upgraded Smart Display in this Google Home compatible smart fan displays the room temperature, fan speed, mode, oscillation, mute, and timer settings. Moreover, the 6-speed & 4 modes setting allows customizing the airflow you need. All in all, it is one of the best smart portable fans that work with Google Home and offers a noiseless cooling experience when you come back from a hard training session. It is a lifesaver during summers and heat waves if you've got a pet at home. 
Also read: Best OLED TVs for PS5
10. myQ Chamberlain Smart Garage Control
Are you looking for a smart garage controller that lets you open and closes the garage remotely whenever required? Wouldn't that be smart to just tell your Google Assistant to open up the garage door right from your smartphone? The myQ Chamberlain Smart Garage Control is the perfect smart Google Home compatible device for you. Thanks to the remote controlling feature offered by the myQ app, you can give access to your friends or family members checking in your vehicles when you're not home and away with the garage key. On top of that, this smart garage control system comes with a feature that allows creating a garage closing and opening schedule based on your needs. You can use the myQ app on both Android and iOS devices, while it works flawlessly with the Google Home ecosystem. Plus, this Wi-Fi hub from Chamberlain is compatible with major safety sensor garage openers manufactured after 1993. If not Wi-Fi, you can use this Google Home compatible smart garage controller via Bluetooth too. So, next time when an Amazon or UPS guy is delivering your packages, you can simply open your garage to accept all the packages while sitting at your office using the myQ Chamberlain Smart Garage Control. What's more for you? The myQ app delivers real-time notifications about the closing and opening of your garage door. In short, it is a must-have smart home device for someone who has booked monthly or weekly vehicle servicing and maintenance or someone whose packages get stolen. 
Also Read: Amazon Alexa vs Google Home vs Apple HomeKit: Which one to choose?
11. Govee Wi-Fi Water Sensor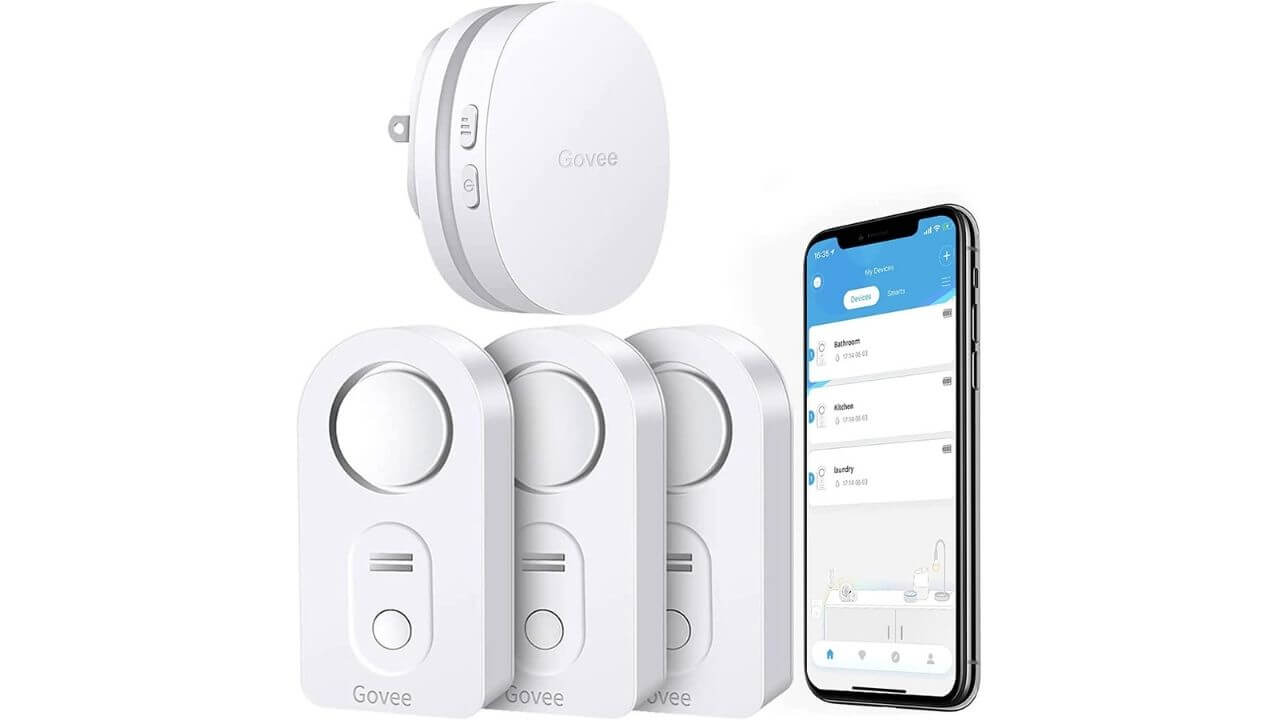 The Govee smart water sensor is one of the best Google Home smart home accessories to detect any kind of spillage, drip, or leakage of water in your home. This smart home solution device acts as an alarm system that alerts you by notifying you via phone alert or an email about the water leaks or burst pipes as soon as they occur, even if you are away. This way, you can fix things as soon as possible. Besides, the Govee water sensor works without Wi-Fi, as it delivers a loud alarm when a leak is detected. Also, there is a mute function to stop the alarm just in case you've found a possible leakage. The best thing about having this Google Home-compatible smart kitchen accessory is the IP66 rating, meaning you can install this smart water leakage detector where there is a lot of moisture. This is a life saver and water saver (pun intended) for people who work in workshops, and factories.
Also read: How to fix Samsung Smart TV not turning on problem
12. Kasa Smart Light Switch (Must-have)]
The Kasa Smart Light Switch is for anyone who is looking to add some of the top of the line Google Home compatible devices to your home. It features a simple and compact design made to perform exceptionally well, especially with the combination of the Kasa app. You can control this smart switch using smart assistants such as Amazon Alexa and Google Assistant, even when you're away from home. Please note it doesn't come with the Apple Homekit support. The smart scheduling feature allows you to surprise your loved ones with favorite lighting and gifts, using the Kasa app. Moreover, you can enable the "Away Mode" to keep the rookies or possible intruders away by tricking them by randomly turning the lights on and off. This feature is handy when you are away on a family vacation. 
13. Govee DreamView T1 Smart TV Backlights with Camera
The Govee Dreamview T1 Backlight includes immersive tech that comes together to show impressive lighting for the back of your TV. Imagine the backlight adapting to the onscreen colours and showing it on the back of your TV, how cool is that? You may wonder what makes it possible. This Google Home compatible backlight comes with a 1080p intelligent camera which is mounted at a certain angle at the top of the TV so that it captures the onscreen colours and applies them automatically to the Govee TV backlights. Having said that, it should be noted that the camera included in the pack only captures an onscreen colour and can not be used for projection or audio. The Govee smart backlight for the TV room uses voice control to customize the perfect ambience you need by utilizing various features like Timer, Video Mode, DIY, and Music mode. On top of that, the RGBIC technology integrated into this smart TV backlight helps you to customize each strip light segment and display colours simultaneously. Also, there are 99+ scene modes and 2 video modes in this smart TV backlight which sets the ambience by displaying colours that you'll love while gaming or streaming your favourite movies. Just in case you like other DIY Styles, you can save them using the Govee Light Studio. Putting it simply, with Govee DreamView Smart TV backlight is one of the best smart Google Home compatible accessories that brings excitement to the TV watching experience and longer gaming sessions with your friends. If you're planning to build a new home theatre or upgrade your existing one, this Google Home smart accessory is a must-have.
Also Read: Best OLED TVs for Apple TV 4K & Entertainment 
14. Nest Cam, Battery-powered (Indoor/Outdoor)
The latest Nest Cam from Google is one of the top Google Home security devices that keeps you updated by showing live visuals from indoors and outdoors of your home. It is a multipurpose security camera that can be installed inside the house as well as outside the house to keep your house under surveillance. You can check in on your home from anywhere at any given time through the Google Best Camera security system. This smart Google Home device comes with an IP54 rating, meaning it is weather-resistant, but it's not waterproof. As far as the camera is concerned, this smart outdoor security device comes with a camera that captures 1080p HD video, night vision, a 130° diagonal field of view, 6x digital zoom, and two-way audio. Plus, you will get a 1 m (3.3 ft) indoor-rated charge cable alongside a 7.5 W USB-A power adaptor to charge the battery of this indoor security camera. All in all, it is a great home security device compatible with Google Home that is backed by an impressive build and design.
Also Read: Best Travel-friendly Baby Monitors to get
15. Nest x Yale Smart Lock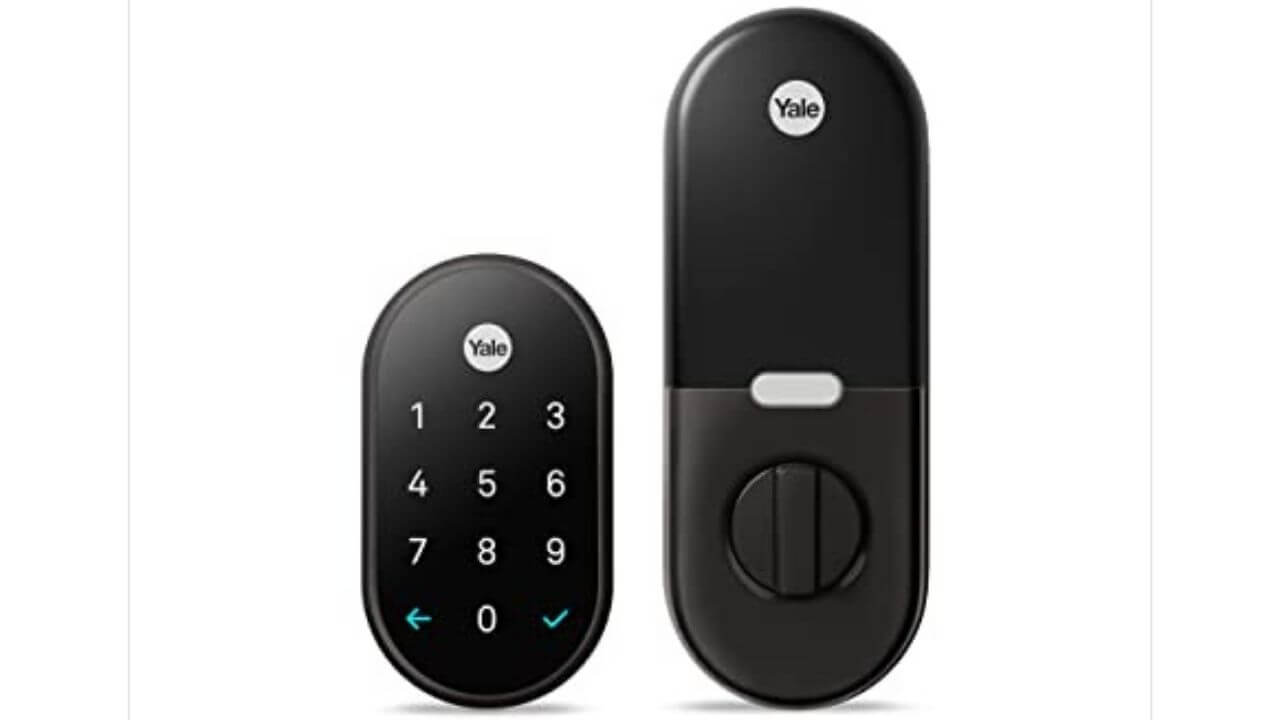 Are you looking for a keyless smart lock to secure your house? Get yourself the Next x Yale Smart Lock. Like other smart locks, it comes with a keypad on the outside giving you the freedom to unlock your door without a key. As we all know Nest products have always been at the top when it comes to design and utility, and this one is no less. The smart home door lock is sleek, stylish, and very classy. It is quite easy to install, especially if you are someone who already has smart home security gadgets installed at your home. You might take a few minutes to set it up through a Nest app on your Android or iOS devices. The Nest Connect included with this pack allows you to unlock your device remotely via internet connectivity. Furthermore, you can use this smart lock to lock and check your door status with your voice using Google Assistant. Now, you don't need an extra key to give access to family and friends to your home, just share the passcode. 
16. iRobot Roomba 694 Robot Vacuum
If you are looking to clean your home smartly, get yourself the iRobot Roomba 694 Robot Vacuum. It is a basic budget-friendly Google Home compatible robot vacuum that can be controlled via smart voice assistants such as Google Assistant, Amazon Alexa, or through the iRobot Genius App. This smart home cleaning device comes with a 3-Stage Cleaning System that lifts dirt and debris from carpets and floors, whereas the Edge-Sweeping brush ensures that the hard-to-reach corners of your house are also shiny. Did we mention the inclusion of the dual multi-surface brushes that adjust to the floor types to clean it thoroughly? That's not all, the advanced sensors integrated into this smart robot vacuum for home ensure that cleaning is done thoroughly under the furniture as well, while the Cliff Detect feature prevents this Google Home compatible device from falling downstairs. With the help of the app, you can create cleaning schedules and this vacuum will do the rest. For example, once configured, you can schedule the cleaning to be done while you're away for the day and get back to a clean home. What's best about this vacuum cleaner is that it automatically recharges itself by getting docked to the power source after 90 minutes of use. So, if you encounter a hard time while cleaning your house and fear dust allergies, this smart home vacuum cleaner is the perfect choice for you all. 
For anyone looking for a comprehensive cleaning system that mops and cleans the floor of your house, we recommend getting the
ECOVACS DEEBOT X1 Omni Robot Vacuum. Apart from regular vacuuming, this Google Home compatible accessory system comes with a clean water tank that can be used to mop the floors and keep them shiny, while the wastewater tank stores the dirty water that is stored after the mopping is done. 
Also Read: Best 49" Monitors for Productivity, Gaming, Entertainment, & more
17. Piece W
ireless Home Security System
Here comes the best Google Home compatible security system that includes 8 different devices all in one pack. It is one of the best budget-friendly comprehensive home security systems that come in handy to keep an eye on your house, even when you're away. Similar to all other listed smart products, this one is also compatible with Google Assistant or Amazon Alexa. The SimpliSafe smart home security system comes with a built-in 24-hour battery backup, just in case your home run out of power in the event of heavy rainfall or bad weather. The base station included in this home security combo features an in-built cellular mode that automatically connects to cellular networks, just in case your Wi-Fi goes off for a while. What's more? The alarm included in this home security system comes with a handful of security features that discreetly alerts the authorities if someone tries to disarm your system. This Google Home compatible security device can cover 1000 ft. range with just 4 sensors and supports up to 100 sensors.
Overall it is a fantastic home security device compatible with Google Home that offers you a peaceful mind when you're away for a vacation or work. Moreover, installation doesn't require much time and is backed by a 1-year post-purchase warranty. 
18. Google Nest Wi-Fi Mesh Router
Here we have another smart home device that solves mitigating Wi-Fi dead spots problem in your home. Even though it comes with a beefier price tag as compared to other Mesh routers alternatives, it is worth having in your smart home. If you are fed up with your old Wi-Fi router dropping signals to some of the favourite corners of your home, workspace, or office, it is best to replace those Wi-Fi routers with the Google Best Mesh Router. This is because these routers use MEsh technology i.e. there's no different Wi-Fi or LAN network when you add multiple routers to cover your entire house or workspace. Thanks to the signal coverage (with a pack of 3 routers) of up to 4500 sq. feet, you won't have to suffer laggy connection while streaming your favourite live sport or web series at any corner of your house. Plus, this smart home Wi-Fi system lets you stay connected all the time. Did we mention that this smart Wi-Fi Mesh System is controllable via the Google Home app? So, if you are planning to buy any of the Google Home compatible devices from our list, it is best to have the Google AC1200 Mesh Wi-Fi system at your place.
19. LEVOIT Smart Humidifier
Here we have got a smart humidifier from LEVOIT that keeps the moisture levels in your room adequate depending on the room temperature. The LEVOIT Smart Humidifier is the best Google Home compatible device for your house. This smart humidifier for the bedroom adds moisture to the air to prevent dryness that can cause irritation and can be effective for treating dry skin. This smart home humidifier for summer comes with a large 6-liter tank that can run for up to 50 hours with a low mist output at a time leaving behind the worry of constant refill at times. While the new all-top design smooths the refilling process by preventing spillage in your bedroom. That's not all, the LEVOIT smart humidifier for the bedroom can be controlled via the VeSync app so you can easily schedule the humidifier. Moreover, it is usable and controlled via smart assistants like
Amazon Alexa or Google Assistant.
20. Nanoleaf Shape Smart RGBW Light Panels
If you are planning a much-needed DIY home upgrade or are just bored with your room's traditional lighting, these light panels are here to give your room an exciting look any time of the day. This light panel from Nanoleaf Shapes features a modular hexagonal design that connects like puzzle pieces. You can easily attach them to your wall right behind the setup, so if you are a steamer, your audience will get to see some fancy lighting. Not only does it looks good, but it gives your work-from-home setup a sense of personal as well as professional touch. Since we have added it here, there's no doubt that this accessory is compatible with Google Home. If you don't really like the Hexagonal shape, you can choose from Triangles and Mini Triangles, as per your liking. In addition, you can create different patterns to make it look more exciting. 
Once you are done with the setup, the app guides you to get the thing started. The light itself lits up your room and is quite bright. Therefore, we suspect you'd ever need maximum brightness from these lightweight light panels.
This Google Home compatible accessory allows easy adjustment of brightness and color patterns. Besides, the Rhythm feature transforms your favorite tracks into dancing colors and light. Even though these light panels are expensive compared to the other brands, they will definitely upgrade any smart home in just a few seconds. 
21. Atomi Smart WiFi Coffee Maker
If you are a coffee lover, the Atomi Smart WiFi Coffee Maker is a must-buy smart kitchen accessory. This smart coffeemaker uses exclusive technology to ensure your coffee temperature is perfect without sacrificing quality and flavour. There are a lot more features that you can think of. It works with Wi-Fi and Google Assistant and is also compatible with Amazon Alexa. You can also use this coffee maker to brew coffee of your liking by simply commanding it via iOS or Android-based apps. On top of that, you can create daily and weekly schedules so that you always have your coffee ready right before your meeting. You can use this coffeemaker via voice or app to swap between mild, medium, and strong coffee brewing options ensuring it meets your taste. This Google Home smart kitchen accessory includes a 12-cup glass carafe and easily washable and reusable filters, so you don't have to worry about additional cost and environmental impacts of paper filters.
If you are looking for a budget-friendly alternative, it's best to go with LUMINOSIA hexagonal smart wall light. The features offered are similar to the ones you get with Nanoleaf Shape's smart wall light. The best part is that it is priced at just under $50.
That's all for now in this roundup of the best Google Home compatible devices or accessories that can be bought in 2023 by you. We also recommend checking our roundup for the
best smart home device upgrades that you can get in 2023.