PDF is the most popular and widely used format of digital documents worldwide. It is used by everyone from working professionals to students along with iPads. All thanks to its slim and lightweight design, iPads paired with Apple Pencil are the perfect PDF editing devices.
Today, when so many models of iPads are available on the market like iPad Pro, iPad Mini, and iPad Air, you can do a lot of things with these. Finding a good PDF editing app is not easy as for some people they just need annotating features, for some they have to work with large PDFs, while others need to make PDFs from scratch that too on the go. We have collated the 12 apps that will cater to your different PDF editing needs which work flawlessly on iPads.
As more people are working online & remotely, PDFs are the best format to work within any business when you have to edit document files multiple times. The PDF format is the closest thing we have to digital paper, and with iPad and Apple Pencil it replicates the pen and paper experience very well. Today we use PDF in almost everything from business proposals, forms, eBooks, contracts, sharing notes, etc.
You can quickly fill out forms, annotate your notes, e-books, and research papers, sign contracts, update an image, remove a page, and whatnot. A good PDF editor not only lets you edit the PDF, but you can also export PDF into different file formats or even convert different file formats to PDF right from your iPad and have it sync with your cloud storage accounts. All the apps mentioned below are some of the best (both paid and free) PDF editing apps for iPad Air, iPad Mini, & iPad Pro.
With so many apps listed on the App Store, choosing which iPad PDF editing app will get the job done is difficult. So, after thorough testing and researching so many user reviews we have made things easier for you, by listing the best 12 PDF editing apps for iPad with their features so that you can make a well-informed decision.
1. PDFelement
Pricing: Free Plan Available; $69/year for PDFelment and $129 for PDFelement Pro
PDFelement is an amazing iPad PDF editing app for precise as well as advanced editing on iPad. Users can insert, and change texts in the PDF editor app by playing with the font type, color, and size. You can change whatever you see in your PDF file with this lightweight yet powerful PDF editor. The changes include font and image modification and creating good-looking comments that won't get in the way. This app also helps you to carry out day-to-day tasks like signing e-papers, sending invoices, filling forms, designing digital forms, and even scanning documents with your iPad camera to convert them to PDF files.
You can also generate PDFs from various file types including Microsoft Word. This, along with its seamless handling of multiple files, makes it an excellent alternative for professionals who need to work with different types of files daily and want a straightforward and fast solution. You are also able to separate documents into different ones and password-protect them. This iPad PDF editing app can automatically extract data from scanned documents and run them through its OCR engine, saving your hours in preparing documents. You can also import files from cloud services like Dropbox iCloud etc.
Reasons to download:
Compatible with different platforms & devices

Work seamlessly with multiple file formats

Multiple annotating tools
Reasons to avoid:
Doesn't work very well with PNG files.

Most of the editing tools hide behind subscriptions
2. PDF Expert
Pricing: 7-day Free Trial; $49.99/year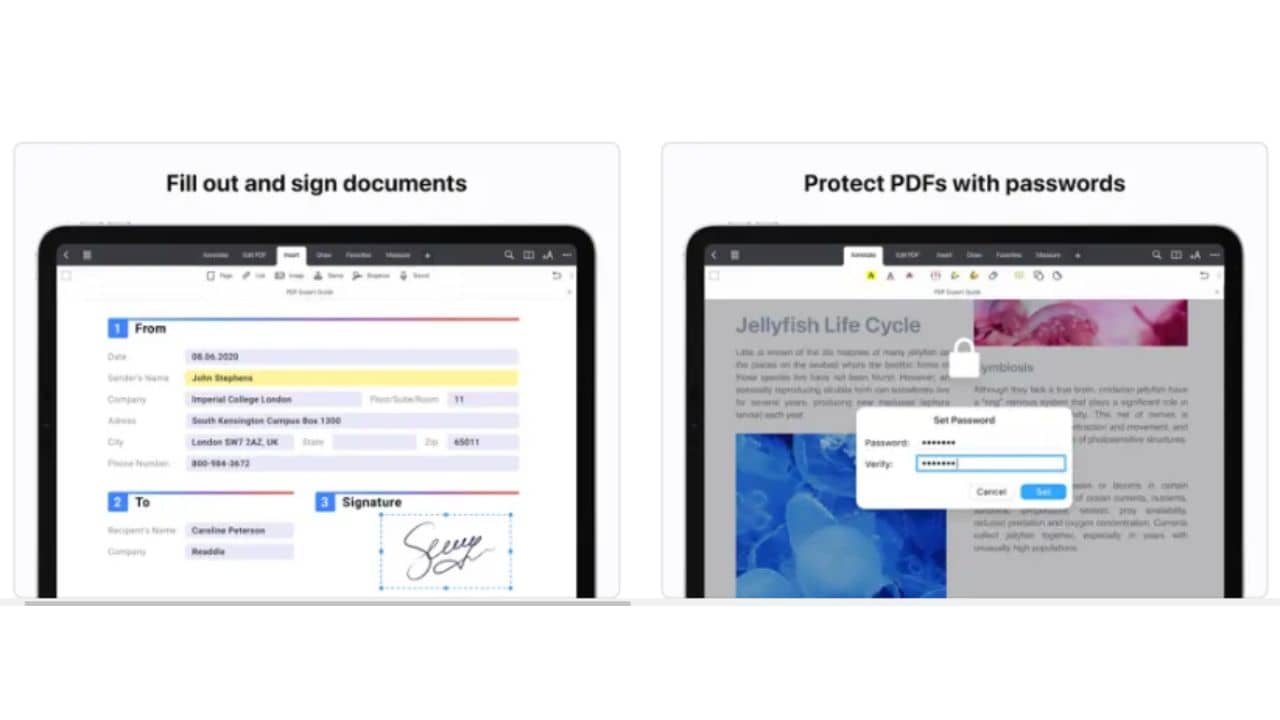 As the name suggests, PDF Expert is a comprehensive PDF reading and editing app for iPad. It's a very user-friendly app to read even the longest PDFs, with options to see two PDFs side by side, as well as a zoomed-out view to see every page in your document at once. When you need to edit, its practically concealed tools are waiting for you in the small and accessible toolbar.
In the default Annotate view, you'll notice annotation tools for highlighting or underlining text, adding signatures, and inserting shapes and comments. Open the zoomed-out view, which displays all pages at once, then drag and drop pages into the desired order, rotate pages, add new pages, or extract a part of another document into a new PDF easily by using Apple Pencil. You can also insert new photos or add links to text and images in your documents. It lacks OCR features and the ability to add form fields, but it is excellent for editing text, photos, and videos and formatting in PDFs.
It is simple to connect any element of the text to another page or even a website. You can also include links to photographs, which is great for making your information more visually appealing. The Redact tool allows you to permanently remove or hide important information in your PDFs, which is important if you're working on a group project. 
Reasons to download:
Edit PDF's original text with the same formatting

Smooth experience with Apple Pencil.

Intuitive interface that makes PDF editing experience flawless

It allows you to manage PDFs easily.

Effective Redact tool for securing sensitive information
Reasons to avoid:
Expensive as compared to other apps

No OCR and built-in forms support
Also read: Best Productivity Apps for iPhone and iPad 
3. pdfFiller
Pricing: 7-day Free Trial; 95.99 (for Basic Annual) and $119.99 (for Plus Annual)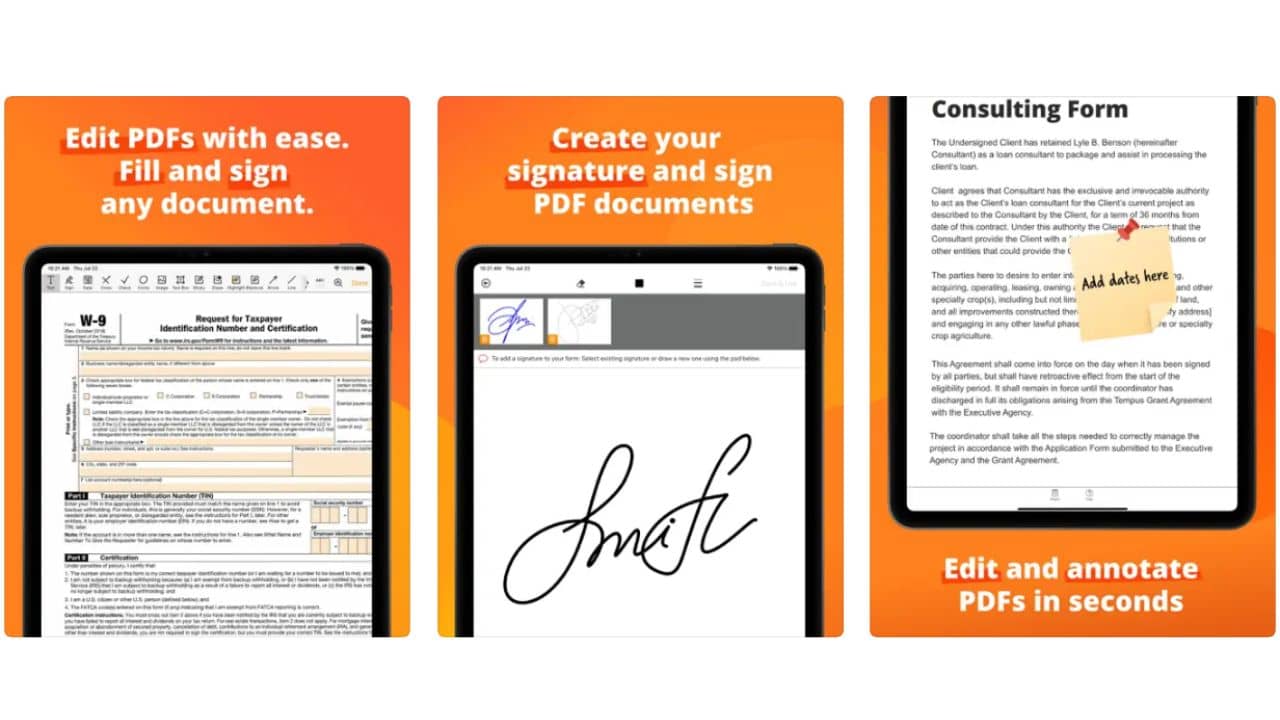 pdfFiller is an all-in-one PDF editing app for iPads as well as other devices such as iPhones and works with any web browser. It is developed with a wide range of features that can handle practically all PDF-related demands. With endless possibilities, you can produce a new PDF document, form from start, or update an existing one. 
No other program provides such a wide range of annotation options. Text boxes, forms (cross, circle, arrow), photos, videos, sticky notes, highlight, blackout, signature, and other elements can be added. The nicest thing is that you don't have to look for these tools because they're all nicely placed up on the top bar. It is as simple as sending an email invitation or making QR codes to ask someone to modify or sign a PDF. Furthermore, pdfFiller integrates with CRM applications such as Salesforce and Xero for professionals to collaborate easily. Users can also access pdfFiller's library of hundreds and thousands of PDF forms. 
Documents can also be accessed and signed within Google Docs, Gmail, Google Sheets, Office 365, and cloud services such as Google Drive, Dropbox, Box.net, and others.
Reasons to download:
Offers a plethora of PDF editing and conversion tools

Robust document organization & security features

Various ready-made templates available to download

Exports PDF in quickly filled forms

Spellcheck feature available

Works seamlessly with iPhone, iPad, Android & web
Reasons to avoid:
Most features are hidden behind the paid subscription
4. Adobe Acrobat Reader
Pricing: Free Plan Available; $24.99/month (though they have different plans for businesses, students, and teachers)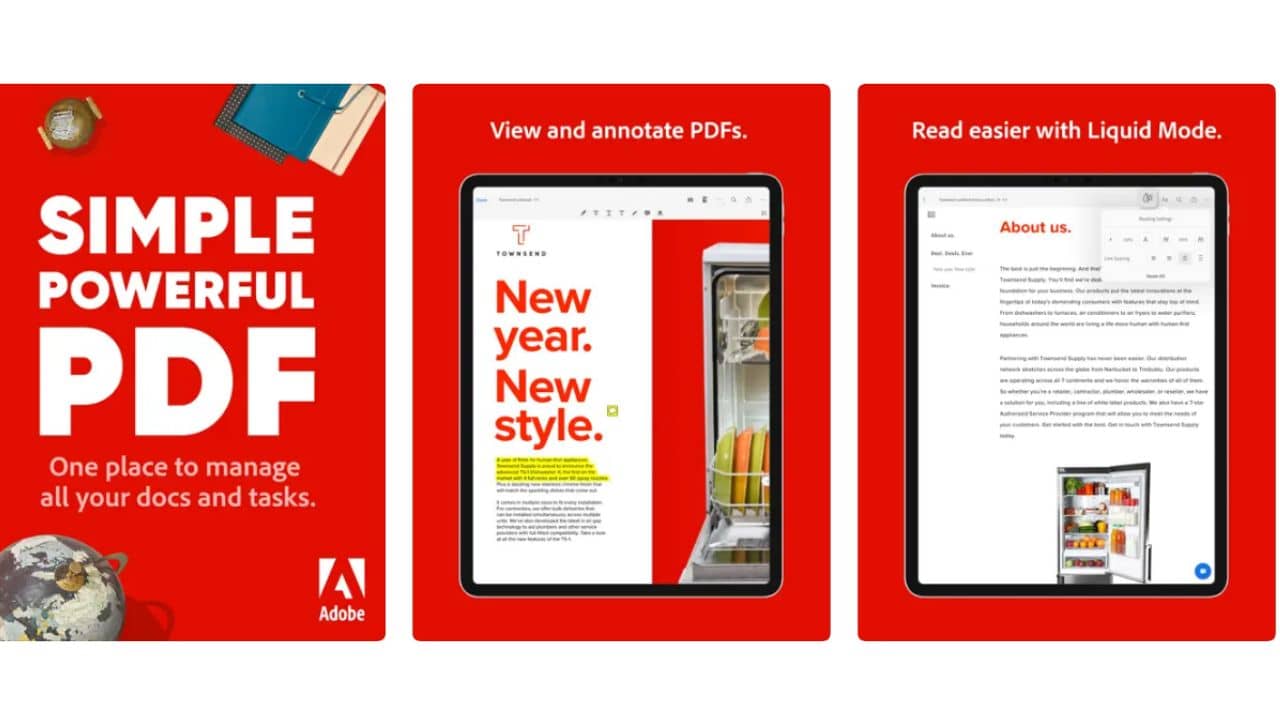 Adobe Acrobat Reader is one of the best PDF editing apps for iPad to edit and view PDF documents from anywhere, including Adobe's Scan app. With this app, you can annotate PDFs directly with your Apple Pencil. This means you can highlight, mark up, remark, and draw on your PDFs using Apple Pencil. It even makes it easy to fill out and sign the digital forms, which is certainly one of the main reasons for having a PDF app.
Acrobat can also use its basic word processor to create new PDF documents from scratch, as well as convert and combine existing files into PDFs. You can also use OCR from the Tools page to detect scanned text, combine or divide PDFs, redact data, and create forms that can summarize the information into a barcode for easy copying to other devices or apps. You can also connect Adobe Acrobat forms to different databases, and create mini-apps within PDF documents using JavaScript. Adobe certainly offers more than what you need to edit PDFs, but if you work with PDFs daily, this app is for you. Adobe Acrobat remains the industry leader with the most powerful PDF editing and production features. Furthermore, it integrates seamlessly with Adobe's ecosystem of enterprise apps. 
Adobe Acrobat Reader is free for basic PDF editing, but if you want to organize and manage large PDFs, you have to take a subscription.
Reasons to download:
Highly reliable

Multiple editing features 

Easy-to-use user interface

Track changes and user comments to collaborate

Works with Adobe's ecosystem of apps 
Reasons to avoid:
Download Adobe Acrobat Reader for iPad
Also read: Best Note-Taking Apps for iPad with Apple Pencil Support
5. Foxit
Pricing: Free Plan Available; $10.99/year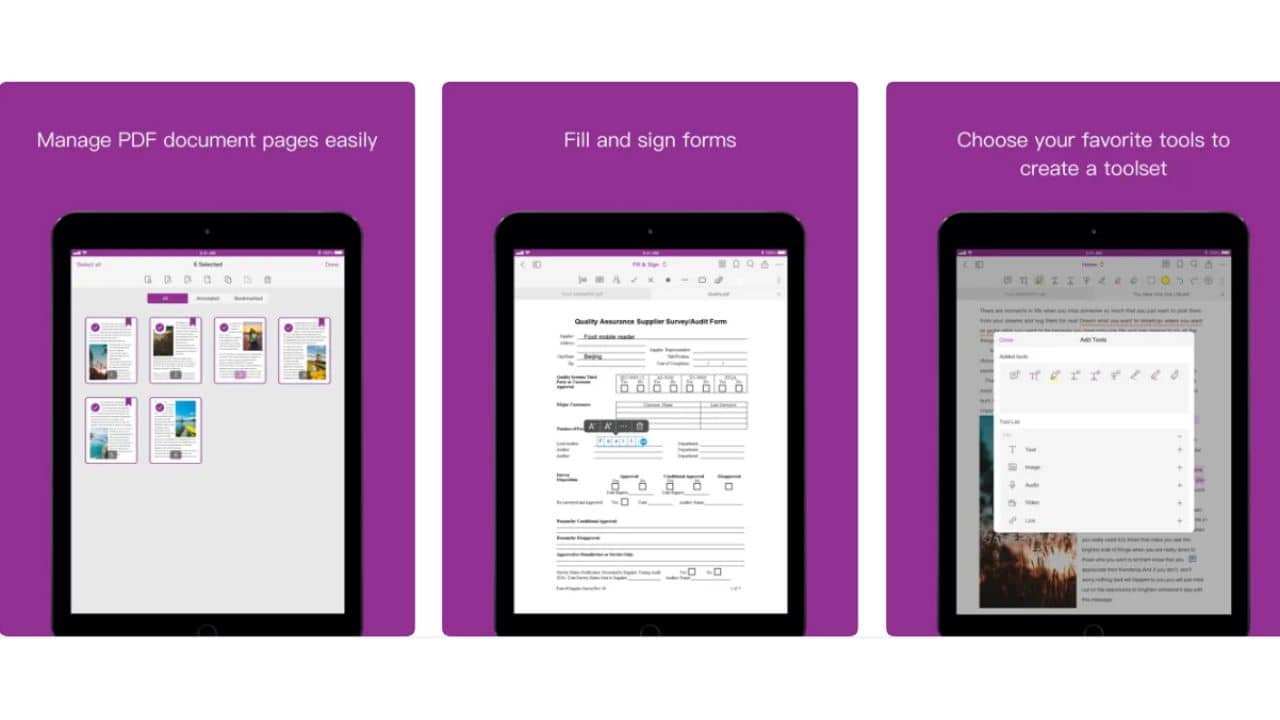 Foxit PDF viewer allows you to edit, sort, and store PDF files on your iPad effectively. Furthermore, Foxit allows you to go paperless by scanning paper documents with an iPad's camera and converting them to high-resolution PDF files. From there, you'll have an even better viewing experience, as well as the opportunity to edit PDFs on the move using simple-to-use tools. You can add text, and photos, as well as restructure files by adding, deleting, rotating, or removing individual pages. One feature worth noticing is the option to construct a custom tool set for easy access. Pair this with your Apple Pencil, and you've got yourself an easy-to-use free PDF editing app for your iPad Pro.
For seamless collaboration, you can easily exchange files and screenshots from the app. Furthermore, you can sync PDF files from cloud services such as Dropbox, Google Drive, and iCloud. Working professionals can use Foxit to fill out and save PDF forms, as well as import and export form data. You can even work on XFA forms with the premium version. You are also able to add handwritten signatures to PDFs and password-protect files for further security. With these and other features, Foxit is ideal for professional PDF users, since the creators pay close attention to user requirements. It also offers regular upgrades that enhance the user experience by adding different tools.
Reasons to download:
Basic to advance features in one app

The user interface is simple to use

Offers premium tools at a nominal price

Works with iPhone as well
Reasons to avoid:
Not able to handle complex documents.

The conversion tool can sometimes deliver inconsistent output.
Don't miss: Best Apps for M1 MacBook Air & MacBook Pro
6. PDF Hero
Pricing: Free Plan Available; $10.99/month and $49.99/year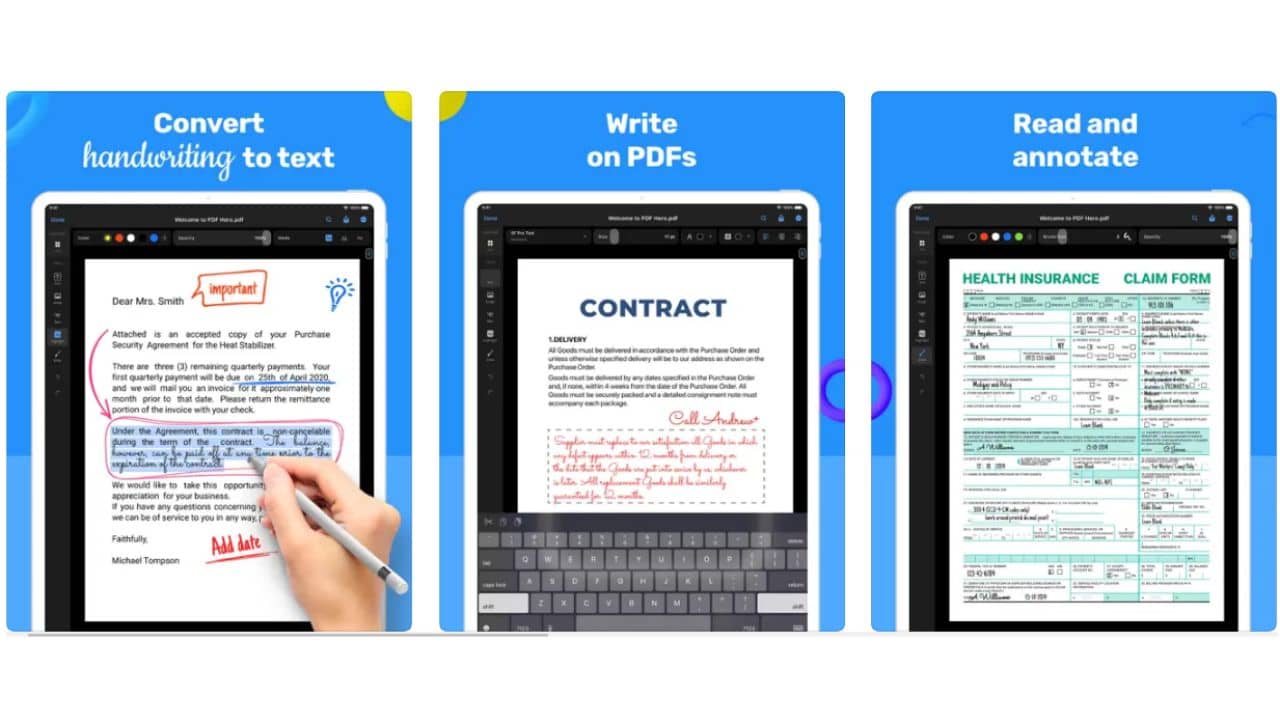 PDF Hero is a decent PDF editor for iPad that allows you to create, convert, edit, and annotate your PDF files. The Convert tool in the app can convert most other files into PDF documents, including websites whose content you want to save forever as a PDF file. The Create tool can be used to scan and create a new document that you want to save as a digital copy. You can also convert existing file types, such as Word, PowerPoint, Excel, and JPEG, into PDFs. 
PDF Hero supports Apple Pencil, so filling out forms and signing documents becomes easy. You can also protect your PDF files as well as choosing different levels of encryption. You can work on two different PDFs simultaneously with the multiple windows feature and make use of the big screen of iPads. With the premium subscription, you'll get OCR (Optical Character Recognition) to change PDF files into editable texts and many more useful features.
Reasons to download:
The annotation feature comes with bulk signing

Apple Pencil and handwriting-to-text conversion support

Many ready-made templates for faster document creation

The form-building tool works with all types of file formats
Reasons to avoid:
Sometimes it works slowly while handling big PDF files

Super useful features hide behind a subscription
Also read: Top 25 Apps for M2 MacBook to make the most out of it
7. Xodo
Pricing: Free Plan Available; with some premium features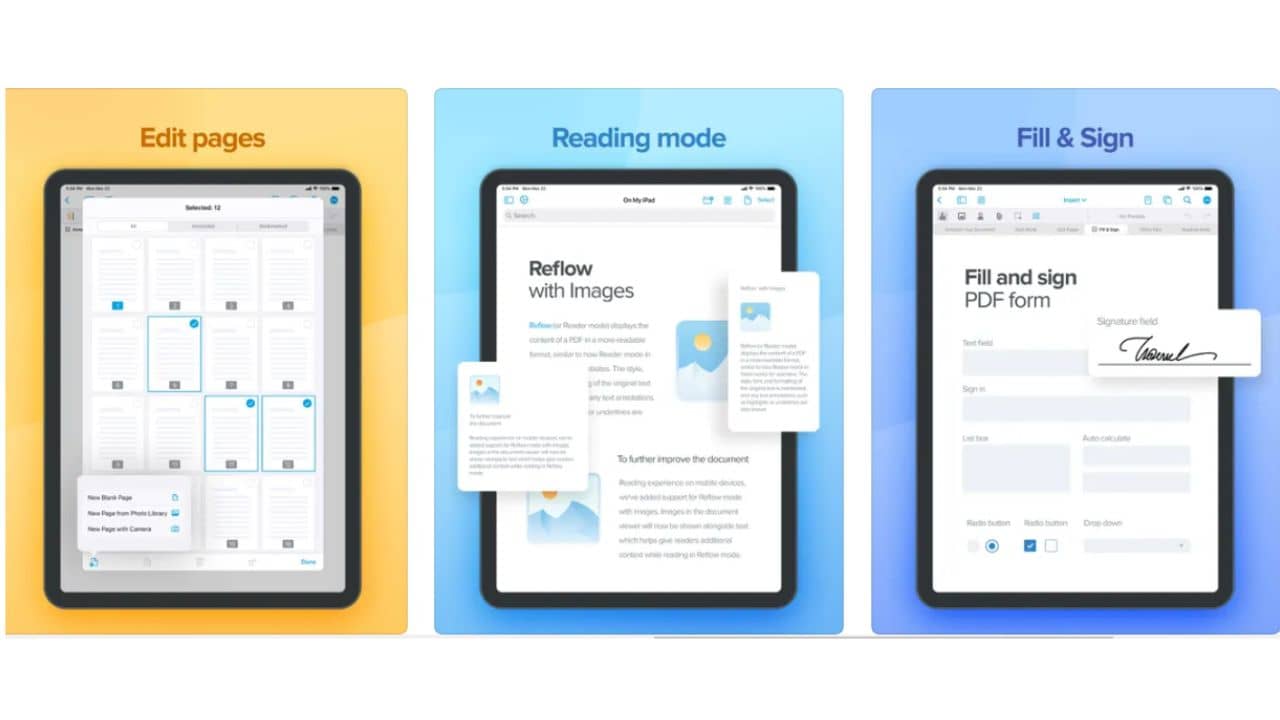 Xodo is one of the best free PDF editors for iPad Pro as well as other iPads. The app has a simple layout, performs well, and has all the necessary features for editing PDFs and notes. It enables you to work with all PDF files stored on your iOS and iPadOS devices or in other cloud storage services (Google Drive, OneDrive, Dropbox, and others). All PDF files can be signed, edited, highlighted, or underlined, and shared with other users at the same time.
You can make PDF files from scratch as well as interact with other files such as MS Office Word, PowerPoint, and Excel. Furthermore, you can use the iPad camera to scan documents and create fresh PDF files using this app. It also enables numerous users to access and collaborate on the same PDF or document.
Xodo is also intended for group work. As with most PDF editors, you could add typical comments and text notes, then download and distribute the PDF to your team. You can also collaborate on the same online document. After creating an account, you can invite individuals through email or copy a link to your document. Then, much like in
Google Docs, add annotations and collaborate using comments on your PDF right from your iPad.
Reasons to download:
Free app with smooth navigation.

Real-time collaboration to annotate PDF files.

Multi-tab view to easily manage different files.

Dark mode support
Reasons to avoid:
Premium features are not available.
8. LiquidText
Pricing: Free Plan Available; $4.99/month or one-time subscription of $29.99 (only for iPad)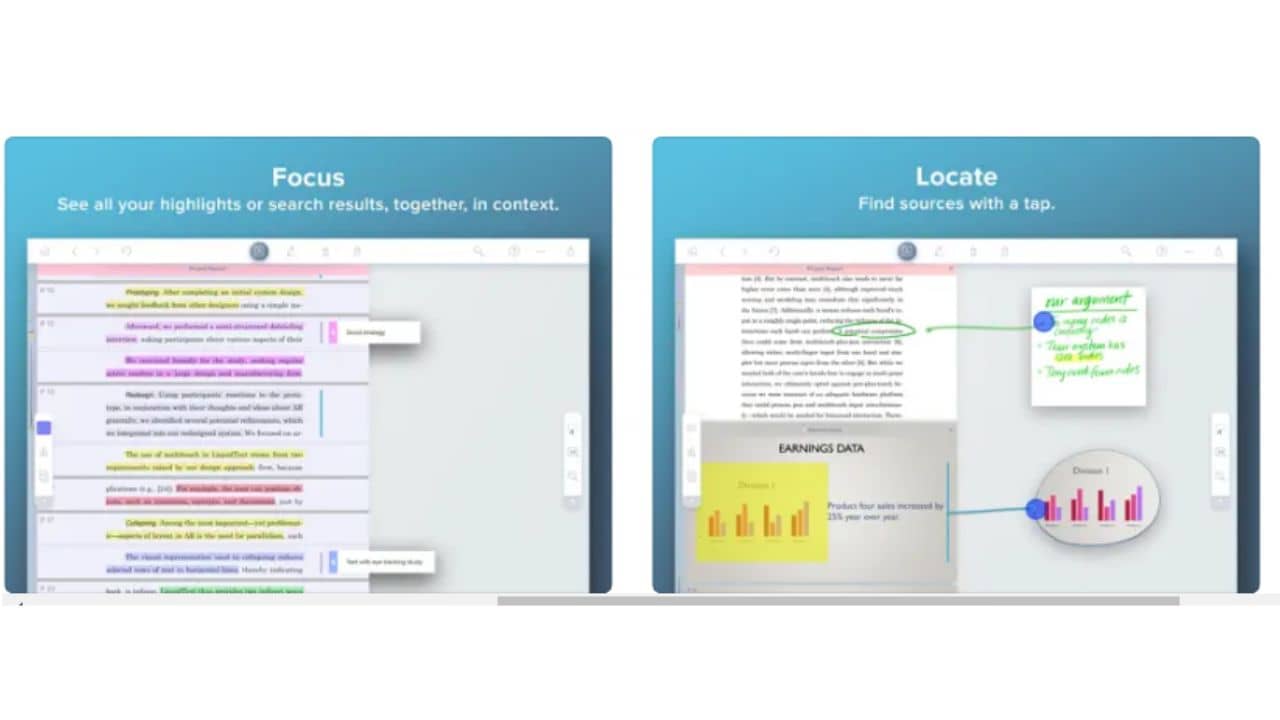 LiquidText is a top iPad PDF editing app that has been named Apple's Most Innovative iPad App of the Year and an App Store Editors' Choice. You can easily move document segments around with LiquidText. Then you can export files, and convert them to other file formats such as Docx.
You can use LiquidText to produce PDF files from scratch or import them from your iPad mini, third-party apps like Google Drive or DropBox, or even straight from the web. When it comes to editing, this PDF editing app for iPad Pro has a collection of tools that allow you to do everything from making notes to freely sketching over files, building mind maps, linking anything with drawing tools, and even comparing and evaluating two PDFs at the same time.
Because LiquidText features OCR technology, you can also search your documents thoroughly with the search bar and find any text, no matter how many pages are there. In short, LiquidText offers impressive PDF annotation features for free as compared to the other mentioned apps.
Reasons to download:
Easy-to-use interface

A vast range of import and export options

The note field is without any limits

Super useful for reviewing documents

Supports multi-device display and cloud backups
Reasons to avoid:
The synchronization is only available in the subscription.

More leaned towards annotation.
Also read: Best iPad Pro Accessories to buy right now
9. DEVONthink To Go 3 
Pricing: Free Plan Available; $ 1.99/month or $14.99/year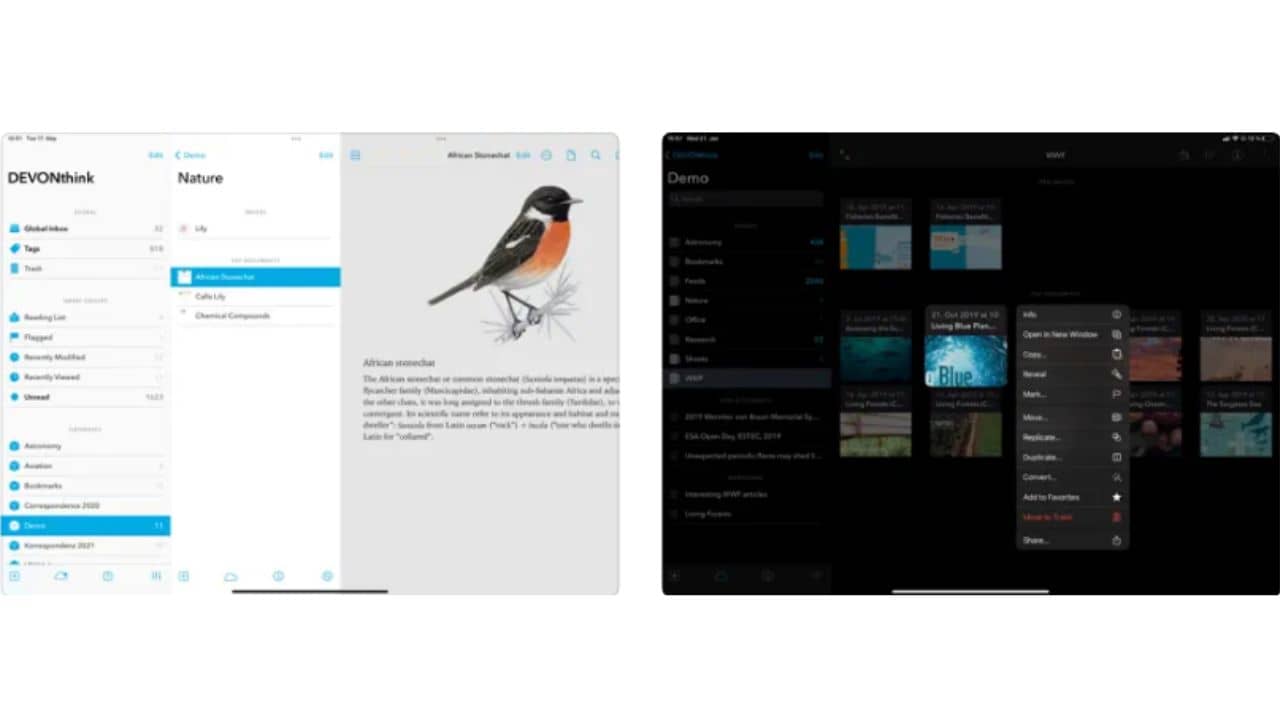 If you work with different formats of files with PDFs, DEVONthink To Go is a perfect choice for PDF editing on any iPad. This means you'll be able to manage many different formats of documents within this one app and edit them regardless of format. You can also make changes to any documents on your iPad as well as documents downloaded from the internet or imported from third-party applications.
The simple interface of this iPad PDF editing app makes all functions easily accessible while delivering a wonderful reading & editing experience. You can use it to perform everything from little changes to complete document redesigns with annotation, restructuring, and highlight tools. Furthermore, you can also clip web pages and sync your documents across the Apple ecosystem of devices.
Reasons to download:
Simplistic interface with basic features.

Variety of importing options

Syncs with Mac, iPad, and iPhone locally as well as via Cloud.
Reasons to avoid:
Lack of premium functions.
Download DEVONthink To Go 3 for iPad
Also read: Best AR Games for iPhone and iPad
10. WPS Office
Pricing: Free Plan Available; $9.24/month or $399/year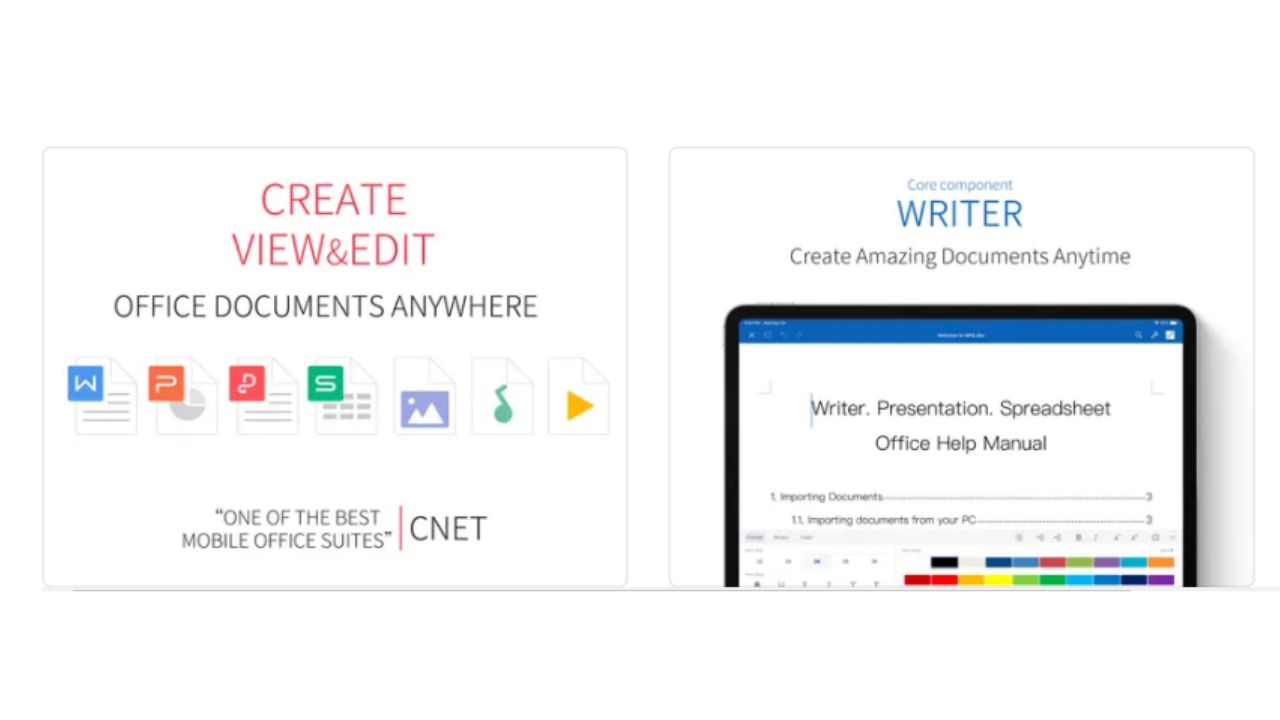 If you're someone who deals with a variety of file formats on a daily basis and needs an all-in-one app, then WPS Office is for you. It is an excellent software to have since it not only provides a free PDF reader and editor but also includes integrated applications that allow you to work with additional file formats.
You can easily work with Docs, Presentations, Spreadsheets, and PDF editors. When it comes to PDFs, you can convert practically any file type into a PDF, inspect it, and make changes with different tools that allow you to make not just minor changes but even big PDF modifications. When you're done editing the files, you can always convert PDFs to other formats like Word or PowerPoint-supported apps. However, one of the stand-out features of WPS Office is that it works with documents in 51 different languages. With over a billion app downloads, WPS Office is an all-in-one PDF editor & reader iPad application with support for a plethora of useful formats.
Reasons to download:
Smooth PDF conversion and editing

Offers an all-in-one app for different file formats

Cloud support for different platforms

Support 51 different languages
Reasons to avoid:
The ads are somewhat annoying and delay the work

Lack of premium features such as OCR
11. GoodReader
Pricing: Free Plan Available; $2.99/month and $17.99/year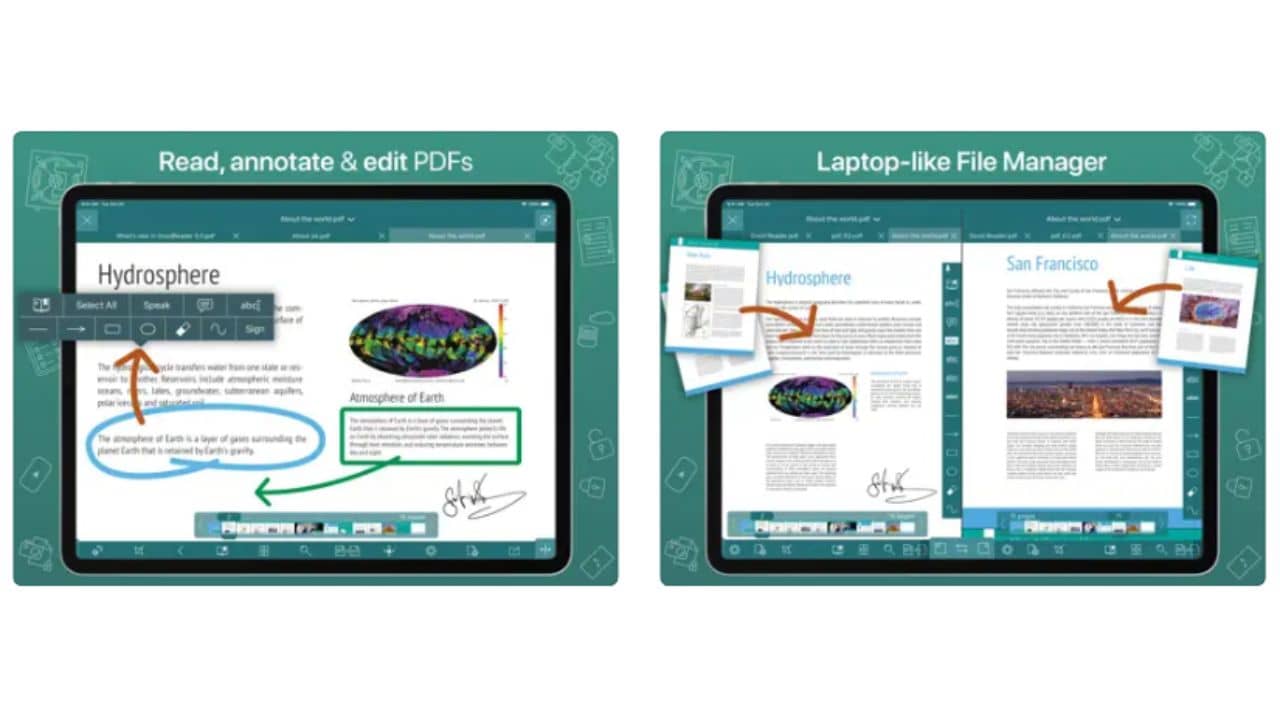 GoodReader is an excellent PDF editing app for iPad and iPhone. It can read PDFs like the other apps, but it can also handle a broad range of other file formats, including text files, HTML, photos, music, audiobooks, videos, and even MS Office documents.
You can use reading tools like PDF Reflow to make a document's text simpler to read on smaller displays without having to continually scroll sideways. Highlighting text and adding comments, as well as sketching, can be shared with others for collaborative purposes. This app can also handle file management, organizing files in one location, including those it cannot open itself, which comes in handy for lawyers who need to inspect documents. It can also connect to cloud storage services and data repositories like WebDAV, SMB, AFP, FTP, and SFTP.
Most features on GoodReader are in the Pro Pack which includes, a split-screen for viewing two papers side by side on an iPad, AES-256 encryption, and file syncing. The app, on the other hand, can be linked to cloud storage services such as Google Drive, Dropbox, OneDrive, Box, and so on. 
Reasons to download:
Wide range of annotation and reading features

Handles different file formats smoothly
Reasons to avoid:
More of a PDF reader and annotation app

Images and texts cannot be edited in PDF
12. iAnnotate 4
Pricing: $9.99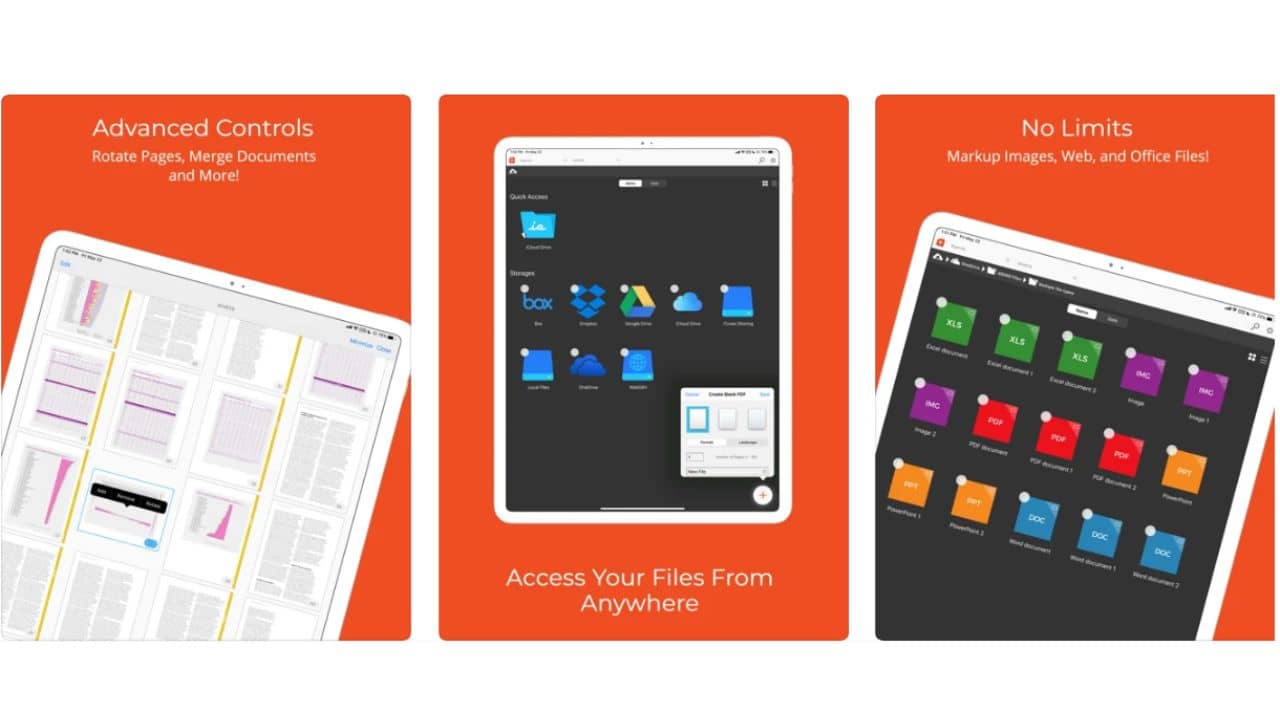 iAnnotate, is a feature-packed PDF annotation app for iPad as the name implies, it provides over 20 annotation tools. You can easily personalize the toolbar to display the most frequently used features first for faster access. Another useful feature is that you can use this basic PDF editing app for iPad to markup online pages since it will instantly convert the web page into a PDF document that you can then modify within the app. Furthermore, the accidental touches resulting from wrists resting on the screen of your iPad while working are not accepted.
iAnnotate 4 covers the basics, such as opening and viewing PDFs and documents, but it is capable of far more than you can imagine. The iPad Pro multitasking feature, which allows you to see two documents side by side, is the most appealing feature of iAnnotate. When you use an Apple Pencil, it will automatically annotate, and you can pan, zoom, and scroll with your fingers at a whim, with no tool switching required, which makes it an easy and streamlined experience. There are even keyboard shortcuts if you want to be as efficient as possible.
Reasons to download:
Many tools for annotation and editing

Customize toolbar for personalized editing

Voice recording feature
Reasons to avoid:
It takes time to load PDFs, especially if they are image-rich

The images in the PDF cannot be edited.
Conclusion
These are all the 12 best PDF editing apps for iPad that are worth trying. You can choose any app that fits your budget and needs. An iPad with an Apple Pencil will prove to be a great way to replicate pen and paper for editing, and annotating PDFs. All the apps mentioned here can be used on iPhones & Macs as well, so you can work with PDFs wherever you are. You can take benefit from these apps irrespective of which model of iPad you own.
Let us know in the comment section which app you are using for PDF editing. 
Also read: Best Language Learning Apps for iOS
13. Smallpdf 
Pricing: Free Plan Available; $12/month 

Smallpdf was created with a single goal in mind: edit and compress PDFs. But what sets it apart from the competition is its extensive multi-lingual support. This PDF editing app for iPad is available in 24 different languages and is used in 195 countries around the world.  
Smallpdf is a lightweight PDF editing app for iPad that is perfect for simple tasks, but not ideal for high-volume editing or advanced features. Using the PDF editing app is straightforward. Upload your PDF and begin making annotations and taking notes. You can also add pictures, text, and shapes to a PDF. PDF compression is one of the major strengths of Smallpdf, once you've made the necessary changes, Smallpdf allows you to compress a PDF or export it as a Word, Excel, or PowerPoint file.  This iPad PDF converter app also supports image files like PNG, GIF, BMP, and TIFF formats. Best of all, you can upload multiple files and edit them at once. If you have a small team and want a basic PDF editor for your daily needs, you can use the paid plan.
Reasons to download:
Excellent file compression tool

Comprehensive PDF tools for conversion, editing, security, signing, etc.

Users can password-protect their PDFs

Supports electronic signatures
Reasons to avoid:
Doesn't do well with large PDF files

Tools are difficult to navigate between
Also read: Best Must have Productivity Apps for iPhone and iPad
14. I Love PDF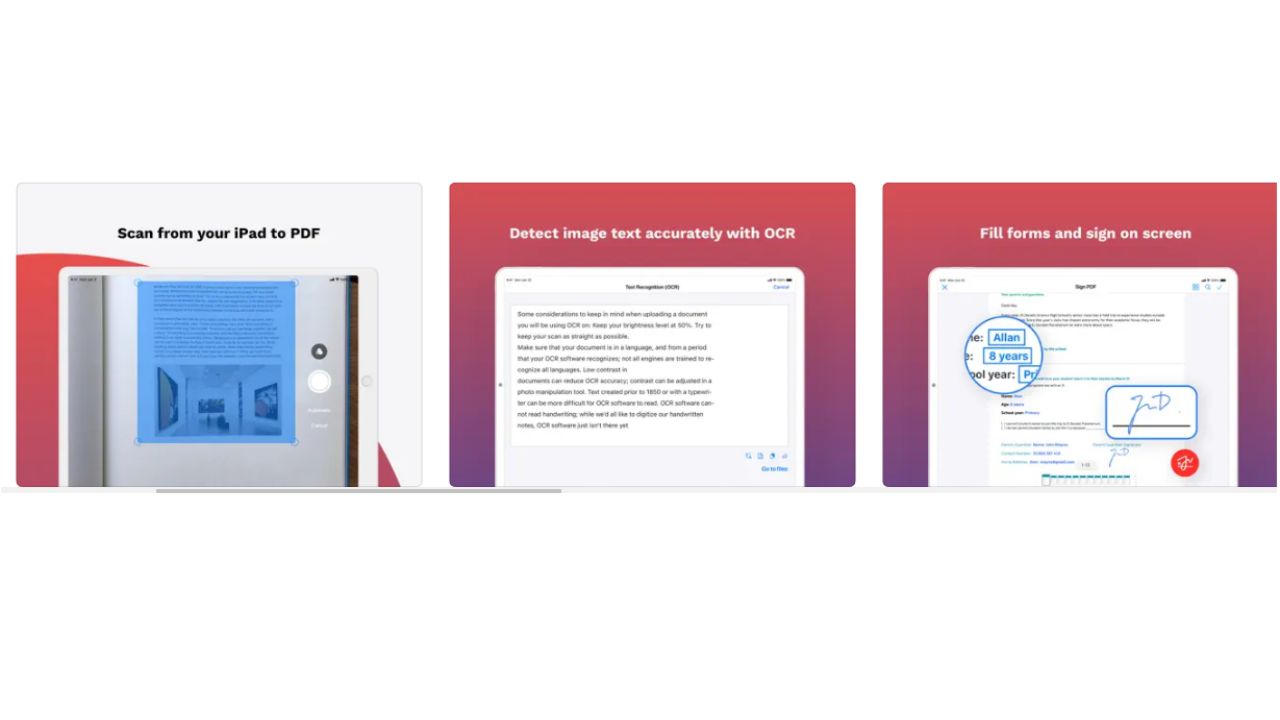 I Love PDF is an amazing PDF editing app for iPad that allows you to make changes to PDF files in a number of ways. You can merge PDF files together, split a single one into multiples, and convert documents to and from the PDF format. The only thing you cannot do is, alter the original content of a PDF, although you can add additional text boxes, images, and shapes. So, it's not a full-fledged PDF editor like Adobe Acrobat DC. You can only add extra text boxes, shapes, and images. 
Despite this, it does contain a number of interesting features that are cleverly implemented. That includes being able to use your iPad's camera to scan documents. You can easily add page numbers to every page, or even a watermark, and of course, add a digital electronic signature to a document. The PDF editing app for the most part offers free features. A handful of tools have limited functionality in this. But it should be suitable for most people's needs. If you require more advanced features like OCR and offline PDF editing, then you have to go with the paid plan.
Reasons to download:
Very easy to use and intuitive

Good for minor document manipulation

Mostly free services with some clever online tools
Reasons to avoid:
Certain advanced features require a subscription
Also read: Best iPad Pro Accessories to buy right now
FAQs for Best PDF editing apps for iPad
How to choose the best PDF editor for you?
When looking for a PDF editing app for your iPad always consider how many PDF documents you work with and the editing tasks on a daily basis. If is it just basic editing, annotation, and marking then look for basic editors like
Xodo and Goodreader but if you work with large documents and do extensive changes then go for apps like PDFfiller and Adobe Acrobat Reader. 
What should you look for in a PDF editor?
There are things you should keep in mind while choosing a PDF editing app for iPad:
The edited version of your documents should retain the same formatting as the original one. 

For basic editing, use clean and easy-to-use interface apps with few features, and for heavy editing use advanced PDF editing apps with a lot of features.

How often do you use PDFs and do you need to invest in paid apps?

Any PDF editing app you choose should be able to edit and save (local and cloud) documents on the go.

If you work with documents that contain sensitive data like business deals, property documents, etc. Always look for a PDF editor with security features that allow access to authorized eyes only. 

What are the common problems when creating PDF documents?
Super basic PDF editing apps often have problems while working with PDFs made from scratch. These problems include:
Uneven bleed across pages

Low image resolutions

Overprint and incorrect formatting 

Missing or wrong fonts
Also read: Best End-to-End Encrypted Messaging Apps for iPad and iPhone
These are all the 12 best PDF editing apps for iPad that are worth trying. You can choose any app that fits your budget and needs. An iPad with an Apple Pencil will prove to be a great way to replicate pen and paper for editing, and annotating PDFs. All the apps mentioned here can be used on iPhones & Macs as well, so you can work with PDFs wherever you are. You can take benefit from these apps irrespective of which model of iPad you own.
Let us know in the comment section which app you are using for PDF editing. 
Also read: Best Language Learning Apps for iOS