Smart devices have become a vital part of modern life. While it is popular among young and active people, most aging parents are not very keen on using them. Even buying a new TV for watching sports feels like an adventure quest. However, the benefit it brings to the picture is numerous. pun intended
By this time you must have heard and read the news that a smartwatch saved the life of many people by detecting possible heart attacks, coronary heart disease, or even arrhythmia. That's not all, even in some cases, smartwatches have been able to detect car crashes and informed emergency services about the location of the accident site for immediate care. 
In our view, the benefits of using a smartwatch for senior citizens are numerous. Many smartwatches out there have the potential to drastically improve the lives of senior citizens in so many ways. For instance, features like SOS emergency services, fall detection features, help buttons, and many more can be beneficial during times of stress for old people when they are far from caregivers. So, why not use them? Well if you are a caregiver or elderly reading this, please be aware that tracking your vitals after the age of 60 is very important to diagnose any disease or body condition. And, a
smartwatch is the best device to do so.
If you are planning on getting one soon for your old man or granny, we have mentioned a few useful features in the section below, have a look at them. 
Top features to look out for in a smartwatch for seniors 
Fall Detection
The fall detection feature is one of the key aspects of smartwatches for seniors as it can sense whenever the wearer has suffered a hard fall and sends an alert for help. The smartwatch tries calling either 911, emergency services, or any preassigned emergency contacts. Therefore, if elderlies at your home have a fear of falling, or recently had knee surgery or incident, make sure to buy a smartwatch for seniors with a fall detection feature.
Heart rate monitoring and Atrial fibrillation feature
If you have an elderly in your family with a cardiovascular condition or history, a smartwatch for seniors with a heart rate monitor can be lifesaving, like literally. There have been thousands of cases where smartwatches, especially the Apple Watch have diagnosed possible heart attack or any sort of blockage. To remind you, the latest Apple Watch comes with an Atrial fibrillation feature that can detect an irregular and often very
rapid heart rhythm (arrhythmia) that can lead to blood clots in the heart. 
So, if you are planning to get a smartwatch for seniors with high blood pressure or heart conditions, make sure to choose the one that offers heart monitoring features. 
SOS and Emergency services
These days smartwatches come with a built-in SOS or medical alert button. It is a discreet and innovative feature introduced by brands to help prioritize users' personal safety when nobody is around to help. We have seen such help buttons on some of the best smartwatches for seniors. When the SOS button is pressed, your device will automatically connect you with a 911 dispatcher or send your location to your emergency contact. While some other senior-oriented smartwatches will connect you to a live agent to figure out the problem and offer help at the earliest. 
GPS tracking
If you are looking for a smartwatch for seniors with dementia or Alzheimer's, make sure that it has GPS in-built. Patients with Alzheimer's tend to lose their memory, therefore, it can be handy to tack them down if they can't find the route back home. In addition, GPS trackers in a smartwatch for the elderly can be used to monitor their daily activities like running, jogging, walking, etc.  
Step counter
Step counters (or pedometers) are one of the common features you'd find even in a budget smartwatch for seniors. It is a handy feature and is a great way of tracking your daily activities. Many experts agree that senior citizens greatly benefit by walking anywhere between 5000-10000 steps per day. Therefore, it can lead to sustaining a healthy retirement life for you or your parents. 
Water-resistant
Most smartwatches for seniors come with some level of water resistance. Therefore, they will come out fine even after a long shower or swimming session. If your parents often swim as their daily workout activities, a smartwatch for seniors with an IP67 waterproof rating feature will be super handy for them. Don't forget to gift them one this holiday season. 
Voice commands
Voice assistants have been around for years now and now they have finally taken over almost every smart device you could find. However, having such technology on the wrist of senior citizens at their families makes their life even easier. A user need not type or press buttons, they can just input a voice command and it will be processed. For example, trigger commands like 'call my son/daughter (name)' will make the smartwatch call your son/daughter. It's that simple.  
Now that we know some top features to look out for, let's jump onto the list of best smartwatches for senior citizens to buy in 2023. 
List of the best smartwatch for seniors you can buy in 2023
1. Apple Watch Series 8
(Best Smartwatch for Senior Citizens)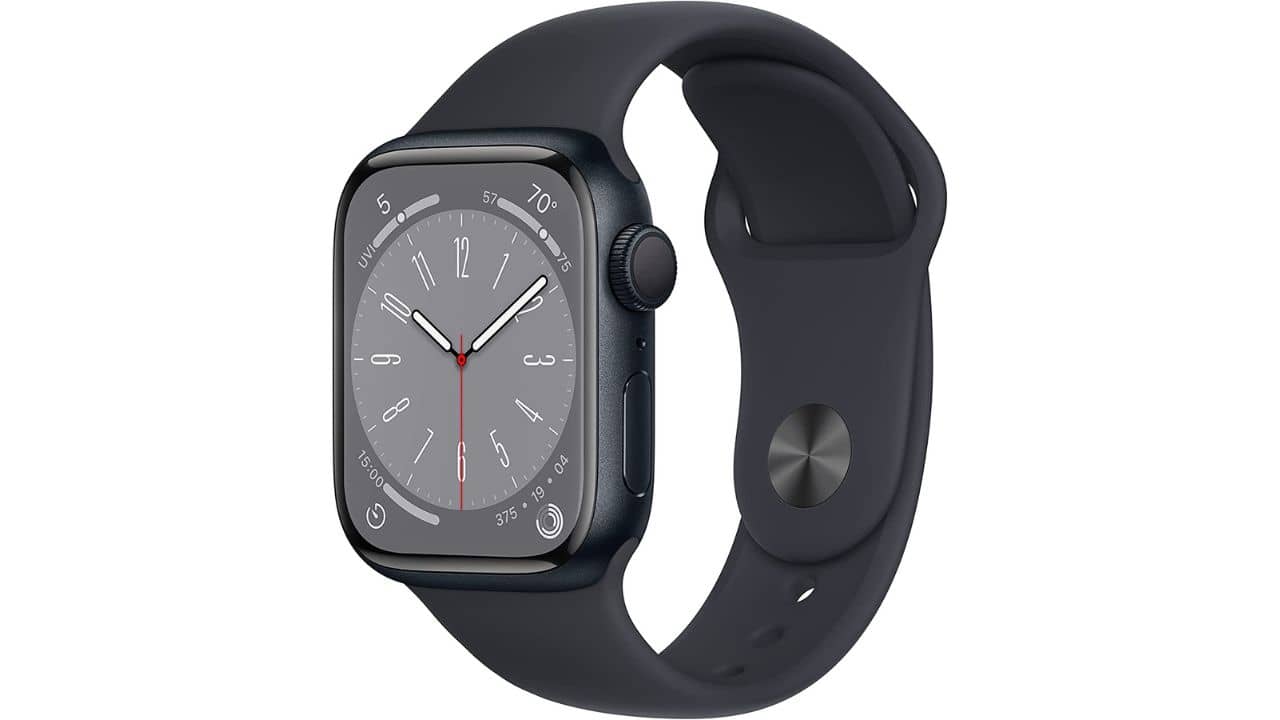 If you are looking for the best smartwatch for seniors, the Apple Watch 8 series is one you should consider over any other options. This Apple Watch has all the features required to top the list of health smartwatches for seniors in 2023. Yes, the Apple Watch Series 8 is not just for young and active people, it serves as one of the best smartwatches for the all-age category, including parents or even grandparents at your home. As Apple tech is evolving, the Cupertino tech giant is trying to integrate extra health monitoring features keeping elderlies in mind. For example, the smartwatch from Apple includes advanced health and fitness features such as fall detection, medication reminders, heart health notifications, emergency SOS, location sharing, and more. Besides, it can track your parents' sleep quality, sleep patterns, and daily activities like walking, running, jogging, cycling, swimming, etc. 
One of the major features of why the Apple Watch is loved by many is because of its accurate fall detection feature. If Apple Watch detects a fall, it will 'tap' you on the wrist with a buzz, sound an alarm, and displays an alert. You can opt to dismiss the alert by pressing the 'digital crown' button or choose to contact emergency services. You can also close the alert by tapping the "I'm OK" message as shown on the screen of the Apple Watch. If the watch senses that you are moving, it will wait for you to respond for about 60 seconds. If not, it will start a 30-second timer while tapping the countdown on the wrist with a buzz and alert sound. The alert sound gets louder as time passes by so that you or someone near you could hear it to respond. If no one cancels the timer before it ends, it will immediately contact the emergency services. Your current location (as longitude and latitude) is shared via Apple's GPS location monitoring feature. As soon as the call with emergency services is completed, the emergency contacts that you set up using the Health App, will be notified about the fall detection and emergency services being informed. It is worth mentioning that unless you confirm that you didn't fall, all detected falls are recorded in your Health App. 
Besides, if you have any one of the four iPhone 14 models, Apple Watch could be even more handy. If you are not aware, Apple Watch can detect severe car crashes if it is connected to any of the iPhone 14 models. As soon as a car crash is detected, emergency services are contacted along with your details of latitude and longitude coordinates. So, if you are able to respond, you can talk to the responder and explain your situation. If you aren't responsive and couldn't attend the call, the Apple Watch will play a looped audio message to emergency responders about the car crash and you're not responding. 
That said, another major upgrade introduced to Apple Watch that can benefit seniors was a built-in electrical heart rate sensor. And, with the help of the ECG (electrocardiogram) app on the watch, you can get a reading of sinus rhythm, atrial fibrillation, and low or high heart rate. The best part is that this senior smartwatch with a heart monitoring feature is that it stores your medical data and allows you to share it with your caregiver or doctor to diagnose any health condition. That's why we think that the Apple Watch is an excellent smartwatch for seniors or aging parents. It allows families to get peace of mind while allowing elderlies to enjoy their freedom. 
Since Apple Watch comes with a plethora of features, you might get worried that you might face difficulty using it. Well, to be honest, Apple Watch is an excellent device, but it is not the easiest-to-use smartwatch for seniors, especially if you are non-tech savvy or don't have an iPhone. But that doesn't matter as the good news is you can pair your Apple Watch to your caregiver's iPhone as well to keep track of health data. 
All in all, if you are eyeing the best smartwatch for senior citizens with all sorts of health and tracking features, Apple Watch Series 8 is the right pick for you. 
Also read: Best Widgets for Android Home Screen
2. Fitbit Sense 2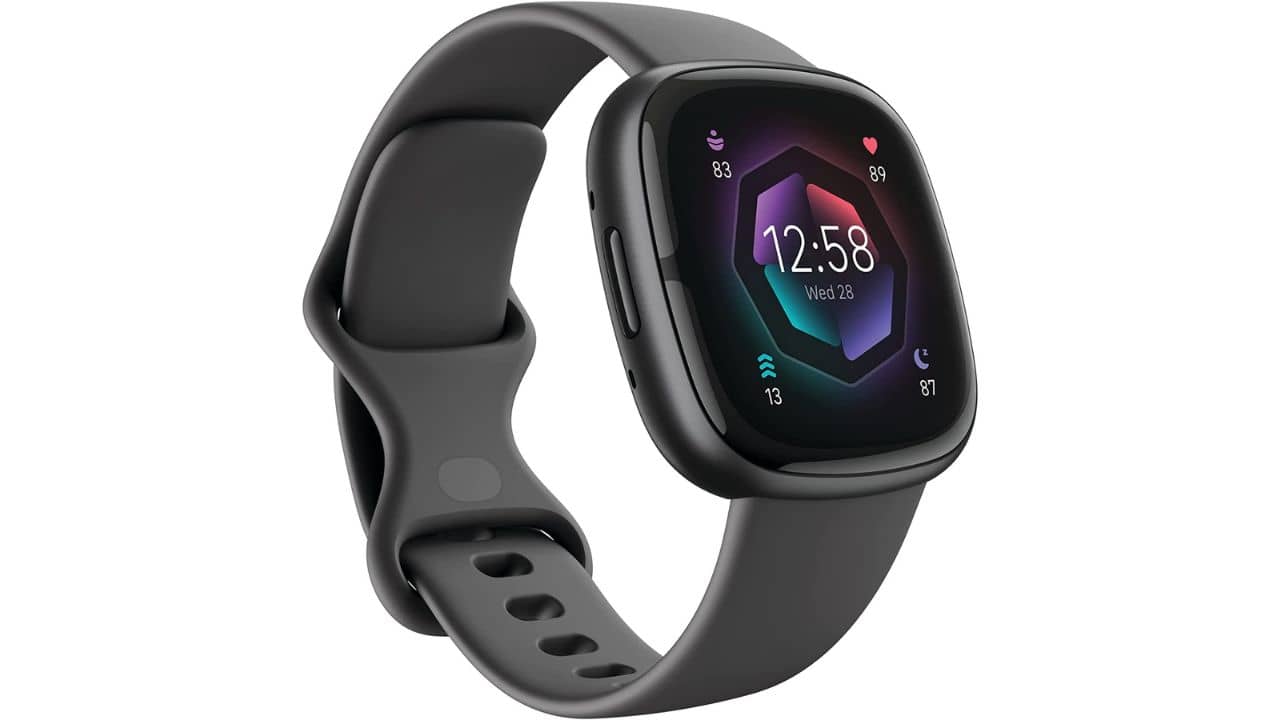 The Fitbit Sense 2 is one of the premium smartwatches for seniors that comes with amazing health and activity tracking features. It stands out as the best health smartwatch for aging parents who are looking for in-depth health metrics and a bigger customizable screen. Enough talking, let's just focus on why Fitbit Sense 2 is good for senior citizens. Well, the first and most important feature we would like to put out is that this heart-monitoring smartwatch for seniors offers an atrial fibrillation detection feature. If you are uninitiated, it is an advanced and reliable health feature that detects the irregularity in the heart rhythm which we also saw on Apple Watch too. It is a vital metric in a smartwatch for the elderly who already have pre-existing heart conditions. Not only that, but you'll also receive notifications for low or high heart rates, which are important vitals to watch out for. 
If your parents are always on the go, the in-built GPS can be handy to track them when they are in a different city. It can also be useful to track their daily activity such as runs, rides, hikes, and other workout activities. All of that can be viewed easily via the Fitbit app. The Sense 2 can detect over 20 workout modes and gives accurate activity data to work on your fitness levels. 
Besides, health and fitness features, it also supports major virtual assistants like Google Assistant and Alexa. Talking of calls, seniors can use this fitness smartwatch to answer or make calls right from their wrists, without having to access the phone. That's not all, we love that it has a built-in
Find MyPhone app, just in case you lose your phone outdoors. Compared with other smartwatches for senior people, it is still a good deal to grab. 
Of all that said, this smartwatch for senior citizens is on the bulky side, and there are plenty of features that can be overwhelming. Therefore, we suggest you help your parents set up the watch before they start using it. 
Also read: Best eBook Reader Apps for Android
3. Samsung Galaxy Watch 3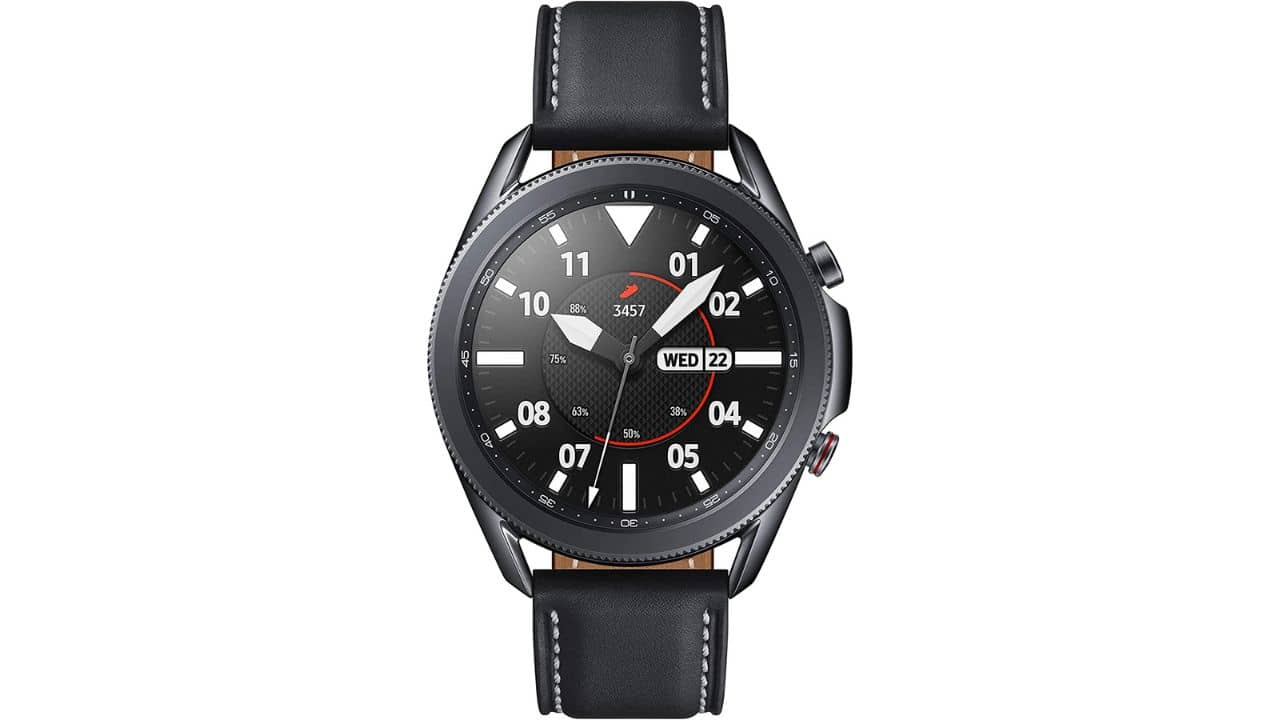 Fall detection is one of the most important features that should be considered when buying a smartwatch for senior citizens. Talking of the health feature, the Galaxy Watch 3 is among very few smartwatches for seniors with a fall detection feature. Not only that, but it also contacts family members added to an emergency contact if the affected person doesn't respond to the alert within 60 seconds of falling. Other than this, it has a clean UI and is a pretty good option for anyone looking for an easy-to-use smartwatch for seniors or aging parents. As far as durability is concerned, the Galaxy Watch 3 comes with MIL-STD-810G certification which suggests it can survive any harsh condition. For instance, it comes with water and dust resistance, shock resistance, and durability under low pressure, vibrations, and even high altitude. Of all that, we find the drop resistance quite good, this smartwatch can survive a drop from a height of up to 4.9 feet. 
Let's not forget, the Galaxy Watch 3 works with an LTE cellular plan too. And allows elderlies to make or receive calls, and send or receive texts right from their wrist. While this health smartwatch for the elderly can be paired with both Android and Apple devices, it will be easier for seniors who have been using Android for a long time. Apple users might face issues understanding the features of this smartwatch, just another cross-ecosystem problem. Besides these features, you will also get basic health tracking features as you'd find in any other Android smartwatch for senior citizens. You can track steps, outdoor activities, indoor workouts, sleep cycles, stress levels, and heart rate monitors using this Samsung smartwatch. Moreover, if you find it difficult to use the watch, you can use Bixby, the native virtual assistant from Samsung, to do pretty much everything when it comes to texting and answering calls. That's not all, elderlies can customize the watch faces from thousands of options available as per linking.  
In short, if you are searching for the best Android smartwatch for seniors in 2023, the Galaxy Watch 3 is the right pick for you. 
Also read: The 12 Best Phones for Seniors to Buy in 2023
4. Amazfit Verge Smartwatch (Easy to use smartwatch for seniors)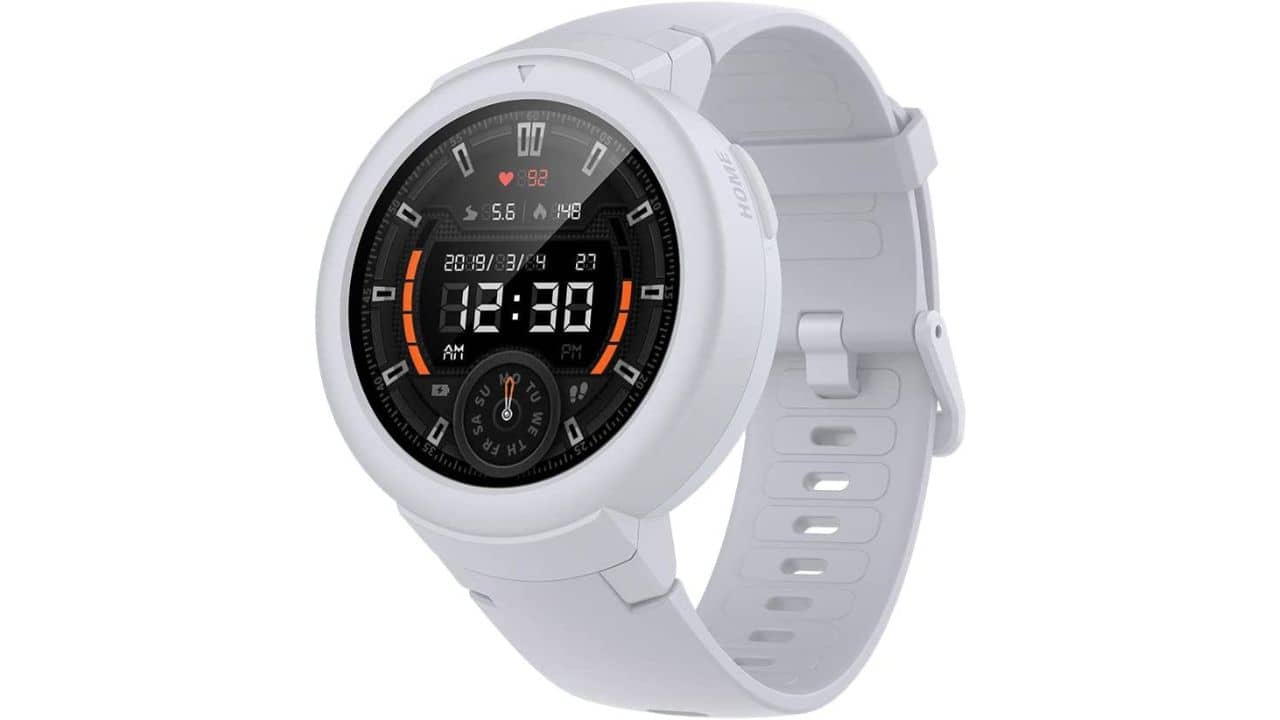 If you are looking for an affordable smartwatch for seniors with health monitoring features, the Amazfit Verge Lite is the one you should consider. This Android smartwatch for seniors comes with daily activity-tracking features. Talking of looks and design, the Amazfit Verge Lite flaunts a slim look accompanied by an always-ON transflective display and solid built quality. It is bright enough to check out time or other vitals even in the peak daylight when your parents are outside sipping Margaritas. On top of that, it stands out as one of the top heart-monitoring smartwatches for seniors, all thanks to the advanced trackers embedded inside. For instance, the wearer will receive an alert when their heart rate is high or when it is beating too slowly. For a regular adult, it could be a casual matter, but for elderlies with heart conditions, these features can be life-saving at times. Further, this smartwatch can track sleep, giving you insights about deep sleep, light sleep, and REM. For better sleeping habits, you can easily look up to the collected data and ensure that you get proper sleep as it contributes to good health. 
If you are looking to buy a smartwatch for seniors with a GPS feature, Amazefit Bip S stands out as an amazing contender too. For instance, GPS tracking can be handy for seniors moving to a new city. You can set a pre-route on the way home so that elderlies can reach home safely. If you are worried about the smartwatch's battery life, you don't have to, with the Amazfit Verge. Why? While most options out there provide about one-day battery life with all, this health smartwatch for seniors lasts for about a month on a single charge. That's not all, you can easily make or answer calls without pulling out your phone. And, you can voice trigger the device to contact someone using the in-built
In short, if you are looking for a smartwatch for seniors with daily health tracking features and just the essentials, the Amazfit Verge is an ideal option. 
Also read: Best Rugged Smartphones of 2023: Complete List of Waterproof, Shockproof, and IP68 Mobiles
5. Apple Watch SE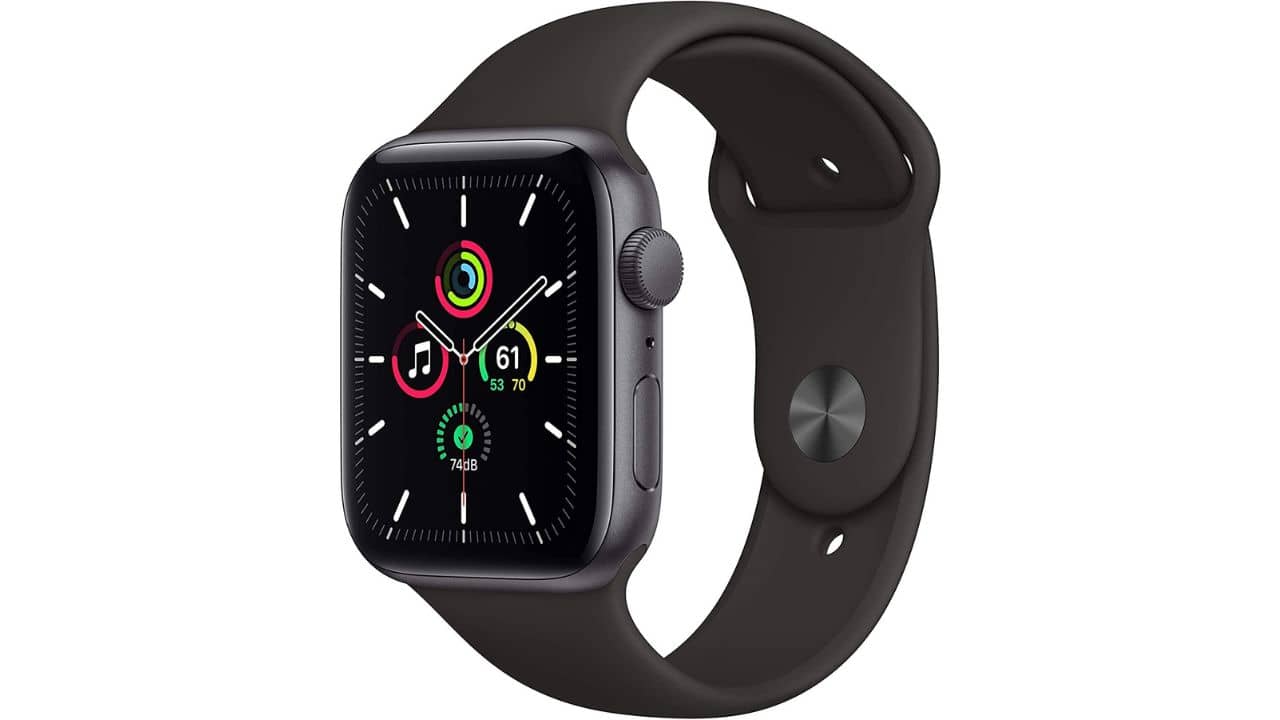 Are you eyeing a premium smartwatch for seniors with high-end features in 2023? If yes, look no further than the Apple Watch SE. This little brother from the Apple Watch family comes with all the features that help seniors stay connected with far-flung relatives and their loved ones all the time. First off, let's talk about health monitoring features. This smartwatch for health monitoring for seniors comes with heart rate monitoring and fall detection features. Apart from the health tracking, it is also easy to use the smartwatch for seniors. The interface is fairly simple and easy to adapt over time, whereas the larger fonts within the device make it one of the top smartwatches for seniors with poor eyesight. If you think that's enough, there is a digital crown on the sides to make scrolling through menus a breeze. Talking of emergencies, the Apple Watch SE features an
emergency SOS feature as well. You can easily enable this to call the emergency response team or contact your emergency contacts by pressing and holding the side button (button below the Digital Crown). Once you press it, an Emergency slider will appear, and you can easily swipe your fingers and start the call. That's not all, Apple Watch SE will also send alerts for texts, social media messages, and reminders that you've created on your iPhone or Mac. To remind you, this Apple Watch comes with a Wi-Fi-only model and an LTE variant as well. The built-in cellular option in this smartwatch for seniors allows you seamlessly make or receive calls even when you're not carrying your iPhone. Moreover, it also comes with a noise monitoring feature that alerts you if the surrounding noise levels are too high. How can we forget to mention that it has several fitness tracking features, including a steps counter, workout tracking, activity goals, and much more?    
In short, if you are looking for a reliable and easy-to-use health smartwatch for seniors at a budget-friendly price, the Apple Watch SE is a no-brainer. 
Also read: The 10 Best iPhone 14 Alternatives You Can Buy in 2023
6. MGMove Medical Smartwatch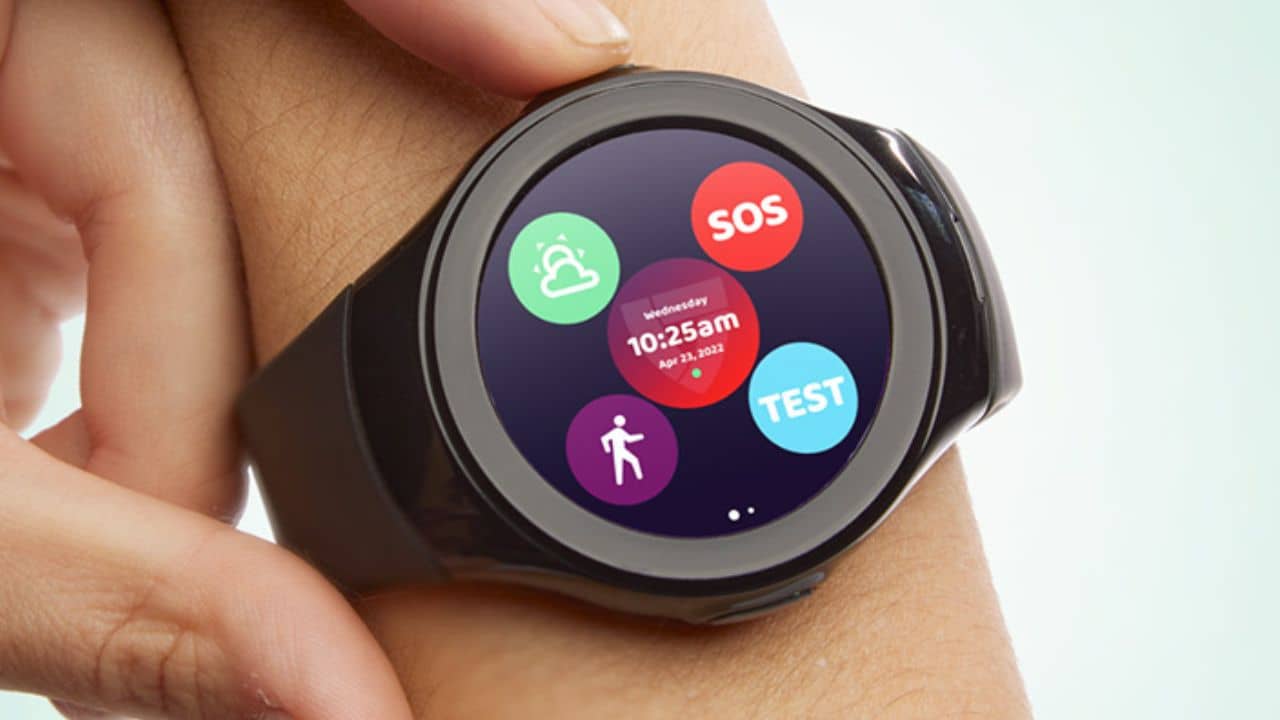 If I have to compare MGMove's design with any other smartwatch for seniors from this list, it will sit right next to the Samsung Galaxy smartwatch. The MGMove medical smartwatch for senior citizens flaunts a circular watch face with a decent screen size of 1.25″. It isn't as bulky as the other smartwatches, but when it comes to aesthetics, it gets a lot of points. So, if you are in your 70s and still love to go out for a walk or run every day, the MGMove medical smartwatch should come in handy for you. It comes loaded with medical and safety features. Talking of that, this medical smartwatch for seniors comes with 24/7 access to a TMA Five Diamond monitoring center, two-way talk with a monitoring center agent, GPS location detection, and caregiver location tracking through the My Guardian portal or app. You can also use step trackers and weather apps that can be useful to decide whether you should go to the park the next morning or not, given the weather forecast shown on the smartwatch. Getting older might result in losing touch with the outside world, but not with this health smartwatch for seniors. This smartwatch comes with a group of apps called Social Circle which is specifically designed for old age people. The first app that you'll find is the reminder app that
reminds you about your medications, appointments with doctors, and any other medical events. Besides, there is a messaging app that can be useful for seniors in the time of emergency to seek help from caregivers or their loved ones. Moreover, it's an easy-to-use interface and simple design that allow elderlies to use it without any hassle. 
In short, if you are looking for a minimalist medical smartwatch for seniors at an affordable cost, MGMove medical smartwatch should be your top priority. 
Check Price on MedicalGuardian
Also read: 14 Best Free Reddit Apps for Android You Can Download Now
7. Garmin Forerunner 55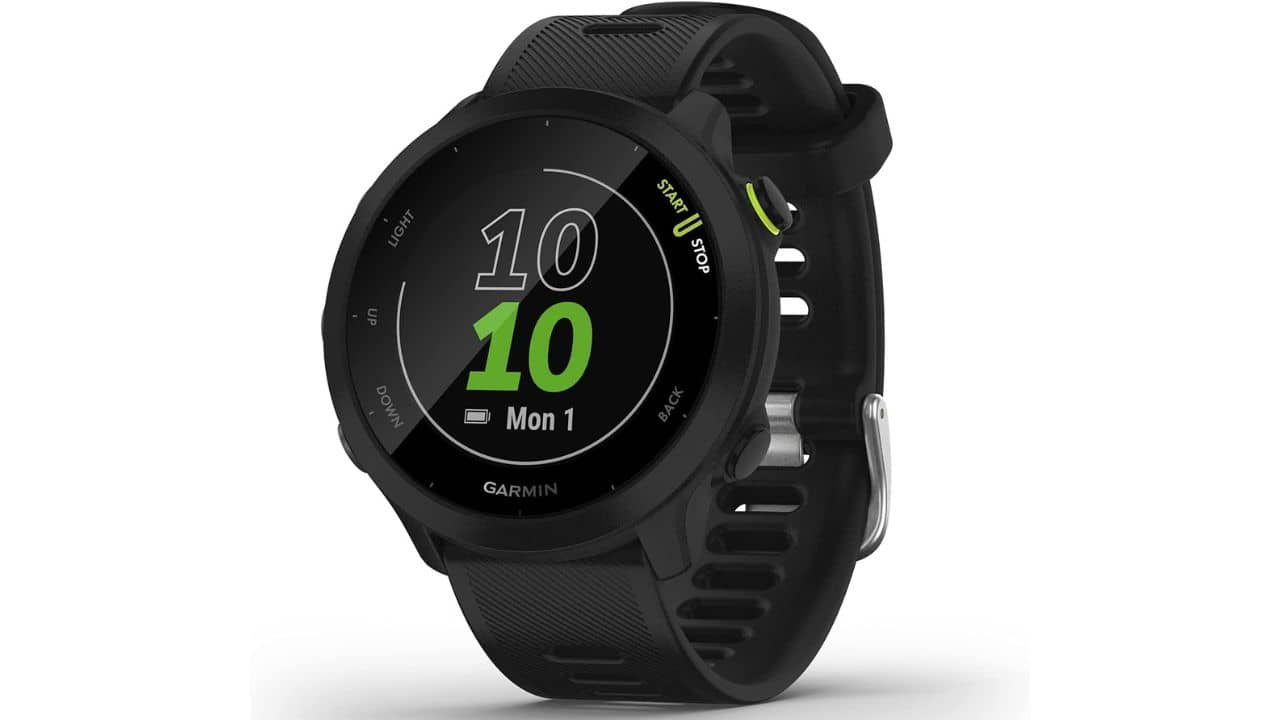 Are you in your 50s or 60s and often spend your time outdoors going around the city or hiking with your beloved ones? If yes, the Garmin Forerunner 55 is one of the top budget smartwatches for seniors with blood oxygen monitoring feature. It comes with an in-built GPS tracking feature that lets you track where you run, and get accurate stats, including distance, pace, and intervals. Besides, it is one of the top feature-rich smartwatches for elderlies that comes loaded with fitness and vitals tracking features that a senior citizen might want to keep an eye on. These basic features offered by Garmin Forerunner 55 include workout tracking, Garmin coach, recovery adviser feature, race predictor, and most important heart-rate monitoring. Since it has a plethora of tracking features including, To be honest, this smartwatch for seniors acts as a fitness tracker as it includes features like stress tracking, hydration tracking, body energy level monitoring, and respiration tracking. As far as women's health tracking is concerned, this smartwatch can help you track menstrual cycles as well as pregnancy using the Garmin Connect app. That's not all, there are many other activity-centric features in this smartwatch for older people. 
In short, if you are eyeing the best fitness watch for old people with an active lifestyle, the Garmin Forerunner 55 is the best pick for you.  
Also read: Best Smart Home Device Upgrades You Need in 2023
8. Amazfit GTR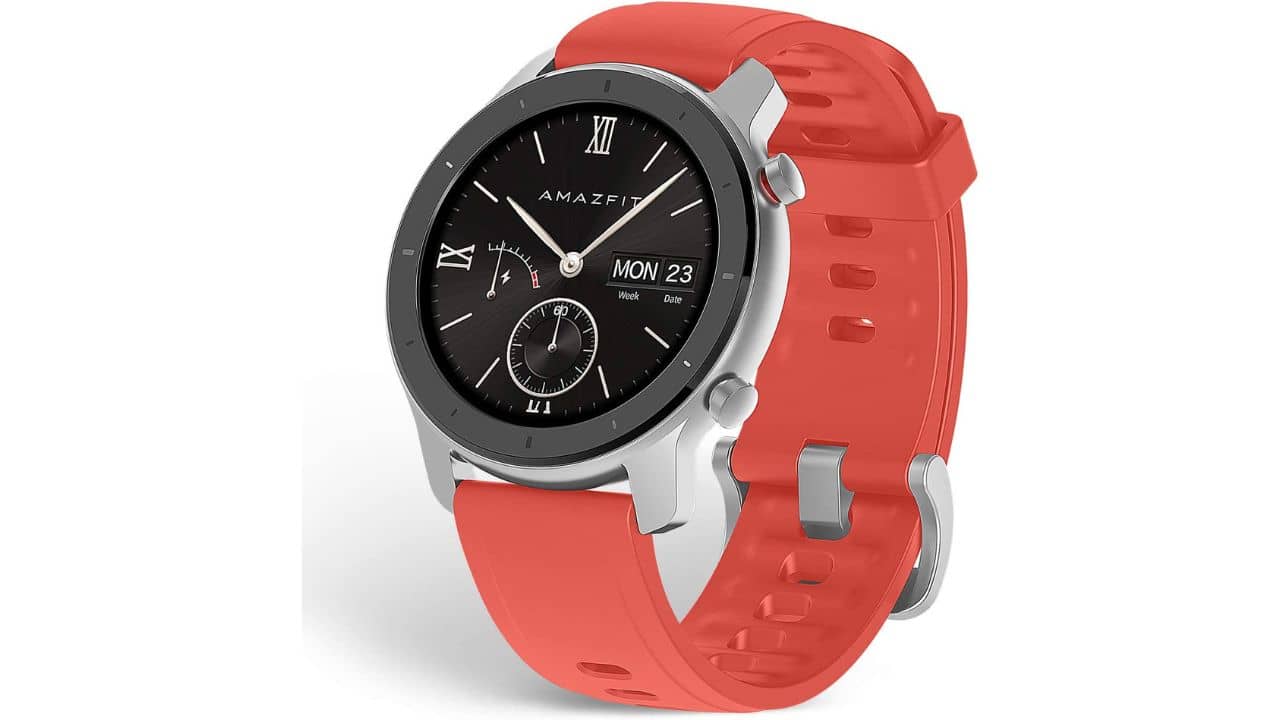 Are you among those who are looking to buy a smartwatch for health monitoring for seniors or aging parents? If yes, the Amazfit GTR smartwatch will be appreciated by your parents or grandparents for the health and tracking features it brings on the board. You'd be glad to know that it works with both Apple and Android devices, which means seniors at your home using iPhones can also be benefitted from this budget smartwatch. Talking of tracking, this smartwatch for seniors has GPS built-in with GLONASS satellite integration for enhanced location tracking support. GLONASS, short form for Global Navigation Satellite System, offers more accurate location tracking with roughly 4.5-7.4-meter accuracy. However, the sad part is that this smartwatch can't really make calls to emergency services on its own.
Moving on, there are nine-axis IMY sensors, sports tracking features, and eight additional trackers for different outdoor or indoor activities. The best part of buying this smartwatch for seniors is that it comes with a battery life of up to 22 hours on a single charge with mixed usage. So, if you feel a new city might be overwhelming for your parents who are in their 70s, make sure to buy them a pair of this GPS-enabled smartwatch.  
Apart from location tracking, this smartwatch delivers notifications for calls, texts, and calendar updates. In addition, there are different sports mode on this smartwatch for seniors which includes activity tracking such as walking, running, jogging, etc. When we talk about the best smartwatch for elderlies, health-tracking features should always be the priority, and this one from Amazfit won't let you down. It comes with 24/7 heart rate monitoring, a steps counter, distance tracking, a calories burnt tracker, and basic sleep tracking features.  sleep tracking, steps, distance, and calories. That's not all, there's also support for phone-free Bluetooth pairing if your parents love listening to classical or vintage music collections. On top of that, it comes with 2 GB of extra storage to store music of their liking. 
All that said, the absence of fall detection features and unsatisfactory IP67 water resistance might be a deal breaker for any seniors looking for a reliable smartwatch out there. But if fitness tracking and a small form factor is a priority for you then this might be the one. 
Also read: Best Smart Speakers to Buy in 2023 (Buying Guide)
9. Mingdaln Smartwatch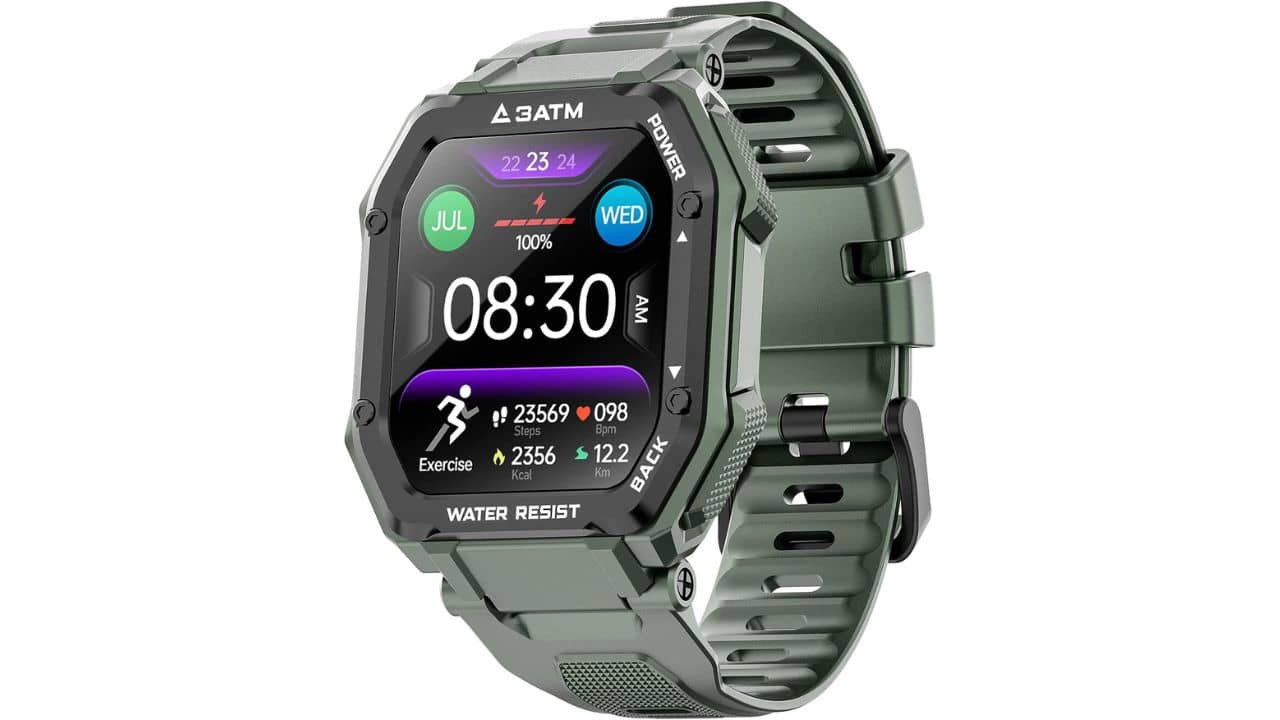 Lots of old people have doubts whether they'll be able to use and wear a smartwatch 24×7 and I'm sure you have your doubts too. Investing hundreds of dollars in the best smartwatch for seniors, only to find out they can't wear it for long hours.
If you're planning for a test run to see whether a smartwatch would sit well with your old man then this is a good recommendation. Some of the most important features offered by this smartwatch for the elderly include basic health monitoring. Talking of vital trackers, this health smartwatch for senior citizens features heart rate monitoring, blood oxygen level monitoring, sleep tracking, as well as a step counter. These features can be handy for any aging parents at your home who are looking to keep track of their lifestyle and want to take necessary steps to improve their well-being. 
If you are wondering which smartwatch is easiest to use for seniors, this budget-friendly smartwatch ticks most of the essential boxes with a user-friendly design, larger fonts, and clearer icons. The integration of large fonts and crystal-clear icons makes it one of the best smartwatches for seniors with low vision. On top of that, the simple user interface makes it one of the most suitable smartwatches for non-tech-savvy old-age people. In addition, this fitness smartwatch for seniors can send timely alerts which includes medication intake reminder, water intake reminder, sedentary reminder, and much more. Just like any other smartwatch, it also comes with a stopwatch, alarm clock, call reminder, social media app access, and much more. This also helps aging parents feel less isolated and more connected to the world around them, call reminders, alarm clocks, sedentary reminders, stopwatch 
Overall, Mingdaln smartwatches are one of the most affordable yet feature-laden fitness and health smartwatch for seniors that can be bought in 2023.
For Apple enthusiasts: WWDC 2023 announced: Here's what we know so far
Honorary mentions to some of the best smartwatches for seniors with fall detection and heart monitoring features: 
10. UnaliWear Kanega Watch 
Highlights: 
Best-in-class automatic fall detection

Phone-free emergency alert system (no need to pair it with a phone) 

24/7 heart monitoring

Emergency response assistance via voice activation, 

Easy-to-read screen
11. Pixel Watch 
Highlights: 
Native integration with Fitbit's ecosystem

Fall detection feature

Tap to pay feature

Abnormal heart rhythm detection

Guided breathing 
12. Garmin Fenix 6 Pro
Highlights:
Heart rate tracking

Blood oxygen saturation monitor

Heart rate variability tracker

In-built GPS

Respiration tracking
That's all for now in this roundup of the best smartwatches for seniors that you can buy in 2023. Also, if you are looking for
smartphones to gift the elderly in your family, don't forget to check our buying guide on top phones for seniors in 2023.
Banner Image Source: Unsplash