I love reading. Period. I have hundreds and hundreds of books. We book lovers sure know that it is not always possible to buy a paperback because either the book is not available in hardcopy or is pretty expensive. And sometimes it is just pure laziness of getting out of bed and going to the market.  
And thus I ended up downloading a lot of eBook reader apps. I realized soon enough that downloading or purchasing a book online and reading it on my Android device is much more fun and customizable. Here I have mentioned some of the best eBook Reader Apps for Android. These are tried and tested. Without further ado let's begin. 
AnyBooks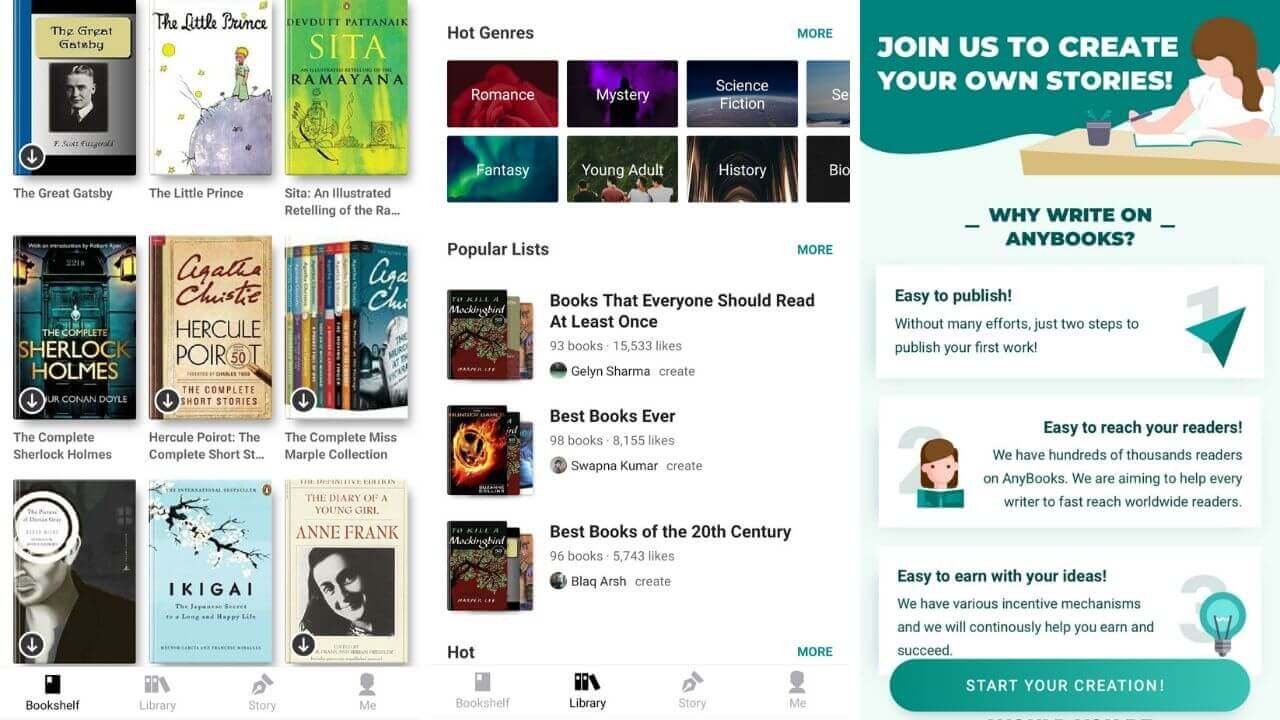 If you are an avid reader and writer then you are in for an experience of a lifetime with AnyBooks. The app claims to offer you Anybook Anytime Anywhere. Therefore, this eReader provides a huge range of books from the classics to the modern era, from Indian to American literature. Books are also divided into different genres like fiction, thriller, mystery and many more. You can select your favorite genres and it will show book recommendations according to your selected choices. You can add books that you like to the bookshelf for easy access. 
You can also create your personal account and get suggestions on the basis of your likes. Through this account, you can publish books and share your own creations. You can even read the latest bestsellers for free on this Android-compatible eBook Reader app. It has an in-built dictionary and you can simply tap on any word while reading and it will automatically show you the meaning. You can find and read books in six different languages. 
From my personal experience, I can say that it is one of the best eBook reading apps for Android. The reason why I like this app is that it has a huge variety of books and there is almost nothing that you won't find on this app. You will even find illustrated books and comics. It has books for every age group, from children to adults all can enjoy this eReader app. 
There is an eye care mode as well as an auto night theme feature which will help in better readability and battery optimization. You can also customize the size of your text. You can bookmark and highlight important sections of the book. It is the perfect eBook app for book lovers. The best part about this app is that it is absolutely free and can offer you books that you won't find anywhere. This makes AnyBooks, one of the best free eBook Reader apps for Android users. According to the reviews, thousands of people have downloaded and loved this app. 
Download the app here. 
PocketBook Reader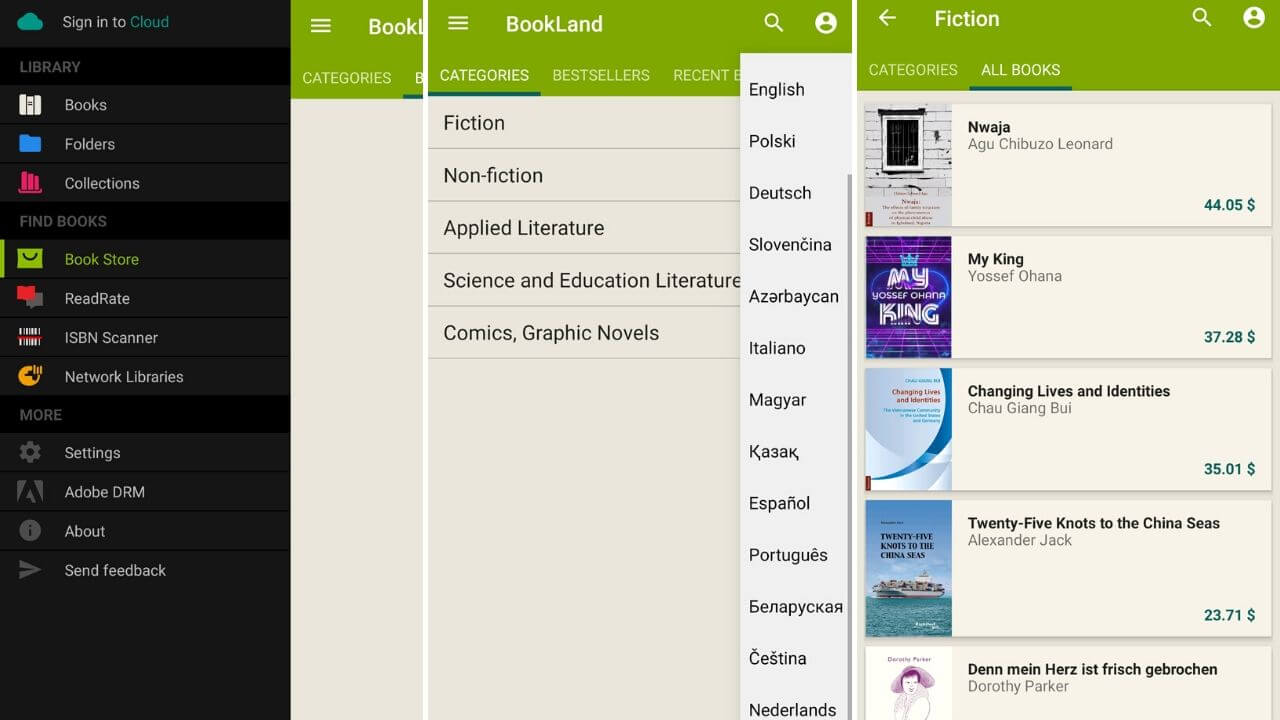 PocketBook Reader is one of the most customizable eReader apps for Android. You can change the background into four different colors, select from various types of fonts and font sizes. This Android eReader app supports more than ten different languages. There is a text-to-speech option as well. So even if you are tired of reading you can just close your eyes and listen to the audio. You can also set a timer to turn off audiobooks in case you tend to fall asleep while listening. 
It has a simple, intuitive and smooth user interface. You can highlight the text, take a screenshot, write comments and take notes while reading itself. The free eBook Reader app also offers an easy transfer and sharing of notes. You can mark important sections with bookmarks. There are different hand and touch gestures with automatic scrolling options which makes it much easier to read. You can also select any of the three reading modes (scrolling, single page or double-page). 
This Book reading app also features a syncing option through the PocketBook Cloud account. Now you can easily shift reading from your device to an eReader or Kindle without losing any of the important data. However, I did find that sometimes it takes longer than expected to open up a book or it tends to open up blank pages rather than books.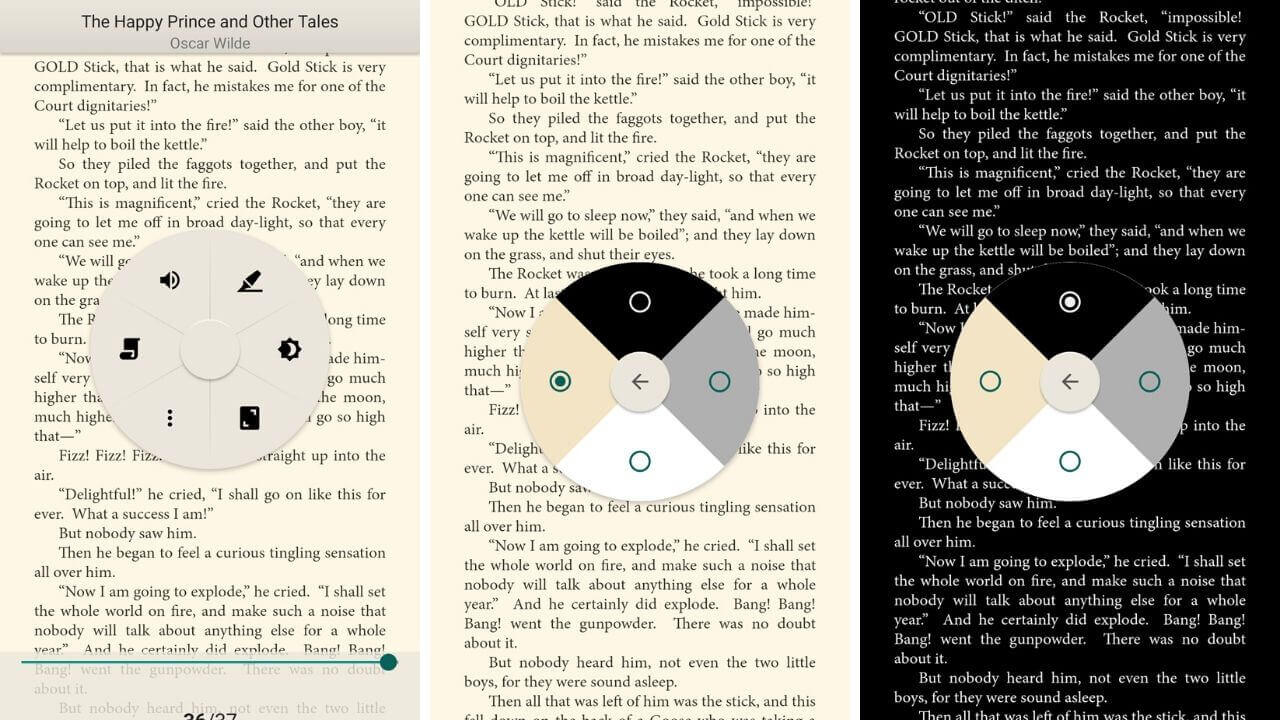 There is a huge collection of books to choose from and all these books are divided into different categories. Even though the app is available for download free of cost, it does have some in-app purchases. So if you want to read a book then there might be a possibility that you have to individually pay for it. 
According to me, it is one of the best Android eReader apps and you should definitely give it a try.. Download the app here. 
FBReader
FBReader is one of the oldest eBook reader apps for Android users and has both paid and premium versions. It supports several ebook formats. It is customizable to some extent. The app does not have an in-built dictionary but it does give various choices to download it online. You can change the font and apply custom backgrounds. However, it is not as intuitive and customizable as the PocketBooks Reader app. For some unknown reason, the app also shows accurate weather in the area.
There is a text-to-speech option available where you can just listen to the book instead of reading it. You can turn on the night mode which will help in battery saving and protect your eyes while reading. 
There is an in-built FBReader library as well as an Open Network Library from where you can download and read books. There is a huge list of authors and books available on FBReader. It does not show you any suggestions based on the genres you like or the authors you like. It is not one of the best things to me personally as sometimes I do like to pick any random author and book to read. 
The UI of this app is not that user-friendly as sometimes it becomes very hard to use the app. It takes tons of touches and gestures to open up the information bar which definitely made me grunt. However, there is a paid version of the same available on the Play Store.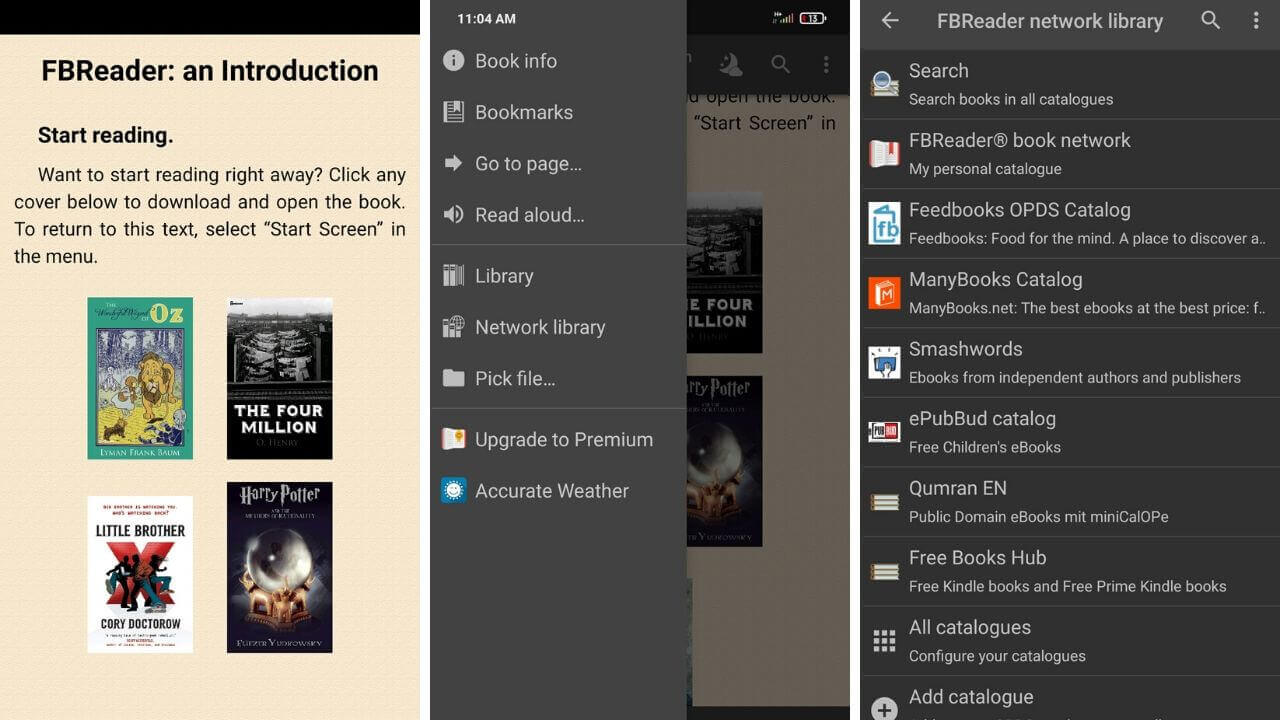 The free version of the app has the Bookshelf View option but you can only have access to it if you download the paid version. However, you can easily import books which definitely makes it one of the best eBook reader apps for Android if you are into a minimalist lifestyle and not that into customization. Check it out here. 
Google Play Books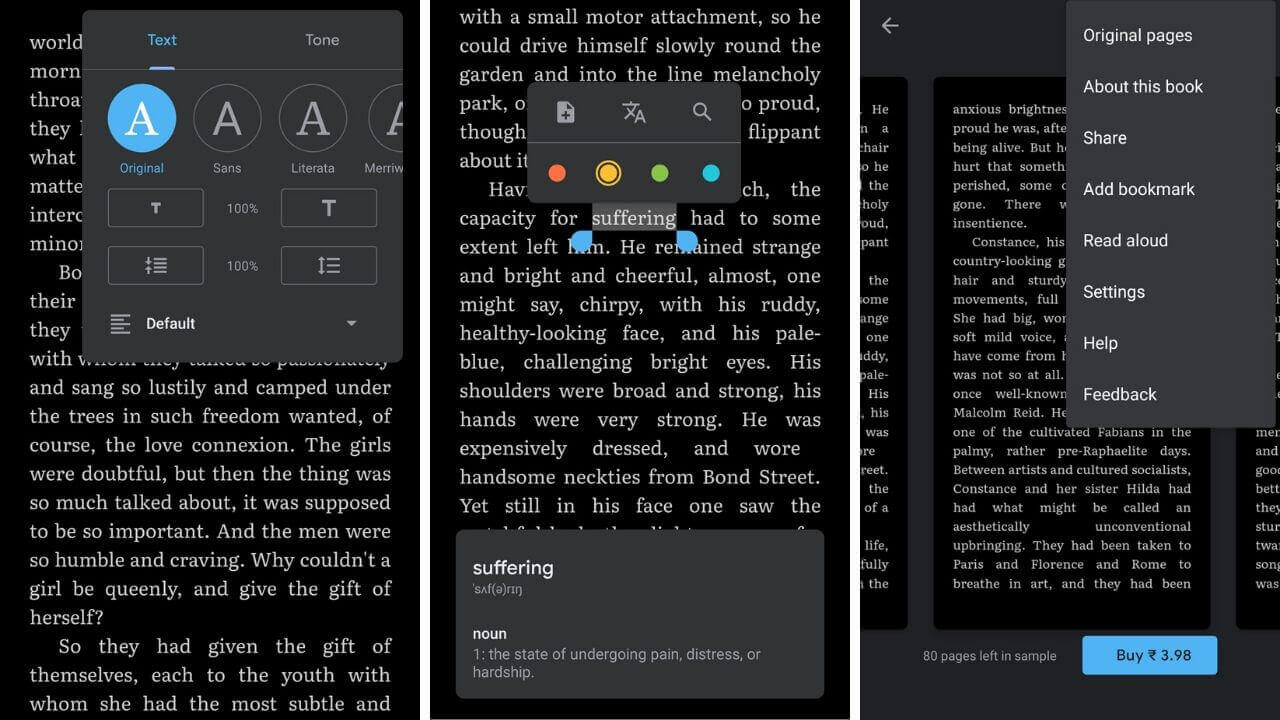 Google Play Books is a free eBook reader app for Android. It does have in-app purchases which mean that you will have to purchase books and audiobooks from Google Play before you access them. There is no monthly or yearly subscription available so you will have to purchase the books individually. Play Books provides various offers through which you can get credit on the purchase of eBooks. There is a free sample available for preview which helps you in deciding whether a particular book falls under your interest category or not. 
You can read ebooks and audiobooks anywhere anytime. You can also sync it with the chrome plugin for Google Play Books. With the help of this plugin, you will be able to continue reading from where you left. This eBook app also shows you recommendations on the basis of books that you have downloaded. You can also make notes and share them through Google Drive with your friends. It features a search in the book icon which makes it easier to search for a particular paragraph or line. This app is intuitive and has a simple user interface. 
It is highly customizable as you can write notes, change into night mode and highlight text in different colors. You can add bookmarks by simply clicking on the top right corner of your screen. You can also change the font and increase or decrease the size of the text. It does not offer an in-built dictionary but it does give you an option to download it. Once downloaded you can click on any word to look for its meaning without leaving the app. There is a read-aloud option for every ebook. This read-aloud function doesn't work if you are reading the text in the original pages mode. However, if you are reading the text in flowing text mode then it will work smoothly.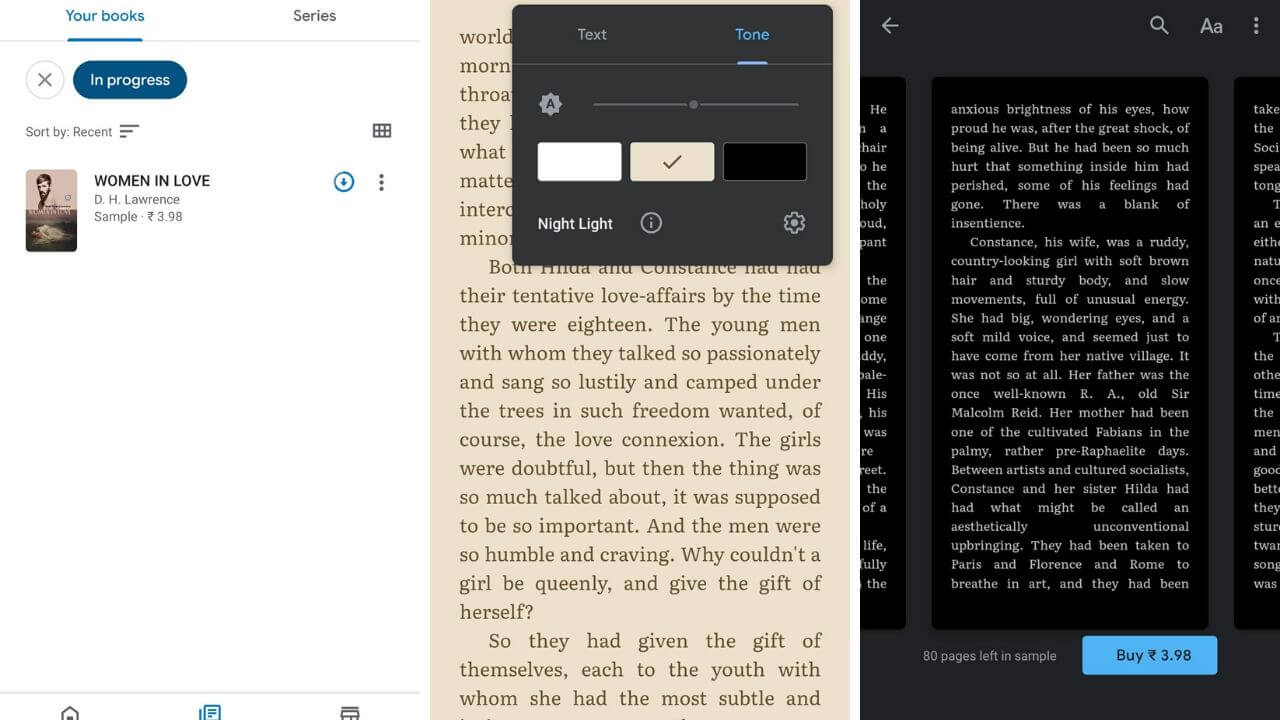 I would have personally liked the app better if it offered a monthly subscription instead of buying each and every book. Other than that Google Play Books is one of the easiest eBook reader apps for Android that I have come across. If you like the idea of purchasing books individually then you can download the book for free here. 
Amazon Kindle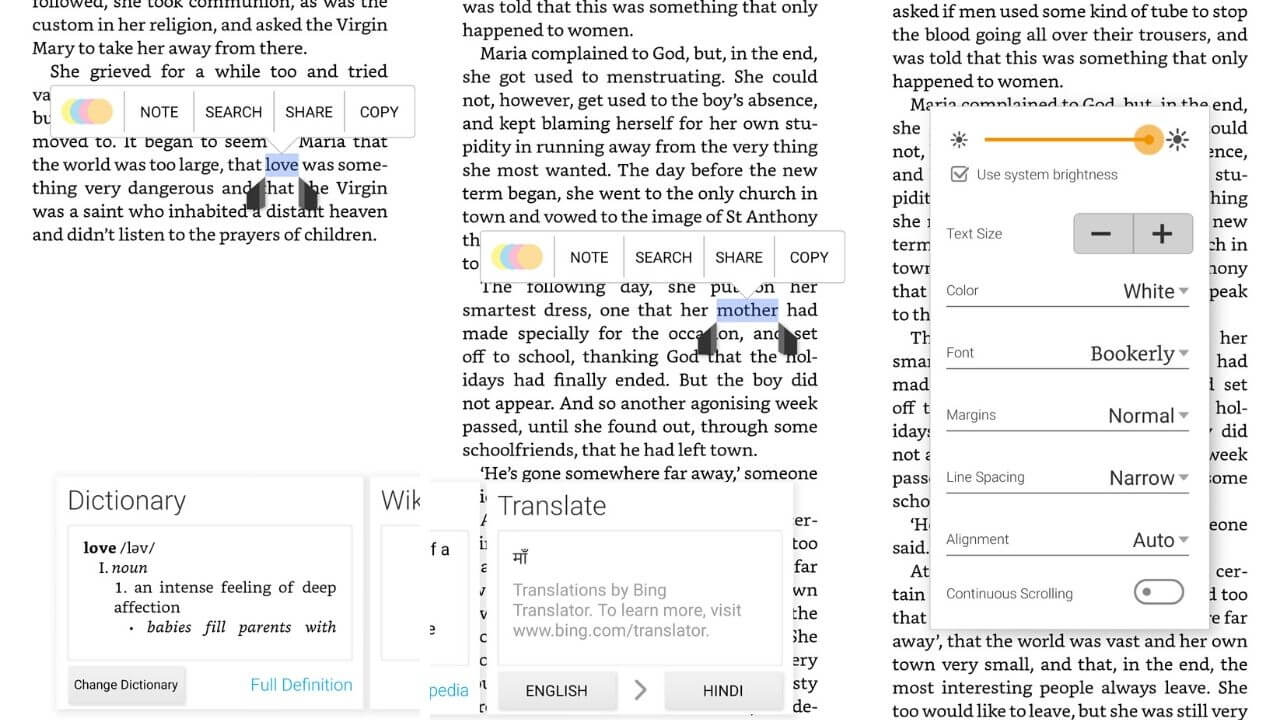 As the name suggests Amazon Kindle is an eBook reader app by Amazon for book lovers. Just like Google Play Books, you have to purchase books individually on Amazon to gain access. However, you can download a sample of books before deciding if you want to buy that book or not. There are over 7 million books on Amazon Kindle and they also feature comic books and illustrations. 
Before beginning the read of any book you will get a pop-up giving you all the necessary information about the book including typical read time. 
The app offers a huge amount of customizations to make reading on the Kindle eBook reader app a personal experience. You can change the font as well as text size. There are four different background color options available for you to explore (white, black, sepia and green). You can also change the alignment and adjust line spacing according to your preferences. 
This ultra-popular eBook reader also has a Flashcards feature which allows you to test your knowledge of the book. You can create flashcards by highlighting texts and adding them to your deck. You can also download the in-built dictionary and simply tap on any word to look for its meaning. There is also a translation feature where you can translate any word in the book by clicking on it. Translation can be done across twenty different languages on Kindle. It can translate almost anything from a single word to the whole page.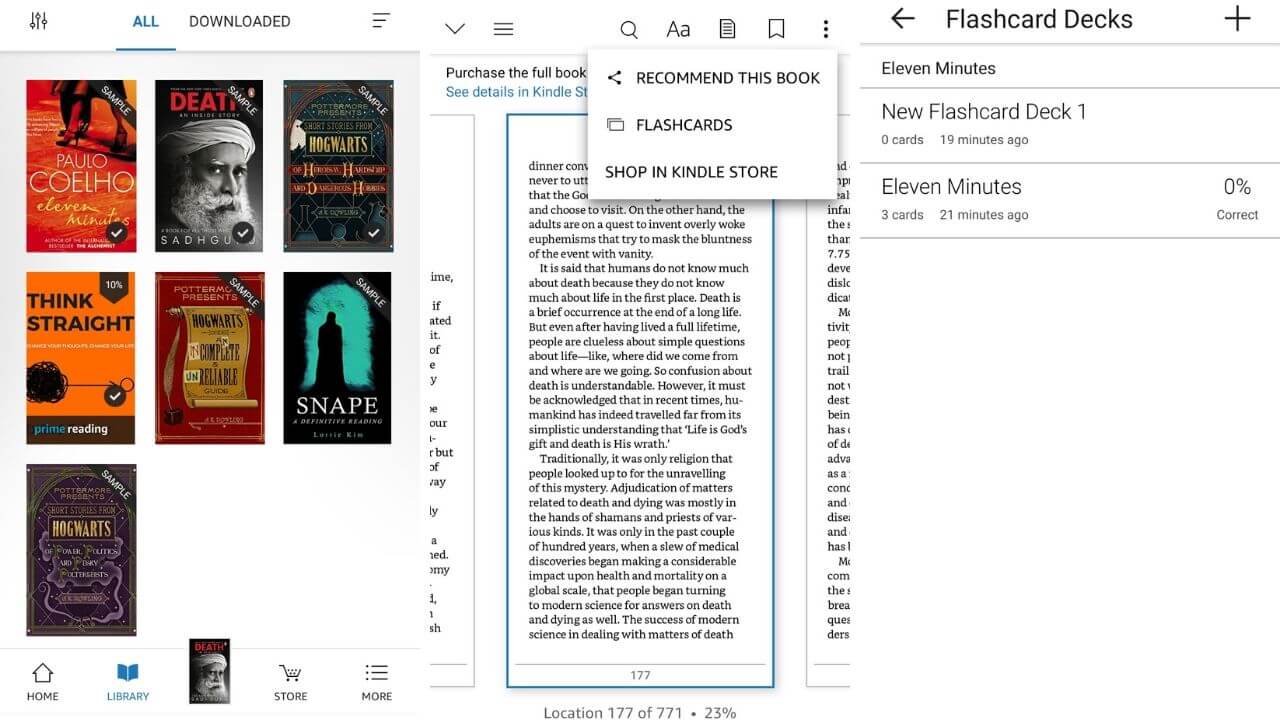 If you have subscribed to Amazon Prime then you also get free digital magazines on the Kindle app. You can also sync your progress with other devices. This means that you can continue your reading at any other device without interruption. 
Amazon Kindle without any doubt is one of the finest eBook reader apps for Android in 2021. The features that make Kindle stand out is its Flashcard feature. It makes reading more productive and studying more efficient. If you are a student who wants to study and read books in an efficient way then download the app here. 
Also Read: Best Widgets for Android Home Screen
Moon+ Reader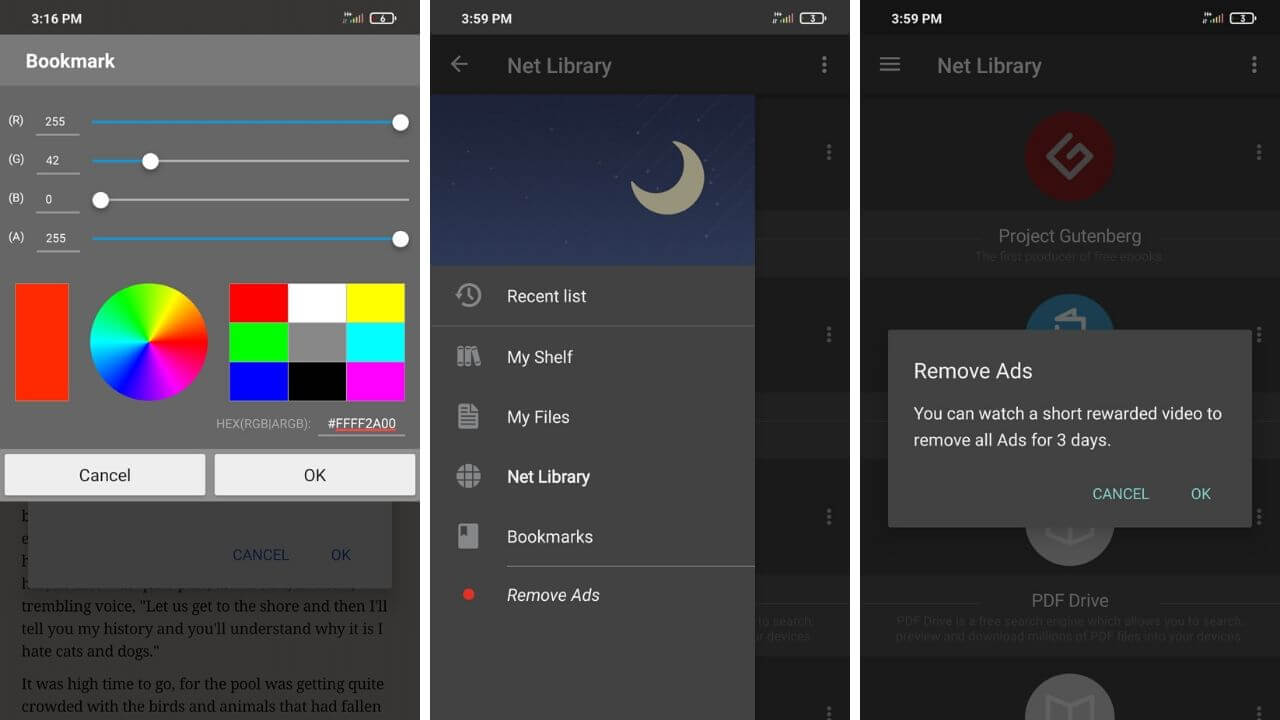 If you're looking for an amazing eBook reading app for your Android device that offers thousands of eBooks for free, Moon+ Reader is a must-have on your list. This app has many unique features as they are not seen in any of the apps mentioned above. It has a feature called statistics which shows your progress. It shows the number of books that you have saved on your shelf, the number of books that you have read and also the number of hours that you have spent reading on the app. 
There are more than twenty different tasks assigned to different gestures which make the app easier to use. Tap on the right-hand side of your screen while reading and it will turn to the next page whereas tapping on the left-hand side of the screen will turn to the previous page. You can also customize these control options according to your liking. You can simply shake your phone to activate the speech (text-to-speech) option. It does not feature an in-built dictionary and you will have to download one from the Play Store. 
The app features both night and day themes. You can customize the color of your bookmarks, notes, highlighted and underlined text. Instead of two or three color options that are available in most of the apps, Moon+ Reader offers a whole color palette to choose from. There is also a "Keep your eyes healthy" option to protect your eyes from extensive reading.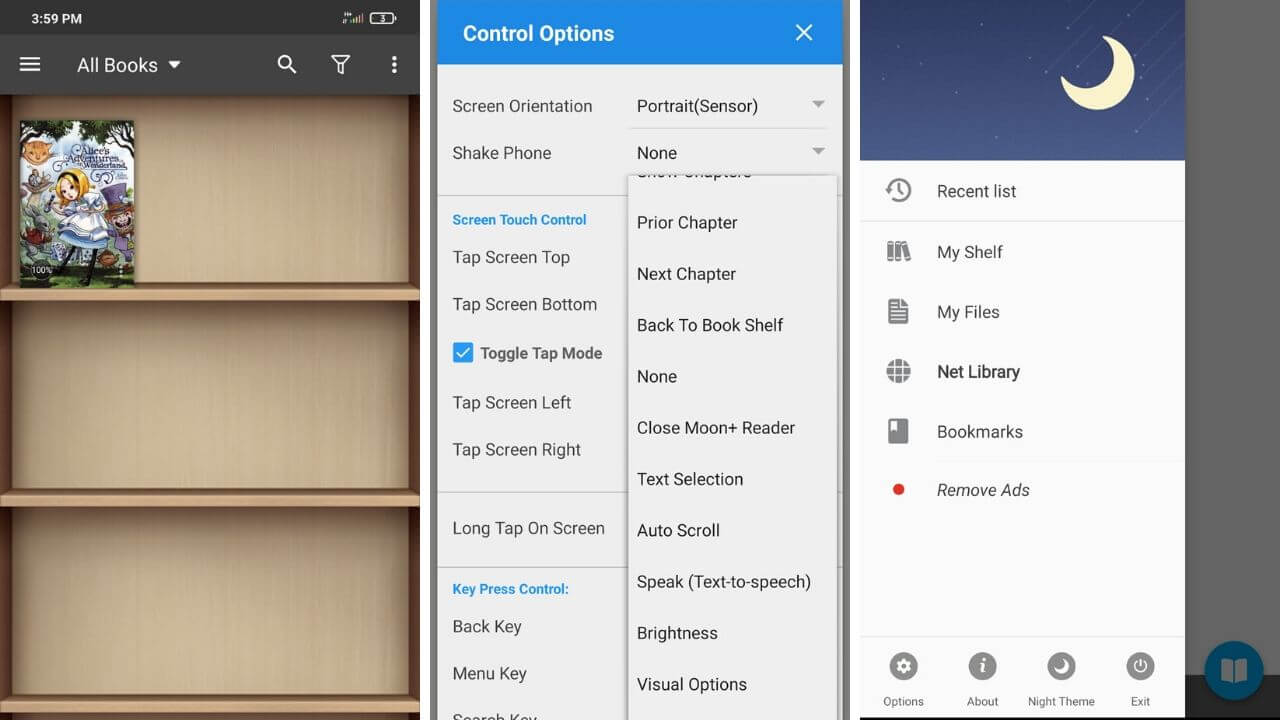 The app has a premium as well as a free version. The free version of the app has too many ads that it becomes annoying. It also offers the option of watching a short video that will remove ads for three days or four days. The premium version, on the other hand, does not contain any ads. There is not much difference in the paid and the free version apart from more fonts, background options and themes. You can download the free version
here and the premium version here. 
ReadEra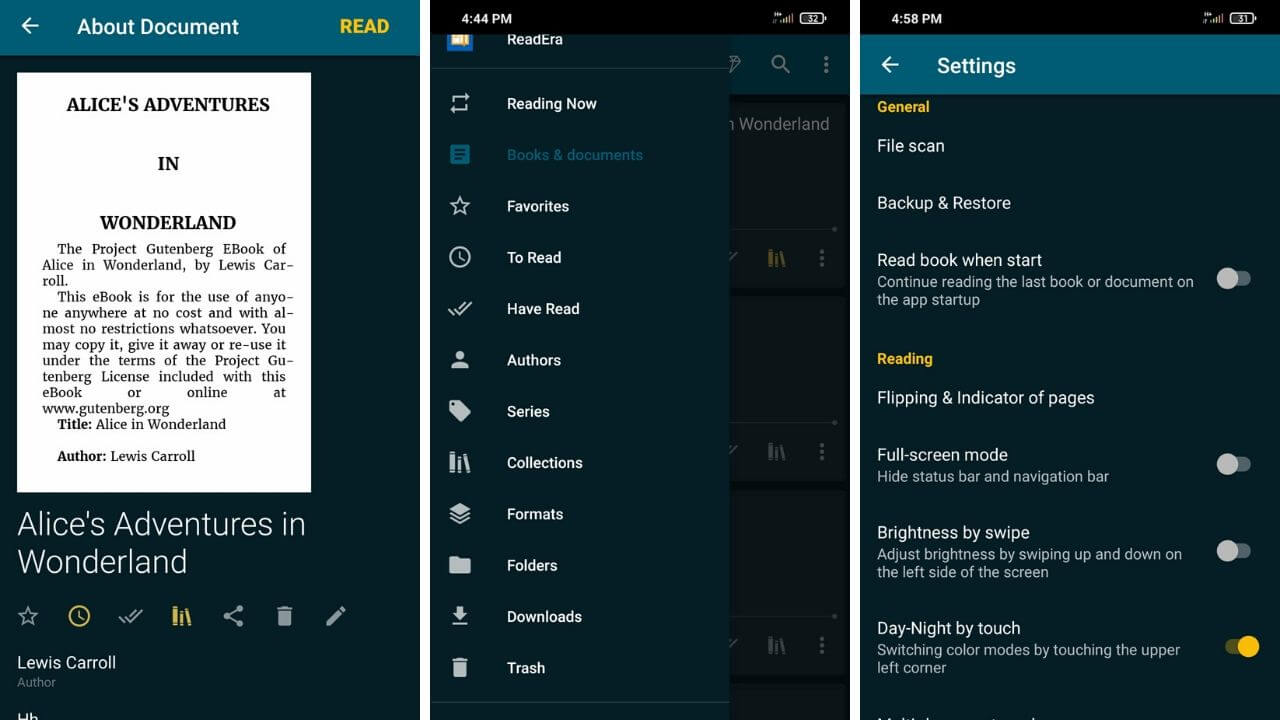 The best part about ReadEra is that it features a kid's mode where you can download books for kids without having to worry about inappropriate content. In the kid's mode, you get a simple interface and large book covers which will definitely help in developing your child's reading habits. This makes ReadEra, one of the best eBook readers for your kids. You have to solve a simple multiplication problem in order to switch from kids' mode. You can also set your own passcode in order to disable the Kid's mode. 
ReadEra shows even those books and documents which you have saved or downloaded on other eReader apps. You can continue reading the book from where you left even if you have stopped or paused the app. ReadEra does not feature a library from where you can download or purchase a book. But there is an option of Collections where you can see all your downloaded ebooks. The bookshelf or library view function is available on the premium version. You can also categorize your books into different groups like Have Read, To Read and Favorites. 
There is no in-built dictionary or translator in this app. You will have to switch back and forth if you have to look up for a meaning or a translation. You can easily add bookmarks and notes in your ebooks. This eReader app also features a review option where you can write a review or your understanding of a book and share it online. The app features many customization options. There are six-color mode options to choose from. You can also change the font size, font face, font thickness, and line spacing.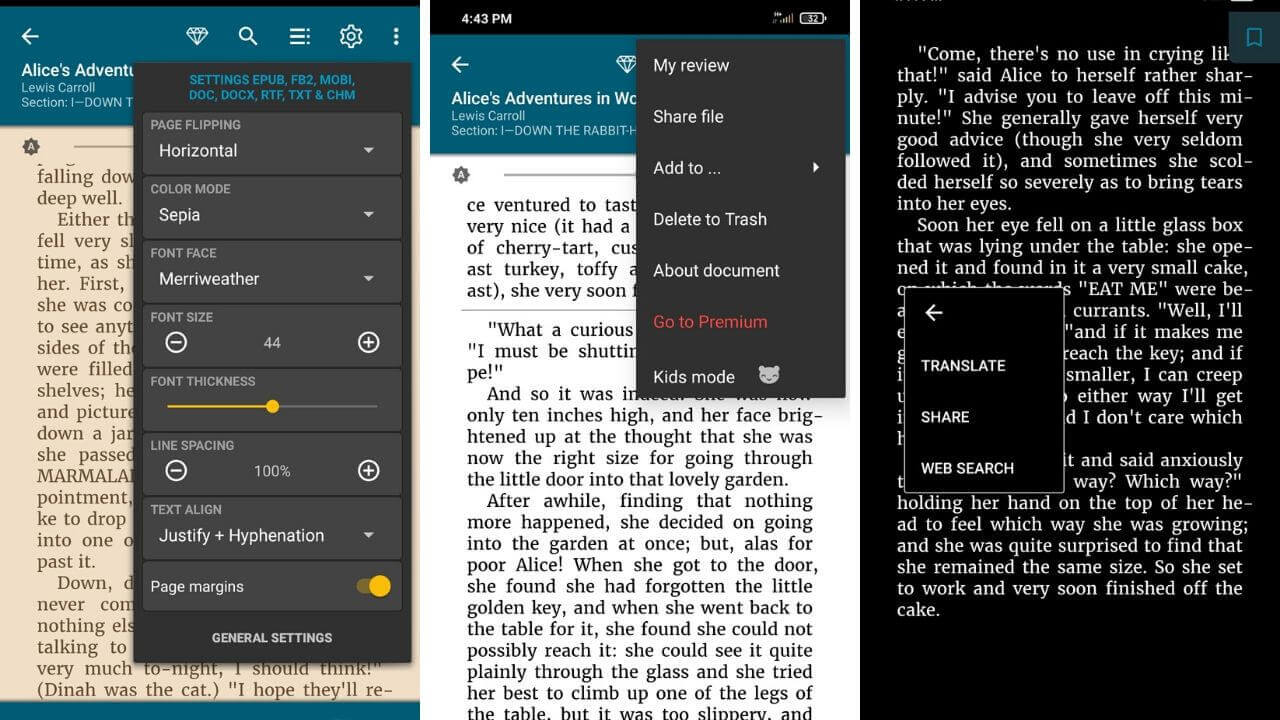 Just like Moon+ Reader, ReadEra also has a premium and a free version. ReadEra is an ad-free app. The premium version of the app offers features like Library View, Color for Quotes, Full Screen and Page Thumbnails which are not available in the free version. Thousands of users have shared their experiences with the app and have declared it as the best eBook reader app for Android. If you are looking for a good and simple eBook reader then download the app here and the premium version here. 
Also Read: Best Minimalist Launchers for Android
Al Reader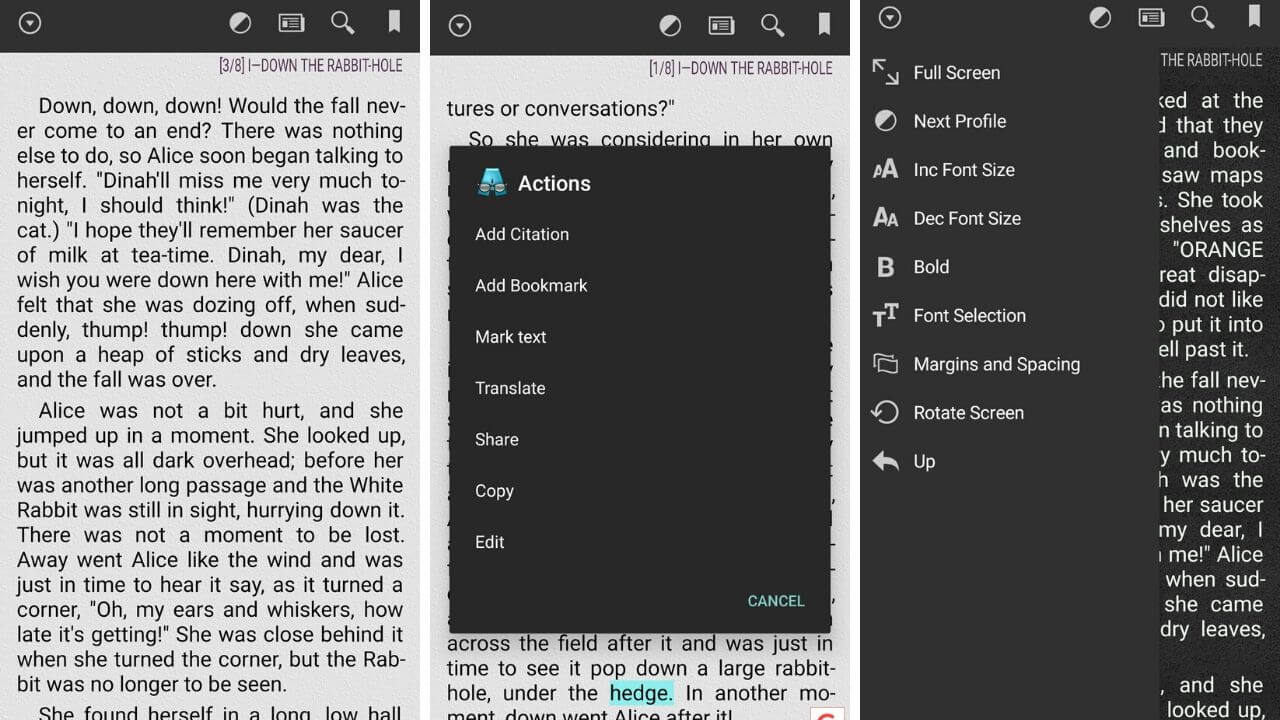 You can make the very best of your reading experience through Al Reader as it features a whole lot of customizations. You can change the color of text, background, title and status bar text. There are three color categories available (blues, reds, and greens). All you have to do is move the icon to choose the color. It supports ten interface languages including Greek and Russian. You can also custom-make the percentage of margins that you want on each side. You can also change the font size and font style. 
There is a short tap action feature as well where you can allot different tasks to different gestures and taps. However, the app does not have an in-built library. So in order to read a book, you will have to first download it from some outside source and only then you will be able to view it. It does not feature an in-built dictionary but the same can be downloaded from an outside source. The app also supports the Text-to-Speech feature. It is a lightweight minimalist customizable eReader app for Android users.
The app supports 3D page animations which means that the app is great for people who love to read sci-fi, comics and illustrated books. The main purpose of the app itself is to provide a good graphical experience.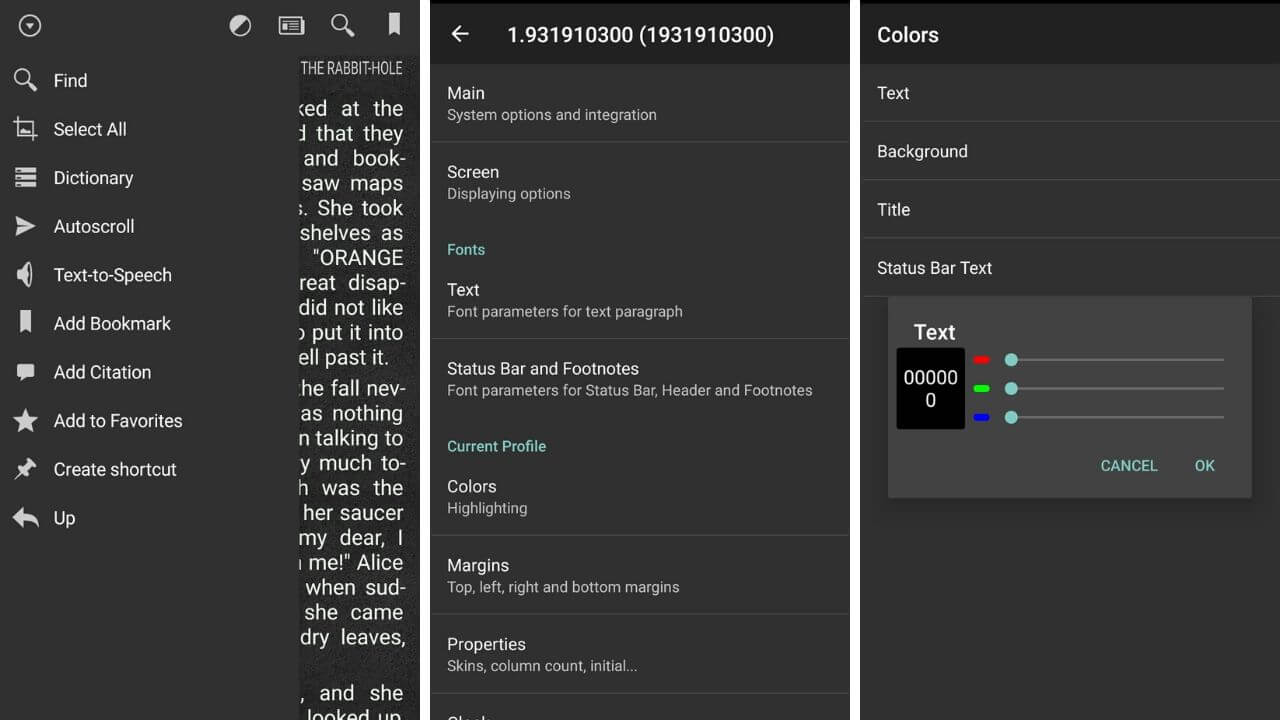 The app does not contain any ads, thus gives a very peaceful reading experience. If you are a minimalist who loves to read sci-fi illustrated books then this is the app for you. Parents can also develop a reading habit among their children through this 3D animations feature. You can download the app here. 
eBook Reader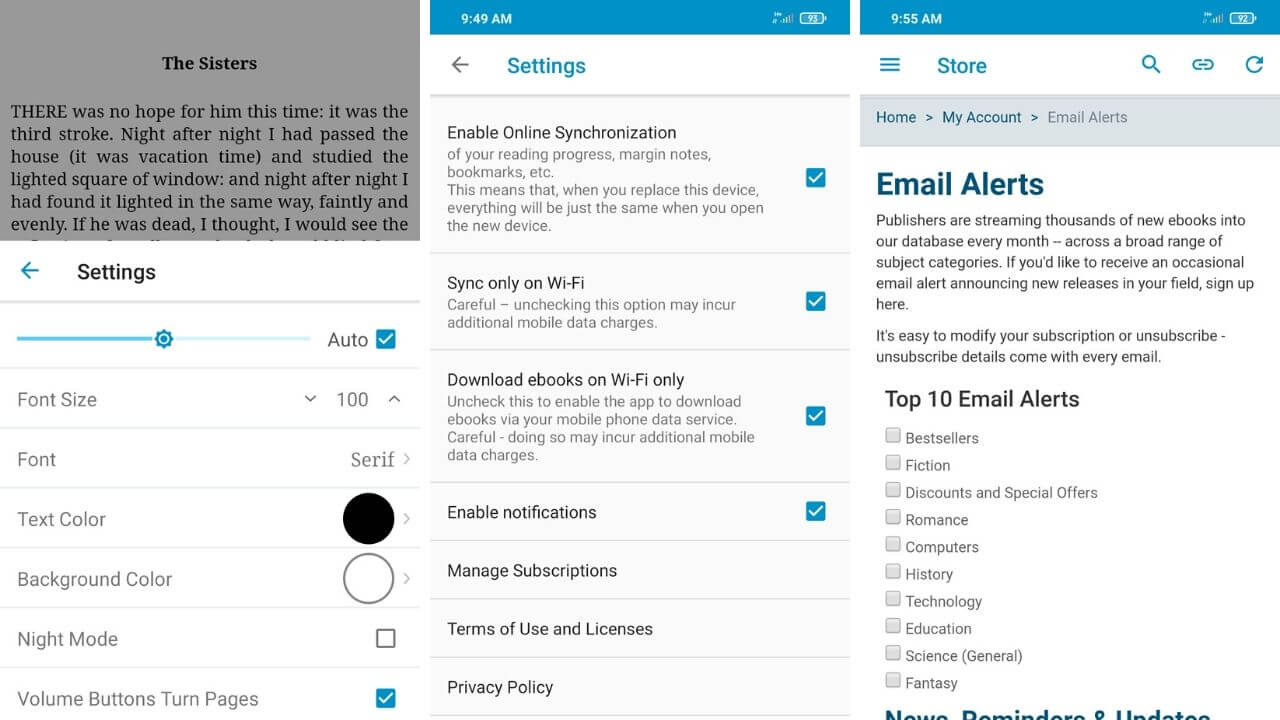 eBook Reader is another one of the finest eBook reader apps for Android. The app offers third-party book support along with an in-built library. There are thousands of books available on eBook Reader. 
The app also offers a bookshelf view which means that you can easily access the books that you have downloaded. It supports online sync which means even if you change devices your progress will only be a tap away. The app also features a night mode which will protect your eyes from intensive reading. The app offers free classics at your fingertips. 
It is highly customizable as well as you can change the size of the text, write notes, mark pages with the help of bookmarks and highlight text. 
The app has in-app purchases which mean that you can buy a book individually on the eBook reader as well. It does not have any monthly subscription. 
You can also create different groups like Fiction or Top 10 to manage your bookshelf. You can go through the free eBooks section which directs you to the store where you can easily add books to your cart. There is a feature called Email Alerts where on activation you will receive emails updating you about the recent bestsellers, news, discount, and special offers and many more. 
The free eReader app has a user-friendly interface with thousands of books to offer. You can also go through the list of books that are created by other users. This way you can explore more books about the genres that you like. It is like an anonymous book exchange. The app supports a lot of features that have not been seen in any other eBook Reader app for Android. You can download the app here for free. 
Aldiko Book Reader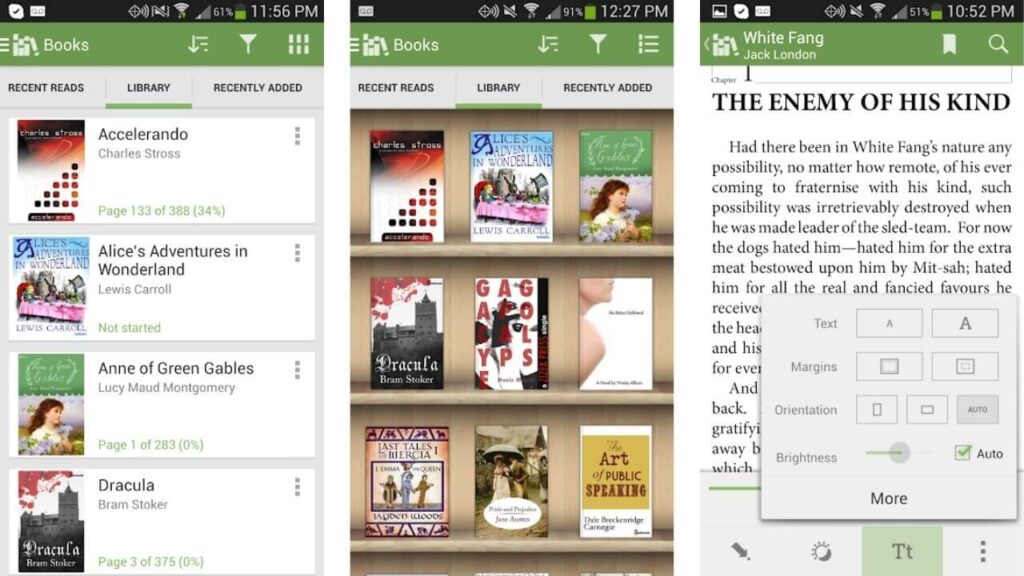 Aldiko is one of the most popular eBook readers for Android that has been there for a while now. It's a neat and simple eBook reading app that supports EPUB, PDF, and Adobe DRM encrypted eBooks. On top of it, there's support for eBooks from public libraries. In addition to an easy-breezy interface, the app offers a host of customization options to deliver the best-in-class reading experience. You can easily adjust the font style, size, background color, alignment, and other features, just the way you like them. 
Readers can create bookmarks or rapidly jump to the different sections of the book via Table of Contents. The app will remember your last reading position and automatically bring you back where you left off. Impressively, there's a super handy library management system that lets you organize your eBooks through tags and collections. You can browse through the best-sellers, classic eBooks, as well as new releases. The best part is a lot of eBooks are free. You can also opt for the Premium version for an ad-free reading experience. The paid version also allows you to add notes, highlights and offers a host of other premium features.
Global text search, Dictionary, and OPDS support are amongst the standout features of this eBook reader app.
All in all, if you're looking for the best PDF eBook reader app for Android, Aldiko is a fantastic option. 
Download the app here
Also Read: Best Features of Android 12
Conclusion
I hope you liked this list of best eBook reader apps for Android. Try to incorporate these eReader apps in your life rather than buying paperbacks and contribute towards preserving our environment. I look forward to your opinions and reviews of these eReader apps. Do not forget to comment below.