Have you ever thought what if you require assistance in the public at the time of a medical emergency, but don't have an ID with you? How will the first responder connect with your emergency contacts and access other vital information? Well, there are many questions you should ask yourself. But not anymore. Did you know that your phone can be your lifesaver in times of medical emergencies, even when it is locked? If you have an iPhone, fortunately, there is a way to put out information such as emergency contacts, medical history, medications, blood group, etc. on the lock, when you're unable to access your phone. Not only it gives the first responder a way to contact your family or friends but also ensures that you get the right medical treatment. 
We hope you never end up in such a situation, but are concerned enough to let you know how to add emergency contact on your
iPhone. By doing this, the first responder can always contact your family, when you are unable to. We'll also talk about how to access emergency contact from others' iPhone lock screens so that you can save others' lives, when in need. 
To remind you, this feature is also available on Android smartphones. We will be covering it in a different article. For now, let's just focus on how to add emergency contacts on iPhone. 
Without much ado, let's get going.
Disclaimer: Proceed at your own risk, TechieTechTech will not be responsible if anything goes wrong with your device.
How to Easily Add Emergency Contacts on Your iPhone 
Be it a family emergency, medical crisis, or any mental health episode, there are plenty of situations that might require the first responder at the scene to make a call to emergency contacts when you can't. For that, the first thing you should do is add emergency contacts on your iPhone. No worries, it's quite easy than you think. Keep reading to know how to set up emergency contacts on your iPhone.
Step-by-step Methods to Add Emergency Contacts on Your iPhone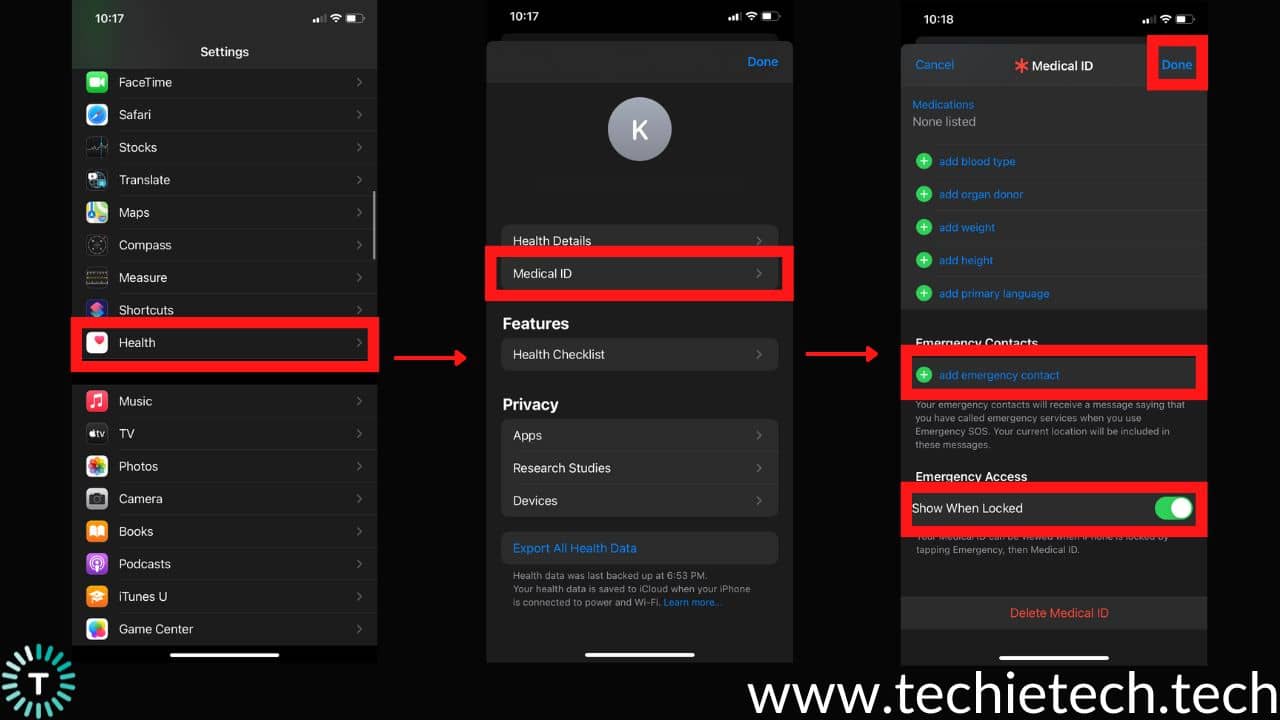 1. Open the Medical ID from the Health app (3 ways)
The first thing you should do is open the Medical ID from the Health app. Depending on which iOS version you're using, you can open Medical ID using in three different ways: 
Method 1:
First, make sure to

long-press the Apple Health app

, and when the quick action menu appears, just

tap on the Medical ID

option.
Method 2:
If you have an iPhone running on iOS 8 or later, you can simply

open the pre-installed Health app

. Then,

tap on your profile image at the top right > Select Medical ID

.
Method 3:
You can head to

Settings > Health > Medical ID

.
2. Edit Your Medical Information  
Once you've opened the Medical ID, make sure to fill in as much information as you can. You will find options to fill in details regarding your blood groups, any allergies, medications, medical notes, weight, height, etc.
3. Add Emergency Contacts
You'll find the emergency contact option just below the Information section. While there is no exact number of emergency contacts quoted by Apple, we have found out that you can add at least three. So, make sure to add the contacts of your family members or any trusted person. We also recommend adding someone who lives nearby your place, in case of an emergency at home, they can reach out to you. You can also define who the emergency contact that you've added is related to you. The emergency contact that you've added could be your dad, mom, brother, sister, or life partner, so make sure to mention it in there.
Note: You can only add emergency contacts if it is already saved on your iPhone. Therefore, if you want to add a new number of your beloved ones to the emergency contact, first make sure it is updated and saved in the phone app first.
4. Toggle ON the 'Show When Locked' and 'Share During Emergency' options under Emergency Access
All the effort of adding emergency contact and medical information could go in vain if the first responder can't access it from the lock screen. 
So, if you are wondering how to enable anyone to see my emergency contact on the iPhone lock screen, here's what to do. 
You need to make sure to

toggle ON the switch (represented by green color) beside the option that says 'Show When Locked' and 'Share During Emergency'

available in the Emergency Access section.
By doing so, anyone can access and call your emergency contact from the iPhone lock screen, when you are unable to. 
5. Update your latest portrait as the profile photo on the Health app
You should add a recent picture of your face so that the first responder knows that the medical information and emergency contacts they are accessing are yours and not others. 
When you're finished updating every piece of information, tap Done from the top right corner of the screen to save the information. Congrats! Your medical information and emergency contacts are added to your iPhone. 
Also read: How to Add Multiple Stops in Apple Maps [Step-by-Step Guide]
Alternative Way to Add Emergency Contact on Your iPhone (Via Contact App)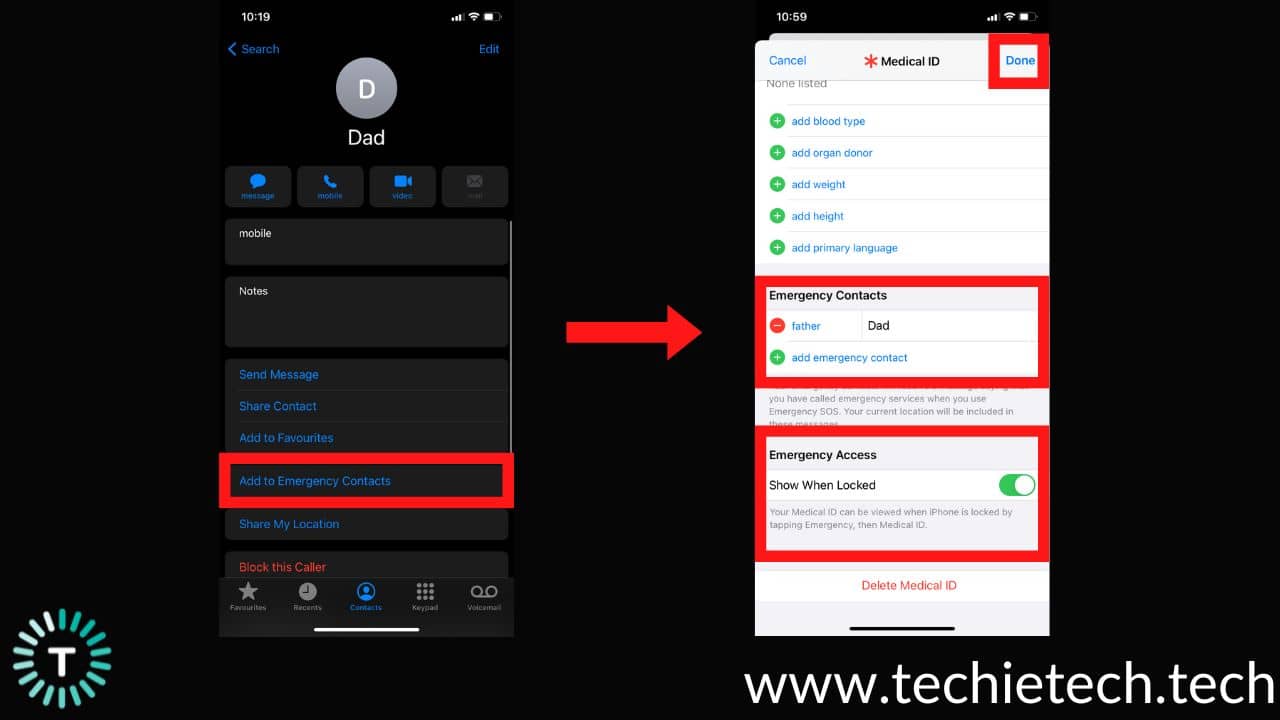 Open the

Contacts app

Choose the person whom you want to add to the list of Emergency contact and tap on their contact profile

Scroll down and find

Add to Emergency Contacts

, then tap on it

Then, select the

Relationship 

Next, you will be automatically directed to the Medical ID. Double-check that the contact that you have selected is reflected under Emergy Contacts, then, tap on

Done

. 
That's it, adding your emergency contacts on your iPhone is as simple as that. It is worth mentioning that medical information such as blood type, any medical conditions that you have updated, and more, can also be accessed by the first responder while trying to make a call to your emergency contacts. This information can be critical to offer you proper care. That's why it is recommended to update such information in the Medical ID on your iPhone.
Also read: How to enable and use Action Mode on iPhone 14 Series [+Pros & Cons]
How to Access Emergency Contact Info from iPhone Lock Screen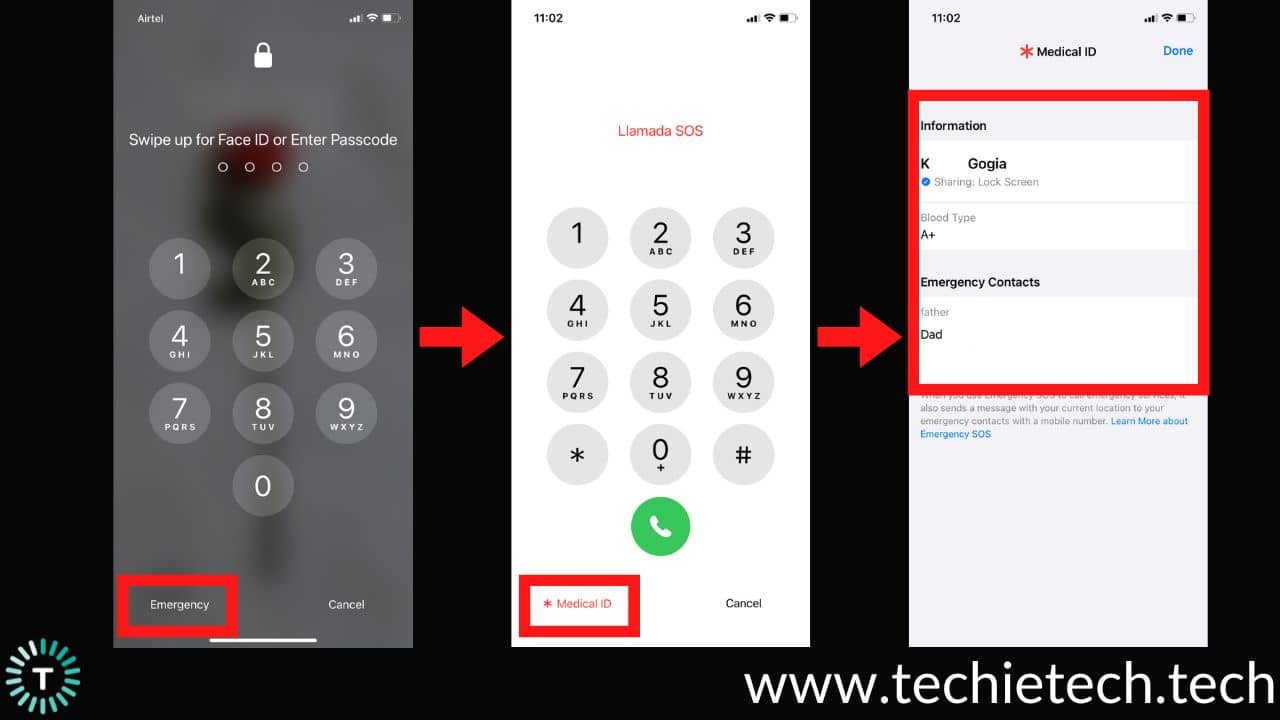 If you ever happen to be the first responder, it is important for you to make a call from the iPhone of a person who isn't in the state of doing so. Therefore, you should know how to access emergency contact and other info on a locked iPhone. It is important as it can help get them the right medical assistance while allowing them to inform their loved ones about their condition. 
Here's how to find emergency contact info from the iPhone lock screen:
From the lock screen (when iPhone asked for a passcode), you'll see an Emergency option on the bottom left of the screen

Then,

tap Emergency

, and the dial pad appears 

On the same screen, you'll see

Medical ID

at the bottom left –

tap on it

.  

Then, you'll see all the emergency information including the emergency contact info of the person in need. You can make a call to the emergency contact just by tapping on their phone number. 
Also read: iPhone 14 not charging? Here are the 15 tried & tested methods to fix it
Well, that's all for now in this article where we have listed a few ways to add your Emergency Contact on your iPhone. Also, we have listed a step-by-step guide to accessing someone's emergency contact info if they are in need. Please remember each step properly, it could save someone's life.