It's genuinely very tough to find the best phones for the older people who are in their 50s, 60s, or even more. The challenge becomes tougher because people who didn't grow up with easy access to technology can have a very minimal level of tech competence. So, if you are searching for the best smartphones for elderly, you are at the right place. We all are aware that mobile phones have been a vital part of our life. From scrolling social media from early in the morning to binge-watching TikTok at night before sleeping, mobile phones are always with us, no matter what. 
Similar to that, senior citizens generally use their phones to stay connected with their loved ones, talk to their grandchildren, capture memories, and stay safe in emergencies. So, it's up to you what kind of smartphone you'd choose for elderly in your family that covers all the necessary features required by them, especially when there is an emergency. If you are not sure what makes the best phones for seniors in 2023, keep reading this buying guide, we will help you find the best senior citizen smartphones. 
Note: We update our article from time to time to cover the latest products available in the market.
Disclaimer: All the phones for seniors listed in this buying guide come with (Hearing Aid Compatible) HAC Rating M3/T4. 
Factors to consider while buying the best phones for seniors in 2023
If you'd ask me, phones for seniors should be easy-to-use, meaning such smartphones or feature phones shouldn't have cluttered home screens or software that is too sophisticated for their age. Some of the best smartphones for elderly have extra useful features like a dedicated SOS button to contact in case of emergency. Some phones for elderly may have big batteries, durable designs, and a big responsive screen with an easy-to-use user interface. 
Honestly, it all comes down to their liking and technical knowledge. Suppose your mom/dad/grandparents are tech-savvy, then going with the best feature smartphones would be the best choice. In contrast, the ones that were best suited for tech-savvy seniors may not be the best fit for senior citizens for elderly with mediocre or less tech knowledge.
So as to help you sort the best smartphones for elderly in your family, we have mentioned some of the vital factors that need to be considered.
Ease of Use
Before you start shopping for the best smartphones for seniors, you need to figure out what seniors are looking for. If they are looking for the ability to make and receive calls, just choose a basic flip or big button phone for the older members of your family. Please don't go with a smartphone that has a UI that may overwhelm your parents or grandparents. That said, there are various senior-friendly devices such as iPhones, and mid-range Samsung smartphones which come with simple navigation, top-notch camera, mobile banking features, and more. So, it is best that elderly  check the device in-person to ensure the screen and volume are adequate for them. Also, make sure to research on their behalf about the larger displays for older eyes, hearing aid compatibility, straightforward software navigation, voice control, and more. If you're planning to get an Android smartphone for your grandparents, then we recommend checking out the minimalist Android launchers section at the end of this article.
Hearing aid compatibility
Most Android devices in the USA running on Android 10 or more are compatible with hearing aid devices. You can use the hearing aid manufacturer apps and Bluetooth connection on smartphones for seniors to pair the device. We recommend researching the device initially to ensure that you are buying a hearing aid compatible phone for seniors. Generally, hearing aid compatible devices come with HAC Rating M3/T4. So, it is up to you to ensure that the devices meet the standards and certification you're looking for while researching best phones for seniors.  
Battery backup and camera
Since elderly use their phone to keep them busy watching DIY or reciepe videos on YouTube or talking to their loved ones all day long, it is important to choose a phone with a bigger battery. You don't want your parents to run out of juice when they need the device the most. So, it is important to look for a phone for seniors that has a bigger battery. With a bigger battery, senior members of your family won't have to worry about charging their device regularly.
Also, seniors are keen on saving memories of wherever they go, they tend to click more pictures and videos. So, it is important to look for a phone that has a comparatively good camera. Luckily, you don't need to get a smartphone to enjoy a camera; many flip phones have decent cameras these days. However, if you want to buy a smartphone for senior members of your family with the most cutting-edge camera technology, it's best that you go with an
iPhone or reputed camera-centric Android smartphones such as Pixel 6 Pro, Galaxy S21, S22, etc. Just keep in mind, that the more the features, the more it will be costlier, so choose accordingly. 
SOS/ Emergency Response Features 
When we talk about phones for senior citizens, it is important to look for senior-friendly phones designed with assistive technology. In fact, there are many brands including Lively and more that have a specifically designed business model surrounding senior citizens. These smartphone brands come up with displays that are fairly large with simple navigation, while most of them have a dedicated emergency response call button (SOS button) and a built-in medical alert device that can detect falls and send help on your behalf. 
Carrier Compatibility
All of the best-unlocked phones for seniors are compatible with GSM and CDMA-based networks. GSM and CDMA are techie jargon which means these phones will work with virtually any carrier on the market. Not sure what exactly is an unlocked phone for seniors? An unlocked phone isn't tied to any one network. In theory, this means you can use your device with a mobile plan on any network carrier. For example, if you have bought an iPhone directly from Apple, you can use any SIM card to stay connected, be it AT&T, Verizon, T-Mobile, or other major carriers. However, unlocked phones are more expensive than locked ones. So, make sure you check whether the device is carrier-locked or unlocked while purchasing. 
Durability & Case Availability
Seniors sometimes may have difficulty handling objects which can be in the case of phones as well. So, it is advised to go with durable/rugged phones. These smartphones are generally drop-proof, making them useful for elderlies. 
Also, we want you to look for smartphones that are shipped with screen protectors and cases at no extra cost. If you are unaware protective cases and screen protectors can be useful for protecting your device even if it is dropped on a hard surface such as wood or tile flooring, you won't ruin your new phone by dropping it on the tile floor or accidentally getting it wet. As an extra precaution, look for smartphones that offer repair and support services (after-sales support) at a reasonable price.
Budget
Every buying decision comes down to the budget. So, you must choose a phone that comes with a fairly reasonable cost depending on the features that will be used by seniors. There is no point in investing in a phone for seniors that is not usable due to complex software and navigation features. 
List of the best phone for seniors in 2023
1. Samsung Galaxy A32 5G (Best value for money and feature-rich smartphone for seniors)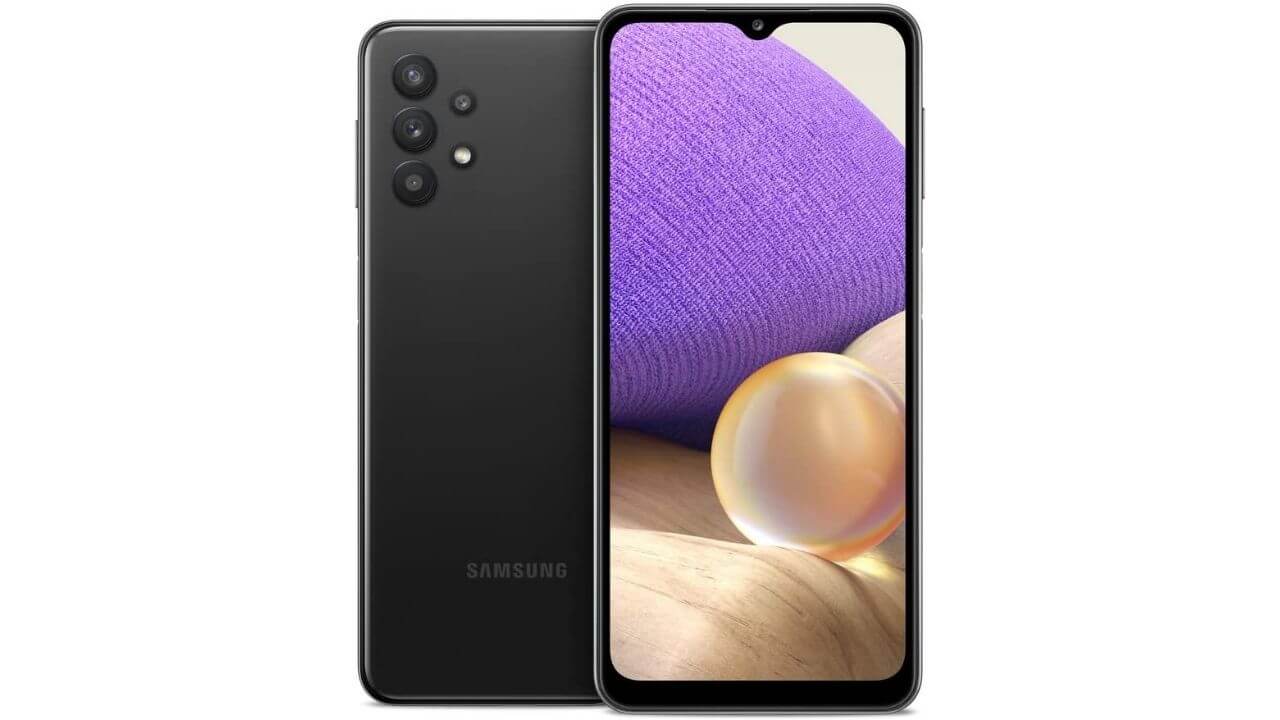 Generally, we don't recommend a 5G phone for seniors unless they are tech-savvy. That's because 5G phones are new in the market and cost a lot more than those running on 4G. However, seniors with mediocre or high technical know-how can use 5G phones and enjoy cutting-edge speeds. So, if you are looking to buy value-for-money phones for tech-savvy seniors, we would recommend you to go with the Galaxy A32 5G. This Samsung Galaxy phone features a big screen, three different camera sensors, and a pretty attractive design that will be loved by seniors. Why buy this? It is one of the best budget phones for seniors that has great video calling features and a long lasting battery. You just need to be assured of the 5G connectivity in your area. 
Also read: Best Minimalist Launchers for Android
2. Samsung Galaxy S22 Ultra (Best Android phone for tech-savvy seniors)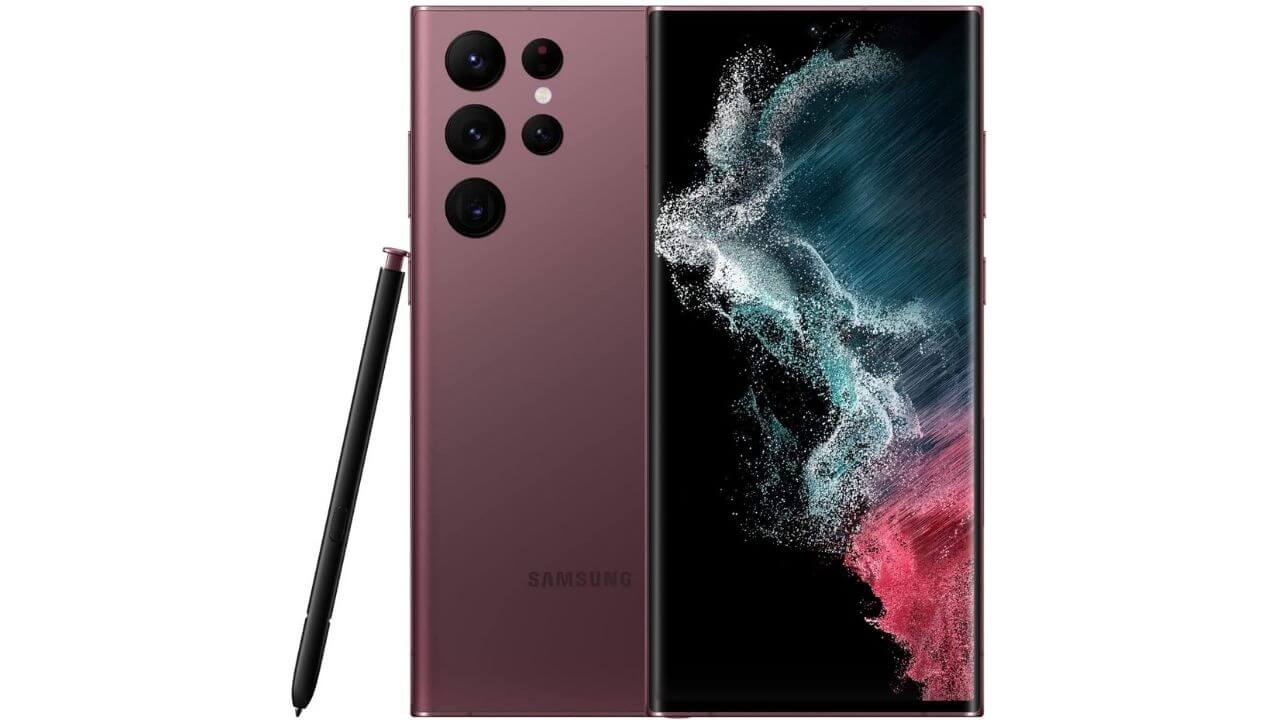 Looking for a smartphone for tech-savvy seniors? We recommend going with the best Android flagship, the Galaxy S22 Ultra. Being old doesn't mean you have to use old generation phones. This
Samsung Galaxy S22 Ultra is a super-versatile smartphone with a big and bright screen which can be helpful for seniors with low vision. The simple UI of Samsung is always a good choice for seniors given that they are not very handy when it comes to using complex software. If your parents have been using the Galaxy Note series, it won't take much for them to get going with the Galaxy S22 Ultra. What's best about this smartphone? Seniors can use the S-pen to seamlessly browse through the phone, while they can take advantage of the probably best smartphone camera in the industry that has Space Zoom capabilities. Overall, it is the best Android phone money can buy with an awesome camera and handy UI for seniors. Please note that you'll pay handsomely to grab the best camera smartphone for seniors. 
Also read: Best Widgets for Android Home Screen 
You can also check the iPhone 13 Pro Max if you are interested in buying the best iPhone for seniors.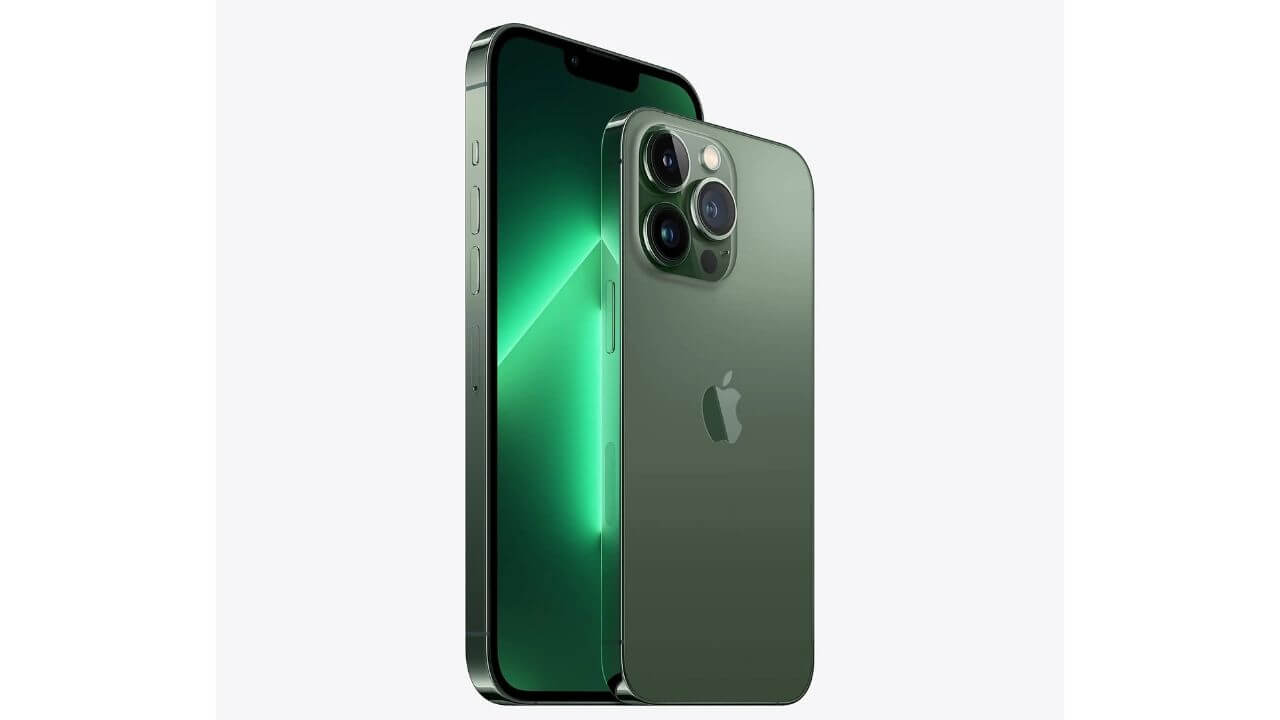 It is one of the best easy-to-use phones for seniors with a simplified UI and lots of features. Plus the beefiest device from the iPhone 13 series comes with a battery life of up to 2 to 3 days based on the nature of its usage. If you have bought an Apple Watch for your parents, iPhone 13 Pro Max works flawlessly to deliver major health and fitness data, or even track elderlies when they are not home. What's more? This premium iPhone for senior citizens works seamlessly with third-party apps giving seniors freedom of using apps they like. What's best about iPhones is that they are the most secure device and take a lot of care when it comes to the privacy of the users. That's not all, the iPhone 13 Pro Max works flawless across devices under the Apple ecosystem, be it
AirPods, smart home devices, Mac, etc.   
3. Google Pixel 7 (Best phone for seniors with a simple interface)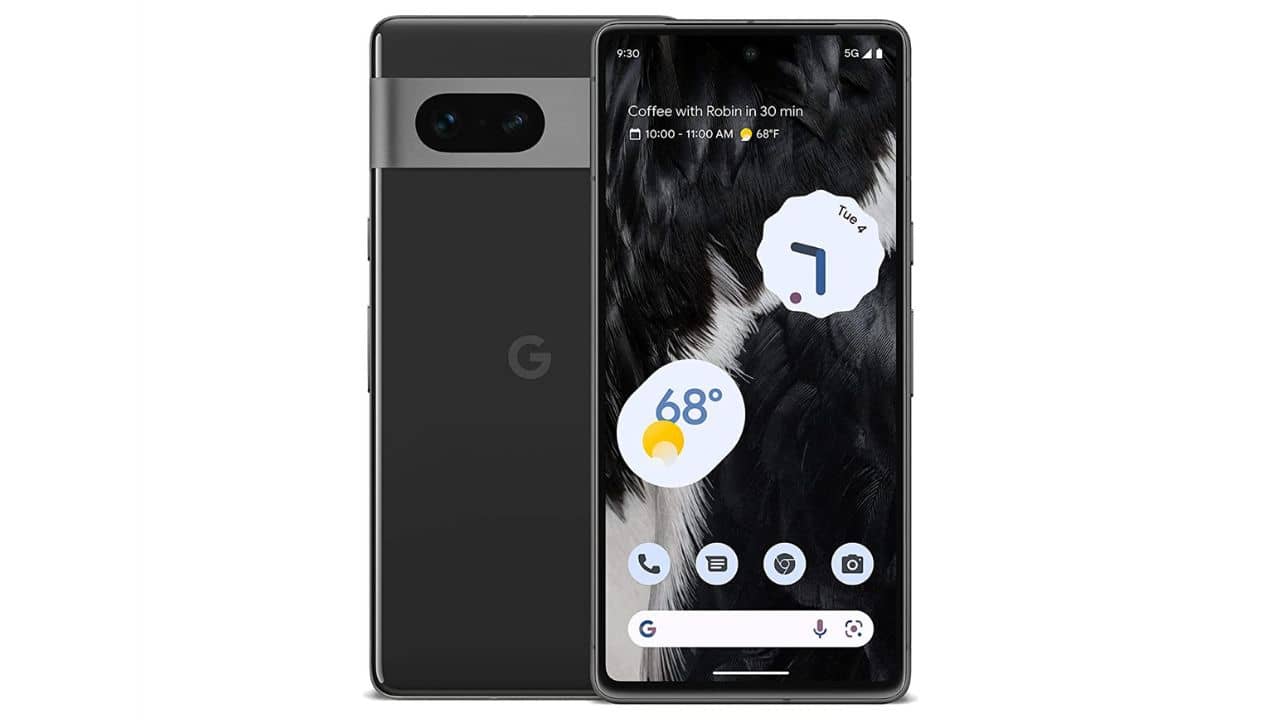 Another solid contender of being the top phone for seniors in your family is the Google Pixel 7. Thanks to the easy user interface and clutter-free screen, it is best suited for elderlies and members who are less familiar with smartphones, too. The pull-up menu in this phone is alphabetically ordered which gives you the freedom to access the apps quite easily. It is worth mentioning that this smartphone for senior citizens features Google's Tensor G2 chipset for solid performance. It is protected by Corning Gorilla Glass Victus, so you don't have to worry about your granny dropping and damaging the phone you recently gifted her. Besides, the camera specs are quite good which enables elderlies to capture and preserve beautiful moments from the upcoming Thanksgiving party. Let's not forget that this 5G smartphone runs on the latest Android 13. Whereas the IP68 dust/water resistant certification ensures that the device is safe against any liquid damage. So, if you are looking to get a budget-friendly Android smartphone for seniors in your family, the Pixel 7 is worth checking out. 
4. Jitterbug Smart3 (Easy-to-use phone for elderly)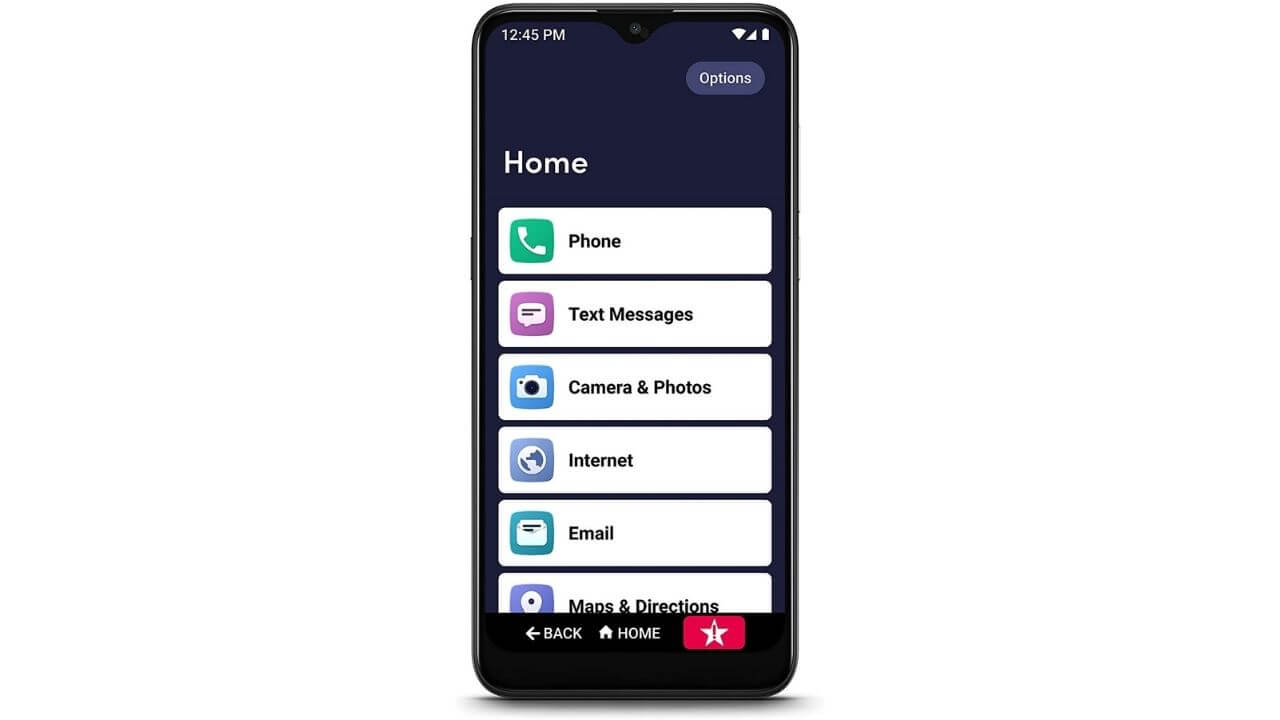 Claimed to be "the simplest smartphone ever," the Jitterbug Smart3 features both modern and user-friendly features. These make it one of the best easy-to-use phones for seniors. It features a bright display with fairly large icons combined with large fonts that makes the navigation and usability easier than ever for anyone with a weak eyesight. With Jitterbug Smart3, elderlies can easily access the internet, browse through some of their favorite movies or web series or talk to their grandchild or kids using video calling. As far as battery life is concerned, the Smart3 can last up to 17 hours on standby and 12 hours in use. Even though it is not a big number if compared to hind-end smartphones these days like Galaxy S22, iPhone 13 series, or more, it is one of the perfect smartphones for seniors considering its $149.99 price. What's more about this affordable phone for old people? In addition to the standard 5 Star emergency network offered via Lively Flip, this affordable elderly phone comes with visual features like Lively Link. It allows you to track the health conditions and location of beloved parents who are in their 60s or 70s. Overall, it is a great option for anyone looking for a feature-enriched affordable smartphone for senior citizens of the family. 
Also read: Best Free Puzzle Games for Android
5. Alcatel Go Flip 4 (Best Flip phone for seniors)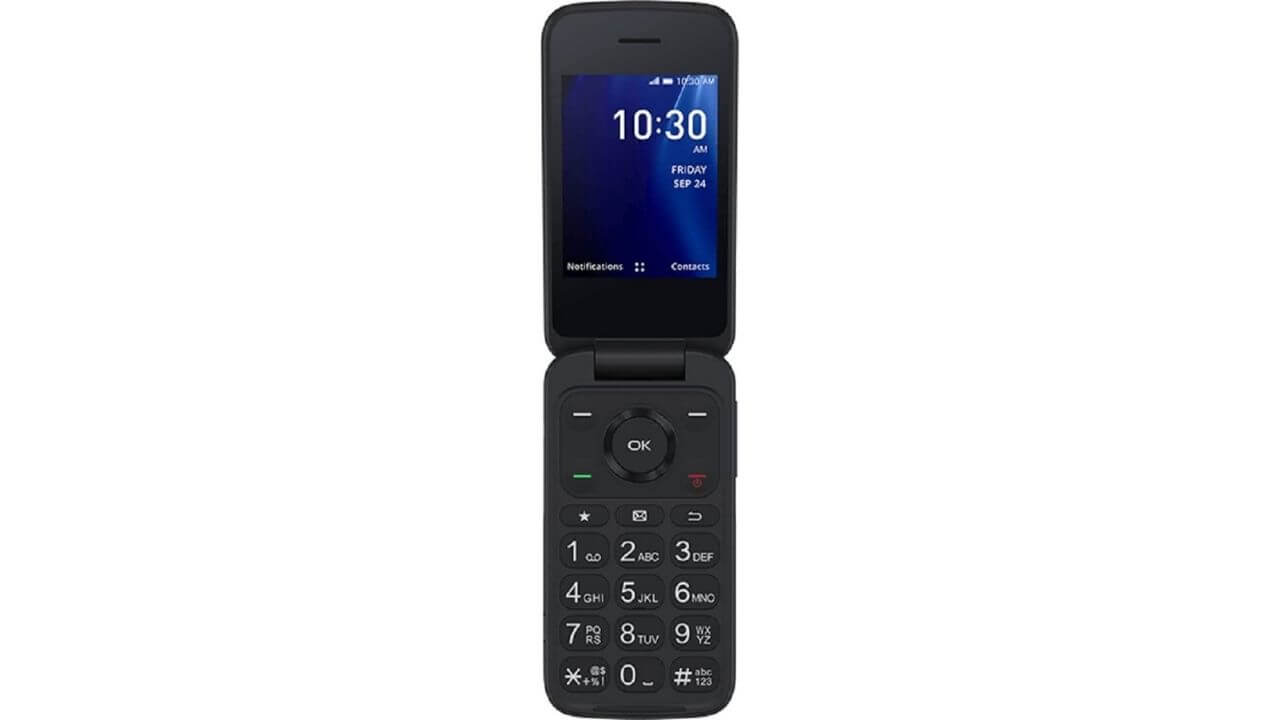 If you're looking for the best flip phone for seniors, the Alcatel Go Flip 4 should be a perfect fit for your requirements. It is one of the best flip phones that comes with advanced features combined with the simplicity of a flip phone, all at an affordable price.
In terms of design, the Alcatel Go Flip 4 features a small, external screen that displays the time and a larger inner screen that allows navigating features quite easily. Talking about elderly features, this flip phone for seniors is equipped with a large, tactile keypad, with backlit buttons which can be handy in using this flip phone in low-light conditions. What is most impressive about this flip phone is its sound quality. When making calls, the sounds are crisp, loud, and clear. Additionally, it works flawlessly with hearing aids, thanks to the M4/T4 rating for hearing compatibility. When making calls with this device, voices and sounds are consistently loud and clear. Unlike other basic feature smartphones, this flip phone for elderly allows you to download additional free apps for internet browsing, social media, and emails.
Also read: Best eBook Reader Apps for Android
6. iPhone SE 3rd Gen (Best portable iPhone for seniors)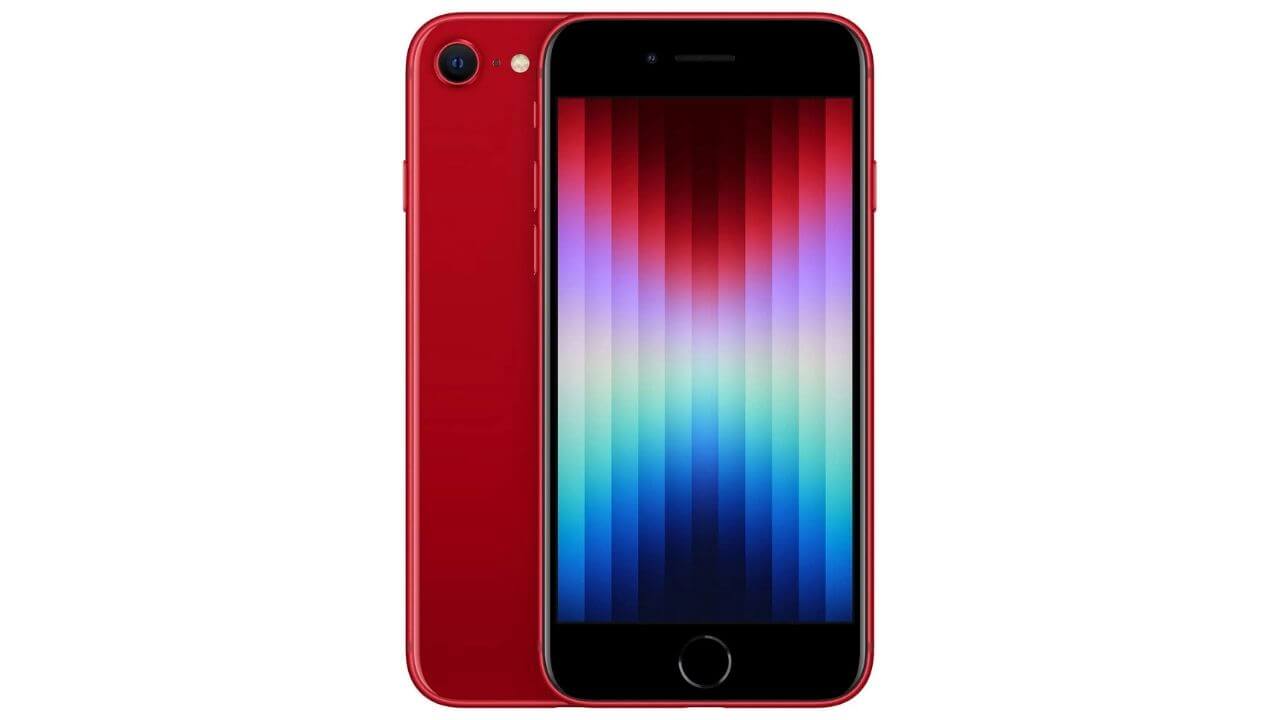 If your parents find it easy to use the classic iPhone 6 design, you should think of buying them the latest iPhone SE 2022 aka iPhone SE 3. It is one of the best iPhones for seniors that is available in the market at a much more affordable price. The iPhone SE 3rd Gen features 5G, one of the most powerful mobile chipsets, the Apple A15 Bionic chipset for superior all-around performance. The third-generation iPhone SE comes with almost similar features and identical designs that we saw in the second-generation iPhone SE. Why is it one of the best portable phones for seniors? The iPhone SE has a considerable display size that offers a good grip for the weakening hands of the elderly. Generally, large phones are tough to handle for them. What's more? Even with just a single lens, the camera quality is quite good, allowing seniors to capture precious moments with their loved ones. Plus, the Touch ID is easier to deal with than Face ID for the seniors. Overall, iPhone SE 3rd Gen is quite a handy phone for senior citizens who don't want to go with the heavy weight flagship smartphones such as
Galaxy S22 Ultra, iPhone 13 Pro Max, and more. 
Make sure to grab these must have accessories like screen protectors and cases for the 3rd Gen iPhone SE.
Also read: 17 tips to make your iPhone's camera better
7. Doro 8035 (Best phone with a physical home button)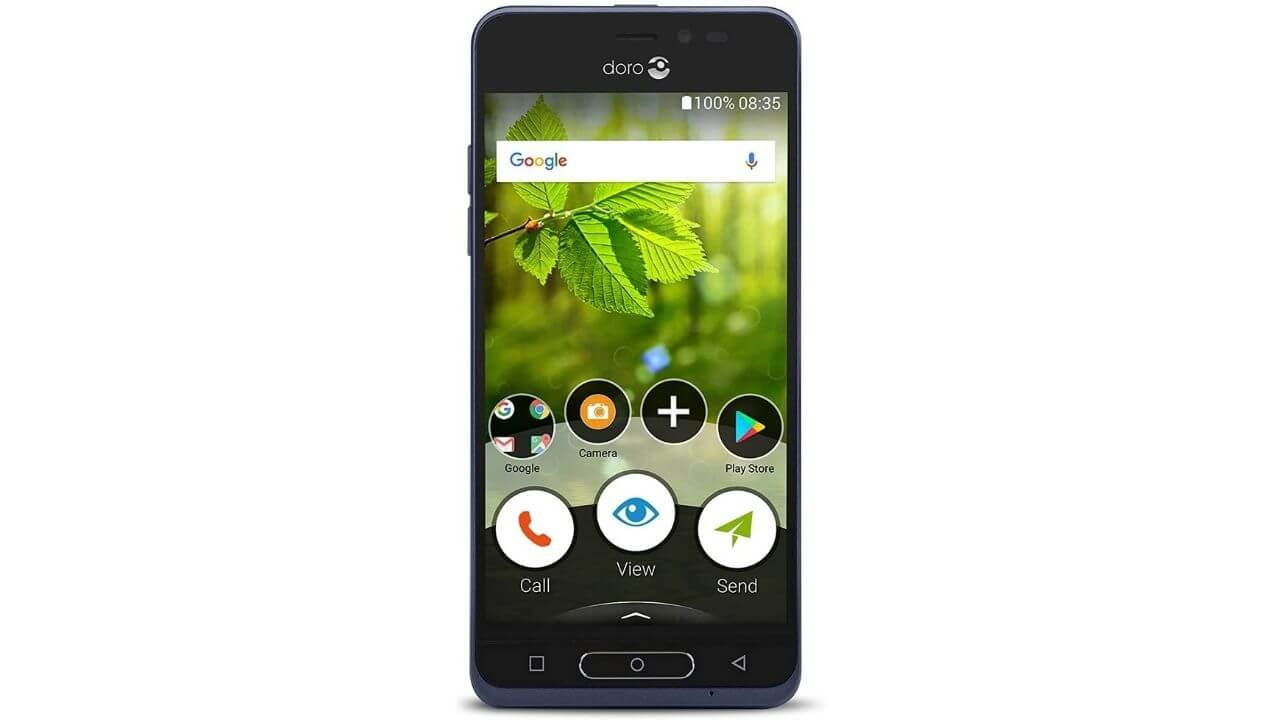 If you are looking for one of the best big-button cell phones for seniors, nothing can beat the Doro 8035 at this point. It is a basic smartphone known for its simple UI and hassle-free navigation. The large on-screen buttons make it easy to find various features leaving back all the hassle of finding a touch-based button. The Doro 8035 is an easy-to-use smartphone for seniors that features a 720p touchscreen display, a 5MP rear camera, voice dialing, an emergency call button, and hearing aid compatibility. Also, it comes with a charging dock to avoid having to keep track of cables or plug them into tiny USB ports. What's more? There is even an optional emergency wrist button you can buy from Amazon for easier monitoring and tracking.
8. Moto G Power (Best smartphone with simple UI)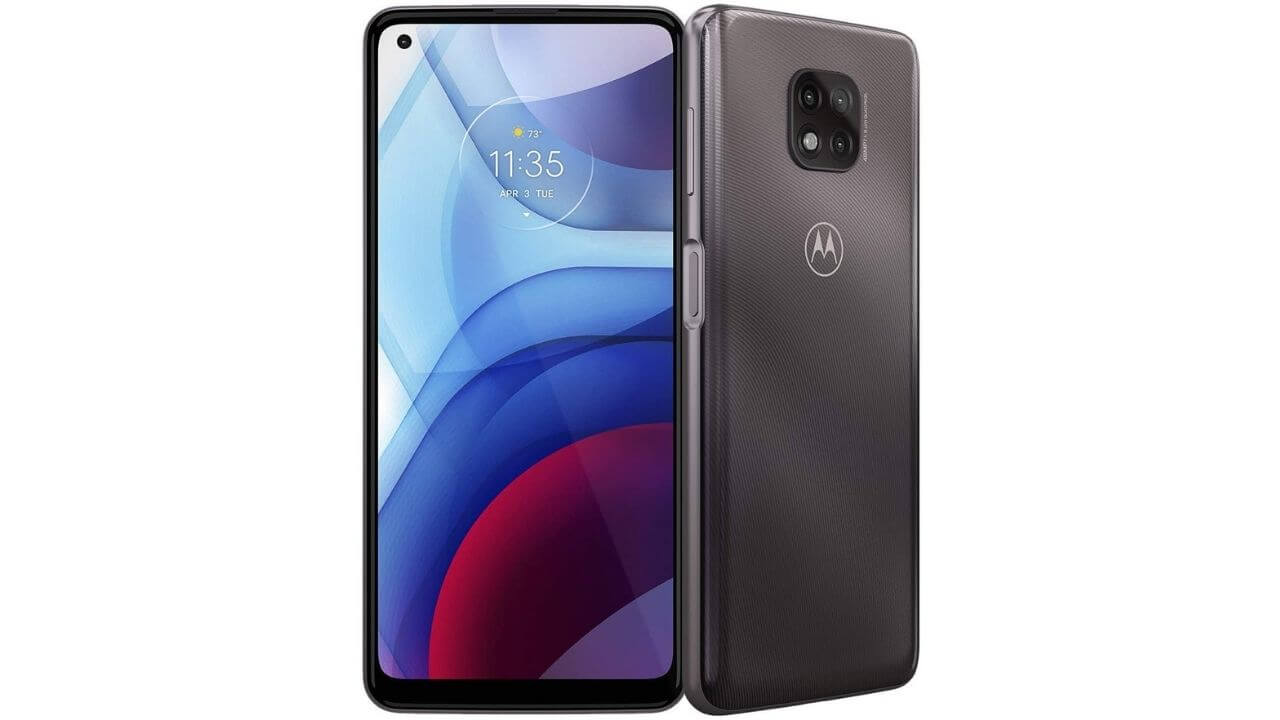 This smartphone from Motorola is particularly a great option for seniors not only because of its large display. It comes with loud volume levels,  le display and a big battery that lasts very long making it one of the most value for money smartphones for old people. As tested the battery on Moto G Power can last up to 3 days of average usage, while it lasts up to 18 hours while streaming HD videos at full brightness. On top of that, the Moto G Power comes with a hearing aid compatibility rating of M3/T3; a rating of 3 here indicates that this smartphone satisfies the American National Standards Institute's (ANSI) standards for use with a hearing aid on the microphone (M) setting or telecoil (T) setting. As with other smartphones, this one also comes with Talkback features which can be enabled via the accessibility settings of the device. The cameras on the Moto G Power are not up to the mark given the availability of smartphones more focused on the cameras these days, but it works pretty well for the price this smartphone is being offered in the market. Don't worry if you are afraid of cluttered home screens and app icons, the Moto G Power is one of the best smartphones for seniors with simple UI and navigation features.
Also read: Best Cases for Moto G Power
Just in case you are looking for a low-budget 5G phone for seniors, make sure to check the Moto G50 5G. It comes with excellent battery life and better camera quality as compared to the Moto G Power mentioned above. 
9. RAZ Memory Cell Phone (Best smartphone for seniors with dementia or Alzheimer's)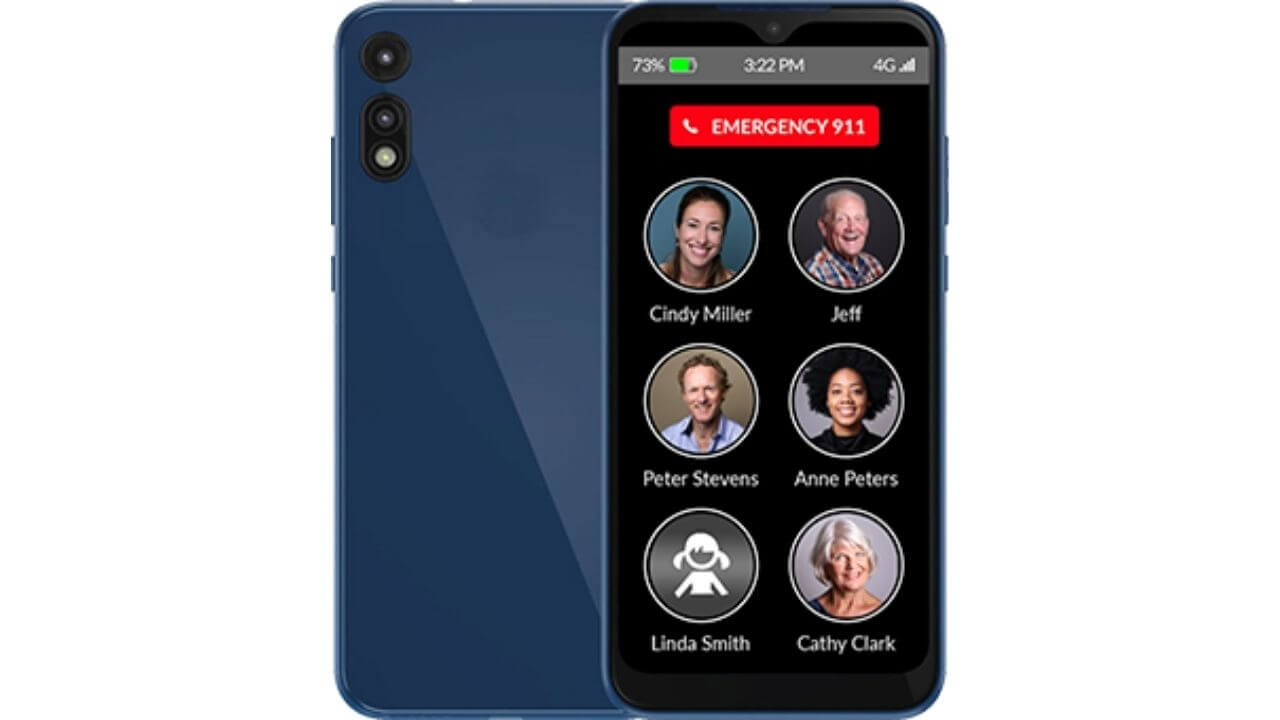 Here comes the best phone for seniors with memory loss, dementia, or Alzheimer's. RAZ Memory Cell Phone is an easy-to-use picture phone that allows an elderly person to stay connected with friends and family. This amazing smartphone for seniors is designed with a prime focus on simplicity. Whether it's the overall interface or placing calls, everything is just so simple! The phone includes only one screen and it has three elements. First, there are pictures and names of up to 30 contacts (by default is 6). Next, there's a dedicated button to call 911. Lastly, you can know the time, remaining battery power, and signal strength. To make a call, just tap the picture, and you're good to go. With no notifications, software updates, or voicemails, the RAZ Memory Cell Phone is super-easy and convenient for senior citizens who find smartphones difficult or challenging to use. 
One of the most impressive features of this simple smartphone for seniors is the ability to remotely manage all the aspects of the phone via an app or online portal. This includes creating and editing contacts, tracking the phone's location, sending reminders, restricting the incoming calls to contacts, and more. Therefore, even if you're not physically there with your loved ones, you can ensure that they are having a comfortable experience. In case they face any issues, you always have a way to get to them. For example, if your grandfather has gone for a morning walk and due to weak memory, he forgets how to reach back home, you can track the location, and comfort him to the home. What's more? The RAZ smartphone for seniors with dementia is also compatible with wireless chargers and works with T-Mobile, Red Pocket Mobile, and Mint Mobile carriers.
10. Easyfone T200 4G (Best Big buttons phone for seniors with SOS button)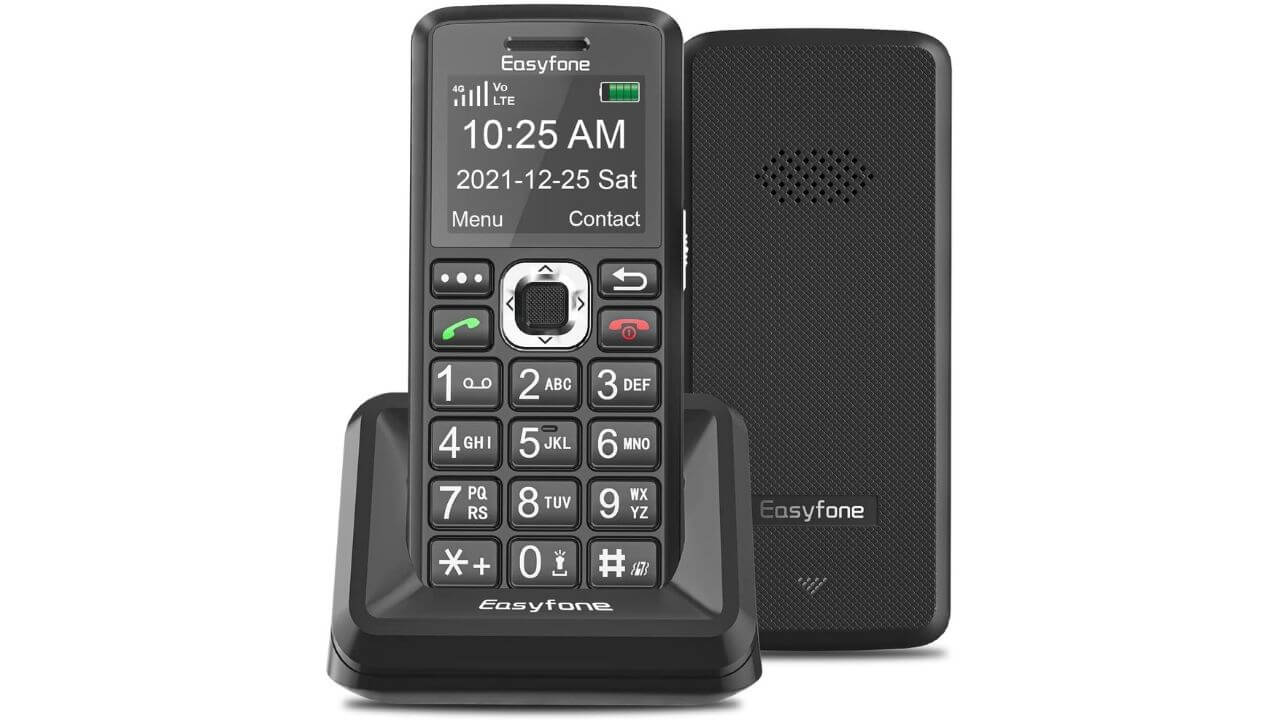 Here comes a simple basic phone that we used to see in the early 2000s. This keypad mobile phone features big backlit buttons and talking number features which can be useful for seniors with low vision. Besides, it comes with relatively louder volume levels which ensure elderlies are hearing all the time what their loved ones have to say. It is a simple basic cell phone with no internet and a camera. So, if you have senior citizens in your family who are not tech-savvy, this is the perfect phone for them. What's more for seniors? There's a special SOS button for emergency calls, and eight Speed dial buttons (Dedicated Direct dial keys), which can be helpful for your parents or grandparents to seek help in case of a medical emergency. Plus, this hearing aid compatible phone comes with Bluetooth ensuring that those who can't hear properly can pair up hearing aid devices. Additional features include an integrated torch, FM Radio, audio player, alarm, and calculator. Please note this basic mobile phone for seniors with an SOS button is not compatible with AT&T and any CDMA Networks like Verizon, Sprint, and Boost Mobile.
11. Xiaomi Redmi Note 10 Pro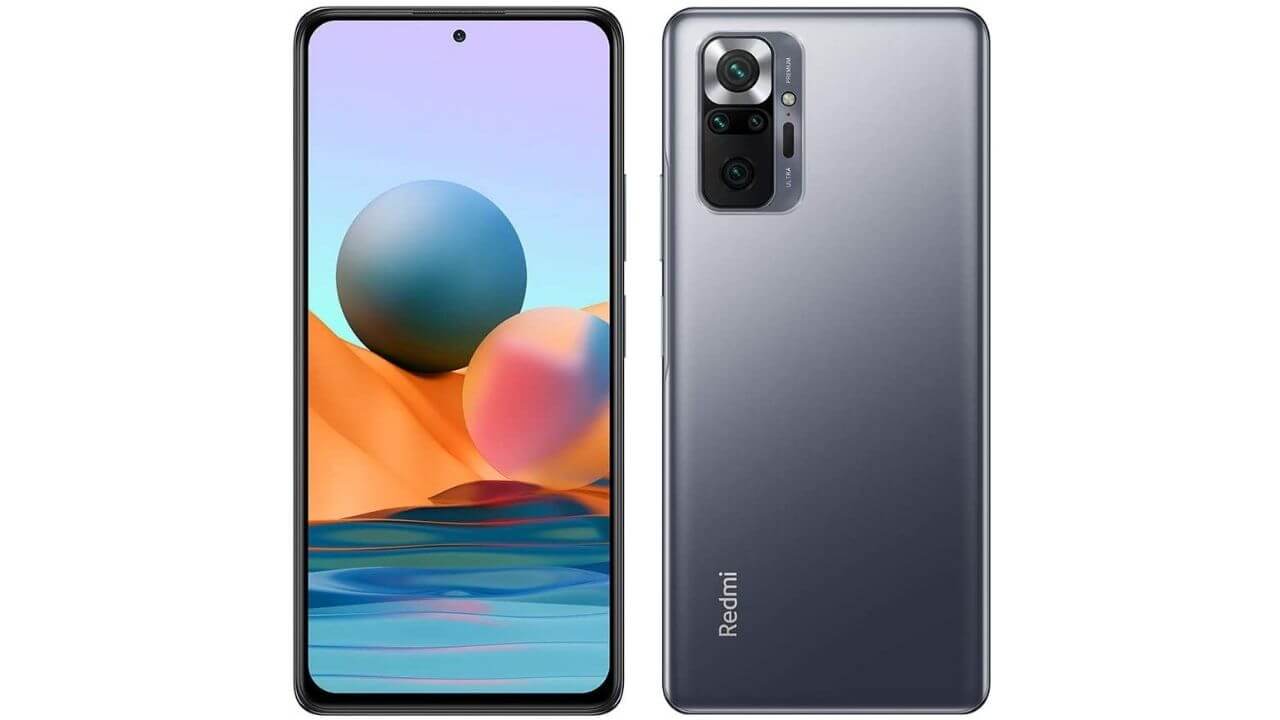 When we talk about the Redmi Note 10 Pro, three things can majorly benefit senior citizens. The first one is the bigger 6.67″ OLED display that shows everything crisp and clear. Next has to be the rear quad-camera setup which allows old people to capture everyday memories from their retirement tour. Talking about features for seniors, it is important to mention the inclusion of a 5000mAh battery, which can be stretched across two days with ideal usage. Another important factor covered by this Xiaomi phone is the simplified UI and clean home screen setup. The icons are fairly large to be visible by seniors with low vision as well. Did we mention the large OLED display also makes the Redmi Note 10 Pro one of the best contenders for the best smartphones for seniors for video calling? Despite lacking 5G, it is an all-around performer combined with the Snapdragon 732G chipset, at just $260. 
Also read: Top 13 Offline Arcade Games for Android
12. Snapfon ez4G (Best Big-Button Cellphone for Seniors)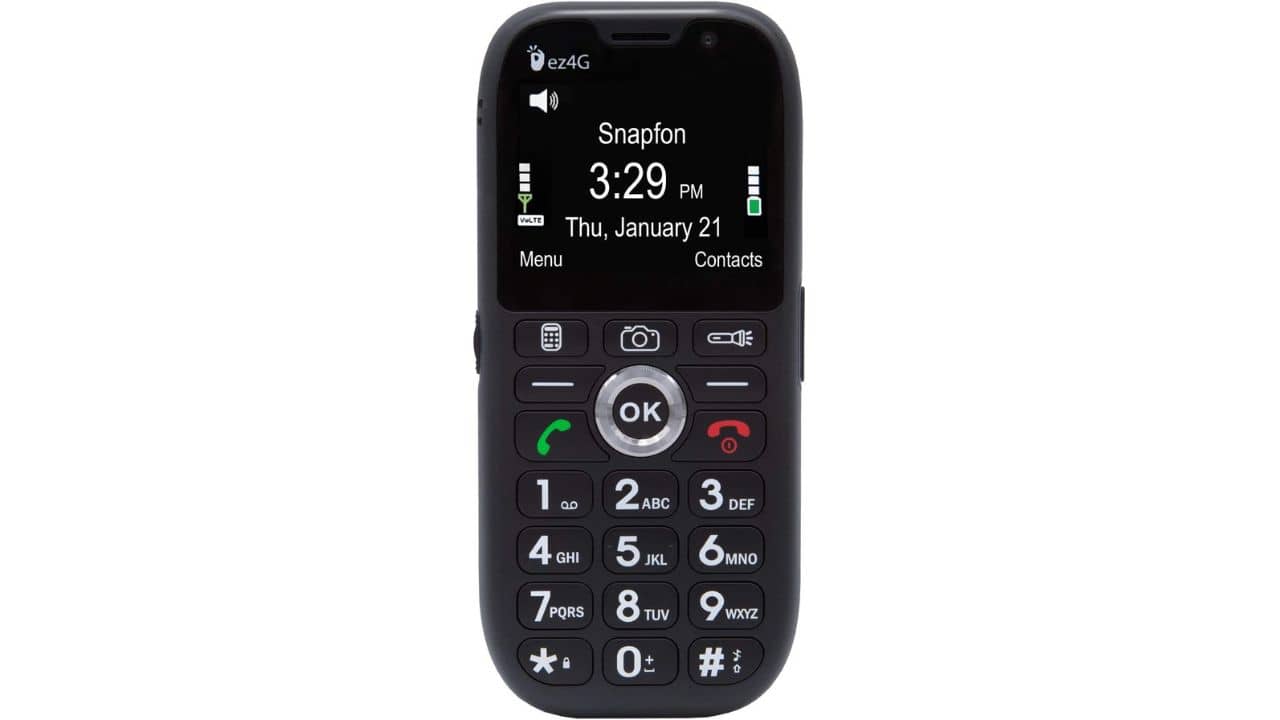 If you are looking for one of the most budget-friendly phones for senior members at your home, we suggest going with the Snapfon ez4G. It is built for ultimate simplicity and ease of use. There are large keys for sending texts and making calls. Whereas you won't find unnecessary or confusing keys on the device. Therefore, this phone is as simple as it can get. The Snapfon ez4G also includes an emergency button with 24/7 monitoring, however, you have to pay a monthly fee for the same. In the time of emergency, senior citizens can press the dedicated SOS button at the back and the live operator will assist them with the situation. It is indeed a great cell phone for seniors with basic medical alert features. Other major features that might come in handy for senior citizens are the fall-detection feature, compatibility with a hearing aid, speech-to-text capabilities, and more. Let's not forget, older people can easily access the internet, GPS, and even use Wi-Fi. 
Best Cell Phone Carriers for Seniors
Now that we have covered some of the best phones for seniors that can be bought in 2023, it's now time to mention the best cell phone carriers for seniors that offer special deals on text, call, and data plans for seniors. 
Verizon:

Verizon is the second-largest cell phone carrier in the United States. Talking about senior-friendly packages, Verizon's  55+ Senior Phone Plan offers unlimited talk, text, and data. However, it is only restricted to users in Florida. If you are living in other regions, you can avail benefits of other senior-friendly plans, but you won't get a senior discount. 

AT&T:

Being one of the two nation's largest mobile carriers, AT&T offers dedicated mobile plans for seniors, named AT&T Senior Nation. It is the best plan for seniors who only use their phones to make calls. Similar to Verizon, AT&T also offers a discounted unlimited plan for seniors aged 55 and up, but it's currently available only to Florida residents.

T-Mobile:

If you are looking for an affordable unlimited mobile plan for seniors, make sure to check out T-Mobile. It offers widest 5G coverage across the United States and three different senior-friendly unlimited data plans. As compared to the traditional data plans, senior-friendly plans offered by T-Mobile are much more affordable. Plus this cell phone carrier offers great perks alongside which may include free hotspot data and in-flight Wi-Fi for seniors.

Lively:

Lively is known for cell phones and medical alert systems for seniors. It offers various senior-friendly plans starting right from $14.99/month, which includes a range of health and medical features. If you're looking for a phone that doubles as a medical alert system, then Lively is the way to go.
Now that you have chosen the best phones and carrier plans for seniors, it's time to keep the phone free of clutter so that seniors can use it easily without any distractions. 
Best Minimalist Android Launchers for Seniors 
As we know smartphones these days have clunky home screens especially Android smartphones, so it might get difficult for seniors to easily use their phones. The fact that older people always look for phones with simplified UI and decluttered home screens. It helps to do what they exactly want. So, it's advised to have a minimalist launcher installed on the phones for seniors. What's the benefit? Minimalist launchers are the lifesavers as they help customize the themes and focus on what exactly you want on the home screen, some of them also help block ads, notifications, and more. You can customize them to just show 3 large icons on the home screen. You can customize them to show custom shortcuts that will give you a video call with just 1 tap. These are just some of the accessibility features that these minimalist Android launchers offer for older people. If you are not sure which one to install on your parent's or grandparent's phone, here are a few ones that we recommend you check in the first place. 
Before Launcher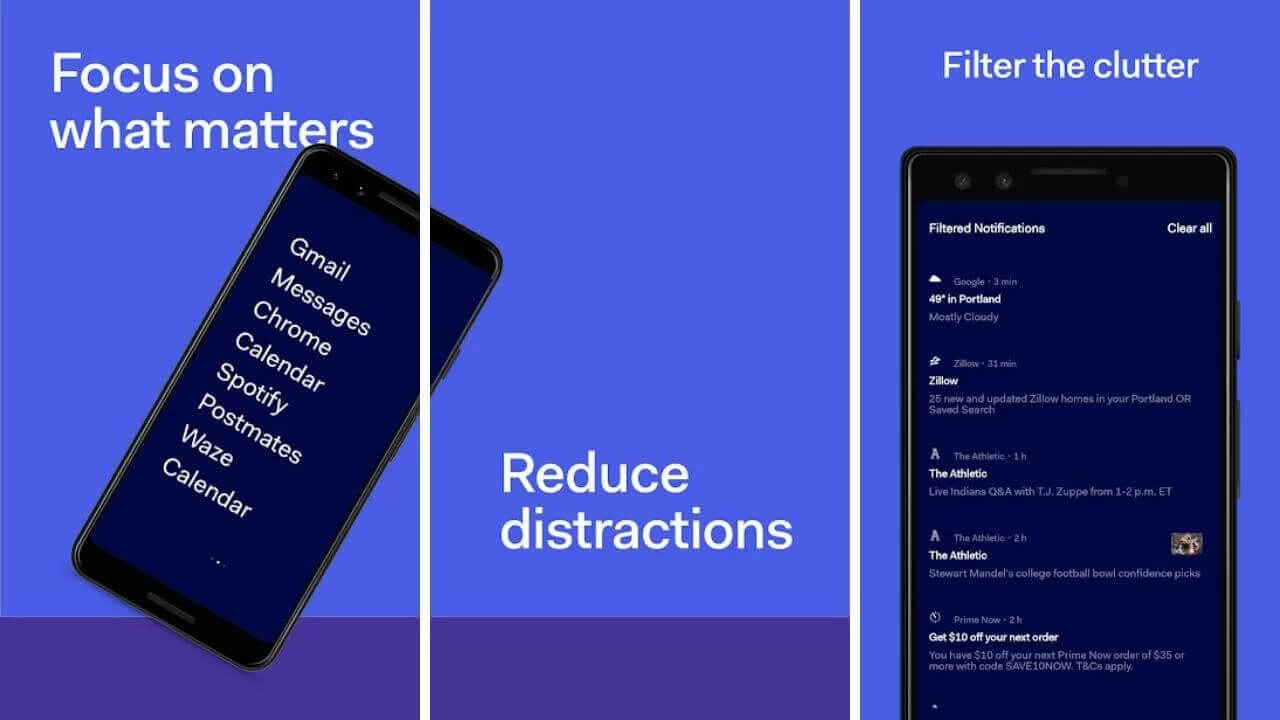 With numerous features being offered, smartphones have become more and more addictive with time. So, if your parents often get bothered with excessive notifications and cluttered home screens, the Before Launcher is the one you should install on their device. It is one of the best minimalist launchers that offer simplified user interface and allows decluttering of the device's home screen by showing up to 8 important apps without icons but in a textual manner. You can even filter out notifications and choose solid color wallpapers (Black, Dark Blue, etc) to keep the battery optimized.
Slim Launcher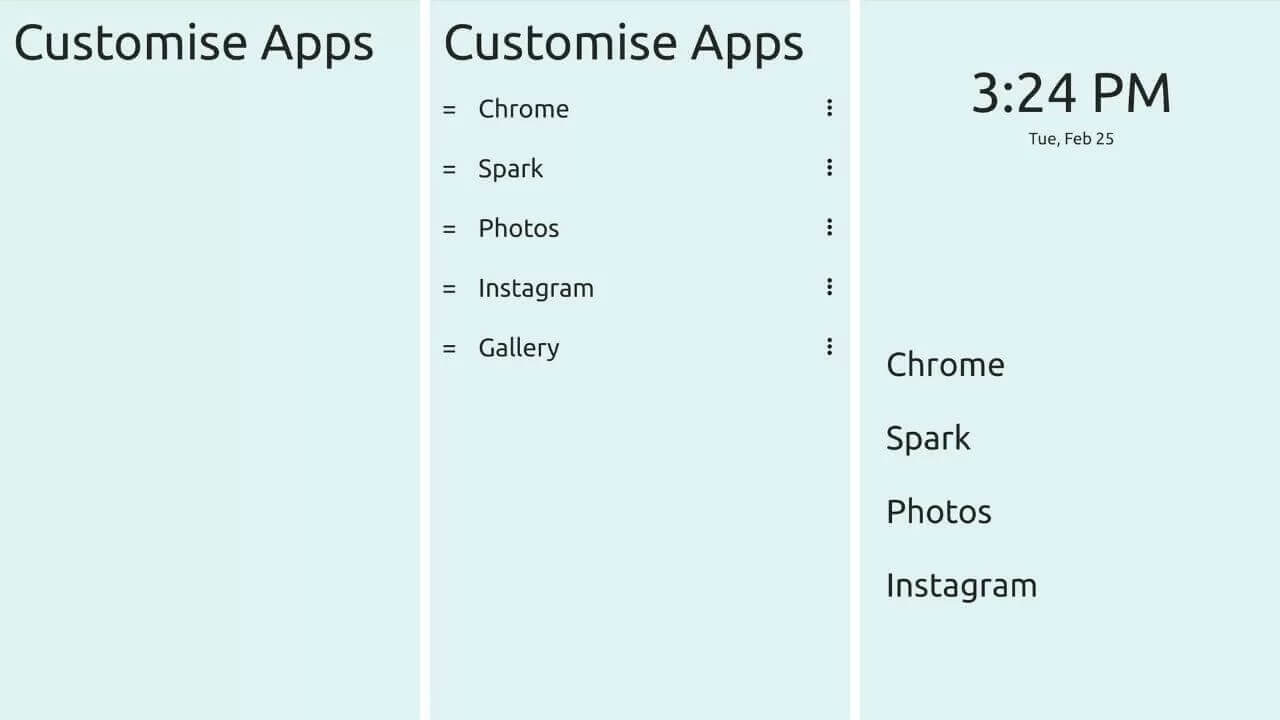 Want to keep your phone out of fuss and pretty simple to use? The Slim Launcher Should be the answer to this. This lightweight minimalist Android launcher. With the Slim launcher installed on your device, the home screen looks clean with app names appearing without any icons simple to navigate or touch. If notification icons staying on the status bar keeps bothering your grandma, you can hide them all together using the slim launcher. What's best about this minimalist launcher? It is ad-free. Now you don't have to worry about your parents landing on suspicious sites by clicking the random ads displayed on their devices. 
Niagara Launcher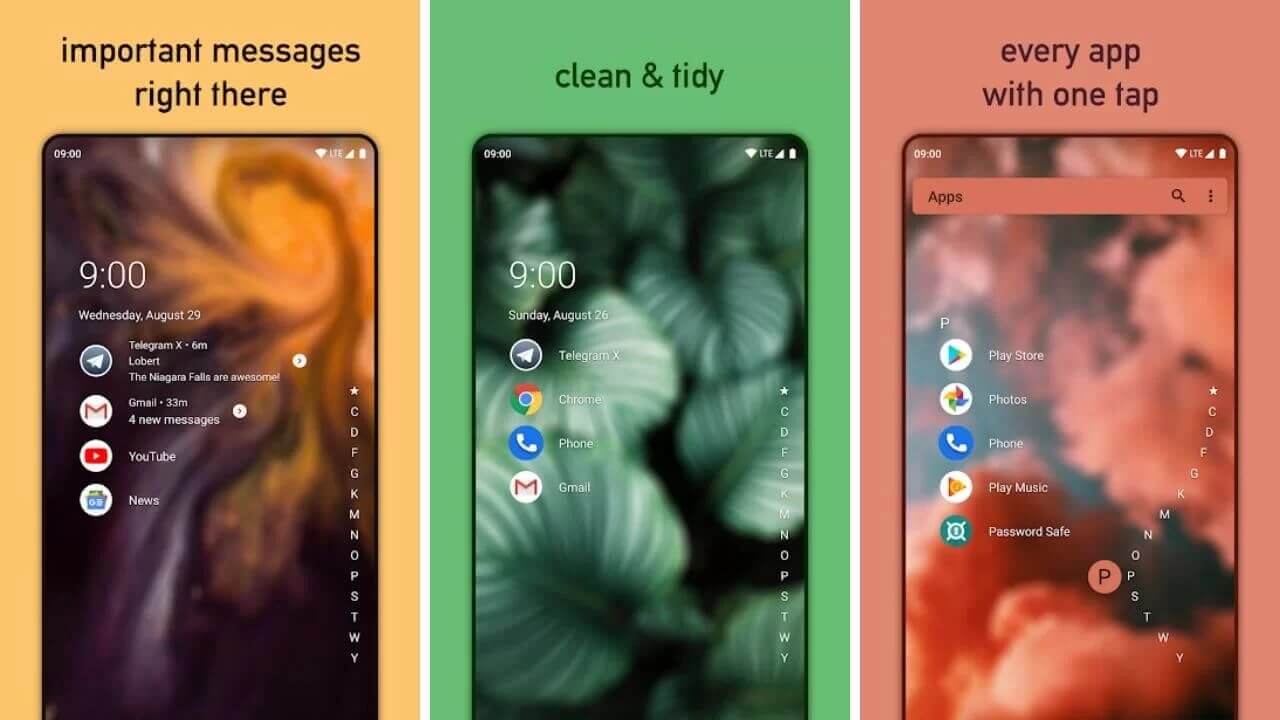 The Niagara launcher is surely the best launcher for seniors who like to see a variety of wallpapers throughout the day. Nominated as one of the best minimalist Android launchers, Niagara offers various customization features, and cool app drawer transitions to give smartphones for seniors a clean, crisp, and revolutionary look.
Honorable mentions to some of the best minimalist smartphone launchers for seniors
FAQs related to best phones for seniors in 2023
1. What is the easiest cell phone for the elderly?
If your grandpa or granny are not so tech-friendly but are looking for a phone so that they can communicate with you in times of emergencies, it is best to buy them an easy-to-use cell phone. We have listed some suitable options for the easiest cell phone for elderlies below, have a look:
2. Does Verizon have free phones for seniors?
Yes, Verizon offers free phones for seniors who can't afford them. This gives elderlies an option to stay connected with their family and friends. An easy-to-use cell phone allows senior citizens to get in touch with emergency services like SOS, etc. 
3. How do senior citizens get a free phone?
If you are the son/daughter of a senior citizen from the US and reading this, let me tell you your parents can avail of a free phone service. A Federal government initiative named '
The Lifeline Assistance Program' provides free phone services to elderlies. It includes monthly minutes and text plans to help seniors stay connected with their families in times of emergency. This free cell phone service has been there for quite a long time and has several service providers throughout the United States. 
That's all for now in this buying guide where we talked about the best mobile phones for seniors you can buy in 2023. Which one did you choose for a senior member of your family? Do let us know by commenting down below.