Apple added widgets to the Home Screen with the iOS 14 update, which allowed users to access their favorite section or feature of an app easily. Now, with iOS 16 widgets are getting a much-needed update so you can add them to your lock screen as well. With this, you don't even need to unlock the phone and check for weather updates, tasks, events, orders, etc. This is an important upgrade as iPhone 14 Pro and 14 Pro Max come with an always-on display so you can easily customize your lock screen according to your needs and get updates by just glancing over the phone. Apple did not limit the widgets to its first-party apps, but there are a lot of third-party applications that offer lock screen widgets which you can download from the App Store. We have categorized this list of widgets so you can easily choose what you're looking for or get an idea of some of the must-have widgets to add to your iPhone's lock screen. These apps can drastically improve how you interact with your iPhone and after testing and researching we've gathered some of our favorites that will be helpful for all kinds of users.
Do keep in mind that right now you can only add 5 widgets at most (1 above the clock and 4 below the clock). However, you can easily switch between lock screens and set different lock screens for different moods. For example; Make a fitness lock screen for gym time with all fitness-related widgets, and a work lock screen with all productivity-related widgets like
calendars, to-do lists, etc. so you have even more information at your fingertips.
For anyone who's been thinking that only the latest iPhone 14 series will get supported by iOS 16 then that is not the case. If you own an iPhone 8 or later, your smartphone supports iOS 16; therefore, you can download these apps and customize your lock screen. You just have to update your device's software and you can easily use all the features that iOS 16 supports.
To make things easier for you we have extensively covered all the features that you'll get with iOS 16 in this article –
All you need to know about iOS16.
If you are using iOS 15 and not sure whether to update your software or not here is our detailed comparison – iOS 16 vs iOS 15: Should you Update?
How to customize the lock screen on iOS 16?
Now, if you have upgraded your software to iOS 16 you can easily personalize your lock screen which was very bland otherwise. With iOS 16 you can include different widgets, change how the time appears, and even add a depth effect for pictures taken in portrait mode. Here we have listed some points which you can use to customize your lock screen. 
1. How to add New Lock Screen?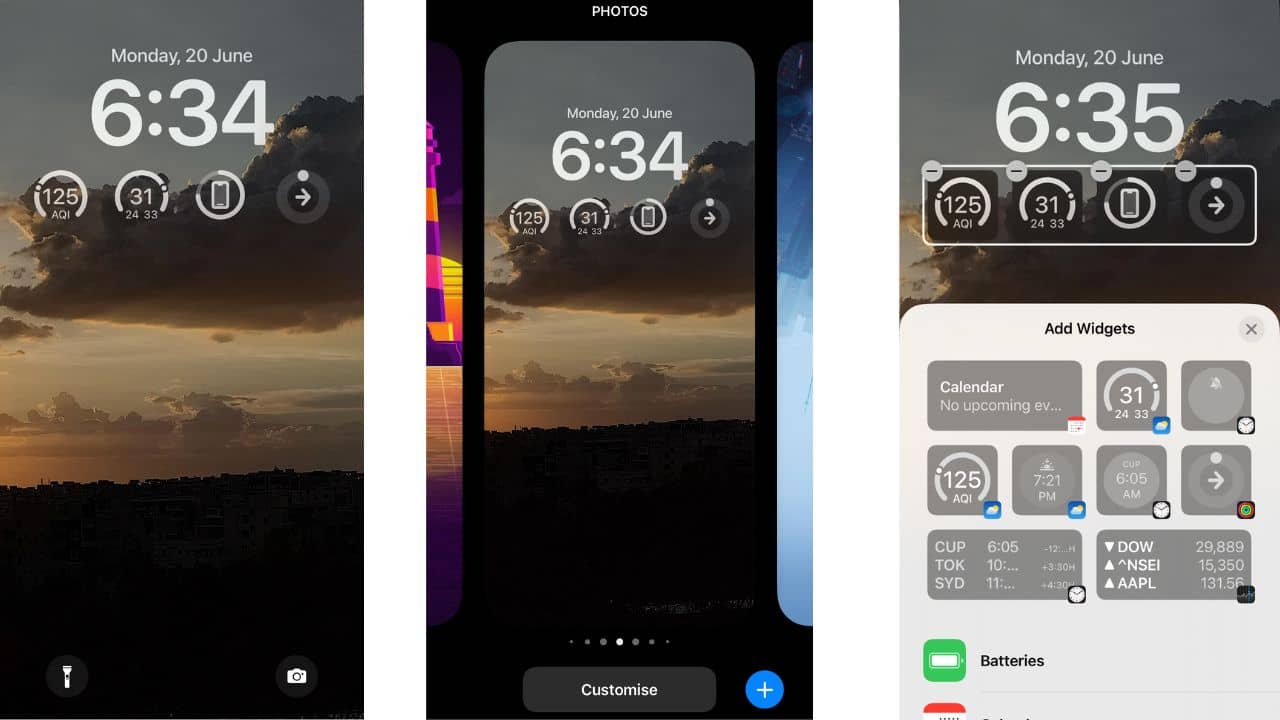 Not everyone wants a different lock screen for different times of the day but if you do; here is how you can do it.
Tap on the Screen or press the Side button to view your lock screen.

Press and hold and when the phone vibrates, swipe left.

Tap the + button under Add new and select a wallpaper category then, click Done.
2. How to add Lock Screen Widgets?
Once you have selected your wallpaper; you'll be presented with 3 different sections at the top of the preview where you can add widgets. The Clock is the only widget that you can not replace. Your phone will show you different widget previews which you can add easily on your lock screen. And to help you with the features of other widgets please jump to the list of best first-party widgets and the best third-party widgets for the lock screen.
Best Built-in Lock Screen Widgets in iOS 16
These are the apps that come pre-installed on your iPhones and offer a ton of lock screen widget options to choose from. 
1. Calendar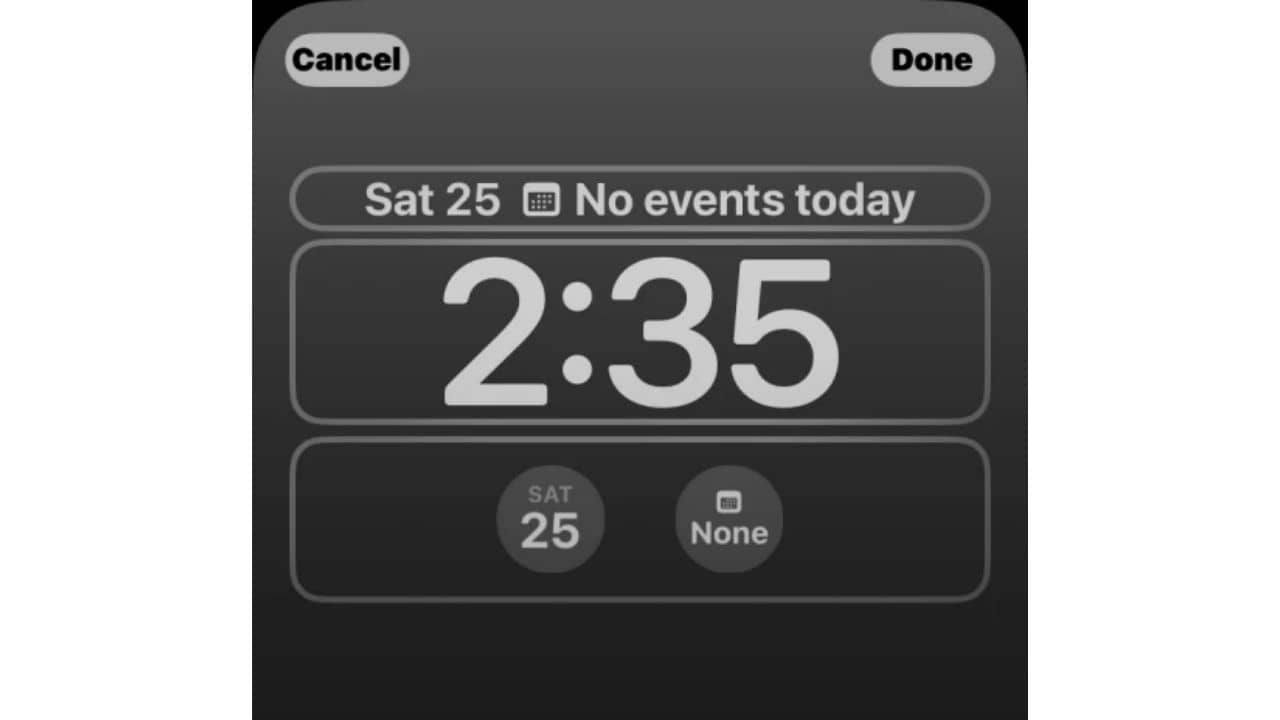 The Calendar app has 5 widgets you can add accordingly above or below the clock. The widgets above the clock display today's date along with any event you have added for that day. For adding any widget below the clock there are different square widgets: one displays the date while the other one displays the due tasks. You can choose both or either one.
2. Clock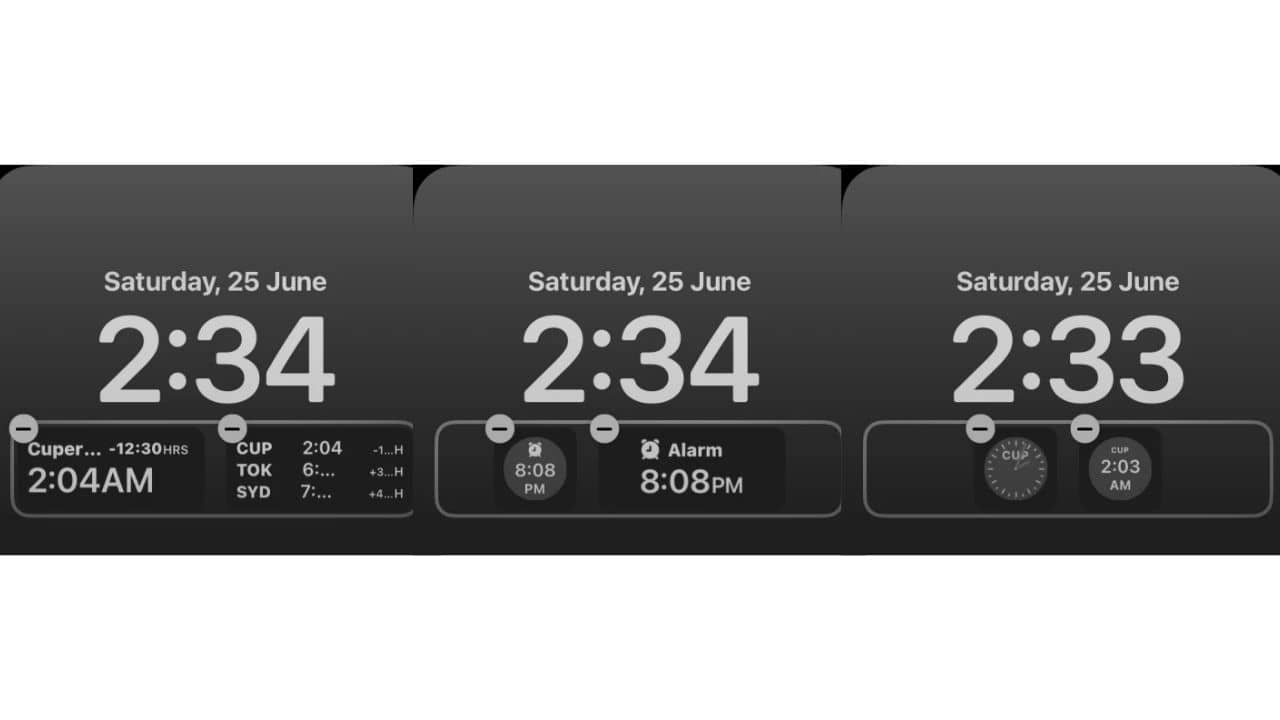 The Clock app has very useful and functional lock screen widgets for iPhone as you get 8 widgets. Firstly, with the digital clock, you can check the local time straight away and add time clocks for other regions. You can also add alarm clocks right at the lock screen although it is not that useful. But what is useful is to add analog or digital clock widgets of different time zones. This is a very useful lock screen widget for people who are living away from their friends and family because now you don't have to look for what time it is in another country before calling your loved ones.
Also read: Best Accessories to make the most out of your iPhone 14 Pro
3. Fitness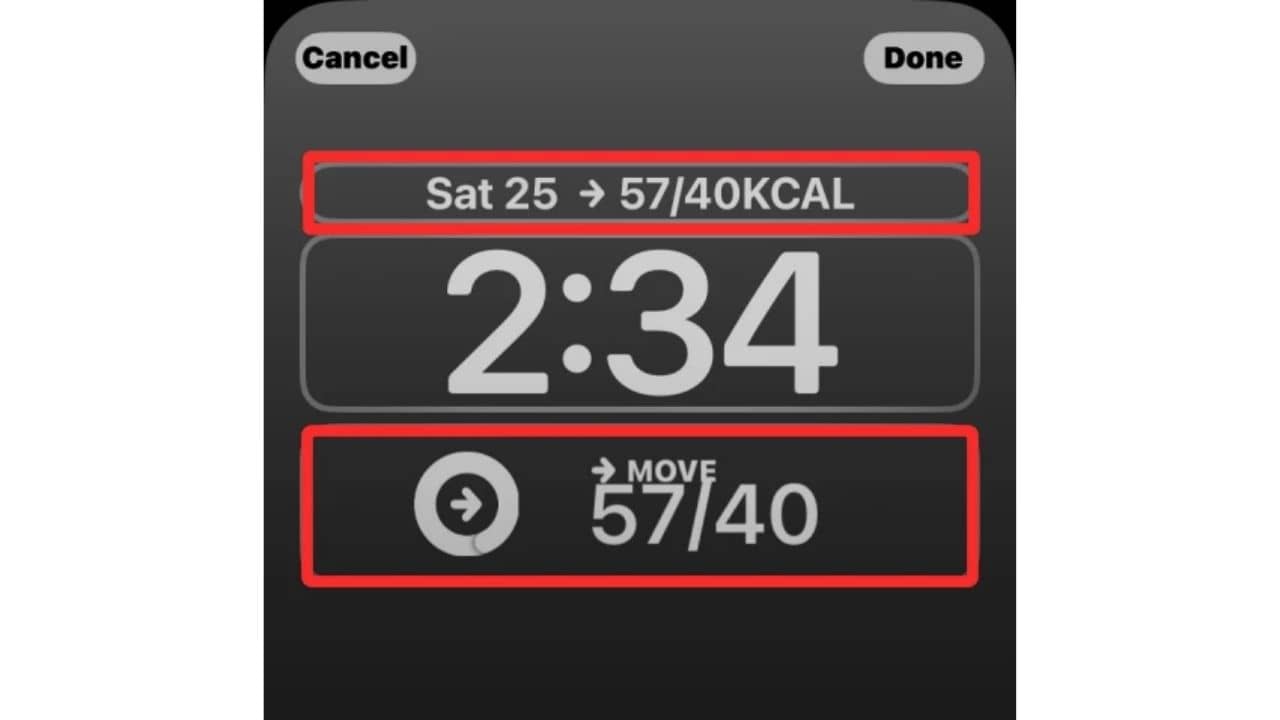 The fitness app has 3 widgets that can be added above and below the clock to view your goal info and activity ring easily. These widgets conveniently show your activity rings, like steps, active minutes, and how many calories you burned.
4. News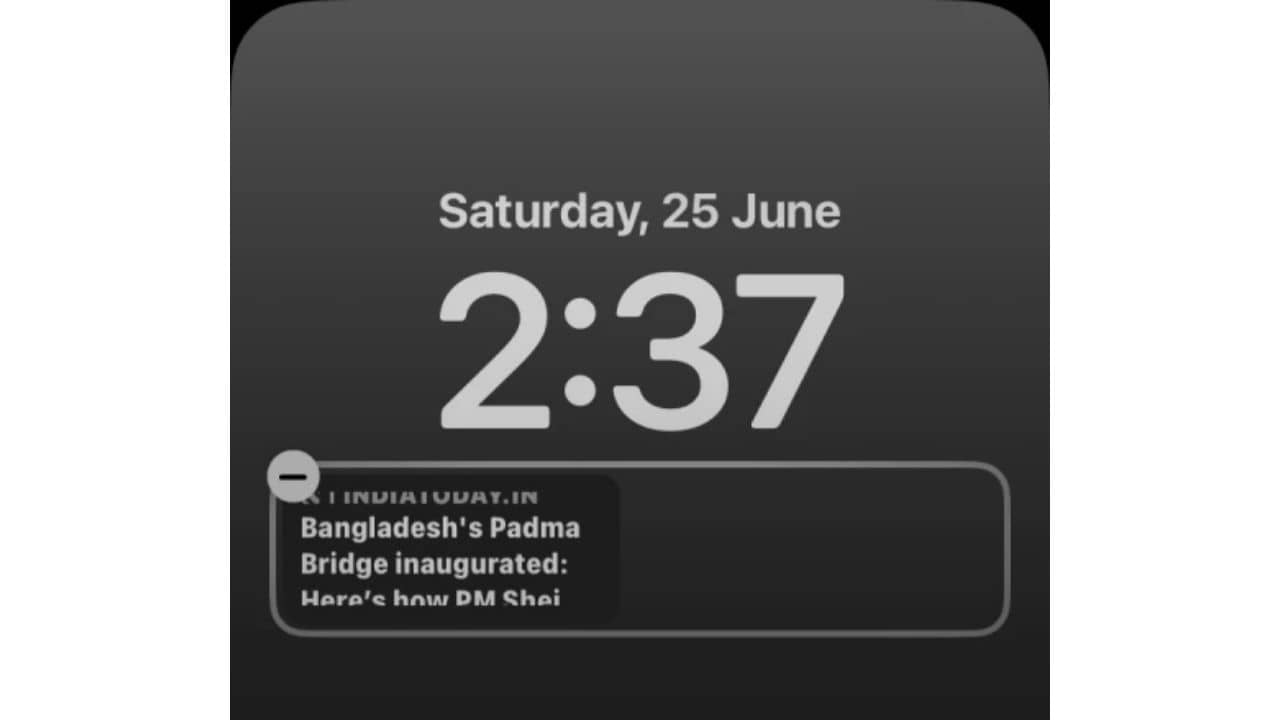 The Apple News app offers one widget which will display the headlines of top stories and today's news. This is an interactive widget; so when you add this, your lock screen will cycle through the news stories, and if you find that news interesting you can tap on it and read the full article. Although it is very distracting if you have an iPhone with an always-on display and the headlines are hard to read because of the compact size of the widget. 
Also read: Best iPhone 14 Pro Cases to Buy in 2023
5. Weather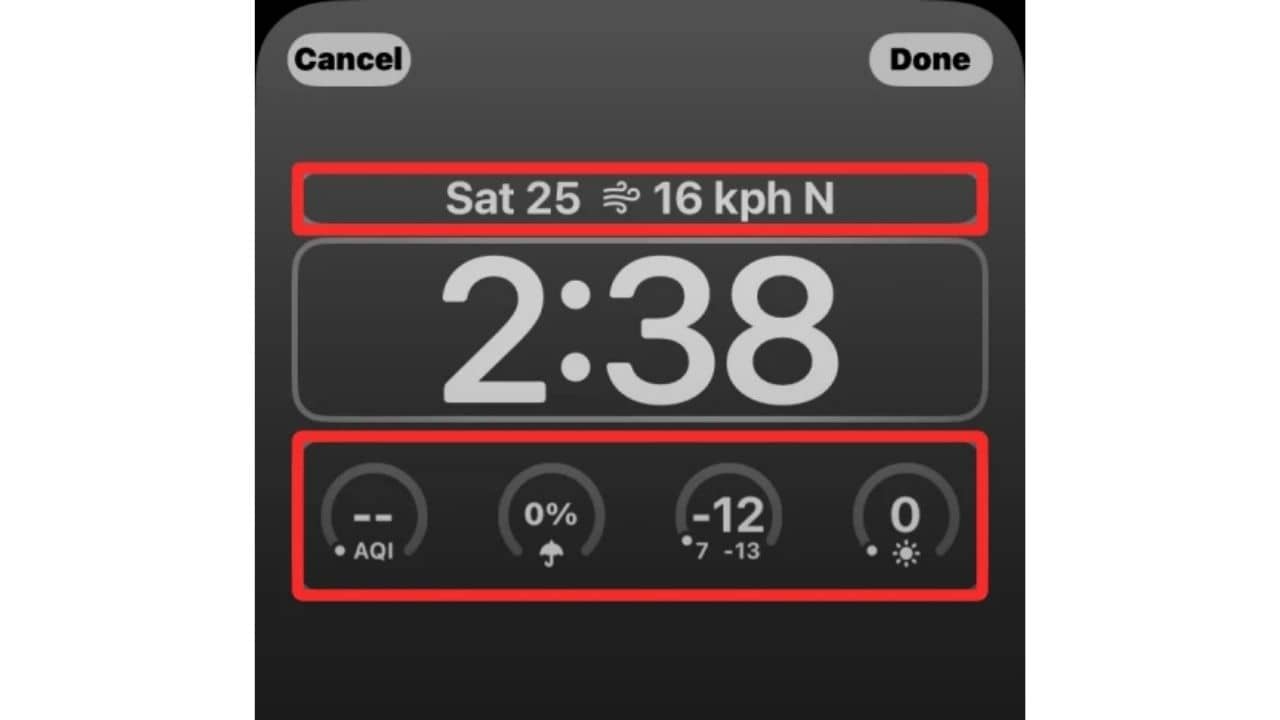 The Weather widget is the most comprehensive of all the first-party widgets. You can easily view the temperature, UV index, wind speed, AQI, precipitation, rain, air quality, moon and sun events, etc. These are very useful widgets for travelers and hikers so you can easily get information about the place where you're traveling. You can also create a travel lock screen to add the most useful lock screen widgets from the weather app.
6. Stocks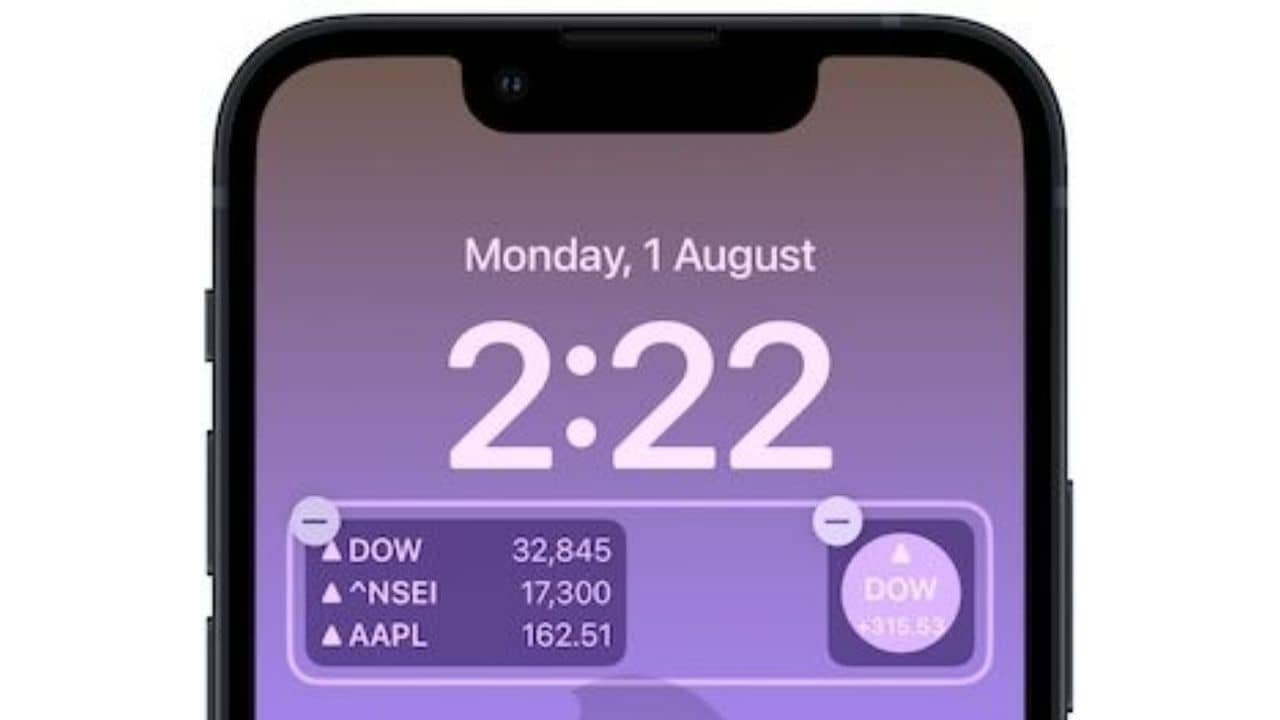 This widget is particularly important for traders or people who invest in stocks and will help you keep track of your portfolio. You will get 2 widgets with this app one small widget which displays one stock and the bigger one can display up to 3 stocks at once. However, we are not sure how quickly the widget refreshes the price, but if you invest you might as well give it a try.
Also read: Best Screen Protectors to Shield your iPhone 14 Pro's Display
7. Batteries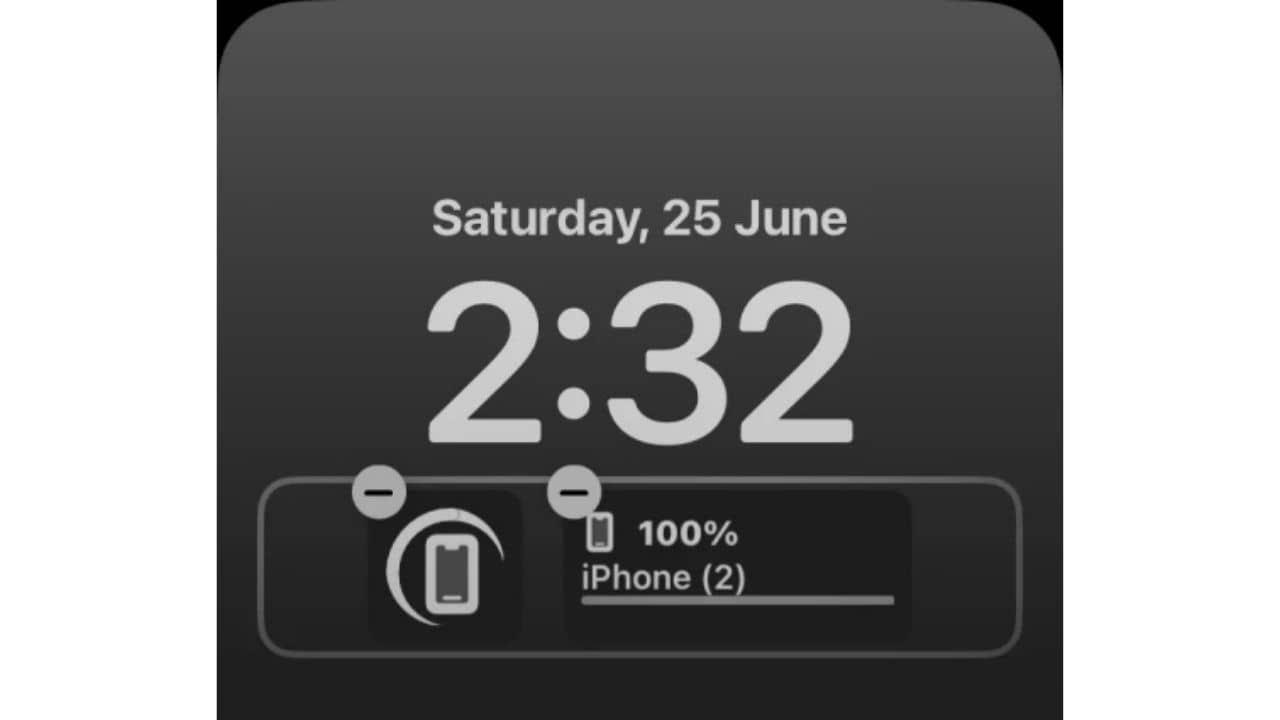 You'll get 2 widgets with the batteries that display the battery percentage- one square and the other one rectangle. When you connect your AirPods or Apple Watch, these widgets will show you the battery percentage of the connected devices. You can change this in the settings option. This is a very helpful widget as for the older iPhones you have to unlock your phone and then swipe down to see the status of your battery.
8. Home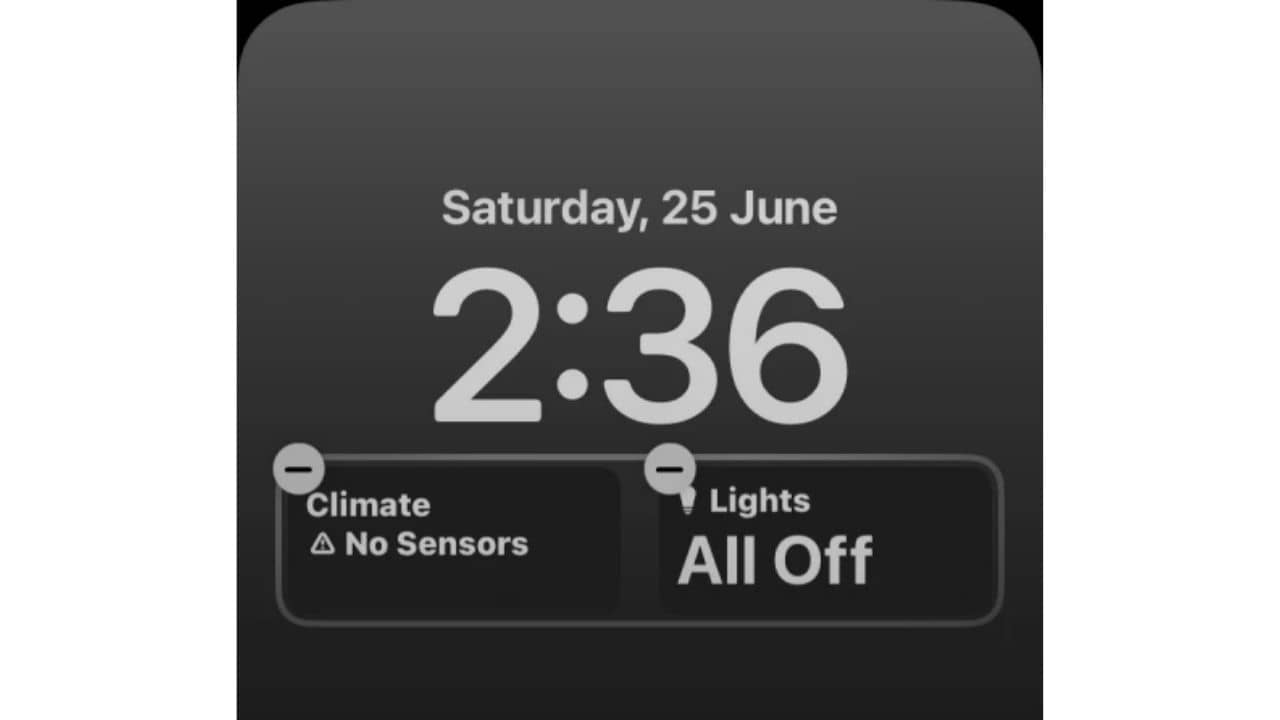 The Home app has one of the most helpful lock screen widgets on iOS 16 because of how much information it provides. 6 different widgets display a summary of your entire home and every smart home gadget you have installed in your house. You can easily have a look at smart locks, smart lights, climate control data, security accessories, and more. We think the smart lock widget is the most useful because you will be able to see the status of your house locks at all times. Please note, that this iOS 16 lock screen widget works only with Apple Homekit compatible devices. Keep reading for Amazon Alexa and Google Home compatible devices.
Also read: iPhone 14 Pro: 7 reasons to Upgrade and 4 not to
9. Time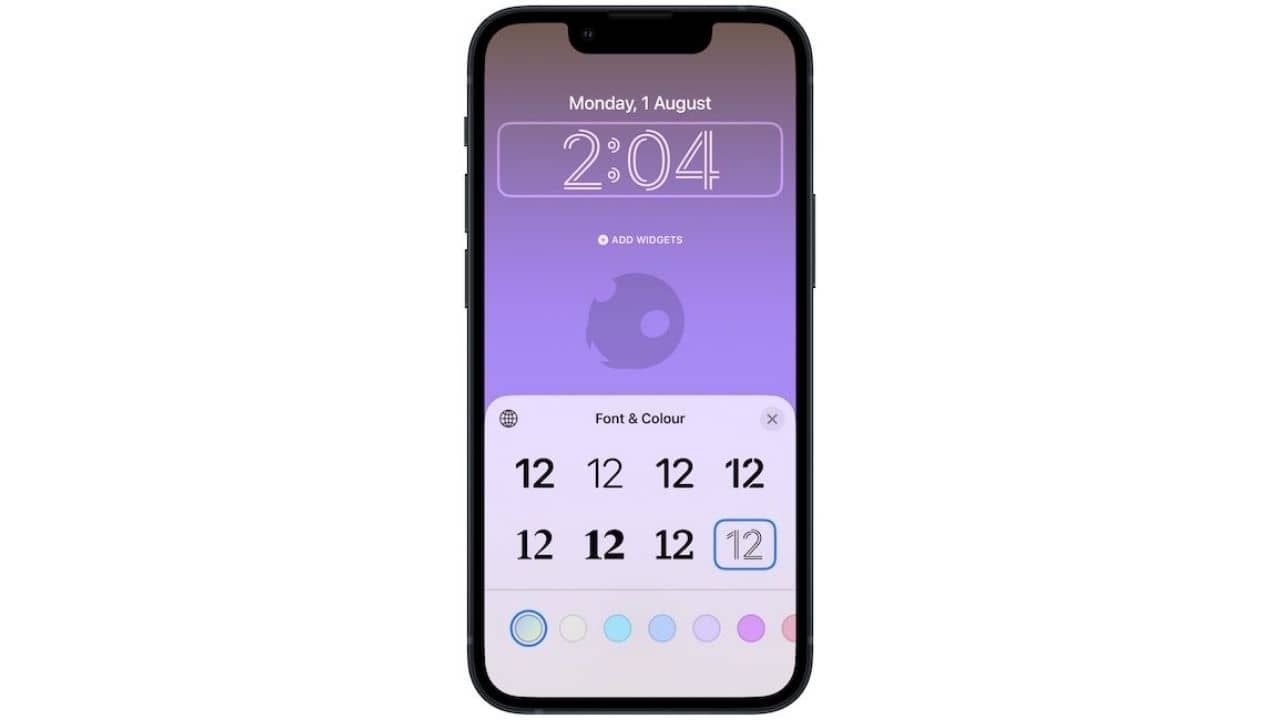 This is the only non-removable widget on the iPhone lock screen you can not remove it but you can edit it. You can click on it to reveal the editing options which will allow you to easily adjust the font and color so you match it with the wallpapers you've applied.
10. Reminders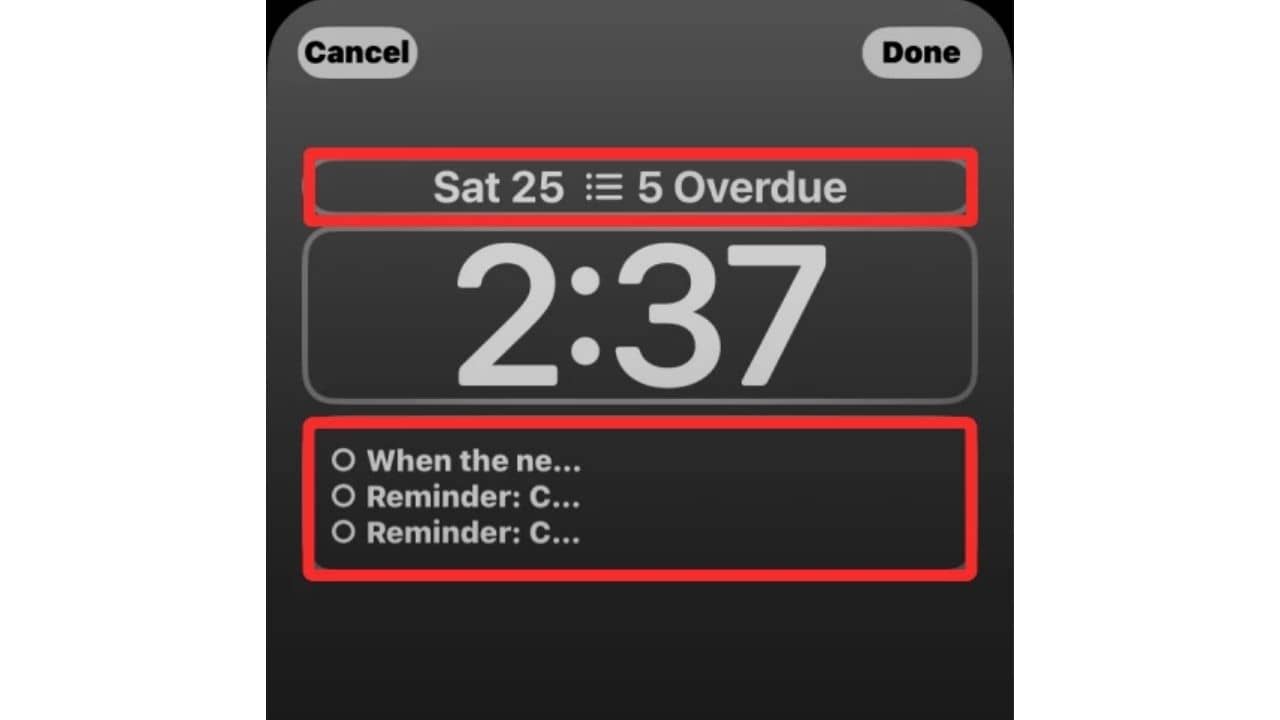 Another widget for people who want to stay on top of their tasks is the Reminders widget. It's a simple widget that shows you the list of reminders you've set so you will not get late for important meetings and appointments.
Also read: Best Fast and MagSafe Charger for iPhone 14 and 14 Pro Max
Top Third-Party Lock Screen Widgets for iOS 16
All the apps listed below are available on the App Store and you can download them by clicking on the name of the app to use their widgets.
Lock Screen Customization Widgets for iOS 16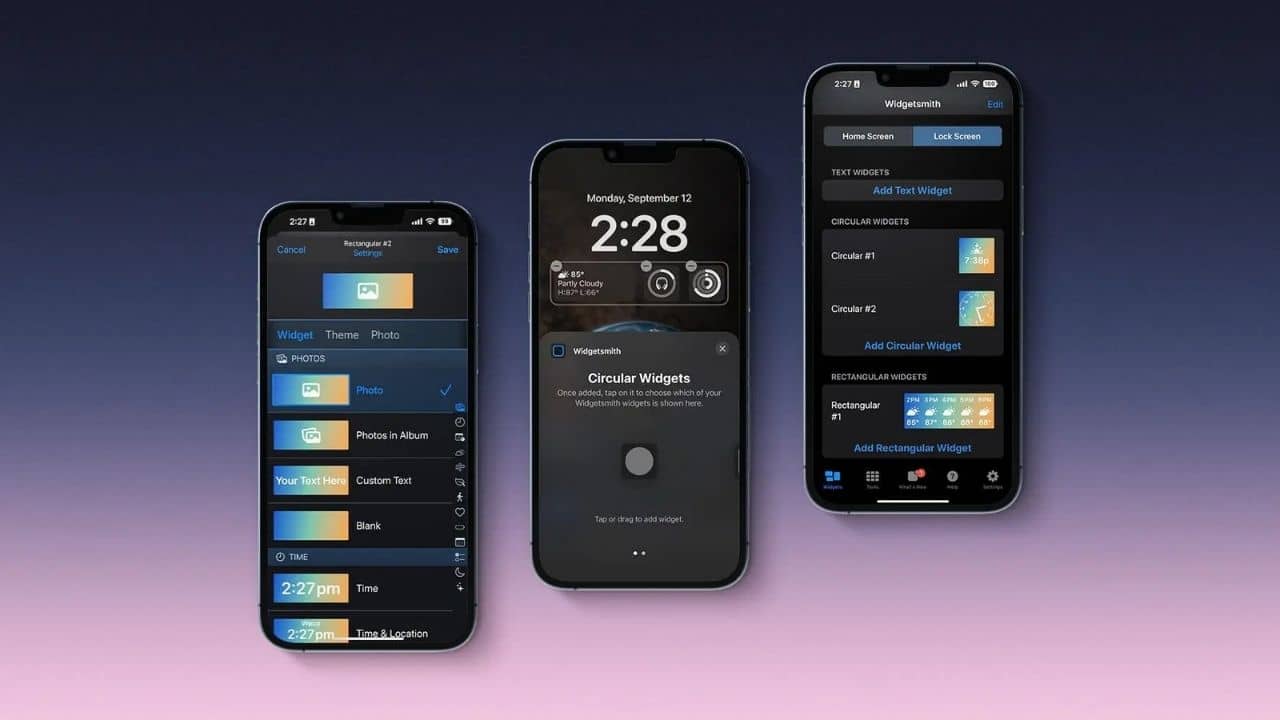 If you've added custom widgets to your iPhone then you must have heard about this home screen widget customization app. Now with the support of iOS 16, you can easily use it for the lock screen as well.  You can design and personalize your lock screen by creating custom widgets and wallpapers. It gives users the ability to design their text, add circular, square, or rectangular widgets, and use a variety of themes, symbols, photos, and other widgets. The best part is you can easily remove subjects from images and import images with transparent backgrounds. With over 500K+ ratings and reviews on the App Store, this is a must-have app for any customization fan.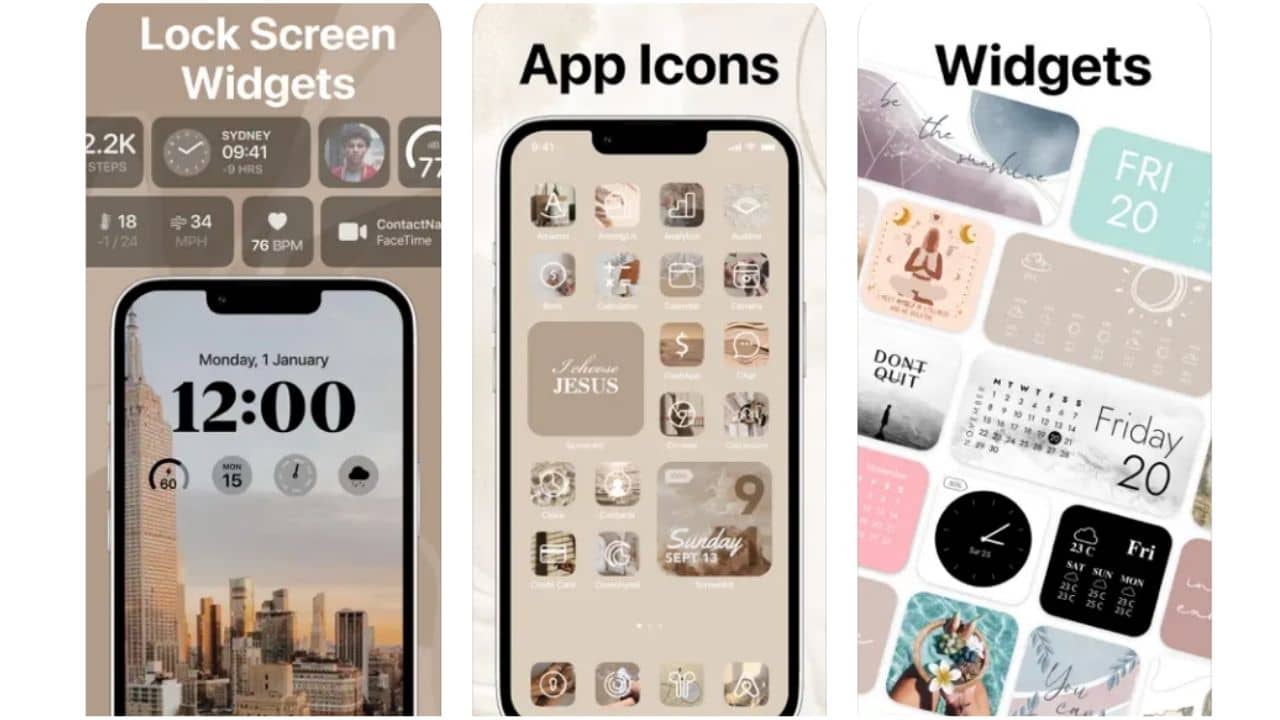 This app includes 100+ lock screen widgets for iPhone with over 5000 different app icons to compliment them on the home screen. This iPhone customization app allows you to change app icons, and make different themes and widgets with a huge collection of aesthetic wallpapers. You can easily download the ready-made iOS 16 widgets or create your widget from scratch and you can even make changes in the text, background, and color of your widget. Screen Kit is a very easy-to-use lock screen widget to give your iPhones a personal touch.
Also read: Best iPhone 14 Pro Max Clear Cases With Reliable Protection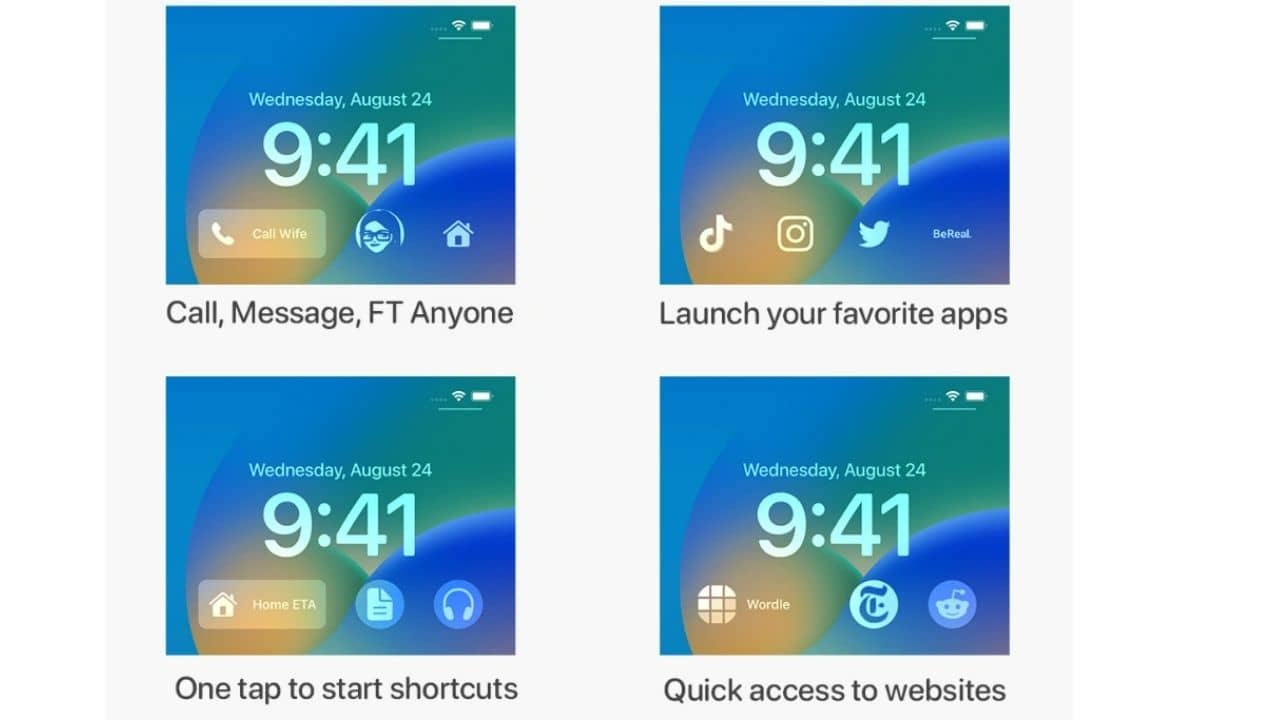 This is an all-in-one third-party app for lock screen widgets. If you are more concerned about utility than aesthetics then this app is for you. With this, you can easily make shortcut widgets to your favorite apps and even websites.  You can add lock screen widgets for any contact to call, message, Facetime, and even email. You can easily play music, get directions, turn, WI-Fi, Bluetooth, and Airplane mode on and off and even access your favorite website or app to check an update with a tap on the lock screen. It is basically a widget version of the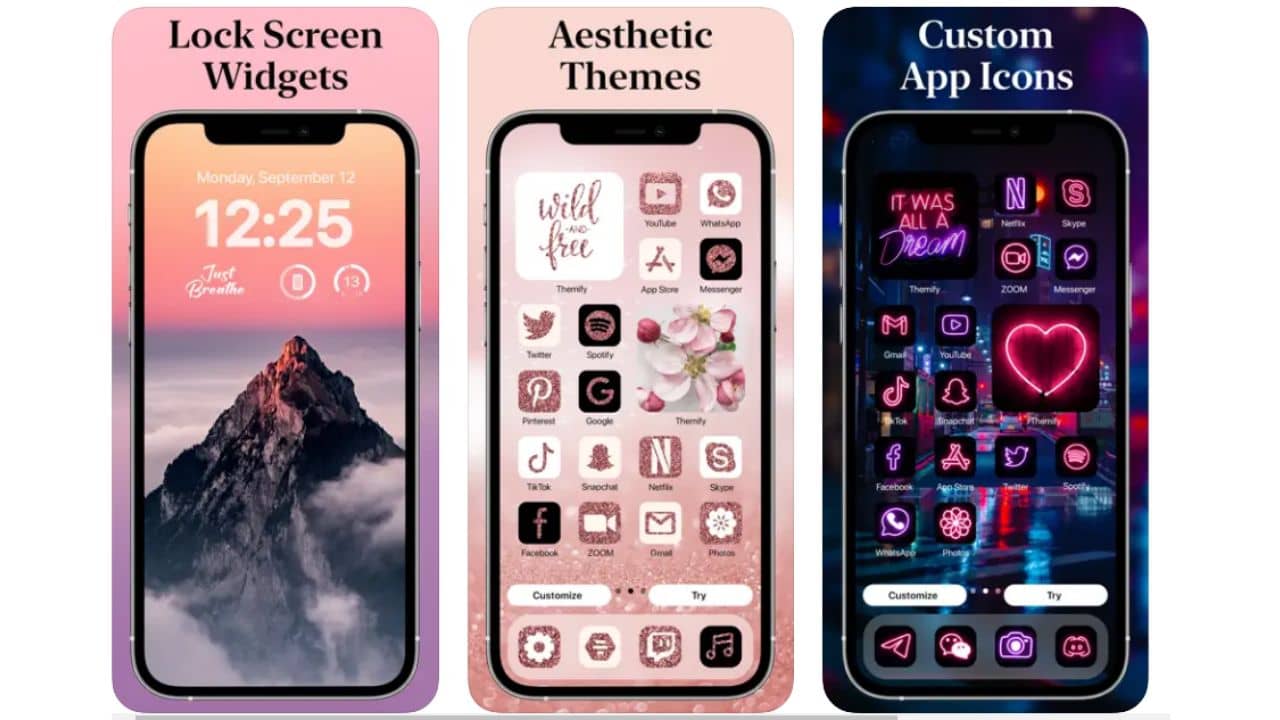 Themify is a trusted app with over 10 million+ downloads that you can use for personalizing your lock screen. With the iOS 16 update, they have added multiple lock screen widgets that you can use. With a vast collection of wallpapers and icons to choose from this is an app just like Screen Kit but what makes it better is the feature of Depth effect. With this feature, you'll get a multi-layered effect on your iPhone lock screen which is completely customizable.
 Also read: Best Meditation Apps for Android and iOS
Productivity Lock Screen Widgets for iOS 16
With #iOS16 Widgets you can now scan with one tap in Scanner Pro. Super simple.
Learn more about Readdle and iOS 16 in our blog 👉 https://t.co/FeqPbnhFLe#productivity #Apple #iPhone #Scanner pic.twitter.com/Ftng0P7734

— Readdle (@Readdle) September 12, 2022
Scanner Pro is one of the best productivity apps for iPhone and offers a simple but very useful lock screen widget that allows you to simply scan documents directly from the lock screen. With the integration of Siri, you can open a scanner or search your scanned library. And for someone who works with multiple language documents or traveling or just works in logistics or accounts, this useful lock screen iOS 16 widget is a live saver.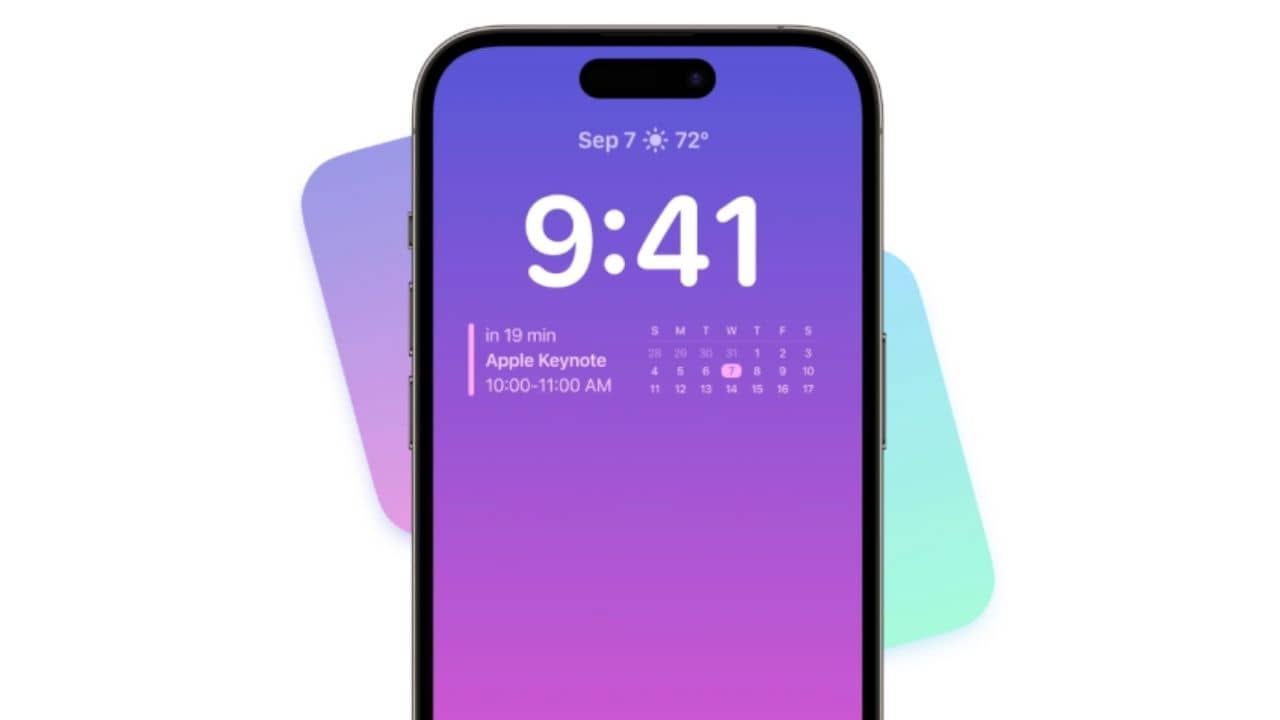 If you're not satisfied with the built-in Calendar widgets and want a full-fledged calendar then this lock-screen widget is for you. It can easily work with Google Tasks and Tools. There are 3 lock screen widgets available with this app where you can see what is next on your calendar, a full month view, and a quick action widget. It seamlessly works with Focus Mode which will help you achieve your daily tasks. 
Also read: Best Apps To Download On Your New iPhone in 2023
Today's iOS 16 release means that our snazzy new Lock Screen widgets are available to all who update!

Getting things out of your head and into Todoist has never been easier!😍https://t.co/SNbUb26Uvg pic.twitter.com/iBO9sKcHXN

— Todoist (@todoist) September 12, 2022
This app offers a simple to-do list iOS lock screen widget that displays all the tasks you have added. From the lock screen widget itself, you can add a new task, see how many tasks you have completed, and view your productivity status. It is a small but useful widget that tries to keep you motivated and productive throughout the day. Since you don't need to unlock your phone to browse through the tasks, you are less likely to get distracted.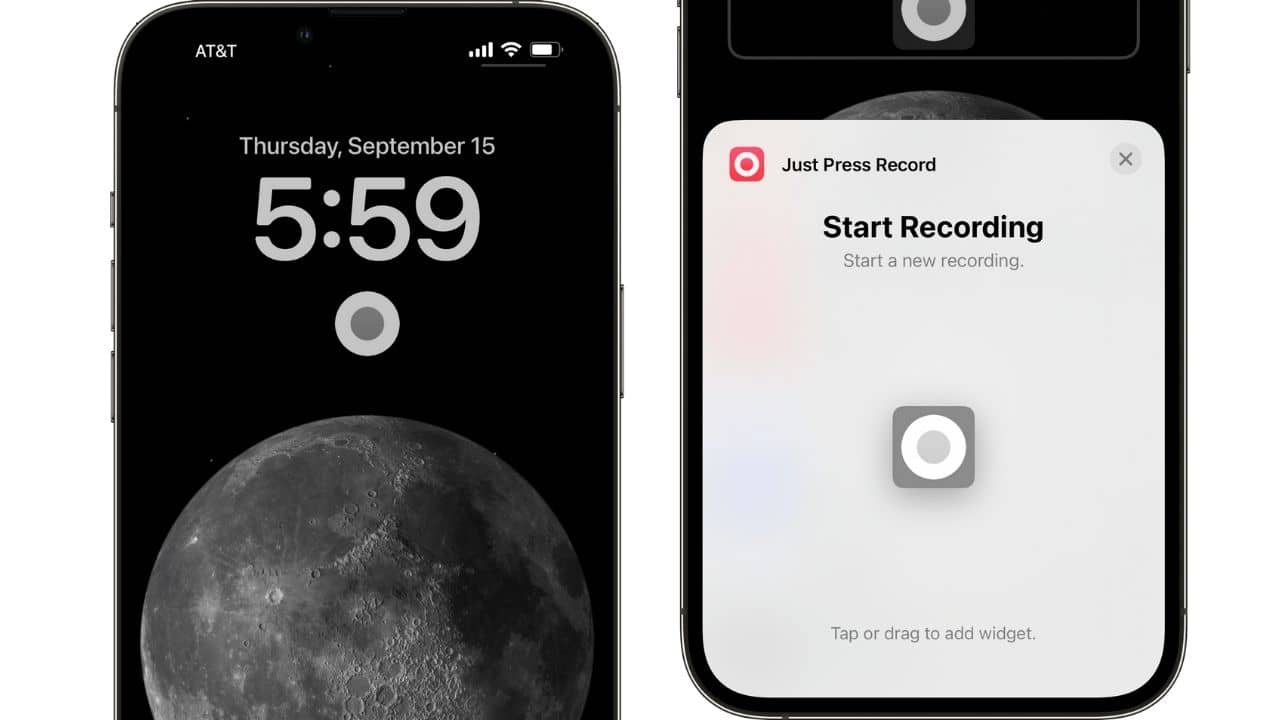 Another very simple yet functional lock screen widget for iPhone lock screen. With a single tap, you can start recording anything which will be very useful while practicing presentations and speeches and even in those brainstorming sessions. In the app, you can convert the voice recording into text which supports over 30 languages.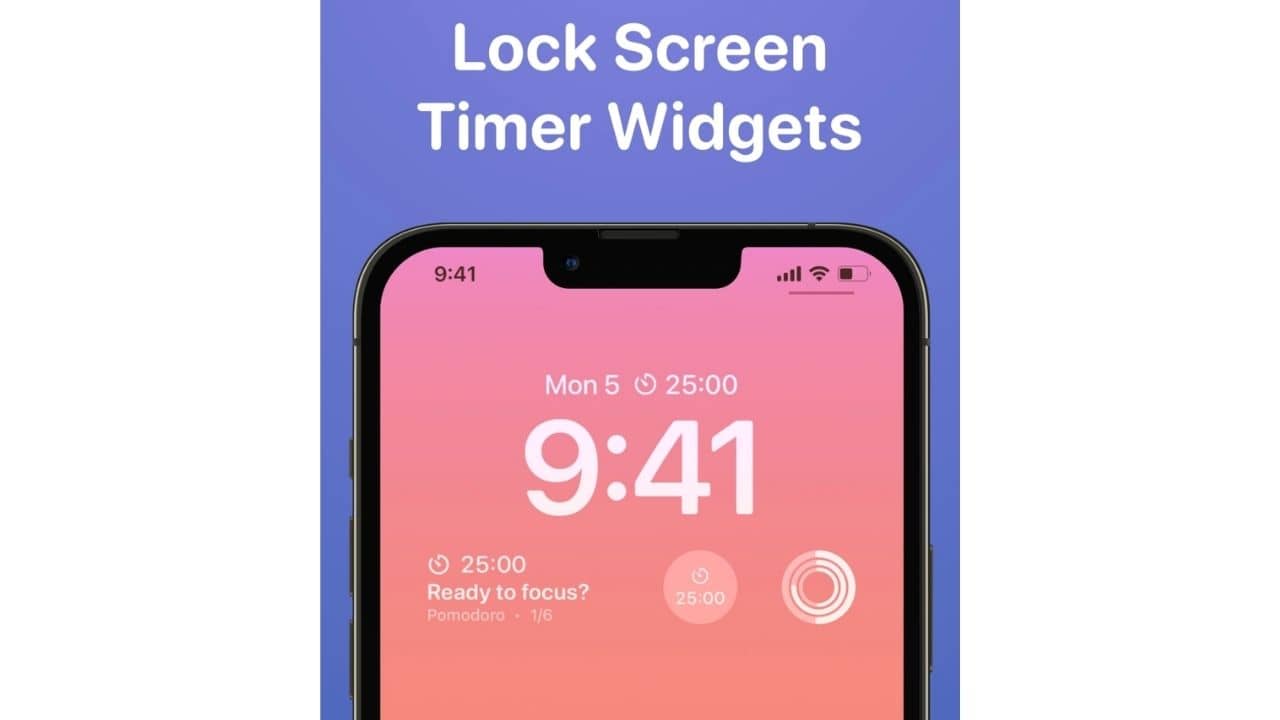 Focused Work has great lock screen widgets for students who want to study with the Pomodoro timer. You can schedule your sessions and the widgets will display how many tasks you have done along with how much time you have assigned to perform that task. In the app, you'll be able to see the productivity dashboard which has detailed charts. Definitely a must-have iOS widget for your back-to-school or college days. 
Also read: Best End-to-End Encrypted Messaging Apps for iPhone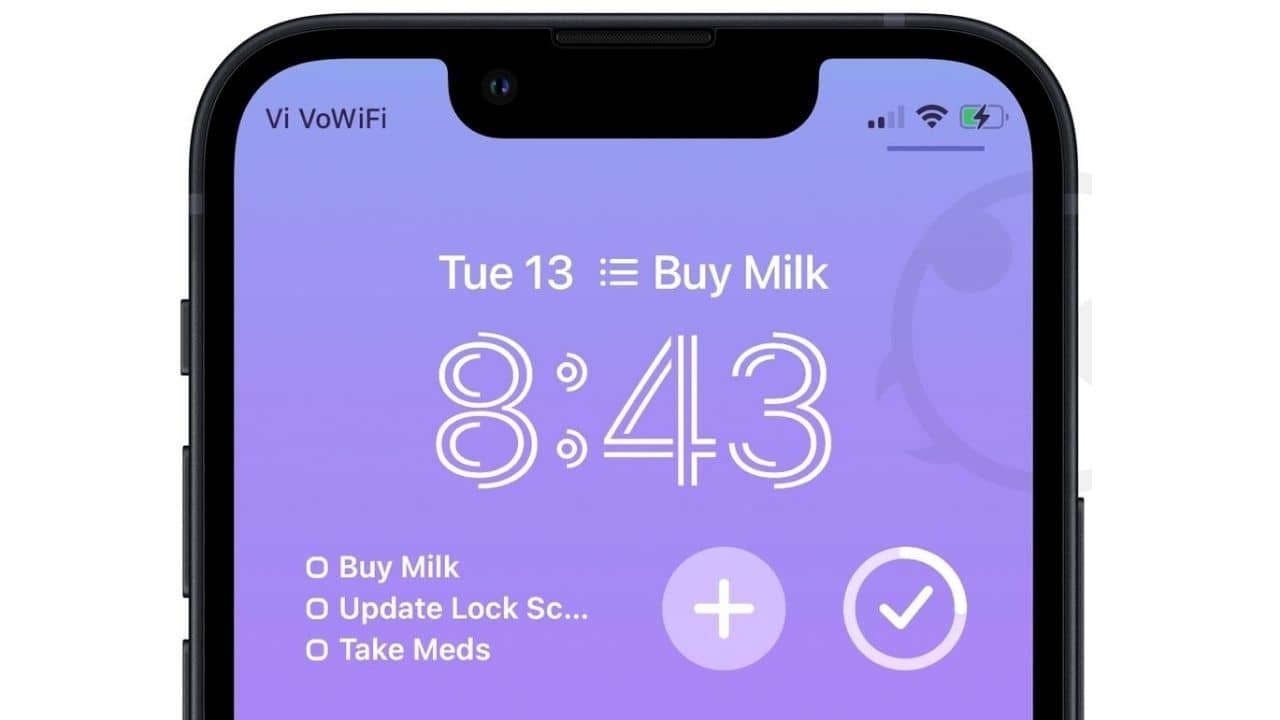 Things 3 is a popular personal task manager which is now available with lock screen widgets for iPhones. The app comes with 3 new widgets that allow you to view your to-do list, add a new task, and how many tasks you have completed so far. This lock screen widget is very useful to complete personal chores and activities but you can also customize it to show other items like your deadlines, shopping list, inbox, etc.
7. Google apps ( Gmail, Maps, News, Drive, Chrome)
Google added various third-party lock screen widgets on iOS 16 which will allow you to use the best features of your apps with a single tap. You will get lock screen widgets for search via voice or text input, an incognito widget for Chrome, and Google Translate widgets to access most used drives, check emails, and even get real-time traffic updates. To understand the features of Google lock screen widgets in detail read this blog post published by Google. 
Also read:  Best Productivity Apps for iPhone & iPad
Who has already upgraded to iOS 16?

If you did, make sure to check out the Structured lock screen widgets available in version 2.4.0 🚀 pic.twitter.com/jQHfhmBUWM

— Structured – Day Planner 💙💛 (@structured_app) September 13, 2022
This is another schedule planning app that offers a lock screen widget on iOS 16. You will get a widget to remind you of different task and displays task progress. The only difference between this and other planning apps is that Structured gives you the freedom to customize the icons, colors, texts, etc with support for almost 30 languages. 
Agenda💕iOS16… See how Agenda 15 adds support for Lock Screen widgets, Focus Filters and Shortcuts in this 2 min video… Get Agenda for iOS16 for free from the AppStore ⬇️https://t.co/OlxVaWO4Bq #iOS16 pic.twitter.com/2nv3nR5Awj

— Agenda – Notes meets Calendar (@agenda) September 16, 2022
This is a very minimalistic yet useful lock screen widget for iPhone. This app features two iOS 16 lock screen widgets- one is for favorite notes, and the other one is for relevant notes. Both the widgets will come in very handy when you're writing assignments, reports, or especially in meetings and discussions when you have all the relevant information on your lock screen with a single tap.
Also read: How to Translate in iPhone Camera[ Language, Currency & More]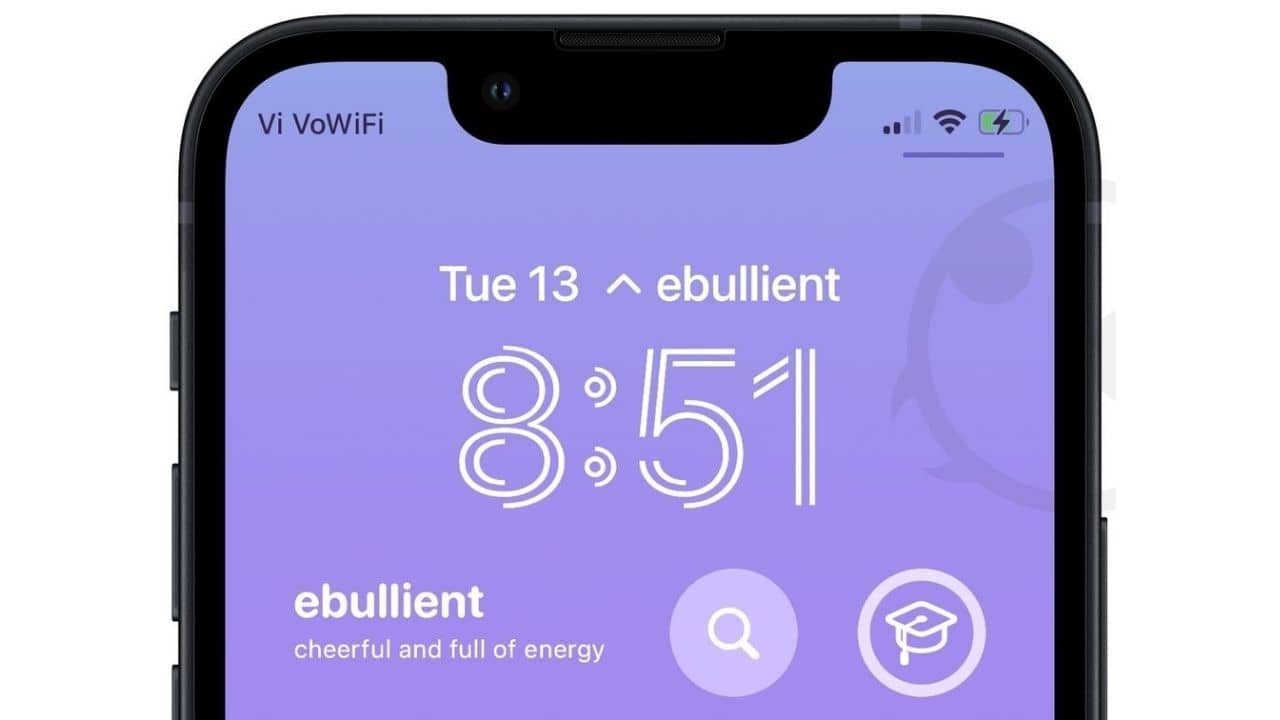 If you are passionate about learning new words then this is a very handy lock screen widget on iOS. You'll get 2 lock screen widgets one for searching for new words you come across and one widget that will display new words for the day to help you learn new words every day. Super useful learning lock screen widget for your iPhone. You can also install it on your kid's iPhones to make sure they learn something new every day.
Also read: How to Add Multiple Stops in Apple Maps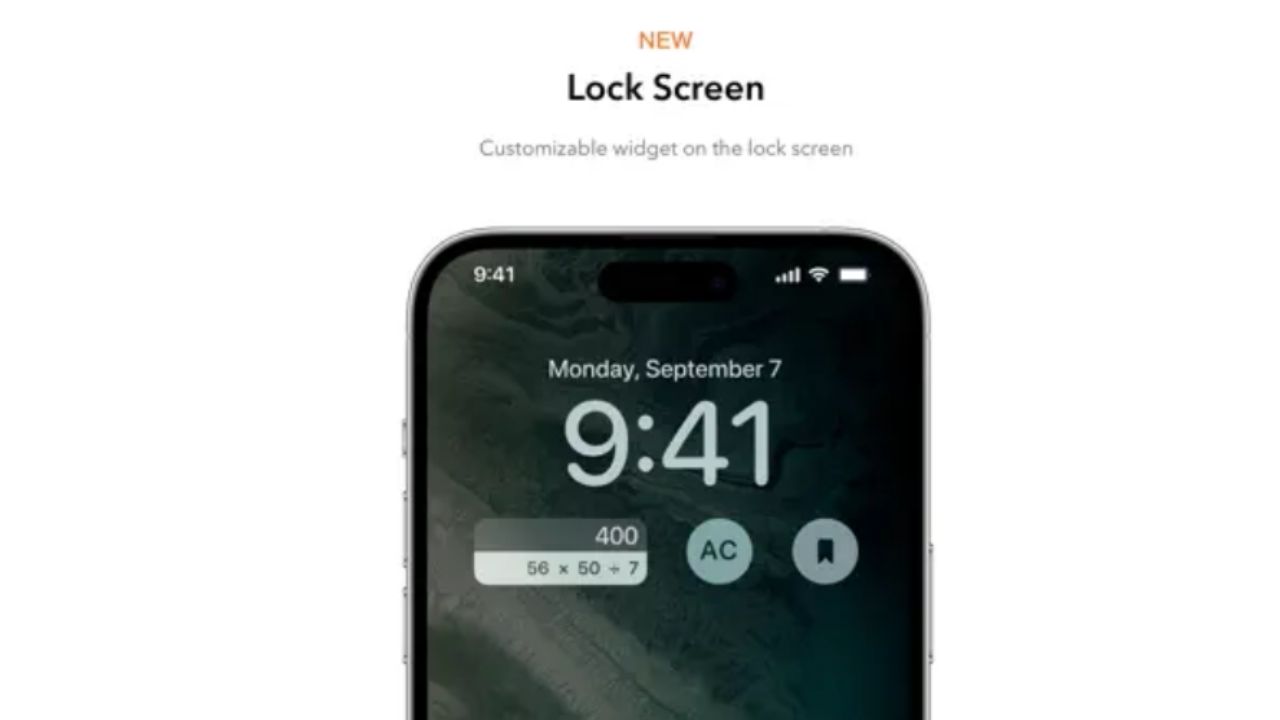 Calzy is a minimalistic feature-rich calculator app that offers a customizable lock screen widget for iOS 16. With this lock screen widget, you can easily perform calculations that can be customized as well.You can also see the last calculation right from your lock screen.
Also read:  Best Accessories to make the most out of your iPhone 14 Pro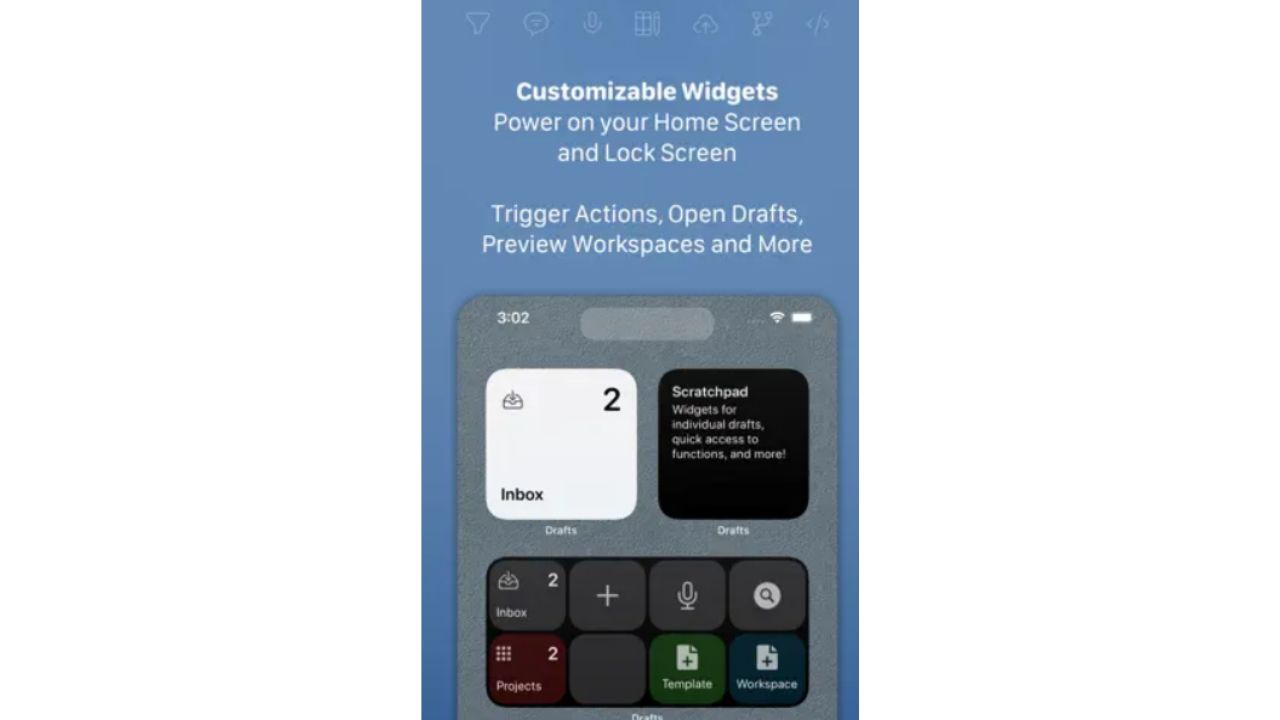 Drafts offer several useful lock screen widgets for iPhone. You can use Drafts widgets to display a document or folder, open a new document, start dictation, scan a document, start a new Draft with clipboard content, and more. It is one of the best iPhone Lock Screen widgets for productivity users.
Also read: Best 15 Ways to fix  Charging issues iPhone 14 series
Weather Lock Screen Widgets for iOS 16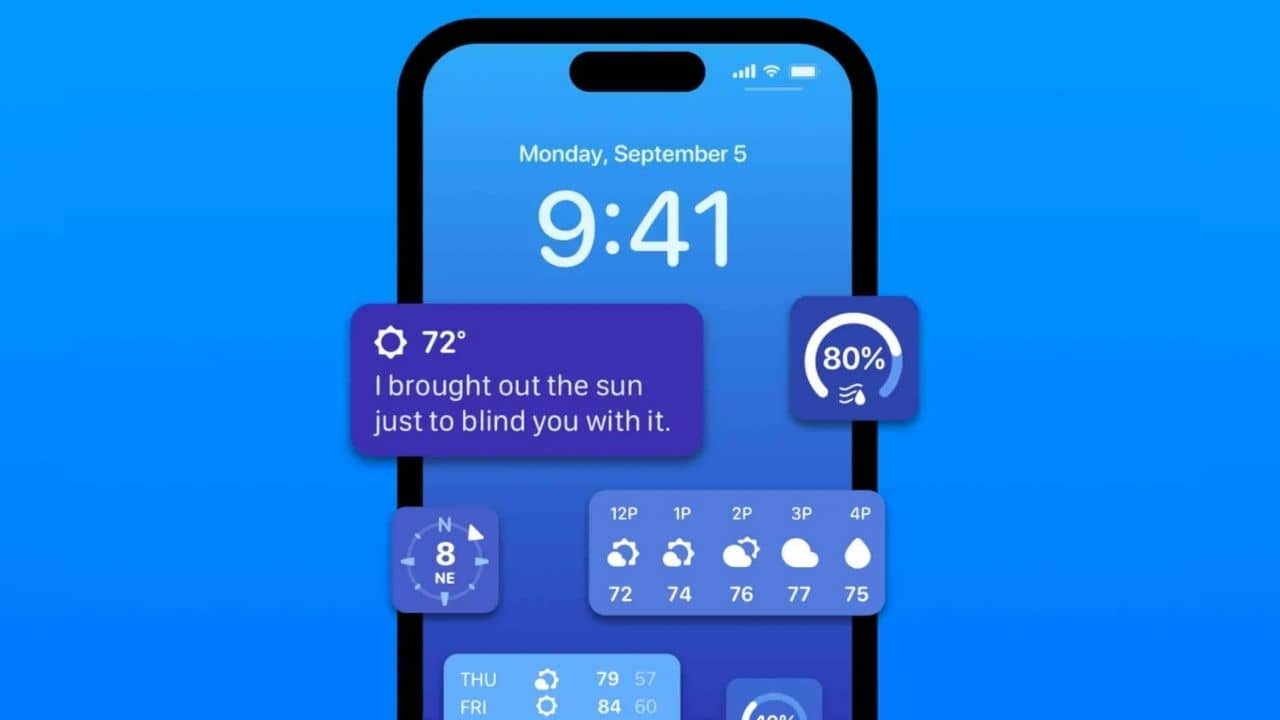 Carrot weather provides more than 20 lock screen widgets with almost every information possible about the weather. You will get daily and hourly weather updates of your selected area as well as UV index, humidity, visibility, etc. as well as a snarky widget that shares jokes on the weather. Unlike Apple's weather widget you have to buy a premium version to unlock many widgets. 
RainViewer is #iOS16 ready!
Download and setup NEW Lock Screen Widgets🙌✨

Get the app today: https://t.co/0eM1D4fwQh#LockScreen #Apple #iPhone14 #iPhone14Pro #LockScreenWidgets #wxtwitter #StormHour pic.twitter.com/rQMIDMmhbI

— RainViewer 🇺🇦 (@RainViewer) September 12, 2022
Rain viewer is a very useful third-party lock screen widget if you are living in a state like Florida or Cardiff where the probability of rainfall and thunderstorms is higher than in other cities. You will get 3 widgets with this app which you can use to see the weather updates, and you can set alerts for upcoming rains or thunderstorms.
Also read: How to Delete Duplicate Pictures on iPhone Quickly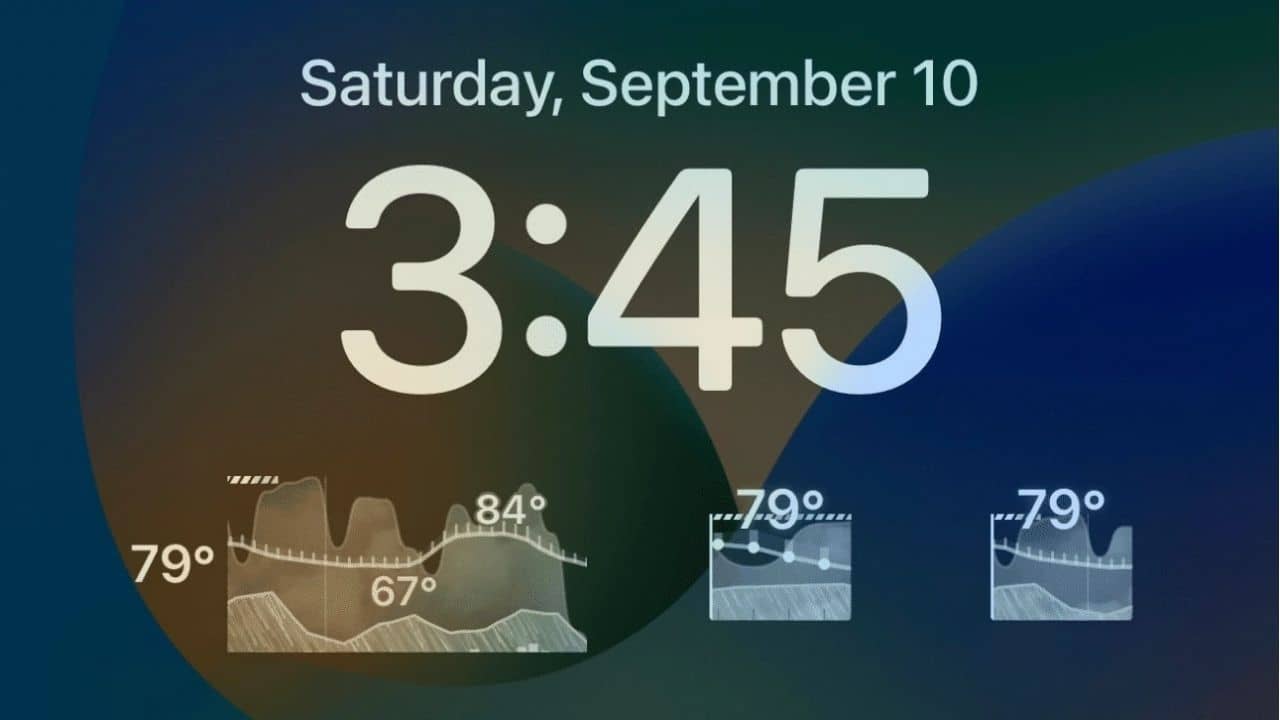 Weather Strip offers weather lock screen widgets for iPhones just like every other app but with detailed graphics, Here you'll not see that bland temperature, you will also get to see beautiful graphics for the different widgets as you can see in the above-attached photo. These weather widgets look cool and even provide accurate information. They look super cool on iPhones with a high resolution and OLED display.
Health and Fitness Lock Screen Widgets for iOS 16
All lock screen widgets mentioned here will provide accurate information only when you pair it with Apple Watch.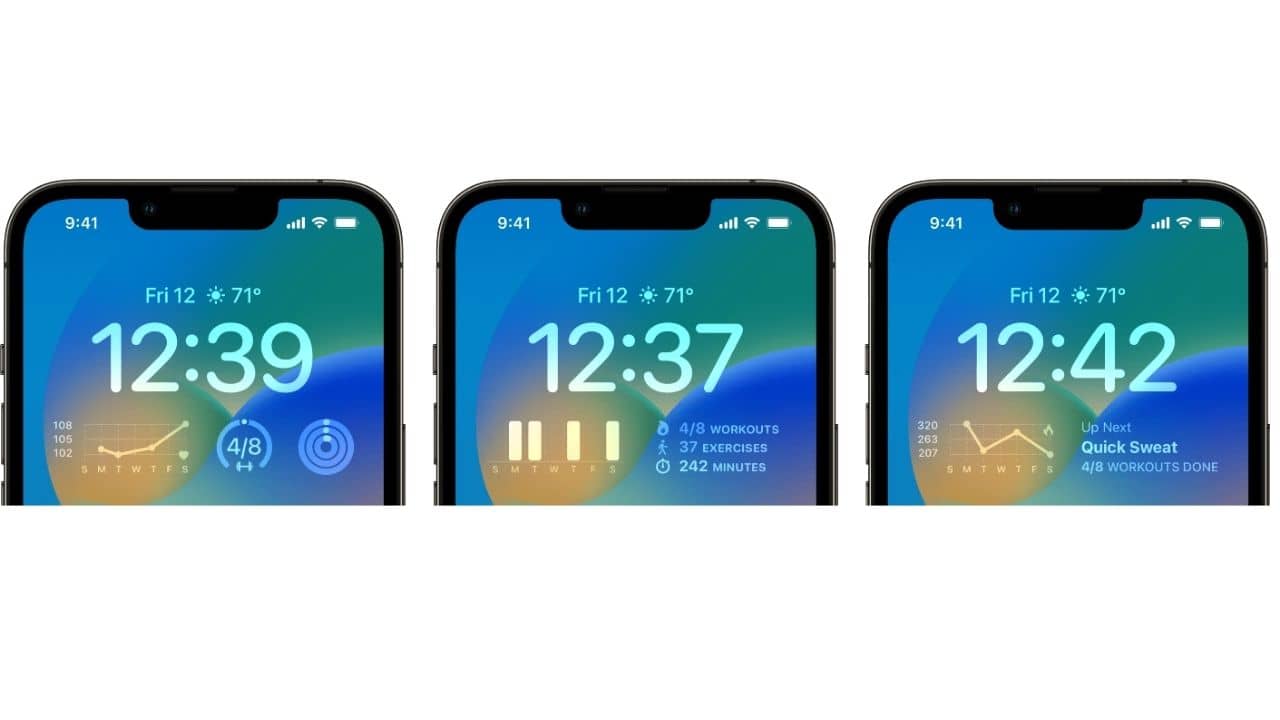 SmartGym is an all-in-one fitness app with a lot of iOS widgets to track your exercise, calories, and much more. You can add a widget for a weekly summary, calorie chart, heart rate, and even how many workouts you've done in the day. This app provides a lot of customizations, so you can create a custom iOS 16 lock screen when you start working out and your lock screen will automatically update as your session progresses. 
This iOS app provides a lot of fitness lock screen widgets for calorie tracking. You will get widgets for easily logging in foods, calorie tracking, and weight and water tracking. This is an amazing app that aims at simplifying the process of calorie tracking and these iOS 16 lock screen widgets make it even easier. Want to grab a quick bite at a party? Just glance at the lock screen widget and you're good to go.
Also read: Best Meditation Apps for Anxiety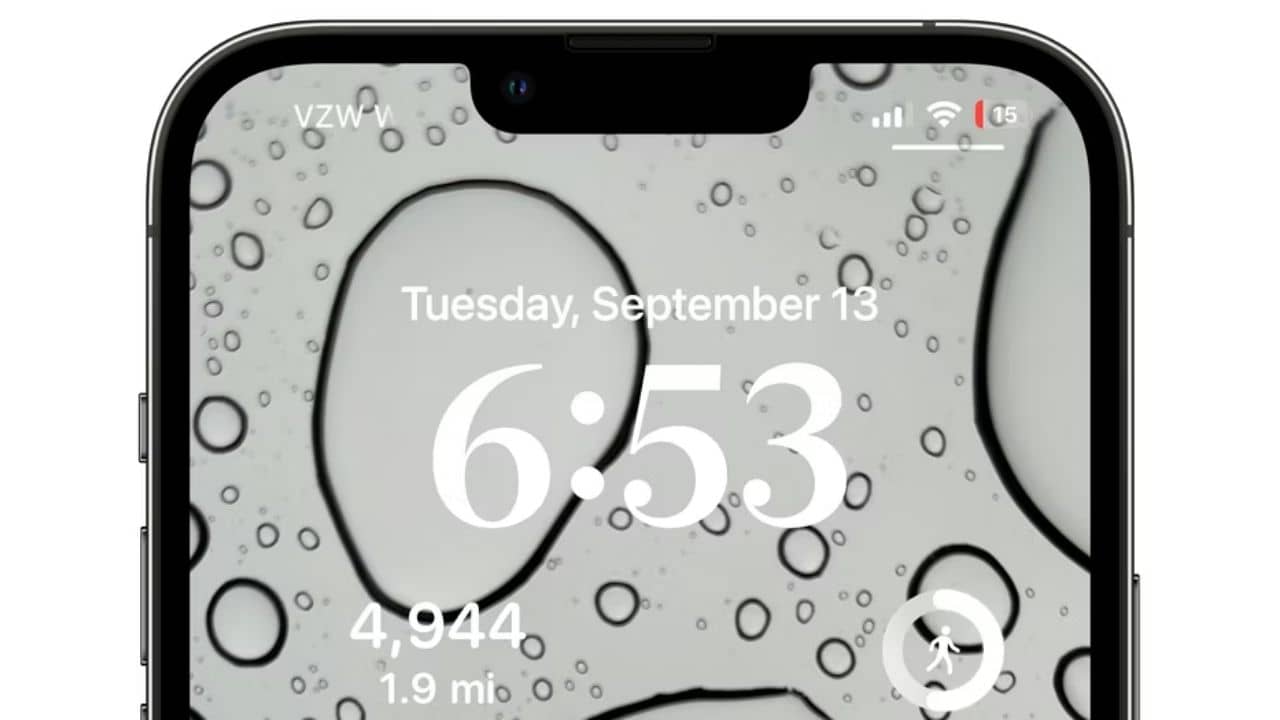 As the name suggests is a simple and functional lock screen widget for iOS 16 that keeps track of your step count and walking distance.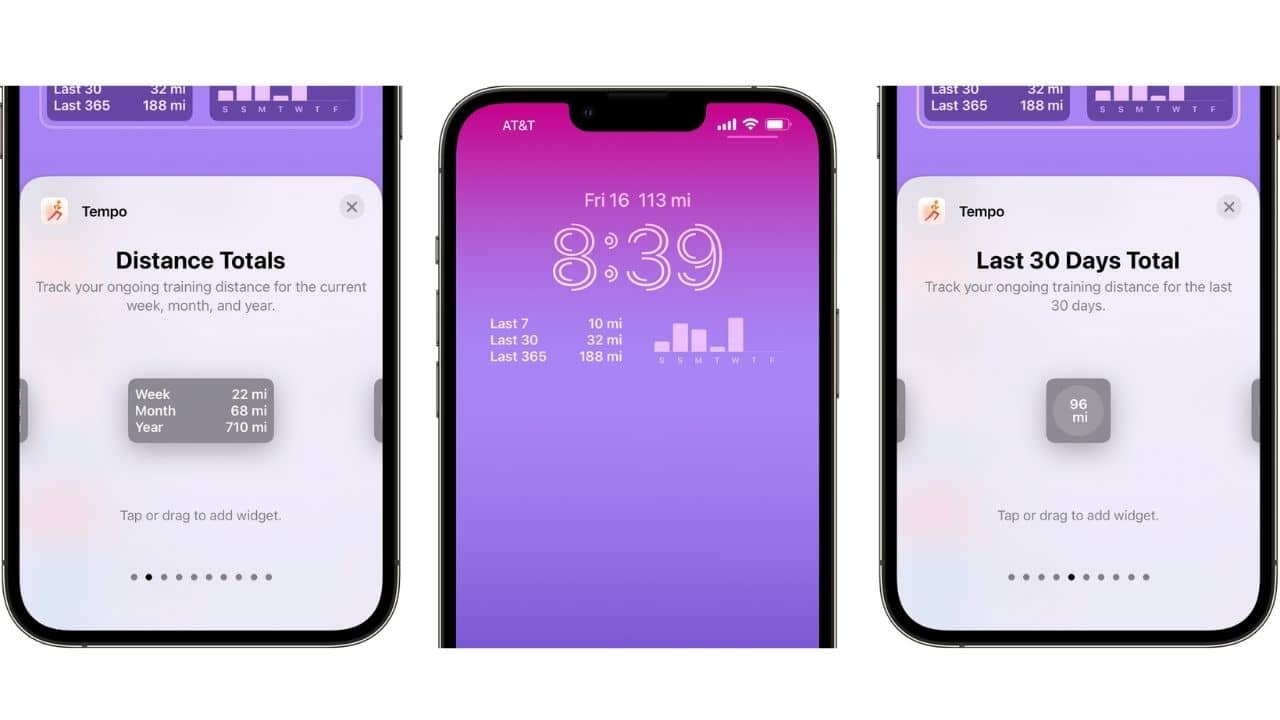 This is a fitness app built for athletes with over a dozen of fitness lock screen widgets for tracking distance, comparing workouts, a widget to track goal progress, and more. If you combine this app with Apple Watch Ultra, a more beefed-up Apple Watch, made for athletes you can quickly improve your performance by analyzing different data points instantly during your workouts.
Also read: How to Use iPhone as a Webcam ( Continuity Camera)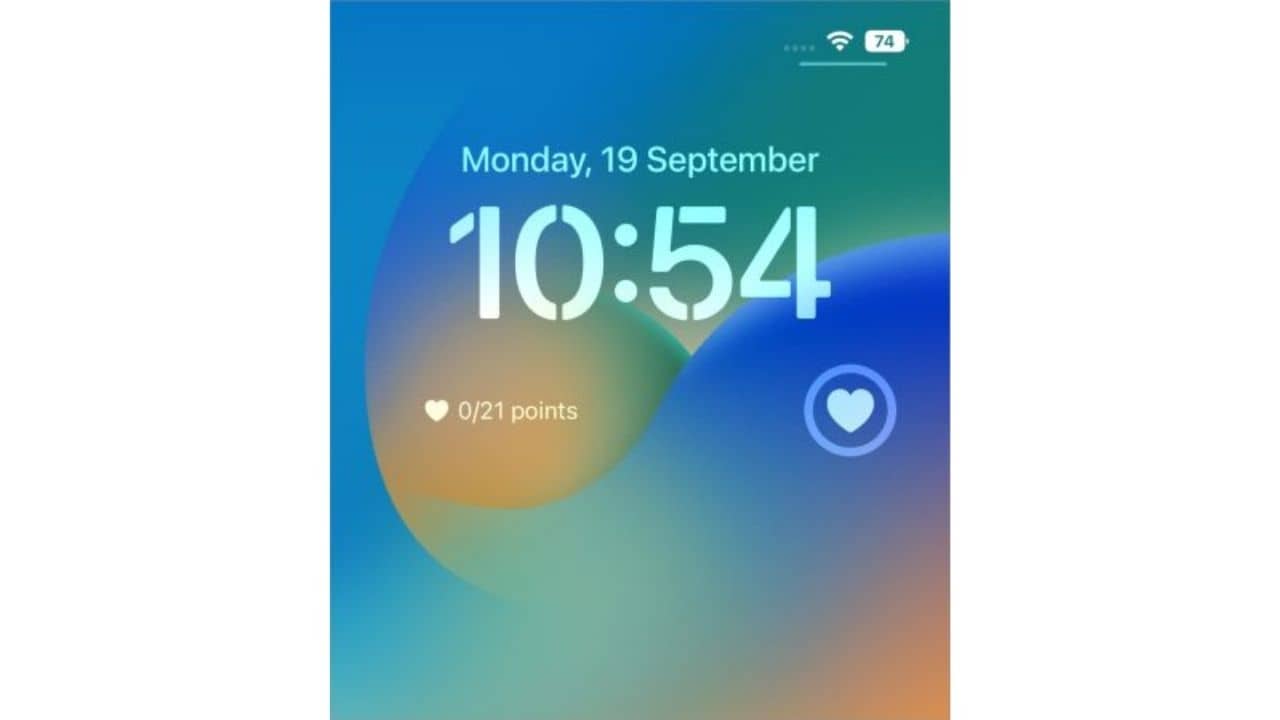 This is an app designed for monitoring heart rate and with the new iOS 16 lock screen widgets, you can easily see that on your lock screen. The widgets give you points based on your sleeping, fitness, and heart rate data. This widget is also compatible with the always-on display feature in iPhone 14 Pro models.
Also read: How to Hide Photos on iPhone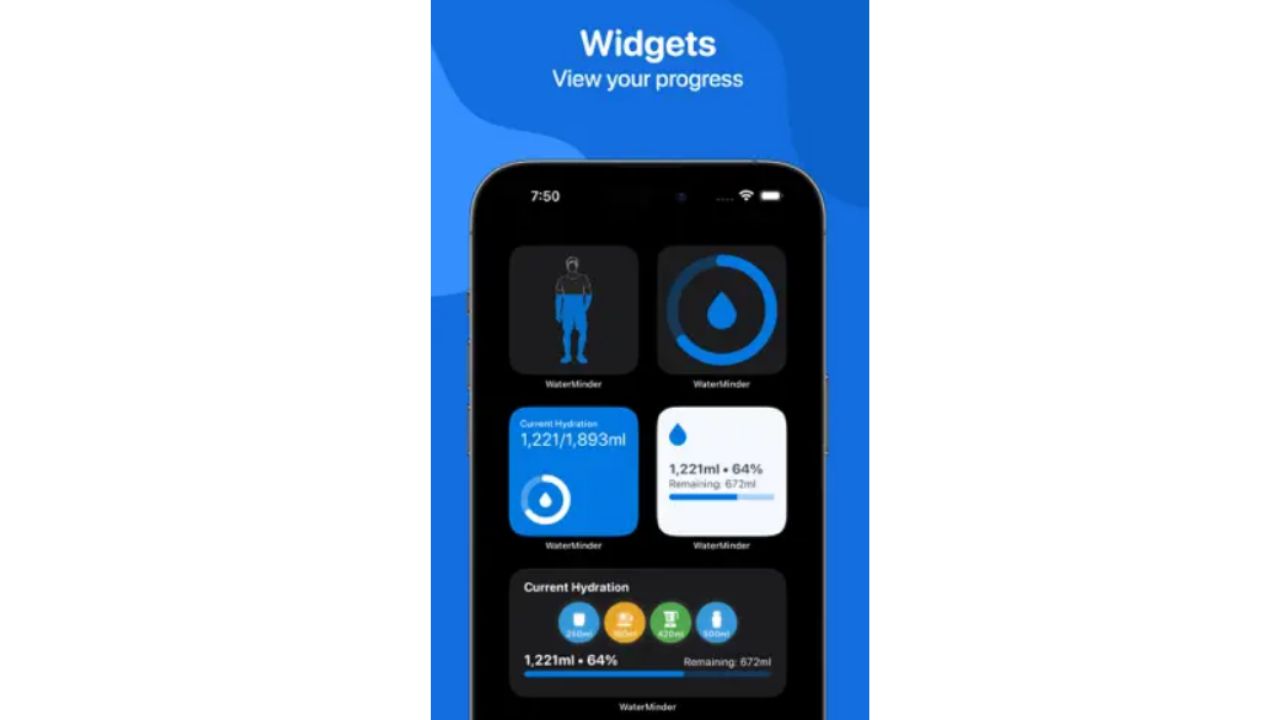 WaterMinder, as its name suggests, lets you mind your water intake. It calculates your daily water intake requirement using your weight and reminds you to drink water. It offers multiple Lock Screen widgets that show your current water intake level, hourly and weekly charts, and more. For people who struggle to remember to drink water, this is one of the best iPhone Lock Screen widgets. 
Also read: How to Fix iOS 16 Battery Drain Problem on All Compatible iPhones (Top 15 Ways)
Social Media Lock Screen Widgets for iOS 16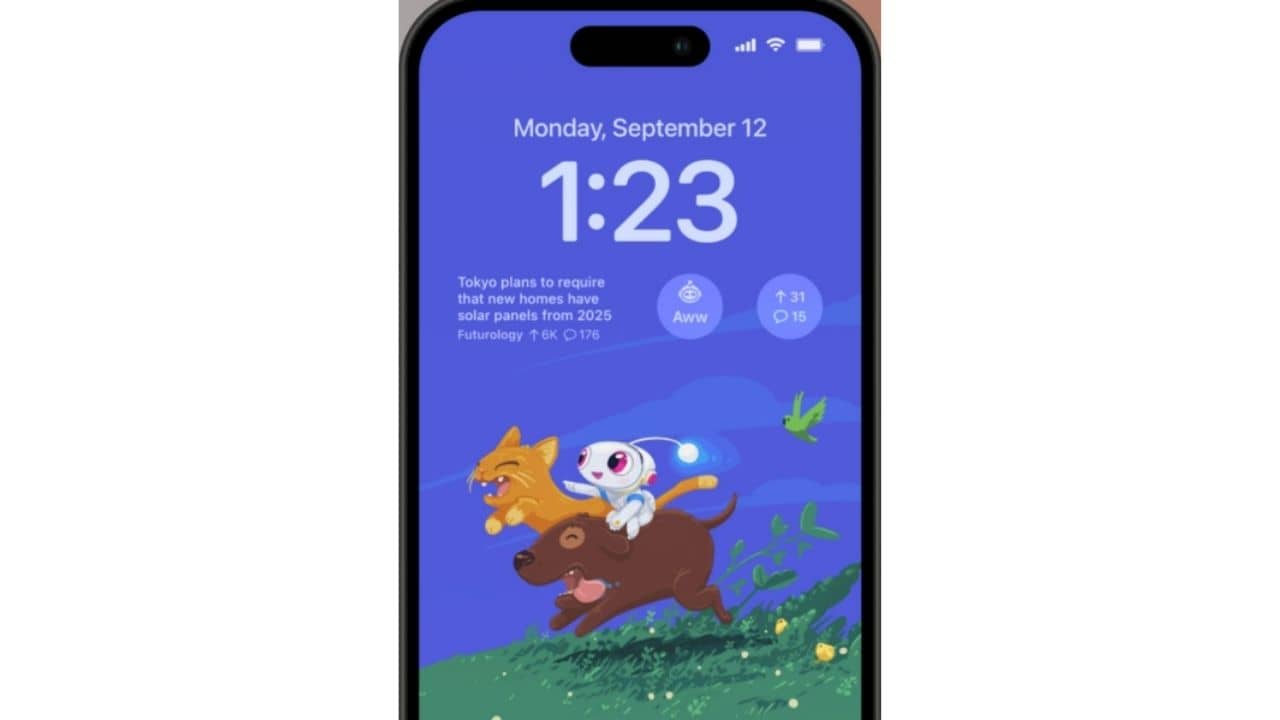 This is a must-have app for enthusiastic Redditers, you will get several fun widgets that you can choose from. There's a widget to get you directly to trending posts, a karma widget, a distance scroll widget, and an inbox widget to display if you have any unread messages. You will also get widgets to add your favorite subreddit and even any random subreddit.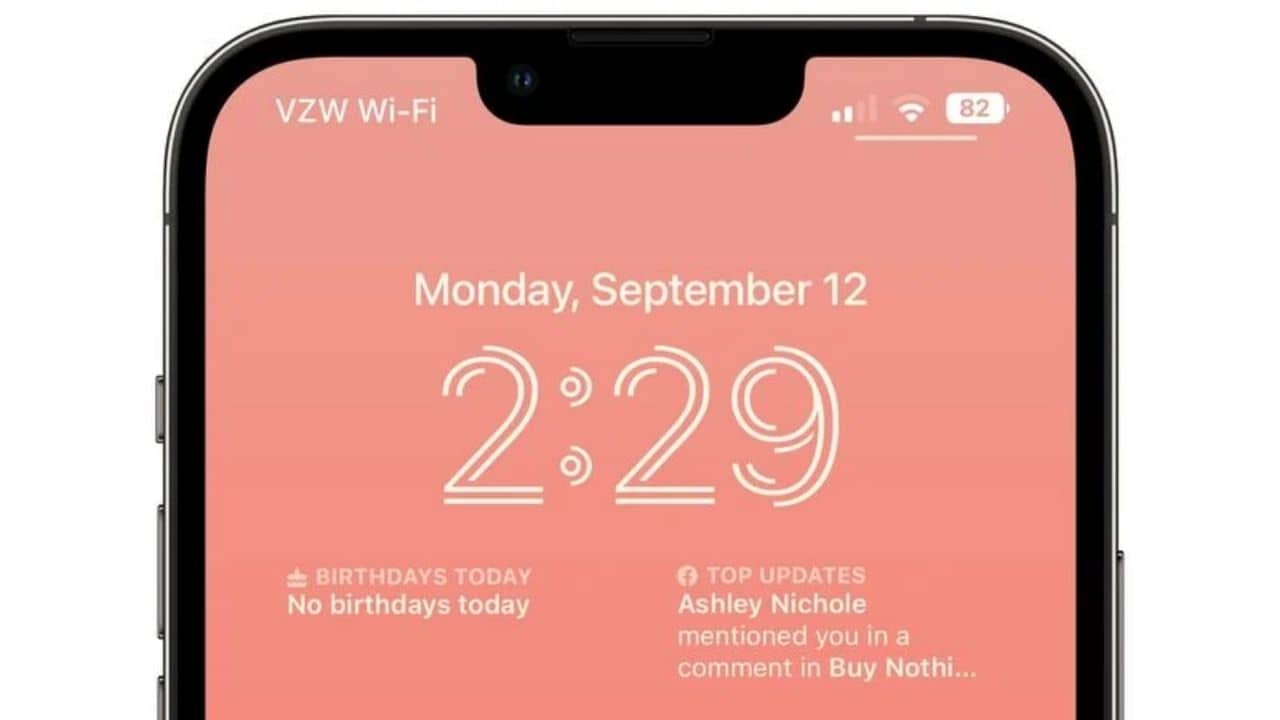 If you're someone who constantly says sorry to your friends for wishing late birthdays this is a must-have lock screen widget. You'll get 2 lock screen widgets with Facebook- one will give you reminders for your friend's birthday and the other one provides top updates from people you follow. 
Also read: How to edit a sent iMessage on iPhone and iPad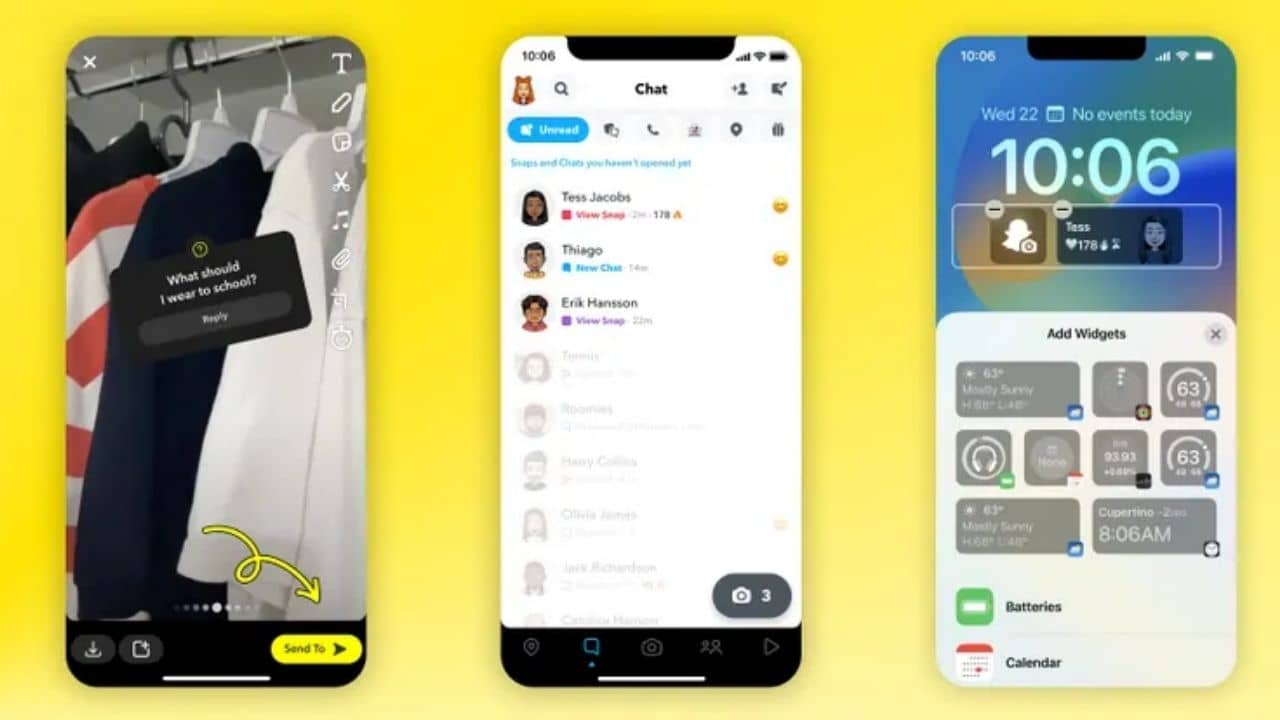 Snapchat has rolled out 2 new lock screen widgets for iOS 16. One widget is for opening the Snapchat camera directly from the lock screen, the other one is to add your favorite friend to open the sender's chat by tapping on the icon. 
Utility Lock Screen Widgets for iOS 16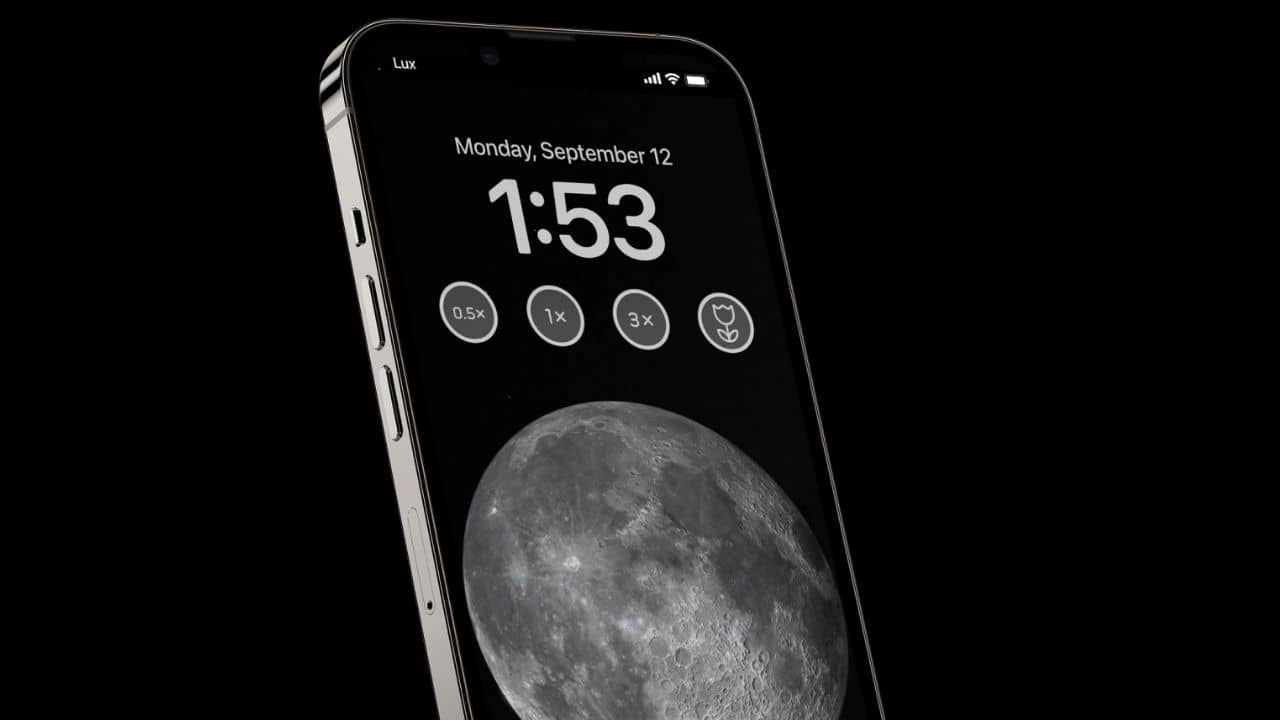 If you're someone who likes to capture a lot of pictures (both RAW & JPEGs) from your iPhone then this is a super useful lock screen widget. This camera app comes with 4 widgets that allow you to directly jump into Auto/ Manual mode, open the Halide lens, and even a Macro mode shortcut. 
Also read: How to Hide Photos on iPhone [Best Practices & Apps]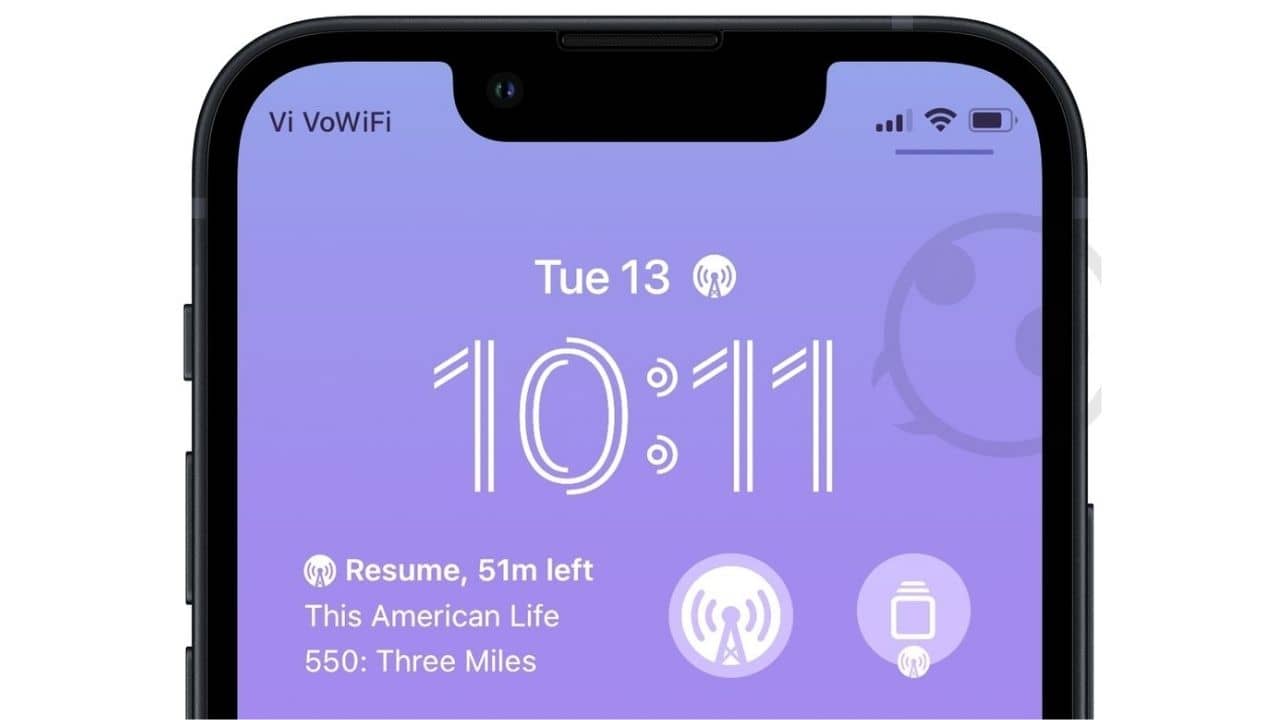 Overcast is an independent podcast player app that has 3 lock screen widgets. One displays your unfinished podcasts, an icon that will launch the overcast app from the lock screen, and a widget to launch your playlist. It is certainly one of the best iPhone lock screen widgets if you commute a lot.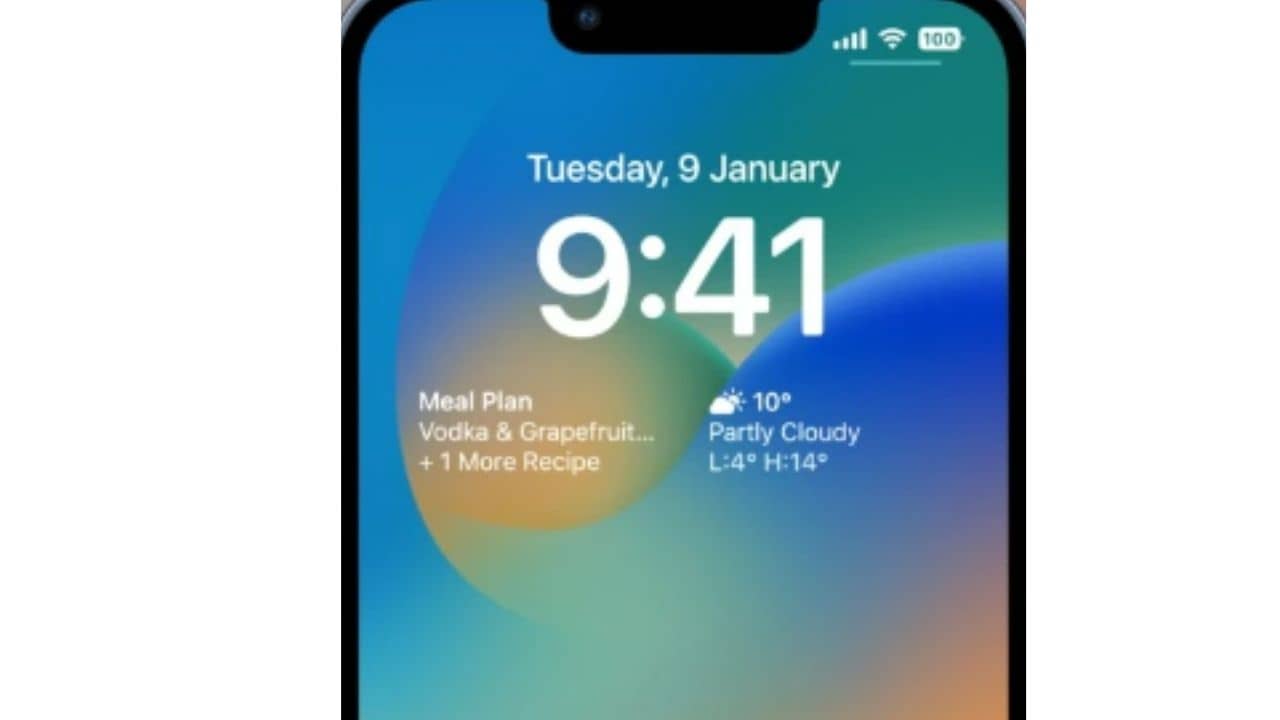 If you like to cook then this is a very functional and easy-to-use lock screen widget for iOS 16. This widget will display your meal plan so you are more focused and know what you should eat. Another widget is under development which will help you with the step-by-step cooking process of your added recipes.
Also read: How to Covert a Photo to PDF on iPhone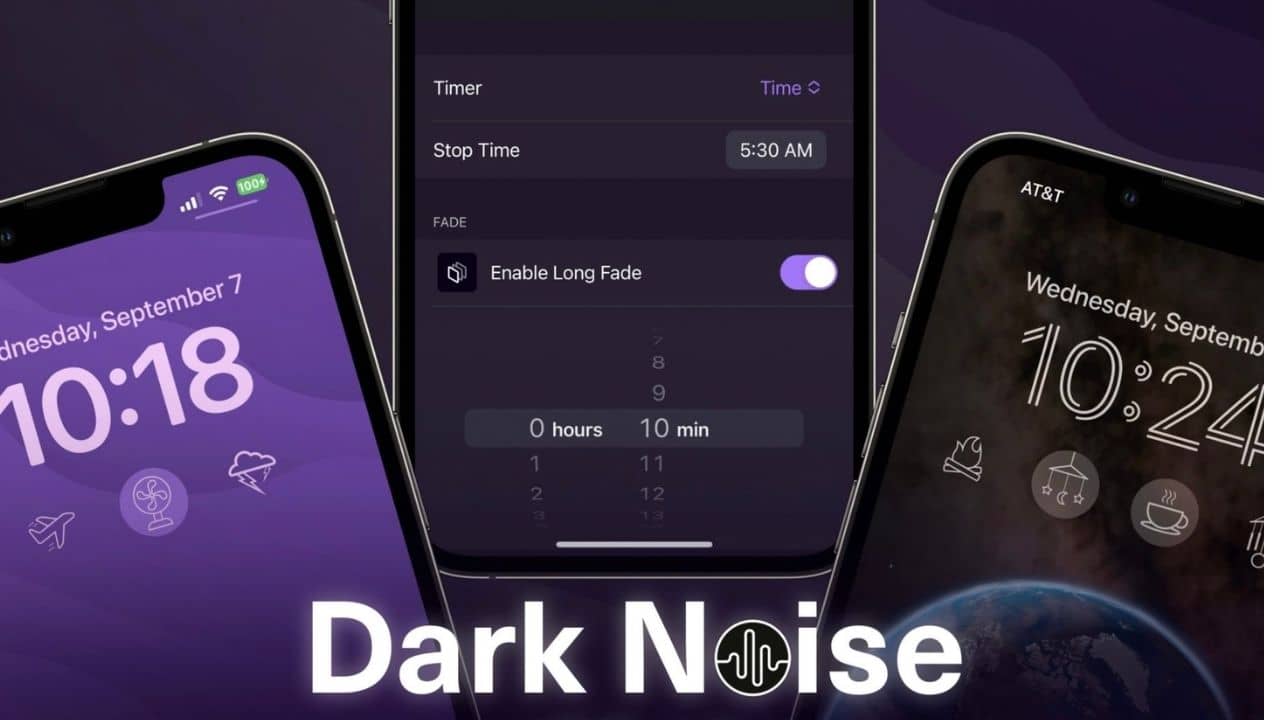 If you practice mindfulness and meditation then this is a useful third-party lock screen widget for iPhone. This is a paid app so you have to buy it to use the different widgets noises which is available in the app.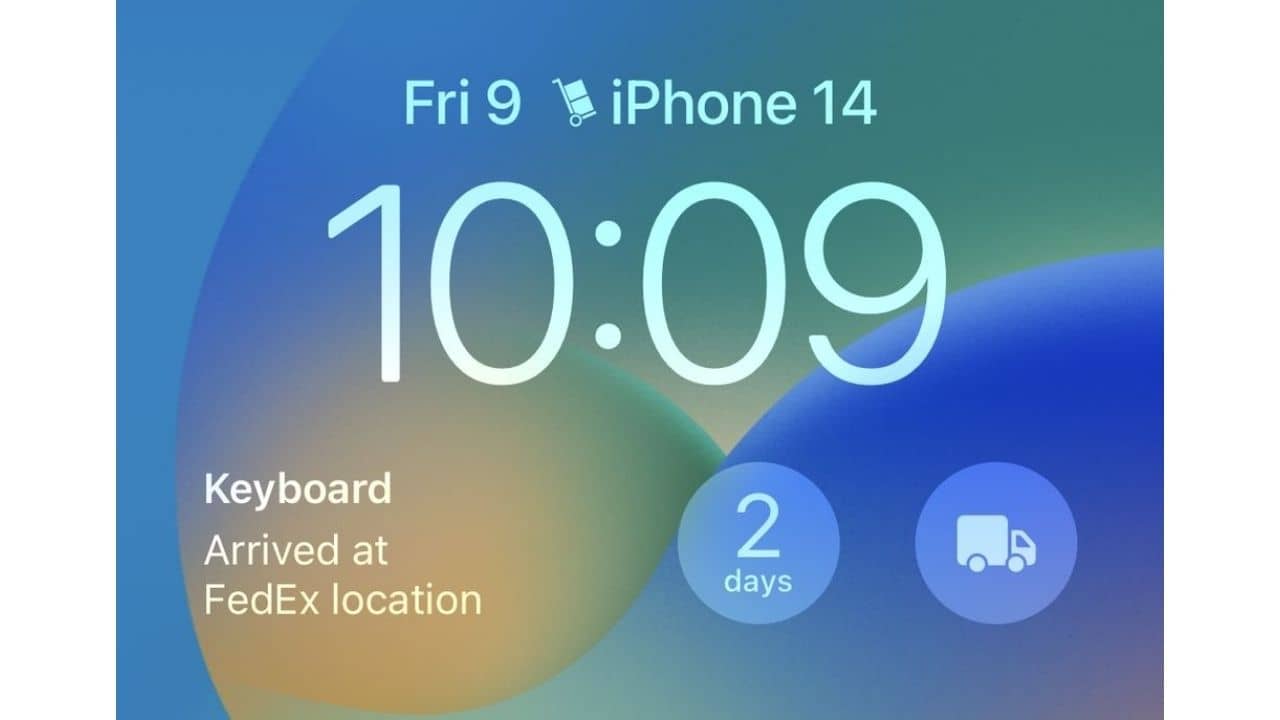 Parcel is an amazing utility app that lets you track your delivery packages. You can easily track your package from over 300 delivery services like UPS, FedEx, USPS, etc. These iOS 16 widgets will track your package right at your lock screen so you won't miss any of your package updates.
Also read: Apple M1 VS M2. Should you Update?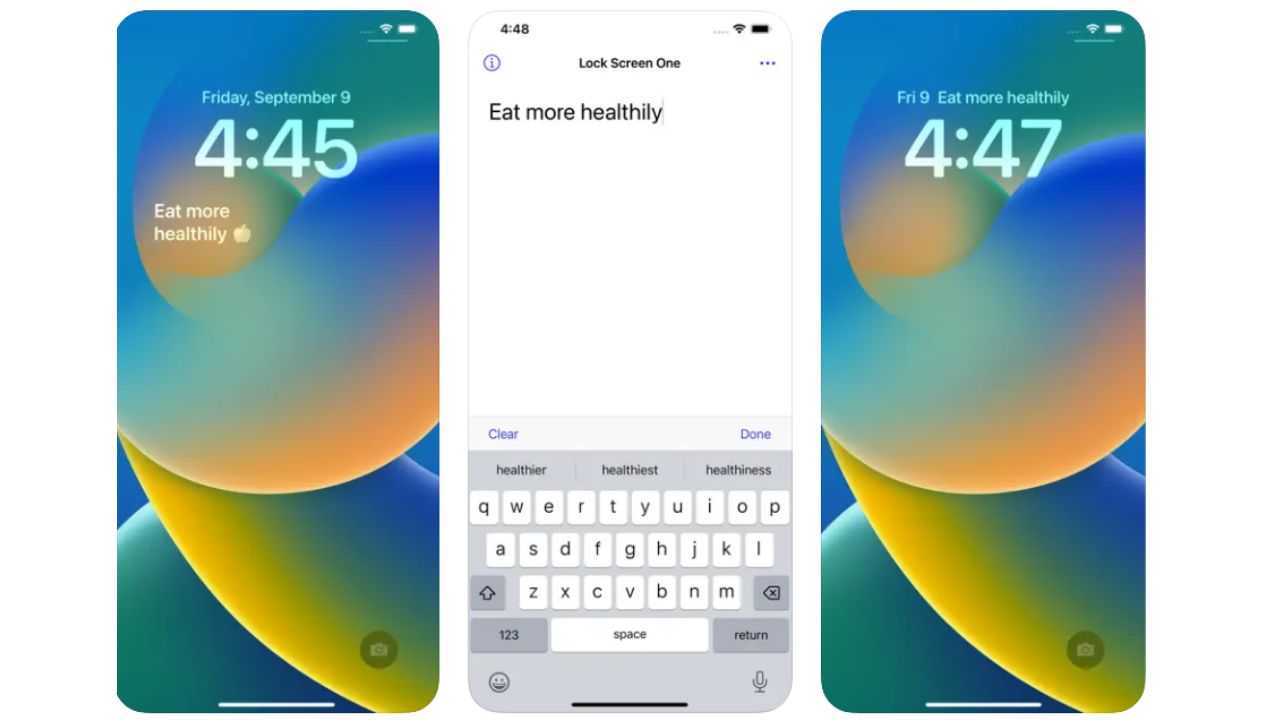 If you want to accomplish your goals in 2023 this lock screen widget might come in handy. You can easily add anything that you will like to keep reminded of whether it be any daily task or any long-term goal.
Also read: How to shoot 48MP ProRAW and HEIC Photos on iPhone 14 Pro and iPhone 14 Pro Max (Step-by-step Guide)
Travel Lock Screen Widgets for iOS 16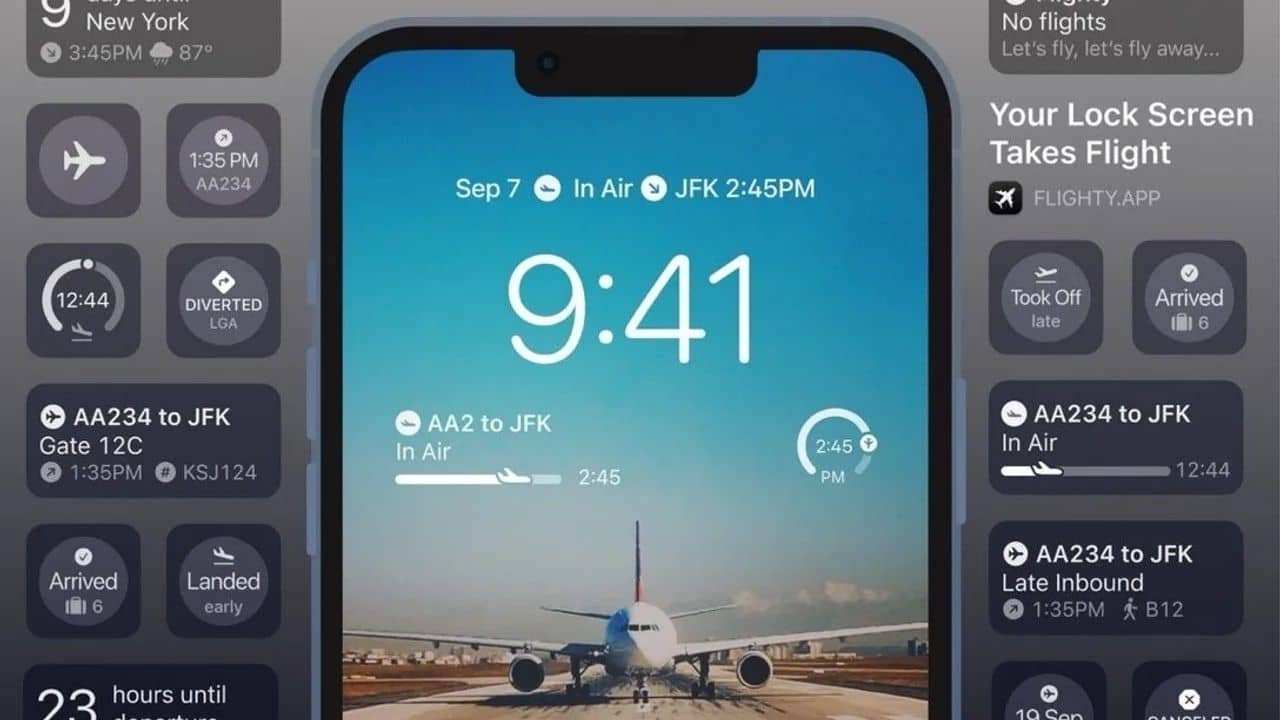 Flighty is a very useful app for any traveler and features a handful of lock screen widgets. You can add widgets to see a countdown to your trip, you can see the gate code, seat number, and even take-off time. When the plane is in the air, you can see a bar that displays in-flight progress, your arrival gate, weather, baggage, and even carousel information. This is an all-in-one travel app that consists of many handy lock screen widgets for travelers.
Also read: How to Fix Netflix not working on an iPhone?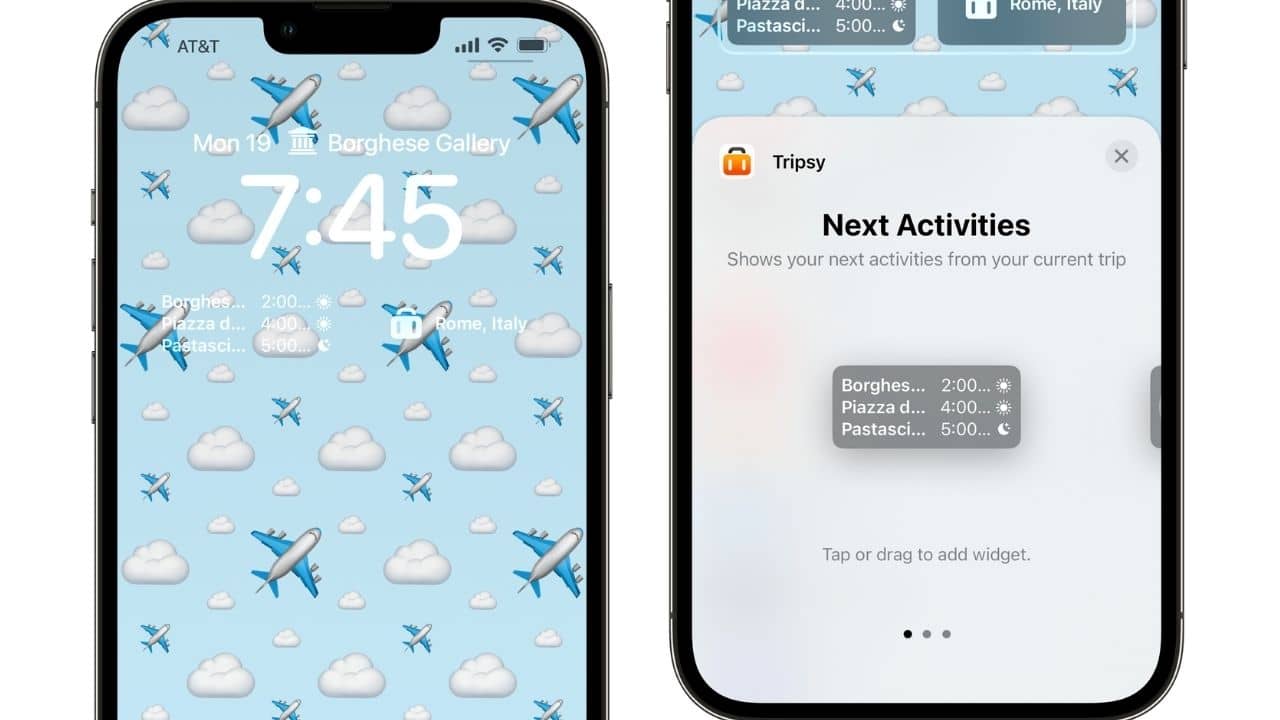 This is another must-have travel planning app for iPhones that features a bunch of lock screen widgets. You will get widgets that display your flight status, your trip itinerary, activities, and all the reservations you have booked right at your lock screen. No more checking the app every few hours to see what you've got on the list.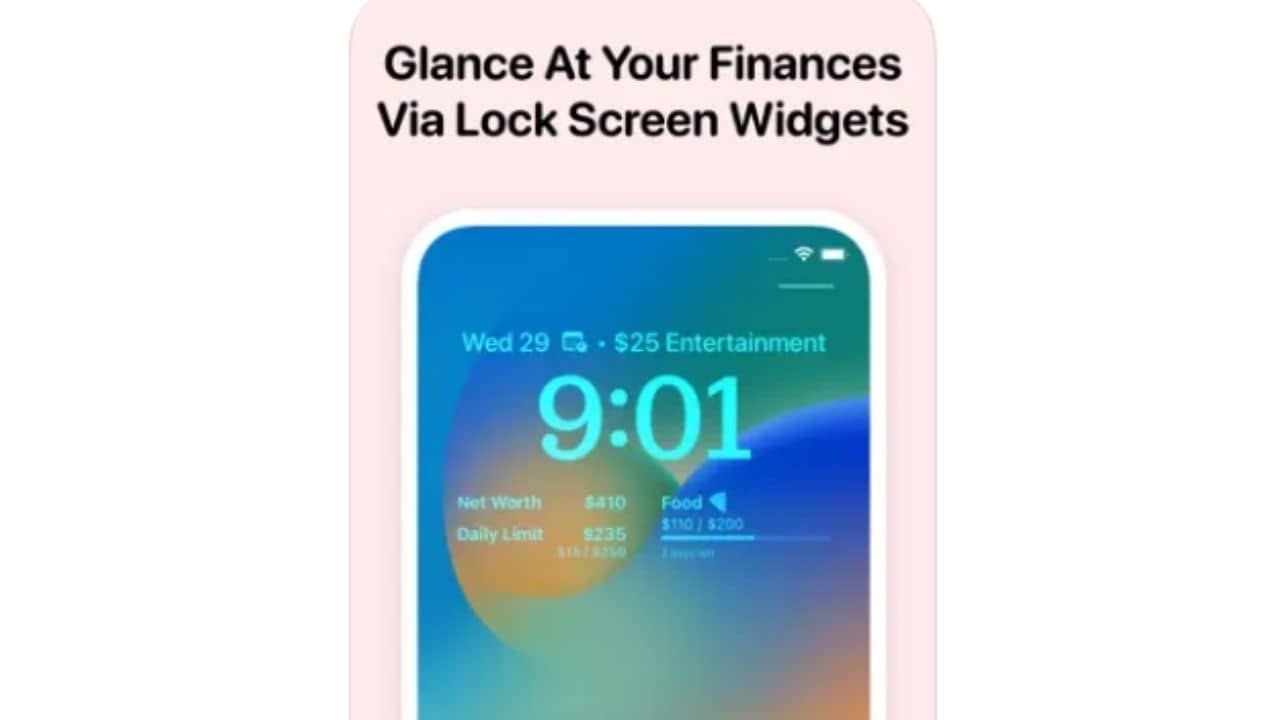 An important part of travel planning is budget planning and this app does that for you. You will get multiple widgets to track your financial goals, set spend limits, and monitor spending to prevent overspending on a trip. 
Also read: How to Transfer photos from Google Photos to iPhone Gallery
That's all for now. Let us know in the comments which lock screen widgets you will use. 
PS:-  As more apps will launch lock screen widgets for iOS 16; we'll regularly update this article. So stay tuned!