If you know me, you know that I'm not the person to care about specs. Sure, it's nice to have the latest, most powerful processor with a lot of GHz but to be honest, if my phone runs smooth, I don't care if it is powered by an Intel i7 or a Pentium or whatever.
Coming to the OnePlus 3T, although there were rumours that the phone would look the same with just some beefed up specs, I was hopeful, especially after the hype OnePlus made around the phone.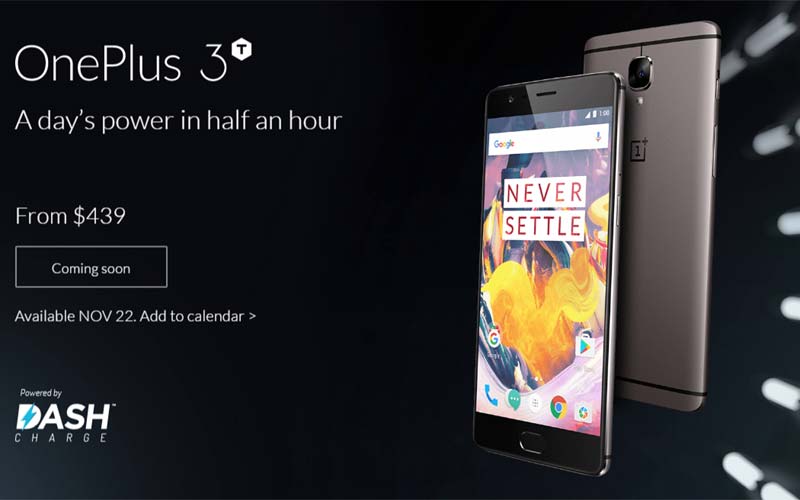 Here are the key pointers about the OnePlus 3T :
It's going to replace the OnePlus 3.

It looks exactly the same. No visual difference.

It has a beefier processor, the 2.35 GHz Quad Core Snapdragon 821.

3400 mAH battery compared to 3000 mAH on the 3T with Dash Charging.

A newer, better version of OxygenOS, OnePlus' Android skin(will be available as an update on the OP3)

A new 16MP front facing camera compared to the 8MP one on the older model.

A 128GB option now available alongside the existing 64GB model.

Starting price 439$.  
And that's about it. Truly boring. Not that this phone is going to be a bad one. I love the OnePlus 3 and truly believe that it is an excellent value for money.

And it's going to get even better with better performance, more endurance and a crispier selfie camera. It's just that I was expecting something better. It's definitely not a worthy upgrade for OnePlus 3 users. I think it's a bad move from OnePlus. Making a 6 month old flagship, an 'older' model is never a good decision and would leave the existing users a bit disappointed. If I were OnePlus, I would have axed the 3T and instead focus on developing and getting the OnePlus 4 to the market earlier, preferably near the launch of the S8 and other flagships, to munch on their sales. Unfortunately, I'm not OnePlus and the 3T is here to stay.