Right from rollable displays and wireless TVs to smart home appliances and the new wireless charging standard, we got to see some super-cool and exciting launches at CES 2023. Every year, smart home technology has been one of the prime highlights of the CES (Consumer Electronics Show). This year, Matter really mattered at CES 2023 and the smart home devices roared at their fullest during the entire event. Matter is an open-source smart home standard that aims at making smart devices that seamlessly work with each other. Honestly speaking, Matter was the buzzword during the entire event. Many brands announced their plans to bring this tech onboard while others showed off some fantastic devices. 
In this article, we'll walk you through some of the best smart home devices we saw at CES this year. Right from the hubs & lights to apps & kitchen appliances, we've covered some amazing devices in this roundup. 
No more waiting, let's jump into the list of the best smart home devices introduced at CES 2023.
List of the Best Smart Devices in 2023
1. Samsung's new SmartThings Station
Price: $60
Availability: Early February 2023
At CES 2023, Samsung teased the new SmartThings Station, a small-sized smart home hub for Thread and Matter-enabled devices. The built-in radios for Wi-Fi, Bluetooth, Thread, and Zigbee lets you control compatible devices like TVs, plugs, speakers, thermostats, and more. Additionally, you can automate pre-routines with the SmartThings app without having to control each device manually. Further, there's a button on the top of the station which can be configured to trigger your favorite smart home scenes. For example, you can program the button to make your phone ring when you can't find it. That's not all. This smart home hub doubles itself as a 15W wireless charging pad for Galaxy smartphones and earbuds. It can also power up other phones but not as fast as the Samsung ones. 
2. Aqara video doorbell, smart lock, & more
Price: Presence Sensor FP2-$60 , U100 Smart Lock Door: $160 to $200, G4 video doorbell- $120
Availability: Video doorbell- February 2023 and other products will hot the markets in Q2 2023
Aqara recently unveiled a new Presence Sensor FP2, T1 LED Light Strip, and U100 Smart Lock Door at CES 2023. Joining the list of 2023 smart home devices is the G4 video doorbell that's slated for release in February 2023. The company also showcased a Thread-based P2 door/window contact sensor and P2 motion / light sensor at CES 2023 which is said to make its debut in early 2023. Impressively, all the 2023 Aqara smart home devices lineup will support Matter. 
3. Nanoleaf Skylight
Availability: smart bulbs & light strips- Q1 2023, Skylight: second half of 2023
Years ago, Nanoleaf was a small start-up selling some unique LED light bulbs. In the past few years, it has emerged as a renowned brand popular for its bright, splashy, and color-changing smart light panels. At CES 2023, Nanoleaf came up with an array of new offerings, including its first Thread-based smart switches. Additionally, the brand offers
new color-changing smart bulbs and new light strips that mimic the colors on your TV screen or gaming PC monitor, when paired with a camera. The most striking addition to the Nanoleaf smart statement pieces is the Nanoleaf Skylight. These modular, color-changing ceiling panels can fill a room with multicolor lights. If you're a fan of colorful and modern panel lights, make sure to look out for Nanoleaf Skylight. 
The brand will also update its existing modular light panels and light bars to Matter.
4. Ring Car Cam
Price: $250, Early-bird offer- $200
Availability: February 2023
Ring's newest smart gadget is called Ring Car Cam, a two-way camera that sits on the dashboard and helps you keep an eye on around and in your vehicle. With built-in Wi-Fi, this dashcam can detect activity such as a break-in and start recording. Additionally, you'll get an alert and live view from the camera via the Ring app. There's a feature called Traffic Stop, which allows users to start recording if they're pulled over.
Amazon said that all the videos recording will be end-to-end encrypted and the Car Cam has a camera shutter to ensure privacy. 
Ring Car Cam is powered by the vehicle's battery and also offers cellular connection when you subscribe to Ring's Protect Go service.
5. GE Lighting smart bulbs and plugs 
Price: $20 to $200
Availability: March 2023
GE Lighting is all set to introduce Matter-enabled A19 Cync Full Color Direct Connect Smart Bulbs and Cync Indoor Smart Plugs which will hit the markets in later 2023. It's worth mentioning that over-the-air Matter upgrades aren't scheduled for the existing Cync devices. 
Adding to the growing Cync lineup is an array of Dynamic Effects Lights that put out multiple colors in one go while syncing with music or showing off other preset effects. The most interesting addition to the mix is the Neon Rope. It's basically a multicolor string light that can be flexed into fun & artistic shapes to light up your kid's room to do a quick wall decor for a house party. It's worth knowing that the Dynamic Effects products won't support Matter at the launch. Now, that's because Matter currently doesn't support dynamic lighting effects that are the main feature of these lights. That said, the company might change its plans if Matter supports advanced lighting functions down the line. 
Also Read: List of the Matter-compatible devices (Alexa, Google Home, HomeKit, SmartThings, & more)
6. Roborock's S8 Pro Ultra robot vacuum
Price: The S8 series starts at $750
Availability: April 2023
Roborock introduced its new top-of-the-line robot vacuum at CES 2023. The Roborock's S8 Pro Ultra is the most powerful robotic cleaner that has 6,000 Pascals of suction and a second rubber brush for better cleaning. It vacuums, mops, recognizes carpets, avoids obstacles, and maps your home for quicker and best possible cleaning. There's an extra mopping pad and t
he RockDock Ultra System automatically cleans & dries the mop to avoid mold growth. Also, the dual roller brush system can better pick up dirt, grime, and hair tangles more effectively. So, if you're a fan of smart vacuums and cleaners, S8 Pro Ultra might be your best bet. 
7. Moen Smart Sprinkler System
Price: Sprinkler System- $180 to $235, Soil Sensors- $70 or $180 for a pack of three
Availability: Early February 
Extending its lineup of smart home water-management devices to outdoors, Moen announced its Smart Sprinkler Control System. It consists of a controller that monitors when and how much water your yard needs so you can save water and money. The next component is a wireless soil sensor that automatically adjusts the watering based on the soil's needs so each zone gets precise watering. The Smart Sprinkler Systems can monitor and irrigate 8 or 16 zones independently, bassd on their size. The Moen Smart Sprinkler System takes the guesswork out and gives you complete control over watering so you can enjoy a lush green lawn all the time. You can customize and automate the watering routines via the Moen Smart Water App. 
8. Roku Select and Roku Plus Series TVs 
Price: $119 to $999 for HD and 4K models ranging from 24" to 75" 
Availability: Early February 
Roku is a popular and reliable brand that has made streaming easy and accessible. Now, with an aim to deliver entertainment beyond the streaming devices, Roku has come up with its first-ever self-made smart TV that's powered by the much-loved and simple Roku OS. The new Roku Select and Plus Series TVs will be available in 11 models, ranging from 24" to 75". The Select TVs will come with a Roku Voice Remote with push-to-talk controls while the Plus Series TVs will include a Roku Voice Remote Pro. The company says it has combined its streaming leadership with hardware expertise to deliver an innovative and affordable lineup of TVs that will surely benefit all movie buffs and entertainment lovers. 
Roku has always been a top player in streaming. It will be interesting to see how this affordable lineup of TVs will impress consumers. 
9. Govve AI Gaming Sync Box 
Price: $300 to $350
Availability: Anytime in 2023
At CES 2023, Govve introduced its answer to the Philips Hue Play HDMI Smart Sync box. Govve's AI Gaming Sync Box put Govve's smart lights in sync with whatever games you're playing so you get those perfect
gaming space vibes. The delay is almost negligible and the box can also sync lights with movies playing on the TV. The Govve's box supports 4K resolution and has three HDMI ports to plug in your favorite devices. In addition, Govve showcased Multicolored LED Strip Light M1, its first Matter-compatible that gives you the freedom to connect & control multiple smart home devices, no matter if they are from different ecosystems. 
10. TP-Link Smart Home Hub, smart plugs & switches 
TP-Link showed off the Homebase Tapo H900, its first smart home hub that works as a Matter-compatible and Thread border router. This triangular orange device supports Wi-Fi and Bluetooth to control Tapo home devices. You can access the Tapo app and control your smart devices directly from the hub. Additionally, it doubles as a
stand/charger for tablets and a video storage device for Tapo cameras.  
Besides this hub, TP-Link announced an array of smart home devices, including Matter-compatible Tapo P125M Mini Smart Plug, Tapo L525E Multicolor Smart Light Bulb, Kasa KP125 Smart Plug, Tapo P306 Smart Wi-Fi Outlet Extender, and Tapo S505D Smart Dimmer Switch. 
Also Read: Best Wireless Surround Sound Systems of 2023
11. Sengled Matter-ready smart bulb 
Price: $14.99
Availability: Q1 2023
Sengled announced that they are all set to release a new Matter version of the multicolor A19 smart bulb. The company also talked about its plans to release more Matter-compatible products later in 2023. However, it has no plans to upgrade its current A19 bulbs to support Matter. 
12. Nanoleaf Sense+ Controls and Nala Automation Learning Assistant
Availability: Second-half 2023
At CES 2023, Nanoleaf announced the Sense+ Control family which consists of three devices- Smart Light Switch, Wireless Light Switch, and Nala Learning Bridge. All these devices are Matter & Thread compatible, and also feature built-in motion and ambient light sensors. Additionally, these three devices work with Nanoleaf's Automation Learning Assistant or Nala so they can understand everything about your lighting preferences and usual routines. The system can predict when to turn
lights on/off, adjust brightness, or change color to your liking. In short, the Nanoleaf Sense+ Controls family allows users to enjoy intelligent and hands-free smart lighting experiences in their homes. 
Further, the company announced the Nanoleaf 4D kit, a system for synchronizing your Nanoleaf lights with your TV. It comes with Nanoleaf's new Screen Mirror Camera and a Matter-compatible Lightstrip that offers 50 customizable LED zones and four mirroring modes.
13. Philips Hue Sync TV
The Philips Hue Sync TV app lets you sync Philips Hue Lights with your TV for a more immersive entertainment and gaming experience. You can binge-watch your favorite shows or play games with lights that dim, brighten, and change color along with the action on the screen.
The app lets you adjust the brightness and intensity of the syncing, set game mode, and more. Additionally, it supports native apps and image formats. You can download this app on 2022 and newer Samsung OLED TVs in the Q60 or newer range. When you have this app, you don't need anything (except for the Hue Lights & Bridge), not even the Philips Hue Play HDMI Sync Box to sync your lights to the big screen. 
14. Rachio Smart Hose Timer 
The Rachio Smart Sprinkler Controller can help you keep your front lawn or backyard healthy and green while saving water. The system uses weather information to determine if and when to turn on the water sprinklers. Now, Rachio is coming up with a new smart home device, Smart Hose Time that brings the same smart home experience to the outdoor faucet. This system replaces hand watering with the convenience of a Wi-Fi hub and a timer valve. You have to go out to turn on the sprinkler, rather you can do that via the companion app. Moreover, you can also create watering schedules that will be automatically skipped on rainy days. 
15. Lockly Flex Touch Pro and Smart Safe
Price: $350
Availability: Spring 2023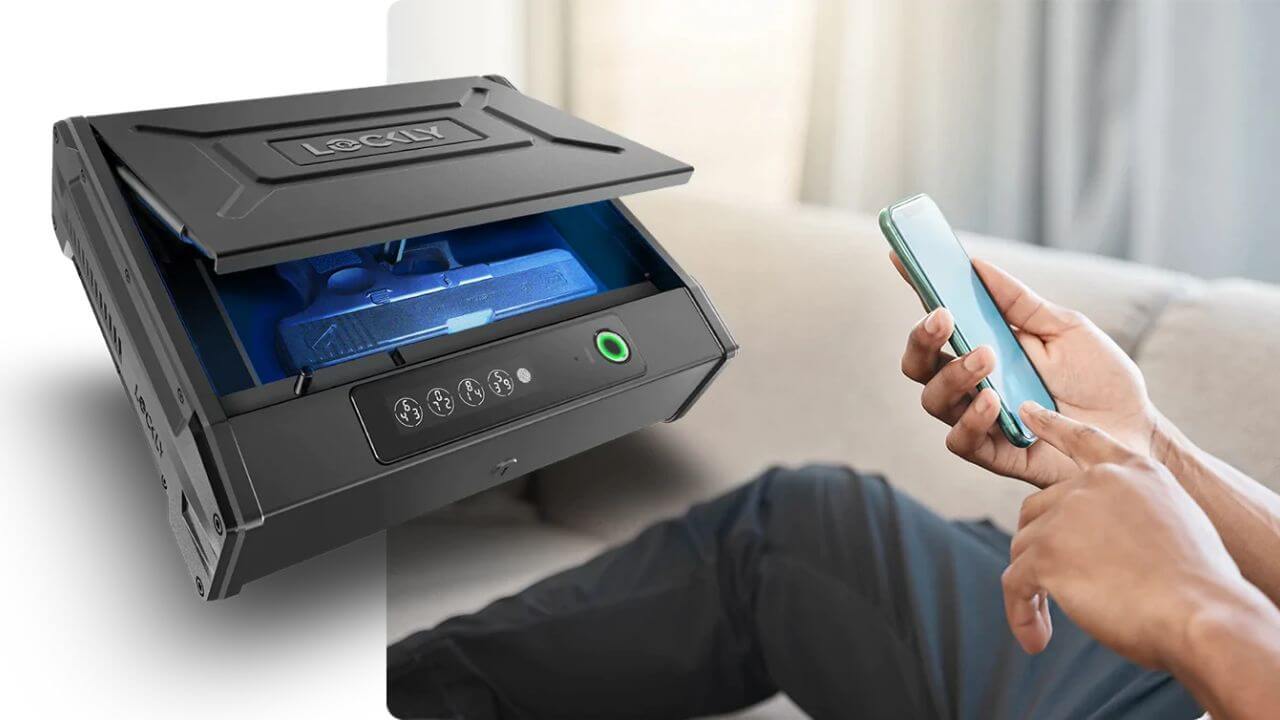 Lockly Flex Touch Pro is a device that can transform an existing deadbolt into a smart lock without the need to replace the existing hardware or keys. You can use biometrics to unlock the door and the Wi-Fi capability lets you check the status of the door with the companion app. You can program the device to automatically lock the door when you leave/enter the home and even control it with Amazon Alexa or Google Home. Lockly Flex Touch Pro is powered by a battery that can last you up to 9 months with regular use. 
During CES 2023, Lockly also introduced a smart safe that can be locked & unlocked from a phone. You can use the mobile app to view the open/closed status and tampered notifications. The safe requires Lockly's Secure Link hub for remote access. If you already have Lockly smart locks in your home, you can transfer fingerprints over the safe and coordinate locking times to lock/unlock everything in one go. 
16. EcoFlow Whole Home Backup Power
Price: Starts at $3,699 and goes up to $20,000
EcoFlow has come up with a simple and attainable whole-home backup power solution that can give you power and comfort when you're hit by a blackout. This smart home device can keep your home lights on for up to a week after a major storm or anything else. It features two EcoFlow DELTA Pros with EcoFlow Double Voltage Hub to deliver a combined power output of 7200W and a whopping 21.6kWh capacity. The system supports solar charging of up to 1600W per unit and with 2500W solar input, the whole system can be fully charged in less than two hours. 
So, if you need a smart and affordable battery backup kit for your home, EcoFlow offers a nice option. 
17. 2nd-Gen Mui Board
Price: $599
Availability: Preorders in June, shipping will start in November 2023
The second-generation Mui Board, a piece of the board that doubles as a touch interface to help you control smart home devices is all set to hit the markets in November 2023. The touch-sensitive, screenless wooden display uses LED lights to show info like weather, date & time, messages, and controls for smart devices like speakers, lighting, & more. The original Mui Board relied most on IFTTT integrations and was never really available for consumers to buy. The new-gen Mui Board is all set to make its debut in November 2023 and will support Matter as a controller over Wi-Fi for selected devices like lights. 
18. GE Profile Smart Mixer with Auto Sense
Price: $999
Availability: January 2023
If you love making cakes, cookies, cupcakes, and more, this smart kitchen appliance will surely steal your heart. The GE Profile Smart Mixer claims to deliver a baking experience like never before. This smart home device features Auto Sense, voice-control capabilities, a built-in smart scale, guided recipes, and more. The Auto Sense technology monitors changes in texture and viscosity to prevent overmixing & undermixing. The built-in scale will precisely weigh the ingredients in the bowl and the companion app will help you master the most complex baking recipes with perfection. Moreover, voice control support gives you the freedom to work without any interruption. 
Also Read: Best Smart Coffee Makers of 2023
19. Homey Pro Smart Home Hub
Price: $399
Availability: February 2023
Homey is bringing its smart home hub, Homey Pro to the US in Q1 2023. At launch, the hub will support Zigbee, Z-Wave, Wi-Fi, BLE, 433MHz, and infrared. Additionally, Matter support is scheduled for Q2 and Thread for Q3. The Homey Pro Smart Home Hub will act as a bridge to turn a non-Matter device into Matter (if that device type is supported by Matter). 
20. Schneider's New Home Energy Solutions 
During CES 2023, Schneider Electric came up with its Home Energy Management System that has everything you would need to manage your home's energy needs. The system includes a home battery, solar inverter, EV charger, electrical panel, connected power outlets, and smart switches. The basic idea is to provide the user with all the essentials and give him the freedom to manage the home's power needs from a single app. Additionally, the user can set EV charging schedules to take advantage of lower electricity rates. The company says that this approach will help reduce the complexity, cost, and space requirements to buy and set up different components separately.  
Also Read: Best Apple HomeKit-compatible smart home devices 
21. LG MoodUp Refrigerator 
Price: Not yet available
Availability: Late March or early April 2023
One of the most eye-catching products by LG at CES 2023 was the MoodUp Refrigerator which can change color or play music for a more personalized customer experience. The LG MoodUp Refrigerator gives you the freedom to spice up your kitchen by changing the color with the season or giving your space an entirely look whenever you're in the mood to try something new. The
LED panels on the door can display over 19,000 color combinations so you can mix & match colors to get the most appealing aesthetics. Also, you can always turn off the LED lights for a traditional look. Moving on, the fridge is equipped with a Bluetooth speaker, and the colors can even sync up with your music. You can control everything via LG's ThinQ mobile app.
In short, if you're looking for the flashiest and most amped-up fridge on the market, LG MoodUp would make a great addition to your smart home. 
LG also introduced its latest TV lineup, a truly wireless OLED TV, Dolby Atmos soundbars, and more at CES 2023. 
22. Eve Matter-certified smart home products 
Price: Eve Energy- $39.95, Eve Motion, Eve Door & Window- $49.95, Eve MotionBlinds Upgrade Kit- $199.95
Availability: March 28
Eve rolled out an array of smart home products that will support Matter right out of the box. The list includes the Eve Energy smart plug, Eve Door and Window entry sensors, and Eve Motion movement detectors. The company also announced the new Eve MotionBlinds Upgrade Kit which
allows you to turn regular roller blinds into smart shades. Additionally, you can automate and control them from your phone. These are the first set of devices by Eve that support Matter and ensure platform independence without the need for an over-the-air firmware update. 
Interestingly, all the MotionBlind products will be upgraded with Matter support in Q1. Moving on, Eve will also launch Venetian blinds that can raise and lower remotely rather than just tilt.
23. Nowatch Screenless Watch 
Price: starts at $318
Availability: Available now
At CES, we also saw Nowatch screenless watch that provides real-time feedback on sleep, movement, and stress. It doesn't display the time, apparently. It's basically a health-focused watch that uses an interchangeable gemstone face rather than a display. Nowatch is designed with Amsterdam-based entrepreneurs in collaboration with the electronic brand Philips. The company says Nowatch delivers gentle vibrations throughout the day to reduce stress, increase mindfulness, and improve physical well-being & mental health. The main goal of Nowatch is to reduce stress & anxiety without becoming a distraction. 
24. Leviton's Matter-compatible Decora Smart Devices 
Leviton is extending Matter support to its Decora Smart devices in early 2023. The second-gen Wi-Fi-connected devices- Decora Smart Wi-Fi Switch and Decora Smart Wi-Fi Dimmer will also get Matter compatibility after a firmware update which will be available via the My Leviton app in early 2023. However, the company confirmed that the first-gen devices won't get Matter support. 
25. Samsung Bespoke Kitchen Appliances
Samsung launched the Bespoke Family Hub Plus fridge with a built-in SmartThings hub and a giant 32-inch display. You can utilize the screen to display pictures from Google Photos, make digital shopping lists, watch recipe videos, control SmartThings-compatible smart home devices, and much more. Also, The South Korean giant launched a bunch of new smart home accessories like a Bespoke Oven & more. In addition to the Bespoke kitchen appliances, Samsung showcased a bunch of exciting products at CES 2023. It includes the latest lineup of Neo QLED, Micro LED, and OLED TVs, Odyssey Neo G7 Monitor, rollable & foldable displays, and more.  
It's worth mentioning that Samsung's Family Hub fridge line will be upgraded to be a Matter-over-Wi-Fi controller in January. Also, the new Samsung lineup of products, including TVs, smart fridges, and monitors will support Matter, Thread, and Zigbee natively. However, the older TVs and refrigerators will not support Matter. 
Also Read: Amazon Alexa vs Google Home vs Apple HomeKit
These were the best smart home devices that gained a lot of attention at CES 2023. It will be interesting to see how these smart devices will impress consumers once they hit the markets. If you're planning to start your smart home journey or are in the mood to upgrade your smart home, make sure to bookmark these latest products. They will help you build a smarter, interconnected, and future-proof smart home.