Smart speakers are becoming extremely popular and very common gadgets in homes these days. No wonder, you have landed here searching about for a reliable smart speaker suitable for your needs. Before we move forward it is important for you to know that the best smart speakers enable you to use voice commands to control many things. It is one of the most useful gadgets you can own, especially if you have smart home devices at your place. Other than basic stuff like playing your favorite music, it can help you with a bunch of other things like listening to news headlines, helping you with your shopping list, turning a smart gadget on/off like a coffee machine, or playing a movie on your TV. Honestly, there's a lot of stuff that can expect out of the best high-end smart speakers. 
That said, the whole process of getting a new smart speaker for the smart home can be a little intimidating because of the several options available in the market. You are likely to find smart speakers of different sizes, ecosystems, prices, and sound quality. And, that too with their respective voice assistants.
Therefore, if you are searching for the best smart speaker to buy in 2022, you need to consider a few important factors that we have listed below. We recommend you go through them before we begin with the top smart home speakers to get this holiday season.  
6 Factors you should always consider before buying a smart speaker
a) Size and sound quality
In addition to the smart assistant, a smart indoor speaker has three major specifications that you should consider before you buy it – size, audio quality, and price. Generally, the smaller, low-priced smart speakers for offices & homes tend to have a lower-audio quality than those which are
aggressively priced. Therefore, as you scale up in size, the increment in price and sound quality is inevitable. So, whenever you plan to buy one, you should ensure that these smart home gadgets match up in these categories. Ultimately, this helps you narrow down your options.
b) Choose your smart assistant: Alexa, Siri, or Google
One of the top decisive factors when buying the best value smart speaker is its compatibility with different devices and voice assistants. If you already use voice assistants like Google Assistant, Amazon Alexa, or Siri (Homekit), it is easy for you to narrow down your options. On contrary, if you don't own a voice assistant, you'll also find several smart speakers for your home that come with inbuilt Alexa or Google Assistant.
While some smart speakers support both Alexa and Google Assistant devices for extra flexibility. That said, you should always confirm this from the product description, online reviews, or by directly getting in touch with the manufacturer or the dealer. This factor should be considered if you already have smart devices installed in your home. For example, most modern smart lights are compatible with Amazon's Alexa or Google Home or both. So, you can take that into the equation as well. Alexa and Google Assistant speakers are one of the best smart speakers for the elderly. So, if you're planning on gifting one to your nana or dad, a smart speaker might take the cake.
c) Check for streaming service compatibility
Modern-day's best smart speaker for living rooms comes with the compatibility of as many streaming services as possible. At present, manufacturers tend to offer the best smart speakers to play
Spotify, YouTube Music, and many other popular music streaming services. That's not all, you are also likely to find smart home speakers with Netflix, Prime Video, and other video streaming services. Meaning, you can ask them to play a movie on Netflix on your smart TV. Therefore, the bottom line is to research well whether the smart speaker you're planning to buy is compatible with the streaming services you have subscribed to or use the most. Most smart speakers are compatible with Spotify, Amazon Music, and
d) Wired or battery power?
Most indoor smart speakers are equipped for wired power because offering a battery can be a costly affair especially when smart functions are likely to draw plenty of power. Wi-Fi itself is a power-hungry component, and features like automatic room tuning and other smart functions are likely to drain the speaker's battery quite significantly. Honestly speaking, portable smart speaker choices aren't too many, therefore it may be sensible of you to buy a 'dumb' Bluetooth speaker if you're always on the go. There are tons of options for that. On the contrary, if you are looking to buy the best smart speaker for your bedroom or living room, we recommend sticking with the wired option. Since these wired speakers just require a power socket and an internet connection to function. You can easily move these from one room to the other, your backyard or patio. That way, you really don't have to worry about battery and other stuff, too. 
e) Consider bonus features
Lastly, it's time to review all the bonus features that come along with the smart speaker. All the above pointers apply to every smart home speaker in general. But, there are plenty of bonus features that are always welcome. To remind you, smart speakers with additional features tend to cost more, so watch your wallet before you consider them.
Referring to bonus features, we can take the example of the Amazon Echo Show (3rd Gen) which comes with a display. The additional display can be used to keep an eye on your door or watch and replicate favorite recipes for Christmas from YouTube. Another example of bonus features in a smart speaker could be the auto-calibration feature in Sonos speakers that adjusts audio based on your room and its surroundings. 
Therefore, it is always handy to have one last look at the extra features offered by the smart speaker you are planning to buy. You can always keep an eye on the product page to confirm these extra features. If not, there's always an option to read from thousands of reviews across the web before choosing one.
f) Budget
Lastly, it all comes down to budget. At present, there are plenty of smart speakers available in the market, some are affordable, whereas some are premium. Therefore, it is up to your requirements and the budget. We always recommend you choose things within your budget and don't stress your wallet unnecessarily.  Since most of these smart speakers support multi-device streaming and listening, you can plan your purchases in advance. 
Now that you are aware of the factors that ease your smart speaker hunt, it's ideal for you to jump right onto the list. 
Note: We update our article from time to time to cover the latest products available in the market. 
Our Top Picks of the 8 Best Smart Speakers of 2023
1. Amazon Echo Dot with Clock (5th gen)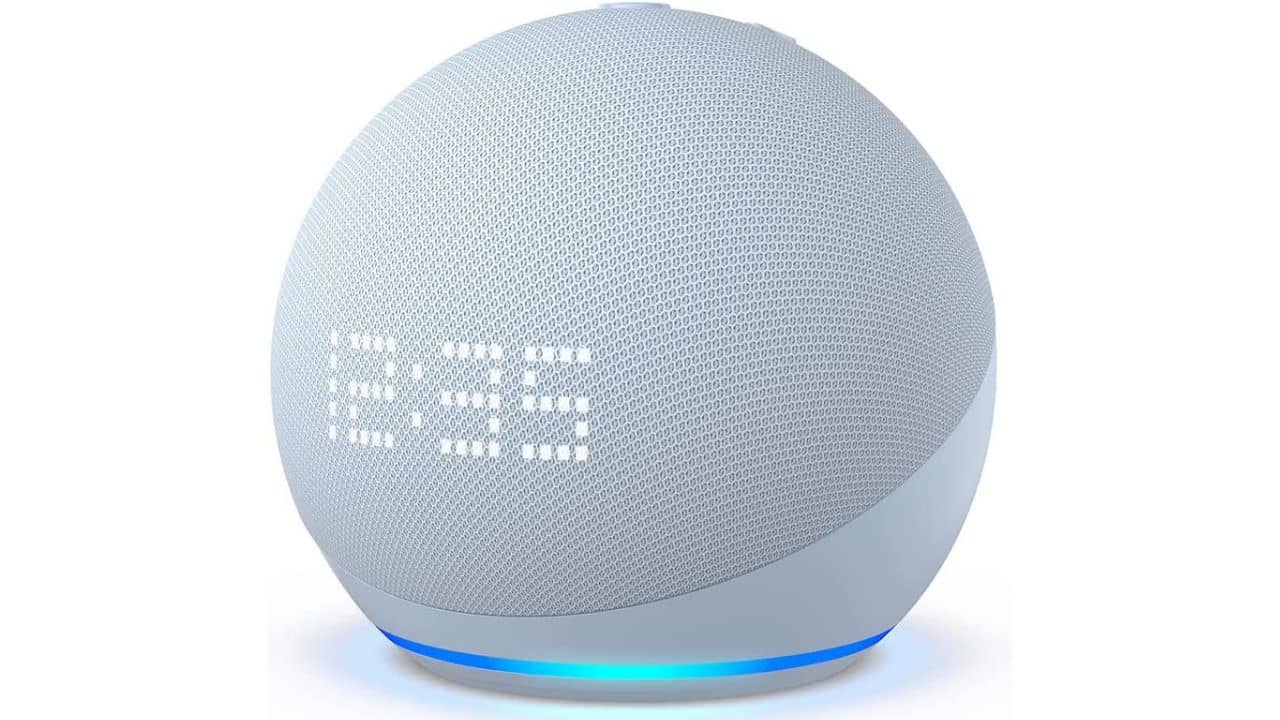 If you are looking for one of the best smart speakers with Alexa, the first and foremost name that comes to my mind is the Amazon Echo Dot 5th Gen. This smart home speaker comes with a considerable amount of audio boost and bass as compared to the last generation. Honestly, the bass won't rattle your windows or the speaker grill, but for a lightweight speaker, it still does a good job to deliver decent bass. In addition, it displays the time, temperature, and title of songs being played, all thanks to the improved LED display that this budget-friendly smart speaker comes with.  
The new Echo Dot now doubles up as a Wi-Fi extender for eero Mesh Wi-Fi systems. It is now capable of adding up to 100sq. feet of network coverage and handles speeds of up to 100 Mbps. Besides extendability features, there's much more this value smart speaker offers to you. You can command this smart speaker to play your favorite music from various music streaming services like Amazon Music, Spotify, Apple Music, etc. That's not all, you can also use Bluetooth to play music throughout your home with other Alexa-compatible speakers. Did you know these smart speakers can also play internet radio? 
Sadly, only some of the new features of this Alexa-enabled smart speaker work flawlessly. The speaker's new ambient temperature sensor works fairly well, although there are some bugs. But, that's the beauty of smart speakers, they get software updates regularly to fix bugs and add new features. You can also add another Echo Dot and use them as a TV speaker or a stereo speaker set for immersive sound quality.
Let's not forget that the fifth-edition Echo Dot is available in additional two different models –  Echo Dot and Echo Dots Kids Edition.   
In short, the 5th Gen Echo Dot has all the perks of being honored as one of the most valuable smart speakers to buy in 2023. 
Reasons to buy: 
LED display seems more useful as compared to previous models

Well-balanced sound

Easy-to-use tap gestures

Serve as a node for the eero mesh network 

Supports pairing with multiple speakers
Reasons to avoid: 
Also read: Amazon Alexa vs Google Home vs Apple HomeKit: Which ecosystem is right for you?
2. Sonos Move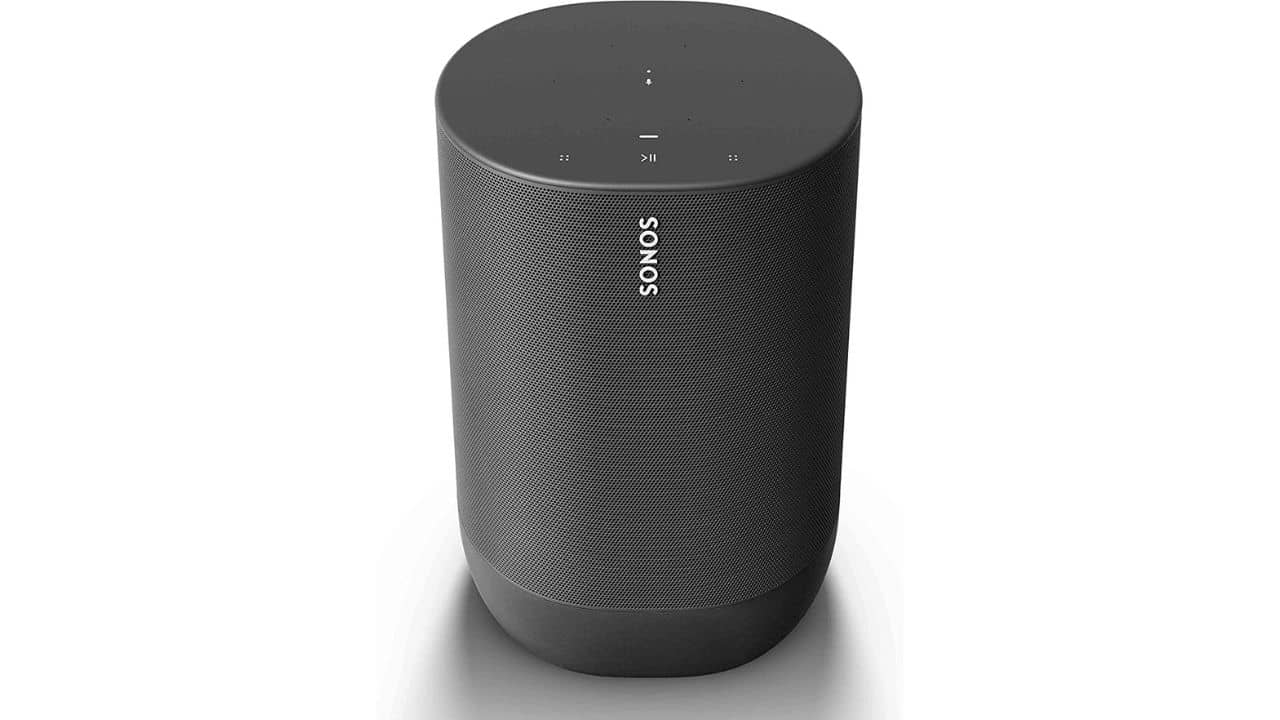 For us, sacrificing sound quality for smart features is the most painful thing when buying a smart speaker for the home. Fortunately, with the Sonos Move smart speaker that's not a concern anymore. It is a portable smart outdoor speaker that is suitable for users who travel a lot. What we like the most about this smart speaker is that it is a top pick for anyone who likes to listen to music podcasts to audiobooks, with a clear and detailed reproduction of voices and instruments in the mix. 
The fact that this best-sounding smart speaker is customizable via the Sonos S2 app, you can easily adjust its bass and treble at any given time. It is another top-end smart speaker with both Alexa and Google Assistant built-in. Compared with the Homepod mini, this one picks your voice command quite brilliantly, even from a significant distance and in a noisy room. In addition,
Sonos has Apple's AirPlay 2 therefore you can easily control this portable outdoor smart speaker using any Siri-enabled device such as your iPhone. Did we mention that this premium smart speaker has an IP56 rating for dust and water resistance? It suggests that this smart speaker is safe to be used at the poolside or at the beach. 
Overall, it is a perfect pick for anyone who likes to listen to vocal-centric content like podcasts. This soundstage is also nice and , therefore it is a must-have smart speaker for podcast lovers. That said
if you are a melophile the difference in the bass will be heard right from the time you start hearing music using this. All that said, the Sonos Move is one of the best multi-room smart speakers with Wi-Fi streaming feature. That means you can listen to audio in different rooms of the house, thanks to the series of speakers connected to the same Wi-Fi network. 
Reasons to buy: 
Powerful audio

The battery-powered design makes it portable 

IP56 rating ensures dust and water-resistance

Amazon Alexa and Google Assistant voice control

Supports Wi-Fi streaming

You can easily add and setup multi-room, multi-device audio setup
Reasons to avoid: 
Also read: Best Soundbars to Buy for Your Bedrooms [Buying Guide]
3. Google Nest Audio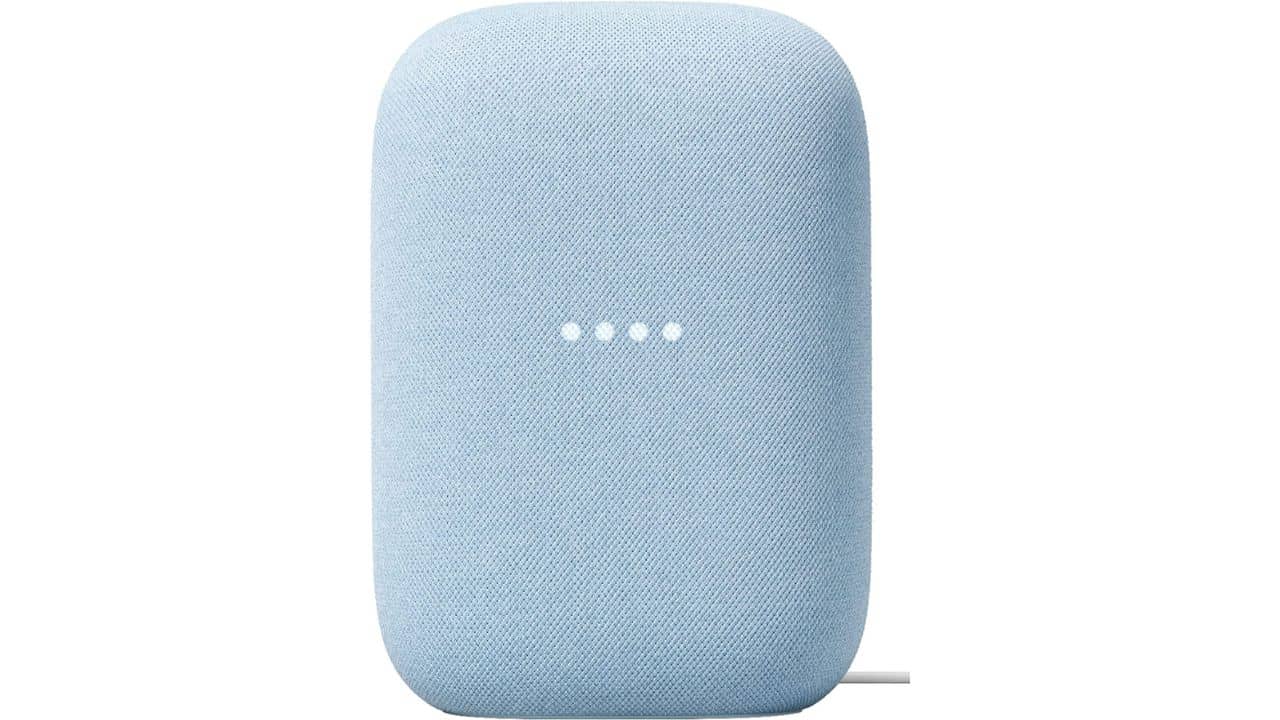 If you are eyeing the best all-around smart speaker that Google has ever launched, take a look at Nest Audio. It competes in line with Amazon's Echo Dot series and costs about the same. It features a non-challenge design topped with a knitted fabric-fronted design we have been seeing over the years. Aesthetically, it ain't that bad, either. It isn't as big as the Sonos Move high-end smart speaker and is quite slim which makes it look something like the Sonos One. 
For anyone who is buying this budget smart speaker for great-sounding audio, let me tell you it is just as good as other speakers we have listed here. Audiophiles reading this should be glad to know that Google Nest Audio supports major music streaming services including
Apple Music. All you have to do is ask it to play your favorite song right after you've set it up. In addition, the integration of Chromecast makes it easy for you to send your favorite song from your smartphone to this Google assistant smart speaker. What we loved most about this Google Home-compatible smart speaker is that despite being compact it can deliver room-filling sound with ease. So, next time you and your partner randomly plan to ball dance on a romantic number, this one does the job. Let's not forget that it also comes with smart features like Ambient IQ, which can adapt to background noise to ensure the clarity of the audio. 
As far as physical controllers are concerned, it is lashed with volume up and down buttons. There's also a microphone mute button that can be a lifesaver, just in case your kids start screaming while you're on an important business call. That said, the downside of having this smart speaker is that it doesn't come with a 3.5mm audio jack for input or output.
All in all, if you are looking for one of the best-sounding smart speakers with Google Assistant, the Nest Audio is a decent option to go with. Please don't forget that the compact design makes it one of the best smart speakers for bathroom singers as well. 
Reasons to buy: 
Good audio quality

Cute minimalist design

Ambient IQ adapts to background noise and delivers clear and loud audio 

Five color options

Google Assistant is a handy option for controlling smart home accessories 

Reasonably priced
Reasons to avoid:
Not for those who love larger speakers with loud music and bass

No 3.5 mm audio jack for input and output
Also read: Best Google Home Compatible Smart Accessories to buy
4. Amazon Echo Show 10 (3rd Gen)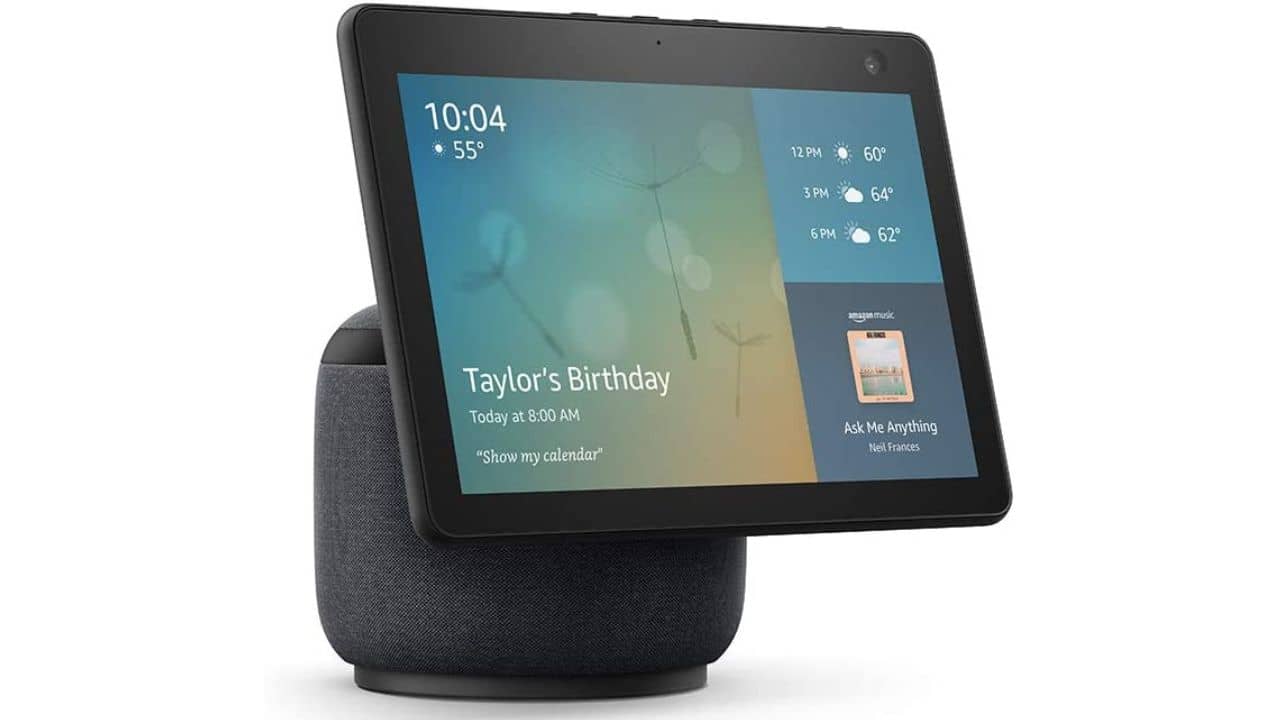 If you are eyeing the best smart speaker for under $200, we recommend going with the Amazon Echo Show 10. It is a smart home speaker that comes with a 10-inch touch-enabled display with a resolution of 1280*800 pixels. While this smart speaker gets controlled via voice commands, it also comes with a few physical buttons for volume control, a mute option, and a privacy slider which you can find at the top of the display. In addition, it comes with a 13MP front-facing camera that can be used to attend Zoom meetings or chit-chat and your lovelies over a video call. If you are concerned about privacy, there's a physical shutter that allows you to turn the camera off manually. 
Moving on, the crazy part of this smart speaker for a video call is the brushless motor that it comes with. It makes the whole setup rotate around to ensure you are always in the frame while talking to your loved ones over video call or while watching recipes as you cook dinner. As you know speakers are all about sound, we can't forget to mention that it comes with a 2.1 sound system with two one-inch tweeters along with a three-inch woofer to deliver a loud sound that can be heard across a large living room or hall. 
Further, it supports various popular streaming services including Amazon Prime Music, Spotify, Apple Music, Netflix, Prime Video, and whatnot. Apart from enjoying songs and movies, this smart speaker can be used to control different smart home devices such as smart lights, plugs, cameras, or other appliances as well. You can also add the extra Echo subwoofer to create a smart home theatre for your bedroom. Furthermore, if you don't want to replace your old speakers system, you can just pair them with this smart speaker for home theater, and the non-smart speaker will turn into a smart one with Alexa support.  
Reasons to buy:
Easy to use

Good screen quality

Smooth and quiet panning

Doubles as a security camera

Netflix and Prime Video compatibility

Screen angles can be adjusted

Privacy features like a manual camera shutter

Built-in Zigbee hub for smart home device control
Reasons to avoid: 
Flimsy-feeling plastic construction

Motion tracking can make you anxious sometimes while on call

Bass isn't that great
Also read: Best Tech Gifts under $500 (Holiday Edition)
5. Denon Home 350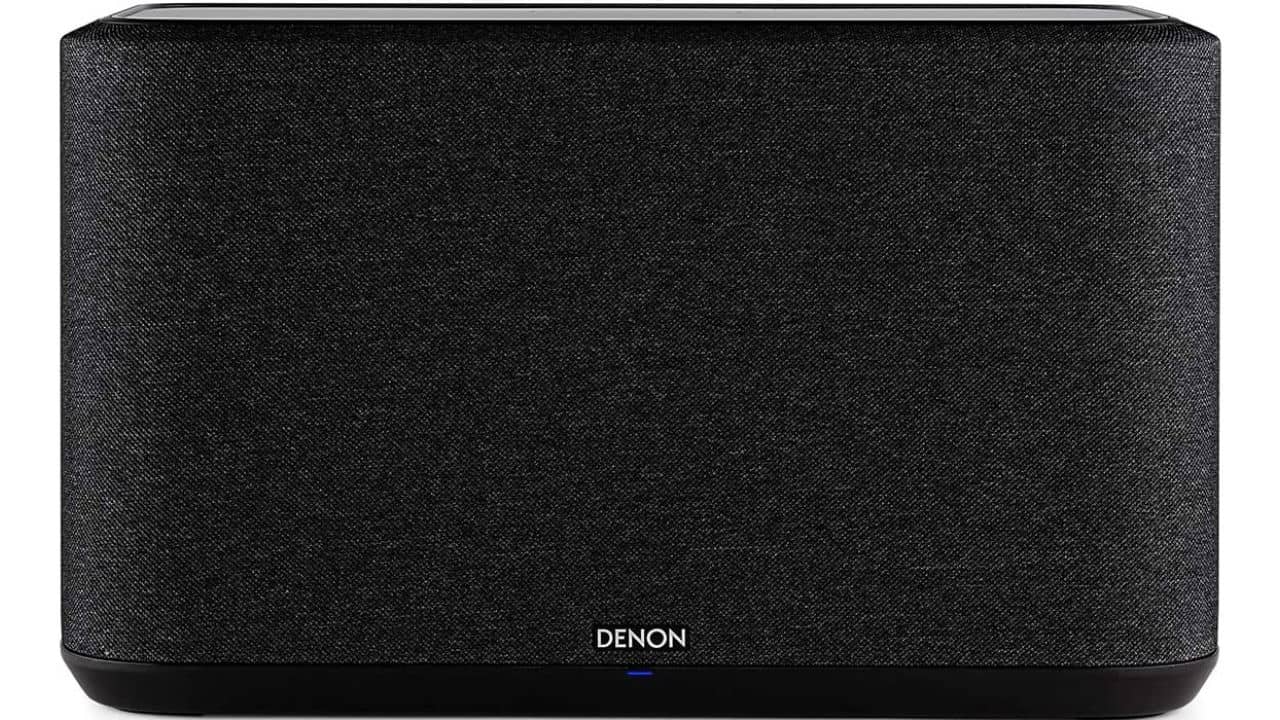 If you are looking for a high-end smart speaker for a large room, the Denon Home 350 is a go-to option for you. It comes with Alexa built-in and features a premium setup designed for homes with large bedrooms. The voice assistant lets you control this smart speaker using voice commands to execute various actions like turning your smart TV on/off. What we loved most about this high-quality smart speaker is that the microphone hears your command from another part of the room even at a noisy house party. You can always ask Alexa to change the track or turn on the DJ lights to convert your living room into a disco. 
In addition, you can use the Heos app to access some extra features within this smart speaker with Alexa built-in. With the help of the app, you can seamlessly pair two different speakers for a stereo pair or connect the speaker with a compatible
soundbar from Denon for an immersive home theater setup. On top of that bass and treble adjustments ensures that you can adjust the EQ to your liking. To remind you, this speaker can be used only by plugging it into an outlet. So, if you are looking for a portable outdoor speaker, Denon Home 350 might not be suitable for you.          
Overall, it is one of the premium and must-have smart speakers for listening to loud music.

Reasons to buy: 
Extensive functionality

Excellent build quality

AirPlay 2 and

Roon Ready

Works with Amazon Alexa and Google Assistant

Big room-filling sound

Plenty of bass
Reasons to avoid:
No Chromecast

Fairly pricey

It's big and heavy

Very high audio latency via Bluetooth on iOS and Android
6. Bose Smart Home Speaker 500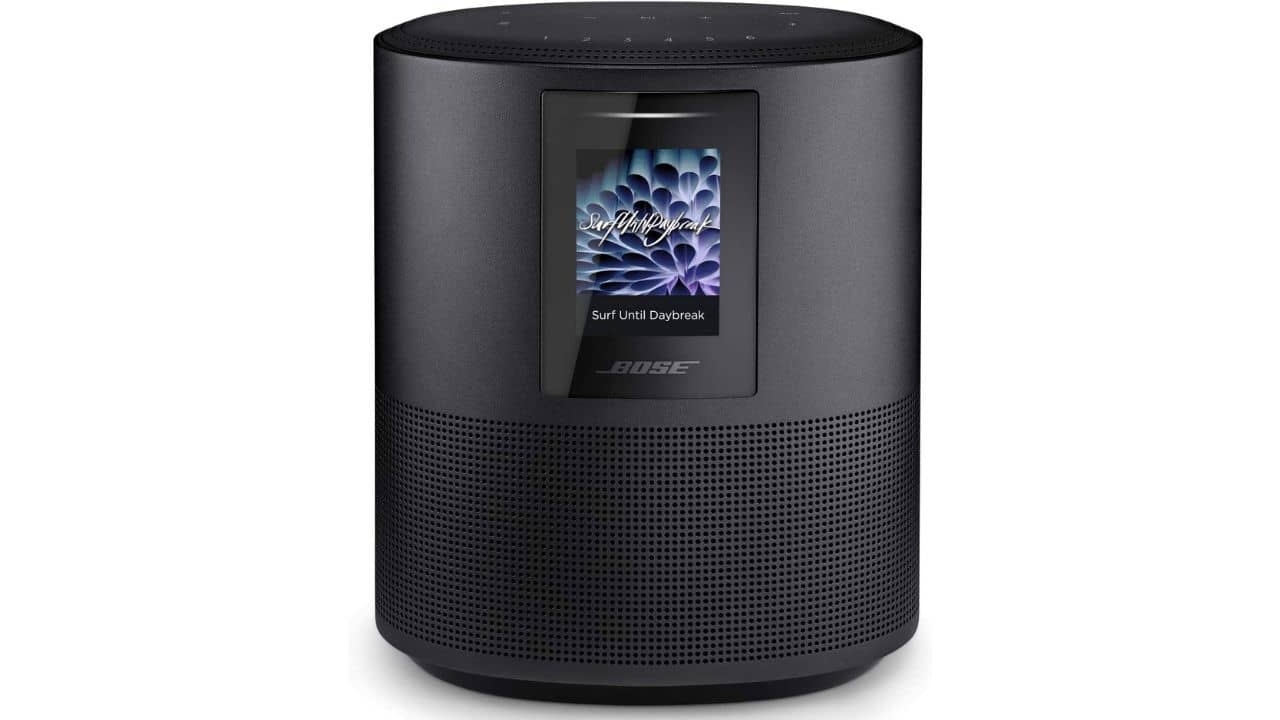 Bose has a long history of delivering some of the best wireless speakers, and the company is always showing up with a new product almost every year. Talking of speakers, one has caught our eyeballs during our in-depth research and testing, all thanks to the impressive reviews and smart features. Yes, we are talking about the latest smart speaker- Bose Home Speaker 500. It is one of the top wired-only smart speakers for home usage. This smart home speaker is platform-agnostic, meaning it is among some of the few speakers like Belkin SoundForm Elite that allow choosing between Amazon Alexa or Google Assistant. As far as looks are concerned, it sports a seamless elliptical shape. Whereas an anodized aluminum casing looks aesthetically pleasing and goes with your living room or
bedroom setup nicely. Bose has been known to complement immaculate sound quality with premium designs. 
Plus, there's a small color screen that displays album artwork whenever you play music. The auto-dimming feature ensures that you don't go blind while using it at night or in light conditions. Plus, it is one of many smart speakers with a display. However, it isn't smart enough to display news and temperature that you are likely to see in Google Home Hub and more. While it is nice to have a display, it doesn't offer versatility which we consider is a downside of this smart speaker for large rooms. 
Honestly speaking, the best thing about this speaker is the smart part of it. This Alexa-enabled smart speaker is incredible for voice assistant support. Like Denon Home 350, it hears your voice clearly so that you can change the song while dancing at a noisy Christmas party at your place. Plus the mute microphone option is always handy to prevent unwanted voice triggers. That's not all, there are different buttons on the top of this wired smart speaker for basic functionality. Whereas the six preset buttons can be used to program and play your favorite track, album, etc., with just one touch. Talking of music, it is worth mentioning that you can also connect it via an AUX cable making it one of the best smart speakers with AUX input. That said,
Bluetooth and Wi-Fi options are always available for wireless connectivity.
Putting it simply, it competes head-to-head with a premium smart speaker and sounds a lot better than most of them available right now. Therefore, if you are fine with a slightly complex initial setup process and a premium price tag, the Bose Smart Home speaker 500 is worth considering.
Reasons to buy:
Delivers the classic signature sound quality

The vocals are crisp and clear 

Comes with AUX input

50% volume is enough to fill a big living room, it is indeed loud

Touch buttons and six preset options are equally handy
Reasons to avoid:
Initial setup might be a painful affair for some users

Expensive

LED display could be better
Also read: Bose Soundbar 700 Review
7. Apple Homepod Mini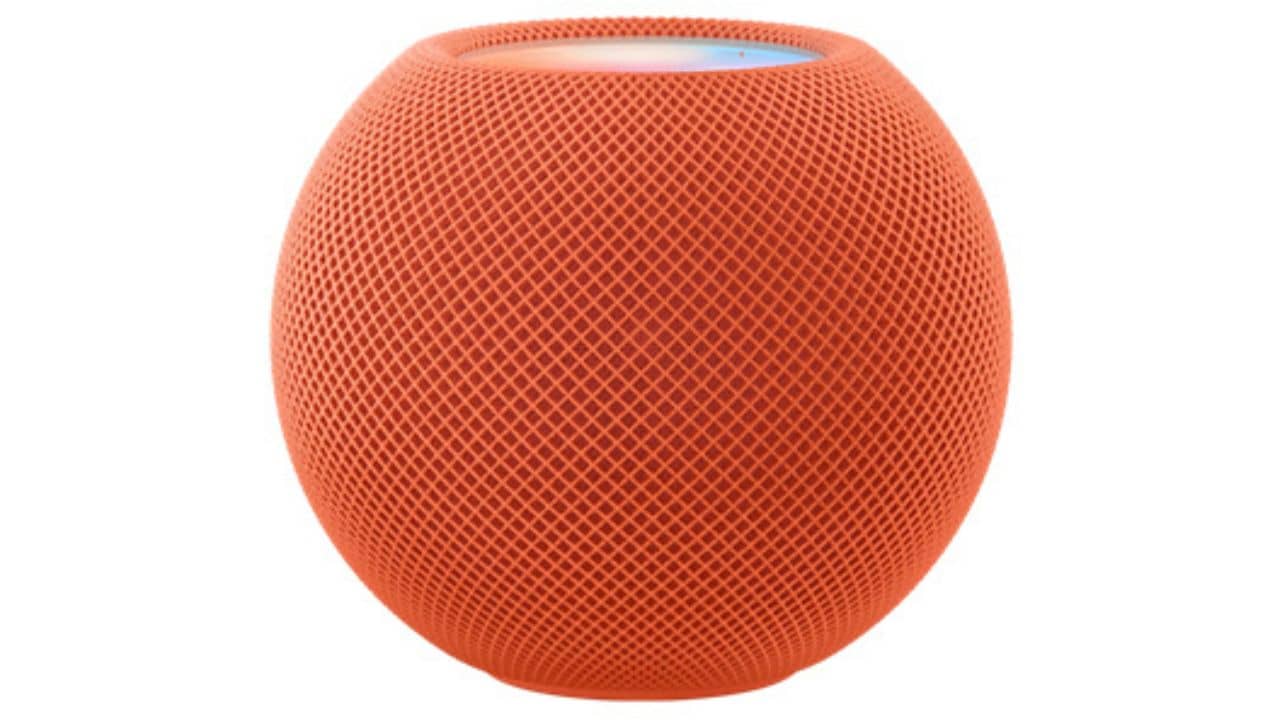 Are you looking for reliable smart speakers for Apple Homekit? If yes, the HomePod Mini is a must-have smart speaker for you. It is compact and spherical in design that only looks small, but trunks out as a powerful package for anyone who is committed to the Apple ecosystem and music services like Apple Music. 
Plus, it will impress you with its room-filling, 360-degree sound, and beautifully small size. You can even buy two or more Homepod Mini smart speakers and place them around your home for rich multi-room audio and exciting features like Intercom. On top of that these smart speakers for iPad work well with Siri, allowing you to use voice commands to check the weather, calendar, set alarms, play music, and even control your smart home devices. Besides, if you want to keep your desk clutter-free, Homepod Mini is a supremely useful, portable smart
speaker for iPhone users.
If you are looking for audio performance, the Homepod Mini is for you, the right mix of sound quality and a $99 price tag feels good. Having all that said, Siri feels like lagging behind rival assistants, sometimes it doesn't catch a particular accent which is so frustrating. Just in case you are interested in checking out the latest Apple HomePod 2nd Generation, please click here. 
Reasons to buy:
A number of speakers can be grouped to use as stereo pair

Easy Siri voice control

Apple Home app integration for smart home controls

Solid audio performance with rich bass 
Reasons to avoid:
No AUX input is available 
Also read: Best Apple HomeKit devices to buy
8. Belkin SoundForm Elite Hi-Fi Smart Speaker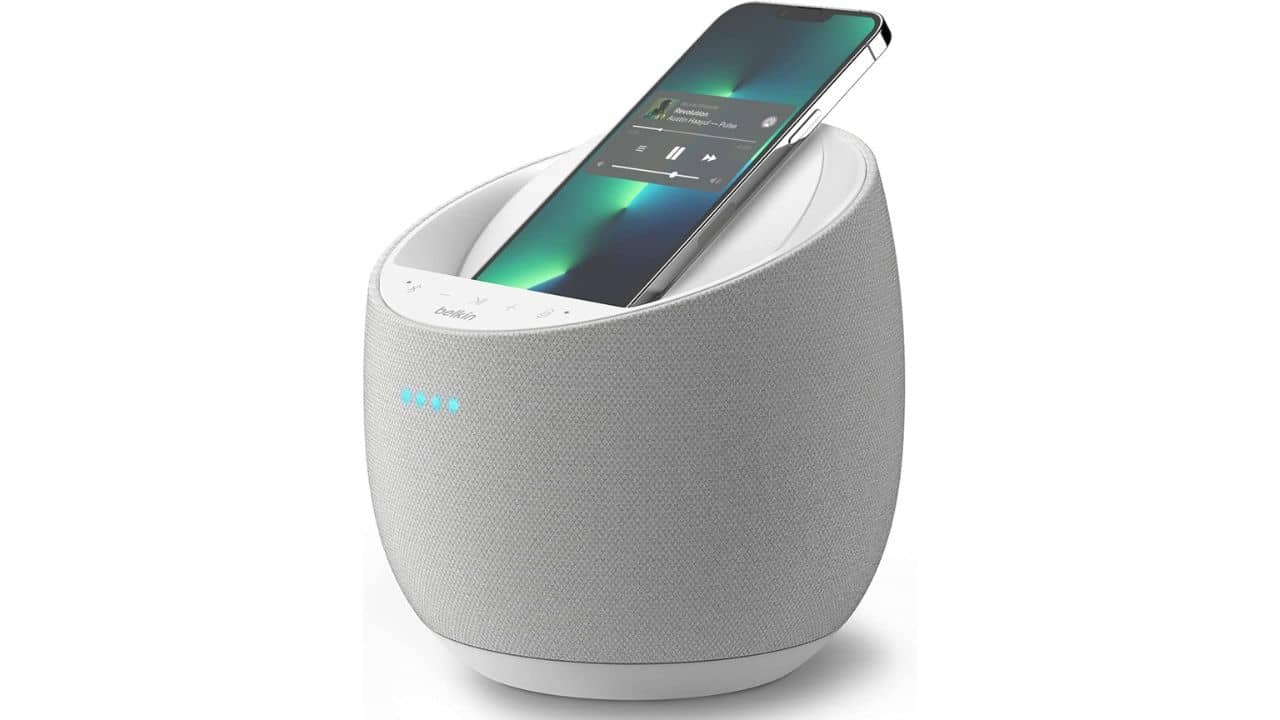 Functionally, the Belkin SoundForm Elite Hi-Fi smart speaker can do almost everything its rival can in the first place. It can play your favorite music, answer your questions, and crack some funny jokes, putting simply there's nothing this smart speaker with Google Assistant can't do when compared to the Google Nest Audio or Amazon Echo (4th Gen) mentioned earlier. It is as good when we compared it side-by-side. The only caveat about this smart speaker is that there are two individual models that support Google Assistant and Alexa. It doesn't come with support for both in a single model. That said, it is worth mentioning that the Alexa-compatible model supports Apple AirPlay 2, while Bluetooth connectivity is supported by both models. 
If there's one thing that makes it stand tall amongst other budget-friendly smart speakers is its ability to wirelessly charge your phone. Yes, you read that right. This $200 smart speaker from Belkin doubles up as a
wireless charger. So, if your phone ever runs out of juice while working and listening to your favorite music, you can just place it in the dedicated wireless slot. And, your phone will be charged at a maximum speed of up to 10W, that too without removing the case. It is as good as any wireless chargers for Android and iPhone we have covered lately. 
As far as sound quality is concerned, this smart speaker for home and office favors low-range audio, meaning you're likely to hear deep bass. There's no hiding from the fact that the bass delivered by this smart home speaker is overwhelming. However, you can tweak a few settings from the Google Home app to adjust it. Moving on, there are two far-field microphones on the speaker that are sensitive enough to catch your voice even when loud music is being played. Furthermore, you can use touch controls to adjust its volume, pause/play music, initiate Bluetooth, and mute the microphone for even more privacy.
Reasons to buy:
Offers convenient wireless charging

Models support Alexa or Google Assistant

Accurate voice recognition

Good performance at maximum volume
Reasons to avoid:
Bass overwhelms the audio

All the variants come with support for a single voice assistant 
Also read: Best Smart Coffee Machines to buy
FAQs related to the Best Smart Speakers of 2023
1. What is the top-rated smart speaker?
Smart speakers play a major role in a tech-savvy home setup as it enables you to use voice to control smart home device. You can use your voice to turn them on/off or control the overall functionality of the smart home device, given that the gadgets are plugged into a power source. As we write, there are plenty of smart speakers available in the market, therefore, make sure to choose from the lists below:
Best smart speaker for Alexa –

Amazon Echo Studio

Best budget smart speaker for Google Assistant –

Google Nest Mini (2nd gen)

Best smart speaker for HomeKit –

Apple HomePod 2nd Generation 
2. What are the disadvantages of smart speakers?
Even though smart speakers have numerous benefits, they might fall short on some ground that might want you rethink your buying decisions. For your better understanding we have mentioned a few drawbacks related to smart speakers for home, check them out. 
Even though there are few speakers which offer better sound quality, smart speakers still lag behind major audio systems which are designed for listening to music. 

If you are looking for better audio quality in smart speakers, you'll have to pay more. In short, smart speakers with better sound quality are more expensive.   

Many users still own devices that are not compatible with smart speakers
3. Which smart speaker works best with Spotify?
If you are eyeing the best smart speaker for Spotify, we have listed a few options that might be useful for you. 
4. Which is better Wi-Fi or Bluetooth speakers?
The major difference between Wi-Fi and Bluetooth speakers is their range of connectivity. Generally, Bluetooth speakers tend to have a small range and are suitable for smaller spaces like a room, and are considerably more portable. Whereas, Wi-Fi speakers have better range and are less likely to get their signals interrupted. That's not all, it is worth mentioning that the Wi-Fi speakers have better bandwidth support since the song is streaming directly to the speaker from the Wi-Fi. It is much easier than streaming songs to mobile and then transferring them to Bluetooth speakers via mobile. However, you might need to plug them into power sources almost all the time. It's up to you to choose between them based on your requirements.
That's all for now in this runaround of the best smart speakers you can buy in 2023. If you are looking to buy smart home device upgrades or want to gift one this holiday season, don't forget to check our dedicated roundup.