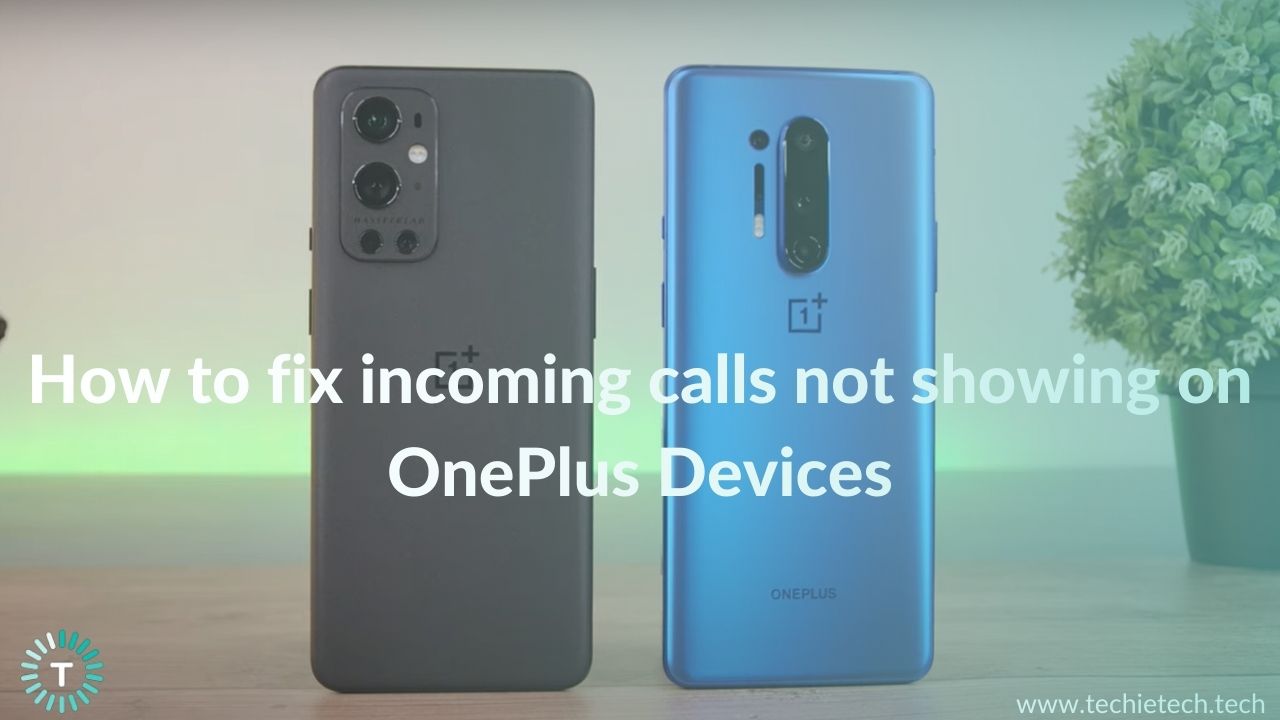 Calls are pretty much an integral part of our lives. From staying connected to our loved ones to make sure that we are connected with our colleagues, calls have always proven to be one of the best ways to stay present. However, many OnePlus users have come forward and stated that their incoming calls are not showing on their OnePlus Devices. Now, we understand that this can be a cause of huge concern which is why we have brought about a troubleshooting guide with reliable solutions to help you stay connected with your friends and families over calls!
Before we begin with the troubleshooting steps, here are some quick FAQs surrounding the phone app on OnePlus smartphones. 
Why are my incoming calls not displaying?
This is one of the most commonly asked questions when it comes to incoming calls not showing on screen on OnePlus smartphones. There are many reasons why this can happen for instance this can be a result of
improper phone app settings and incorrect permissions or it can also be a result of enabling DND on your OnePlus 7 Pro, however, you don't need to worry since we have expanded on these solutions a lot more in this guide. So stay with us and continue reading!
How do I get incoming calls on my screen?
If you are facing this problem on your OnePlus Nord, then the chances are that you will need to provide Special app access to your phone app and possibly, enable call notifications on your Phone app as well. We have expanded on these solutions going further as well as given you a list of other solutions as well.
What to do if incoming calls are not coming?
If incoming calls are not coming then check to see if your device's Airplane Mode is turned off. If it's turned off and your Android phone still won't make or receive calls, try enabling Airplane Mode and then turn it off after a few seconds. Alternatively, you can also check to see if DND is disabled or not. However, before anything, we suggest you try checking if you are in a good network coverage area as well as try restarting your phone.
Why incoming calls are not showing on OnePlus smartphones
1. Interferences by third-party apps
Third-party apps have a habit of clashing with system apps. If you've recently installed some new apps and your incoming calls aren't showing up, it's because of third-party apps. In most cases, a quick search of recently installed apps will reveal which app is causing the problem.
2. System bugs
The Phone app on your OnePlus smartphone may encounter bugs from time to time. Software flaws are common, and they can occur at any time, causing any system or a third-party app to crash.
3. Corrupted files
If a file has been corrupted then it is pretty much unusable. This holds true for all types of files, including programme, system, and document files. In many cases, a simple reboot of your phone will resolve the issue, but some problems are more complex. It's possible that corrupted operating system files are to blame if your
Android smartphone starts lagging. As a result of corrupted Android OS files, some apps may stop working or functions may stop working. Hence, this could lead to problems such as not getting notifications for incoming calls on OnePlus 8 Pro.
Please note that the following steps will work on most of the OnePlus smartphones that run the Google Phone app. This includes the OnePlus flagships like OnePlus 7 series, OnePlus 8 series, OnePlus 9 series, OnePlus Nord series, etc.
How to fix incoming calls not showing on OnePlus Devices
1. Restart your phone 
The first step to resolving this issue is to restart your phone. We know it may sound like a very common solution but believe us restarting your phone is a very good practice. Essentially, when you restart your phone, the memory is refreshed. All background app processes are purged, and all currently open apps are terminated. When the phone reboots, the RAM is "cleared," so you're basically starting from scratch. The reason why we suggest you do this is that it may help in resolving issues like incoming calls not showing on lock screen or incoming calls not showing but phone is ringing on your OnePlus 9 Pro. To restart your OnePlus device:
Press the

Power Button
Hold for at least 10 seconds
You will see three options- Emergency, Power off and Restart
Press Restart
Now, try to see if the issues have been resolved, if not then stay with us and continue to read!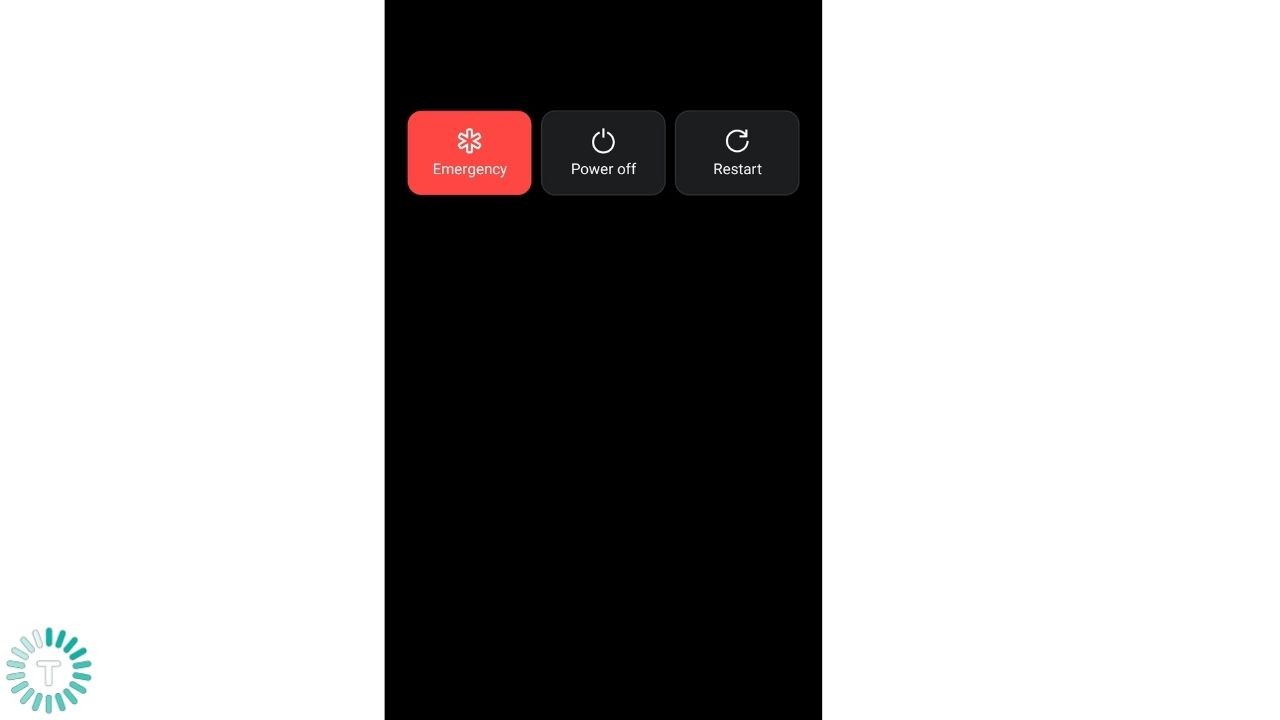 Also Read: Best Minimalist Launchers for Android in 2021
2. Enable phone app notifications 
If your incoming calls are not showing on the screen but your OnePlus Nord is ringing or if your call notifications are not showing on screen, then we suggest you check your incoming call notification settings. All phones have incoming call notifications enabled by default but this can be changed by third-party apps or a new update. To restore that setting:
Settings > Apps and notifications

Search for the

Phone app

Ensure that the

toggle button for app notifications is enabled
3. Disable DND
Sound/vibration for incoming phone calls or messages can be turned on or off using the Do Not Disturb setting. When Do Not Disturb mode is turned on, you won't get any visual notifications. There will be no sound or pop-up notifications, but you will receive notifications in the notification panel. This can be a major cause of incoming calls not showing on your OnePlus 7 Pro display. To disable the DND mode:
Settings > Sound > Do Not Disturb

If it is enabled,

ensure that you disable it
Additionally, if you wish to receive all, any, or none of the messages or alarm notifications, you can also set those preferences here.
Also Read: Best OnePlus 9 Pro Cases you can buy right now
4. Clear Cache
In essence, caching allows applications such as browsers, games, and streaming services to save temporary files that are deemed relevant in order to improve load times and overall experience. YouTube, Spotify, and other similar services tend to do this for the aforementioned reasons. Since internet quality and speeds aren't the same everywhere, caching can save a lot of time. But, when apps offload a lot of data onto your phone, it slows it down, which in this case can be the reason behind incoming calls not showing on your
OnePlus 9 series smartphone. To clear our your Phone app's cache for smoother functioning:
Go to

Settings > Apps > Phone

Click on

Storage

Select

Clear cache

Click on

OK to confirm
5. Clear Data
While clearing the cache poses little risk to app settings, preferences, or saved data, clearing the app data will completely delete/remove them. Clearing data restores an app to its original state, making it behave as it did before you downloaded, used or installed it. This solution can be useful since it can help restore the Phone app to its original form which can help in resolving issues like incoming calls not showing on lock screen. Here's how to do clear app data on your OnePlus smartphone:
Swipe up to access the App Drawer.
Settings > Apps & Notifications

.

Select or search for the

Phone app

Click on

Storage

Select

Clear Data
Also Read: Snapchat not working on Android? Here are 20 ways to fix it
6. Disable Airplane mode
When you put your phone in airplane mode, it loses its ability to connect to cellular or WiFi networks, as well as Bluetooth. This means you won't be able to make or receive phone calls, send text messages, or use the internet, which is why it is essential to ensure that Airplane mode isn't turned on if you can't fix incoming calls not showing on screen. Sometimes, we forget to turn off Airplane mode after a flight. Or, toggling the Airplane mode can also fix the incoming calls not showing issues on OnePlus smartphones running Android 12. Here's how to do it:
Swipe up to access the apps screen

.

Then,

Settings  > Wi-Fi & Network

.

Tap the

Airplane mode 
Switch it off
7. Enable permissions 
The Phone app should be given the necessary permissions to show content over other apps, such as incoming call notifications. Please keep in mind that the app's functionality will be limited if you don't grant it the necessary permissions, and incoming calls will not be displayed on the screen. To prevent this from happening:
Go to

Settings > Apps and notifications

From here,

scroll to advanced settings at the bottom

Select

Display over the other apps
Choose the Phone app
Sometimes these settings get altered if you install a 3rd party app that also provides the same functionality. For example, the TrueCaller app tends to interfere with the Phone app. 
Also Read: Notifications not working on Android 11? Here are top 16 ways to fix it
8. Update device
When your Phone app and the device software are incompatible, this problem can occur. This happens when you have updated the app from PlayStore and do not update OxygenOS. To put it another way, if your incoming calls are not showing up on your screen after you updated your device, it's possible that your app isn't compatible with the current version which is why we suggest you check to see if an update for your device is available to fix this problem. Here's what you need to do to get started:
Open

Settings
If an update is already available, it will appear at the top of the list.

If not, s

croll down and tap System to see if there is one.

Select

System updates

Your

device will check for an update 

If there is one,

install it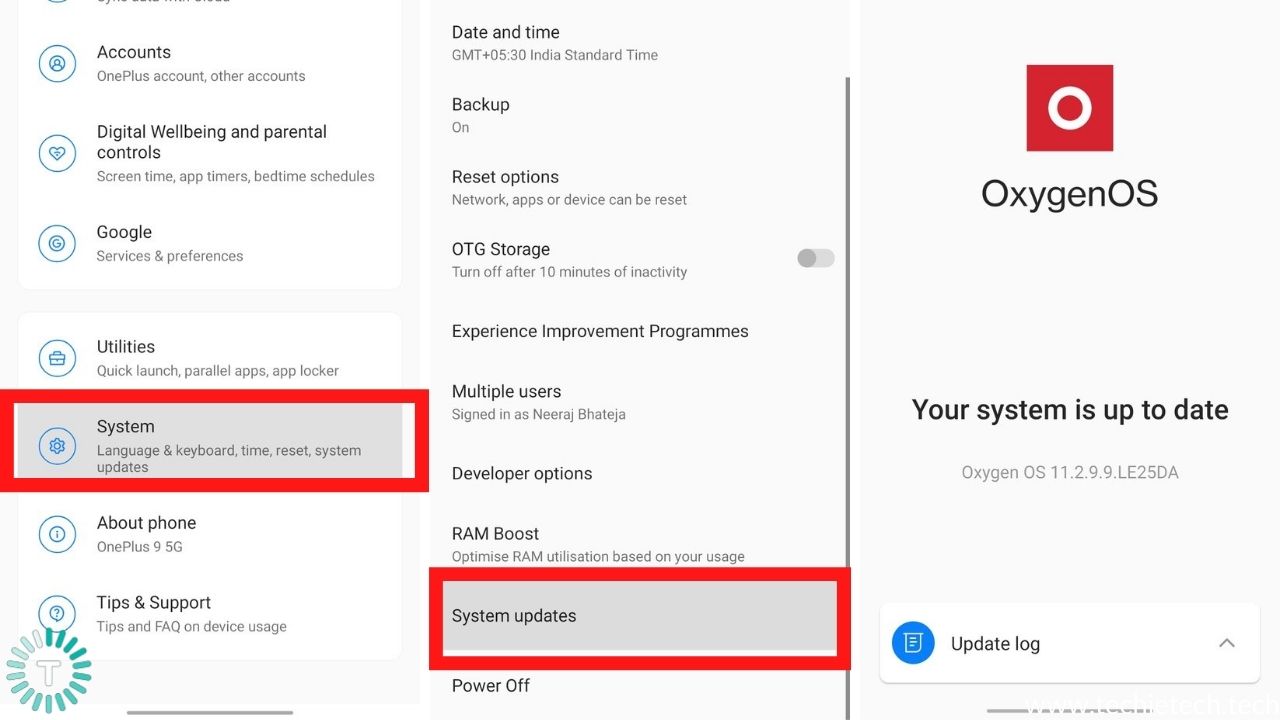 9. Disable default app
If you have disabled your phone app from being the default app then It's possible that a third-party app has taken its place, which happens when you install an app that interferes with the operation of other apps on your device. As a result of these third-party apps, your incoming calls may not appear on your lock screen. If your OnePlus device isn't displaying incoming calls, disable any other default app and switch to your phone app. Here's how to go about it:
Phone > long press for App info

Tap

Advanced

Click on

Open by Default 
Make sure that it's used as your default app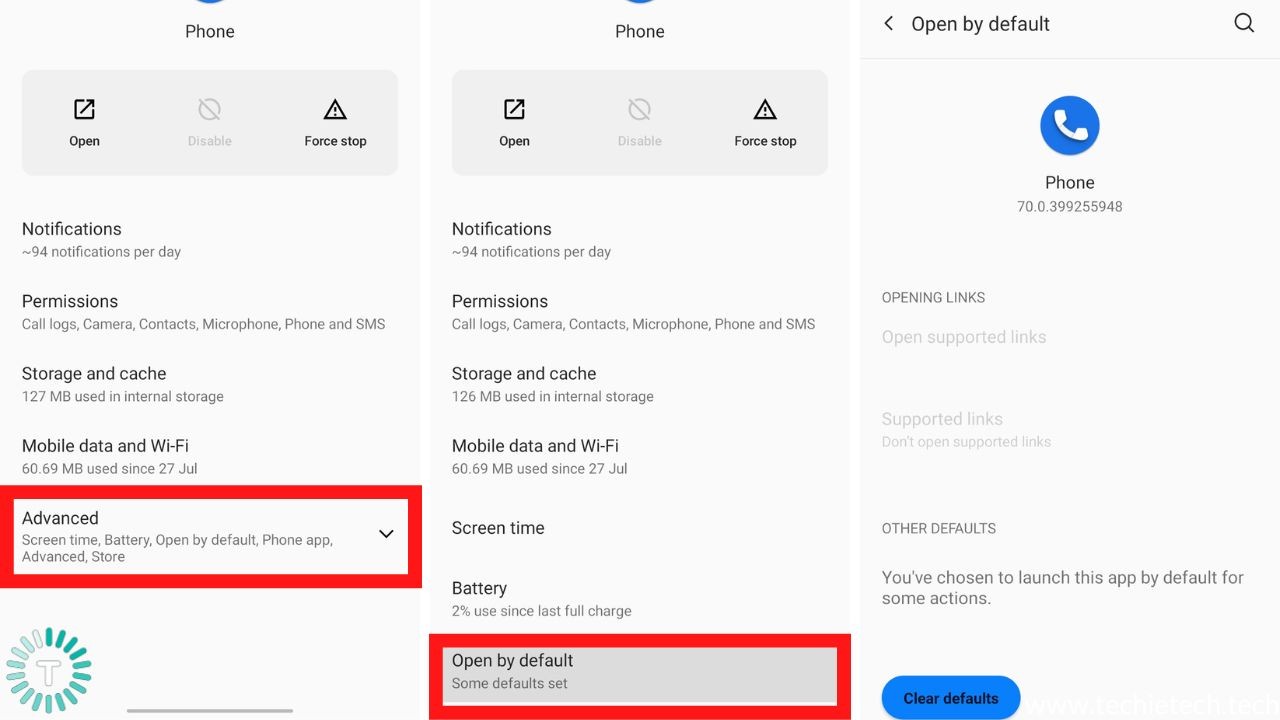 Also Read: Outlook not working on Android? Here are top 21 ways to fix it
10. Factory Reset
If your incoming calls are still not showing on the screen on your OnePlus 8T, after you've tried everything else, this is your last and best option. This is only recommended if nothing else works out. Before you begin, keep in mind that all of your data will be erased, which is why we recommend that you make a backup.
Go to

Settings

Scroll to the bottom and select

System
Click Advanced > Reset options
Click on Erase all data (Factory Reset)
11. Contact OnePlus 
If all else fails, we suggest you Contact OnePlus. You can contact them through their site or alternatively, post your question on their support forums and wait for a reply from users who have faced the same issues. 
As the new Android 12 (OxygenOS) update is being rolled out chances are that such problems will be mitigated for good. This also marks the end of our troubleshooting guide and with that, it is a wrap! While you are here also check out our guide on Apple Music Not working on Android? Here are top 13 ways to fix it