What could be more delightful than watching your favorite NBA team clashing on Friday night on a big TV with a popcorn bucket in your hand? At present, you'd find some of the best TVs for sports in the market. All of the brands boast about the design, excellent picture quality, and whatnot. But, remember manufacturers don't really focus on making a TV for sports, it is designed for mixed usage. Therefore, you should check for a few things that would make a TV suitable for watching sports. The biggest consideration while choosing a TV for sports is motion. Whether you want to enjoy ICC Cricket World Cup 2023, NFL leagues, NBA, baseball, or cricket, the on-screen images constantly change. So, if you need buttery-smooth visuals with more detail while watching either of the fast-paced sports, you'd need a TV with superb motion handling. Else, you'll be watching blurs darts all across the screen. On top of that, you should also consider reflection handling as well as viewing angles that suit wide seating areas.
We truly understand that investing in modern-day TVs requires a large sum of money, therefore detailed scrutiny of the product is always handy. With hours & hours of research, review scanning, and in-depth testing, we have not just compiled a list of the top TVs for sports in 2023, but also discussed the vital factors in choosing a suitable one. 
Before we jump onto the list of best TVs for watching sports, we want you to take a look at the factors to consider while buying it.
Factors to consider while buying a TV for watching sports 
1. Display Size
Before discussing any other factor, you should consider the size of the TV for watching sports. You should always look for going with a bigger size display, preferably 55" or bigger, considering your budget. It is also recommended to consider the available space before buying a TV.  For example, you might need a 48" or 50" TV for watching sports in a compact or mid-sized bedroom. On the flip side, you might even want to opt for a 65-inches or bigger TV for watching cricket in your living room with a considerably larger audience. You can go as massive as you like. If space is an issue, you can always mount your TV and take your home theatre experience to a whole new level. 
2. Types and structure
At present, you'd find various types of TVs in the market – LED, LCD, OLED, QLED, 4K UHD, and whatnot. But, we always recommend going with a minimum 4K or Ultra HD range that offers a wide color gamut as well as contrast. 4K TVs and most
OLED & QLED available today offer a resolution of 3840 x 2160 pixels and deliver incredibly great picture quality than the standard FHD TV with 1920 x 1080 pixels resolution. You'd also find some high-end TVs with full array dimming technology from Sony, LG, Samsung, and more. This technology helps increase the contrast ratio and optimize HDR content to look even better. Having said that, a high-end gaming TV might also come in handy to watch your favorite NBL team clashing on Friday night. But, please avoid any small TVs as they are not future-proof and lack modern display technology. 
As far as structure is concerned, we always recommend going with a flat-screen TV as curved TVs don't offer you a wide viewing angle. The latter is not suitable for the wide seating arrangement, therefore if you have guests coming over for cricket Worldcup matches, please make sure to have a flat-screen TV in your living room. With that, anyone sitting on the corner or floor will enjoy the same picture quality as the one sitting right in front of the TV, which isn't the case with curved-paneled TVs. 
3. Refresh rate
Probably the most important factor that you'd consider while buying a TV for sports is the refresh rate. You might have seen many TV ads claiming higher refresh rates. So, if you are unaware you'd find a TV set with a refresh rate ranging from 60, 120, and 240Hz in the market these days. You might wonder what it has to do with watching your favorite team competing in Cricket World Cup 2023, right? Well, the fact is the refresh rate of your sports TV is really a big deal. To prevent blurry quarterback on TV while watching fast-paced sports like cricket, football, soccer, ice hockey, etc. In layman's terms, refresh rate is the number of times per second a video screen is updated to display smoother and natural-looking motion. The higher the number, the better. That said, not all types of sports TV require you to have a high refresh rate. Imagine you are watching golf, billiards, or bowling, for such sports, a 60Hz TV would also do the trick. In such cases, a 120Hz TV won't bring any noticeable difference. 
Therefore, before choosing a refresh rate, it is best to decide why and what sort of sports you are planning to watch on the new TV set. Of all that said, we still recommend a 120Hz TV would be a suitable option if you love all kinds of sports. Moreover, you can always double it up as a great gaming TV. 
4. Sound system & Expandability
An exciting sports action is irrelevant without good commentary. Therefore, you should look for TVs with built-in speakers, which are generally available on every TV. Since it is an affordable option than buying an external speaker or soundbar, it is best to double-check things before you add it to your cart. 
Having said that, expandability is also a vital factor when we talk about the best TV for sports events like NBA, the cricket world cup, and NFL clashes. If you are watching sports with a lot of crowd in your living room, you'd wish to have extra sound. These days most TVs have eARC (an improved version of ARC), therefore you can connect external speakers or soundbars to enjoy awesome sound without any latency. If your TV is equipped with HDMI ARC, you can transmit Dolby Atmos/Dolby Digital Plus to the audio output device such as soundbars. However, look for
HDMI eARC, it is even better as it allows transmitting Dobly Atmos as well as Dolby TrueHD from your TV to an external audio source. 
5. Budget
All the buying decision comes down to budget, so if you are willing to get a TV for sports, make sure to watch out for your wallet. Don't stress too much that the next goal from your favorite team reminds you of your EMIs. 
Now that you are aware of all the factors that you'd want to consider while buying a TV for sports, we can now jump onto the list of top TVs for watching sports. 
Our Top 8 Picks of the Best TVs for Sports in 2023
1.
SAMSUNG 65-inch Class OLED 4K TV S95B Series (Premium option with great specs)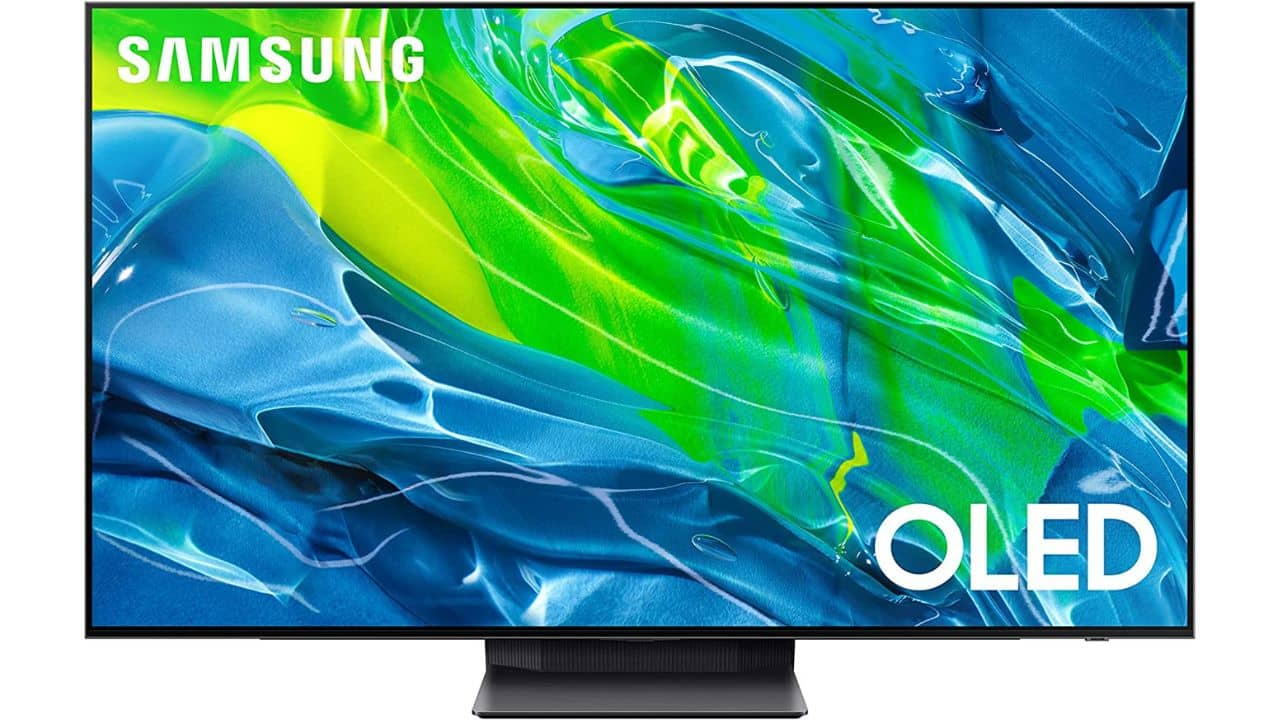 Another solid contender that makes it to our list of best TVs for sports is the 65-inch S95B Series 4K TV from Samsung. It is an incredible OLED TV that delivers astounding picture quality. The all-new quantum dot OLED technology delivers much brighter colors ensuring extremely good picture quality as compared to the traditional white OLED panels on LG and Sony TVs. This QD OLED TV for the NFL league comes with amazingly thin bezels allowing it to blend into your environment when not in use. The overall design of this sports TV from Samsung is almost similar to the company's QN90B QLED series. 
Like other Samsung TVs, this 65-inch 4K TV for watching sports uses the company's proprietary Tizen OS smart interface offering you a large selection of apps and games. However, it is not as versatile as Android TVs, but the OS works lightning fast. Samsung has upgraded this TV with support for Google Duo, which allows up to 32 people to join
video calls right from the TV by connecting a webcam. 
If you are willing to get a TV for watching cricket matches in a bright living room with a group of friends, it is as good as the LG C2 OLED. This sports TV comes with incredible reflection handling that overcomes glare in a well-lit room or living space in your home. On top of that, it offers brilliant viewing angles and is best for watching the NBA finals with a large group of friends or family members. The image remains accurate even if you are seated on the corner couch or the floor with your loved ones. 
Plus, this TV offers you an exceptional gameplay experience, the out-of-the-box gaming mode is something that you will be in awe of. The colors in lush environments, like the ones in the God Of War Ragnarok and Elden Ring, are jaw-dropping. Further, this 4K TV for sports incorporates FreeSync Premium certification and the Motion Xcelerator Turbo+ enhancements to prevent screen tearing, lag, and distortion problems during fast-paced action gameplay. This allows you to enjoy a smooth gaming experience and bash your opponents even in fast-moving resource-intensive games.
In short, it is a great TV for sports lover who doesn't want to miss any action from the upcoming ICC Men's and Women's Cricket Worldcup, NBA clashes, and NFL league games.
Reasons to buy: 
QD-OLED is a game changer

Superb design

Solar powered remote

Good audio

Best for wide seating arrangement
Reasons to avoid:
Dolby Vision is not available 

Not the best OS to use

 
Also read: Samsung TV not turning ON? Here's how to fix it
2. LG 65-inch OLED TV C2 Series (Best Sports TV for an Extremely Bright Living Space)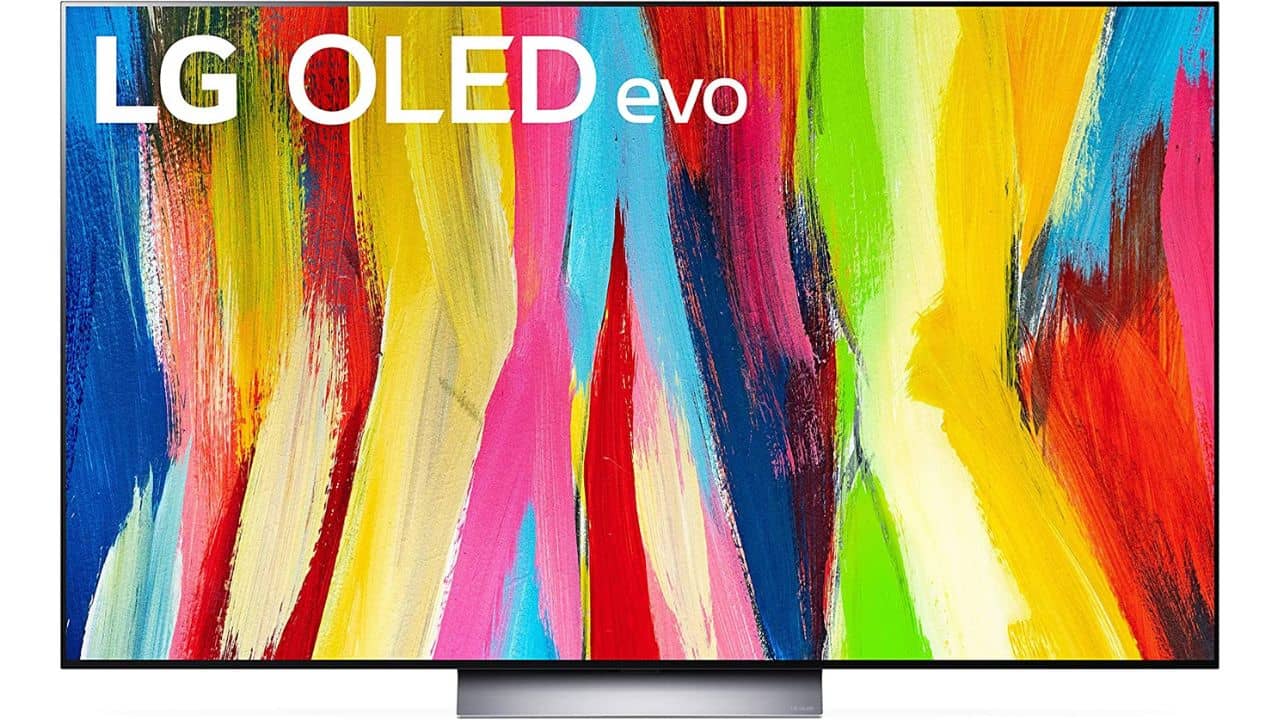 Are you looking for a TV to watch the 2023 Cricket World Cup in your living room which is expected to be fully jam-packed with your friends? We believe the LG C2 OLED is the perfect TV for watching sports in a room full of an audience. This premium OLED TV for sports is much similar to the last year's C1 OLED but has some incremental improvements. The OLED C2 series now comes with LG's new Evo panels in higher-end models, which deliver relatively more brightness, better color saturation, and a glare-free viewing experience. Even though it is a welcome change, we just can't hide the fact that the previous model, C1 OLED, was in the news due to a relatively low brightness issue. Therefore, it won't be wrong to say that LG has rectified the shortcomings with the C2 OLED series. Plus, the picture quality delivered by this 4K sports TV for Cricket World Cup 2023 is absolutely amazing, meaning you'll get to experience stunning contrast, colors, and crisp 4K scenes to enjoy your favorite sports.
Well, that's not the only factor, there are many. This 65-inch TV incorporates the A9 GEN5 AI processor which automatically adjusts settings to deliver brighter picture quality while maintaining the perfect blacks. It is indeed a plus point for many of you with an overwhelmingly brighter bedroom/living room.
This OLED TV for sports is also loved for its outstanding sound quality that's automatically adjusted based on the surroundings. The C2 OLED TV comes with Dolby Atmos which ensures an immersive surround sound experience. Also, you'd love the clarity and bass this 4K TV has to offer. If you feel TV speakers are not just enough for your needs, you can always pair soundbars and speakers to amplify the sound, even more, using the dedicated eARC port. Let's not forget that this sports TV is also shipped with a VESA wall mount to help you install it on the wall at a comfortable viewing angle. 
What's more? The LG C2 OLED is just not a regular TV, it is a paradise for gamers as well. It is worth mentioning that the EVO C2 series is an excellent choice for gamers out there. Thanks to four
HDMI 2.1 ports, NVIDIA G-sync, FreeSync Premium, and VRR support, you can pair any modern gaming console and enjoy super-smooth 4K 120Hz gameplay without any distortion. Moreover, it comes with built-in support for Amazon Alexa, Google Assistant, Apple AirPlay, HomeKit, and more. 
Talking of shortcomings, the so-called Magic remote of this OLED TV for sports is not backlit. It puts anyone in an awkward situation of searching navigation buttons using mobile flash when you are enjoying live games across different channels in your bedroom (with all the lights off). Honestly, we simply didn't understand the logic behind that. Further, the webOS 22 home screen holds a lot of stuff and the initial view you get of this TV is not amusing, it looks jampacked. We hope this is fixed in further updates.
Having all that said, it is one of the top picks for anyone looking for a TV for the cricket Worldcup 2023 with an immersive viewing experience.
Reasons to buy: 
Fast performance

The image remains accurate at a wide angle

Excellent reflection handling

Superb contrast and black levels

Perhaps the best gaming TV on the market
Reasons to avoid:
Not as bright as other top-end TVs

webOS can be tricky to use

Magic remote is not backlit
Also read: Best OLED TVs for Xbox Series X
3. Sony Bravia XR 48-inch OLED 4K TV A90K Series (Best Mid-Range TV For Watching Sports)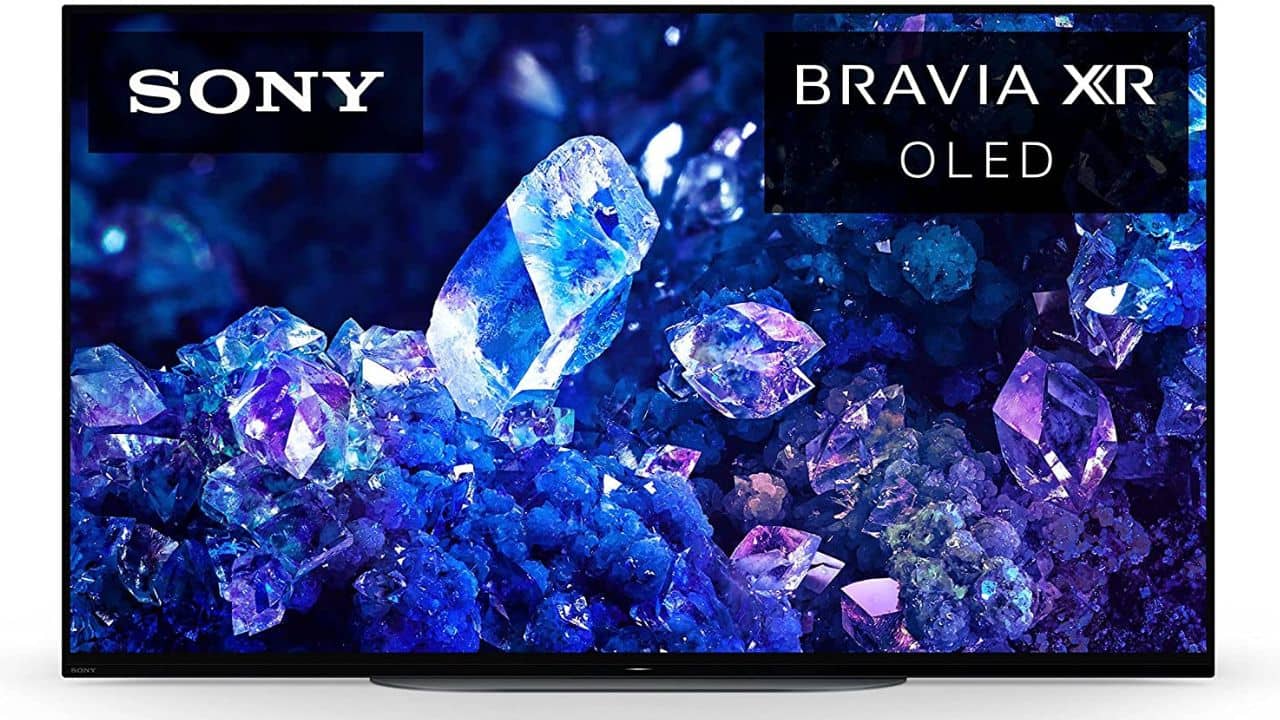 If you are looking for a mid-range OLED TV for watching sports, the Sony Bravia XR A90K series is the fantastic pick. The Sony OLED A90K series falls in between the A80K series and the
premium QD-OLED A95K series. We believe that the limitation in available sizes is one of the common reasons why it is not recognized much. To remind you, this mid-range 4K TV for sports is available in 42" and 45" models. 
As far as performance is concerned, you can expect decent performance on this 4K TV for watching football like the one you'd get on the lower-end A80K series. All thanks to the incredibly wide viewing angle, it is an awesome pick for watching soccer or any kind of sport with your friends. If you are unaware, a TV with a good wide viewing angle displays accurate images when viewed from any angle. Therefore, if anyone watches this 4K sports TV sitting on the corner or the floor doesn't have to worry much as the colors and pictures you'd see are no different. Besides, it comes with an amazing response time, so fast action in sports such as MotoGP and soccer looks clear without any blurry effect around the players. 
If you are planning to place this TV in your incredibly bright living room, you'd be happy to know that this sports TV can cope with a moderate amount of glare. So, if you have a bright light source in your living room, don't worry a little. The anti-reflective coating on this OLED TV displays reflection as a purple tint so that you enjoy your favorite team in cricket World Cup '23 without any distractions. Let's not forget that this TV for sports comes with a near-infinite contrast ratio, meaning it displays deeper blacks while improving the overall picture quality. Therefore, if you are planning to get a 4K OLED TV to watch NBA matches scheduled at night, the Sony A90K series is a fantastic pick for you. That's not all, it incorporates Acoustic Surface Audio+ and Dolby Atmos support that lets you enjoy truly immersive audio, whereas the in-built subwoofer is there for powerful bass.
Reasons to buy:
Detailed and natural picture quality

The image remains consistent when viewed from the side

No motion blurring 

Nice smart TV interface
Reasons to avoid: 
Very expensive for the size

Not the brightest picture for the price

Decent sound quality
Also read: Best OLED TVs for PS5
4. Hisense 55-inch U8H Quantum 4K QLED TV (Best TV for Sports under $1000)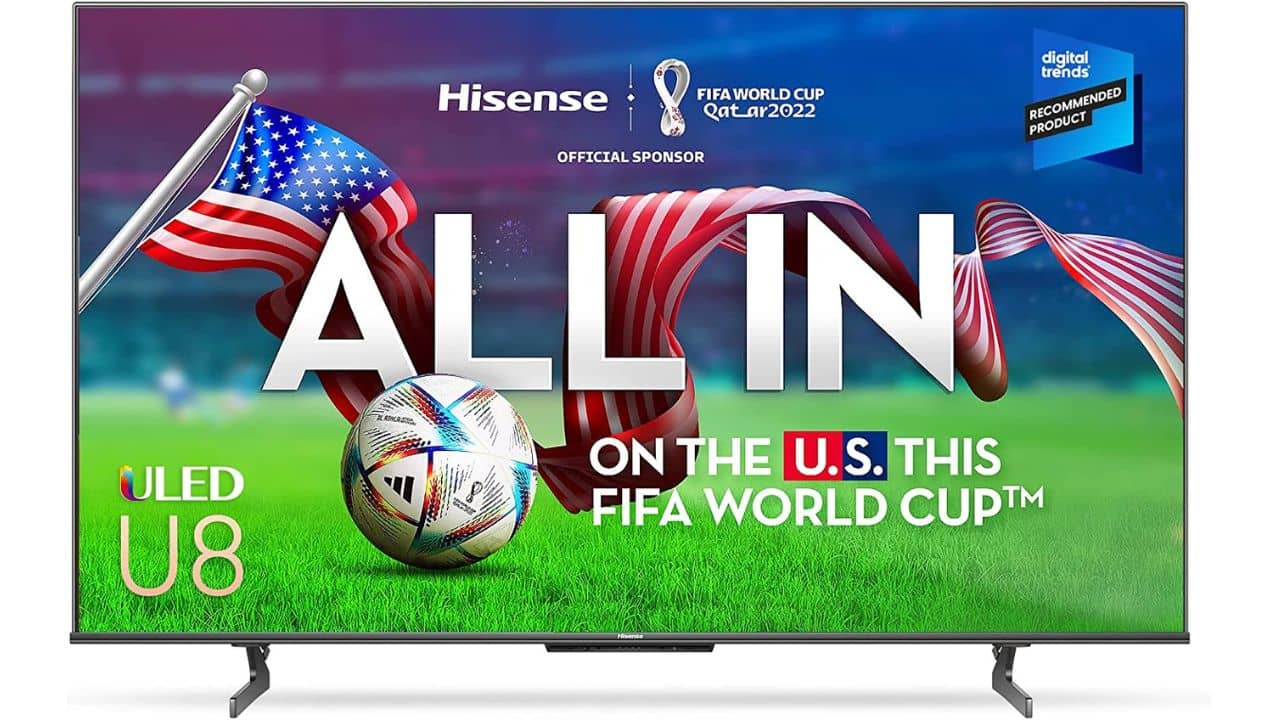 If you are eyeing a high-end performance TV for watching sports but don't want a high-end price tag, make sure to check out the Hisense U8H series. It is relatively more affordable as compared to the LG C2 OLED TV we mentioned earlier. What we like the most about this sports TV is the fact that despite boasting an attainable price tag, it doesn't make any compromises in the performance. It is a 4K QLED TV that delivers eye-candy visuals and has a great Mini LED Backlight that lets it deliver deeper blacks and incredibly brighter pictures. Please note that this prevents the blooming effect around any object in dark scenes. Besides, this 4K QLED TV for sports display incredibly good HDR content. It supports all flavors of HDR, including HDR10. Dolby Vision, and HDR10+ for the best HDR experience possible while watching your favorite content.  
Impressively, it is among the top TVs for watching sports from the comfort of your home. Since it has excellent reflection handling and incredibly great peak brightness, it can overcome glare in any viewing environment. So, if you are planning to grab a TV for watching the day games of the ICC cricket Worldcup in a bright living room/bedroom, this one does the job. Further, it has a quick response time, therefore you won't see any lag in fast-moving games like hockey, badminton, basketball, soccer, and more. Besides being a great TV for sports, the Hisense U8H series is an ideal choice for games out there. All thanks to its two HDMI 2.1 bandwidth ports, it is great for 120Hz 4K gaming on Xbox or PS5. What's more? This 4K QLED TV for NBA runs on Google TV smart interface, therefore it's easy to use and is lashed with an extensive selection of streaming features. 
Despite having great features, the viewing angles aren't as versatile as the LG C2 OLED. Therefore, it's not an ideal TV for watching sports in wide seating arrangements. You'll experience faded washed-out pictures when viewed from the corner. So, if you are exclusively looking for a TV for watching sports with your friends and family, we don't recommend it. However, it is still one of the top TVs for bedrooms.
Reasons to buy:
Exceptionally bright

Excellent reflection handling

Low-resolution is upscaled without any hassle
Reasons to avoid: 
Wide-angle viewing is not the best

Average audio experience

International variants use the same name but perform very differently, so please beware!
If you are looking for a budget TV for watching sports with a large group of friends without having to compromise viewing angles, make sure to check out the Hisense A6 Series. It is way too affordable as compared to the Hisense U8H series but lacks the 120Hz refresh rate required for a fluid gaming experience. 
Also read: Top 10 OLED TVs for Apple TV 4K
5. LG CX OLED 55" TV  (Best TVs for watching sports in brighter rooms)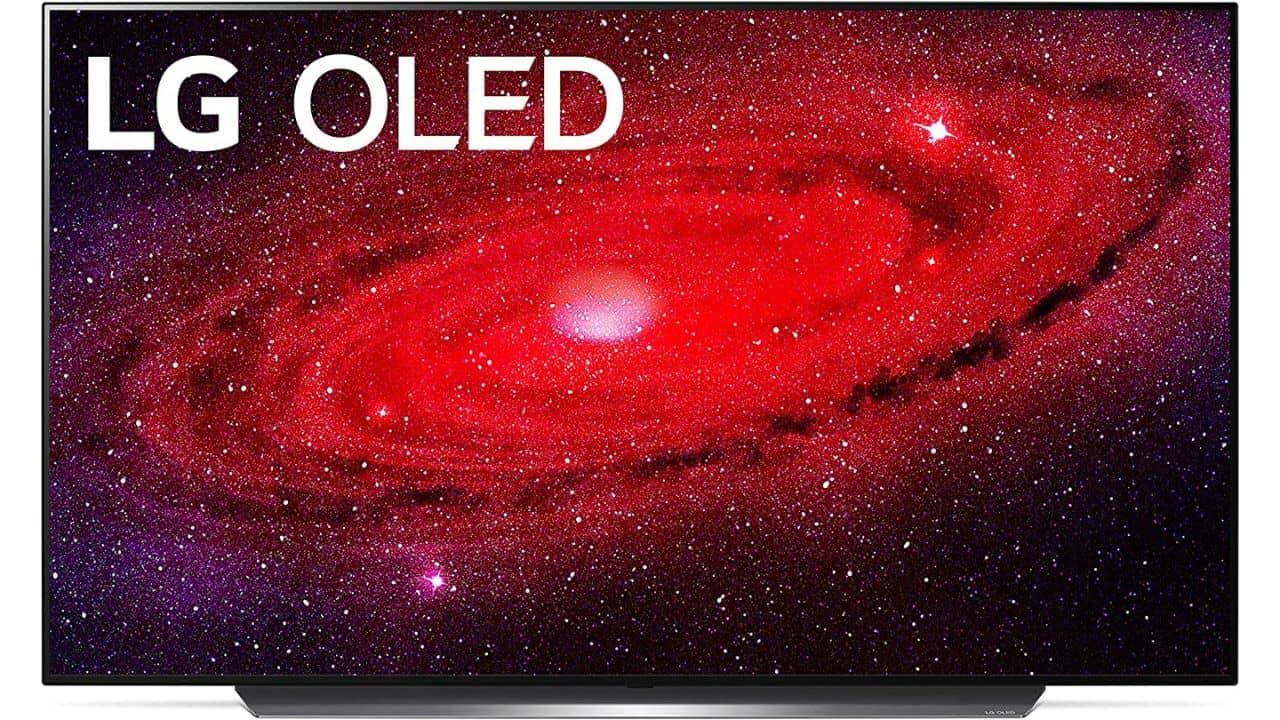 Next on our list of best TVs for sports, we have the LG CX OLED55CXPUA (that's quite a name, we know). It is packed with all the features required to enjoy the Friday night NBA game. This sports TV comes with a 55-inch OLED panel and has a fast 1.7ms response time. In addition, the 120Hz screen refresh rate ensures that you won't notice any motion blur with fast-moving objects within the picture. In simple words, it means you won't see a ghosting effect in a fast-moving sport like soccer, cricket, NBA, etc. 
Besides, it comes with excellent viewing angles and images stay accurate when viewed from sides as well. This ensures that anyone who doesn't sits in line with the screen can still enjoy each and every detail. That's why it is among one the best TVs for sports bars. Moving on, the 55" CX OLED comes with a near-infinite contrast ratio, resulting in perfect blacks, which is common among
most OLED TVs found these days. If you are unsure why this matters a lot. Here's the answer. Generally, a display with a higher contrast ratio is better as it can produce darker black levels and more saturated colors which results in achieving more natural color. 
When it comes to buying a TV for watching sports, it is important to consider reflection handling so that the TV is viewable even in bright rooms. So, if your living room is too bright, don't worry, the LG CX OLED excellently handles glare just like its big brother C9 OLED. 
Are you an avid gamer and looking for a TV that is not only good for watching sports but for
playing PS5 games too? The answer is LG's CX OLED, yet again. Why? This 4K TVs for sports is backed by a9 Gen 3 AI Processor and NVIDIA G-SYNC & FreeSync technology. It ensures a lag-free, incredibly smooth, and responsive gameplay experience. 
In short, it is one of the reliable TVs for watching sports for under $2000 that competes with Sony's and Samsung's 4K Ultra HD options.
Reasons to buy:
Near-infinite contrast ratio 

Excellent reflection handling

Wide viewing angles.

Excellent build quality

Good gray uniformity

Great for gaming, too
Reasons to avoid: 
Only decent HDR peak brightness
6. TCL 55″ Class 6-Series R646 4K Mini-LED UHD QLED TV (Best Budget TV For Watching Sports)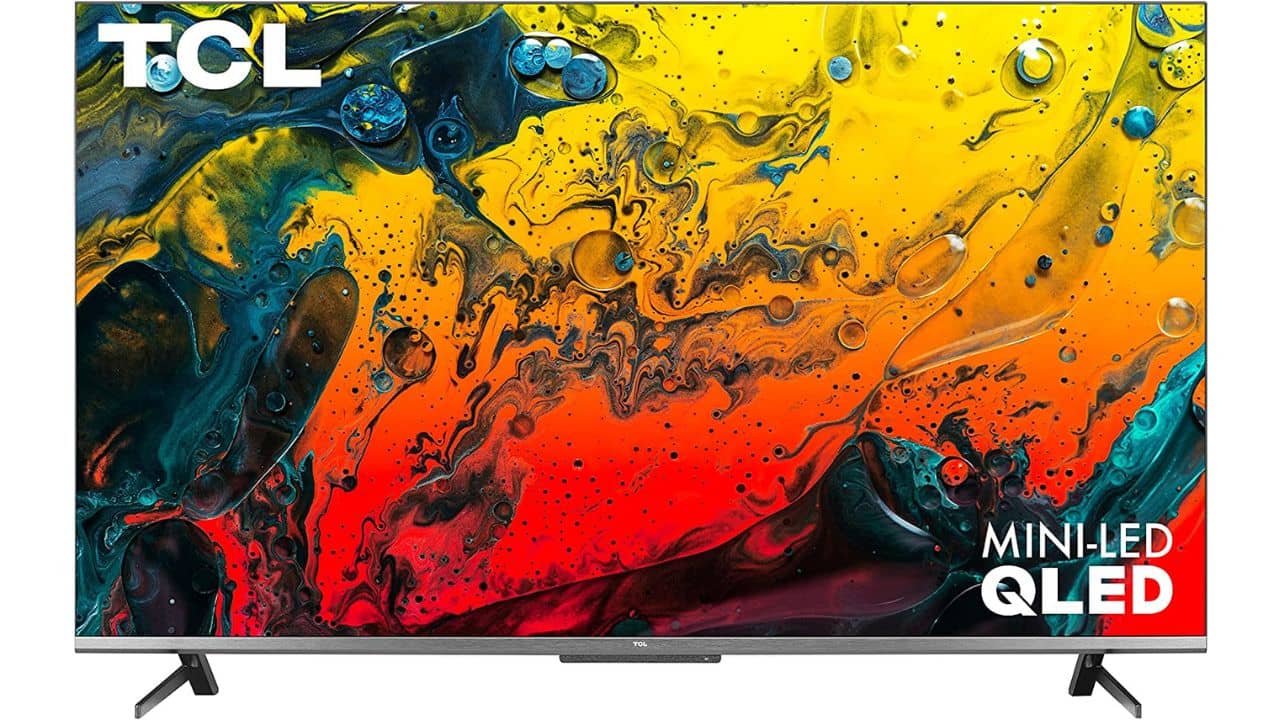 Are you looking for one of the top-budget TV for sports events like the upcoming ICC cricket World Cup? Well, don't miss checking out TCL's R646 4K QLED TV model. It is a part of TCL's 6 series lineup that includes 2021's R635 QLED TV, with one of many differences that it now has Google TV.  All thanks to the decent Mini LED local dimming and deep blacks display by the TV, it is perfect for
watching movies in a dark room. Also, it is an awesome pick for watching sports and TV shows in well-lit rooms. The TCL R646 offers brilliant reflection handling and great peak brightness, so visibility in a bright room shouldn't be a problem for you. Thanks to the great response time, you will see smooth pictures, however, some actions might still look blurry. Of all that, the narrow viewing angle is a bummer. If you are searching for a TV for sports along with a group of friends, unfortunately, you have to pay more, it won't fulfill your requirements. 
Having said that, if you are into gaming, you'd be glad to know that it comes with VRR support and HDMI 2.1 inputs. Though, it doesn't come with the AMD FreeSync or Nvidia G-Sync technology. This 4K TV for sports displays a wide color gamut and brighter pictures to make the highlights pop which makes it an impressive option for watching HDR content. You can also use soundbars and external speakers via ARC/eARC port, but we have read reviews about audio latency.
All in all, it is a decent TV for sports that have some shortcomings for the price it is being offered. We recommend this TV for anyone who is willing to watch movies, TV shows, or sports alone or with their partner.
Reasons to buy:
Google TV with Chromecast

Top-notch contrast and color performance

Hands-free Google Assistant

Backlight strobing feature

Budget-friendly
Reasons to avoid:
No AMD FreeSync or Nvidia G-Sync

No Apple AirPlay

Narrow viewing angle
Also read: 54 Super-saver Black Friday Deals that are worth grabbing
7. Sony BRAVIA XR X90J 50-inch Full Array LED 4K TV(Best Bedroom TV for Sports)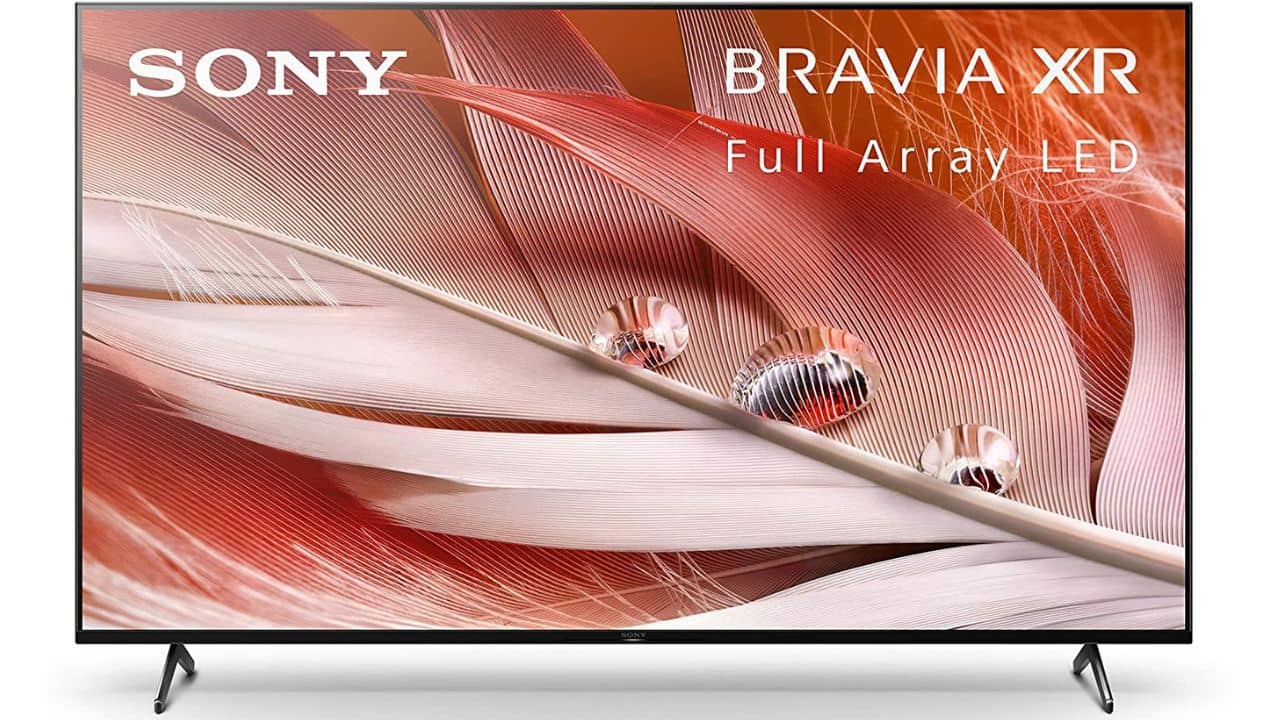 Another budget-friendly pick on our list of best TV for sports you can buy in 2023 is the X90J series from Sony. It is a future-proof TV as it packs two HDMI 2.1 inputs that support ultra-smooth 4K@120Hz gaming using consoles or PCs. It comes with good build quality and feels sturdy, however you can expect a lot of flex on the panel. The Sony X90J series turns out as one of the suitable options for mixed usage as it delivers nice, crisp, colorful pictures that you'd want while watching your favorite sports. You can also enjoy watching movies and HDR content, all thanks to the high contrast ratio, full-array local dimming, and peak HDR brightness.
On top of that, this sports TV for NBA games comes with low input lag, VRR (variable refresh rate) support, fast response time, and 120Hz refresh rate which makes it an ideal choice for console gamers as we mentioned earlier. The quick response time offered by this TV ensures a smooth watching experience, especially in fast-action games like soccer, ice hockey, and more. Let's not forget that this budget sports TV features a backlight strobing feature (aka black frame insertion (BFI)). This feature helps reduce persistence blur that results in a trial appearing behind fast-moving objects in the video. 
If you are planning to place this TV in a room with a bright light source, please note that its reflection handling is decent, but not the best. However, it appears extremely bright to curb the glare. As far as viewing angles are concerned, like most VA panel TVs for sports, it also has narrow viewing angles. Therefore, it is not the best option to watch live matches with home crowds. Please be ready to hear complaints from your family members about the faded pictures if they are not seated right in front of this 4K TV for sports. 
Talking of shortcomings other than limited viewing angle, you can expect trouble in pairing your Bluetooth headphone with the TV. While skimming through the reviews we got to know that it takes a whopping number of key presses on the remote to establish a successful connection with the Bluetooth gadget. Though it is not reported at large, we thought of giving you a heads-up. 
Despite having a few shortcomings, it is an excellent option for sports lovers who often watch NBA and NFL leagues right after dinner with their families.
Reasons to buy:
Premium Design

Great 4K Dolby Vision display

Snappy Google TV interface

HDMI 2.1 has its benefits

The backlight strobing feature eliminates persistence blur
Reasons to avoid:
Limited viewing angle

Feature-rich remote but we have come across reports of it not working 

VRR support is available after the firmware upgrade
Also read: Best 55-inches TV under $1000 to buy
8. VIZIO 50-Inch MQX Series (Great for the price, not for wide-angle viewing)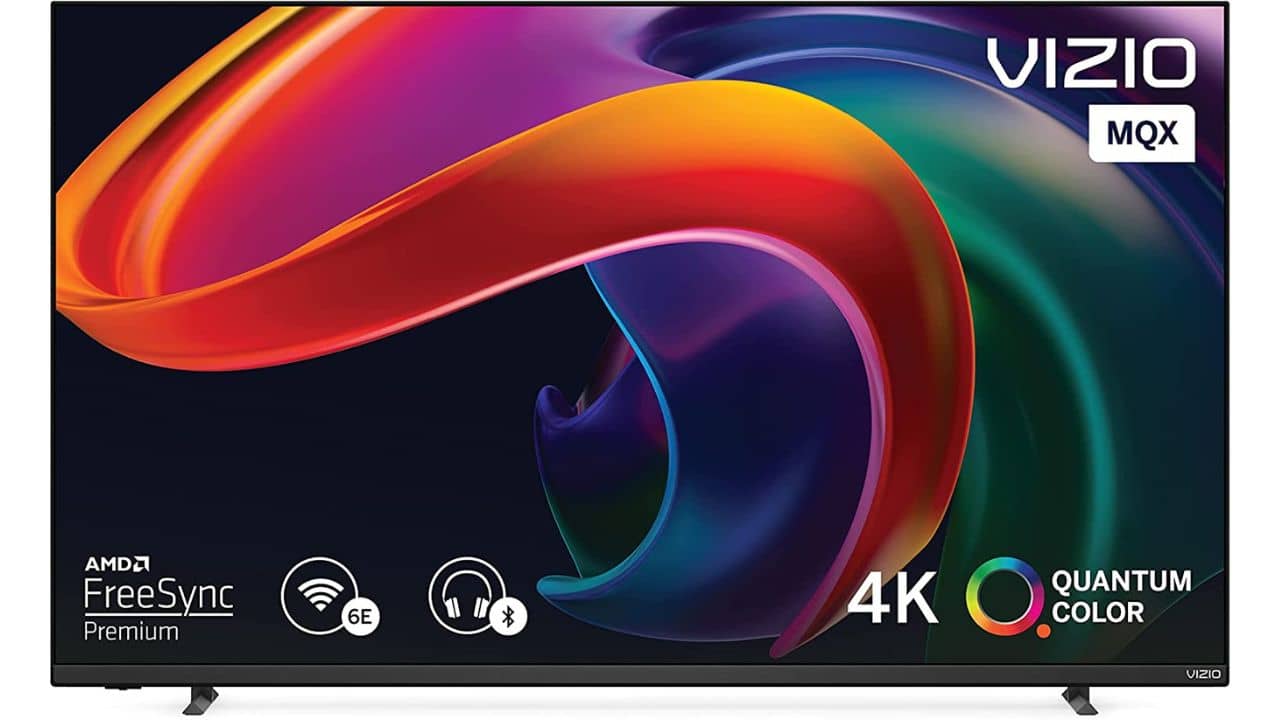 If you are looking for a high-end TV for sports in the same price segment as the TCL Class 6-series, the VIZIO 50" MQX series 4K TV is right for you. We won't deny the fact that this 4K TV for sports is aggressively priced. It looks stunning at the first glance, and all the credit goes to the Quantum Color technology and a full array of local dimming LED Backlight that produces incredible visuals. On top of that, this TV comes with support for Dolby Vision and HDR 10+. While such features are expected in top-end models, getting these for under $700 is a great deal. 
Talking in respect of watching sports, the 50-inch MQX series is a decent TV for watching sports such as NBA, NFL, and major sporting events like ICC Men's Cricket World Cup 2023, ICC Women's T-20 Cricket World Cup, etc. It offers respectable reflection handling to overcome glare in an extremely bright room. Plus, it has an excellent peak brightness that showcases bright and punchy colors. On top of that, a great response time ensures that the fast action sports look crystal clear. Sadly, it doesn't come with incredible wide-angle viewing, therefore we don't recommend this for wide seating arrangements. The image quality declines abruptly when viewed from the side. Though, it is still a solid option for anyone looking for a budget TV for sports in their bedroom.  
Not just watching sports in private space, but playing games is fun on the VIZION MQX series 4K TV. This sports TV packs four HDMI 2.1 ports, Auto Low Latency Mode, FreeSync Premium, VRR, and HGiG (HDR Gaming Interest Group). To remind you all these features are available in a top gaming TV. Let's not forget that PC gamers can leverage the support for 1080p@240Hz video input support using this TV. It indeed is a treat to play games on this TV. 
Overall, it is one of the most feature-loaded budget TVs for enjoying sports in a small living space or bedroom.
Reasons to buy:
You will get wide balanced colors for an affordable price

Wi-Fi 6E compatibility 

Variety of gaming features including 1080p@240Hz PC gaming

Supports Apple AirPlay and GoogleCast
Reasons to avoid:
The color looks washed out from the sides

Not the lightest TV set

Decent audio quality 
Also read: Annoyed with your Android TV not Connecting to Wi-Fi? Here are 10 easy fix
That's all for now in this roundup of the best TVs for sports you can get in 2023. Also, don't forget to check out our roundup of the
best OLED TVs for PS5 and buying guide on top OLED TVs for Xbox Series X.
Banner Image Source: iStock