Apple unveiled its latest smart wearables under its belt at the 'Far Out' event held on September 7, 2022. We saw the all-new Apple Watch Series 8, Apple Watch SE 2nd Generation, and the revolutionary, Apple Watch Ultra. The overall design and looks of the Apple Watch Series 8 are quite similar to what we saw on the last year's Apple Watch Series 7. Whereas the Apple Watch Ultra is a total endurance beast. Apple has added a variety of new sensors and features intending to help users focus on their lifestyle and health. To remind you, the rumored body temperature monitoring sensor comes to life with the launch of the Apple Watch Series 8 and Apple Watch Ultra. Furthermore, the 2nd generation Apple Watch SE in classic Apple fashion is an upgrade with some new features that you are likely to see on the Watch Series 8. 
Apart from the smartwatches, Apple also announced the most anticipated iPhone 14 series which included four brilliant smartphones. The iPhone 14 lineup includes – iPhone 14, iPhone 14 Plus, iPhone 14 Pro, and the beefiest iPhone 14 Pro Max. Alongside this, we got to witness the launch of 2nd generation AirPods Pro. 
Without wasting any time, let's jump right into the details of the Apple Watch Series 8, Apple Watch SE, and the adventure-friendly Apple Watch Ultra.
Apple Watch Series 8
Apple Watch Series 8 Specifications and Features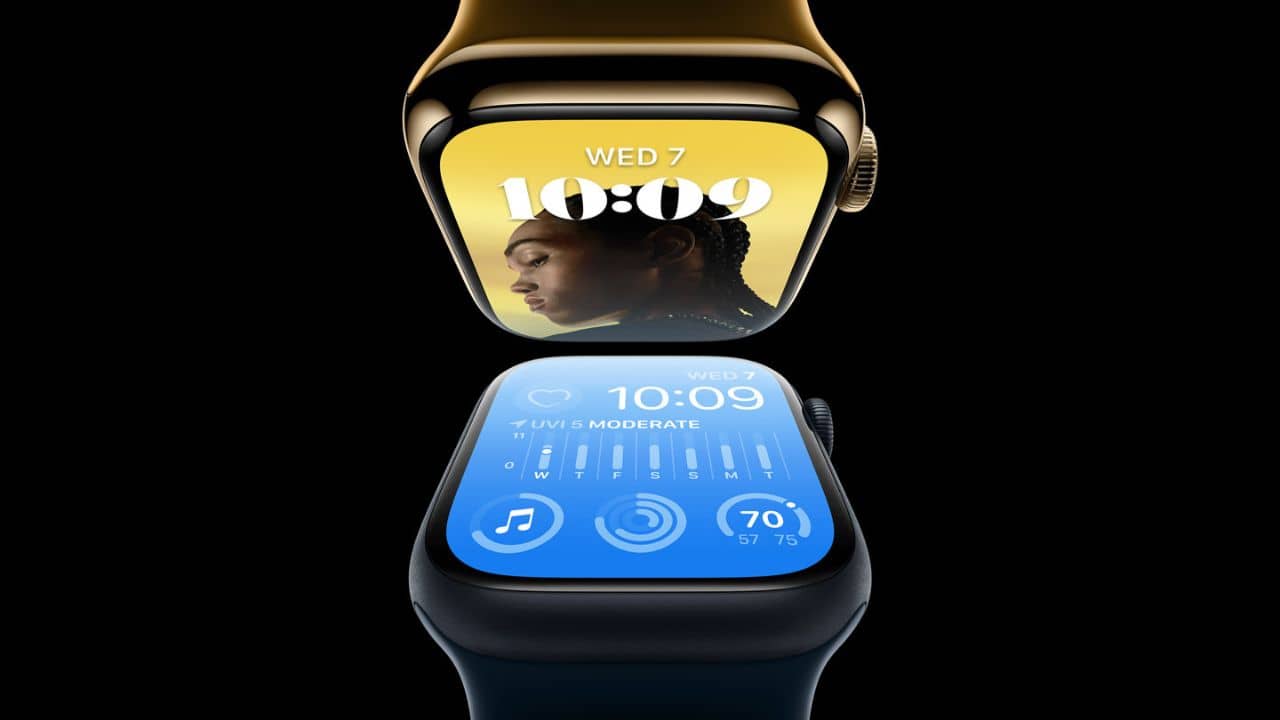 The Apple Watch Series 8 features a slightly updated edge-to-edge display which is larger than its predecessor, the Apple Watch Series 7. However, we didn't witness the flat display as the rumors suggested earlier. Besides the redesign, the Cupertino tech giant says that the Watch Series 8 comes with two new motion sensors to
detect severe car crashes. But, the feature will only work when you're driving. In addition, it comes with cellular roaming and a WR50 water resistance rating, meaning the watch can survive under 50 meters of water. You can easily use it in a swimming pool or even while checking out lakes underwater. Let's not forget that the Watch Series 8 packs the S8 chip inside for improved performance. Plus, it also comes with international roaming. 
Talking of temperature sensors, Apple claims that the Apple Watch 8 series can track temperature changes as slightly as 0.1 degrees Celsius. Plus, it checks your temperature every five seconds. The company says that temperature tracking can give insights into your ovulation cycle and enhances the smartwatch's cycle tracking feature. Talking of privacy, Apple says that the user data is end-to-end encrypted right from the watch to your iCloud backup and no one from Apple can access it without your prior permission. Anyone using Cycle Tracking on the Apple Watch Series 8 will also get a warning/alert in the case of an irregular period, as it could suggest "underlying health conditions." 
Apple Watch Series 8 Battery life
The Watch Series 8 can last up to 18 hours on a single charge, which can be extended up to 30 hours by using it on the all-new low-power mode. Apple confirms that this feature will soon come to Apple Watch Series 4 and
older models as long as they are running on watchOS 9. Please note that enabling the low-power mode will automatically disable the always-on display and auto-workout tracking, but crash detection and activity tracking won't get affected at all. Moreover, it comes with fast charging support. 
Apple Watch Series 8 Price, Availability, and Colors
The GPS model of the Apple Watch Series 8 is priced at $399, whereas the GPS+Cellular model will cost you $499. This high-end smartwatch will be available starting September 16, 2022. As far as colors are concerned, the Watch Series 8 aluminum is available in four colors: silver, midnight, starlight, and red. Whereas, the stainless steel model is available in three colors: graphite, gold, and silver.
Apple Watch Ultra
Apple Watch Ultra Specifications and features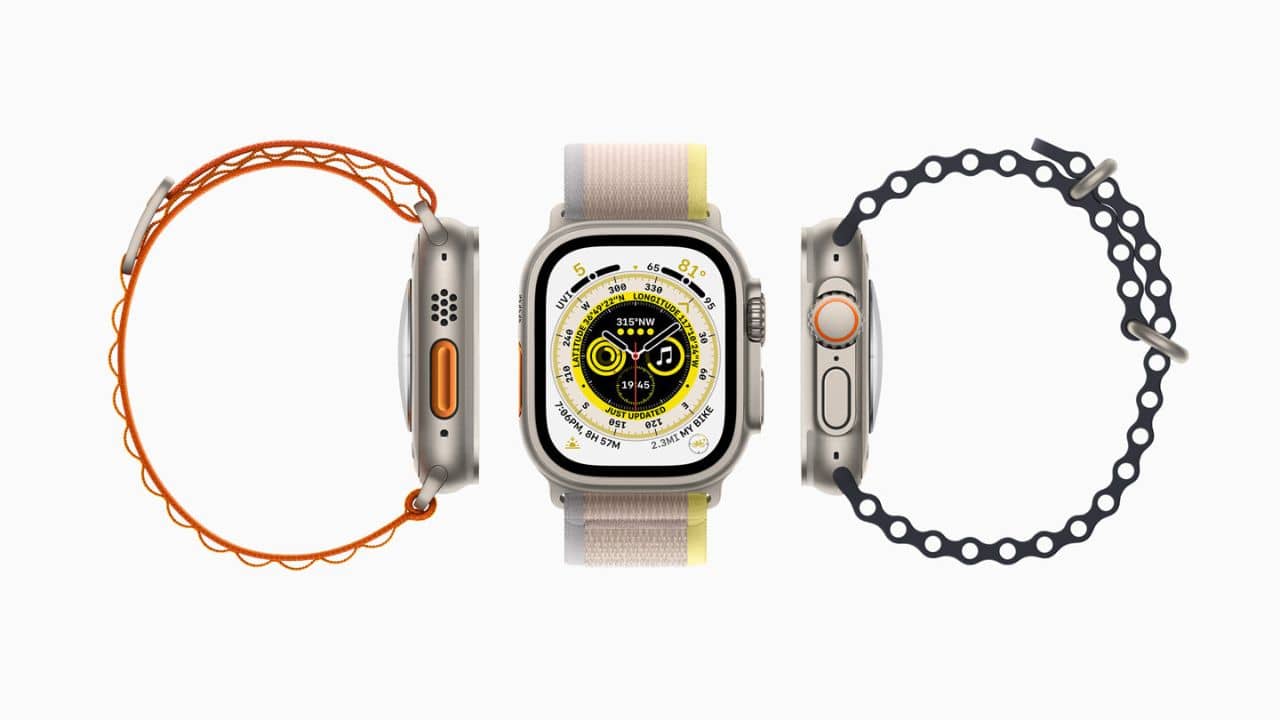 Apple also announced its premium rugged smartwatch that goes by the name – Apple Watch Ultra. The titanium-built smartwatch boasts a
much-rumored design, a larger display, a 49mm case size, and three new bands: Alpine, Trial, and Ocean, which will cater to runners, mountain climbers, and underwater adventurers, respectively. You will find a Sapphire crystal display with 2,000 nits of brightness that can be handy even in super bright conditions and even when you're deep diving under the ocean. Also, there's a redesigned digital crown and a new Action button which can be personalized for workouts, compass waypoints, and a new trackback feature. The buttons and crowns on the Apple Watch Ultra are redesigned to work with gloves, which was a concern for adventurers earlier. The Apple Watch Ultra comes with three microphones built in for improved sound quality for calls and reduced background noise like winds, etc. Please note that this rugged Apple watch has an S8 chip inside for better performance, while it also comes with international roaming.  
The Apple Watch Ultra comes with improved multiband GPS with the all-new L1 + L5 frequency. To remind you, these days premium fitness watches from Garmin, Coros, also offer similar features. The Watch Ultra also has a trackback feature that helps you re-track your steps if you accidentally go off-grid. The watchOS 9 brings in a new Compass app on the Apple Watch, and by utilizing the Compass Waypoints feature you can mark your points of interest on the Apple Map. In addition, the Action buttons give you the privilege to make a transition from one race to other – switching from swimming to running. There'll be an auto-detect feature that will be available later this year. 
The underwater experience is enhanced by the new depth app that will automatically launch when you're underwater. The depth app will indicate time, depth, and temperature. What makes it even more interesting is that the Watch Ultra comes with WR 100 water resistance rating and is certified to EN 13319 for scuba divers (diving depth of up to 40m). The 2022 rugged Apple Watch debuted with a new Oceanic+ app meant for recreational, and professional scuba divers. Undoubtedly, the Watch Ultra is a giant leap from Apple that is meant to compete with the likes of Garmin, Casio, Coros, Polar, etc. 
Apple Watch Ultra Battery life
The battery life on the Apple Watch Ultra is the major highlight. The battery on this rugged Apple smartwatch can last up to 36 hours on a single charge, which gets extended to 60 hours on low-power mode. You'll still be able to use the heart rate tracker and GPS even in the low-power setting. The tech giant claims that the Watch Ultra has enough battery for one to complete a long-course triathlon, which includes a full 26.2-mile marathon, a 2.4-mile swim, and a 112-mile bike ride.  
Apple Watch Ultra Price, Availability
The high-end rugged smartwatch from Apple is pierced at $799 and will be available from September 23, 2022. It will come only in one color with a GPS+Cellular version only. 
Apple Watch SE 2nd Generation
2022 Apple Watch SE Specifications and Features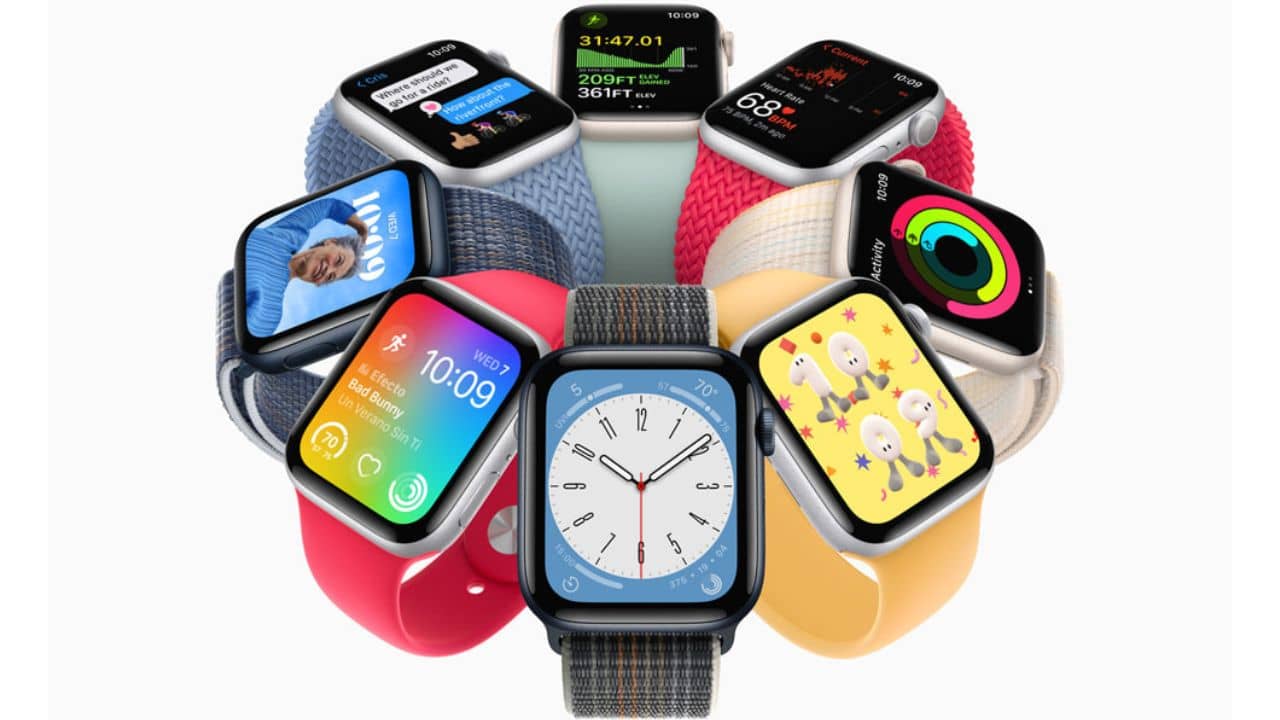 Apple also announced the 2nd generation of its entry-level smartwatch, the Apple Watch SE. The Apple Watch SE 2nd Gen is an upgraded version of its predecessor that launched alongside the Watch Series 6 back in 2020. It retains the same Retina OLED display, and features that were available on the original Watch SE (i.e. emergency SOS, sleep tracking, optical heart rate sensor, fall detection, and water resistance up to 50 meters). 
Apple claims that the new 2nd generation Watch SE will be 20 percent faster than the original Watch SE. The car crash detection feature on the Apple Watch Series 8 is also available on this one, all thanks to the S8 chip incorporated inside the watch. There are two motion sensors (an improved gyroscope and a new accelerometer) on the Apple Watch SE 2nd gen that can detect the moment of impact and automatically notifies the emergency SOS and user's emergency contacts. Also, you can take advantage of international roaming by pairing it with your iPhone's roaming plan. Also, the new Watch SE will work with Apple's Family Setup feature.
Apple Watch SE 2nd Generation Price and Availability
The Apple Watch SE 2nd generation is priced at $249 for the GPS model and $299 for the cellular model, which indicates a $30 price drop from its predecessor. You can pre-order this watch from today itself and it will be available starting from September 16, 2022.