With evolving technology, smart home upgrades are becoming an essential product category and grabbing the eyeballs of consumers, especially users who are early adopters or tech savvy. The ability to control almost all your household appliances and other devices via a phone app or voice command is going to be the new normal in the coming years. 
We understand a technology-laden house is a dream of many, so as to help you begin your smart home journey, we've curated a list of the top smart home device upgrades that you should consider buying in 2023. Here you'll find smart home speakers, smart home security upgrades, smart kitchen gadgets, smart home lighting accessories, mesh routers, and some of the must-have smart home accessories. Also, we have tried to cover devices of multiple price points, so that you can always stay within your budget. But before we move to the list, it's important for us to mention the major benefits and factors to note before upgrading your smart home in 2023. 
Note: We update our article from time to time to cover the latest products available in the market.
Why Smart Home Device Upgrades are important?
Better home management

Remote monitoring & control

Increased energy efficiency

Improved home security

Better appliance functionality
These are some of the major features that you can take advantage of with the best smart home appliances in 2023. Before we move on the list of the top  smart home devices upgrades, let's look at some of the factors that you need to consider before upgrading your home. 
Factors to Consider While Buying Smart Home Devices
1. Purpose 
The first and foremost thing you need to decide while buying a smart home device is the purpose and type of device required. At present, there is a whole range of IoT smart home devices that are available today and have become very important. The options range from basic Wi-Fi switches, plugs to automated blinds, smart lights that react to what's playing on your TV display while managing your HVAC system. With so many options available in the market it can be tough sometimes, so you need to decide what's the purpose or use case. Smart devices and their features can be overwhelming if you're not cautious with your choices. 
2. Compatibility:
Another important factor that goes into deciding what devices need to be purchased is compatibility. It should be noted that not all devices are compatible with each other, so you need to make sure about that before buying. Smart home devices either work individually or require a hub (another device) to connect with other smart devices to work seamlessly. All these devices work on different ecosystems. The most commonly found ecosystems are Amazon Alexa, Google Home and Apple Homekit. There are devices which are exclusive to each of these ecosystems while a lot of them are compatible with different ecosystems. 
For example, the Apple HomePod might be compatible with Android devices. The same goes for Google Home and Amazon Echo. Since there are many options available in the market, it's always important to ensure whether the smart device you're planning to buy is compatible with cross-platform devices. It is also always recommended to look up the details of the required Wi-Fi connection. Most smart devices require a 2.5GHz Wi-Fi connection, while in some cases this can be as high as 5GHz. So, it's best to check all the details related to compatibility and connectivity before buying a smart home device. 
3. Pricing:
The price of the smart home device upgrades depends solely on the type of device you're planning to buy. If the smart home device serves various functions and is future-proof, they're often expensive. So, you need to take care of your budget as well. If it is important to complete your smart home setup, you can go with it. But, please make sure that your pocket allows it. You simply don't want to invest in something that is rarely used. 
4. Hub:
Whether you need a hub or not is decided by the number of smart home devices you're planning to install at your home. In simple terms, a hub acts as a bridge between various smart devices to make them work flawlessly, it is like the heart of any smart home of your dreams. If you are planning to get one or two devices, the hub might be unnecessary. In contrast, if you are planning to invest in multiple smart devices, you should get a hub. Some ecosystems offer smart home speakers which also work as a hub like the Apple HomePod Mini and Amazon's Echo speakers.
List of Best Smart Home Devices that you can buy in 2023
Best Smart Home Essentials/Must-haves
1. Google Nest Thermostat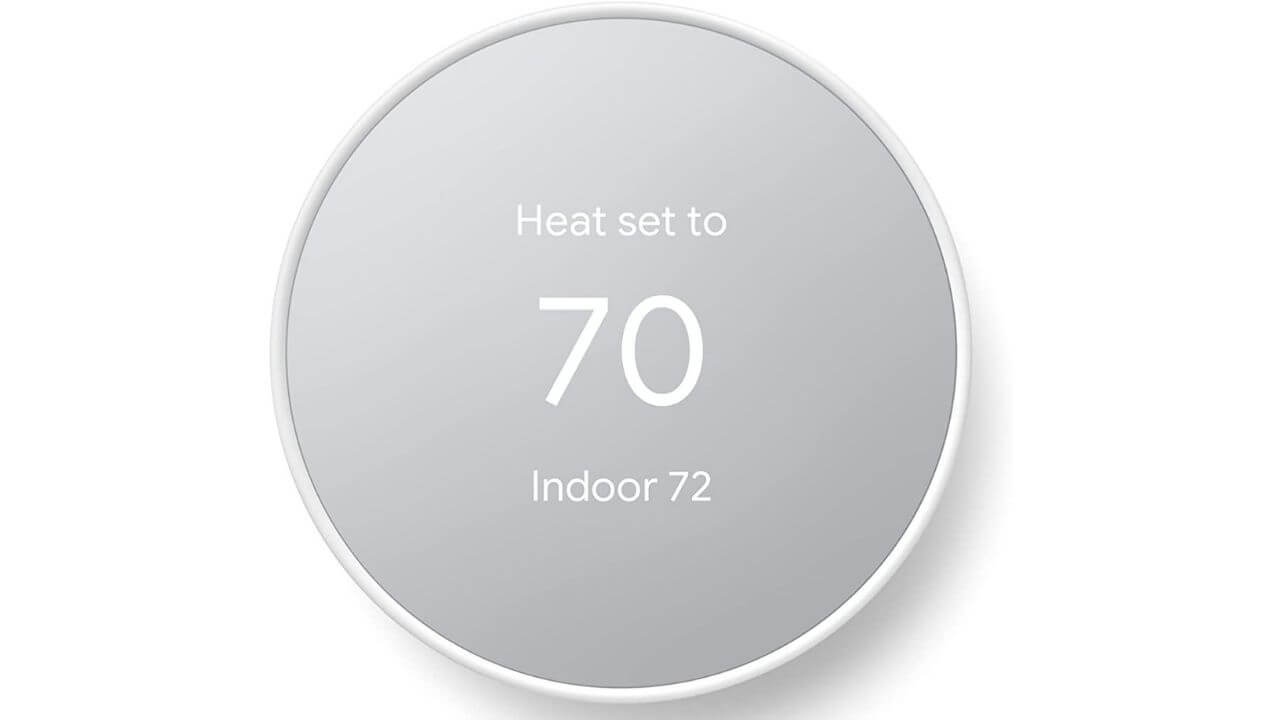 If you are in search of the best smart thermostat for your home, we recommend grabbing the Google Nest Thermostat. It features a minimalist circular design and a central temperature display that gives you a clear glance when you are on the go. There are no buttons or moving dials in the Google Nest Thermostat, nor, you'll get physical buttons. Rather, there are capacitive touch controls on the right of this smart home device that ensures seamless navigation. Thanks to its energy-saving feature, this smart home gadget will turn itself down when nobody is in the home. You can easily schedule its functions on Google Home app using Android phones or iPhones. If you don't want to do the things manually, you can simply use the remote from the comfort of your bed or anywhere around your home. Thanks to the HVAC monitoring, this smart thermostat from Google sends signals if there's some issue. Plus, you will get a limited warranty if this smart thermostat for home is purchased from Amazon or has a Google seal if bought from other online stores.
Also read: Best Soundbars for Apple TV 4K
2. LEVOIT Smart Humidifier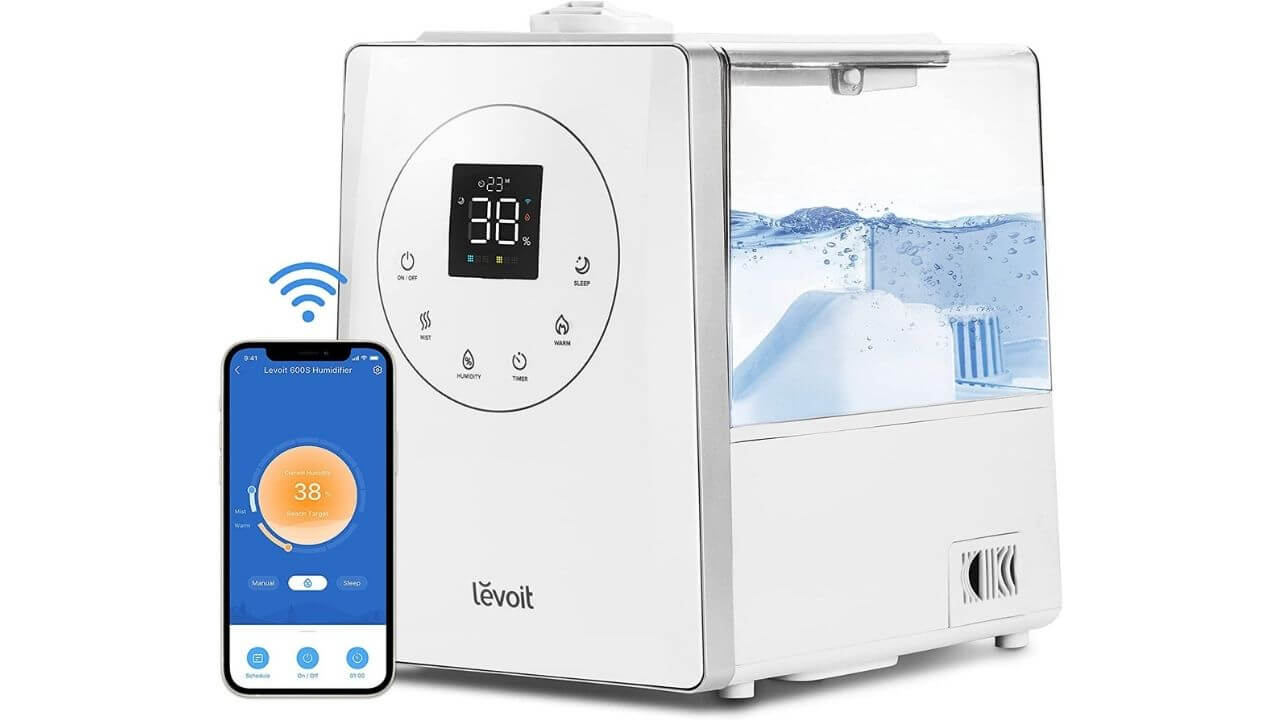 Are you looking for a smart home humidifier that beats the dry skin issues in summer heat or helps you soothe your throats in the chilly winter? Get yourself the LEVOIT smart humidifier that helps you stay comfortable all year round with warm and cool mist settings. This smart home humidifier for summer and winter features a large 6-liter tank that can run for up to 50 hours with a low mist output at a time leaving behind the worry of constant refills at times. The all-new top-fill design eases the refilling process preventing spillage in your living or bedroom. What's more? This smart humidifier for the bedroom can be controlled by the VeSync APP, you can easily create schedules or connect it to a third-party voice assistant such as Amazon Alexa or Google Assistant for voice controls. 
3. TruSens Smart Wi-Fi Air Purifier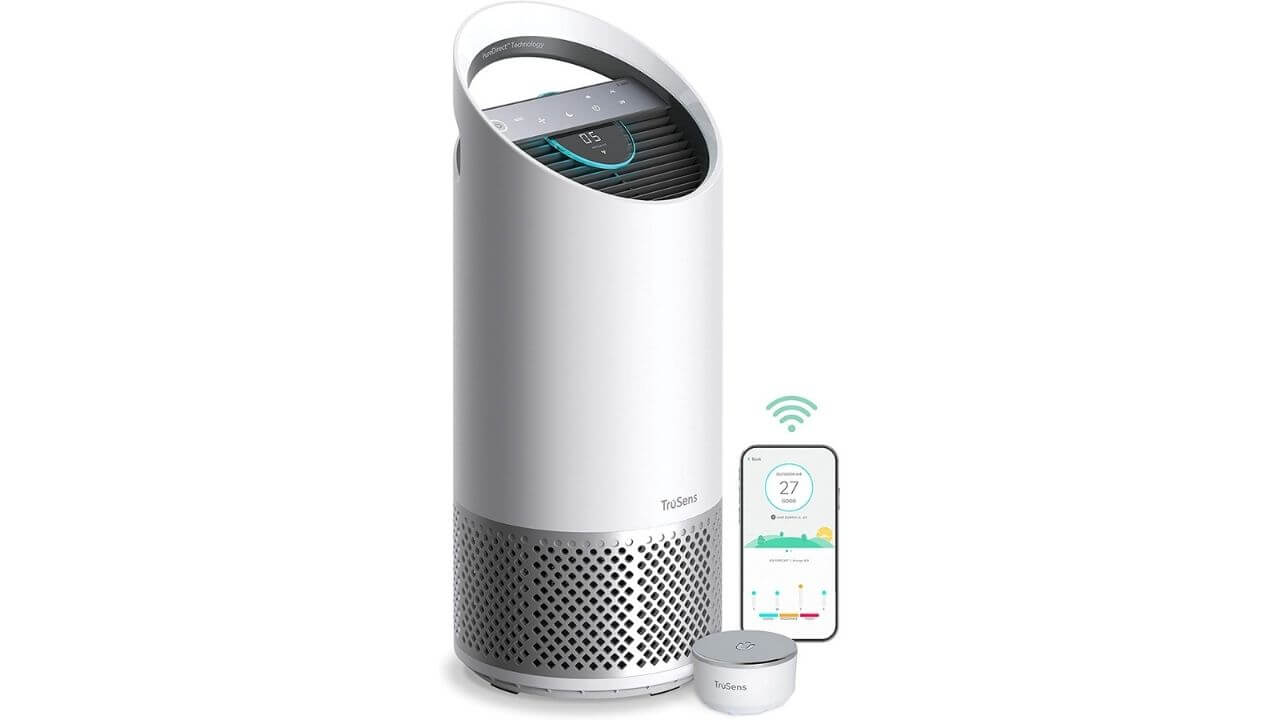 The TrueSens Smart Wi-Fi Air Purifier is one of the most rated and best smart home air purifiers that keeps the air inside your home safe to breathe. With outside air getting polluted day by day it is important to have the best air purifiers installed in your home. This smart air purifier for the bedroom keeps your family members safe from any kind of air-borne diseases, especially kids and pets who are more vulnerable. This air-purifier for mid-size rooms features 360-degree DuPont HEPA filtration systems that capture harmful pollutants such as airborne viruses, allergens, and certain VOC gasses to keep everyone in your home safe. Plus, it has a SensorPod which accurately indicates the AQI (Air Quality Index) along with AQI history records of your living room or bedroom. Besides, this smart home air purifier is lashed with PureDirect proprietary technology that splits clean air into two air streams, delivering purified air throughout the room. Thanks to the beautiful design, it adds more beauty to the area of placement such as the TV cabinet, while the portable design allows you to easily move it from one room to another based like nearby the
baby monitor. Did we mention it comes with Wi-Fi compatibility and can be controlled via voice using Amazon Alexa or through the TrueSens app?
4. Amazon Smart Plug for home automation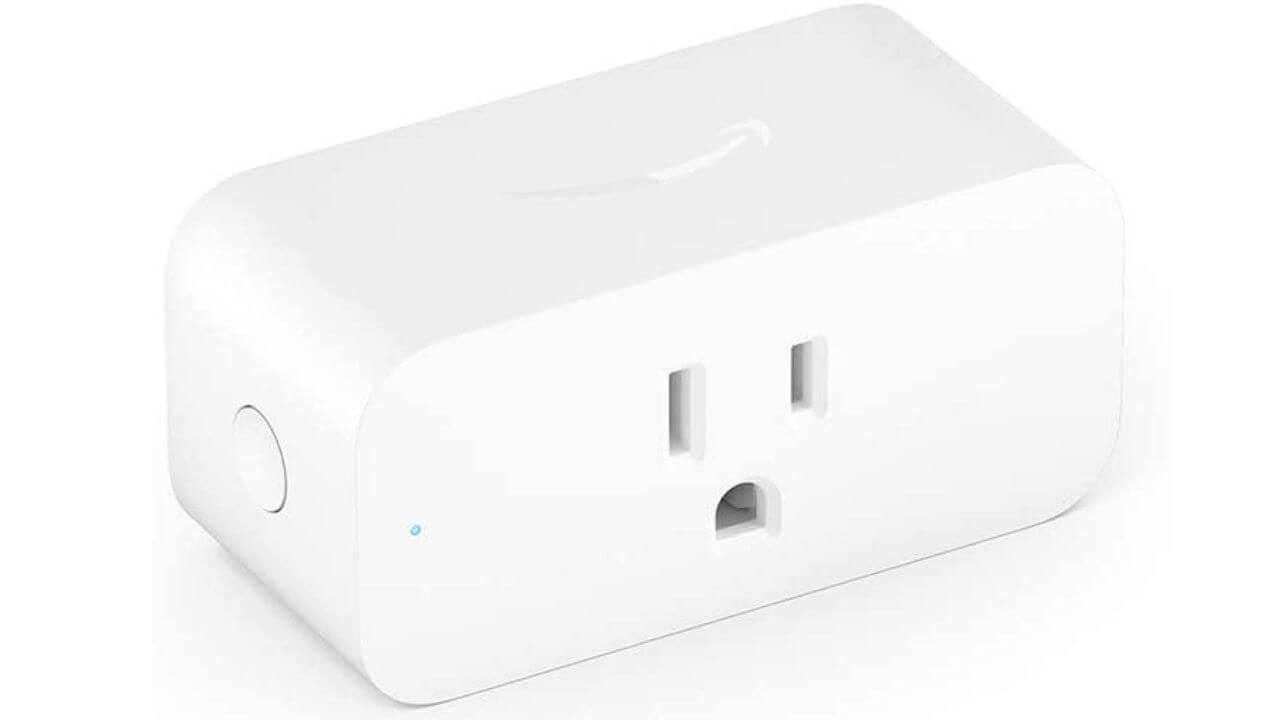 Amazon has been at the forefront when we talk about the brands that offer smart home devices. From smart home speakers to smart doorbells, to smart plugs, Amazon offers it all. The Amazon smart plug is one of the best smart home automation gadgets that connects to a power outlet and uses your home Wi-Fi network so that Alexa can control any electrical devices or appliances connected to it. You can easily control good old lamps, coffee makers, fans, humidifiers, air purifiers, or even control your hair straightener through voice control using Alexa. It is one of the best smart plugs for Alexa that you should buy right now. Thanks to the compact and minimalistic design, this WiFi Smart Plug Socket from Amazon keeps the socket free from a lot of mess. To use this smart plug effectively, you just need to plug in the smart device and control it via the Alexa app or voice command, it's that simple. 
Please note, to control the smart home devices via voice you would require an Alexa device such as Echo Dot. 
5. myQ Chamberlain Smart Garage Control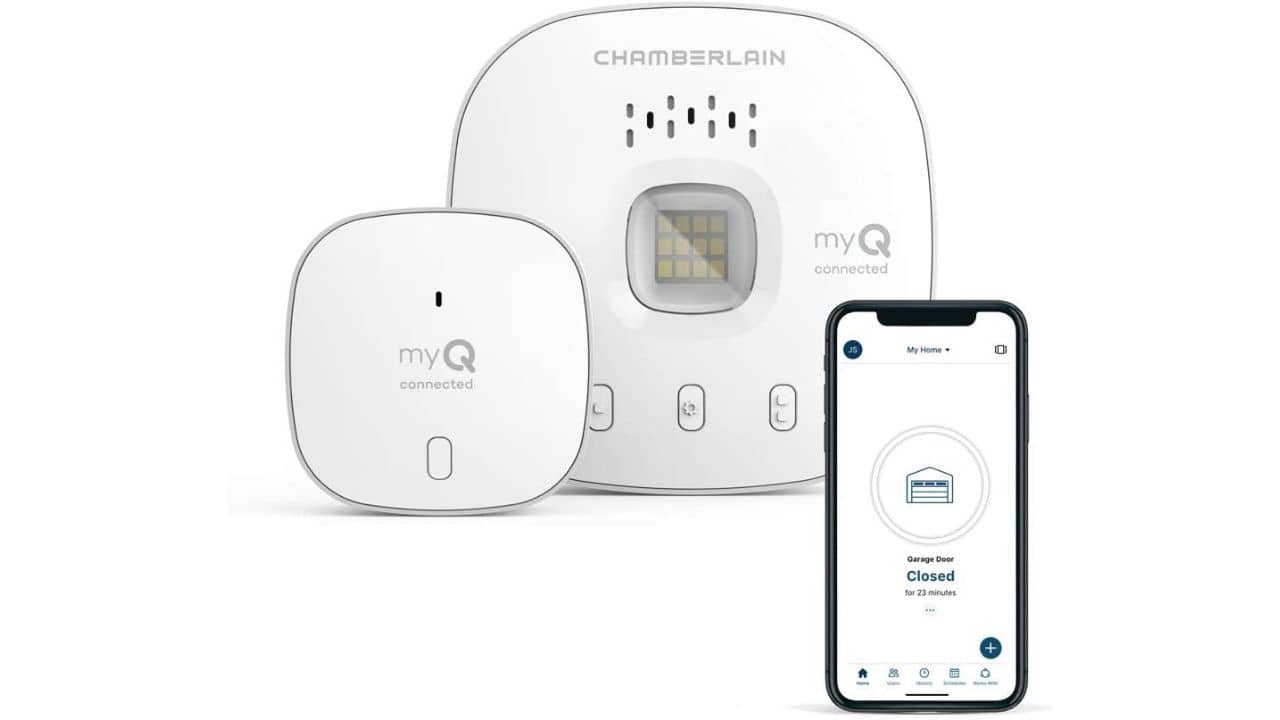 Are you looking for a smart home device that gives you complete access to your garage remotely? If yes, get yourself the myQ Chamberlain smart garage control. It lets you access your garage doors and lights remotely. This means you can allow an Amazon delivery agent to drop in the parcel at your garage by opening the garage doors and closing it being seated in your office cabin. The remote control feature also allows your family members and friends to have access to the garage when you're away with the keys. Plus, the garage closing and opening schedule features are extremely handy for someone who tends to forget things. Please note that this smart home device is compatible with major safety sensor garage openers designed after 1993. Let's not forget that this amazing smart home device is compatible with both Android and iOS devices. If your device tends to run into Wi-Fi issues, don't forget that you can use this smart garage controller via Bluetooth as well. What's more? You can smartly control this garage controller using the myQ app. Every time your garage door opens or closed, the app delivers you real-time notifications. 
All in all, it is a must-have smart home device for someone who has signed up for monthly/weekly vehicle maintenance services.
Also read: Best Apps for Apple TV 4K
Best Mesh Routers
1. TP-Link Deco Mesh WiFi System (Deco S4)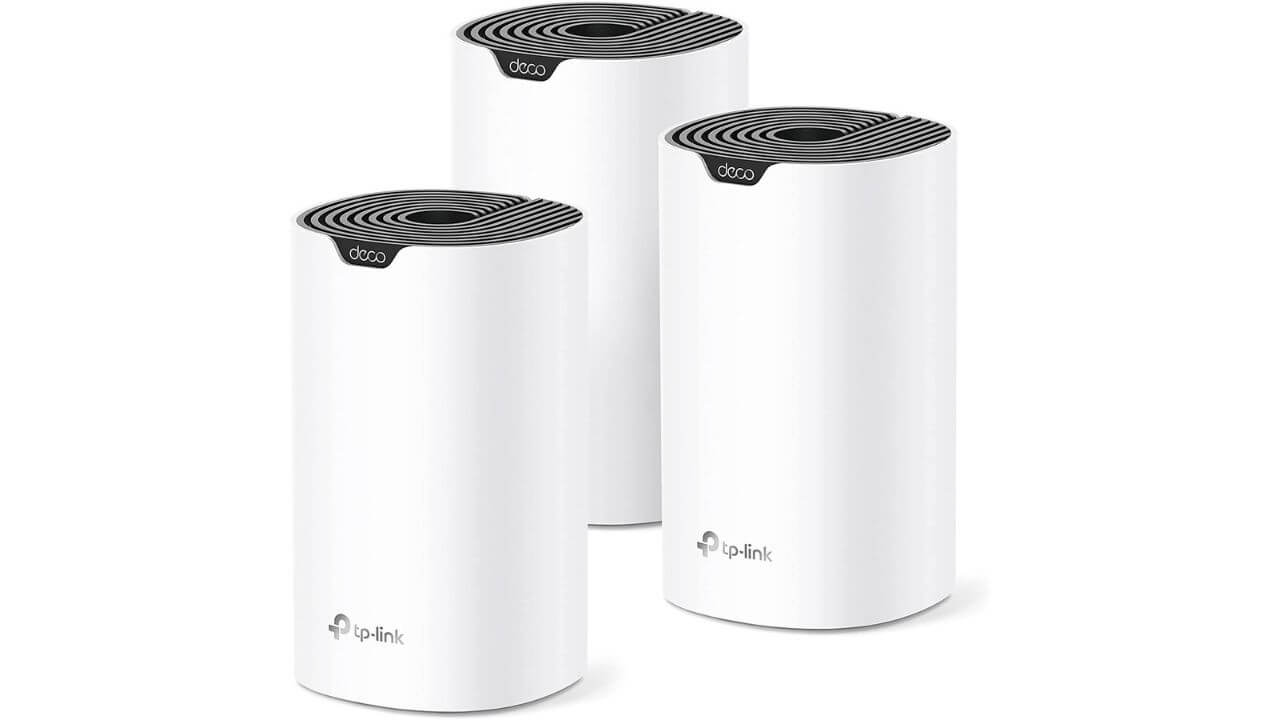 If you are planning to get a smart home device for your smart home, please don't forget to add a mesh Wi-Fi system to the buying list. The TP-Link's Deco Mesh technology integrated into this smart Mesh Wi-Fi router gives you a better and faster Wi-Fi speed in each corner of a house up to 5,500 square feet (with 3 Mesh Wi-Fi routers). Now, you won't face any
signal drop or slow Wi-Fi if you are away from the Wi-Fi router. Deco is a lineup of smart Mesh routers offered by TP-Link. The lineup offers all 3 categories of Mesh routers, ranging from entry-level value for money for Mesh routers, to Wi-Fi 6E compatible Mesh routers with support for 200 devices and multiple Gigabit ports.
With the Deco S4 Mesh router, you can connect up to 100 smart devices in the same network to help them run seamlessly. As far as features are concerned, you can limit your online time and block inappropriate websites to keep your children safe when they're online. You can easily set up this smart Wi-Fi router within minutes for your home using the Deco app available on iOS and Android devices. What's more? You can turn this Wi-Fi mesh router on and off when required just through the voice command. That's not all, the Deco S4 features 2 Gigabit Ethernet ports and supports Wired Ethernet Backhaul for better speeds. Best of all, this smart home accessory works well with all internet service providers, such as Xfinity, Spectrum, AT&T, Verizon, and more. Overall, it is one of the best and most budget-friendly Wi-Fi mesh systems that you can buy to control smart devices installed at your home without much fuss. 
If you're looking for a more powerful and future-proof mesh router, we recommend the TP-Link Deco X20.
Also read: Best HDMI Switchers for Home Theater
2. Google AC1200 Mesh Wi-Fi System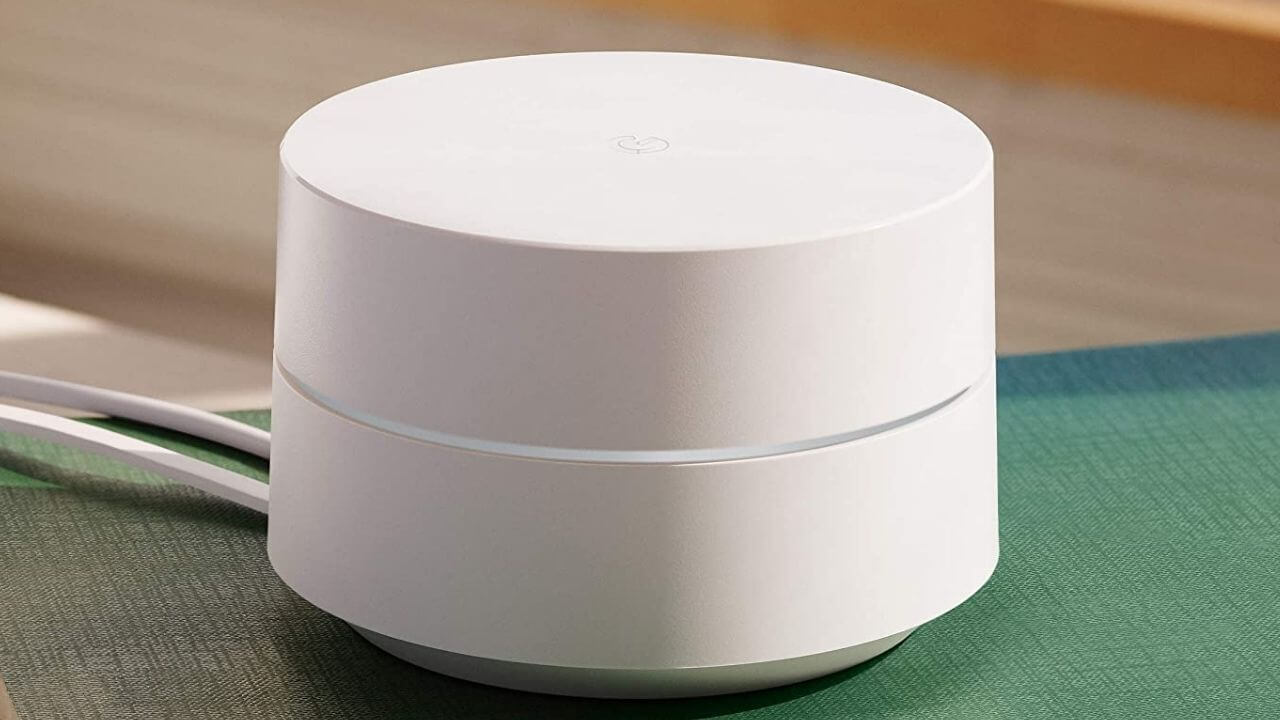 Here's another smart Mesh Wi-Fi system from Google. This smart home accessory has a comparatively higher price tag than that we have discussed above. As far as functionalities are concerned, every Mesh Wi-Fi system has the same objective. If you think your traditional Wi-Fi is slow and drops signal now and then across your home, workshop or office, it is best to replace it with a reliable Mesh Wi-Fi system and Google Mesh does exactly that. If you consider buying a three pack of these Mesh Wi-Fi systems, it can cover a house of up to 4500 square feet ensuring all the smart home devices installed work properly and stay connected within the network almost every time. Besides, you can control these smart Mesh routers using the Google Home app. Moreover, you can also block certain websites that you think are not safe for your kids. So, if you already own
Google smart products and are considering getting a reliable and best smart network device for your smart home, we recommend getting the Google AC1200 Mesh Wi-Fi system right away. 
3. eero Pro 6E mesh Wi-Fi router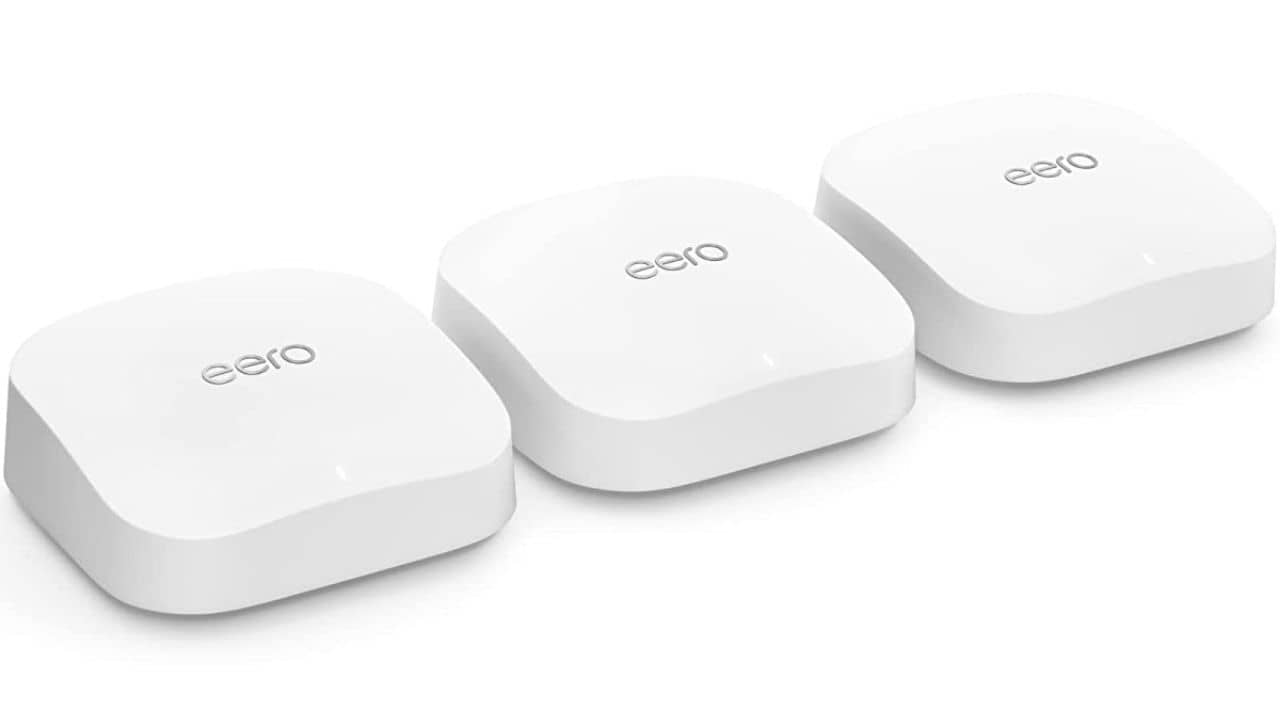 If you are looking for a mesh router system for fast streaming and gaming in every corner of your home, get yourself the eero mesh router. It is compact in design and can be placed anywhere without taking up much space. This smart home device offers extensive coverage and blazing-fast internet speed. All thanks to the eero app, anyone can set up this mesh router without any hassle. There is a 2.4GHz band, a 5GHz band, and even a 6GHz band to use with Wi-Fi 6E compatible devices. It covers a range of 6000 square feet (with 3 mesh Wi-Fi routers) allowing over 100 smart devices to connect in the same network. It gives you access to fast internet speed of up to 2.3 Gbps, including wired speed of up to 1 Gigabit and wireless speed of up to 1.6 Gbps. Let's not forget that power users can finally take full advantage of their 2.5Gb internet plans with the built-in 2.5G ethernet port. If you are annoyed with signal drop-off and dead spots around your home, don't worry, eero's Truemesh Technology has got you covered. It will ensure you get internet across your entire house. If you are looking for additional network management features and top-notch online security, sadly you need to stress your wallet for a separate subscription. That's not all, you'd be happy to know that this smart home device works well with all internet service providers, such as AT&T, Verizon, etc. Having all that said it is quite expensive if we compare it with other mesh routers listed above. Overall, it is a handy option for anyone who is willing to pay for internet coverage at their place.
For anyone looking for a Mesh Wi-Fi system with almost identical features and more network coverage, we recommend checking the
eero 6 Mesh WiFi system which offers better value for money than the above alternatives.
Must-have Smart Home Lights, Switches & Accessories
1. Kasa Smart Light Switch (Must-have)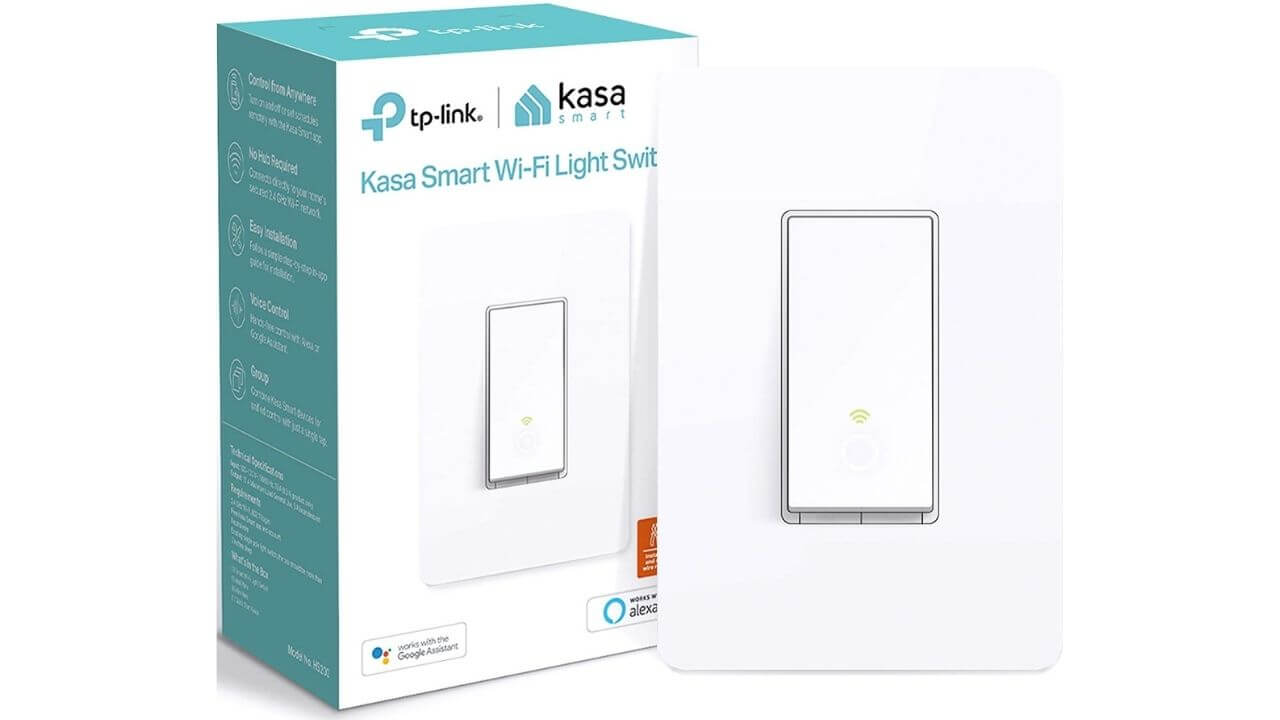 If you are looking to add some top of the line smart home devices to your hi-tech home setup, please don't forget to add the Kasa smart light switch to your buying list. It features a simple and compact design made to perform exceptionally well, especially using its companion Kasa app. Thanks to the voice control feature, you can easily turn the lights of your home on and off from anywhere you'd want using the Alexa or Google Assistant (no Apple Homekit support), be it your office, another room of your house, or even you're you are on vacation. You can also use the Kasa app for the same. You can surprise your loved ones with birthday lighting even if you're away by scheduling power on and off time through the Kasa app. Best of all, you can enable "Away mode" where the smart light switch from Kasa automatically turns on and off to trick potential rookies around your home when you're away working at your office. 
Also read: Best Amazon Fire Stick and Fire TV Alternatives to Stream Content
2. Kasa Smart Bulb (Value for money)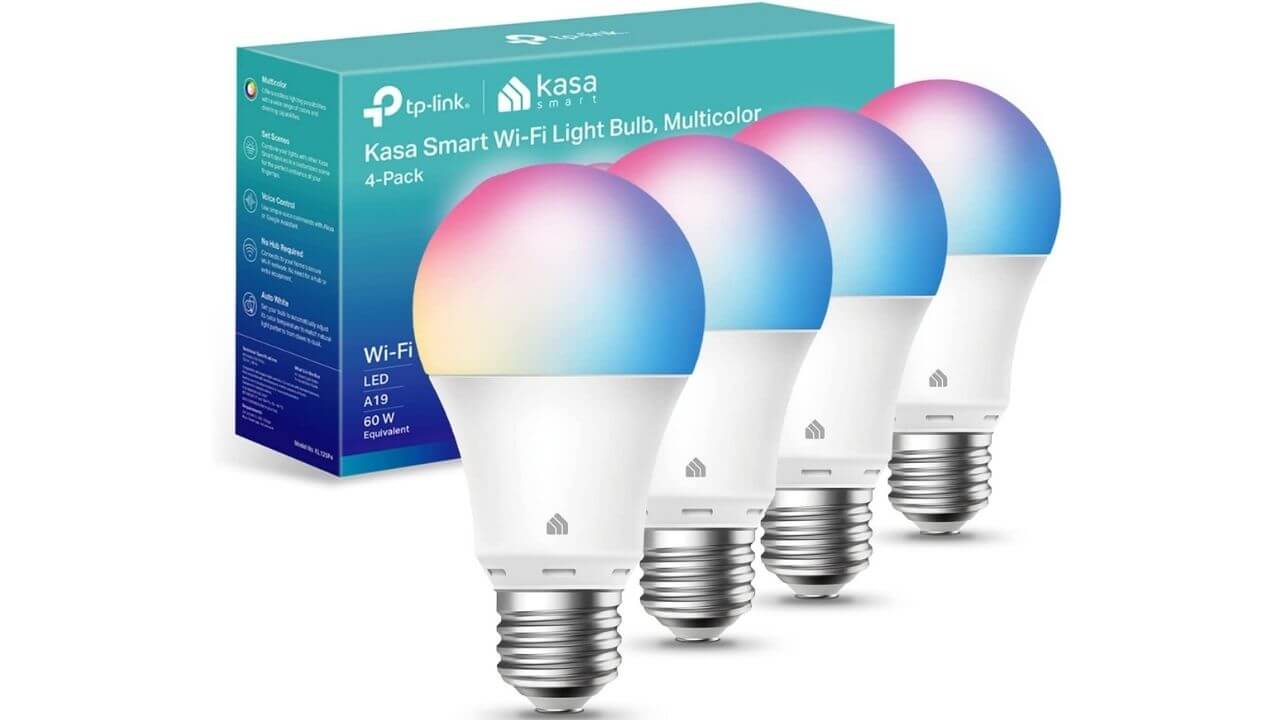 The Kasa smart multicolour light bulb is a 9W Wi-Fi-enabled smart LED equivalent to a 60W bulb. One of the key features of TP-Link's Kasa Smart bulb is that you don't need any hub to power it up. All you need is to download the Kasa Smart App on an iOS or Android device and enjoy over 16 million colors. The voice control features usable through Amazon Alexa and Google Assistant are helpful in lighting the bulb when your hands are full with groceries and you enter your house in the evening. With the help of the Kasa app, you can control this smart home appliance from almost anywhere; whether you want to dim the bulb, or turn it on or off, you can do all that right from your fingertips. You can save energy and your electricity bill by scheduling the timer to turn the light on and off as per your daily routine. All in all, it is one of the important and must-have smart home devices that one should buy to enjoy a customized lighting experience in a high-tech home setup. 
Alternatives:
3. myQ Chamberlain Smart Garage Control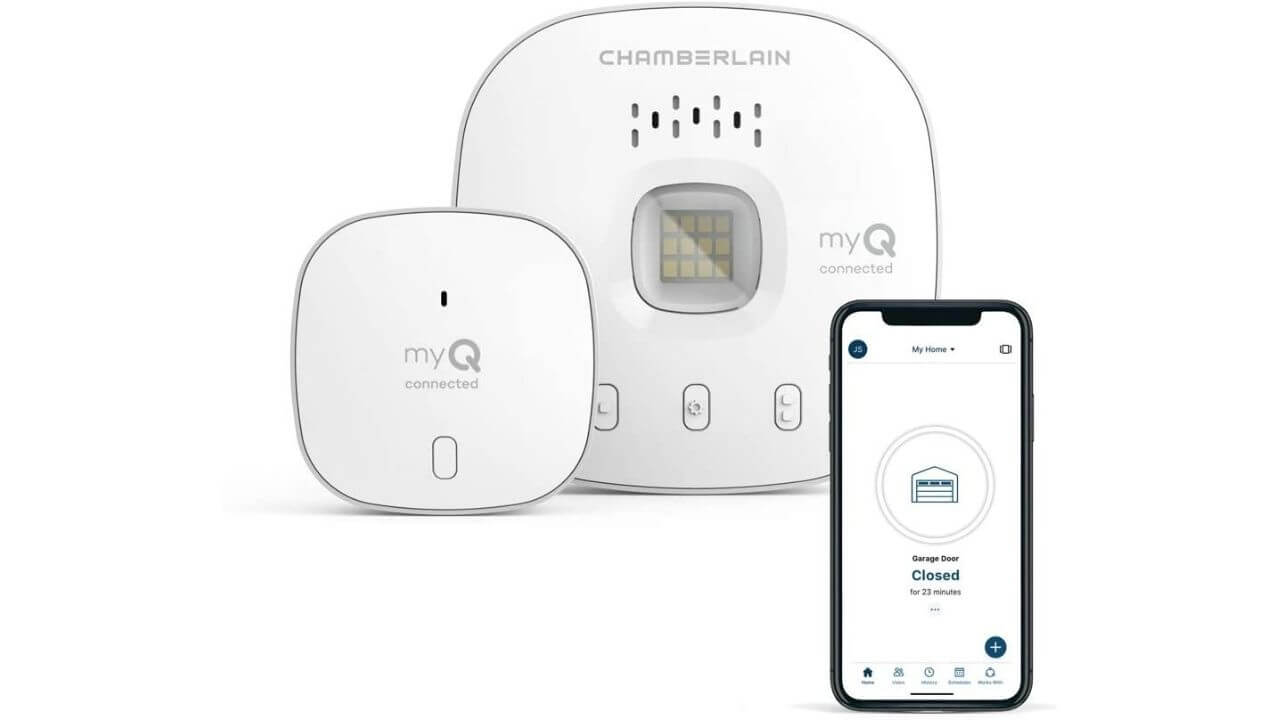 Do you often forget to shut your garage when you leave your house? Do you need to remotely open your garage door? If so, the myQ Chamberlain smart garage control comes to your rescue. With the help of this smart garage device and myQ app, you can now give access to anyone when they are waiting to take out your car on a drive, while you are out with the key. You can also schedule the garage closure time by creating a schedule on the myQ app for Android and iOS devices. This Wi-Fi hub from Chamberlain is compatible with major branded garage openers with safety sensors (manufactured after 1993). Besides Wi-Fi, you can always use this smart home device upgrade using Bluetooth. The app also provides real-time garage opening and closing notifications.
4. iRobot Roomba 694 Robot Vacuum
Are you looking for a smart home device that keeps your home neat and clean? We think the iRobot 694 is the best pick for you. It is an entry-level smart home upgrade device that is quite handy for small homes and apartments. This smart vacuum cleaner can be controlled via voice assistants like Amazon Alexa, Google Assistant, and the iRobot Genius App. Talking of cleaning, you'll find a three-stage cleaning system that is meant to lift the dirt and debris from carpets and floors. Whereas, the Edge-Sweeping feature allows this smart cleaning accessory to clean the hard-to-reach corners behind the bed, or couch. The best part of having this smart home device upgrade is that it itself learns from your cleaning habit and allows scheduling the cleaning sessions just by your voice command. In addition, this smart robot for small apartments also suggests extra cleaning when the pollen count is high at your place. FYI, an increased pollen count can cause a number of allergic reactions in people with allergic disorders. Plus, if you are a pet lover, this vacuum cleaner for dog shedding comes to your rescue by cleaning all the damaged fur of your beloved pet from the carpet or couch. What's more? 
This smart room cleaner also comes with dual multi-surface brushes that adjust with all types of floors ensuring that the room is thoroughly cleaned. You'll also love the Cliff Detect feature which prevents this smart robot vacuum from falling off downstairs while cleaning. All thanks to the app, you can always schedule the cleaning session so that your home stays clean even when you're out. We also loved the fact that this smart home cleaner recharges itself by docking itself to the power outlet after 90 minutes of usage. That said, it lacks extra features like a self-emptying cleaning bin which is available on top-end models like the Roomba i7+ robot vacuum. We have talked about the same below, so make sure to check it out. 
All in all, it is one of the best smart cleaning devices under $200 that let anyone clean their small or mid-size apartment loaded with furniture.
If you don't mind spending more money on an even better robot vacuum for a smart home, the Roomba i7+ is the perfect pick for you. It is quieter and even smarter than Robot 694 and cleans both carpets and hard floors efficiently. But the coolest thing about the i7+ robot vacuum is that it automatically empties its bin into a clean base while you enjoy your hot coffee in the TV room. In short, if you are looking for a smart vacuum cleaner for a big house, this high-end smart cleaner is worth checking out. 
Also read: Best Apps for Android TV
Best Smart Home Speakers
1. Google Nest Mini Home Speaker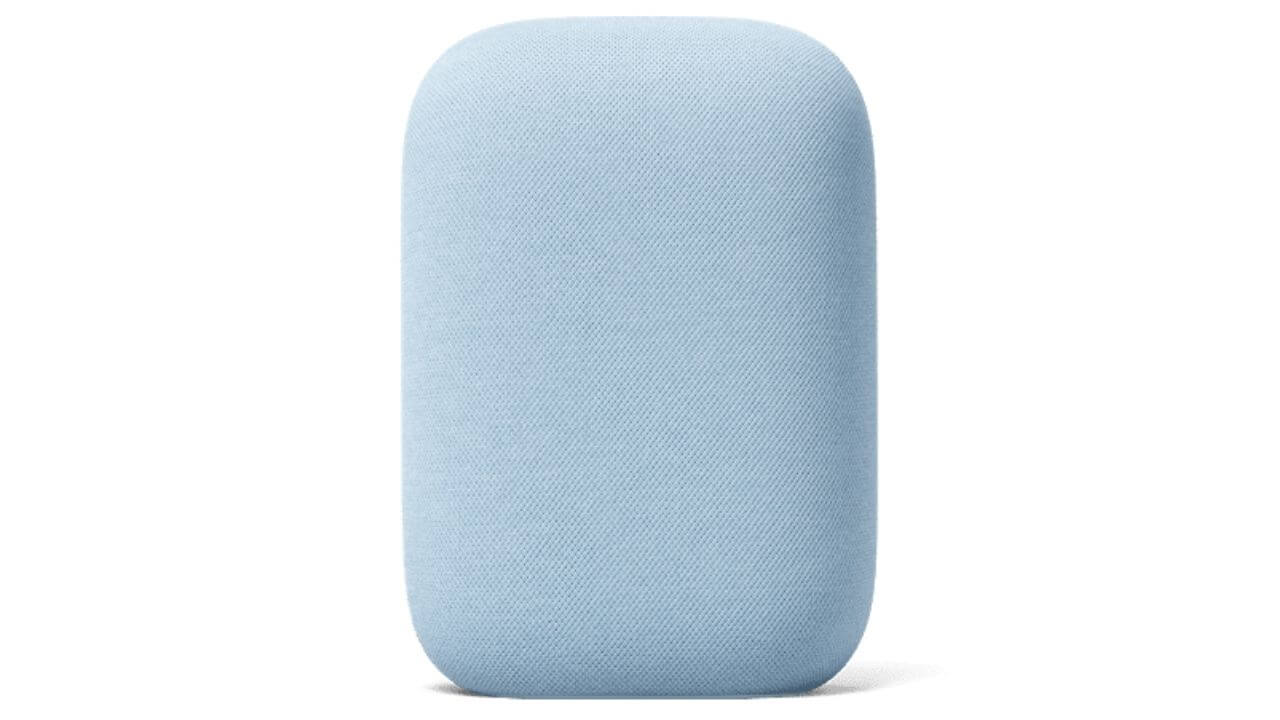 The Google Nest Audio is a speaker with built-in Google Assistant capabilities. It features a solid plastic build that sits on a rubber-like base which makes it handy to place it on a working area, workshop desk or kitchen shelf to listen to your favorite music while you're cooking a delicious meal for your family. The minimalist and portable design allows you to carry it anywhere you'd like. But, please ensure to keep it away from water, it's not water-resistant. Besides, this smart speaker for home comes with amazing features including touch-sensitive controls which allows the adjusting volume of your favorite song. Plus, you can play/pause your music, while you can answer and end calls right from the Google smart home speaker. What's more? You can use the mute microphone feature when you're not using voice control. All in all, it is one of the best official smart home speakers that is loved by anyone who likes to expand their Google Home ecosystem of smart devices. Did we mention that it can be controlled via the Google Home app?
2. HomePod 2nd Generation
Next on our list of best smart device upgrades for 2023 is the latest Apple HomePod 2nd Generation. Even though the design looks identical to the first generation from 2018, Apple introduced some major upgrades with the 2nd Gen HomePod. This smart home device flaunts a cylindrical design and is wrapped with a "100%" recycled woven finish grill. It comes in almost the same size as the previous HomePod from Apple. Therefore, it won't take much space if you plan to place it by the bookshelves, coffee table, or work desk. This smart home speaker from Apple comes with capacitive buttons and a single 4-inch woofer which is paired with five tweeters and microphones. To remind you, there were 7 tweeters and microphones in the first-generation HomePod speaker. That said, Apple claims that the new model of this smart home gadget will offer better and clearer sound than the predecessor.  
Besides, this smart speaker for home comes with the new A7 chipset which we already saw in the Apple Watch Series 7. As per the company, this chip is likely to improve the beamforming and Spatial Audio features. On top of that, this smart home device works with Siri and adapts to the surroundings to deliver optimized audio for the best experience. That's not all, you can also create a stereo setup by pairing two HomePods for a theater-like experience. Sadly, the 2nd Gen HomePod doesn't pair with the original HomePod or HomePod Mini. We also love that this smart home speaker is compatible with Matter standards. It is one of the most impressive features which ensures that you'll be able to use this smart home device with cross-brand smart tech gadgets flawlessly. What's more? The other features include built-in temperature and humidity sensors. Moreover, this smart speaker can also alert you when it detects smoke and any noises if someone breaks into your house. 
In short, it is one of the reliable and latest smart home devices from Apple that is a must-have for anyone with a tech-laden home.
Must read: Apple launches new full-size HomePod with Spatial Audio, Matter support, enhanced Siri, & more
2. Echo Dot (4th Gen) smart speaker with clock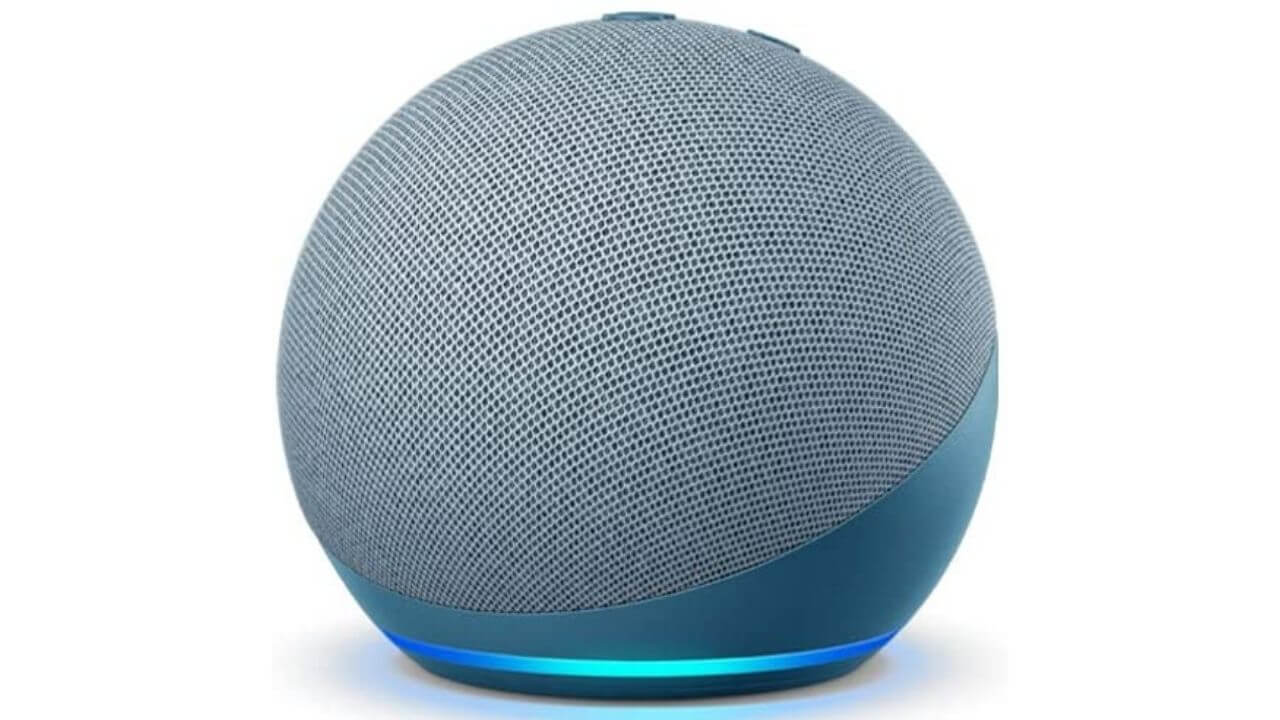 The Amazon Echo Dot is one of the most popular and iconic smart home speakers. While the original Echo Dot looked like a soda can, the latest Eco Diot 4th Gen comes in a spherical form factor. You are required to plug in and pair up these smart home speakers for living rooms using the Alexa app, which is available for both Android and iOS devices. This smart compact home speaker allows streaming your favorite music songs from Amazon Music,
Apple Music, Spotify, SiriusXM, and many more platforms. If you want to make your kids happy, the Echo Dot will do that for you too, it can tell rhymes, jokes, poems, and whatnot. Not only does it help you with entertainment needs but with the voice control feature, the Echo Dot can do a lot of things like turning on lights, adjusting thermostats, and locking doors using compatible devices. You can also connect with your friends and family who have access to the Alexa app or an Echo device. Thanks to a dedicated button to turn off the mic, your privacy remains intact within the four walls of your smart home. In short, it is one of the best smart home speakers for music which features a digital clock that shines through the fabric. Moreover, Amazon's Alexa ecosystem is one the most prevalent smart devices ecosystems in the world. 
Also read: Best Soundbars for Bedrooms
3. Apple Homepod Mini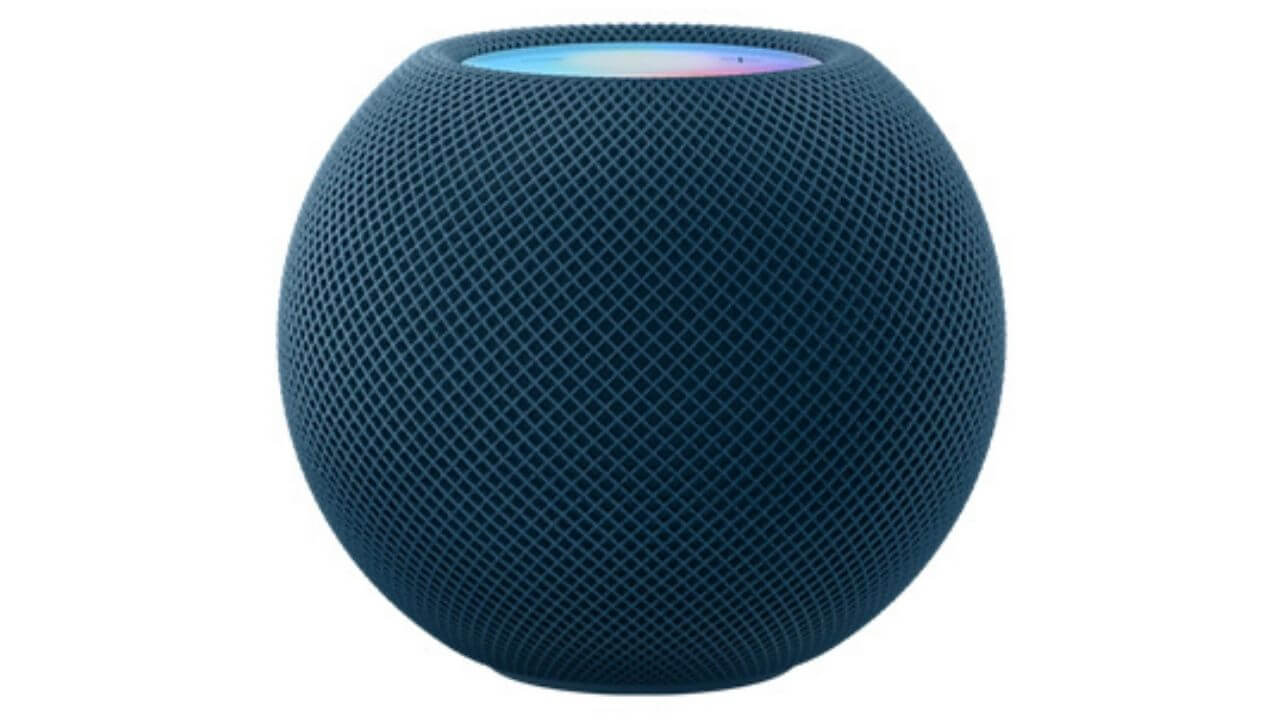 If you are looking for a smart home speaker that works with Siri across the Apple ecosystem, the Apple Homepod Mini is just the right choice for you all. This smart home accessory for iOS users comes with an orb-shaped design with a flat bottom preventing it from becoming a perfect sphere. Whereas, the outer panel is wrapped with a fabric grille giving it an impressive look. This smart home upgrade for iPhone & iPad users has a single full-range, down-firing driver and dual passive radiators to enhance bass response so that you can enjoy songs from various genres such as Dubstep, Hip Hop, etc. Even though it's portable in design, it requires a power source to be able to work. You can use a USB-C cable to power it while working on a
MacBook, or simply use the power adapter included in the box. The top panel on these smart home speakers glows white when you are playing something on it, whereas it flaunts foggy rainbow colors when Siri is listening to your voice commands. Similar to other smart home speakers for bedrooms, the Apple Homepod Mini also allows you to change, pause, or play your favorite music using different tap options. You can easily command this smart iPhone speaker by triggering the 'Hey Siri' command, or via the Apple Home app. You can also pair two Homepod Mini speakers to use as a stereo speaker set with your Apple TV as a replacement for the soundbar. 
Some honorary mentions of the best smart home speakers to buy in 2023
Best Smart Home Security Upgrades
1. Furbo full HD Wi-Fi Pet Camera with two-way audio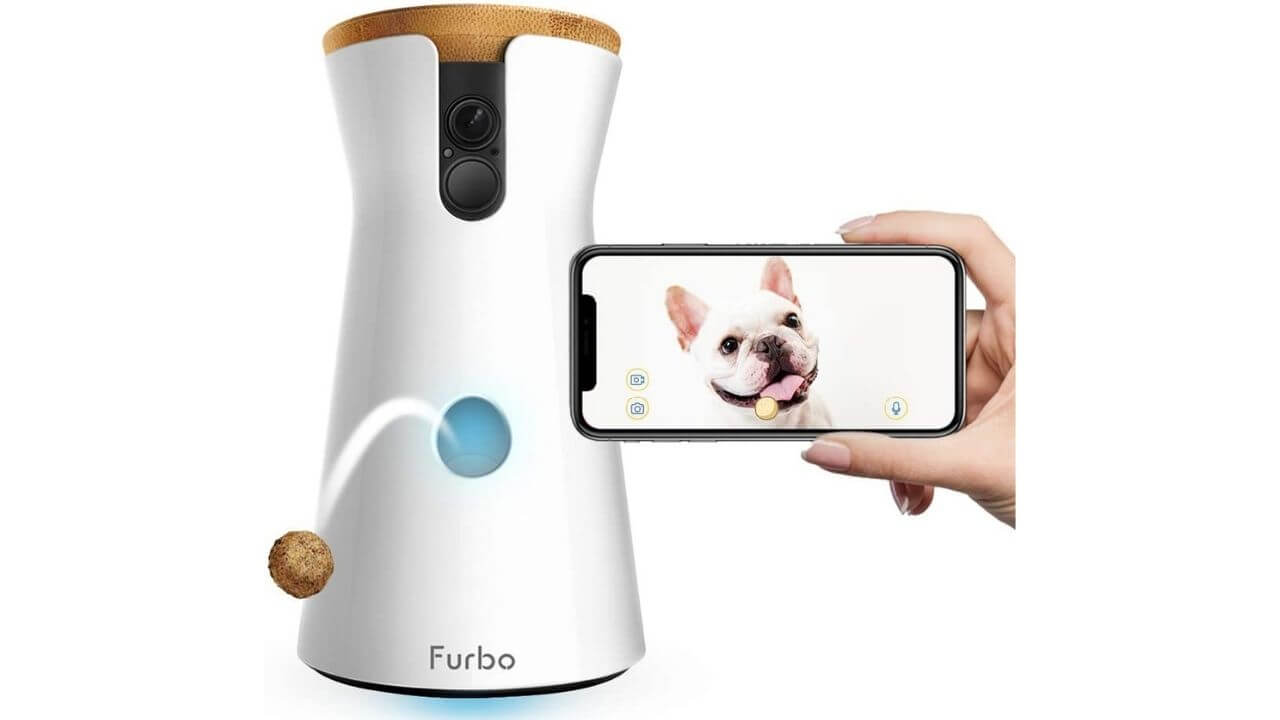 Owning a pet is like having a home security system, if someone is out there on your door they will always keep you aware. But there are times when you're not at home and need someone to take care of your furry friend. This is where this smart home accessory comes in. It is an absolute must have gift for people with pets. The Furbo Pet Camera is the perfect choice for people looking for a dog nanny and a reliable indoor home security system. With the Furbo Pet camera, you will have an extra line of defense as it helps to keep an eye on your pet from wherever you are. The Furbo Wi-Fi Pet Camera offers a clear 1080p video even in the pitch park environment, plus it offers barking alerts and two-way audio to ensure you can talk to your puppy to keep an eye on them. Besides, this smart home device lets
you toss treats to your pup when you're out and about. If price is a factor for you, it surely is on the expensive side but the security and reliability features it offers are all worth it. Moreover, it was also featured on The Ellen Show.
2. Wyze Night Vision Indoor/Outdoor Camera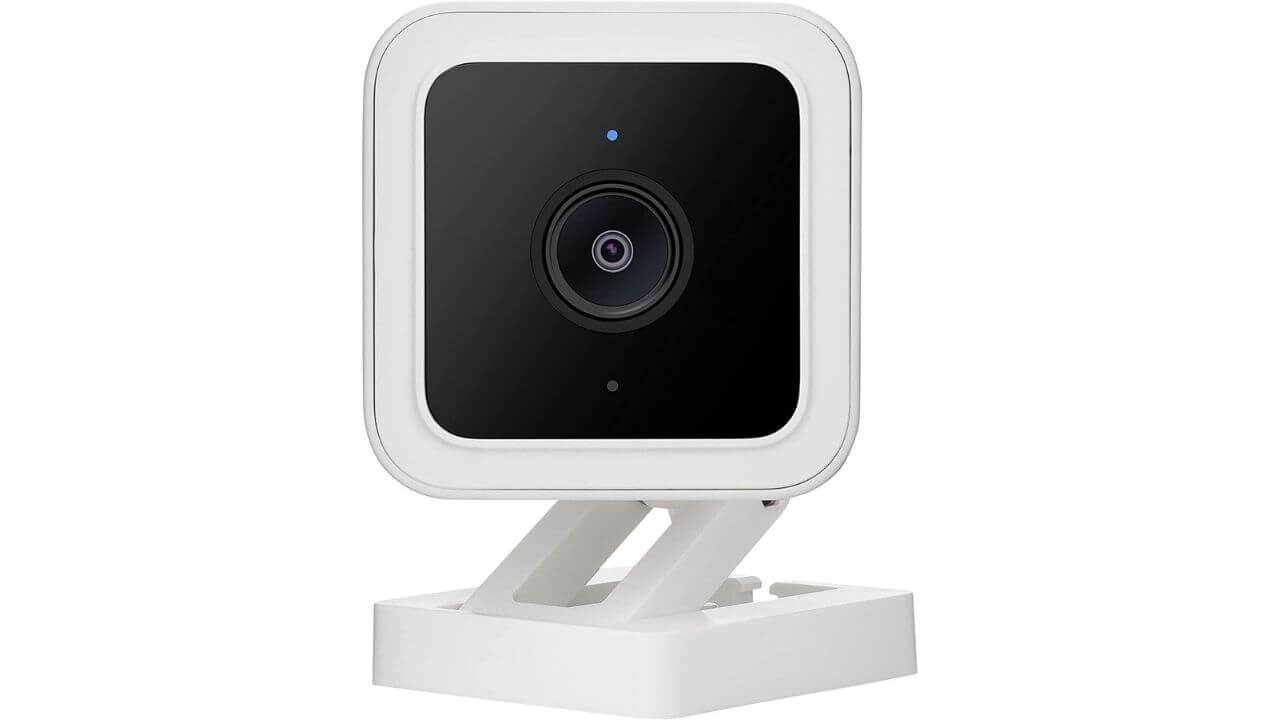 Wyze has been one of the popular brands that offer the best smart home security solutions at a very high budget-friendly price as compared to the expensive brands such as Arlo, Google Nest, etc. From the range of various home security cameras, the Wyze Cam v3 is one of the premium products you could get. This smart security camera setup features an excellent night vision and a design that works inside and outside your home. Thanks to the Starlight sensors, this security camera for your smart home can take night-vision shots even in the darkest environment. Besides, it comes with an IP65 rating to ensure it works flawlessly even in the harshest environment when installed outdoors. This smart home accessory also comes with a motion sensor to detect any movement inside your premise or your house, especially when you are not there. You can ensure continuous recording by inserting an SD card of up to 32 GB to keep your house safe from any unauthorized access. Did we mention this smart security camera for your home can be controlled via Amazon Alexa and Google Assistant using your voice? 
Also read: Best OLED TVs for PS5
3. Google Nest Doorbell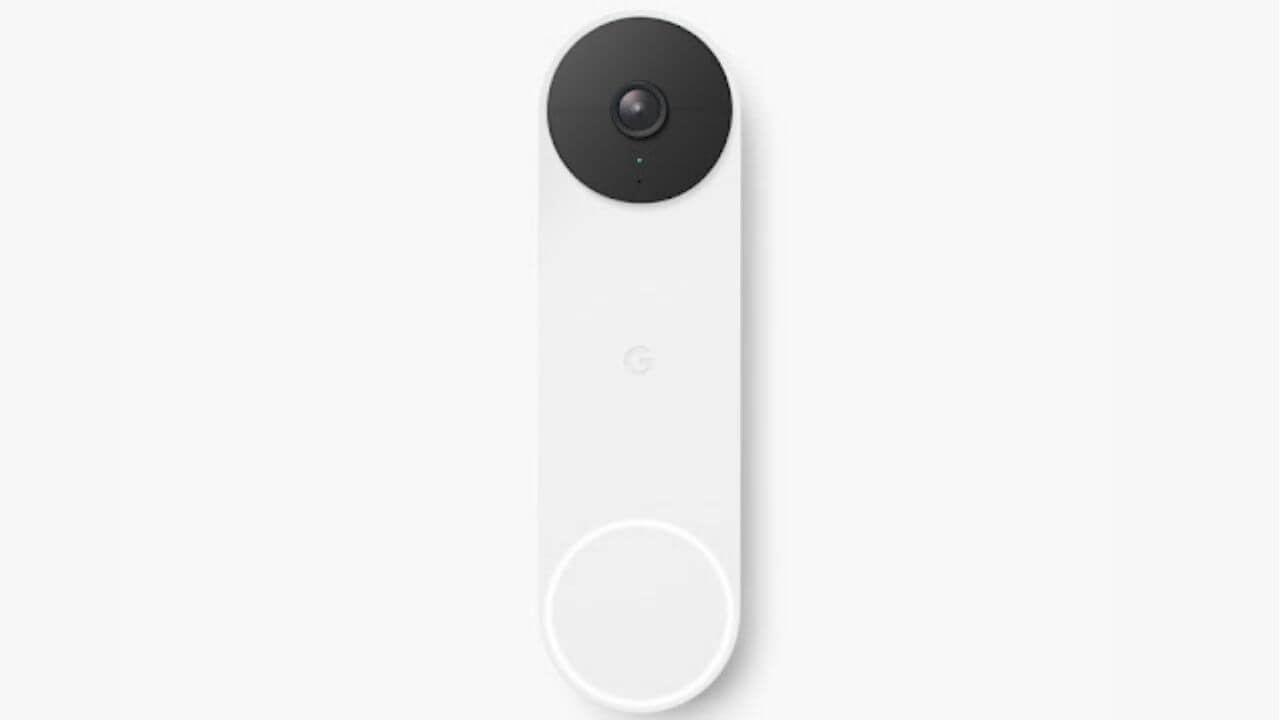 If you want to keep an eye on your door, the best smart home device would be Google Nest Hello. It is a beautifully designed and simple-looking doorbell combined with an HD recording camera that monitors your home against any possible intruders. The Nest Doorbell records clear footage when the doorbell is pressed or any motion is detected outside your door. It even identifies animals and recognizes faces when packages are left or collected from your doorsteps. Thanks to the in-built rechargeable battery, the Nest Doorbell for smart home leaves behind the worry of wire management. This smart home security camera cum doorbell can be fully recharged in approximately 5 hours with a 7.5W charger (not included in the pack). Moreover, it is available in four colour options which you can choose to complement the interior and exterior of your smart home. 
Make sure to check out these alternatives:
4. August Wi-Fi (4th Generation) Smart Lock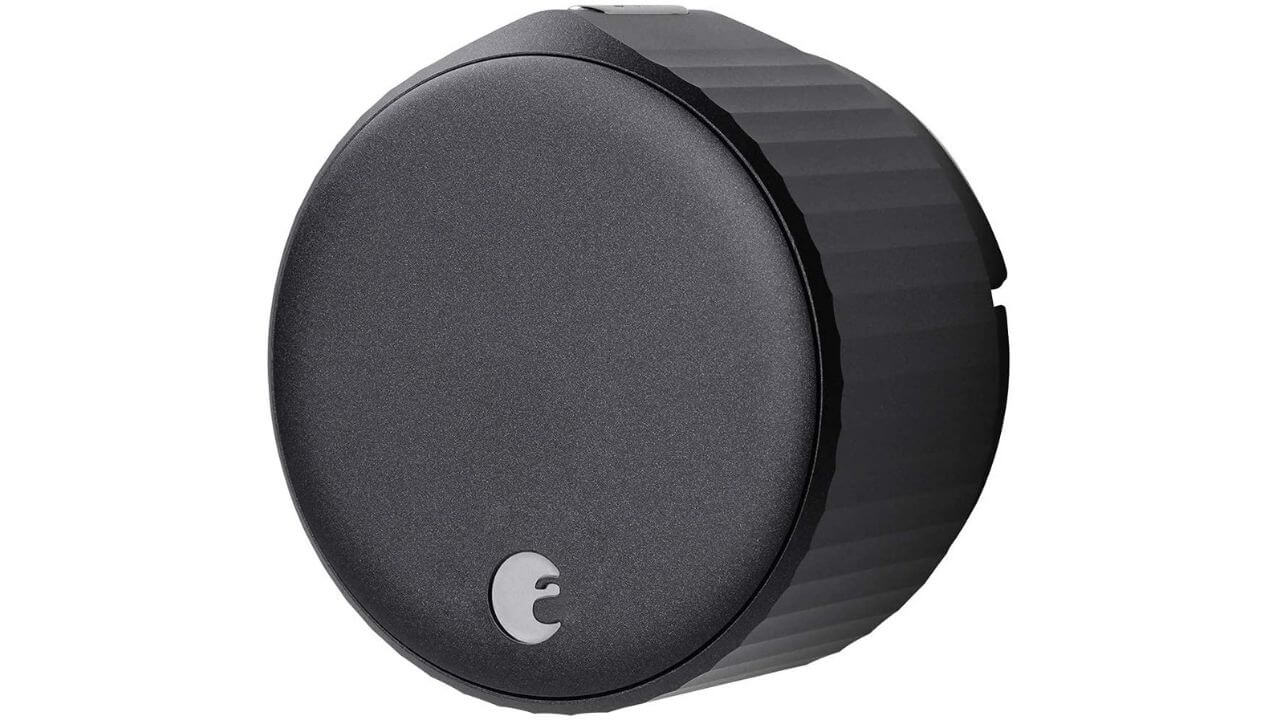 If you are looking to smartly unlock your door, get yourself the August Wi-Fi Smart Lock. It is one of the easier to install smart door locks which can be installed within minutes without much hassle. You can simply install this smart lock for home on the inside of your door over your existing deadbolt. As you know that the August Wi-Fi Smart Lock has built-in Wi-Fi so that you don't require a bridge to connect it. The auto-lock feature ensures that your front door is automatically locked if it is closed for up to any selected minutes. Please ensure to carry your smartphone or smartwatch every time, else you might lock yourself out if you forget your device inside. On top of that, the August Smart Lock comes with "geo-fencing" (auto-sensing) which automatically unlocks the door when it detects you're home. Further, it can be controlled via the August app on iOS as well as Android smartphones. Whereas, Wi-Fi allows controlling it via voice control using Google Assistant, Amazon Alexa, Apple Homekit, and more. All in all, it is one of the best smart home security devices that is available in two beautiful colors.
Also read: Best Optical Audio Cable for Soundbars, Home Theatre & Gaming
Best Smart Kitchen Accessories
1. Govee Wi-Fi Water Sensor (Must-have)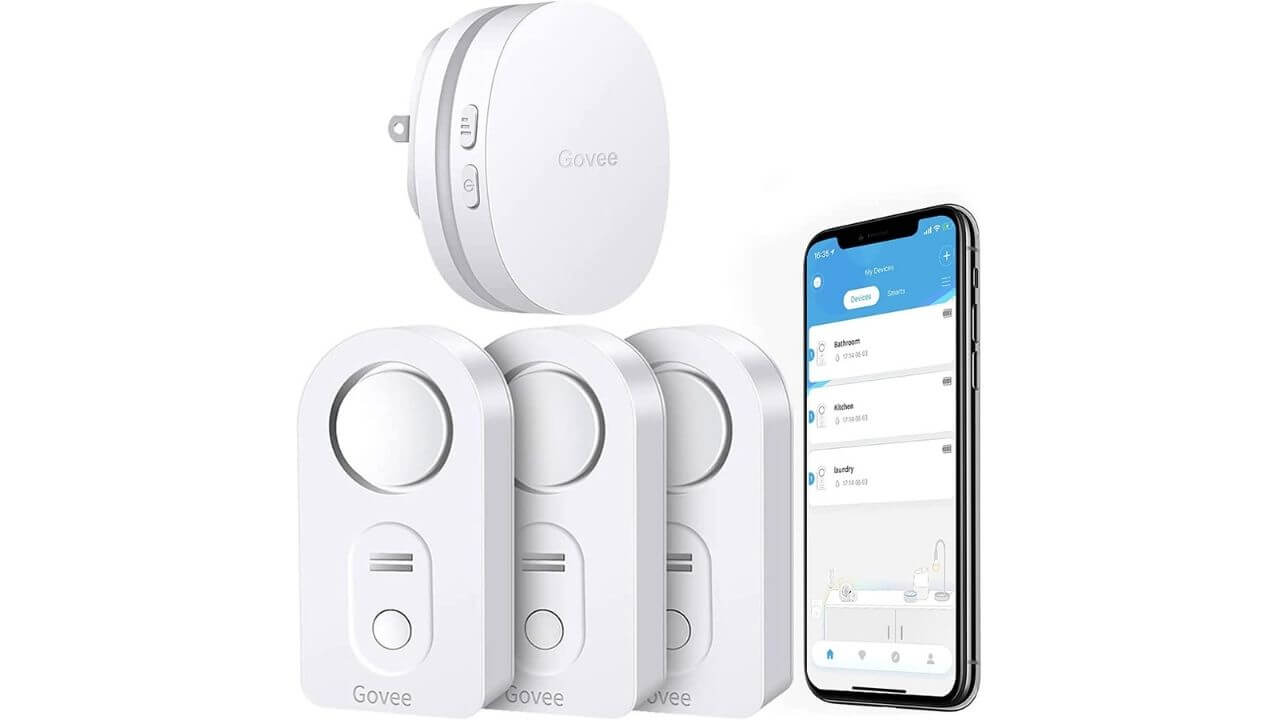 If you are looking for a smart home solution to detect any spillage, drip, or leakage of water in your home, the Govee Wi-Fi water sensor is a perfect option for you. The Govee water sensor works as an alarm system to alert water leaks and burst pipes as soon as they occur, even when you're not at your home. You will be notified via a phone alert or even an email. This way, you can react quickly before things get out of your hand. Besides, the Govee water sensor works without Wi-Fi as well and delivers a loud alert when a leak is detected, whereas the mute function helps you stop the loud alarm when you've found the leak. Best of all, these smart kitchen gadgets come with an IP66 rating which means you can easily place them in areas where there is high moisture without any worry. 
2. Cuisinart PerfecTemp 14-Cup Programmable Coffeemaker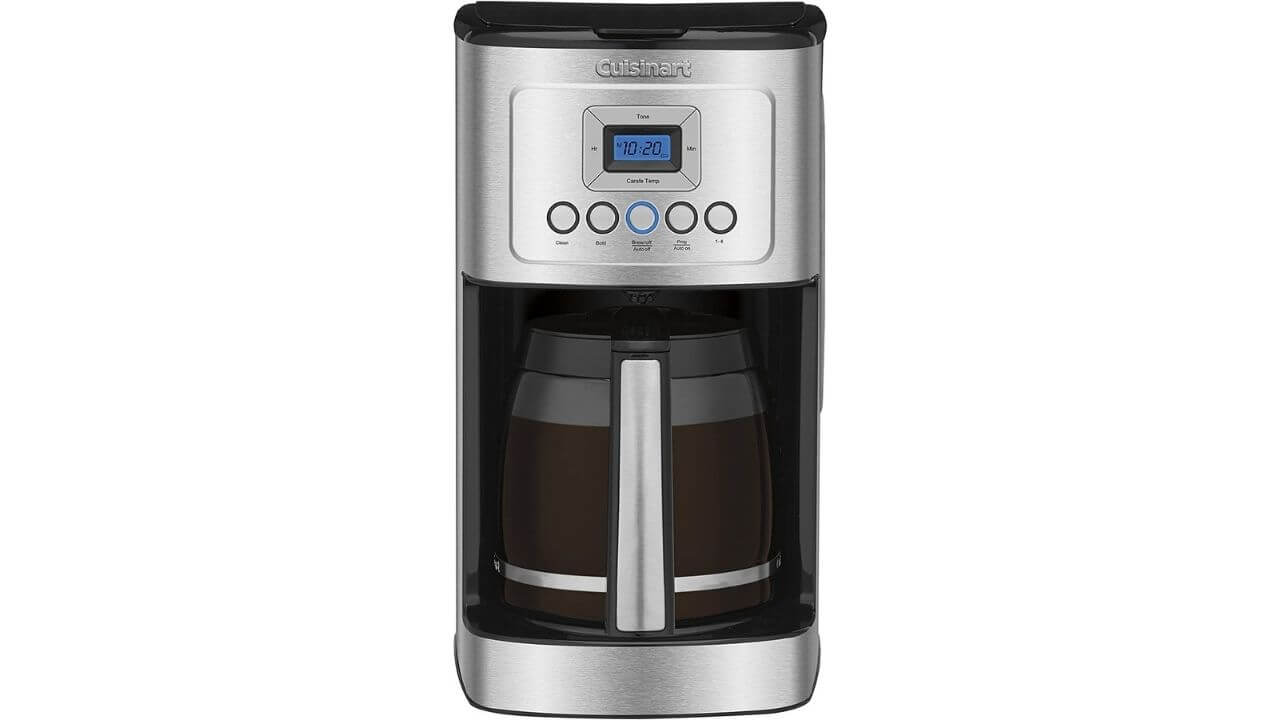 For anyone who is a coffee lover, the Cuisinart coffeemaker is a must-have smart kitchen accessory. This smart coffeemaker uses exclusive technology to ensure your coffee temperature is perfect without sacrificing quality and flavor. This coffee maker for your smart kitchen comes with 24-hour programmability with 1-4 cup settings. Besides, it is lashed with a massive 70 oz water reservoir, bold Brew for stronger coffee, and auto-off functionality. It also has an easy-to-view water window which helps you plan refillings, whereas the Brew Pause feature ensures that you can enjoy your cup of coffee before the brewing cycle is completed. All in all, it is one of the best smart coffee makers with a reusable gold-tone coffee filter and built-in charcoal water filter that a coffee must-have in their smart homes. Plus, it is available for under $100. Therefore, it is also one of the top tech gifts you can buy right now.
Also read: Best Tech Gifts under $500
3. LG 668L InstaView Door-in-Door Wi-Fi Refrigerator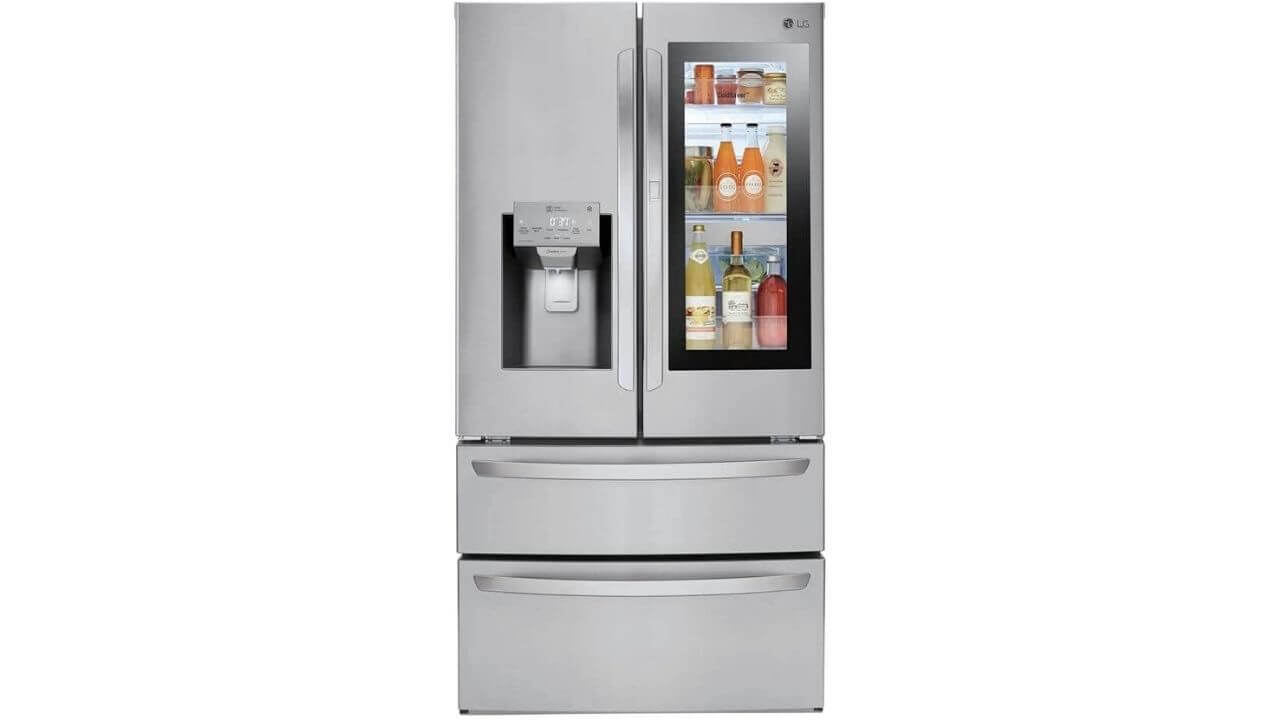 A smart home is incomplete without a smart refrigerator. So, if you are looking for a smart Wi-Fi refrigerator, we recommend checking out the LG Instaview Door-in-Door fridge. This smart kitchen appliance has a sleek mirrored glass panel that illuminates with two quick knocks which give you a clear view of the compartment without opening the door while ensuring food and veggies are fresh for a long time. Thanks to the auto-defrost function, this LG Instaview smart refrigerator prevents ice-build inside the freezer section. Besides, the massive 668-liter storage capacity is adequate for a family of 5  or more members. What's more? This smart refrigerator with Wi-Fi comes with 5-step anti-bacterial deodorization functionality that removes bacteria up to 99.99% minimizing bad odor. On top of that, the multi-cooling air venting system ensures proper cooling in each corner. If you have a surprise guest in your house, the express freezing feature gives you the privilege of serving chilled beverages in no time. In short, it is one of the best Wi-Fi refrigerators
for the kitchen that will elevate the beauty of your smart home ensuring that you serve fresh foods and beverages to your loved ones daily. Moreover, this Wi-Fi compatible smart home device works with LG ThinkQ app which allows users to control and monitor their smart home appliances via smartphones.
4. AVEINE Wine Aerator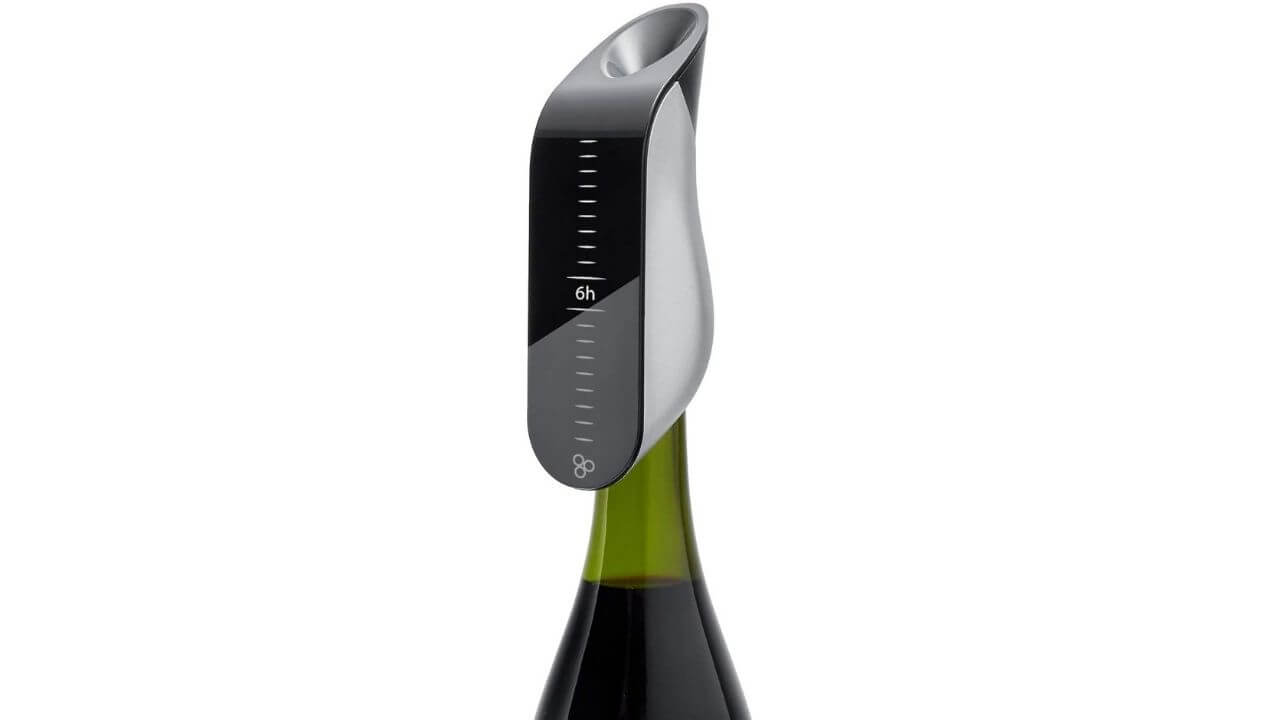 If you are looking for a smart wine aerator and dispenser, the AVEINE Smart Aerator is the perfect smart home device that lets you enjoy a glass of perfectly aerated wine without waiting. Talking about the design, the AVEINE wine aerator features a sleek brushed aluminum with an easy-to-use touchscreen for adjusting the aeration level for your specific wine and pour. On top of that, the free companion mobile app can be used to scan your wine label and calibrate the aerator right from the comfort of your hand. That's not all, the app gives you the best insights about details of your tastings such as wine and food that can be paired side-by-side. In short, it is one of the best smart wine aerators you'd find in the market, however, it's comes at a respectably high price tag. 
Also read: Best Accessories for Apple TV 4K
5. Echo Show 10 (3rd Gen)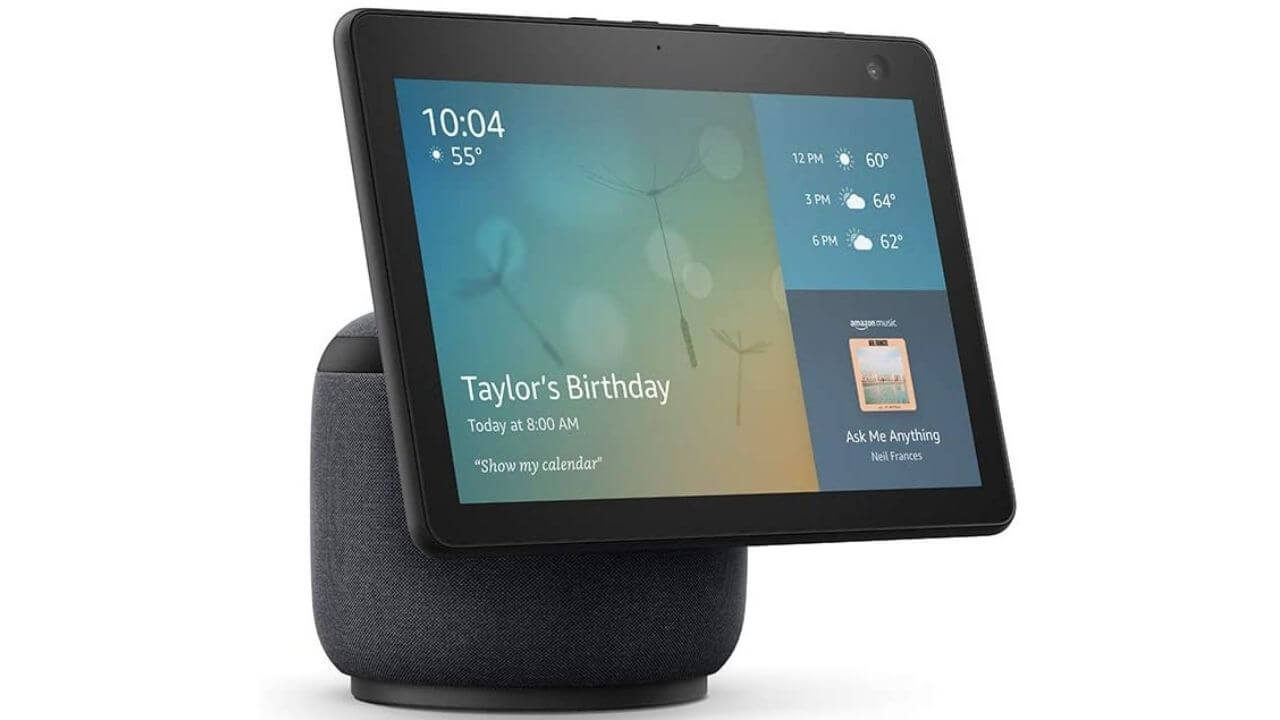 The Echo Show 10 (3rd Gen) comes in a completely new design as compared to the boxy looks from the previous generations making it modern and highly functional. The Echo Show 3rd Gen comes with a clear and bright 10.1-inch screen with a resolution of 1280 x 800 pixels with a large speaker attached. The screen of the Echo Dot 3rd Gen connects to the speaker via a ring allowing the screen to rotate. For a long time, it has been one of the best smart kitchen gadgets. As far as performance is concerned, the Echo Show 10 3rd Gen is powered by a MediaTek 8183 main processor plus a second processor with Amazon AZ1 Neural Edge. In short, it offers plenty of performance for your daily tasks. As far as the camera is concerned, the new generation Echo Dot features a 13MP camera for clear video calls & pictures. What's more? It is available in Charcoal or Glacier White which can complement the sleek and stylish granite or quartz countertop fitting perfectly with the kitchen setup. 
That's all for now in this roundup of the best smart home device upgrades that you'd need in 2023. We will be updating this roundup soon, so please make sure you have bookmarked our blog. If your friends are looking for smart devices, we urge you to share this article with them.