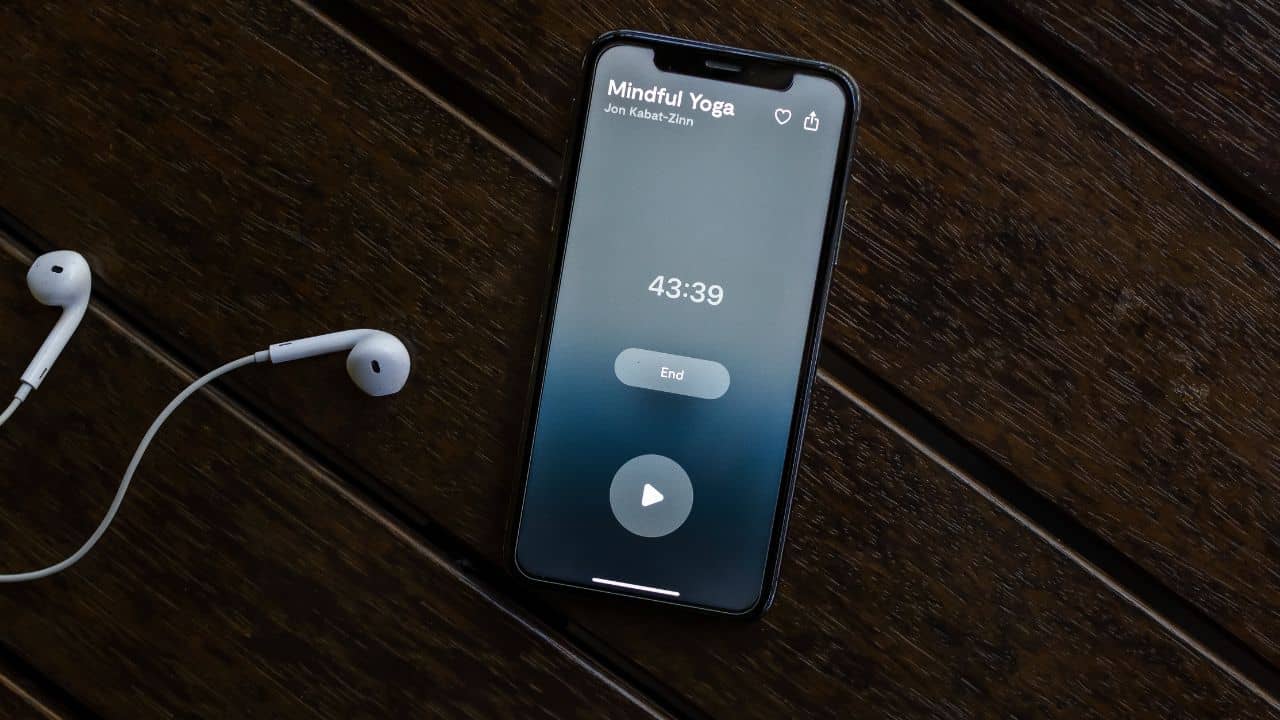 Anxiety is something that we all have experienced in our lives in some stressful moments. Meditation is scientifically proven beneficial in reducing anxiety but it seems like a daunting task at first. There are plenty of benefits of meditation including anxiety reduction and increased focus, stress relief, and self-awareness. All the apps mentioned below offer different tools which help you access different services at your convenience. As a result, it helps develop a habit of meditation which leads to anxiety reduction. You can find the best meditation apps for reducing anxiety in the list below. Please note that the following meditation apps are compatible with Android and iOS devices
We've curated this list of  15best meditation apps for anxiety that will help you prioritize self-care and make meditation easy. The real benefit of meditation apps is that they are backed and created by professionals and meditation experts. Not only that, on most apps you have a community of different people like you which will help you overcome anxiety and makes you confident. From beginners to skilled meditators, these apps can benefit everyone. These meditation apps for Android offer a different range of options like a 30-minute guided meditation, short sessions for the workplace, calming noises, sleep stories, motivating podcasts, etc. People with anxiety and stress will benefit from these apps by incorporating them into their daily life and eventually making them a habit. These anxiety-reducing meditation apps for iPhone come with free versions as well as paid subscriptions to suit the needs of every user. 
Try one of these meditation apps for anxiety to get started with your practice today!
1. Headspace
Headspace aims to make meditation very simple and approachable for beginners. The free sessions are available on the app to teach the user how to meditate and ease them into practice. Whether you're looking to unwind, need help falling asleep, reducing anxiety, or want a productivity boost at work. People who enjoy more physical activities will like the Move Mode, which consists of short workouts ranging from Yoga to light cardio.
The app features personalized plans based on your inputs, so you can start meditation from there. You can practice daily on a different topic with Everyday Headspace and Mindful Moments allow you a 3-minute mini-meditation. The standout "SOS" feature is designed for people who wake up at night and may struggle to get back to sleep. The workouts available on the app are led by Olympic athletes and offer immersive daily meditation sessions. Headspace offers dozens of features & modes with its in-app subscription. Furthermore, with over a million positive user reviews, we recommend this as the best app for meditation to reduce anxiety. 
Price: A 14-day free trial is available, after that it costs $13/ month and $70/year.
Platforms: Download from Apple Store and Play Store
2. Calm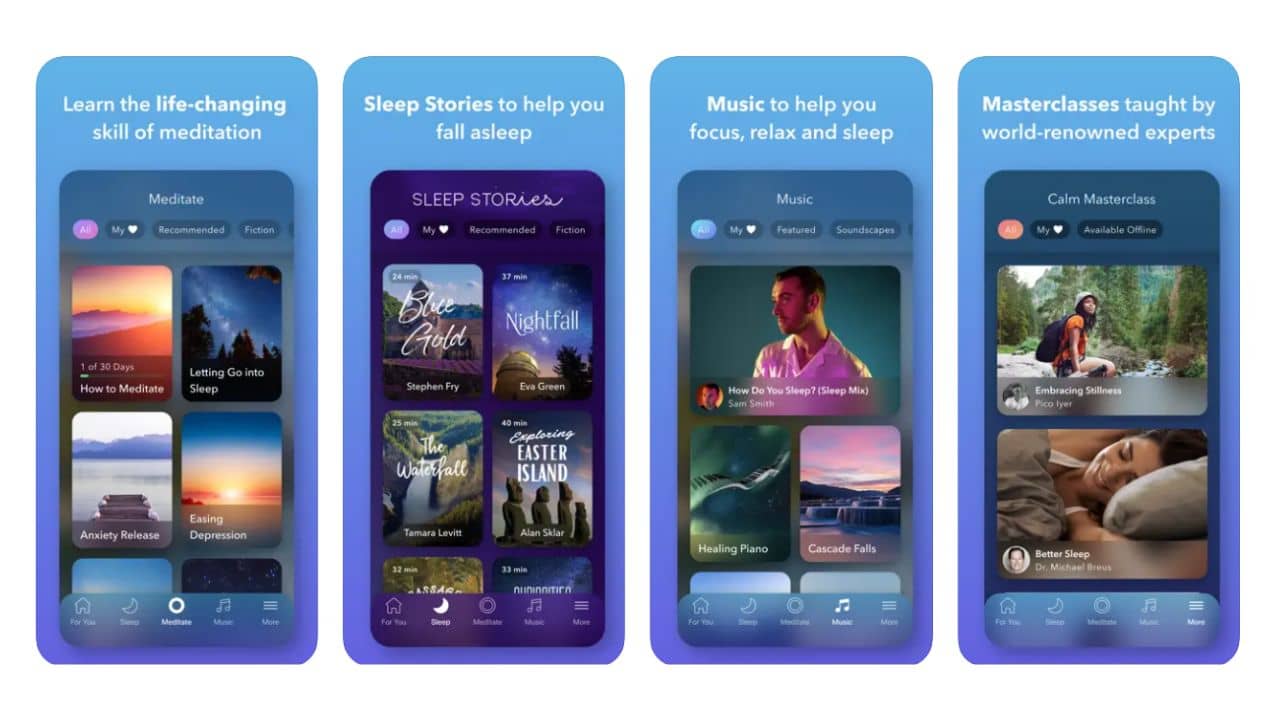 Calm as the name suggests features calming exercises and breathing techniques to help you relax. This meditation app is known for its hallmark nature sounds, music, and meditation retreat vibe that help reduce anxiety. The graphics in the Calm app are quite different from the cartoon illustrations on Headspace, they are more soothing and realistic. The Sleep Stories section features a mix of voice talents including some known actors like Harry Styles and meditates with Shawn Mendes or Ariana Grande's curated playlist to help you relax and sleep. You can also sync this meditation app with your Apple Watch for mindful walking meditation and calming exercises.
You can choose specific meditation according to what you're going through like anxiety, stress, a desire to break any bad habit, etc. Not only that there are walking meditation, body scans, and masterclasses from professionals. The Calm Body feature is 10-minute guided videos and teaches gentle stretching to help you unwind. The 2 to 35-minute guided sessions ranging from 3 to 25 minutes with topics from calming anxiety to gratitude, as well as sleep sounds, nature sounds, and breathing exercises, make it one of the top meditation apps for dealing with anxiety. With over 1.7 million positive user reviews, Calm is a must-have app for iPhone and Android users.
Price: The app offers a 7-day free trial. After that, it costs $14.99/month and $69.99/year. You can also take a lifetime subscription for $399.
Platforms: Download from  Apple Store and Play Store
Also read: Best AR Games for iPad and iPhone in 2022
3. Aura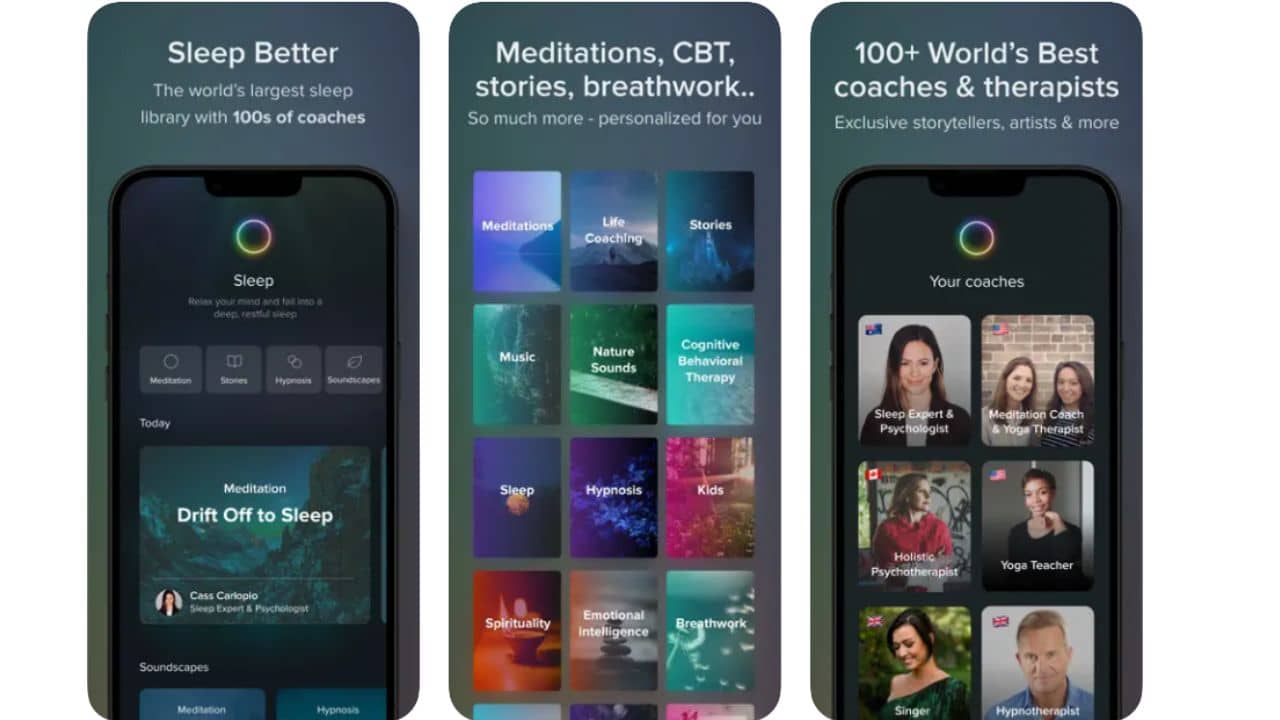 Aura with its beautiful soothing interface is great for busy people who can use it whenever they want to take a break. This app is designed in a way to quickly relax & meditate whether it's the jittering sensation before going on a call or panic during an aircraft takeoff, Aura is a good choice. This anxiety-busting meditation app features quick 3-minute sessions as well as 30- second anxiety busters based on your provided input. 
Aura allows you to meditate according to your mood and need. There are multiple categories to choose from sleep, stress, and anxiety to relationships and parenting. Not only can you track your meditation but your mood as well and the app continues to learn about your preferences as you spend time on it daily. You can schedule your breaks and reminders to breathe, relax and practice mindfulness any time of the day. This is very useful whether you're working from the office or your home office.
Price: Free Plan Available; $11.99 /month or $59.99/year. You can also take a lifetime subscription for $399.
Platforms:  Download from Apple Store and Play Store
4. Insight Timer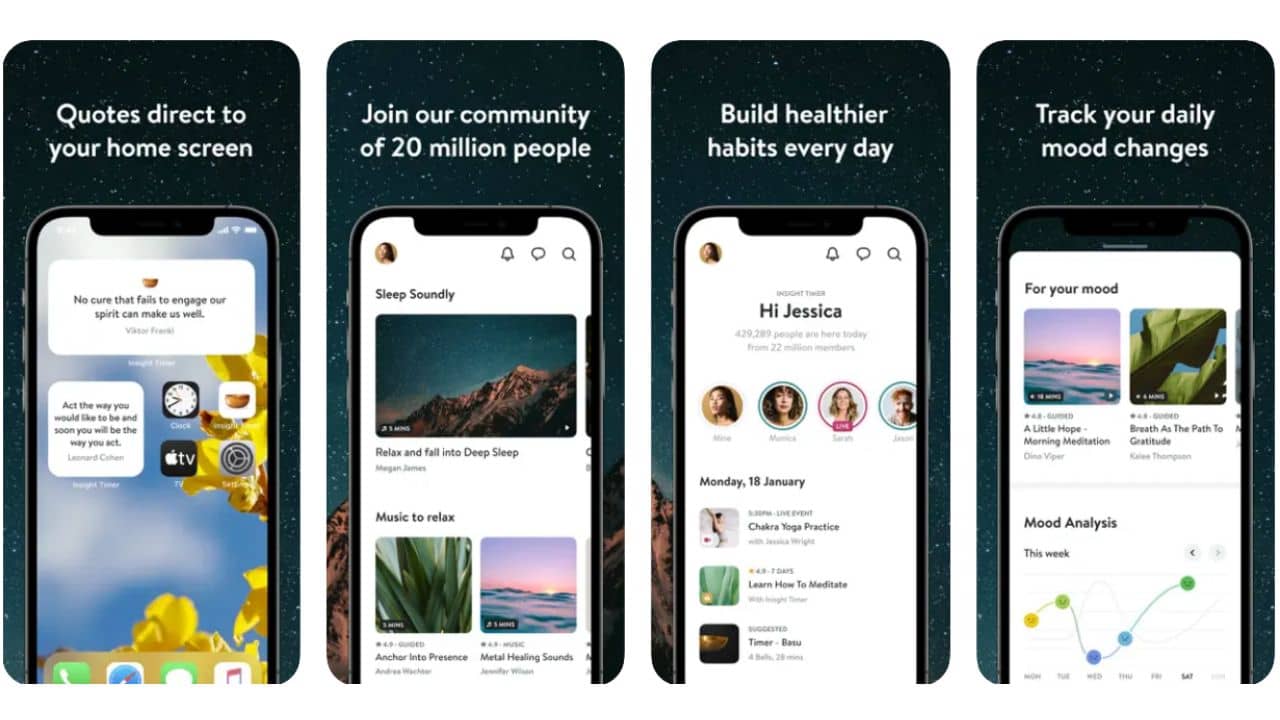 Insight Timer is the best free meditation app for anxiety and stress with over 100,000+ free pre-recorded guided meditation sessions. The app offers relaxing music tracks, a section for kids, and therapeutic pep talks from professional meditators. The stand-out feature of this iOS & Android meditation app is that it focuses on building a community of meditators. You can invite friends to participate in sessions, find out who else is meditating nearby and see how many people are meditating across the globe. It comes with an in-app progress tracker that enables you to chart your progress and earn badges.
The diverse features include structured and guided meditations, soundtracks, and connecting with others in the Insight Connect social community. You can also utilize the meditation timer for silent sessions and mindfulness. Insight Timer has hundreds of teachers across the globe and you can follow them and find your Meditation Guru. While this anxiety-busting meditation app offers plenty at no cost, some additional features are available with a subscription.
Price: Free app available for $9.99/month and $59.99/year.
Platforms: Download from Apple Store and Play Store
Also read: Must-have Apps for all Apple TV 4K owners
5. The Healthy Minds Program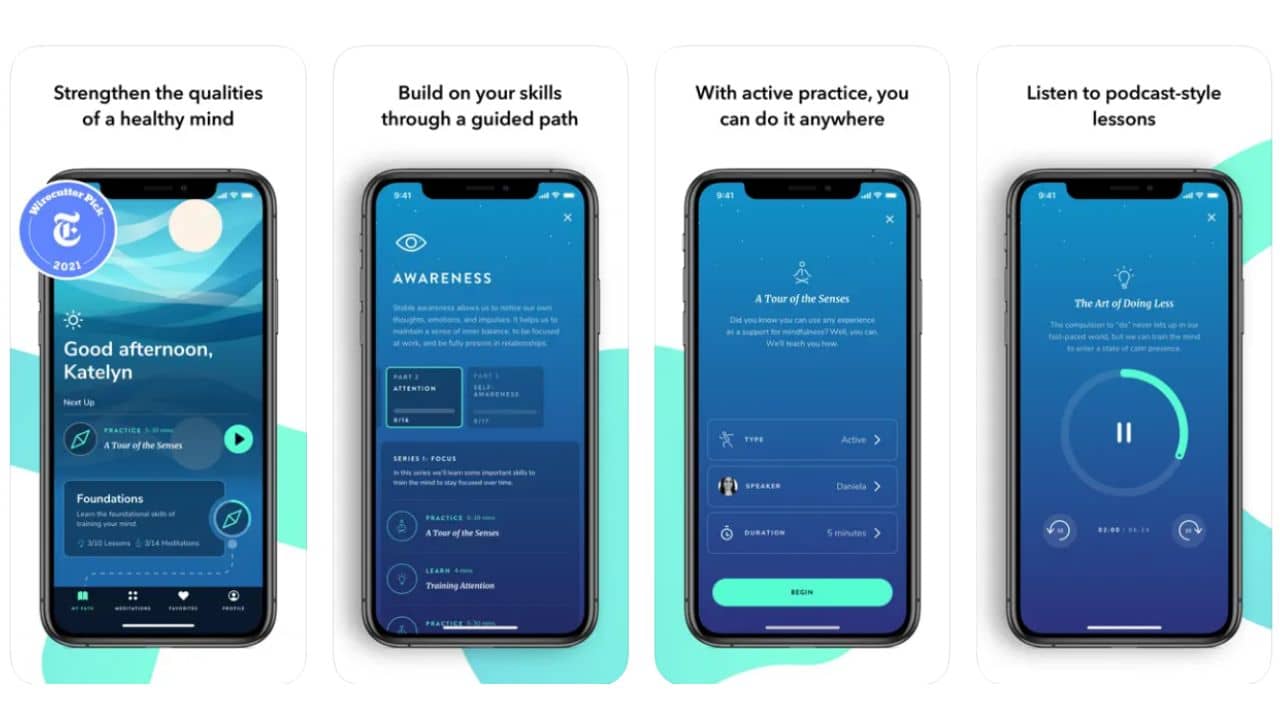 This app launched amidst the Covid-19 pandemic when everyone was dealing with mental health issues. This app was developed under Project Healthy Minds, a nonprofit that aims to guide and offer resources for people struggling to maintain positive mental health. The app's meditations and podcast-style lessons can help develop the skills you need to reduce anxiety. Because the app is developed by neuroscientists you will also get to learn how and why meditations work, which might be compelling for skeptics.
This iOS meditation app is very simple and easy to use, the step-by-step guide focuses on what it calls the 4 pillars of training your brain: connection, awareness, insight, and purpose. The Healthy Minds Program helps you to gain focus, reduce stress, maintain positive social connections, ease anxiety, and more through its science-backed teachings. This free meditation app can be synced with Apple Health to keep the track of your meditation across the Apple ecosystem of devices.
Price: Free
Platforms: Download from Apple Store and Play Store 
6. 10% Happier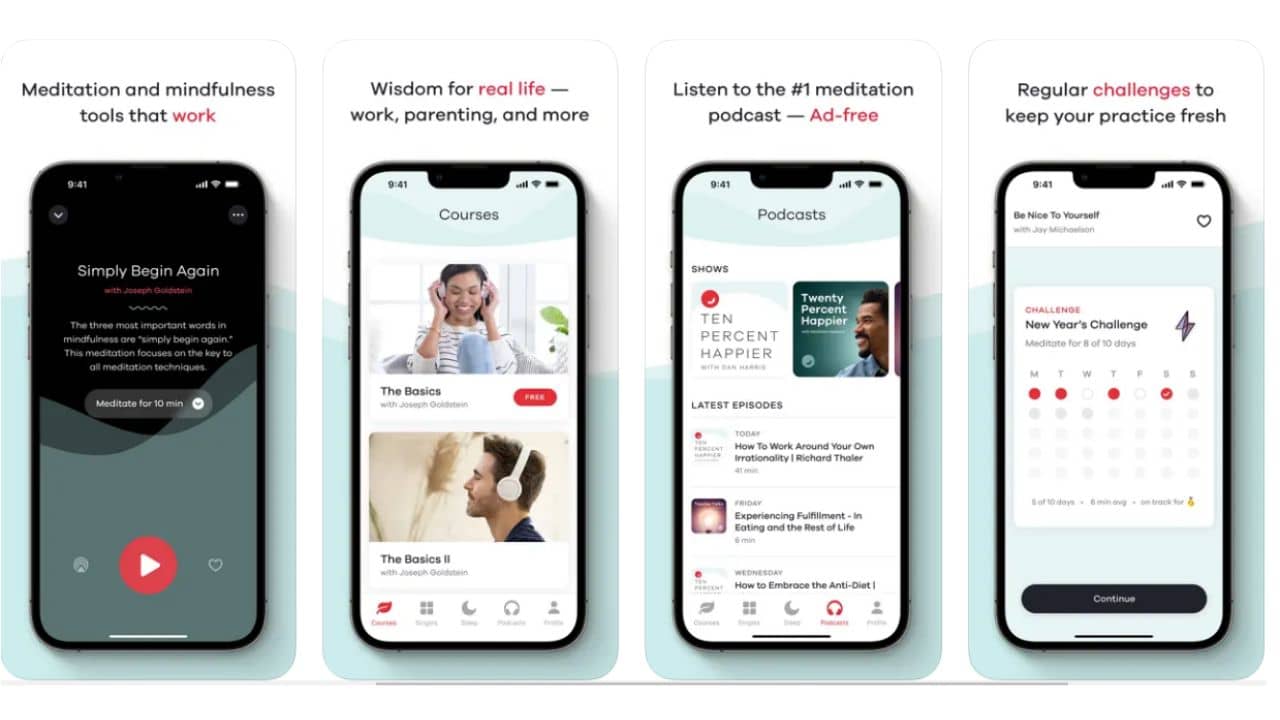 This anxiety-reducing app is based on ABC news anchor Dan Harris's popular book that will teach you how to do meditation in a fun way. If the thought of reducing anxiety also makes you anxious- this app is for you. The author of the book and founder of this app is also a skeptic turned believer. The app is more focused on visual learning but you can listen to the sessions on audio as well. The standout feature is the lineup of various expert teachers and practitioners who teach you throughout various sessions the art of meditation.
The chat feature allows you to talk to the teachers and discuss your problems personally. There is a library of more than 500 guided meditation videos. On top of that new content is updated daily. It also keeps track of your mindfulness practice with a fitness-tracker- style statistics page. If you're looking to vent to deal with your anxiety, then this meditation app is worth trying out.
Price: 7-day free trial, after that $100/year
Platforms: Download from Apple Store and Play Store
Also read: 7 Ways on How to Hide Photos on your Android Phone and Tablet
7. Breethe
As soon as you open the app Breethe welcomes you with soothing music, giving you Zen the moment you open the app. This app will help you to sleep better and reduce anxiety and restlessness. The 5-minute lessons with your mindfulness coach will help you to develop a habit of breathing without spending too much time on it. 
The guided meditations, inspirational talks, and master classes will help in navigating life's challenges and enjoying improved peace of mind. The My Life Kit allows you to develop your personalized toolkit based on your provided input. There's also an additional mindfulness program for teens & kids. Breethe offers a lot of sleep content for people dealing with sleep deprivation including 1500+ bedtime and visualization stories, sleep playlists, and also hypnotherapy sessions (only available with a premium membership). You can sync this to the Apple Health app to track the data of your meditation journey.
Price: Free Plan Available; $12.99/month or $89.99/year. 
Platforms:  Download from Apple Store and Play Store
8. Meditation Studio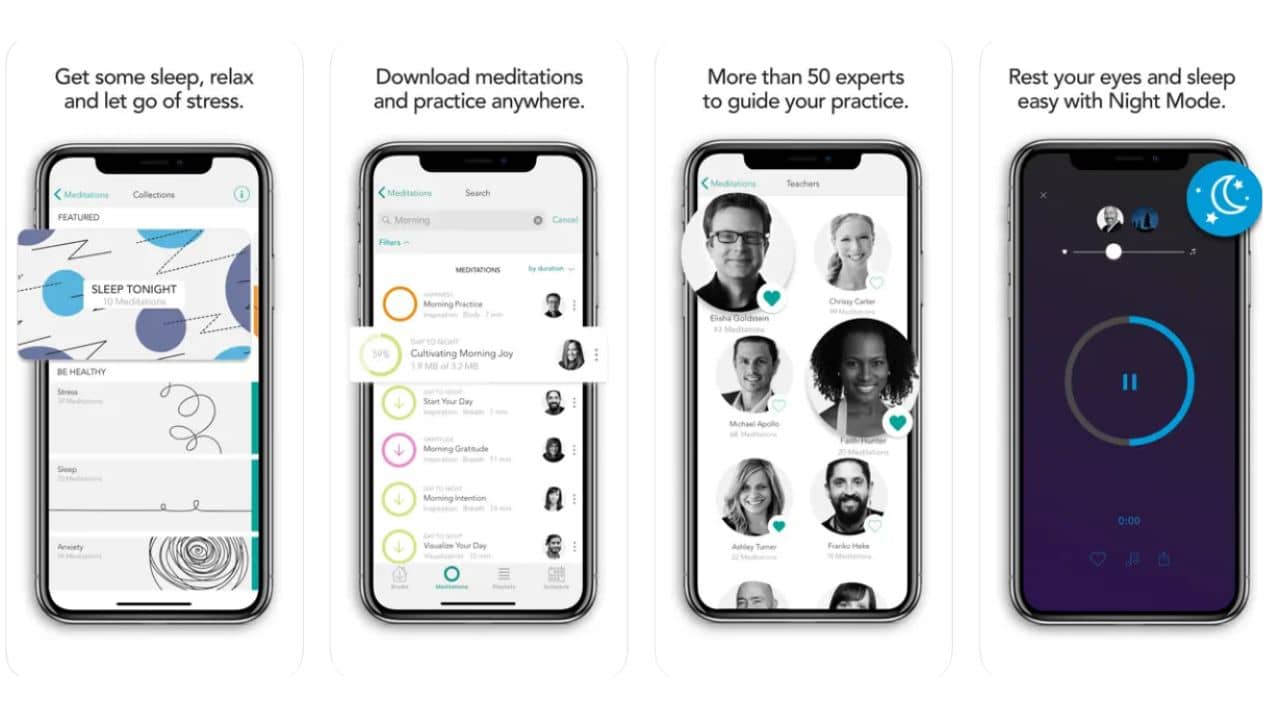 Meditation Studio is one of the best apps when it comes to themed meditation for calming anxiety and other mental issues. The app features a wide selection of meditation practices for your everyday goals like health, happiness, reducing restlessness, or just generally feeling calmer. You can also create your personalized meditation apps if you want a little bit of everything. The collections available in the app are sorted by teachers, emotions, issues, and courses that cover comprehensive paths to specific goals.
The duration of meditation ranges from 5 minutes to 30 minutes according to your available time. The app interface is simplistic and minimal which some people like because of less distraction. 
Price: Free version available with $7.99/month and $49.99/annual subscription.
Platforms: Download from Apple Store and Play Store
Also read: Best Car Racing Games for Android 
9. Oak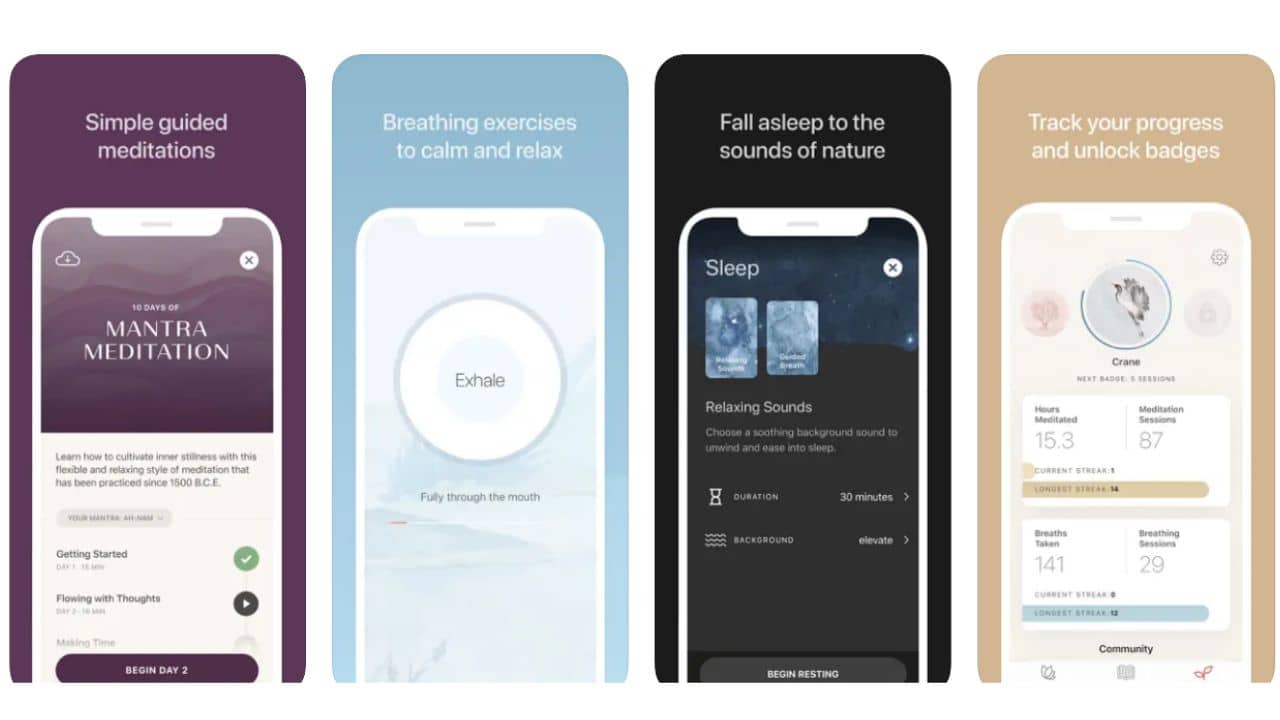 Oak with its simple interface is very beneficial for people who want to start meditation using their smartphone. This anxiety-reducing meditation app offers several short exercises to help you calm down and reduce stress in day-to-day activities. The app keeps track of your sessions, your breaths, the lengths of different sessions, and much more. There are over 500 free sessions with customizable durations and soundtracks. The guided sessions can be 5-30 minutes long and unguided meditation from 5 minutes to 24 hours long. 
The different breathing exercises will help you tackle anxiety on the go. If you're a beginner Oak offers a 10-day Mantra Meditation course that takes about 20 minutes per day. For unguided meditation sessions, this app provides you with a timer with interval chimes so you can track your progress in the moment and long term. 
Price: Free
Platforms: Download from Apple Store
10. Happy Not Perfect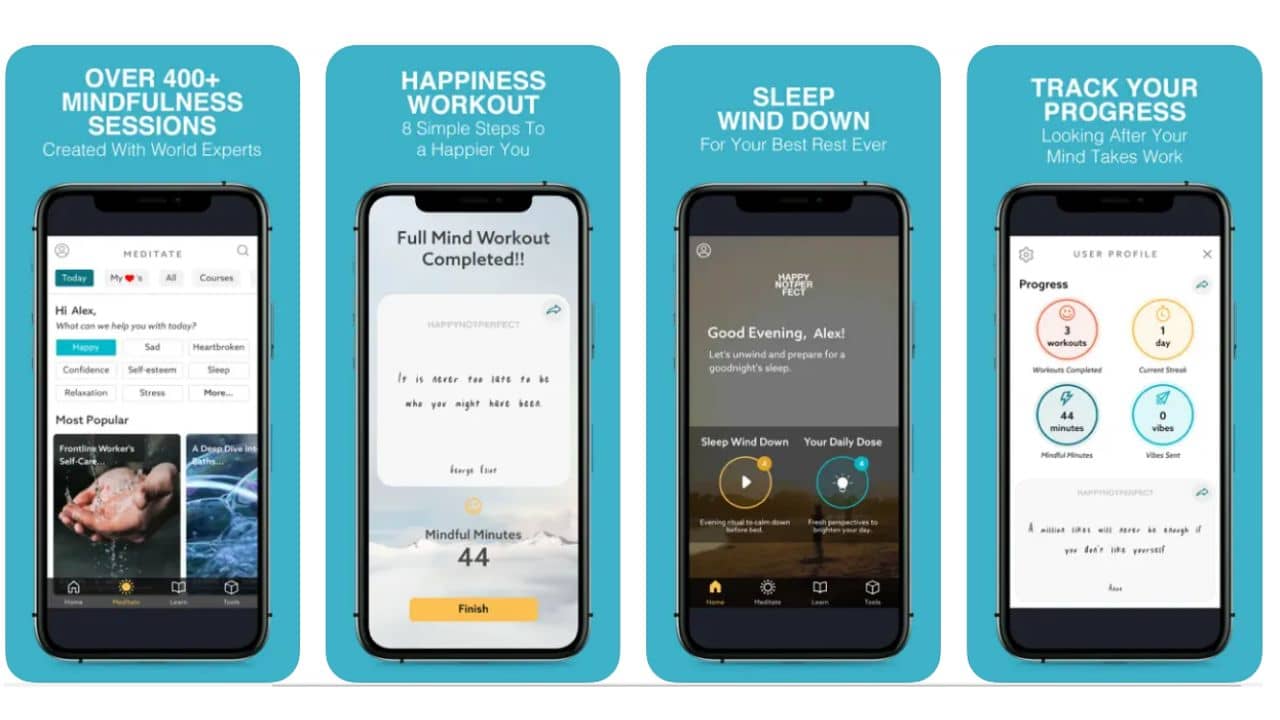 Happy Not Perfect meditation app comes with an easy to use design with 150 different mindfulness activities to choose from. The themed sessions available on the app help you to tackle stress, sadness, anxiety and worry that you might face daily while making work decisions or just an argument with your loved ones. The 7-step mind refresh helps you to identify the current problem and select a current mood then guides you to let go. There are many fun activities you can choose from including doodling or making an actionable commitment to be more compassionate and happy the next day.
The duration of the sessions can range from 30 seconds to 2 minutes according to your needs and attention span. There are also plenty of mindfulness games available on this meditation app for iPhone & iPad to help you distract and de-stress at any time of the day. The aim is to take a mental break and relax whenever you need it.
Price: Free app available for $9.99/month and $59.99/year
Platforms: Download from Apple Store and Play Store
Don't Miss: Best Galaxy Tab S7 Accessories
11. Waking Up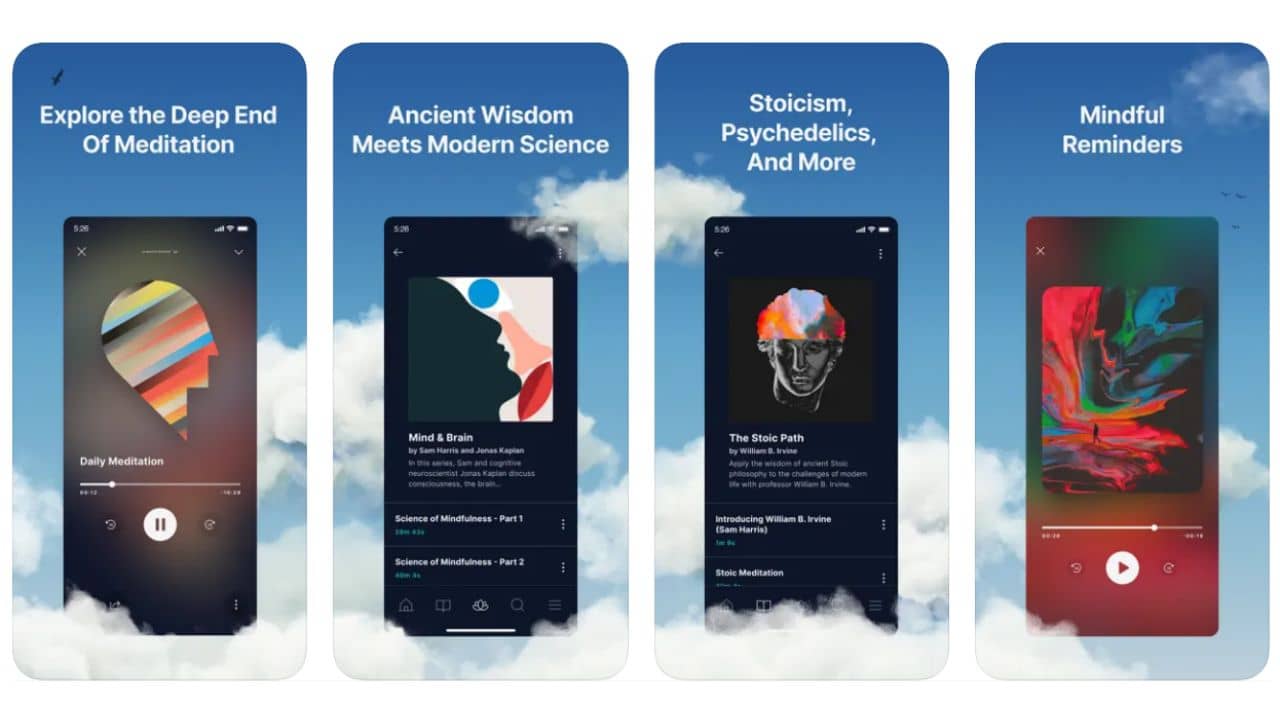 Waking Up is developed by a neuroscientist-turned-philosopher and the author of the book with the same name. The app doesn't encourage passive meditation, but it provides more intent and structure as you go on. While other apps emphasize sleep and relaxation to reduce anxiety, this app focuses on waking up. This app promises to open the "door to a deeper understanding of yourself- and to a new way of being in the world". This must-have meditation app has something for everyone from beginners to advanced users to help deal with anxiety, stress, and overall positive mental health. This platform has daily expert-led meditations and short audio reflections and lessons aimed at eliminating negative thoughts. 
The 28 – day introductory program packs in lessons on all the ways you can be very beneficial for your overall personality development. 
Price: 7-day free trial after that $99.99/year
Platforms: Download from Apple Store and Play Store
12. Sattva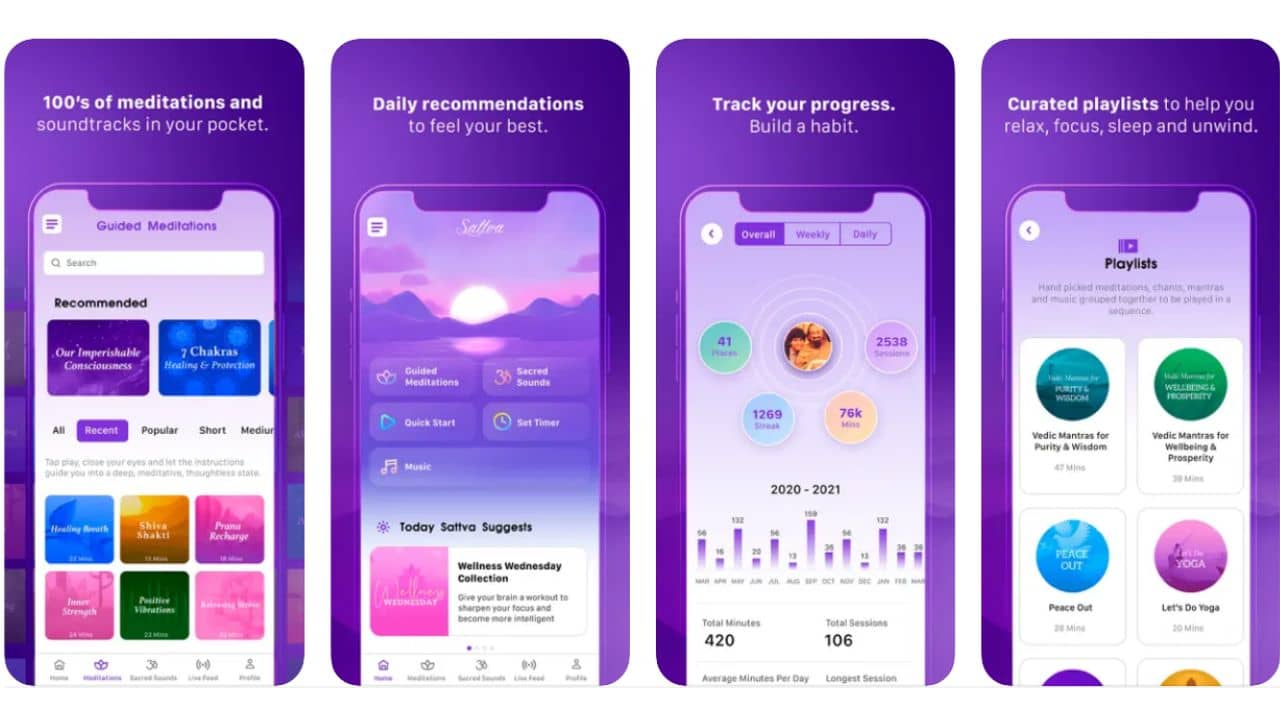 This app is for people who want to achieve Zen with an authentic experience. Sattva draws its meditations from ancient Vedic principles with guided meditations, chants, mantras, and music. The 100+ guided meditation available on the app is led by top experts in the mental wellness industry. The sessions range from 6 minutes to 1 hour and are led by experts and professionals to help you in stress reduction.
The mood tracker keeps the data of your progress after every meditation. The Sattva app offers a meditation community for people who can socialize with like-minded people. Features like pre-made playlists to eliminate the confusion of what to meditate on, personalized reminders, and in-depth stats make it one of the best meditation apps for reducing anxiety. 
Price: Free Plan Available; $12/month and $49/year.
Platforms: Download from Apple Store and Play Store
Also read: Best Google Home Compatible Smart Home Devices
13. Smiling Mind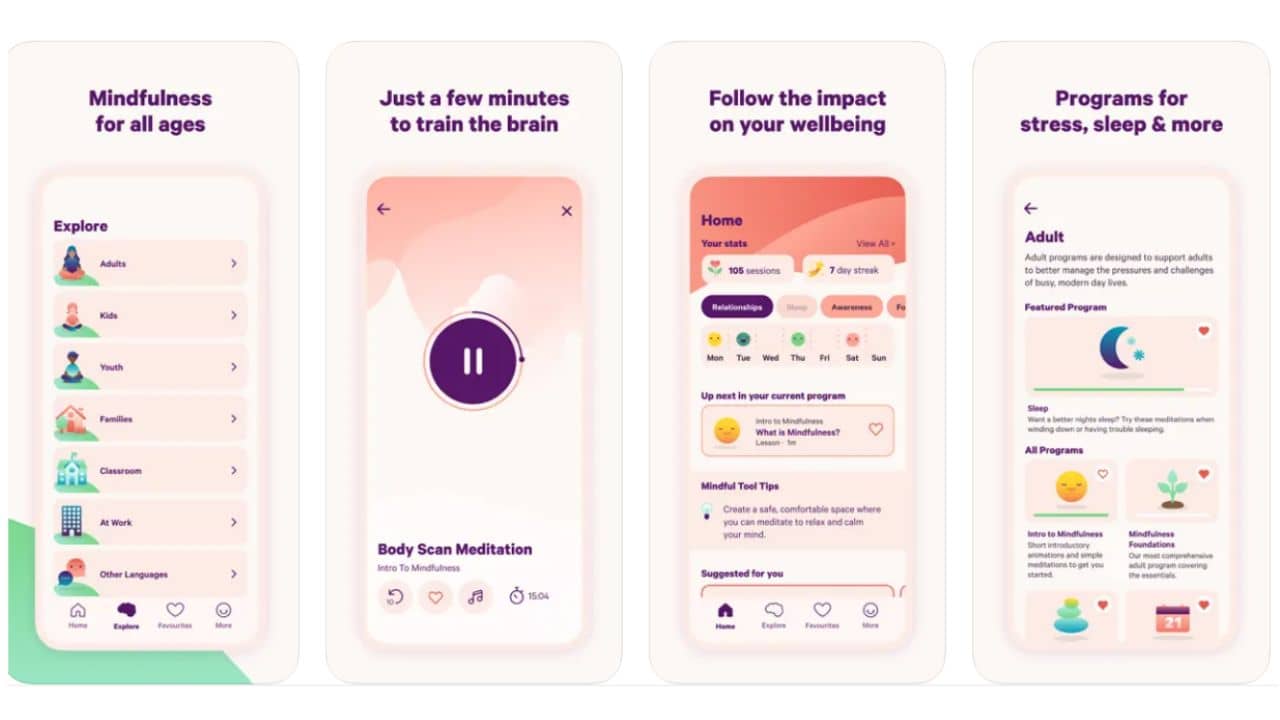 Smiling Mind is one of the best free anxiety meditation apps made by an Australian nonprofit developed by psychologists and teachers with teens, kids, and families in mind. Meditation for adults is sorted by issues and events such as stress, relationship, anxiety, and sleep as well as sports performance and work stress. You can keep track of your progress, downloaded sessions to listen offline, set reminders, and save your favorite meditation for easy access.
The app asks you how you're feeling every time you log in and based on that they will show you results that are relevant to your problem. The app offers different intro courses to your specific case, family courses, and sleep programs as well. As this app is developed by psychologists as you go along in the courses they will explain to you how meditation works for different problems.
Price: Free!
Platforms: Download from Apple Store and Play Store
14. Buddhify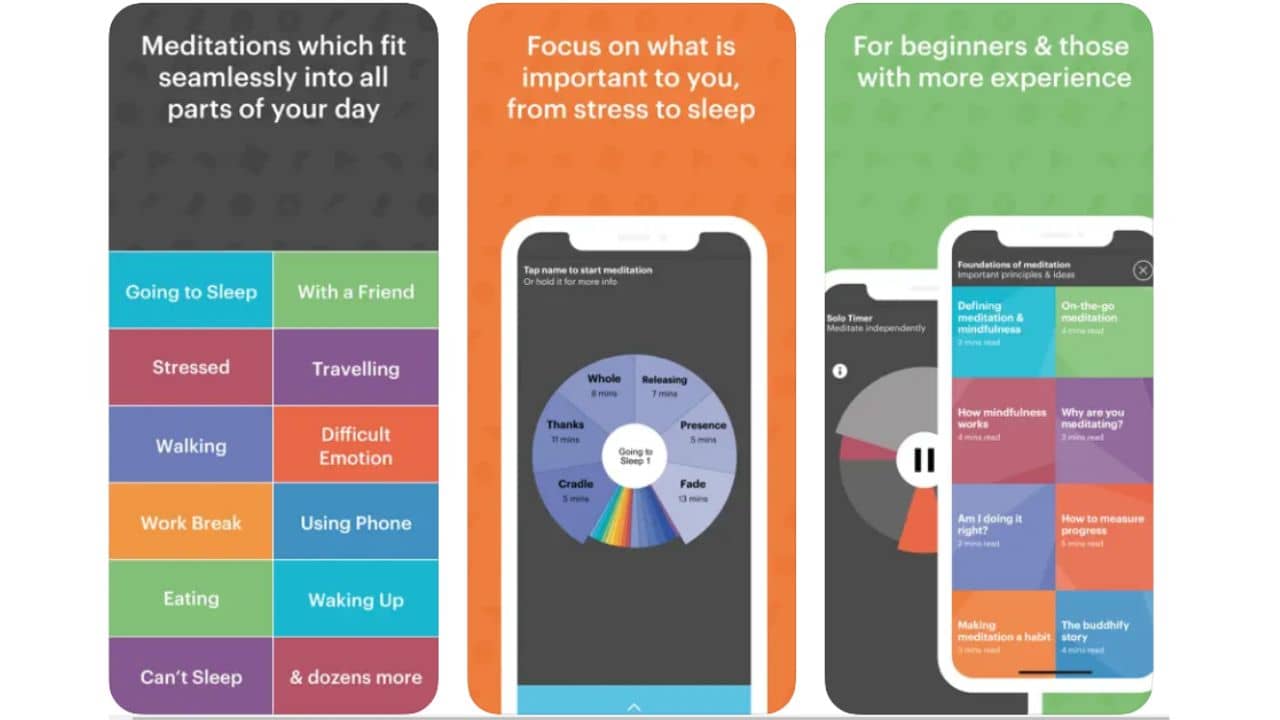 Buddhify has everything you could want from the best meditation app to calm anxiety including mindfulness exercises with more than 200 meditations. The iOS meditation app teaches you how to lower anxiety and stress, promote sleep, and manage difficult emotions. There are over 200 different categories to cater to your meditation needs like – traveling, waking up, working, eating, and even scrolling online. 
The sessions range from 3 to 40 minutes long making this a suitable option for beginners or experienced practitioners. It is super easy to use so you can create your wheel of meditation practices for quick access when you need them. The colorful interface offers practical meditations that slot seamlessly into your daily routine.
Price: $4.99 to access the app and $30 annually.
Platforms: Download from Apple Store and Play Store 
Also read: Best Apps for iPhone 13 in 2022
15. Simple Habit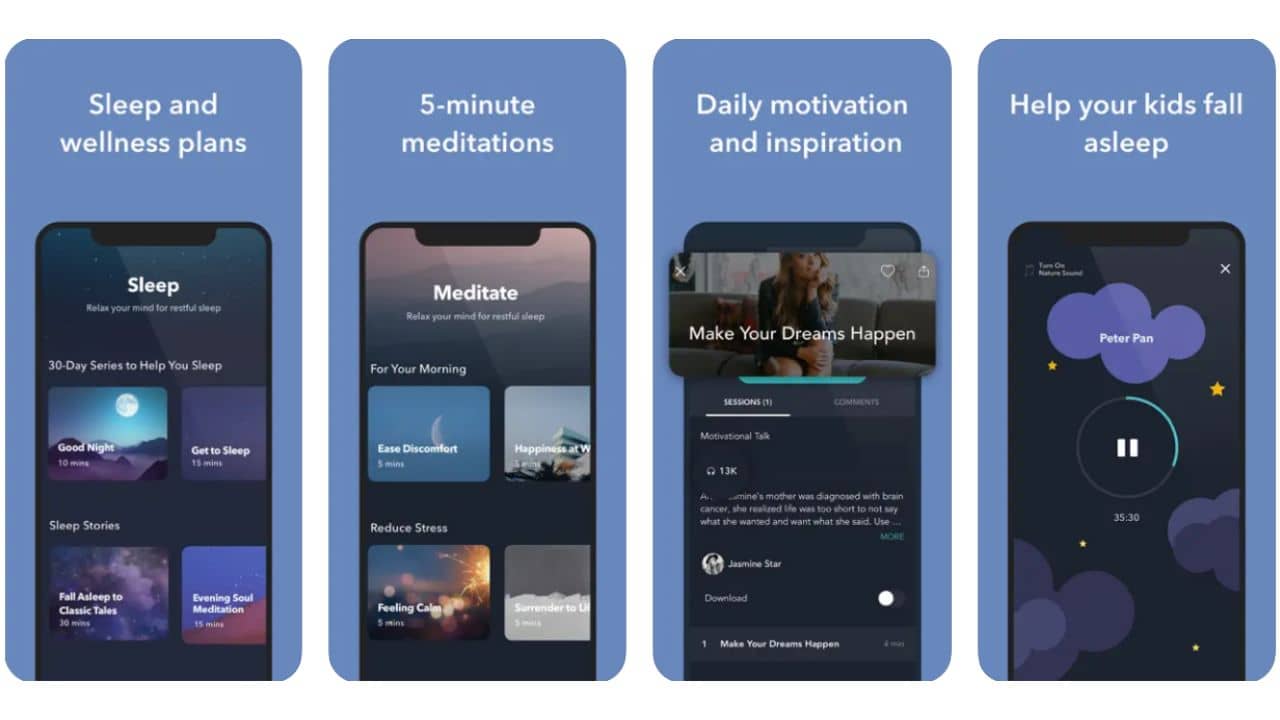 As the name suggests Simple Habit allows users to develop the habit of meditation. This anxiety-busting meditation app for Android is focused on daily stress relief, with 5-minutes sessions as well as sessions that are developed for traveling. It is designed for those who are productivity-focused. There are over 50 free meditations, but if you opt for a Premium subscription, you'll get access to thousands. The app offers special meditations designed to help you overcome panic attacks or lessen stress.
The biggest perk of the premium subscription is that you can use this meditation app offline which makes it more accessible and less distracting. The recorded sessions are short and there are lessons to improve nearly every aspect of your life, including relationships, family, and sex life. 
Price: Free to start after that $11.99/month and $95.99/year
Platforms: Download from Apple Store and Play Store
How to Meditate?
When you are ready for meditation, start by following these simple steps:
Set aside a period to meditate, even if it is just for a few minutes.

Find a distraction-free space, and get into a comfortable position.

Begin to clear your mind, and then proceed by counting numbers or repeating a mantra. If you're doing a guided meditation follow the steps that are provided.

Focus on deep and slow breaths. Reflect on your goals and visualize inner peace.
Also read: Best Car Racing Games for Android
Conclusion
Meditation apps are a great way to learn and master various meditation skills like focused deep breathing, mental clarity, and being present. They do this by offering various tech tools like expert-guided meditations, reminders, mood trackers and meditation analytics, etc. There is an abundance of different apps to choose from so we have listed down the 15 best meditation apps for calming your anxiety in 2022. So don't be afraid to try different apps to find out what suits your needs the best.
Although many apps base their platforms on activities on evidence-based techniques like CBT and meditation. More research is needed to draw definitive conclusions about their impact on mental health. Their effectiveness may depend on the person using it in terms of the type of anxiety they have and the overall state of mind. These apps are made to make meditation easy but it is not an alternative to medical treatments and therapy. That being said you can take help from these anxiety-reducing apps for iOS & Android and start your meditation journey today!
Don't Miss: Best Accessories for M1 iPad Pro 5th Gen in 2022