Apple HomeKit is a great smart home ecosystem that allows you to control compatible lights, home security cameras, thermostats, video doorbells, and other devices. One of the best features of Apple HomeKit is that it's designed to make your life easier without making any compromises on your privacy and security. In fact, Apple HomeKit is more secure than Amazon Alexa and Google Home. Additionally, it offers local control, allowing you to control your smart devices without the need for any cloud service or active internet connection. Moreover, if you've got an iPhone, iPad, HomePod mini, Apple TV 4K, or any other Apple device, HomeKit is the best platform to build the smart home of your dreams. 
If you're planning to start your smart home journey or want to buy more devices to build an interconnected home, we're here to help you spot the worth-buying devices and save you from money wasters. We've tossed several options and handpicked the best HomeKit devices and accessories that can instantly turn your home into a feature-packed smart home. Right from the smart lights and video doorbells to security systems and smart switches, we've included some amazing HomeKit devices that can be controlled With Siri. 
So, what are we waiting for? Let's get started with our roundup of the best HomeKit devices to buy in 2022.
Top 17 HomeKit devices in 2022
1. HomePod mini (Best HomeKit Smart Speakers)
When we're talking about the best HomeKit devices, the Apple HomePod mini deserves a top spot on our list, and there are two major reasons for this. First, HomePod Mini is the only Apple-designed smart speaker that you can get right now for your smart home. Second, these compact Bluetooth speakers act as a command centre to control every Homekit devices that you've got in your home, With built-in functionality with Siri, the HomePod mini allows you to control every smart home accessory with your voice. Right from turning on your smart lights to adjusting your smart thermostat you can do anything and everything with these HomeKit smart speakers. It means you don't need to use different apps to operate different smart home devices. 
Besides bringing convenience and making your home smarter, the HomePod mini will surely please you with its beautiful aesthetics and acoustic performance with a seamless mesh fabric that blends with almost any space. You'll get to enjoy a 360-degree room-filling sound for an immersive listening experience. Best of all, you can buy two or more Homepod speakers and place them around in your home for rich multi-room audio and exciting features like Intercom.
2. Wemo Smart Plug (Best HomeKit Smart Plug) 
If you're looking for a budget HomeKit device that can make any old non-smart appliance a smart device, Wemo Smart Plug is a great option. It's a perfect way to start your HomeKit journey where you get instant control over your existing home appliances and electrical devices without replacing them. This tiny plug connects to a power outlet and uses your home Wi-Fi network so that you can control your home lights, fans, coffee makers, air purifiers, table lamps, and other devices that are connected to it. You can either use the app or choose Siri for voice commands. 
The Wemo Smart Plug features a compact design that easily fits into any electrical outlet and keeps the socket free from a lot of mess. Once you've plugged it into a power outlet, plug in the smart device, and you can easily control it via the free Wemo app or your HomePod mini. You set can set schedules and also take advantage of the clever Away mode that creates an illusion that you're at home by turning the lights intermittently. 
In short, Wemo Smart Plug is one of the best HomeKit Smart Plug that you can get in 2022. 
Also Read: Amazon Alexa vs Google Home vs Apple HomeKit: Which one to choose?
3. Ecobee Smart Thermostat (Best HomeKit Thermostat)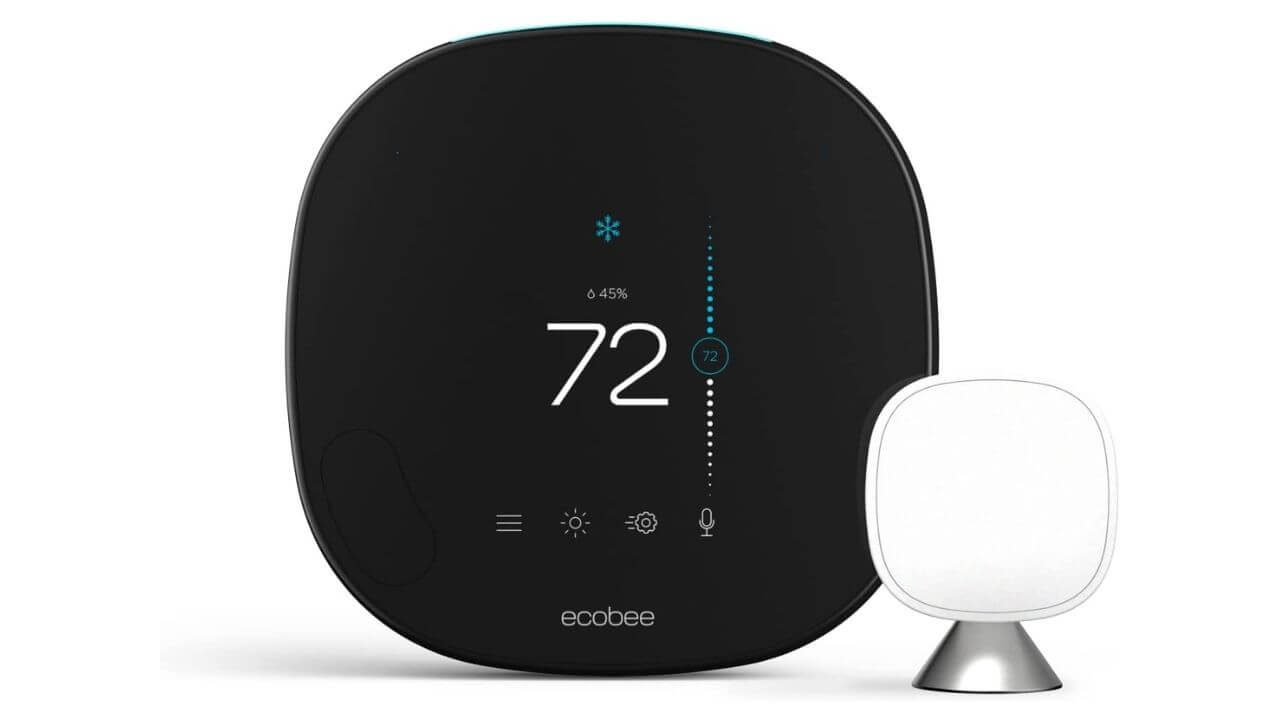 Looking for the best HomeKit-compatible thermostat for your smart home? Ecobee Smart Thermostat is a perfect home device that's designed to make your life and your home more comfortable. When you've got this HomeKit thermostat, you can cool your home remotely after spending the entire day in the scorching heat. Also, no matter how chilled the outside temperature is, Ecobee Smart Thermostat will give a perfectly heated room all the time. This thermostat can automatically detect if someone's at the home or not and then alter the temperature accordingly. 
That's not all. If you've got have ecobee SmartSensor for doors and windows and a SmartSecurity subscription, this HomeKit thermostat will automatically pause cooling or heating when you open a door or the window. 
We would like to mention that this smart thermostat is an expensive smart home accessory, but it's definitely a cost-effective option in the long run. The smart sensors of ecobee Thermostats can help you save heating and cooling costs by up to 26% per year. Impressively, you can also use the Ecobee app on your smartphone to control this smart thermostat from anywhere in the world. 
In addition to amazing functionality, Ecobee Smart Thermostat makes your home smarter with its easy, hands-free voice control. When you've got a HomePod mini, you can control the thermostat with Siri. You can ask Siri to turn on the lights, set the thermostat's temperature to 72-degrees, play your Spotify playlist, or even call your mom. This makes the Ecobee Smart Thermostat, a fantastic HomeKit compatible accessory for users who already own HomePod mini smart speakers.
4. Eve Door and Window Sensor (Best Thread Network HomeKit devices)
The Eve Door and Window Sensor is a highly-useful HomeKit device that monitors the doors and windows in your home and notifies you when one opens or closes. You can install this sensor on your home's main gate, garage door, refrigerator, window shutters, or any other important door/window. 
You can ask Siri to check if the entrance gate is closed or tell it to shut your windows. Besides checking your doors and windows, you can also control HomeKit-enabled devices automatically. Furthermore, this Homekit security device will also give you activity notifications on when out and about a particular door/ window is accessed and for how long. This is a supremely useful HomeKit device for apartments where you live alone with a little munchkin who often crawls in the home. With real-time alerts and notifications, you can always know if any important door or window is opened is your home. Moreover, you can further automate your smart devices by setting up routines. For example, you can toggle your lights when the door opens etc. and more.
Also Read: Best Alexa-compatible devices in 2022
5. Philips Hue Smart Lights (Best HomeKit Smart Lights)
How about adding colorful lights to your home party or enjoying those perfectly dimmed lights for a dinner date at your home? The Philips Hue White and Color Ambiance Smart LED bulbs allow you to enjoy can have a perfectly lit home for all your occasions and mood. These bulbs are dimmable and allow you to switch between warm and cool colour tones so that you can enjoy every moment of your day. In the mood to party? Switch to colourful tones. In the mood to relax? go for gentle, warm lights.
The Hue hub allows you to connect to your favourite HomeKit accessories for an ultimate smart home experience. It works with 50 lights so that you can have full control over the lights across your entire home. You can easily turn ON the lights, adjust the brightness of the bulbs, change the colour tone, set timers, schedule them to turn OFF when you head to bed and enable other routines to automate your entire home lighting setup without stepping out of your bed.
All in all, if you're looking for a smart HomeKit-compatible device that can make your tech-laden home more beautiful, Philips Hue Smart Lights is all you need. 
Here are some cheaper alternatives for the best HomeKit smart lights:
6. Apple TV 4K (Best HomeKit Streaming Device)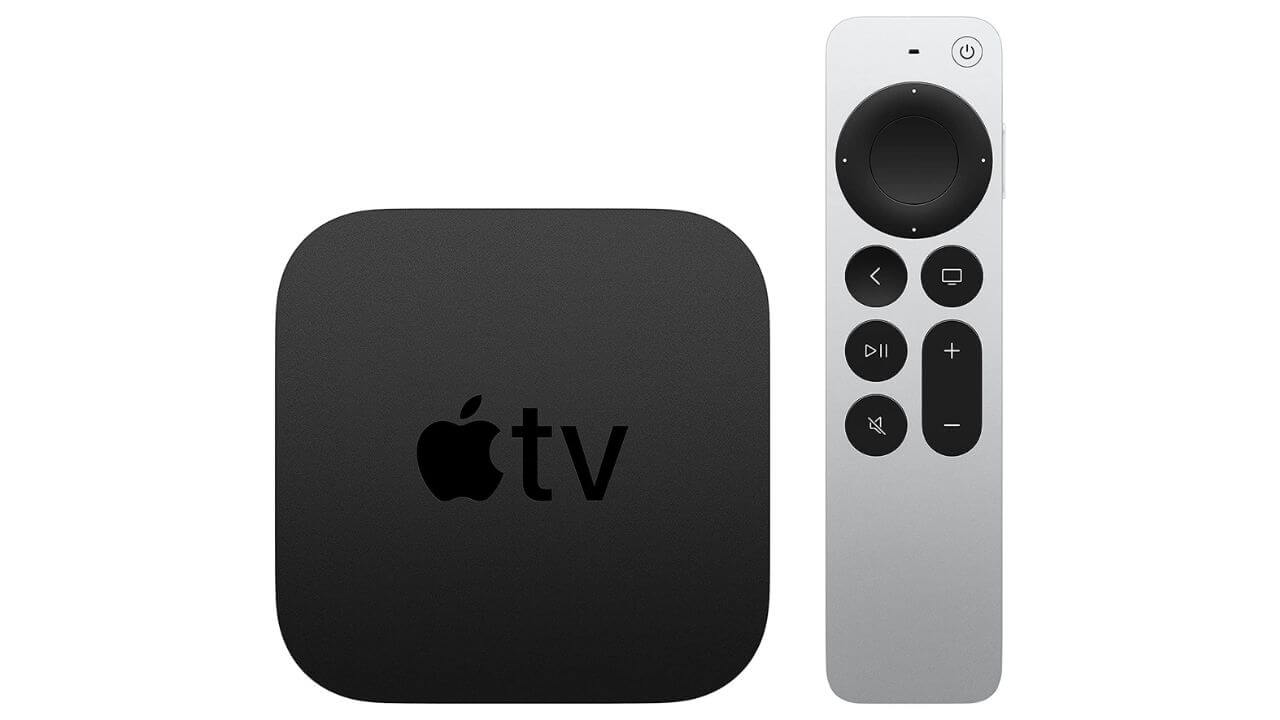 If you want to control multiple Apple HomeKit devices, without using an individual app for each device, you would need a hub that acts as a communicator between your smart home devices. Apart from the HomePod mini that we've mentioned above, you can also go for a compatible iPad or Apple TV 4K. 
Talking about the Apple TV 4K, it's one of the best streaming devices that delivers cinema-like entertainment with higher frame rate HDR, Dolby Vision, and Dolby Atmos support, that too in the comfort of your home. You can enjoy Apple Originals, Apple Arcade, Fitness+, Apple Music, Disney+, Amazon Prime Video, and more. 
In addition, you can share photos & videos from your iPhone, iPad, or Mac using AirPlay. The streaming box is paired with a Siri compatible Remote Control that allows to you control other HomeKit-compatible devices in your home. It's a fantastic idea to use the Apple TV 4K as a hub as it's always plugged in without using too much power. Therefore, you can always see and interact with your HomeKit-enabled security cameras and control other smart home accessories.
Also Read: Best Google Home Devices and Accessories in 2022
7. Lutron Caseta Smart Home Dimmer Switch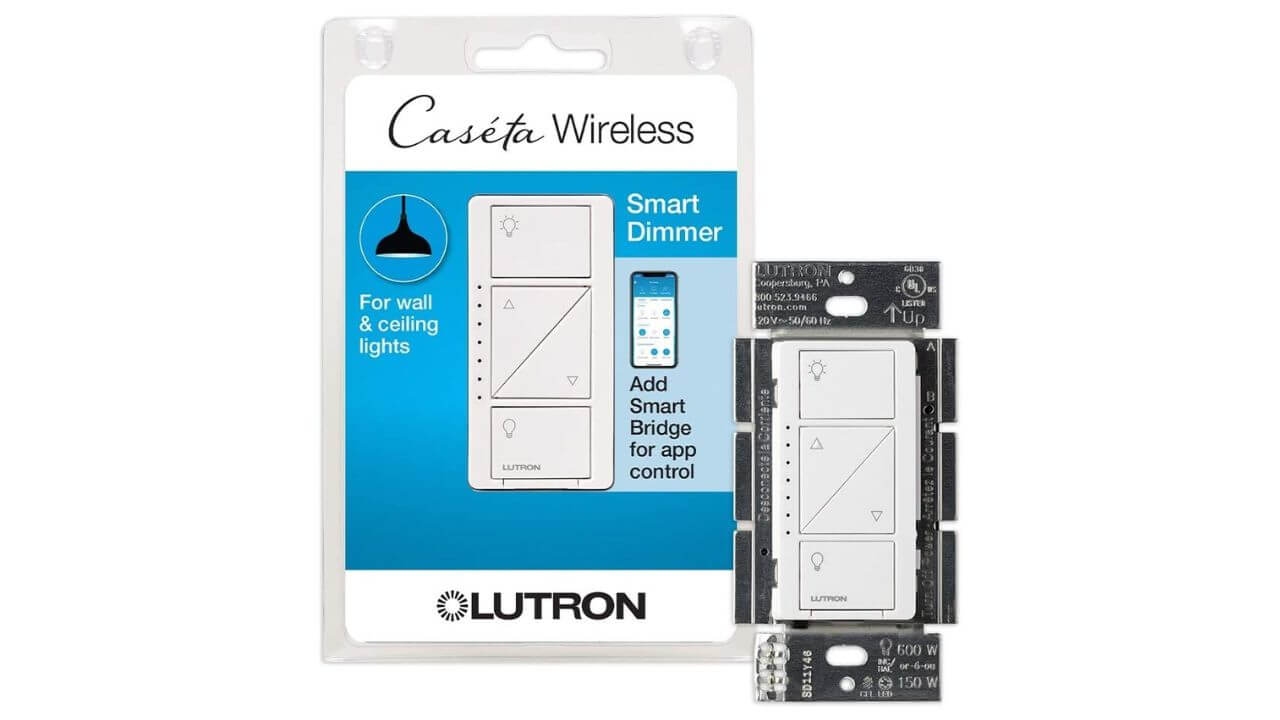 Here we've got the super-convenient and budget-friendly way to turn the regular home lights into smart lights. It's a perfect HomeKit light switch for users who've got a big home and don't want to spend a fortune on installing smart lights in the entire home. The Lutron Caseta Smart Home Dimmer Switch is a fantastic HomeKit device that can turn your regular home into a smart home and allows you to control multiple bulbs in your home with a single switch. It's cost-effective and makes sense to invest in multiple switches and control your entire home lighting rather than replacing them with smart lights and bulbs. Whether you've got LED, Incandescent, or Halogen bulbs, the Lutron light switch works flawlessly with all of them. It features a simple and compact design that performs brilliant and works with your existing home wiring setup, making it super easy to install and use. 
You can control this HomeKit compatible light switch via the free Lutron app or Siri (using the Smart bridge). You can turn ON the lights, dim the lights, or instantly adjust the brightness of any ambience. Therefore, whether you're at your office or enjoying your vacation, you can easily turn the lights of your home on and off. What's more? You can schedule lights and surprise your parents with anniversary lighting even if you're away.
All in all, the Lutron Caseta Dimmer Switch is amongst the best HomeKit accessories for your automated home.
8. Linksys Velop Mesh Routers (Best Router for HomeKit devices)
Looking for the best router for HomeKit devices? Make sure to have a look at the Linksys Velop Mesh Routers. It's an ultimate Apple HomeKit device that offers flawless Wi-Fi coverage to every inch of your home, eliminating those dead spots in your place. Therefore, if you've got an older router and often deal with Wi-Fi not working issues on your devices or in your WFH setup, it is best to replace those Wi-Fi routers with the Linksys Velop Mesh Routers. It covers up to a 6,000 sq ft area and can handle over 60 devices so you won't have to struggle with laggy connection while attending Zoom video calls, streaming your favourite Netflix series, or playing games on your PlayStation 5 at any corner of your house.
Best of all, you can create a perfect Wi-Fi system that can meet your growing Wi-Fi needs by simply adding more Velop nodes (routers). Moreover, with Apple HomeKit compatibility, you can easily manage and control all your compatible smart home devices on that network. For example, you can disable Wi-Fi for a specific device or create a separate virtual network for IoT devices or optimize your home media server and more. 
To sum up, Linksys Velop Mesh Routers are amongst the best HomeKit devices for large apartments and houses in 2022.
Also Read: Best Smart Home Device Upgrades in 2022
9. August Wi-Fi Smart lock
Do you often forget to close the main door of your home and run back to confirm the same? Don't want to carry that bulky keychain while you're going to the gym or your office? Here we've got the best HomeKit device for apartments that gives you convenient, key-free access to your home and peace of mind that all your doors are shut when there's nobody at the house. The August Wi-Fi Smart Lock is the best HomeKit smart lock that can be installed on the inside of your door over your existing deadbolt, that too within minutes and without much hassle.
Impressively, this smart lock has built-in Wi-Fi so that you don't require a bridge to connect it. You can easily control the lock via the August app that's available for iOS as well as Android smartphones. The auto-lock feature automatically locks the front door if it is closed for up to any selected minutes. Also, this smart lock comes with "geo-fencing" (auto-sensing) which automatically unlocks the door when it detects you're home. That's awesome, right! You can check the door status and share permanent or temporary access to your home. Please note that you must have your
smartphone or smartwatch every time, otherwise, you might lock yourself out if you forget your device inside.
Moreover, if you've got a HomePod mini, you can always operate the lock with your voice. You can ask Siri to close the door without having to search for and take the phone out of your office bag. In addition, it's a superb tech gift for people who're planning to build a smart home. So, if your techie brother has just bought a new house, August Wi-Fi Smart Lock would make a perfect gift for the housewarming party. 
In short, the August Wi-Fi Smart Lock is one of the best HomeKit security devices in 2022.
You can also check out Yale Assure Lock Touchscreen Wi-Fi Smart Lock which replaces your existing deadbolt and allow you to use your iPhone or Apple watch to unlock the door.
10. Brilliant Smart Home Control
How about controlling every smart home device in your home using a single switch? Yes, you've heard it right. Here we've got a highly useful HomeKit-enabled switch that can control every smart device that you've got in your home, making it much smarter. The Brilliant Smart Home Control is an in-wall controller that replaces a light switch so that can control your smart home devices in a much easier and more comfortable way. 
This HomeKit accessory features a 5-inch touch screen display, a built-in camera with a privacy shutter, and a built-in motion sensor. The touch screen display connects to your home network and allows you to control Philips Hue smart lights, ecobee smart thermostat, August Wi-Fi smart lock, Sonos soundbar, and other automated devices across your smart home. For example, you can ask Siri to open the door using the August Wi-Fi Smart Lock and turn ON the Philips Hue LED bulbs in your living room and play your favourite music on Spotify. Now, that's smart, right!
Also Read: Best Tech Gifts Under $500
11. Meross Smart Garage Door Opener (Best Cheap HomeKit device)
Looking for the best HomeKit compatible smart garage controller that lets you open and closes your garage even if you're away? The Meross Smart Garage Door Opener is the perfect smart HomeKit device for you. The remote control feature allows you to control this smart device while you're away. For example, you can open the garage door for your friend while working in the office, receive an Amazon package securely and check if the garage door is closed when you're on the way to a vacation and do much more to make your life easier. 
If you've already got a HomePod mini, Apple TV 4K, or an iPad, you can use it as a hub to control your Apple HomeKit accessories remotely, without the need for a dedicated app. Just make sure the hub is powered On and connected to your home network. The Meross Smart Garage Door Opener works flawlessly with the Apple HomeKit ecosystem and you can always use Siri to control this device.
What's more? You'll get alerts when your garage door opens, closes, is opened for a long time, or is forgotten to be closed. You can also use the app to open the door and accept packages when a delivery guy is standing outside your garage. This makes it, a must-have HomeKit device for someone who has booked monthly or weekly vehicle servicing and maintenance or someone who often struggles with stolen packages. 
Also Read: How to buy a soundbar for your bedroom [+ Top 9 Recommendations]
12. Eufy Cam2 Security Camera (Best HomeKit-compatible security system for home)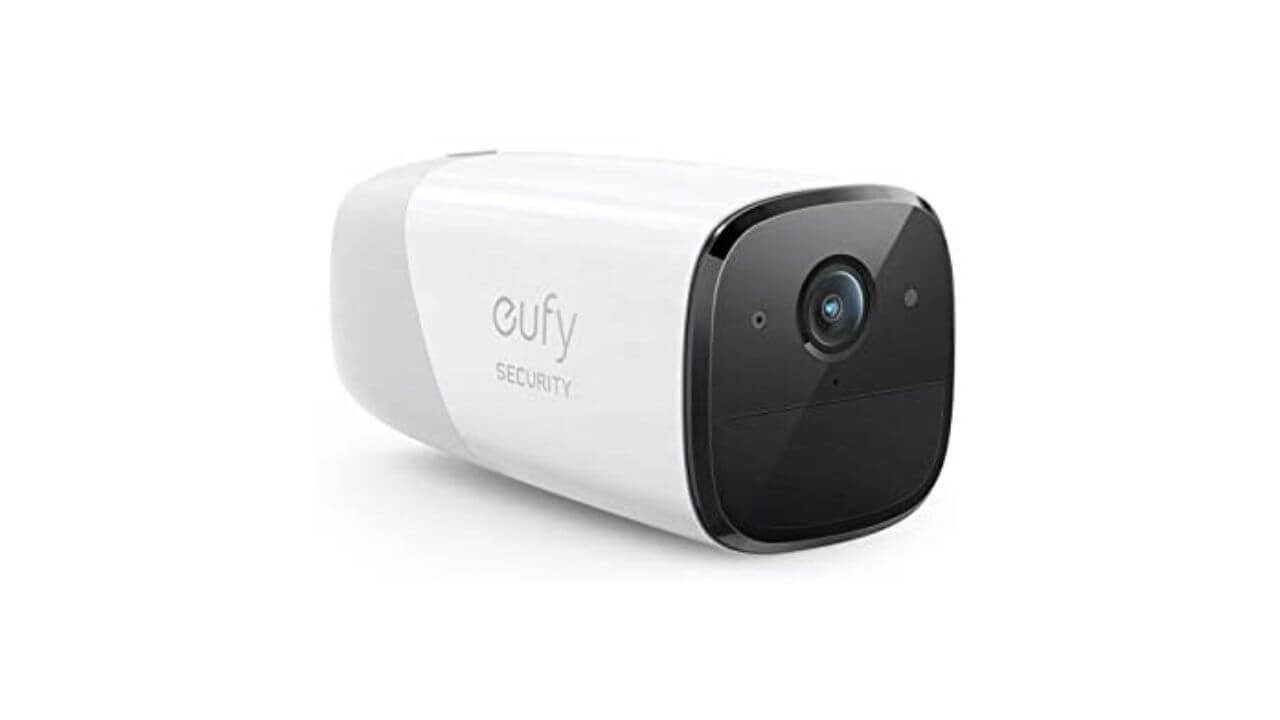 Here we've got the best HomeKit security system that can be installed outside your house to keep your home under
surveillance. The Eufy Cam 2 Security Camera is super-easy to install a 1080p Full HD outdoor camera that gives you a brighter view of the people in the shot. Whenever the camera detects any motion, you'll get an alert in the app. With the Human Detection feature, this HomeKit security system reduces false alerts. In addition, you can choose to get alerts for only those areas that matter the most. The seamless Apple HomeKit integration allows you to ask Siri to show you the front door on your iPad. Furthermore, the two-way audio feature allows you to see, hear, and speak to visitors without running up to the door. 
The best thing about this HomeKit device is that it's weather-resistant. Therefore, no matter if it's dark or raining outside, you can always see what's happening around your home. The Eufy Cam2 Security Camera with Siri can last for up to a year on a single charge, which is great. Putting in simple words, the Eufy Cam 2 is a great HomeKit security camera for new homeowners or people who live independently.  
It's worth mentioning that you'll need Eufy Security Homebase 2 or Homebase to use this camera. 
If you need an indoor camera for your smart home, make sure to check out the Eufy Indoor Camera.
Also Read: Best OLED TVs for PS5
13. Smartmi Air Purifier for Home (Best HomeKit device for an allergy-free home)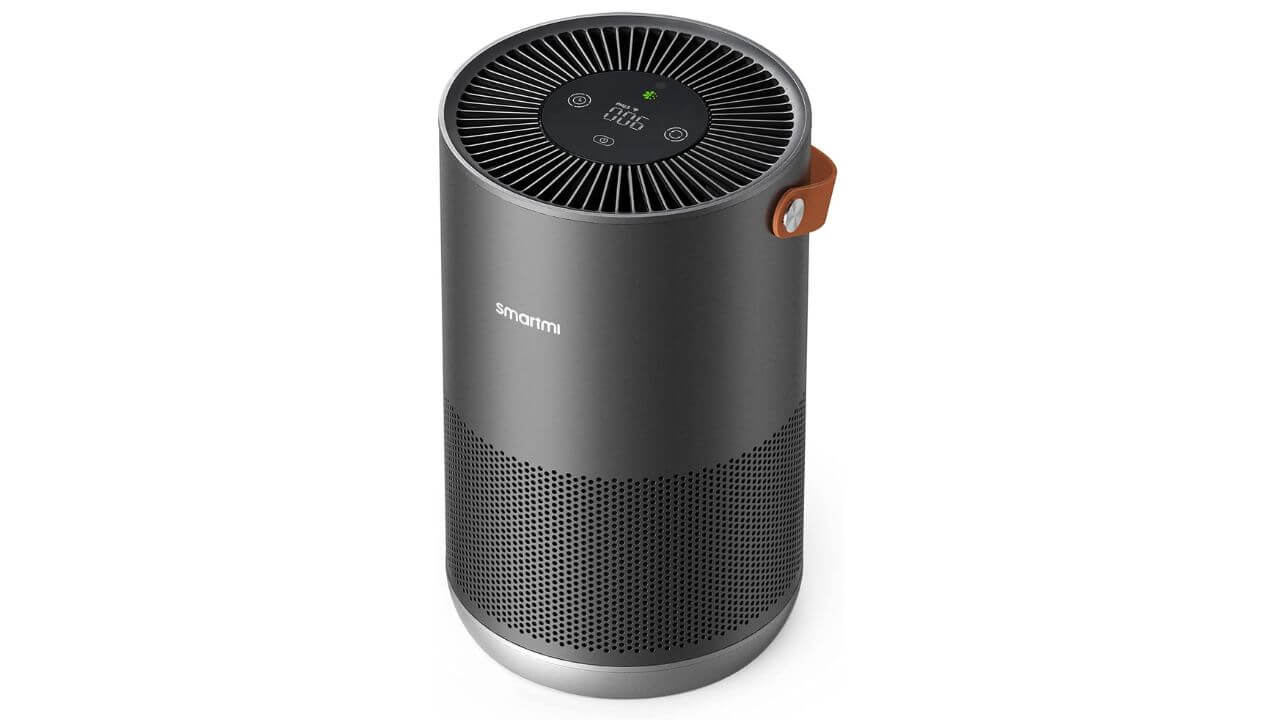 If you, your parents, or any other family member has a dust allergy, itchy throat, or asthma problems, the Smartmi Air Purifier is the best HomeKit smart home device that you should buy in 2022. This smart home device removes dust, pollen, pet dander, and smoke particles to give you the joy of clean breathing when you're home. This Apple HomeKit compatible air purifier has a compact and portable design which makes it super easy to carry and place this purifier in your bedroom, living room, or other parts of your home. Moreover, there's a Sleep mode that cleans the air silently and turns the LED OFF so that you can sleep without any disturbances.
Furthermore, you can control this smart home device via an app, Siri, and other voice assistants. If you've connected a HomePod mini, you can ask Siri to turn ON the purifier or adjust its speed. For this, you need to first connect the air purifier to your Wi-Fi network using the Smartmi Link app and then add the device to HomeKit.
14. Logitech Wired Doorbell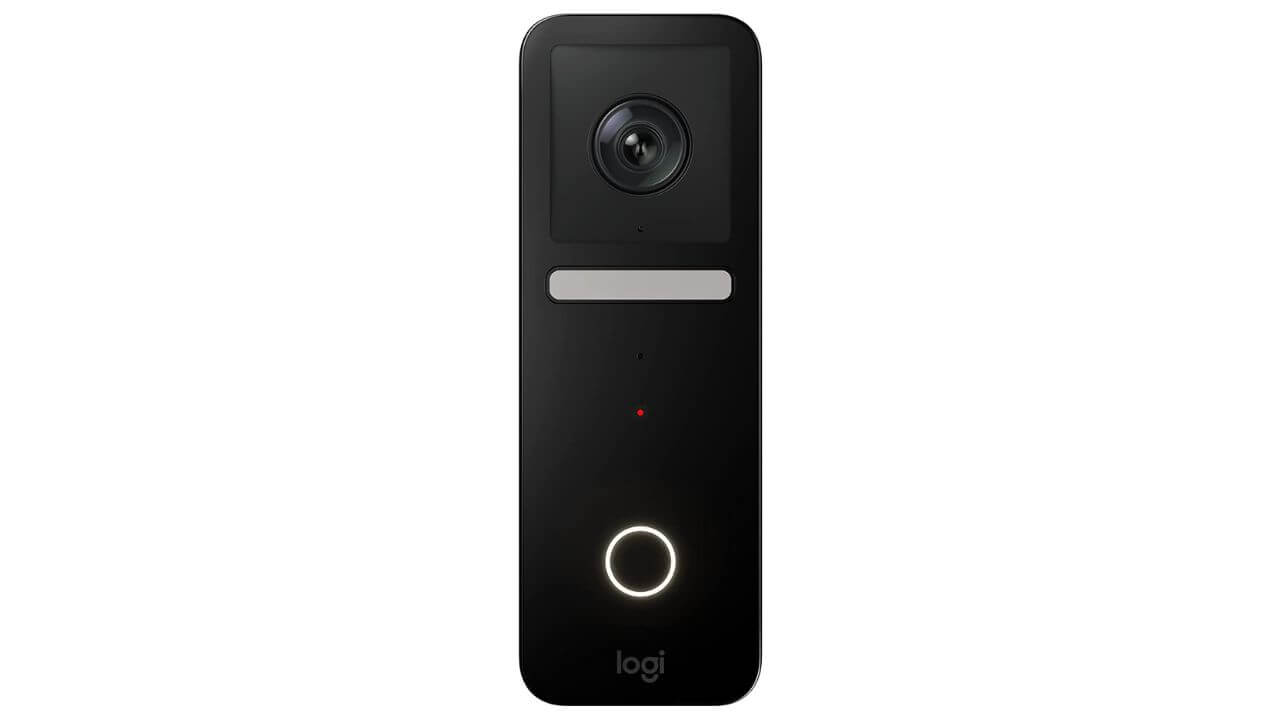 If you've already invested in an iPad, Apple TV, or HomePod mini, it's a great idea to get yourself the Logitech Wired Doorbell. It's one of the best HomeKit security devices for homeowners as well as senior citizens who live independently. When your doorbell rings, you'll get notifications across all your Apple devices. It provides security and gives you the freedom of interacting with someone who's at the door, without even actually running to the door. This HomeKit doorbell features a slim design that fits most doorframes and works well with your existing doorbell wiring. 
With the latest Apple HomeKit Secure Video support (requires iCloud+ plan) and features like face recognition, colour night vision, head-to-toe HD video, and more, you'll always know who's at the door. It's just perfect for senior citizens who can't walk up to the door several times a day. Additionally, you'll have a sense of security when your doorbell rings in the middle of the night and you're alone at the home. You can know who's at the door and if it's safe to open the door or not. You can choose to get notified with a pop-up on your Apple TV, an announcement on your HomePod mini, or your home's existing chime. If you've set your Apple TV as the hub and your doorbell rings, you'll get a pop-up screen on your TV showing your who's at the door while you're watching Netflix. 
Also Read: Best Soundbars for Apple TV 4K [Buying Guide]
15. Rachio 3 Smart Sprinkler Controller
Just finished up watering your big garden and it suddenly rained? This could end up putting all your efforts in vain while adding up to your water bill. To fix such annoyances, we've got a perfect HomeKit device that helps to maintain your lush green garden, even when you're staying away from your home. The Rachio 3 smart sprinkler controller is a highly-useful Apple HomeKit device that leaves behind the worry of watering your backyard as well as the front lawn. With Rachio's easy-to-use mobile app, you can control this smart sprinkler controller from anywhere. This smart home device deploys exclusive Weather Intelligence Plus technology that automatically skips unnecessary watering during rain, snow, wind, or other conditions. 
The Rachio 3 Smart Sprinkler Controller automatically creates watering schedules to avoid water wastage and higher water bills, while ensuring a beautiful yard all year long. With this smart HomeKit device, you can keep a track of estimated water usage, and upcoming schedules. That's not all. It's super easy to set up and use this HomeKit accessory. Therefore, if you want to enjoy a beautiful kitchen garden or a lush green yard all year round, this HomeKit smart device is all you need.
16. Nanoleaf Shapes (Best HomeKit accessory to light up your space)
Need the best HomeKit-compatible smart light panels that give a fantastic makeover to your home? Make sure to add Nanoleaf Shapes to your list of the must-buy HomeKit devices in 2022. The Nanoleaf light panels are modular hexagon tiles that connect together like custom puzzle pieces and instantly lift up the mood & ambience of any space. With the drill-free setup, you can easily mount these lights on any flat surface using the included mounting tape. The best thing about these HomeKit -compatible smart light panels is that you can create any design that you want by joining different triangular panels together. Even better, with the layout Assistant in the Nanoleaf app, you can preview how your designs will look in your space by using the AR feature. 
Moving further, with 16+ million colours, 1200k-6500k white temperature range, and brightness control, you can create the perfect lighting setup for every mood. For example, you can choose crisp white light while working, gentle warm light for bedtime reading, and multi-hued for your entertainment/gaming setup. These HomeKit smart light panels are paired with a Rhythm Module that reacts to the music of all genres in real-time. It automatically senses the audio and transforms it into colour & light for an incredible real-time audiovisual display. Just plug this module into any light panel and you're good to go. 
What's more? You can create Scenes, Playlists, set schedules, and do much more with the Nanoleaf app or via Apple HomeKit. 
Also Read: Best Accessories for iPad Air 5th gen
17. Roborock S7 Robot Vaccum and Mop (Say Hi to effortless cleaning)
Hate cleaning but want to enjoy a clean and hygienic home? Tired of cleaning those carpets full of pet hair? For all the working people who hardly get any time for deep cleaning their homes, we've got a perfect HomeKit device for your apartments. The Roborock S7 Robot Vaccum and Mop is amongst the best HomKit-enabled smart device for people who're planning to build an automated home. Also, it's supremely useful for new homeowners and senior citizens who live independently. Whether it's a tile or carpet, this smart home device will beautifully clean all the surfaces. Additionally, this robot vacuum and mop can easily remove mid, coffee, and other hard stains. 
With the Roborock app, you can set the cleaning schedules, adjust vibration strength, cleaning intensity, Waterflow, No-Go zones, cleaning sequences, and more. Therefore, you can easily tell this smart home device which rooms to clean and what areas to avoid. This HomeKit-compatible smart home device offers Siri shortcuts so that you can tell the robot to clean your kitchen with a simple voice command. In addition, it's a fantastic HomeKit device for pet owners as this robot mop picks up pet hair and removes it from the brush rolls. The Roborock S7 Robot Vaccum and Mop a clean for up to 180 minutes on a single charge. Therefore, you can clean your apartment in one go.
All in all, Roborock S7 Robot Vaccum and Mop is one of the best HomeKit devices for apartments in 2022. Moreover, it's an excellent tech gift for people with tight schedules. 
Also Read: Best Accessories for Apple Watch Series 7
What should I buy for Apple HomeKit?
If you're wondering what to buy for your Apple HomeKit or are looking for the best Homekit accessories to start your smart home journey, you must consider four important factors. First is your current home setup. When you're planning to buy the best HomeKit devices for your apartment, you must look for the options that fit your place's design and overall look. For example, if you're looking for a smart plug and your wall power outlets are quite narrow, you should go for the options that are slim and don't block other outlets. 
Next thing that you must consider while buying HomeKit devices for your smart home is your needs. We strongly recommend going for devices are satisfies your requirements rather than buying fancy items that are of least use. For example, if you want to control the lights of your room, it makes sense to buy smart lights. On the flip side, if you've got a complicated lighting setup with dozens of bulbs in each room, it's a great idea to invest in multiple smart light switches. This will save you money while giving a complete control over your home lights. 
Moving further, before you buy an Apple HomeKit device, it's important to factor in the features offered by that device. For example, if you're planning to buy a HomeKit video doorbell, make sure to check if it has a two-way audio mode. This will allow you to talk to someone who's at your door, without having to get up and reach the door.  
Lastly, since the majority of HomeKit devices are quite expensive, you must consider the price before buying. Make sure to understand your needs and what a smart device is bringing to your home. This will help you make wise decisions and save you from money wasters.
With this, we've come to an end of our list of the best HomeKit devices in 2022. We hope you enjoyed this roundup and have picked the best HomeKit smart light, camera, home security system, and other devices for your smart home.
Which HomeKit devices are you planning to buy? Do share your experiences in the comments section below.