In today's fast-paced life, everyone is under tremendous pressure to give their best shots in every situation. From teenagers to senior citizens, stress, anxiety, and depression can cause severe impacts on anyone's overall well-being. Sometimes, we wonder if we can ever come out of this hailstorm of endless stress and anxiety. Moreover, sometimes, we are not comfortable heading to a therapist or a counselor or even consult our friends or family members. Now, it doesn't mean there's nothing that we can do to get rid of these issues.
The way you can use your smartphone as a fitness companion and a brain trainer, you can also utilize it to be your stress reliever. There are various stress-relief apps that you can start using right away to alleviate your stress, tension, and depression. Whether you prefer soulful music, deep breathing or meditation exercises, or peaceful sleeping stories, there are various stress-relief apps to choose from and make a huge difference in your overall personality. 
Here's our roundup for the best stress-relief apps for iPhone and Android in 2020 that will help you fight chronic anxiety, stress, tension, and depression. So, without any further ado, let's jump to the list.
1. Solitaire Bliss
Compatibility: Web, iOS, Android
Price: Free($1.99 for no ads for a month)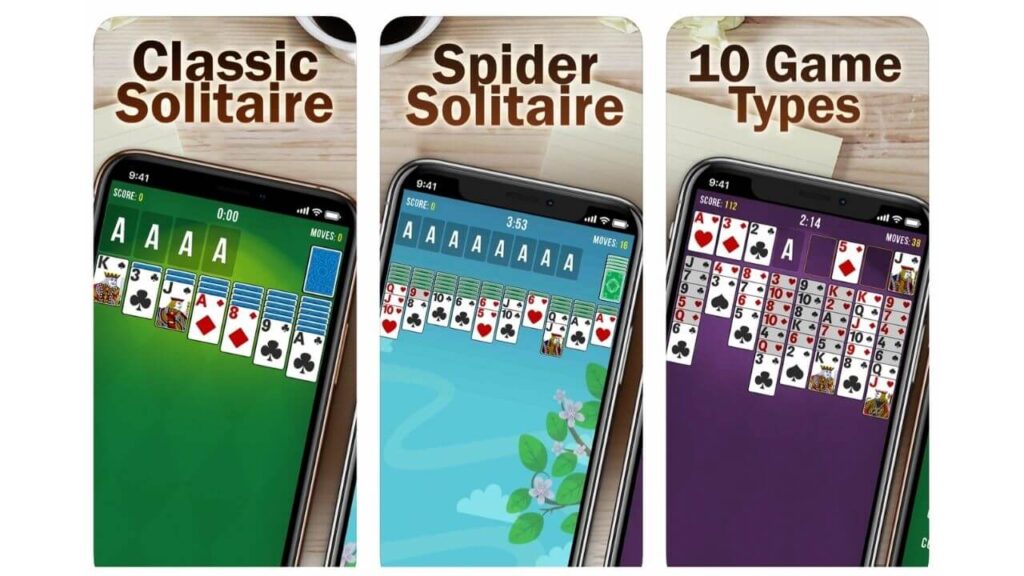 Card games have historically been used as a stress-relieving tool for centuries! Solitaire Bliss ports this much loved pastime from the physical realm of an actual deck of cards to your computing device. It is a great way to give your mind an engaging and enjoyable break from the stressful daily routine.

A variety of different card games built into one app which means there's always something for everyone looking for a refreshing game of cards

Unlike other methods, Solitaire Bliss gives you that much-needed break while making sure your mind is engaged and active

Solitaire Bliss can be transformed into a family activity as card games have been proved to develop critical thinking and problem-solving skills in kids 
While Solitaire Bliss, with its diverse suite of 36 different card games, is absolutely free on all platforms, there is an additional in-app purchase which can be used to disable in-game ads. We would definitely recommend this game as a simple and engaging tool to deal with stress and anxiety. 
2. Calm
Compatibility: iOS, Android
Price: Free, Premium is $59.99 per year or $399.99 lifetime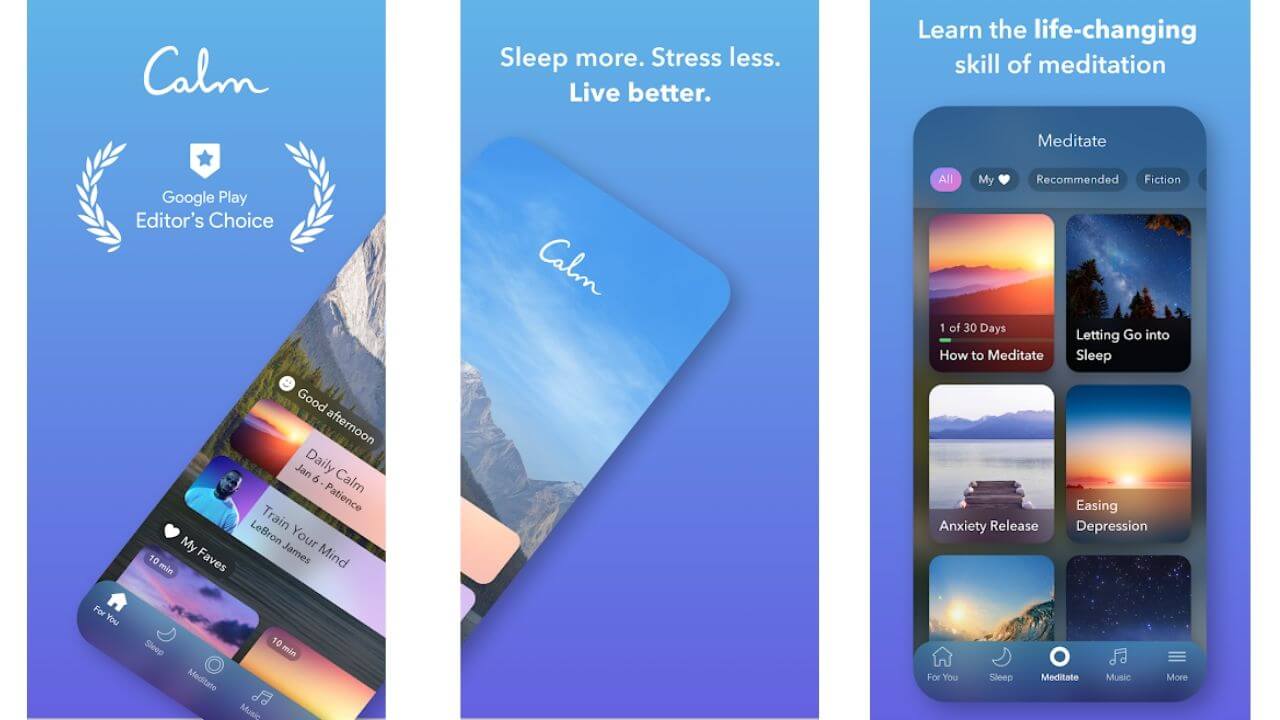 Are you looking for a stress-relief app that brings some peace in your life, helps you relax, and make you fall asleep easier? Calm is a versatile guided meditation app that helps in overcoming stress, anxiety, and depression with its sleep stories, relaxing music, and breathing programs. It's a must-have stress-relief app for anyone who's struggling with the lack of sleep. 
The app basically helps in de-stressing and gets your mind into a peaceful state for a comfortable sleep. 

Calm offers guided meditation sessions from 3 to 25 minutes so that a user can choose the best session as per his schedule.

It has over 100 exclusive sleep stories for adults as well as children.

The app offers 7 and 21-day mindfulness programs to practice more focused techniques for both beginners and advanced users.

The programs are designed to de-stress, build self-esteem and confidence, inculcate positive habits like forgiveness, happiness, kindness, and non-judgment. 
The Premium subscription starts at $14.99/ month that unlocks the full range of sleep aids, masterclasses, a daily dose of meditation, and exclusive music tracks.
3. Youper
Compatibility: iOS, Android 
Price: Free, Monthly subscription starts at $9.99 and Lifetime access at $229.99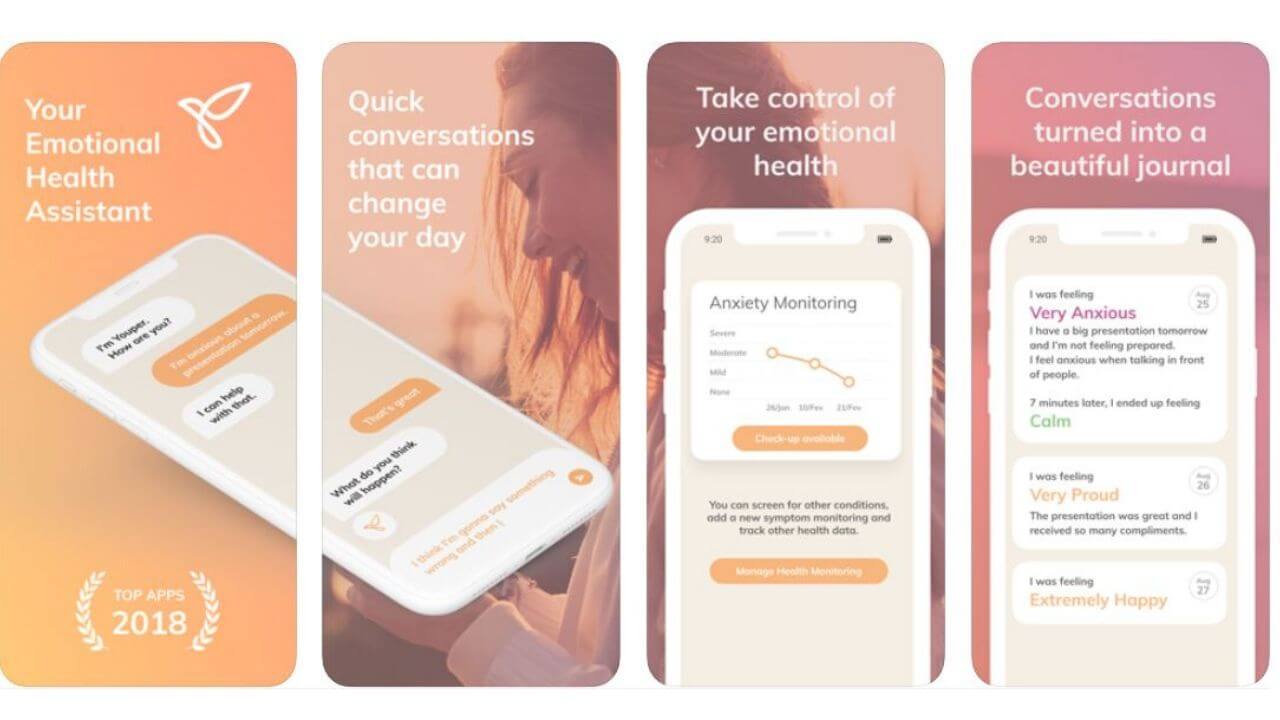 Youper is one of the best stress-relief apps that can serve you as a personal Emotional Health Assistant. Whenever you feel extremely stressed out and need someone to talk to, a quick conversation with the Youper app can make a positive impact on your mental well-being.
The app uses Artificial Intelligence to personalize various techniques that can help you reduce stress and depression. 

Youper will help you understand yourself better, improve your relationships, and will make you happier inside and out.

It has a mood tracker that will help you understand your mood in a better way.

Sometimes, when you don't feel like talking, the app guides you through soulful practices. 
The app easily integrates with Apple Health and Google Fit to make self-care easier.
4. Simple Habit
Compatibility: iOS, Android
Price: Free, Premium access starts at $2.99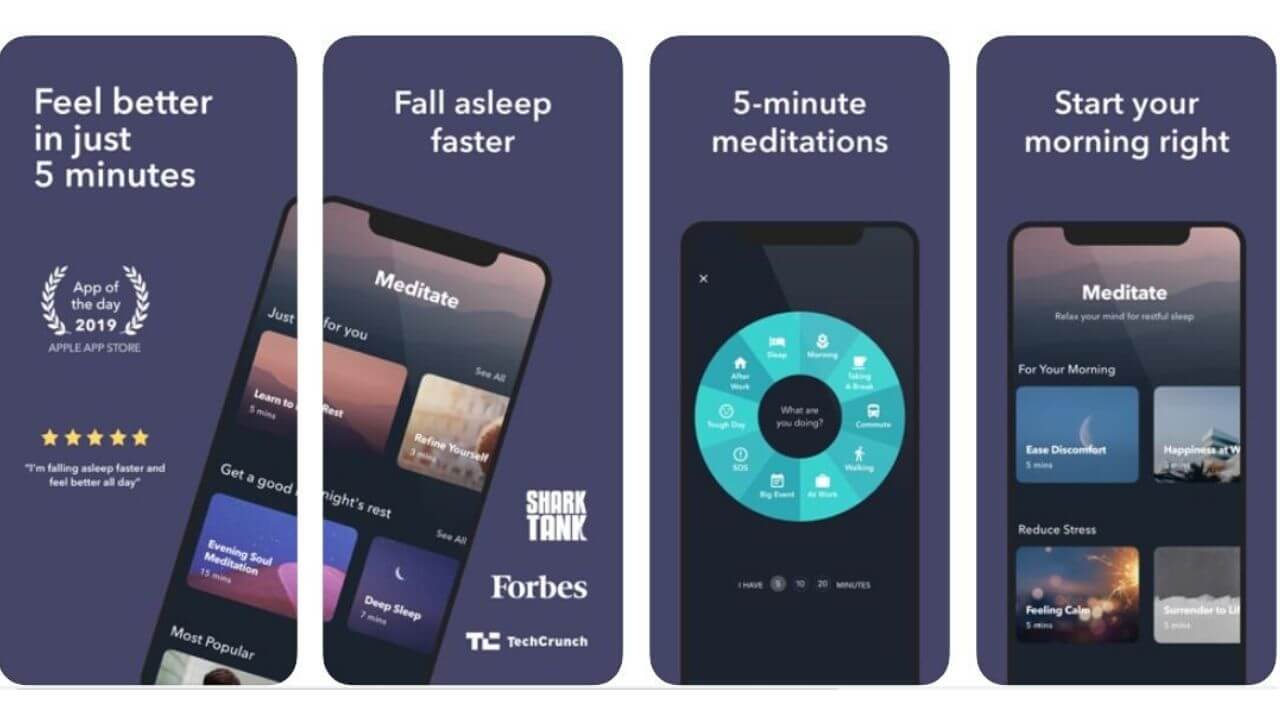 Simple Habit is the best free stress-relief app for busy people which provides short and simple sessions to reduce stress and have a better sleep. 
Simple Habit provides a daily dose of stress relief with its short 5-minute sessions.

You can also browse through the 20-minute sessions while you commute to your office or back to your home, or in case you want to fall asleep quickly.

The app offers guided mindfulness, meditation, sleep sessions, and daily motivation from renowned experts across the globe. 

Moreover, the app has a dedicated playlist just for burnout symptoms, with sessions like "relieving morning anxiety" and "stay calm with a busy schedule".
5. Headspace
Compatibility: iOS, Android
Price: Free Trial, $12.99/month or $69.99/year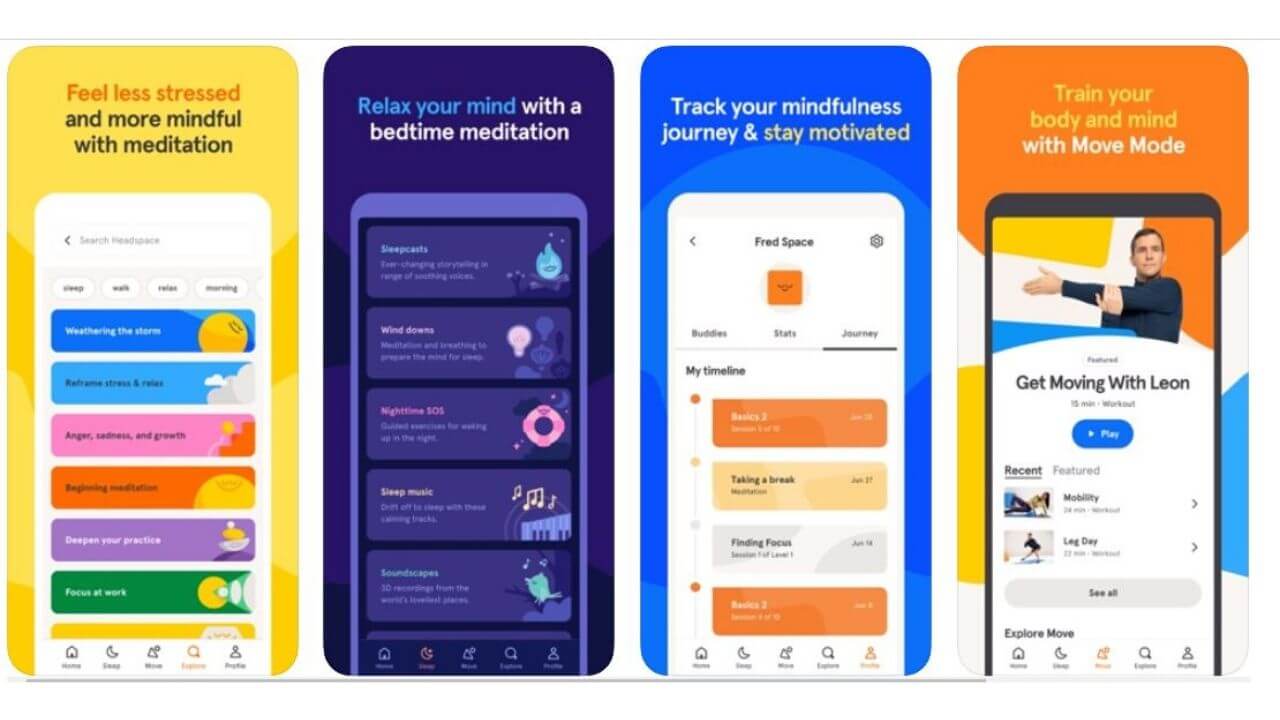 Meditation is one of the most effective ways to curb stress and maintains a healthy regimen. Here we have Headspace, one of the best guided meditation apps for relieving stress. The app has been developed by a sports scientist-turned-Buddhist monk, Andy Puddicombe, and aims to help people live peacefully. When you sign up for the app, you can add your objectives such as stress, physical health awareness, or relaxation. Also, you can mention your experience level with meditation to get apt sessions.
Users can choose from hundreds of guided meditations to manage everything from stress, anxiety, sleep, productivity issues, and focus. 

The app also offers some short SOS meditations for the days when you've got a busy schedule, or you need instant relief in case of some emotional crisis.

You can give a shot to this amazing stress relief app with its basic free course that offers you 10 meditation sessions and let you take those initial steps towards soulful meditation. 
6. Sanvello
Compatibility: iOS, Android
Price: Free, Offers in-app purchases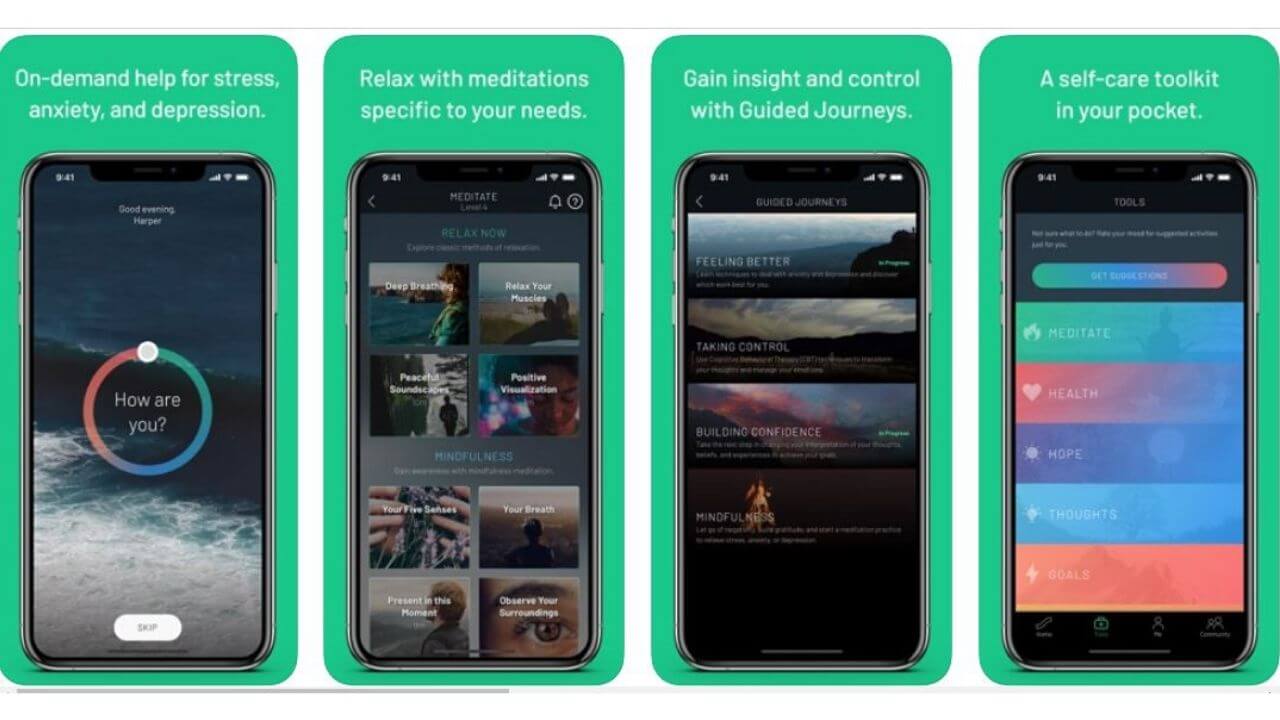 Sanvello is a free and effective stress relief app that uses proven cognitive behavioral therapy methods to help users fight stress, depression, and anxiety. Sanvello premium access is free for everyone during the COVID-19 pandemic. Also, the app offers free guided meditations to the users with a valid .edu email address. 
The app works on clinically validated techniques to deal with all the mental health issues.

It gives you a better and clear understanding of the things that make you feel better and offers you tools and resources that will make you happier over time.

Sanvello features a daily mood tracker that helps the users to rate how they're feeling and spot the patterns that influence their mood.

The app doesn't let you feel that you're alone who's struggling with stress or anxiety issues. You can join group conversations to chat with other users who're facing the same issues or even share your personal stories.  
7. Happify
Compatibility: iPhone and Android
Price: Free, Offers in-app purchases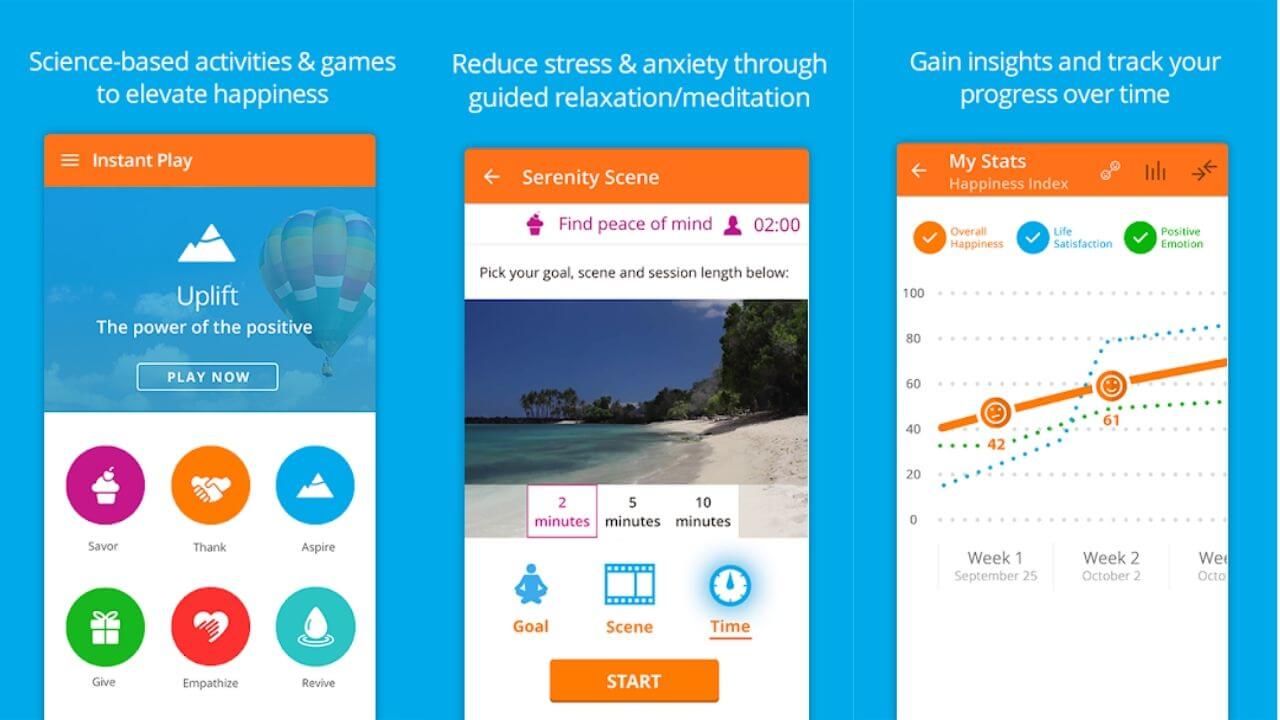 Do you feel stressed, anxious, or depressed all the time? Are you looking for a stress relief app to improve your emotional well-being in a fun way? Happify is sure to be your ultimate choice as it's more than just a stress-relieving app. Happify helps users relieve stress through games.
It works on the fundamentals of optimistic psychology that helps to build self-confidence, conquer negative thoughts, and eventually reduce stress.

The app offers you games, meditations, and access to over 65 tracks that work on improving different aspects of mental health.

You get a 20-page character strength report, which is offered in partnership with a renowned VIA Institute. 
This is one of the best free stress relief apps for seniors as it helps them to stay happy, which is the key to overall mental and emotional well-being. 
8. The Mindfulness App
Compatibility: iOS and Android
Price: Free, Premium is $9.99 monthly or $59.99 yearly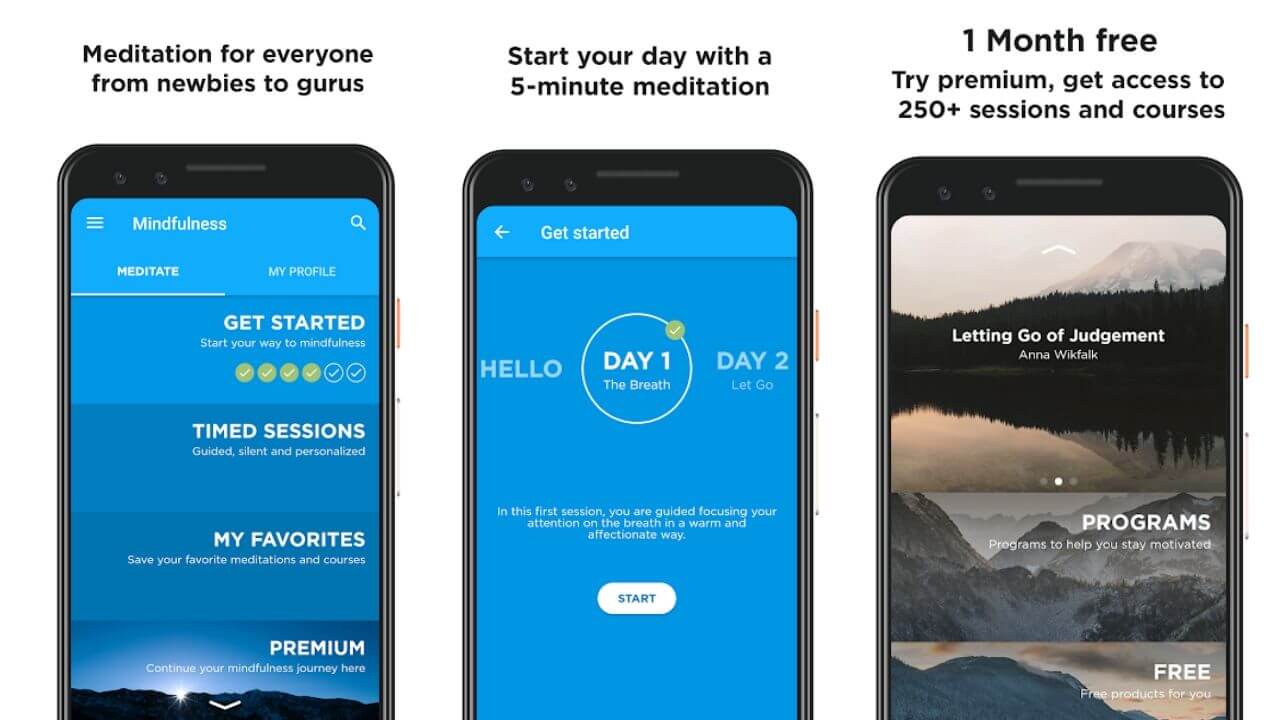 The Mindfulness app is the best stress-relief app for anyone who's new to meditation. It offers a short five-day program that helps to de-stress your mind, focus on breathing, filter out sounds, and uplift your mood.
The app offers guided and silent meditation sessions starting from 3 minutes and going up to 30 minutes. So, it's a very helpful stress-relief app for the beginners, who're looking for easy ways to get into meditation.

Also, you can add nature-themed background music to your meditation sessions to make them more relaxing and enjoyable.

You can also set Meditation reminders and keep a track of your meditation journey with the statistics under the profile section.
The premium subscription offers unlimited access to meditations and courses by some of the world's most influential teachers.
9. Ten Percent Happier
Compatibility: iOS and Android
Price: Free, Premium is $99 per year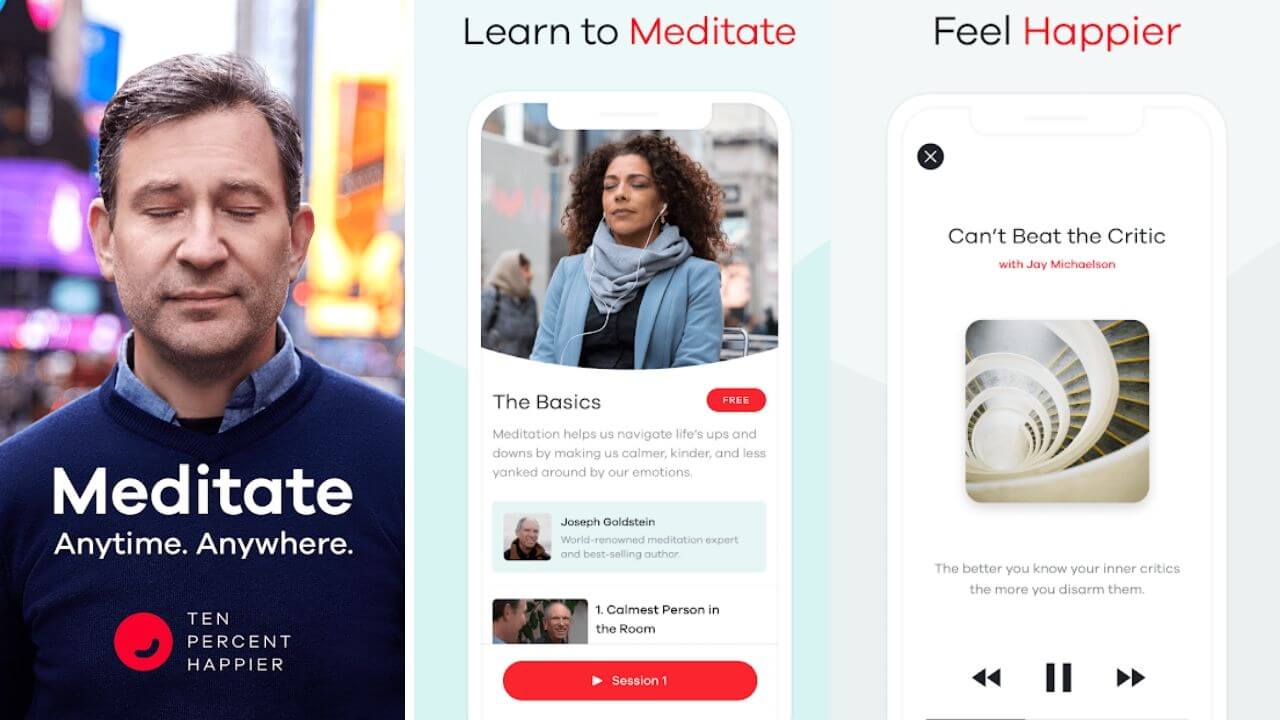 Do you want to become ten percent happier, have a night of better sleep, improve your relationships, relieve your stress, and be more mindful? If yes, the Ten Percent Happier app is absolutely your thing.
You can pull out the exact meditation session you need from a wide library of 500+ guided meditations, that are designed to calm your mind, cut down all the stress and anxiety, and boost your overall mental health.

The app also has a separate section of relaxing meditations that will help you fall asleep easier.

When you're not in a mood to meditate but want some mindfulness, you can browse through some  short inspirational stories that will boost up your mood
If you're looking for a stress-relief app that offers you easy ways to make a difference to your life, Ten Percent Happier is worth giving a try.
Did you know Gaming can release stress? Make sure to check out the best AR (Augmented Reality) games for iPhone & iPad.
10. Stop Breathe and Think
Compatibility: iOS and Android
Price: Free, Premium starts at $9.99 per month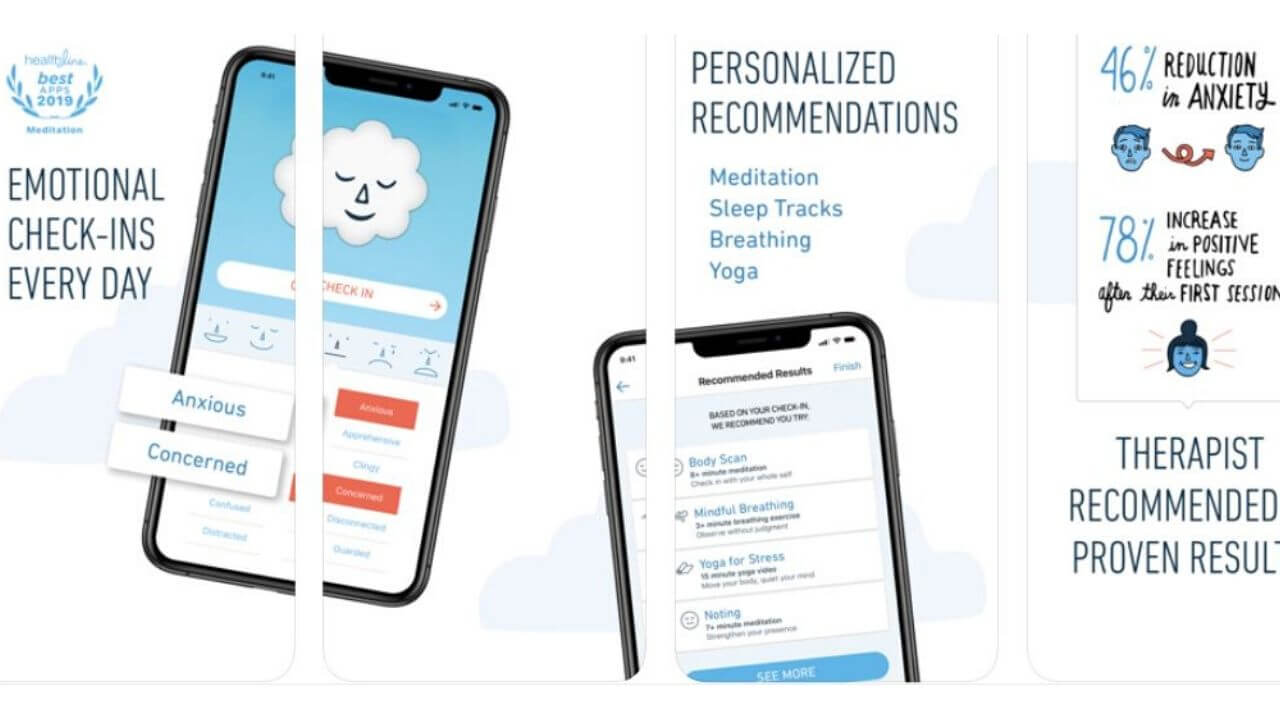 It's often said that whenever you're super-stressed, you should stop, take a deep breath, and think. That's what this amazing stress-relief does. Stop Breathe and Think will ask you to check in with your emotions, like how are you feeling physically and emotionally. After that, the app offers customized meditations according to the current state of your mind. 
You can also choose your own meditation sessions. Moreover, if you're a beginner, the app has a dedicated section, Get Started that shows basic steps on how to start meditating and relieve stress.

The app keeps track of your emotions and shows you how you were feeling before and after the meditation.

The Progress Tracker keeps a record of the total time you've spent on meditation, how often you've checked in, and the top emotions that you've reported.
11. Unplug Meditation
Compatibility: iOS and Android
Price: 7-day free trial, $7.99 per month or $59.99 per year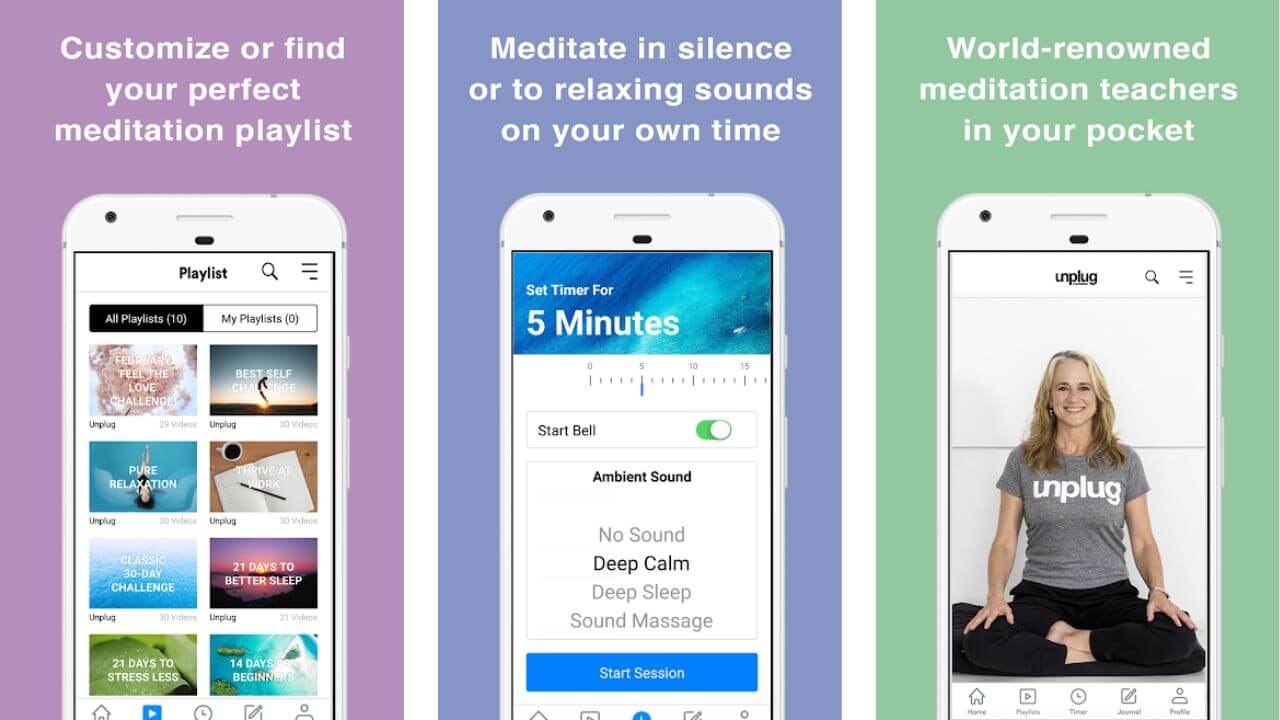 Unplug Meditation is a unique stress-relief app that gives you the experience of meditating in an immersive class with renowned instructors. All the sessions of the Unplug Meditation are filmed at the Los Angeles studio, which adds a visual treat to your sessions.  
The app has a huge library of over 700 meditation and mindfulness videos, ranging from as short as one minute to as long as 45 minutes. Therefore, Unplug Meditation is one of the best stress relief apps for people with a busy or hectic schedule. 

You can choose a session according to your current mood, meditation length, or teachers.

If you're in a mood to meditate on your own, without any guided session, you can choose the Unplug's relaxing ambient sounds and meditation timer.
12. Talklife
Compatibility: iOS and Android
Price: Free, offers in-app purchases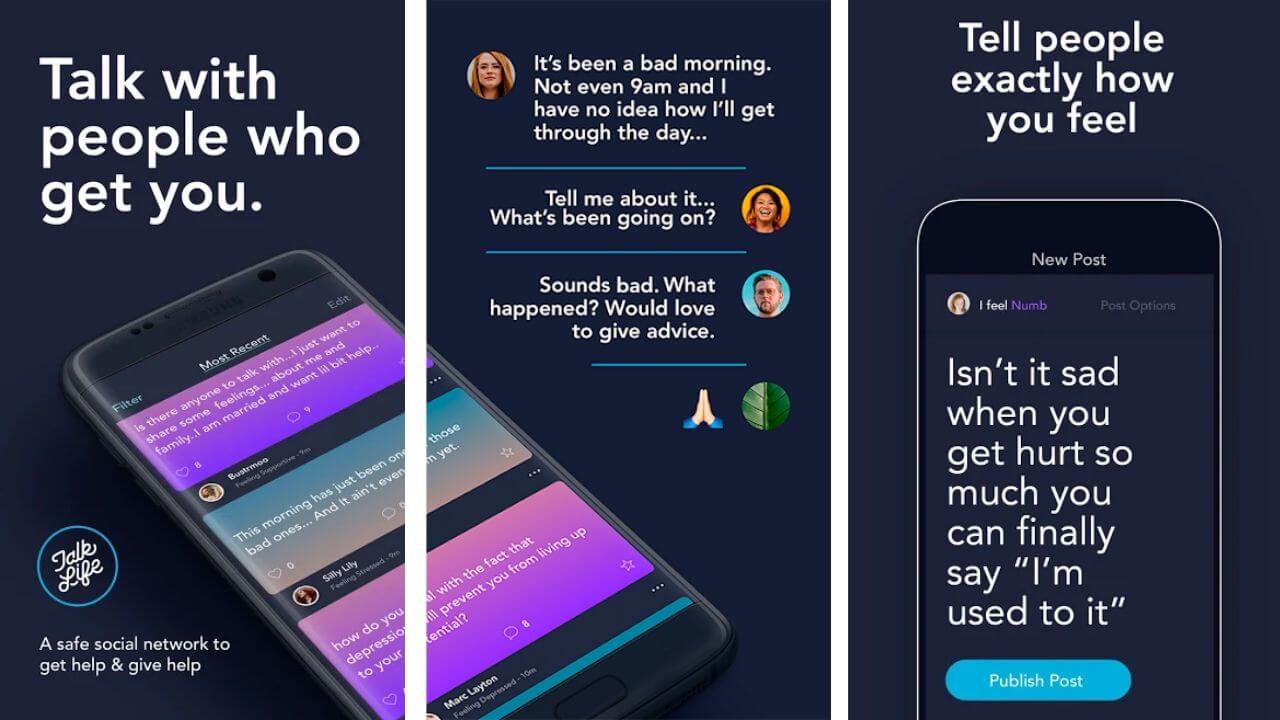 Do you feel no one understands your stress and anxiety? Or you're simply not comfortable in sharing your thoughts with anyone because you fear that they'll judge you? Time to say goodbye to these thoughts with a really helpful stress-relief app for iPhone and Android. Talklife is a no-judgment chat room, where you can connect to people all over the world who're struggling with stress, depression, anxiety, and suicidal thoughts.
The Talklife app provides you a dedicated space to talk to the like-minded people who get you. Sometimes, this is all that you need to de-stress yourself.

You can discuss the ups and downs of your life, seek help from others, or even help someone with your experiences and tips.

The app also lets you post anonymously. 

The conversations are carefully monitored and you can talk about anything, ranging from eating disorders to a bad breakup or relationship.
13. What's Up
Compatibility: iOS and Android
Price: Free, offers in-app purchases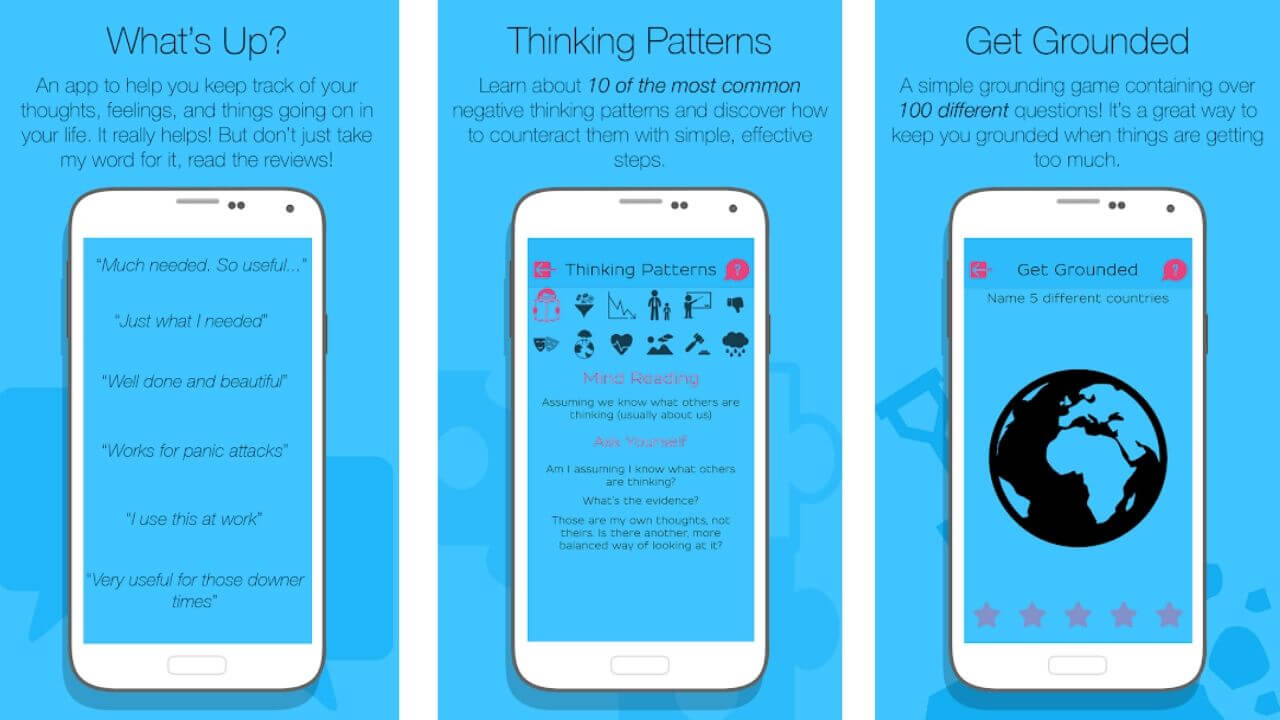 What's Up is one of the best free stress relief apps that combines techniques from both Cognitive Behavioural Therapy (CBT) and Acceptance Commitment Therapy (ACT), and helps users cope with stress, anger, depression, and other mental health issues. The app offers three simple breathing techniques to cut down stress from your daily life.
What's Up features 12 common negative thinking patterns and offers simple ways to deal with them.

Also, there are 10 great metaphors to cut down all the negativity and stress.

The app has a positive and negative tracker that will help a user to maintain good habits and stay away from the counterproductive ones. 

There's a Catastrophe scale that helps you put your problems in a better perspective, including the ability to rate your feelings on a scale of 1 to 10.

The app has an entertaining "Get Grounded" page that contains over 100 fun questions to keep the users grounded and in the present during stressful situations.

The app also has over 70 inspirational quotes to refresh your mind whenever you feel like giving up. You can also add and share your own quotes.
All in all, What's Up is one of the best free stress relief apps with a large number of useful features and trackers.
14. Lumosity Mind
Compatibility: iOS, Android
Price: Free, offers in-app purchases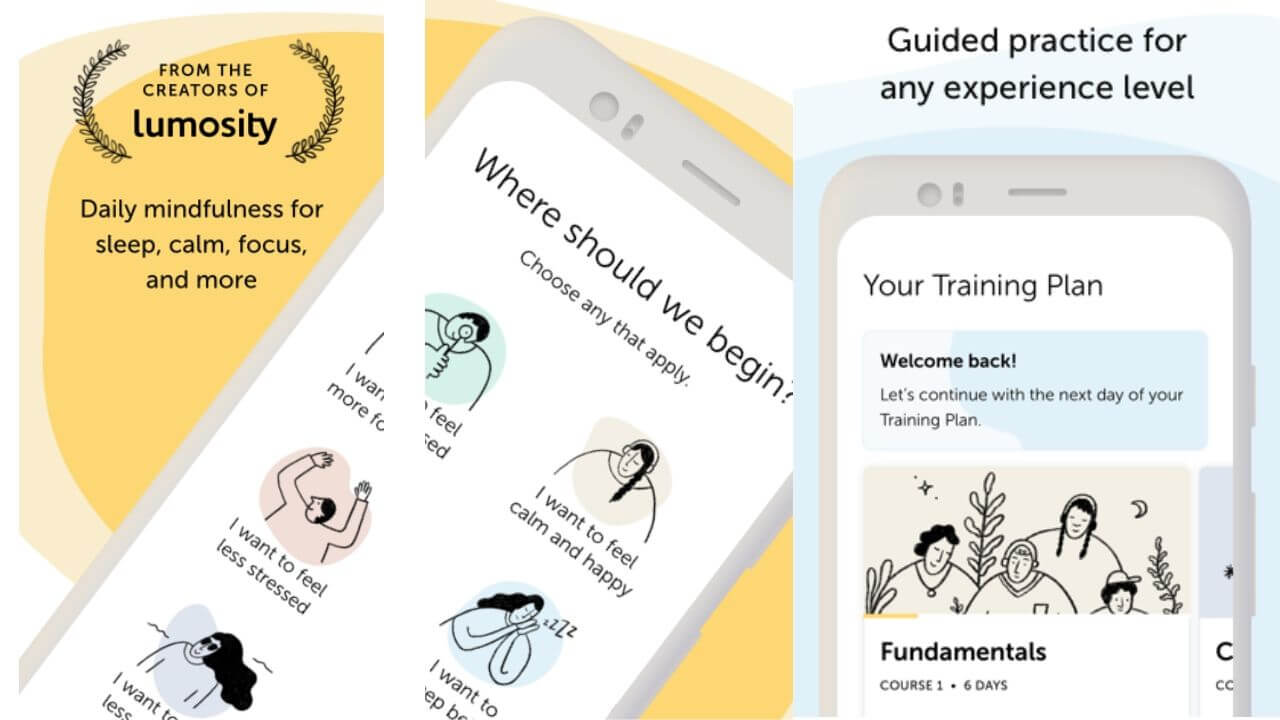 Lumosity Mind is a simple stress-relief app for Android and iOS users that offers enjoyable mindfulness practices to get rid of all the mental health issues, including sleep, stress, tension, and anxiety. Moreover, if you can't keep focus and attention on important things in your life, Lumosity Mind can be a great helping hand.
The app offers customized daily meditation sessions based on your interests and experience, that will help you reduce stress and boost focus.

There are recommended sessions on how to handle emotional pressures.

 You can also dive deeper and access various guided sessions for better sleep and instill the habit of gratitude and kindness.
15. Moodfit
Compatibility: iOS and Android
Price: Free, offers in-app purchases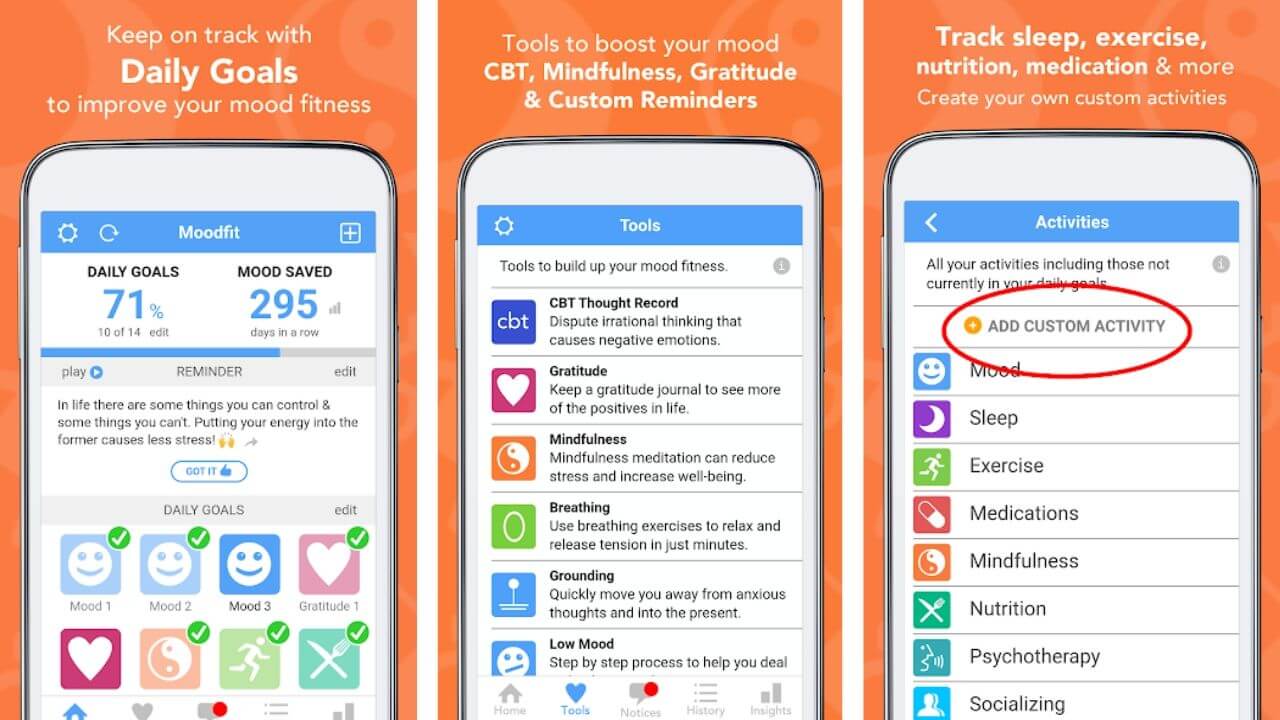 If you're someone who struggles with a bad mood, frustration, or irritation on a daily basis, it will definitely affect your personal as well as professional life. Therefore, it's very important to improve your mood to shape up your overall mental well-being. Here comes the Moodfit app that focuses mainly on improving your mood by keeping a track of what brings you up and down like sleep, exercise, or meditation.
The app processes your thoughts with the techniques based on CBT and helps to reduce stress and anxiety with mindfulness meditation.

Moodfit will give you a detailed record of your mood-related activities and charts to show a relationship between your mood and other factors like sleep and exercise.

A user can learn positive skills like gratitude and mindfulness by spending just a few minutes a day.   

The best part of using this app is that a user gets actionable insights into what affects his mood and sets daily goals to improve it.
16. MoodMission
Compatibility: iOS, Android
Price: Free, offers in-app purchases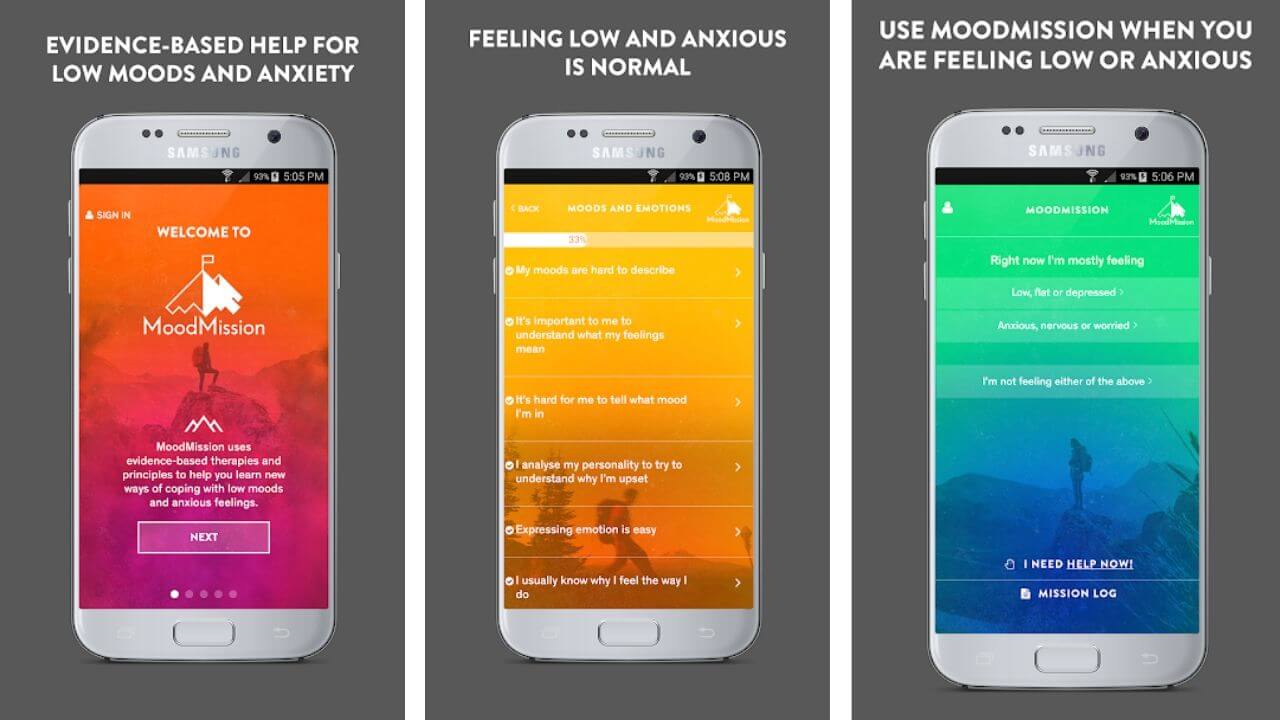 If you love playing games on your phone, MoodMission is an amazing stress-relief app that offers fun, stress buster missions. The user has to answer the simple question, "how you're feeling", and the app offers 5 Missions that will actually help you feel better. 
Each mission is an activity that focuses on reducing stress, anxiety, and depression.

The activities include breathing exercises, yoga, meditations, how to deal with negative thoughts, and some physical exercises.

Each mission will show you some objectives and explanations on how a particular activity can help you.

There's a mission log that shows all the missions that you've completed, tracks and ranks your progress over time. 
Apart from these stress-relief apps, there are some amazing free fitness apps that aren't geared specifically towards stress management but play a very important role in relieving stress and boosting healthy habits. Moreover, it's said that exercise is an excellent stress-buster. After all, a healthy mind resides in a healthy body.
So, don't miss our list of the best free fitness apps for iOS and best multiplayer gaming apps for iPad.
Also, if you're looking for some amazing apps to boost your memory and focus, don't forget to check out our list of the best brain training apps.