After months of rumors and leaks, Apple launched the most anticipated smartphone of the year, the iPhone 14 lineup at the Far Out event. We get to see a different lineup as compared to last year. There are 4 models of iPhone 14 available in the market right now- the iPhone 14, iPhone 14 Plus (replaced the iPhone 13 Mini), iPhone 14 Pro, and iPhone 14 Pro Max. Alongside the iPhones, we also got to see new wearables like the all-new Apple Watch Ultra with 2 other watches and 2nd Gen AirPods Pro.
The 2022 lineup of iPhone 14 base and iPhone 14 Pro models have big differences in terms of hardware, especially the camera and the display. With the 14 Pro models you'll get the most powerful A16 Bionic chip and the iPhone 14 and iPhone 14 Plus will get the A15 Bionic chip which was used in
iPhone 13 models as well. iPhones have no doubt one of the best cameras but with iPhone 14 Pro and 14 Pro Max Apple has taken it to another level with their 48MP camera. The Pro models of iPhone 14 have replaced the notch with a pill-shaped cutout supported by the "Dynamic Island" interface which can be used for many purposes. With a 6.1-inch Super Retina XDR display powered by a 120Hz refresh rate and a peak brightness of 2000 nits, this is definitely what a Pro smartphone should be.  
If you are planning to buy iPhone 14 Pro, a smartphone with a hefty $999 you wouldn't want to break it by any chance.  No matter how carefully you handle your phone it's just a glass sandwich that will shatter as soon as it hits the ground at the wrong time and at the wrong place. The cost of repair will be much higher than the cost of a protective case. So, wouldn't it be wiser to invest in something that will enhance the life of your smartphone as well as give you a personalized experience? Here we have a rounded-up of the best iPhone 14 Pro cases that you should check out. There are more than enough cases in the market so we have done our research by picking cases from the top brands. We've gone a step ahead by
testing them thoroughly and reading thousands of user reviews to select the top iPhone 14 Pro case for all kinds of users. We have hand-picked these cases while keeping in mind different users so that you can find any case of your choice. You'll get cases across different categories from clear cases, slim cases, hybrid cases, and protective cases, with accessories like a built-in kickstand and wallet. So, look no further and check out our list of best cases you should buy for your  iPhone 14 Pro. If you're buying a case after a while, we recommend you check out the following things you need to keep in mind while shopping for a new case for your iPhone 14 Pro. You can also skip these factors and jump to the list here.
How to shop for an iPhone 14 Pro case?
How much protection do you need?
Before buying a case for iPhone 14 Pro keep in mind your work environment and how much protection your iPhone needs. If you just need a case for protecting your iPhone 14 Pro from accidental drops around the house or while commuting, then a Hybrid case is a good choice. On the flip side, if you work in a construction zone or work on the go as a road warrior then getting a protective case for iPhone 14 Pro would make more sense.
MagSafe case or Regular case?
MagSafe cases are the ones that have a circular ring magnet in them and you can easily charge your phone wirelessly with a case on. MagSafe cases are slightly more expensive than regular cases. They are also compatible with MagSafe chargers and accessories which allows easy snap-on wireless charging rather than wasting so much time on aligning the phone. If you've invested in a MagSafe ecosystem or are planning to then get a MagSafe makes more sense. 
Thickness, Drop Protection, and Material
You should always look for a suitable material that would be comfortable for your hand to grip. If you want a harder grip buy a case with
frictional surfaces or ridges so it does not slip away easily even if you have butterfingers. Thick and rugged cases provide amazing drop protection however they feel bulky in hand.
Your Personality and Aesthetics
Cases add personalization to your smartphone, so while choosing a case keep in mind your overall outlook and the aesthetic of the case. You can choose from clear cases to aesthetically pleasing cases depending on how you like your iPhone 14 Pro in those mirror selfies.
Extra features: Wireless charging, Kickstand, Wallets, etc.
Cases are not just restricted to protecting your phone; many cases come with a bunch of cool features like wireless charging support, kickstands, card pockets, lens protectors, screen protectors, 360 degrees waterproof, etc. 
Best Cases to Protect Your iPhone 14 Pro [2023 Edition]
1. Spigen Ultra Hybrid Clear Case
The Best Clear Case for all the good reasons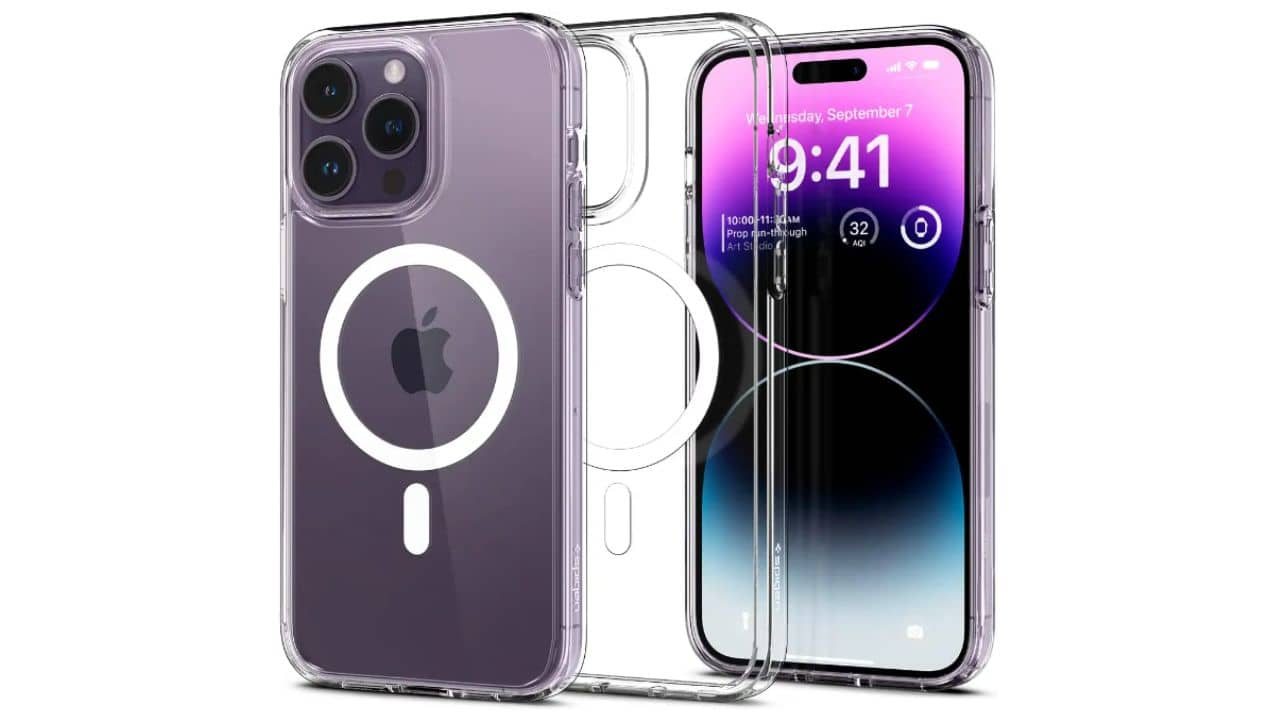 If you're someone who likes to flaunt the color you picked for your iPhone 14 Pro, this clear case is for you. Spigen is one of the most trusted brands when it comes to smartphone cases. This crystal clear case for iPhone 14 Pro is one of the best alternatives for the
Apple clear case with MagSafe at a much more affordable price. This case is crafted from a sturdy blend of TPU and polycarbonate to offer robust protection. The durable back panel and the thick corners will absorb any shocks and bumps. Usually, with clear cases, it is not expected that they will give durable protection, but in this instance their durability is excellent. The enhanced buttons ensure a noise-free click experience and are easy to find while using your smartphone in dark. The anti-yellowing technology ensures to prevent your smartphone from looking like it has jaundice after a few weeks. Since it is made for TPU the case will get yellow but after months of heavy use if you are someone who constantly chats while eating food then yellowing will increase. We noticed the yellowing almost after 8-10 months. For the price tag and looks, we believe it is a value-for-the-money case. The raised camera ridges around the camera bump and the air cushioning in the corners make it one of the top clear cases to buy for the iPhone 14 Pro.
Reasons to Buy:
Transparent and clear design

Shock absorbing corners

Enhanced and responsive buttons
Where it falls short:
Not the most protective case 

Starts to get yellow after almost a year
Also read: Best Chargers to Fast Charge Your iPhone 14 Pro and iPhone 14 Pro Max
2. Caseology Parallax Protective Case 
If Superman was a smartphone case – Impressive Protection & Premium Looks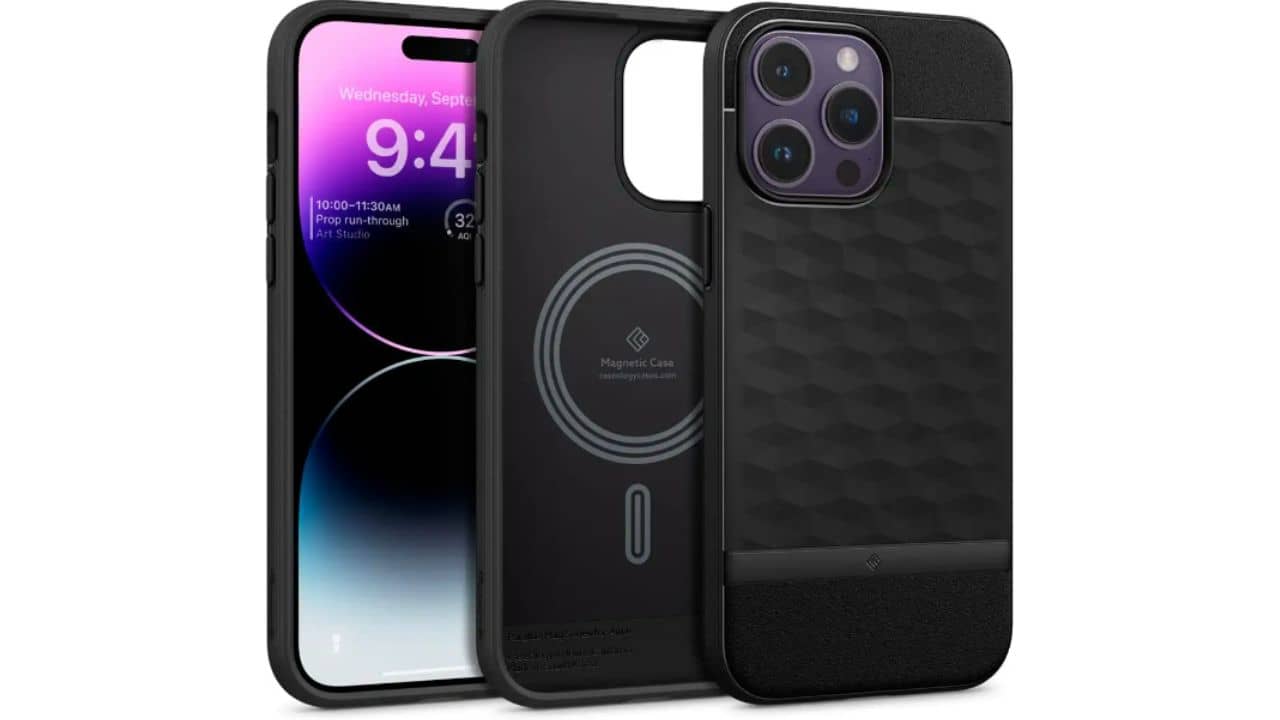 We understand the pain of dropping your iPhone from the stairs while rushing for a meeting or bumping into someone in the subway and watching your phone kiss the ground. In both scenarios, if your case would be as grippy as this one, that will save you from burning a hole in your pocket from the repair cost. The Caseology Parallax is not only one of the best hybrid cases for the iPhone 14 Pro, but it is also one of our favorite cases. All because of its 3D ergonomic design, good in-hand feel, and protection. The protective thick rim around the camera lenses protects your cameras from any scratches. And the case has a textured Hexa cube design which makes it very easier to grip and non-slippery. Plus, it also looks cool from all angles and lighting. Being a hybrid case this offers better protection as compared to slim or clear cases like the Spigen Hybrid case we talked about above. It can easily help your iPhone 14 Pro survive the drops while you get out of a car, accidentally drop it from your desk, or even if you have a toddler who likes to throw things for fun. The Caseology Parallax comes in 3 finishes Burgundy, Black, and Blue. This case. As compared to other hybrid cases, it is a relatively slim-fit case that fits perfectly on your iPhone 14 Pro. Moreover, the rounded corners do not make it look or feel bulky.
Reasons to Buy:
Non-slippery ergonomic design for better grip

MagSafe compatible

Comes in dual-tone colors and different texture

Lightweight and durable

Premium looks
Where it falls short:
The corners might fade away after a year
Also read: Best Cases for iPhone 14 Pro Max
3. Apple MagSafe Clear Case
Premium Build at a Premium Price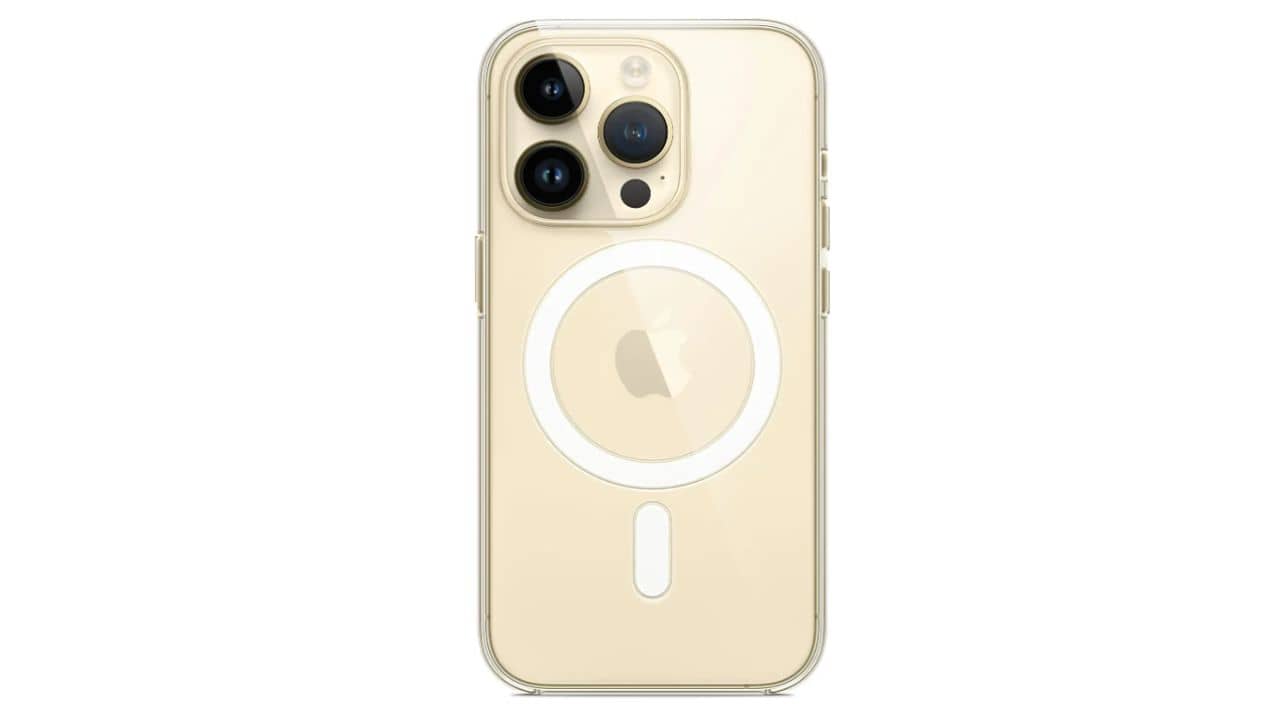 Like always Apple launched their cases for iPhone 14 Pro and this case has MagSafe charging and a sleek finish. This is a really simple yet attractive design that will serve you well in the long run. However, if you prefer printed, more aesthetically pleasing cases, this is not for you. This case offers a premium build with a simple design. Although the aesthetics of this device are not sufficient to justify its price, it is more likely to be purchased because it is available in an offline Apple Store and to be fair, they look super glossy in person. Though it might not offer heavy-duty drop protection, it surely does the job of keeping day-to-day scratches away. Apple makes use of several materials for these covers, and this is one of the best iPhone 14 Pro cases you can buy for MagSafe. Moreover, this iPhone 14 Pro does not get yellowish even after a year unlike other cases from Ringke or Spigen. You can also select between several materials such as
the Apple Silicone Case, or the Apple Leather Case. All of these cases are MagSafe compatible, which makes them ideal for charging your iPhone 14 Pro with a case on wirelessly.
Reasons to Buy:
High-quality premium finish

Does not get yellow for a long time 

Unbeatable fit

Respectable protection with MagSafe compatibility
Where it falls short:
Overpriced as compared to other alternatives
Also read: Best Wireless and MagSafe Chargers for iPhone 14 Series 
4. SUPCASE Unicorn Beetle Pro
Best iPhone 14 Pro Case for Rugged Protection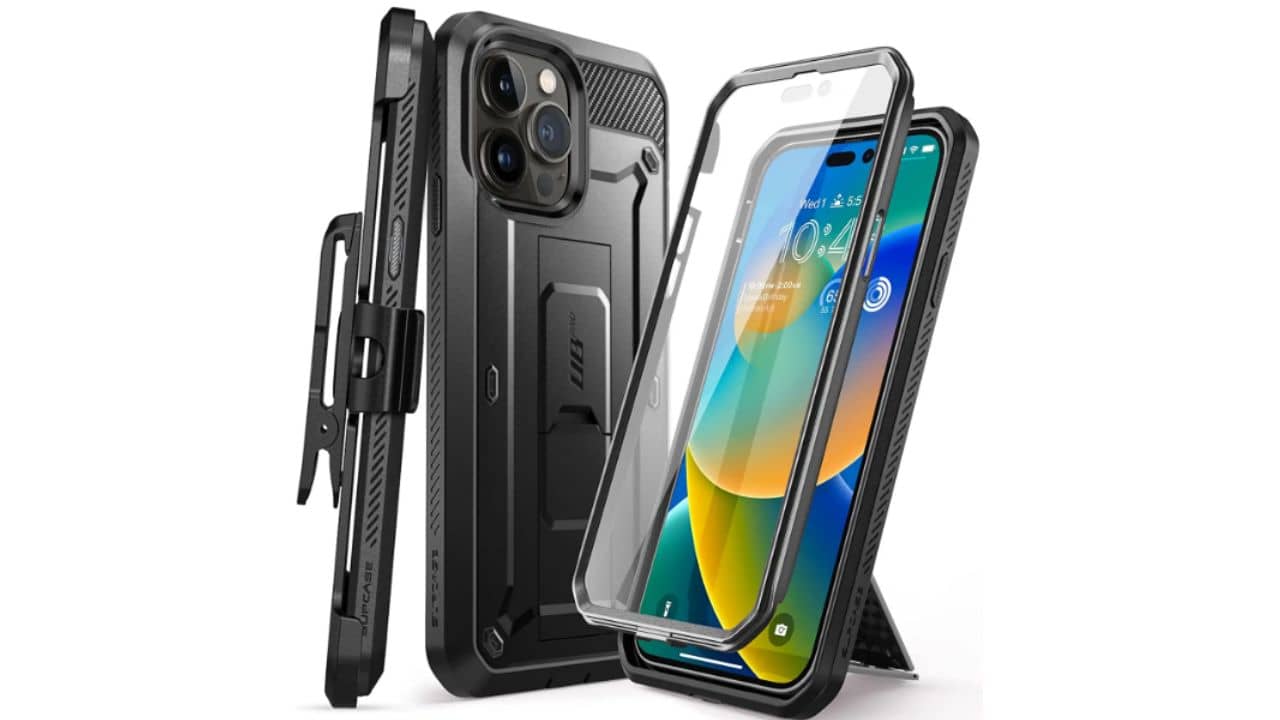 SUPCASE is well-known for providing reliable protection for any smartphone. It's the ideal case for anyone working in the field or even on a construction site, warehouse, or even mill where smartphones are at risk of being damaged. The SUPCASE Unicorn Beetle Pro is one of the best budget-friendly protective cases you can buy for iPhone Pro. It boasts a dual-layered design that can withstand practically any challenge, including up to 20 feet of drop protection. For the best overall protection, this case comes with a screen protector that works very well with exact cutouts for the Face ID and a new pill-shaped notch. Not only this but if you like scrolling through TikToks or taking video calls most of the time the built-in kickstand on this rugged iPhone 14 Pro case is perfect for you. In this case, you have the option of attaching a belt clip holster that makes it easy to carry your iPhone. The main issue with this style of case is that it makes your phone feel bulky in hand. 
Reasons to Buy:
360° protection

Built-in kickstand

20-ft Drop protection

The detachable clip is a handy addition to carrying phones easily

Comes in a MagSafe variant as well

The screen protector is effective against hard drops
Where it falls short:
Also read: Best Cases to Protect Your iPhone 14 Plus
5. Spigen Liquid Air Armor
Grippy & Lightweight case with Good Protection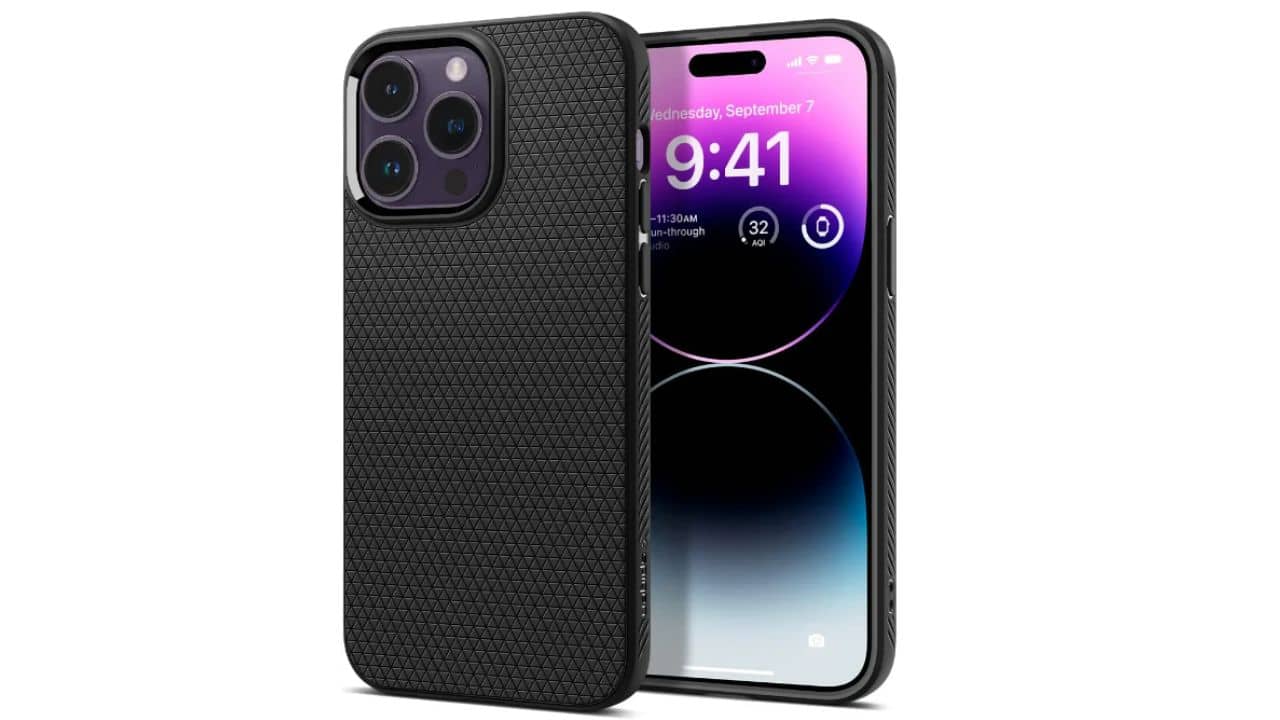 It is another best-selling case from Spigen that provides excellent overall protection for the iPhone 14 Pro. If you're not a fan of bulky cases then Spigen Liquid Armor is just for you. The textured matte surface provides a superior grip in your hand and your iPhone 14 Pro will not slip out easily even if you're running against the clock. The case provides anti-shock technology by mixing Spigen's Air Cushion technology and military-grade protection to save your phone from small bumps and daily drops. It has a tight fit with spacious cutouts for the lighting ports & mics, and buttons. The raised edges around the camera bump and display will save it from scratches and the enhanced button will help you easily find your phone in the dark. This is one of the best cases for those people who like grippy slim cases but want reliable protection for their iPhone 14 Pro.
Reasons to Buy:
Slim and lightweight

Best-in-class grip with a textured back and impressive in-hand feel

Shock protection with Air Cushion technology

Fingerprint resistant surface
Where it falls short:
Comes in two dark colors only 
 Also read: Best cases for 14-inch MacBook Pro
6. Otterbox Commuter Case for Rugged Protection
Rugged protection without looking like an ugly case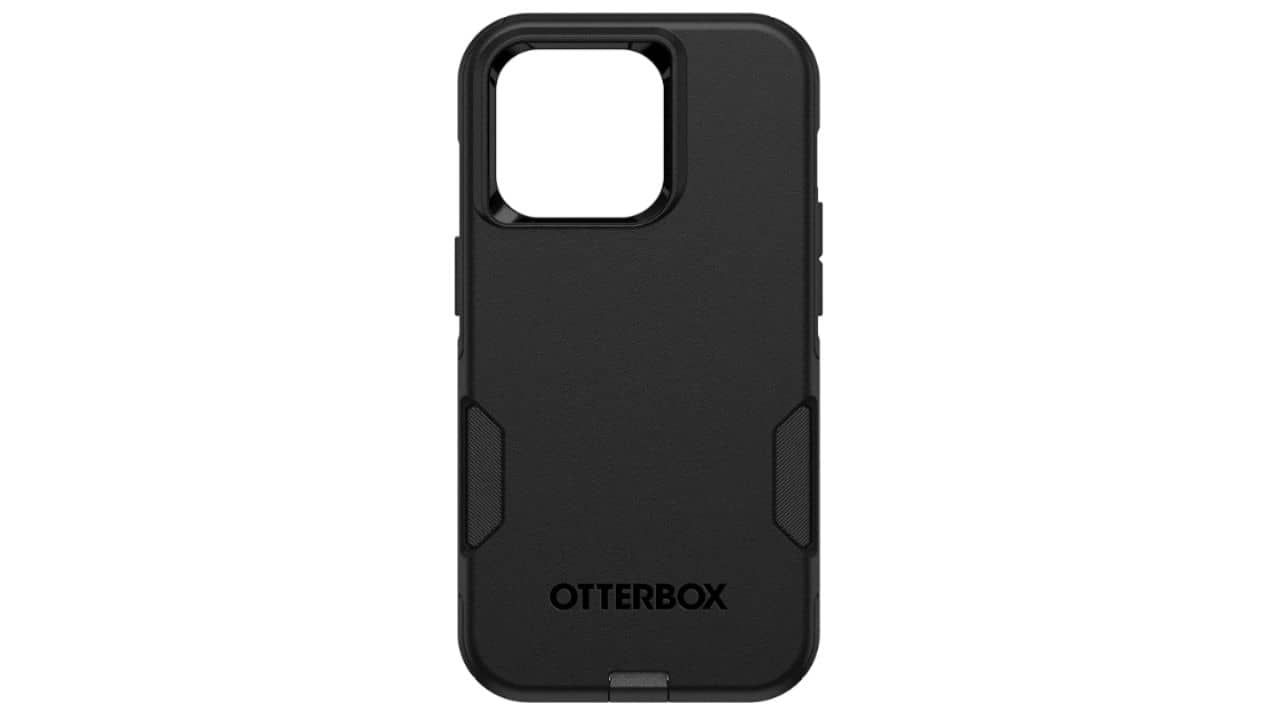 It is not possible to make a list of protective cases and not mention Otterbox- this company has proved itself by providing reliable protection in their cases over the years. Not all iPhone cases can survive serious multiple drops, after all. The Otterbox Commuter series is known to give rugged protection without looking rugged. This case can withstand hundreds of drops because of military-grade certification and DROP+ protection. The dual-layer build incorporates an inner shell made up of 35% recycled plastic and a soft flexible cover on the outside. Not only that you'll also get textured sides for a secure grip and anti-slippery in-hand feel. It is also compatible with iPhone 14 MagSafe charger and accessories. However, because the case lacks a magnetic connection, you must set them on a flat surface. OtterBox adds a charging port cover in addition to elevating the corners surrounding the camera to protect the lenses from scratching. The charging port cover prevents debris and moisture from entering the port which may
hamper the charging experience. This is one of the best cases you can find if you work in harsh environments, a warehouse, or as a DIY person trying to fix the roof. Trust us, we've all been there. This protective iPhone 14 Pro case comes in 4 different colors to choose from.
Reasons to Buy:
Port plugs prevent dust from getting inside the charging ports

Heavy duty military-grade protection

Antimicrobial property 

Soft inner slipcover to prevent scratches

Ottterbox lifetime warranty
Where it falls short:
Relatively expensive as compared to Spigen
There is another case from OtterBox that ticks every box. It's constructed of 50% recyclable plastic, has a good fit around the edges, has easy-to-use tactile buttons, and feels strong. There's also MagSafe support. The raised front borders keep the screen off the ground while maintaining a slim appearance. According to Otterbox the antimicrobial features keeps bacteria away however there is no evidence for that and certainly there's no alternative for washing your hands. Check out the OtterBox Symmetry case here. It also comes without the Pop as well.
Also read: Top Cases for the Most Expensive iPhone – The iPhone 14 Pro Max
7. Spigen Tough Armor with Magsafe
Simple Looks with Super Reliable Protection & Functionality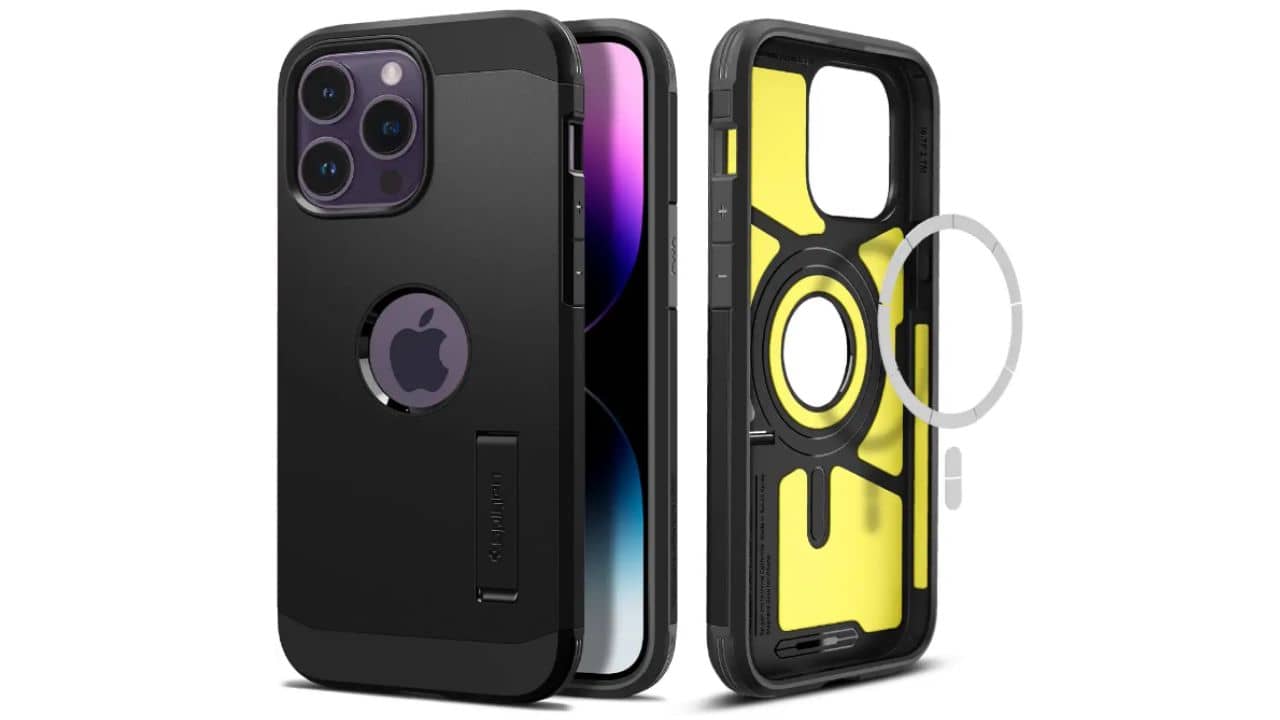 Spigen's Tough Armor is a cost-effective and tough alternative for OtterBox that provides outstanding protection without burning a hole in your wallet. This case includes a built-in folding kickstand that can be used vertically or horizontally when
FaceTiming friends or attending Zoom meetings.  The Tough Armor case maintains a sleek profile and gives respectable protection from bumps and drops without adding weight. The case comes with a dual layer of TPU and polycarbonate for tough protection. Spigen's Air Cushion technology ensures shock absorption in case you accidentally drop your phone while driving or while decluttering your desk after a long day. The thick and raised bezels aid in the protection of your camera as well as protects the beautiful Super Retina XDR display of your iPhone 14 Pro. This is without a doubt the best-rugged case for iPhone 14 Pro providing exceptional protection at an affordable price without adding bulk to your phone. The only caveat is that it has very simple looks. It's not bad looking, compared to other cases we mentioned above, this one is bland in the looks department.
Reasons to Buy:
Rugged protection yet affordable

Built-in kickstand

Shock-resistant 

MagSafe compatible
Where it falls short:
Not the best-looking case

Limited color options
Also read: Best Chargers for iPhone 14 and iPhone 14 Plus
8. ESR Kickstand Clear Case
Slim Clear Case with Detachable Kickstand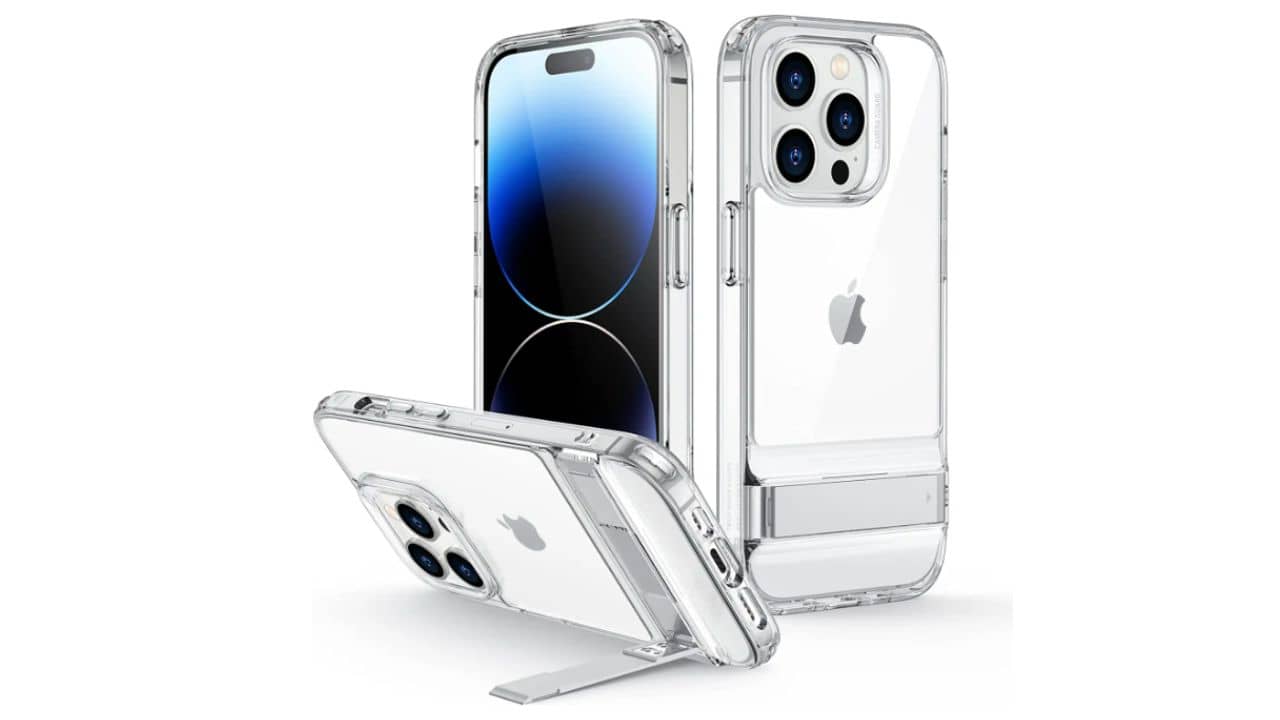 The ESR Kickstand clear case is excellent for your iPhone 14 Pro and allows you to appreciate your iPhone's gorgeous colors. This is no doubt one of the most durable clear cases on the list which comes with a kickstand. The military-grade protection combined with side Air-Guard corners can easily withstand side falls. This case has three stand options in landscape and portrait mode, making FaceTime calls and binge-watching simpler and easier. The high-quality polycarbonate prevents the transparent cover from yellowing and keeps your phone crystal clear. It also includes 1.3mm raised borders on the front to protect the beautiful display and the 48MP triple rear camera from any scratches. It is a very durable kickstand in our opinion. We've pushed the kickstand and it has survived very well.
Reasons to Buy:
Clear case with respectable protection

3 different kickstand modes

Raised edged for display and camera
Where it falls short:
It will turn yellow after extensive usage

Might interfere with wireless charging pads
Also read: Best Apps to Download for Your New iPhone  
9. Torras ShockProof iPhone 14 Pro case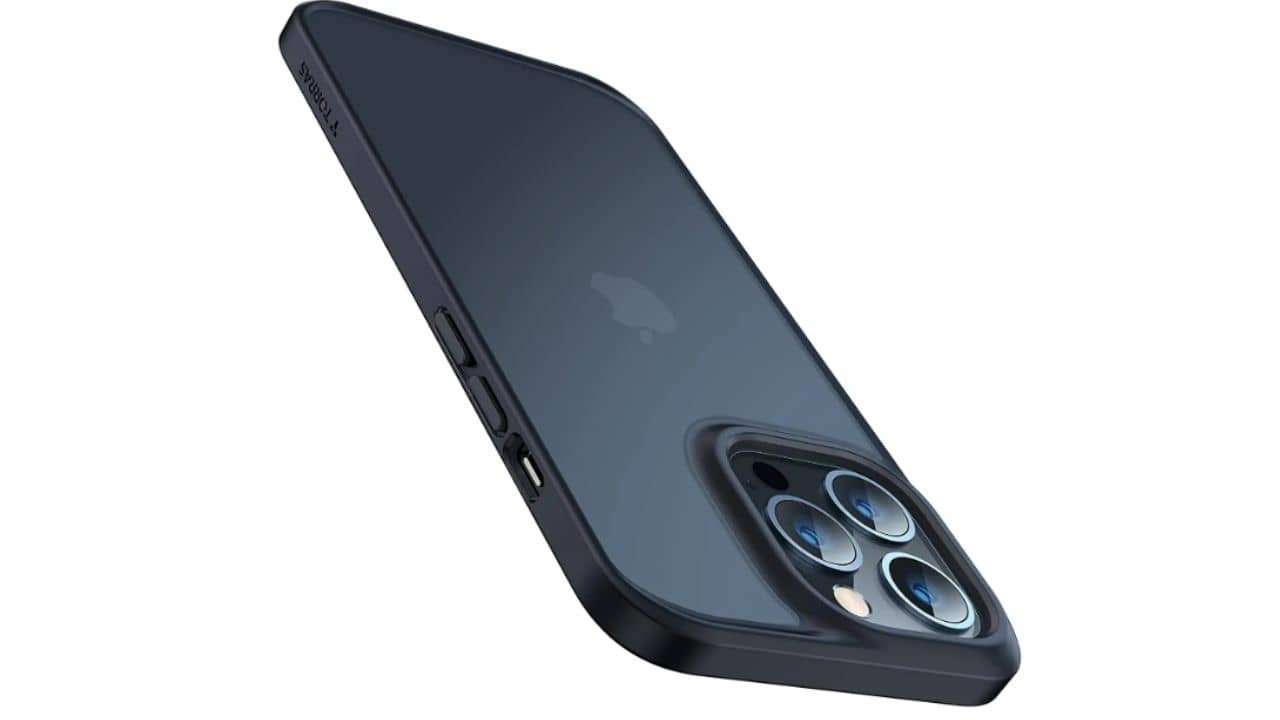 Torras Guardian series does what it says by giving your iPhone 14 Pro military-grade [ MIL-STD-810H] protection in a very minimalistic design. This iPhone 14 Pro case features a sleek profile that preserves the original feel of your 2023 iPhone while providing all the protection it deserves. The soft rubber on the back is translucent and comes with a new Nappa texture that makes it easier to grip. This robust iPhone 14 case is made with a combination of a durable polycarbonate back and soft flexible rubber bumpers to provide full protection. It is one of the best cases for drop protection because of the built-in shock airbags and updated X-Shock impact-resistant technology. That isn't everything. The TORRAS iPhone 14 Pro Case has removable 3-color buttons (Red, Yellow, and Black) to give your phone a vivid and stylish appeal. Trust us on this one, it actually looks pretty cool if you're after looks. You can easily match the buttons to your mood, dress, and everything else. As a result, it's an essential must-have for anyone searching for the best iPhone 14 Pro clear case with reliable protection. 
Reasons to Buy:
Up to 10-ft drop protection in over 26 angles

Detachable buttons 

Slim design 

Comes in 4 colors
Where it falls short:
The button covers might fall off 
If you own a MagSafe charger or planning to buy one there's also a MagSafe variant for Torras ShockProof case for iPhone 14 Pro.
Check  Price on Amazon for MagSafe variant
Also read: Does the iPhone 14 series charge faster than the iPhone 13?
10. Mujjo Leather Case for iPhone 14 Pro
Premium iPhone 14 Pro leather case with nothing to
hide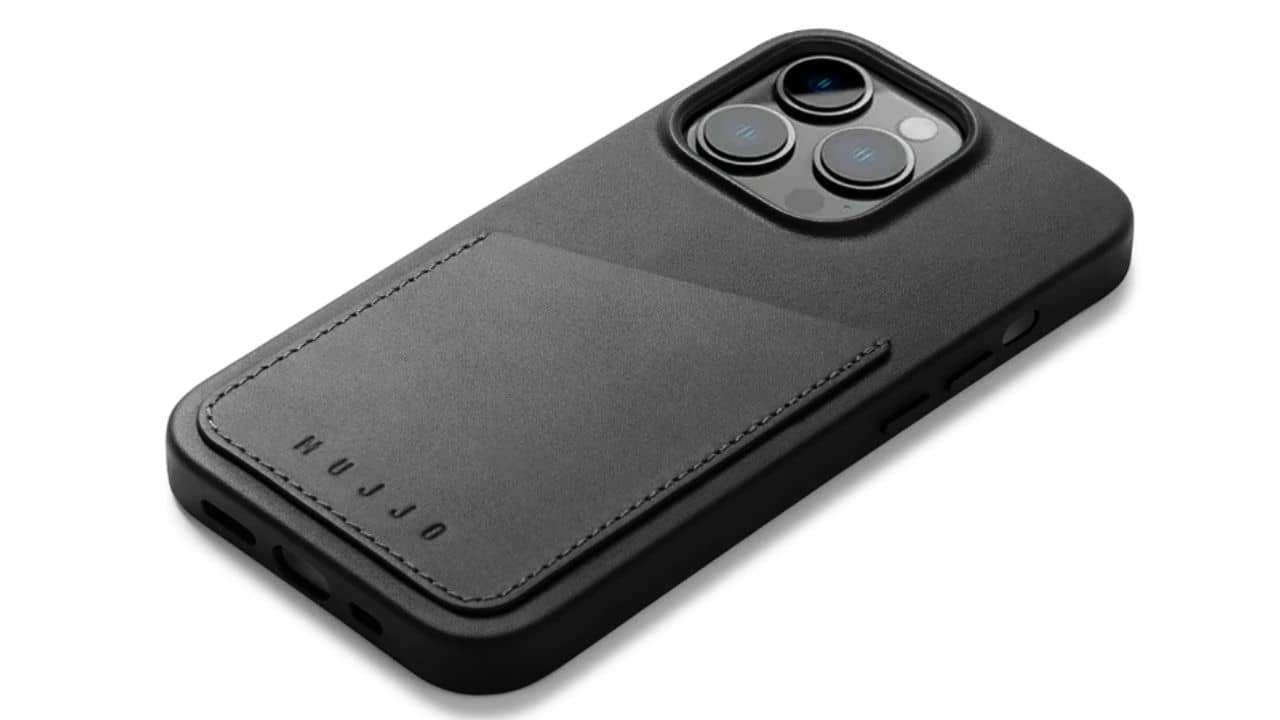 Mujjo has always produced some of the finest leather cases and this one is no exception. If you're into leather cases this truly is one of the top leather cases for iPhone 14 Pro. This leather case is sturdy and can easily handle minor drops and bumps. Of course, it will not give you the best bumper rugged case protection but is sufficient for an average user who prefers a classy and minimalist design. The inside of the case has a soft plush microfiber lining that will not create marks on your iPhone 14 Pro. This has been an issue with cheap leather cases in the past. This leather case is compatible with MagSafe and Qi charging however it is not as fast as compared to Apple's leather cases. There is also a variant of this case that comes with a built-in card slot that can hold 2 cards.
Reasons to Buy:
Made of premium leather

Good grip with a smooth finish

Compatible with Qi charging

Raised edges for camera and screen protection
Where it falls short:
No quick wireless charging
Also read: Should you Buy the iPhone 14 Pro: 7 Reasons to upgrade and 4 not to
Pelican Shield Kevlar MagSafe
Kevlar MagSafe Rugged Case for iPhone 14 Pro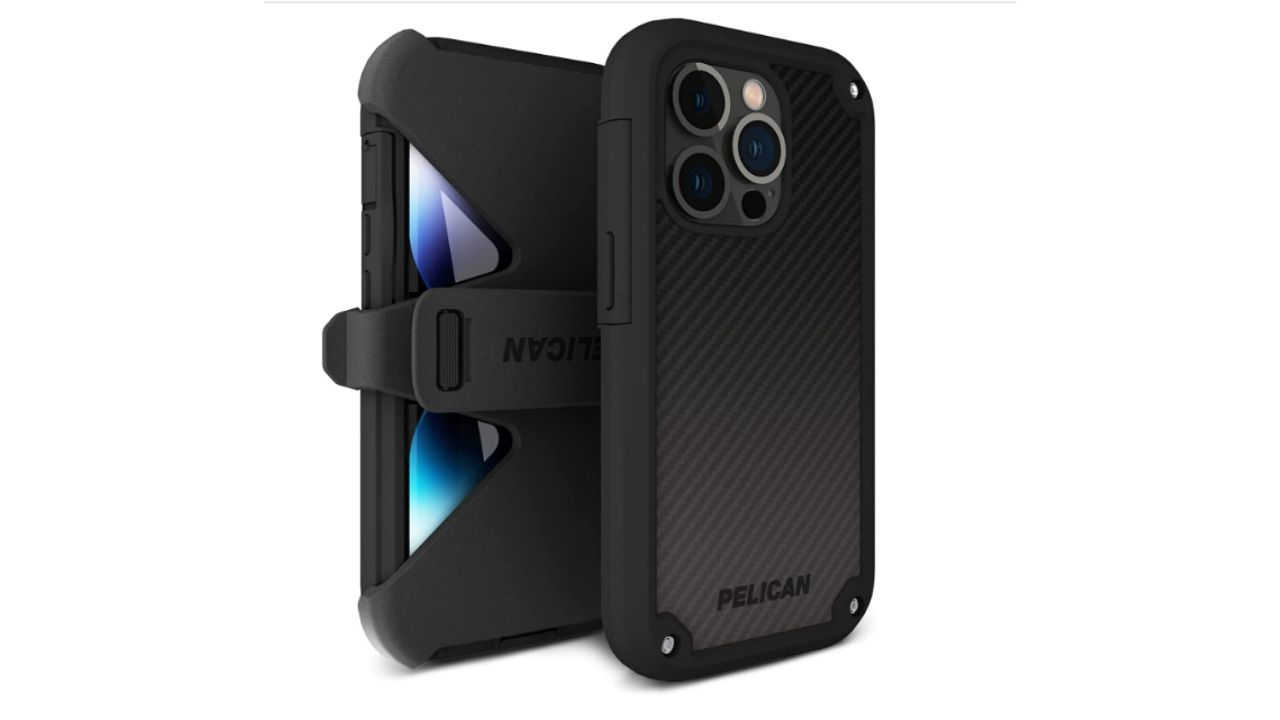 Pelican Shield Kevlar MagSafe case for iPhone 14 Pro is one of the toughest cases on this list. The Kevlar material provides 21ft military-grade drop protection that can handle even the hardest of blows. It comes with a five-layer design, plus an optional holster that doubles as a kickstand. We also really liked the feel of the Kevlar backing, although it does add quite a bit of weight to the phone. If you want a lightweight case you can check out the
Pelican Ranger with MagSafe.  There are only two color options available black and white. 
Reasons to buy:
21ft drop protection 

MagSafe compatible

Textured case for a nice grip
Where it falls short:
Also read: iPhone 14 Pro Accessories you can buy in 2023
12.  Mous Limitless 5.0 MagSafe Case
Wooden finish MagSafe Case for iPhone 14 Pro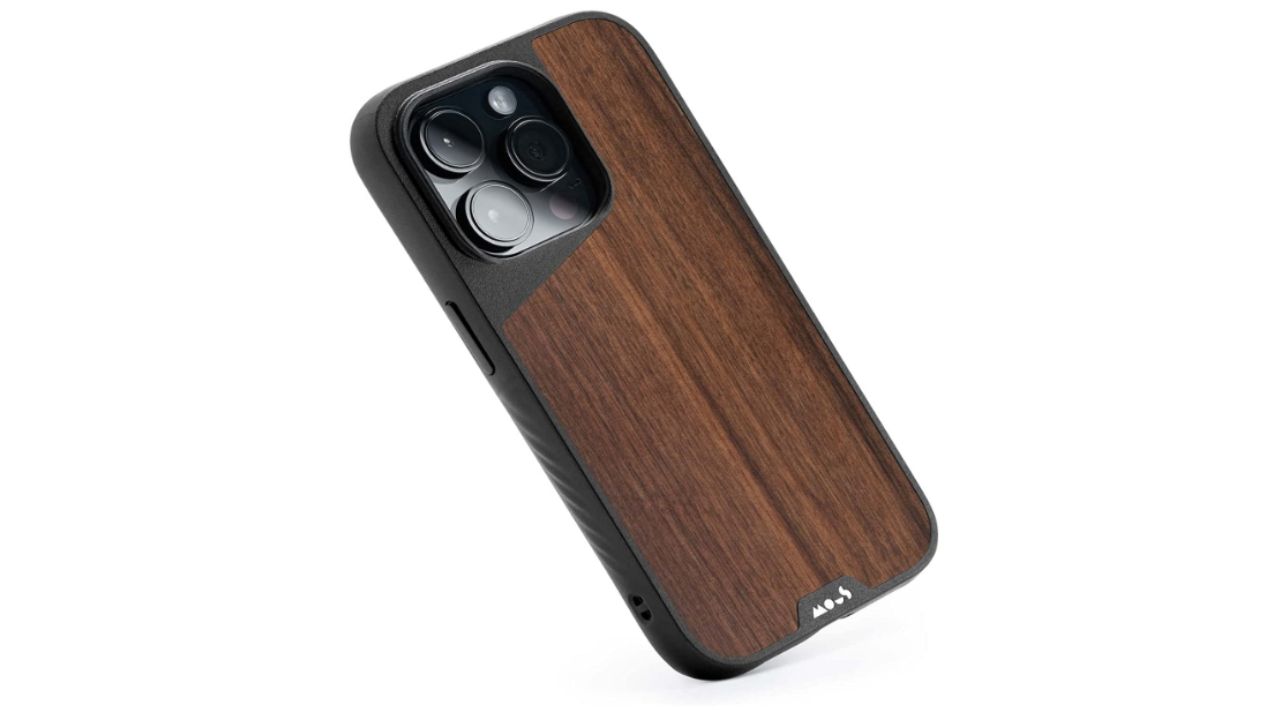 If you're after a good-looking case with very good impact protection, Mous' Limitless range is definitely one to consider. This Mous Limitless MagSafe case for iPhone 14 Pro gives rugged protection with style. There's a chance that if you've ever watched YouTube, you've seen videos of Mous cases being dropped out of helicopters and all sorts. The reason for it is that the case offers really good impact resistance thanks to its construction. The built-in N45 Neodymium magnets make it compatible with all MagSafe accessories. The edges are filled with something called AiroShock which absorbs impact on drops, while the exterior of the case has a rigid feel to it and has raised edges around all the important parts of your phone. It comes with the Walnut backplate (featured), plus Bamboo, Black leather, Aramid fiber, Speckled fabric, and a White pearlescent finish.
Reasons to buy:
Real wooden finish

MagSafe compatible

Shockproof case with 100% sustainable packaging
Where it falls short:
Also read: How to shoot 48MP ProRAW and HEIC photos on iPhone 14 Pro and 14 Pro Max
13. Casetify Ultra Impact Protective Case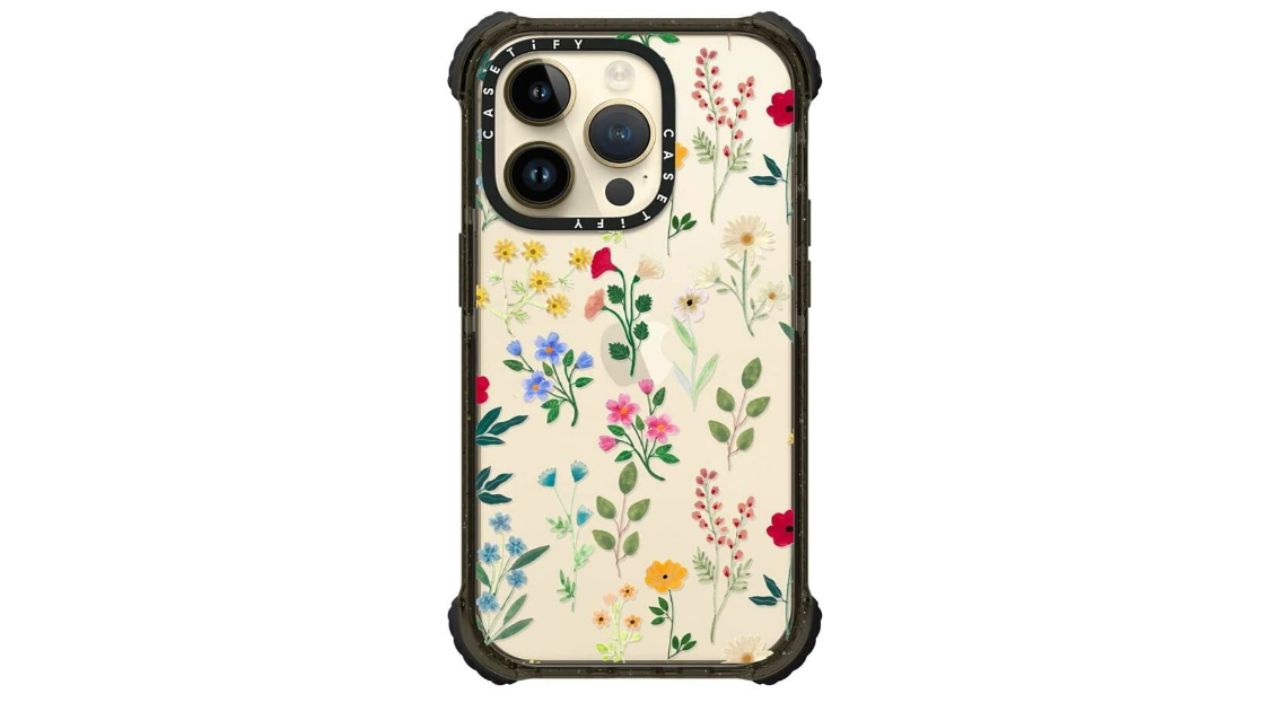 If you want your personality to shine through, Casetify has you (and your phone) covered. These cases are wireless and MagSafe-friendly so that you can use them with a plethora of accessories.  These cases offer up to 8ft drop protection to save your iPhone 14 Pro from damage and dents.  If you are adventurous and want the toughest protection for iPhone 14 Pro, then you should also check out the Bounce case from Casetify. The Casetify Bounce Case is the most protective iPhone 14 case out there, featuring genius EcoShock™ technology that provides impact cushioning and dissipation through reinforced inner sides and the back of the case. The EcoShock material is plant-based and can convert the kinetic energy of an impact into heat, while twister patterns dissipate it across the surface of the case. As part of the company's "Re/CASETiFY" upcycling program, the recyclable case can be returned to the brand by customers after use, in exchange for store credits.
Reasons to Buy:
Tons of designs and patterns

Military-grade protection 

Gives you protection with style

MagSafe compatible
Where it falls short:
Very expensive

The raised corners make it uncomfortable to fit into the pockets
Also read: Best MagSafe Accessories for iPhone 14 Pro & iPhone 14 Pro Max
That's all for now; we have included the best cases in the market right now from trusted brands so your iPhone 14 Pro does not end up in a cheap case or with a dented corner. 
PS – As more cases will come out, this list will increase so stay tuned!