The iPhone 14 lineup is here and we are quite excited about it. Apple unveiled all four iPhones at the Far Out event held on September 7, 2022. The iPhone 14 series includes four brilliant smartphones – the base models iPhone 14 and iPhone 14 Plus; and the Pro models include the iPhone 14 Pro and iPhone 14 Pro Max. Besides, we witnessed the launch of Apple's most premium smartwatch, the Watch Ultra, and two other budget-friendly watches. The tech giant also introduced the 2nd generation of AirPods Pro in the first half of the same event. Now that this article is about iPhone 14 Pro accessories, we will stick to talking about them only. 
The second-most expensive iPhone from the iPhone 14 lineup features a 6.1" Super Retina XDR display with a 120Hz dynamic refresh rate and an upgraded peak brightness of 2000 nits. Apple packs the next-gen A16 in-house chipset to boost the performance even further. The company made a major change by incorporating the
most-anticipated 48MP camera with several features that will ultimately help you get better shots. Both the Pro models of the iPhone 14 lineup flaunt a pill-shaped "Dynamic Island" which Apple terms as 'Dynamic Island.' which can be used to interact with your iPhone in probably the most interesting way. Without a doubt, it has grabbed the eyeballs of reviewers and users and has become one of the selling points of iPhone 14 Pro models this year.  
As you are here we are assuming you are planning to buy iPhone 14 Pro or have already ordered it. Since iPhone 14 Pro is claimed to be the best iPhone to date, don't you think it deserves the top accessories? They do, right? But, the fact that the product is relatively new, it can be challenging for you to find the right accessories. Don't worry, after hours of testing and in-depth research, our content team has compiled the list of top accessories for the iPhone 14 Pro that you can buy in 2023. We have listed top cases, screen protectors, audio accessories, fitness accessories, and the must-haves. Please make sure to read it thoroughly.
Without further ado, let's dig in!
List of top accessories for iPhone 14 Pro you can buy in 2023
Must-have Accessories for iPhone 14 Pro
1. Moft MagSafe Wallet Stand (Say bye-bye to bulky wallets)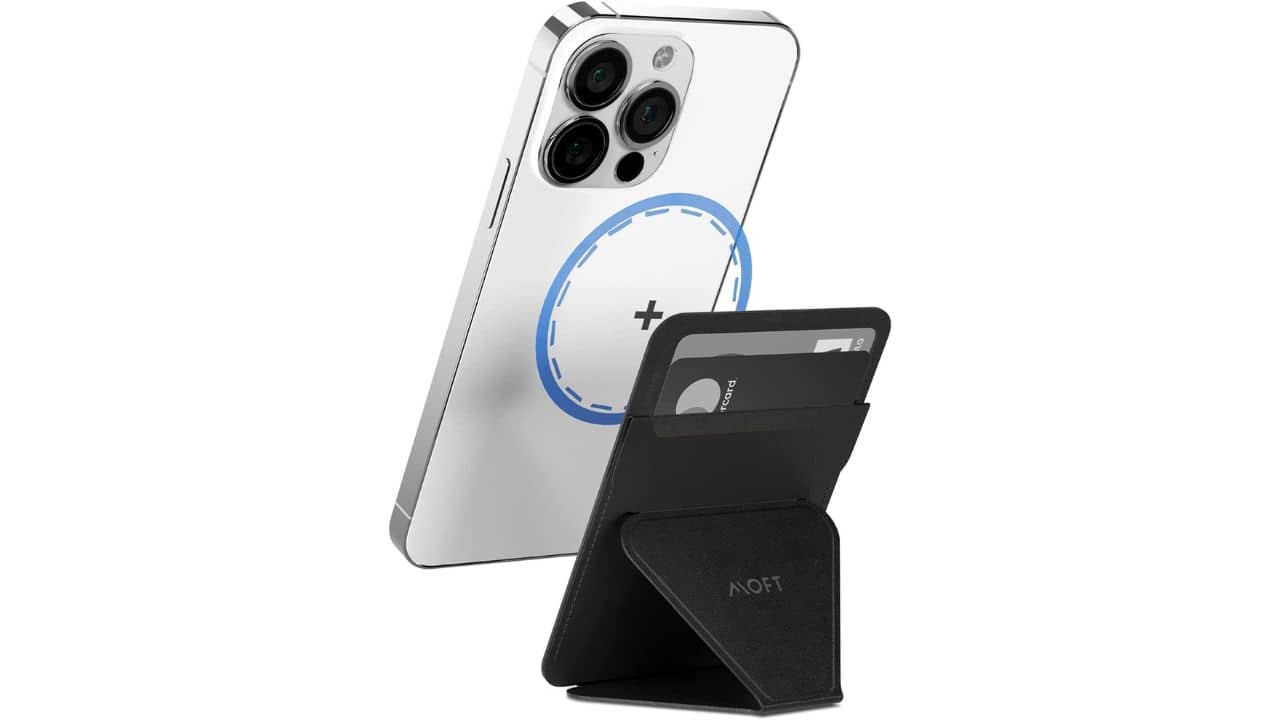 Are you looking for a budget-friendly MagSafe Wallet for your iPhone 14 Pro? If YES, we believe the Moft Wallet is a
must-have MagSafe accessory for you. If you are unaware of what is a MagSafe wallet, let me tell you it is a portable pouch/bag that has magnets embedded inside and can be attached to the back of your iPhone. You can use this iPhone 14 Pro accessory to carry paper money or credit cards eliminating the hassle of carrying bulky wallets in your back pockets of pants. Now, let's talk about the Moft Wallet stand. 
This magnetic wallet features an ultra-slim design that doesn't add any extra bulk to your iPhone ensuring a hassle-free experience almost every time. It is designed using vegan leather and has strong magnets embedded inside for strong attachment. Yes, it never falls off on its own. Despite flaunting an ultra-slim design, this MagSafe wallet for iPhone 14 Pro can hold up to 3 cards and some paper money. Therefore, you don't have to worry about shopping at a nearby grocery shop if you forgot your bulky handbag or purse back home.   
By the name, you can figure out that this MagSafe wallet for iPhone 14 Pro doubles up as a kickstand to prop your device when in need. You can prop your device in portrait, landscape, and floating modes using this leather wallet stand. Therefore, you don't have to worry much about finding an empty container or water bottle to support your iPhone before you start binge-watching your favorite Netflix shows. If you are working from home and often attend Zoom meetings, this iPhone 14 Pro accessory is a must-have for you. Also, if you are fond of colors, you can choose this MagSafe accessory in four different finishes. Please note that this wallet stand can be bought individually or can be bought together for $70 with a reliable iPhone 14 Pro case from Moft. 
Reasons to buy:
Ultra-slim design

Doubles up as a kickstand

Available in four shades 

Strong magnetic attachment 
Reasons to avoid:
Relatively expensive than other alternatives
2. Popsockets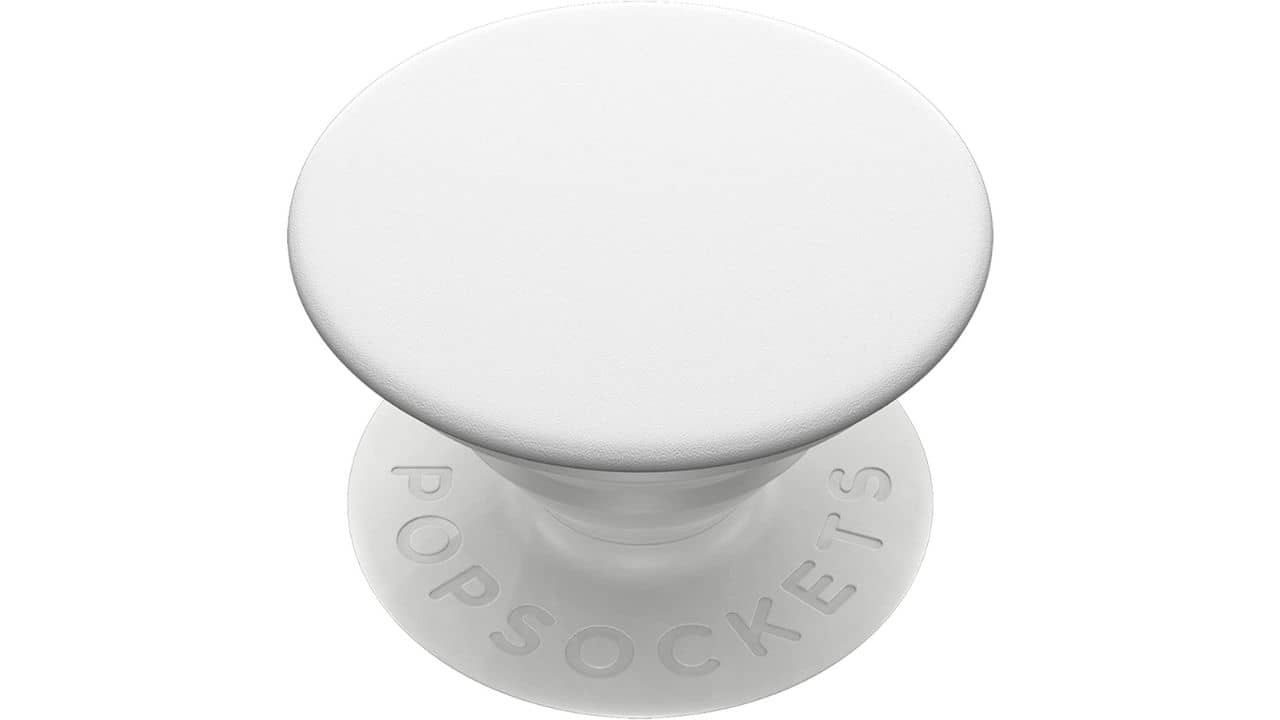 The iPhone 14 Pro features a 6.1" XDR OLED display which can be uncomfortable for most of us to use one-handed, especially when you're out on the subway or crowded bus. Therefore, a popsocket is a must-have accessory for iPhone 14 Pro that prevents you from dropping your phone here and there. It's something that you might not want to buy at first but won't use your phone without it a few days later. Trust us, we've been there. This accessory can be extended to work like a kickstand. You can use them for hands-free movie-watching or a
safe video-calling experience with your loved ones. Since there are a variety of options available for you to choose from, you can grab any one of them to give your iPhone 14 Pro a personal touch.
3. Camera Lens Protectors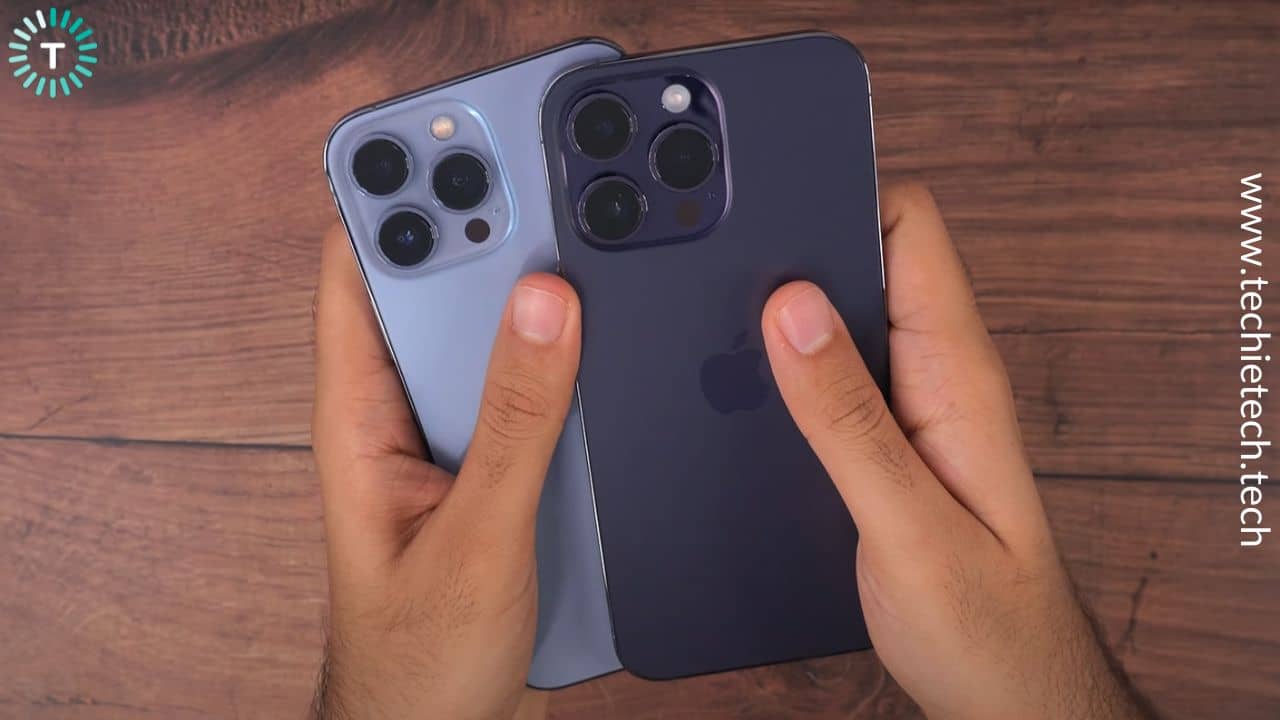 Believe it or not, a camera lens protector is one of the must-have accessories for iPhone 14 Pro. Why? Simply because they protect the magnificent 48MP triple camera lenses from any kind of accidental damage. Plus, the camera bump on the iPhone 14 Pro is huge. Here's a comparison picture. The bigger the bump, the more likely it is to get damaged during a fall unless you have protection installed. While some camera lens protectors cover the camera module altogether, there are few options that protect only the lenses. So, if you are a photography or videography enthusiast and want to keep iPhone 14 Pro's camera safe and secure, we recommend grabbing some of the best camera lens protectors mentioned below. 
If you want to browse through various options, please make sure to check out our dedicated roundup of the best iPhone 14 Pro camera lens protector in 2023.
Best Screen Protectors for iPhone 14 Pro in 2023
1. amFilm Glass Screen Protector (2-pack)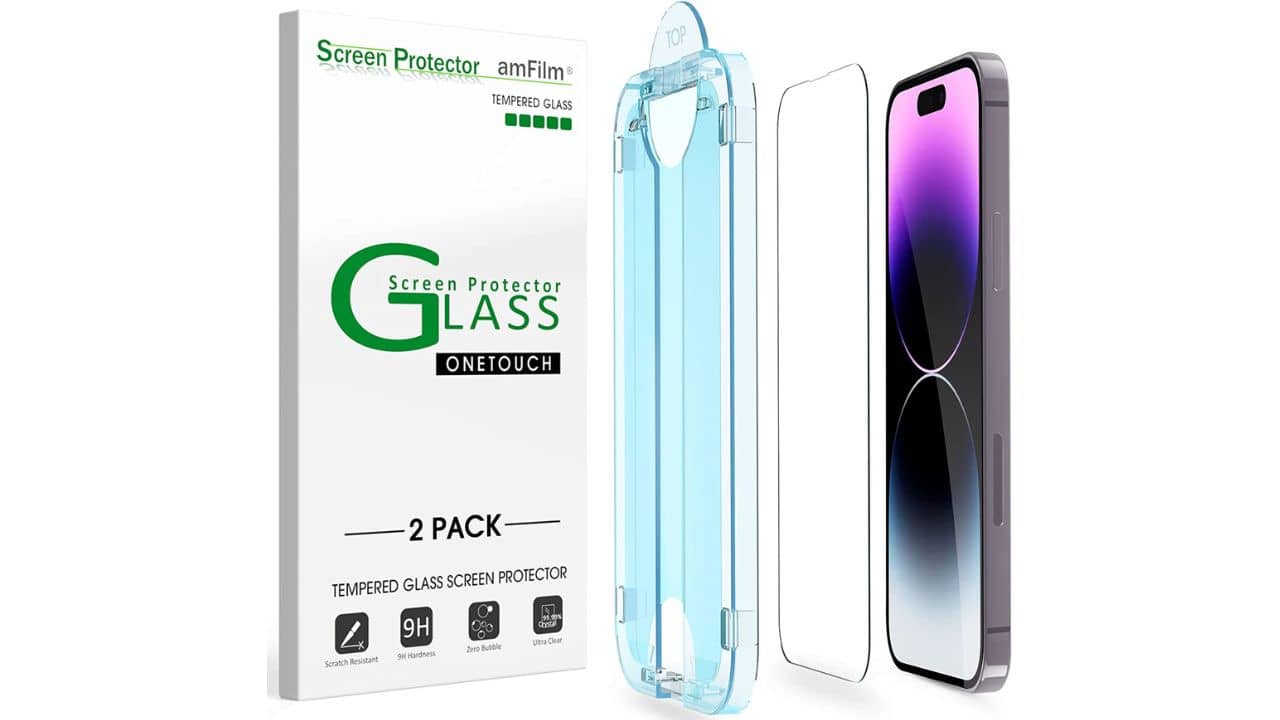 If you are looking for a capable screen protector for iPhone 14 Pro display protection, the amFilm OneTouch glass screen protector is suitable for you. It is widely popular among iPhone users due to its ease of application and value for money. The screen protector ships pre-installed in an alignment tray, which roughly takes 20 or 30 seconds to apply. Even beginners can install this glass screen protector on iPhone 14 Pro without much hassle. All it requires is a dust-free environment. It offers edge-to-edge coverage and is backed by 9H hardness property which suggests that this protective glass can protect the display against impactful drops, and fumbles. So, next time you drop your phone while taking it out of your pocket, this iPhone 14 Pro protective glass will do the job perfectly. Besides, the thin design is a quality addition as it doesn't interfere with touch sensitivity when you're vigorously writing a long email or racing your way through the mountains on your iPhone. Further, it is fully compatible with FaceID and offers a crystal clear viewing experience. This iPhone 14 Pro tempered glass screen protector is topped with an oleophobic coating that prevents fingerprint marks to offer a spotless view of your device.
Reasons to buy:
The screen protector is pre-installed on the alignment tool which makes installation super easy

Crystal clear viewing experience

A full-Size dust sticker helps wipe off dust before and after installation 

Oleophobic Coating minimizes fingerprints and smudges
Reasons to avoid: 
If you are looking for the closest alternative to the aforementioned tempered glass screen protector for iPhone 14 Pro, we recommend checking the
Spigen [GlasTR EZ FIT] (you can also check our step-by-step installation video here) and ESR's 3-pack Glass screen protector.
Also read: Best iPhone 14 Screen Protectors for a Scratch Proof Display
2. ESR Armorite Glass Screen Protector (2-pack)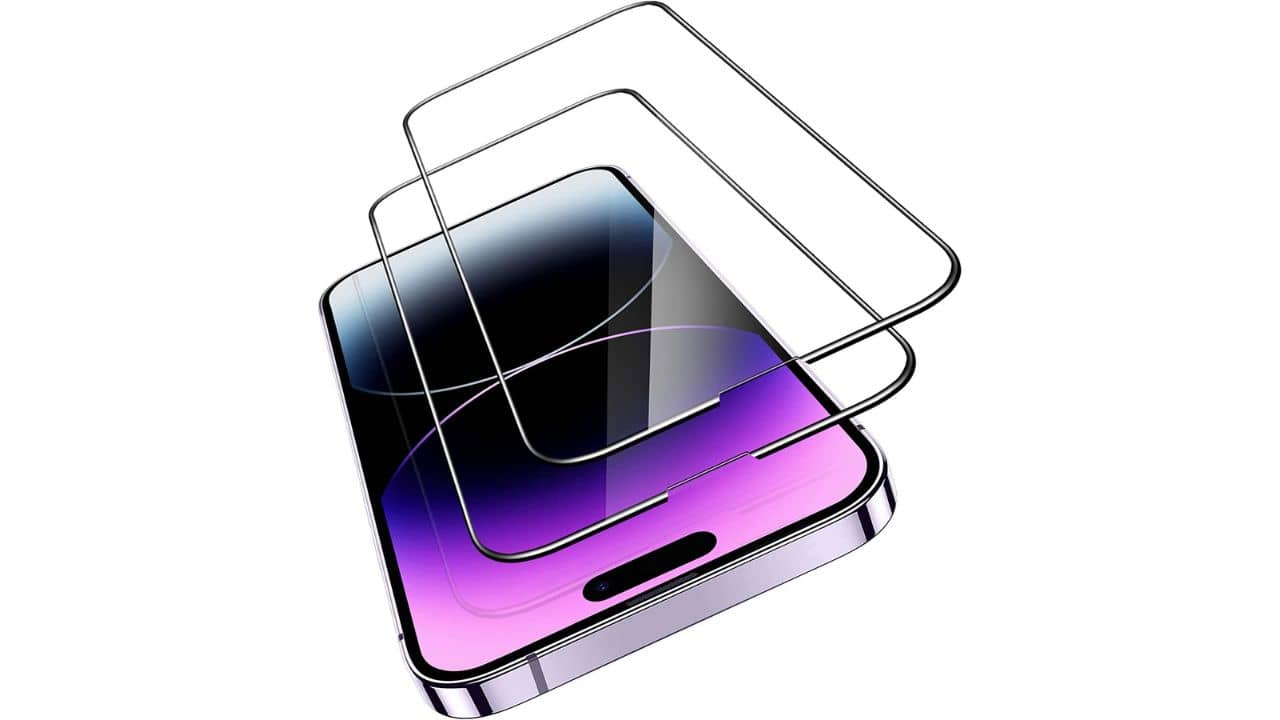 Want to get tough screen protection accessories for iPhone 14 Pro? We recommend getting the ESR Armorite screen protector without thinking too much. You'd be surprised to know that this tempered glass can withstand almost 110lbs/50kgs of force to defend the XDR OLED display of the iPhone 14 Pro. Of course, those are lab numbers but even in real life, this screen guard is quite durable. So, if you accidentally sit on your phone on the ledge or drop it in a parking lot, the display should come out just fine, don't worry about that. Besides, damage protection, this iPhone 14 Pro accessory does the job of keeping away scratches pretty easily. Even if you drop your phone while shooting a vlog or keep the display face down on your office desk, the display will be shatter-free. Similar to other screen protection iPhone 14 accessories, it also comes with an oleophobic coating to offer a clear screen almost every time by preventing fingerprint stains. Plus, the adequate thickness ensures high-touch sensitivity so that you can beat your friend playing games without any flaws. What's more? You will get an auto-alignment tool with this iPhone 14 screen protector which allows you to install the protective screen glass easily. Further, it works properly with the FaceID feature to offer your smooth unlocking experience. Even though the price is on the higher side, the protection offered by this iPhone 14 Pro accessory is worth every penny. To remind you, this screen protector pack includes two glass screen guards and a cleaning kit for cleaning the screen before and after the installation. 
Reasons to buy:
Heavy-duty protection can withstand up to 110 lb (50kgs) of force

Amazing clarity

Easy to install

Case-friendly

Smudge and scratch-resistant
Reasons to avoid:
Expensive than most of the iPhone 14 Pro glass screen protectors
If your pocket allows, you can always go with TORRAS Diamond Shield screen protector to ensure top-notch protection for iPhone 14 Pro's amazing display. This screen protection accessory is lashed with all the features that you might get on the ESR Armorite.
Don't miss: Best Screen Protectors to Shield Your iPhone 14 Pro's Display
Best Fast Chargers for iPhone 14 Pro in 2023
3. Apple Official 35W Dual USB-C charger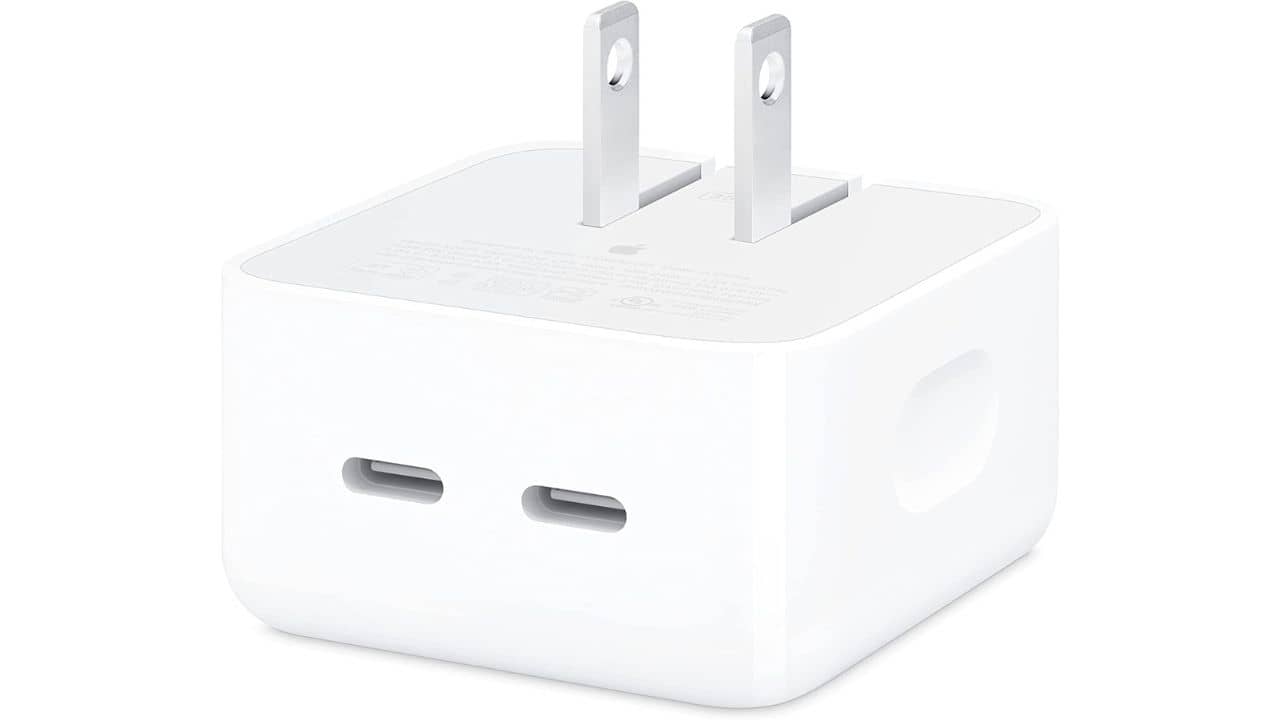 Are you looking to revive multiple Apple products like iPhone 14 Pro, iPad, Apple Watch, or even MacBook using the company's in-house charging accessory? If yes, grab the official
35W USB-C charger that launched months before alongside the M2 MacBook Air. This fast USB-C charging accessory features a slim and lightweight design combined with foldable prongs making it one of the best travel-friendly chargers for iPhone 14 Pro. The 35W charging power is split in half between two connected devices, preventing you from fighting your siblings to get your iPhone charged before bedtime. Let's not forget that Apple clearly mentions that this fast iPhone 14 Pro charger is capable of delivering 35W of power when a single device is connected to it. However, it gets split into half (17.5W per port), when you connect two devices – say an iPhone and an iPad, MacBook Air, or iPads. We personally don't recommend charging your MacBook as a secondary device, Because 17.5W charging power output is quite less for any laptop. As a result, it will take hours to fully charge your MacBook. For someone who is looking to charge iPhone 14 Pro and MacBook Air simultaneously, we recommend choosing from high-power output accessories as we have mentioned in the following listings. If you are planning to buy a charger exclusive to iPhone 14 Pro, we recommend going with the 30W USB-C official adapter without any second thoughts. 
Reasons to buy:
Premium finish

Apple's craftsmanship

Foldable prongs

Can be used with iPhones, iPads, MacBook Air, and other Apple devices
Reasons to avoid
Relatively expensive

You can find other options with more power output and ports
Check 35W Dual Port Charger on Amazon
If you are searching for a reliable immediate alternative, we recommend going with the Belkin 30W charger. It is an ultra-compact charger that can fast charge your iPhone 14 Pro at almost 1/3rd of Apple's Dual USB-C charger price. 
Also Read: Best Chargers to buy for iPhone 14 and 14 Plus
4. Anker Nano II 30W Fast USB-C Charger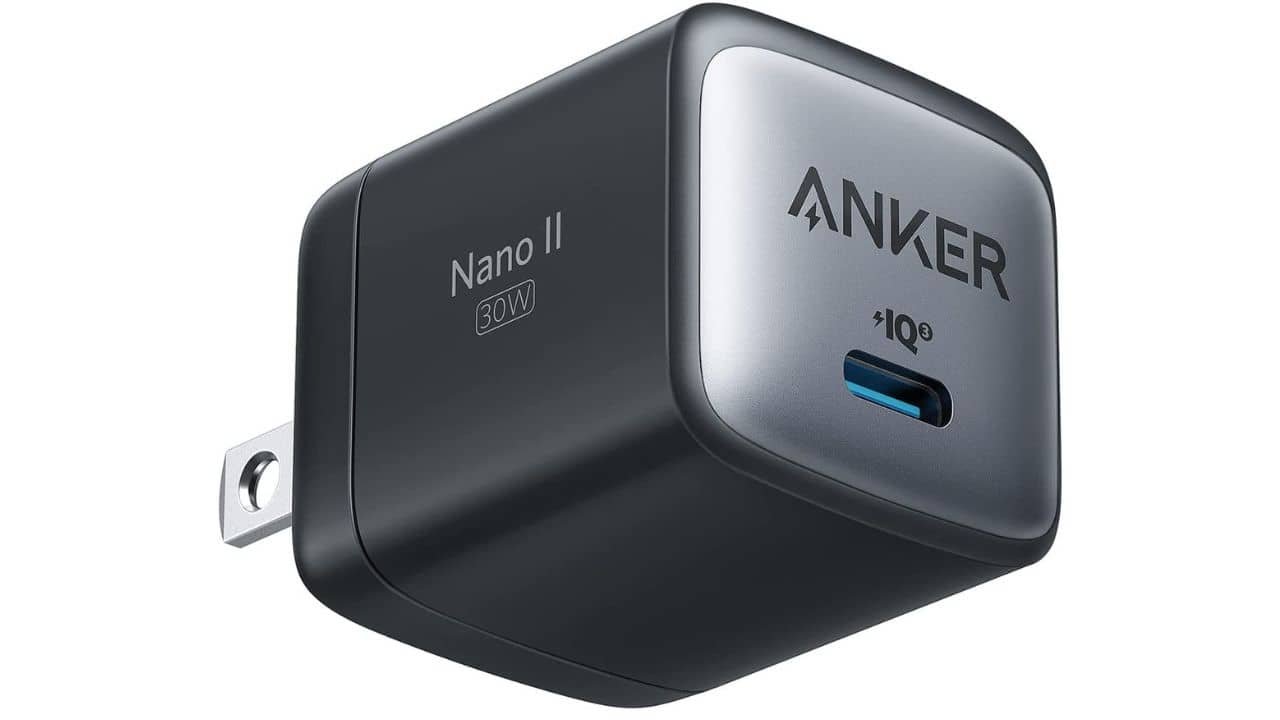 Anker offers some fantastic charging accessories for iPhone 14 Pro, and its Nano II series is one when it comes to charging Apple's flagship. It maintains a slim and lightweight design which makes it easier for you to carry it in your pocket when you're on the go. Even though it lacks foldable prongs, it doesn't make a difference when it comes to portability. If you're unaware, let me tell you it is a shrunk version of Anker's
best-selling Powerport II charger. And, the charging capabilities have continued to please users over the years. This iPhone 14 Pro fast charger houses a single USB-C port that delivers 30W power output to fast charge your device. In comparison to the older 5W charger, it can deliver up to 6x fast charging speed on the iPhone 13 series. Considering this, we can confirm that this charging accessory will fast charge your iPhone 14 Pro as it receives about 27W charging input (based on old charging tests). Besides, you can use it to charge Samsung's flagship foldable and Pixel phones. If you are eyeing maximum portability along with the help of foldable prongs, you can grab the 45W and 65W fast iPhone 14 Pro charger. Even without foldable plugs, the 30W variant is still one of the top fast chargers for your iPhone 14 Pro that you can buy right now. 
Reasons to buy:
Pocket-friendly design

PPS compatible (Super Fast Charging for devices like Samsung Galaxy & Pixel smartphones)

Comes in power output of 30W, 45W and 65W 
Reasons to avoid:
No foldable prongs on the 30W variant
If you are looking for a relatively affordable charging accessory for iPhone 14 Pro, we recommend grabbing Spigen's 30W fast charging adapter right now. It is not as compact as the Anker Nano II but does the job pretty well.  
For someone who is looking to charge multiple devices such as an iPhone 14 Pro, iPad Pro, and MacBook, altogether, here're a few recommendations for multi-port chargers for iPhone 14 Pro:
Also Read: Best Chargers for iPhone 14 Pro and iPhone 14 Pro Max
5. Apple MagSafe Charger (Fast Wireless Charging for iPhone 14 Pro)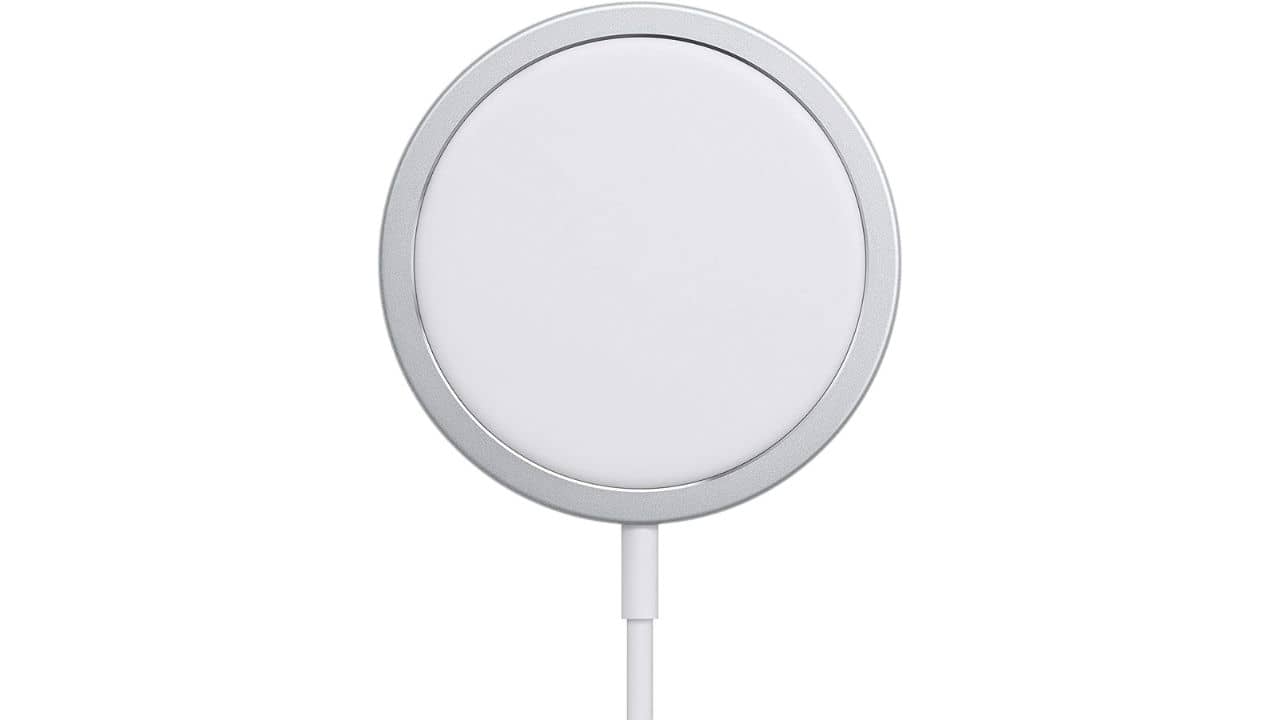 Talking about premium iPhone accessories and not mentioning Apple products, not a chance. Since you are here looking for a magnetic charger, let me tell you the official MagSafe charger is a fantastic pick for you. With over
47,000 ratings and good customer reviews on Amazon, this iPhone 14 Pro MagSafe charger stands out as one of the most reliable wireless charging accessories to buy now. It offers a 15W MagSafe charging speed which is 2x than the allowed 7.5W charging using a Qi wireless charger. This magnetic charger works well with almost all Masafe cases out there. Please note that Apple says you can achieve 15W charging speed when it is paired with a 20W or higher power charger which you should get separately.   
Talking of design, this fast wireless charger rocks a lightweight, and compact design that pleases your eye. Therefore, you can easily store it in a small purse or even in your pockets pretty easily when you're traveling. Besides MagSafe charging on iPhone 12/13/14 models, this Apple MagSafe charger can also power other Qi-enabled iPhones like iPhone 8 and above at 7.5W. This means an iPhone SE can be also charged wirelessly using this MagSafe charger for iPhone 14 Pro. Further, you can charge the AirPods 2nd gen as well. In short, if you need a truly wireless charger for your iPhone 14 Pro, this is probably the best.
Reasons to buy:
Classic Apple aesthetics 

Offers up to 15W wireless charging for iPhone 14, 13, and 12 Series

Travel-friendly design

Compatible with AirPods with a wireless charging case

You can also charge non-MagSafe compatible iPhones at 7.5W 
Reasons to avoid:
Requires a 20W adapter for 15W wireless charging
Are you looking to charge multiple Apple Products – say an iPhone 14 Pro, AirPods Pro, as well as Apple Watch Series 8, all at once? We recommend grabbing a wireless charging station for the same. If you are unsure which one to choose, we have a super-detailed guide for the same, you can
Also read: Best Wireless and MagSafe Chargers for iPhone 14 Series  
6. Anker Magnetic Battery Pack (Charge your iPhone on the go)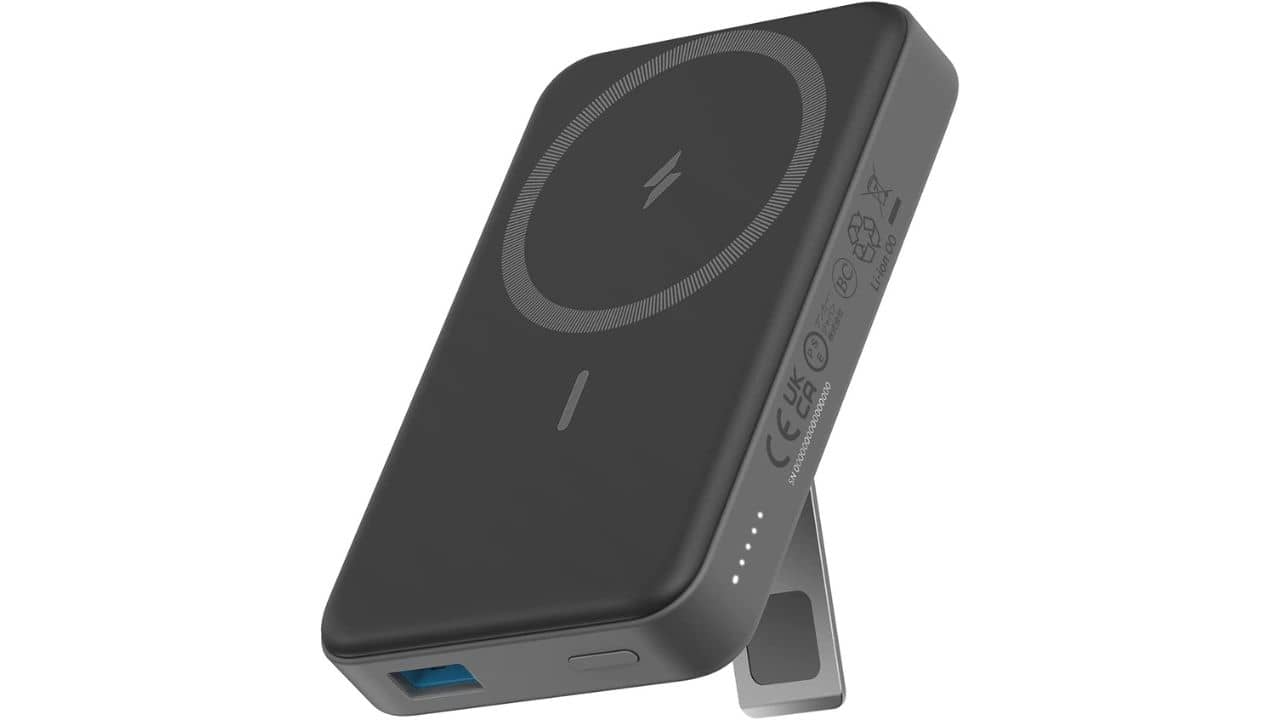 A magnetic battery pack is a useful charging accessory for iPhone 14 Pro users who often spend their time outdoors shooting photos or videos. You just need to snap it at the back of your iPhone and it will start charging your device right away. So, if you are looking for a wireless battery pack for iPhone 14 Pro, we recommend going with the Anker 10,000mAh Magnetic Battery Pack. If you are an Apple loyalist, you can choose Apple's own MagSafe Battery Pack, but Anker offers excellent value for money as compared to the official one. 
Comparing the power side-by-side, this iPhone Pro battery pack delivers up to seven times (10,000mAh battery capacity) more powerful than Apple's MagSafe battery pack (with a mere 1,460mAh battery capacity). Besides, it allows you to pair a 20W power brick just like Apple's battery pack, to fast charge your iPhone 14 Pro. What's more interesting about this iPhone 14 Pro charging accessory is that it comes with an in-built kickstand. You can attach the battery pack to the back of your device and use the kickstand attached for capturing timelapse moments at barbeque nights and shooting exciting TikToks & Reels for your followers. You can even use it for hands-free video calling and much hassle. All aside, it lacks behind iPhone 14 Pro's official battery pack in terms of charging speed. You should know that this third-party charging accessory for iPhone 14 Pro delivers up to 7.5W as compared to Apple's 15W speed. Having said that, it is still one of the best wireless power banks for iPhone 14 Pro that you can carry around when you're on the go. Not to forget, Anker ships a USB-C to USB-C cable in the box. 
Reasons to buy:
24-months warranty

Higher battery capacity than Apple's official MagSafe battery pack

Reasonable price

Strong and snappy magnets
Reasons to avoid:
Doesn't include a power adapter in the pack

The kickstand might not last really long as the iPhone 14 Pro models are heavy
If you are an avid traveler and love taking long trips via your car, an iPhone 14 Pro car charger is also useful, especially during those long inter-state road trips. Take our word for it, if you don't want it for yourself, we are sure you know someone who loves long drives so this is literally a lifesaver for their iPhones. We recommend these as a
must-have tech gift. You can charge multiple gadgets besides your iPhone by the tie you reach your destination. So, if you are willing to get one right now, please make sure to check the following recommendations: 
Best iPhone 14 Pro Cases to buy in 2023
7. OtterBox Defender Series (Top-class protection)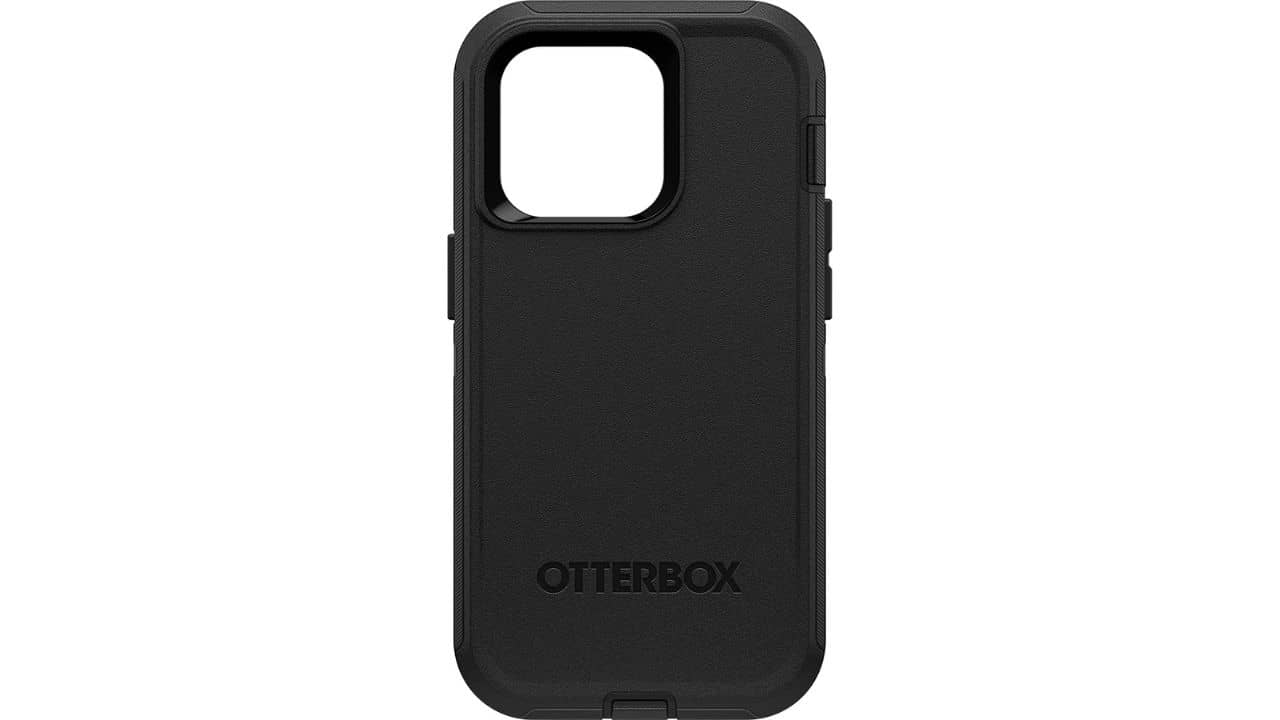 If you work around an unsafe environment like mills, warehouses, or construction sites, or from the woods (all thanks to remote work) you'd want to install a protective case for iPhone 14 Pro. And, when we talk of heavy-duty iPhone cases, we can't simply miss the OtterBox Defender Series. It is one of the most durable and tough cases you can get to safeguard your phone from the roughest drops, heavy shocks, and nasty scratches. You shouldn't worry if you drop your iPhone 14 Pro with this heavy-duty case on while you are on an adventure ride on your dirt bike. All thanks to the military-grade certification and drop + protection, this iPhone 14 Pro rugged protective case can withstand all kinds of bumps even the big ones to keep your phone safe. The dual-layer built inner hard shell works together to offer lab-tested top-class protection against any kind of damage. So, next time you drop your phone on a concrete floor or parking lot, please be assured that it will come out fine. Since it is built to resist drops and shocks, it is quite bulky, but this doesn't stop it from easily slipping in and out of pocket for daily usage. OtterBox has also incorporated port coverings in all the Defender Series cases. It is a handy addition for anyone who fears dust and debris getting accumulated inside the charging ports or speakers. 
We mentioned this earlier and saying it out loud again, it is a bulky case. And, if you don't prefer weights on your palm, please check out some of the
Reasons to buy:
Best-in-class drop protection

Port coverings are available to prevent dust and debris from getting inside the ports

Includes a holster to carry your device around

Otterbox limited lifetime warranty
Reasons to avoid:
If you are looking for a relatively lightweight and affordable rugged protective case for iPhone 14 Pro, the Ringke Fusion X is perfect for you. From its unique design to its protective bumper, it has all sorts of features that will keep your device free from scratches and dents over the years.  
8. Spigen Tough Armor MagFit (Heavy-duty MagSafe Case)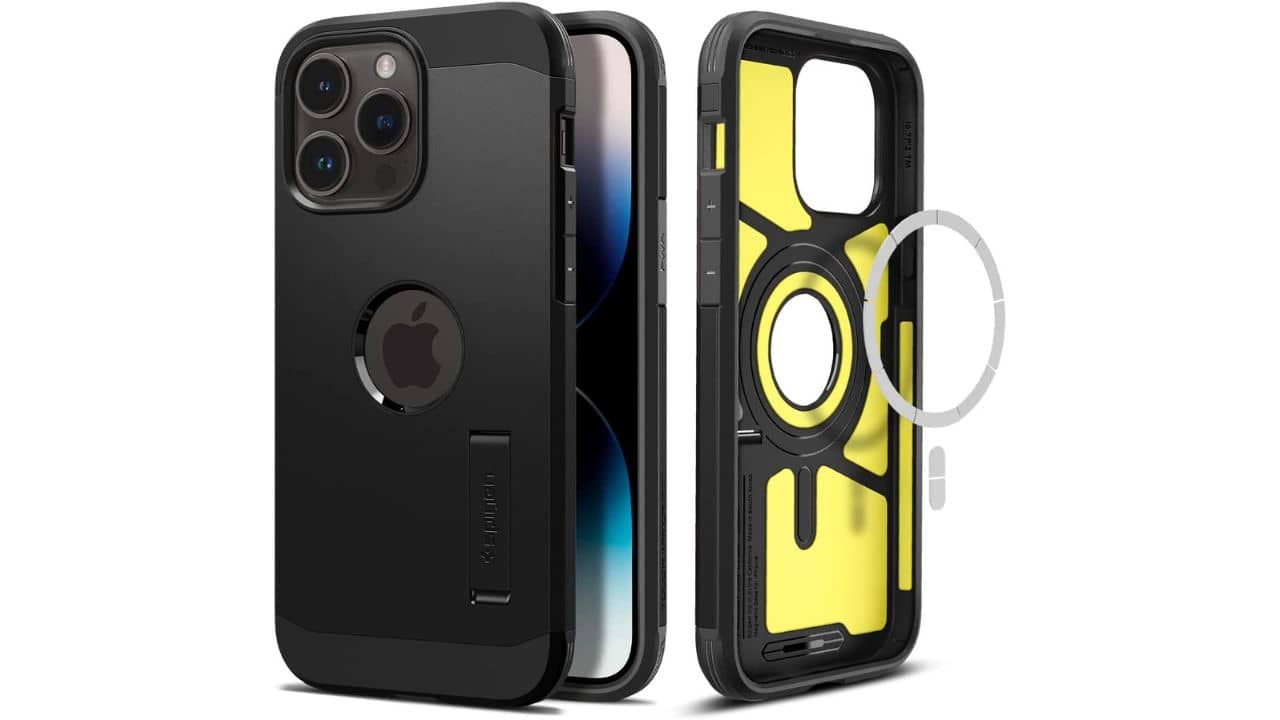 Looking for a budget-friendly protective iPhone 14 Pro MagSafe case, but failed to find one? We recommend grabbing Spigen's Tough Armor MagFit edition case right away. Besides having properly aligned magnets for MagSafe charging it is lashed with all the features you'd want to see on an iPhone 14 Pro heavy-duty case. First of all, it is relatively lightweight in comparison to
OtterBox's Defender Series. Secondly, the attached kickstand at the back of this protective case enables you to enjoy hands-free long video calls, TikTok, YouTube shorts & more. As far as protection is concerned, it is as good as OtterBox's offering. The Spigen Tough Armor is made out of carbon fiber and TPU materials for superb protection of your iPhone. In addition, this protection iPhone 14 Pro case comes with the Air Cushion Technology and military-grade certification which ensures extreme durability and strength to withstand any kind of drop, shocks, and bumps. This is something we've been testing for years and Spigen's cases have not disappointed us in any way. If your kids ever drop your device on wooden flooring at home while watching their favorite cartoon, please be assured that it will be safe. Besides, the elevated edges, around the camera and 6.1" screen, play their part in keeping your phone scratch-free when you keep them upside down, or vice-versa. Moreover, the tactile buttons in this case offer noise-free clicks while using volume rockers and power keys. All in all, it is a great protective MagSafe case for iPhone 14 Pro but has a minor flaw associated with the grip. This case lacks a rugged back design and is pretty smooth which can be problematic for butterfingers. 
Reasons to buy: 
Heavy duty and anti-shock protection

Affordable

Relatively lightweight

MagSafe compatible
Reasons to avoid:
If you prefer clear iPhone 14 Pro cases that can protect your device well while incorporating MagSafe features, the ESR Classic Hybrid Clear MagSafe Case is a fantastic pick for you. You can flaunt your iPhone colors, shield it from accidental damages, and charge your iPhone using a MagSafe charger, all that with one clear case. 
Also Read: Best Cases for iPhone 14
9. SUPCASE UB Bettle Hybrid Case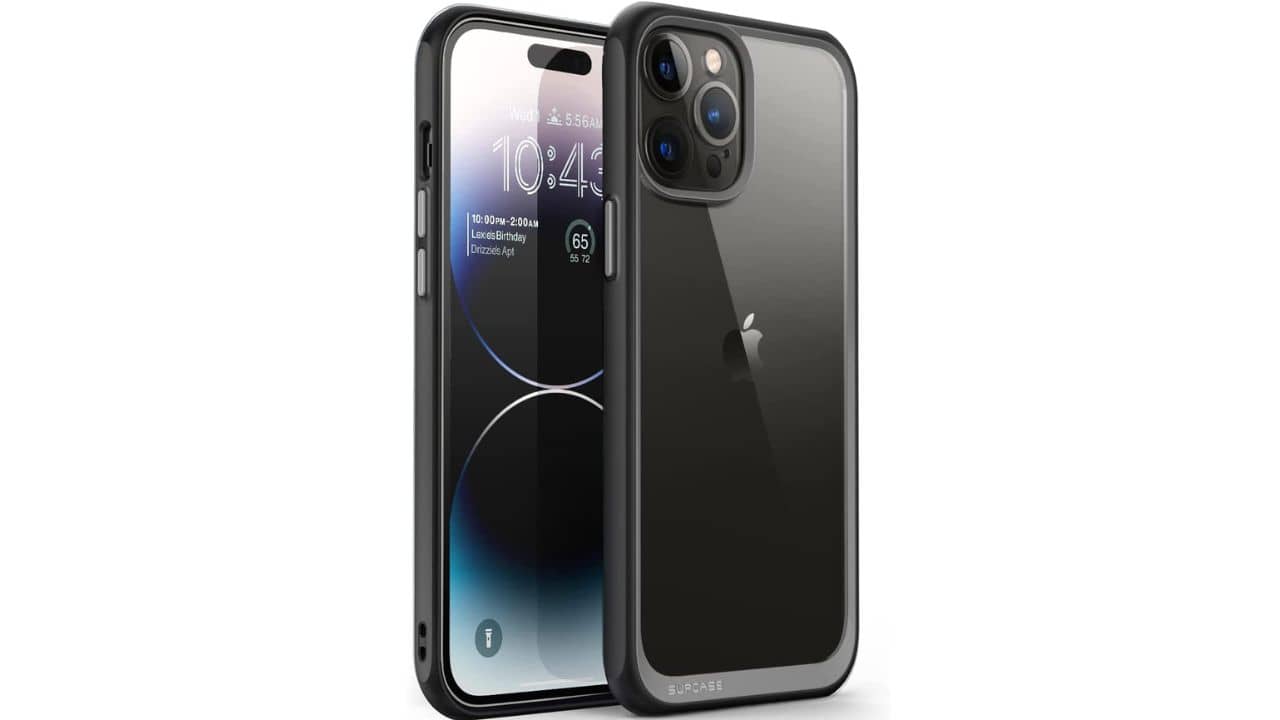 Do you want an iPhone 14 Pro case that can do both – protect your device and still manage to flaunt the sleek design of your $1000 investment? Well, hybrid cases are the only options you've got. And, we have for you one of the top hybrid cases for the iPhone 14 Pro – SUPCASE UB Beetle Hybrid. To remind you it competes with the
Spigen Ultra Hybrid case in the same segment. Since we have mentioned Spigen so often, we wanted to give you some additional options.
Talking of build, this hybrid case is made from PC and TPU bumpers that offer all-around shatterproof protection. It houses a wraparound bumper that shields the sides of your phone from the sideways drops that can be fatal for your device against nasty drops, scratches, and daily wear and tears while keeping your iPhone's beauty intact in the long run. Having said that, we don't want you to perform drop tests with this iPhone 14 Pro hybrid case installed. Though it offers a relatively good amount of protection, it might not withstand the roughest drops like Defender Series from OtterBox or Fusion X series from Ringke, do. You can see raised edges around the 48MP camera to keep it from scratches but lacks raised bezels around the screen area. Therefore, you should be more cautious while keeping your iPhone's display facing toward a flat as well as an uneven surface. The display will get some scratches. If you are fond of colors, the variety of colorful bumpers available for this hybrid iPhone 14 Pro is enough to woo you. In short, it is a great alternative to the Spigen Ultra Hybrid which is available at a similar price. 
Reasons to buy:
Built-In Kickstand

Scratch-resistant body

TPU bumper resists shocks 
Reasons to avoid:
Not the most protective hybrid case
If you are in search of good quality iPhone 14 Pro slim cases, make sure to check out the following options: 
Also Read: Top 9 Cases to Protect Your iPhone 14 Plus in 2023
Best Wireless Earbuds/Headphones for iPhone 14 Pro in 2023
10. AirPods Pro 2nd Gen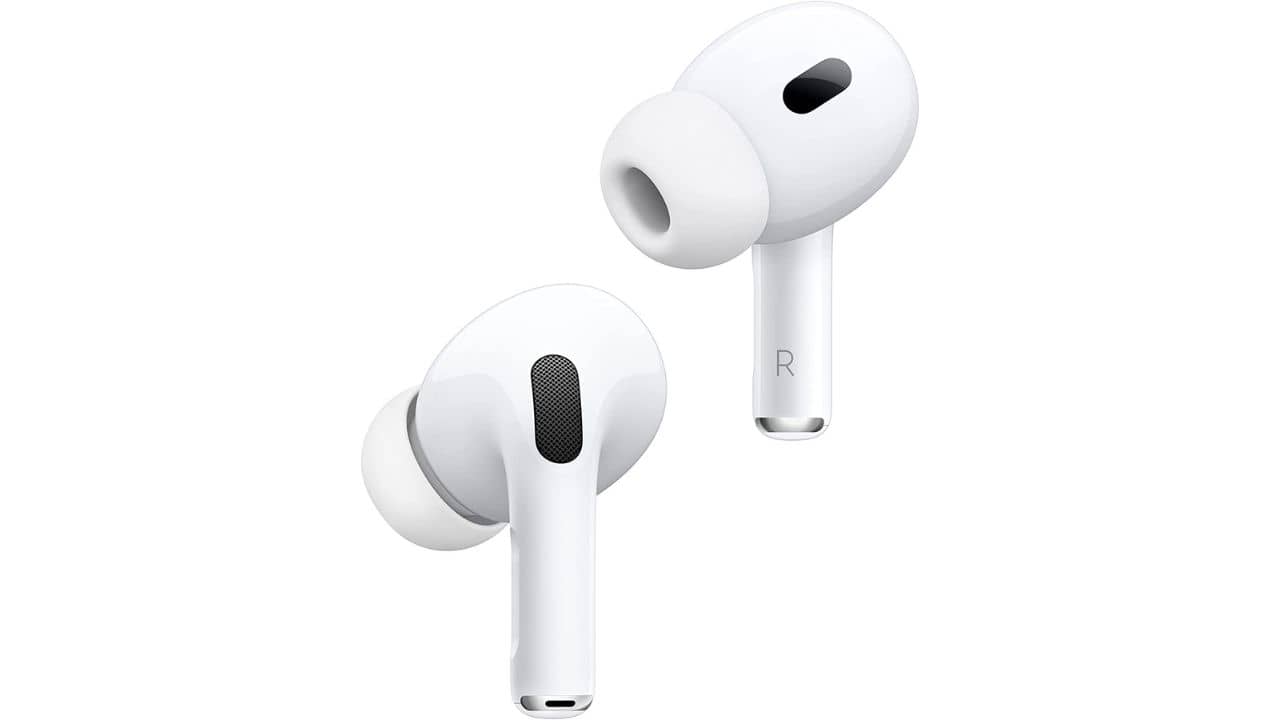 If you have the original AirPods Pro, you wouldn't notice a significant change in the design of the new AirPods 2nd Gen. Rather, Apple has upgraded it on the inside. The new audio accessory for iPhone 14 Pro packs an all-new in-case speaker. You can use it to find misplaced charging cases by voice trigger using the Find My Device feature. For crisp and best-in-class audio, the Cupertino tech giant has used an all-new H2 chip with customized spatial audio features and noise cancellation improvements. Apple says that the chip enables a new Transparency Adaptive feature that significantly reduces loud environment noise coming from construction sites, etc. The AirPods Pro 2nd gen comes with an exciting feature. You can adjust the audio volume by swiping your fingers up and down on the stem to increase or decrease the sound, respectively. The new AirPods Pro comes with 6 hours of battery life on a single charge, allowing you to enjoy your favorite music no matter how noisy the outside environment is. 
Reasons to buy: 
Crisp, and clear audio

Excellent wireless charging case design

Solid mic clarity

Hands-free Siri access

Seamless pairing and working with Apple devices

Wide variety of customizable options with

3rd party cases
Reasons to avoid: 
No IP rating for water resistance

Relatively Expensive
Honorary mentions some of the best value-for-money wireless earbuds for iPhone 14 Pro:
11. Sony WH-1000XM5 Wireless Noise Canceling Headphones (Premium third-party audio accessory)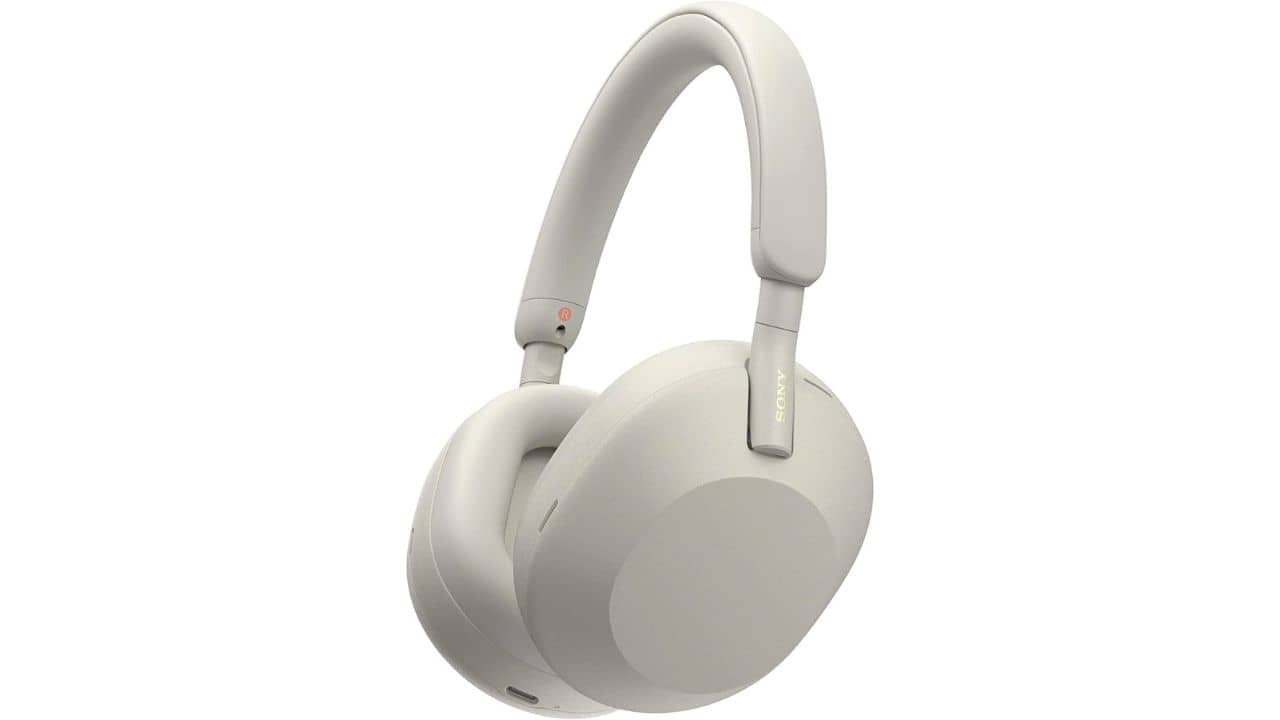 Are you a headphone person and want to enjoy studio-like audio quality? The Sony WH-1000XM5 is the best pick for you. This wireless audio accessory for iPhone 14 Pro features 8 dedicated microphones for superior noise cancellation. Whereas, the improved Noise Cancellation Optimizing technology ensures that noise-canceling is optimized on its own depending on the environment and your wearing conditions. So, next time you pass by a construction site these headphones will automatically increase the noise cancellation as compared to when you are at home. Besides, you can pair these iPhone 14 Pro wireless headphones with your iPads, MacBooks, and other devices to bless your ears with pure music. Remember, this one is a value pack and is shipped with a carrying case, a 3.5 mm audio cable, and a USB-A to USB-C cable for charging it.  
Reasons to buy:
30-hour battery life

Even better active noise cancellation than XM4 (Best-selling headphone of the year)

Pairs with two devices at the same time

Lightweight and comfortable

Best-in-class microphones for calls
Reasons to avoid:
Design is somewhat plasticky for its price tag

No major upgrades over the predecessor, WH-1000XM4
If you are eyeing a premium wireless headphone for your iPhone 14 Pro, you can go with Apple's AirPods Max. This premium over-ear headphone is lashed with an active noise cancellation feature, low power model, large dynamic drivers that deliver high-fidelity audio, theater-like sound, 20 hours of listening time, and more.  
On contrary, if you are looking to have mercy on your wallet and looking for an audio accessory for iPhone 14 Pro with more similar features at a relatively lesser price, below are a few recommendations for you to choose from:
Bose SoundLink Wireless Headphones (Long Lasting & Budget-Friendly)
12. Shokz OpenRun Pro Bone-conduction Headphone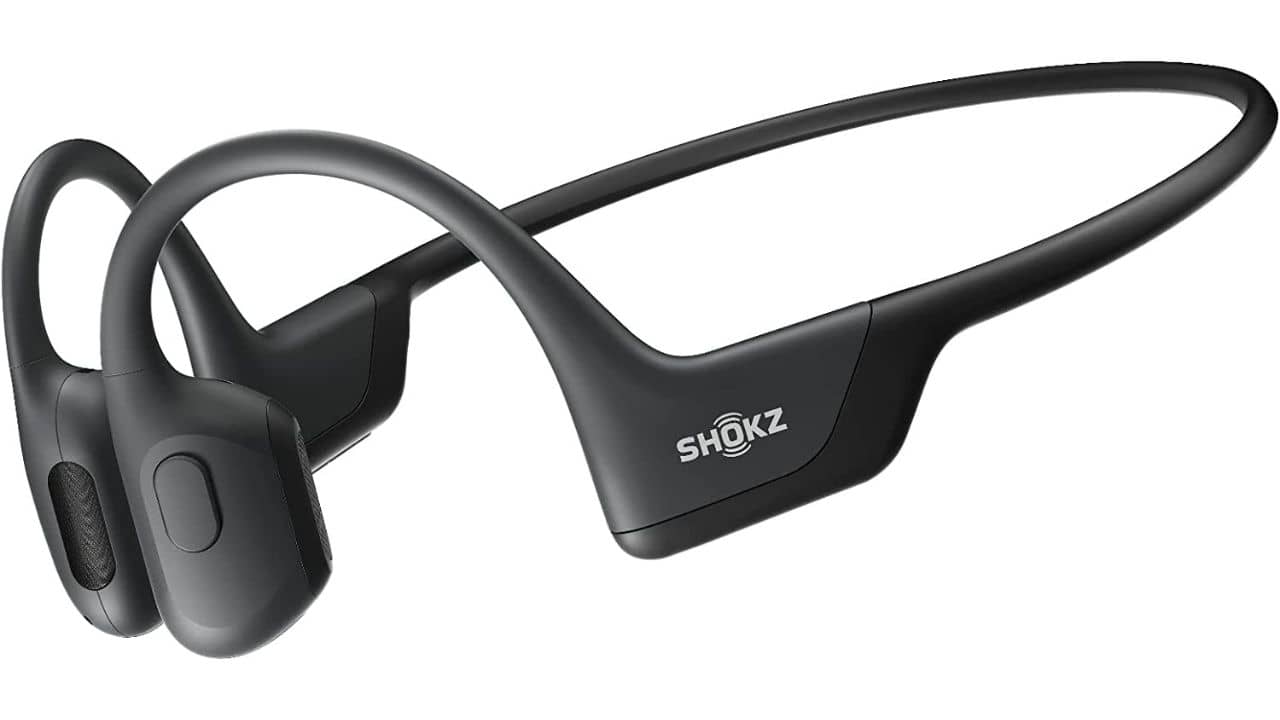 Shokz OpenRun Pro is one of the best bone-conduction earphones that should be loved by avid music listeners who are bored of conventional in-ear earbuds. It is one of the few great pairs of bone-conduction headphones for iPhone 14 Pro that flaunts a lightweight, yet preserves minimalistic design. If you are unaware,
bone-conduction headphones play audio by sending vibrations into your cheekbones. These earphones are generally designed in a way to keep your ears open so you can seamlessly talk or listen to ambient sounds like traffic or announcements made on the street, etc. In addition, the IP67 waterproof rating makes it one of the premier choices for gym goers and runners looking for reliable iPhone 14 Pro sweat-proof wireless headphones. Also, the 10-hour battery life makes this headphone your perfect companion for solo road trips. If you rush to the office in the morning like me, you'd be glad to know that this wireless headphone for iPhone 14 Pro can offer 1.5 hours of listening time in mere 5 minutes of charging time. Having all that said, don't get swayed by the interesting concept of bone conduction, it comes with major drawbacks. It lacks the immersive audio quality experience offered by traditional headphones from top audio accessories brands for iPhones, such as Sony, Jabra, Beats, etc. Therefore, if you are someone who experiments a lot, this one is for you. Others, please stick to TWS earbuds, they are relatively affordable and deliver better audio as compared to bone-conduction headphones. 
Reasons to buy: 
Longer battery life

Fully waterproof

Respectable sound quality

Comfortable and secure fit
Reasons to avoid:
Conventional earbuds sound better

Not adjustable
Looking for relatively affordable bone-conduction headphones for iPhone 14 Pro? Here're a few recommendations that will save you a few extra dollars:
Best Smartwatch and Fitness Accessories for iPhone 14 Pro in 2023
13. Apple Watch Series 8 (For those who want to upgrade)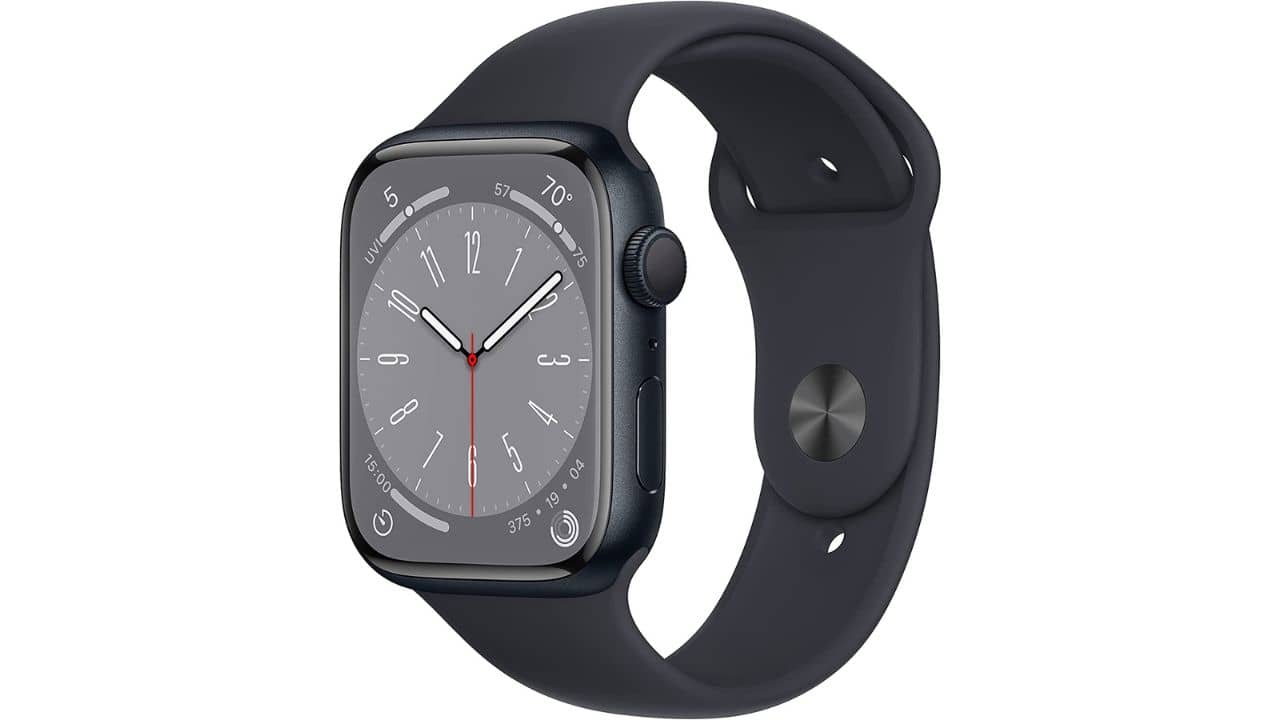 If you are looking to track day-to-day workout activity and sleep, you wouldn't get a better smartwatch for iPhone 14 Pro than the Apple Watch Series 8. Aside from the nominal redesign, Apple has introduced a car crash detection feature on the 8th generation Apple Watch. It packs the new S8 chip which is proven to offer similar performance as the Watch Series 6, and Watch Series 7. This iPhone 14 Pro smartwatch comes with WR50 water resistance, meaning it can survive underwater for up to 50 meters. Therefore, if you are into water sports like swimming, rafting, kayaking, etc., it should be your perfect companion. Apple claims that temperature sensors incorporated inside this iPhone 14 Pro fitness watch can track temperature changes as little as 0.1-degree Celsius. Further, this smartwatch comes with a cycle tracking feature that lets women track their ovulation cycle. To offer better insights into women's health the Apple Watch Series 8 alerts users about irregular periods. As far as battery life is concerned, Watch Series 8 lasts up to 18 hours on a single charge which can go up to 30 hours using the new low-power mode. It runs on watchOS 9 and is loaded with health and fitness features. In short, it is a great smartwatch that lets you track almost every activity and is certainly a great option for anyone who wants to upgrade from Watch Series 5 or earlier.
Reasons to buy: 
Car crash detection

Improved battery life

Overnight temperature sensing

More accurate period predictions
Reasons to avoid: 
Same design as the previous model
Are you a runner, triathlete, mountain climber, or underwater adventurer who loves sporting the latest tech innovations? If yes, the premium offering from Apple, the Watch Ultra, might be just for you. It is lashed with some advanced features including a compass, a new action button, water sports features, crash detection feature, night mode, and whatnot. Most of all, an all-new super durable titanium body. Even though Apple is offering it for a whopping price of $799, we believe the features you get in these fitness accessories for iPhone 14 Pro might be worth it for some hardcore users. If you want to make an informed buying decision by reading everything about this rugged smartwatch for iPhone 14 Pro, please make sure to
If you are looking for a premium smartwatch for iPhone 14 Pro, but from a reliable third-party brand, we recommend grabbing the Garmin Instinct Rugged Smartwatch. It is an affordable option compared to Apple Watch Ultra. 
14. LOVEPHONE Armband for iPhone 14 Pro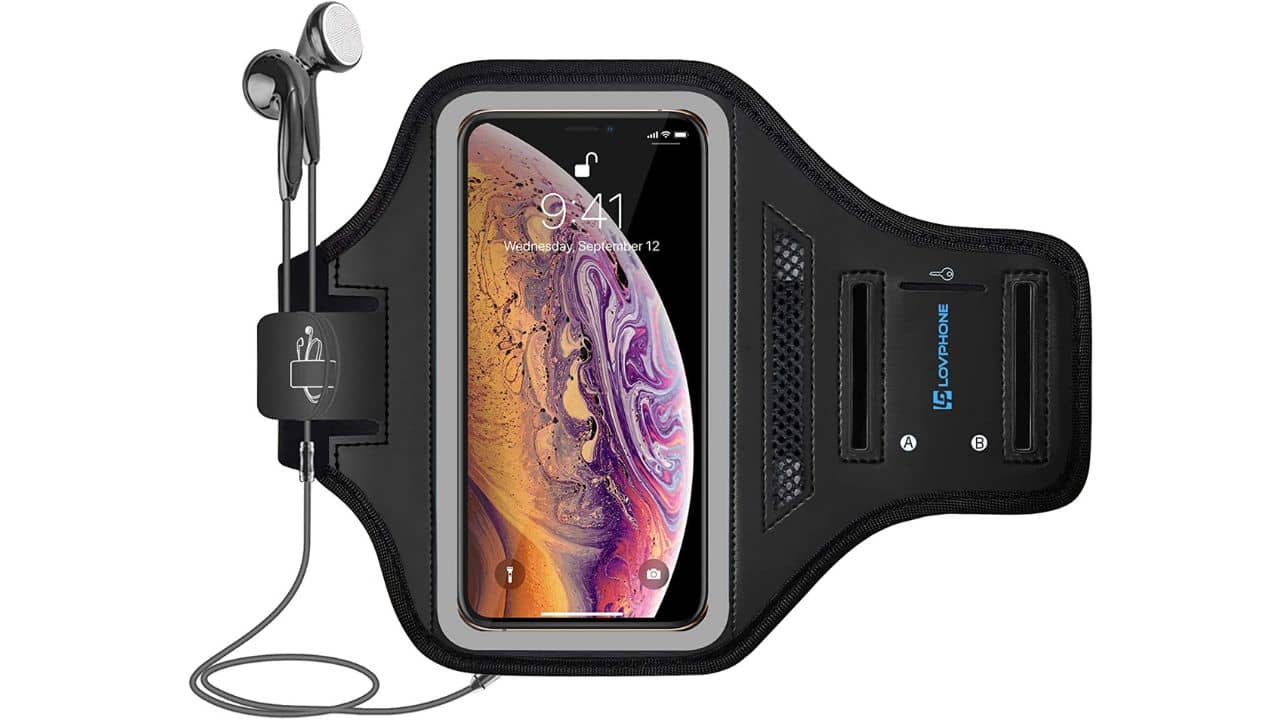 Do you often go out on a run but struggle as the phone keeps bouncing inside your pocket? Plus, there's the fear of dropping your $1000 smartphone on the road. Don't worry, get yourself an armband mobile phone holder for iPhone 14 Pro from LOVEPHONE. This armband is made from water-resistant neoprene and a PVC screen protector. It allows the armband to keep your iPhone 14 Pro free from dirt, scratches, sweat, and even rainfall when you're outside. The PVC screen protector ensures flawless touch response without having to take the phone out of the armband. You can easily use it over the material that seals it inside the case. It is smooth, soft, and easily adjustable to a wide range of arm girth that can range from 10″ (25.4cm) to 15″ (38.1cm). It securely fits and stays in one place and prevents it from falling off when you're ticking your running goals at the nearest running track. There'd a hidden pocket on the inner side of the adjustable strap that can be used to keep valuables like keys, etc. If you often listen to workout playlists on
Spotify, you'd be glad to know that there's a dedicated slot to store the extra wires of sweatproof earphones that floats here and there when you're jogging. Moreover, you can fit your iPhone 14 Pro without taking off the cases. In short, it is a great fitness accessory for iPhone 14 Pro users who keep their health and fitness topmost priority.
Reasons to buy:
The material feels very soft 

Good protection for the phone 

Fits snugly in the pocket
Reasons to avoid:
Not the best for someone with huge arms
That's all for now in this roundup of the top iPhone 14 Pro accessories that you can buy right now. If you are eyeing the most expensive iPhone, make sure to check our roundup of the best accessories for the iPhone 14 Pro Max.