Apple unveiled its next-generation of Apple Silicon for Macs, the M2 chipset at the WWDC event on June 6, 2022. In addition, the Cupertino tech giant has announced its first set of M2-powered Macs with a new 13.6" MacBook Air and an updated MacBook Pro model. Apple's first in-house processor, the M1 chip made its debut in 2020, followed by M1 Pro and M1 Max in 2021, and M1 Ultra earlier this year in March. When we talk about the performance and power efficiency of the M1 Macs, Apple's in-house processor has been a game-changer. Now, Apple is ready to take that performance a notch higher with the next-generation M2 processor. 
In this article, we've compared the original M1 chipset with the latest M2 processor. This will help you understand the differences between M1 and M2 and arrive at a conclusion if M2 is better than M1 or not. Right from the on-paper specifications to real-world usage, we've compared the two chipsets on some important parameters. So, if you're planning to buy a MacBook or want to upgrade your existing M1 MacBook Air/ MacBook Pro, this article will help you make better decisions. 
Without any further ado, let's get started with our list of differences between M1 and M2 processors. 
Also Read: All you need to know about 13″ M2 MacBook Air
M1 vs M2
M1 vs M2: Specs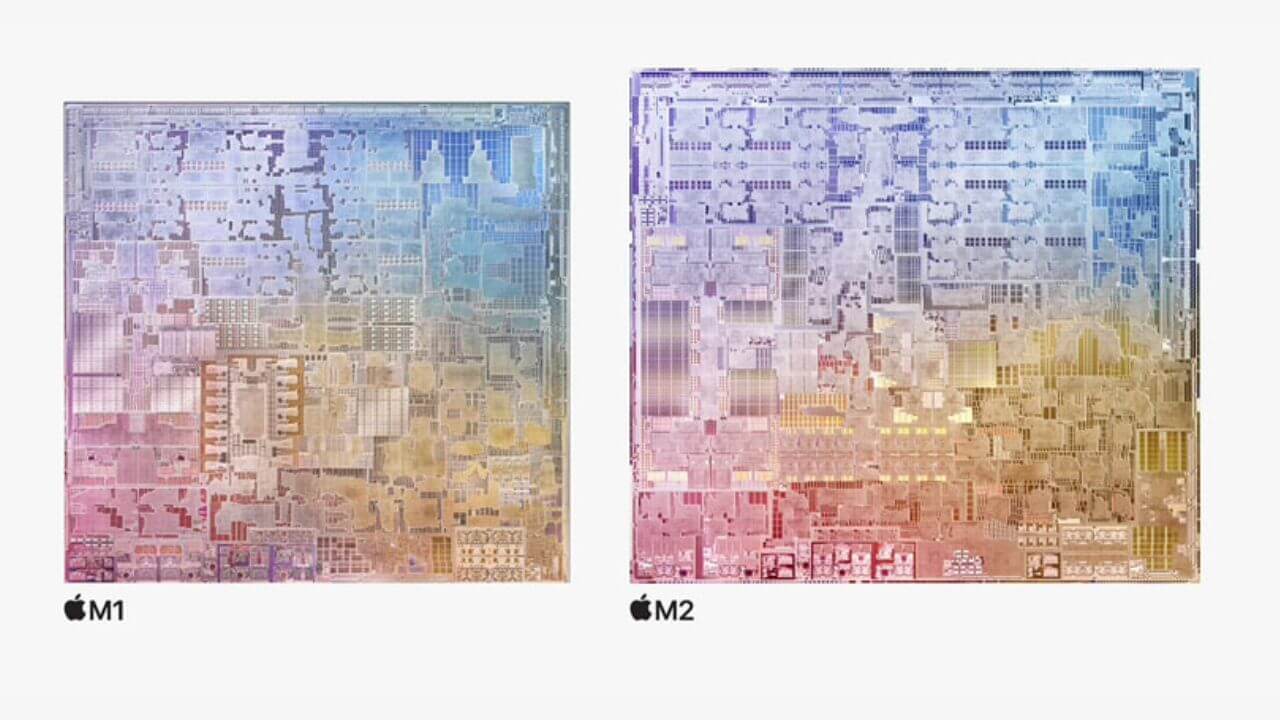 Here's the difference between M1 and M2 in terms of Specifications.
| | | |
| --- | --- | --- |
| Specs | Apple M1 Processor | Apple M2 Processor |
| CPU Cores | 7-8 | 8 |
| GPU Cores | 8 | 8-10 |
| Memory Bandwidth | 68 GB/s  | 100 GB/s |
| Neural Engine | 16-core | 16-core |
| Transistors | 16 Billion | 20 Billion |
| Memory Capacity | 16GB | 24GB |
| USB Ports | 2x Thunderbolt/USB4 | 2x Thunderbolt/USB4 |
M1 vs M2: CPU Performance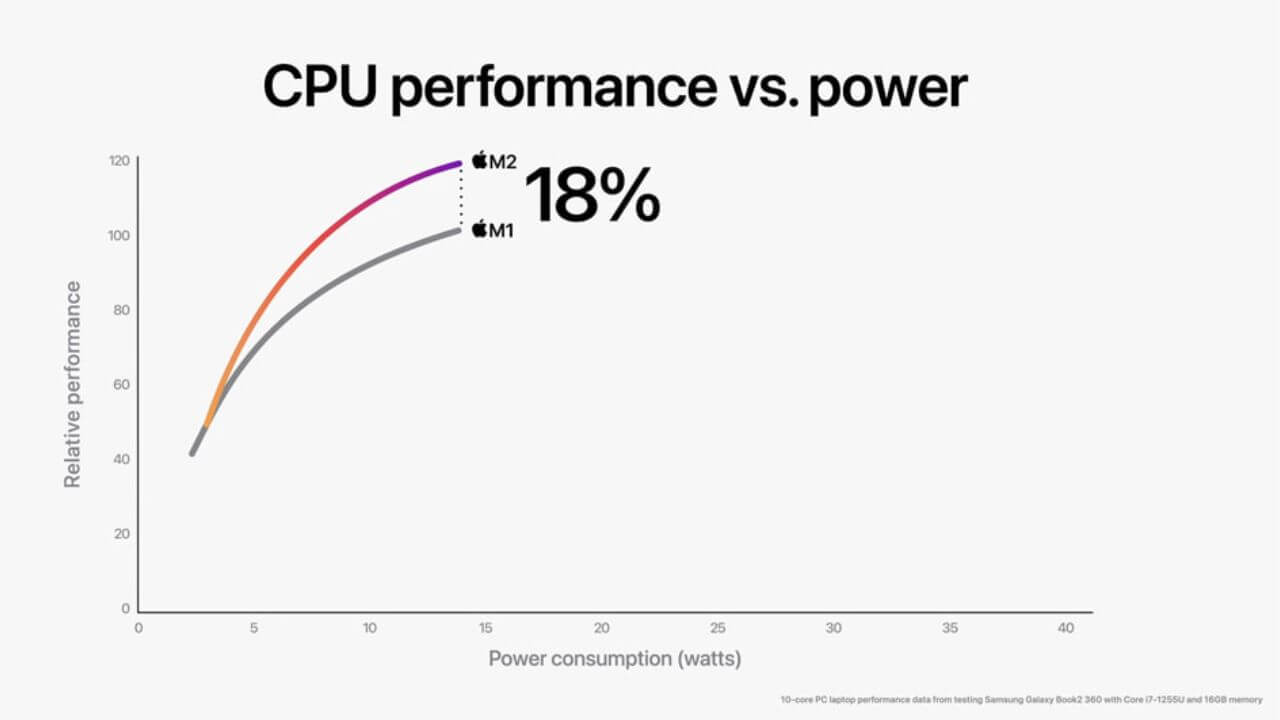 The latest Apple M2 processor boasts 20 billion transistors which are 25% more than the original M1 chipset. It's worth mentioning that the M1 Pro sports approx 33.7 billion transistors, the M1 Max has 57 billion transitions, and the supremely powerful M1 Ultra redefines the future of SoCs with a whopping 114 billion transistor count. 
The new M2 chip uses Apple's custom ARM silicon and is built on the new second-generation 5nm architecture. And, that's the reason why M2 delivers up to 18% faster CPU performance, despite having the same four performance and four efficiency cores as the original M1 SoC. 
Also Read: All you need to know about  13″ M2 MacBook Pro 
M1 vs M2: GPU Performance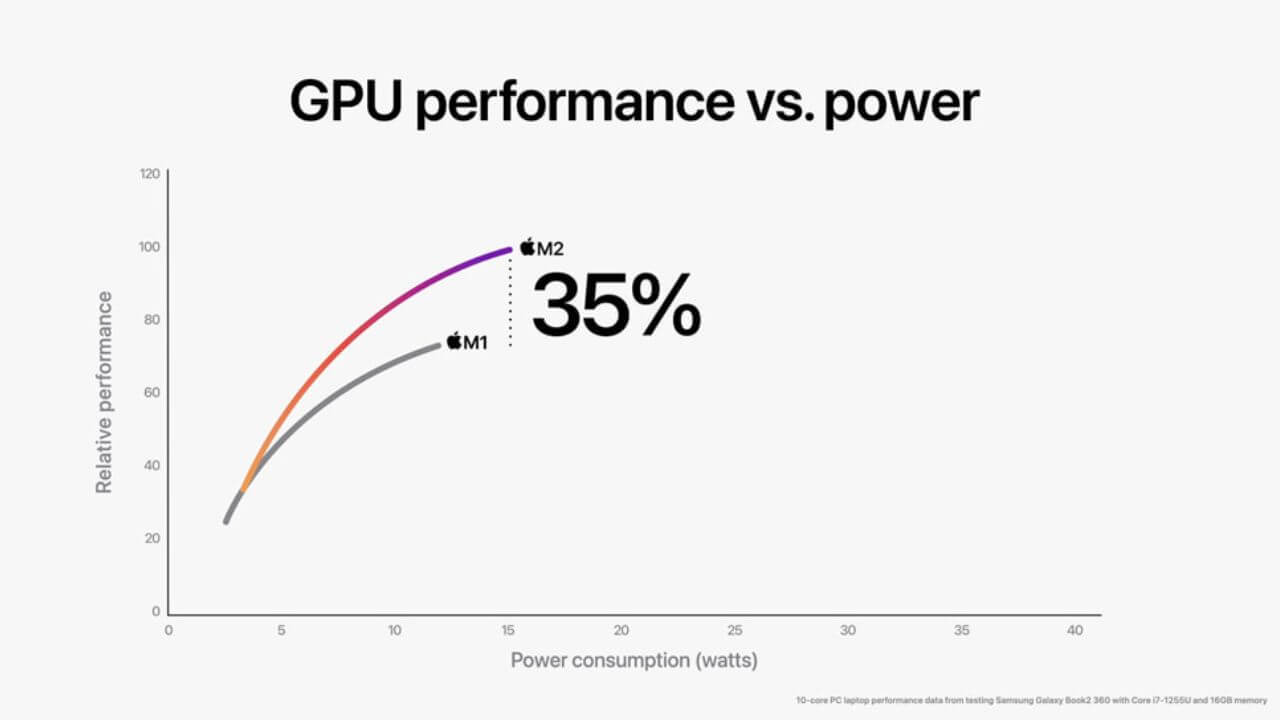 Now, let's talk about the difference between M1 and M2 in terms of GPU performance. The M1 processor features an 8-core GPU that delivers super-smooth graphics and can easily handle graphics-intensive tasks. The latest Apple M1 processor also ships with an 8-core GPU, but can be upgraded to a 10-core GPU by paying an extra few hundred dollars. If we compare Apple M1 vs M2 in GPU performance, the latest M2 chipset delivers up to 25% faster GPU performance than M1 while using the power (approx. 12W). Additionally, when it is pulling a maximum TDP of 15W, M2's GPU can deliver up to 35% faster performance than M1's GPU. It makes the M2 processor, a more suitable pick for heavy graphics workloads like video editing and 3D rendering.
The next-gen M2 processor is said to be more power-efficient, but the 35% faster GPU performance comes at a power cost. 
We will delve deeper into this once the device starts shipping so we can compare real-world metrics. 
Also Read: Best USB-C Adapters and Hubs for M2 MacBook Air
M1 vs M2: Memory Bandwidth & other features
Memory bandwidth is one of the major key differences between the M1 and M2 processors. The M1 chip supports LPDDR4 memory whereas the M2 chip walks in the footsteps of the beefier & more powerful M1 variants to offer LPDDR5 memory. Moreover, the base M2 chip supports Unified Memory of up to 24GB with 100GB/s memory bandwidth, which is approx 50% more than the base M1 chipset. 
Regarding the Neural engine, both M1 and M2 processors feature a 16-core Neural Engine. Having said that, with the ability to process up to 15.8 trillion operations per second, the Neural Engine in the M2 is almost 40% faster than on M1.
The M2 processor brings much-needed improvements to the Media Engine department. With an updated Media Engine, the M2 chipset supports ProRes and includes a high bandwidth video decoder that supports 8K H.264 and HEVC videos. Additionally, the ProRes Video Engine enables smooth playback of multiple 4K and 8K video streams. 
Now, those were the on-paper differences between the original M1 and the latest M2 chipsets. When we're talking about the actual differences between M1 vs M2, it's important to consider real-world usage. It's worth mentioning that real-life usage varies from person to person. We've listed our experiences below.
We've compared M1 vs M2 based on their video editing, photo editing, programming, and development tasks. So, let's have a look at where they shine and where they lag. 
Also Read: Best Docking Stations for 14″ and 16″ MacBook Pro
M1 vs M2: Video Editing
The M1 chipset has proven to be a game-changer for video editing tasks on a Mac. Compared to the previous MacBooks (Intel-based models), video editing is smoother and more power-efficient on the M1 chipsets. When we talk about video editing, it's usually divided into three parts, Editing, Rendering, and On-battery performance. To compare M1 vs M2, we'll understand how these chipsets perform during each stage of video editing.
You can easily use the cheapest M1 Mac i.e. the MacBook Air as a full-fledged editing workstation with external accessories. Not only does it perform exceptionally well but also you can use it as a power-packed video editing station with the right accessories. Yes, you've heard it right!  
When it comes to external display support for M1 Macs, you can connect one external display with M1 (via TB/USB 4), two with M1 Pro (via TB and HDMI), and up to four external screens with M1 Max chipsets (via TB and HDMI). 
When you use MacBook Air M1 for video editing and working on the Final Cut Pro app, you can easily work with difficult codecs like 10-bit H.264 and H.265 files without any skipped or dropped frames in both, Better Performance and Better Quality modes. The transitions feel butter-smooth and you can easily apply color grades, easily work on 3-layers of 4K footage, do multi-cam editing, and a lot more. 
Impressively, even when you're working on the 2 tough codecs (H.264 and H.265) on M1 MacBook Air, the on-battery performance is insane. It will use about 20% of the CPU and this clearly shows how power-efficient it is. Additionally, there are no overheating problems. Where other Windows-based laptops even would overheat and run the fans at a faster speed, the M1 MacBook Air would only get a little warm. For reference, the MacBook Air M1 doesn't even have a fan. 
Coming to video rendering, when you export a 4K video in H.264 in Final Cut Pro on your Mac, a 5-minute video with 3 layers of 4K footage will take about 3 minutes and 11 seconds. The machine may get warm but it won't show any throttling problems in this case. Again, the Mac isn't plugged in and we're talking about the on-battery performance. When you're rendering a 10-minute clip, the M1 MacBook Air will take around 6 minutes and 54 seconds, while the Pro and mini models would do it at 6m 28 sec and 6m 21s, respectively. 
Therefore, it clearly shows that M1 is just excellent for video editing. Even better, we're talking about the M1 MacBook Air. Since the Mac mini M1 and MacBook Pro M1 are packed with active colling systems and fans, they deliver better multi-core performance and can maintain a high clock speed for longer durations. It's worth mentioning that it isn't just Final Cut Pro that performs well, M1 processors can smoothly run other NLE apps like DaVinci Resolve, Adobe Premiere Pro, and even Adobe After Effects. 
Coming to the M2 chipset, it doubles up the capabilities with up to 18% faster CPU and up to 35% faster GPU performance. Thanks to a dedicated Media Engine, it also supports faster ProRes encode & decode, 8K H.264 & HEVC videos, as well as a 6K external display. Also, Apple claims that M2 SoC is more power-efficient than the original M1 processor. We will have to see how it performs in real life. 
Also Read: Best Apps for M1-powered MacBook Air and MacBook Pro
M1 vs M2: Photo Editing
Just like video editing, M1 is great for photo editing. First, all the major photo editing apps like Adobe Lightroom, Adobe Lightroom Classic, Photoshop, Luminar AI, and others can natively run on the M1 Macs now. It means these apps can take full advantage of the M1 chipsets' architecture to give more power to your photo editing tasks. You can easily export photos, edit large panel images, and work with images with a lot of local adjustments. When you're using an M1 MacBook Pro for photo editing or filmmaking, the machine can smoothly handle all your editing needs. Therefore, whether you wish to work with dozens of high-resolution pictures, use 15 layers, work on your studio shots, or open multiple files at once, M1 can handle it all without any performance issues or delays. 
Until M1, MacBooks weren't considered a suitable pick for heavy editing and testing as they required more power. When you would work with 4 images loaded in 1 mask in Photoshop on an Intel-based MacBook Pro, your machine would throw hiccups. For workflows that required resource-heavy editing, the more powerful computers were considered an appropriate option. Fortunately, the M1 processor has turned out to be a game-changer for photo editing tasks. With native M1 support, Photoshop works just fine on compatible MacBooks and allows you to edit even the heaviest of PSD files without any hiccups. Therefore, the M1 processor can easily satisfy all your photo editing requirements without any issues. On top of it, M1 maintains an impressive battery life even when you're doing some heavy editing tasks on your machine. 
Coming to the latest M2 chipset, it brings a performance boost to photo and video editing with 24GB RAM and 10-core GPU. The maxed-out M2 MacBook Air or MacBook Pro claims to deliver some heavy upgrades to the photo editing tasks. Therefore, if some of your heavier editing tasks were just on the edge with your M1 MacBook, the M2 Mac will offer a substantial performance boost. So, if you're a professional photographer who's planning to buy a MacBook, it's a great idea to go for the latest M2-powered MacBooks. On the flip side, if you already have an M1 MacBook and you're happy with its performance, you can stick to the M1 as it's still a pretty good machine for photo and video editing tasks on the go. 
Also Read: Best Ultrawide Monitors for MacBook Pro
M1 vs M2: Programming
Now, let's compare M1 vs M2 for programming, code compilation, and testing. When we talk about M1 for programming, the multi-core processor and up to 16GB RAM (up to 32GB with M1 Max chipset) allow you to compile code much more promptly. Additionally, the M1 MacBook Pro is available in up to 16-inch screen options, which is ideal for programming, coding, and other creative work. All of your programming tools, including Xcode, Atom, NetBeans, Tower, VSCode, and more works just fantastic with the M1 chipset. Moreover, you won't face any performance issues when you're working with RAM-heavy applications.
Having said that, you might be stuck with an occasionally choppy UX when you're using 8GB of RAM. To get buttery-smooth UX, prompt compilation code, and faster test results, you would easily need 16GB of RAM. Also, if you want to do some virtual emulation work or run VMs, 16GB RAM or higher is recommended. 
When we talk about running Python scripts on the M1 MacBooks, it's almost 3x faster on the M1 processor as compared to the previous Intel-based models. So, when you code in Python on the M1 Macs, the performance is much faster with a reduction in runtime by 43 seconds. 
Now, let's talk about M2 for programming and code. The latest Apple's in-house chip can be configured in up to 24GB Unified Memory and 100 GB/s memory bandwidth that can handle even larger and more complex workloads. It's worth mentioning that if we talk about M2-powered MacBooks, we've got a 13.6" MacBook Air and a 13" MacBook Pro. Whereas the M1 chipset is available in up to 16" MacBook Pro models (with the beefier M1 Pro and M1 Max chipsets). Therefore, programmers who work on a single display might feel the new 13.3" and 13" M2 Macs offer fewer than screen space. On the flip side, for professionals who often connect their MacBooks to a bigger external display, the smaller display on the M2 Mac would hardly be an issue for them. 
Also Read: Best External Hard Drives for M1 MacBook Air and MacBook Pro
M1 vs M2: Software Development 
Apple M1 chipset and its processing powers are very much appreciated by a large community of developers across the globe. Various apps for developers, including Eclipse IDE, Unity, Android NDK, .Net, Adobe Dreamweaver, and others work natively on the M1 Macs. If you're a full-stack developer, all of your programs, including VSCode, iTerm, nodejs, Fork, npm, pnpm, and others have native ARM builds. Additionally, considered a Machine Learning beast, M1 Macs work amazingly well with the CreateML app for model training. 
Moving further, the M1 machines stack up really well with real-world XCode projects. The XCode build time for an 8-core 16GB M1 MacBook Pro is 42 seconds with an incremental build of 16 seconds. Talking about the MacBook Pro M1 with the same configuration, the XCode build time is 45 seconds, while the M1 Mac mini offers an impressive build time of 41 seconds. 
Since the latest M2 chipset can be configured up to a 10-core GPU and 24GB LPDDR5 Unified Memory, we might see some improvements in code compilation, programming, and build times. For exact numbers, we'll have to wait until we get our hands on the M2-powered Mac. 
Also Read: Best Monitors for MacBook Air and MacBook Pro
M1 vs M2: Price
Lastly, let's talk about the price difference between M1 and M2 processors. The latest Apple Silicon chipset launched in the 13" MacBook Air starting at $1,199 and the 13" MacBook Pro at $1,299. The maxed-out M2 MacBook Pro and the MacBook Air with a 10-core GPU and
512GB SSD Storage are priced at $1,499. So you see, the entry-level M2-powered Mac will cost you around $1,200. 
On the flip side, Apple is selling the M1 MacBook Air at $999 while the entry-level M1 machine, the M1 Mac mini is available at a starting price of $699. 
Should you upgrade to Apple M2 from M1 Processor?
Now, many of you must be thinking if the M2 chip is better than the M1 chip or if it's worth upgrading from M1 to M2. See, if you're planning to buy a MacBook for video editing, designing, programming, or other professional tasks and want a respectable performance boost, it's a nice idea to shell out a few more dollars and get your hands on the latest M2-powered MacBook. Additionally, if you're holding onto a MacBook that's more than two or three years old now, it's worth buying an M2 MacBook. Moving further, if you're tech-savvy and love the latest machines, it would be a nice idea to go for an M2 MacBook Air with a new design.
On the flip side, if you've already got an M1-powered MacBook Air or M1 MacBook Pro, you can still stick to your current Mac as it offers excellent performance for the money. If you're happy with the M1's performance, you can continue using that machine until Apple comes up with its beefier versions of the M2 processor. In case you need extra horsepower for your professional and creative workflow, M1 Pro and M1 Max are impressive offerings over the M2 chipset. 
Also Read: Best USB-C Adapters for 14″ and 16″ MacBook Pro
Are you planning to upgrade to the next generation of Apple Silicon? Or you'll be staying with an M1-powered Mac for now? Don't forget to share your views in the comments section below. 
Don't miss our comparison on iOS 16 vs iOS 15.