The stunning iPhone 14 Pro is here. Apple unveiled its latest iPhone 14 lineup at the Far Out event on September 7, 2022. Like the last two years, the Cupertino giant came up with four new iPhones- iPhone 14, 14 Plus, 14 Pro, and 14 Pro Max. While the standard iPhone 14 models didn't show many upgrades, the Pro lineup stole the entire show, along with the Apple Watch Ultra.  
Right from the redesigned display to the most advanced cameras, there are plenty of reasons to upgrade to the iPhone 14 Pro. If you're confused about whether it makes sense to upgrade from iPhone 12 Pro or
iPhone 13 Pro to iPhone 14 Pro, we've rounded off the top 7 reasons to ease your buying decision. Along with that, we've listed 4 reasons why the iPhone 14 Pro might not be that big of an upgrade for you. 
Without any further ado, let's get started!
7 Reasons to upgrade to iPhone 14 Pro 
1. The Stunning Brightest ever display on a smartphone
One of the biggest reasons to upgrade to the new iPhone 14 Pro is the stunning and power-efficient display. The iPhone 14 Pro offers the brightest display ever on an iPhone. Yes, the display on iPhone 14 Pro offers up to 1600 nits peak brightness while showing HDR content as compared to 1200 nits in the iPhone 13 Pro
model. Also, the latest Pro model features an outdoor peak brightness of up to a whopping 2000 nits which makes it twice as bright as the iPhone 13 Pro. Also, it's the highest outdoor peak brightness ever in any smartphone. Therefore, you don't have to struggle with that seriously hard-to-see or invisible display when you're outdoors on a sunny day. 
That's not all with the display on the iPhone 14 Pro. 
Did you always envy your friend or sibling who flaunts that Always-On-Display on his Galaxy or OnePlus smartphone and mocks iPhone for not having it? Well, Apple is giving you another worthy reason to upgrade to iPhone 14 Pro. The latest 2022 Pro lineup marks the debut of Always ON Display on an iPhone. The Lock Screen will now show weather, stocks, activities, calendars, and information at a glance. Additionally, the refresh rate on the display of the iPhone 14 Pro can go as low as 1Hz to extend the battery life. Moreover, the wallpapers on iOS 16 have a sleep state that will darken to further save on battery power. In short, the iPhone 14 Pro offers a brighter and more power-efficient display. 
Also Read: iOS 16 vs iOS 15: Should you Upgrade?
2. Dynamic Island- The Interactive Notch
Hated that display notch on your iPhone? You've got another reason to upgrade to the iPhone 14 Pro. One of the most interesting features of the Apple event, Dynamic Island is a major change that Apple introduced with its iPhone 14 Pro lineup. In fact, it's the first major display redesign by Apple after it launched the iPhone X back in 2017. The now
infamous display notch has been replaced by the new "pill-shaped" cutout that houses the Face ID components along with the front-facing camera. This pill-shaped cutout is called the Dynamic Island and it offers new ways to interact with alerts, notifications, and activities that pop out of the notch in an animation.
That self-adjusting notch looks super exciting and it fluidly expands when you receive notifications. Also, when you go back to the Home screen, it will show you the background tasks like playback music and ongoing calls. Isn't it fun? 
3. A Truly PRO Camera System
Let's face it. People usually upgrade to new smartphones for better cameras. It's the one common thing that matters to most users, everything else can be put to a secondary level. If you too feel the same, let's welcome another reason to upgrade to the new iPhone 14 Pro Max. The iPhones are usually
applauded for their camera systems, the iPhone 14 Pro series takes that a bar higher with its new 48MP main snapper. Yes, you heard it right! Apple has finally dropped off that 12MP primary sensor from its rear camera system.
The all-new 48MP main camera uses a quad-pixel sensor that promises to deliver up to 2x improvements to low-light photography. Also, there's a new Action Mode that offers better steadiness so you record insanely smooth videos without any need for professional gimbals or any other extra equipment. It's a boon for content creators and travel vloggers. Going further, the 12MP Ultra Wide camera takes Macro photography capabilities to a new level with the improved 12 MP Telephoto camera is also improved to offer upto 3x optical zoom.
In short, for users who love night photography and shooting professional videos, upgrading to the iPhone 14 Pro will ensure they've got the best-ever iPhone camera. 
Also Read: Apple M1 vs M2: Should you Upgrade?
4. The Advanced A16 Bionic Chip 
We all know that the performance of any smartphone majorly depends on its processor, and the iPhone 14 Pro claims to deliver a nice step-up in performance with the insanely-capable A16 Bionic Chip. For the first time ever, Apple has kept its new A16 Bionic processor, a Pro model iPhone exclusive, drawing a clear line between the Standard and Pro models. The iPhone 14 and 14 Plus will have the previous year's A15 chip. Building upon the already fast A15 Bionic, the latest A16 processor claims to deliver 40% faster than its competition.
Additionally, the chip is paired with the new 16-core Neural Engine, an accelerated 5-core GPU, and 50% more memory bandwidth, making it a more suitable companion for graphics-intensive applications and games. Moreover, the efficiency of the A16 paired with the
iOS 16 makes iPhone 14 Pro more power efficient with all-day battery life. The early tests indicate that the iPhone 14 Pro offers a playback time of 23 hours as compared to 22 hours on iPhone 13 Pro. We'll have to wait for a little while for an in-depth performance review.
5. Space Black and Deep Purple finish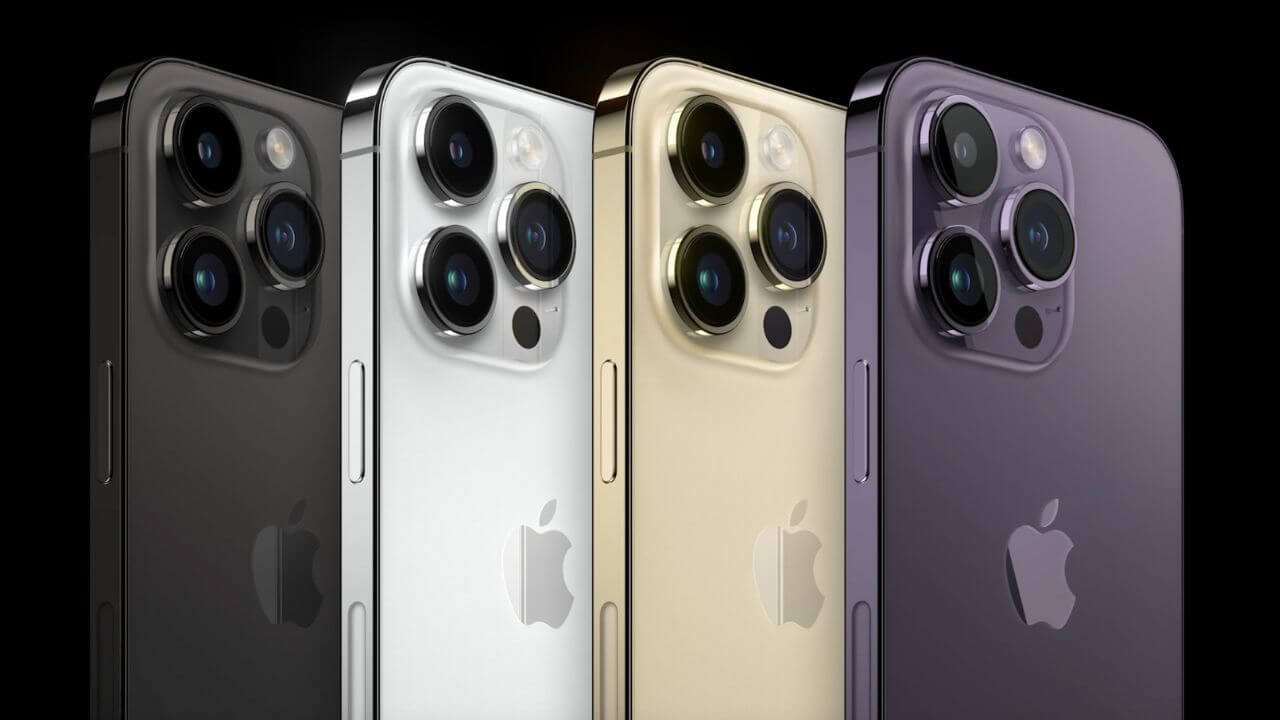 When a new iPhone is launched, apart from the camera and performance upgrades, one thing that excites every Apple fan is the new color options. After all, a new finish instantly makes you stand out from the crowd, clearly showing off that you've got the latest iPhone. This year, Apple upgraded the Graphite finish on the Pro model with a Space Black color that looks more classy. Not only that. The iPhone 14 Pro is also available in an all-new Deep Purple finish that looks gorgeous and makes a top pick for users who love fun colors. Besides, you can grab the iPhone 14 Pro in Silver and Gold options.  
Also Read: Best Chargers for iPhone 14 Pro and 14 Pro Max
6. Impressive Safety features
The iPhone 14 Pro lets you drive worry-free with advanced safety features like Crash Detection and Emergency SOS via Satellite. These are some really nice additions for those emergency situations like a bad car accident or when you're all alone and cellular towers aren't working. The Crash Detection feature can detect a crash and automatically contact emergency services when a user is unconscious or he's just not in a state to find his phone in the car and makes a call himself. Next is the Emergency SOS via Satellite which lets your iPhone connect directly to a satellite and send emergency help messages even when you're outside Wi-Fi or Cellular coverage. You don't have to mess and stress around, your iPhone will show you where to point the iPhone to connect to a satellite. With a simple
questionnaire and follow-up messages, you'll get help more quickly. 
These safety features aren't available on previous iPhones. If you've ever gotten into such a situation, you would definitely understand that these safety features can be a lifesaver. 
7. Tempting Trade-in offers 
Another reason to upgrade to iPhone 14 Pro is the tempting trade-in offers. Whether you want to go directly with Apple or with a carrier, you can grab some mind-boggling deals. Apple lets you save up to $720 when you trade in an iPhone 13 Pro Max for the latest iPhone 14 Pro. Also, certain network partners, including AT&T, Verizon, T-Mobile, and Verizon can offer up to a whopping $1000 OFF if you pre-order the iPhone 14 Pro with them. That said, you'll have to be an early adopter to take advantage of this. 
Also Read: Best Wireless and MagSafe Chargers for iPhone 14 Series
4 Reasons why you shouldn't upgrade to iPhone 13 Pro
1. The Upgrade process won't be simple and quick (No physical SIM trays)
Unfortunately, upgrading to iPhone 14 Pro isn't as simple as taking your SIM card from an older phone and inserting it into a new one. Wondering, why? At the
"Far Out" event, the Cupertino tech giant expressed plans to fully embrace the eSIMs. Consequently, there will be no physical SIM card tray on the US models of iPhone 14. While eSIMs don't pose any problems and allow you to take full advantage of 4G or 5G networks, the upgrade process won't be that quick. If you're currently using a physical SIM, you'll have to contact your network carrier and request an eSIM. If you're unable to reach customer support, you might have to wait even longer. Also, if you travel frequently and often need to replace SIM cards, finding the network carrier that supports eSIM might not be the most convenient experience. 
Also Read: How to fix 5G not working on iPhone 13?
2. Geekbench Score reveals a different performance story 
In the Geekbench test, the iPhone 14 Pro got a 1,879 Single-Core and a 4,664 Multi-Core score. For reference, iPhone 13 Pro has a 1,797 Single-Core and a 4,659 Multi-Core score. Now, it shows that as compared to the A15 processor on iPhone 13 Pro, the A16 Bionic chip performs a mere 10% faster in a single core with practically no difference from the multi-core part. These are synthetic benchmarks, and real-life benchmarks would reveal an actual performance upgrade. That said, these scores are an early indication that the difference might not be exceptional. 
It's worth mentioning that the latest A16 Bionic chip is the first Apple processor that's based on the 4nm structure. All the previous Apple's in-house processors, including the A15, M1, as well as M2 use a 5nm structure.
3. No upgrade in charging speeds 
If you were also excited about those rumored step-up charging speeds on the iPhone 14 Pro and 14 Pro Max, there's bad news for you. Right now, those rumors about the 30W charging speeds don't seem to be legit. The iPhone 14 Pro users will be stuck with up to 20W charging speeds only. That said, there are still some indications that the Pro and Pro Max model will offer up to 23W and 27W charging speeds in the initial stage, respectively. Even if this comes out to be true, it isn't a worthy reason to upgrade to the iPhone 14 Pro. Had Apple promised 30W faster charging, things would have been different. 
Also Read: Best Chargers for iPhone 13 Pro and 13 Pro Max
4. If you've already got an iPhone 13 Pro
If you already have an iPhone 13 Pro, you don't have many reasons to upgrade to the iPhone 14 Pro. For example, the iPhone 13 Pro already has a nice camera and offers faster performance than the 2022 Android flagships. Also, when the A16 Bionic Chip offers a mere 10% jump in the performance over A15 Bionic, it isn't an enticing reason to upgrade to iPhone 14 Pro from iPhone 13 Pro.
Also, when it's hard to spot the difference between photos shot on different Pro models of an iPhone, the new iPhone 14 Pro isn't a necessary upgrade. 
Next, the latest features like Always ON Display, Dynamic Island, 48MP camera, and safety features are niceties and not necessities. Therefore, if you don't care much about these luxury or gimmicky features, the iPhone 14 Pro wouldn't excite you that much. That said, when you have that irresistible Trade-in offer, upgrading to iPhone 14 Pro makes a sensible decision. After all, you can get your hands on the all-new iPhone 14 by spending a few hundred dollars. 
Also Read: Best Accessories for iPhone 13 Pro
Conclusion
Coming to the most-awaited question- is it worth upgrading to iPhone 14 Pro? See, if you've been holding onto a years-old device like an iPhone XR, iPhone 11, or even iPhone 11 Pro, it's the right time to get rid of that old-tech boy. In such a case, you'll surely see a noticeable change. You'll get better performance, better battery, and of course, an industry-leading camera system. Also, if that 48MP camera, safety features, and brighter display excite you, then for all means go with the iPhone 14 Pro series. On the flip side, if you're already rocking an iPhone 13 Pro or even 12 Pro, the 2022 iPhone 14 Pro wouldn't be that much of an upgrade. 
Are you planning to upgrade to iPhone 13 Pro? We would love to hear from you in the comments below.