Apple has officially announced the next big iOS update that will be coming to the iPhones, at its WWDC 2020 online-only event. It gave us the first official look of what iOS 14 will bring to the iPhone users. iOS 14 is packed with a host of new and exciting features, including home screen widgets, app clips, an all-new App library, a new Siri interface, and a lot more. These latest iOS features will be available for both new and already existing iPhones. Let's get to know everything in detail.
iOS 14 Features
Widgets on Home Screen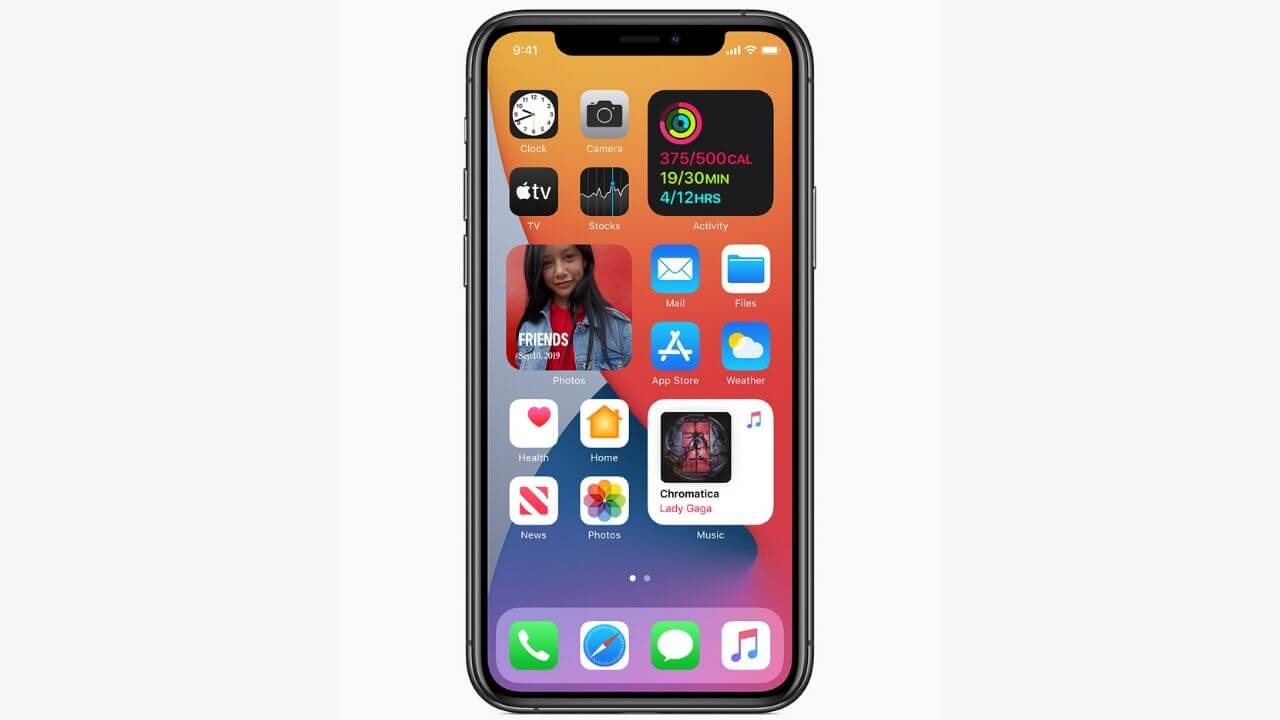 Widgets have been on iOS for years. They are available as a simple vertical list and offer information at a glance on the Today screen. With iOS 14, Apple has completely overhauled the widget's experience by making them more data-rich. The widgets in iOS 14 will be available in different sizes to show up different levels of information. That's not all. With iOS 14, iPhone users will be able to add widgets right on their home screen, alongside other apps. You'll need to hold and drag the widget out to the home screen and it will automatically make its way. Also, there's a
Smart Stack widget that uses on-device intelligence to find the right widget on the basis of activity, location, and time.
App Library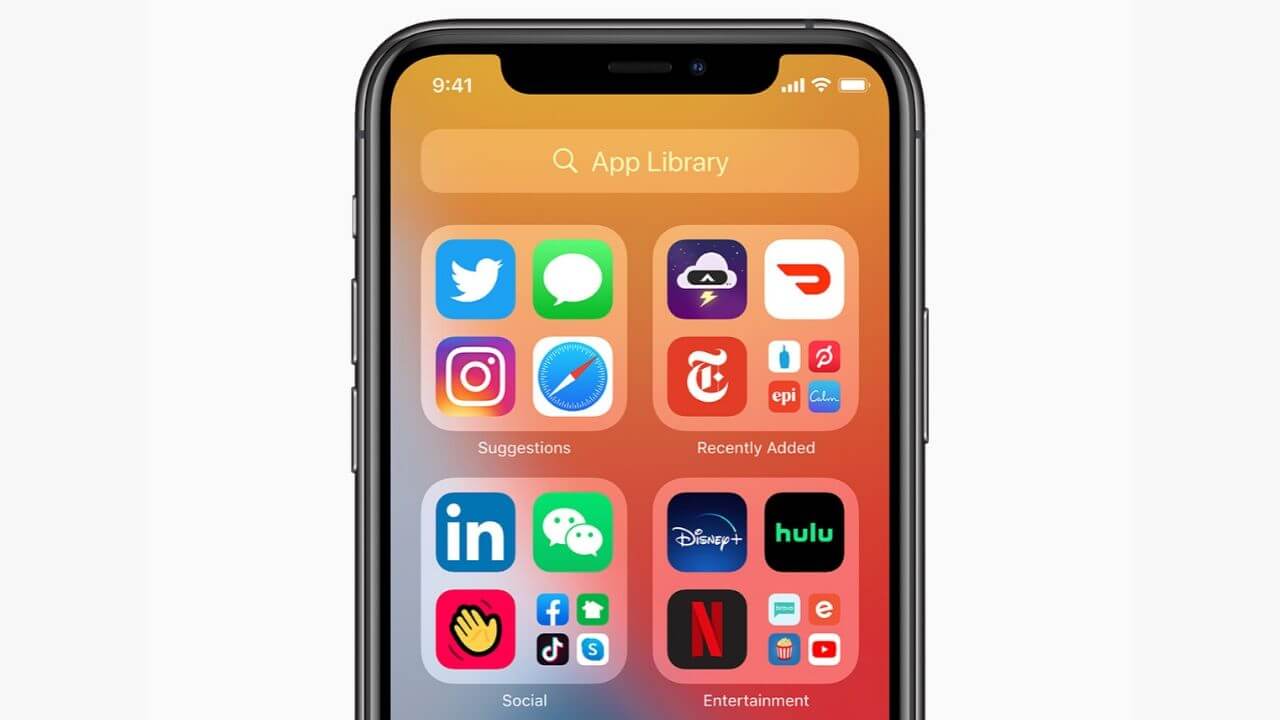 Apple has introduced a new feature called App Library, which will be available at the end of the Home Screen pages in iOS 14. It offers a better way of organizing apps on your iPhone into a simple and easy-to-navigate view. Therefore, users won't have to do it manually. The folders will be automatically organized by categories like Social, Entertainment, Health, Creativity, etc. Users can find a particular app by typing its name in the Search box at the top, see the recently added apps in the upper-right box, and the suggestions in the upper-left box. Moreover, if you don't want an app to appear on your home screen, you can make them appear in the App library instead. It's an easy way to hide apps on your iPhone. All in all, App Library is an amazingly useful way to clean up and organize the home screen of your iPhone.
Picture in Picture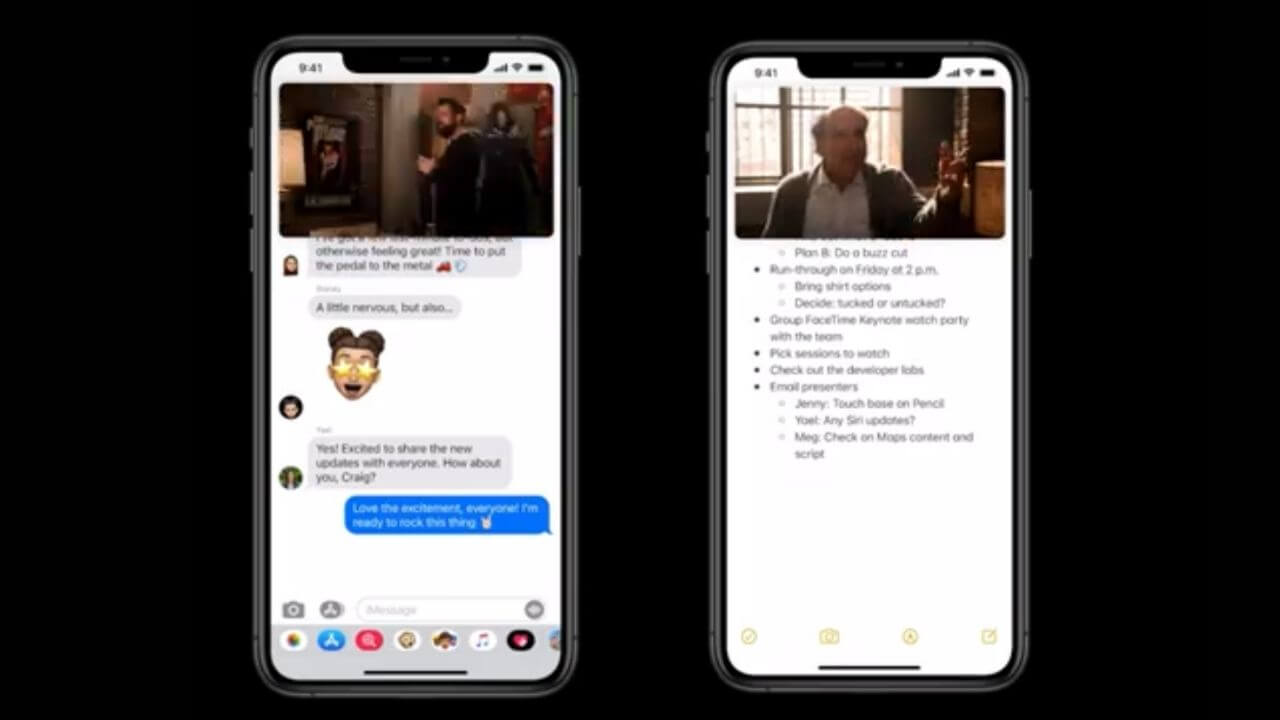 iOS 14 finally brings the most-awaited picture-in-picture support to the iPhones.The users will be allowed to access apps while streaming videos or making FaceTime video calls. You'll be able to swipe back on the home screen and the video will continue to play in a little box. You can drag, move, and resize this box to keep using your iPhone for other things simultaneously. You can also swipe the video off to the side to become a little tab, with the audio continuing to play.
App Clips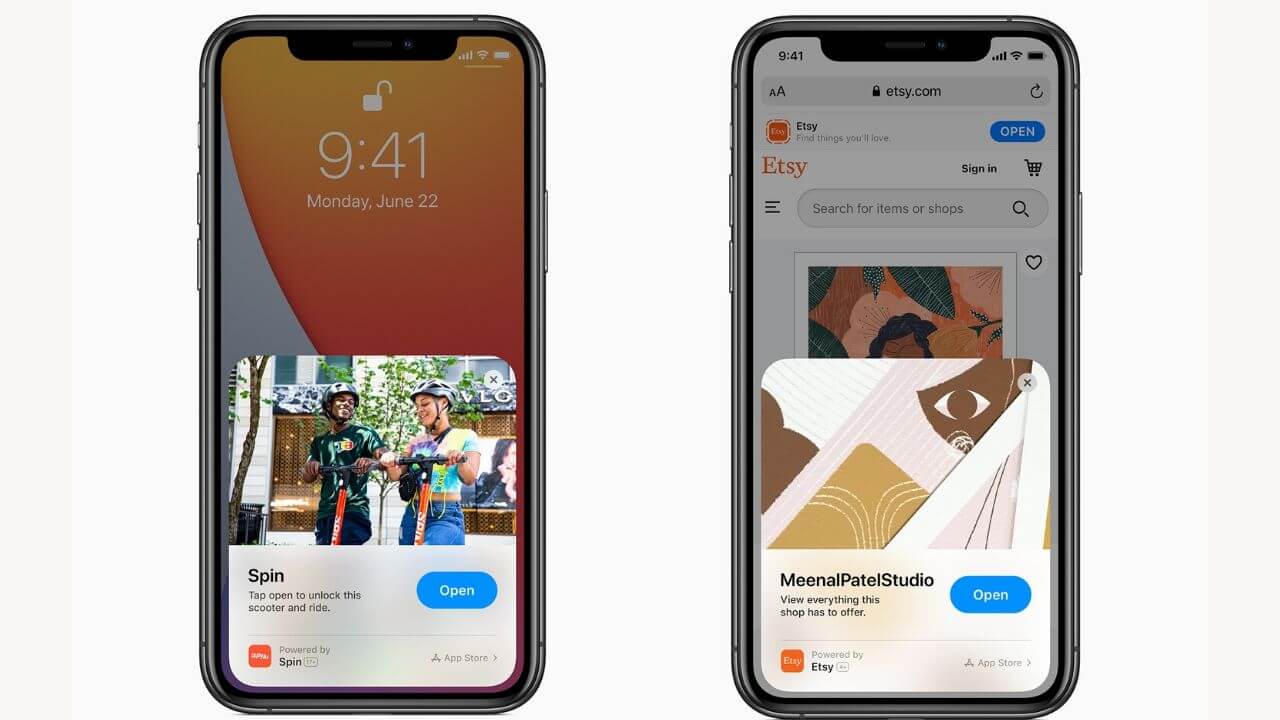 Do you want an exact app at the exact time? Apple is introducing App Clips in iOS 14 that will allow you to use features of an app without the need to download a large app to do one simple thing. App clips are micro parts of apps that allow you to use specific apps without downloading them from the App Store. They are light and fast, and you can access them via a card that pops up at the bottom of your screen. For example, you can access a parking app via an NFC tag. While developing an app, the developers also develop an app clip that's under 10MB so that it opens quickly. You don't need to log in or create accounts to use app clips, they are accessible via Sign in with Apple and Apple Pay.
You can trigger an app clip via the web, Messages, Maps, NFC tags, or QR codes. The app clips will appear in the App Library and show an app icon surrounded by a dotted line. You can re-access the app from the App Library or download the full app if you need them.
New Siri Interface
Apple has introduced a new Siri design with its iOS 14. Now, Siri won't take up the entire screen when you activate the voice assistant, rather, it will simply show a Siri blob at the bottom of your screen. Apart from the new interface, Siri can now send audio messages and will offer more accurate translations than before.  
The Translate App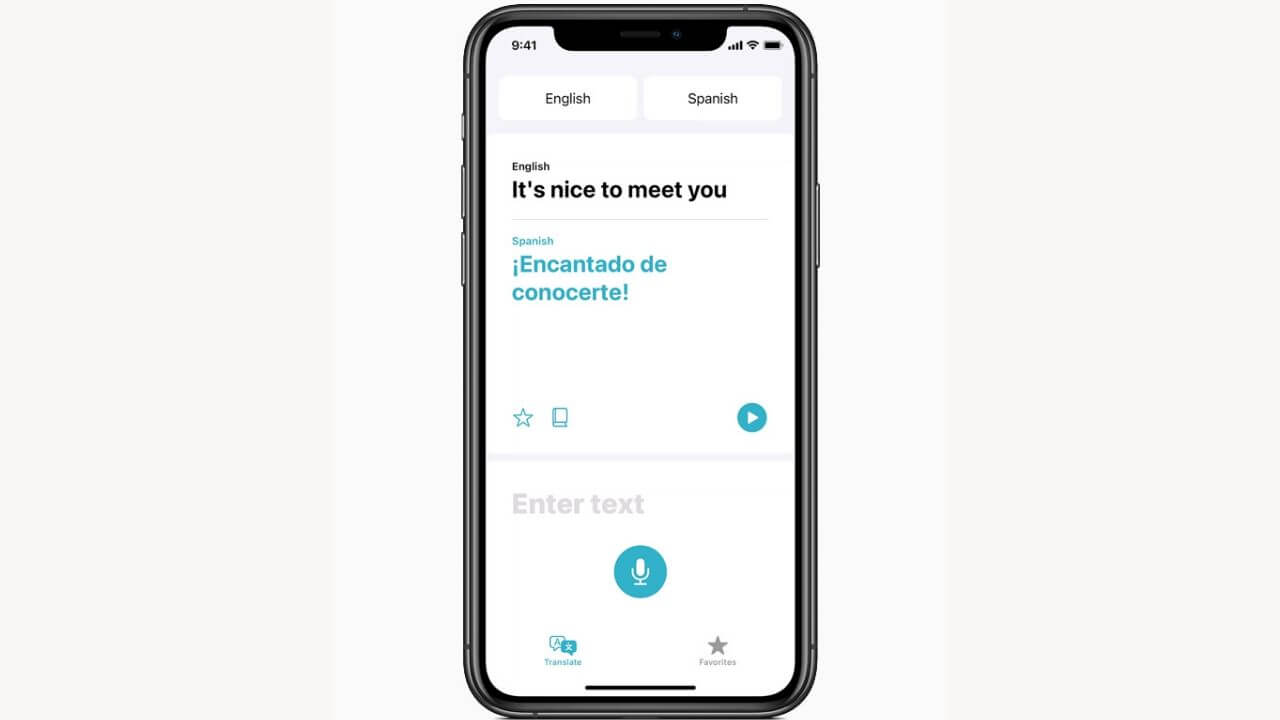 Apple brings a new first-party app called Translate that's designed for translating conversations. The app can translate written and spoken foreign languages in real-time. Just pick two languages, hit the microphone button, speak up the sentence that you want to translate, the app will listen to your voice, and provide text and voice translations. It's worth mentioning that the translations are done using Apple's Neural Engine and the app will work entirely offline. It also preserves data privacy and no data is transferred to the company. The Translate app has been designed to make communication between languages easier and has support for 11 different languages. 
Updates to Conversations in Messages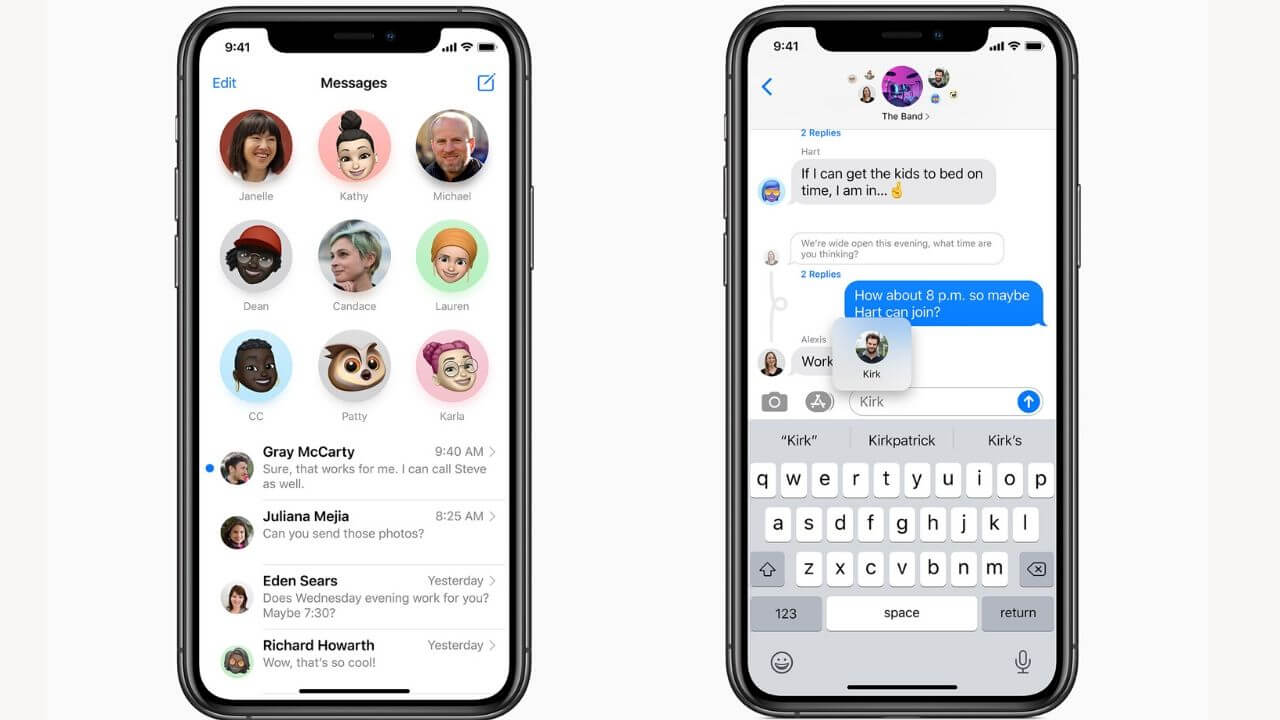 Apple is adding some amazing features to Messages across iOS 14, iPadOS 14, and macOS Big Sur. Apple users will now be able to pin up to 9 conversations, keeping them at the top of their Message list. This feature is particularly useful when you've got a lot of conversations going on. 
Also, Apple aims to make communication in groups a lot easier, interactive, and full of fun. You can name a group and even set a group icon (image or emoji). The images for everyone in the group will appear around the group icon, showing the most recent people first. The improvements also include inline replies for specific messages and the ability to direct a message to a single person by using mentions. Also, rather than showing up all notifications for a particular group chat, you can even set Messages to show notifications only when your name is mentioned.  
Other improvements include more options to create your look, face covers, and more age options. Apple is also introducing three new Memoji stickers- Hug, Blush, and First Bump. 
Maps improvements
Apple outlined a variety of new improvements especially for fitness enthusiasts that will be introduced to Apple Maps in iOS 14. Three major improvements are being made to the Maps app, including cycling directions, EV routing, and curated guides. They are specifically designed to make it easier to navigate and explore directions. Now, cyclists can search how busy a street is, they can search for quiet roads, and choose to avoid stairs completely. It will also tell you whether there's a steep incline or not. For now, these cycling features are only available for New York City, San Francisco Los Angeles, and some parts of China, but Apple also said the features will be coming to the other parts of the world as well. 
If you have an electric vehicle, you can search for the specific routes that have charging stations based on current vehicle charges and charger types. The Maps app will now help you find places to visit in major cities with its Guide feature. It will provide you a curated list of interesting places to visit in a city, including hot new restaurants, popular attractions, shopping, and other activities. 
CarPlay
iOS 14 also brings a host of welcome improvements in CarPlay. You'll now be able to add custom wallpapers to your CarPlay interface. Plus, there is support for some new categories of apps, including parking apps, fast food takeout apps, and EV charging. You can also ask Siri to share your estimated arrival time with someone. It will send a message to allow them to track your progress, while you're driving. 
Digital Car keys
Apple is also introducing the standardized version of the digital car keys. The company has added support for NFC car keys in iOS 14 and the BMW 2021 5 Series is the first one to get this feature. With the digital car keys, the user will be able to securely unlock and start his car using an iPhone or Apple Watch. You can share digital car keys via Messages and disable them through iCloud if a device is lost. Apple also announced that the next generation of digital keys is based on
Ultra-Wideband technology for spatial awareness delivered through the U1 chip, which will allow users to unlock future car models without removing their iPhones from their pockets or bag. They will be available next year.
Enhanced Privacy Features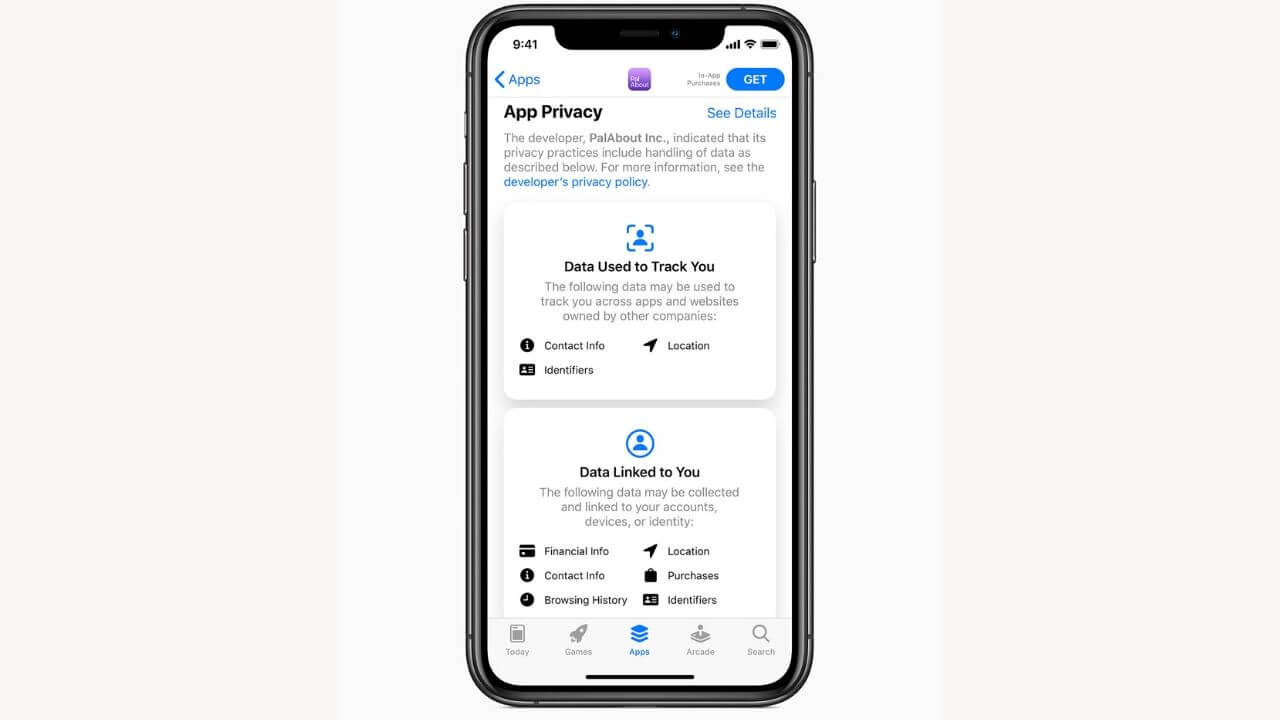 Apple is taking a big step with iOS 14 to ensure the privacy of its users. Now, the apps will have to take user permission before they start tracking them. The app store product pages will display the summaries of the developer's privacy practices in a simple and easy to understand format. Moreover, the users will be allowed to share their approximate locations, rather than the exact locations with the apps. The users will be given even more transparency into the app's use of their microphone and camera. 
Also read: Most Secure Video Calling Apps with End-to-End Encryption 
Improvements in AirPods
AirPods have now gained the ability to automatically switch between Apple devices. They can seamlessly switch between devices running iOS 14, iPadOS 14, watchOS 7, and macOS Big Sur. If you've got AirPods Pro, you'll get to experience spatial audio for any source encoded in 5.1, 7.1, or Dolby Atmos.
AirPods Pro will offer a movie-theatre experience with its immersive surround sound. This will be achieved by applying directional audio filters and gently adjusting the frequencies that each ear receives Also, Apple uses motion detection to monitor the movement of your head to ensure that your ears get the proper and correct sounds.
Other Features
With iOS 14, Apple aims to give its users more control over the smart home with the new automation suggestions and expanded controls in Control Center. It will give its users quicker access to accessories and scenes.

The

Home app

is also getting support for Adaptive Lighting, which automatically adjusts the color temperature of smart lights throughout the day and facial recognition for HomeKit security cameras.

On iOS 14,

Safari

will feature secure password monitoring to inform users if their saved passwords have been leaked in a data breach.

The

Health app

will introduce all-new experiences to manage your sleep,

track panic attacks and stress

along with understanding audio levels that may affect your hearing health, and a new Health Checklist, which brings a centralized place to manage health and safety features, including Emergency SOS, Medical ID, ECG, Fall Detection, and more.

The

Weather app

and widget will keep the users updated on severe weather events. It will also include a new next-hour precipitation chart to show minute-by-minute precipitation when rain is forecasted.
When will iOS 14 be released? 
Right now, Apple didn't confirm the release date for iOS 14, we just know that it will be available later this year. Apple generally releases the new version of its iOS in September, just before the release of its new iPhones. 
The developer beta of iOS 14 is available for Apple Developer Program members at developer.apple.com from June 22, 2020, and a public beta will be available to iOS users in July at beta.apple.com.
The iOS 14 features will be available to the devices listed below when the full version is released later this year.
iPhone 6S and 6S Plus

The iPhone SE first-gen 

iPhone 11

, 11 Pro, and

11 Pro Max

iPod Touch (7th generation)
That was all about the recently announced iOS 14. Which feature did you like the most? Drop your thoughts in the comments section below. Also, don't forget to share these amazing iOS 14 features with all the iPhone users you know.