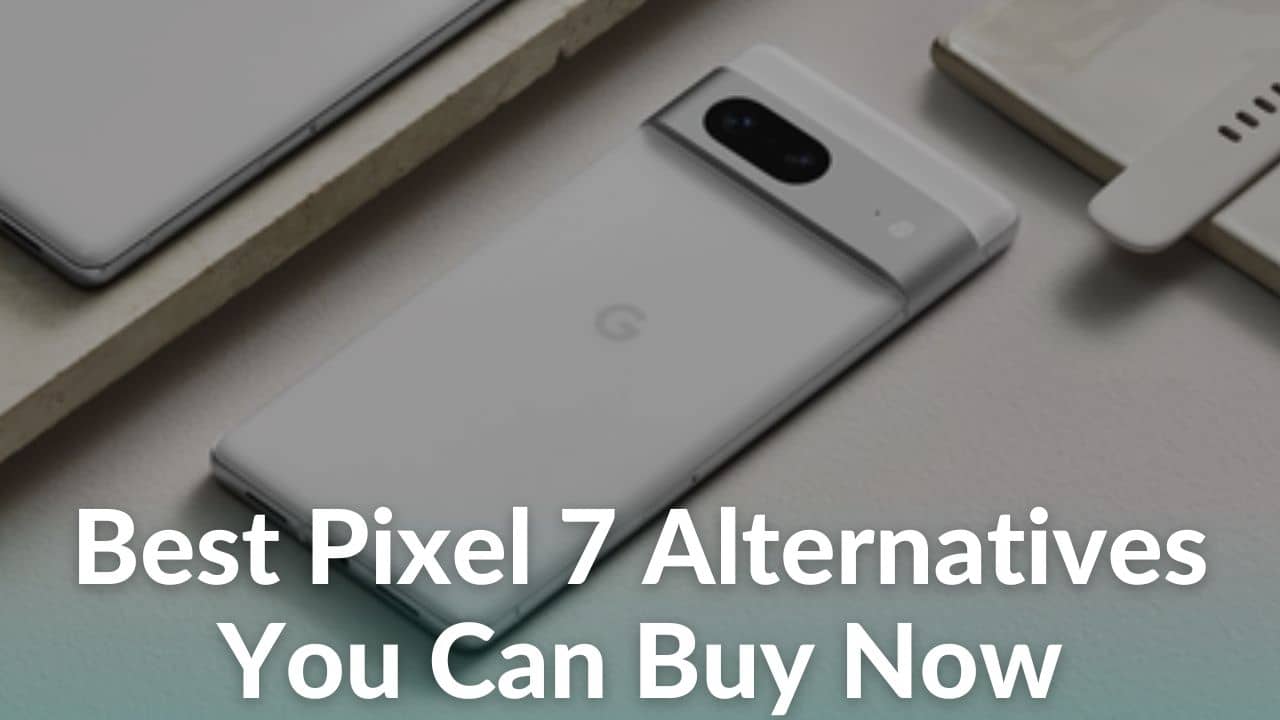 After an official tease and multiple leaks, Google finally unveiled its next-generation smartphone, Pixel 7 and Pixel 7 Pro. Both smartphones cater to users with different budgets. The Pixel 7 starts at $599, whereas the beefier Pixel 7 Pro starts from $899, and can add up to that number depending on the storage variant you choose. 
Talking of the Pixel 7 alone, it has got a shrunken display size as compared to its predecessor, the Pixel 6. Honestly, if you get your hands on the new Pixel phone, you wouldn't notice much difference on the outside. However, the major upgrade that Pixel 7 received has to be the integration of the new Tensor G2 chipset. Google claims that the new chipset handles camera and speech tasks up to 60% faster as compared to the last year's Pixel 6 chipset. Other differences on Pixel 7 include a sleeker design, an improved camera, and elevated camera features like Cinematic Blur. If you think that's it, let's not forget that the Photo Unblur feature exclusive to the Pixel 7 series could be a game changer, this feature allows you to improve the quality of blurry photos and reduces visual noise to make them clearly visible. That said, if you already own a Pixel 6 and are underwhelmed by the latest Google smartphone, there are a few Pixel 7 alternatives you can consider buying. But before jumping to the list, let's discuss what Google offers with this year's flagship smartphone. 
Google Pixel 7: What's in the Inside and Outside?
The fact that Pixel 7 was already in the news before the official tease made by Google at I/O 2022, we had probable specifications in our hands. The Pixel 7 features a shrunken 6.3-inch FHD+ display with a 90Hz refresh rate. Since Google aims to cater to the budget segment, it hasn't pushed for 120Hz on the non-Pro model. For continuing the emphasis on Google's machine learning capability and improved performance, the search engine giant has incorporated an all-new in-house chipset Tensor G2, while the device runs on Android 13, out of the box. Google also offers three years of OS updates and 5 years of security updates just like Samsung on both phones under the Pixel 7 lineup. There's a single RAM variant available for this smartphone with an option to increase the storage, i.e. 8GB RAM + 128GB and 8GB RAM + 256GB storage. 
If you think the refined slim design and new processor are the only good things this year, you'd also like the camera hardware Google offers in this Wi-Fi 6E compatible smartphone. The Pixel 7 sports two rear camera lenses, a 50-megapixel primary camera, and a secondary camera of 12-megapixel with an ultra-wide-angle lens. You'll also find a front-facing 10-megapixel camera for selfies and video calls. This Pixel smartphone packs a 4355 mAh Li-ion battery, a decreased battery capacity than the predecessor's 4,614 mAh capacity. This 5G smartphone comes with a 30W fast wired charging speed, which as advertised can charge the device from 0-50% in 30 minutes. However, Google also has downgraded the fast wireless charging speed as compared to Pixel 6 fast charging speed, making it 20W. Other charging features like reverse wireless charging stays intact for the 2022 Pixel smartphone. 
Google has kept up with the tradition and says that the Pixel 7 series will get major OS upgrades for up to 3 years, i.e. 2025. Whereas these devices will receive security updates till 2027, a duration of 5 years, which was earlier promised by Samsung too. Moreover, the Pixel 7 5G starts at $599, a similar price to its predecessor, the Pixel 6 which was launched last year. 
If you are unsure about the device and are still thinking of Pixel 7 alternatives, we have narrowed down some of the factors that should answer your question. Let's deep dive into various reasons to buy Pixel 7 and not buy it.
Should you look for Google Pixel 7 alternatives?
We'll be going over both sides of this conversation i.e. what the Pixel 7 is a good device as well as the top alternatives to the Pixel 7 you can buy right now.
Why should you buy Google Pixel phones? 
Google makes Pixel phones and also develops Android, which is dedicated software for billions of modern-day smartphones. The fact that Android is made by the company itself,

when there's a new Android update coming, Pixel users ALWAYS get it first

. Plus,

Pixel phones get 5 years of security updates

which ensures your device is safe from any security breach for a long period of time.

Google doesn't compete with other brands on pricing terms

and their flagship devices are still much more affordable as compared to the likes of Apple and Samsung.

The fact that Pixel phones offer top-notch software and UX design, remains the number one reason to go with Pixel over brands like Huawei, LG, and even Samsung.

Google's stock Android & UX design is flawless, free from bloatware, and super intuitive to use

.

Google has a reputation for doing more with less, it is

continuously trying to get its camera software smarter

. Google focuses more on machine learning aka AI to deliver

top-notch camera experiences not just in their flagship models, but the ones with a relatively lesser price tag, like the Pixel 6a series

. Undoubtedly, Pixel phones have seemed to benefit from that, now that Tensor G2 is here, we all are excited to see what it has offered in the Pixel 7 series.
Why should you look for a Pixel 7 alternative?
While there are good things about Pixel phones,

they won't wow you with the design and overall build

, honestly. Though they look nice, Google's recent releases haven't bagged any awards for industrial design yet, and we are unsure if it'd ever do. The design is different than other glass slab smartphones but not desirable. Therefore, if the look of a smartphone matters to you, rather you'd be looking for Pixel 7 alternatives. At the same time, the camera glass visor design might appeal to you. It is a subjective thing but we personally don't find it super appealing due to ergonomics.

Undoubtedly, Pixel phones are clear winners for receiving the latest OS updates before any other Android phones as Google makes it. Having said that,

it is still less than Apple's at least six years of security and OS updates promise, as Apple tends to extend it even further

. 

Another factor that might make you look for Pixel 7 alternatives is that Google has downgraded the battery capacity by almost 10% this time around, which indicates less battery life as compared to its predecessor. 
Since you are aware of the good and bad about Pixel phones, it's time to get going with the list of Google Pixel 7 alternative smartphones that you can buy right now. 
List of the Best Budget-friendly Pixel 7 Alternatives to Buy in 2022
1. Asus Zenfone 9
The Asus Zenfone 9 is a cute little smartphone that is a top contender to be an alternative to Pixel 7 in 2022. Don't fall for the small size, it packs some good specs that you'd only see in a good Android flagship smartphone. Asus Zenfone 9 features a 5.9-inch Super AMOLED display with a screen refresh rate of 120Hz. It comes with HDR10+ to display punchy colors whereas the peak brightness of 1100 nits is just so good. The display comes with the protection of Gorilla Glass Victus and the Always-ON display feature that we all crave. The device runs on Android 12 and ZenUI, out-of-the-box, while it packs the 2022 Qualcomm Snapdragon 8+ Gen 1 processor for superb performance. It is very unlikely to see flagship chips in a $699 phone, and we must say thumbs up, Asus! As far as camera hardware is concerned, this Pixel 7 alternative phone houses dual-rear cameras, the primary being 50MP, and 12MP ultra-wide lenses. Whereas, the front-facing camera features a 12MP lens that captures respectable selfies and video calling. We love the fact that Asus has retained the headphone jack. Let's not forget that it is among the few smartphones that are compatible with Wi-Fi 6E. It comes with 30W fast wired charging and reverse wireless charging. Sadly, this Pixel 7 alternative phone is not compatible with wireless charging. 
Reasons to buy:
The compact design makes it easy to use using one hand

Impressive gimbal-like camera stabilization

Great screen and smooth overall performance, thanks to the flagship processor

Better in-built speakers 

Good all-day battery life for a small phone
Reasons to avoid:
Doesn't work on Verizon/Sprint

Only two years of updates

No wireless charging
2. Samsung Galaxy S21 FE 
The Galaxy S21 FE 5G was a superb addition to Samsung's S21 lineup, retaining the best features at a pretty affordable price. That is why we have added it here in our runaround of top Pixel 7 alternatives. As far as specs are concerned, the Galaxy S21 FE 5G features a 6.4-inch FHD+ AMOLED display with a 120Hz refresh rate. Though it doesn't come with the Snapdragon 8 Gen 1, the predecessor SD 888 does a pretty good job when it comes to overall performance. Be it gaming or video editing, this phone does it very well. The fact that Pixel phones come with a relatively large screen bezel (84.9% screen-to-body ratio), you'd be glad to know S21 FE 5G has noticeably smaller bezels that account for 89.6% screen-to-body ratio. This 5G phone has a bigger battery capacity of 4,500 mAh than the Pixel 7 with a 4,355mAh capacity. Though you might think Pixel 7's 50MP primary camera mocks the S21 FE triple-rear camera setup, it still lacks a telephoto camera, which is included on the Fan Edition Samsung smartphone. However, this Google Pixel 7 alternative doesn't offer the Auto Focus feature on the front-facing camera As far as charging is concerned, the S21 FE 5G max out at a top speed of 25W on paper, it pulls around 20W of power on real-life tests. Whereas, the fast wireless charging goes up to 15W. Not to forget it is compatible with Wi-Fi 6, whereas the Pixel 7 supports Wi-Fi 6E. Wondering if you should invest $100 more on this one, we have summed up a few pros and cons for your better understanding. 
Reasons to buy: 
Excellent AMOLED HDR10 screen, a higher refresh rate of 120Hz, and superb color accuracy.

S21-like build, water-resistant, and quite grippy

Flagship-level Snapdragon 888 5G chipset 

Top-notch camera for day and night shoots
Reasons to avoid:
The extra expense as the charger is not included in the box

Lacks dynamic screen refresh rate.
Also read: Best Accessories for Galaxy S21 FE 5G to buy right now
3. OnePlus 10T 5G 
Next on our list of top Pixel 7 alternatives, we have got the OnePlus 10T 5G. A smartphone with high-end specs and a "flagship-killer pricing." Before we move ahead, we want you to know that the OnePlus 10T offers wired charging of 150W (125W for 110V sockets), the fastest of any smartphone in the US. This Google Pixel 7 5G alternative features a 6.7-inch Fluid AMOLED display that has a maximum refresh rate of 120Hz, and a peak brightness of 950 nits, relatively less than Pixel 7's peak brightness of 1400 nits. This indicates that the OnePlus 10T is a bit dimmer in bright sunlight as compared to the Pixel 7. But that doesn't take away the fact that it performs incredibly well, thanks to the Snapdragon 8 Gen 1 chipset inside. This Wi-Fi 6 compatible smartphone sports rear cameras, a 50 MP main sensor (which takes 12MP photos just like an iPhone 14 Pro does with a 48 MP camera if ProRAW is disabled), an 8MP ultrawide lens, and a 2MP macro lens, whereas the front-facing camera has a 16MP sensor. It runs on Android 12 out of the box and OxygenOS 12.1. Overall, it is a good package and one of the best Google Pixel 7 alternatives you can get right now. reliable budget-friendly pick for those who are looking for a flagship look and feel.
Reasons to buy:
Bright 120Hz display

The competent main camera for both stills and video, in good light and at night alike

One of the fast-charging Android smartphones

Surprisingly good battery life

Flagship Android chipset on the market
Reasons to avoid: 
Lacks the traditional alert slider

No wireless charging

No IP rating

No telephoto camera

Brings in OxygenOS, but it is the reskinned ColorOS that comes into the picture after the Oppo and OnePlus merger
Also read: Best Rugged Smartphones of 2022
4. Samsung Galaxy S22 5G

The Pixel 7 alternative list will never be complete without Samsung's phone. Though the Galaxy S22 falls in the sub-$800 category. But, it goes on sale quite often and you wouldn't want to miss out on that. The Galaxy S22 features a 6.1-inch AMOLED flat display with FullHD+ resolution, 120Hz refresh rate, and 1300 nits of peak brightness. The retail units for the European market pack Samsung's in-house  Exynos 2200 processor, whereas it ships the Snapdragon 8 Gen 1 inside the phone for the rest of the world. The fact that phone comes with almost no bezels, the display looks incredibly good and is one of the best compact flagship smartphones released in 2022. Further, it takes impressive photos and videos with its triple rear camera setup. The three lenses on the Galaxy S22 5G include the 50MP primary sensor with OIS, a 10MP telephoto lens with OIS and 3x optical zoom, and a 13MP ultrawide lens. You'll also find a 10MP selfie camera, surely less in numbers than that on the Pixel 7, but the selfies are quite good. Further, it comes with 25W fast charging support, 15W fast wireless charging, and reverse wireless charging up to 4.5W. We understand the price isn't leveled with the one Pixel 7 is being offered, but the 120Hz refresh rate, the addition of a telephoto lens, awesome performance, and the fast charging feature make S22 stand out as one of the best Pixel 7 alternatives that you can get in 2022. 
Reasons to buy:
Versatile triple camera setup

Compact design and wide selection of colors

Bright 120Hz display

Thanks to the flagship processor, it offers great performance

Longer software support than Google Pixel 7
Reasons to avoid:
Some overheating issues

Will receive new OS upgrades slower than Pixel 7

Expensive
Also read: Best Accessories for Galaxy S22 in 2022
5. Realme GT2 Explorer Master 
The Realme GT2 Master Explorer Edition made its debut in September 2022 as one of few Snapdragon 8+ Gen 1 smartphones. It was launched just after the Xiaomi 12S and Asus ROG Phone 6 series. With the base model priced at $520, it turns out to be one of the most affordable Pixel 7 alternatives to grab right now. The GT2 Master Explorer Edition comes with a 6.7-inch FHD+ 120 Hz OLED display and is equipped with up to 12 GB of LPDDR5X RAM and a 256 GB maximum storage option. It is the first Android device to offer LPDDR5X RAM. As far as camera specs are concerned, this alternative Pixel 7 phone features two 50MP cameras for main and ultrawide duties and a somewhat unique 3MP microscope camera. At the front, there's a 16MP selfie camera. Further, Realme has incorporated Pixelworks's X7 visual processor for improved gaming and display performance. Other features of the Realme GT2 Master Explorer Edition include a 5000 mAh battery, and 100W fast wired charging that is advertised to charge your phone from 0-100% in just 25 minutes, crazy indeed. Unfortunately, it is not compatible with wireless chargers. Talking of software, it runs on Realme UI 3.0 on top of Android 12. Overall, it is a good Pixel 7 alternative that does a pretty good job if you are not into Pixel 7's Vanilla Android software experience.
Reasons to buy: 
Bright 120Hz OLED display

The boxy Travel Trunk design looks funky

Overall good camera performance and ultrawide shots stand out

Super fast charging and long battery life
Reasons to avoid:
No IP rating

No telephoto camera

No wireless charging
6. Xiaomi 12T and 12T Pro – Identical twins with differences on the inside
If you ever missed checking out identical Pixel 7 alternatives, have a look at Xiaomi's latest 12T series. They look exactly the same in size and weight (give or take two grams here and there). Both smartphones feature a 6.67-inch AMOLED display with a 120Hz refresh rate and a touch sampling rate of up to 480Hz. Both smartphones support HDR10+, but the Pro model comes with Dolby Vision and a few more interesting additions. The display is flat and a 20MP punch-hole selfie camera is at the top-center. On the rear, the 12T Pro features a 200MP main sensor, followed by an 8MP ultrawide sensor and a 2MP macro sensor. Whereas the base model features a 108MP main camera, the other lenses remain the same. You can expect super fast charging as both the Wi-Fi 6-compatible smartphones come with 120W Hypercharge, which the company claims can fully charge your device in 19 minutes. The fact that Xiaomi holds back on chip for the 12T (has MediaTek Dimensity 8100-Ultra), it costs $599.99. Whereas the Pro model boasts integration of SD 8+ Gen 1 chip and is relatively expensive by $150 or more than the base variant. 
All in all, if you are a camera person looking for a Google Pixel 7 alternative, either of the devices can be suitable for you. Watch out for your wallet with the Pro model though, it costs significantly more than Pixel 7's base price. 
Reasons to buy:
Dual-glass no-nonsense design, signature camera island (for both)

Excellent OLED display, 120Hz, 1220p, HDR10+, bright (for both)

One of the fastest-charging smartphones. (for both)

Flagship processor available (SD 8+ Gen 1) (for Xiaomi 12T Pro)

The primary and ultrawide photo and video quality are great.

Dolby Vision (for Xiaomi 12T Pro)
Reasons to avoid:
Mediocre selfie camera (for both)

No metal frame (for both)

Display protection downgraded from Xiaomi 11T, no Gorilla Glass Victus (for both)

No Dolby Vision (for Xiaomi 12T)
Check Price on Amazon (Xiaomi 12T)
Check Price on Amazon (Xiaomi 12T Pro)
If you are looking for an all-rounder Pixel 7 alternative with a flagship chipset and wireless charging compatibility at the same price range as the 12T Pro, don't forget to check out the Xiaomi 12 Pro 5G. It is one of the best releases of Xiaomi in 2022. You can also check the prices on their global store.
Also read: Best Cases for Xiaomi Mi 10T / 10T Pro 5G
7. Motorola Edge 30 Fusion 5G
If you are looking for a smartphone at the price point of Pixel 7, Motorola Edge 30 Fusion should be on your radar. It is a value-for-money Google Pixel 7 alternative smartphone from Motorola that sits below the Edge 30 Pro and top-of-the-line Edge 30 Ultra. The specs offered by Edge 30 Fusion have made reviews dub its name as a flagship killer, and we agree with that. This Google Pixel 7 alternative smartphone features a considerably larger 6.55″ P-OLED display, very uncommon to see in smartphones at this price range. It packs the last year's flagship processor, Snapdragon 888+ chipset for greater overall performance. If you are a photography enthusiast but feel this year's Pixel 7 is just a mimic of the Pixel 6, this Pixel 7 alternative is good for camera work. Motorola Edge 30 Fusion has a 50MP primary camera, accompanied by a 13MP ultra-wide lens and a 2MP depth lens. You'll see a 32MP punch-hole selfie camera that offers good photos and videos. If that's not enough, it comes with 68W fast charging, which is claimed to charge your device halfway to full in just 10 minutes. Honestly, this one is a pretty good deal, if you have any doubts look at the pros and cons of the device. 
Reasons to buy:
Premium build and solid look

Bright display and 144Hz refresh rate

Great all-round camera performance 

Very fast charging 

Stereo speaker
Reasons to avoid:
Lacks wireless charging

No telephoto camera

Certified only with IP52 splash and dust resistance, keep it away from water!
If you can afford and are looking for a Google Pixel 7 alternative that delivers flagship performance, wireless charging, better camera specs, and better battery life, the Motorola Edge 30 Pro is suitable for you.
Also read: Best accessories for Motorola Edge Plus
Honorary mentions of some premium Google Pixel 7 alternatives 
8. BlackShark Shark 4 Pro
Reasons to buy:
Plenty of useful gaming features

120W Hyper Charge

Impressive 144Hz OLED display with HDR10+ support

Overall camera performance is good

Awesome haptic feedback 
Reasons to avoid: 
Limited HRR gaming support

Not the best battery life

Lack of EIS stabilization for 4K videos
9. Galaxy S22 Ultra (The best premium alternative to Pixel 7 & 7 Pro)
Reasons to buy:
S Pen is included with the phone and there's a slot for it

Closer zoom than most competing phones

Great low-light photography

Distinct design
Reasons to avoid: 
Expensive Google Pixel 7 alternative

The camera is similar to the Galaxy S21 Ultra

Battery life isn't as long as the S21 Ultra
Also read: Best Accessories for Samsung Galaxy S22 Ultra in 2022
10. OnePlus 10 Pro (For gamers looking for a Pixel 7 alternative)
Reasons to buy:
All-day battery life

Vibrant screen

Classy design

Powerful performance
Reasons to avoid:
Slightly disappointing camera

80W fast charging in the US

The waterproof rating is restricted to T-mobile 
Also read: Best Accessories for OnePlus 10 Pro to make the most out of your Android flagship
11. iPhone 14 Pro (The top-performing Pixel 7 alternative from Apple)
Reasons to buy: 
Dynamic Island is a good-notch replacement

Finally, iPhone has an always-on display
Reasons to avoid:
The lack of a SIM tray may bother some

Camera enhancements aren't as huge as Apple claims

No USB-C
Also read: Best Accessories to make the most out of your iPhone 14 Pro
12. Pixel 6 Pro (Pixel 7 alternative if you still want a Google phone)
Reasons to buy:
Brilliant hardware design with IP68 and durable Gorilla Glass Victus protection

Excellent 120Hz display

3 years of Android OS updates and 5 years of security updates

Google Tensor chip offers good all-round performance and greater graphic performance

Cameras get regular improvements via software updates
Reasons to avoid:
No charger in the box

Tensor chip might encounter throttling under sustained peak performance 

Limited availability
Also read: Best accessories for Pixel 6 Pro
13. Sony Xperia 1 IV (The best Pixel 7 alternative for photographers)
Reasons to buy:
An awesome option for photography or videography enthusiasts.

Looks good and Snapdragon 8 Gen 1 delivers top performance. 

Sharp, smooth, and bright screen. 

Longer battery life 

Includes headphone jack and microSD card slot

Comes with NFC and wireless charging support. 
Reasons to avoid:
Gets super warm when playing resource-intensive games

No charging adapter or cable included

Weirdly expensive
Why are Pixel smartphones not as popular as Samsung and Apple smartphones? 
You might wonder why Google is everywhere and dominates our lives online, but why it is not as popular as Samsung, and Apple when we talk about the smartphone industry. The main reason behind fewer sales and relatively lesser popularity is lack of access, lagging hardware, and the identity crisis. Putting it simply, in initial Pixel days Google tied itself to Verizon as their exclusive partner, and exclusivity meant fewer people could only buy Pixel phones in the US, clear a bummer with long-term goals. Though things are improving, Google is still finding it difficult to catch up with the likes of Apple and Samsung. As far as limited hardware is concerned, you'd probably know Google stuck with the same primary camera sensor from the Pixel 2 through the Pixel 5. While it aggressively focuses on compensating things with improved software, it is making adjustments and going out with relatively good hardware specs from the time of the Pixel 6. 
That's not all, Google has to blame itself for poorly selling Pixel phones. While the media links Pixel devices as good camera smartphones, Google doesn't seem to focus on it more often as Apple and Samsung boast about their camera sensor. For example, the company advertised Pixel 6 as "the phone for you," it focused on highlighting customization features that the phone would get with Android 12. This makes us think, is Google really understand estimating their phone? Well, we will talk about that in detail soon.
That's all for now in this roundup of the best Pixel 7 alternatives that you can get in 2022. In case you are looking for an alternative to Pixel 6a, please check our dedicated article.
Banner Image Source: Google