Samsung is back with its latest flagship lineup namely the Galaxy S22 series. It includes three different smartphones: the Galaxy S22, S22 Plus, and S22 Ultra. As far as this roundup is concerned, we will stay focused on the base model of the latest flagship family, the Galaxy S22 5G. The Samsung Galaxy S22 features a 6.1″ Dynamic AMOLED 2X display with 120Hz, and HDR10+ certification. The Galaxy S22 5G packs the in-house  Exynos 2200 or Snapdragon 8 Gen 1 chipset based on where you live. Let's not forget that this compact Samsung flagship is shipped with 5G connectivity and Wi-Fi 6 support. 
Despite the Galaxy S22 coming with the Corning Gorilla Glass Victus+ protection, the display remains prone to damage or scratches. So, it would be a wise choice to grab from some of the best screen protectors for the Galaxy S22 of 2023 that we have mentioned in this roundup. We also recommend combining these screen protectors with the best cases for Galaxy S22 of 2023 for the best possible protection of the compact flagship smartphone from any kind of accidental damage such as drops, shocks, bumps, etc. 
Note: We update our article from time to time to cover the latest products available in the market.  
List of Best Galaxy S22 Screen Protectors to Buy Now in 2023
1. amFilm Hybrid Screen Protector for Galaxy S22 5G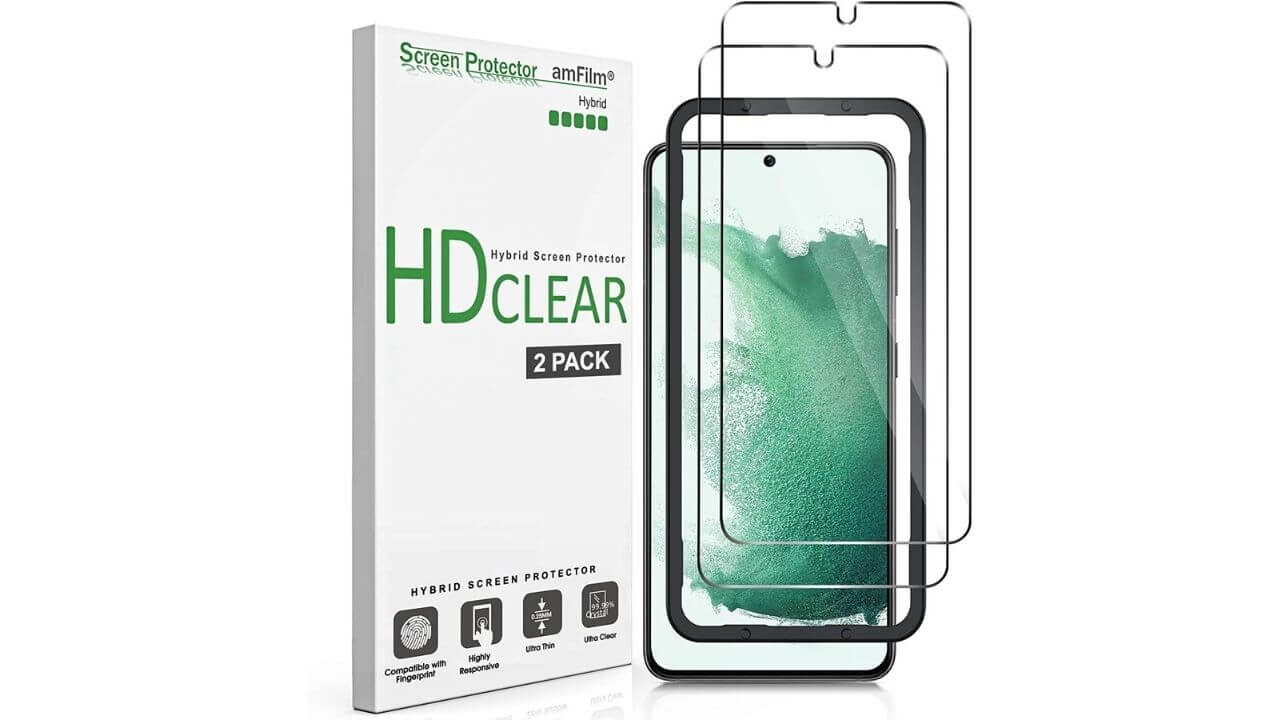 First, we have one of the best glass screen protectors for Galaxy S22 from amFilm that you can grab to offer the best protection for the flat AMOLED display of the last year's flagship phone. This hybrid S22 screen protector comes with a mere 0.2 mm thickness, which offers almost 100% transparency to ensure an obstruction-free viewing experience. Also, the ultra-thin design ensures a smooth touch response which can be handy for unlocking your device using the ultrasonic in-display fingerprint sensor. Thanks to the 7H hardness property, this Galaxy S22 screen protector offers respectable protection from scratches and mitigates the impacts of drops that may crack the screen altogether. Moreover, you'll get an alignment tool for the proper installation of the amFilm screen protector for Samsung S22 5G. 
Also read: Best Screen Protectors to Shield the Galaxy S22 Plus Display in 2023
2. Spigen Glas.tR EZ Fit Glass Screen Protector for Samsung S22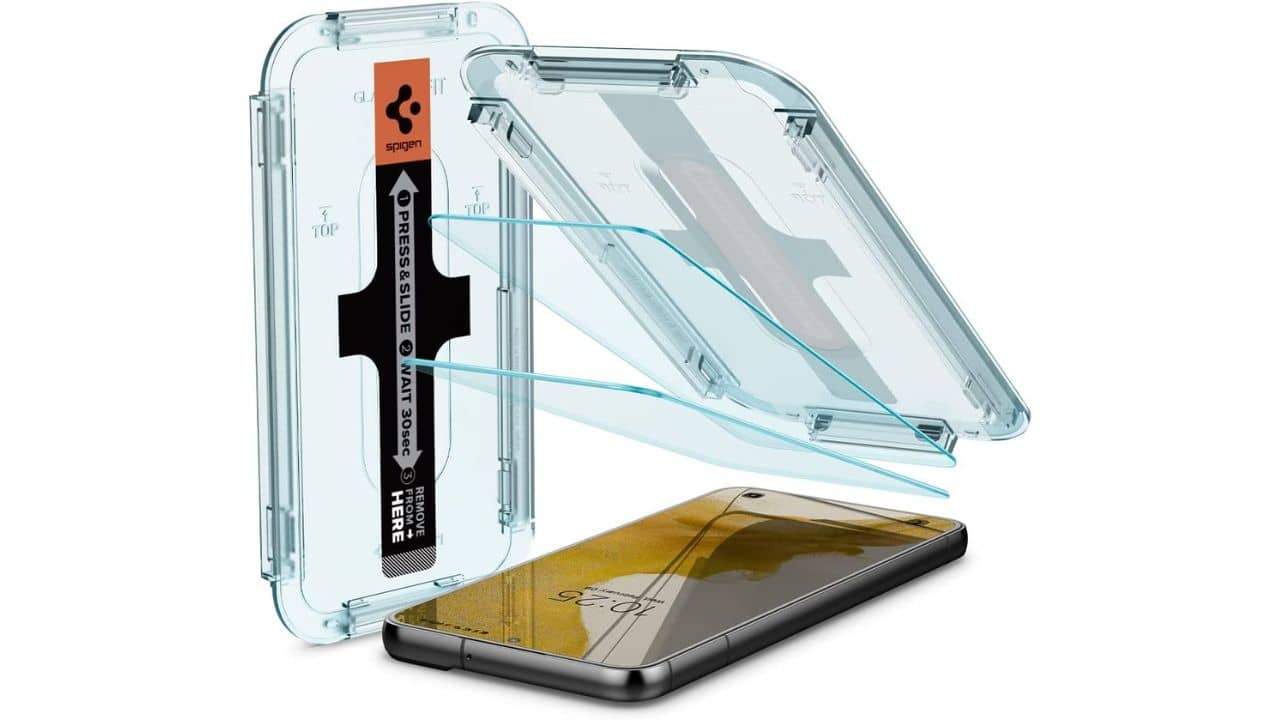 Aside from offering the best cases and charging accessories, Spigen is known to deliver some reliable glass screen protectors for Galaxy S22 5G. Honestly speaking, we love this brand and have already featured Spigen products in many of our YouTube videos. Talking of screen protectors, Spigen currently offers Glas.tR EZ Fit and Neoflex series in the market. For now, we will talk about the Glas.tR EZ Fit screen protector. We know that's quite a name. This case-friendly screen protector for Galaxy S22 comes with
9H hardness property. It suggests that this protective screen guard offers edge-to-edge protection and is able to defend the flagship 120Hz display of S22 5G in the event of harsh drops on concrete or wooden floors. On top of that, this glass screen protector offers bubble-free installation and is handy for beginners who are new to the installation part. If you are annoyed by the glare effect after installing a screen protector, please be assured that it delivers the best viewing experience. Yes, we have tested it out. That's not all, the Spigen Glas.tR EZ screen protector has an Oleophobic coating on the exterior layer to prevent fingerprint smudges. So, if you have oily skin just like me and find the screen getting blurry every time you touch them, this Galaxy S22 protective glass is a lifesaver for you. Moreover, the
installation process is simplified by the auto-alignment kit that comes alongside the screen protector. 
All in all, it is one of the top picks for being the best screen protector for Galaxy S22 5G for under $15.
Also read: Best Galaxy S22 Cases You Can Buy in 2023
3. Milomdoi Samsung Galaxy S22 5G Screen Protector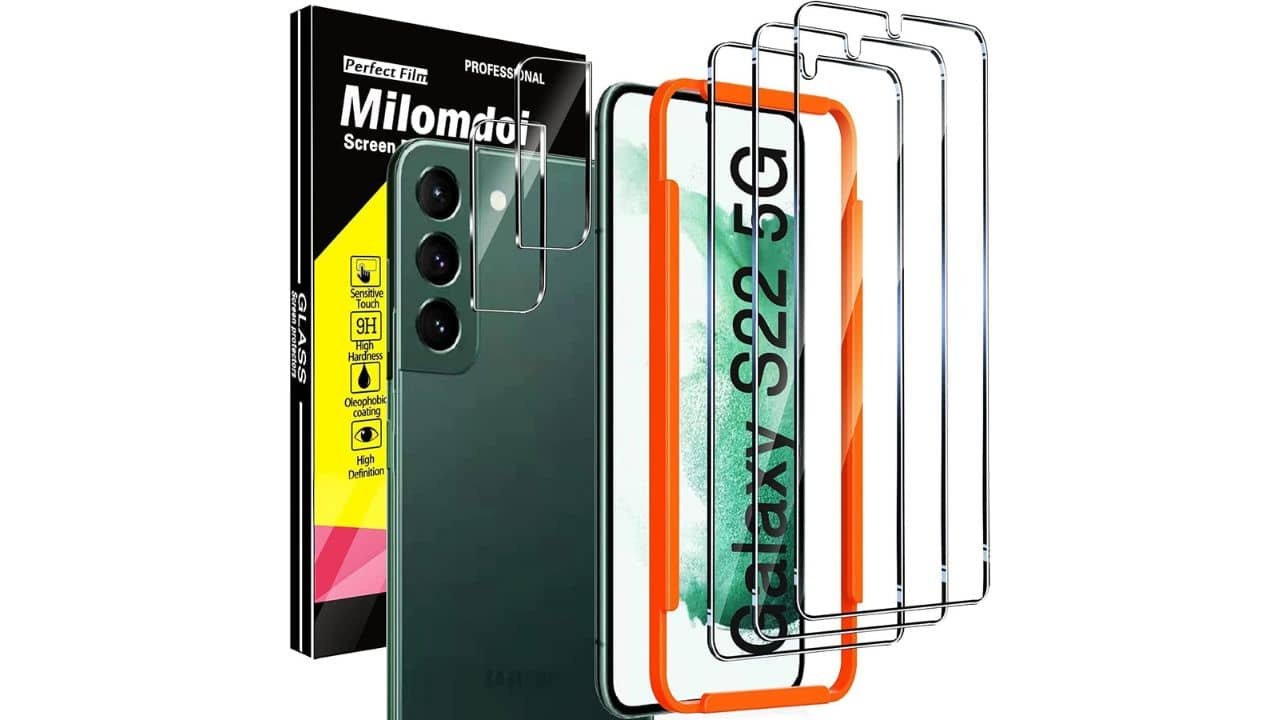 If you are searching for one of the best value-for-money screen protectors for Galaxy S22 5G, here we have one for you from Milomdoi. It is made from high-grade tempered glass and comes with 9H hardness property for extreme durability and protection of the Samsung S22 from drops, shocks, and scratches. In addition, the Nano electrostatic auto-absorption technology incorporated in this screen protector ensures bubble-free installation. Whereas, the strong adhesive prevents this protective glass from falling off when greeted with accidental drops. This glass screen protector flaunts an
ultra-thin design and is mere 0.18 mm thick which doesn't add any bulk to the slim phone. Thanks to the ultra-slim design, the Ultrasonic Fingerprint Unlock has worked flawlessly for many users of the Galaxy S22. However, we have come across some complaints where users have also claimed inconsistency while reading fingerprints, at times. That said, it is still amongst the most rated and reviewed screen protectors for Samsung S22 5G on Amazon. Moving on, its slim design also allows you to enjoy the true colors of everything that is displayed on the screen. Let's not forget that it also comes with a case-friendly design which ensures maximum coverage of the screen with minimum space for dust particles. Please note that the screen protector leaves ample space to wrap the edges of your phone without any interference. Further, this 3-pack Galaxy S22 glass screen protector is accompanied by two camera lens protectors for protection of the rear triple camera. Did we mention that this screen protector for Samsung S22 comes with a guide frame for precise installation?
Also read: Best Galaxy S22 Fast Chargers You Should Buy in 2023
4. Supershieldz Galaxy S22 5G Glass Screen Protector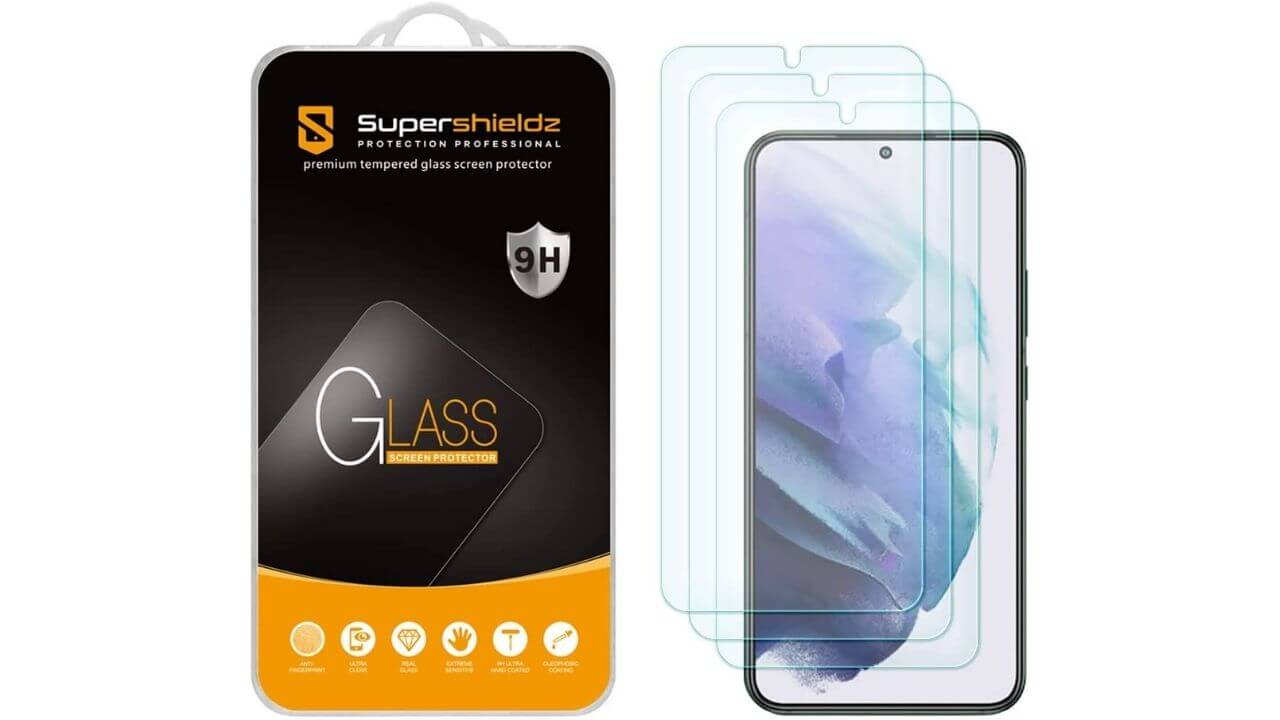 If you're looking for the best budget-friendly screen protector for Galaxy S22 5G, bring home the Supershieldz tempered glass; without thinking much. As far as the previous flagship series is concerned, it was one of the best-rated screen protectors on several online market spaces. Talking about the design, this Galaxy S22 screen guard is made from tempered glass combined with 9H hardness property which ensures solid protection against any kind of scratch and scuffs that can degrade the beauty of the Samsung's last year flagship. The rounded edges around the corners of this protective glass make it easier to install different types of Galaxy S22 cases available in the market. Besides, the ultra-thin design offers real touch sensitivity for flawless response time and quick fingerprint unlock by preserving the clear crystal clear transparency. Plus, the Supershield S22 screen glass protector is shipped with an oleophobic and hydrophobic coating that prevents dust particles and fingerprint smudges, giving the display a clean look. The best part is that you get three pieces of screen protectors for under $8. 
Also read: How to Turn OFF Keyboard Sounds on Samsung Galaxy Smartphones & Tablets
5. Jeywiry Tempered Glass Screen Protector for Galaxy S22 (Camera lens protector included)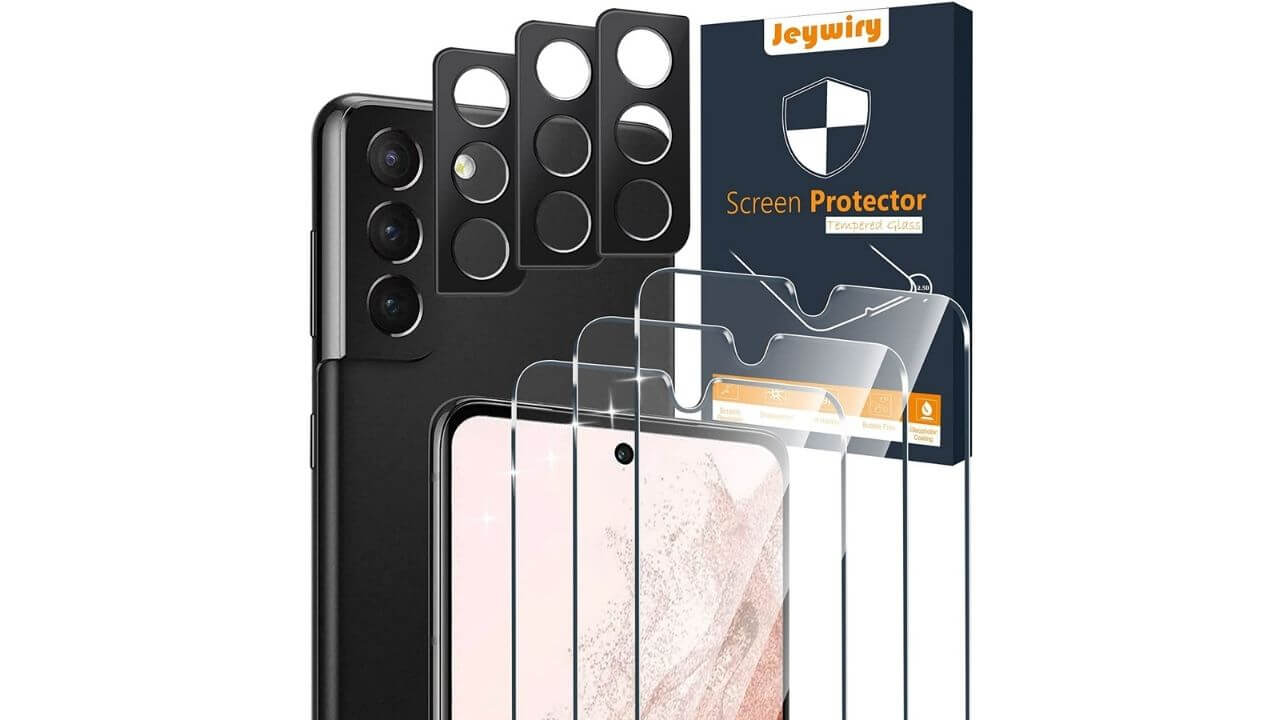 If you're looking for a screen and camera lens protector combo for the Galaxy S22 5G, grab this one from Jeywiry. This screen protector for S22 5G is shipped with an adequate thickness (0.23mm) for high clarity, and 99.99% transparency for the best viewing experience. The ultra-thin design also ensures smooth touch response and flawless use of the ultrasonic fingerprint unlock. The curved edges design fits well with the round-cornered display of the Galaxy S22 and allows installing the available S22 cases and covers without any disruption. The brand claims that this 9H hardness screen protector for Galaxy S22 can withstand up to 110lb of force to protect your screen from heavy impact and damage. Further, you'll also get three camera lens protectors alongside these screen protectors, all under $11 (additional discount with coupon).
Also read: Best Galaxy Z Flip 4 Accessories You Can Buy in 2023
6. AACL Galaxy S22 Screen Protector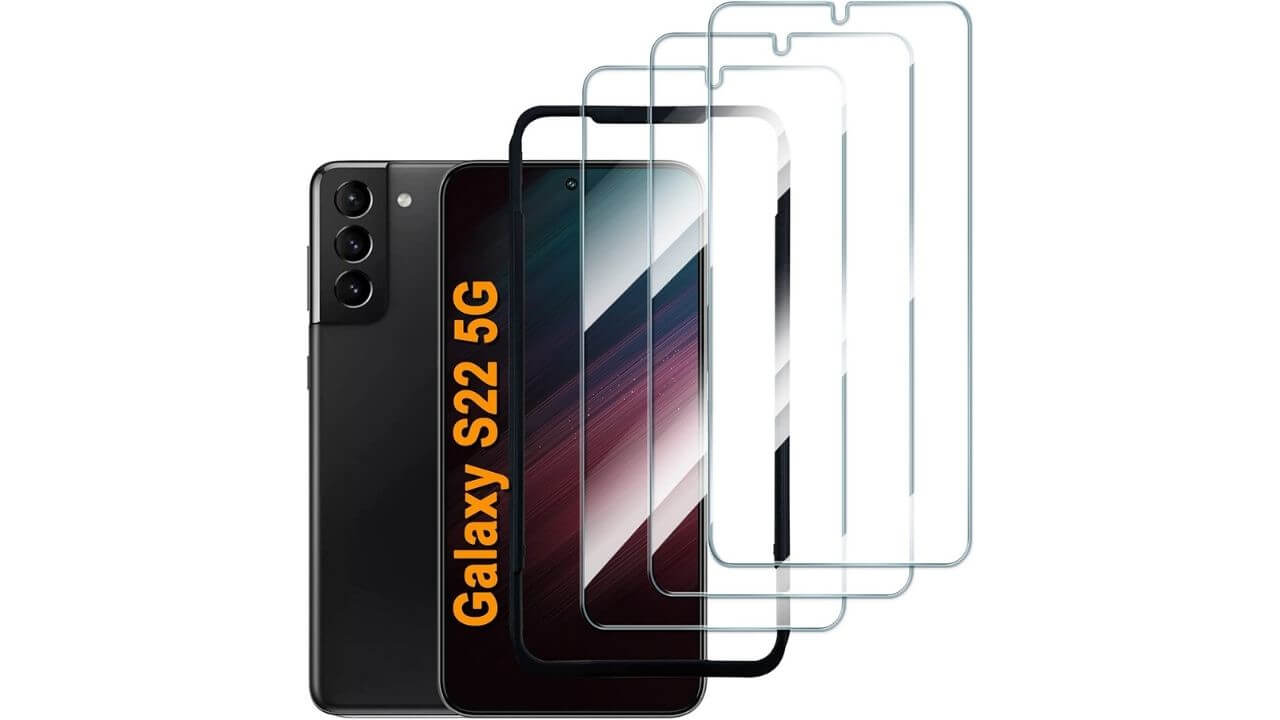 Finally, we have AACL screen protector for Samsung Galaxy S22 5G on our list. It features an ultra-thin and crystal clear design which comes in handy for using fingerprint unlock and enjoying the best viewing experience. As far as safety is concerned, the 9H hardness property of this S22 screen protector glass suggests extreme durability and strength that can withstand heavy damages and scratches that may damage or compromise the beautiful look of the latest Samsung flagship. You'll also get an alignment tool that can be helpful for anyone who finds screen protector installation a daunting task. Given the price and protection it offers, the AACL is a useful screen protection accessory that you'd consider getting right now.
Don't miss: Galaxy Unpacked 2023 event to be held on February 1: Here's what to expect
7. Mr.Shield Screen Protector Glass Samsung Galaxy S22 5G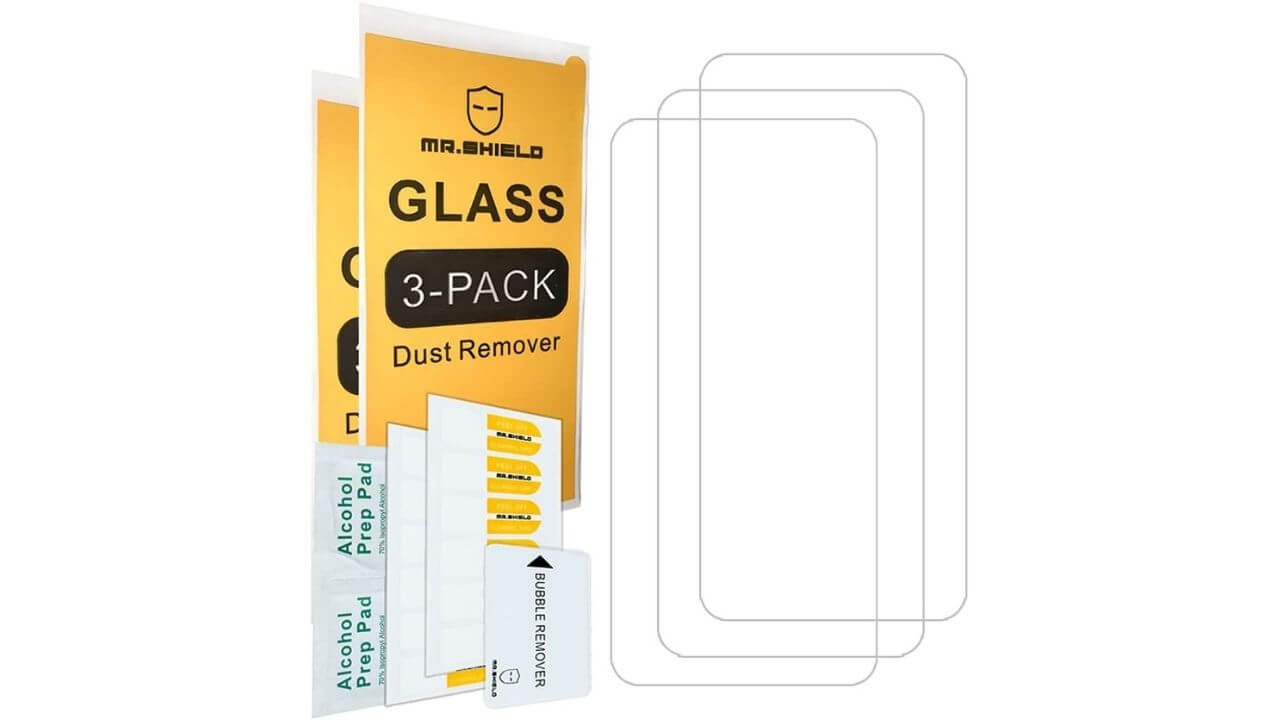 Here we have another affordable option from Mr.Shield for anyone looking to grab the best screen protector for S22 5G. It is made from a mixture of tempered glass and Ballistic glass to add strength and durability. The 9H hardness features ensure that this screen protector glass for Galaxy S22 withstands the heaviest of drops and scratches that might compromise the overall flagship look of the phone. The Mr.Shield screen protector uses Silicone adhesives for crystal-clear transparency and hassle-free installation/removal. The adequate thickness of this Galaxy S22 screen protector gives the freedom to use the 6.1" flat AMOLED display the way you want. Moreover, this Galaxy S22 screen protector is backed by a limited lifetime replacement policy. 
With that, we have come to the end of this roundup on the best screen protectors for Galaxy S22 to buy now. Remember, we will be updating this article soon as new products hit the market. So, you can either bookmark this article or check in a few more days to find out more exciting accessories for your Galaxy S22. Also, make sure to check our dedicated roundup for the best Galaxy S22 Ultra screen protectors.
Banner Image Source: Samsung