Motorola has marked its re-entry into the top-tier smartphone segment with its latest flagship- Motorola Edge Plus, released on May 14, 2020, in the US. It features a 6.7-inch FHD+ OLED display, Snapdragon 865 chipset, 90Hz refresh rate, 256GB internal storage, a big 5,000mAh battery, and even a 3.5mm headphone jack. One of the most eye-catching features of the Moto Edge Plus is the triple-camera setup on the rear panel, boasting a 108MP primary shooter. It seems that 108MP is the ultramodern trend that's being followed by some latest flagship smartphones, including the Galaxy S20 Ultra and Xiaomi Mi 10 5G. Moreover, the Motorola Edge Plus is packed with future-proof communication specs like the support for 5G networks and Wi-Fi 6 compatibility. Therefore, it has reserved a spot in the list of the Wi-Fi 6 compatible smartphones available in the market. In terms of pricing, Motorola Edge Plus starts at $999, which is the same as the cost of a baseline Galaxy S20. 
All in all, Motorola Edge Plus is one of the latest Android smartphones with top-of-the-line specifications. We believe a true flagship smartphone deserves amazing accessories. Therefore, we've come up with our list of the best accessories for Motorola Edge Plus in 2021. We've included screen protectors, cases, mobile gimbals, earphones, and every other amazing accessory that you must own with flagship like the Edge+. 
Best Accessories for Motorola Edge Plus
Cases & Screen Protectors

Camera Accessories

Gaming Accessories

Headphones 

Charging Accessories

Smartphone Sanitizer
Best Cases & Screen Protectors for Motorola Edge Plus
A good case is a must-have accessory for any flagship smartphone. It helps to protect your all-glass smartphone so that you don't end up spending hundreds of dollars repairing your phone. We have included several cases for Motorola Edge Plus, ranging from sleek to heavy-duty shockproof options. 
1. OtterBox Symmetry Series Clear Case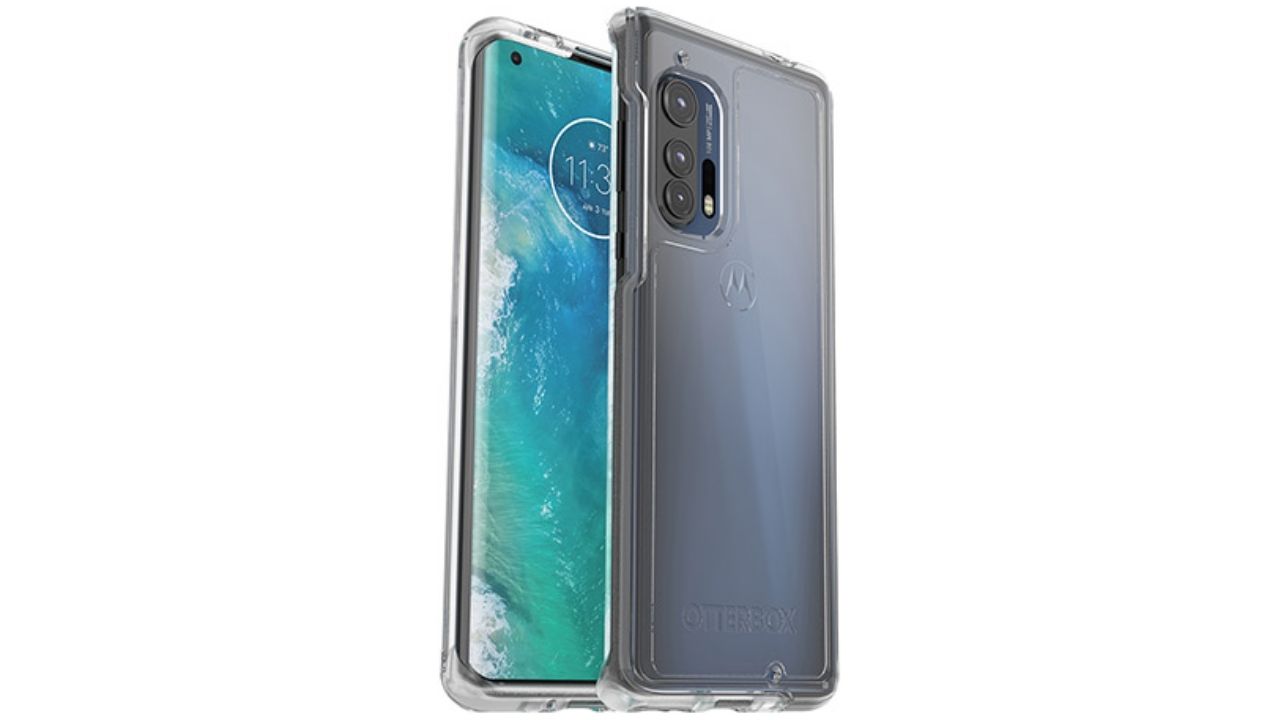 If you're looking for the best clear case for your Motorola Edge Plus, the OtterBox Symmetry Series is worth checking out. OtterBox is well-known for its durable and high-quality cases, and the Symmetry Series features a slim and protective clear case design that shows off the aesthetics of the Motorola Edge+. 
The back of the case is made from solid polycarbonate and the edges are protected with a rubbery finish to defend against drops, bumps, and fumbles. Moreover, the case has raised screen bumpers to protect the edge display. Also, it's very easy to put and remove the phone from the case, plus the slim profile of the case makes it easy to glide the phone into your pockets. The certified drop protection design and tactile buttons make it one of the most durable clear cases that you can get for Motorola Edge+.
If you love a dash of glitter, that adds a unique touch to the clear cases, you must check out the OtterBox Symmetry Series Stardust Glitter case.
Pros
Durable

Sleek and lightweight

Clear Case

Certified Drop Protection
Cons
2. OtterBox Symmetry Series Solid Case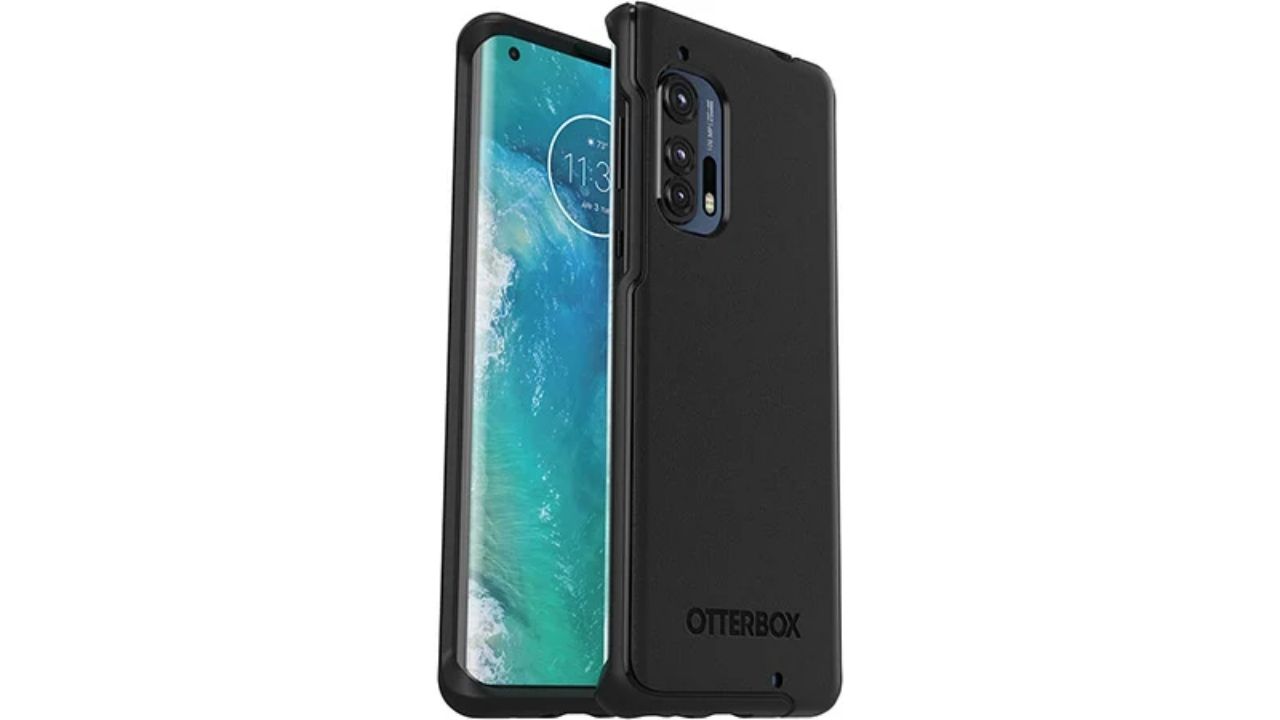 Here we have another amazing option from the OtterBox Symmetry Series, that's perfect for all the users who're inclined towards black cases with a minimalistic design. It's a semi-hard case built using reinforced thermoplastic polyurethane material that merges durability and flexibility to deliver unmatched protection. There's a rubberized finish on the edges to protect the phone against any accidental drops, bumps, and falls. This solid black case is fortified with drop protection, plus screen bumpers are raised to protect the gorgeous edge display. Moreover, it provides a great grip to hold the phone comfortably, and it's very easy to put the case on and off the smartphone phone. The case is also designed with accurate cutouts for the camera, mic, and other ports. 
Pros
Sturdy Built

Offers good grip

Certified Drop Protection

Minimalistic design
Cons
No color option other than Black

Expensive
3. Pulen Slim Fit Case for Moto Edge Plus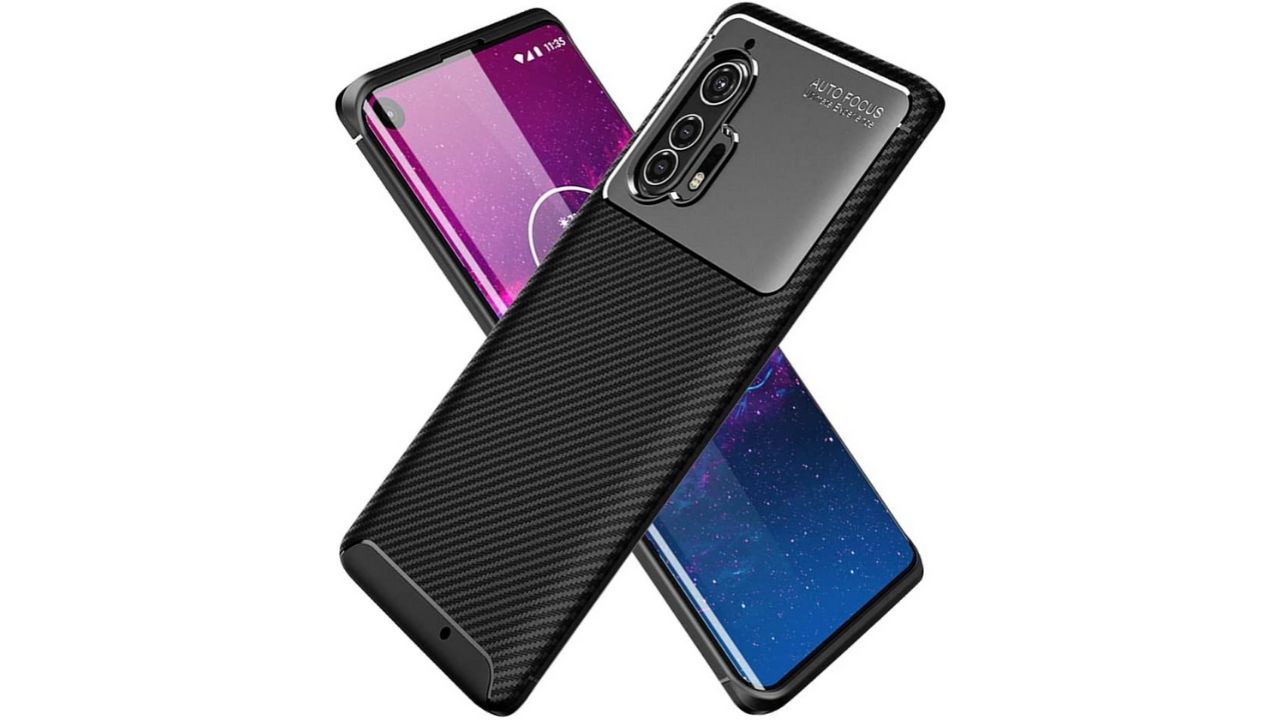 If you're looking for the best slim-fit case for your Motorola Edge Plus, the Pulen ultra-thin case is worth checking out. The case offers good protection against drops and scratches, without adding any bulk to your phone. It features an anti-slip and durable design, that provides a comfortable grip, and it's resistant to light shocks and bumps as well. Besides, the case has raised edges to protect the camera and screen when the phone is put down on flat surfaces. 
The classic carbon texture gives a minimalistic look to the phone, which makes this case a must-have for office as well as daily use. The back of the case features a grid design that helps in better heat dissipation, without harming the phone during long and heavy usage sessions. The case snaps on and off the Motorola Egde+ easily and has proper cutouts for speakers, mic, camera, and ports. The best part is the case allows you to easily access the edge display without any fuss.
Pros
Slim and lightweight design

Affordable

Offers a good grip
Cons
4. Dzxouui Shockproof case for Motorola Edge Plus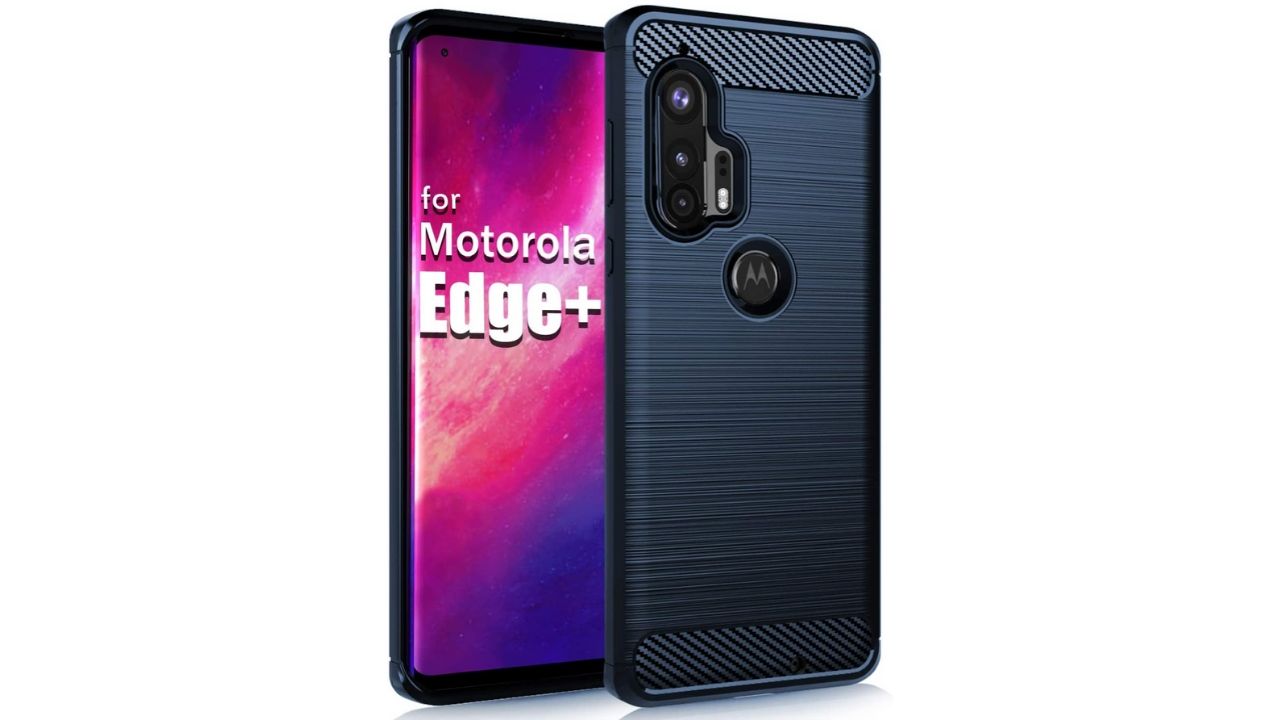 If you're a clumsy smartphone user, who tends to drop their phone every now and then, get yourself this shockproof case for your Motorola Edge+. The case is built using soft TPU materials that easily absorb and disperse the shock in case of any drops, falls, or bumps. Moreover, the case comes with raised edges to safeguard the screen from any accidental scratches, when you place your phone with its face down. This lightweight case fits in really well and doesn't add too much bulk to the phone. Plus, the cutouts are raised to protect cameras, speakers, and ports. As an added bonus, this case comes with a 3-year money-back warranty. 
Pros
Affordable

Shock-proof

3-year money-back warranty
Cons
The design might not appeal to everyone
5. Futanwei Heavy Duty Tough Armour Hybrid Case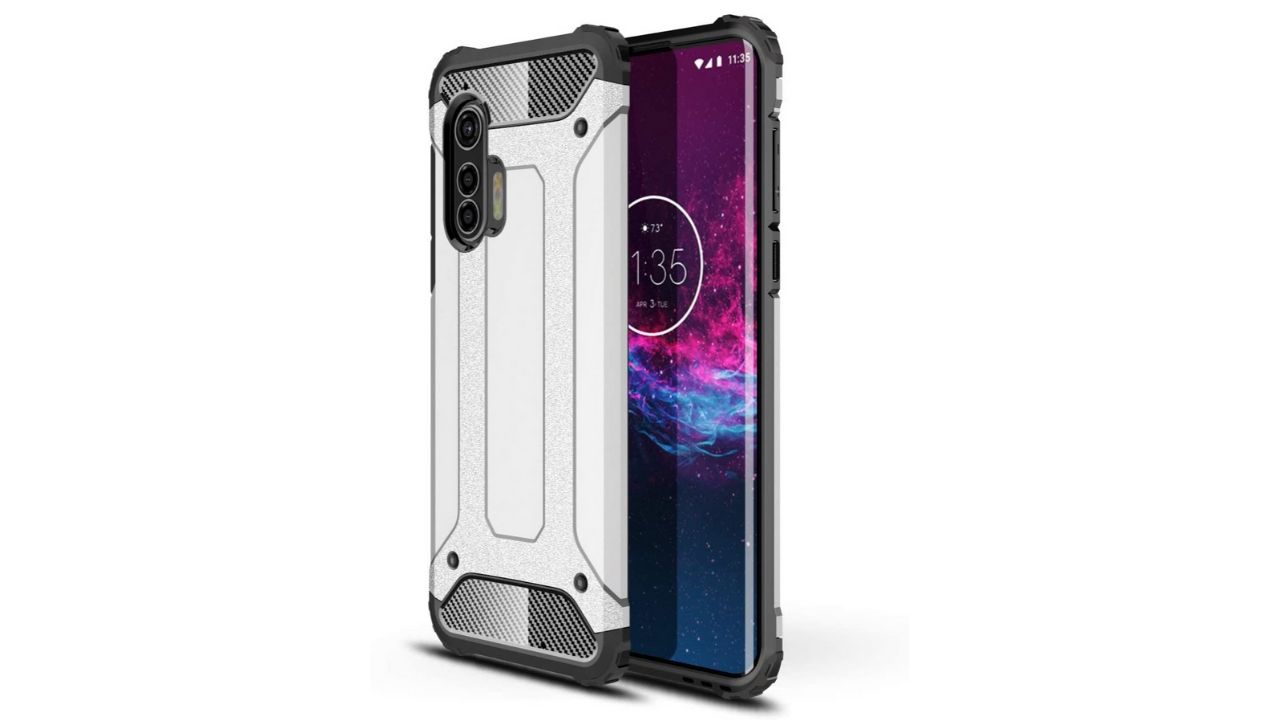 If you're looking for ultimate protection for your Motorola Edge Plus, then a dual-layered case is absolutely your-thing. Here we have a hybrid armor case with dual layers that offers complete protection against the daily wear and tear on your smartphone. It features a hard polycarbonate exterior that defends against the drops, combined with a soft TPU on the inside to withstand any shocks. Plus, the case has rubberized edges that reduce the possibility of a screen or back shatter. Besides, the honeycomb design on the inside helps in better heat dissipation, without harming the phone during long streaming or gaming sessions. The case comes with raised edges and fits the smartphone perfectly with proper cutouts. All in all, this is the best affordable heavy-duty tough armor case for your Motorola Edge+.
Pros
Budget-friendly

Protects both the back as well as front

Heavy-duty case
 Cons
The design might not appeal to everyone

Bulky
6. JOTO Underwater Pouch for Motorola Edge+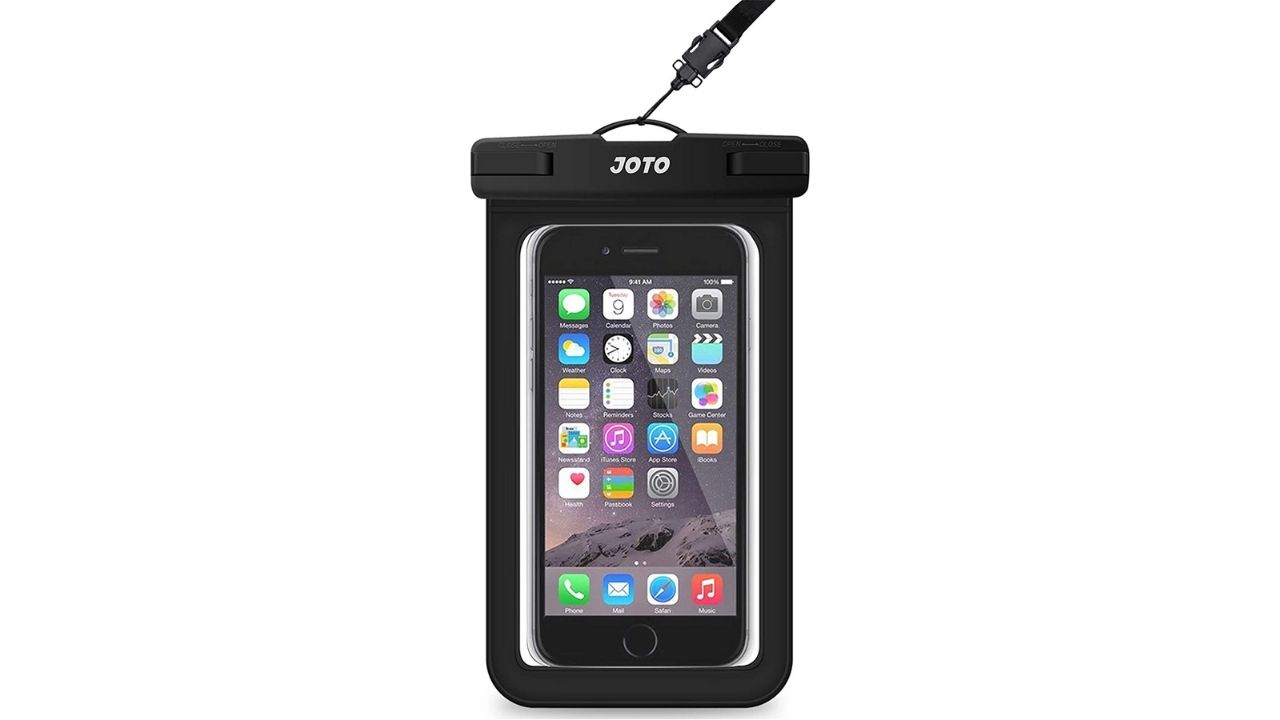 For all the adventure lovers out there, who are looking for complete waterproof and snowproof protection for their smartphones, the JOTO Underwater pouch is sure to become your favorite accessory. It's a waterproof, snowproof, dustproof, and scratch-resistant pouch that allows you to take your phone to a swimming pool, a beach, skiing, surfing, and even snorkeling, without worrying about water seeping into the ports or chlorine damage. 
This underwater pouch packs high sensitivity and comes with IPX8 certification. It securely seals your phone while allowing you to easily access the touch screen. Moreover, the nano liquid applies easily to all the curved screens and also helps to reduce fingerprints and smudges. You can use this underwater pouch with any smartphone with a size up to 6.9-inch. Also, this pouch is available in a wide range of beautiful colors.
Pros 
Waterproof

Supports smartphones up to 6.9-inches in size
Cons
7. Spigen Ultra Hybrid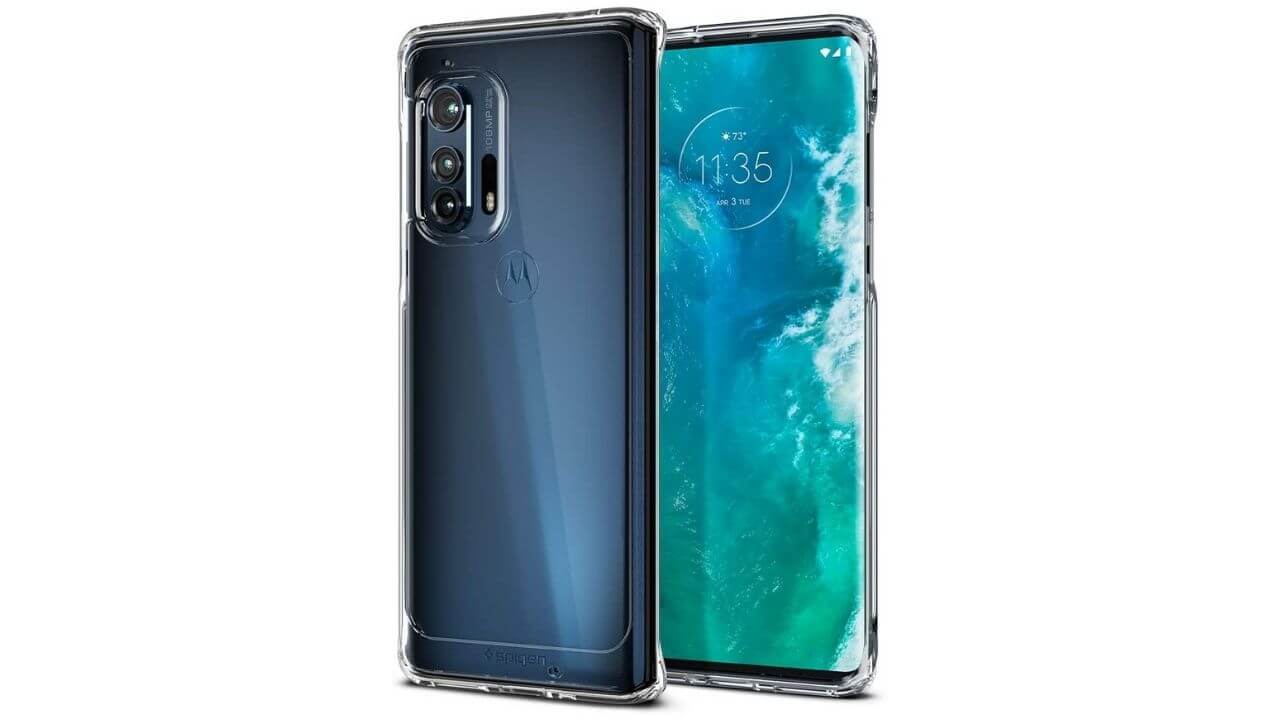 If you want to flaunt the original aesthetics of your Motorola Edge Plus without worrying about protection, get yourself a clear hybrid case like this one from Spigen. The Spigen Ultra Hybrid features crystal clear transparency that preserves the natural look of your Moto Edge Plus while giving it reliable protection. It features a Polycarbonate back, merged with a TPU bumper for drop resistance. Besides, there are raised bezels that protect the camera and the display from unwanted scratches while you lay them on flat surfaces. This sturdy clear case for Motorola Edge Plus has got tactile buttons, and proper cutouts for the camera, ports, and sensors.
Pros
Durable

Affordable 

Wireless charging compatible

Raised edges to protect display and camera
Cons
8. Encased Heavy-duty Motorola Edge Plus Case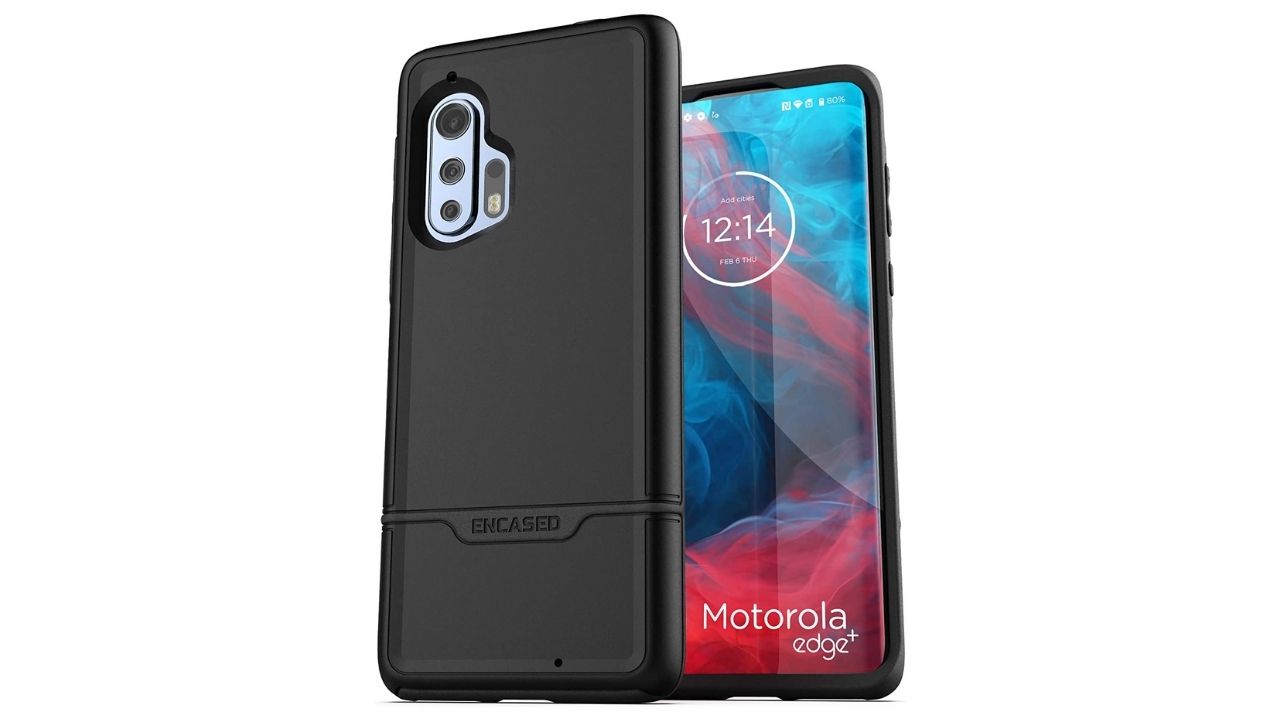 Here comes a heavy-duty protective case for Motorola Edge Plus that offers robust impact protection from up to 10ft. The Encased Motorola Edge Plus Case sports a durable and slim design with wireless charging compatibility, which makes it an excellent option for all the users who need a slim protective Motorola Edge Plus case. It helps to maintain the sleek look of your smartphone and delivers a comfortable in-hand feel. It has got precise cutouts and responsive buttons that retain the original button feel and tactile click.
Pros
Lifetime warranty

10ft impact tested

Durable

Slim design
Cons
Available in Black color only

Does not sit comfortably with some screen protectors
9. Supershieldz Screen Protector for Moto Edge+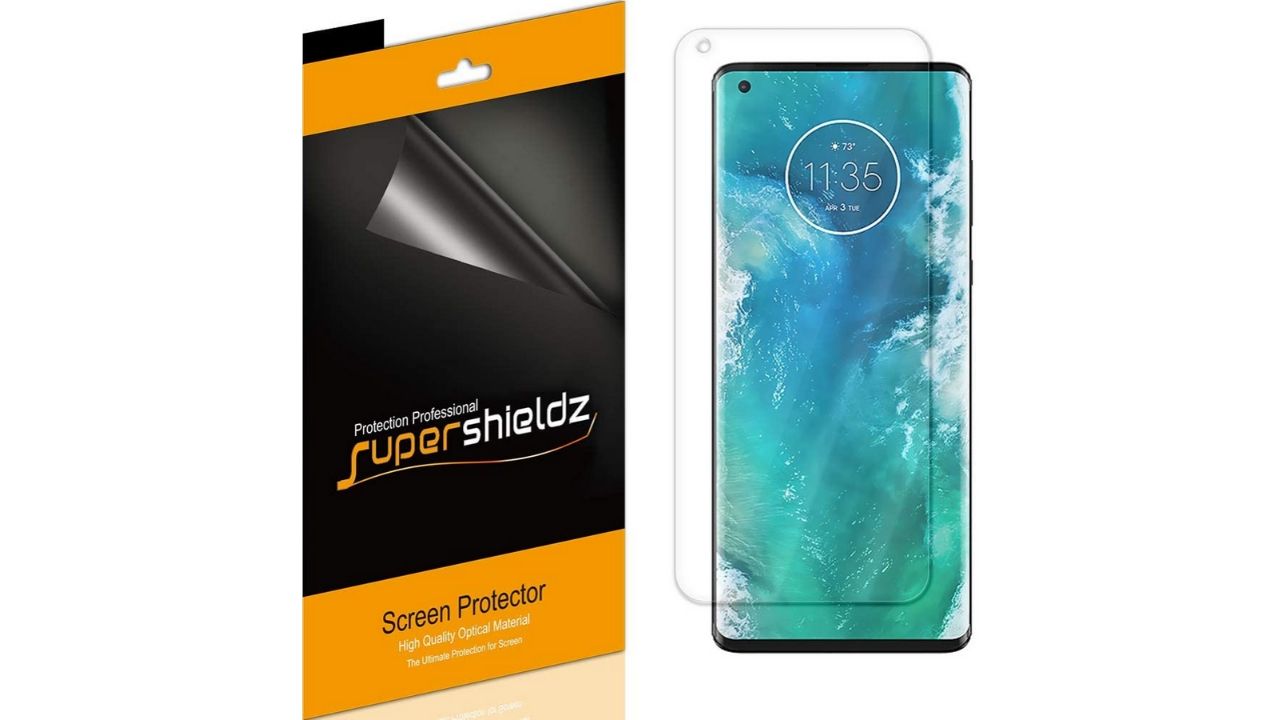 A screen protector is a must-have accessory to protect the beautiful display of your Motorola Edge Plus. After all, replacing the screen of a flagship smartphone is beyond economical, so it's better to prep your phone with a good screen protector.
The Supershieldz screen protector is built using high-quality TPU film that packs sensitivity, high visibility, and responsiveness to protect the phone from scratches, dust, and scrapes. This screen protector is constructed in three layers- a scratch-resistant surface polymer, a hard protective mask to prevent deep cuts damaging the phone, and finally a silicone gel that creates a vacuum to securely cling to your phone screen. You don't need to use any adhesive or spray to apply this protector on the screen. Besides, you don't have to worry about any bubbles, which is a major concern while applying screen protectors. Also, this screen protector for Moto Edge+ doesn't add any bulk to the phone and has proper cutouts for the front camera and speaker.
Pros
Easy to install

Doesn't add bulk to the phone
Cons
Protective plastic, not tempered glass.
10. LK 3-Pack Motorola Edge + Screen Protector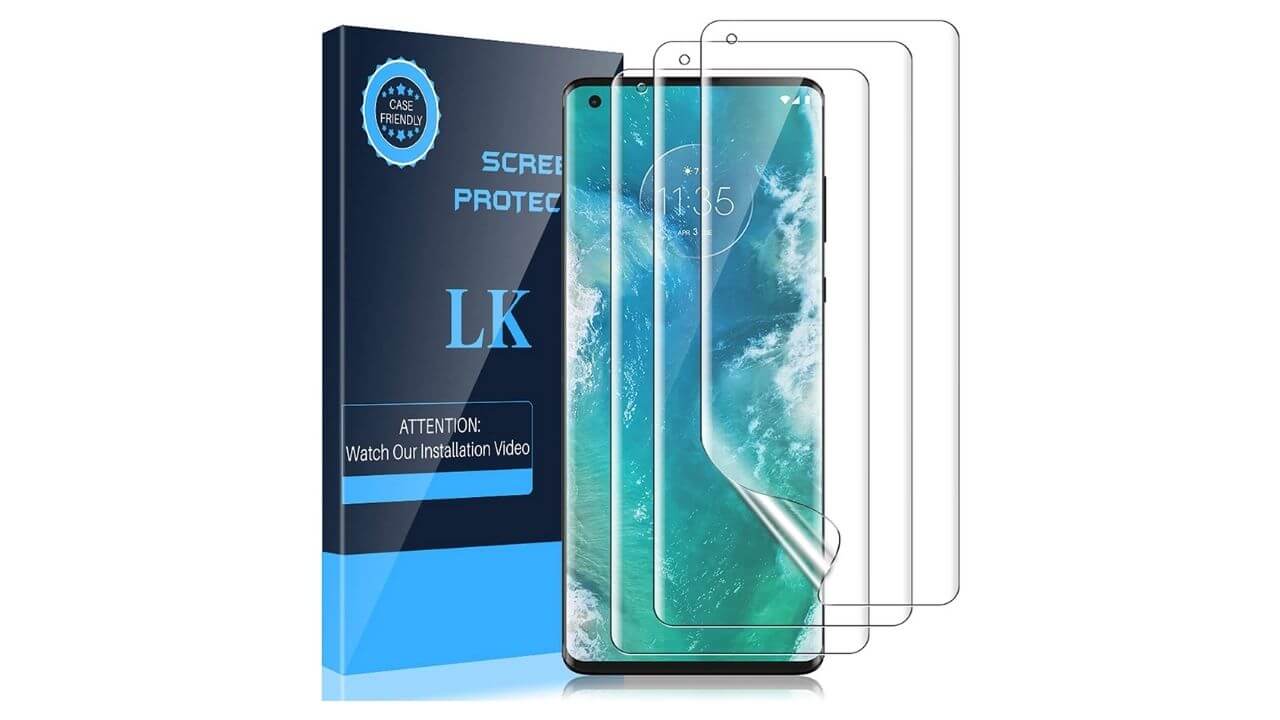 Here comes an ultra-clear screen protector for Motorola Edge Plus that packs high transparency and offers bright & colorful image quality which will make you feel as if there's nothing on the screen. The fingerprint scanner works smoothly and there's an oleophobic layer that keeps oily finger marks and smudges away. The screen protector has precise cutouts that give easy to all the buttons, ports, mics, and other features. It's very easy to install this screen protector on your Moto Edge Plus, and you'll get three black foams, three cleaning wipes, and a microfiber cloth right in the box.
Pros
Self-healing properties

Durable

Case friendly

High-responsiveness
Cons
Camera Accessories for Motorola Edge+
Mobile Gimbals / Smartphone Stabilizers
If you're planning to shoot videos using the awesome quad-rear camera setup on your Moto Edge+, you would need a mobile gimbal to ensure smoother videos. You can say goodbye to the shaky and blurry videos by using a good mobile gimbal.
What is Mobile Gimbal?
A mobile gimbal is a handheld mechanical stabilizer that helps in shooting smooth and cinematic videos, without any need for an expensive dolly and a fancy tripod. It utilizes brushless motors to keep your phone stable while you're shooting videos.
A mobile gimbal is an essential accessory to shoot stabilized videos and time-lapse, motion-lapse on your smartphone. Here are the two best mobile gimbals for Motorola Edge+: 
1. Zhiyun Tech Smooth Q2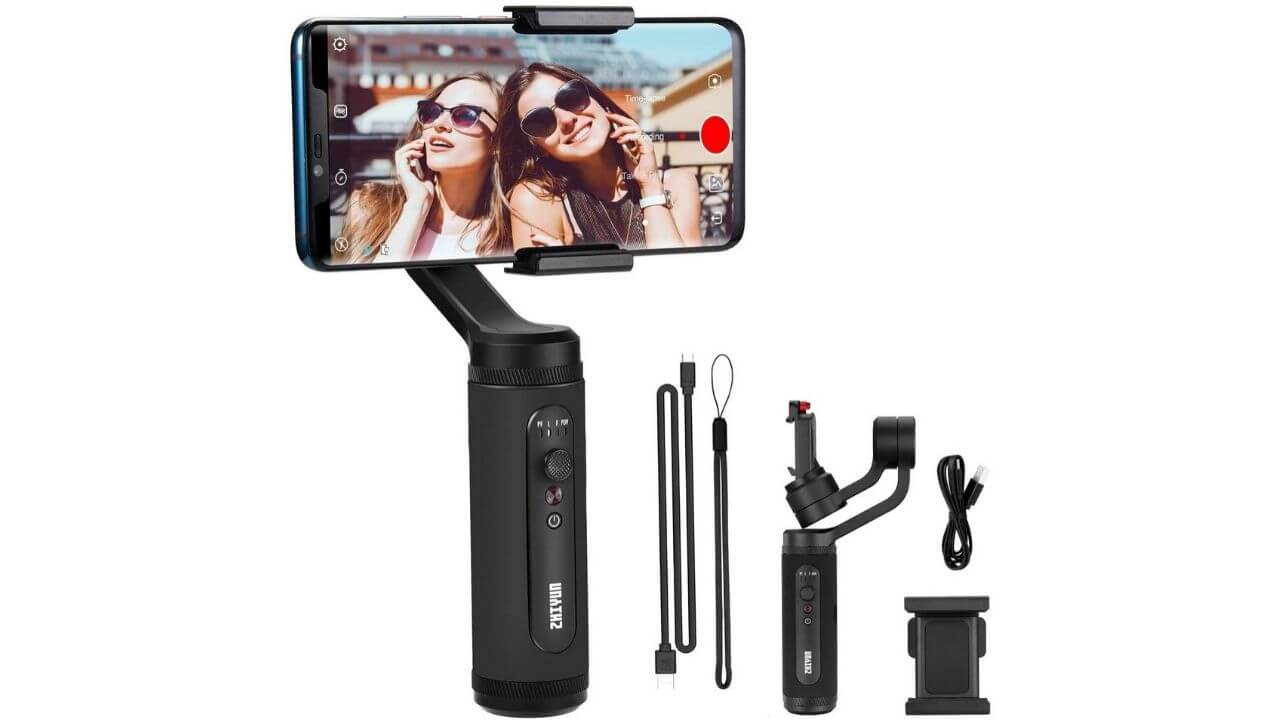 The Zhiyun Tech Smooth Q2 is a pocket-sized smartphone gimbal that automatically balances your phone to shoot smooth videos. It features object tracking, time-lapse, and motion lapse modes. For vloggers and selfie-takers, the Smooth Q2 switches quickly to vertical mode.
The Smooth Q2 packs a pretty good battery that easily lasts up to 17 hours. Moreover, it also has a micro-USB port, which allows the users to utilize Smooth Q2 as a power bank. As an added bonus, the Zhiyun Tech Smooth Q2 supports the native camera app on your smartphone via a Bluetooth connection. Therefore, you can shoot pictures and videos right from the stock camera app on Moto Edge+.
If you're looking to take full advantage of the triple camera setup on the Moto Edge+  then the Zhiyun Smooth 4 is a mobile gimbal for professional content creators and features manual controls and even a follow focus. 
2. DJI Osmo Mobile 3
 
For all the storytellers out there, who love shooting videos on their smartphones, the DJI Osmo Mobile 3 is another mobile stabilizer for the Motorola Edge Plus. It keeps your phone steady on all 3 axes so that you can shoot smooth videos, whether you're walking or running. The DJI Osmo Mobile 3 features a high-quality joystick with a few easy-to-use buttons. 
It allows you to shoot brilliant time-lapses, motion lapses, and even hyper-lapses on your smartphones using DJI's app. Moreover, Osmo Mobile 3 has support for advanced auto-tracking as well. It offers a decent 15-hour battery life and has support to charge your smartphone on the go, so, you never have to worry about getting your phone out of charge while shooting. The foldable design makes it a travel-friendly companion as well.
3. GripTight ONE GorillaPod stand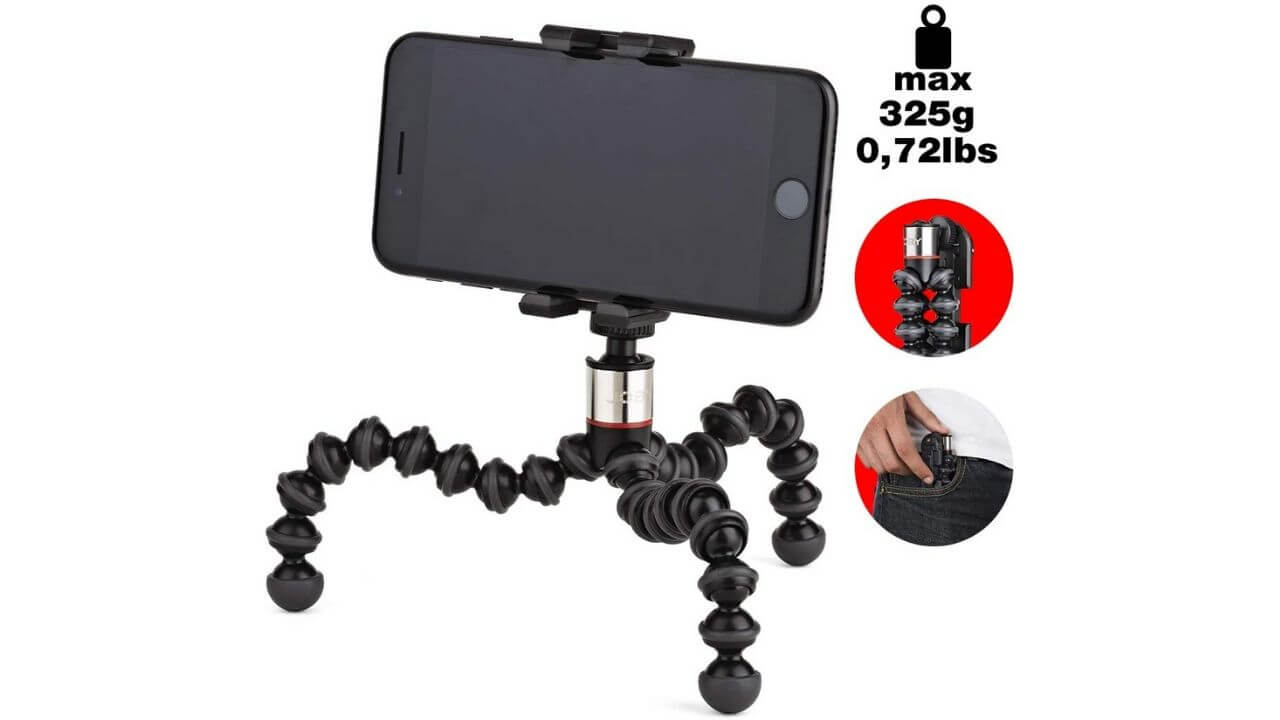 For all the content creators who love shooting photos and videos on their smartphones, but don't fancy buying regular or standard-sized tripods, GripTight One is one of the best accessories for Moto Edge Plus to spend your money upon.
GripTight One is the perfect smartphone accessory for content creators, mobile filmmakers, and vloggers. They are famous for their versatile bendable legs that can be moved easily in any direction. This stand can easily mount any device that weighs up to 11.4 ounces/325 gms. The GripTight ONE comes with a simple smartphone adapter that easily attaches your Moto Edge Plus to the stand with a standard 1/ 4-inch screw.  Moreover, the stand can be equipped with multiple mounts for light and mics too.  
You can shoot from some amazing and unique points by easily wrapping the GorillaPod around trees and poles. In addition, this stand can be utilized as a selfie stick too. This stand is super-compact and lightweight that you can easily slip it inside your pocket. 
Gaming Accessories for Motorola Edge Plus
1. Bluetooth Game Controller
All the game lovers would agree to the fact that a physical controller is an essential accessory to enhance the mobile gaming experience. If you love playing action or MMO games on your phone, then a Bluetooth game controller is one of the best accessories for your Motorola Edge Plus. And, here we bring one of the best Bluetooth game controllers that's worth spending your money upon.
SteelSeries Stratus Duo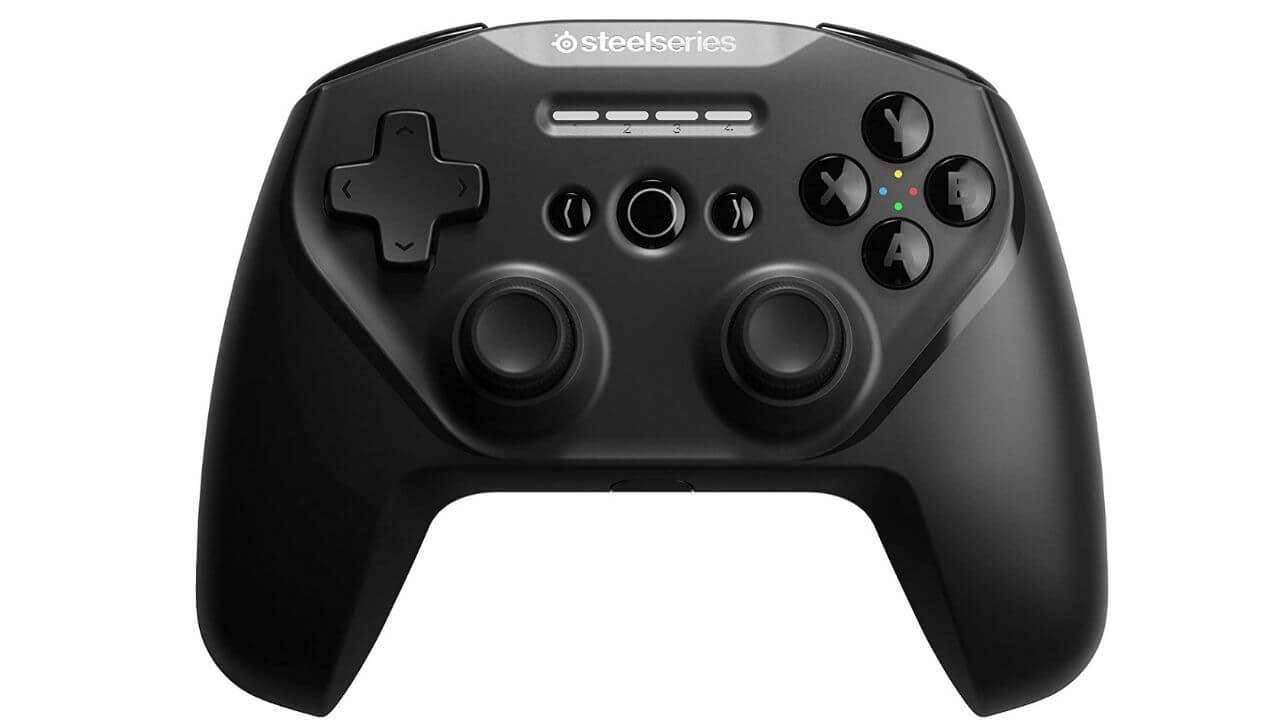 It's a full-size ergonomic controller that's designed using premium materials to offer comfort and enough grip, while you're trying to win Chicken Dinners.

SteelSeries Stratus Duo features physical shoulder buttons with a subtle texture for a better grip, which will make a gamer feel right at home.

It packs a rechargeable battery that delivers a playtime of more than 20 hours on a single charge and allows the user to play games while charging the controller.

Apart from your smartphone, this game controller is compatible with a PC as well. It offers amazing performance on both Android and Windows with no input lag or sluggishness
Make sure to check our guide on how to improve gaming performance on Android.
Best Headphones and Earphones for Motorola Edge Plus
1. Jabra Elite 65t Wireless earbuds for Moto Edge+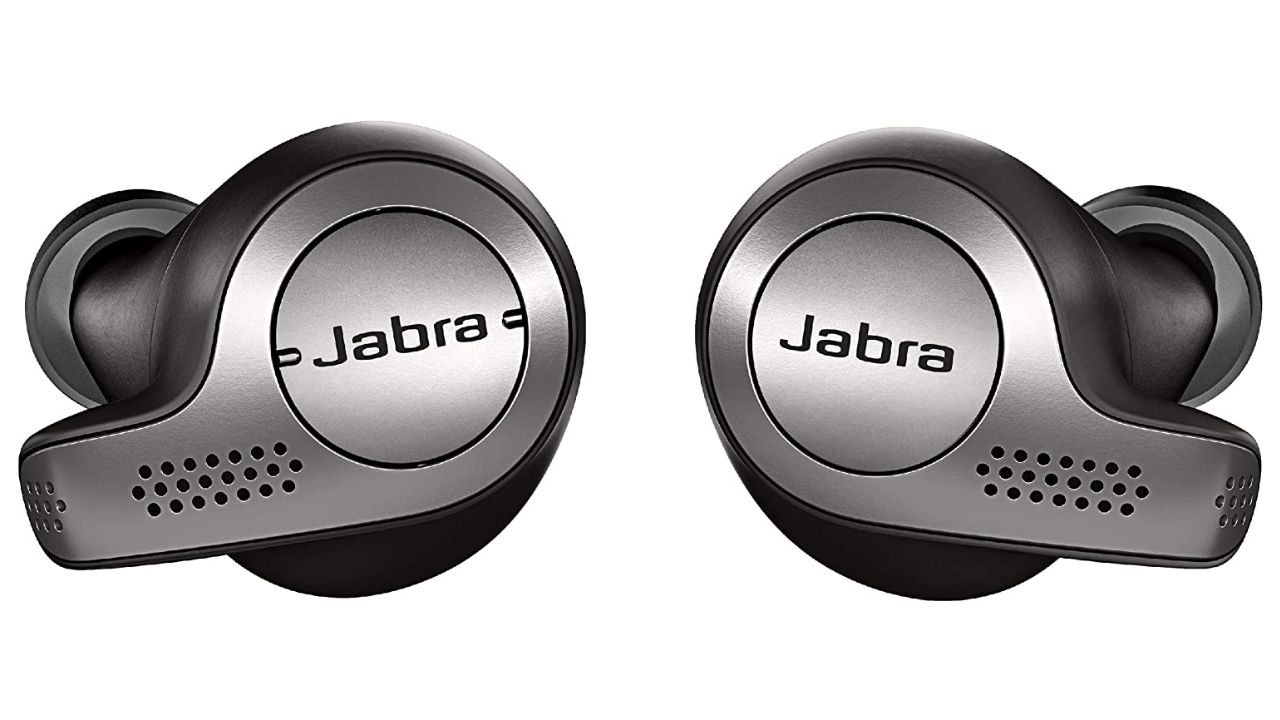 If you're looking for one of the best wireless earbuds for your Motorola Edge Plus, the Jabra Elite 65t is sure to get you grooving. The 65t succeeded the famous Jabra Elite Sports True Wireless earbuds. These wireless earbuds feature a classy design and are available in 5 beautiful hues to match or contrast with your Moto Edge Plus. They offer superior call and music experience, with amazing sound clarity. You can easily take your work calls and listen to your favorite music without worrying about audio dropouts. It uses four-microphone technology and there's a background noise filter that helps to deliver crisp and clear audio. Also, the earbuds are equipped with integrated controls that allow you to answer calls, adjust the volume, and play/pause the music. These earbuds come with three sets of ear gels that help you get a comfortable fit.
It has built-in support for Alexa and you can fully personalize the way you want to use these earbuds using the Jabra Sound+ app. They are also compatible with Siri and Google Assistant. They can last up to 5 hours on a full charge, with the case being able to deliver an additional 10-hour battery life. These wireless earbuds come with an IP55 rating and a 2-year warranty against dust and water.
Make sure to not miss our roundup for the best wireless headphones under $50.
Pros 
Beautiful design

Amazing color options

Great sound quality
Cons
No active noise cancellation
Wired Headphones for Motorola Edge Plus
Unlike most flagship smartphones, the Motorola Edge Plus comes with a 3.5mm headphone jack. You can take advantage of this and bring out the audiophile in you. 
1. Sony ZX Series
If you're looking for budget wired headphones for your Moto Edge Plus, the Sony extra-bass headphones with an integrated mic are a must-have. These lightweight wired headphones feature an on-the-ear design with foldable ear pads and offer incredible bass performance.
Pros
Affordable

Comes with bass booster

Travel-friendly: folding design
Cons
High bass can sometimes cause distortion

No noise canceling
 2. Bose QuietComfort 25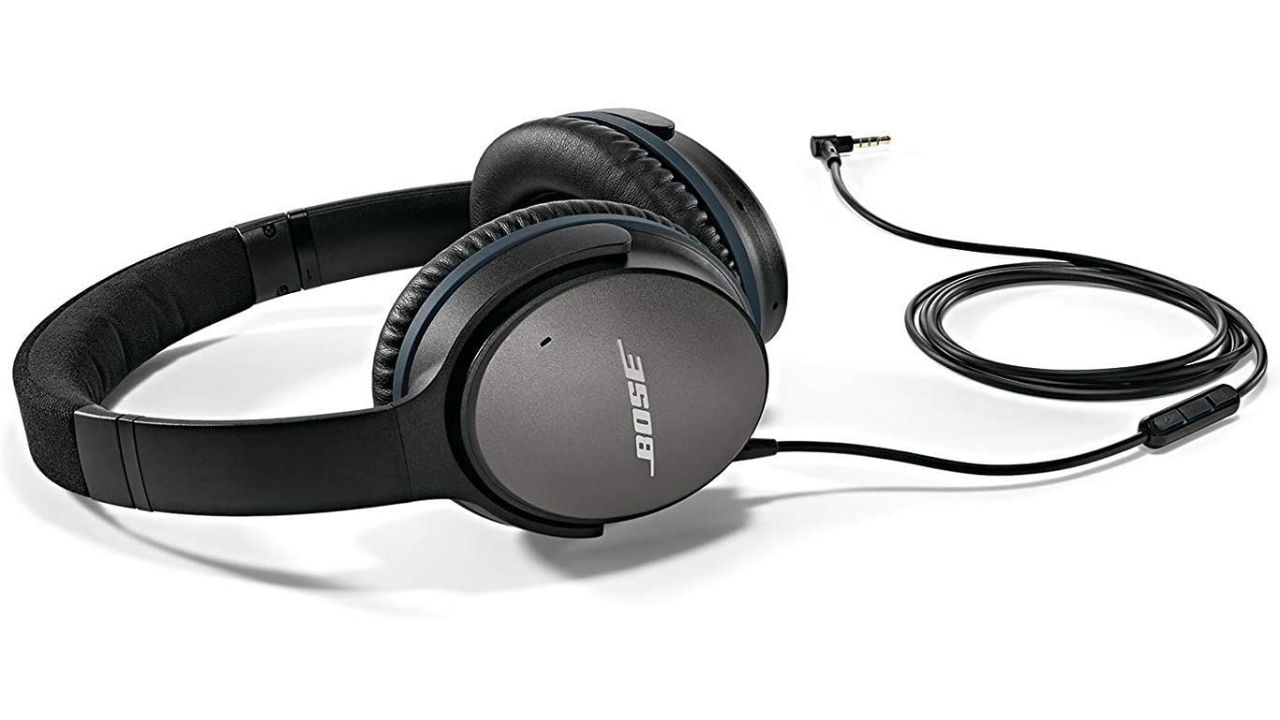 For all the music connoisseurs who are looking for premium wired headphones for their Moto Edge+, the Bose QuietComfort 25 is sure to reserve a spot in the list of your favorites. The headphones will give you a lightweight and comfortable around the ear fit and offer significant noise reduction as well. 
Pros
Premium build 

True-to-life sound quality

Active noise canceling 

Comes with a compact case & AAA battery
Cons
Best Fast Chargers for Motorola Edge+
1. Motorola Turbo Power 36 Duo Car charger USB-C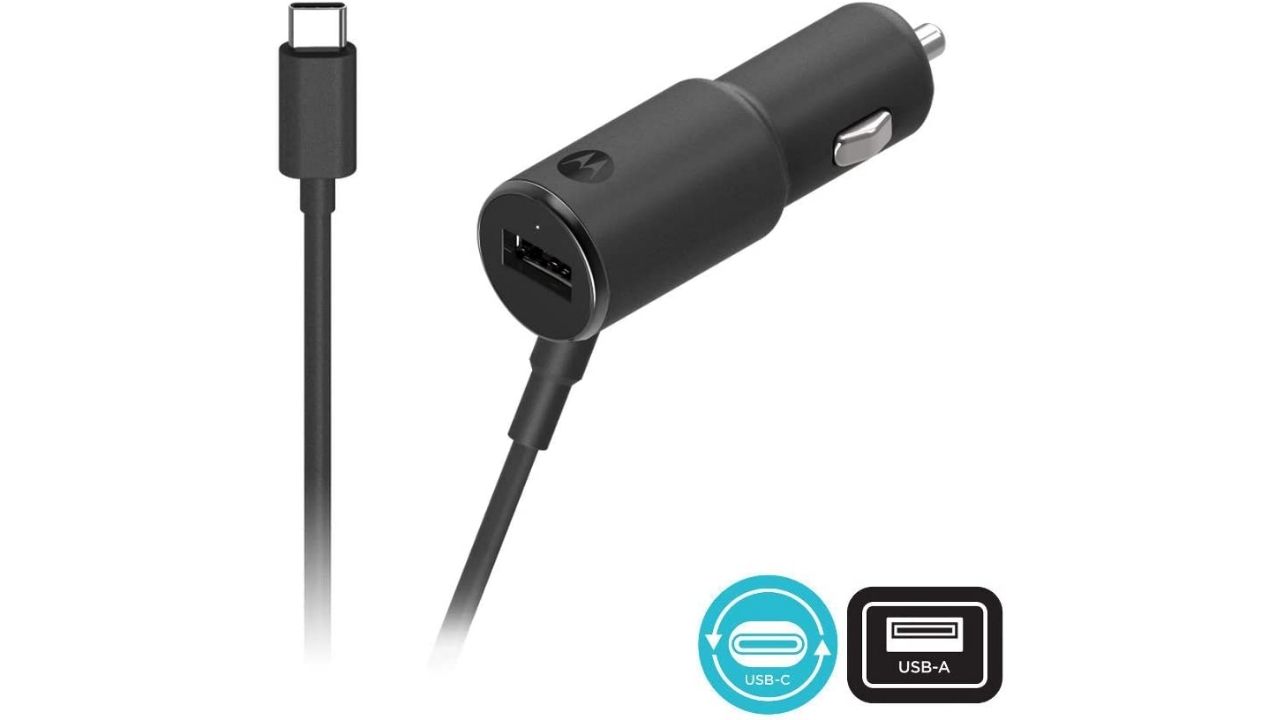 If you're looking for a car charger to power up your Moto Edge Plus on the go, your search would definitely end here. The Motorola Turbo Power 36 Duo Car Charger offers a total output of 36 watts to re-energize up to two devices simultaneously, while you're heading to your office or home. You can charge your flagship with the attached 18W USB-C cable and utilize the second 18W QC3.0 port to charge another device. This car charger is compatible with many other Motorola smartphones as well as other USB-C enabled devices. Also, you can use the versatile USB-A port to charge many other devices like wireless earbuds. 
The charger features a black matte finish. Moreover, the illuminated ring of LED light looks very elegant at night. This car charger is equipped with overheating, overvoltage, overcharging, and temperature control mechanisms.
Pros
You can charge up to two devices at a time

2 years warranty
Cons
2. TurboPower 15W Wireless Charging Pad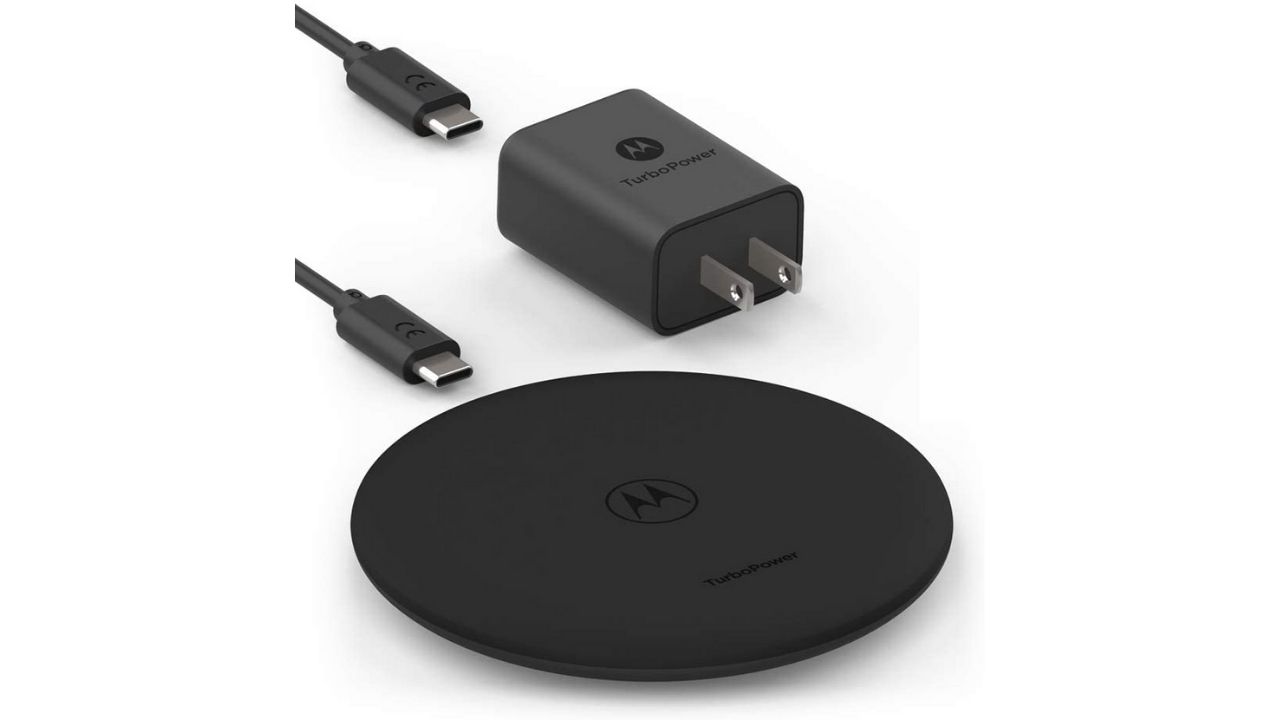 If you're looking for the best first-party wireless charger for your Motorola Edge Plus, look no further than the TurboPower 15W wireless charging pad. It features a compact design with a non-slip, soft-touch surface to keep your device in place and offer a simpler wireless charging experience. This 15W wireless charging pad comes with a 27W adapter and 6.6ft USB-C cable. It's compatible with all the Qi-enabled devices and comes with advanced foreign object detection to keep your smartphone protected. Moreover, there's a fanless thermal management system that keeps the charging temperature down and enables full-speed charging without any noise. 
Pros
Fast wireless charging for all Qi-enabled devices

Fanless thermal management 

2-year warranty
Cons
If you're looking for a wireless charger that can power multiple devices simultaneously, check out our list of the best multi-device wireless charging stations.
3. UV Smartphone Sanitizer & Universal Charger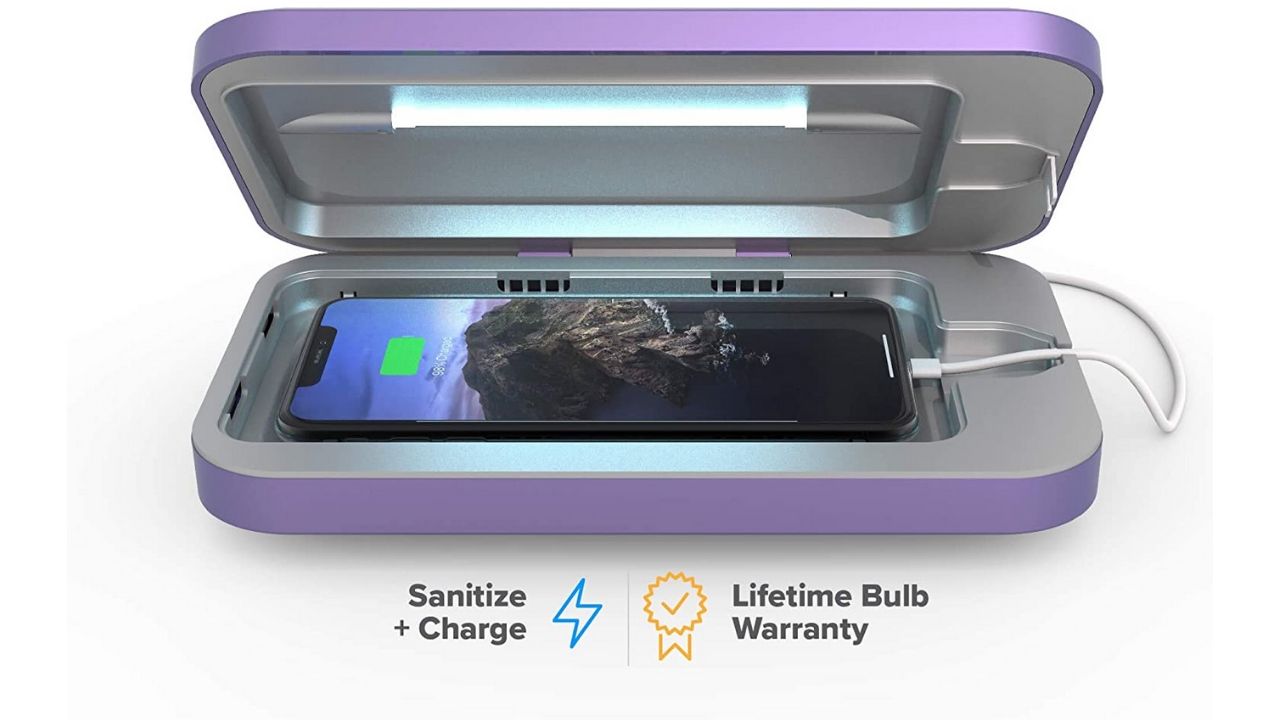 Do you know that your smartphone gathers all the bacteria that you touch throughout your day? We regularly wash and sanitize our hands, but never our phones, right? So, here's a smartphone sanitizer that houses two germicidal bulbs that offer complete 360-degrees disinfection and kills up to 99.99% of all bacteria and germs on your smartphone. Moreover, the Phonesoap 3 sanitizer features USB-A and USB-C ports for charging your smartphones. It's compatible with the largest smartphones (up to 6.8 inches) and is available in 5 different color options. 
Pros
Sanitizes and charges your smartphone simultaneously

Compatible with most smartphones

Lifetime bulb warranty
Cons
There's also a wireless version available for this phone sanitizer. 
That was all for our roundup for the best accessories for Motorola Edge Plus in 2021. With time we'll keep adding more accessories. We hope it has helped you spot your favorites. Do let us know if you're rocking any other amazing accessories for this latest Motorola flagship. 
Don't forget to check our list of the best accessories for LG Velvet and OnePlus 8 Pro in 2021.