The Pixel 6 is one of the most recent smartphones announced by Google alongside the beefier Pixel 6 Pro at a digital event held by the company. Both the devices feature an exquisite design and all-new horizontal rear camera setup. Besides, the company also announced the addition of an in-house Tensor chipset on both the Pixel 6 series phone for the best possible performance.  
As far as specification is considered, the Pixel 6 is shipped with a 6.4″ big AMOLED display with a 90Hz refresh rate and HDR10+ certification. For better durability, the Pixel 6 comes with Gorilla Glass Victus, which is claimed as the most durable glass at this point. All thanks to the Android 12, the Pixel 6 comes with loads of features. Please note that the Google Pixel 6 is compatible with 5G and Wi-Fi 6. 
Now that it is out and available for purchase, it's the right time to grab some of the best accessories that go well with the Pixel 6. We know it's confusing to find the right accessories, but we are here with the list of best accessories for the Google Pixel 6 to ease your gadget hunt. Please make sure to check out all the accessories and choose the suitable one for you. 
Note: We update our article from time to time to cover the latest products available in the market.
List of Best Google Pixel 6 Accessories to Buy Now in 2022
Best Cases for Google Pixel 6 in 2022
1. Spigen Tough Armor Case (Best for damage protection)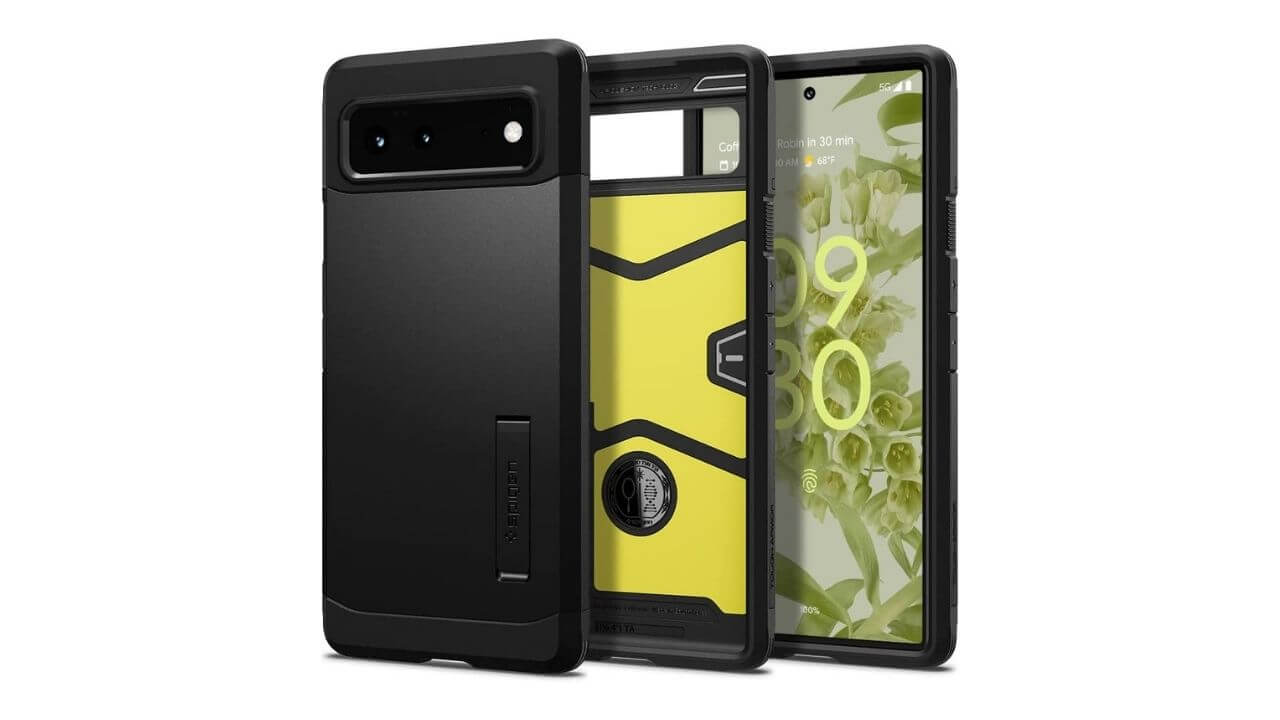 For all the clumsy smartphone handlers, we bring the Spigen Tough Armor case. This heavy-duty case for Pixel 6 features all-new foam technology for an extra layer of shock absorption. All thanks to the durable build of the TPU and PC material, this protective Pixel 6 case offers the best possible protection against drops and scratches that may take away the beauty of the minimalist design and feature-loaded Google Pixel 6. Apart from drop protection, it comes with military-grade certification which ensures extreme durability and protection to the concerned device. 
In addition to that, it also comes with Air Cushion Technology to ensure that it deflects heavy shocks during an impact to safeguard the device and most importantly prevent screen shattering issues. Raised lips ensure scratch-proof protection to the screen and rear camera setup of the Google Pixel 6. Besides, there is a reinforced kickstand that gives you the freedom of enjoying your favorite Nextflix series and talking to your loved ones through secure video calls, handsfree. All in all, this heavy-duty case for Pixel 6 stands at the top when we talk of maximum damage protection. 
Also read: How to fix Google Lens not working on Android
2. Caseology Vault Protective Pixel 6 Case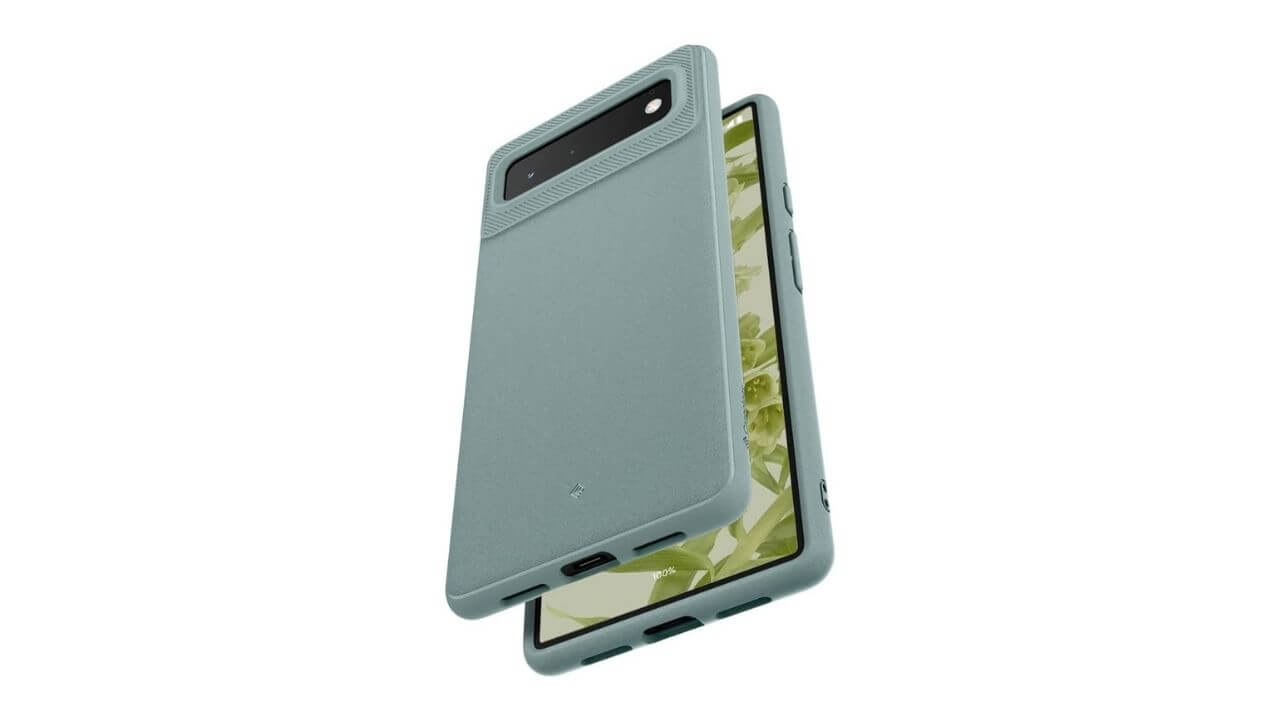 If you are looking for good protection with good looks, the Caseology Vault series protective case is for you. The Caseology Vault series case is offered in three magnificent colors that go well with your device without any doubt. Made from TPU material, this protective case for Pixel 6 features a 3D Hexa Cube design, whereas the in-built Dia Grip on both sides of this heavy-duty case offers the best grip which makes life easy for individuals with butterfingers. This heavy-duty case is tested actively during the manufacturing process to ensure maximum drop protection for your Google Pixel 6 5G. Please note that this Pixel 6 rugged case comes with military-grade protection for extreme durability and long life. There're precise cutouts around the case for better accessibility, whereas tactile buttons are there to ensure the best response to operate the Pixel 6 smartphone. If buying a reliable protective case at an attractive price tag is your goal, the Caseology Vault heavy-duty Pixel 6 is for you. 
Also read: How to fix Twitter not working on Android
3. Ringke Fusion (Best clear case for shockproof protection)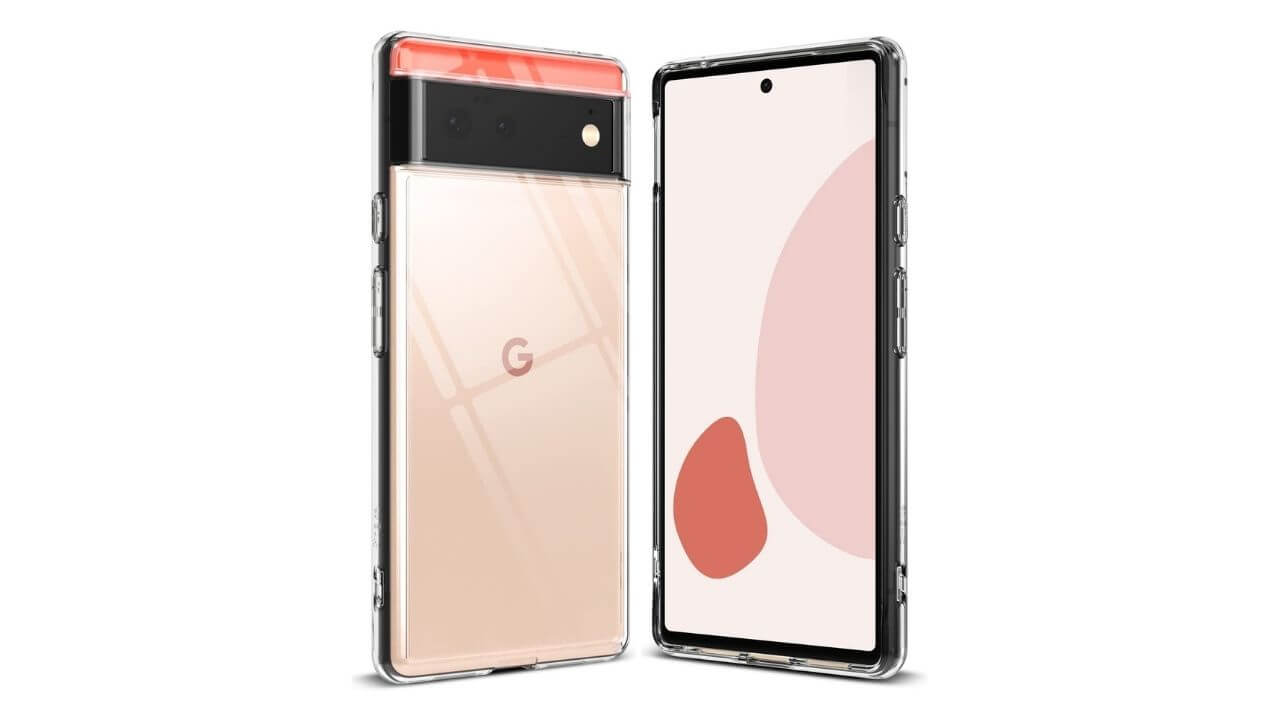 Are you looking to get your hands on one of the best shockproof cases available in the market? Bring home the clear shockproof case for Pixel 6 from Ringke. This clear protective case is close to the Spigen Rugged Armor in terms of protection. Talking about the build, you'll see the exterior body made from TPU and Polycarbonate material for the best shockproof protection without compromising the beauty and safety of your Pixel 6 smartphone. The Ringke Fusion case flaunts a flexible design that snugly fits the phone. 
Although the design of this Pixel 6 shockproof case looks simple, it offers solid protection to withstand any kind of accidental drops, shocks, bumps, and fumbles. The side wraparound bumpers act as a shock deflecting shield to keep the screen intact for years to come. Also, the bumpers allow you to grip the phone quite comfortably. As with the other cases mentioned above, it also features raised bezels to keep the screen and all-new camera setup safe from scratches that may appear from daily wear and tear. Also, there are lanyard holes on the bottom right corner of this heavy-duty Pixel 6 case to attach
hand and neck-straps which are sold separately. This case is also available in the translucent version which offers better grip as compared to the one we have talked about here.
Also read: Best Google Pixel 4a Accessories
4. SUPCASE Unicorn Beetle Pro Series Google Pixel 6 Case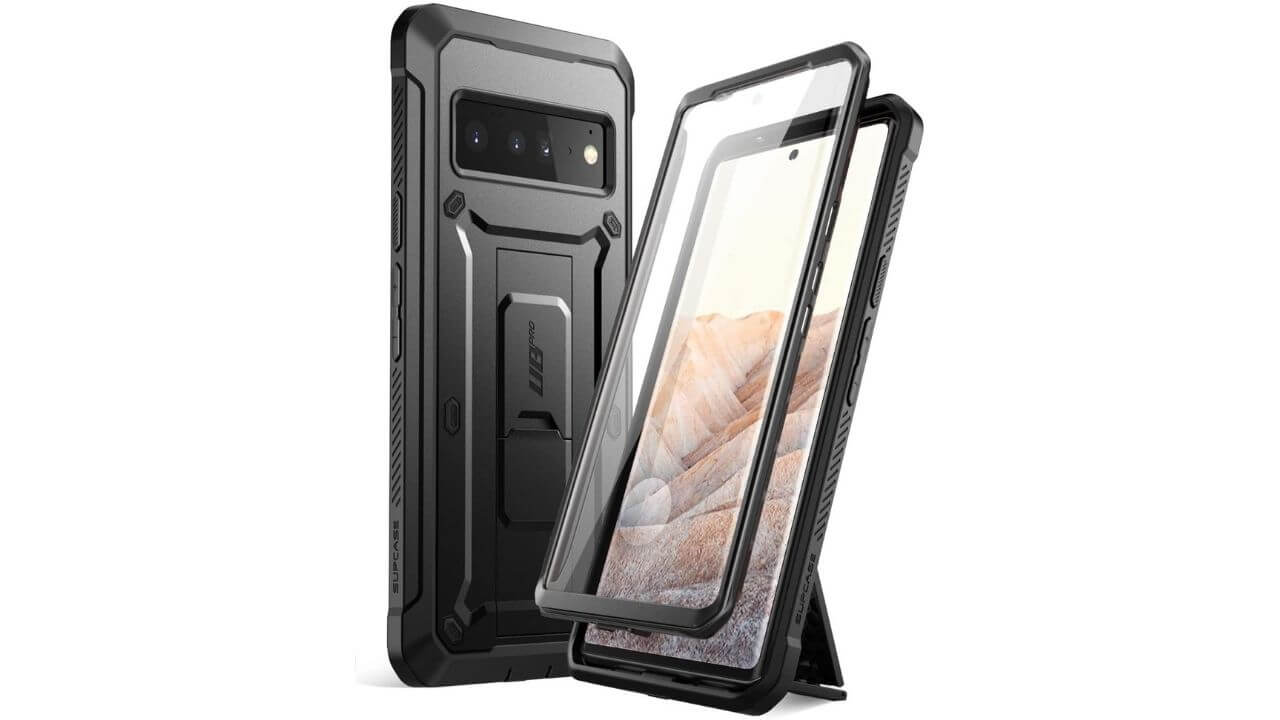 Are you looking for a protective case with solid built to protect your beloved Google Pixel 6 5G? Here we have got SUPCASE Unicorn Beetle ProSeries Pixel 6 5G rugged case that looks much similar to the Poetic Revolution Series we have mentioned in our previous roundups. This heavy-duty bumper case for Pixel 6 5G features a dual-layer build of Polycarbonate and Thermoplastic Polyurethane materials. The overall design and build of this case ensure to offer solid drop protection to Google last year's flagship phone. Let's not forget that the brand claims that this case can offer drop protection from a height of up to 20 feet. Plus, the wraparound bumper aids to the shockproof protection without any ifs and buts. Did we mention that the built-in screen protector guards the display of Pixel 6 against heavy scratches and keeps the touch sensitivity intact? Further, you'll find a built-in kickstand that can be handy in offering hands-free video calling as well as a movie-watching experience on your Google Pixel 6. Moreover, the three beautiful color options should be able to match your vibe.  
5. Spigen Thin Fit Case for Pixel 6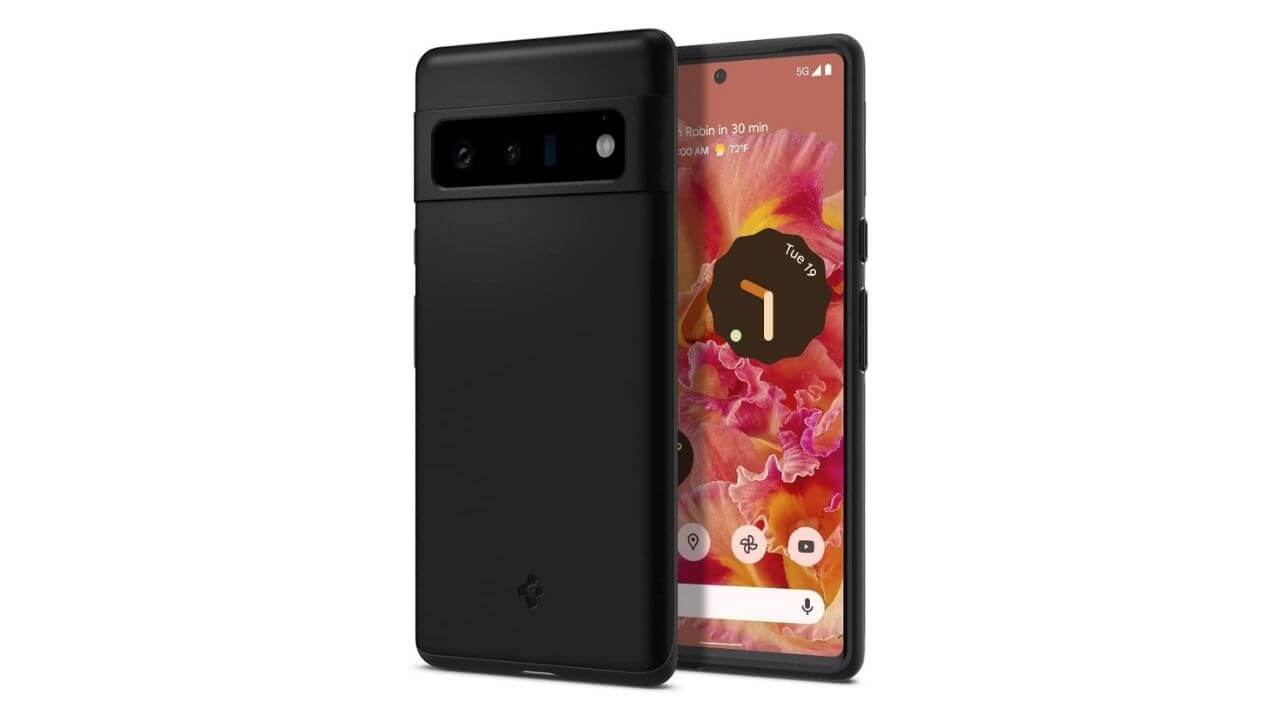 If you are not a fan of bulky cases, the Spigen Thin Fit is suitable for you. This budget-friendly thin case for Pixel 6 comes in a slim and lightweight design which allows your device to slip in and out easily without any hassle. The exterior body of this thin Pixel 6 case is made from TPU and Polycarbonate materials which gives a decent amount of protection to the Google flagship 2021. Spigen has integrated the Air Cushion Technology for additional shockproof protection whenever you or your kid drops the phone on a hard flooring accidentally. The matte texture on the back of this Pixel 6 case offers a good grip which is very beneficial for individuals who struggle carrying smartphones with big displays. Given the features and price, it is a must-buy accessory for Pixel 6 owners out there. 
If you are not fond of carrying a wallet all the time, we recommend buying the Profer Defender Series. In addition to the wallet design, you get maximum protection to protect the Google Pixel 6 5G. 
Disclaimer: All the protective cases listed below are compatible with Qi wireless chargers out there.
Also read: Best cases for Pixel 6 you can buy right now
Best Screen Protectors for Google Pixel 6 in 2022
1. Spigen Tempered Glass Screen Protector for Pixel 6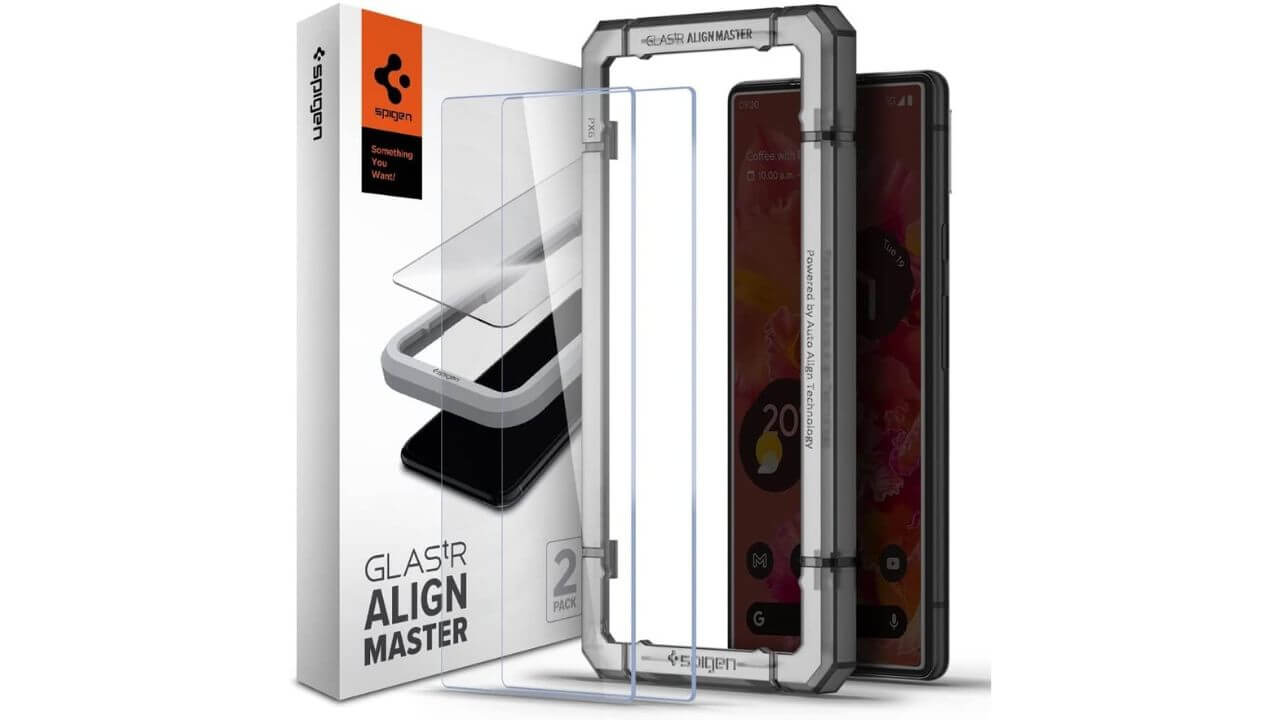 If you are annoyed trying out various Pixel 6 screen protectors to get rid of the hassle during fingerprint unlocking, we recommend getting this one from Spigen. With several positive reviews about the fingerprint unlock experience on Amazon, this one sits right at the top. Similar to other screen protectors for Google Pixel 5G, it also comes with 9H hardness properties ensuring that the display of the flagship Pixel device remains in one piece even after several blows. The optimum thickness of this tempered glass screen protector for Pixel 6 5G delivers a crystal clear and blur-free viewing experience. This Pixel 6 screen guard from Spigen is backed by an oleophobic coating that prevents fingerprints and oil residue to keep the pristine look of the display intact. Moreover, it fits well with every Spigen case for Google Pixel 6 5G. 
2. EGV Screen and Camera Lens Protector Combo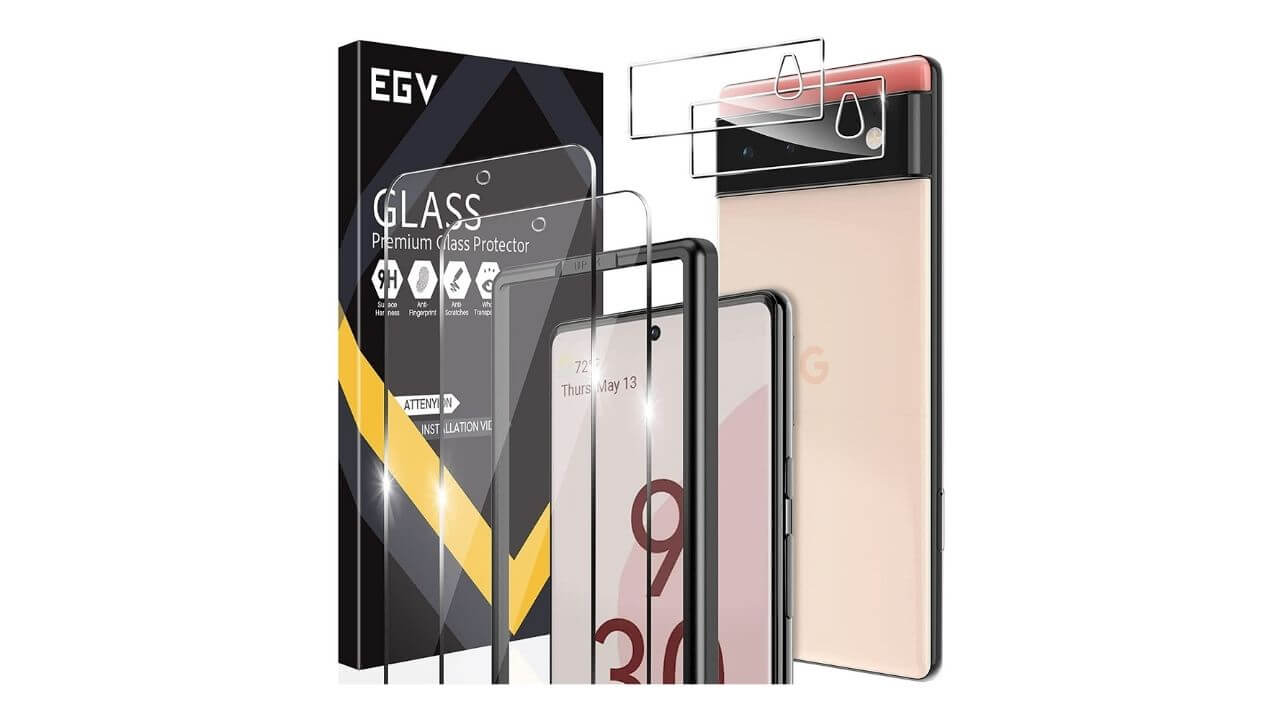 For all those looking to protect the display and camera setup on the Pixel 6, we want you to get the EGV screen and camera lens protector combo right away. This case-friendly Pixel 6 screen protector comes at a budget-friendly price. This tempered glass comes with 9H hardness for maximum protection against scratches and drops that may ruin the beauty of the AMOLED display. For a bubble-free and hassle-free installation experience, a guidance frame is shipped with the screen protector. Besides, it offers the best clarity and transparency to enjoy true colors displayed on the display of the Google Pixel 6. Overall, this tempered glass for Pixel 6 is a great choice for individuals who usually drop their phones here and there. 
Also read: How to fix Reddit not working on Android
3. LK 2 Pack Screen Protector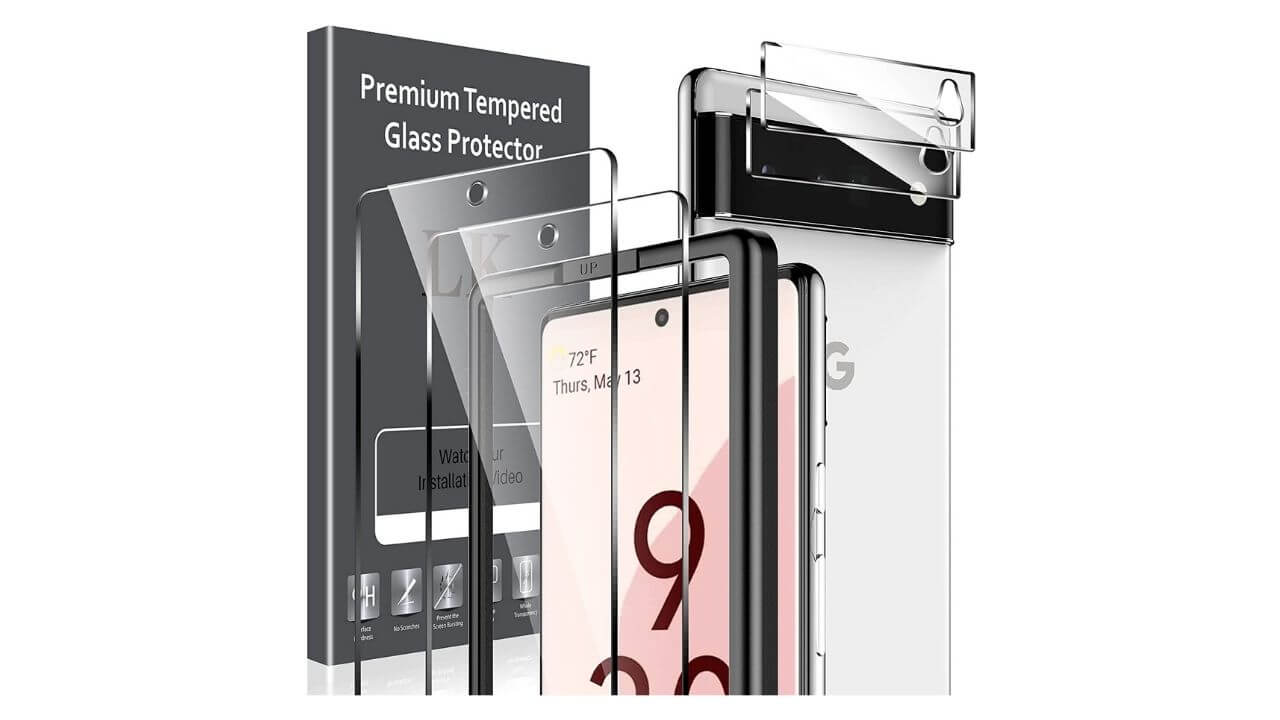 In the second position, we have for you the LK screen and camera lens protector combo for Pixel 6. This Pixel 6 screen protector and camera lens protector features 9H hardness to offer extreme durability and protection to the 6.4″ screen as well as the rectangular camera setup on the said device. All thanks to the crystal clear transparency, you get to enjoy original clarity and true HDR10+ colors while watching your favorite movies on the Google Pixel 6 5G. The ultra-thin design ensures that the LK tempered glass screen protector gives maximum coverage to the larger display of Google flagship 2021. On top of that, LK ships this screen protector with self-healing technology to ensure that the minor scratches and scuffs fade away after 24 hours of installation. In case the installation is not your thing, you'd get a locate tool in the pack for easy installation of the Pixel 6 screen protector. All in all, it is a budget-friendly pick for Pixel 6 owners out there.
Also read: Best Accessories for Google Pixel 5
4. Supershieldz Screen Protector for Google Pixel 6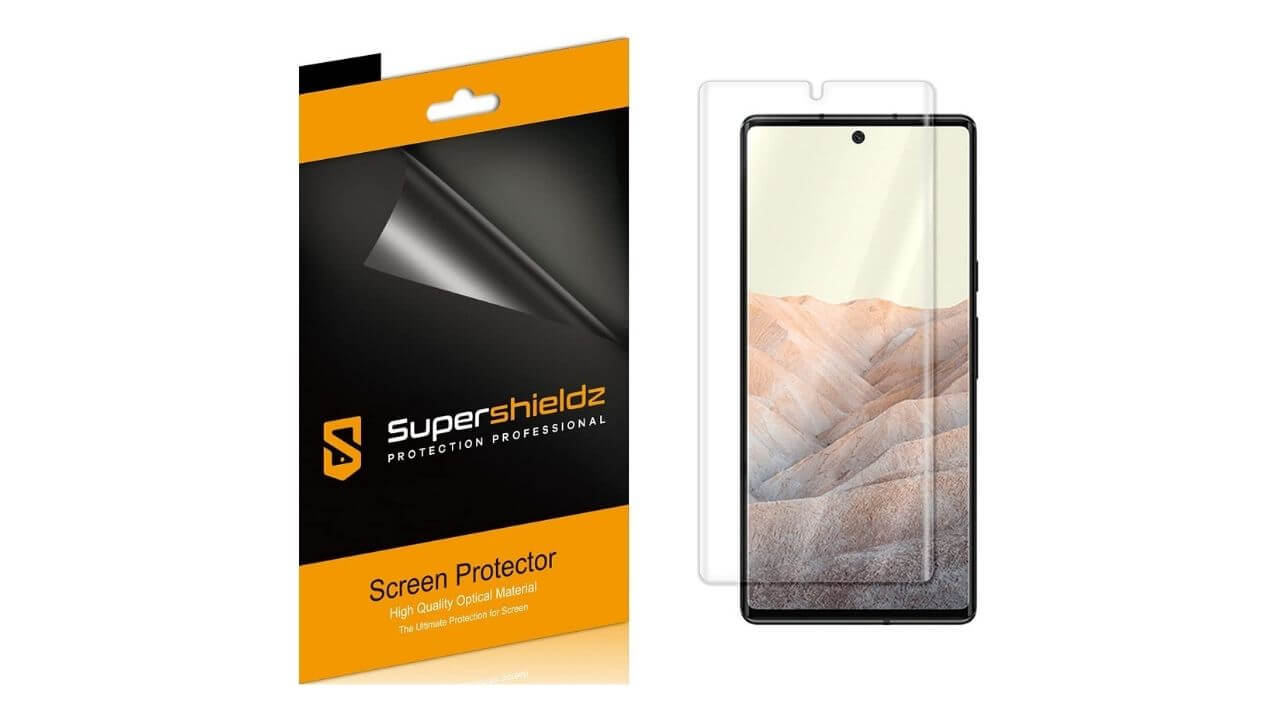 The Supershieldz screen protector is made from high-quality TPU material for decent protection against any kind of scratch and scuffs that can degrade the beauty of the new Pixel device. This screen protector offers good side angle views for a better viewing experience. Besides that, the ultra-thin design offers real touch sensitivity for flawless response time experience. Moreover, you get 2 screen protectors in the pack under $8, which is a great deal for someone who is looking for a budget-friendly screen protector for Pixel 6. 
5. GBBO Screen Protector Glass for Pixel 6 (Camera lens protector also included)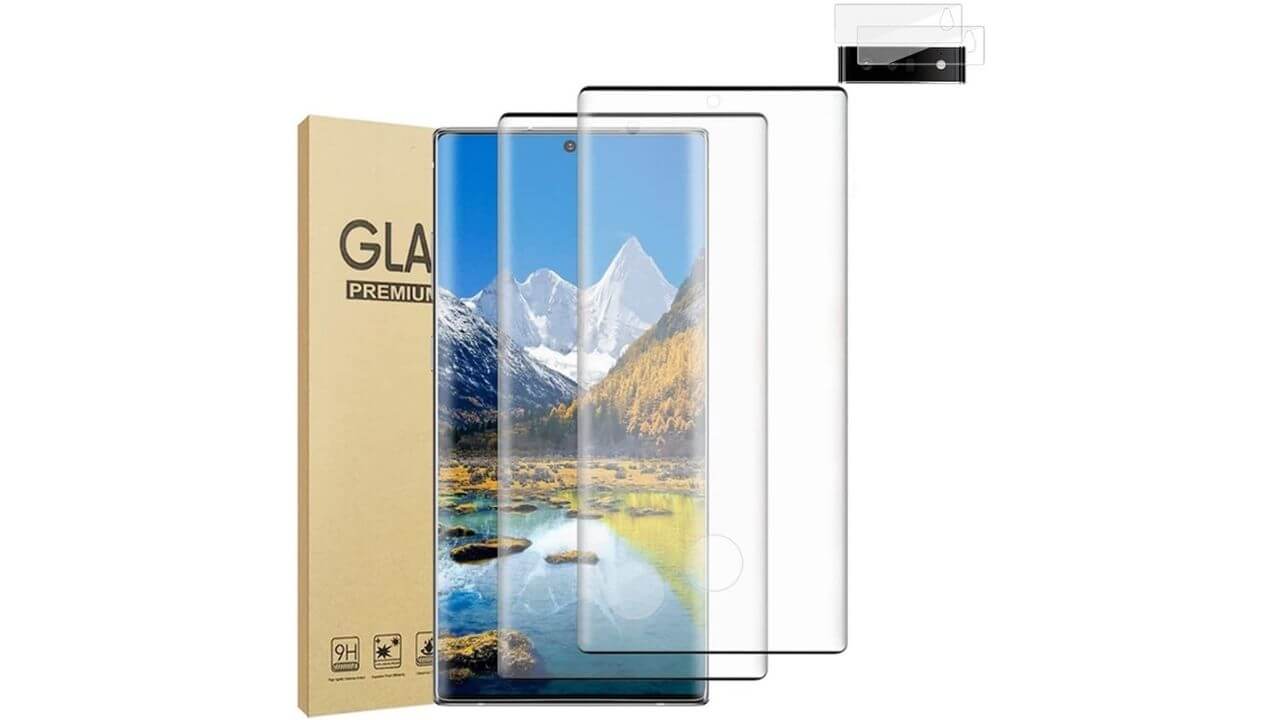 If you're willing to invest separately in a screen protector and camera lens protector for Google Pixel 6, it can be a costly affair for you. But don't worry, the combo pack offered by GBBO allows getting 2 pairs of screen protectors and a camera lens protector under $13, which certainly is a good deal. The screen protector comes with 9H hardness property, so does the camera lens protector. It will allow screen protector glass to protect your display from any kind of scratches that may appear due to daily usage. 
The 99% transparency offered by this Pixel 6 5G tempered glass gives you the freedom of watching your favorite content on the Pixel without compromising the quality, clarity, and colors of what's displayed on the screen. Besides, the oleophobic coating allows you to clean all the dirty fingerprint stains or dust particles accumulated on the screen, especially when you're using your mobile outside. All in all, it is one of the best screen protectors that you can get with a camera lens protector in a single pack. Please note that this screen protector might not work properly with the in-display fingerprint sensor. Please choose accordingly. 
Best Fast Chargers for Pixel 6 in 2022
1. Anker 30W PIQ 3.0 USB-C Fast Charger Adapter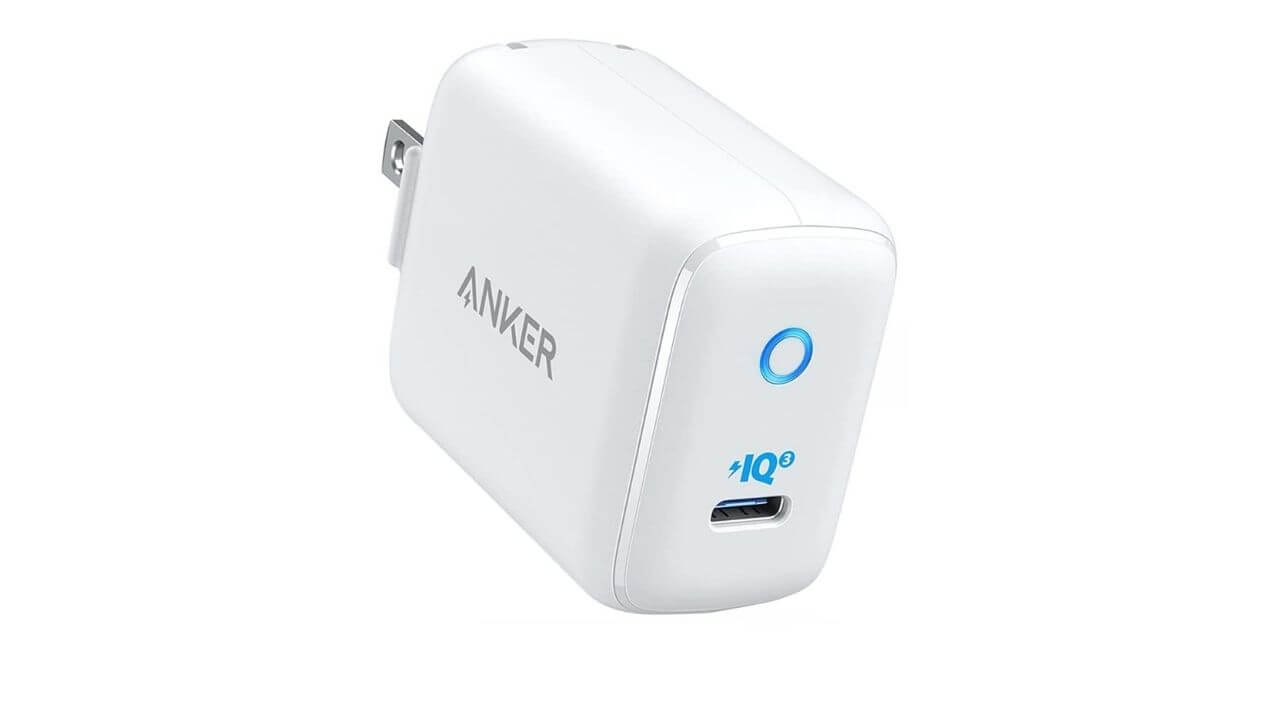 Are you looking for one of the best budget-friendly fast chargers for the Google Pixel 6? Get the 30W official fast USB-C charger. This fast charger comes with a PD USB-C port which offers sufficient charging for Google Pixel 6. The ultra-compact design as well foldable plugs allow you to carry it anywhere you go. Given the size and the lightweight design, it can be handy for individuals who frequently travel due to business trips. As far as charging is concerned, there is a blue LED light that indicates the charging status of the Pixel 6. Also, the charging indicator allows you to find the ports to attach charging cables in low light conditions. Moreover, Anker backs this fast charger for Pixel 6 with an 18-month of post-purchase warranty.
2. Belkin 30W USB-C Fast Charger for Pixel 6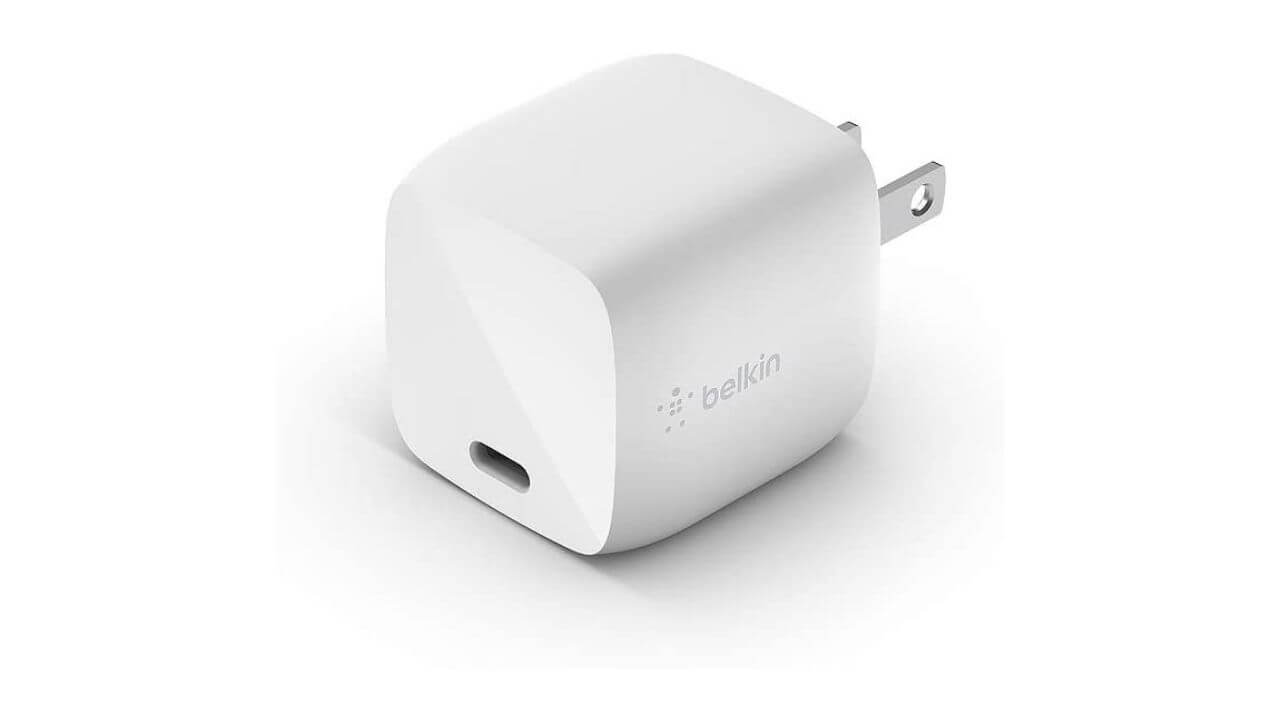 Next, we have the single-port GaN tech fast charger for Pixel 6 from Belkin. This USB-C charger features a slim-fit design as well as foldable plugs which make life easier when you're traveling. This fast charger offers a maximum charging speed of up to 30W to charge the latest Pixel 6 efficiently. The Belkin 30W fast charger features GaN technology which ensures optimum as well as safe charging experience on the Pixel 6 5G. Also, the universal compatibility features allow this fast USB-C Pixel charger to charge iOS, as well as Android devices across various brands effectively. If you are not sure about buying this fast charger from Belkin, let me tell you Belkin accessories are officially listed on the Apple Store. Trust me, it's a reliable fast charger that you can buy to charge the Google Pixel 6 5G.
Also read: Best Fast Chargers for Pixel 6
3. Google Official 30W USB-C Fast Charger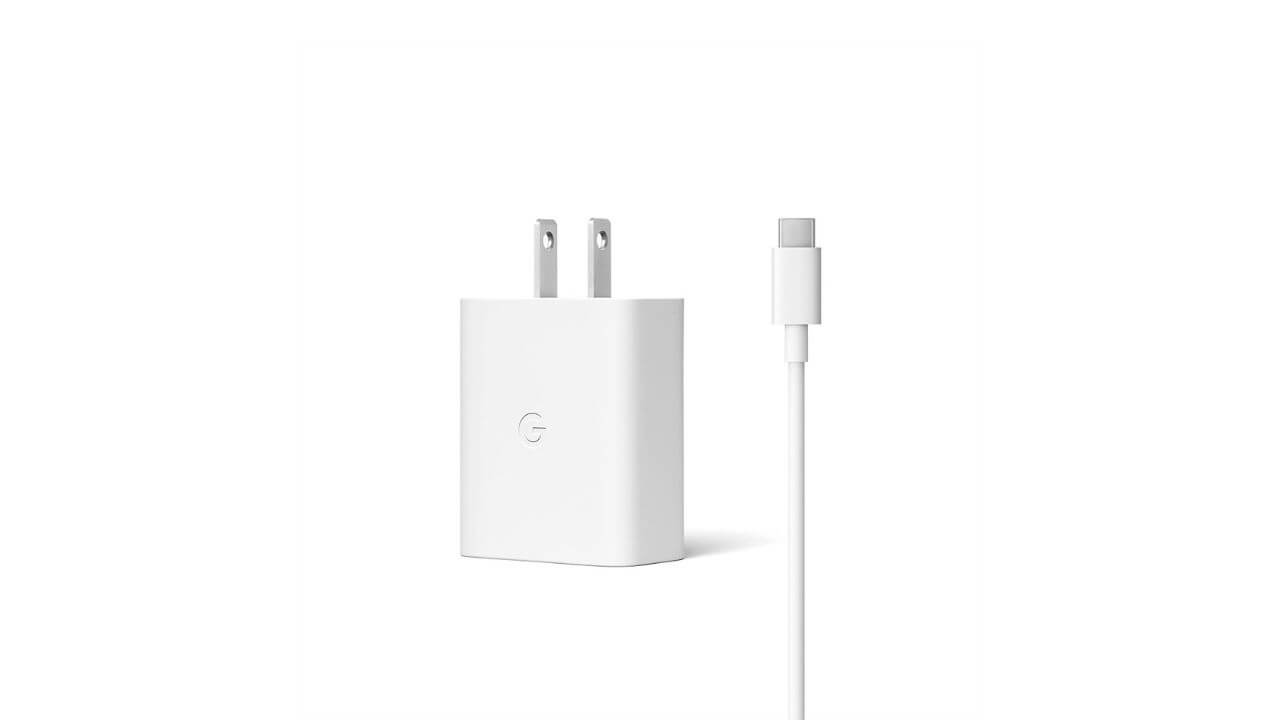 For all the official accessories lovers, we bring to you Google's in-house 30W USB-C fast charger for Pixel 6. Google designed this fast charger with recycled plastic materials to contribute towards sustainability and the environment. The slim and lightweight design makes it easier for you to slide in and out of small pockets while you're looking to charge the Google Pixel 6. In addition to that, you can also charge various other devices such as Chromebooks, laptops, tablets, and smartphones across different brands. Moreover, you will get a USB-C charging cable that can be used as a data transferring tool with good speed. 
If you are searching for an affordable or a secondary charger for the Google Pixel 6, we urge you to get the
DiHines 30W USB-C fast charger. 
Best Earphones & Headphones for Google Pixel 6 in 2022
1. Pixel Buds A-series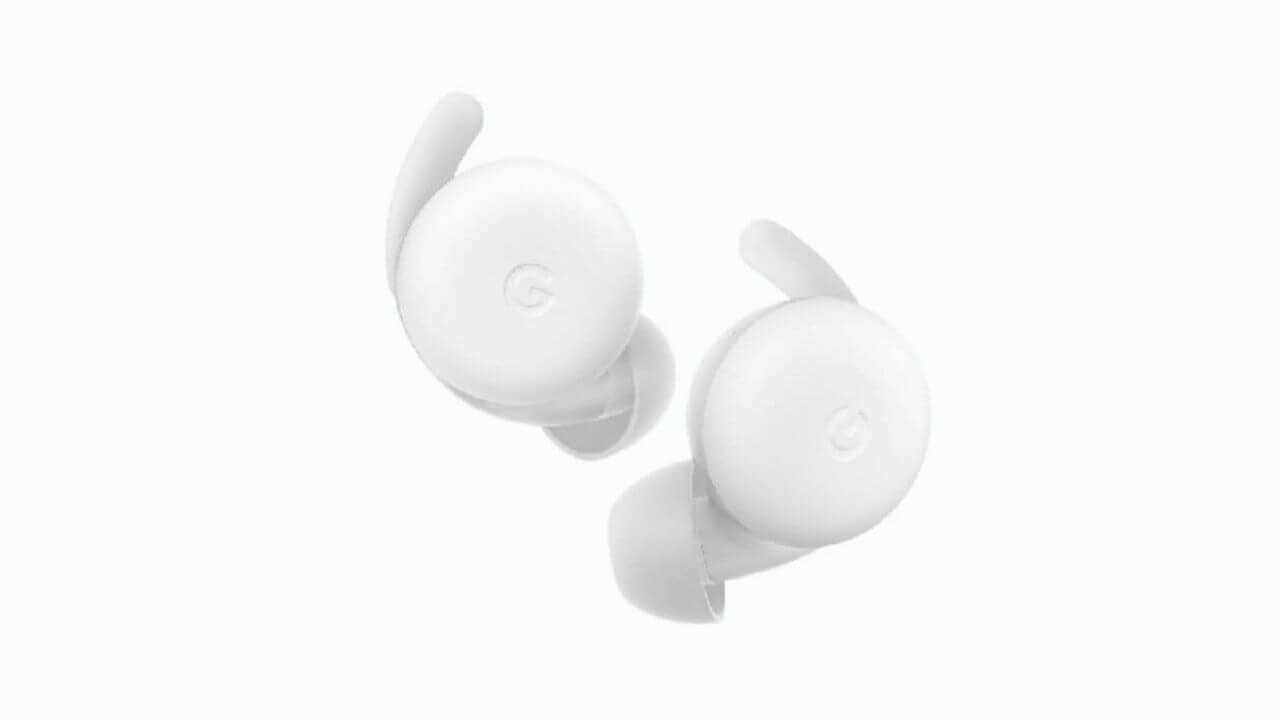 If you're a music lover and want to pair official accessories from Google, we have got for you the Pixel Buds A-series wireless earphones. All thanks to the compact and brilliant design, it sits comfortably inside your ear and allows listening to your favorite playlist for longer hours without hurting your ears. It comes with an IPX4 waterproof rating. Please note, the charging case is neither waterproof nor sweatproof. Google also packs custom-designed 12mm dynamic speaker drivers to offer the best music listening experience. 
The passive noise reduction features come in handy for individuals who like to enjoy their music almost everywhere, even in crowded public transports. Also, there is a Spatial vent for in-ear pressure reduction and spatial awareness which helps you stay aware of what's happening around you. Talking of the battery, the Google Buds A-series offers 5 hours of listening or up to 2.5 hours of talk time on a single charge. However, the listening and talk time goes way higher when you use it with a charging case. Plus, the 15-minute charge and 3 hours listening feature are quite handy for individuals running late for the office but want to listen to their favorite music on the way. Overall, it is one of the best wireless earphones that you can purchase and combine with the latest Google Pixel 6.  
2. TOZO T6 True Wireless Earbuds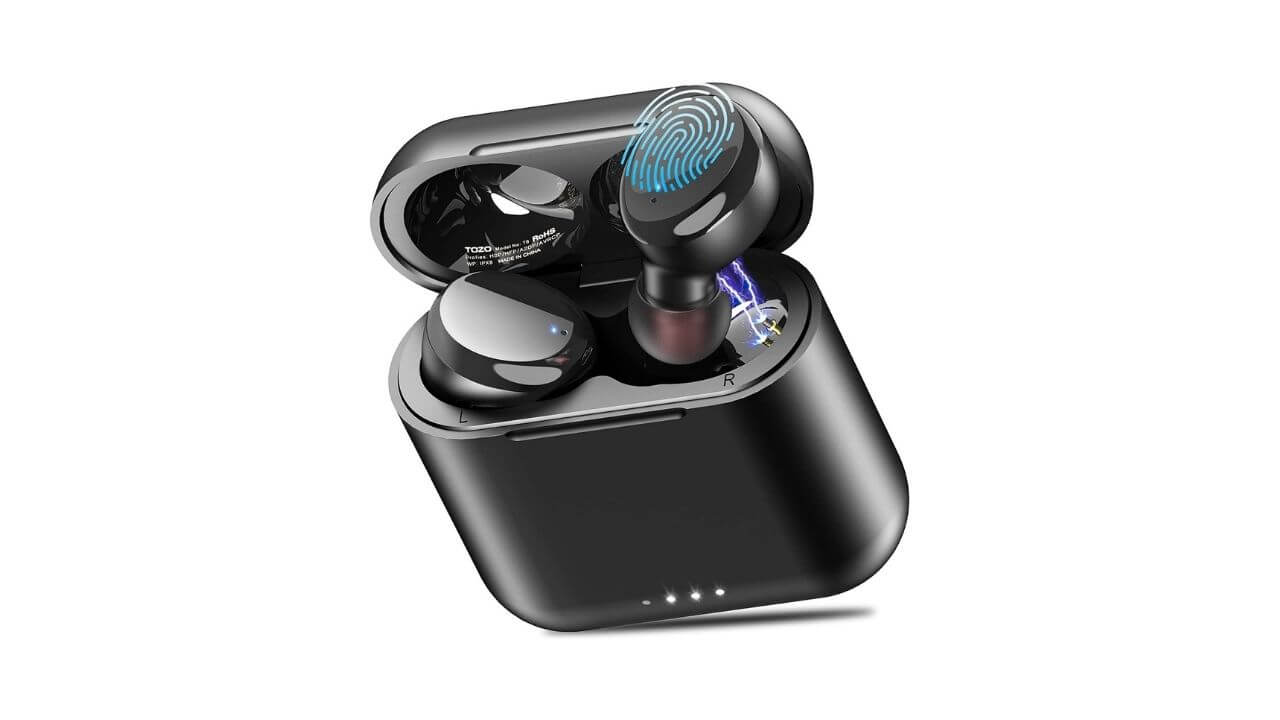 In the second position, we have budget-friendly true wireless earphones for Pixel 6 from TOZO. These wireless earphones come with flawless touch controls that enable you to play/pause the music, answer and end calls, adjust the volume, and more. All this without even touching your Pixel 6. TOZO T6 wireless earphones feature Bluetooth 5.0 technology, whereas it also supports HSP, HFP, A2DP, AVRCP (Bluetooth Profiles) for better transmission speed as well as a low-latency listening experience. Besides, it comes with an IPX8 waterproofing feature which allows this wireless earphone to survive underwater up to 1 meter for 30 minutes. 
Interesting to say but the brand claims that these wireless earbuds for Pixel 6 and its case can also be washed with water and soap. No kidding, of course! As far as playtime is concerned, you'll get 6 hours from a single charge and a total of 30 hours with a charging case. Please note, it can be charged within 55 minutes using a wired charger whereas wireless chargers take around 2 hours or less to fully charge it. If price is a factor for you, this one should sit right at the top of your wishlist. Grab it now. 
If you are looking for wireless earphones from a renowned brand, get yourself the Beats Powerbeats Pro In-ear Earphone. Price-wise it is way too expensive than the TOZO T6 that we have mentioned above. 
Also read: Best Wireless Headphones under $50
3. Sony WH-1000XM4 Wireless On-Ear Headphone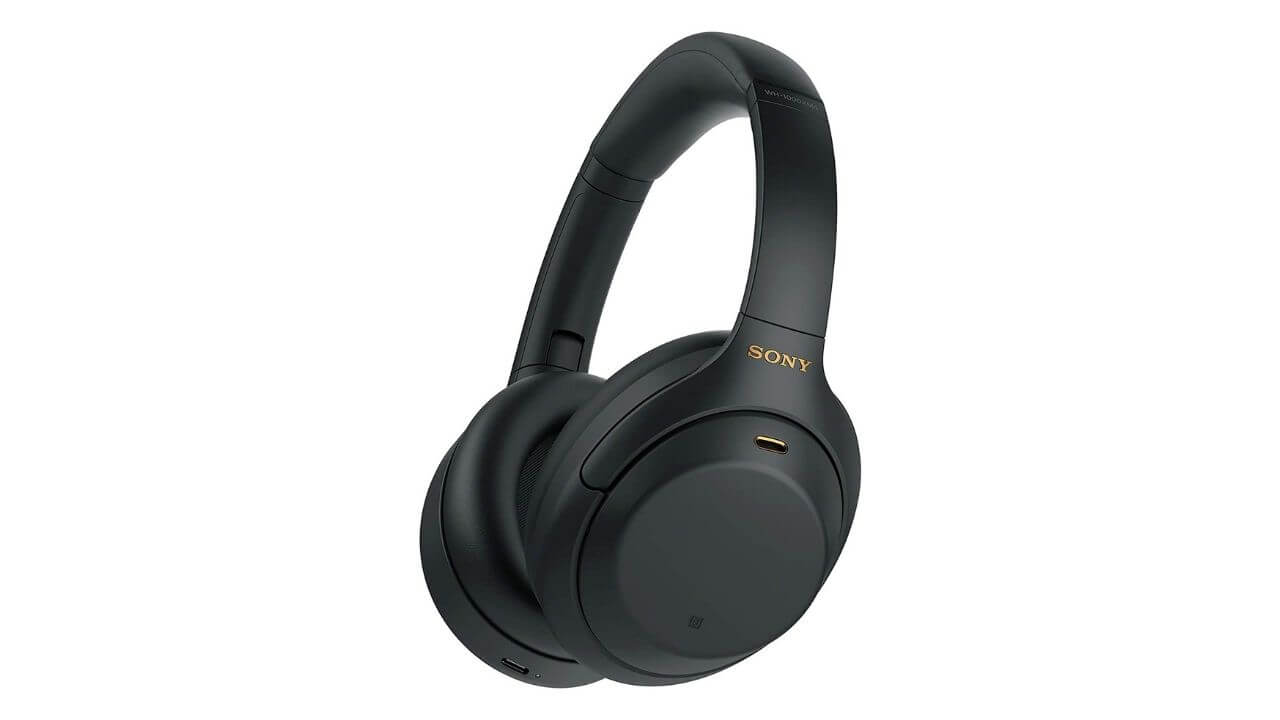 If you are looking for a premium wireless headphone for the Pixel 6, we recommend going with the Sony WH-1000XM4. It comes with the best design and superb sound quality which any musichead would love to have for listening to their favorite songs. The brand packs several features including noise cancellation which ensures that you're enjoying your music even in a crowded or noisy space such as streets or public transports like metro, public buses, and more. 
There are pairs of ear cushions that sit perfectly over your ear to make sure you get a comfortable music listening experience, especially when you're listening to music for hours. Also, the Speak to Chat feature automatically pauses the music when you are speaking to someone near you ensuring that you don't miss any word from your favorite song. With the Quick Attention Mode and integrated mics, it is easy to answer calls without taking off this wireless headphone from Sony. All thanks to the foldable design, it is easy to carry anywhere you'd go. This wireless headphone for Google Pixel 6 is shipped with an audio cable which can be handy for gaming. Moreover, you can choose from three different colors to match your style.
If you are looking for unmatched audio quality with a budget-friendly price tag, please make sure to grab the Bose QuietComfort 35 II wireless Bluetooth Headphones right now.  
4. Anker Soundcore Life Q20 Hybrid Bluetooth Headphone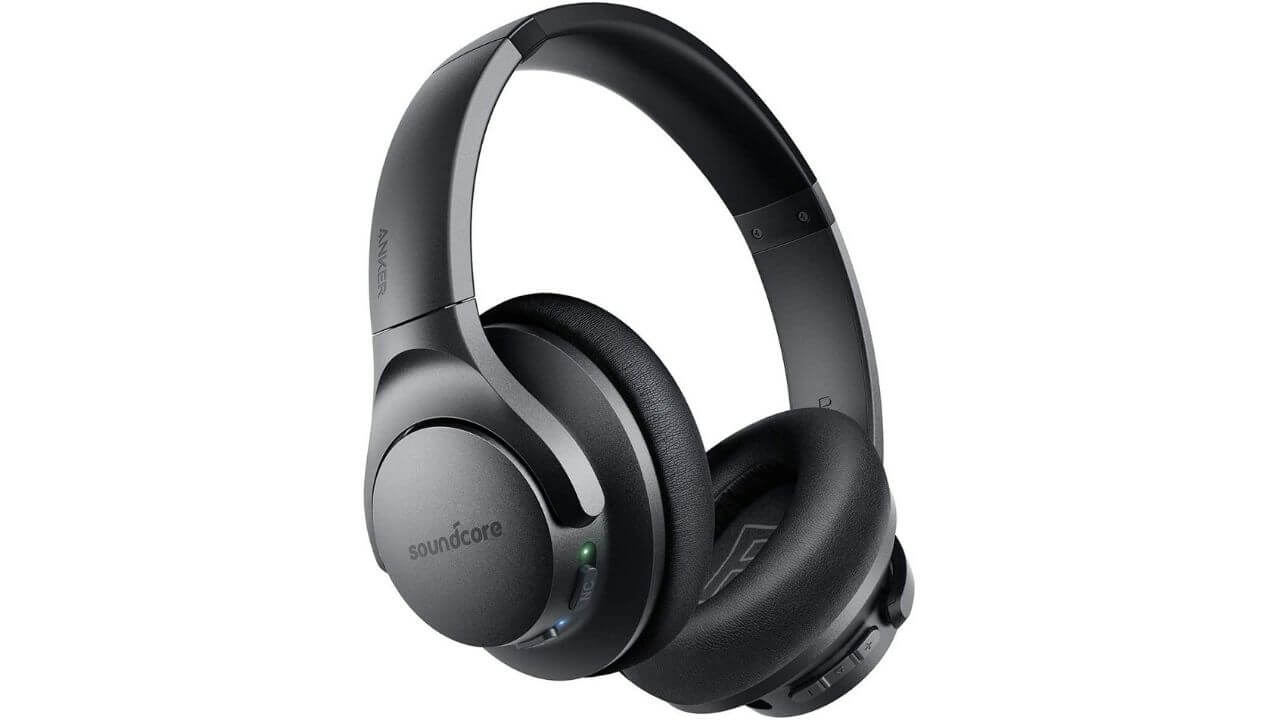 Are you looking for budget-friendly wireless headphones for Google Pixel 6 5G? The Anker Soundcore Life Q20 Hybrid should be the perfect choice for you. This affordable Bluetooth headphone for Pixel 6 from Anker comes with 40mm customized dynamic drivers to produce Hi-res sound. All the melophiles would be happy to know that these Bluetooth wireless headphones offer the best clarity and detailed music listening experience. There are 4 built-in Active Noise Cancellation (ANC) microphones and digital active noise cancellation features that give a noise-free listening experience when you're out traveling on a local bus or a metro. Thanks to the exclusive BassUp technology, you can enjoy listening to heavy-bass genres such as EDMs, Dubstep, Hip Hop, etc. 
As far as battery backup is concerned, the Anker Soundcore Life Q20 for Pixel 6 offers up to 40 hours of non-stop playtime when you're playing at 60% volume, which can be extended to a bigger playtime of up to 60 hours when you use it in the standard mode. Moreover, you get 4 hours of listening by just 5 minutes of charging when you're in a rush. Further, these Pixel 6 5 wireless headphones are available in three amazing colors to match your style.
5. TOZO T12 True Wireless Earbuds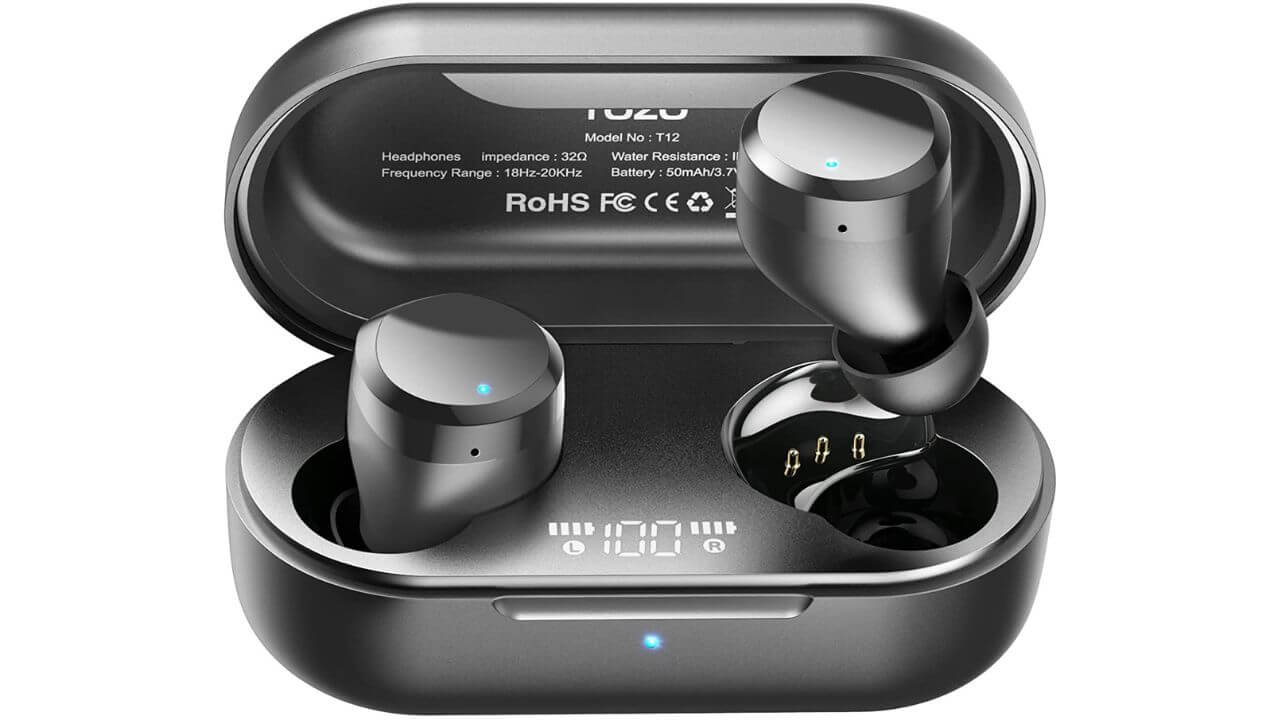 Last, in our list of top Pixel 6 audio accessories, we have for you the TOZO T12 wireless earbuds. These wireless earbuds for Google Pixel 6 5G come with touch control enabling you to control music and calls on your fingertip. It features Bluetooth 5.0 technology and is compatible with HSP, HFP, A2DP, and AVRCP (Bluetooth Profiles), which allows for better sound transmission and a low-latency listening experience. Also, you get to hear crisp sound combined with powerful bass, all thanks to the 10mm dynamic drivers embedded inside this earbud. 
Let's not forget that this Pixel 6 wireless earphone ships with an IPX8 rating which suggests that this earphone can survive underwater up to a depth of 1 meter for 30 minutes. What I found interesting about these Pixel 6 earbuds is that they can be washed with soap and water, I mean wow! If you accidentally send them for a ride in the laundry, they will come out just fine. 
In addition, the 6 hours of playback time on a single charge is a lifesaver for anyone who travels a lot. That's not all, the listening time goes to a total of 28 hours when combined with a charging case. If you use a wired charger, the TOZO T12 wireless Pixel 6 earbuds can be charged in 1.5 hours, whereas wireless charging can take up to 2 hours or even more. 
What's more? There's a LED display inside the charging case that gives you an idea of the charge left in these budget-friendly Pixel 6 earbuds. Overall, it is an awesome addition to enjoy your favorite artist or your playlists, and believe me, it is well worth the money. Did we mention these wireless earbuds have managed to grab over fifty thousand reviews on Amazon?
Best Photography Accessories for Google Pixel 6 in 2022
1. DJI OM 4 Smartphone Gimbal Stabilizer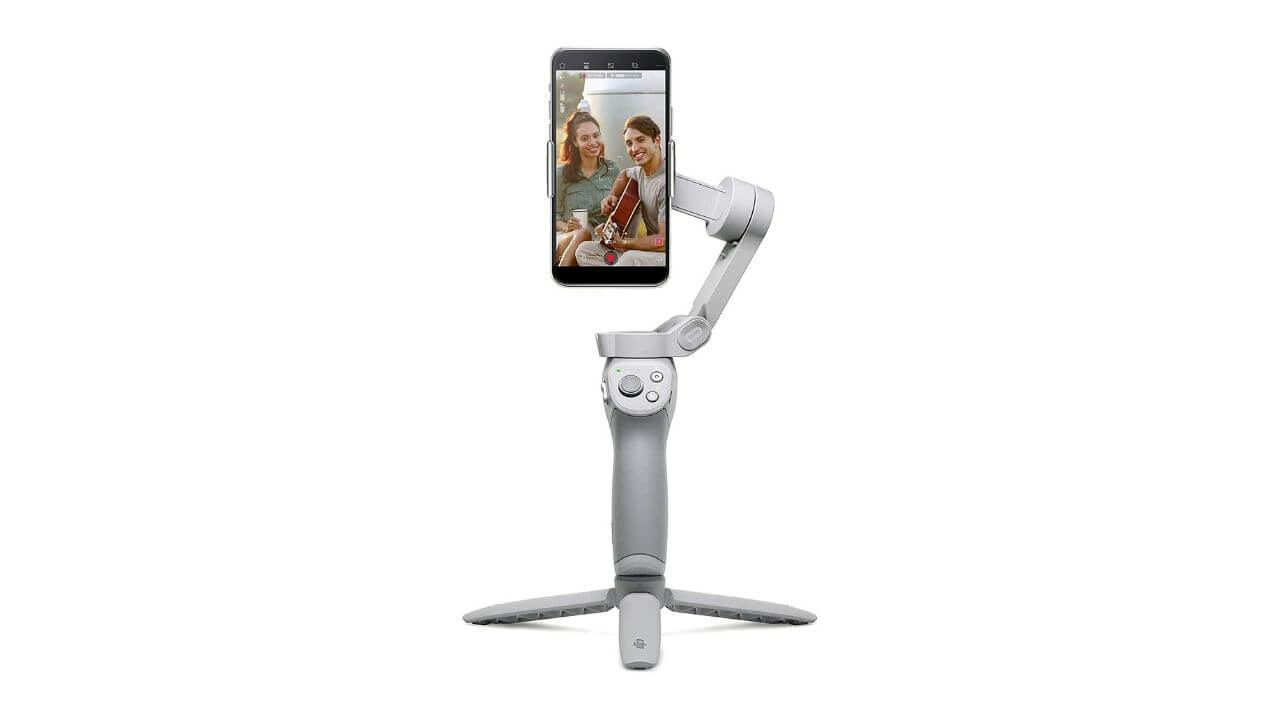 Are you into vlogging or photography? If yes, please make sure to get the DJI OM4 Smartphone Gimbal Stabilizer. This smartphone gimbal instantly attaches the smartphone to ensure that you get the best filming experience without any unwanted shaking or jerks , especially when you are recording on a motorbike. It comes with a 3-motor axis to keep the smartphone steady to keep the videos smooth and flawless. Also, you'll find an M button that enables you to switch between landscape and portrait mode. Besides, this smartphone gimbal stabilizer allows you to shoot videos and take photos with the help of different gestures. All in all, it's a great option for someone who is starting their vlogging or filmmaking journey. 
If you are looking for an alternative to this smartphone gimbal stabilizer, please check the Zhiyun Smooth 4. It comes with similar features to the one we mentioned above, but at a more attractive price tag. 
2. UBeesize Portable Smartphone Tripod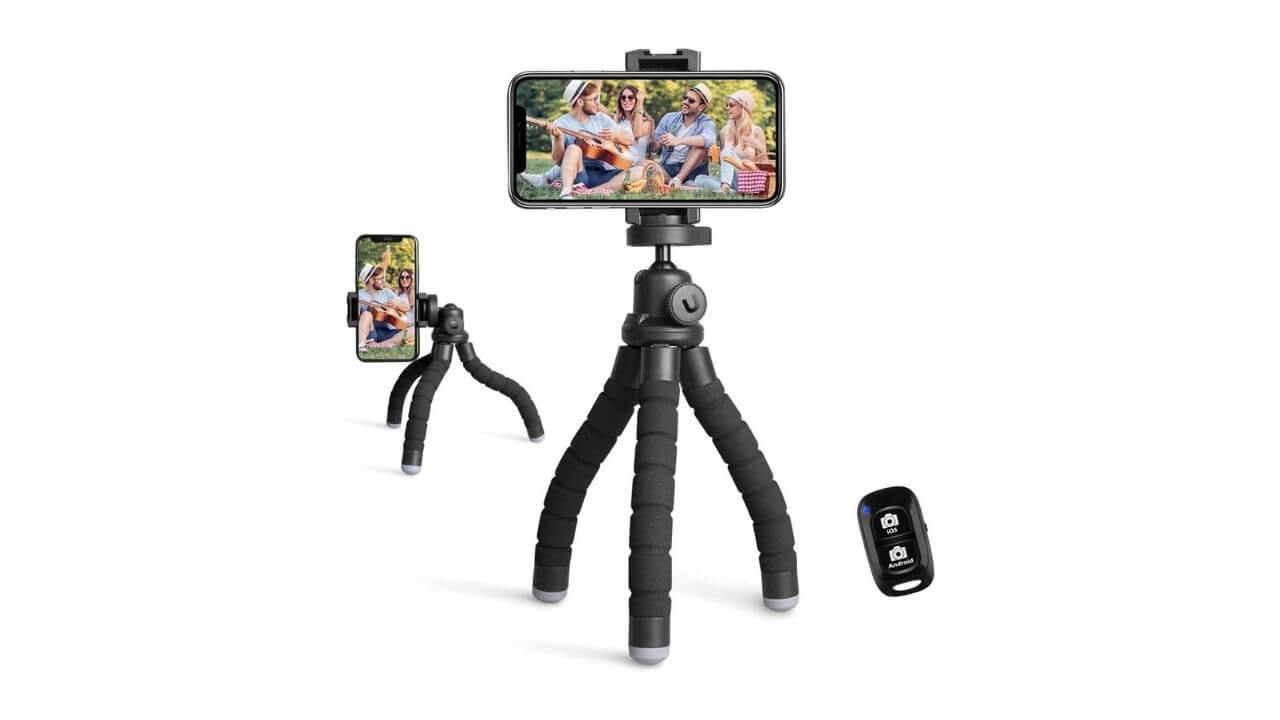 Here we have a budget-friendly yet more reliable smartphone tripod for your Pixel 6 5G. This smartphone tripod is shipped with compact flexible legs which can be wrapped around any poles or trees to get any kind of cinematic shots. This feature is useful for individuals who invest their time out in the wilds shooting cinematic shots. As compared to other tripods, this one from UBeesize comes in a lightweight and compact design to ensure maximum portability when you're traveling. The premium build and reinforced rubber coating make it even sturdier, whereas the non-skid rubber feet ensure that the tripod stands tall on an uneven surface as well. This tripod is shipped with a wireless remote control which can be used to control the camera app via Bluetooth from a distance of 30 feet as well. Given the features and price, it is one of the best photography accessories for Pixel 6 to buy right now. 
If you are looking to match this smartphone tripod with a ring light, we want you to get the QIAYA Selfie Ring light. It is one of the most rated smartphone ring lights available at this point on Amazon. The best part of having this ring light is that it's portable and can be attached at the top of your Pixel 6 5G to click amazing selfies. 
Also read: How to fix Google Photos not working on Android
3. Neewer Smartphone Video Rig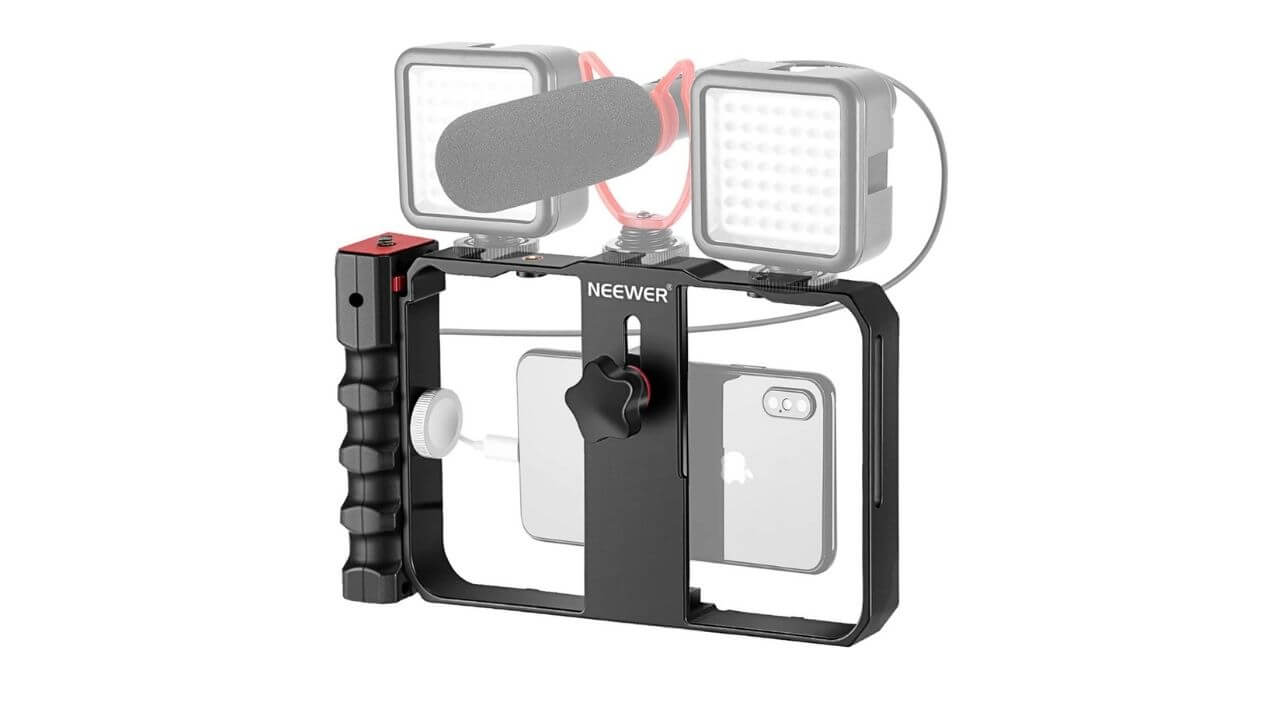 For all the professional smartphone filmmakers, here's the Neewer smartphone video rig. Talking about the design, this durable video gear comes in a lightweight design that allows you to hold it without any difficulty during shoots. Besides, the design allows you to hold it single or double-handed to get the perfect shot without any feeling of bulk. Neewer ships this video rig with different slots to attach LED lights, microphones, and mobile phones simultaneously to get the best shot possible. Overall, it is a suitable videography accessory for Pixel 6 that you can buy without investing much. 
Best Gaming Accessories for Pixel 6 in 2022
1. Google Stadia Controller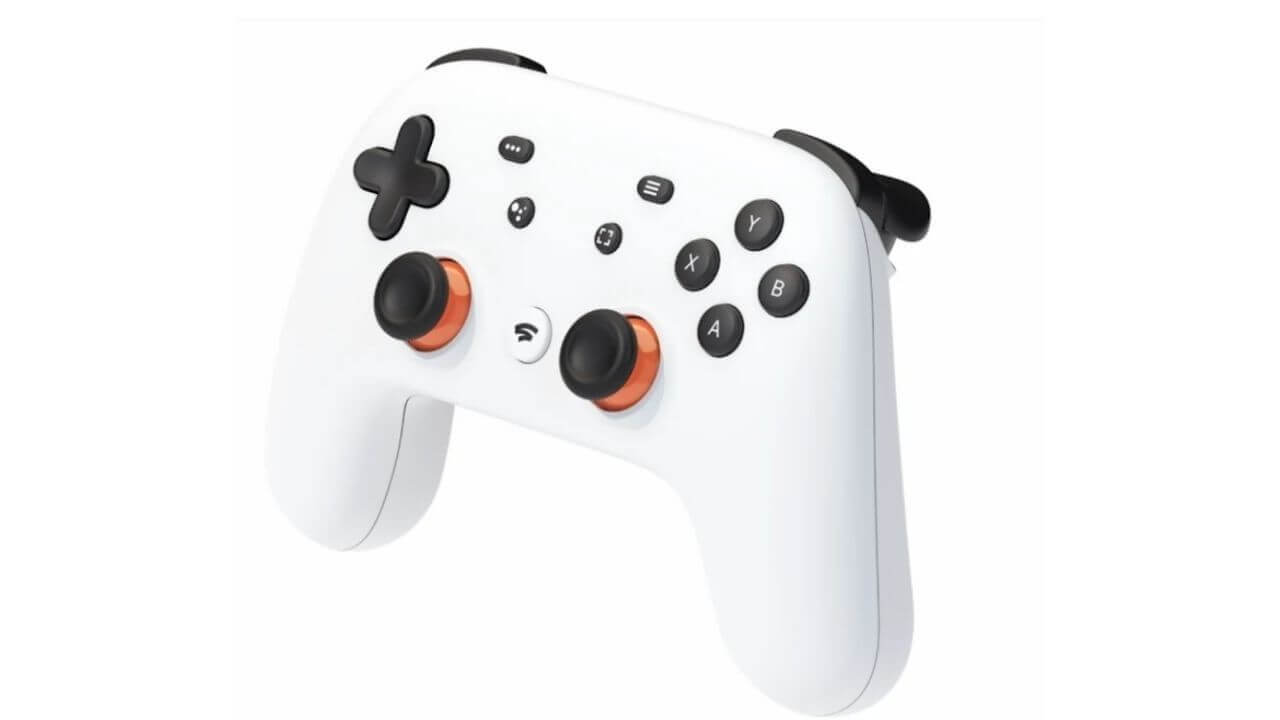 Are you looking to buy the official Bluetooth gaming controller for the Pixel 6? Bring home the Google Stadia Controller without any hesitation. This wireless gaming controller gives you the lag and latency-free gaming experience which is a treat for all the smartphone gamers out there. The official Bluetooth gaming controller from Google allows you to easily switch between various devices such as
TVs, laptops, tablets, desktops, and of course your beloved Pixel 6 smartphone. All thanks to the dedicated keys offered for screenshots and screen recording, you're never going to miss capturing the best gameplay moments. Besides, you get a headphone jack, USB-C port, and access to the dedicated Google Assistant button to command certain in-game options through your voice as well. Moreover, you can use a Wi-Fi network to control the Google Stadia Bluetooth Gaming Controller. Overall, it is a good investment for someone who likes to enjoy playing popular Android games such as Call of Duty, Asphalt, PUBG, without putting much load on their pocket. 
3. Razer Kishi Mobile Game Controller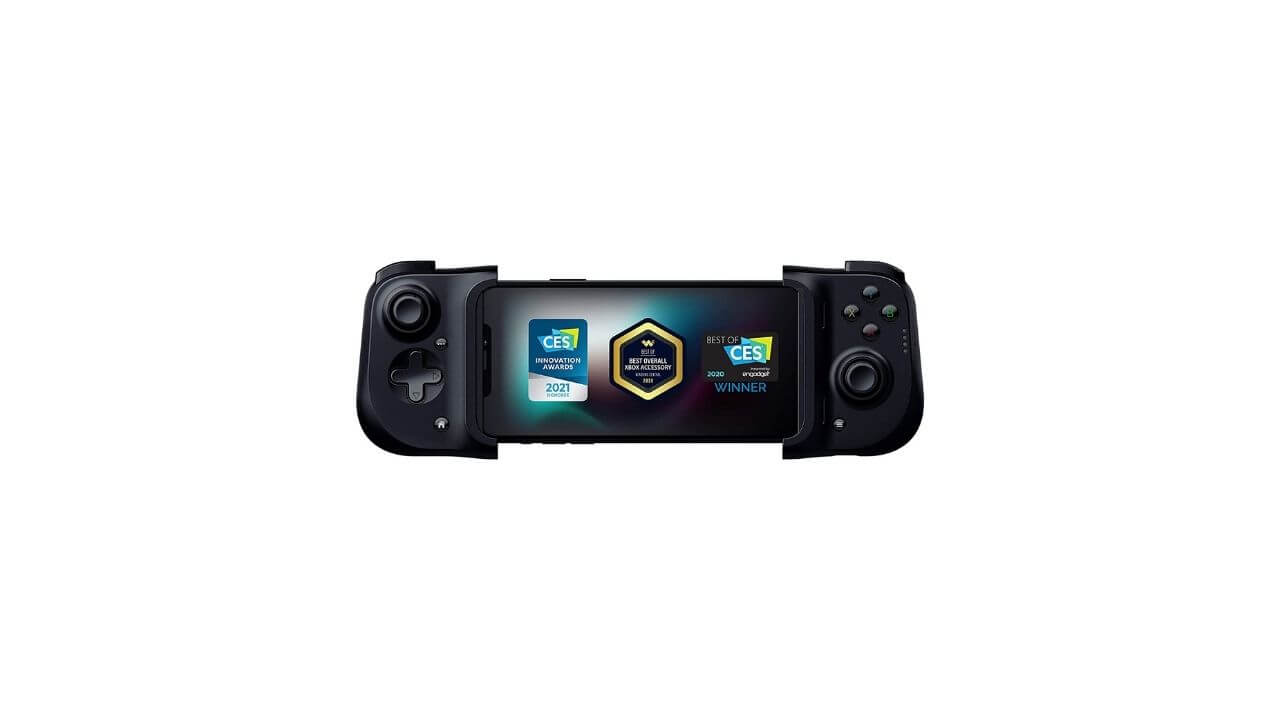 If you are looking for a lightweight and minimalist gaming controller, we want you to check the Razer Kishi, mobile game controller. This mobile gaming controller features an ergonomic and flexible design for better hand grip so that you are never behind your friends during a hardcore gaming session. The manual thumbsticks ensure solid response and allow you to play games with greater accuracy. On top of that, the Razer Kishi gaming controller allows you to play games even if it's charging. As far as compatibility is concerned, the Razer Kishi mobile gaming controller flawlessly works with Xbox Game Pass Ultimate, Steam Link, GeForce NOW, and Amazon Luna. It won't be wrong if I term the Razer Kishi mobile game controller as one of the best gaming accessories that you can get to play favorite games on Pixel 6 right now. 
Also read: Best accessories for Pixel 5a
3. SteelSeries Stratus Duo Wireless Gaming Controller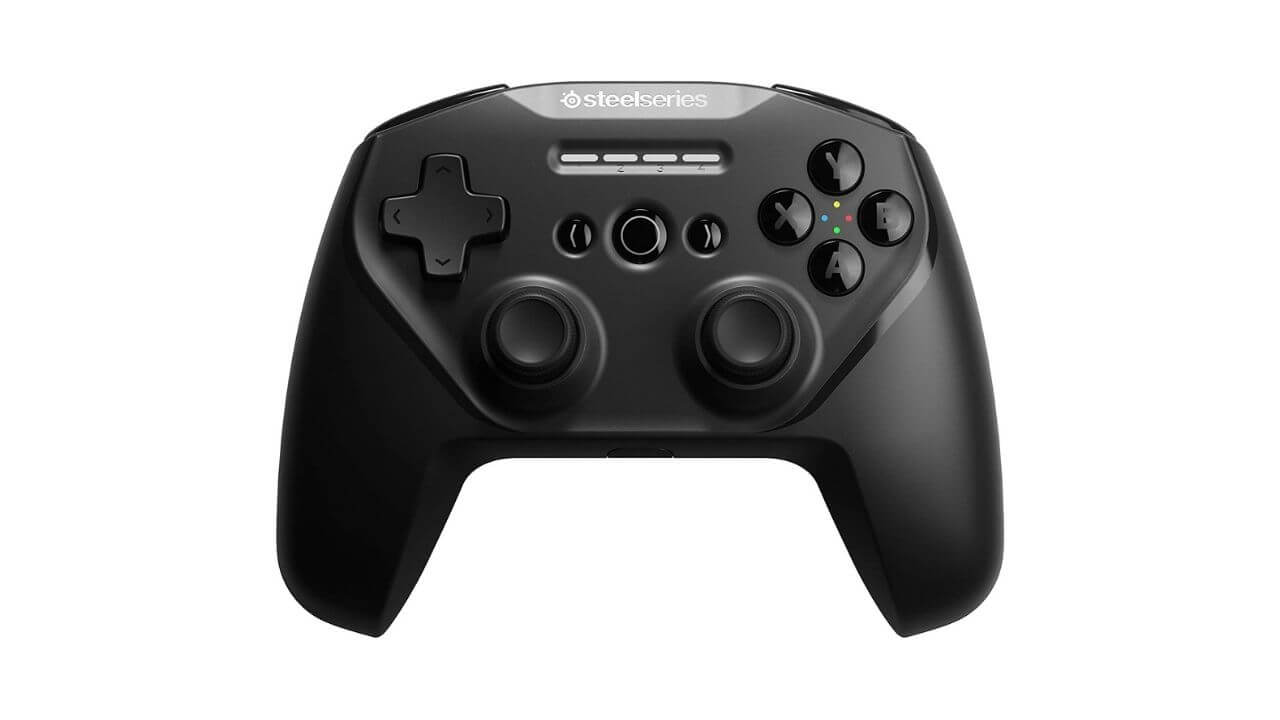 Next, we have the SteelSeries Stratus Duo which is among one of the best gaming controllers for hardcore mobile gamers out there. This full-fledged gaming controller comes with a comfortable grip to let you play your favorite multiplayer games on your Google Pixel 6, fiercely. This wireless gaming controller is powered by a rechargeable battery which can offer a gameplay time of up to 20 hours. Let's not forget that you can enjoy playing your favorite Android games while you're charging this wireless gaming controller. As far as built on this wireless gaming controller is concerned, you'll get to see shoulder buttons with subtle textures and grooves for a great in-hand feel and flawless gaming experience. The best part of buying this gaming controller is that you can easily pair different devices and start playing your favorite game. You don't require any software or drivers for the same. Yes, it's that easy. All in all, it is a great option for individuals willing to get a wireless gaming controller on a restricted budget. 
FAQs related to the best Pixel 6 accessories 
a) Which charger is suitable for Pixel 6?
If you are a fan of official charging accessories, we recommend getting the official Pixel 30W charger from Amazon or Google Store. However, you can save a few bucks and make the most out of them (thanks to multi-port chargers) if you buy third-party chargers. Just in case you get confused with several options available in the market, we suggest choosing a charger of the right power from reliable brands listed below:  
b) Do earbuds come with Pixel 6?
Sorry, you're late! At the time of writing this piece, there's no such offer with Pixel 6 that gets you a free pair of earbuds. However, at the time of launch, users were able to get Pixel Buds A-series for free with a pre-order Pixel 6 or Pixel 6 Pro from the US or Canadian Google Store. 
c) Does Google Pixel 6 have a headphone jack?
Sadly, the answer is no. However, you can use a regular earphone by using a USB-C-to-3.5mm dongle. If you don't want the additional cost, just stick with the USB-C earphone or simply enjoy listening to your favorite artist on wireless earbuds or wireless headphones.
Well, that's the end of our roundup on the best accessories for Pixel 6 that you should buy right now in 2022. In case you're planning to buy or have already bought the Pro version, please check the roundup on the
best accessories for Pixel 6 Pro 5G.