Samsung refreshed its foldable smartphone lineup with the launch of Galaxy Z Fold 4 at its Unpacked August 2022 event. Boasting a sleeker design that's loaded with some impressive additions, Fold 4 is the most premium foldable flagship that you can buy at the time of writing this. The 2022 Samsung foldable truly feels premium in every sense. Right from a lightweight design, two stunning AMOLED screens, S-pen, Wi-Fi 6E support, and a long-requested powerful rear camera, everything feels lush and futuristic. 
Although the Galaxy Z Fold 4 brings a lot of improvements over the previous Fold 3 5G, it isn't a perfect device. At least, the early hands-on experiences and user reviews indicate that. Soon after its launch, many users across the globe reported Fold 4 problems on social media and various forums like Reddit, Twitter, and Samsung Community. We can completely understand how disappointing it is to face problems on an ultra-premium phone. Therefore, we're here to help you.
After spending dozens of hours on research and testing devices, we've come up with our guide on the common Galaxy Z Fold 4 problems and their solutions.
Please note that all the problems listed in this article have been shared by Fold 4 users in different communities and discussion forums. We've studied the commonly faced and widespread problems, and have listed some tried and tested solutions. Right from the Fold 4 crease damage to battery drain problems, we've covered different Fold 4 issues that you might across in your day-to-day use. 
We will update this guide as we come across new problems. So make sure to check back again. 
Disclaimer: Proceed at your own risk, TechieTechTech will not be responsible if anything goes wrong with your device. 
List of Common Galaxy Z Fold 4 Problems & Their Solutions
1. Galaxy Z Fold 4 Crease damage or Cracked Display Problems
The cracked display or crease damage is one of the scariest Fold 4 problems. While Samsung claims that Galaxy Z Fold 4 can outlast 200,000 folds, this might not be the case for everyone. A user has posted an image on Reddit showing the cracked display of this brand-new Fold 4 that lasted him just five hours.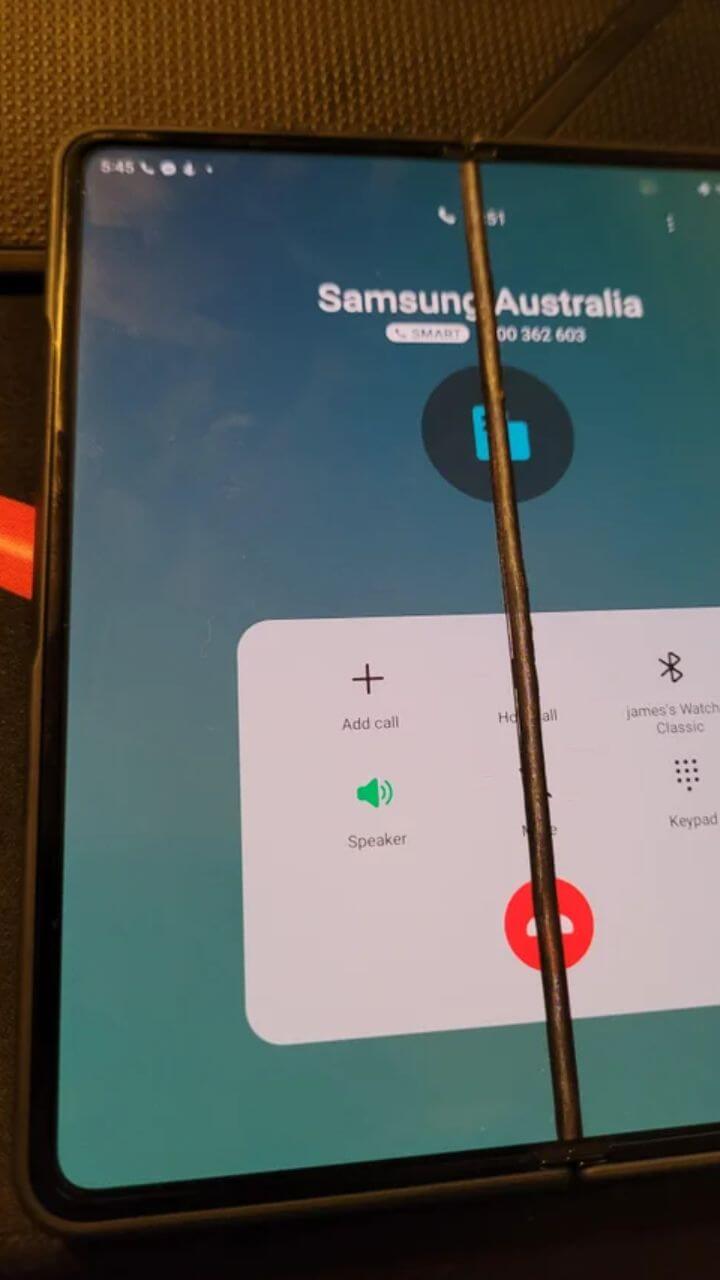 According to the user, he opened the foldable a single time, heard a snap, and saw a crack right in the middle of the hinge. However, this didn't render the device useless and he was able to call Samsung support.
Luckily, the problem was identified as an issue due to defective UTG (ultra-thin glass). Although it isn't ideal, you can relax a little as this is not a newly-faced issue with foldables. As per the reports of Galaxy Fold 2 and Fold 3, the cracked display or crease damage problems occur only in a fraction of units. That said, as there are no labels and filters, this can happen to anyone. So, you must know what to do in such conditions. 
Suggestions:
Fortunately, both Fold 4 and Flip 4 come with a one-year limited warranty that also covers hardware issues in the U.S. Therefore if you face a similar UTG issue or notice any damage in the crease, you'll probably get a free replacement. We always urge our readers to go through specific warranty information to know what is and isn't covered in their regions.
If hardware damage isn't covered under your device warranty, it's a nice idea to secure your investment with Samsung Care Plus (Samsung's official issuance) or a third-party one later on when the official warranty ends. Sure it's going to cost you some extra cash, but you'll have peace of mind that your $1500+ purchase is secured. 
2. Taskbar disappearing or crashing with third-party launchers
One of the most reported Galaxy Z Fold 4 problems is the taskbar disappearing or crashing with third-party launchers. Some users say that the taskbar on Fold 4 doesn't work properly with Nova, Niagara, and other launchers. In addition, the taskbar crashes as soon as they open an alternate launcher. It's worth mentioning that the issue isn't specific to any
third-party launcher. In fact, the taskbar on Z Fold 4 doesn't work with any launcher besides the Samsung one. Sadly, Samsung didn't address this Galaxy Fold 4 issue yet.
We've also seen users complaining that the taskbar disappears when they try to open two apps in the multi-task view, and there's no way to get it back. These Galaxy Z Fold 4 problems are so annoying that some users were forced to turn OFF the taskbar altogether. 
Suggestions:
Unfortunately, there's no solution or workaround to fix the Fold 4 taskbar not working with third-party launchers problem. We'll update this article as soon as we come across any potential fix or if Samsung addresses it. For time being, you can stick to Samsung One UI to avoid taskbar crashing or disappearing issues on your foldable. 
To fix the taskbar disappearing in the multi-split view problem on Fold 4, open Settings > Advanced features > Labs > Full screen in the Split screen view. Once you're there, make sure you've enabled the "Show your taskbar in split screen view" option. 
Also Read: Best Accessories for Galaxy Z fold 4
3. Can't register Fold 4 on the Samsung Members app
Many users have claimed that they can't register Galaxy Fold 4 on the Samsung Members app/website for warranty. When they try to register their phone, an error message is displayed saying the device model and the IMEI number are invalid. For reference, the purchases have been made through the official Samsung website. This is one of the most widely reported Galaxy Z Fold 4 problems that we've come across. 
Please note that you can't register a Galaxy smartphone on Samsung Member's app/website if it's unlocked, rooted, non-US, or a pre-production model. Additionally, if you've purchased the Fold 4 from a retailer that's not intended for the United States, you just can't register your device to your Samsung account. 
Possible Solutions:
At the time of writing this article, there are two ways to fix this Fold 4 issue. First, if you're using the Samsung Members app, make sure it's updated to the latest version. Also, it's worth mentioning that the official release date of Fold 4 is August 26, 2022, and sometimes, the registration process takes up to a few days to get live. Therefore, you must wait for a few days and try again. If this doesn't work, the only other way to fix this problem is to contact Samsung Customer Support for assistance. We faced a similar issue with one of the Galaxy devices and it was some server error. Samsung's customer service team assured us that the error will be fixed and it was fixed within a week. So, we recommend trusting their team with such common problems. Although, we highly recommend documenting all conversations.
4. App Optimization problems 
The Samsung Community forums have reported various app-related problems on Samsung Z Fold 4. 
Some users say that certain apps don't rotate correctly, no matter if they change settings. In addition, people have complained that some apps, including Facebook, don't show up properly on the main screen. They work fine on the external display, but as soon as they move to the main screen, the app looks weird. This is a widespread issue and
some games like Ara Fell, Clash of Clans, Brawl Stars don't scale up properly. They appear to be zoomed in too much. That's not all. Some Fold 4 owners have also said that Microsoft Edge causes the top toolbar to show up twice. Additionally, when they use WhatsApp in Landscape mode, the text entry box takes up the whole screen. These Fold 4 problems clearly state that users are having trouble using apps on the main display.
If you're also annoyed by such problems, we've got good news for you. These are temporary issues. Yes, you've heard it right! You're facing them because some apps aren't yet optimized for the 4:3 aspect ratio of the main display or Android 12L platform.
Possible solutions:
If you're facing any of the above issues on your Galaxy Fold 4, don't stress out as there's nothing wrong with your phone. Since some of the apps aren't optimized for Android 12L or 4:3 Aspect Ratio, they might behave weirdly. That said, these are temporary issues. Samsung and the app developers will surely fix these Fold 4 problems in subsequent updates. 
Also Read: How to fix Black Screen Problems on Galaxy smartphones
5. Galaxy Z Fold 4 keeps restarting itself  
This sounds a bit weird, but many users have reported their Galaxy Fold 4 reboots at random without any warning. That's not all. Every time the phone restarts, it will display that the fingerprints are corrupted and will ask the user to add them again. This is quite frustrating and can ruin the overall experience with the beefiest foldable phone. It's worth mentioning that just like the
Galaxy Z Fold 3, this issue is also reported in some units only. That said, you should always be prepared as you might face this problem on your Fold 4 too. 
Possible Solutions:
These Galaxy Z Fold 4 problems can also occur due to faulty third-party apps. Now, this can be due to some in-app glitches, poor coding, or incompatibility issues. To verify this, you can restart your device in Safe Mode (refer to the How-to section at the end). We're saying this because when you put your phone in safe mode, it will only run the first-party apps, blocking all the third-party apps that you've downloaded on your phone. If your foldable works well in the safe mode, it's evident that some third-party app is to be blamed for those problems. Next, you can also wipe off the cache partitions to fix Fold 4 keeps restarting itself problems. 
Also Read: How to fix Common Galaxy Fold 3 Problems
6. Wi-Fi keeps disconnecting on Fold 4
Some users have also reported that the Wi-Fi keeps dropping randomly on their Z Fold 4 5G. It's pretty normal to occasionally face
Wi-Fi problems on Galaxy smartphones or in fact, any other smartphone or tablet. That said, if Wi-Fi drops too much or doesn't connect to your device, it's definitely a problem and requires a fix. Corrupted Wi-Fi settings, weak signal strength, or corrupted network settings can be the reason why Wi-Fi drops at random on your Fold 4. Fortunately, these problems aren't very complex and can be easily fixed on your end. So, there's nothing to stress a lot about this Fold 4 problem. You can also follow the listed troubleshooting methods to fix the Z Fold 4 T-Mobile connection issues.
Possible Solutions:
Here are the tried and tested methods to fix the Wi-Fi keeps dropping issue on Galaxy Z Fold 4:
Make sure that your Fold 4 is within a good range of the wireless access point or internet router. Generally, Wi-Fi networks that we've at our homes work well if your device is within a distance of 30ft from the router. In case, your phone shows a weak signal, try moving the device closer to the Wi-Fi source. 

Toggle Wi-Fi on your device. This will help you fix connectivity problems. 

Restart your phone to fix minor glitches and bugs that might be responsible for Wi-Fi problems.

Forget and Reconnect to the Wi-Fi network.

Restart your Wi-Fi router. 

Lastly, you can reset the network settings on your device. Before you do that, it's worth knowing that your saved networks and Bluetooth connections will be lost. So, make sure to note down your Wi-Fi passwords somewhere. For this, head to

Settings > General Management > Reset > Reset Network Settings
Also Read: 15 Ways to fix Wi-Fi not turning ON on Galaxy devices
7. Camera Failed Error on Fold 4
The "Camera Failed" error has been troubling many Galaxy smartphone users, but facing it on a luxurious phone like Fold 4 can be frustrating and worrisome. Some Galaxy Fold 4 users have mentioned that their phone displays a "Camera Failed" message when they try to take a picture. Additionally, sometimes the camera app freezes or the preview isn't working. Although it can be troublesome, the good news is that these Galaxy Z Fold 4 problems can be fixed easily. That's because in most cases, these camera app problems are due to software issues, and there's nothing wrong with the camera of your foldable. 
Possible Solutions:
If the camera app freezes or works very slowly, you must perform a force restart. For this, press the

Power and Volume Down buttons simultaneously

for a few seconds. 

To fix the "Camera Failed" error on Fold 4, you must reset the camera app. To do this,

open the Camera app

, and tap

Settings > Reset settings > Reset.

You can also try clearing the Camera app's cache to fix this Fold 4 problem. Open

Settings > Apps> Camera > Storage > Clear Cache.

Switch to the safe mode to check if any third-party app is interfering with the normal functioning of your foldable.

Make sure your foldable is running the latest version of Android.

If nothing helps and you still face camera problems on Galaxy Z Fold 4, perform a factory data reset ( for steps, go to the How-to section at the end of this article). 
Also Read: How to fix Common Galaxy S22 Problems 
8. Some apps keep crashing on Fold 4
One of the most common Galaxy Z Fold 4 problems that you might face is sudden app crashes. It's really irritating to find your favorite app crashing all the time on your foldable phone and you get directed back to the home screen. Well, this Fold 4 issue can be due to several reasons, including outdated apps, low storage on your device, and poor/unstable internet connection. Whatever the reason, you can fix this Fold 4 problem at your end with some simple and quick methods. Let's have a look at them.
Possible Solutions:
Make sure you've got an active and stable internet connection. 

Update your system's software. For this, open

Settings > Software Update > Download and Install

and follow on-screen instructions. 

Always keep your downloaded apps up to date. To check for available app updates, go to

Play Store,

tap your profile picture, and then select Manage Apps & device. 

If you've opened too many resource-intensive apps at once, close the apps that you're not using currently. 

Make sure you've got enough storage space on your phone. If you've imported a lot of data from your older phone and have downloaded several games & apps, you might run out of space. In such a case, move/delete some data and remove rarely used apps to free up some storage space. 
Also Read: The Best 14 Ways to fix Play Store not updating apps
9. Fingerprint sensor not working on Fold 4
We've also come across complaints about the fingerprint sensor not working properly on Galaxy Fold 4. Some users have recently expressed their concerns on the Samsung Galaxy Fold subreddits. They've said that while the fingerprint sensor on Fold 4 is quick and works well, sometimes it just fails to recognize the fingerprints. The issue persists even after re-adding the fingerprints. Well, this may sound troublesome, but there are some tried & tested methods to fix these Galaxy Fold 4 problems. Let's have a look.  
Possible Solutions:
If your finger or the sensor is dirty, it can mess up the reading process. So, always make sure your finger and the fingerprint sensor are clean and dry.

Restart your smartphone.

Delete and re-add your fingerprints.

Open Settings > Biometrics and security > Fingerprints > Enter your PIN, password, or pattern > Select your fingerprint > Remove

and confirm your decision. Then tap

Add a new fingerprint

, enter the new PIN, password, or pattern, follow on-screen prompts, and select Done.

Wipe off the system cache partition to fix fingerprint sensor problems on Fold 4. For this head to the How-to section at the end of this article. 

Always keep your phone updated with the latest version of Android.

Factory Reset your phone. 
10. Lag issues on Fold 4
Some Galaxy Fold 4 owners are also facing lag problems while navigating the phone's user interface. Additionally, some apps load quite slowly when they are opened for the first time. That's not all. Sometimes, the smartphone is constantly freezing. This is certainly disappointing and can lead to a bad user experience. Before you think of taking your phone to the Samsung service center, there are a few quick fixes that can help your solve these Fold 4 problems at your end.
Possible Solutions:
If you notice laggy UI problems on Fold 4 reboot your Galaxy foldable.

If you've enabled battery saver mode, disable it, and then check if you're facing the same issues. Don't forget to

plug in a charger to keep your phone going. 

Don't play heavy games or use a lot of apps while you've connected a charger. It could lead to overheating and eventually throttle the smartphone. 

Reduce the animation speeds to make your foldable snappier. For this, you'll first have to enable Developer options. Open

Settings > About phone > Software information

and t

ap the Build number multiple times

until you see the message, "You are now a developer." Then, head to

Settings > System > Developer options

, and look for and reduce the Window animation scale, Transition animation scale, and Animation duration scale to 0.5x for a faster experience.

If you're facing lag issues on Fold 4 while using a particular app,

try wiping off the app cache and storage. 

You can also speed up your phone by

wiping off the cache partition

. 

The best way to fix a Fold 4 that keeps crashing or freezing is to perform a

Force Restart. 
Also Read: Top 7 Ways to Hide Photos on Android Phones 7 Tablets
11. Galaxy Fold 4 Bluetooth not working problems 
While we're addressing the common issues with Fold 4, we just can't miss the Bluetooth not working and not connecting problems. While some users have complained that they can't connect their
favorite music accessories, others have reported that the Bluetooth connection drops frequently on their flagship Galaxy foldable. Additionally, you might have to spend a lot more time connecting your Fold 4 to your car via Bluetooth. Unarguably, these Galaxy Fold 4 problems are genuine and require a fix, but your foldable might not be the real culprit all the time. Sometimes, there can be some issues with the other device that you're trying to connect to. Well, whatever the reason is, here are some real fixes for Galaxy Z Fold 4 Bluetooth problems. 
Possible Solutions:
Check the other device that you want to connect to is turned

ON

and

Bluetooth is enabled

on both devices.

Toggle Bluetooth on your Galaxy smartphone. 

Make sure both devices are in

close proximity and in pairing mode

.

Try restarting both devices. This will wipe off any minor software-related issues. 

If you still face Bluetooth problems on your Z Fold 4, we recommend resetting all the Network Settings on your device. Again, doing this will reset all the settings related to Bluetooth connections and Wi-Fi networks back to their defaults. To do this, go to

Settings > General Management > Reset > Reset Network

.
12. Galaxy Z Fold 4 not charging 
There are some common issues that we might face with any smartphone at any time, and charging problems are one of them. It's obviously strange but the latest Galaxy Z Fold 4 is reported for charging problems as well. We've seen charging-related issues on Galaxy S21, S20 Series, as well as initially on the Fold 3 when it was launched. If you face charging problems on Z Fold 4, it can be due to hardware and software issues. Sometimes, a faulty adapter/cable, damaged power outlet, or dirty charging port can cause Samsung Fold 4 not to charge at all. We've mentioned some quick and easy ways to rule out charging problems on your Galaxy Fold 4. 
Possible Solutions:
If you're unable to charge your Fold with a wired or wireless charger,

try restarting

it in the first place. 

Next, make sure the charging port of your phone is clean. If there's any dirt, debris, or lint, clean the port with a soft toothbrush. 

We always recommend pairing

official or verified charging accessories

from trusted brands. Never use incompatible or cheap chargers and cables as they can damage the battery over time. Additionally, if the adapter or cable is damaged, your phone won't charge at all. So, before trying anything else, please make sure your charging accessories are in a good condition. To cross-check, try charging another device. If it can't charge that device too, the charger seems to be at the fault.

Make sure to

plug in the charger firmly to your phone and the power source

. 

Sometimes, it can be the case that the power outlet you're using is damaged or inefficient to deliver the ample power needed to charge your phone. To avoid any issues, switch to a different power source. If you're able to charge your phone with that power outlet, make sure to call an electrician. Never, I repeat never, mess around with live wires in the power outlet as this might cause a short circuit that could result in fire or could give you an electric shock.

Sometimes, third-party apps can also be responsible for Fold 4 not charging issues. To fix this, you can

try charging your phone in Safe mode. 

If your Galaxy Z Fold 4 is overheating, it may stop charging. So, if your phone feels hot, unplug it from the charger and place it in a cool environment. After some time, your phone should work fine.
For detailed solutions, head to our troubleshooting guide on How to fix charging problems on Galaxy S21. The mentioned steps will work for all Galaxy smartphones, including the latest Fold 4. 
13. Fold 4 Battery Drain problems
It's pretty normal for an old smartphone to throw battery drain problems, but facing it on a just-bought premium flagship is a bothersome experience. Unfortunately, ever since Galaxy Fold 4 is launched, users have been sharing their battery drain experiences. A few users have also complained about major Fold 4 battery drain problems while using Google Messages. Fortunately, there are some effective ways to fix battery-related issues and enjoy a great battery life on your Galaxy Z Fold 4. 
Possible Solutions:
If you face abnormal battery drain problems on Fold 4 and you're using Google Messages, switch to Samsung Messages for some time. Google will surely fix this issue soon, and you can then go back to Google Messages.

Ensure that you're only using

official or verified charging accessories for your Fold 4

. Incompatible or cheap third-party adapters and cables can cause battery-related problems on any device.

Restart your phone.

If restarting didn't help, you must check for apps that consume a lot of battery. These usually include social media apps like Facebook,

Instagram

,

TikTok

, etc. To fix abnormal battery drain problems on Fold 4,  you must limit the usage of such apps. You can also restrict their background activity under the battery optimization settings. We always recommend removing unnecessary apps from unverified sources. 

You can also lower the screen brightness, switch to dark mode, and use power-saving modes to fix Galaxy Fold 4 bad battery problems. 

No doubt, Fold 4 is loaded with a ton of connectivity features that are loved by its users. Having said that, keeping them turned ON all the time can harm the battery life. Therefore, when you don't need services like

5G

, Location, NFC, Bluetooth, Wi-Fi, Mobile Data, and others, you must turn them OFF to save the battery. Now, that's because these features run in the background and search for signals, and it can drain the battery. 
Also Read: How to fix Battery Drain Problems on Samsung Galaxy smartphones
14. Overheating problems on Fold 4
When you play games, use resource-intensive apps, or watch videos on Mobile Data, it's pretty normal for any smartphone to get warm. That said, a phone that heats up for no reason or remains hot most of the time is definitely a major concern.
Moreover, when you face them on a high-end foldable that costs you at least $1,799, it could be your worst nightmare. Sadly, several users have reported Fold 4 overheating problems even within a few days of its use. While we believe this problem is mainly due to an erratic third-party app or cheap chargers, you must always be prepared to fight off those annoying situations. 
We at TechieTechTech would advise you to never ignore such issues as they can hamper normal functioning and ruin the overall health of your phone. 
Possible Solutions:
First things first. When you feel that your Fold 4 is overheating, immediately

turn it OFF and remove the case

(if you've installed one). Then, move it to a cool & dry area, and

let it cool down on its own

before you turn it ON and start using your phone. Although it's not a permanent fix, it's a must-try hack to immediately cool down your phone. If you can't turn off your phone, then turn off Wi-Fi and Mobile data or turn on Airplane mode. 

Additionally, avoid using your phone in extremely hot environments like direct sunlight or leaving your phone in a car on a bright sunny day. 

Next, if you've

installed a case

, make sure it has a proper thermal design to dissipate the generated heat from your phone. Poorly-designed or bulky cases can trap the generated heat and prevent your phone from cooling down.
It's worth mentioning that all the steps listed in the battery drain section can also help you fix overheating problems on Z Fold 4. You can also try other solutions listed in our troubleshooting guide to fix overheating issues on Galaxy S22 Ultra and other Galaxy flagships. 
15. Slow or Unresponsive touchscreen issues on Fold 4
A few Galaxy Z Fold 4 users say sometimes the foldable doesn't register touches accurately, and often requires multiple attempts. Slow or unresponsive touchscreen problems can be a headache. It feels so annoying to keep tapping the screen, and it just refuses to respond. Facing touchscreen-related problems on a newly-launched flagship can be maddening. Also, when you've spent thousands of dollars on a smartphone, these issues are just unacceptable. If you're also facing this, we've mentioned some troubleshooting steps to fix them.
Possible Solutions:
First and foremost, make sure the display is clean and your fingers are dry. 

Restart your phone.

Make sure the screen protector is in a good condition. If you've applied a third-party tempered glass, make sure it's installed properly and there are no bubbles.

A problematic app might be responsible for touchscreen issues on your Galaxy Fold 4. To verify, boot your phone in safe mode.

Samsung regularly comes up with software updates to fix a lot of problems, including the touchscreen ones, so make sure to install the latest version.
Also Read: Best Galaxy Z Fold 4 Cases that are worth investing
How To Wipe cache partition, Boot in Safe mode, and Factory Reset your Galaxy Z Fold 4
Wipe Cache partition 
First,

press and hold the volume up and power buttons

simultaneously.

When your

phone turns ON, release the power button but continue holding the volume up

button.

Then, using the volume down button,

navigate to the Wipe cache partition

option. To confirm,

press the side key.

Reboot the phone.
Also Read: Best Fast Chargers that you can buy for Z Fold 4
Boot in Safe Mode
If your Galaxy Fold 4 is ON 
Press and hold the Power key until you see the power off option. 

Tap and hold the Power Off icon until you see Safe mode at the bottom left corner of the screen
If your Galaxy Fold 4 is OFF
First, you need to press and hold the Power button until you see the Samsung logo.

After your phone vibrates, release the power button and immediately press and hold the Volume Down button.

Keep holding the button as your phone restarts.

When you see

Safe mode

on the screen, release the Volume Down button. 
Note: To exit Safe mode, reboot the device.
Also Read: Top 13 Reddit Apps for Android
Factory Reset
This process will delete all the data on your phone, including media, downloaded apps, contacts, email accounts, and more. So, make sure to
back up our Samsung Galaxy phone. 
If your phone is ON:
Open

Settings 

Tap the

General Management menu

Then tap

Reset > Factory Data Reset

Tap the

Reset option

again and follow the on-screen instructions. 

You may be asked to enter the Lock screen or Samsung account password.

Once the process is completed, your phone will reboot on its own.
If your phone is OFF:
Press and hold the

Volume Up+ Power buttons

together.

When your smartphone turns ON, release the Power key and

continue to hold the Volume Up button.

Navigate to the

Wipe data/Factory reset

option using volume keys. To confirm, press the Power key.

When asked to wipe all user data, select

Yes.

Then, press the Power button to select the

Reboot system now option

.
Also Read: How to fix Common Problems on Galaxy Z Flip 4
That's all for now! We hope this troubleshooting guide helped you fix common problems on Galaxy Z Fold 4 5G.
Are you facing any other issues on Fold 4? Do let us know in the comments section and we'll surely come up with the best ways to fix them.