Best Free Brain Training Apps
Do you know training your brain is equally important as training your body? It's hard to digest the fact that in this fast-paced life, people are under tremendous pressure to perform, perform better, and perform the best in every field. Sadly, continuous stress and pressure adversely affects your overall well-being and personality. Therefore, you need a mental workout to wipe off the monotony and improve mental functioning. But, it doesn't mean that you need to rush to a therapist or a counselor. There are several free brain training apps that can help to improve your thinking skills, memory, focus, logic skills, and ultimately assist to keep your mind fit.
Gone are the days when it was believed that using your smartphone for a long time would numb your mind. Nowadays, your smartphone is a perfect companion for every activity that you do. Remember, we talked about how your smartphone can serve you as a perfect fitness companion, and came up with our roundup for the best free fitness apps? Fortunately, the App Store and Google Play Store are brimming with some amazing and best free brain training apps too. These brain training apps are designed to target specific brain segments and control negative emotions. In fact, studies have shown that playing brain games can help to increase concentration, mental agility and prevent brain aging.
Here's our roundup for the best free brain training apps in 2020, that will help you improve your mental fitness.
Lumosity
Compatible with: iOS and Android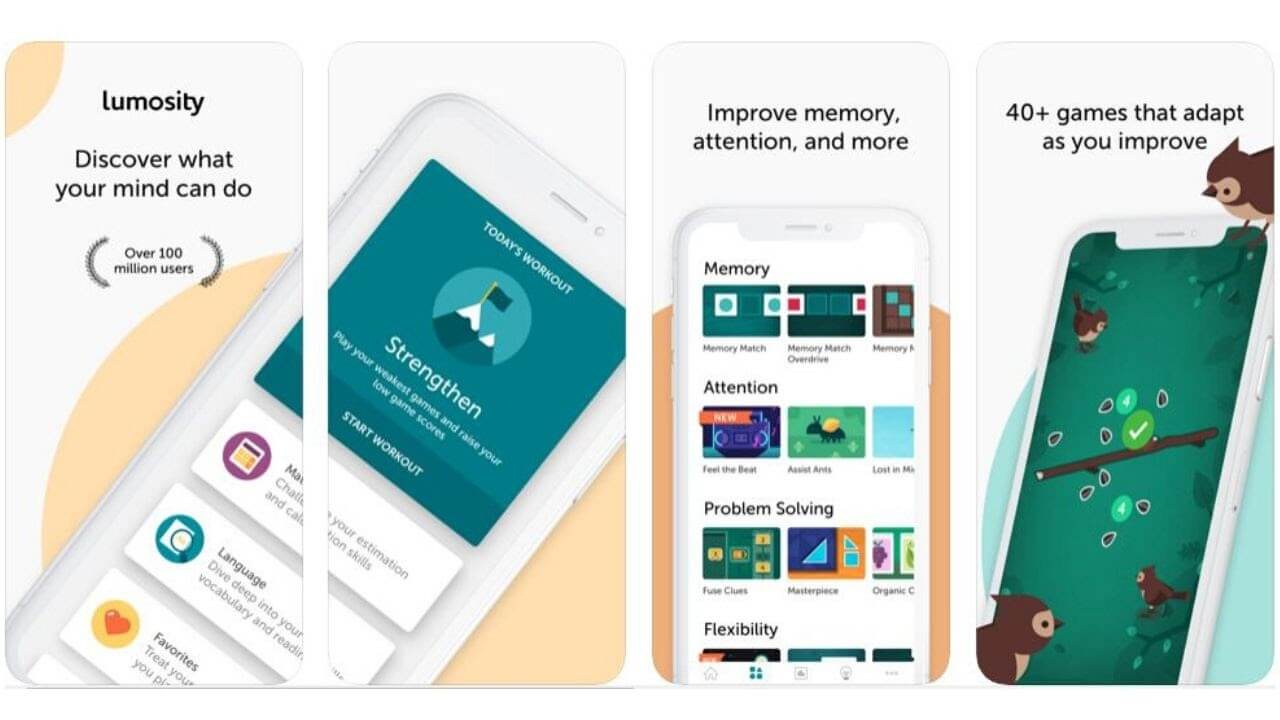 Lumosity is the world's most popular brain training app used by over 100 million users. The app offers you a cognitive training program in a fun and interactive way to train your mind. It has over 40 quick and easy-to-pick-up mind games designed by a team of experienced designers and scientists. 
When you download Lumosity, you'll be asked to begin with a 10-minute Fit Test that assesses your cognitive skills and determines your baseline score by comparing your results with others in the same age group.

The app then curates a personalized daily workout plan, including memory games, logic games, critical thinking games, and puzzles.

As Lumosity trains you, it presents a detailed analysis of your progress.
You can upgrade to the premium plan at $11.95 per month or $59.95 per year. Also, users can also use the Lumosity in their web browsers.
Elevate
Compatibility: iOS and Android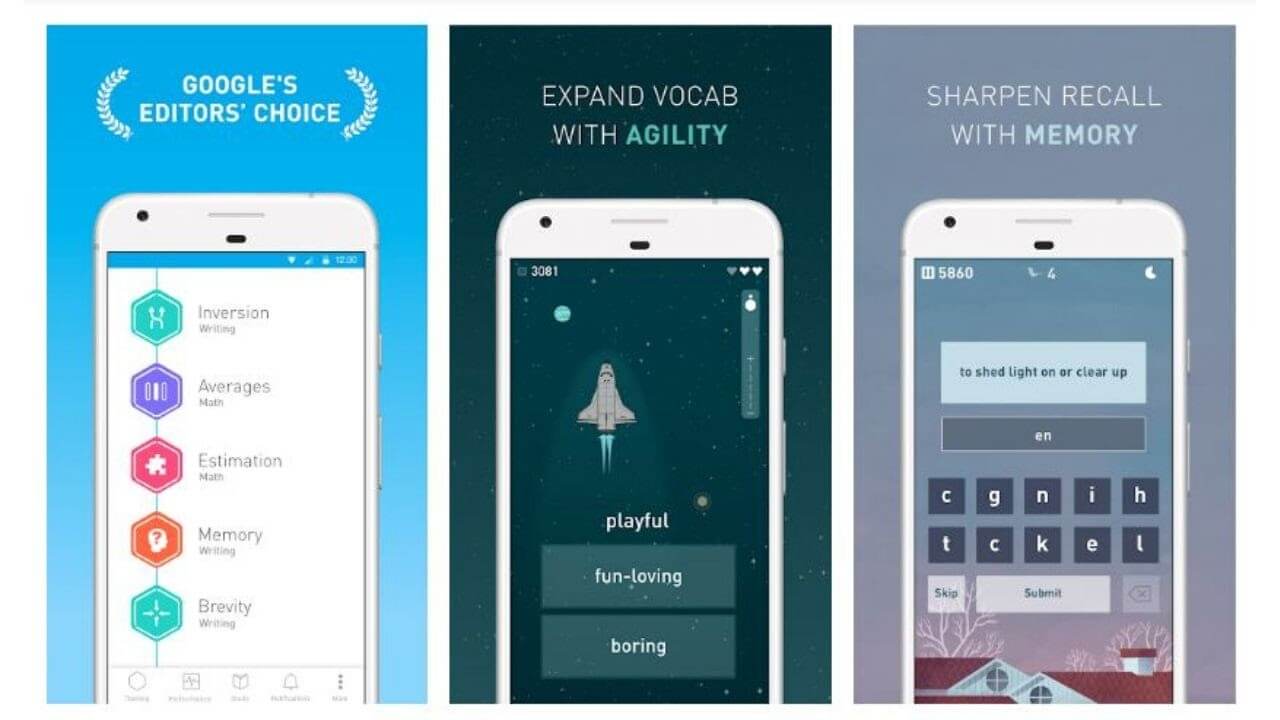 Looking for the best brain training app to improve your communication skills? You must check out the Elevate app. It's an award-winning brain training app that's designed to improve your speaking abilities, processing speed, observation skills, focus, memory, and math skills.  
Elevate lets you enhance your evaluation skills by giving you tests to spot grammatical errors in the content.

The app offers over 40 games that will help you increase your vocabulary, boost your grammar, focus, memory, self-confidence, and productivity. 

The app tracks your progress, assesses the development, and gives you detailed insights into your progress report. 

Elevate also boosts the competitive spirit and lets you compare your scores with your friends.
Download for iPhone/ iPad/ Apple watch  
The free version offers you daily training sessions with up to 5 games. You can upgrade to the Elevate Pro, which costs $4.99 per month or $39.99 per year.
Peak
Compatibility: iOS and Android
As the name suggests, this brain training app helps you to achieve peak performance with over 40 games developed by game and neuroscience experts. The app offers you games that are designed to challenge your overall mental abilities and push you hard with short, intense workouts built around your life. 
Peak offers you a personalized trainer called Coach that will help you pick the right workout to achieve your goals. It acts as your part advisor, part tracker, and part motivator.

You can choose from the Coach's recommendations or if you're short on time, you can go for contextual workouts like Coffee break.

The app has a statistics page that shows your Brain map, which changes over time depending upon your performance.  

Just like the Elevate, this app also lets you compare your brain map with your friends.
Download for iPhone/ iPad/ Apple Watch
The free version offers you four randomly assigned brain games that can be played once per day. You can upgrade to the Pro version at $4.99 per month or $34.99 per year and enjoy unlimited access to over 40 brain games.
4-Pics-1-Word
Compatibility: iOS and Android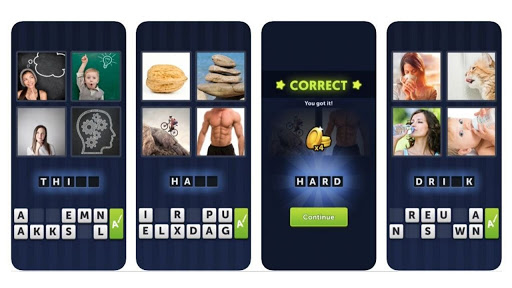 If you're looking for one of the most enjoyable brain training apps for your smartphone, you must check out 4-Pics-1-Word. 
The app shows you 4 pictures that have one word in common and you have to guess that word.

For example, you might be shown a nut, a few stones, a cyclist climbing a hill and a man with strong abs. From these pictures, you can find out that the common word is hard.

It offers you countless puzzles from easy to tricky that help you to give that required mental workout to your brain, that too in a pleasing and enjoyable manner. 

You can also use this brain training app for your kids to teach them new words.
King of Maths
Compatibility: iOS and Android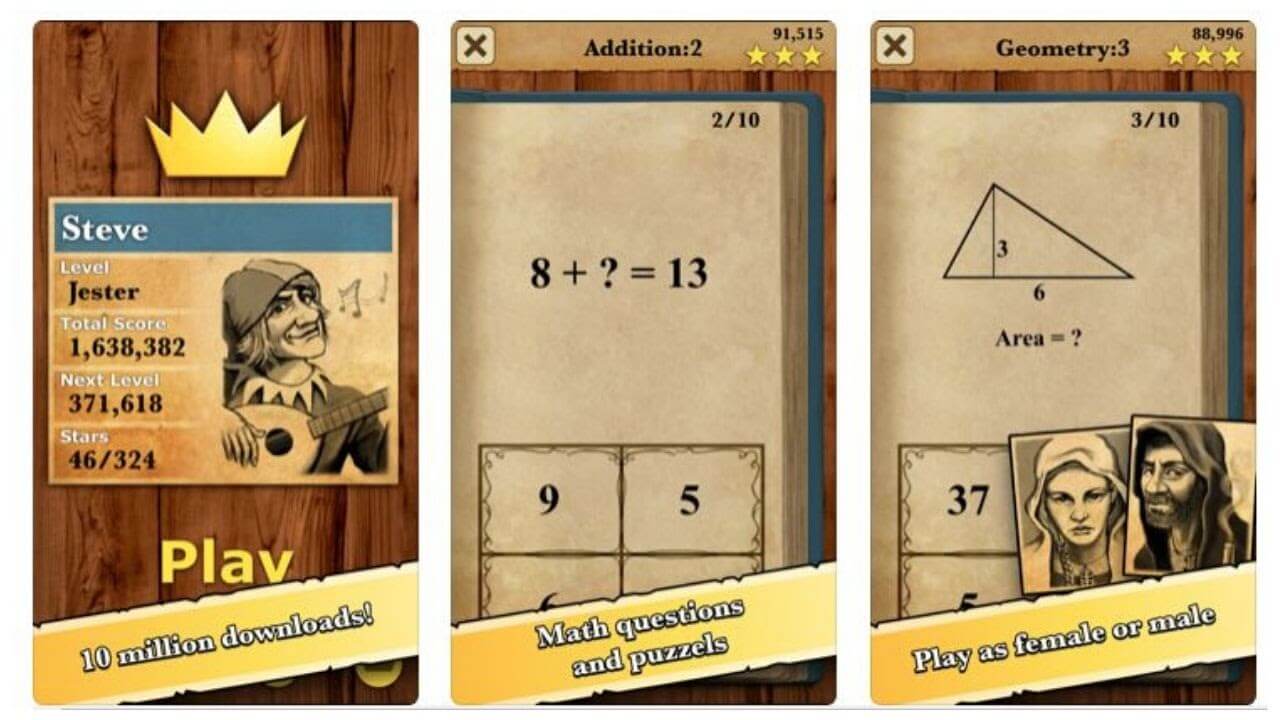 Are you looking for a brain training app that helps you to improve your problem-solving skills? Here is the King of Maths app, which helps you to improve your skills with math problems. It's a perfect brain training app for the students as it contains mathematics of Middle and Junior high school. 
You start playing as a farmer and level up across 10 levels by correctly answering the maths problems. You get a new character design as you move up. 

For iOS, the free version offers you addition, subtraction, or mixed problems in a fast-paced yet fun math game.

You can unlock access to the fun game with a one-time purchase that offers you multiplication, division, arithmetic, geometry, fractions, powers, equations, statistics, and mixed games.

For Android, there's no free version. The app offers you complete access to the games at $2.83.
Happify
Compatibility: iPhone and Android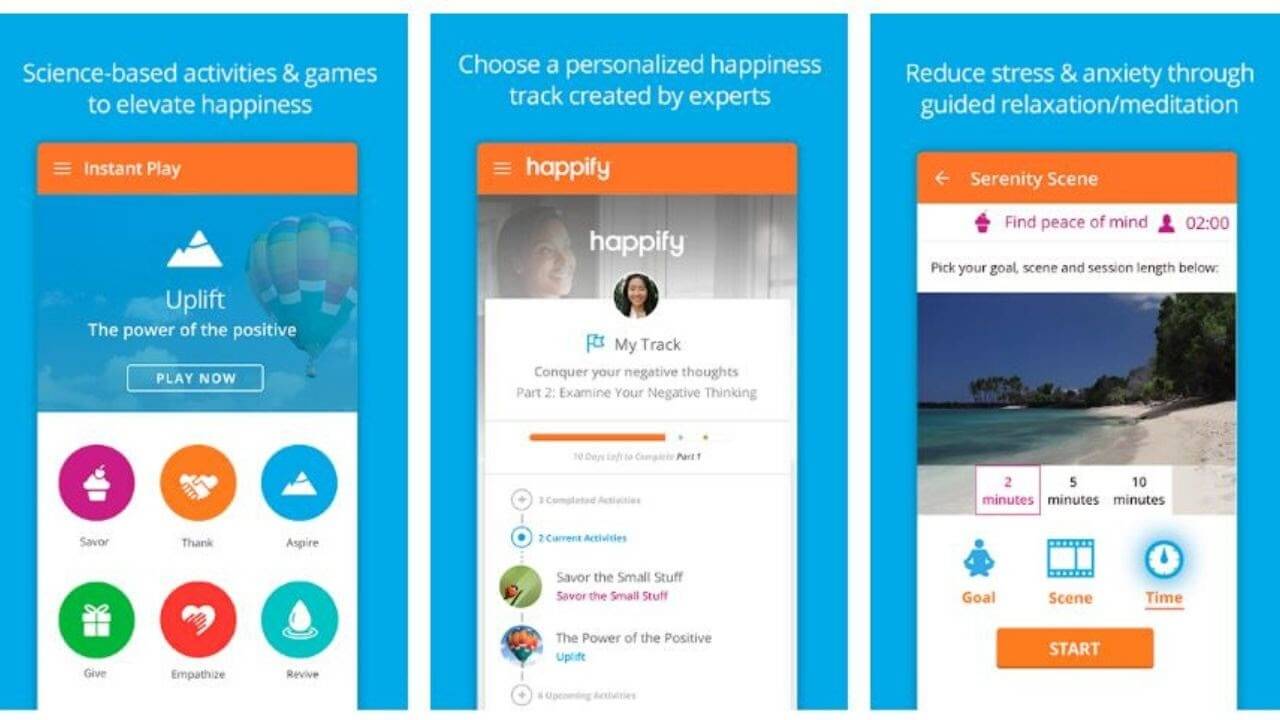 Do you feel stressed, anxious, or depressed all the time? Are you looking for a brain training app to improve your emotional well-being? Happify is sure to be your ultimate choice as it's more than just a brain-boosting app.
Happify works on the fundamentals of optimistic psychology that helps you to build your self-confidence and conquer negative thoughts.

The app offers you games, meditations, and access to over 65 tracks that work on improving different aspects of mental health.

You get a 20-page character strength report, which is offered in partnership with a renowned VIA Institute. 
This is one of the best free brain training apps for seniors as it helps them to stay happy, which is the key to overall well-being. 
TED
Compatibility: iOS and Android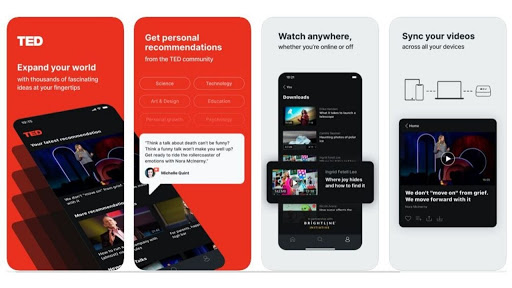 TED Talks contains a knowledge-oriented library of videos from internationally renowned speakers that feeds your brain with the changing perceptions and new theories. 
The App offers you over three thousand inspiring and transformational talks from innovators, leaders, and thinkers. 

You can explore the videos according to your mood or interest and stream it online on your smartphone, tablet, or even cast it to your TV.

You can watch the videos with subtitles in over 100 languages.

The app lets you create custom playlists and download videos to watch them offline.
Download TED for iPhone/ iPad/ Apple TV
BrainHQ
Compatibility: iOS and Android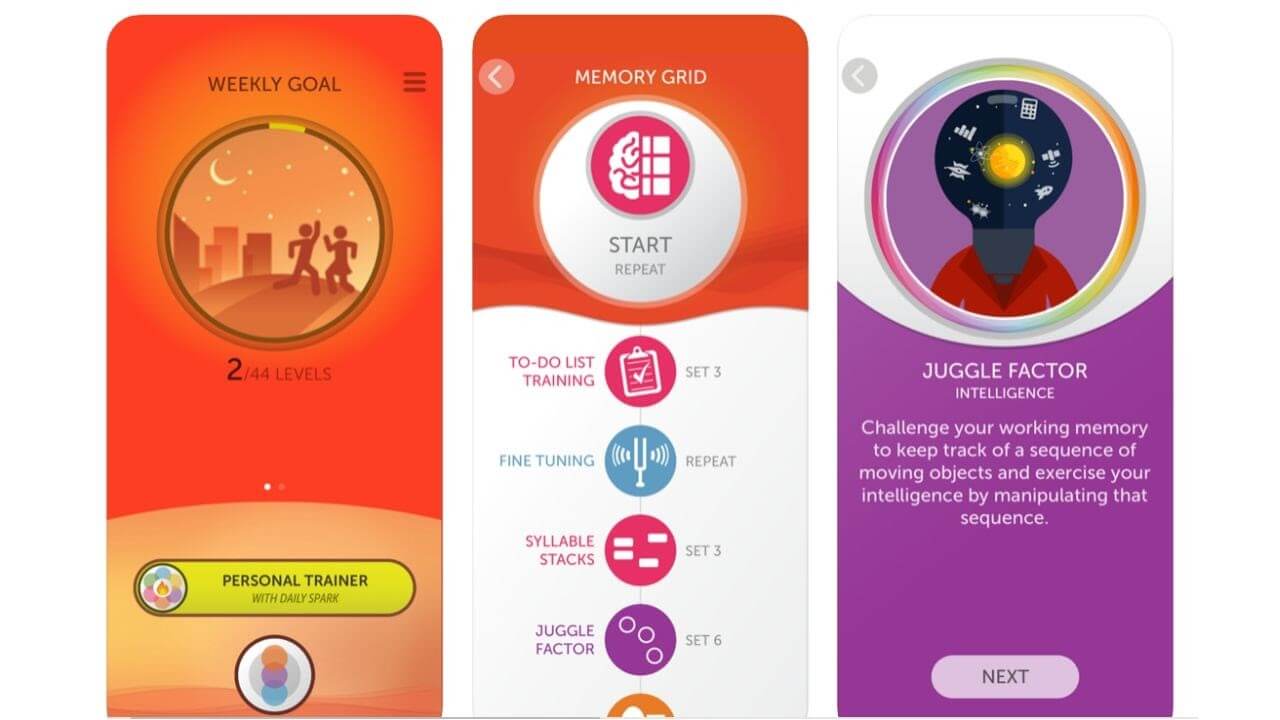 BrainHQ is one of the top apps that meet the highest standard of the study of brain training apps. 
BrainHQ is designed by a team of international neuroscientists that helps to improve brain performance, from the most basic elements of perception to the most complex elements of memory and attention.

It's been claimed that no other brain training program can match BrainHQ in terms of scientific proof. 

The app asks you to solve problems and sets the level of its difficulty according to the user. It acts as a personal trainer for your brain.

The exercises in BrainHQ aids in driving a real change, including cognitive improvements, improved quality of life, and more coordinated neurons. 
BrainHQ is available for free to download and you can have full access at $14 per month or $96 per year.
One Brain
Compatibility: iOS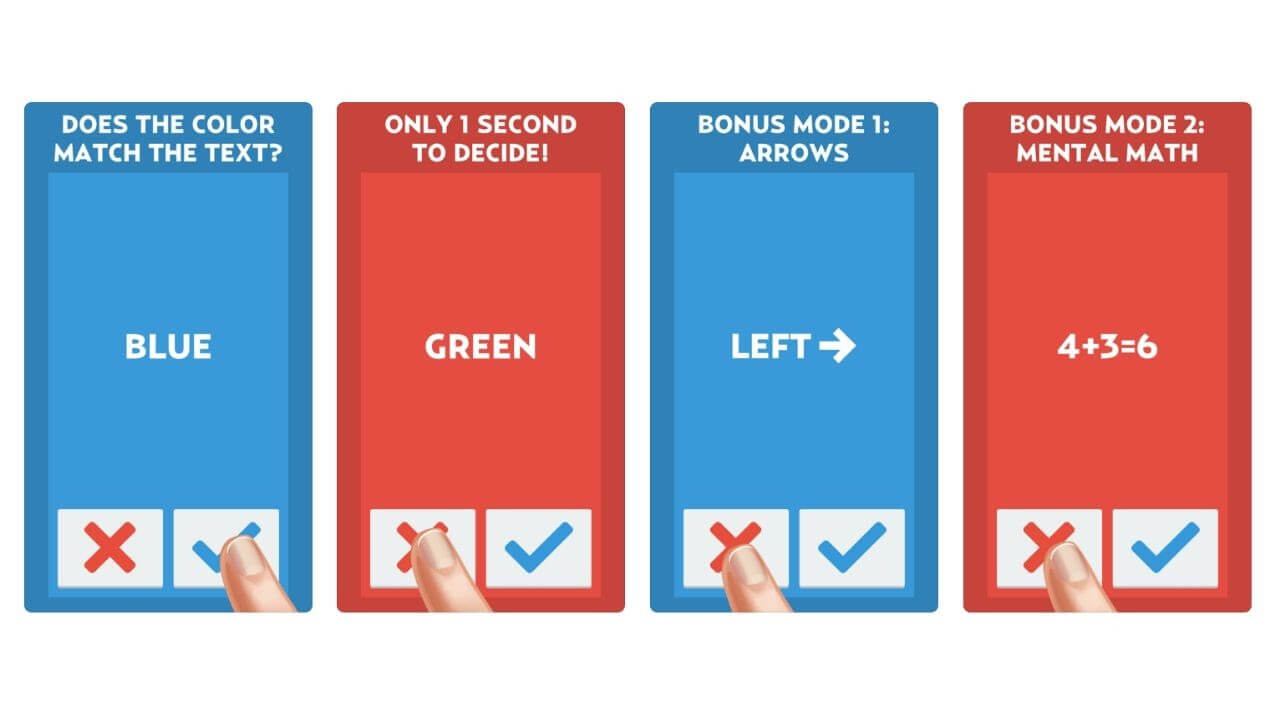 If you're looking for a challenging brain training app for your iOS devices, you must check out the One Brain app. It is designed on the fact that the human brain is split into two hemispheres that focus on different tasks. The left hemisphere is more detail-oriented and analytical, whereas the right hemisphere is impulsive and intuitive. The One Brain app offers you games and puzzles that require communication between both the hemispheres.
The app trains you to effectively use both the hemispheres while you're solving problems or making decisions.

It shows you quick yes or no questions where the hemispheres work as a team, compare information and decide whether there's a conflict.

For example, you get questions like is 4+3=6, and the users will have to quickly tap on the no button.
NeuroNation
Compatibility: iOS and Android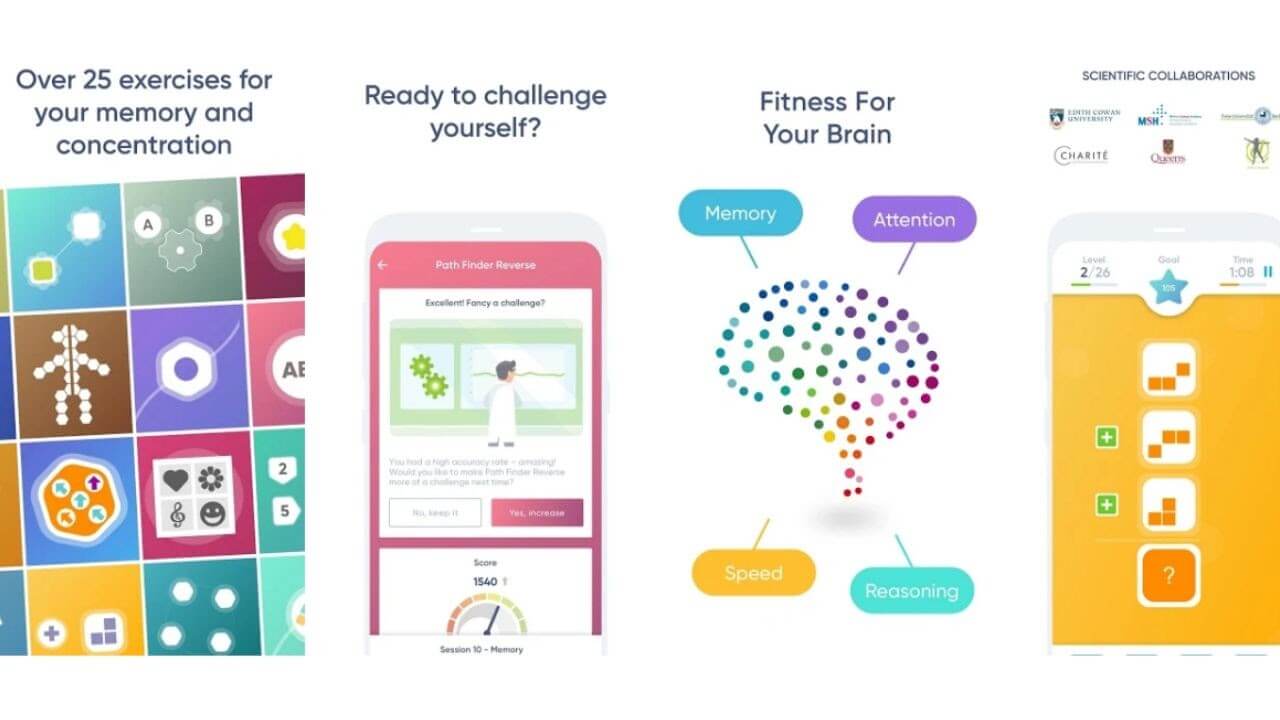 Are you struggling with a weaker memory, concentration, or slow thinking capabilities? Do you know there are some brain training apps that can help make these problems disappear with only 15 minutes of daily training?
Here we have the NeuroNation app, which is designed specifically to give your brain a new momentum.
NeuroNation performs a detailed analysis of your strengths and curates a personalized training plan that exactly meets your goals.

It offers you over 20 exercises and 250 levels that offer you a varied training for a balanced promotion of your brain.

It is one of the best free brain training apps for adults as it helps to improve focus, concentration, and reduce stress at the same time.
The app can be downloaded for free from the App Store and Google Play store. Also, the premium membership is available with the 3-month subscription plan from 32.99 EUR and the 12-month plan from 59.99 EUR.
The studies have shown that the brain training apps can improve your memory, focus, thinking speed, and reduce the risk of dementia by 48%. So, make sure to spare yourself at least 15 to 20 minutes a day, and see the difference in your overall performance and personality. Spot the best brain training apps for you and get going.
That was all for our list of the best free brain training apps. Do let us know which app did you like the most from the list above and don't forget to share this article with your friends and help them to improve their emotional and mental well-being.