Picking the best car racing games for Android is like separating salt from sugar. With so much variety in this genre of games, it's only normal that you get confused. From racing car games that cover muddy tracks to those which help you conquer grassy fields, there's something for everyone when it comes to finding the top car racing games for Android.
It's also about immersing you in the action as if you're sitting in the driver's seat, eyes strained as the tarmac whizzes by at 200 miles per hour. A good racing game feels natural, whether you're honing your timing for a precise gear shift or kicking out the back-end for a stunning drift. 
If you're wondering which is the best car racing game on Android then it's top pull the brakes. Because we've listed some of the best Android car racing games that you need to play, so you can conquer all these tracks. So, what are you waiting for? Let's begin!
Note: We update our article from time to time to cover the latest products available in the market.
Best Free Car Racing Games for Android
1. Asphalt 9: Legends
Looking to take the world of car racing games by storm? Well, your search might as well end here! The developers of Asphalt 8: Airborne have brought you racing exhilaration in the form of Asphalt 9: Legends. Here, you can get behind the wheels of actual automobiles from iconic car manufacturers like Ferrari, Porsche, Lamborghini, and W Motors, among many more international brands. Moreover, in the solo or multiplayer mode, you may drive, boost, and execute stunts through dynamic real-life environments which means you get the most realistic action car racing experience ever. 
There are approximately 150 A-brand high-speed motor machines to acquire from throughout the world, be it any destination. Moreover, you can also customise and choose your automobile, then change its body paint, rims, and wheels, as well as add different-looking body pieces to drive your latest pick around the world. Also, if you're looking to challenge people online, Gameloft has developed an intuitive multiplayer experience in this car racing game for Android.  The online multiplayer mode will put your car through its paces in real-world street racing. In this intense car racing game for Android, you can compete against up to 7 other players from all over the world. To win bonus points for your Club, drive, drift, and do stunts. With the Club feature, you may create your own online community of petrolheads. You can play with your friends, race in different locales, and earn rewards as you climb the multiplayer Club leaderboard and establish yourself as the pioneer of racing! Sounds like something that you're interested in? Make sure you check it out!
Download from Google Play Store
2. Real Racing 3
Real Racing 3 has been at the top of many best car racing games for Android and for good reason. It has a lot to offer like cup races, eliminator races, speed runs, drag races, endurance races, head-to-head matchups, and more are among the roughly 1000 events available. The races are divided into different racing series based on the cars that are allowed to compete. There are 46 automobiles to collect and add to your collection in this game. The Lamborghini Gallardo, Bugatti Veyron, McLauren F1, and Audi R8 are among the most exotic alternatives available for this year's edition. These mechanical titans are ferocious, displaying an unmistakable sense of speed from whatever vantage point. Some of the world's most prestigious racing circuits have been added to this realistic car racing game series. You'll get the opportunity to put your skills to the test on some of the world's most prestigious courses. 
The racing experience in this free car racing game is excellent, as expected. The automobiles have a solid and realistic feel about them, with a strong braking response and a constant sense of speed. Real Racing 3 encourages simulation-style racing, as playing it like Need for Speed can badly damage and underperform your car. For the first time, there will be a strong emphasis on fixing your automobiles after races. To mend damaged bumpers, cracked windshields, and broken tail lights, to mention a few fixes, you'll need virtual cash and gold coins. You must also manage details such as changing engine oil, tweaking transmissions and replacing tyres. There's a good chance you'll be spending a lot of time and virtual money on races in this realistic car racing simulator for Android.
Download from Google Play Store
Also Read: 13 Best Reddit Apps for Android in 2022
3. Need for Speed: No Limits
Unlike the car simulation game that was Real Racing, Need for Speed is a very enjoyable arcade game. But, like the latter, Need for Speed will continue to gain more vehicles, events, and other features as time goes on—something Firemonkeys did exceptionally effectively with Real Racing.
This game is free to download, however, it is a freemium game with optional in-app purchases that will speed up your progress. Need for Speed is clearly a high-octane game, and racing lovers will enjoy it. There are 900 race events, 100 levels to climb as players go through the stages, 38 race courses in various locations, and 30 famous automobiles to choose from. There's a lot of emphasis on upgrading the cars for more power and performance: there are plenty of extras to buy as you progress through the game.
You're literally fighting the law—the "underground," as they call it—with cars jumping off bridges, eluding cops and smashing through barriers, as you're returning home after a tiring day. Sure, the game is a little on the wicked side, but after all, action racing games aren't supposed to be realistic. Although Need for Speed: No Limits lacks a proper story, it makes up for that with its abundance of substance. There are 30 legal vehicles to choose from, each with upgradeable parts and personalization possibilities. No Limits appears to be a fantastic game
The races are bite-sized in this best-in-class car racing game for Android, which is one of the first things you'll notice about the game. Most races will be completed in under 50 seconds. While it may appear to be a bit short at first, races become more heated as the AI develops alongside you. It begins out easy enough, but it gradually becomes increasingly difficult.
The car reward system is less generous than its console counterparts. Additional automobiles will take some time to acquire because you must first collect a certain quantity of blueprints. However, upgrades come much more quickly, as the game lavishly rewards you with parts for completing races and even gives you a new crate (containing a part, cash, or a blueprint) every eight minutes. 
Download from Google Play Store
4. Asphalt Xtreme
The Asphalt series has always been regarded as one of the most visually appealing racing games. Some of the series' features include in-air acrobatics, slow-motion capture of car wrecks, and a highly realistic environment. You must be a little more cautious here than in previous games in the series. Falling boulders, a large boulder, or an abyss in the racing track are just a few of the features that will put you to the test time and time again. The emerald forest, ancient artefacts, desert, and Thai beach are just a few of the locations that have been photographed and recreated in great detail in this Android car racing game. 
Avoiding collisions is key since each collision costs you a few crucial seconds, allowing your competitors to gain a huge advantage. The number of cars available to users is limited in comparison to GT Racing 2 and Real Racing 3, but they are all unique and have never been seen before. On the display settings page, you can adjust the graphics quality, screen density, and camera angle. Since this is exclusively available for Netflix subscribers, the in-game settings are relatively less as compared to other top car racing games.
The gameplay is remarkably similar to Asphalt 8. You have the option of manually accelerating or allowing AI to do it for you. The car is guided in that direction by tilting the phone at a camera angle. All of the controls are simple to use and provide you with complete control over the vehicle's movements. Like applying brakes at tight curves can prevent your car from colliding with an item or going off a precipice. The career mode, which is separated into five categories (Rookie, Amateur, Semi-pro, Pro, and Master), is the game's main attraction. Each has the same set of tracks, but with varying levels of difficulty and vehicle types. If you're looking to get things done faster, you can also spend money on in-app purchases.
Download from Google Play Store
Best Offline Car Racing Games for Android
1. CSR Racing 2
CSR Racing 2 is one of the best realistic driving simulator car racing games for Android. It keeps things simple: you start from the starting line, you must change gears at the correct time, and if you do well and win a race, you will receive a large sum of money and reputation points. It does not need the casual gamer to devote a significant amount of time to gameplay, which makes it ideal for a fast dose of entertainment on the way home from work, between meetings, or even in leisure time. The RPM metre has been adjusted to deliver more intuitive racing experience, which is the most important aspect of your on-track escapades. You now have a green zone to aim for while accelerating, and once there, you should transfer gears for best performance—even if your car isn't as powerful as your competitors' on the track, a little technical know-how and a little set-up daring can help you close the gap. 
This car drag race game for Android devices lets you fine-tune everything from nitros boosts to gear ratios and even tyre pressure. There is no true learning curve for drag race aficionados because the bite-sized fun factor stays the same. The new "crew" add-on is a new component that will speed up your progress through the game. When you compete in an event as part of a crew, the benefits are greater than if you competed as a lone wolf seeking to win a drag race.  The graphics are stunning, and the craftsmanship is exquisite. The cars you drive, the cars you compete against, the track surface, and the scenery all look like they belong in a top-tier racing game for PC and consoles, let alone smartphone competitors like Real Racing and GT Racing. There are more than 50 vehicles to pick from, and the attention to detail extends to the interiors, colour options, and customisation. 
Download from Google Play Store
Also Read: Best TV Stands in 2022[Buying Guide]
2. Asphalt 8: Airborne 
Asphalt is the Need for Speed of racing games in mobile gaming. It has always been one of the top racing games for Android smartphones with real cars, tracks & more. The career mode, which is separated into five categories (Rookie, Amateur, Semi-pro, Pro, and Master), is the game's main attraction. Each has the same set of tracks, but with varying levels of difficulty and vehicle types. You can spend actual money on some of these cars and get things moving faster. Asphalt 8 has a great deal of diversity. From nighttime street racing in Japan to a crazy launchpad in French Guiana; racing through the jungle, under a launching rocket – why not? – and more. Then there are drifting challenges, virus races, and simply tearing through the streets for a good time. There's a lot going on when you initially start playing this Android car racing game and land on the home screen, with tabs directing you to different gameplay modes, what your friends are up to, available cars, and so on. That's fantastic on a tablet, but it's a touch busy on a smartphone, and the game has a Jekyll and Hyde personality to it: it's great to browse on a tablet, but much better to play on a smartphone. It is an ideal game for a large display smartphone and 9-inch+ tablet if paired with a controller. If you wish to participate in a multiplayer car race, you'll need to be connected to the internet, but the career mode works great offline. Other linked components include saving a "ghost" of your best run to race against later or racing against friends, but you can race in career mode without being connected in most circumstances. 
The game's title alludes to the game's most significant difference from its predecessor. Asphalt 8: Airborne gives you points for doing acrobatics in the air, like barrel rolls and flat spin jumps. You may do Barrel Rolls by driving onto one of the track's many inclined ramps and letting gravity and momentum take care of the rest. Unless you severely mess up the approach, you can usually assume that you'll land safely. Flat Spin leaps are a little more difficult to master because they demand you to drift off a ramp while braking at high speeds while manoeuvring the car, and the success or failure of your attempt is determined by the angle of your approach. All these features and Aspahlt's reputation make it one of the best mobile car racing games available to date.
Download from Google Play Store
3. Race Rocket Arena: Car Extreme
RACE: Rocket Arena Car Extreme is an immensely addictive and realistic car- racing game that makes its spot on our list of the best offline car racing games if you're seeking for a truly extreme racing experience with exhilarating action every second. This is without a doubt one of the most immersive racing games which is why we think any gearhead should give it a try. When you first start RACE: Rocket Arena Car Extreme, you'll be guided through a tutorial that takes up the first few minutes of gameplay. The tutorial does an excellent job of explaining the game's fundamentals and will walk you through everything you need to know about the game, from the controls to the various unique mechanics. Given how much information this tutorial contains, we strongly advise you to pay close attention throughout it so you don't have to struggle with the basics later on. The game offers a pure adrenaline rush with its nitrous and the change in day and night. Moreover, you can also participate in Arena battles, and challenge your enemies in the derby arena. You will also get the thrill and rush of driving over steep slopes and through dangerous sand storms. Choose the best vehicle for each combat! In this racing game, crazy and reckless driving is a positive thing because you need to take chances to beat your opponents. You can also choose from a variety of weaponry, including rockets, bombs, machine guns, and electric weapons. You can also slow down time and eliminate your foes and use your winning attitude to direct a swarm of cruise missiles onto the race track's villainous race gangs. Sounds interesting? We promise you it's better than it sounds!
Download from Google Play Store
4. Carx Drift Racing 2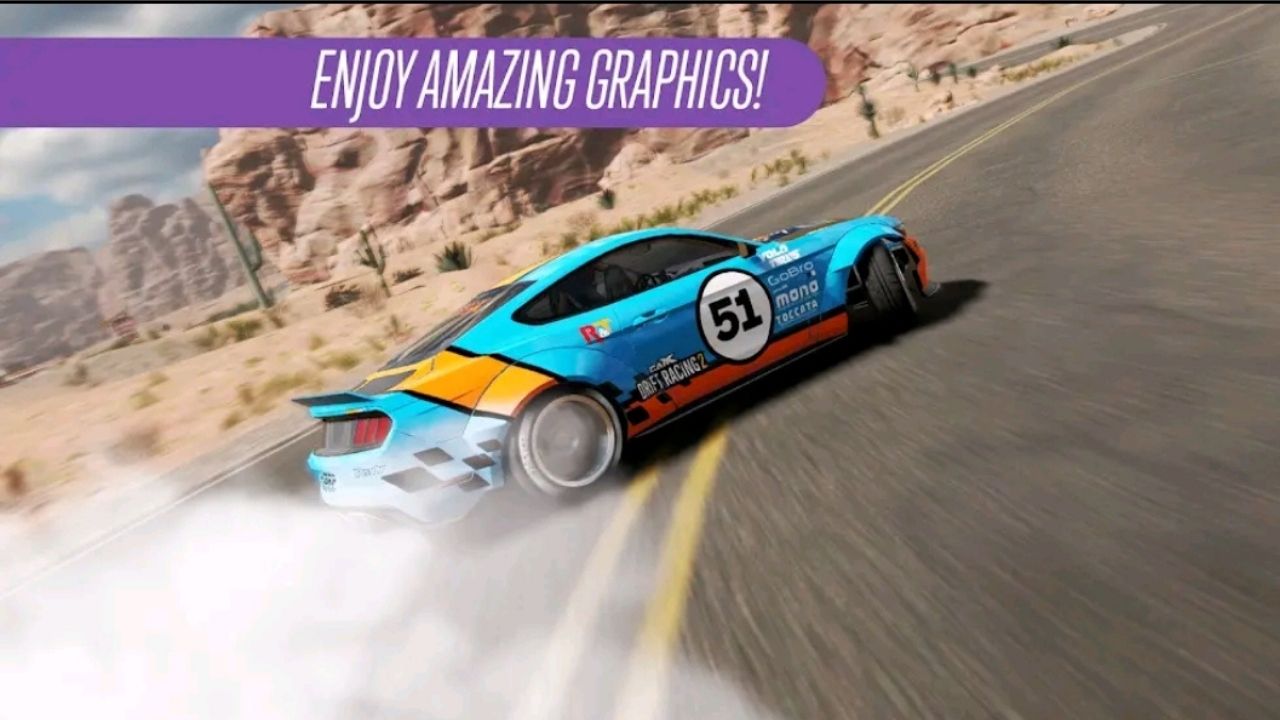 When we talk about drifting, we can't leave this game out. Carx Drift Racing 2 is one of the best drift racing games for Android today. This game offers one of the best realistic car racing experiences ever. From replacing mirrors to fixing lights and running boards and bumpers, you'll have everything you can wish for when you play one of the top car racing games. If you're someone who is a fan of watching racing championships, you'll be glad to know that the game offers a unique mix of tuning your engine and adjusting your springs and tyres. Furthermore, you'll essentially be racing twice. You'll compete as the Leader in a tandem drift the first time, and then as the Follower, following yourself the second time. You'll also get a chance to compete with people in real-time as you move up the leaderboards. You can also beat tournament stages to climb towards the upper brackets and walk away as a victor! Essentially, CarX Drift Racing 2 provides an unrivalled and realistic simulation of driving real sports cars on one of the game's many race tracks. Prepare to immerse into the game and play for hours if you adore drifting and everything nice!
Download from Google Play Store
Don't Miss: 27 Best Free Puzzle Games for Android in 2022
5. GT Racing 2: Real car game
Welcome to the world of A-list automotive racing. Not only is GT racing one of the most realistic car racing games out there but it also hosts a ton of features that sets it apart from the crowd is its diversity. With GT Racing 2, you get more than 80 car choices from 37 manufacturers. You even get 4 time zones and 4 weather conditions as well. Apart from this, not only is this one of the best offline car racing games but it is also a great multiplayer car racing game as well wherein the team clash tournament helps you compete with friends! The visuals and the gameplay will both leave you awestruck, with their realistic components and jaw-dropping features. With over a million reviews, people have constantly raved about the game's features and how it gives their gaming experience a very lush and premium feel. Intrigued? Make sure you play this game to get a realistic car racing experience at your fingertips!
Download from Google Play Store
Best Online Car Racing Games for Android
1. Mario Kart Tour
In Mario Kart Tour, you take control of one of several iconic Mario characters as they embark on a risky afternoon of go-karting. Your go-kart is continually accelerating without your involvement in Tour, which covers a variety of tracks from the series' long history. Only swiping left and right allows you to steer, and tapping the screen allows you to use any goods you pick up. 
It's usually best to steer your go-kart with as little input as possible, as it's easy to overcorrect and lose control. The courses in this arcade car racing game, as expected, are chock-full of detours, unexpected hazards, enormous leaps, ramps, and boost panels, as well as the standard Mario Kart elements. Coins can also be obtained by picking them up during races or by receiving a large stack as a reward for completing a Cup. They come in slowly from normal sources (you can expect nine or so from a typical race when the cheapest items in the store cost 100 Rubies), but you can also spend Rubies to play a minigame called Coin Rush, in which you can get a large number of Coins at once. Coins can be used in-game as a currency to unlock a limited number of items, such as a new driver or kart, which are available on a rotating basis. 
Your kart, on the other hand, continuously accelerates without your input, so you don't have to be concerned. When you straighten up, you can employ power slides to give yourself a temporary turbo boost, just like in most Mario Kart games. If you keep the drift going long enough, the sparks from your kart's wheels will turn orange, then pink for the longest boost. There are a few clearly marked shortcuts, but for the most part, races are determined by the power-ups you earn and the racer you choose. This is especially important because you're rewarded for using specific karts, hang-gliders, and drivers on specific courses, with bonuses ranging from increased race points for completing combos (a series of actions such as jumping or shooting other drivers) to offering multiple weapons every time you collect a question mark. Taking advantage of all those perks, of course, necessitates the acquisition of additional karts and characters. All these features and 10 million+ user downloads make Mario Kart Tour, one of the top racing games you could play on Android in 2022.
Download from Google Play Store
Also Read: Best eBook Reader Apps for Android
2. Hill Climb Racing 2
Hill Climb Racing is a welcome departure from the norm, offering a fast-paced car racing game that is both entertaining and graphically lightweight. Hill Climb is a physics-based game in which you must race a vehicle across uneven terrain without tipping it over. Jumps and flips will earn you bonus points, but you run the danger of killing the driver if you fall upside down. You can't go too slowly since the gas will run out. You can choose from four vehicles in the game: a Jeep, a Motocross bike, a Monster truck, and a Race Car. Only the Jeep is unlocked at the start, and the rest must be unlocked with coins. You can race in a variety of places, including the countryside (which is accessible by default), desert, polar (ice), highway, cave (where you can't jump very high or you'll smash into the cave roof), Moon (where you'll experience low gravity), Mars, and an alien planet. All of the sites have a similar response, but there are minor differences, such as gravel or ice that is extremely slippery.
You can upgrade various aspects of the vehicles, such as the tyres, engine, and suspension. There are some improvements for individual vehicles, such as downforce in the case of a race car and air controls in the case of a motorcycle. The upgrades are informative in that they tell you what an upgrade will do and how it works in real life. As a result, after playing this best-in-class Android car racing game, you will have a better understanding of what a better suspension should entail, and so on. The game is simple to play, requiring only the use of a brake and accelerator, which also aids in managing the vehicle's pitch while in the air. It can also teach you what happens when you brake on a slope and what can happen when you accelerate too quickly on a steep climb. It is one of the best car racing games for Android with realistic physics. However, it is simply two-dimensional, which means it is less graphics-intensive and puts less strain on the device. The gameplay of this arcade racing game for Android devices, on the other hand, will keep you glued to your seat with ever-increasing slopes and increasingly perilous dips.
Download from Google Play Store
3. F1 Mobile Racing
This realistic car racing game for Android begins with a tutorial in which you are taught all of the necessary car controls as well as the overall gameplay. At first, you have all of the racing aids turned on. Braking assist, auto acceleration, wheel assist, and traction control are the four features. Once you've got a good handle on the game, you may turn off all the help and put your skills to the test, as driving with all the assists turned off is rather challenging. The game looks great in terms of graphics and gameplay right away, and the controls are also quite snappy and easy to use. 
You can play various different modes in this online car racing game for Android, including Duels, which is an online 1v1 mode. You can also race against the bots in single-player mode, where you can choose the track, the number of laps, and the difficulty level. You get to race on real-life racing courses that are well-designed. In addition, the game has a challenge level where you may achieve various challenges and earn rewards in the form of cards and in-game currency. For a mobile racing game, the graphics are fairly good. The sound effects are superb, and the motor sounds are adequate. The user interface is also pleasant to use. Pitstops and fuel switches are not available, unlike in other traditional F1 racing games, which may make the experience incomplete from an F1 standpoint. As you go through the game and win races, you will earn card packs that can be used to unlock various automobile components such as brakes, engine, aerodynamics, transmission, and so on. This gives the gamer the ability to tune the car to their liking. They can all be completed in the game's R&D section. 
The game includes a real-time multiplayer option in which you compete against another player, frequently with up to 18 other cars on the circuit, for the best place. Rolling starts, qualifying sessions and 1v1 showdowns make it one of the best online car racing games for Android you can download today. Also, each player is assigned a safety rating and ranking to guarantee that matches are balanced. There's also a single-player mode with all 21 courses accessible for 15-lap races or hot-lap sessions.
Download from Google Play Store
Don't Miss: Safest Video Calling Apps (End-to-End Encryption)
Best Offline Multiplayer Car Games for Android 
1. Hovercraft: Takedown
Hovercraft: Takedown is a 3D car racing game for Android in which you control a police helicopter that you must utilise to track down robbers on the highways. You don't exactly issue traffic tickets, either. Instead, you crush your opponents' vehicles to smithereens.
Players can personalise their hovercraft to the tiniest of details. This isn't an exaggeration. Because the vehicles are composed of blocks, you can construct your own from the ground up. You can customise your automobile to your taste before taking on the highway. The overall pixelated design and engaging gameplay is one of the best offline multiplayer car games available for Android. 
Download from Google Play Store
Also Read: Best Language Learning apps for iOS and Android 
2. Riptide GP
It is not exactly a car racing game for Android but offers a similar racing experience and engaging gameplay. Each of the nine tracks in the game is distinct and enjoyable to race on. Each has its distinct subject, and while some tracks may appear to be identical, they are easily distinguished. Arcade racers are known for their fantasy tracks, and many have been done before, but Riptide features a few unique ideas to set themselves apart. Racing down a river through a burning forest or through a flooded metropolis with automobiles drowned below you are among the highlights. The visual impact of the tracks, especially in the first few hours, will keep you going back for more just to see what's next. 
Download from Google Play Store
Don't Miss: Best Stress Relief Apps for iPhone & Android
Well, there you have it! These are some of the best car racing games for Android in 2022. We hope that this list has helped you out in choosing what's the best game for you! If it has, make sure you let us know, and while you're here make sure you check out our article on the
Best Widgets for Android Home Screen in 2022