With over 1 billion active users, TikTok is one of the most popular social networking apps to exist. With its fun interface, fresh challenges, videos, and voiceovers, TikTok is used by many across the globe to meet new people, participate in new trends and so much more! There's so much you can do with this app.
But just like every other app, TikTok also gets affected by various problems or errors which can lead to problems like TikTok not working on Android and can be an obstruction when you're looking forward to scrolling through the feed as well. 
If you're wondering why won't TikTok work on my phone or why TikTok won't load on your Android smartphone, then you've landed at the right place. Read on to learn about some frequently asked questions and a step-by-step tutorial on how to fix if TikTok is not working on an Android device. So, let's get started with some FAQs as we move along!
Why won't TikTok open on my phone?
There can be a lot of reasons why TikTok won't open your phone. It can either be a result of old and corrupted cache or other problems like pending updates, bad internet connection, or something uncontrollable like server outages. Well, you've got nothing to worry about. Read on to find out what you can do if you encounter such a problem!
Why is my TikTok not working all of a sudden?
TikTok may be unavailable due to the internet (Wi-Fi) or network issues (Mobile Data) on your end. Because our devices are not connected to the internet all the time, we suggest checking your phone's internet connection. Try to refresh or reload your TikTok app if you have an active internet connection on your phone or device. You can also force restart the app to see if TikTok is now working on your Samsung Galaxy smartphone. 
Why won't TikTok play on my phone?
If TikTok won't play on your phone, then there's a high chance that there may be problems with your internet connection (you're either not connected or your Wi-Fi isn't working) or maybe the app has encountered some problems since it isn't updated. It could also be a problem with TikTok's servers as well. You could also be experiencing problems with your device, which could be causing the error. Usually, slow network connections and server-related issues are the most common causes of this problem on TikTok. Because TikTok is an online platform, your internet connection, and TikTok's servers are critical to the app's operation.
Why is TikTok not working on Android?
1. Poor internet connection
While it may seem quite obvious, TikTok will not work on any Android device without access to the internet since it needs an active connection to function. This is why we recommend you check if your device is connected to the internet via Wi-Fi or cellular data. Additionally, please ensure that Data Saver isn't enabled since that can also lead to TikTok not loading or TikTok not working on Android issues. Stick around until the end of this troubleshooting guide to see how all of this can be done.
2. Pending updates
We highly suggest that you make sure your app is up to date with the most recent TikTok version. Whenever you update an app, there are always new changes that differ from the outdated app on your Android device. The developers also release various new fixes and patches for glitches or problems like Tiktok not working on Android.
3. Server outages
While TikTok is generally a dependable app with few issues, there are times when the service goes down. Users can use DownDetector to see if TikTok is down, or search Google for this. TikTok, like other tech behemoths like Facebook and Instagram, may have been experiencing in-app issues, which occur from time to time.
Disclaimer: Proceed at your own risk, TechieTechTech will not be responsible if anything goes wrong with your device.
How to fix TikTok not working on Android – Top 15 ways
1. Force quit app
Before anything else, if TikTok is not working right now on your Android smartphone, then we suggest your Force quit the app. When trying to fix a problematic app, Force Stop is suggested since it kills the operation of that app, which means the app will no longer access any of its active or cache files both in the background or foreground. This means once you restart the app, it should fix any underlying issues related to performance and ensure that your app is up and working all over again. Here's how you can do this:
Go to

Settings > Apps

Through the

app list

search for

TikTok

or type TikTok.

Once

selected

,

click

on the

Force Stop

option at the

bottom right

.
2. Restart your device
If TikTok keeps crashing on your Android smartphone then restarting your device is an obvious solution. Many technical issues can be resolved simply by restarting your device. Just like every other piece of tech,TikTok is a software (app) that runs on hardware which in this case would be your smartphone. Since it is one of the most installed apps globally it is likely to be buggy as there are so many different devices out there which users have. A simple bug in the software could cause the app to not work efficiently. It is very common for apps to be stuck in loops trying to load content and keep showing the loading icon. As a result TikTok will not load your feed on your Android device. A simple good old restart should be able to fix this problem. Here's how you can restart your device:
Press the

Lock

and

Volume Down

button.

Hold it for

more than 7 seconds.
Now, try using TikTok to see if the problem has been resolved or not.
Also Read: Snapchat not working on Android? Here are 20 ways to fix it
3. Check your internet connection
TikTok requires a stable internet connection in order to show you those hilarious videos and challenges. You won't be able to see recent updates if your internet connection is unstable and volatile. We suggest you try opening a webpage with the web  browser to see if you have an active internet connection. You can also check your internet speed to see whether your network speeds aren't tanked from the backend. If you're on mobile data you should check the data settings on your device to find out whether you've run past your data cap. If your internet connection is slow, try restarting your internet router and wait a few moments before using TikTok again.
Also, please ensure that you haven't enabled Data Saver mode on your Android device. Although it is highly instrumental in curbing battery drain and mobile data usage, on the same hand it severely restricts your data too which can lead to problems like TikTok not working on Android. Here's how you can disable that:
Go to

Settings > Network and Internet > Data Saver.

Turn

Data Saver off
4. Check if it's working on another device
If you've checked your internet connection on your Android device and it turns out to be working fine, then we suggest you check whether TikTok is working on other devices.
A lot of times, there's some underlying bug or problem with our phones or devices which is where apps like TikTok will start crashing or won't load content. . More often than not, this also affects other stuff like your device's battery life and performance. In order to find out whether the TikTok app is not loading on your Android device or it is not working for others, we recommend that you try loading the social networking app on some other device. This will help you determine if the problem lies with your device (if TikTok works on the other device) or if the issue is with the TikTok app (if the app does not work on other devices). 
Also read: Reddit not working on Android? Here are 14 ways to fix it
5. Check if TikTok's servers are down
There could be a server problem if you're getting an error when loading TikTok, or if it keeps crashing and won't load on different devices. Although server issues are uncommon on this app, no system is perfect. You can check Google or DownDetector for updates on possible TikTok server outages. Here's how you can do this:
Go to

DownDetector

and

search

for

TikTok

 

Once done, you'll see a

chart

indicating any

current

or

past server outages

or problems at TikTok 
If there is a known server outage, all you have to do is wait until it is resolved. Alternatively, if you have a Twitter account, you can follow their official TikTok account to get updates on when the problems will be resolved.
6. Check app permissions
It's extremely important that you give the TikTok app permission to use your device's camera and microphone. Permissions are usually set when you first download the app. If you're having trouble recording a voiceover or shooting a TikTok, it's possible you haven't given the TikTok app access to your camera or microphone. 
On your phone, go to

Settings

and

select Apps

.

Then

locate

and

open TikTok

by selecting the option to view all installed apps.

Allow all necessary permissions

by clicking the

Permissions tab

or you can manually enable the tabs for camera and microphone.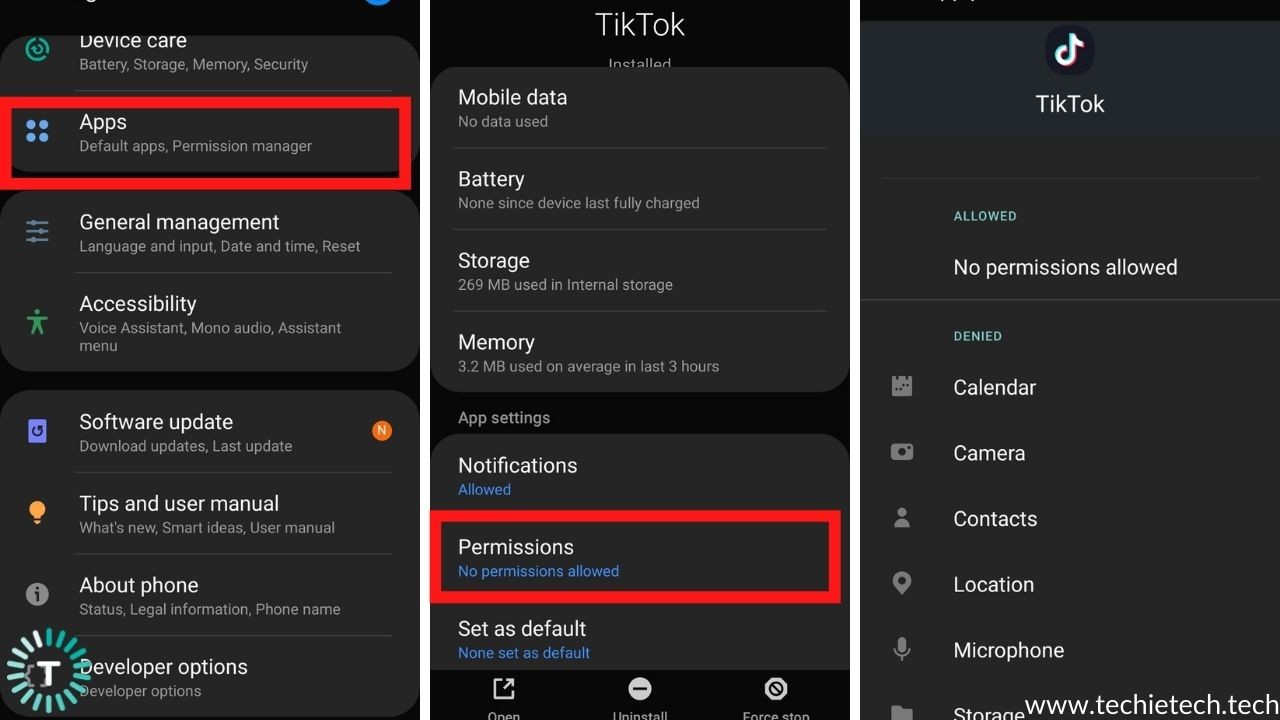 Relaunch the TikTok app to see if it is loading content.
Also Read: Twitter not working on Android? Here are 16 ways to fix it
7. Update TikTok
If you're using an outdated version of TikTok, you might not be able to enjoy your hilarious videos. TikTok, like other Google Play Store apps, receives regular updates to address bugs and add new features. If your TikTok isn't working properly, it's possible that it's due to a bug that was fixed in the most recent update, which you haven't installed yet. To update TikTok on your Android phone:
Open

Google Play Store

on your device

Search for TikTok

See if an

Update option

is available right beside the

Uninstall

tab

. 

If it is,

click on that option

and let the app be updated.
Also Read: Play Store not updating apps? Here're 14 ways to fix it
8. Clear app cache
If TikTok won't open on your phone, it can be a warning sign that your phone's cache needs to be cleared. After you're done scrolling on TikTok, a large amount of data, which is temporary in nature, is saved, which can cause issues later on. It's usually a good thing to have a cache. This data is saved locally for faster access rather than being downloaded each time. However, cache data can become corrupted overtime and cause problems. It's not a bad idea to clear it out every now and then, especially if TikTok is not working on your Android smartphone. To delete cache from TikTok: 
Go to

Settings > Apps

Search for

TikTok

in the search bar or scroll down your apps.

Go to

Storage > Clear cache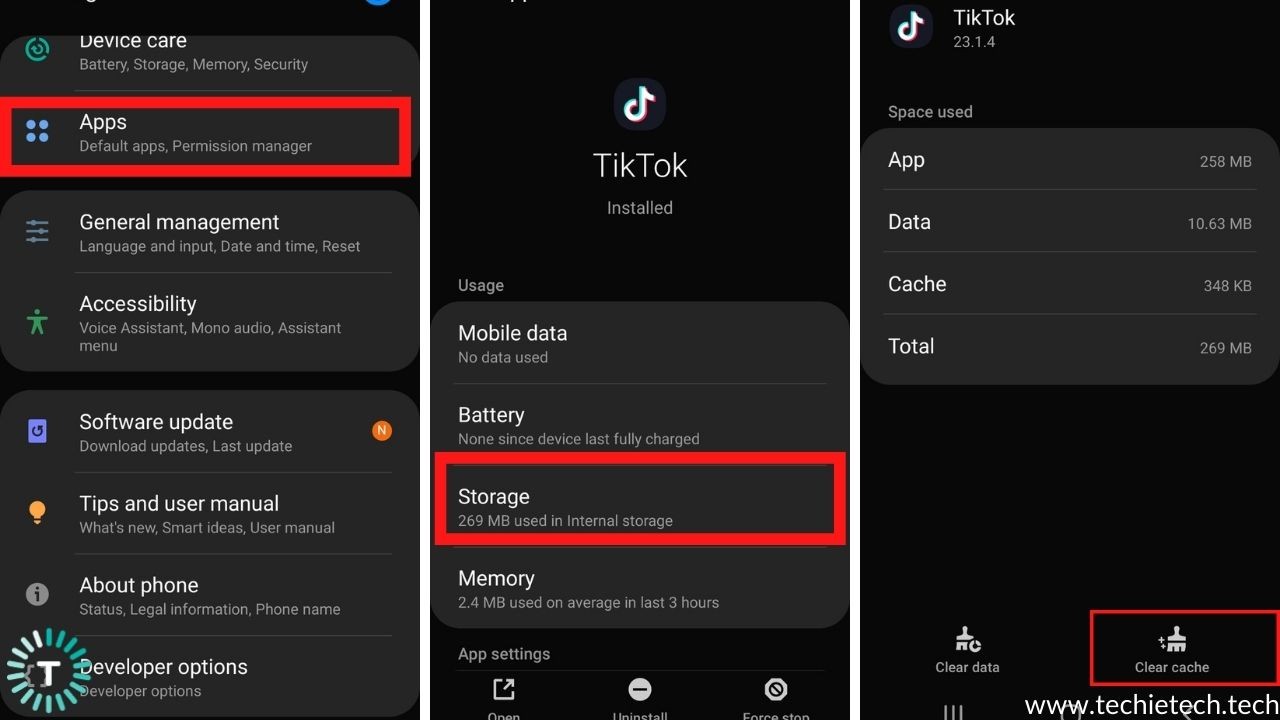 Also Read: How to Clear Cache on Samsung Galaxy Devices [Smartphones & Tabs]
9. Clear app data
Clearing the app's data can improve performance and solve a variety of issues. Clearing data from the app will delete your login information, however your user profile and feeds will stay intact. Essentially, all of your offline information like login details, app settings and permissions will get deleted. However, it will restore the app's default notification and sync settings, as well as log you out. Which is why, we strongly  suggest that you remember your login details before proceeding. Here's how to delete Tiktok's data on Android if it's not working:
Go to

Settings > Apps.

Select

TikTok

and click on

Storage

 

Select

Clear Data
If the issue persists after clearing your data, try turning off your phone. If the problem continues, keep on reading for the next solution.
10. Update your device
When some apps and your smartphone are incompatible on a process/activity level, problems like TikTok not loading videos can occur. To put it another way, if TikTok stopped working after you updated your device, it's possible that your app isn't compatible with the present version of your device 
Which is why we strongly suggest you check to see if an update for your device is available to fix this problem. Here's what you need to do to get started:
Swipe up to get to the apps screen or app drawer, then select

Settings

.

From the drop-down menu at the bottom of the page,

select Software Update.

You can

manually download updates by clicking the button

.

If a

system update is available,

follow the on-screen

instructions

to

download

and install it.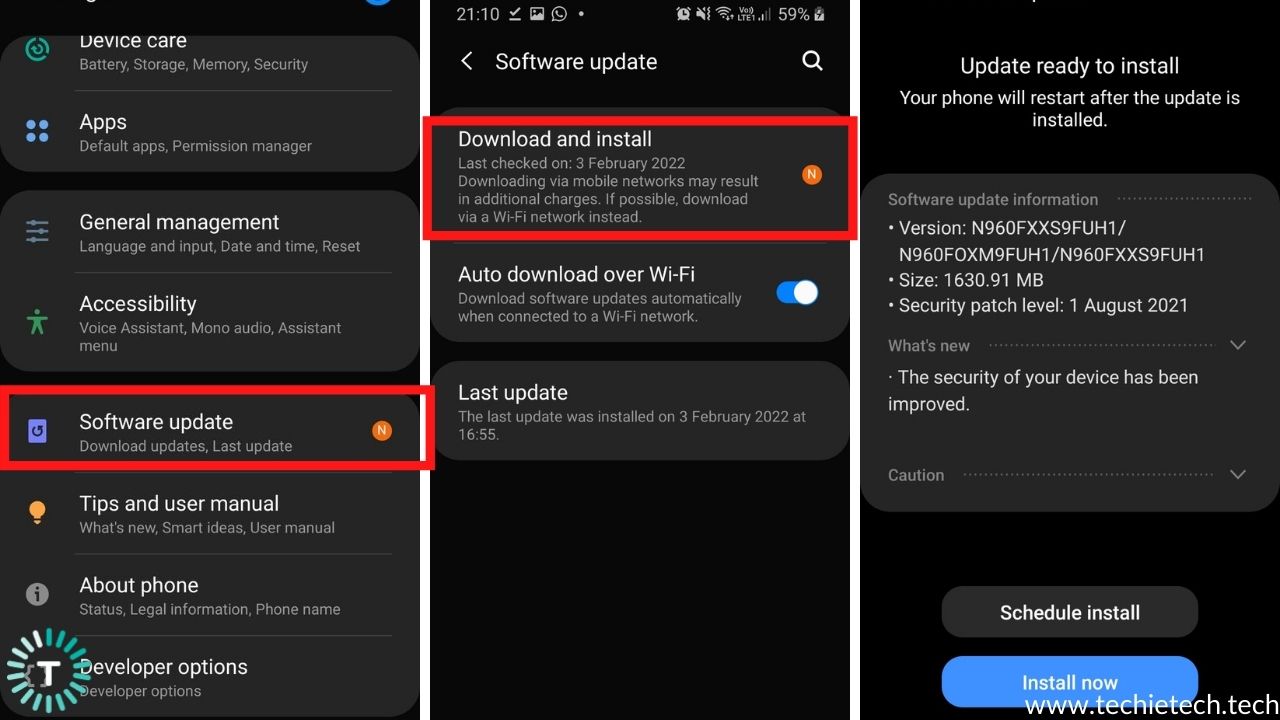 Also Read: Apple Music Not working on Android? Here are top 13 ways to fix it
11. Check device storage
Another reason why TikTok won't open or why TikTok is not working on Android devices is most probably due to insufficient storage. If you don't have enough storage, you won't be able to download the app in the first place. Individual apps often use 40MB to 1GB of phone's internal storage in terms of app data and cache. If you only plan on downloading a few important apps and the occasional games or two, we suggest that you keep at least 30-40% of storage unused, just in case.
However, if your TikTok won't load or keep crashing on your Android device, it could be because of insufficient storage., Then there are high chances that you won't be able to save or even watch any videos. Here's how you can check for your storage:
Settings > Storage > Internal Storage.
After you've freed up enough storage space on your phone, restart it to resume using TikTok. We usually recommend keeping at least 30% of total internal storage free for systems and apps.
12.
 Reinstall TikTok
As a last resort, uninstall TikTok from your phone and reinstall it if none of the other options work for you. It's highly possible that your app may have been corrupted for a number of reasons and reinstalling it can make sure that you have the latest, uncorrupted version of the app in your hands. Here's how you can go about it:
Select the

uninstall option

while holding down the

long-press the TikTok app icon. 

Alternatively you can

also visit the Google Play Store

and

reinstall the TikTok app.
Also Read: Snapchat not working on Android? Here are 20 ways to fix it
13. Downgrade TikTok
If TikTok isn't working properly on your Android phone, try reinstalling an older version that doesn't have the issue you're having. You'll need to sideload TikTok's APK file onto your Android device in order to do so. However, If you're going back an update to solve a problem, the first step is to check the current version of the app. You can do that by going to the Google Play Store page of the app. Scroll down and you will see the app version. Now, you just make sure to get the APK of an older version of the app. . 
 Here's how to go about it:
APK files can be installed simply from the web browser on your device.

Go to

Google Play Store

>

Uninstall the TikTok

app

Open your web browser, search for "Download TikTok APK on Google".

Check that you are downloading the previous version and press it; you should see it downloading on your device's top bar.

When it's finished downloading, go to Downloads, touch on the APK file, and select Yes when prompted.

The app will begin to download and install on your device. 
After the installation is complete, run the app normally and check if it resolved your problem or not
14. Is TikTok restricted in your country?
Is TikTok not working without logging in? Is TikTok not working without an account? Or is TikTok not working on any Android device? If you're facing any problem like this, then it is highly probable that TikTok is not serviceable or has been banned in your country.
TikTok is available in 154 countries worldwide in 75 different languages except Indonesia, Bangladesh, China and India and Pakistan. So if you're a citizen/resident of the above mentioned countries then this might be the reason why TikTok is not working on Android for you.
Also Read: Notifications not working on Android 11? Here are top 16 ways to fix it
15. Reach out to Tiktok
We strongly suggest you contact or reach out to TikTok's support team if all else fails and your TikTok still won't load on your Android device. For support on a variety of specific questions and issues, you can email TikTok or use their feedback form to make them aware of the difficulties you're facing.
Well, this was all on our guide on how to fix TikTok not working on Android. We hope the suggestions made here were helpful; please let us know if any of them worked for you! And while you're here, take a look at our article on
How to Watch Netflix with VPN ft. NordVPN (Step-by-Step Tutorial)